Farmhouse Style Metal Tool Caddies
Links in this post may be affiliate.
There's no denying that Farmhouse is on-trend right now. I love the farmhouse look and recently added two Farmhouse Style Metal Tool Caddies to my home that are perfect for décor in any season.
My caddies, a set of two, are from Emory Valley Mercantile, the on-line shop of the talented Angie from Postcards from the Ridge. Angie's shop is full of farmhouse style merchandise. Be sure to check it out, you won't be sorry. Bonus! Use SWEETPEA10 at checkout to get 10%off.
This is the smaller of the two caddies. I am planning to take this caddy to the lake to use on my mantel there.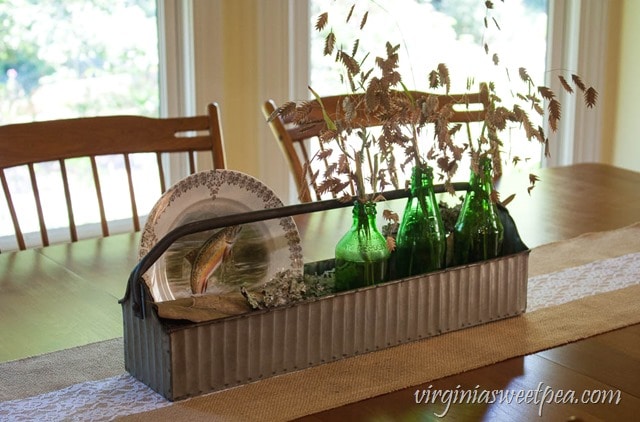 Three vintage drink bottles hold dried River Oats. The bottles were inherited from my grandmother and were used to transport extra flowers when she took an arrangement to church or to a garden club function.
(Check out how I used Granny's Vintage Fresca 8-Pack Drink Holder to make a centerpiece here.)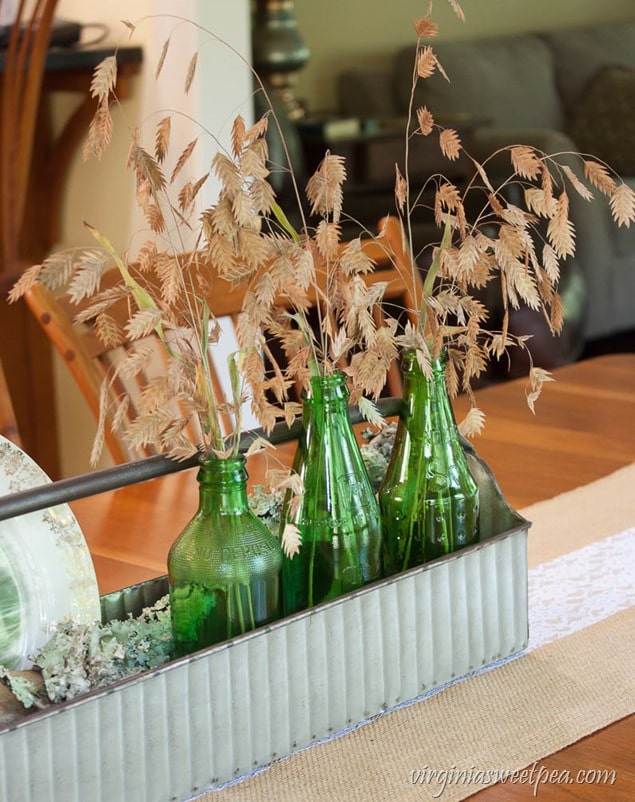 Sycamore bark and lichen cover branch were collected on a recent walk in the woods.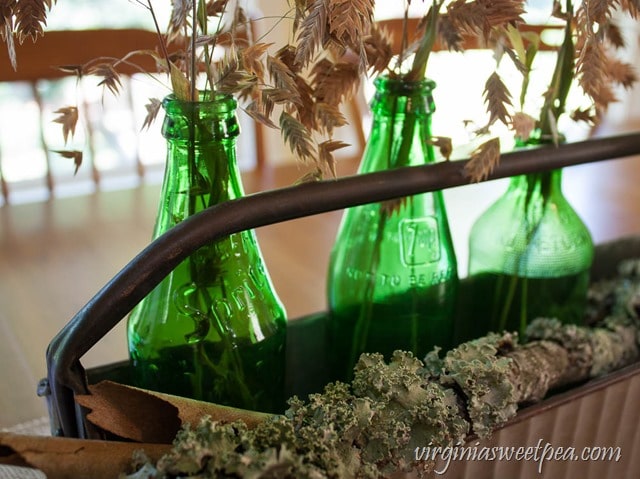 A lake house makes one think of fishing, so this plate will fit in at the lake perfectly.
By the way, I have a slight fish platter obsession. You can see my collection of fish platters here.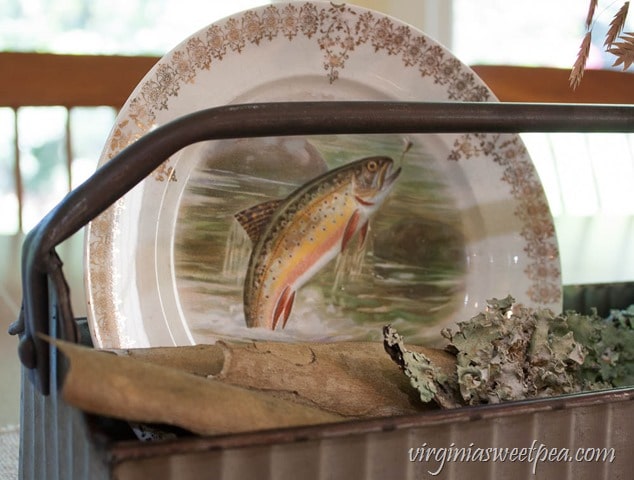 This is the larger of the two caddies. I filled it with items that at one time were found in an honest to goodness farmhouse.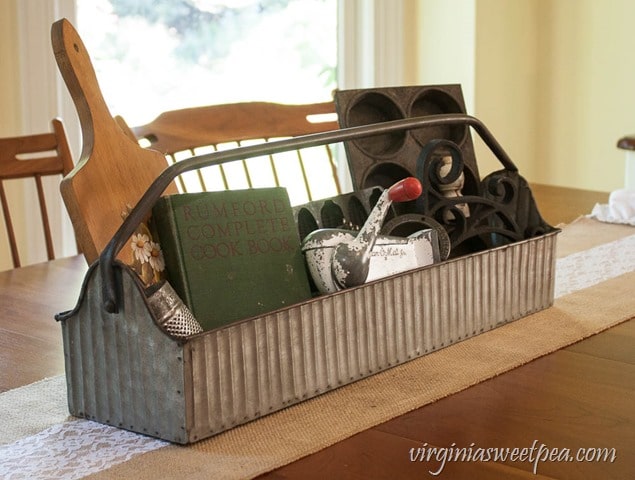 The cutting board was hand painted by my great-aunt in the 1980's. The Rumford Complete Cookbook is a 1933 edition and belonged to my grandmother. The grater is a treasure from Iowa given to me by my neighbor along with all of these farmhouse goodies. The can opener, corn stick pan, and metal scoop are all from my grandmother's farm on my mom's side of the family. I found the cork screw in a neighbor's trash on an early morning run.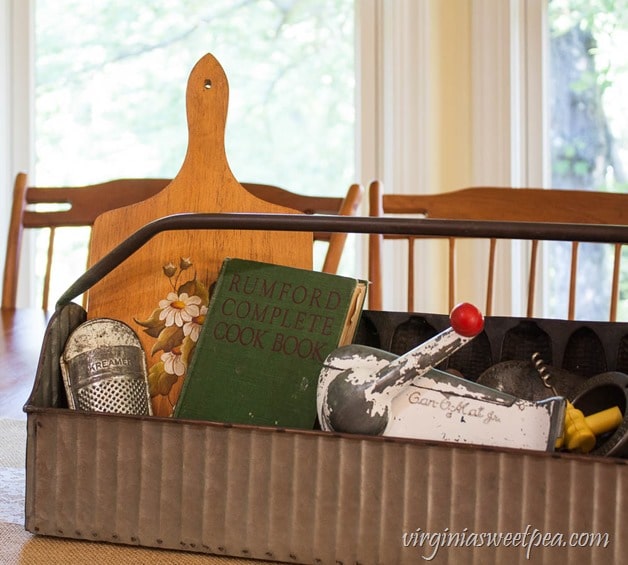 The metal piece with scrolls is a gutter hanger from a demolished barn on the family farm where my grandfather grew up. I'm not sure how I acquired the muffin tin and the wooden finial was in a box of "stuff" from my grandmother that my aunt gave me.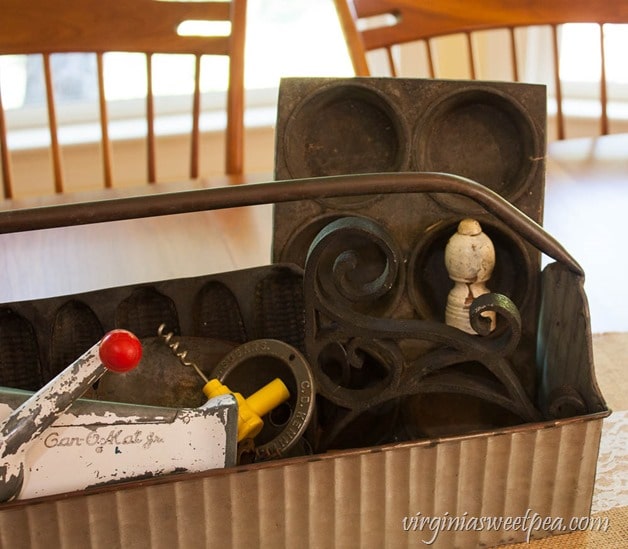 I made my burlap and lace table runner last fall and it's been on my table ever since. It makes a great base for décor in any season. (It was an easy DIY, by the way!)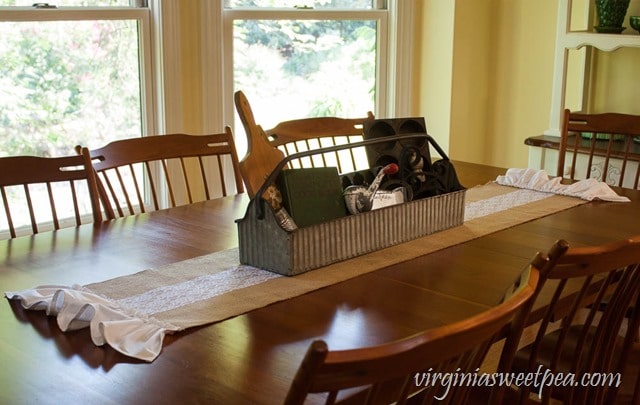 As summer transitions into fall, I'll change the décor in my two farmhouse style metal caddies. I love these caddies and honestly could think of a way to use them in most any room in my home. You can order your own set here.
Be sure to come back tomorrow when I share some favorite items from Emory Valley Mercantile! And don't forget to use SWEETPEA10 at checkout to receive 10% off your order!
Please consider pinning this post for others to discover on Pinterest!