Ideas for Decorating with Vintage Toolboxes
Vintage toolboxes are readily available and very useful for home decor. Today I'm sharing ideas for decorating with vintage toolboxes along with my Lifestyle of Love blogging friends.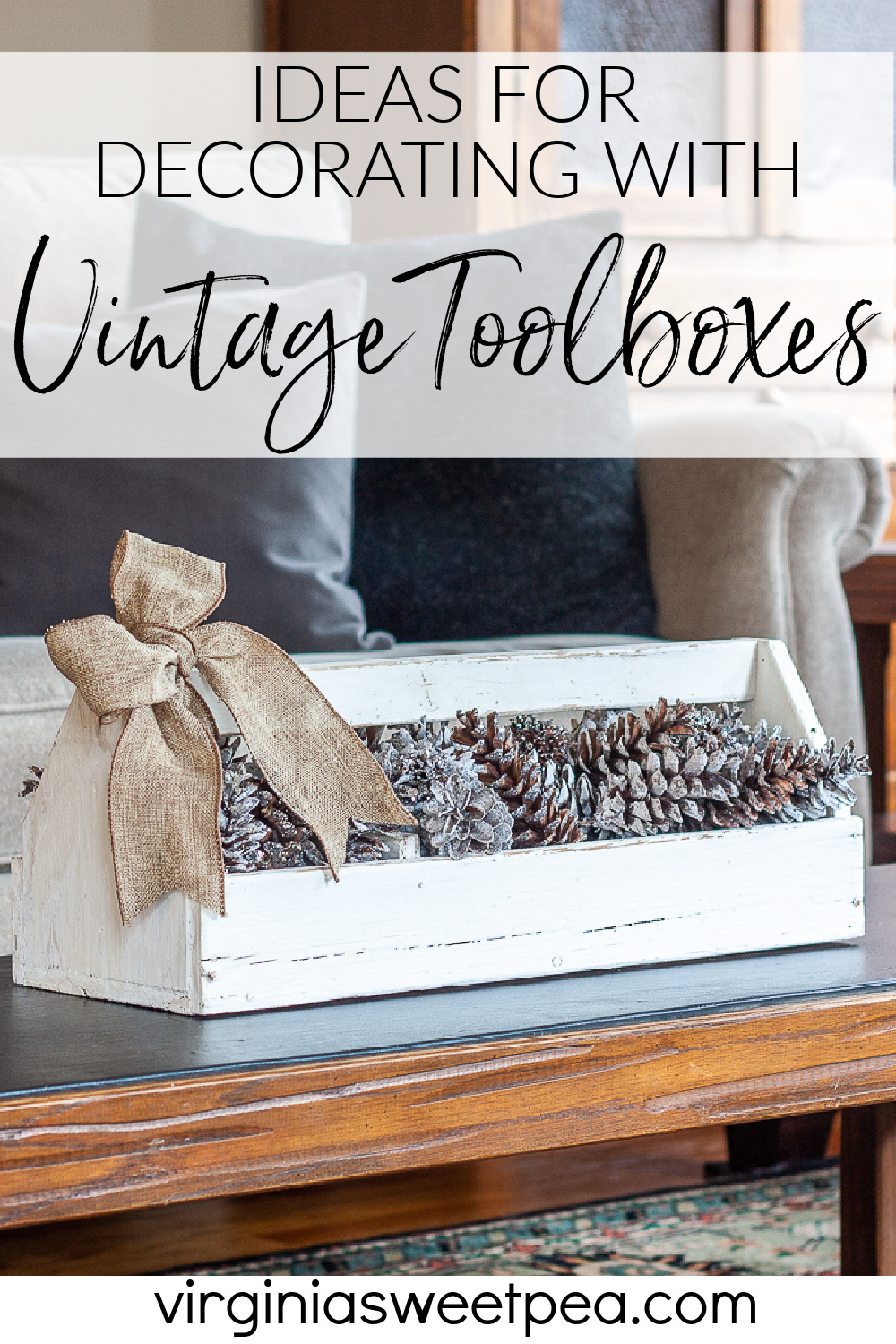 Lifestyle of Love is a group of blogging friends who share a love of vintage and antiques. Every other month we share ideas for decorating with vintage with a theme. Cindy of County Road 407 is the organizer of this fun bimonthly collaboration.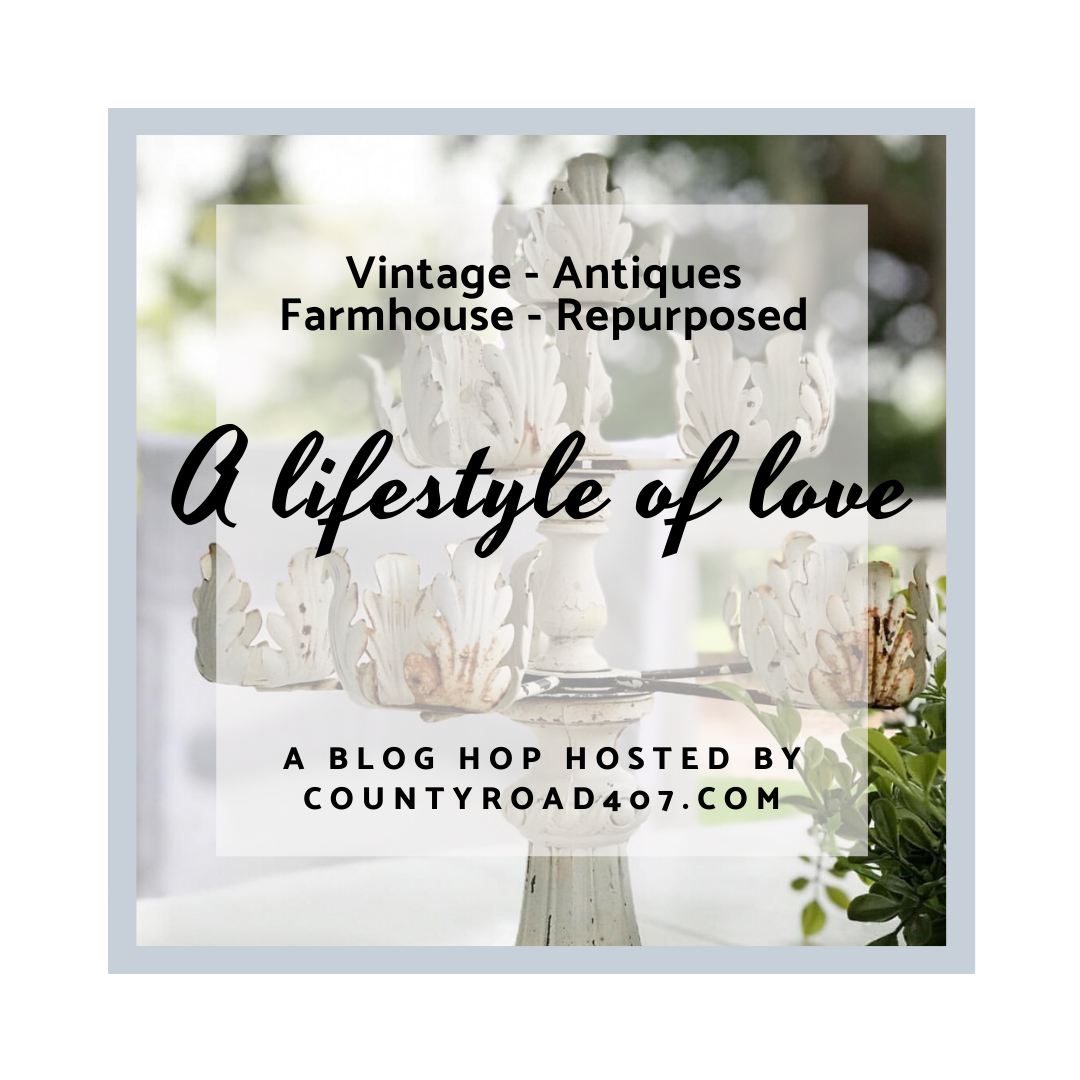 These are the other ideas for decorating with vintage items that I've shared in this series:
Today's we share sharing ideas for decorating with vintage toolboxes.
After you enjoy the ideas that I share, be sure to enjoy more decorating with vintage toolboxes ideas that my friends are sharing. The links to all of the ideas shared today are at the end of this post.
If you arrived from Common Ground, welcome! Debra and I have been blogging friends for a long while and I always enjoy seeing her decor.
Ideas for Decorating with Vintage Toolboxes
We'll start with how I decorated my vintage toolbox for winter and then move on to see how Beth and Stacey decorated theirs. Beth and Stacey have both helped me out with Lifestyle of Love posts in the past.
Beth teamed up with me for our last Lifestyle of Love post when we shared ideas for decorating with antique frames and she's back today to share how she decorated an antique toolbox that she found in the basement of her 1857 farmhouse.
Stacey also helps me with Lifestyle of Love posts. Stacey shared ideas for decorating with vintage jars and bottles and decorating with vintage baskets and crates.
A Toolbox That My Dad Made
Right after we adopted Sherman, Mama and I were rooting around in one of her barns and I found a toolbox that my dad made.
He used it for fencing supplies and when I spotted it, I knew it would be the perfect size to keep on our porch to hold supplies for Sherman. Mr. SP uses it for leashes, flashlights, collars, lights that clip onto Sherman's collar, and poop bags.
When Cindy announced that the theme for this month's Lifestyle of Love was toolboxes, I immediately thought of this toolbox to use.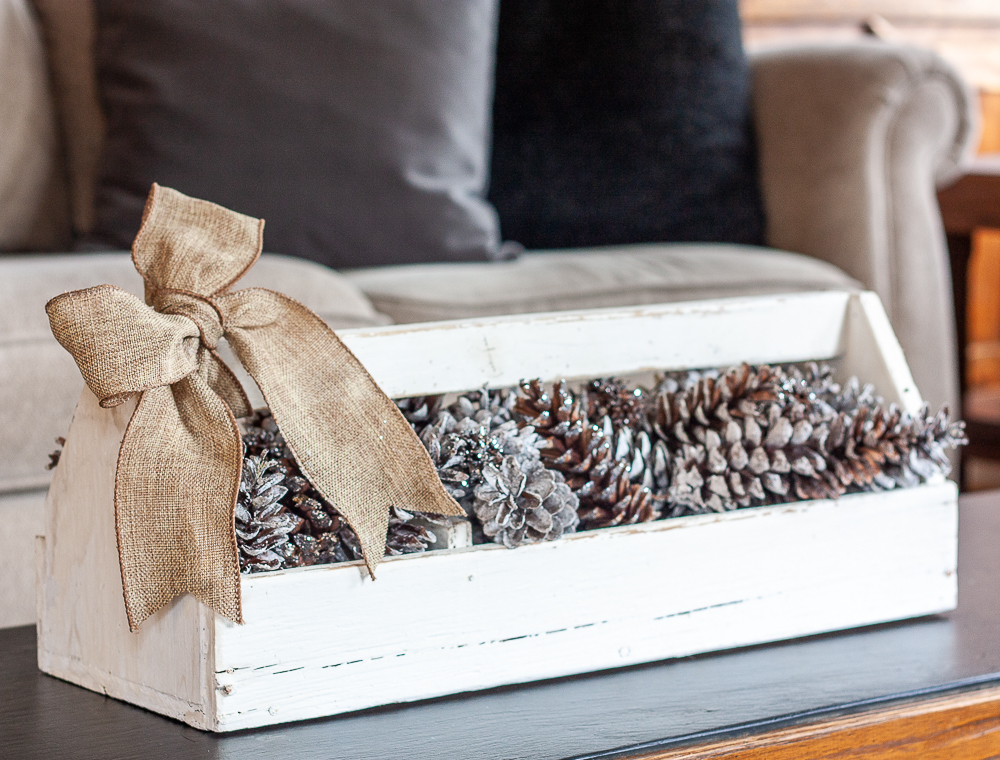 After I found the toolbox in the barn, I cleaned it and painted it white. Over the eight years that we've had Sherman the paint has chipped off, giving the box a worn look that I like.
Decorating the Toolbox
Decorating the toolbox was a bit of a challenge because the handle is very low. My first idea was to use candles but with the low handle, they wouldn't fit.
Since it is winter, I then thought of using pinecones that I decorate with seasonally from year to year.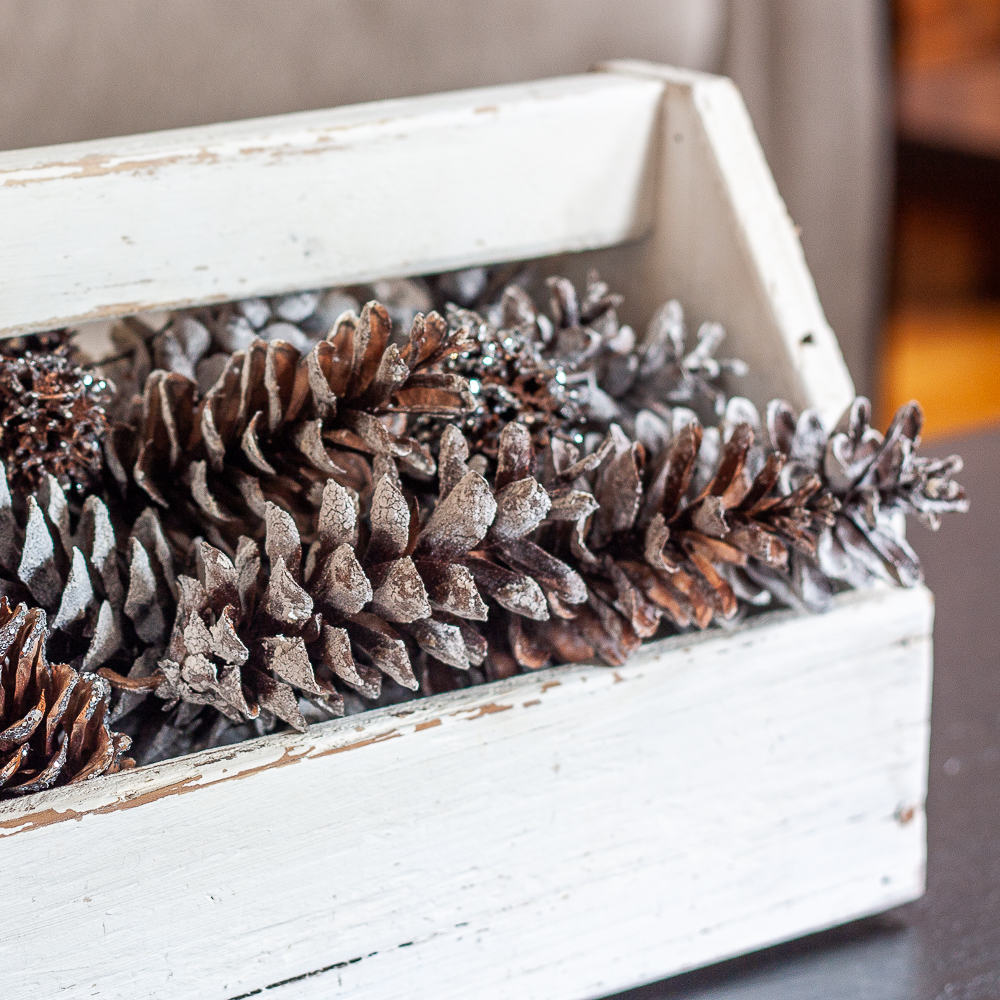 I love the look of snow-kissed pinecones and to get the look, I simply sprayed the pinecones with snow spray.
I almost had enough snow-kissed cones from past years to fill the toolbox but had to make a few new ones to have enough.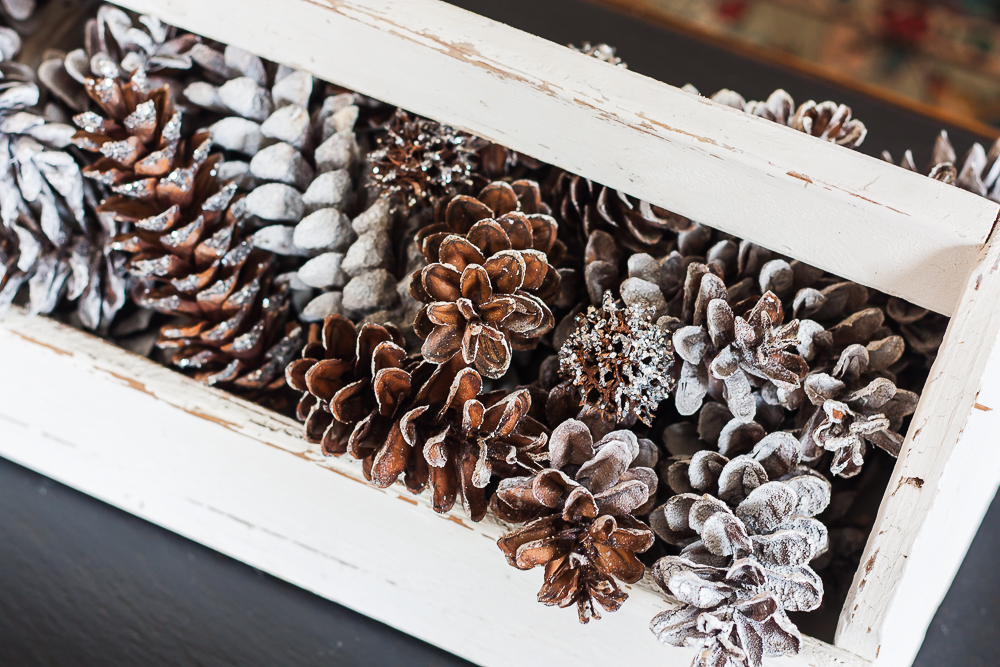 In past winters, I've glittered pinecones and Sweet Gum balls to use in my winter decor. I added some glittered cones in with the snow-covered ones.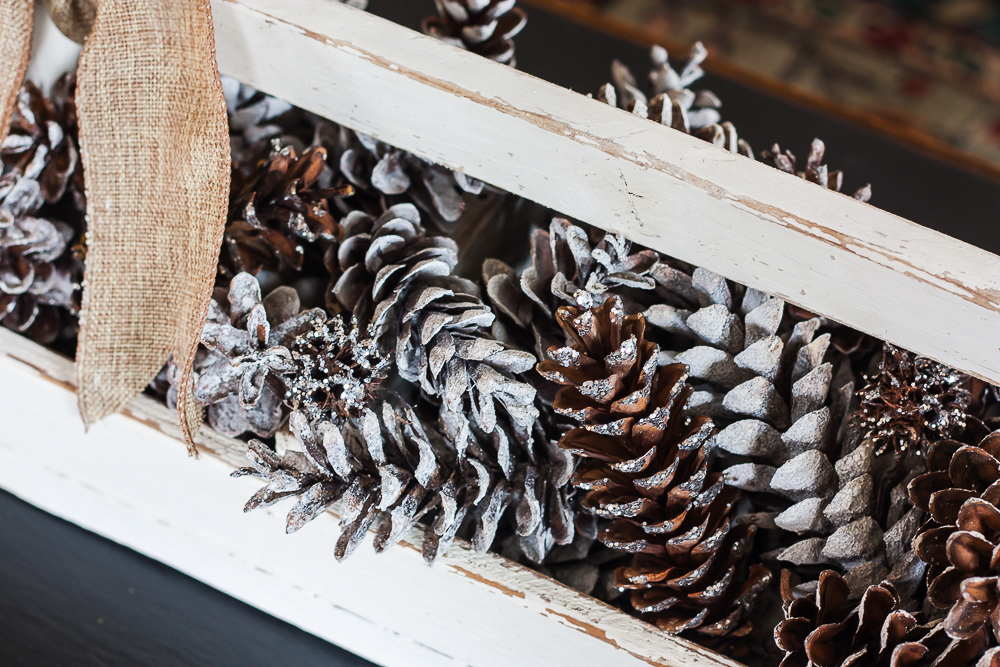 After the toolbox was filled with pinecones, it needed something more so I added a bow.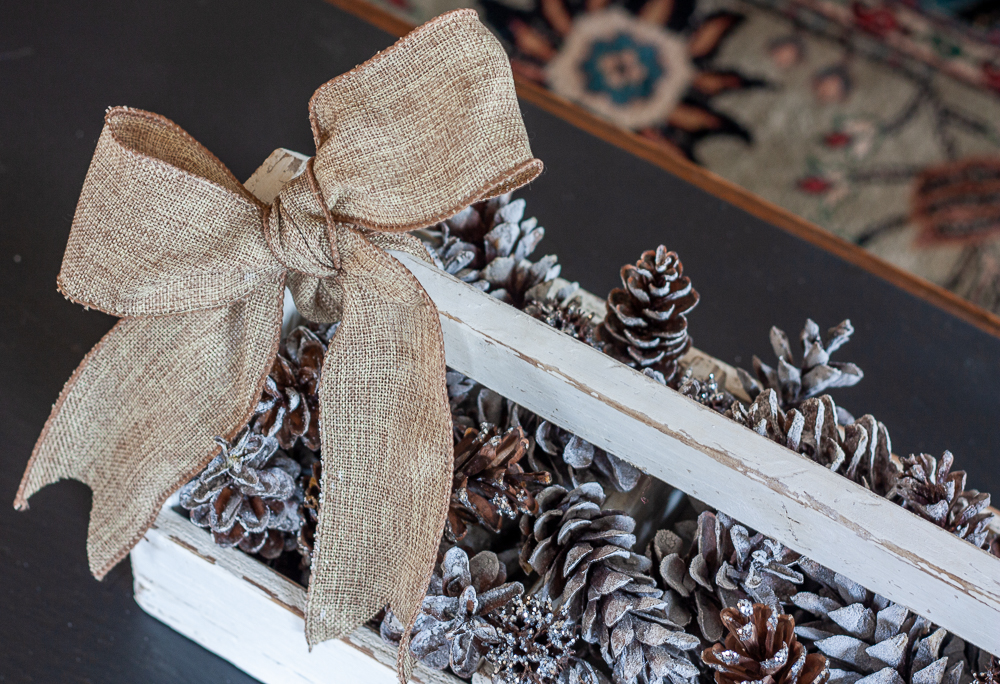 I'm sure when my dad made this toolbox long ago that he never pictured it being used on his daughter's coffee table for a decoration.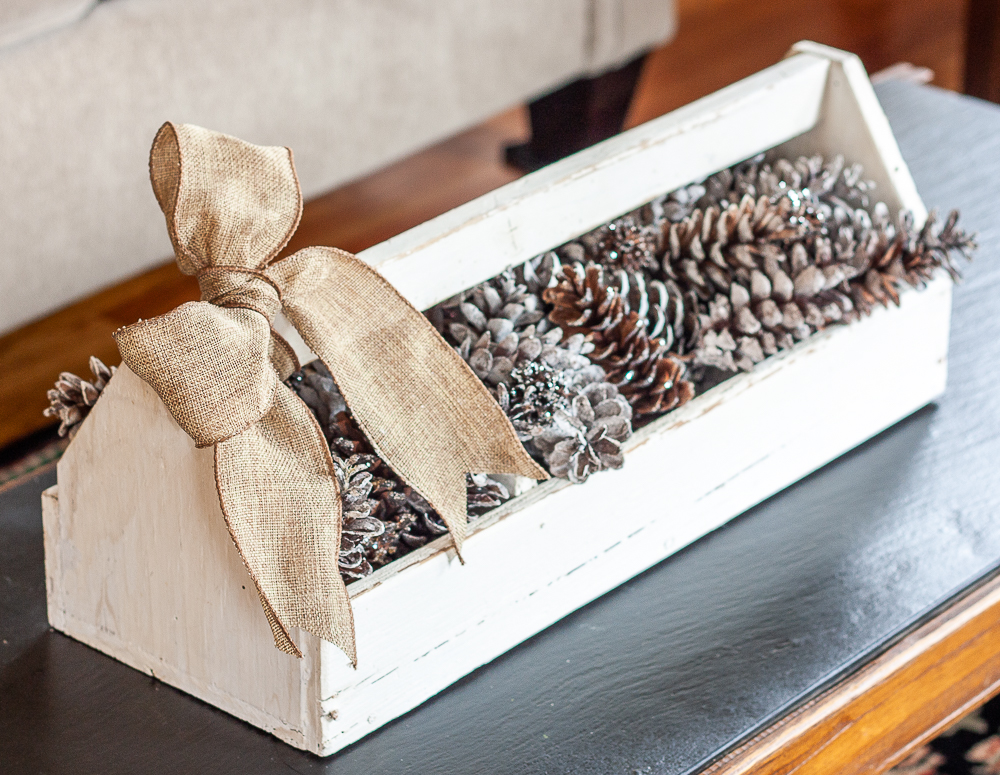 I say my coffee table but the coffee table actually was handed down to me from my parents. I also have the matching end tables in my family room along with the lamps that they bought in 1968 for their first apartment.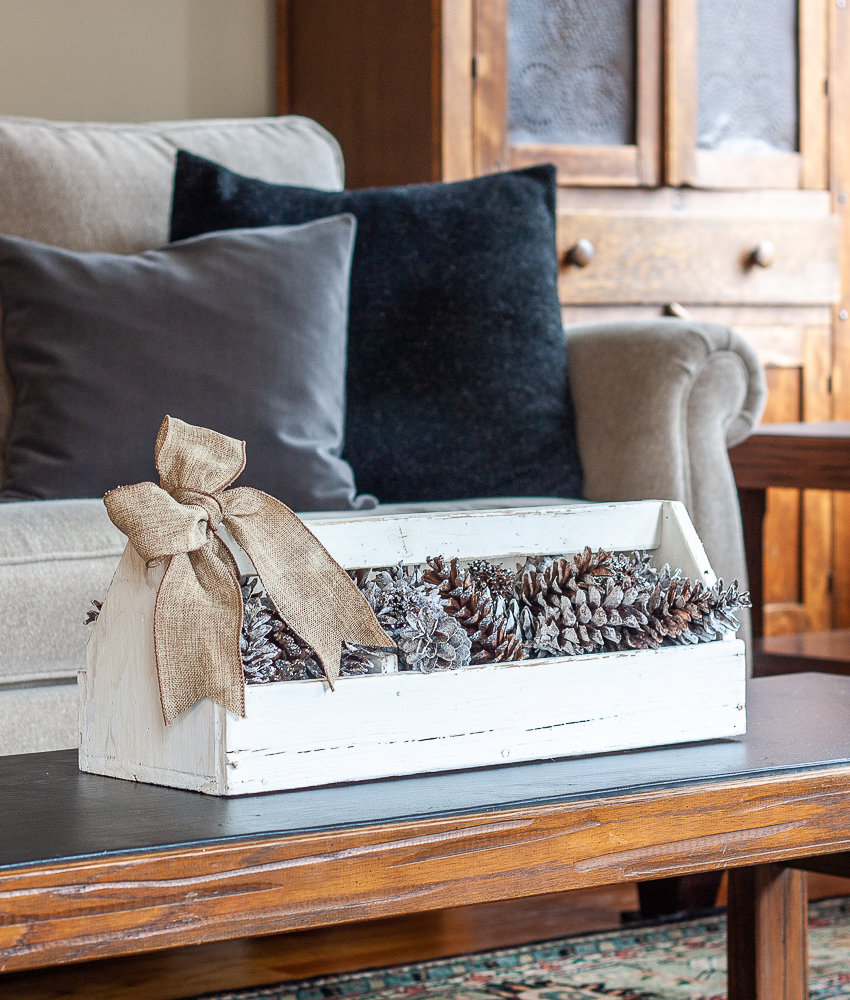 When this toolbox was being used on our porch for Sherman's supplies, it also had a connection to my dad as it sat on a shelf that my dad made for my first apartment.
Beth's Vintage Toolbox
Beth and her husband Matt live in an 1857 farmhouse on a working farm that has been in the family since 1896. You can see the farmhouse in this post.
Beth found a toolbox in the basement of the farmhouse and decorated it to use for winter decor.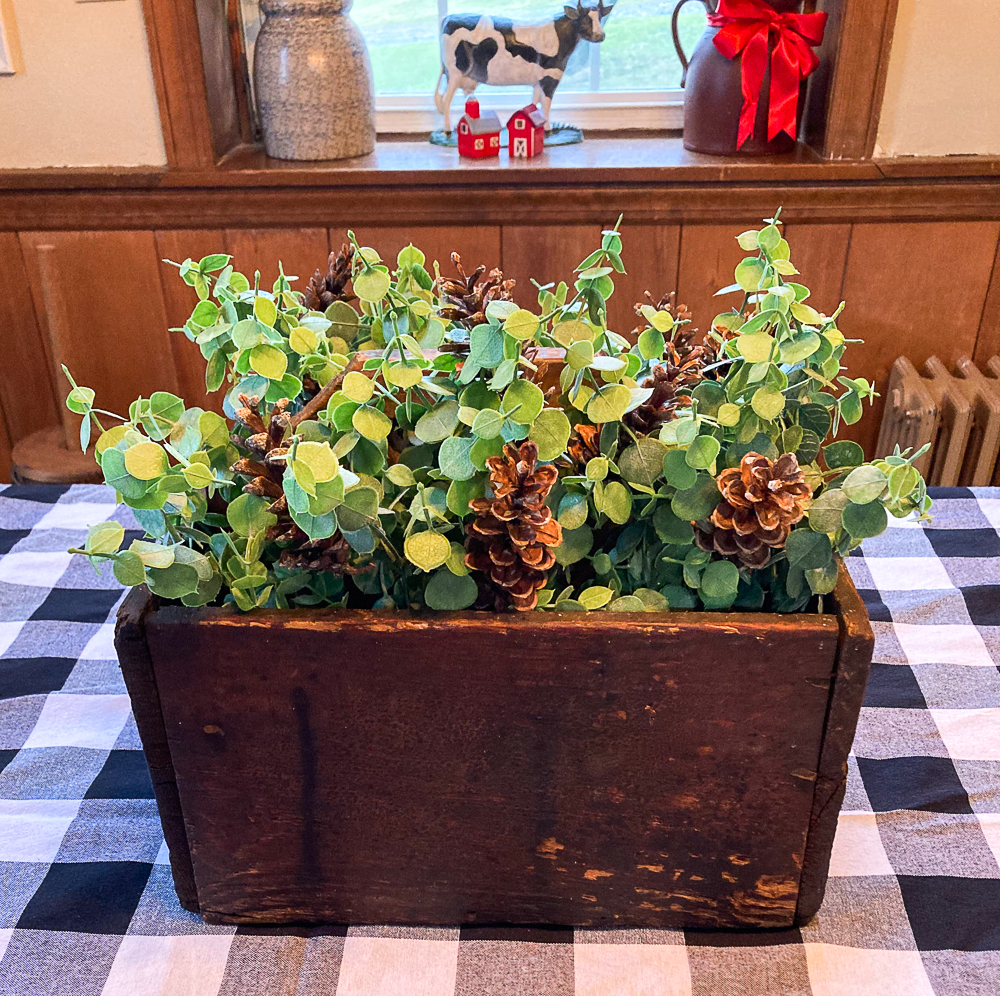 Beth thinks that the toolbox was made with scrap wood because it is not quite even and the divider in the toolbox has two holes in it.
Beth believes that the most recent use of the toolbox was as a tool caddy for gardening tools.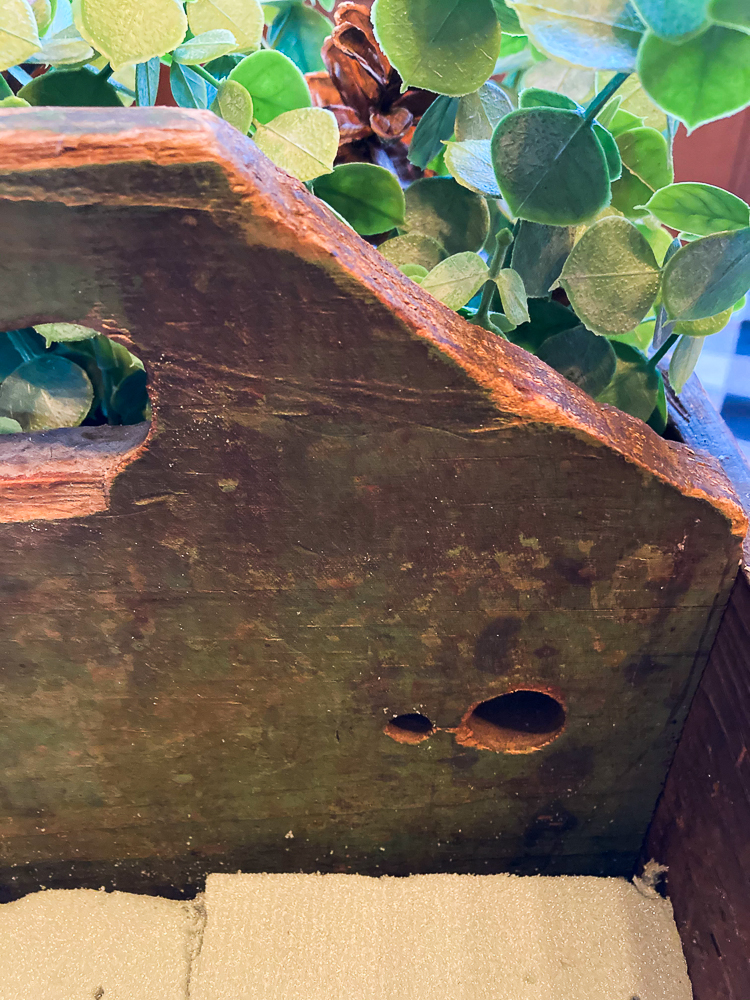 To decorate the toolbox, Beth used pinecones and Eucalyptus.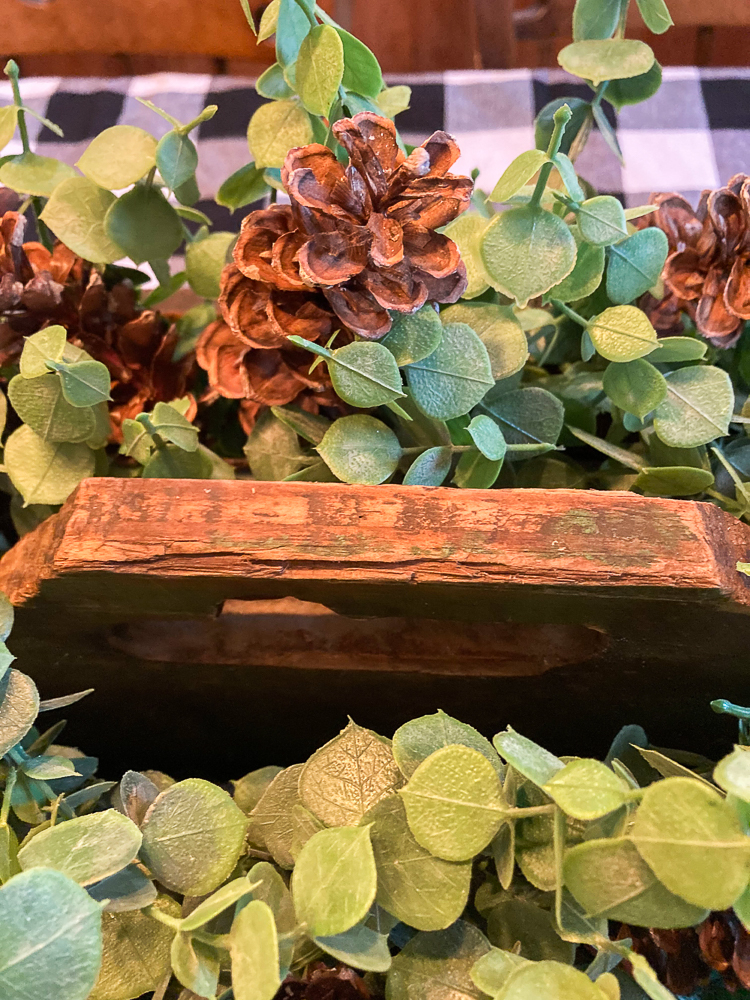 Beth loves farmhouse style which makes sense since she lives in an authentic farmhouse. Many of the things that she's used to decorate her home are things she's found in the attic and basement of the farmhouse or in one of the barns.
Here is her toolbox in her farmhouse kitchen.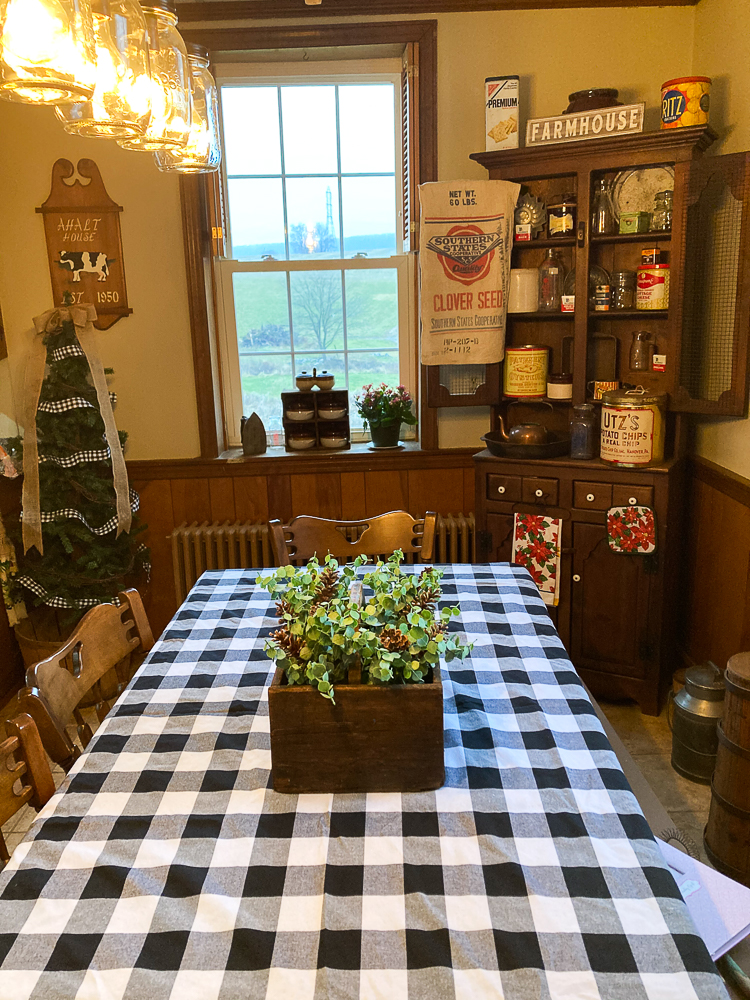 Just for fun, here is a picture of the kitchen in 1969. The men in the middle are my dad and granddad.
My grandfather was one of ten children. This picture was taken in 1969 at "Aunt Tizzy's" funeral. Tizzy was my great-grandmother's sister.
Sitting to the left of my dad is Martha, the oldest of the ten children. To the right of my grandfather is Marge and granddaddy's brother Louis.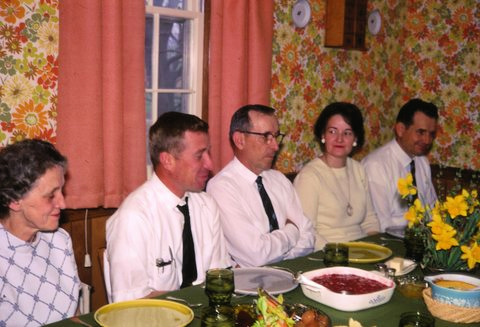 Seated at the other side of the table are Chris (son of Bruce), grandaddy's brother Bruce, Bruce's wife Catherine (who lived to be 100), Regina (still living!) and granddaddy's brother Maurice.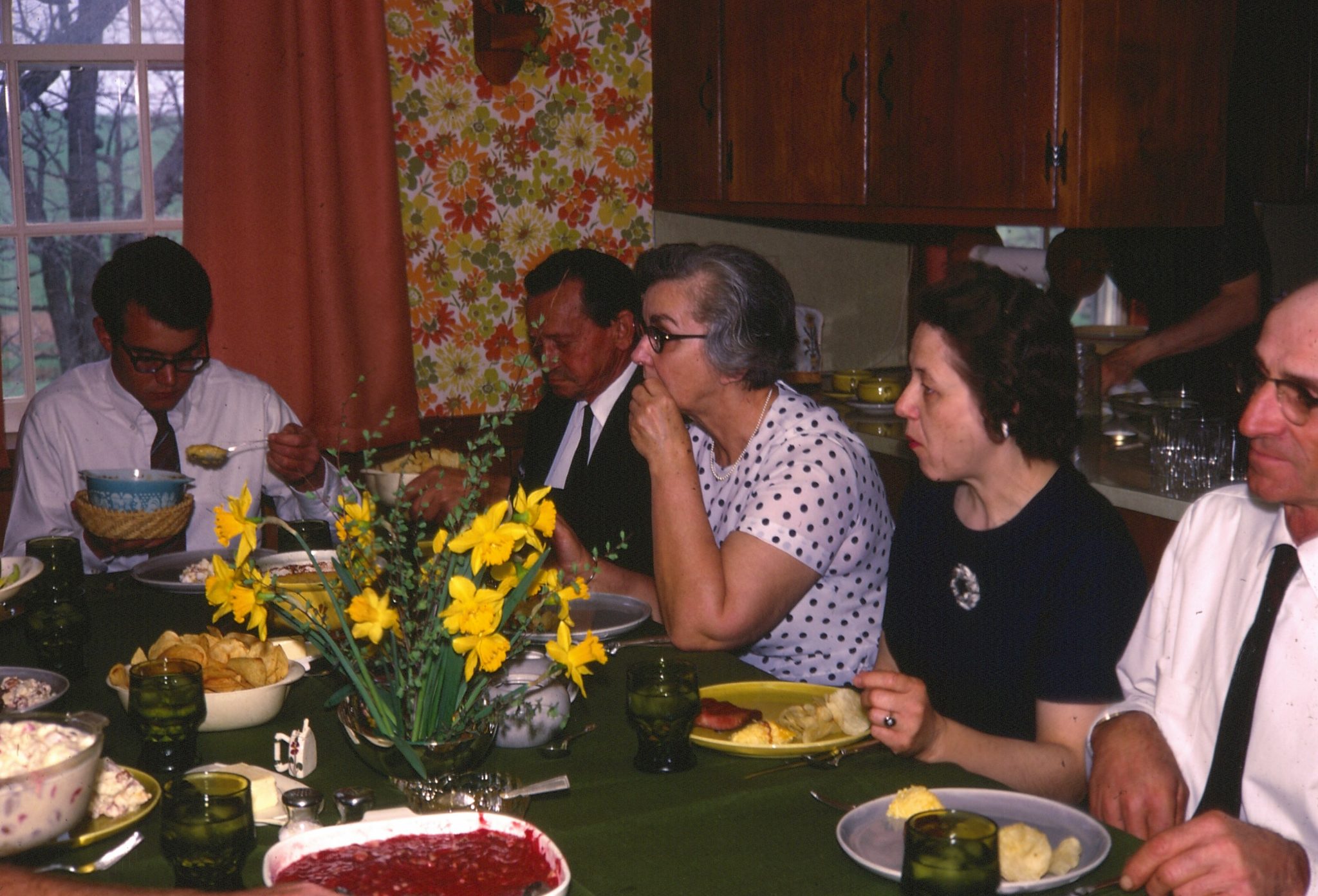 At the head of the table is the youngest sibling, Richard, and behind him Mary.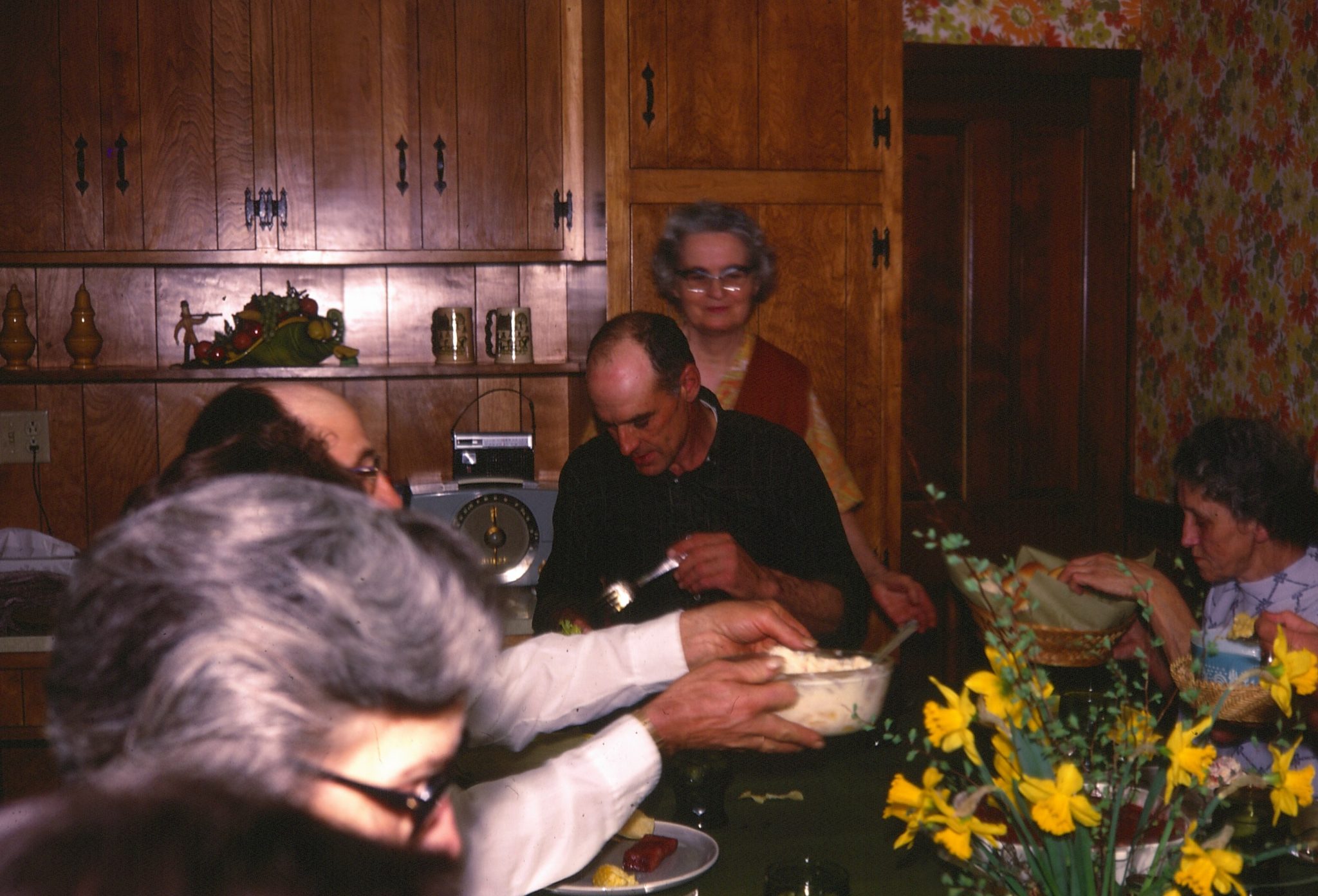 Beth also took a picture of her toolbox on the porch of her home.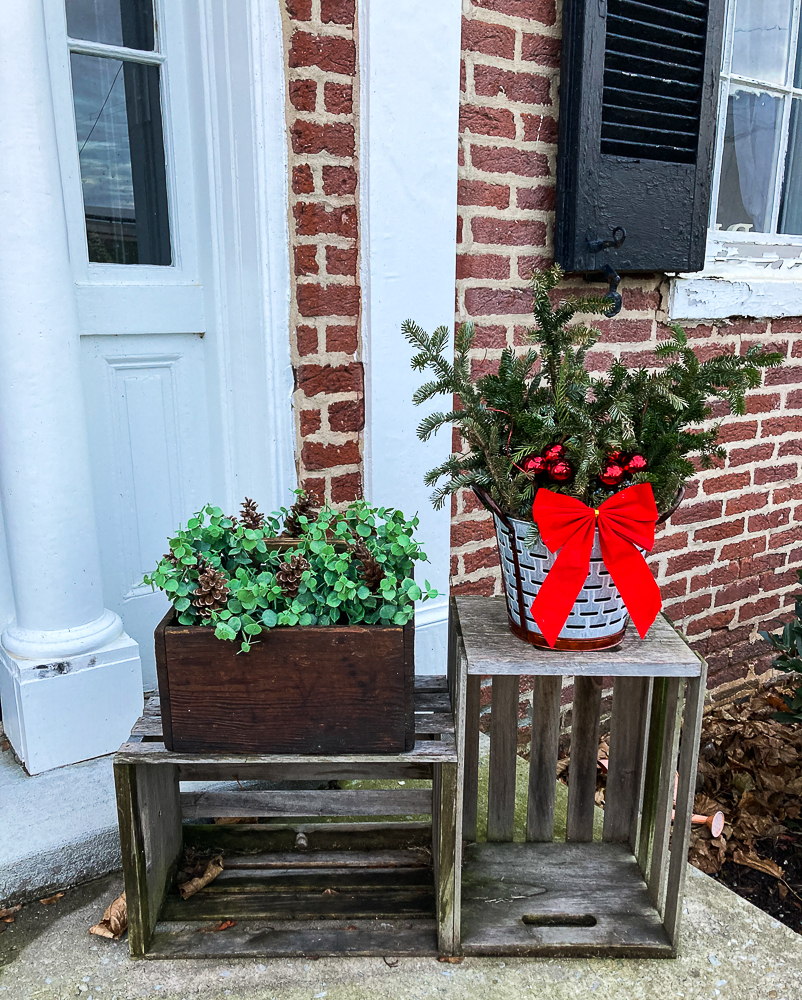 I love teaming up with Beth and you are sure to see more from her 1857 farmhouse in the future.
Stacey's Vintage Toolbox
Stacey decorated her vintage toolbox for winter with wine bottles filled with fairy lights and pinecones.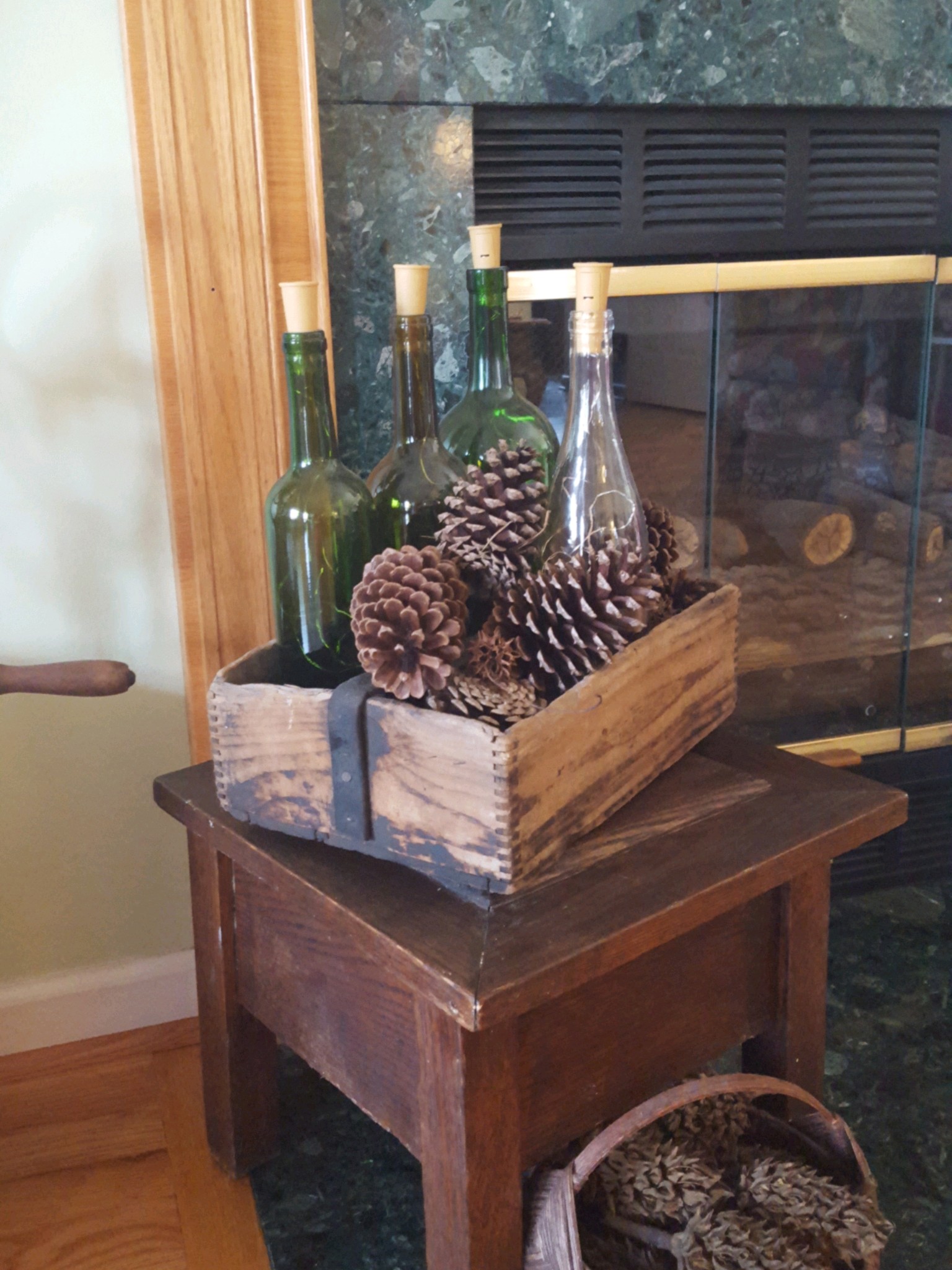 Stacey's home is filled with antiques and vintage that she either inherited or has collected over the years. You are sure to see more of her home in future Lifestyle of Love collaborations.
Another Vintage Toolbox
Besides the toolbox that my dad made, I also have a toolbox that my mom's friend gave me that I often use on our fireplace hearth.
This is how I used the toolbox for my spring mantel in 2019.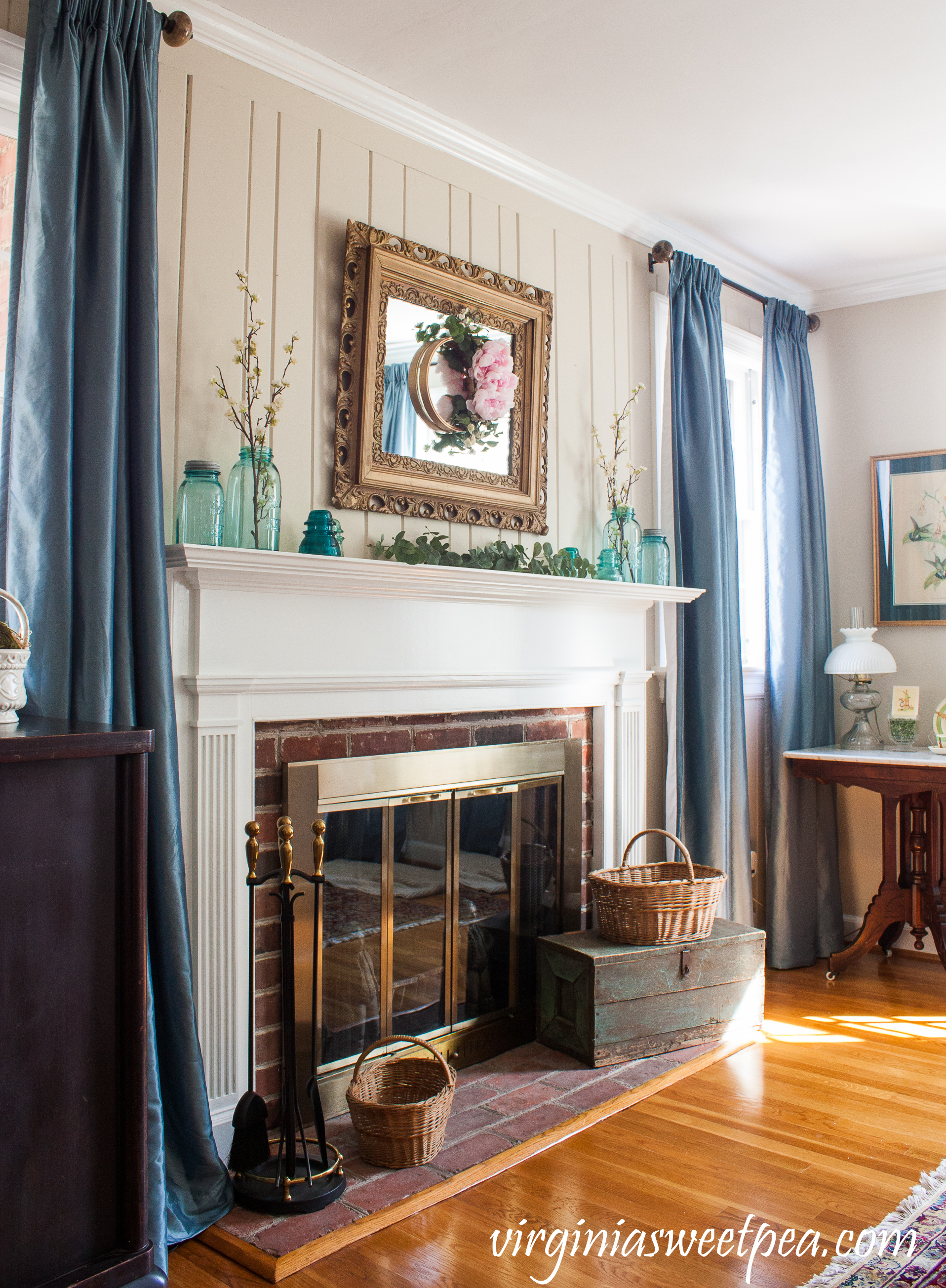 The baskets used on the hearth have a connection to Beth's farmhouse.
Whenever my grandfather had time off, their vacation was a trip to the family farm where he joined in the farm work. He did the same thing when he visited us, he would arrive and immediately change clothes and get to work helping on our small farm.
My grandmother bought the baskets in Middletown, MD on one of their trips to visit the farm. I wrote about the basket history in this post.
Here the same toolbox was decorated for summer with a coastal theme.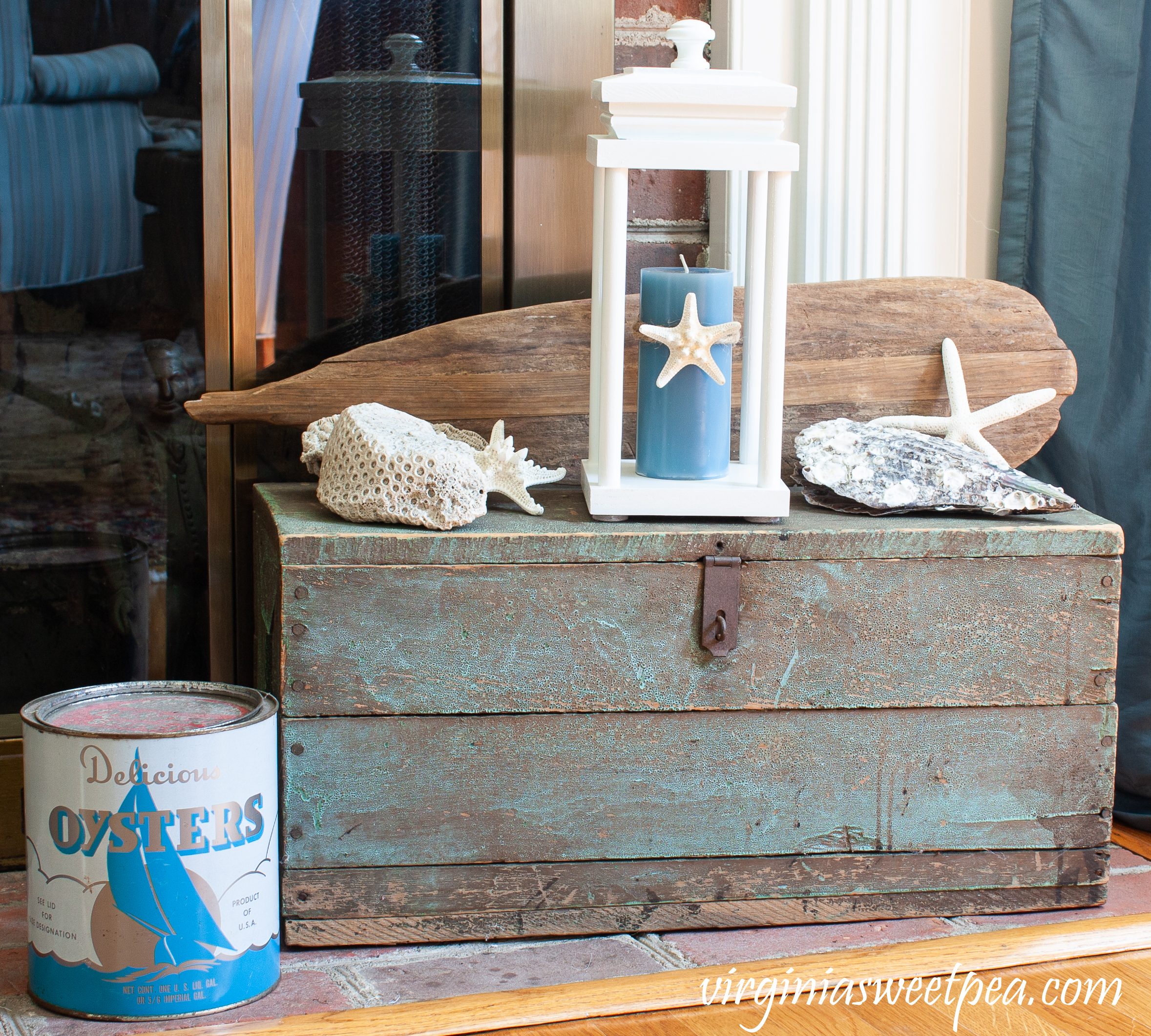 If you are hopping in order, next on the tour is Rachel from The Ponds Farmhouse.
More Ideas for Decorating with Vintage Toolboxes
Click on the links below to see the ideas that my friends are sharing.