Quick and Easy Soup Recipe – Fiesta Chowder
Looking for a quick and easy soup recipe? Fiesta Chowder is a full of flavor soup that can be made start to finish in just 30 minutes.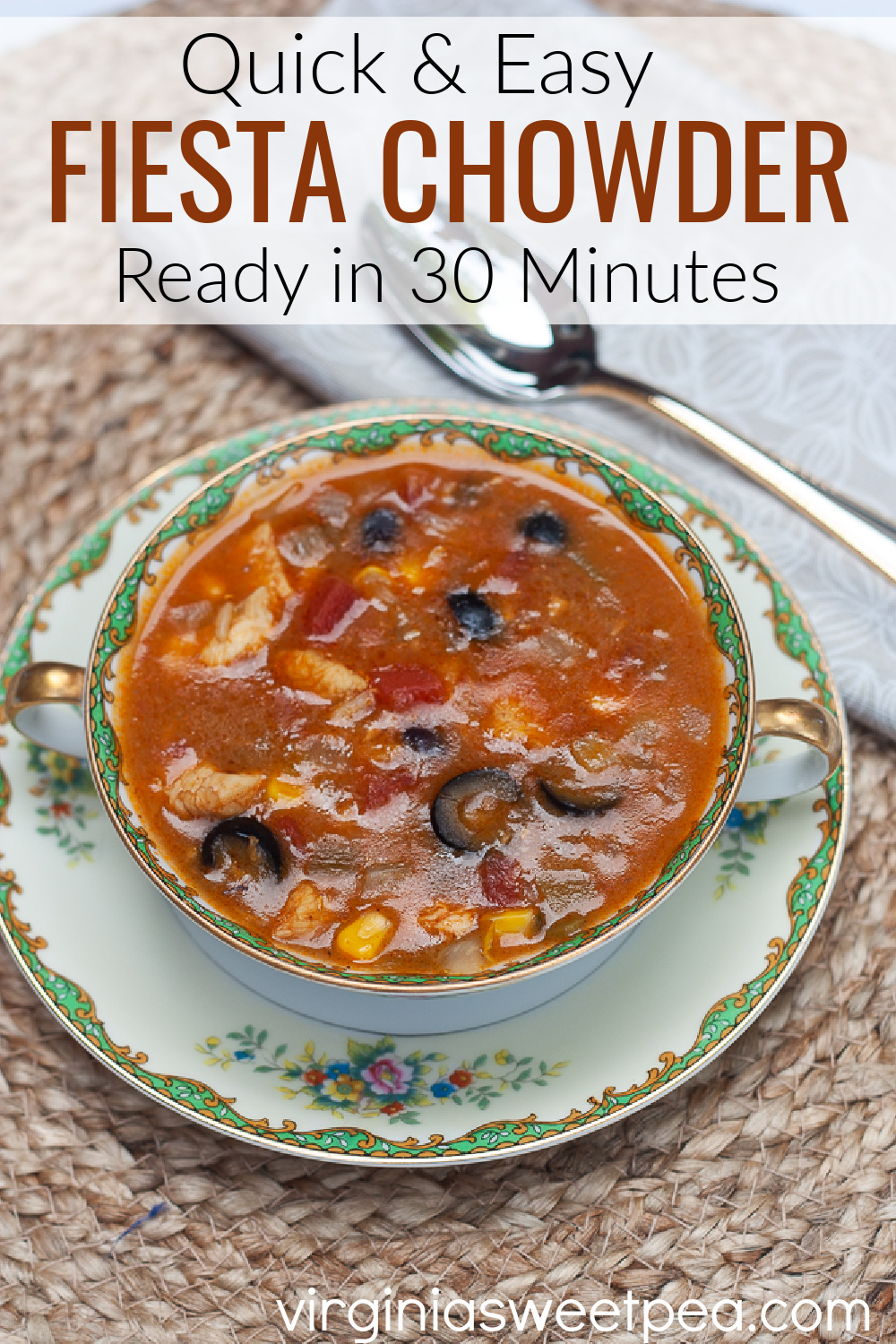 My first experience with this quick and easy soup recipe was at a baby shower given by my cousin back in 2003.
Everyone at the shower loved this soup and after getting the recipe, I started making it on a regular basis. That baby is now 17 years old, so who knows how many times I've made this recipe over the years.
Quick and Easy Fiesta Chowder
Fiesta Chowder is definitely a family favorite soup recipe.
My husband frequently requests that I make this soup and when he comes home from work and sees it on the stove, he's a very happy man.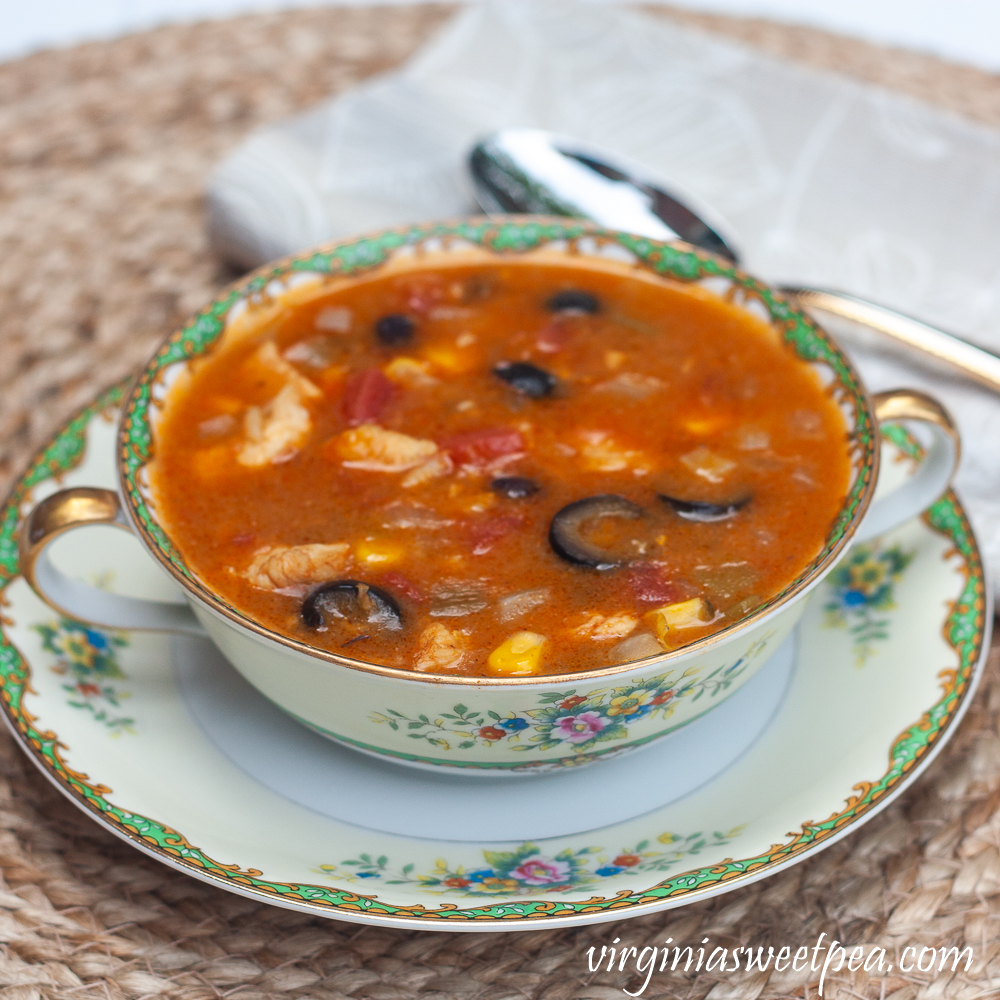 When I was still teaching, my teaching partner, Beth, was cleaning out her house and me if I wanted some old china. She brought a set of six Noritake Cordoro soup bowls and saucers to school the next day for me to take home and I've enjoyed them ever since.
This pattern was first introduced in 1921. I have a feeling that it belonged to either one of Beth's or her former husband's grandmothers. I love the floral design and colors of this china pattern.
Back to the soup. The recipe starts with browning chicken that has been coated with flour and fajita mix. This gives the chicken great flavor.
The soup contains healthy ingredients including: brown rice, corn, black beans, tomatoes, green chilis, and olives.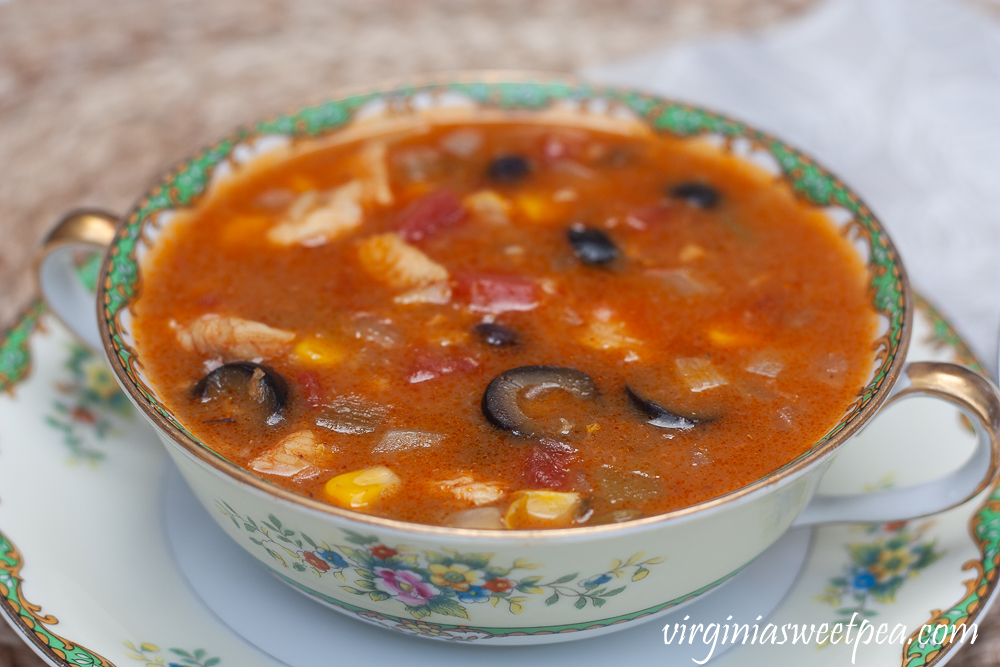 There's one ingredient that isn't as healthy but it adds great flavor to this soup, cheddar cheese soup.
If you arrived here from Mantel and Table, welcome!
How to Make Fiesta Chowder
Be sure to read through the recipe and gather all of the ingredients before you start cooking.
I've found that it's easiest to cut up the chicken, onion, and garlic prior to beginning the recipe procedure.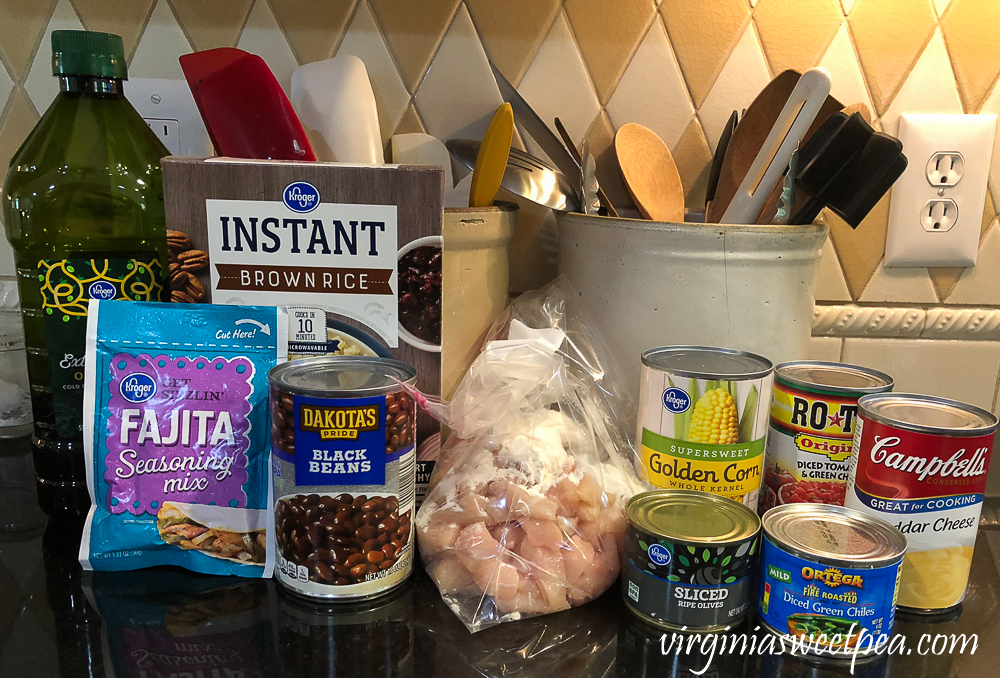 The first step to make this soup is to combine 3 T of flour and 2 tablespoons fajita seasoning in a heavy-duty zip-top plastic bag. Shake to coat.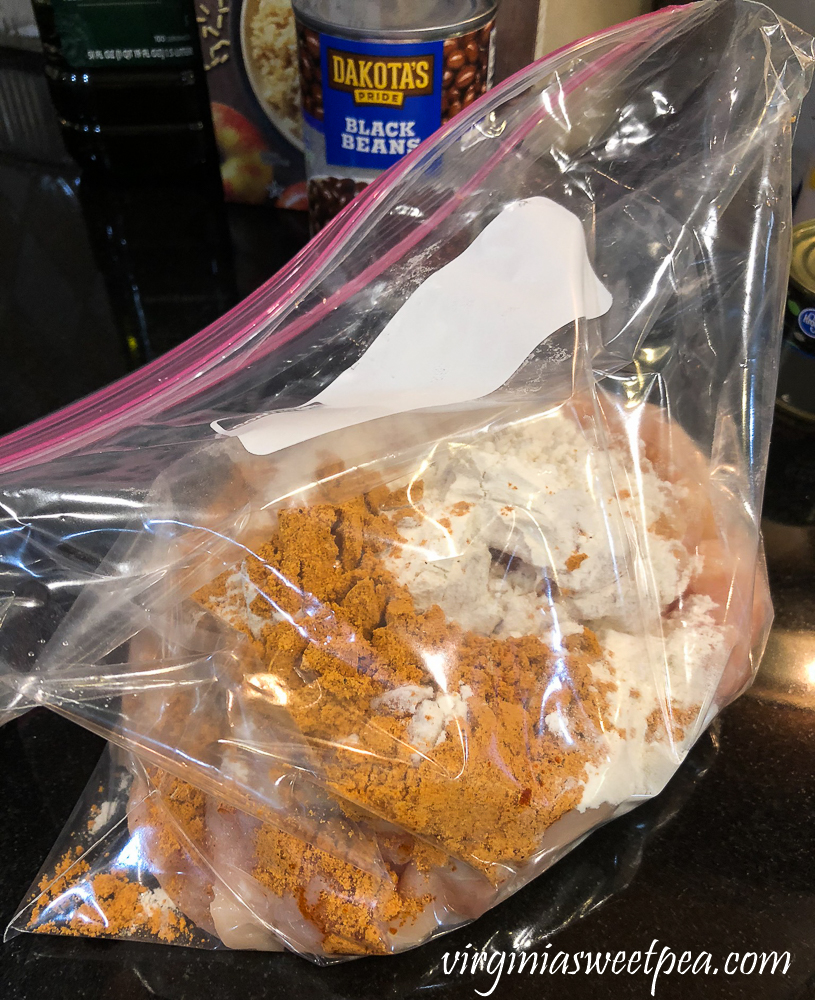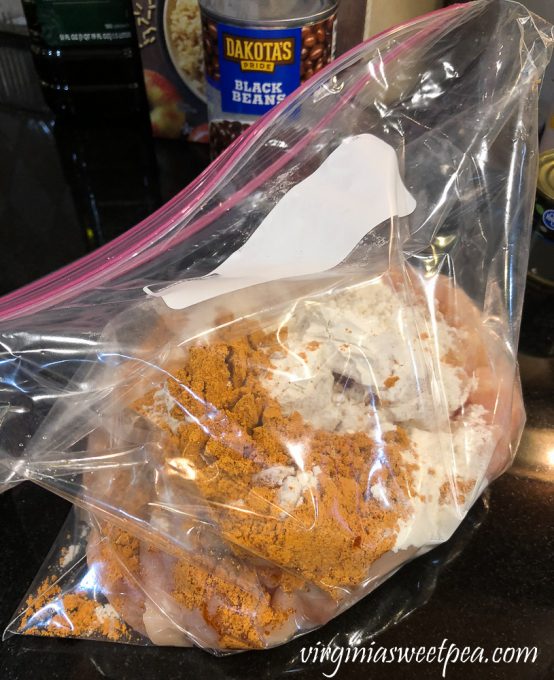 Cook chicken in hot oil in a large Dutch oven over high heat, stirring often, 4 minutes or until browned.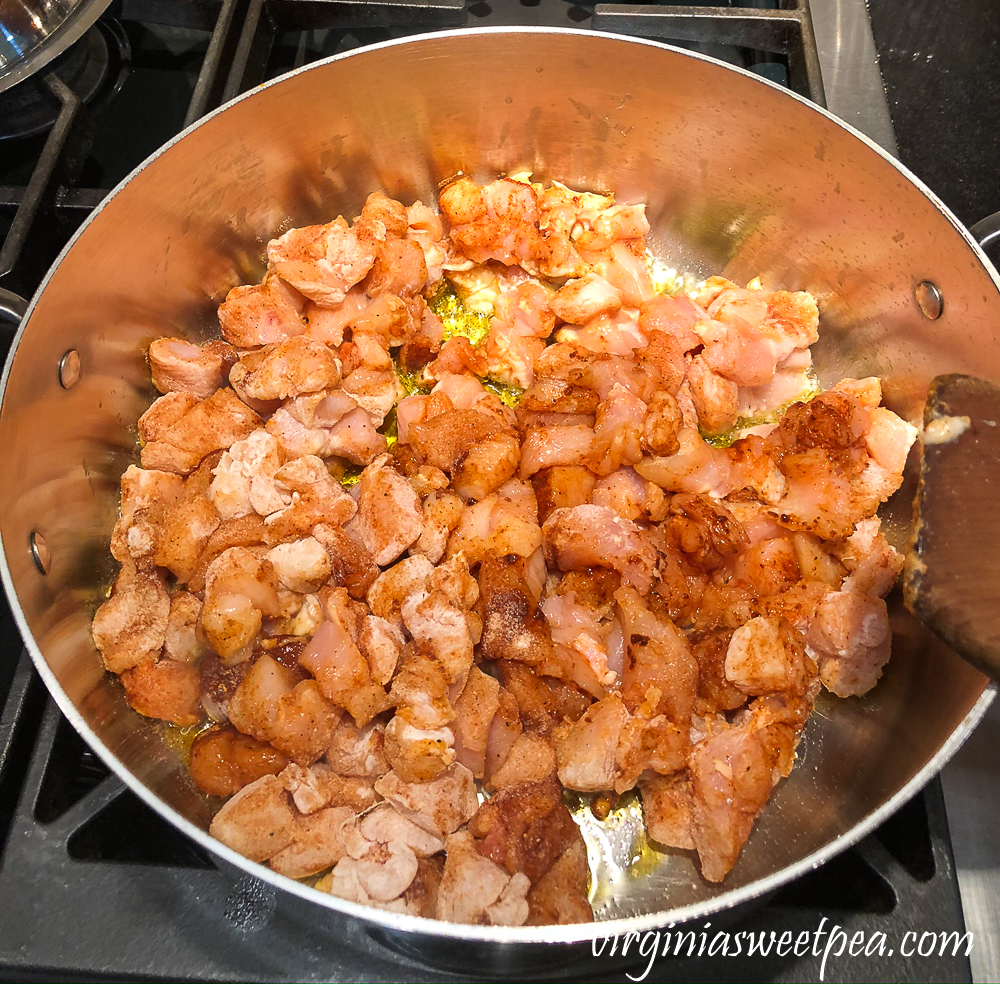 Be sure to scrape up the brown bits from the bottom of the pan as the chicken cooks.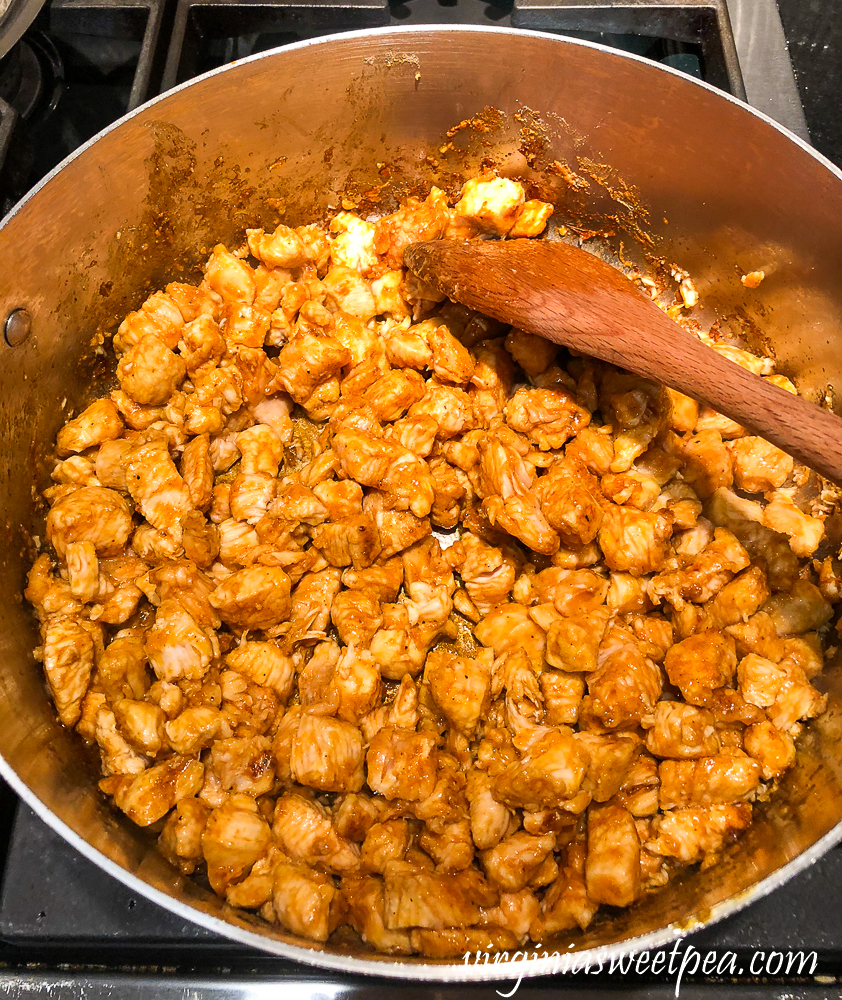 Onion and garlic are then added to the chicken. I use prepared garlic to save time.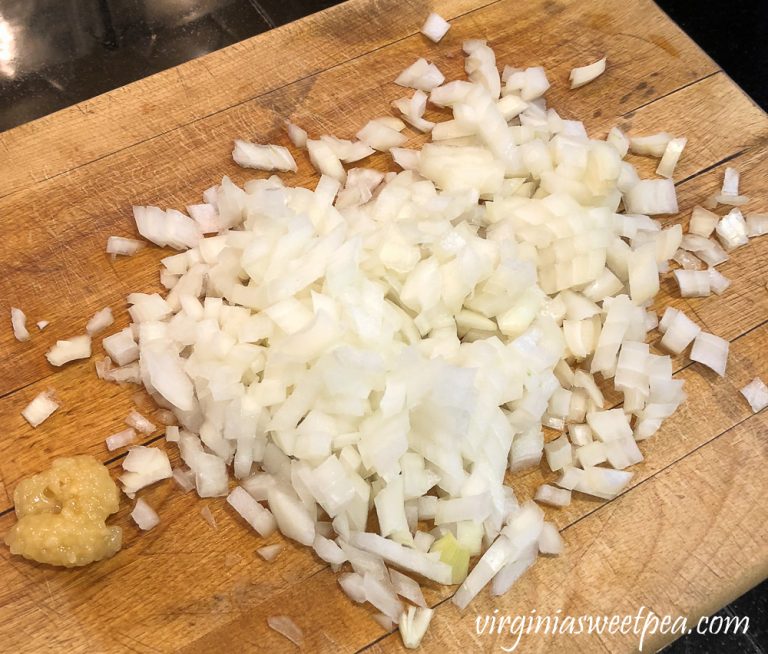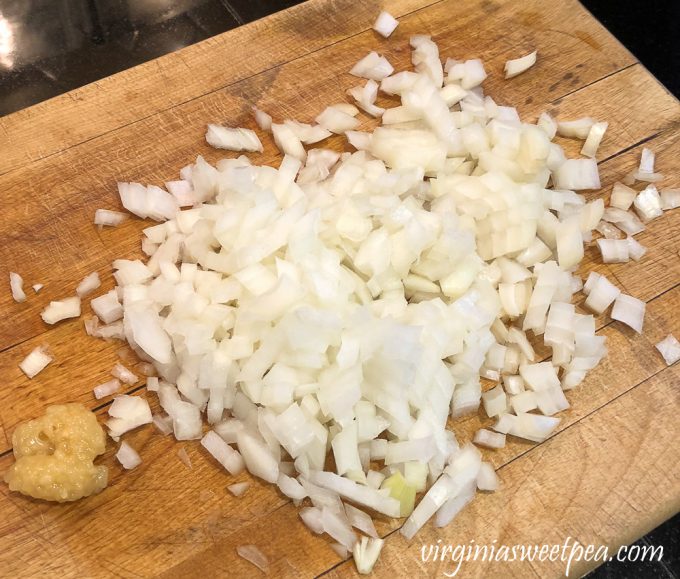 And sautéed for 5 minutes. Be sure to keep stirring.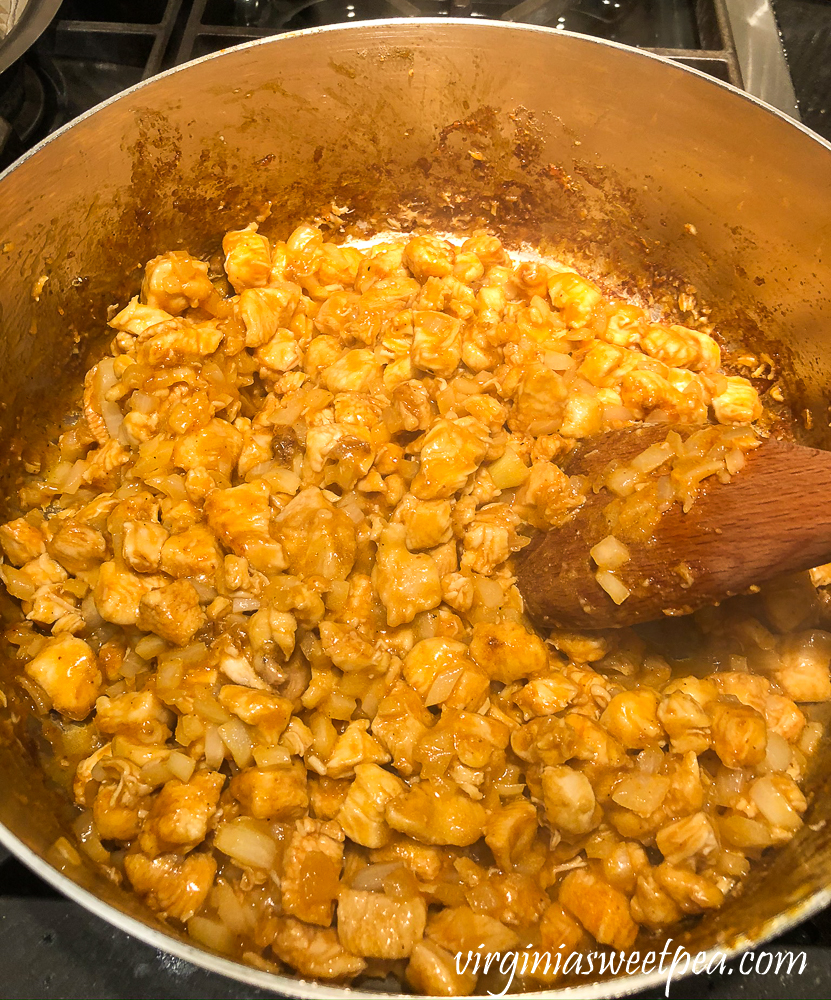 Next, add remaining ingredients except for the cheddar cheese soup.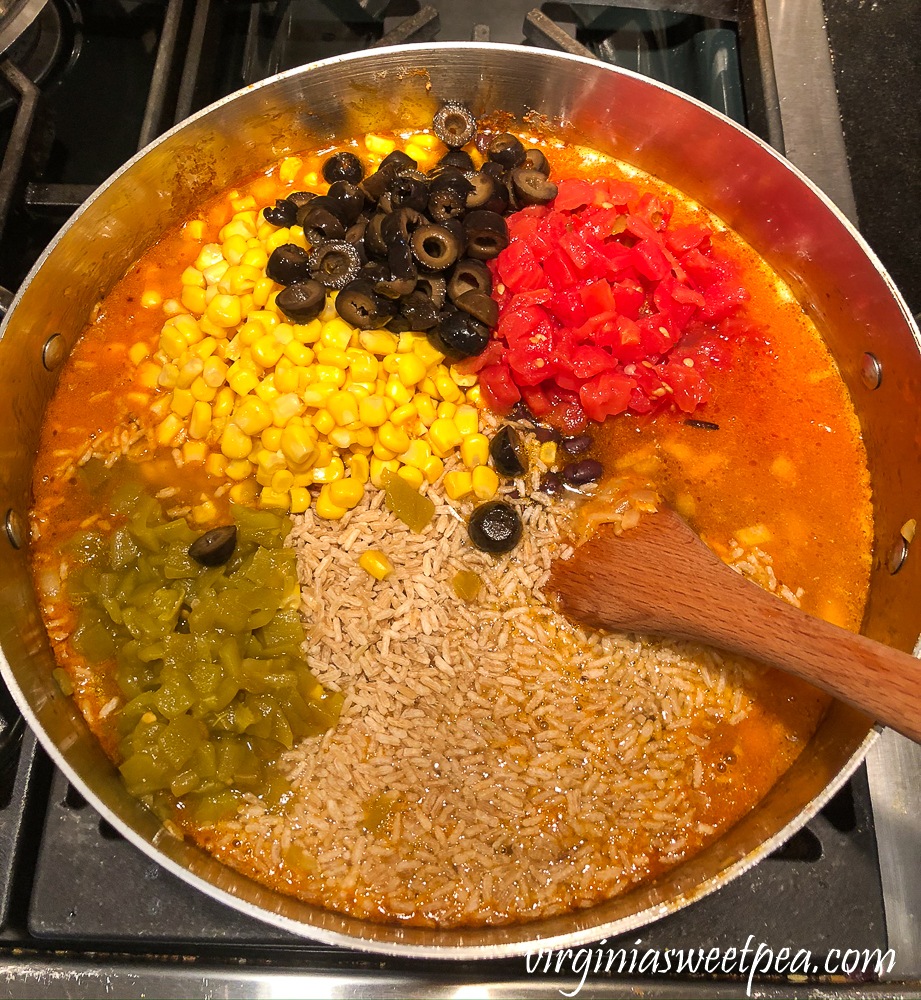 Bring to a boil, then reduce heat, cover, and simmer for 5 minutes.
Finally, add the cheddar cheese soup and heat through.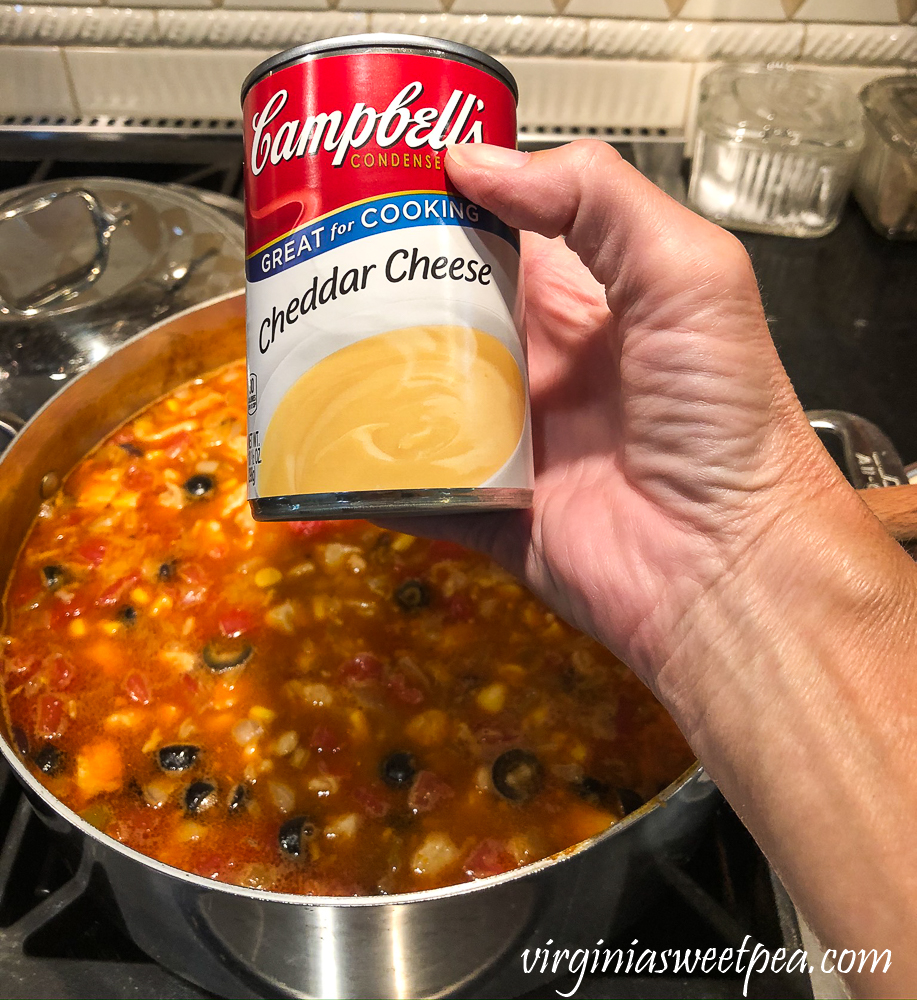 Fiesta Chowder is now ready to enjoy!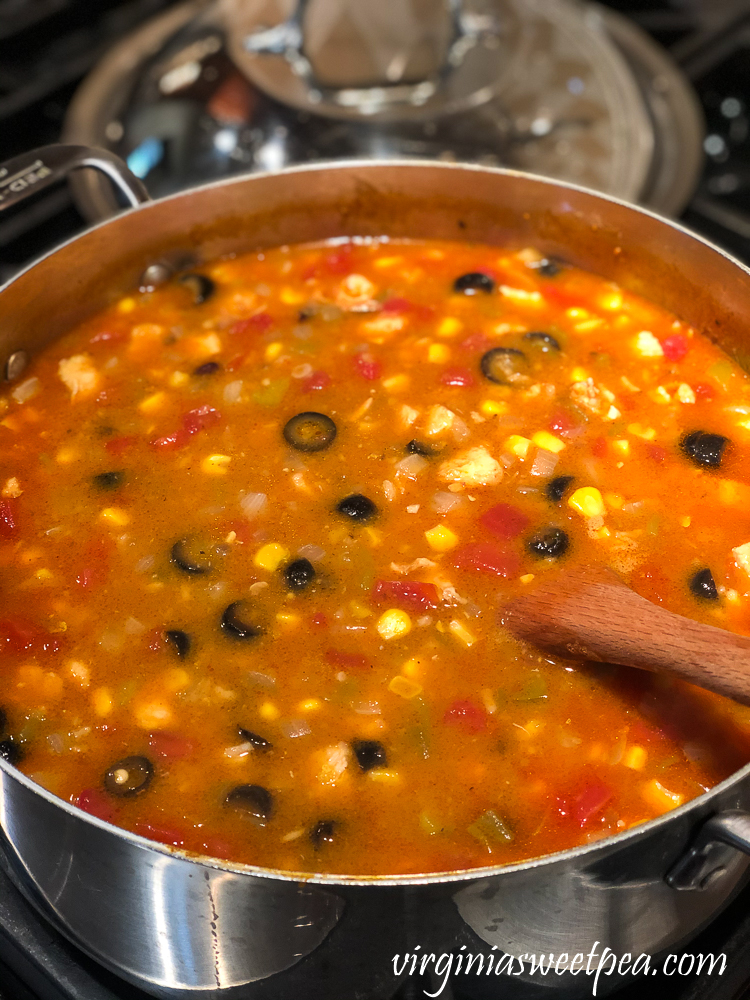 This hearty, quick and easy soup recipe is so good!
We enjoyed our first fall bowl of this soup last night for dinner and since there are only two of us, we have leftovers for another night's meal.
Mr. SP also enjoys taking this soup to work for lunch.
Print this out and give it a try, you won't be sorry!
Yield: 8 Servings
Family Favorite Soup Recipe - Fiesta Chowder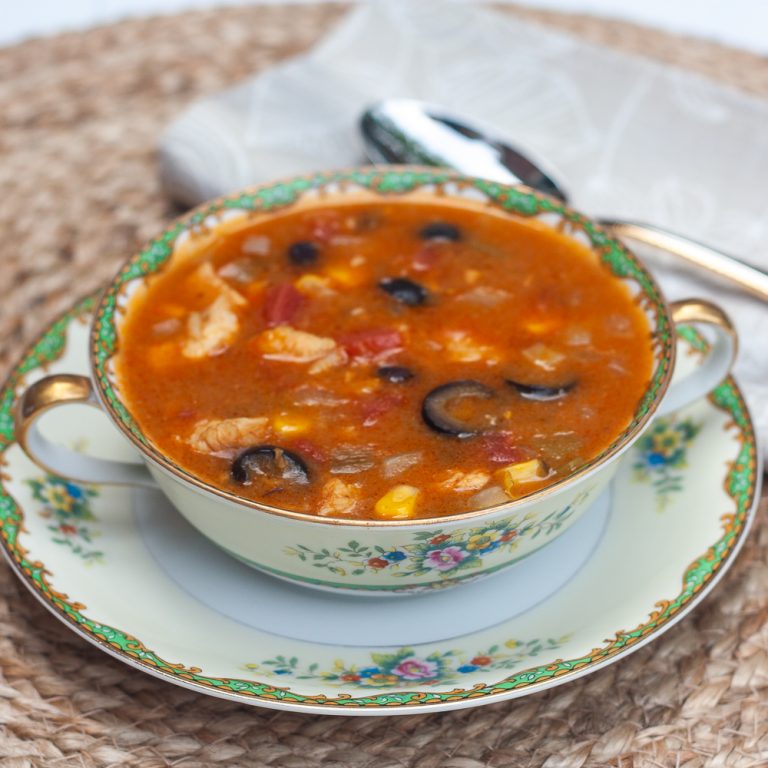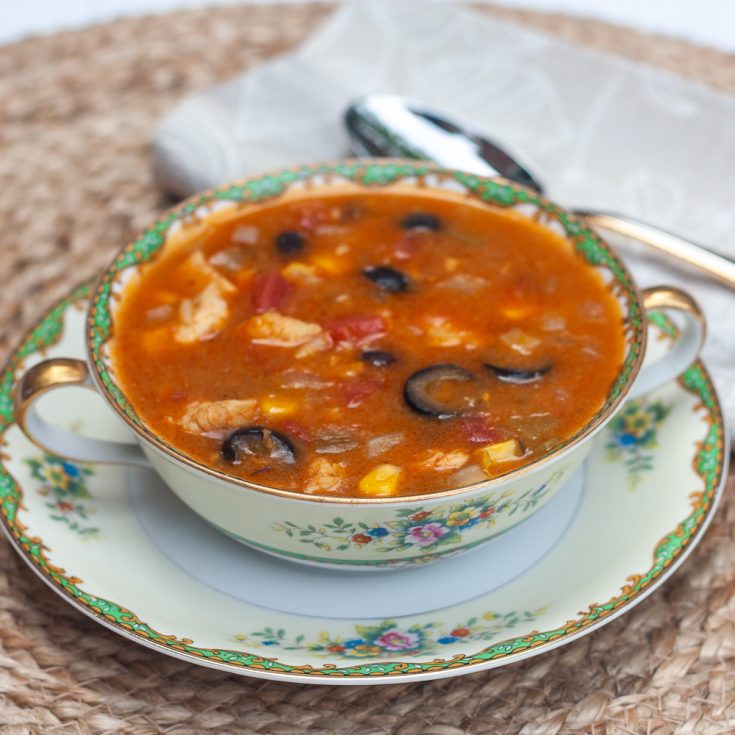 Looking for a quick and easy weeknight meal? Fiesta Chowder is ready to be enjoyed in just 30 minutes. This flavorful soup is so good!
Ingredients
3 T all-purpose flour
1 (1.4 oz) package fajita seasoning, divided
3 large boneless chicken breasts
3 T vegetable oil or olive oil
1 medium onion, chopped
1 tsp minced garlic
1 (15 1/4 oz) can of corn
1 (15 oz) can of black beans, rinsed and drained
1 (10 oz) can of Rotel tomatoes
1 (4.5 oz) can of chopped green chilis
3 cups water
1 cup uncooked instant brown rice
1 (2 1/2 oz) can sliced ripe olives
1 (10 3/4 oz) can cheddar cheese soup
Instructions
Combine flour and 2 T fajita seasoning in a heavy-duty plastic bag; add chicken. Seal and shake to coat.
Cook chicken in hot oil in a large Dutch oven over high heat, stirring often, 4 minutes, or until browned.
Reduce heat to medium-high; add onion and garlic; saute 5 minutes. Stir in remaining fajita seasoning, corn, and the rest of the ingredients except the cheddar cheese soup.
Bring mixture to a boil; reduce heat to medium-low, cover and simmer 5 minutes.
Remove lid, and stir in cheddar cheese soup.
Notes
There is no need to drain the corn or olives.
Cilantro is a great addition to this soup. Add a 3 T of fresh Cilantro with the cheddar cheese soup.
Nutrition Information:
Yield:
8
Serving Size:
1
Amount Per Serving:
Calories:

260
Total Fat:

11g
Saturated Fat:

2g
Trans Fat:

0g
Unsaturated Fat:

8g
Cholesterol:

44mg
Sodium:

427mg
Carbohydrates:

22g
Fiber:

3g
Sugar:

2g
Protein:

19g
If you are hopping in order, next up is Crissy from First Day of Home. Crissy is a great blogging friend and is a super talented decorator and cook. If you've never visited her blog, I promise you'll enjoy it.
More Recipes to Enjoy
Click on the links below to enjoy the recipes that my friends are sharing today.