Football Themed Cozy Reading Corner
When fall rolls around, a cozy reading corner is wonderful to enjoy along with a good book and a warm beverage.
My reading corner is football-themed, decorated with vintage treasures from my family.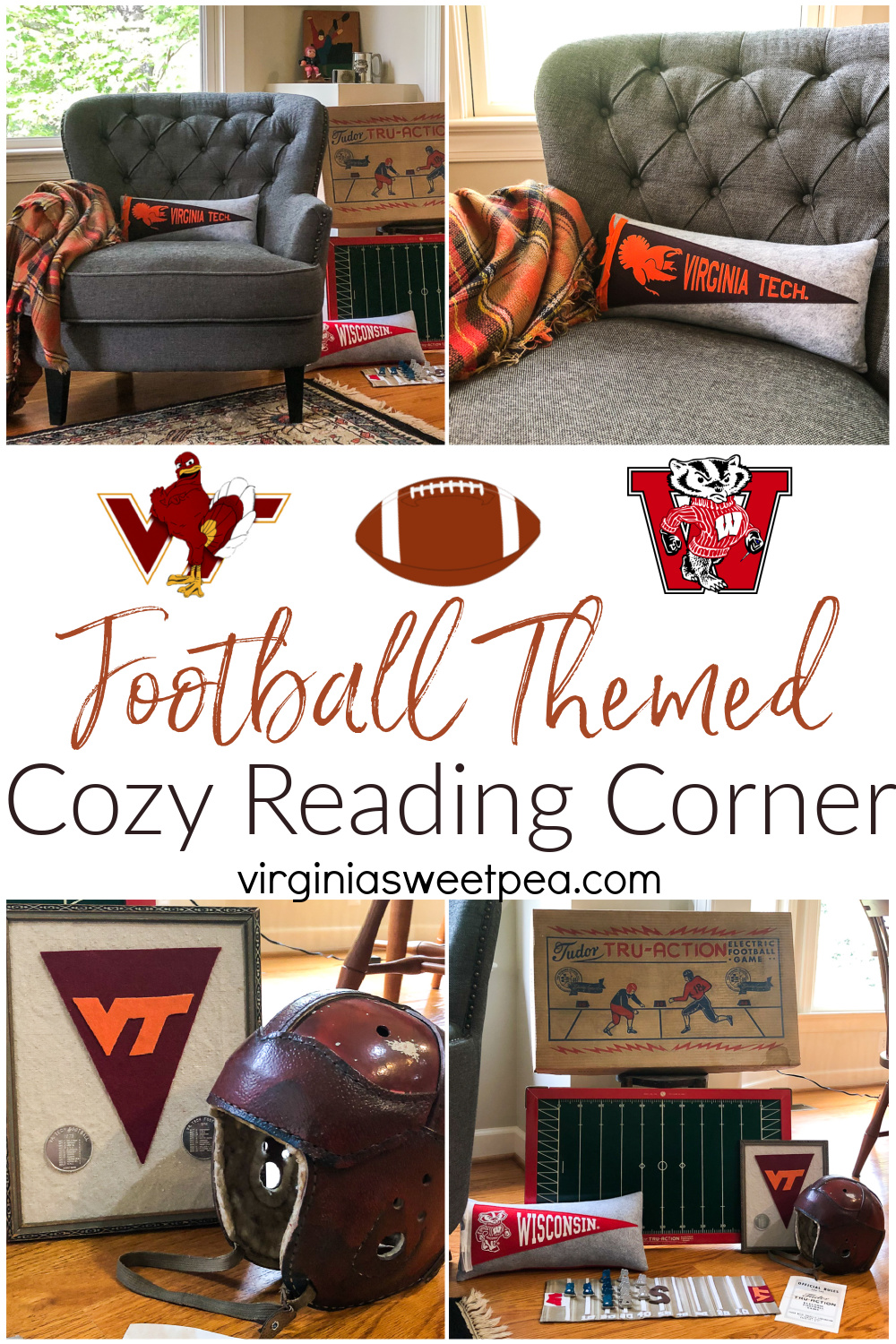 Today's cozy reading corner post is part of a monthly Pinterest Challenge hosted by Cindy of County Road 407. Each month Cindy selects a picture from Pinterest and challenges our group to create our own version of the look.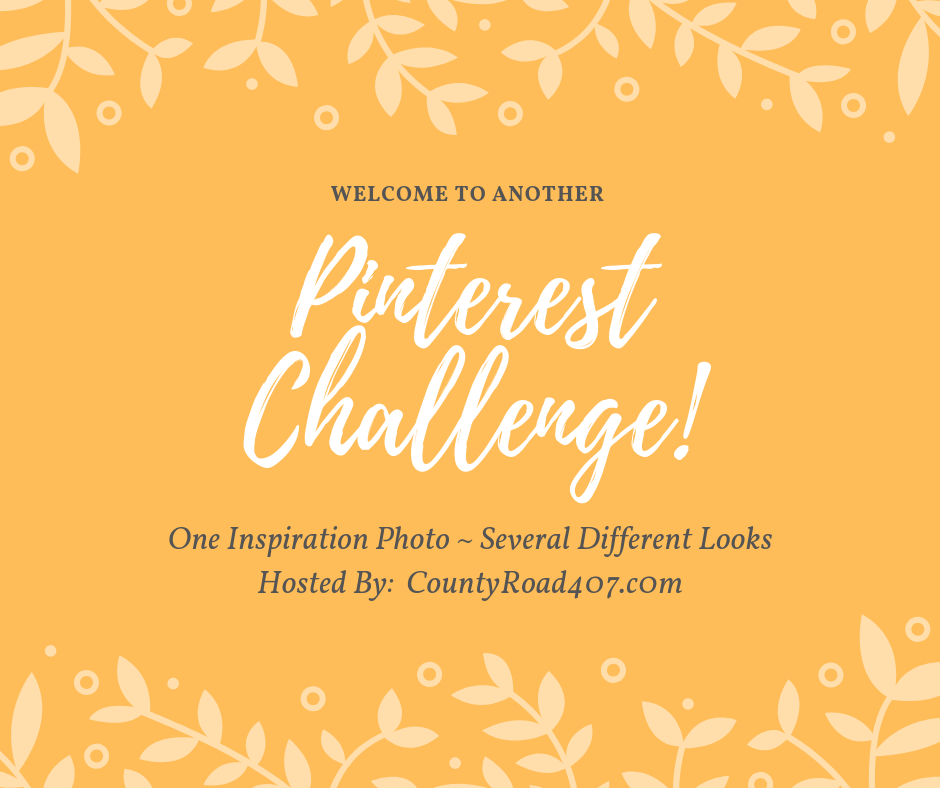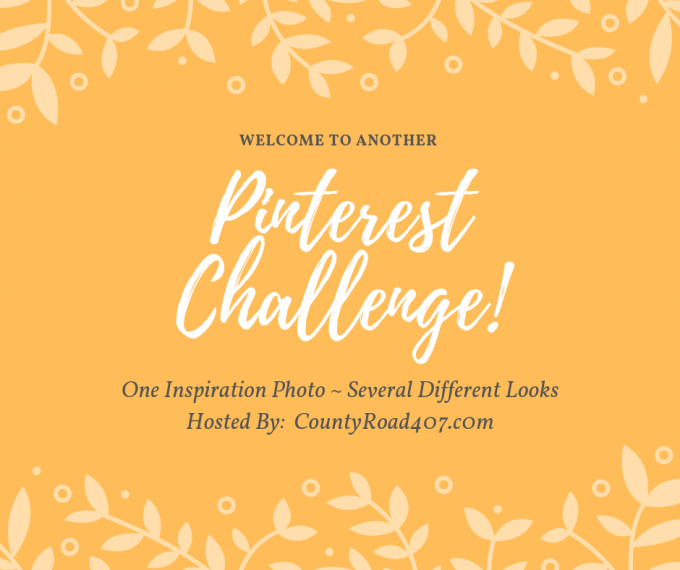 Many thanks to Cindy for hosting this challenge.
If you arrived here from A Stroll Thru Life, welcome! I have followed Marty's blog from the beginning and it's always a treat to visit her home.
Cozy Reading Corner
Fall means shorter days and longer nights, making many of us start to enjoy more indoor activities and fewer outdoor ones.
With darkness creeping in earlier and earlier each evening, reading a book cuddled under a throw becomes a delightful evening activity.
Our Inspiration for this Cozy Reading Nook Challenge
This month we were challenged to share a cozy reading nook inspired by this one decorated by Proverbs 31 Girl.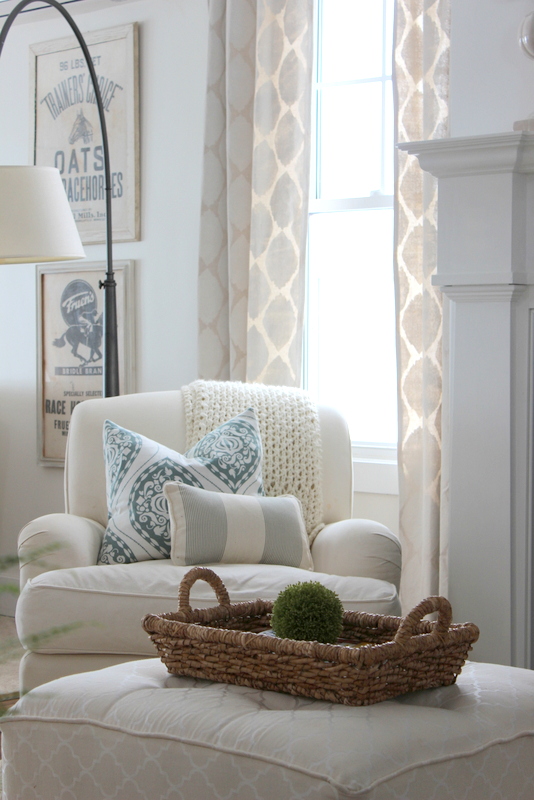 Doesn't this look like the perfect place to relax? The chair and ottoman look so comfortable and they are located beside a fireplace.
Our inspiration for this challenge features a home decorated in the popular neutral style. My decor style uses color, so the version that I'm sharing isn't at all neutral, but it is 100% my style.
My Football Themed Reading Nook
My reading nook is in the corner of our family room. Since football is associated with fall, I decorated this corner with a football theme.
I recently shared my fall home tour and intentionally left this space out knowing that I would share it for this month's Pinterest Challenge.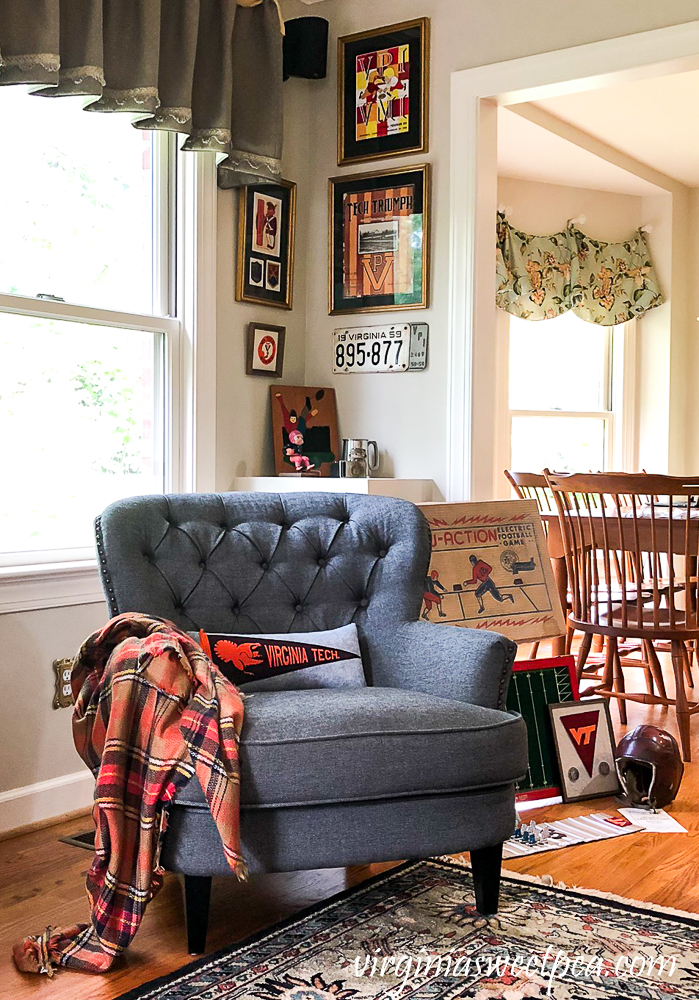 My dad was a Virginia Tech Hokie and a die-hard fan. I followed in his footsteps and also went to Virginia Tech.
I don't watch football but that doesn't stop me from enjoying decorating with a football theme, especially if it involves vintage.
This spot in our family room used to have a mid-century modern chair that I bought at a local antique shop and had reupholstered. You can see what it looked like in this spot in last year's fall family room decor post.
My decor style isn't mid-century and I wasn't satisfied with how that chair looked in this corner, so I replaced it with this chair which is more my style.
The mid-century chair was given to my good friend and it looks great in her space.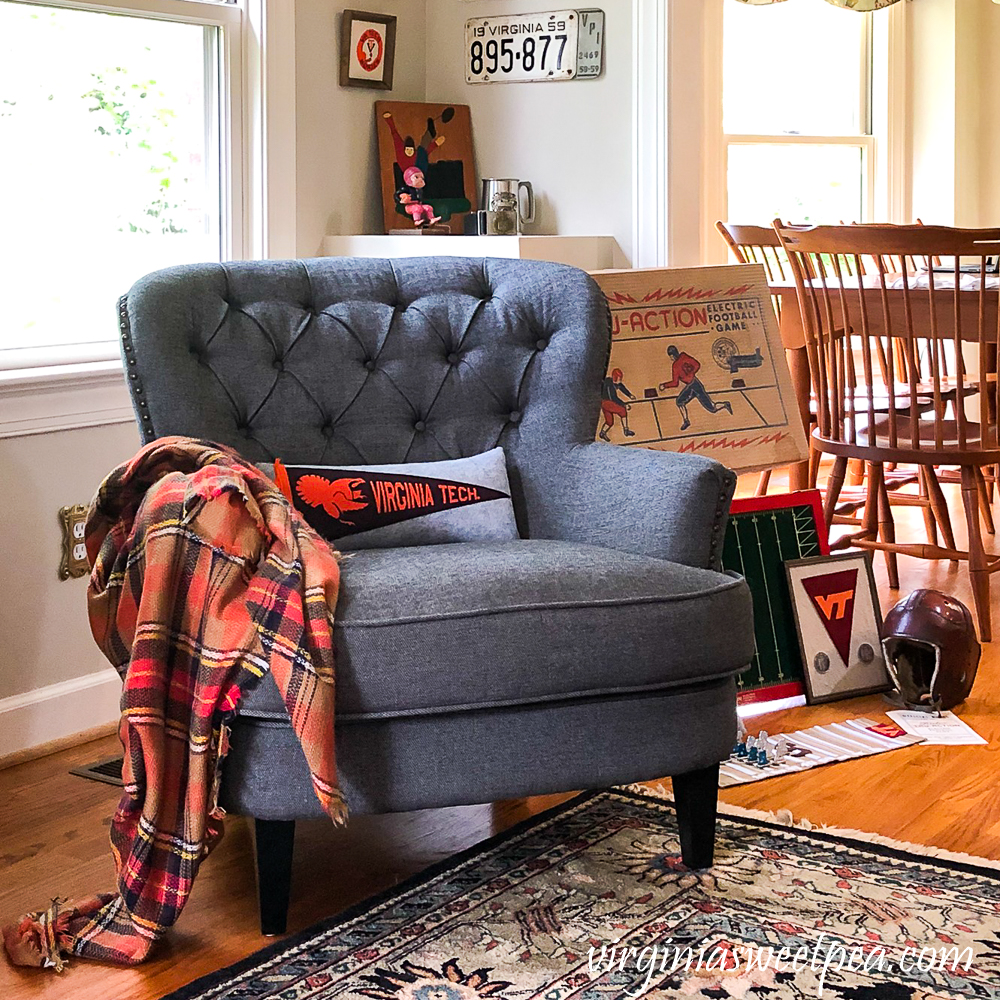 The chair holds a Virginia Tech pillow from Etsy and a large plaid blanket scarf that doubles as a comfy throw.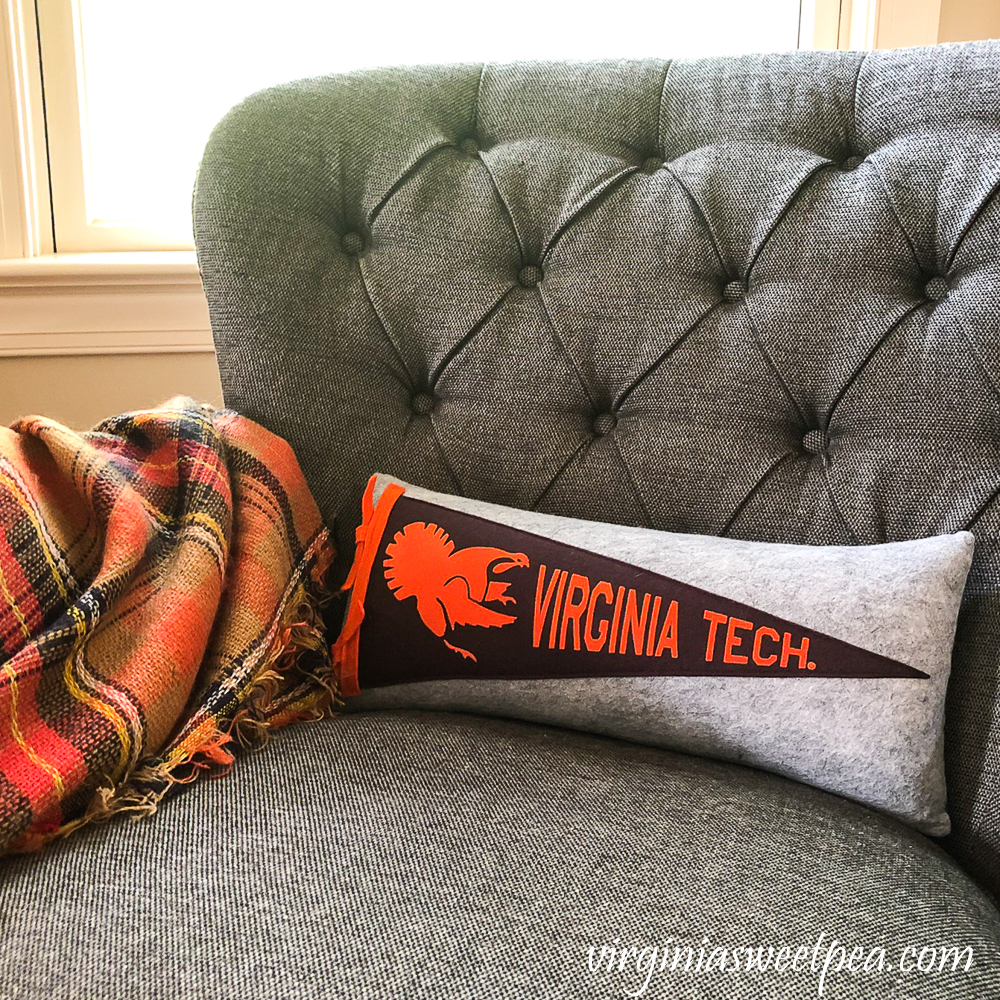 I have purchased four Virginia Tech pillows, two Wisconsin pillows, and a William and Mary pillow from this Etsy seller. I've given them both as Christmas gifts and as graduation gifts and I'm ordering one soon for a gift for a friend's birthday.
Football Themed Display
Just for fun, beside my reading chair, I set up a football themed display.
The 1949 Tudor Tru-Action Electric Football Game was my dad's. It's in wonderful condition and has all of its pieces. I used it as a "wreath" for a football-themed mantel in 2012.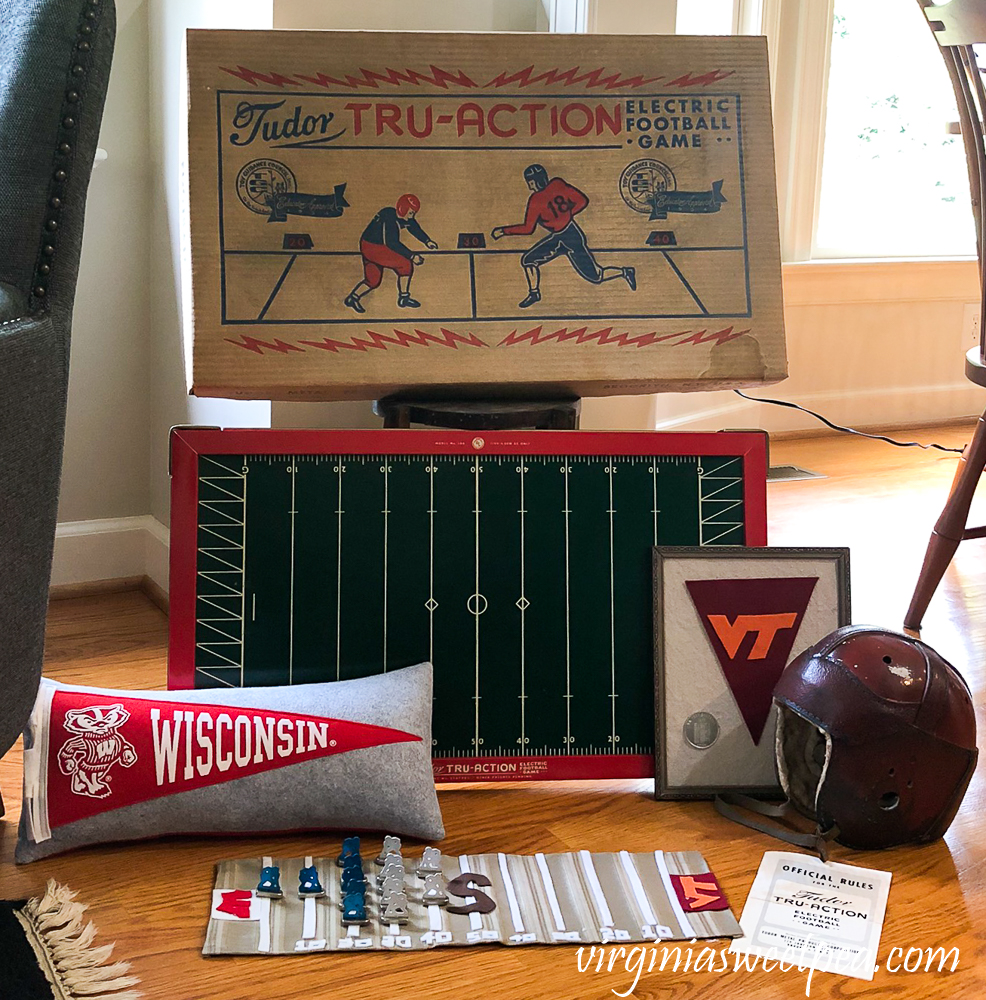 I'm a Virginia Tech Hokie and Mr. SP is a Wisconsin Badger. When I ordered my Virginia Tech pillow, I ordered this Wisconsin one for Mr. SP.
The friend who got my mid-century chair is also a Badger, so you can guess what she got for her birthday last October.
For my football themed mantel, I made a Sweet Pea playing field where Wisconsin is battling it out with Virginia Tech. The players are the players from my dad's game.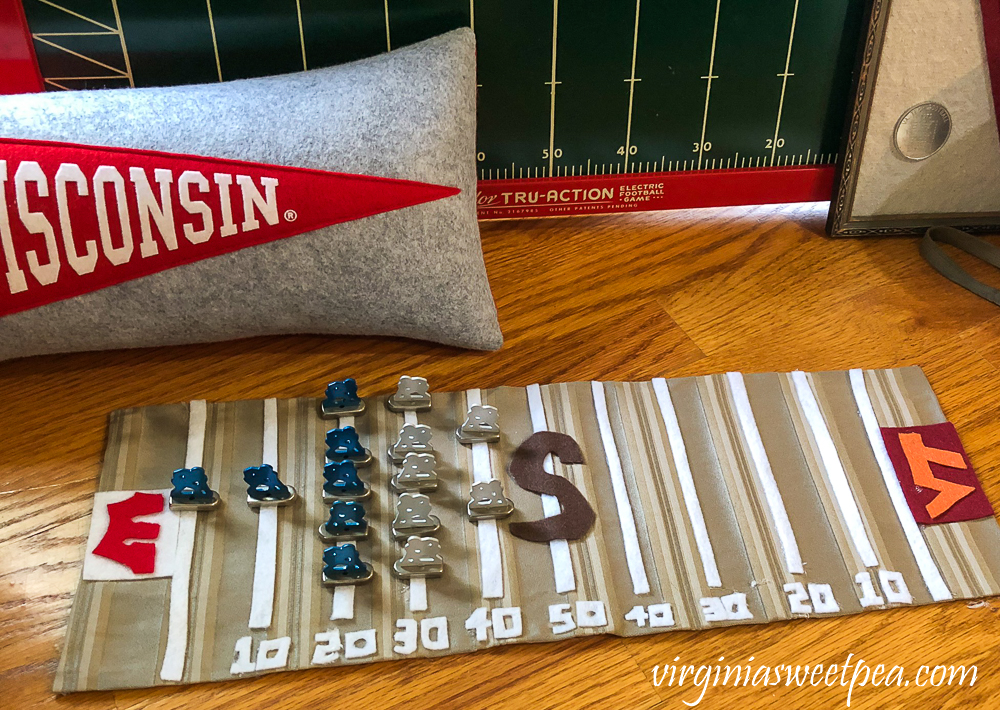 I know zero about football, so I had to look back at my mantel post to see how Mr. SP set up the players on the field for me and then I tried to duplicate it.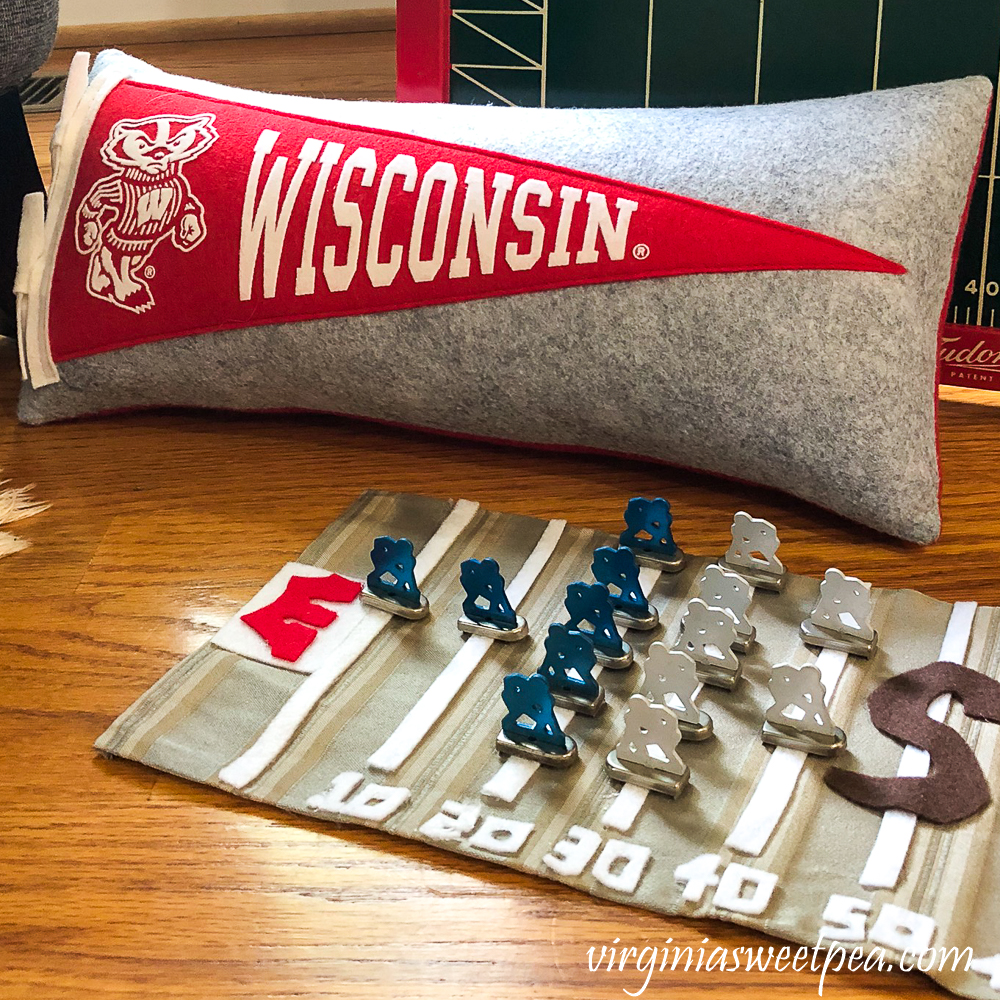 The Virginia Tech side of the field has a pennant that I made with game schedules, an antique football helmet, and the rule book for the Tru-Action game.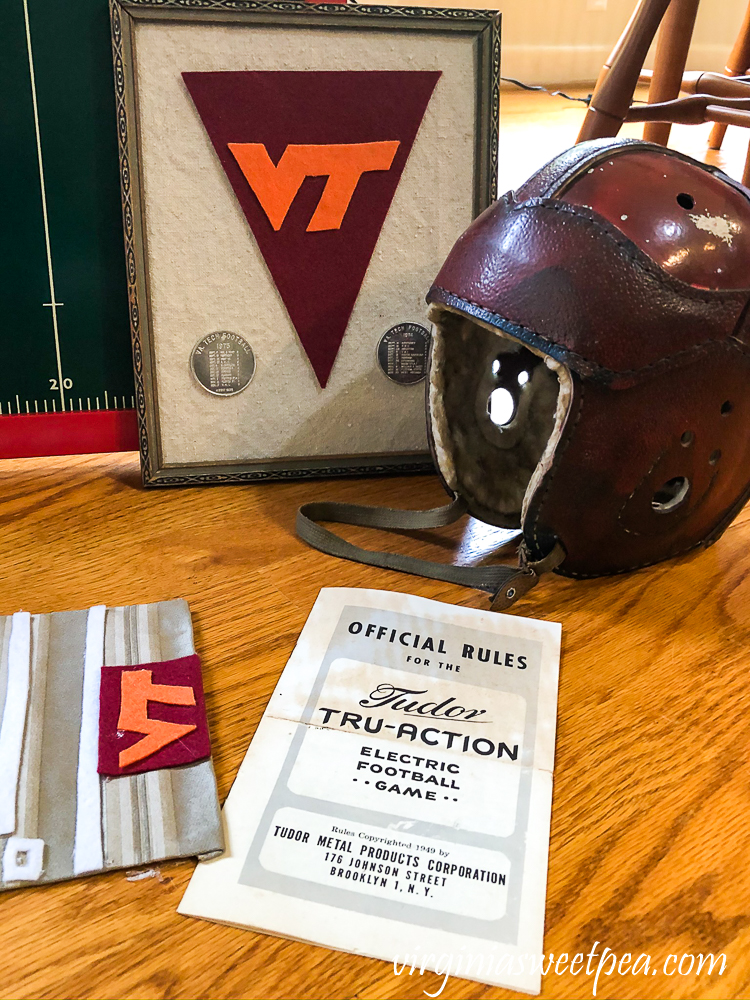 The 1920s football helmet was my granddad's.
The two coins are Virginia Tech football schedules from 1973 and 1974. I remember playing with these as a child and at some point I taped them both to an index card. They got saved and here I am in 2020 still enjoying them.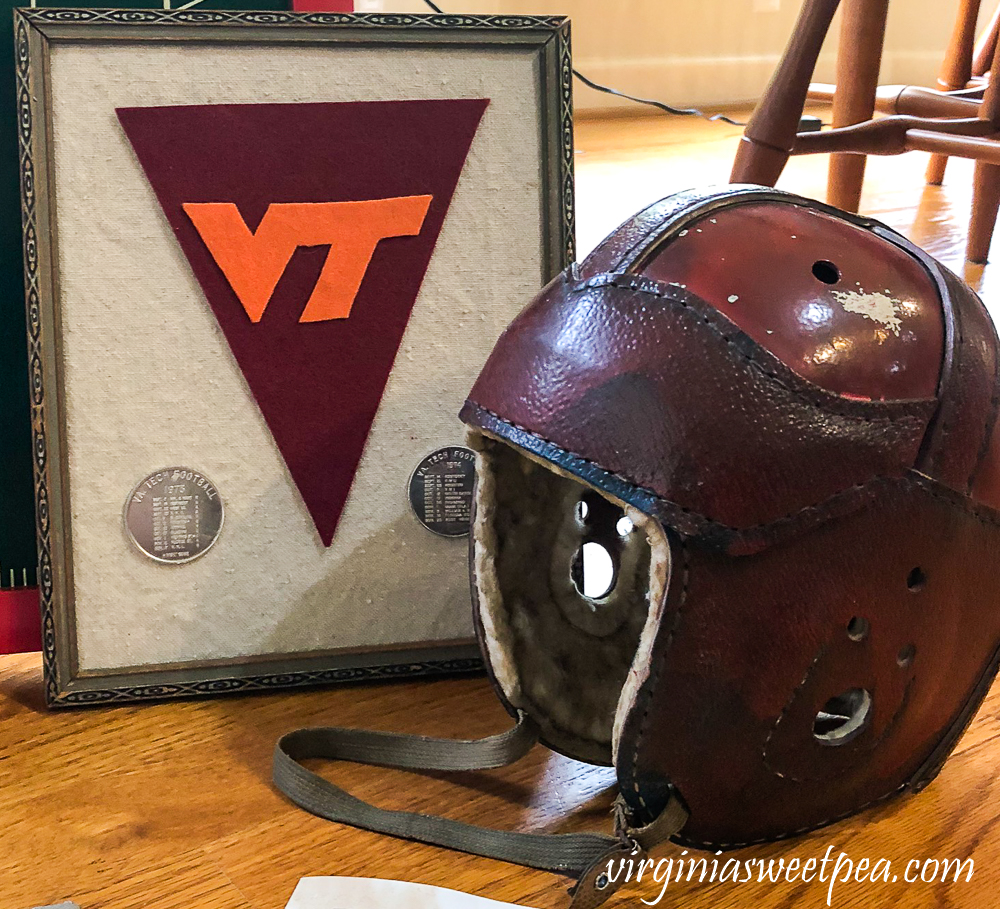 I grew up on a farm and every VT game day, my dad would turn the radio up on his truck really loud to listen to the game as he worked.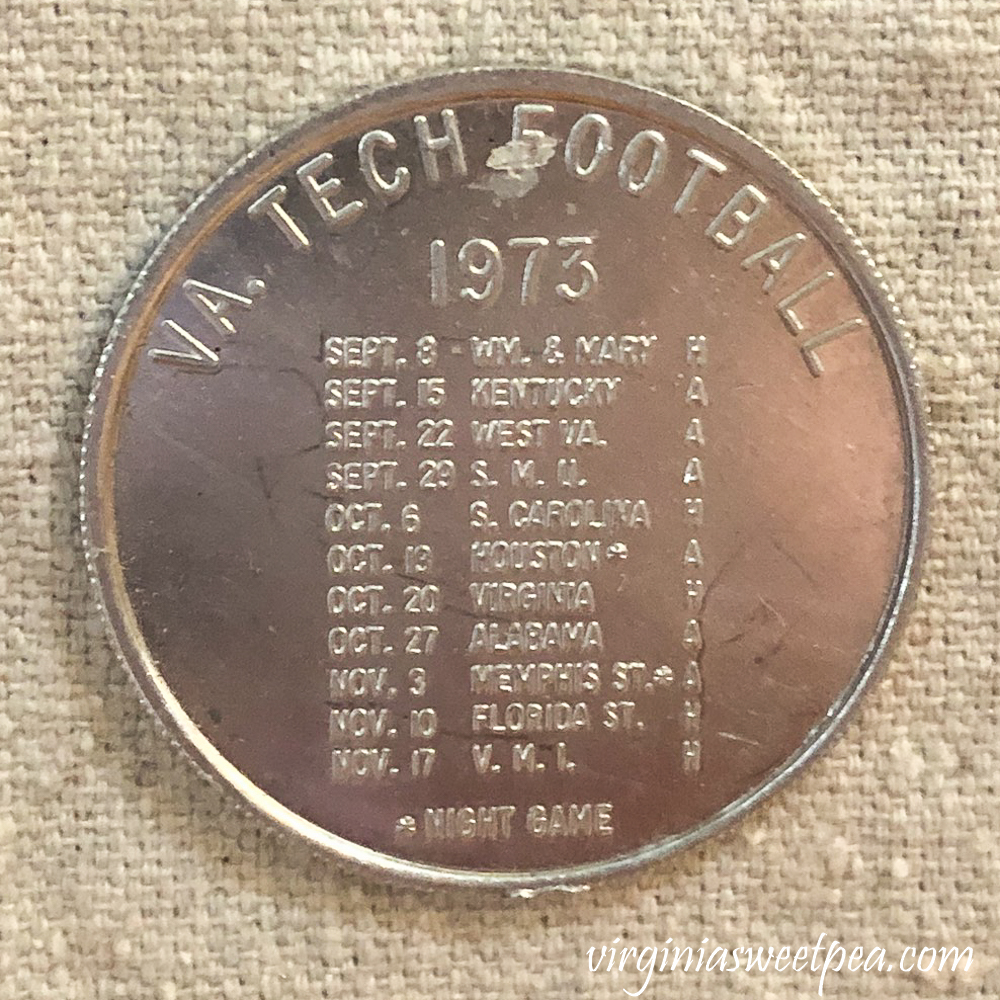 There was never any cheering but definitely cussing when the game didn't go VT's way.
The coins are still sticky from my childhood tape and Sherman's fur somehow got on this one.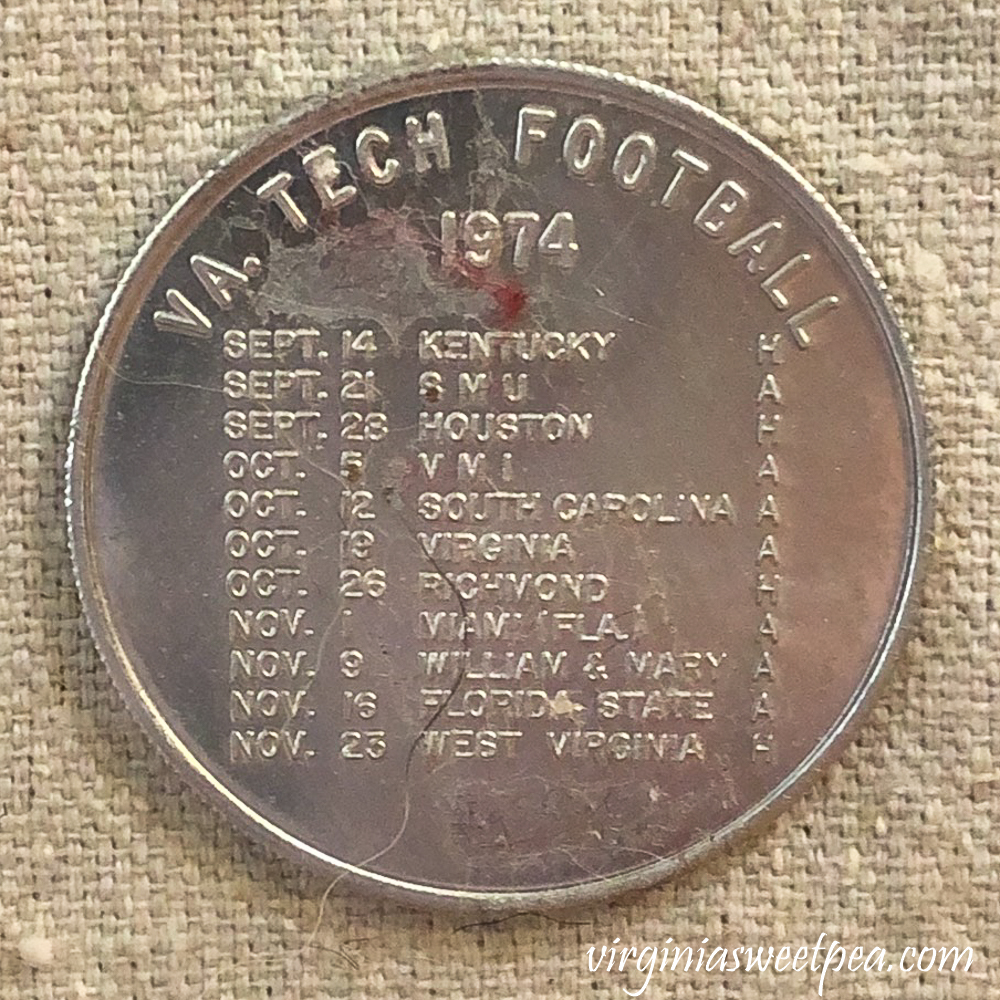 Football Themed Cozy Reading Corner Decor
I change out the art in this corner with the seasons. Fall always includes vintage Virginia Tech pieces.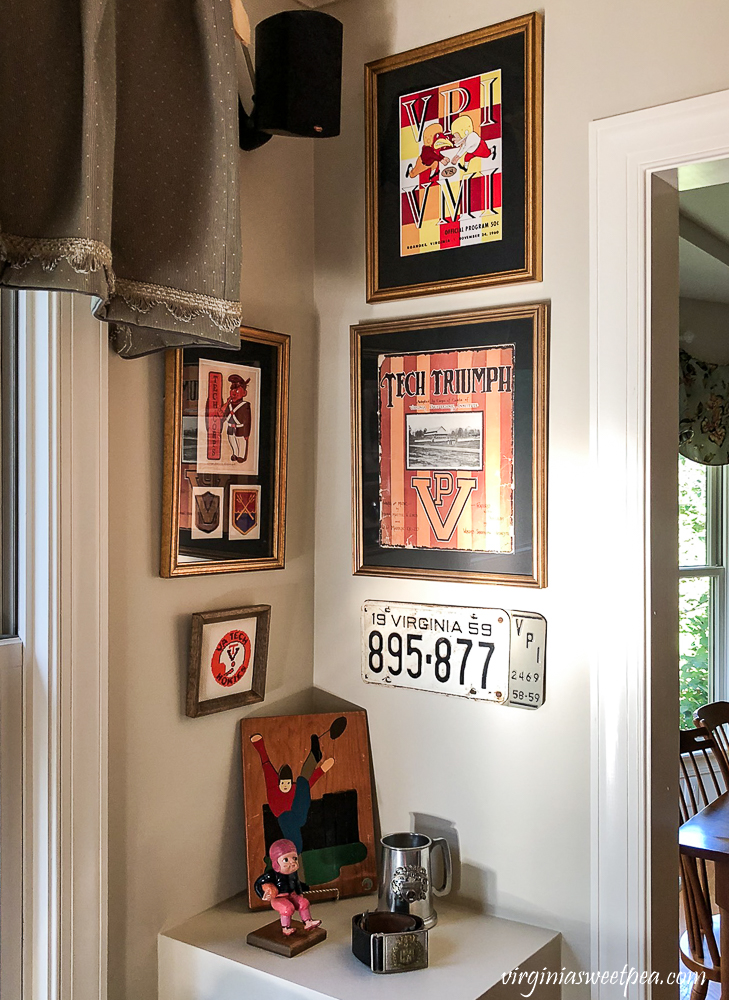 When my dad was at VT, he was in the corp of cadets. My mom gave me these patches from his uniform and this sticker and I had them framed.
My grandmother made the cross stitch and my grandfather made the frame. This was in my brother's room until he decided to go to JMU over VT.
I used to display it in my classroom when I was still teaching during football season. The classroom was not kind to it and I shared how I cleaned it in this post.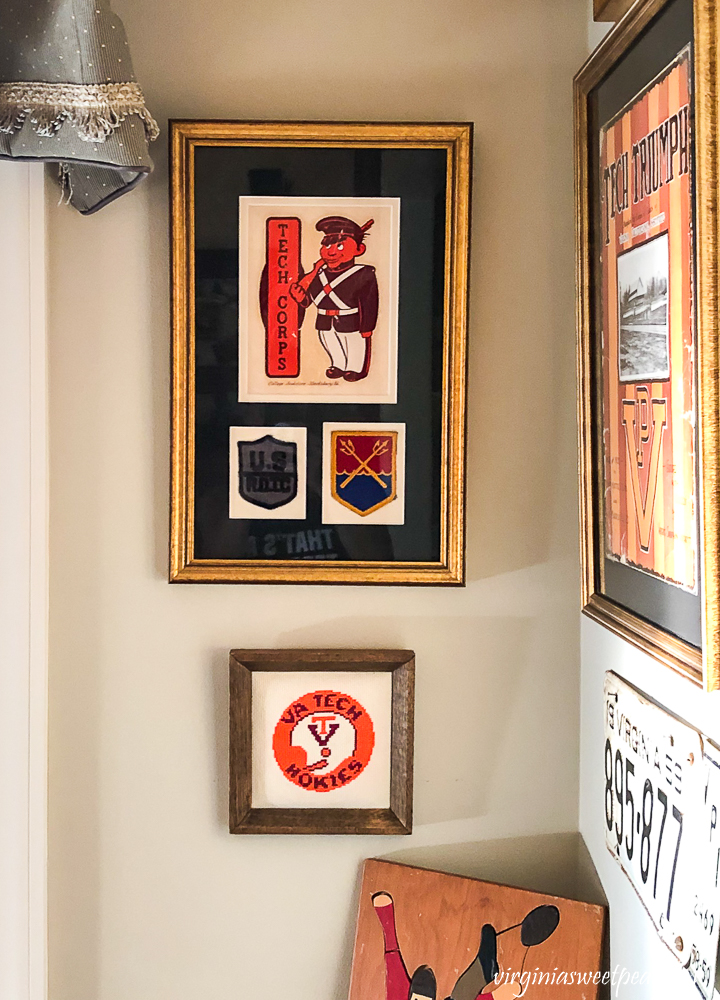 Mama passed along this 1960 VPI vs VMI program.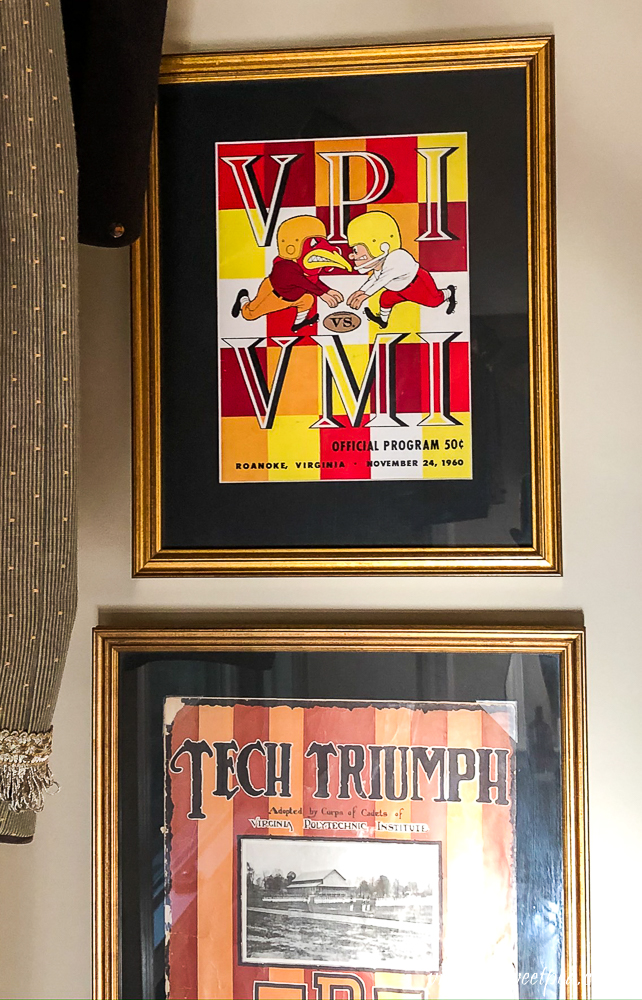 The sheet music under it is WWI era and belonged to a cousin of my grandmother.
My dad was a Virginia Tech student 1958 – 1962. His license plate hangs under the Tech Triumph sheet music.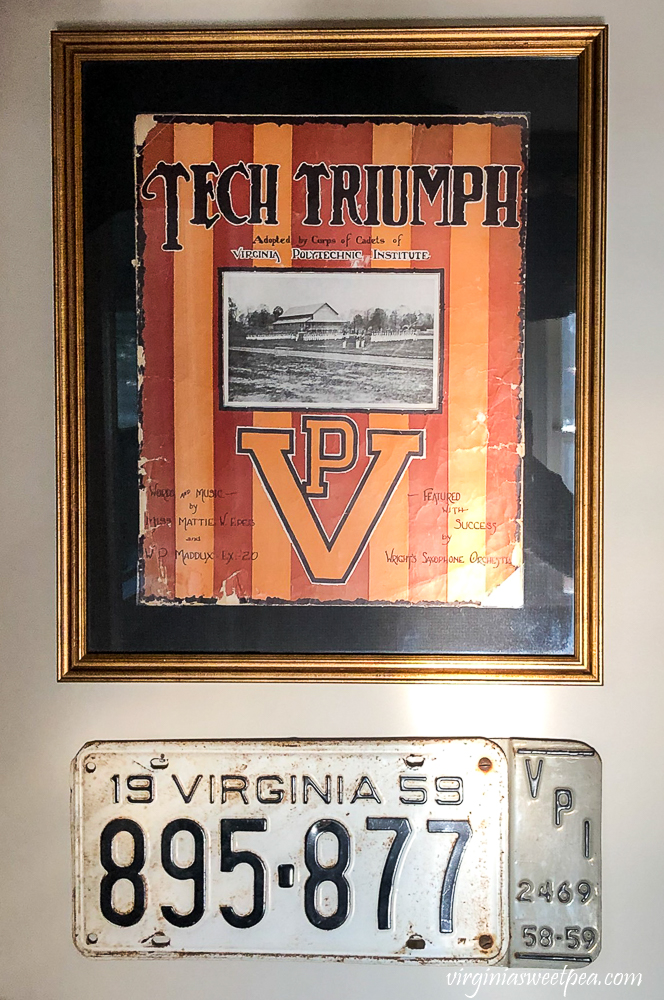 The last bit to share is this display.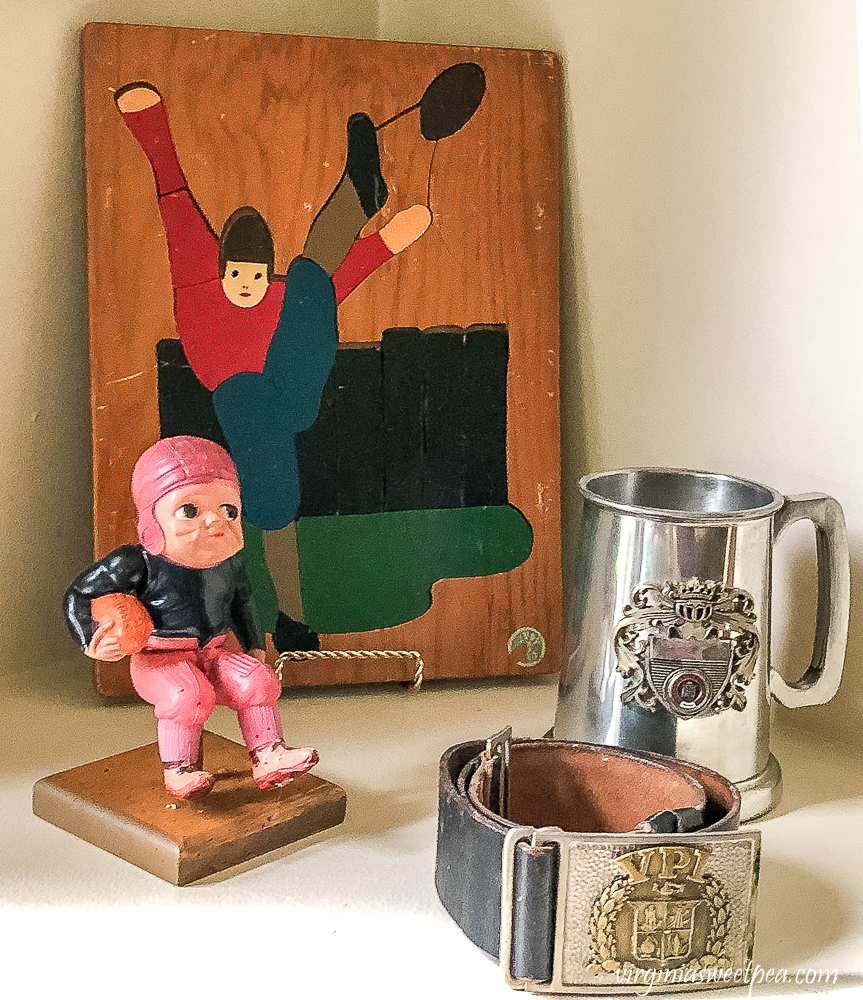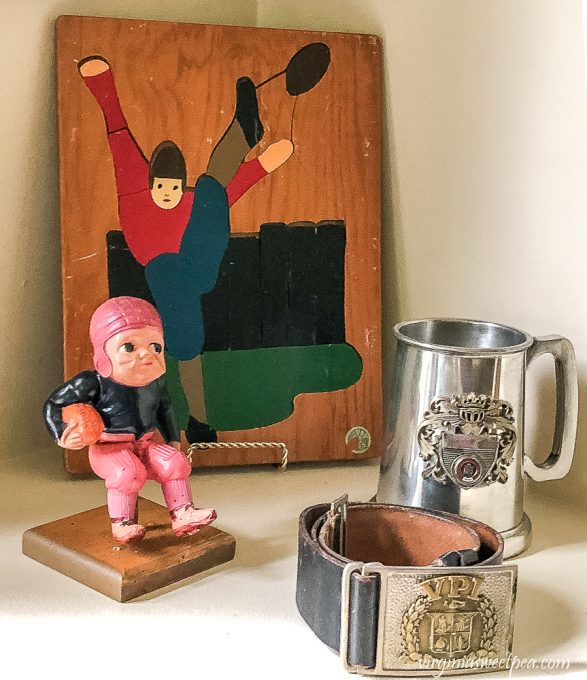 The puzzle was my dad's when he was a child.
The football man was my grandfather's and he made the stand so my grandmother could display him.
I always thought that he was a childhood toy but this guy got appraised by an Antiques Roadshow appraiser, and I found out that he is a 1930s Japanese celluloid toy.
So instead of it being a childhood toy, my grandfather got it as a grown man. Granddaddy coached football at William Byrd High School in the 1930s leading his team to a state championship. Perhaps a parent or student gave this toy to him.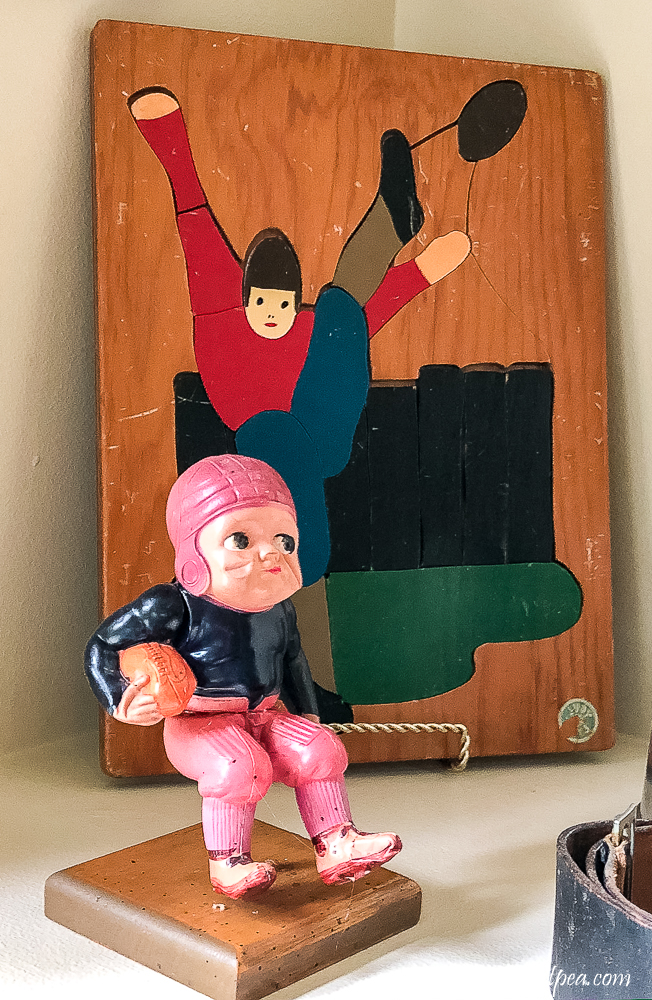 The mug is a Virginia Tech piece and was always on my dad's desk filled with pens and pencils.
The belt with belt buckle was a part of daddy's Corp of Cadets uniform. I also have his sword from the corp.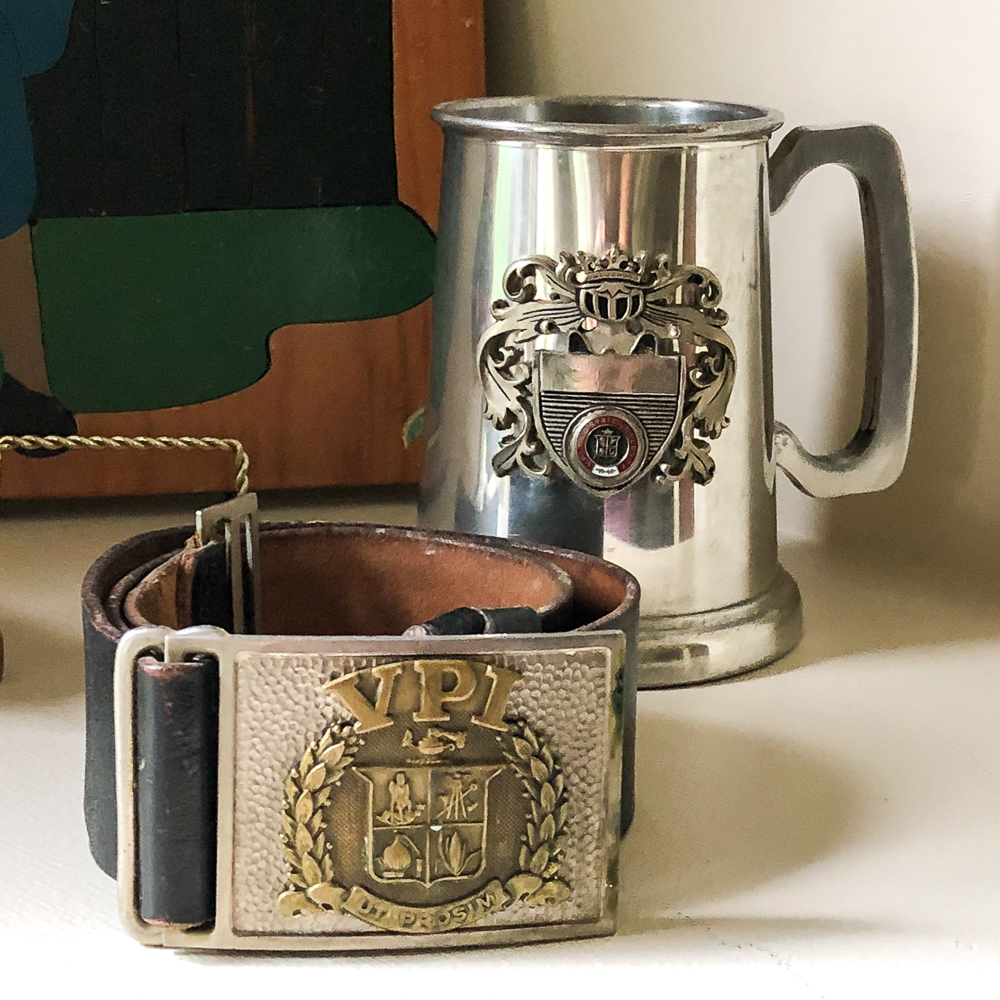 When Sherman isn't in a post, I sometimes hear about it, so here is my precious fur baby sleeping in front of my cozy reading nook one evening.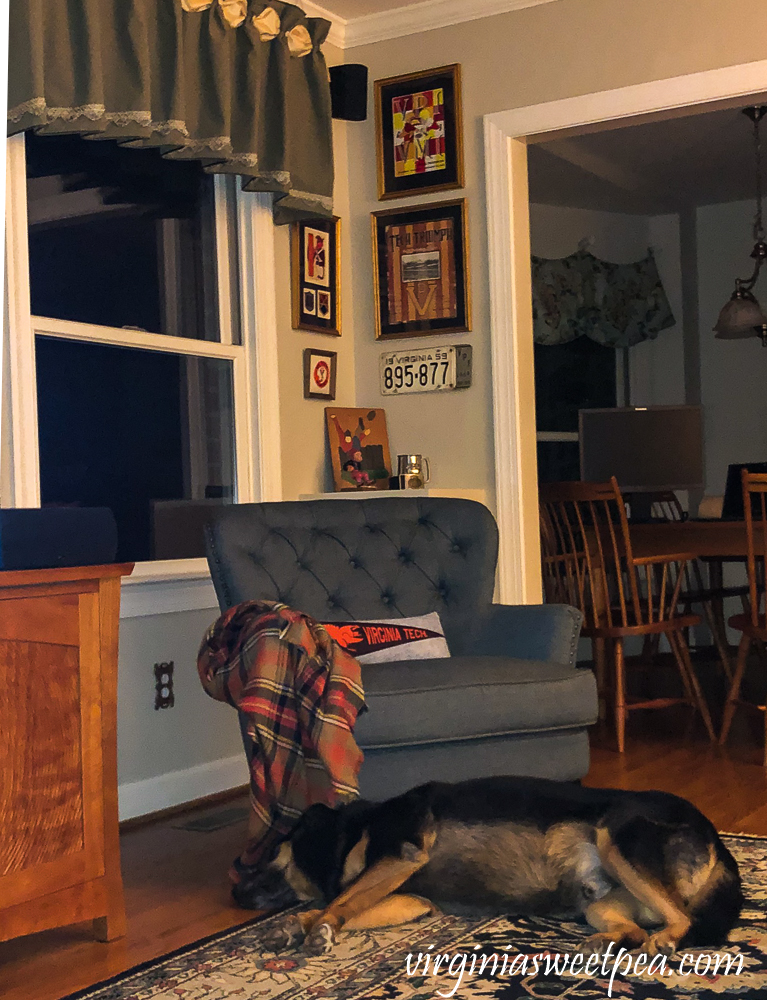 The next blogger sharing her cozy reading nook is Lora from Lora B. Create and Ponder. Lora is a fellow vintage lover and I always enjoy seeing how she decorates her home.
More Cozy Reading Nooks to Enjoy
Many thanks to Cindy for organizing this fun monthly challenge!
Click on the links below to visit each blogger who is sharing their version of our cozy reading corner inspiration picture.