Help Your Man Organize His Closet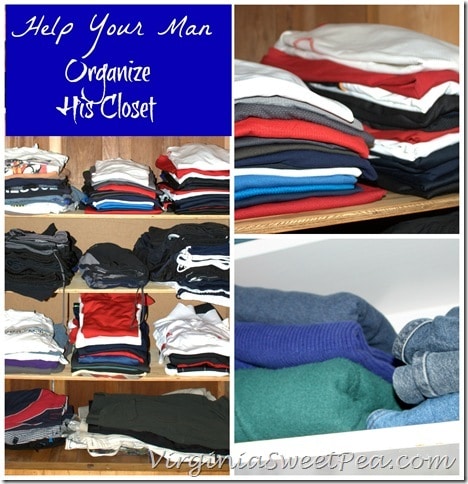 Like most men, my husband couldn't care less if his clothing or his closet is organized. All he really cares about is that he has clean clothes to wear. Before I came along, I'm pretty sure that he kept most of his clothing in a laundry basket. I'm the complete opposite, I like for my closet and clothes to be neat and organized.
Mr. SP is a good sport and sleeps in a bedroom that looks quite girly. The wallpaper is girly, the curtains are girly, and the antique furniture is girly. Our bedroom typically stays pretty neat with the exception of gym bags piled on the trunk at the end of the bed.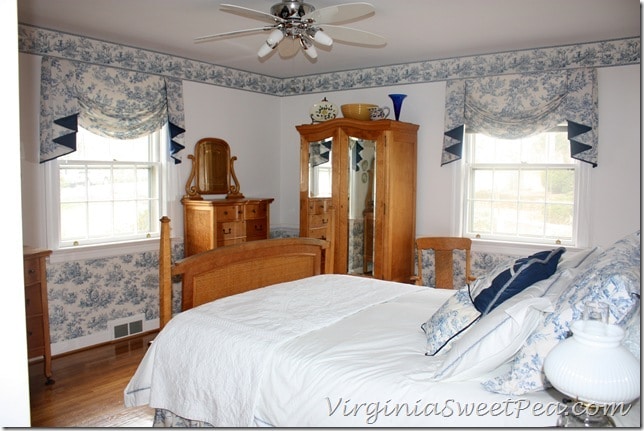 Mr. SP uses the dresser and armoire in the corner of the room. He built removable shelves for the armoire since it was designed for hanging clothes and we didn't need it for that purpose. This area really doesn't look too bad except for the pile of "stuff" on his dresser.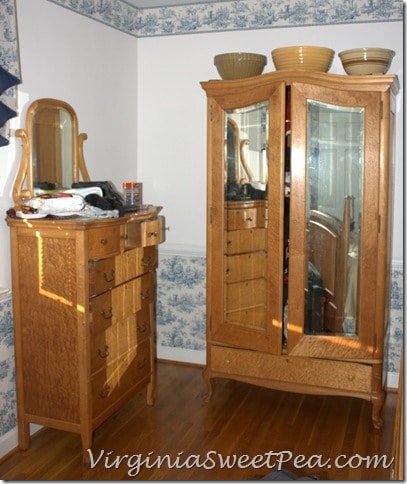 When the armoire is opened, it is another story! Each type of clothing has a particular place and Mr. SP is very good about putting each item where it is supposed to go. What he's not good at doing is keeping the piles neat and folded. Stuffing the clothing into the armoire is his style! During Christmas break I talked him into cleaning out his armoire. I stayed out of his way and let him do his thing.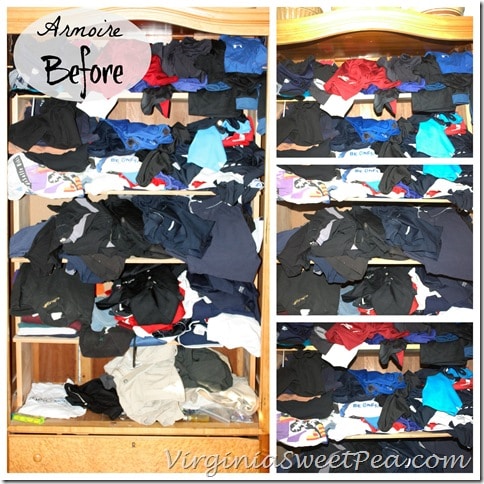 He sorted through his thing and came up with one pile of clothing that he didn't want anymore and another pile of workshop or yard clothes. We moved those items to the basement.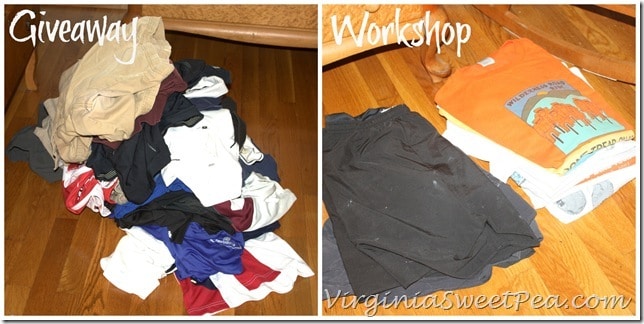 After Mr. SP cleaned his armoire out, I folded all of the clothes that he didn't want anymore and sorted them by type. I'm sure Goodwill really appreciated me doing that…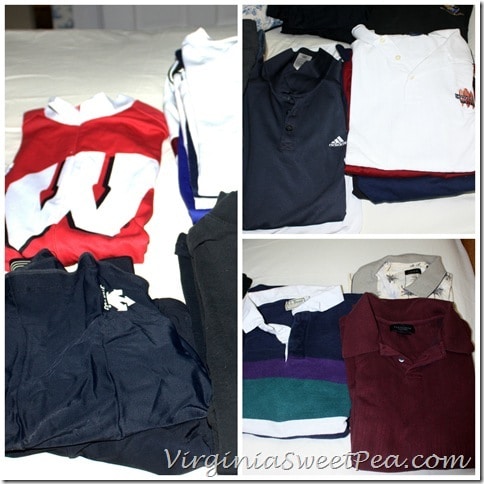 The amount of clothing in the armoire was significantly reduced. What's left are items that Mr. SP actually uses. I neatly folded everything for him and have the folded edges facing out the way I like them. The piles will stay like this but very soon they won't be quite as neat.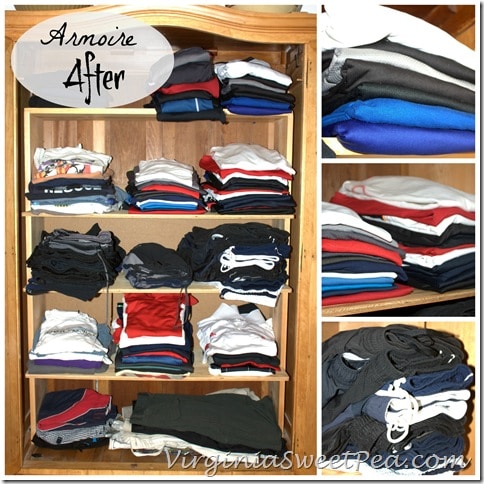 On another Christmas break day, I talked Mr. SP into cleaning out his closet. Our 1950's Cape Cod has tiny closets. The master bedroom has two closets and Mr. SP has the bigger of the two. About a month ago we weeded through his dress shirts and ties, so the job of cleaning out his closet wasn't too bad. Pants that were worn on the cuffs or waist band area were donated and sweatshirts that he hadn't worn in years also went into the donation bags.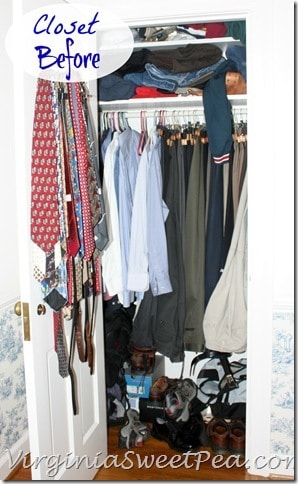 After sorting through what he would keep and what would be donated, I neatly folded his things and put them back on the shelves.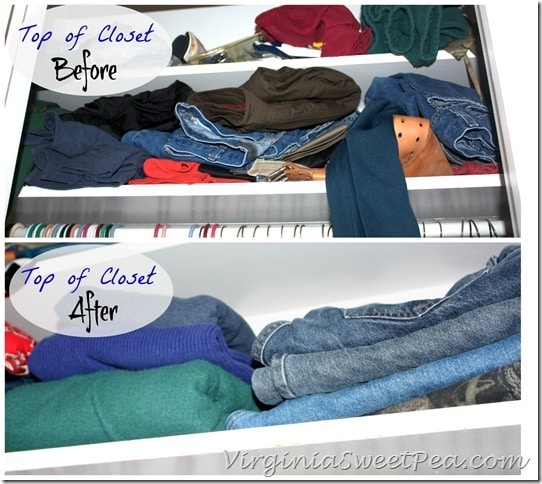 His closet now looks pretty good!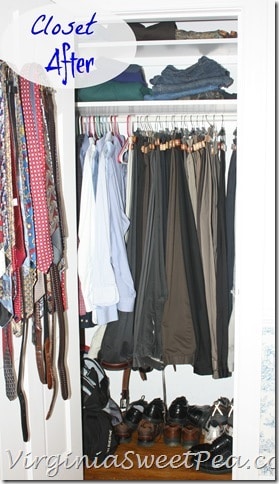 Mr. SP couldn't care less that this job is complete but since it makes me happy, he is happy!
I've joined together with some blog friends to share organizing ideas this week. Be sure to check out the other participants ideas for ones that may help you organize your own home.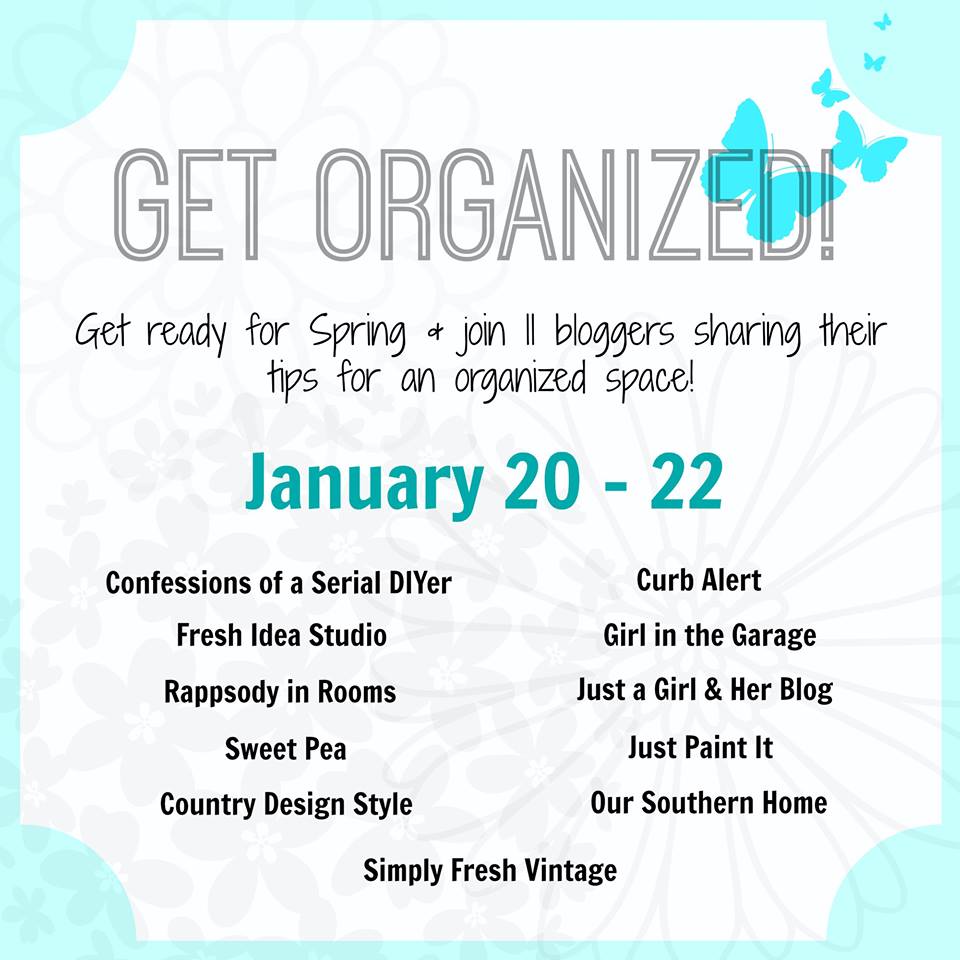 Monday, January 20
Confessions of a Serial DIYer
Fresh Idea Studio
Rappsody in Rooms
Tuesday, January 21
Country Design Style
Curb Alert
Girl in the Garage
Wednesday, January 22
Just a Girl & Her Blog
Just Paint It
Our Southern Home
Simply Fresh Vintage
Sharing With:
Amaze Me Monday at Dwellings – The Heart of Your Home