Christmas Home Tour on the Tree Streets in Wayneboro, Virginia
A Christmas tradition for me and my mom, aunt, and cousin is attending a Christmas home tour in Waynesboro, VA where my mom, aunt and cousin reside.
The tour is usually in the "Tree Street" area of Waynesboro where my lives in her 1911 Walnut Avenue home. Mama's home and Christmas décor are beautiful and The Historic Wayne Theater who sponsors the tour actually asked for Mama's home to be a part of this year's tour. She declined as her women's club and church activities keep her too busy to properly prepare.
We love a home tour, especially one at Christmas time. It's fun to see the inside of homes that we've all walked or driven past many times. I'm sharing the homes in the order that we toured them.
Orlando Home – 428 Maple Avenue
This Queen Anne home was built in 1891 and was originally named The Fry House. The Long Family lived here for many, many years and the home was purchased recently by the Orlandos.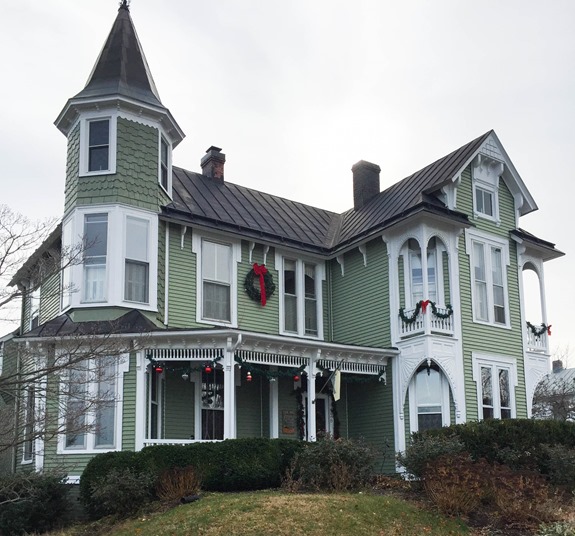 I was only able to take a few pictures in each home. I loved the fire place and built-in cabinets in the dining room of this home.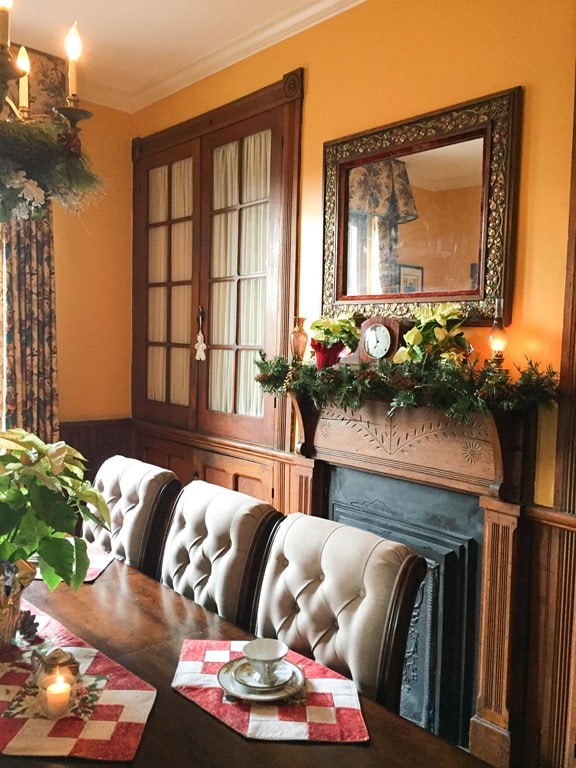 The homeowner's mother made the quilted placemats and other quilted items.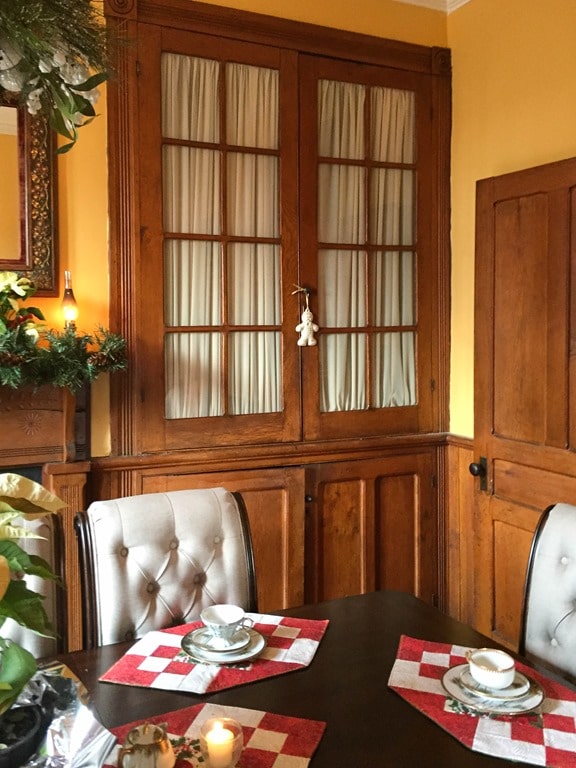 Isn't this window that opens to the kitchen a neat feature? I can imagine the help passing dishes through this opening back in the day when people had help.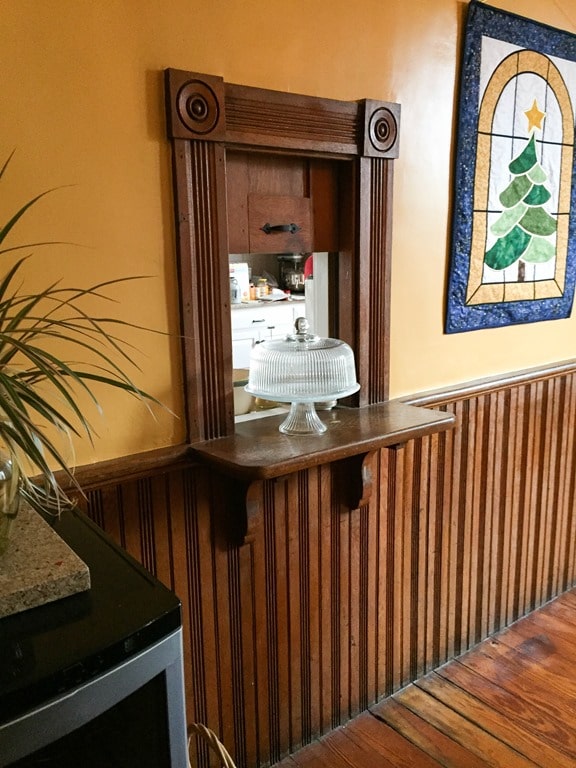 Here's another pretty Christmas quilted item on display.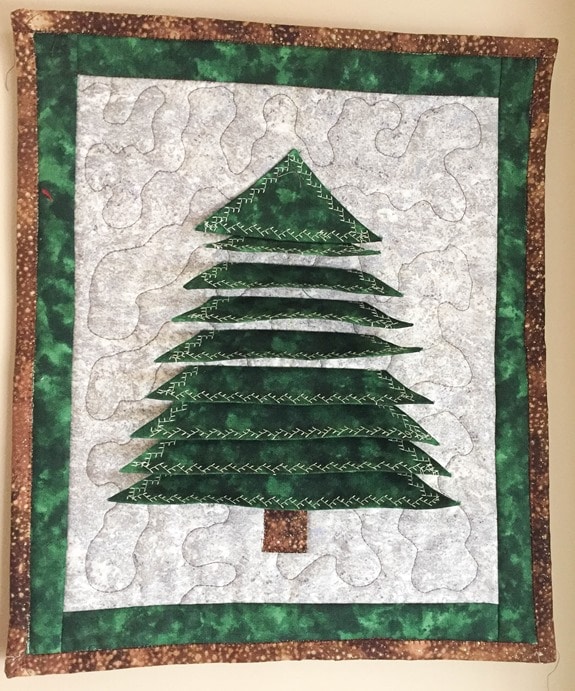 I didn't get pictures of this home's pretty kitchen and light-filled family room in the back of the house.
Droughman Home – 552 Chestnut Avenue
This home was built in 1926 by Waynesboro City Circuit Court Judge C.G. Quesenbery and his wife, Esther. The home is described as a two story Colonial Revival with stretcher brick-veneer construction. This home is just a few streets down from Mama's home but I had never noticed it due to the mature Boxwoods that surround it forming a privacy hedge.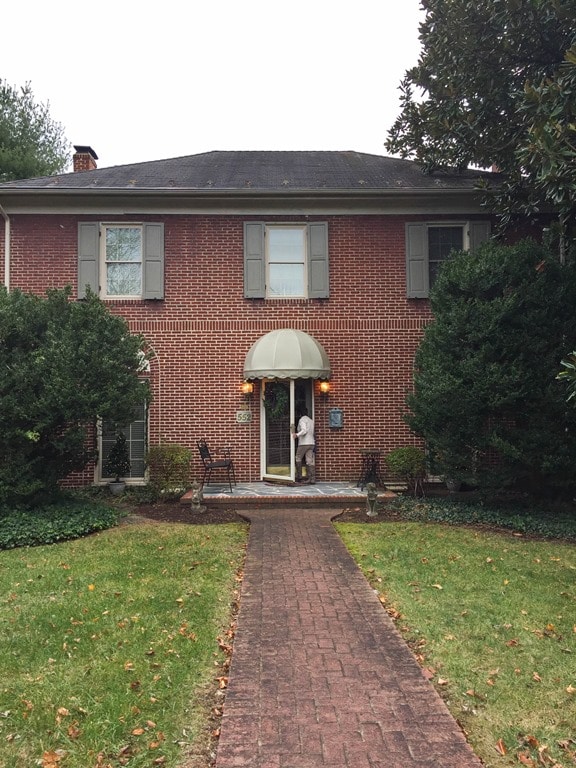 This home was beautiful inside but because of the nature of the tour, I wasn't able to get a lot of pictures. We especially liked the sunroom off of the formal living room where it appears that the homeowners watch tv. Another neat feature of this home was an apartment connected to the home through the kitchen. I overheard several people say that they would love to live in the apartment.
I loved the screened porch off of the kitchen. I'll bet that the homeowners really enjoy this space in warm months.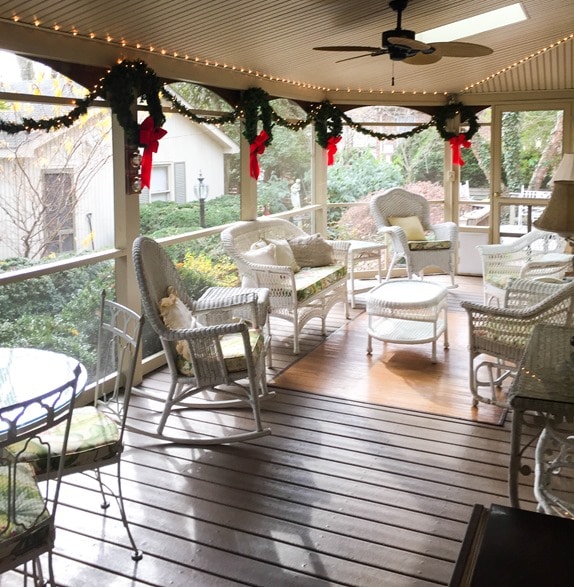 Evans Home – 640 Oak Avenue
This home was constructed in 1951 and the current owners have lived there since 2008. Collections of American Folk Art and country-style antiques were the highlight of this home.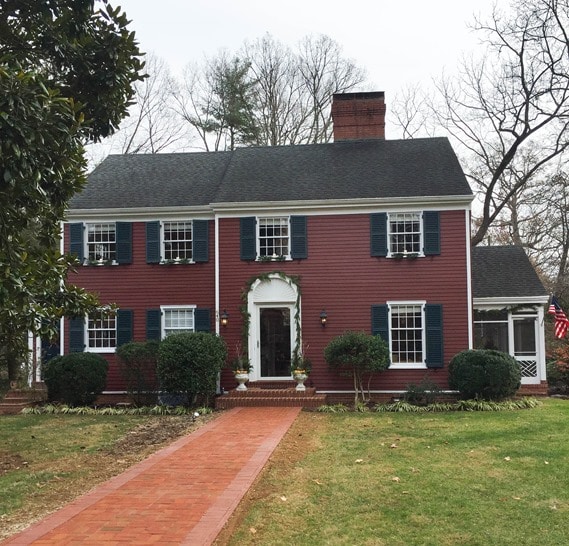 This home was my favorite on the tour. I liked how light-filled it was and also the open floor plan.
This cute tree filled with vintage ornaments was in the son's room upstairs.
Daniels Home – 645 Maple Avenue
This Dutch Colonial was built in 1929 by Thomas Menefee and was purchased by the Daniels in 1974.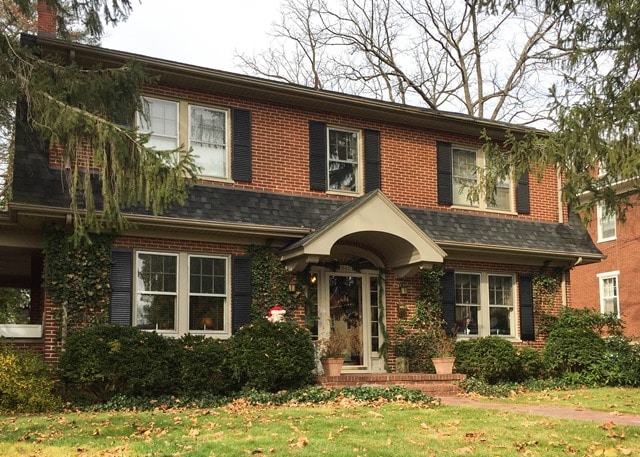 The homeowners are antique dealers and the home was full of beautiful furnishings. The living room had a beautiful tree and a collection of antique Santas on the mantel.
There was a cozy sitting area behind the formal living room that connected to the kitchen.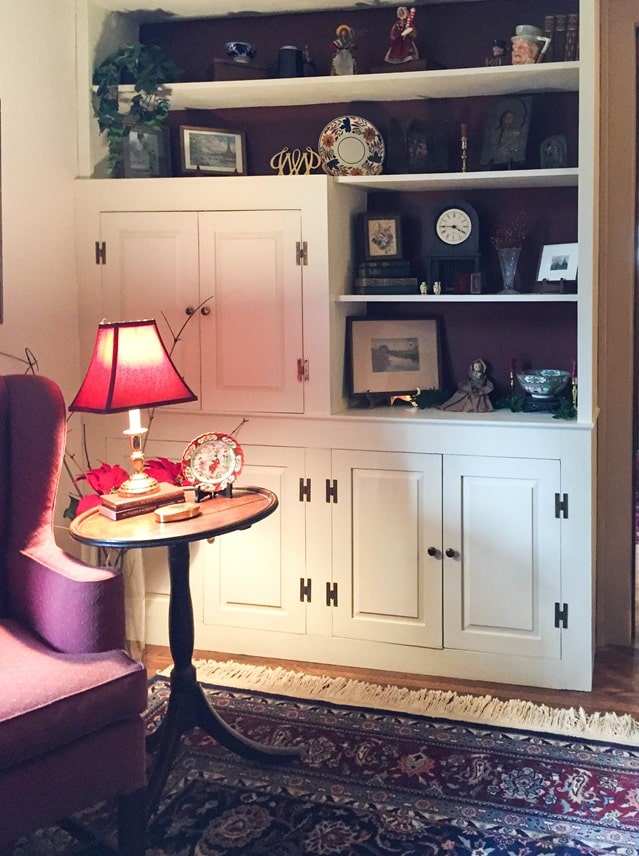 The kitchen was cozy but charming. I love the antique needlework above the window.
Between the kitchen and formal dining room was a butler's pantry with built-in seating.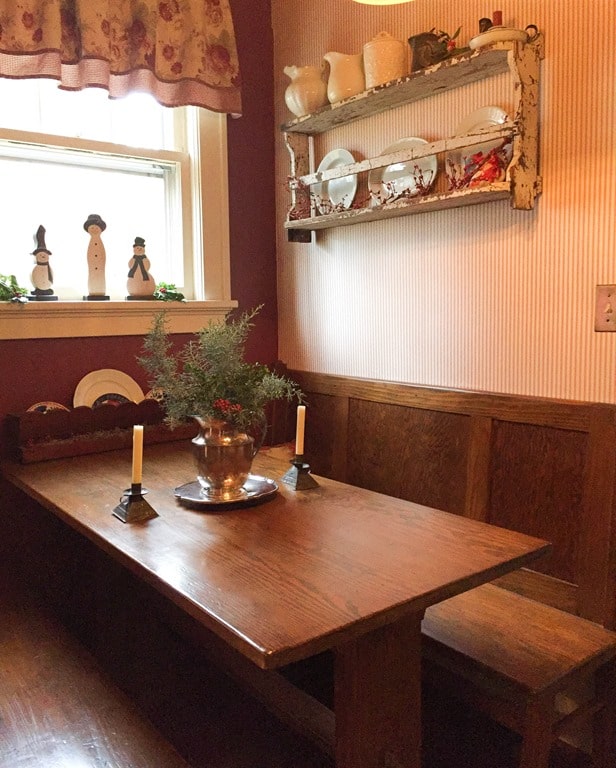 Myers Home – 794 Oak Avenue
This Cape Cod home was constructed in 1940 and is for sale.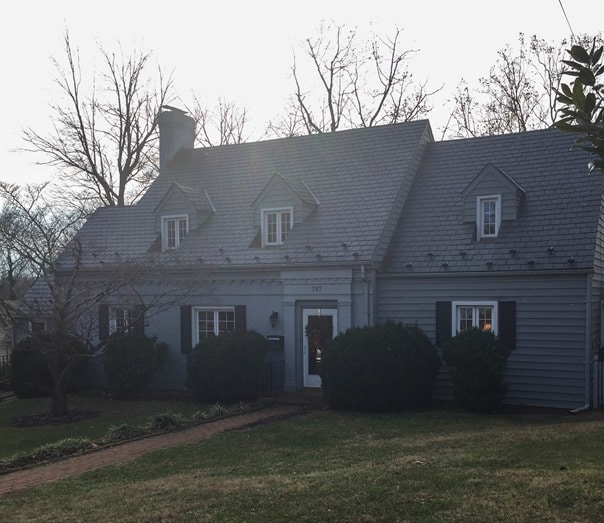 We all loved the traditional décor of this home.
It was a fun day spent with three of my most favorite people!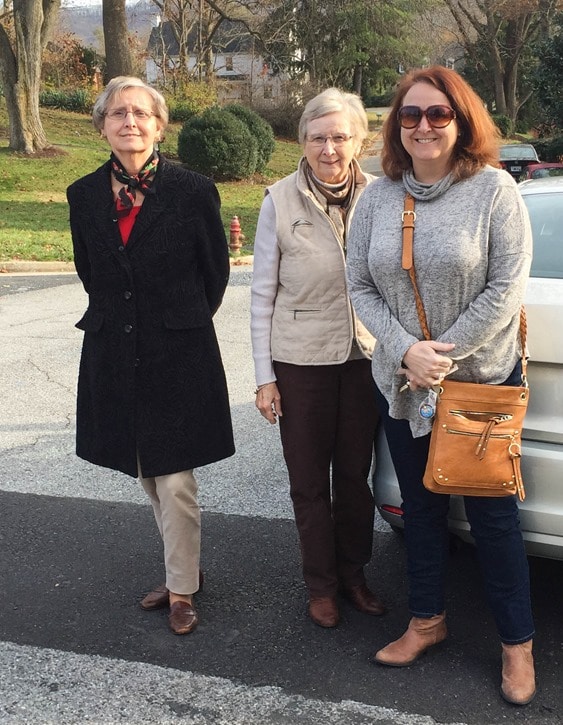 You may also enjoy last's year's tour and one I shared in 2011.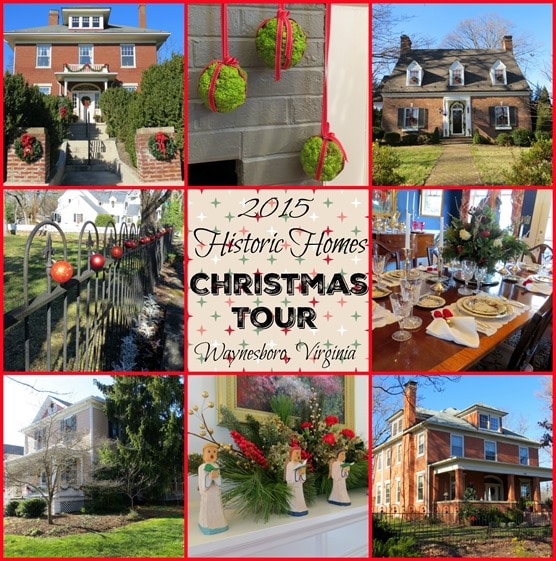 I enjoyed one home so much last year that it got it's own post. See it here.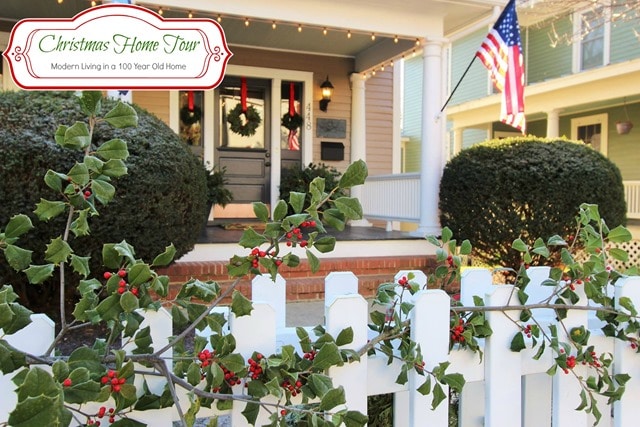 Have you attended any home tours this Christmas season? I just love them and wish I could attend more!