Home is Where the Heart Is Stenciled Sign and Giveaway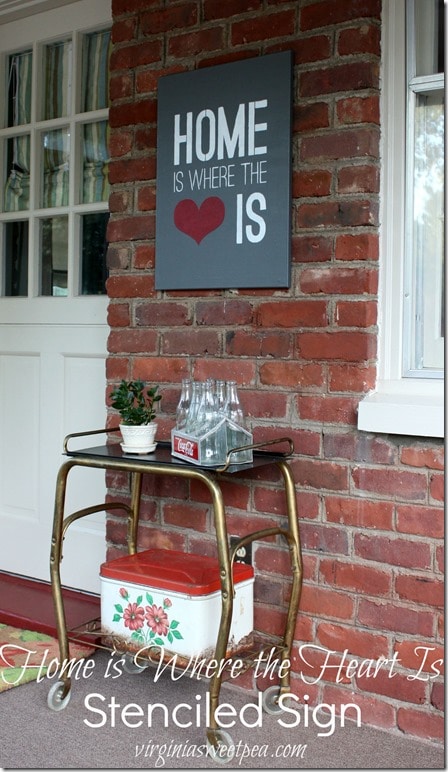 Home is Where the Heart Is…Is this true as much for you as it is for me? When I saw this wall quote stencil from Cutting Edge Stencils, I knew that I wanted to use it for a project.
This stencil is intended for use as a wall quote but right now I don't have a suitable wall, so I made a sign. You just may see this stencil used on a wall at our lake house when it is finally completed.
I used an art canvas for this project because I had an extra one on hand. I found stenciling on it to be difficult and I had some paint bleed behind the stencil, so I'd recommend NOT using an art canvas and instead use a board or other flat, hard surface. The canvas gave too much and made stenciling difficult.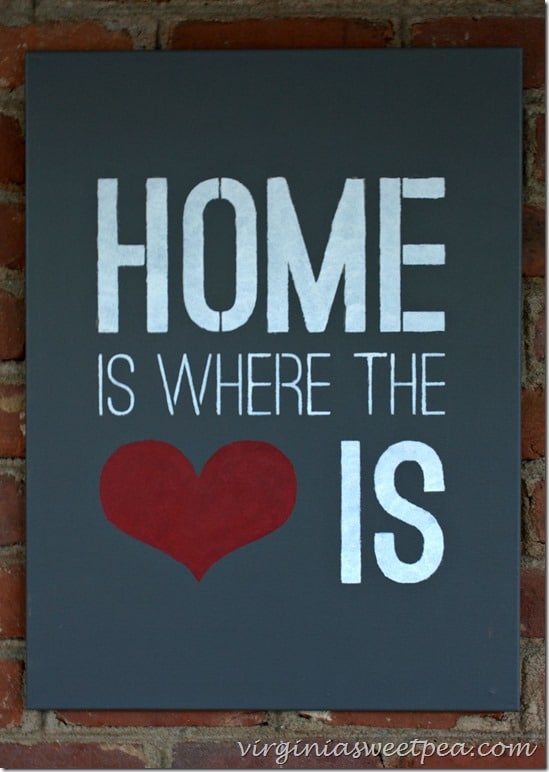 For this project I used:
~Home is Where the Heart is Stencil
~Craft Brush (not shown) to paint the canvas
~Paint for the canvas and stencil (I used FolkArt in medium gray, apple red, and wicker white.)
~Stencil Brush
~Frog Tape
Shown but not used:
Level-This handy tool helps you to make sure your stencil is level when stenciling on a wall. It clips onto either the bottom or top of the stencil. I can't wait to try this!
Roller – I used a stencil brush but if I were using a hard surface where I didn't have to worry about the paint seeping under the stencil, I would have used the roller.
Blue Folk Art Paint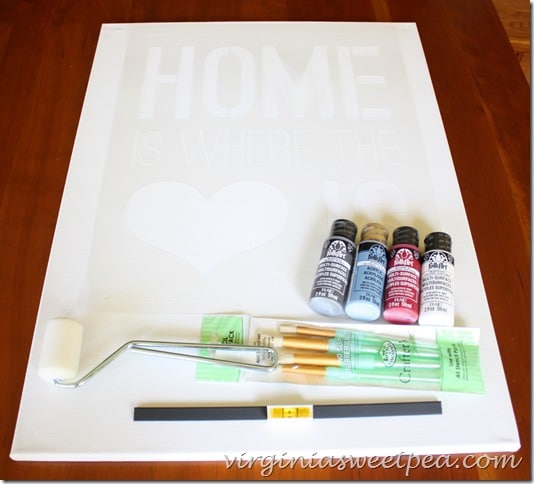 After I painted the canvas with three coats of gray paint, I centered the stencil and taped it into place.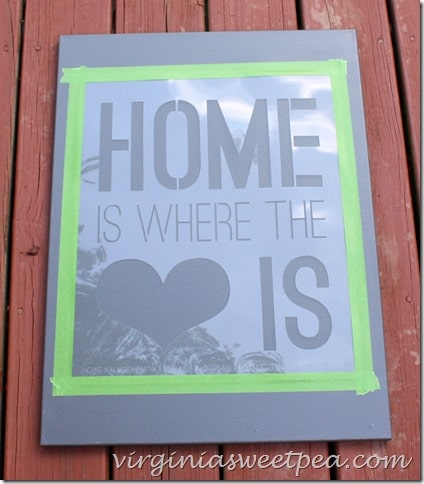 Since I was an adult in the late 80's and early 90's, I am quite familiar with how to stencil. Back then we stenciled anything that didn't move. 🙂 If you aren't familiar with the stenciling process, this video will give you some helpful pointers.
Stenciling does not require a lot of paint. You can see that I poured a small amount of red and white on a scrap piece of waxy paper (I knew that this wouldn't bleed through on my table) and I have paper towels and my stencil brushes handy.
The basic process of stenciling is to dab your brush in the paint and then using an up and down motion, tap the brush on the paper towel to remove most of the paint. Then use the same up and down tapping motion with the brush to apply the paint to the area you want to stencil.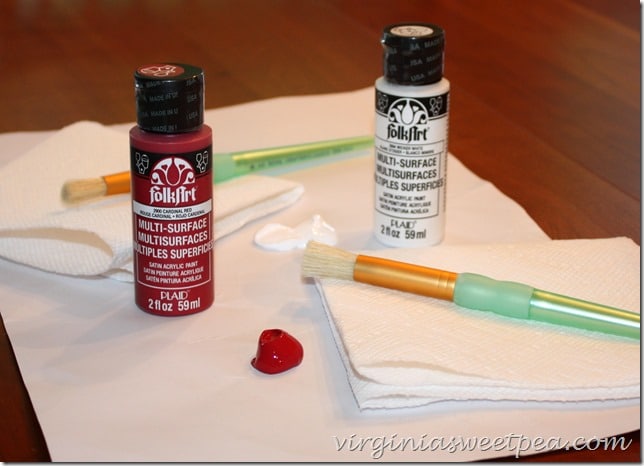 Once again, I would not recommend using an art canvas for stenciling. To try to prevent the paint from bleeding under the stencil, I stacked magazines in the area that I was stenciling which helped some with the paint bleeding through. I also tried to hold the stencil down with one hand while I stenciled with the other. If you stencil on a wall or board, you will not have this problem.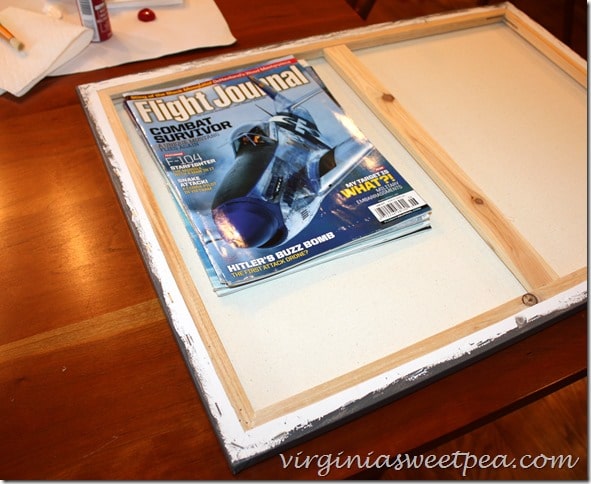 After removing the stencil, I did a small amount of paint touch-up and then put my sign on my porch where I can enjoy it every time I enter or leave my home. My sign can be seen from the street and several neighbors have told me that they like it.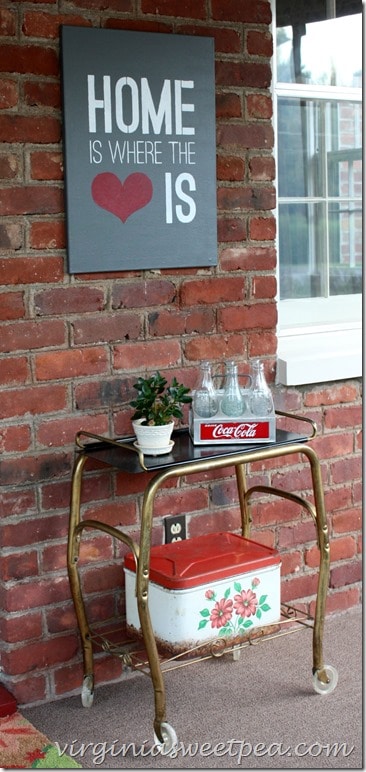 Now for some good news! Cutting Edge Stencils is going to provide one lucky winner with a $50 stencil from their website. (US residents only)
Follow the prompts in the Rafflecopter below to win.
a Rafflecopter giveaway