This post and photos may contain Amazon or other affiliate links. As an Amazon Associate I earn from qualifying purchases. If you purchase something through any link, I may receive a small commission at no extra charge to you. All opinions are my own.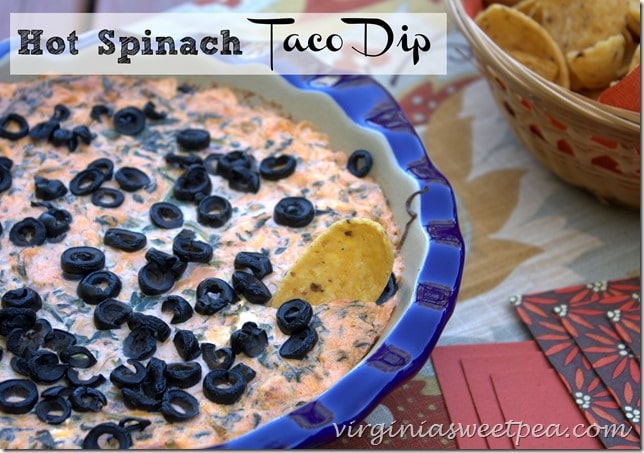 Can you believe it is almost the middle of November? Before we know it we will be knee-deep in holiday party preparations. I don't know about you, but one of my favorite things to take to a party is a dip for all to enjoy. Hot Spinach Taco Dip is one of those dips that is hard to stay out of. We like to eat it with Frito Scoops but it is also good on crackers.
With only six ingredients, Hot Spinach Taco Dip is an appetizer that is quick and easy to prepare making it great for the busy upcoming holiday season. Spinach, salsa, Monterey Jack, cream cheese and red wine vinegar are mixed together and topped with sliced black olives. The dip bakes until it is hot and bubbly or it can be heated in the microwave.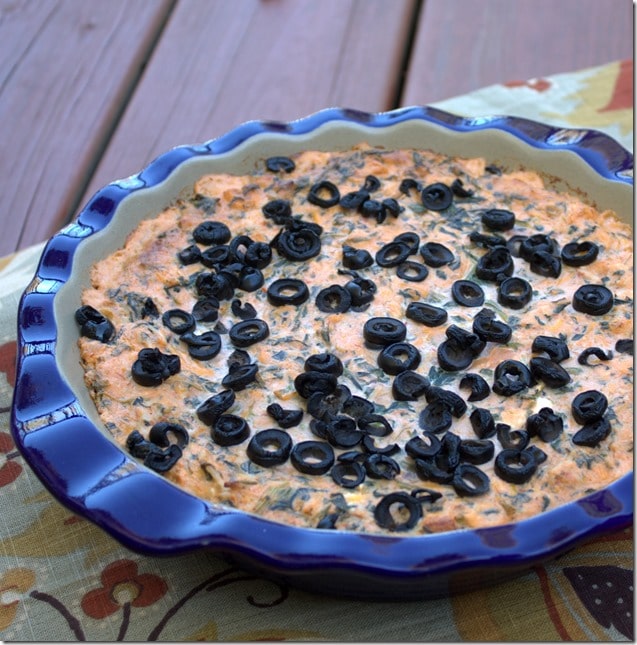 These pictures were taken when the dip was hot out of the oven. After the dip stands for about ten minutes it will thicken. (If you can wait that long!)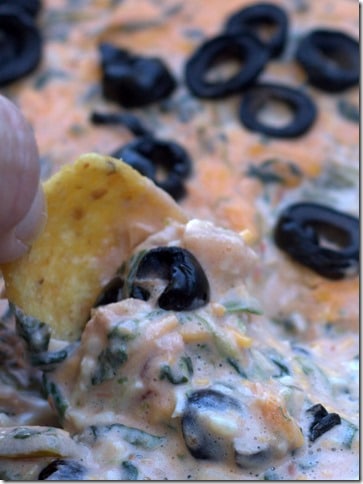 Hot Spinach Taco Dip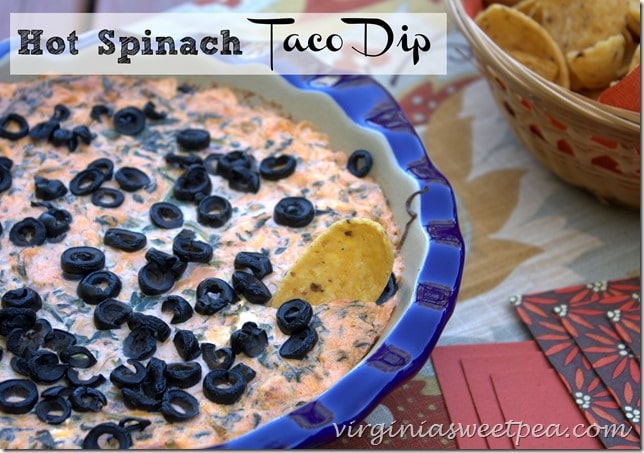 Ingredients
10 oz frozen spinach, thawed
16 oz salsa
2 cups shredded Monterey Jack cheese
8 oz cream cheese
2 T red wine vinegar
Sliced black olives
Instructions
Preheat oven to 350 degrees.
Beat cream cheese in a mixing bowl until smooth.
Squeeze all the water out of the spinach. Add to the cream cheese along with salsa, Monterey Jack, and red wine vinegar.
Put in an oven proof bowl and sprinkle olives on top. Bake or microwave until hot and bubbly.
Serve with Frito Scoops or crackers.



Not only is this good as a dip, it's also good as a baked potato topping. We've had baked potatoes topped with this dip as a simple weeknight dinner and quite enjoyed it. While the dip baked in the oven, I microwave potatoes. The dip and potatoes are done at about the same time making it a meal that is on the table in less than 30 minutes.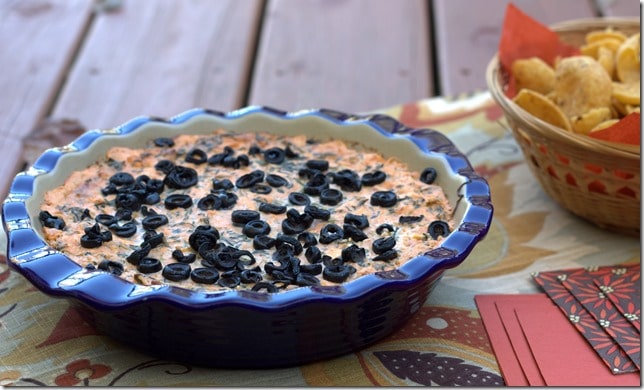 If you are a football fan, this dip is sure to please your game watching crowd!