Thanksgiving Mantel and Living Room Decor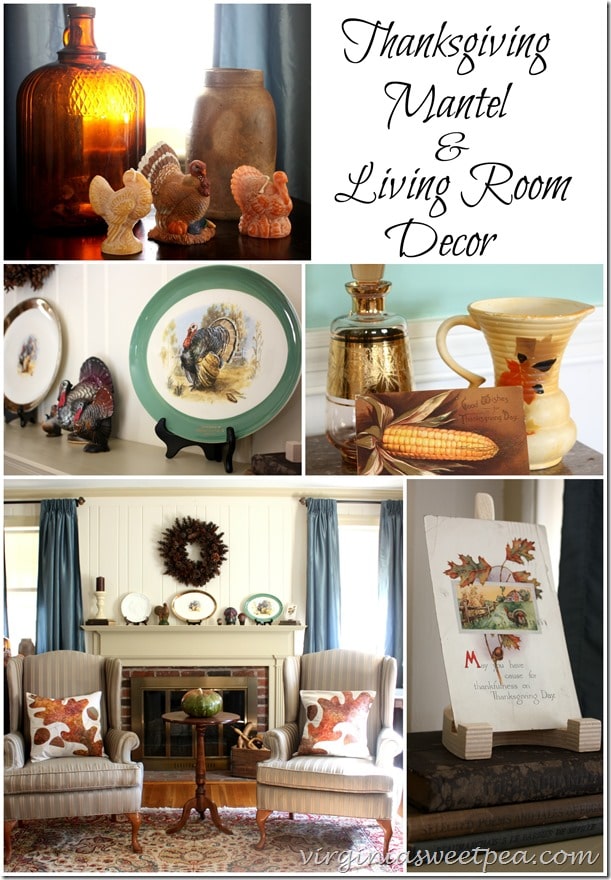 November means Thanksgiving. Today I'm sharing one of my Thanksgiving traditions: decorating my home with my turkey collection. I started collecting turkeys in college. (I'll point out the first one that I purchased when I share its picture.) Thanksgiving decor isn't easy to find. Stores seem to jump straight from Halloween decor to Christmas, bypassing Thanksgiving.
Not only do I collect mostly vintage turkey figurines, I collect turkey platters. It wasn't long after college that I discovered my first turkey platter and it was love at first site. Over the years I've developed quite the collection but I'm only sharing part of what I own today. 🙂 (I need to either sell a few or loan them to friends who also enjoy turkey decor.)
I really enjoyed this year's fall mantel and hated to remove it but after I got some of my turkeys in place I was happy again. My fall mantel featured a large bittersweet wreath that I replaced for Thanksgiving with a hand crafted pinecone wreath. I purchased it in the mid-90's at a local church and have enjoyed it ever since. If you store a wreath properly, it will last for years.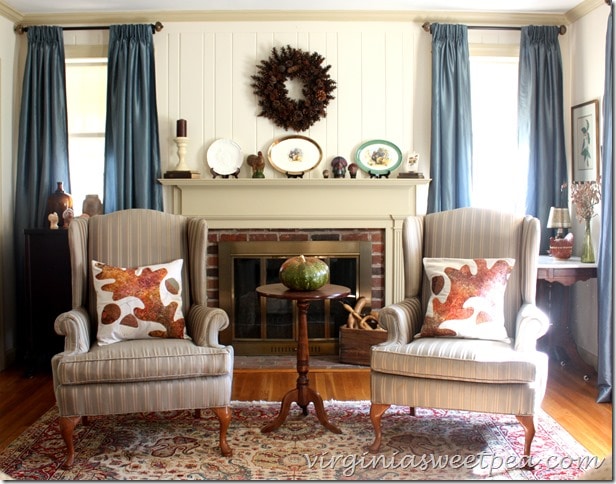 Since I haven't yet crafted Thanksgiving pillows, I left my fall pillows in place. A few of my turkey platters, figurines, and vintage turkey candles adorn the mantel.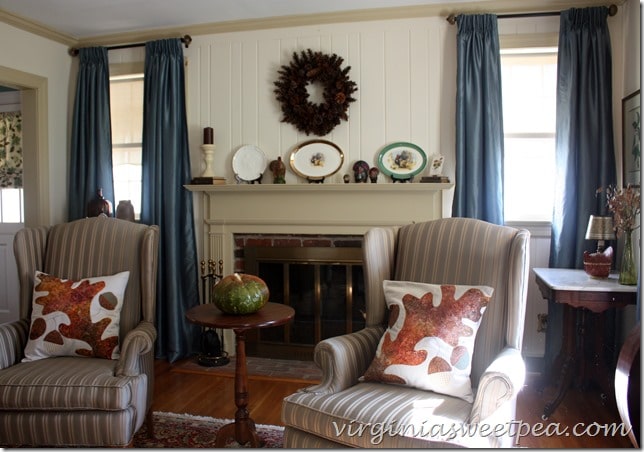 The gourds in the wooden box are ones that my dad grew in the early 90's. I dried these my first few years of teaching and have used them ever since.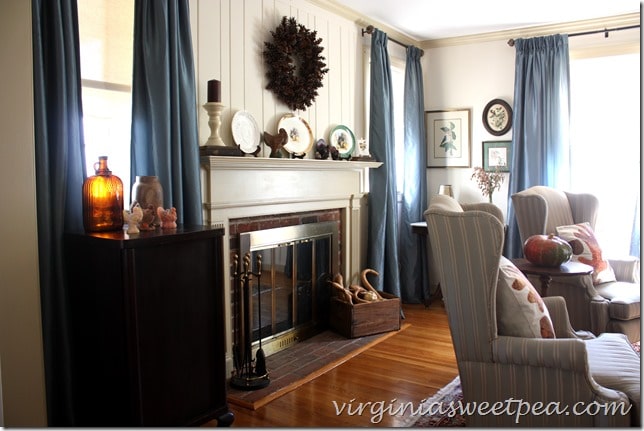 The turkey figurine in the center is the turkey that started my collection. The two flanking it are beeswax and were locally made.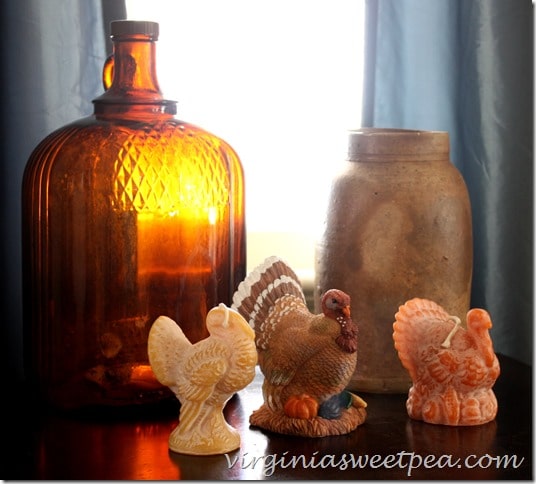 The marble table in the corner kept the same vase of river oats and my dad's college lamp but has one of the newest additions to my turkey collection, a lidded turkey dish.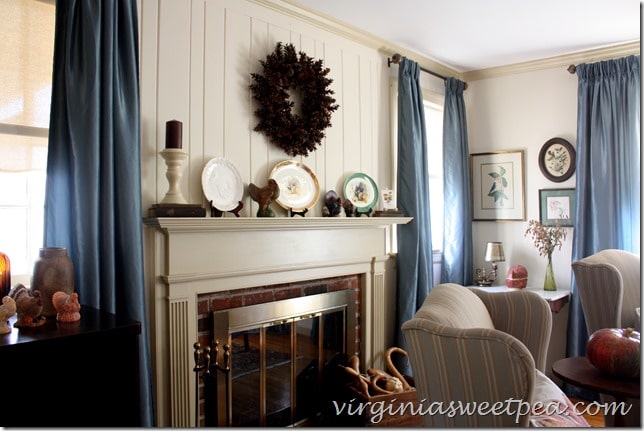 My mom bought this turkey dish for me in an antique store in Manteo, NC.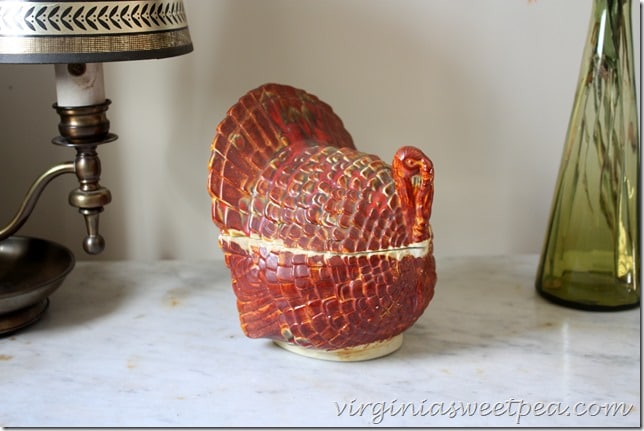 The green turkey platter was my first. The stamp on the bottom says, "Compliments of Broadway Furniture Company, Tampa, FL."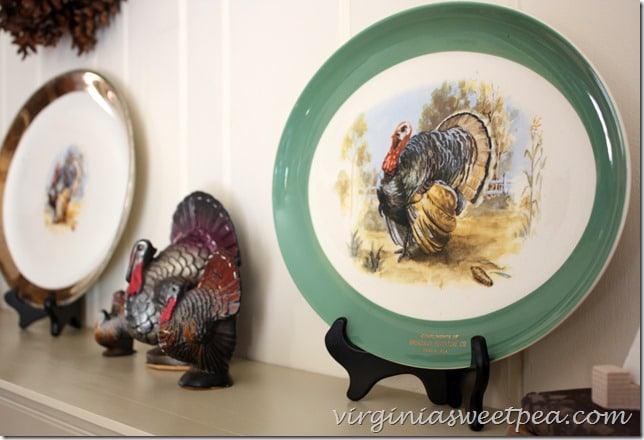 I found the three antique turkey candles in a now closed antique store in Roanoke, VA. I don't think I've seen any turkey candles for sale since.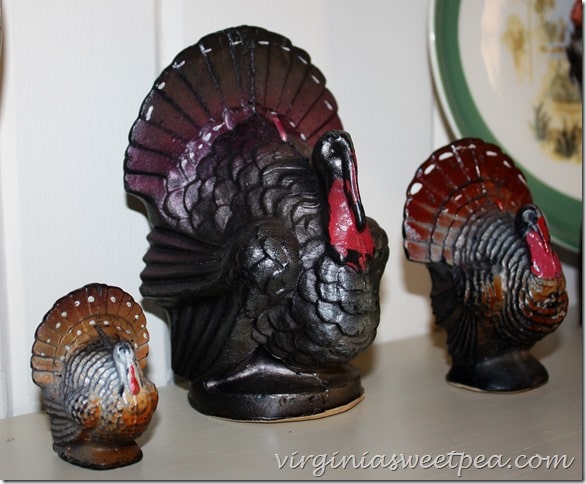 The gold turkey platter is my most recent turkey platter find. A few months ago a neighbor had an indoor yard sale in his rental house to sell some of his mother's things. I now own his mother's turkey platter. The large turkey to the left of the gold rimmed platter is not vintage but I still love him!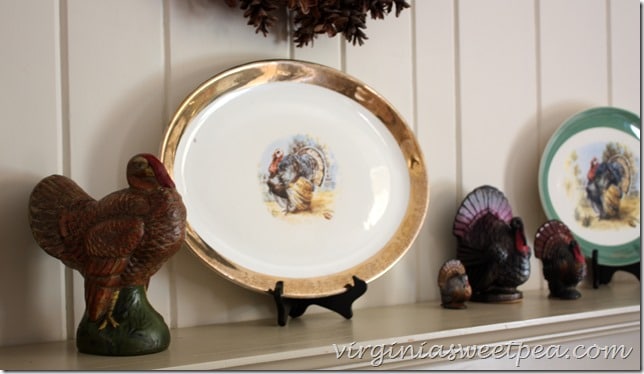 I have a pretty large collection of vintage Thanksgiving post cards that I inherited from my grandmother. The postmark on the one below is 1917.
This vignette is in the dining room adjacent to the living room. You would think that I would have a collection of pilgrims since I like Thanksgiving decor but I only have a few. These two are a recent purchase from Hallmark.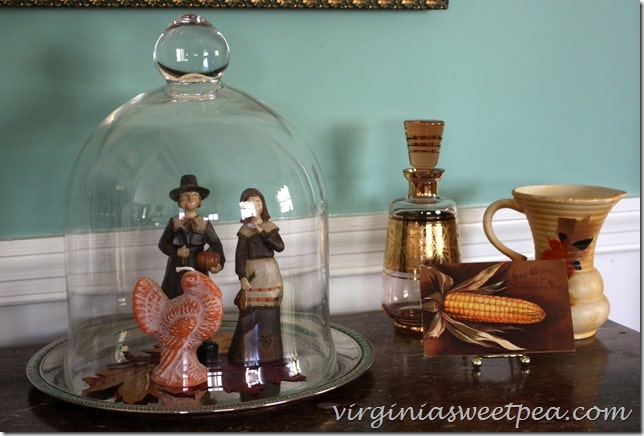 This postcard is also from family and is postmarked 1908.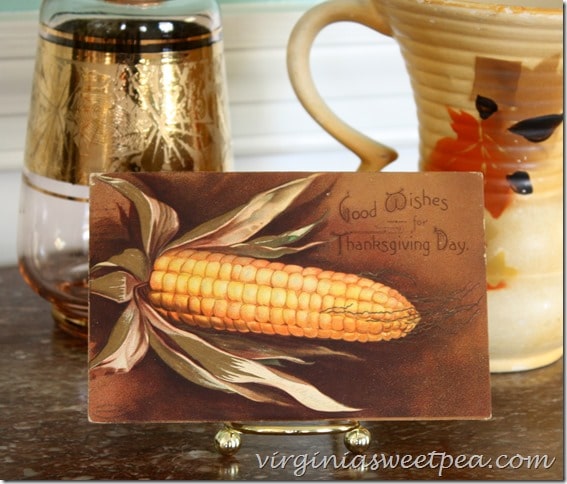 I enjoy decorating this chest in my dining room for the season. We almost always enter our house through the dining room door, so this spot is one that I enjoy every time I come home. The chest and picture above the chest were my grandmother's. My mom gave me the lamp and it is most likely from her mother's home.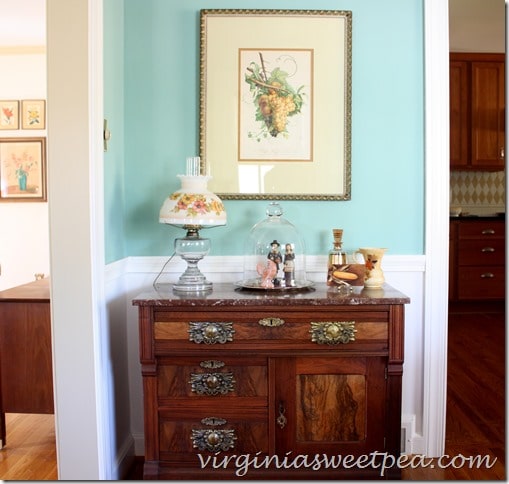 I hope you enjoyed reading about my Thanksgiving tradition of decorating with turkeys. Since Thanksgiving is late this year, I'll get to enjoy this mantel for several weeks.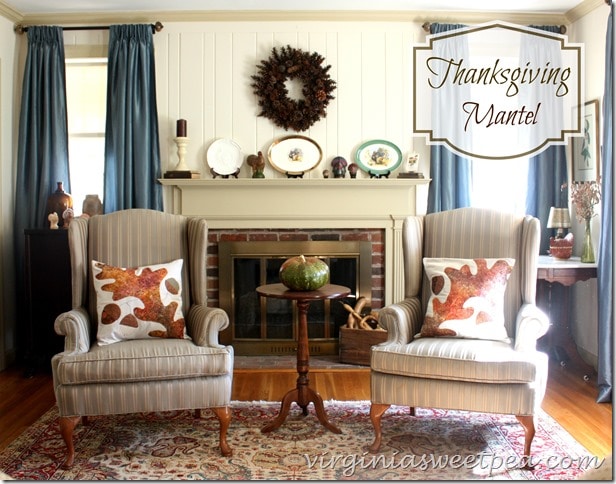 Now that you have read about one of my Thanksgiving Traditions, you can enjoy a few shared by a few friends.
Check out a few of my favorite blogs after you visit the Thanksgiving Traditions posts.

Sharing With: Refresh Restyle, Dwellings-The Heart of Your Home