My First Fashom Box – A Budget Friendly Source for Fashion
If you're a frequent flyer around here, then you know that I love receiving my monthly Stitch Fix box, mostly because I don't like to take the time to shop. Having received 69 Stitch Fix boxes, you can say that I'm a big fan of Stitch Fix.
A comment that I often receive, and a thought that I often have myself, is that Stitch Fix is expensive. While Stitch Fix can be expensive, I love what I receive from Stitch Fix, and I love the convenience of receiving clothing without having to shop for it.
I recently discovered Fashom, a service similar to Stitch Fix, but it is budget friendly. Fashom offers no styling fee for the first box, so I couldn't resist trying it and sharing what I received with you.
My First Fashom Box – A Budget Friendly Source for Fashion
This post contains affiliate links and/or referral links.
How Fashom Works
Similar to Stitch Fix, getting a box from Fashom starts with filling out a style profile with sizes and style preferences. After filling out the information, you submit a request to be styled with the promise of a response within 2-3 business days.
Next you receive a preview of what is to be shipped. You pick five items to be shipped to you from the preview (mine had eight). If you don't like anything in your preview, you can cancel your order and send an email request to be restyled.
Fashom's styling fee is $15 which is deducted when you purchase an item from the box. Everyone gets a $0 styling fee for their first box.
Fashom offers free shipping and returns.
Fashom offers a 25% discount for keeping 3 or 4 of the items in your box and a 30% discount if you keep all 5 items.
Fashom is not a subscription service. You can request a box to be styled whenever you'd like one.
Fashom offers a $10 credit each time a customer refers a friend who orders their first shipment. If you sign up for Fashom using my link, we both get $10 in credit AND your first styling fee is automatically waived.
Fashom offers petite, plus-size, and maternity fashions.
My First Fashom Experience
Fashom's style profile wasn't as detailed as what I've experienced with Stitch Fix and their pictures are much smaller and not as clear. Below you see a screenshot from when I filled out my style profile. When I took this screenshot I hadn't selected the styles that I disliked.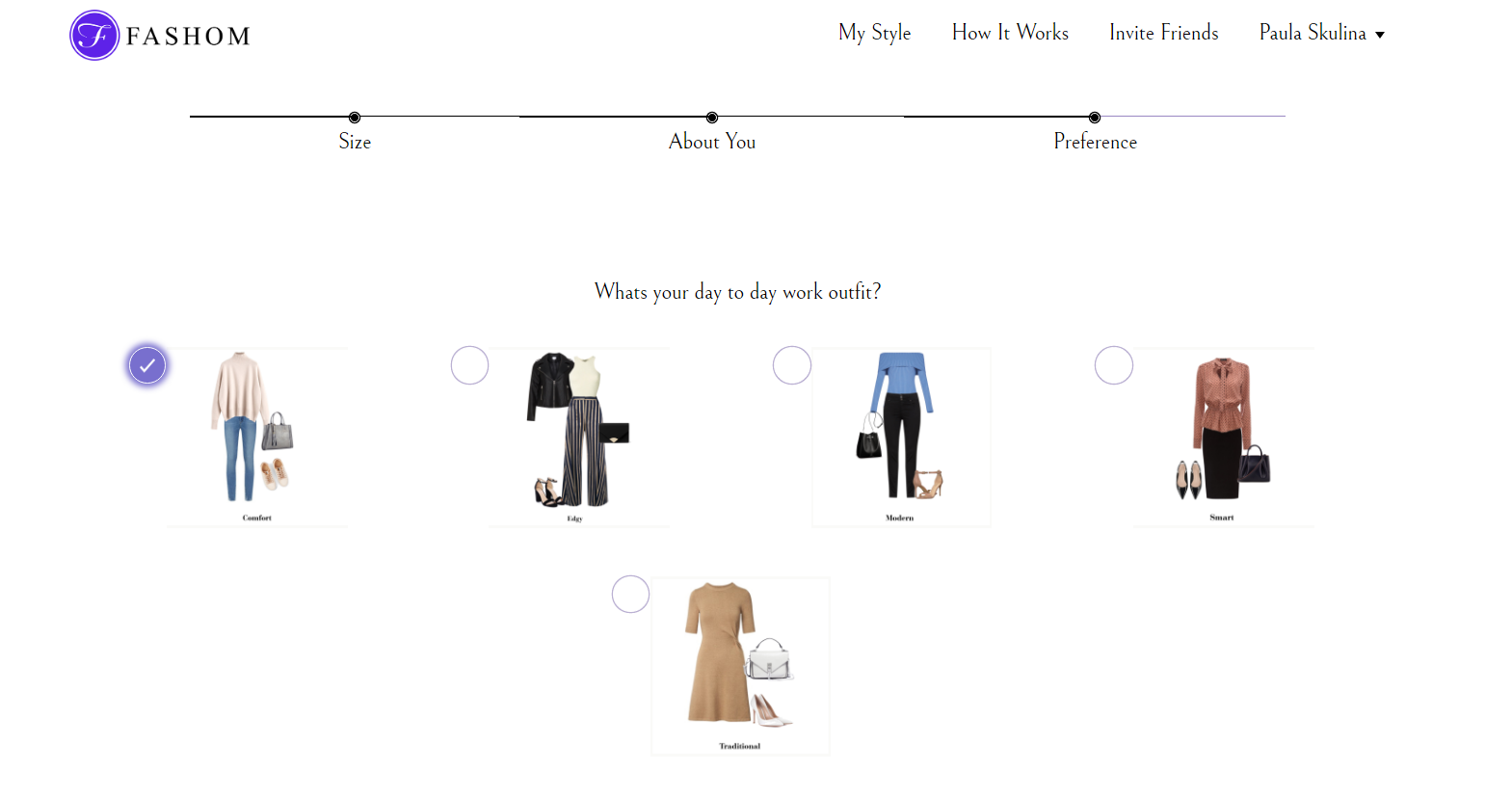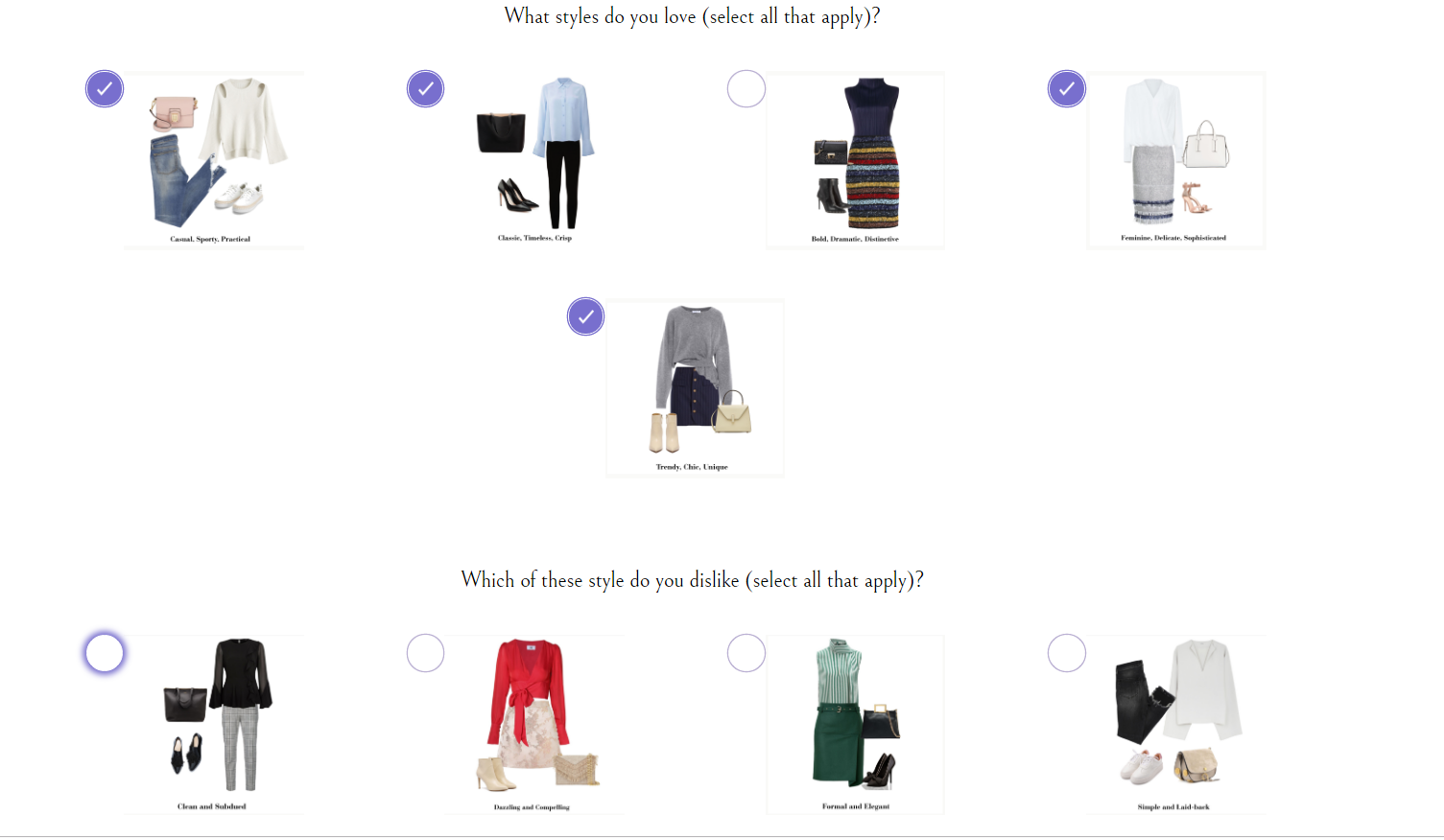 Within two days I received an email letting me know that I could preview my upcoming box and that I was to select five items to be sent. To be honest, I was underwhelmed at what was being sent but decided to keep an open mind. When my box arrived, I liked everything, so lesson learned, keep an open mind!
Note that the prices are definitely budget friendly. You can see that from my preview I eliminated the dolman top, kimono, and long jean shorts from my shipment.
After I selected my five items, in a short while I received an email letting me know when to expect my Fashom box, about a week later.
Fashions from my First Fashom Box
Mittoshop V-Neck Pleated Front Sleeveless Pocket Dress ($35)
I started my try on session with the Mittoshop V-Neck Pleated Front Sleeveless Pocket Dress. This dress was super comfortable, very affordable, lined, and it has pockets.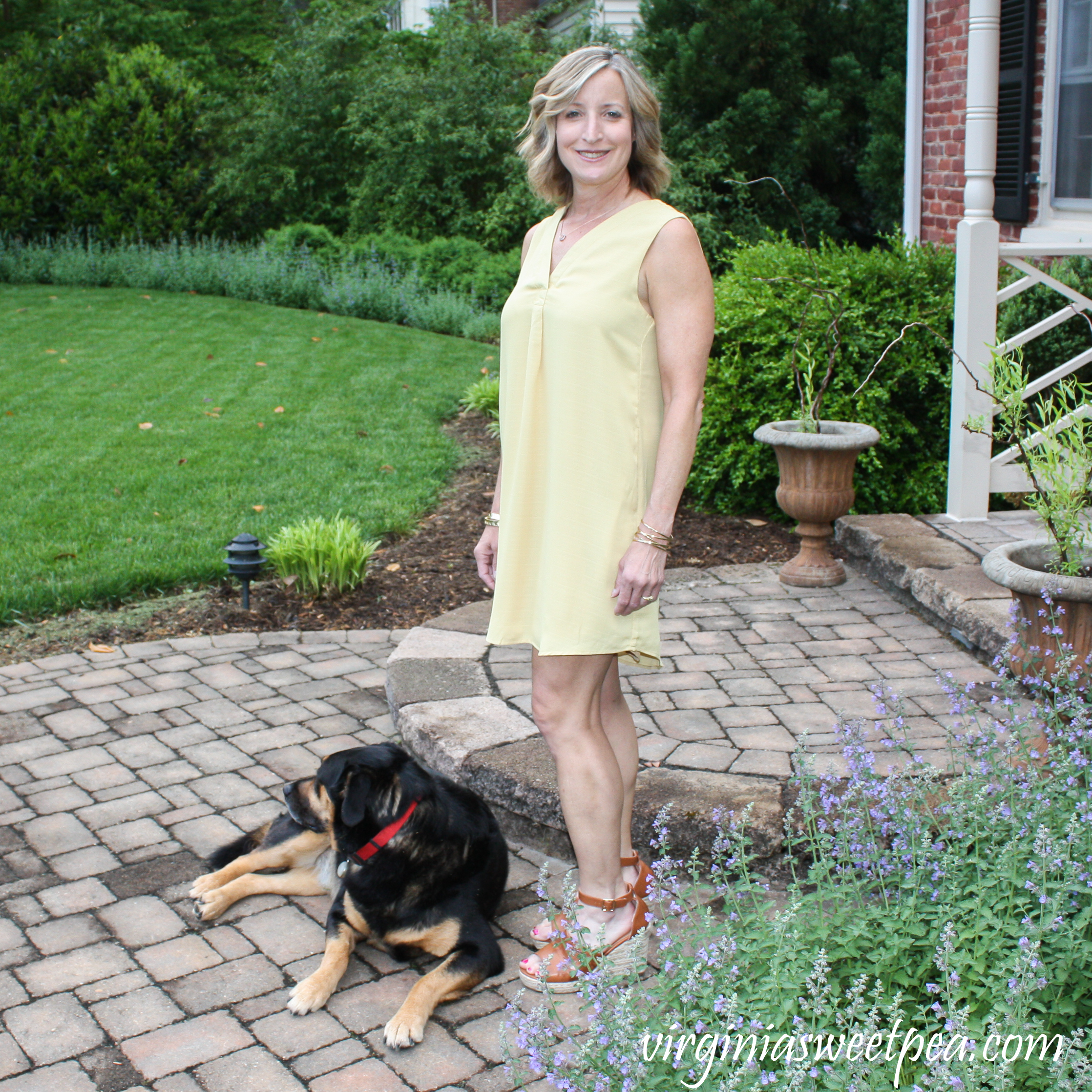 I paired this dress with shoes from Walmart that are a knockoff of a popular Sam Edelman style. You can't beat Walmart's $19.99 price with free shipping to the store!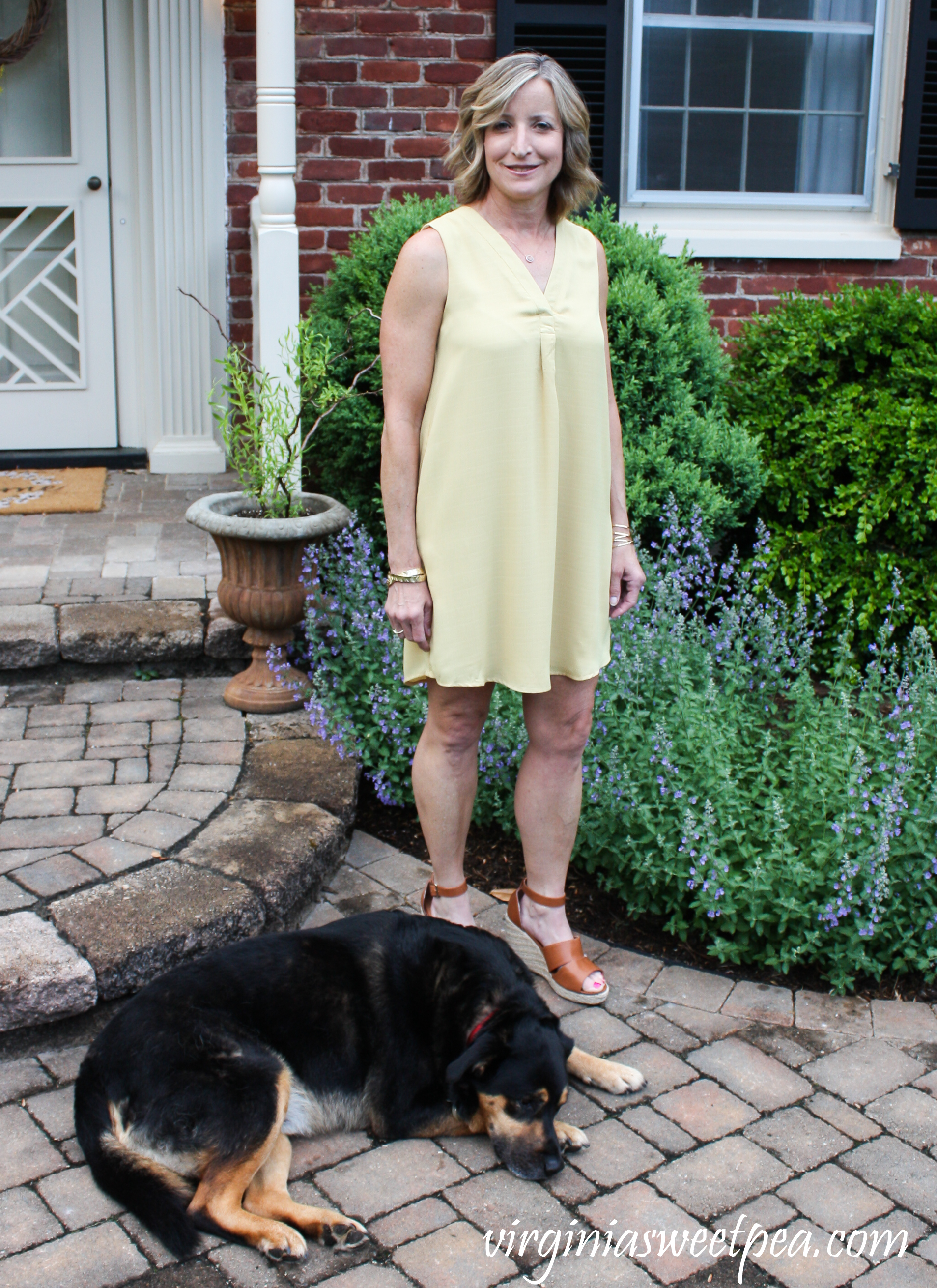 All of the jewelry that I'm wearing in this post is from Rocksbox. Rocksbox is a jewelry subscription service that sends three pieces of jewelry that you can wear for as long as you like each month. When you send your three pieces back, or buy what you like, a new box is sent. If you'd like a free month of Rocksbox, sign up with this code: PAULABFF54.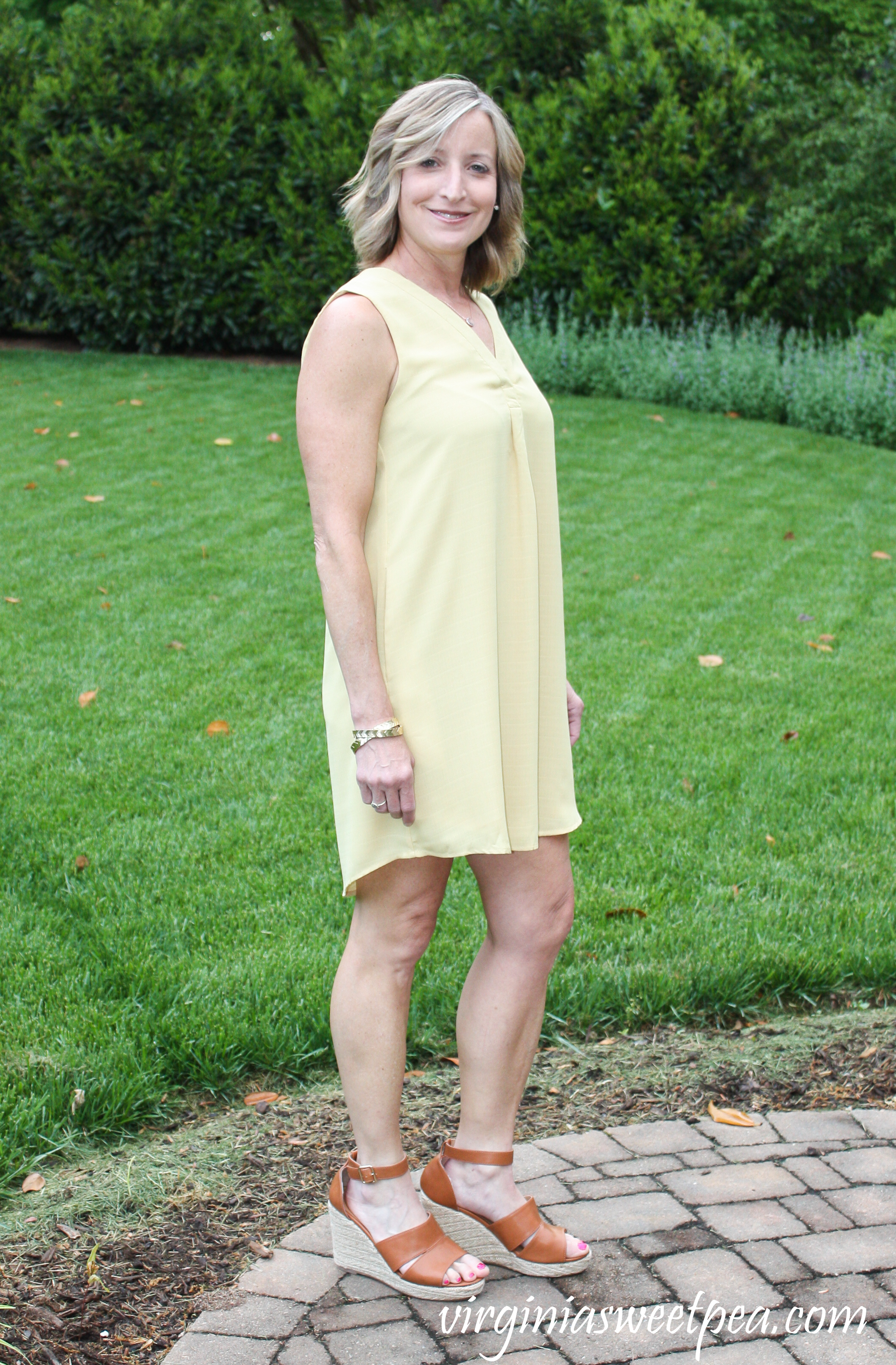 While this dress was super comfortable, it was a bit too flowy for my taste, so it was returned.
THML Sleeveless Stripe Motif Shift Dress ($58)
Next I tried on the THML Sleeveless Stripe Motif Shift Dress. I loved the stripes, ruffle detail on the bottom of the dress, the embroidery, and the cute tassel tie at the neckline. Like the previous dress, this one is also lined.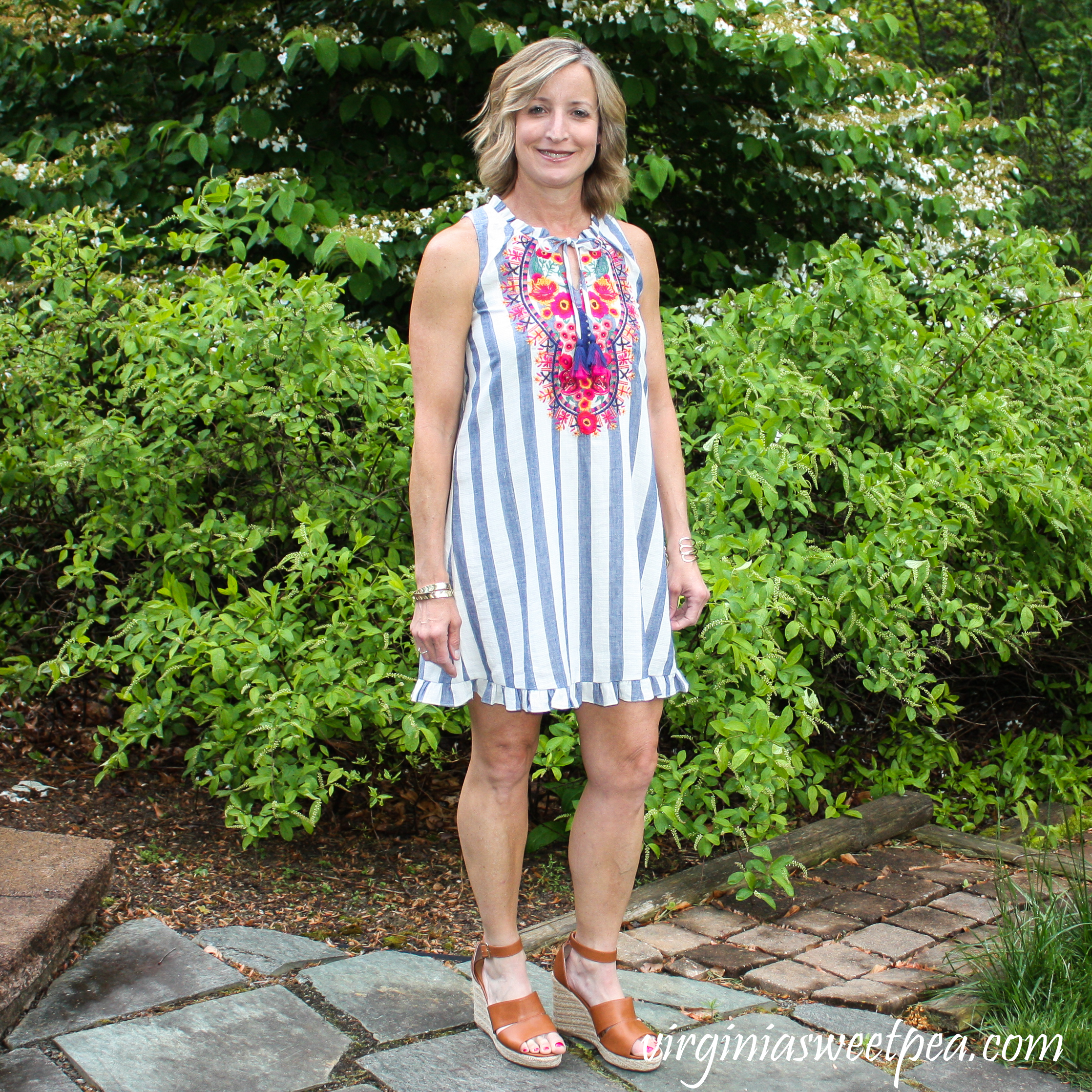 Here I'm wearing the tie untied.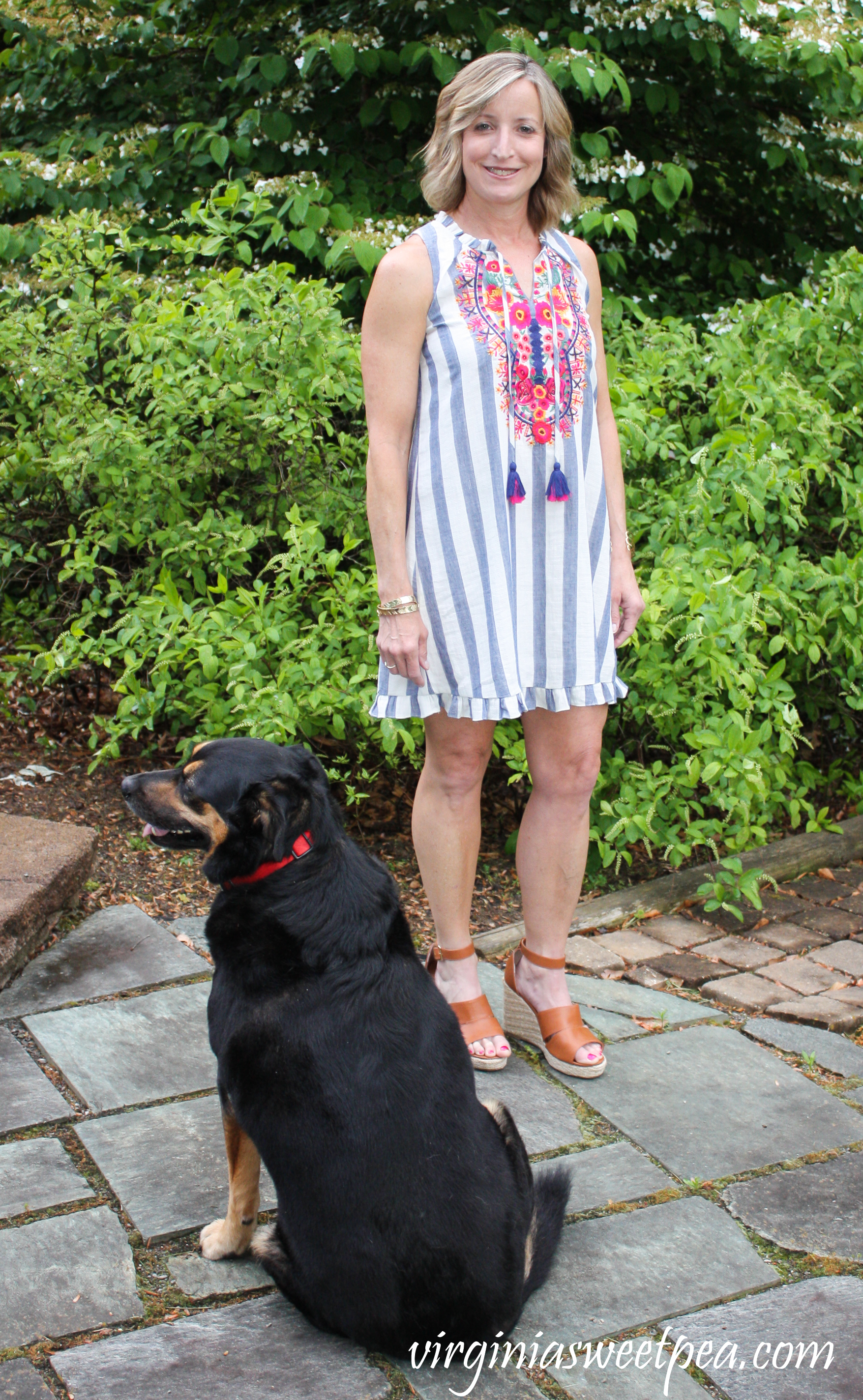 This dress would be a great summer wardrobe staple. It was super comfortable and could be dressed up or down depending on the occasion.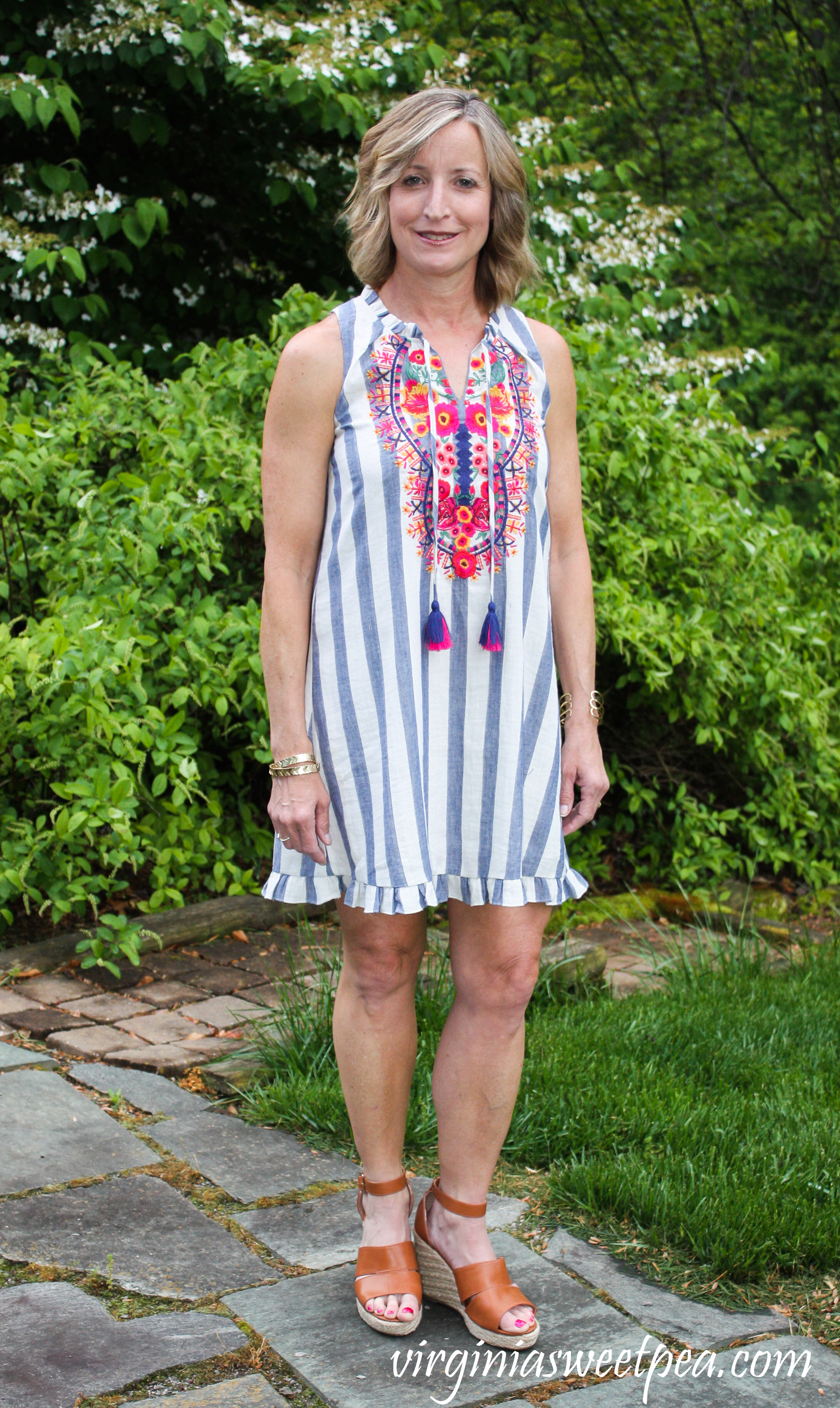 I really debated over this dress because I loved it and I really wanted to keep it. What stopped me from keeping it was fear that the embroidery would bleed into the dress fabric when I laundered it.
Gilli V-Neck Wrap Dress ($41)
Next I tried on the Gilli V-Neck Wrap Dress. This dress was super comfortable and made of a fabric that is light that doesn't wrinkle. This would be the perfect dress to pack for a weekend trip.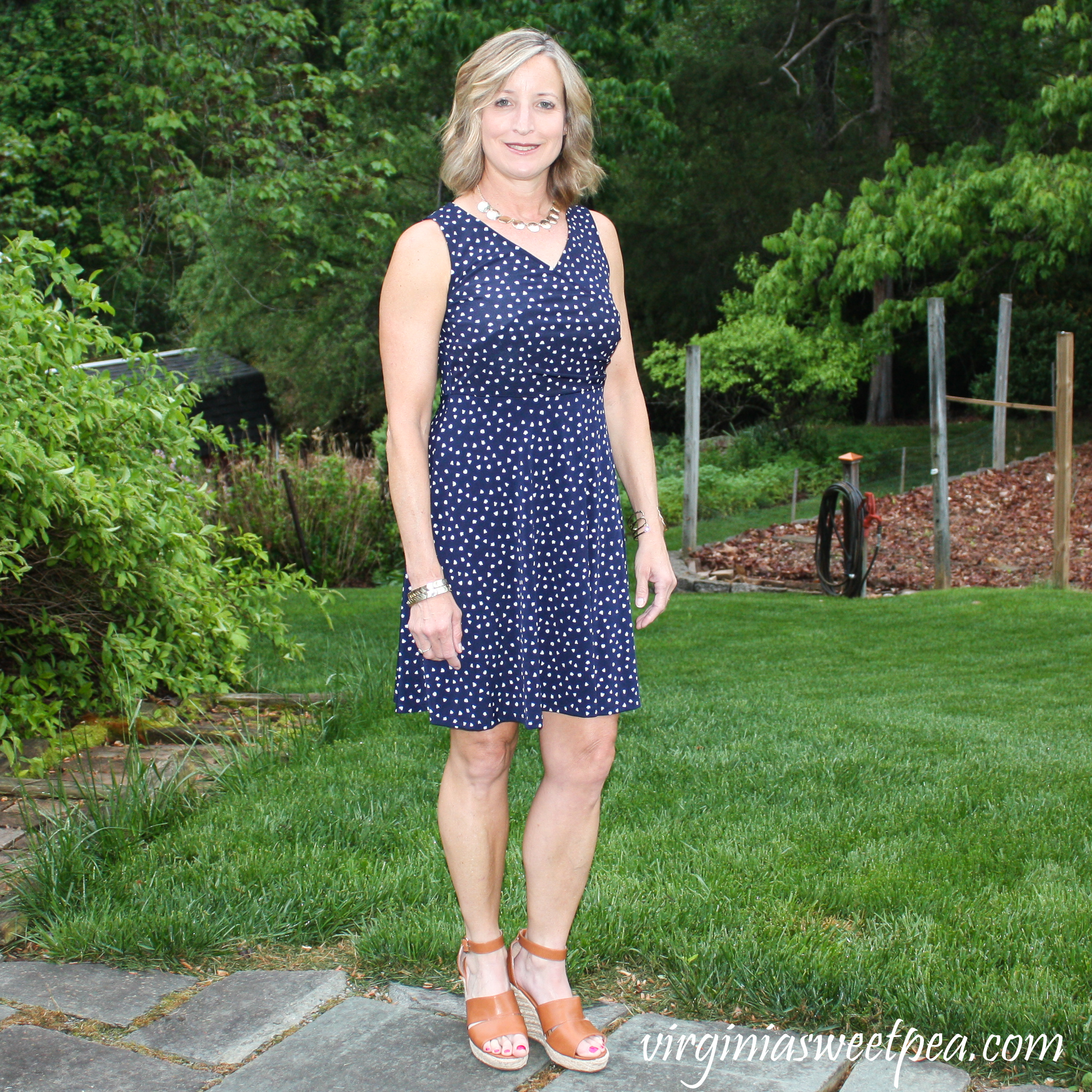 This dress was my husband's favorite item from this box. You can see that Sherman liked it as well.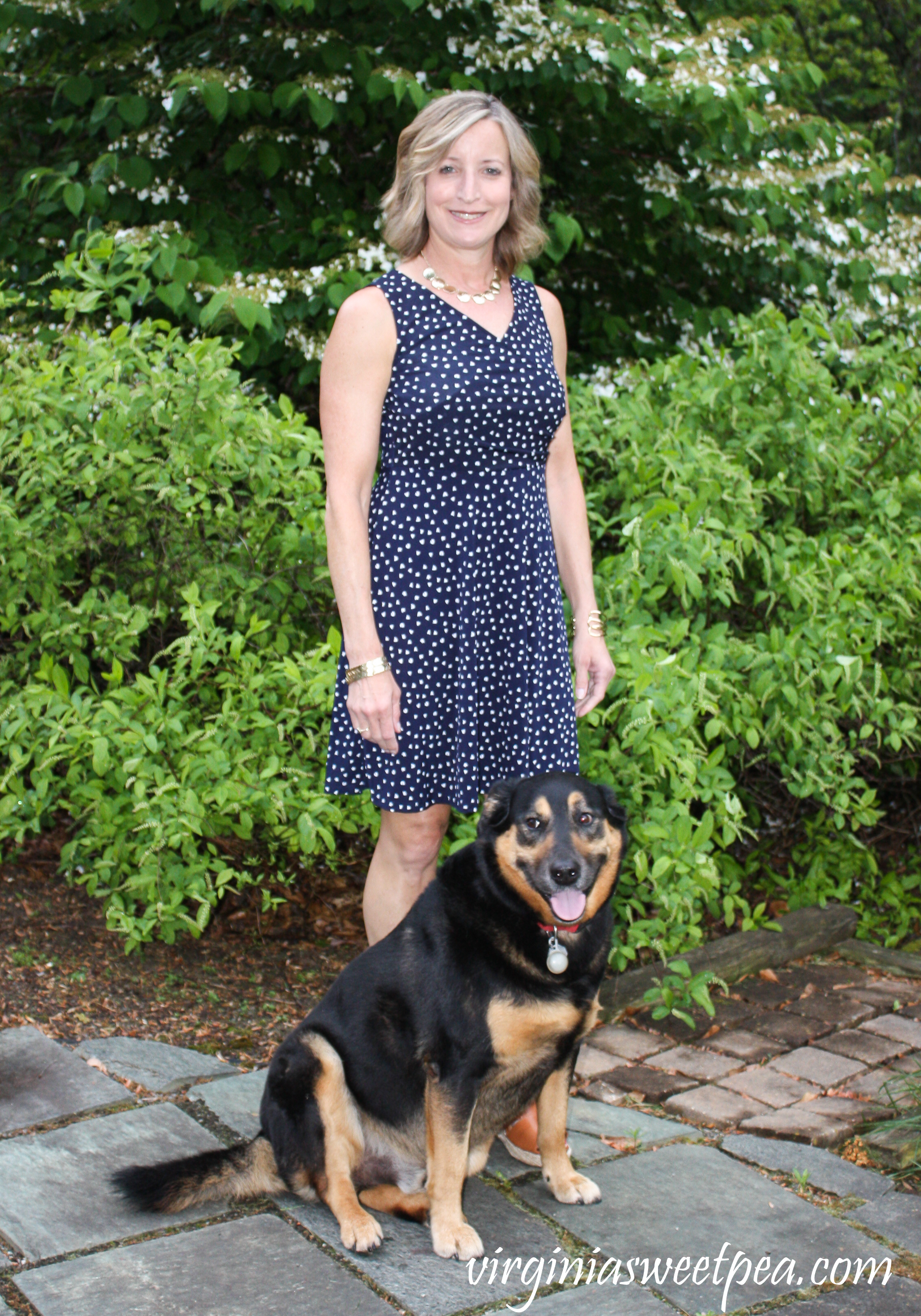 I liked this dress but didn't keep it because I have a Stitch Fix dress that is the same color and also has a similar pattern. The cut of this dress is different, but I didn't want to invest in a dress too similar to one that I already own.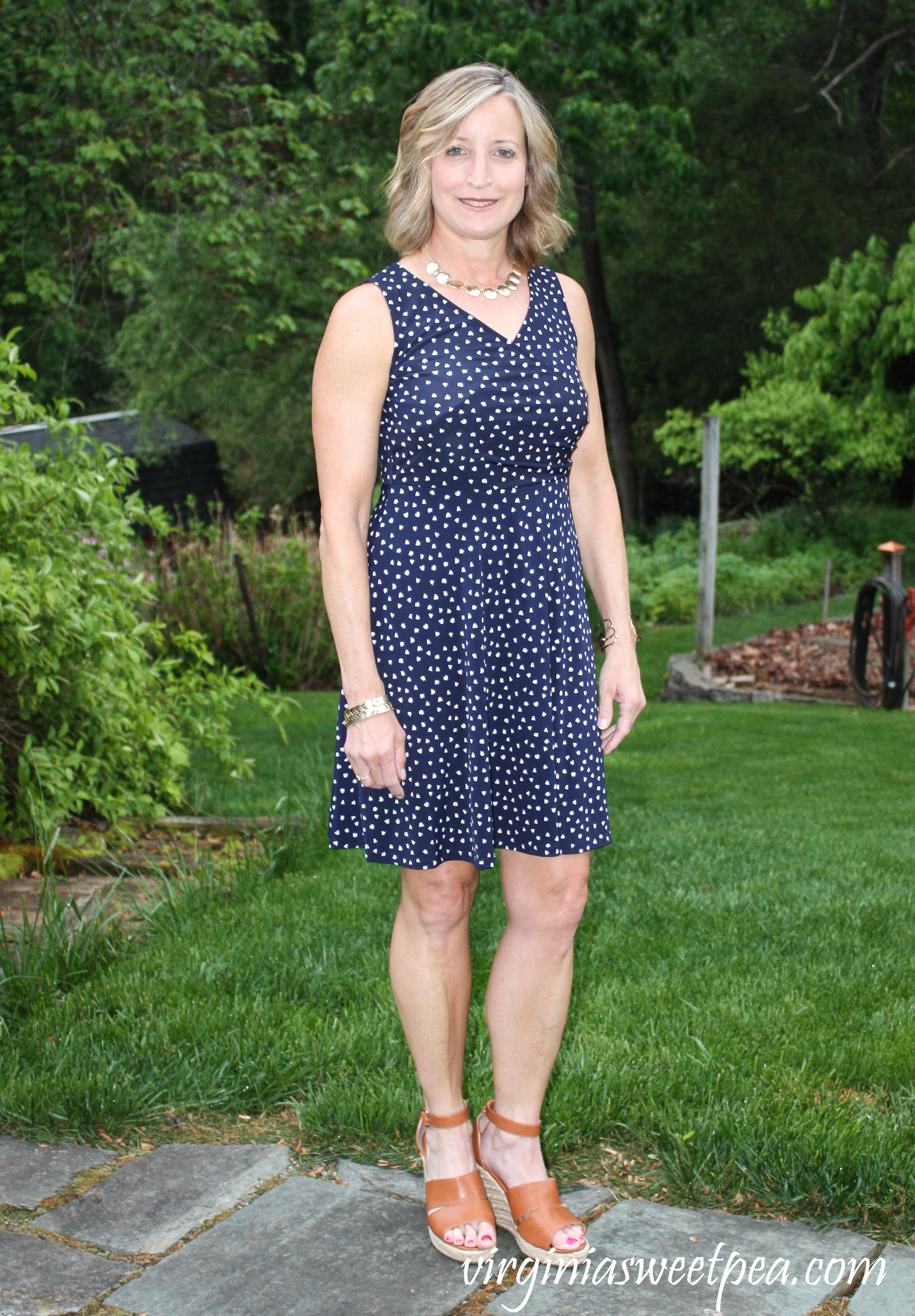 Staccato Sleeveless Wrap Top ($39)
Next I tried on the Staccato Sleeveless Wrap Top. I liked the wrap style of this blouse and how it was blousey in the front and longer in the back.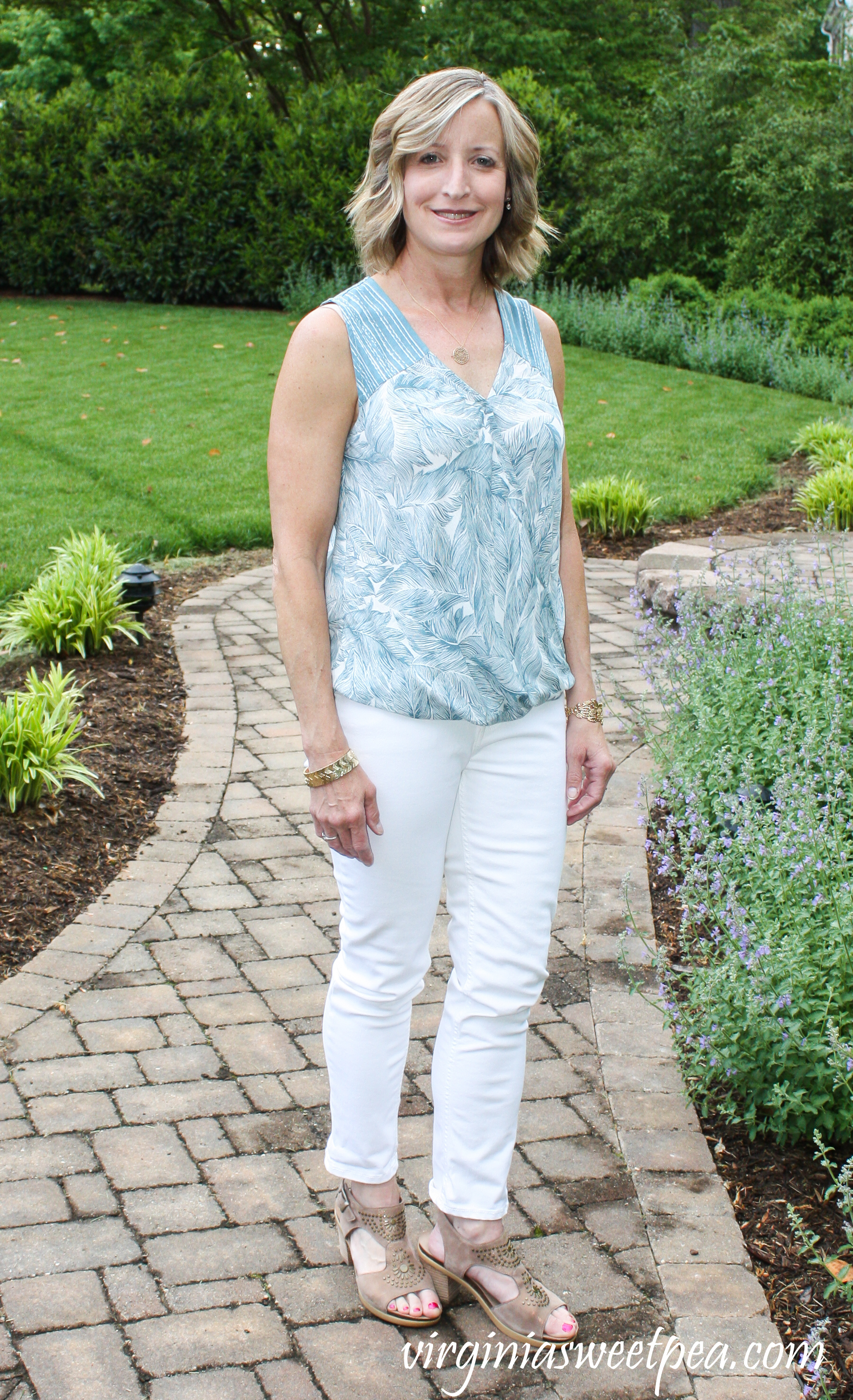 Longer in the back is a figure flattering detail.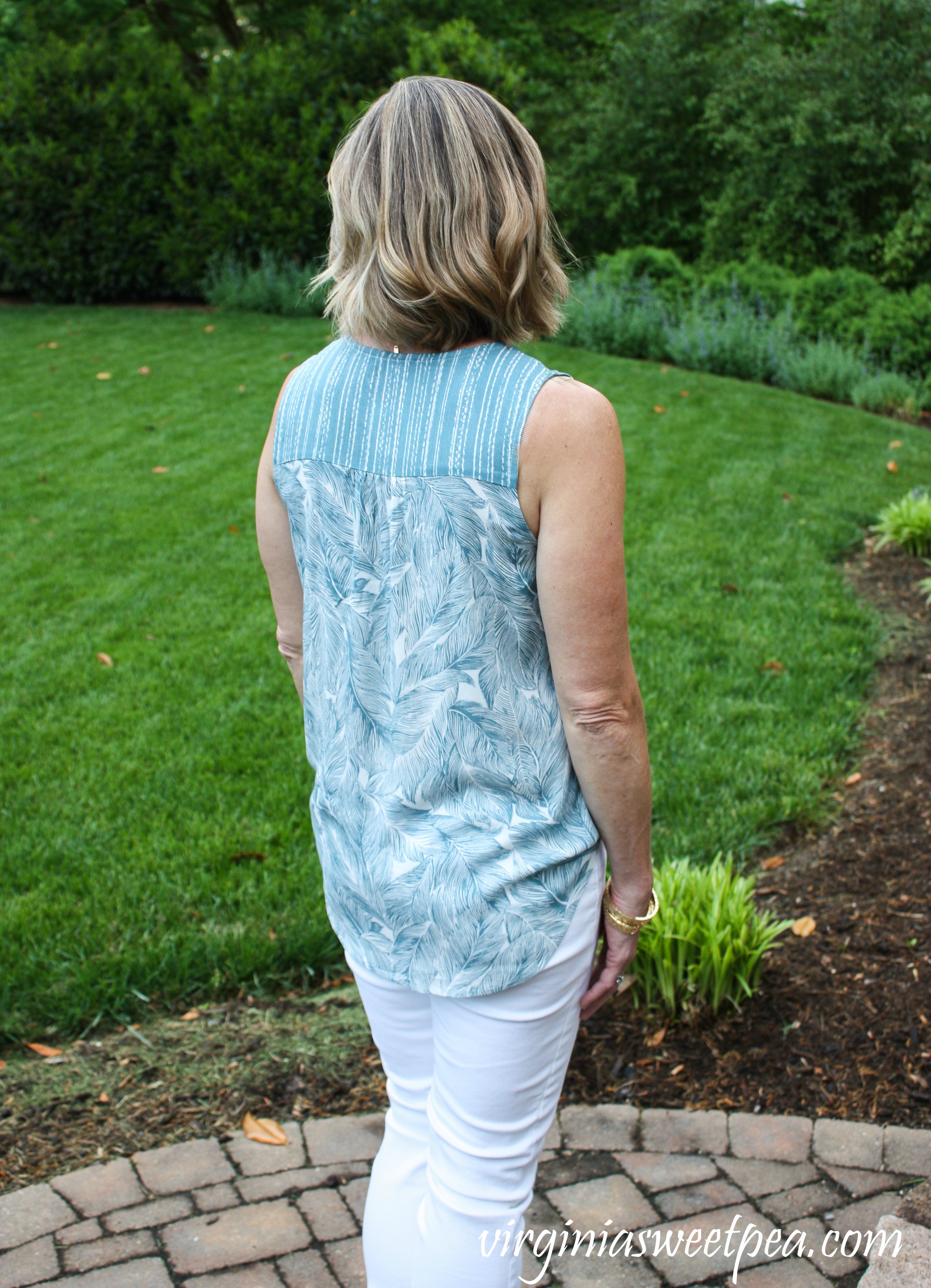 I liked this top but I didn't love it, so it was returned.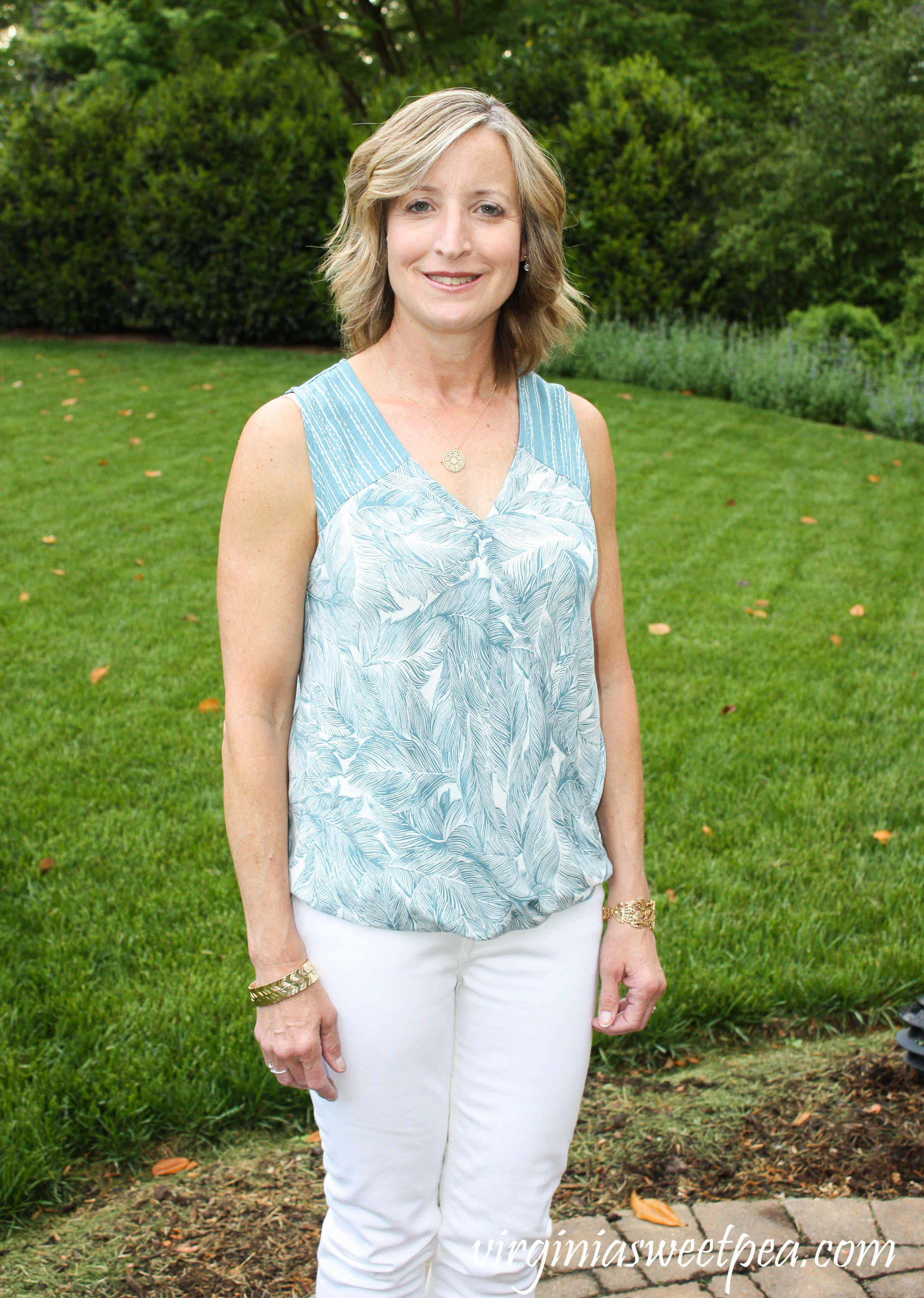 REA Mode Butter Soft Yoga Stretch Leggings ($28)
The last item in my Fashom box was a pair of maroon REA Mode Butter Soft Yoga Stretch Leggings. These leggings were definitely butter soft and they were super comfortable.
Many of you know that I used to be a runner, biker, and tennis player. My cancer treatment made a back problem that I used to have flair back up shortly after my cancer diagnosis and I had to quit the activities that I loved doing. Not only do I miss the exercise, I miss the time with friends that comes with the exercise. I lost talking to my friends while running and biking and socializing with my tennis friends during and after matches. It's really been hard on me to give up these activities and to lose touch with friends. What I have been able to do is weight lifting and for that I am grateful. So here I'm showing my guns in celebration of living with cancer and for making it to age 50. (I turn 50 on May 26.)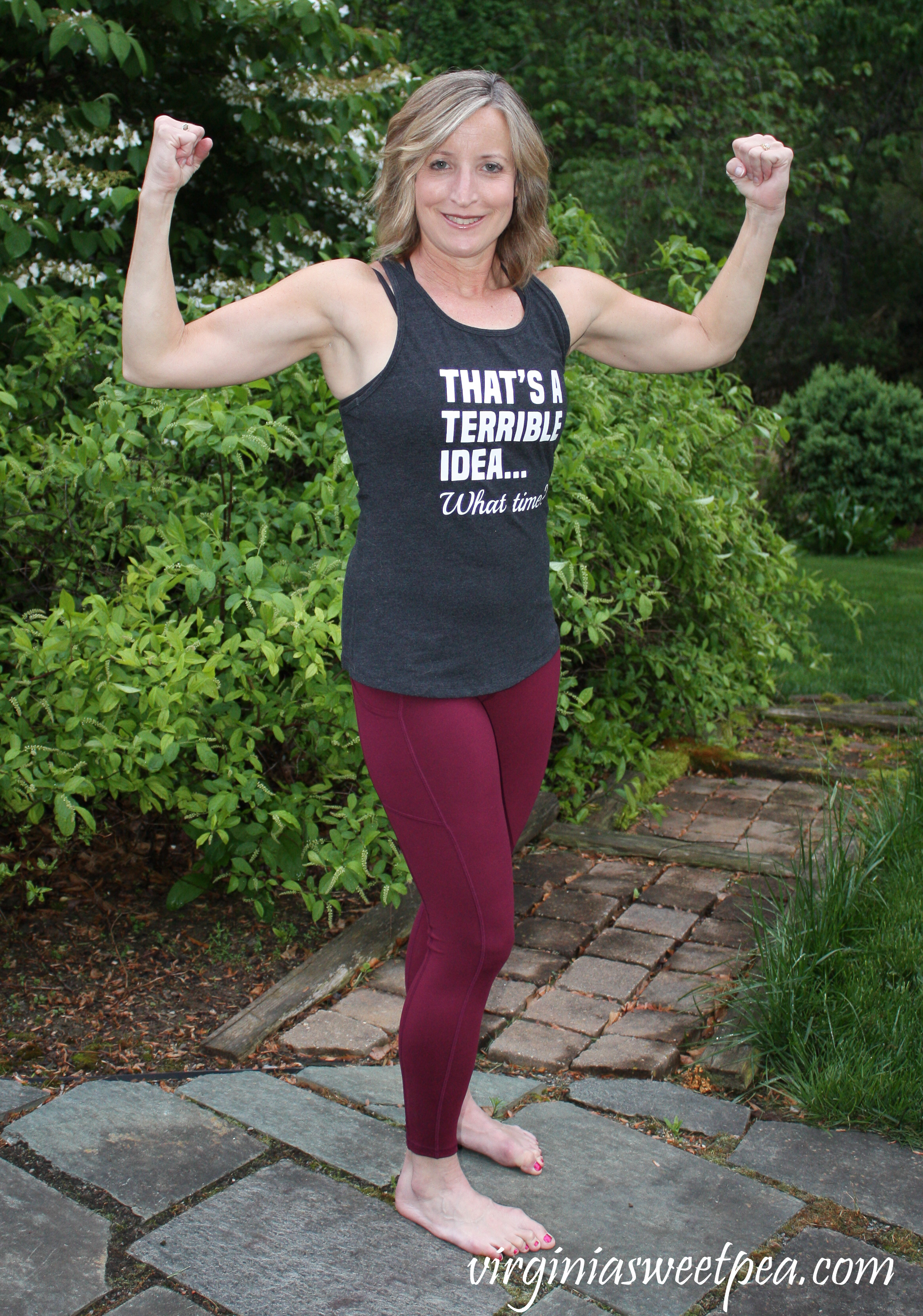 I used to be really flexible and lately I've been trying to regain some of the flexibility that used to come so easily for me. My leg isn't as high as is used to be, but getting into this stretch sure felt good. These leggings are perfect for moves like this. Another great thing about these leggings is that they have pockets.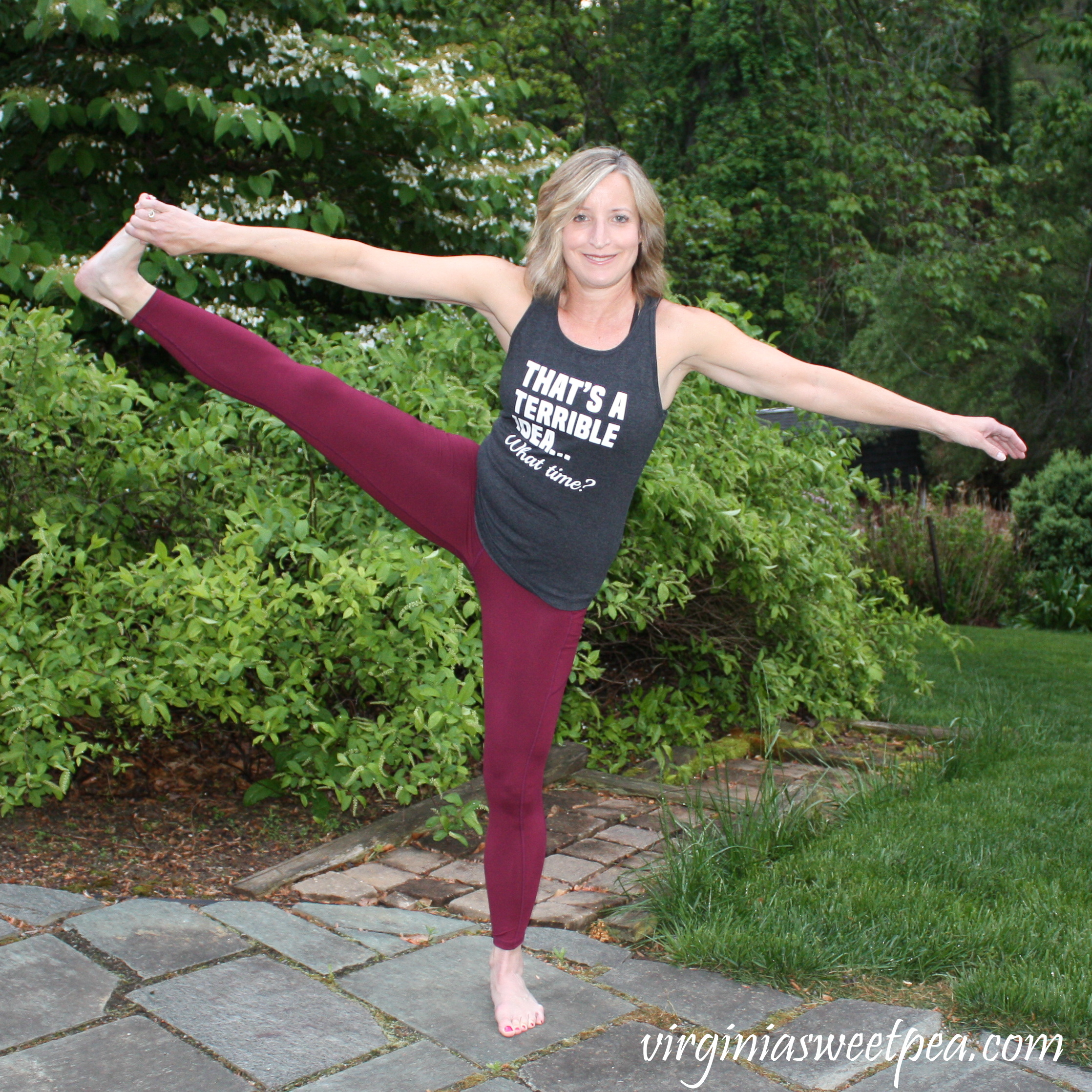 My tank top and sports bra are both from Constantly Varied Gear. This isn't an affiliate link, I just really like their products.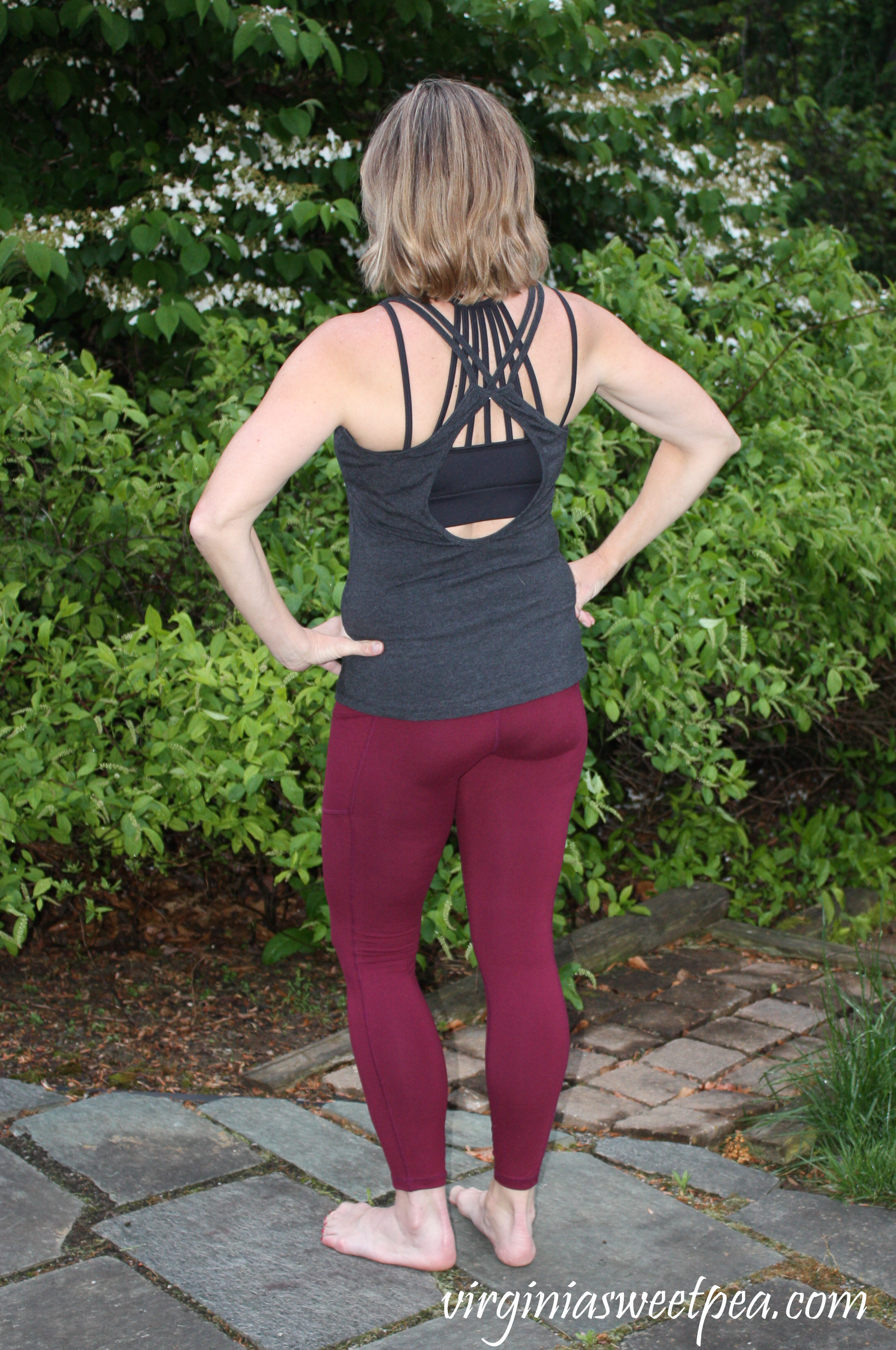 At just $28, I couldn't resist keeping these leggings. They are so comfortable and I know that I'll enjoy wearing them for workouts or for lounging around the house.
What I Kept and Returned from My Fashom Box
V-Neck Pleated Front Sleeveless Pocket Dress from Mittoshop ($35) – Returned
Sleeveless Stripe Motif Shift Dress from THML ($58) – Returned
V-Neck Wrap Dress from Gilli ($41) – Returned
Sleeveless Wrap Top from Staccato ($39) – Returned
Butter Soft Yoga Stretch Leggings from REA Mode ($28) – Keep
Try Fashom for Free!
Since the styling fee is waived for everyone's first box, why not give Fashom a try? I would love for you to use my referral link to try Fashom. If you do, you'll get $10 credit and no styling fee for your first box, and I'll get $10 credit as well.
Final Thoughts
I really enjoyed trying this new service and I've already decided that I'll get another box either next month or in July. The quality of the clothing is great and so are the prices. If Stitch Fix is too expensive for your budget, consider giving Fashom a try.