Spring Tea in the Garden with Vintage
Spring in Virginia is so pretty and I have so much enjoyed the show that Mother Nature has been putting on for the past few months. I recently enjoyed iced tea and cookies after an afternoon of working in the yard. It was nice to enjoy what is blooming while sipping on a glass of ice tea.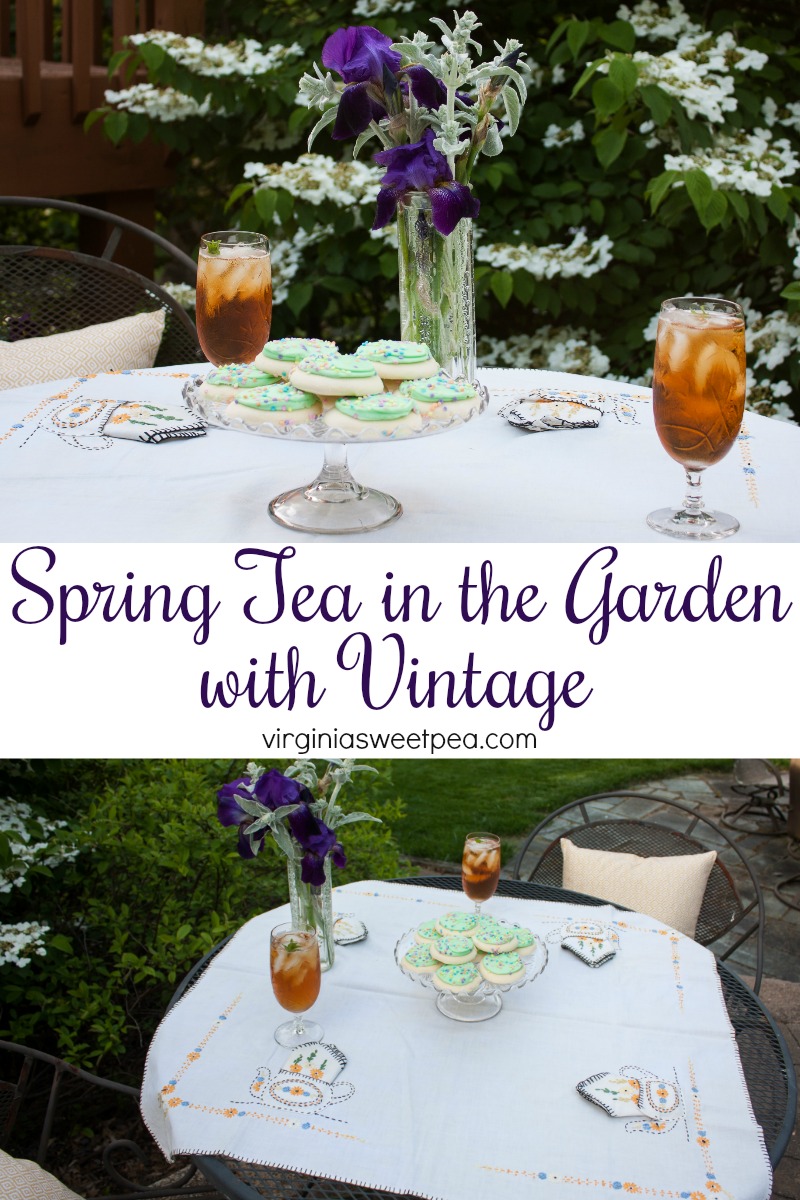 I'm sharing my Spring Tea in the Garden with Vintage along with a talented group of bloggers for a It's a Spring Tea Party Blog Hop. This tour is organized by my friend Amber from Follow the Yellow Brick Home. I love Amber's gorgeous old home and how she decorates it so beautifully with vintage style.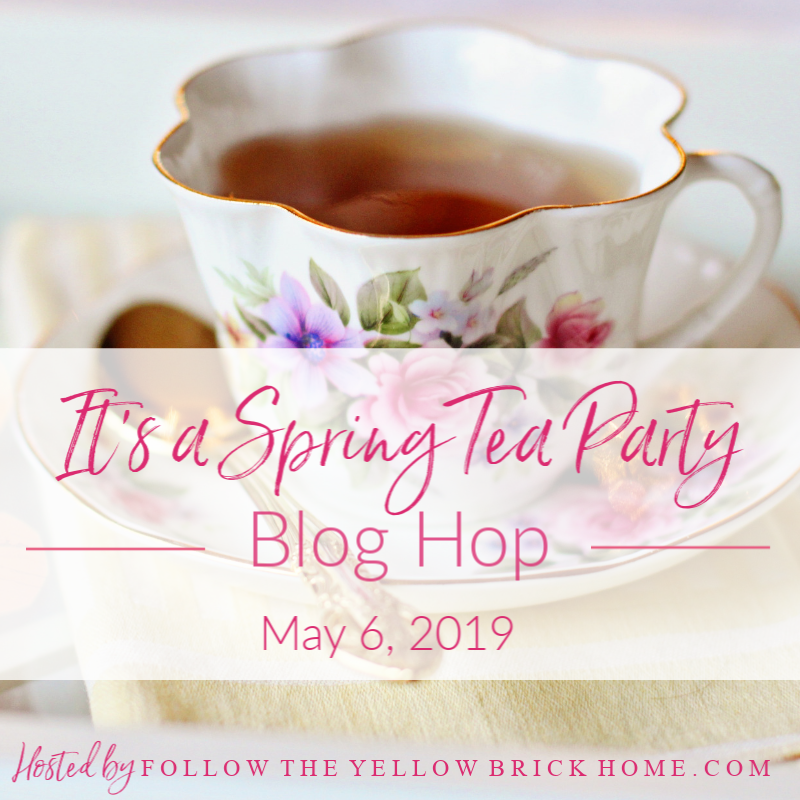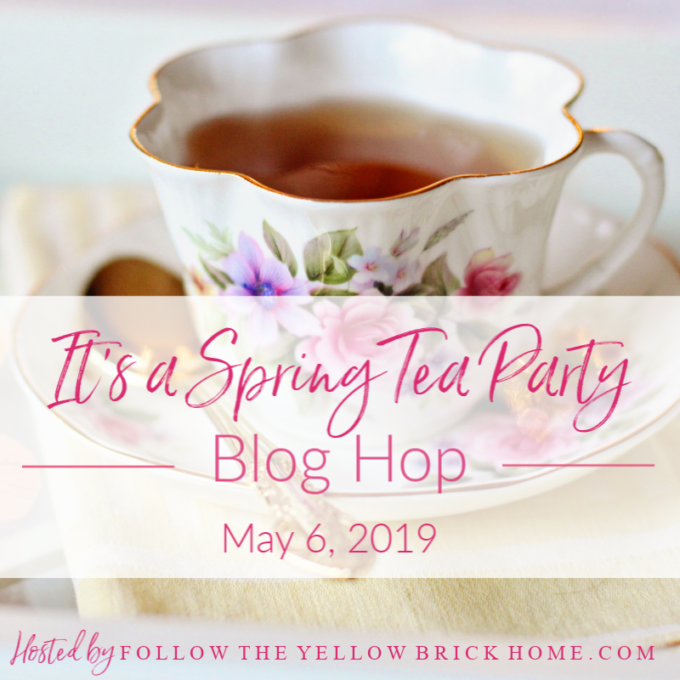 What better way to celebrate spring than with a tea party? I'm looking forward to seeing what spring tea party things that my friends are sharing today. You'll find links to all of the participants at the end of this post.
If you are visiting from Rosemary & Thyme, welcome!
Spring Tea in the Garden with Vintage
This born and raised on a farm girl loves to work in the yard. I enjoy getting my hands dirty and doing most any garden chore. After working in the yard, it's nice to relax outside with a cold glass of tea.
When I was thinking about what I wanted to share for this Spring Tea Party Blog Hop, I remembered a tea themed tablecloth that my grandmother embroidered when she was young.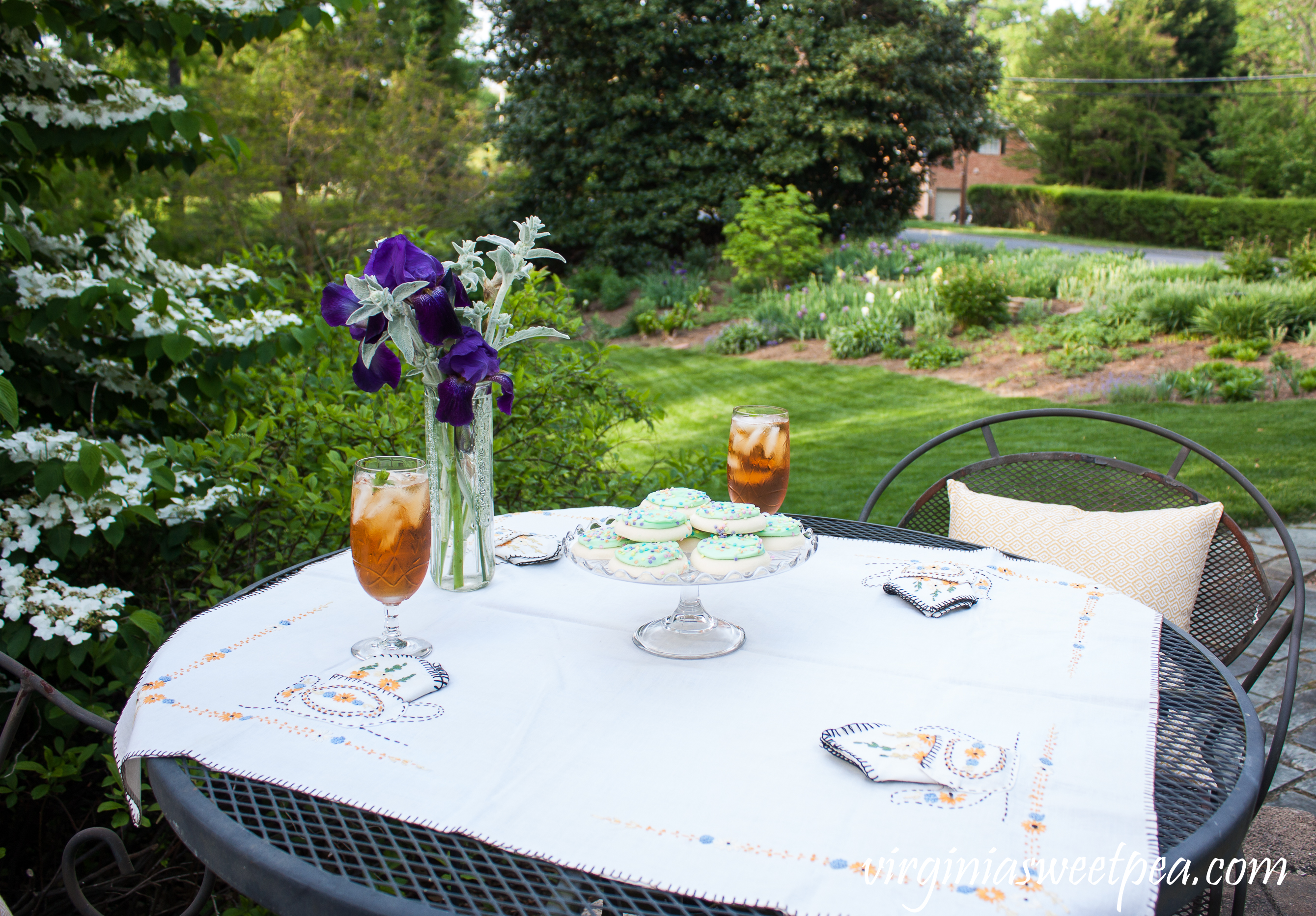 Vintage Tea Party Embroidered Tablecloth
My grandmother made this tablecloth when she was a girl. Granny graduated from high school in 1932, so I would date this tablecloth to either the late 1920's or early 1930's. Granny was very active in 4-H, as was I, and this could have been a 4-H project.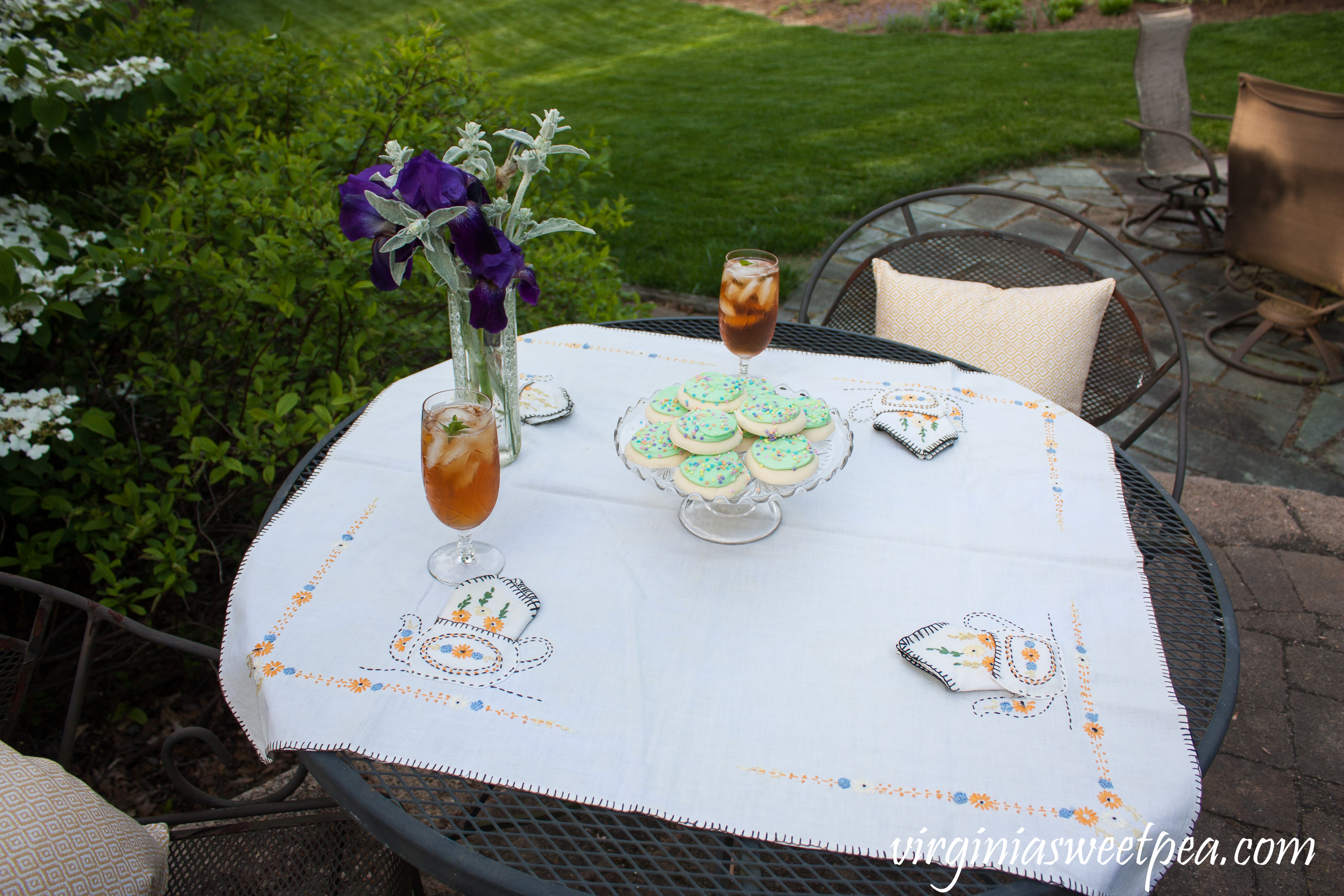 This tablecloth was designed to be used on a card table. Each person would have a napkin to the left of their plate ready to be used from their embroidered teapot.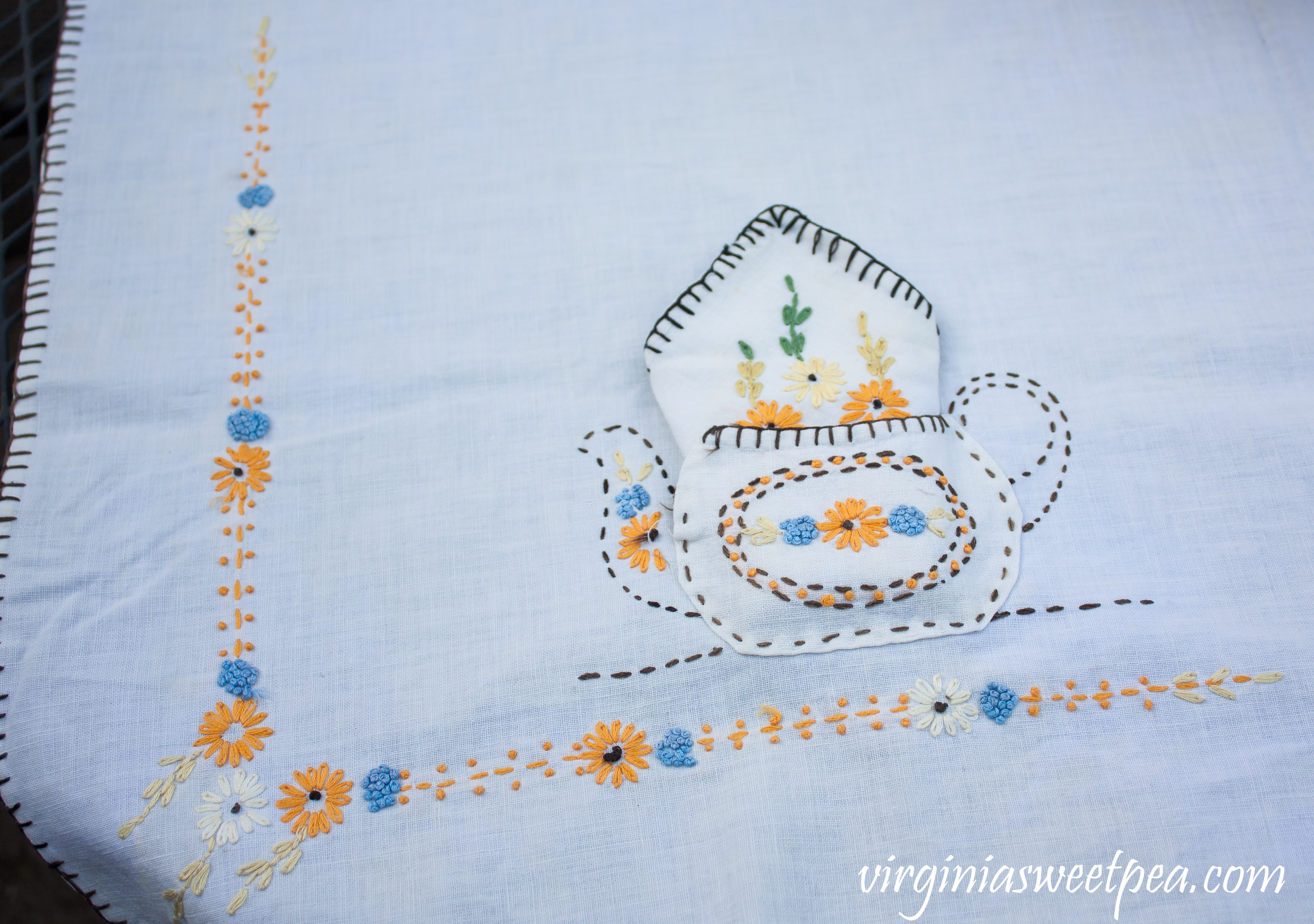 Aren't the napkins darling? When the napkin is removed from the teapot, you can see the embroidered tea pot top.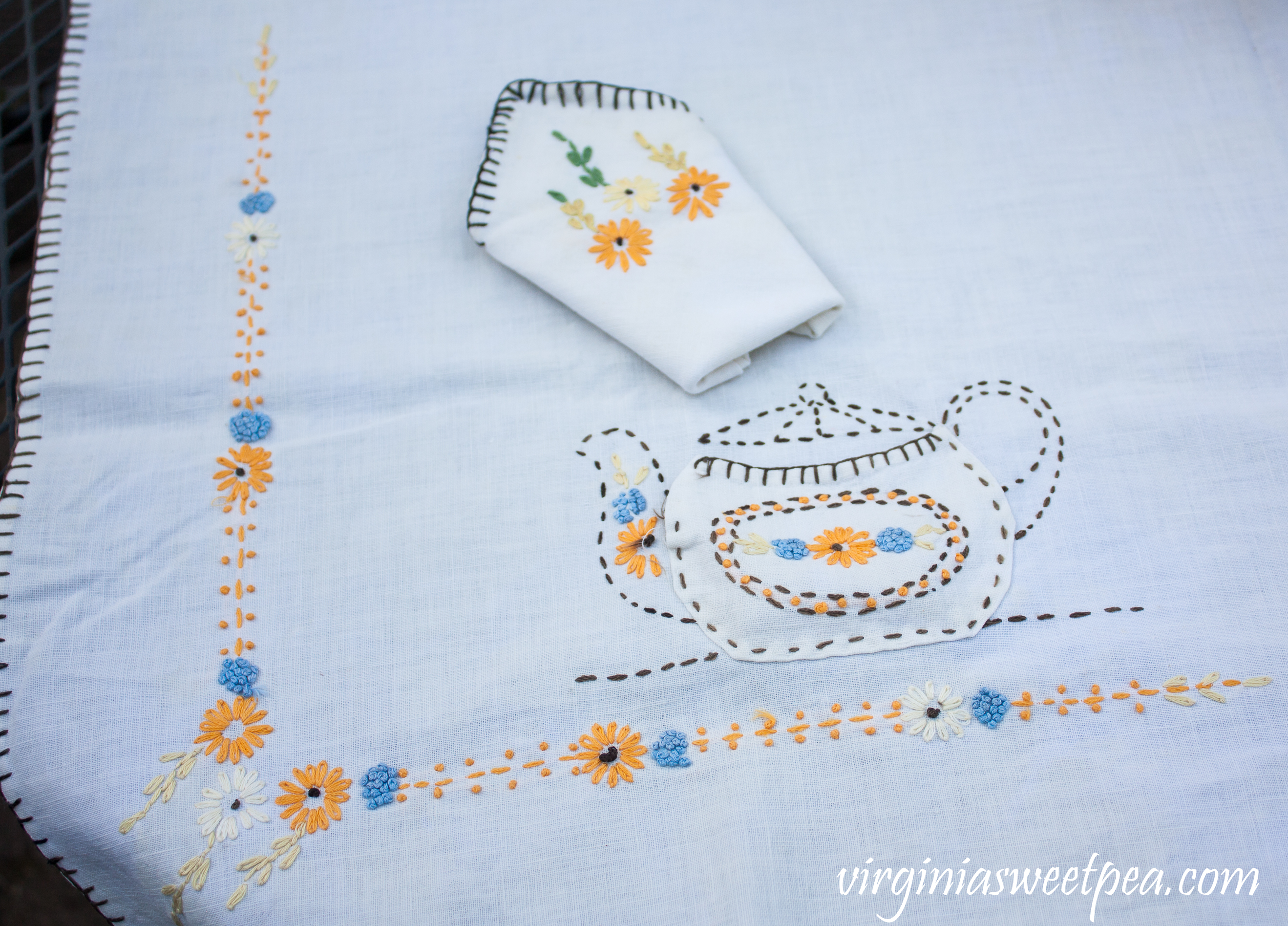 Tea Party Flowers
After the tablecloth was on the table, I used one of my grandmother's flower vases to make a quick flower arrangement for the table. My grandmother was an avid gardener and won national awards for her flower arrangements. This vase from her collection I think was originally a jar. I like the pattern in the glass and its tall cylinder shape. I used Iris and Lamb's Ear from my yard for the arrangement.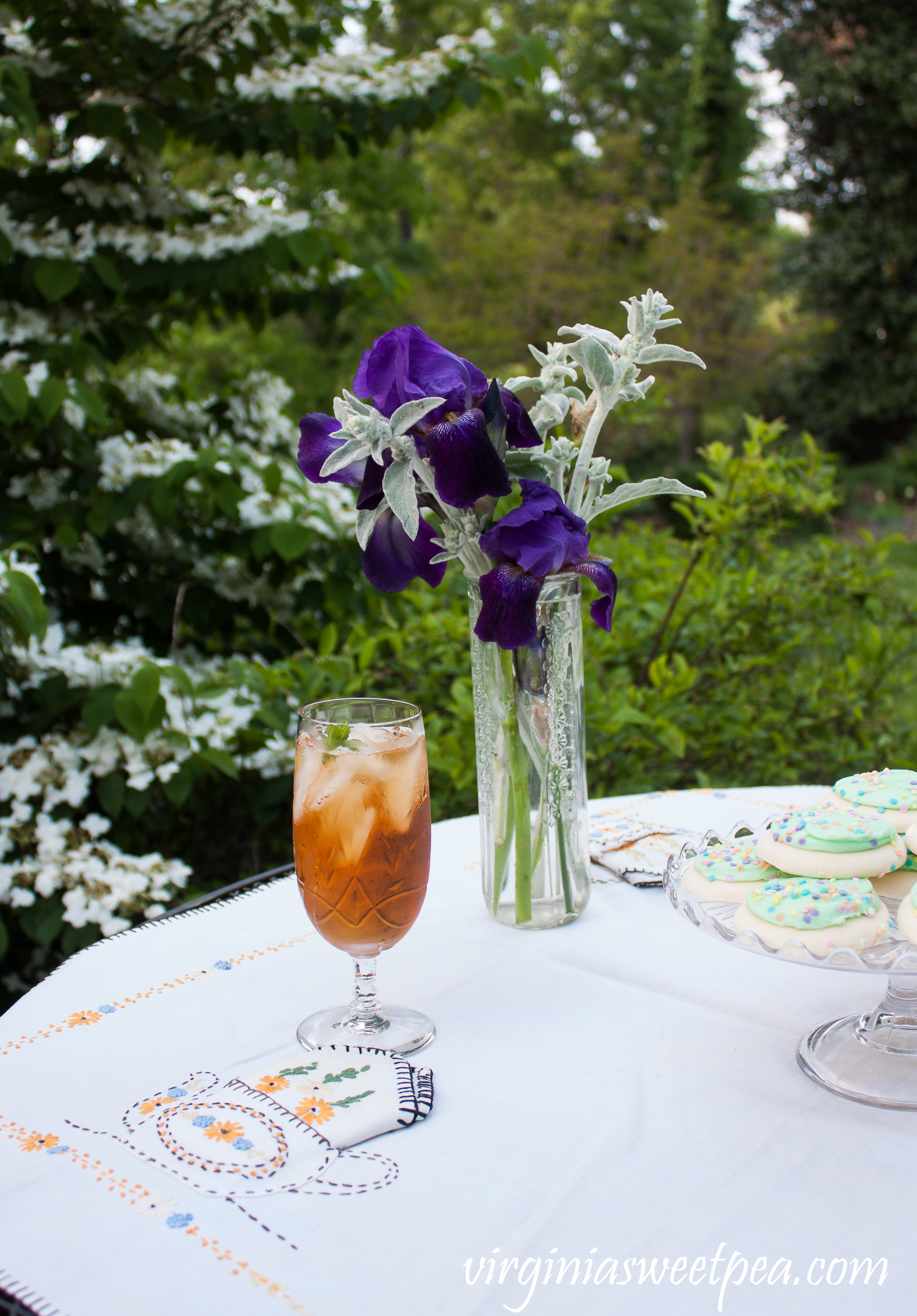 The dark purple Iris that I used was my dad's favorite Iris color. My Iris came from my mom's house and many of hers were from my grandmother's house. It's possible that this purple Iris was originally from my grandmother's home. You can see more of my Iris in the background of this picture.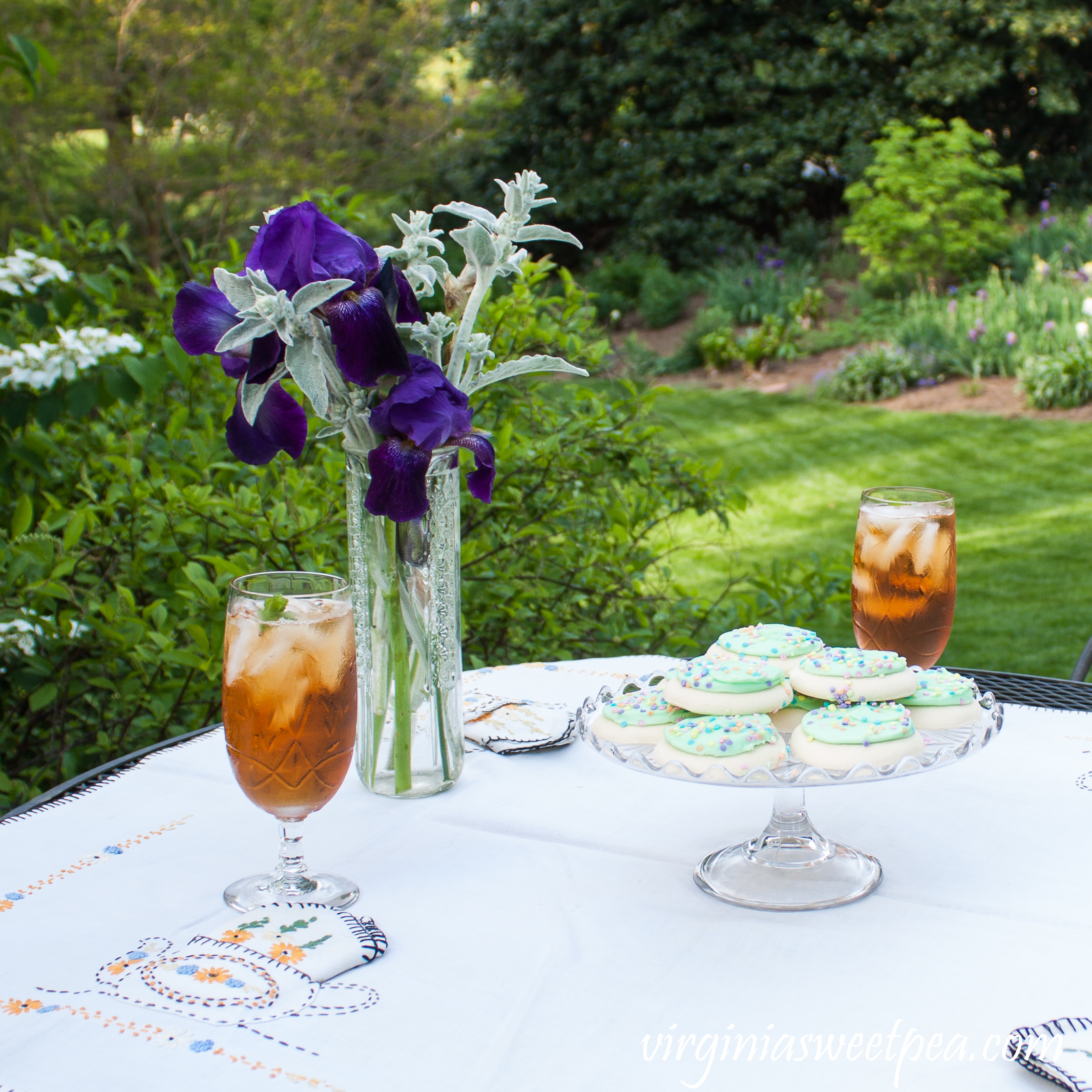 Tea Party Glassware
Two glasses of iced tea, one for me and one for my husband, are served in my grandmother's 1938 wedding crystal. The pattern is Villars by Rock Sharpe.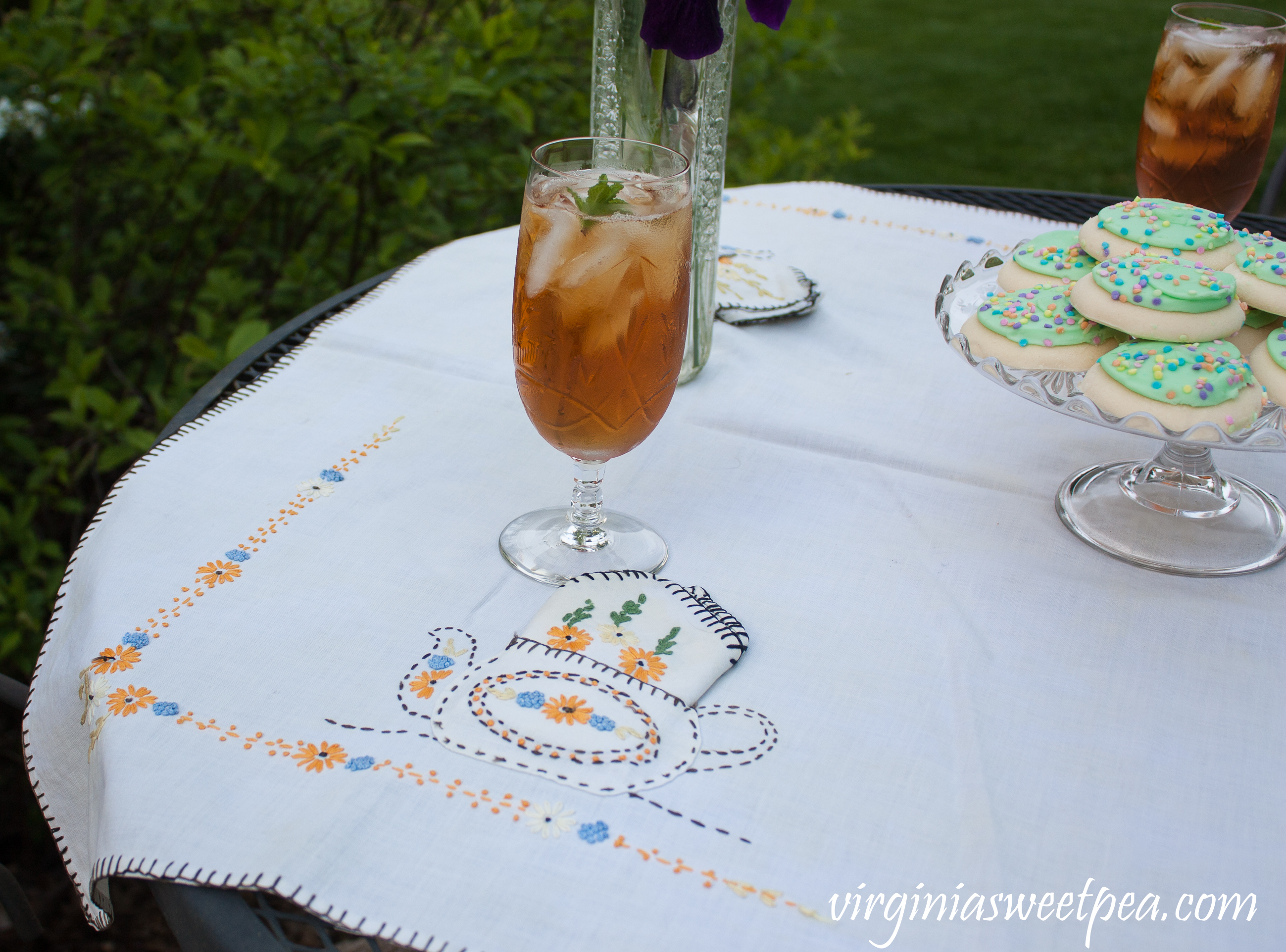 The cake server holding cookies was also my grandmother's. My husband loves this type of cookie from Walmart and these got bonus points because they were on sale.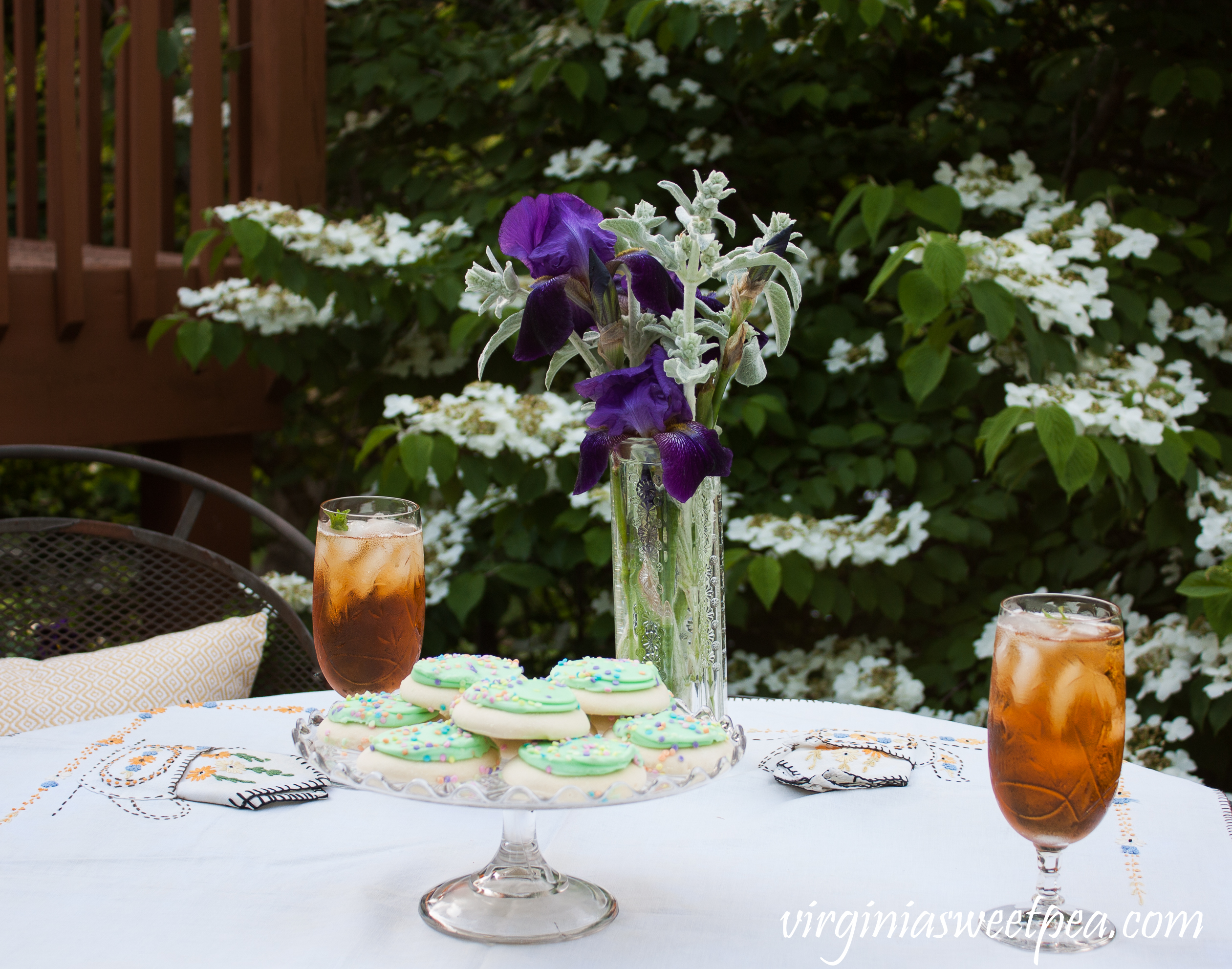 Setting for the Tea Party
I set this tea party on a table for two that sits on a landing below our deck. My husband often sits here at night while our dog stares into the woods hoping to sense something that he can chase. The table and chairs were a lucky find at a neighbor's yard sale.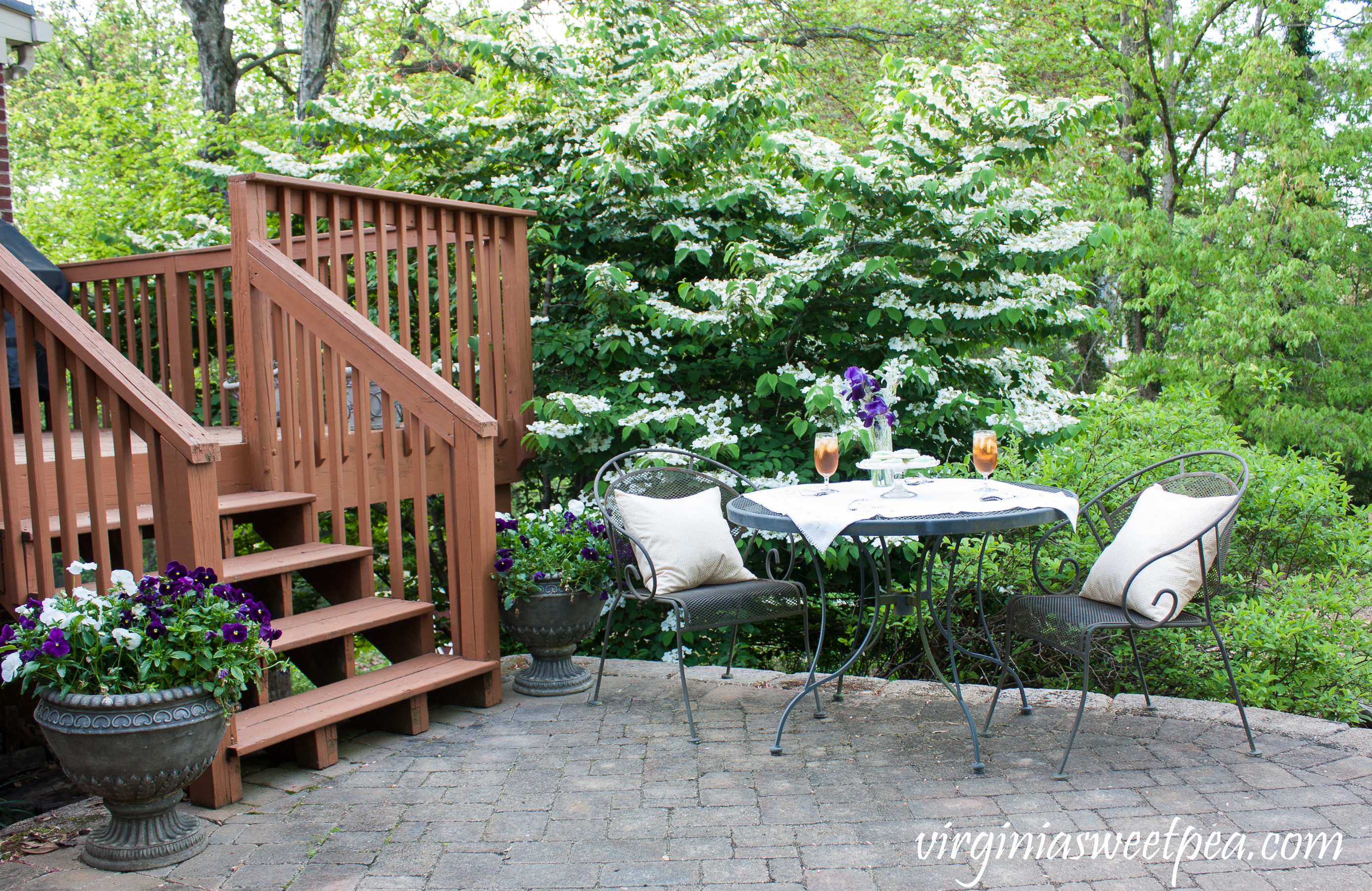 Here is a view of the table and the patio below it from the deck. The patio is Greenstone, a rock that used to be mined here in Lynchburg.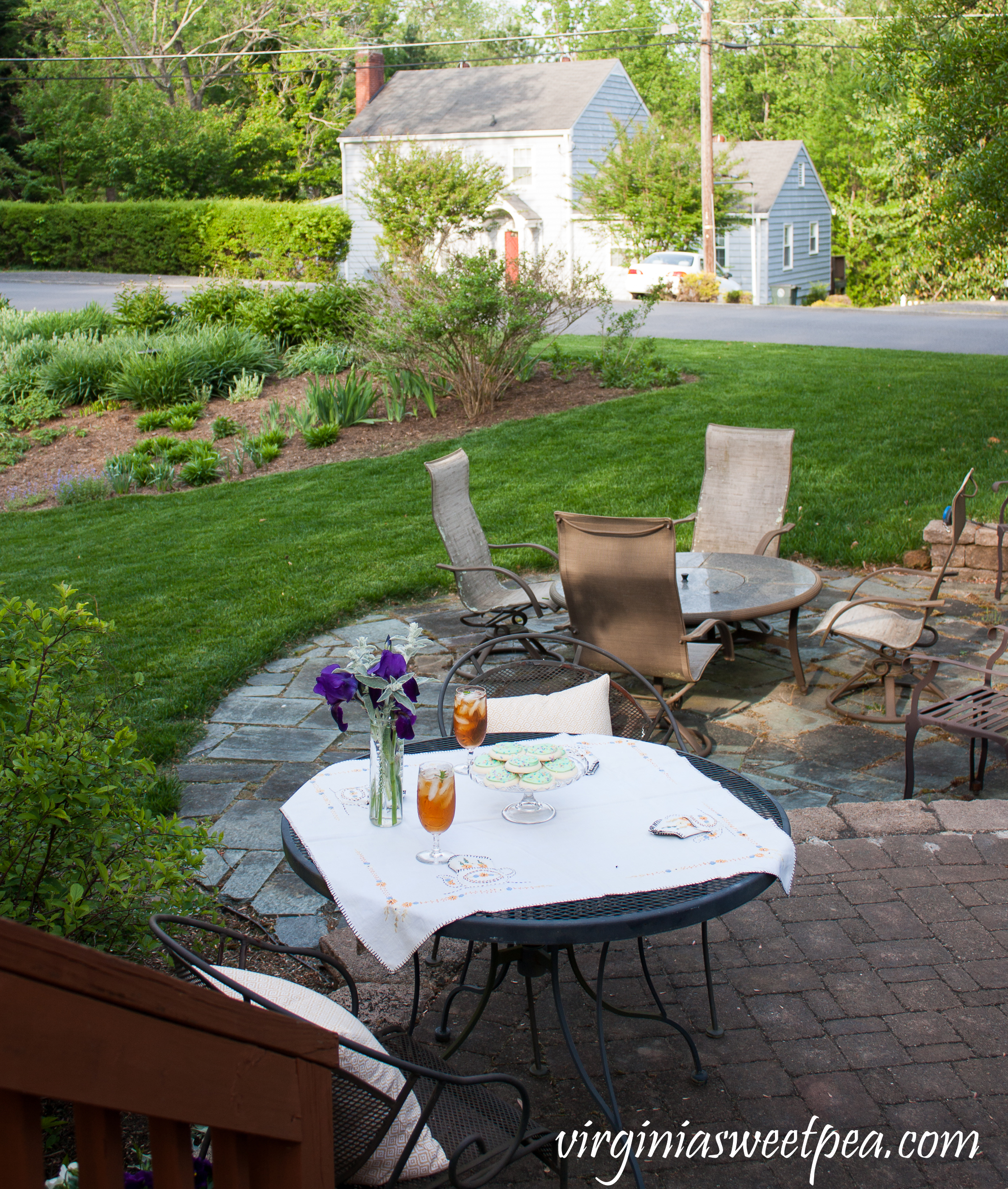 We really enjoy sitting on the patio where we can enjoy the beauty of my flowerbeds. The table on our patio has a built in fire pit that can also be used to hold ice and drinks. The metal chairs in the corners are by Twists & Turns. One is Virginia Tech and the other Wisconsin.

One Last Look
I wonder if my grandmother ever used this tablecloth? I like to think that she did and I can picture her sitting around the table with three friends enjoying tea and cookies just like I did.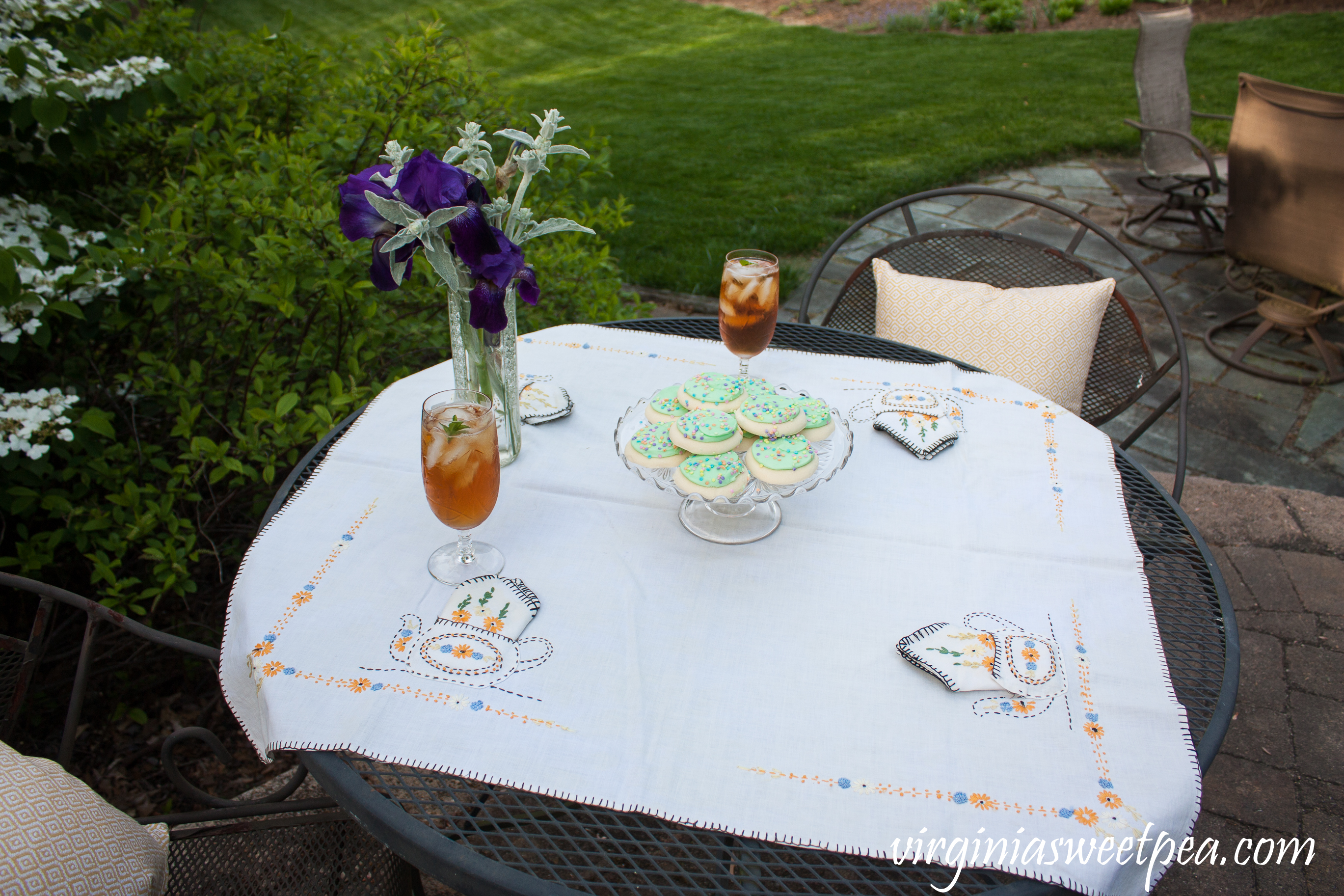 Pin It!
I hope you enjoyed seeing my grandmother's tablecloth and getting a peek at our backyard. I would love it if you would pin this post for other to discover.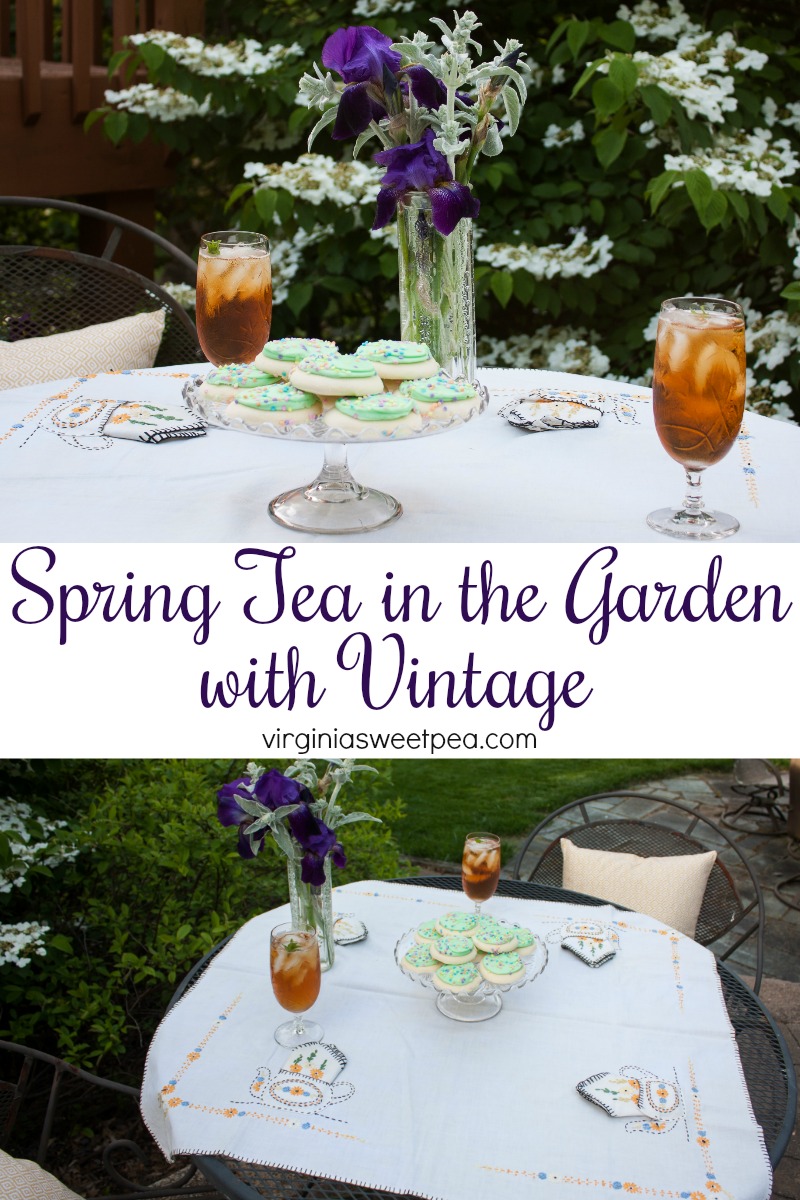 Next on the tour is my good friend, Shelley from Calypso in the Country.

You are invited to the Inlinkz link party!