Affordable Summer Fashion
When I share fashion on the blog, it's usually my monthly Stitch Fix box.
While I adore my Stitch Fix clothes, sometimes the prices are a bit high for my budget. Every now and then I order a fashion box from Fashom whose prices are very affordable. I'll explain more about Fashom at the end of this post.
I've received quite a few Fashom boxes but have only blogged about them twice, in May 2019 and in July 2019.
If you read my Stitch Fix reviews, you know that I've been in the market for new shorts.
After receiving shorts in both my May and June Stitch Fix boxes that didn't work, I headed to Old Navy once stores reopened and found super affordable shorts that I love.
Fashom and Old Navy Affordable Summer Styles
For the affordable summer fashions that I'm sharing today, I paired Fashom tops with Old Navy bottoms.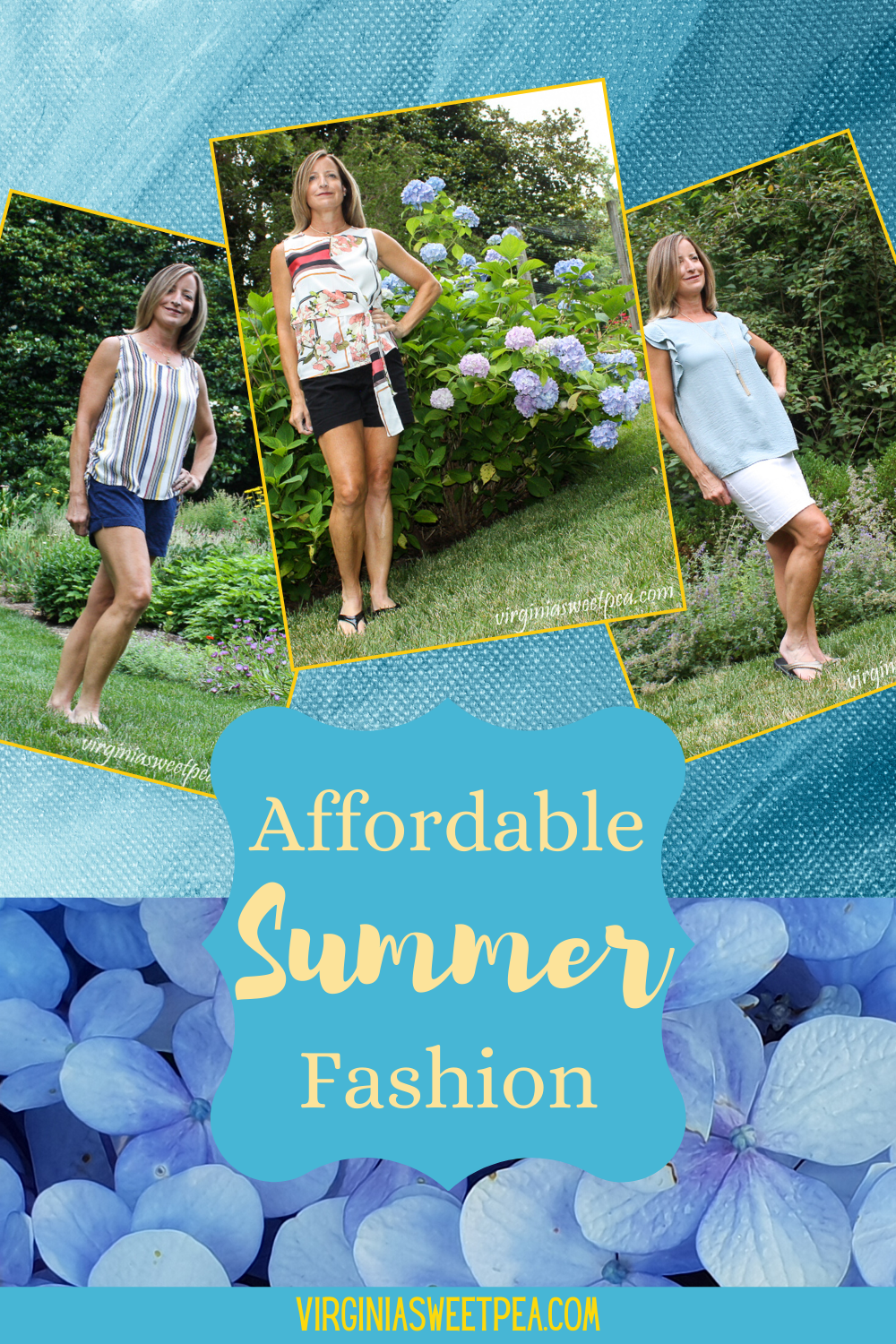 M&G Monogram Paris Round Neck Printed Top with Everyday Eyelet Shorts
My fashion photographer, Mr. SP, was unavailable to take pictures for me, so I did an experiment and took my own pictures.
The first Fashom item that I tried was this cute striped top. I paired it with 5″ mid-rise eyelet shorts from Old Navy.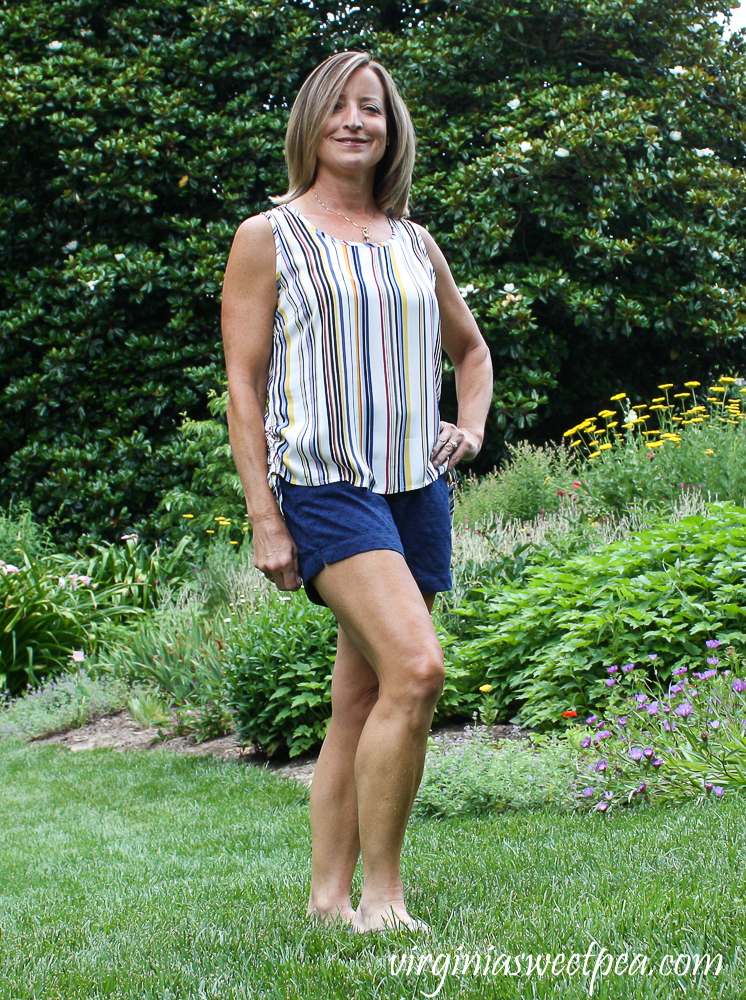 This top is lightweight, super comfortable, and I love the side ties.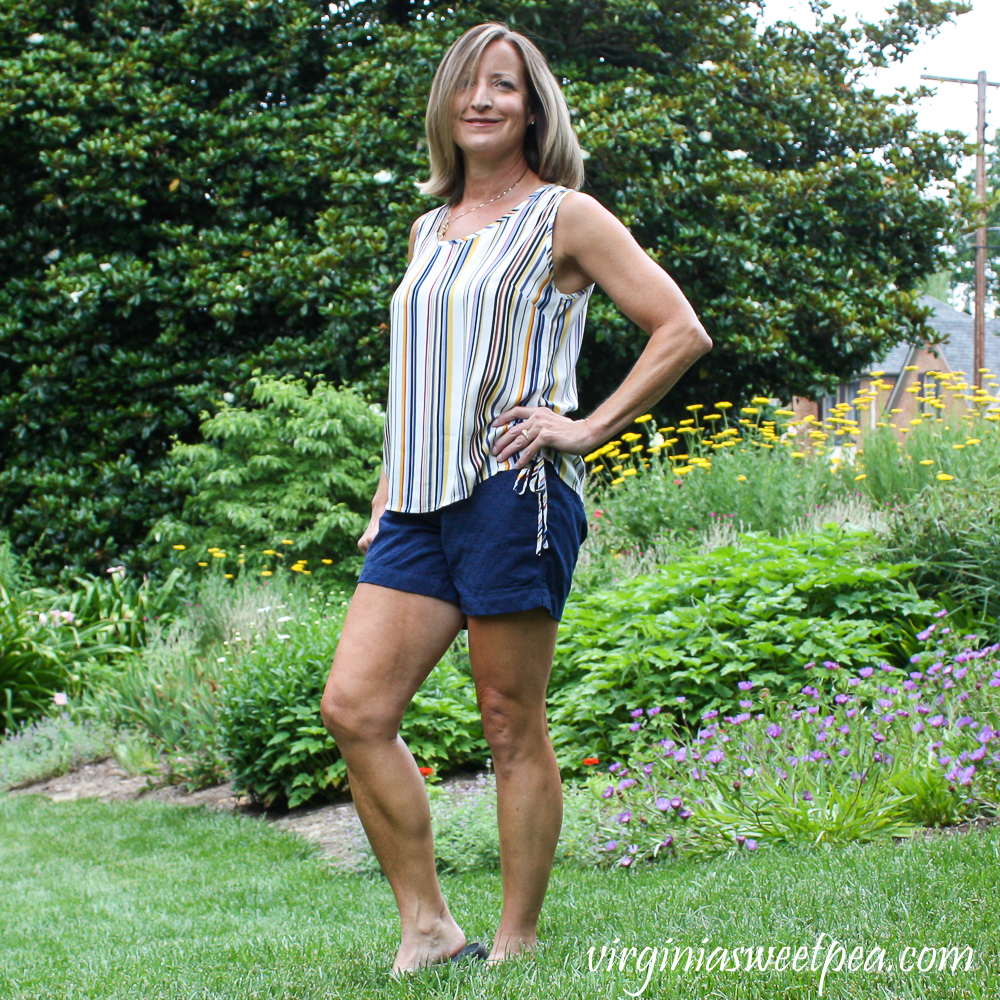 At $38, it was a keeper.
You'll notice in every picture I am wearing either a black or latte pair of OOFOS flip-flops. These are the most comfortable things I have every owned. Do yourself a favor and order a pair!
Exquiss Paris Wrap Top with Twill Everyday Shorts
For each outfit change, I tried to move my tripod to various places in my yard so you could see my flowers. They are so pretty this year!
I paired the next Fashom top with Old Navy 5″ twill mid-rise shorts. When I tried these shorts on, I liked them so much that I bought a black and a red pair.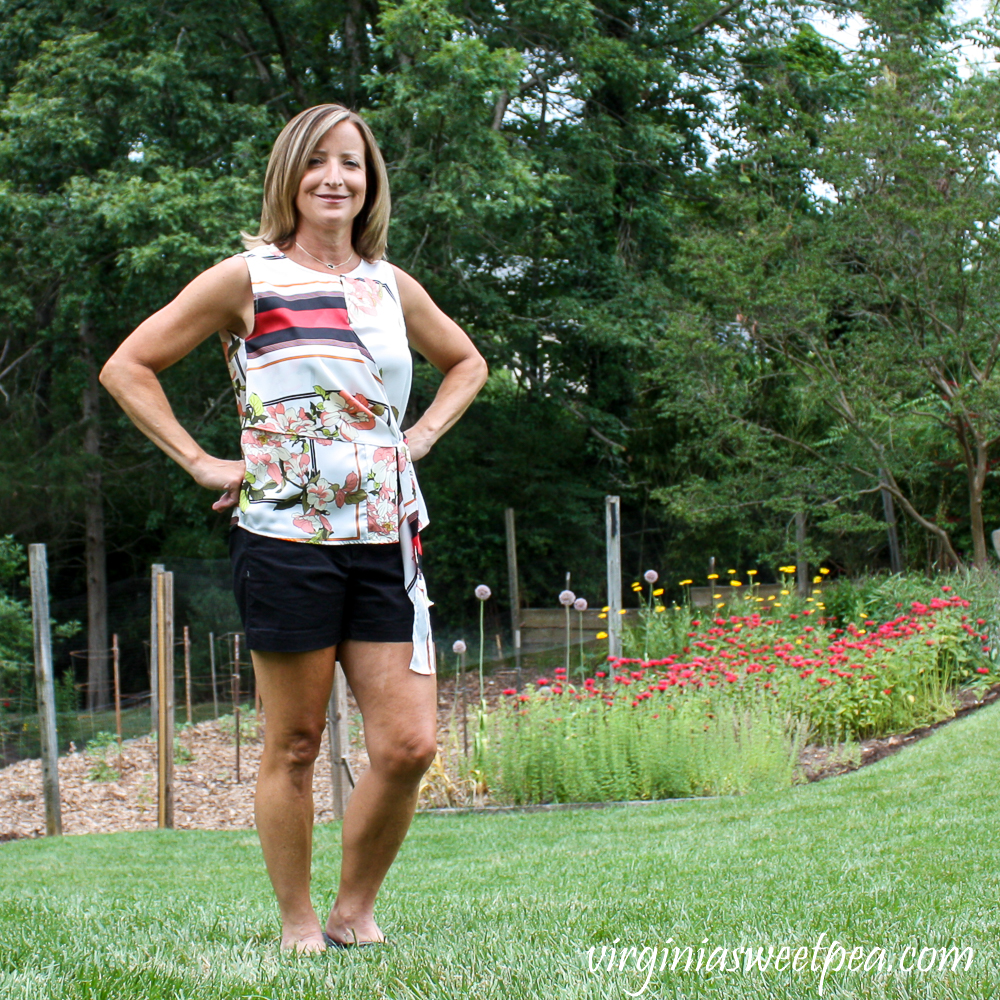 This top has an adorable wrap front and side tie.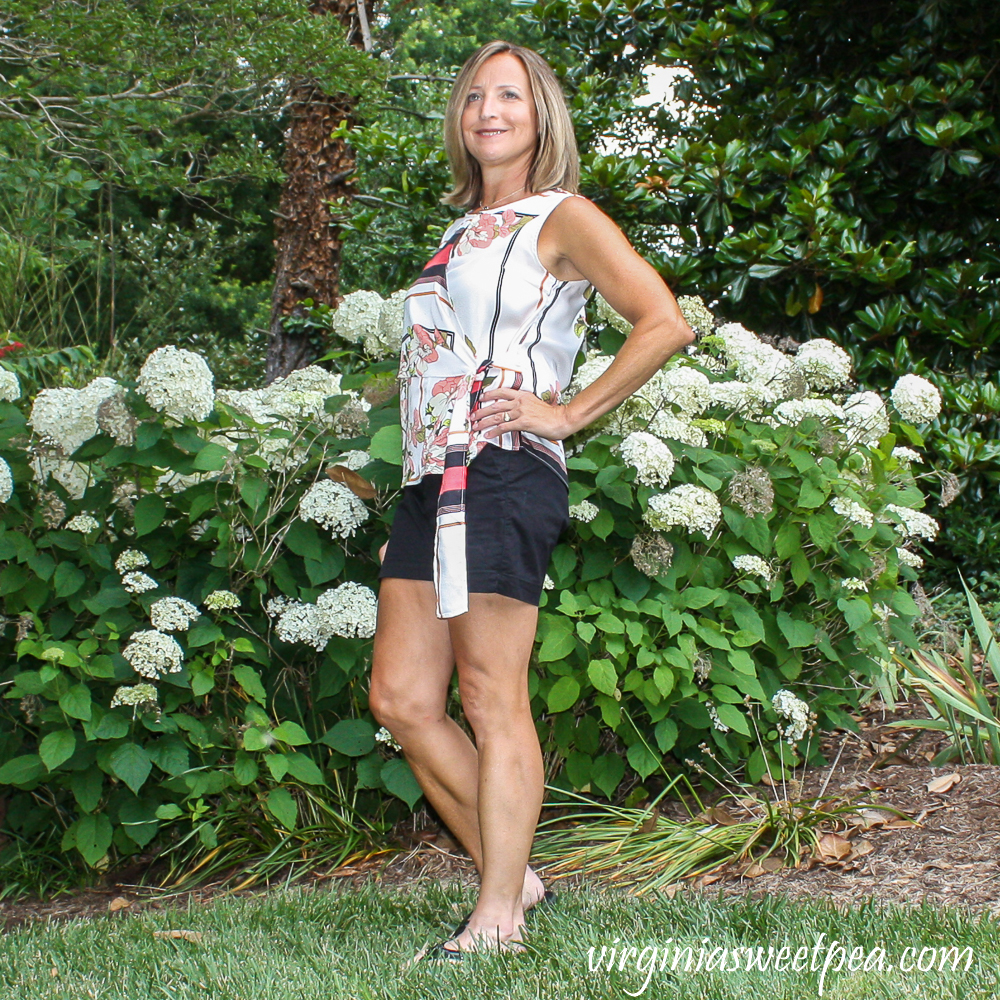 My Kendra Scott necklace is from Rocksbox.
Rocksbox is a jewelry subscription service that sends three pieces of jewelry that you can wear for as long as you like each month. When you send your three pieces back or buy what you like, a new box is sent. If you'd like a free month of Rocksbox, sign up with this code: PAULABFF54.
It is really cold here in Virginia so we had to take pictures inside this month. To see details on my winter decor, click here and here.
At $38, it was reasonably priced and I thought very flattering. I didn't keep this but I did like it very much.
If I was still teaching, I would have worn this to school with a black skirt or pants.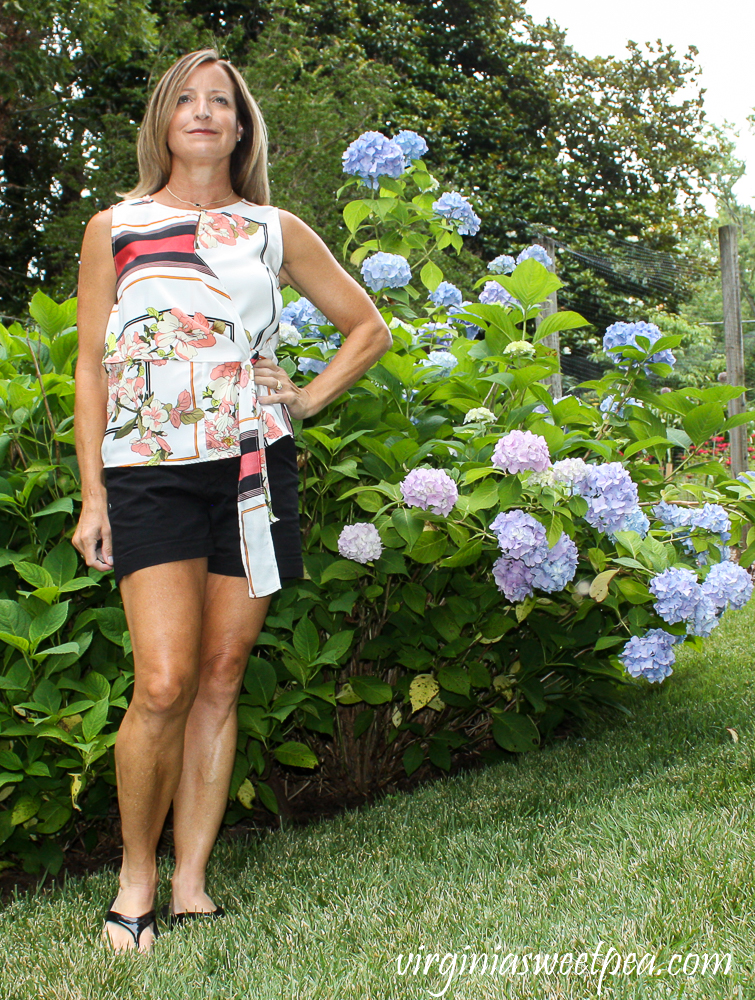 Les Amis Short Sleeve Top with White Denim Skirt
The next thing that I tried on was this pretty top that I paired with an Old Navy skirt that I've had for a number of years. This is a similar version that is available at Old Navy now.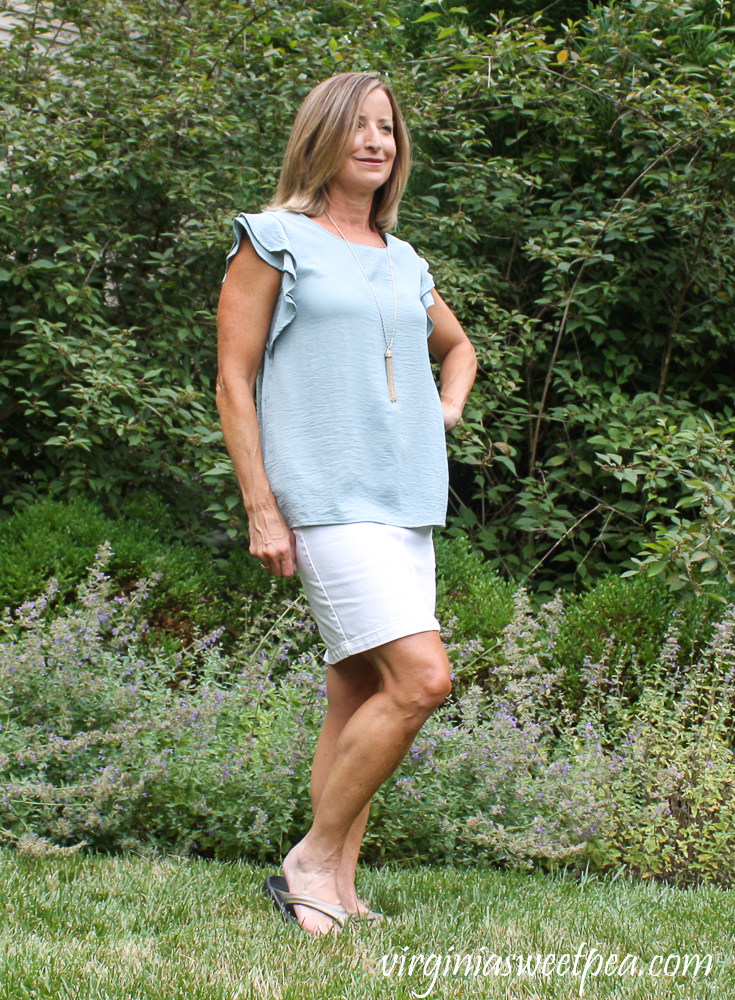 I loved this top's ruffled sleeves, what I wasn't crazy about was the color.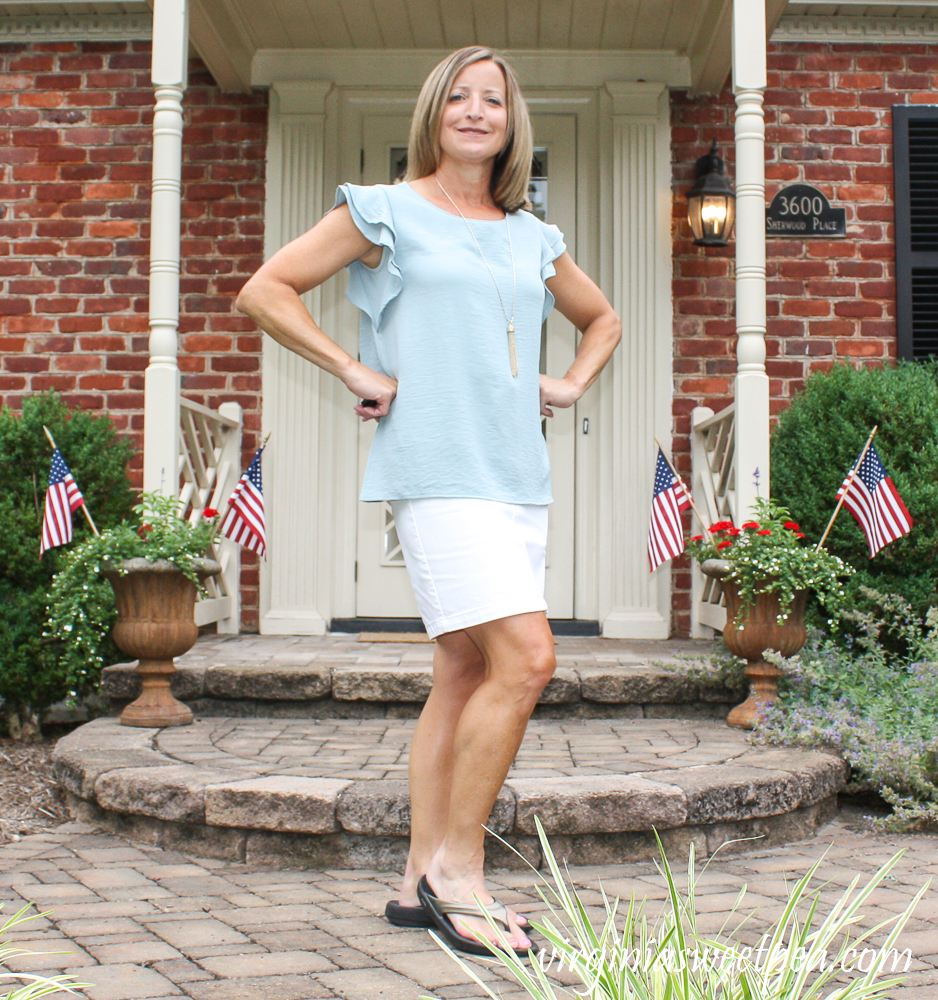 If this $39 top was a brighter color, I would have kept it.
My tassel necklace is a favorite piece from Rocksbox.
Together Clothing Lisette Cold-Shoulder Top
As I photographed myself, I had to hurry because it was starting to rain. The next top that I tried on was this pretty royal blue one.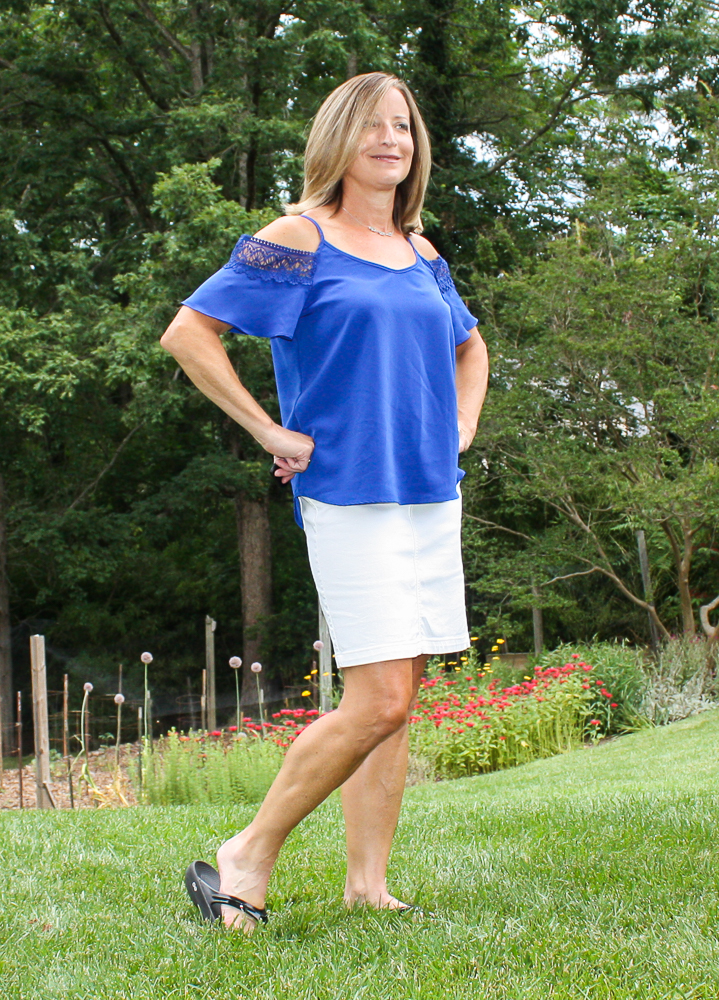 I liked this $42 top, but I'm tired of the cold-shoulder look, so it was returned.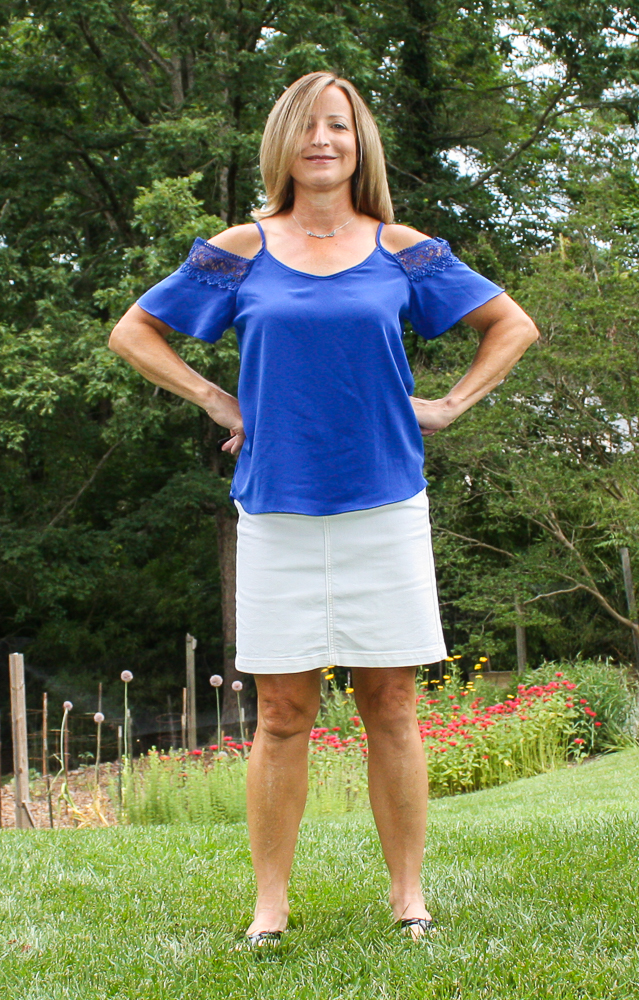 My Ava Rose necklace is another Rocksbox purchase.
Mono B Butterfly Tie-Back Flow Shirt with High-Waisted Button Fly Cuffed Jean Shorts
When I saw the preview photo of this top, I was sure that I wouldn't like it. Boy was I wrong! This top is super soft and comfortable and I especially love the back.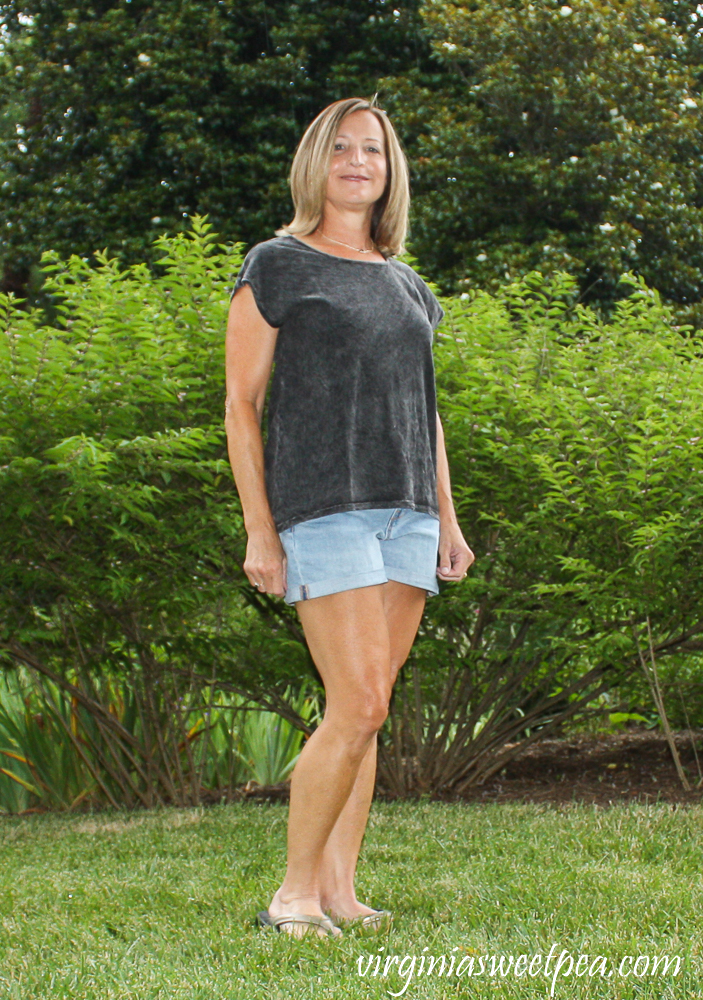 I paired it with high-waist button fly jean shorts from Old Navy. I adore these shorts. They are so comfortable and since purchasing them a few weeks ago, I've worn them many times.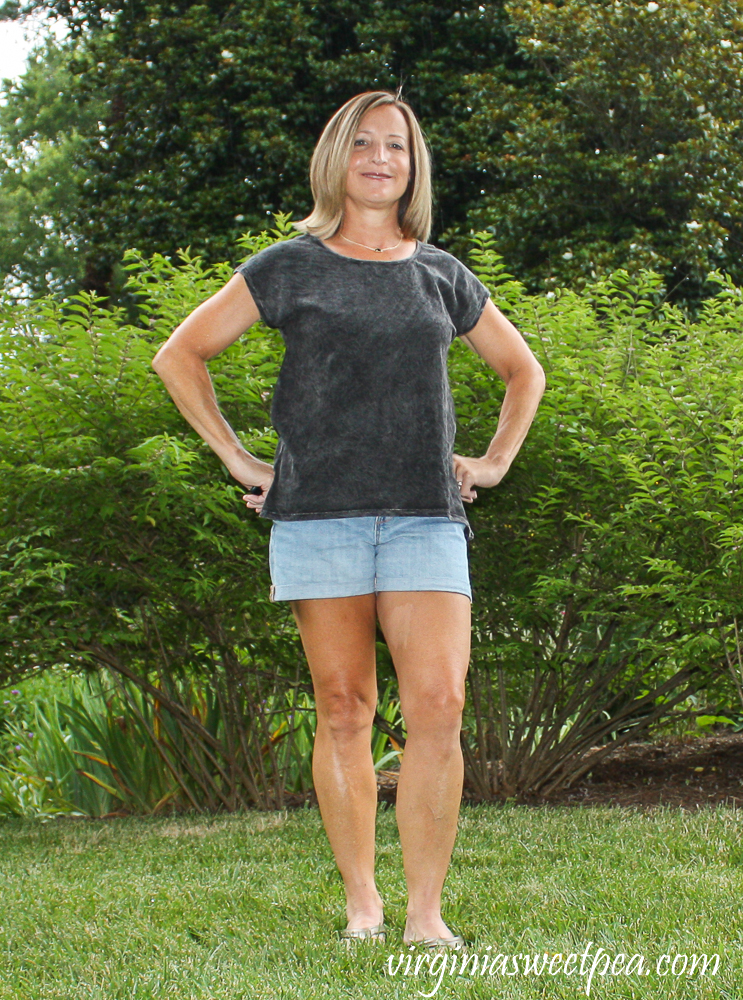 Isn't the back detail of this top cute?
After I finished taking these pictures, I tore the tags off this top, changed into a high-waist button fly Old Navy jean skirt and headed out for a date night dinner with Mr. SP.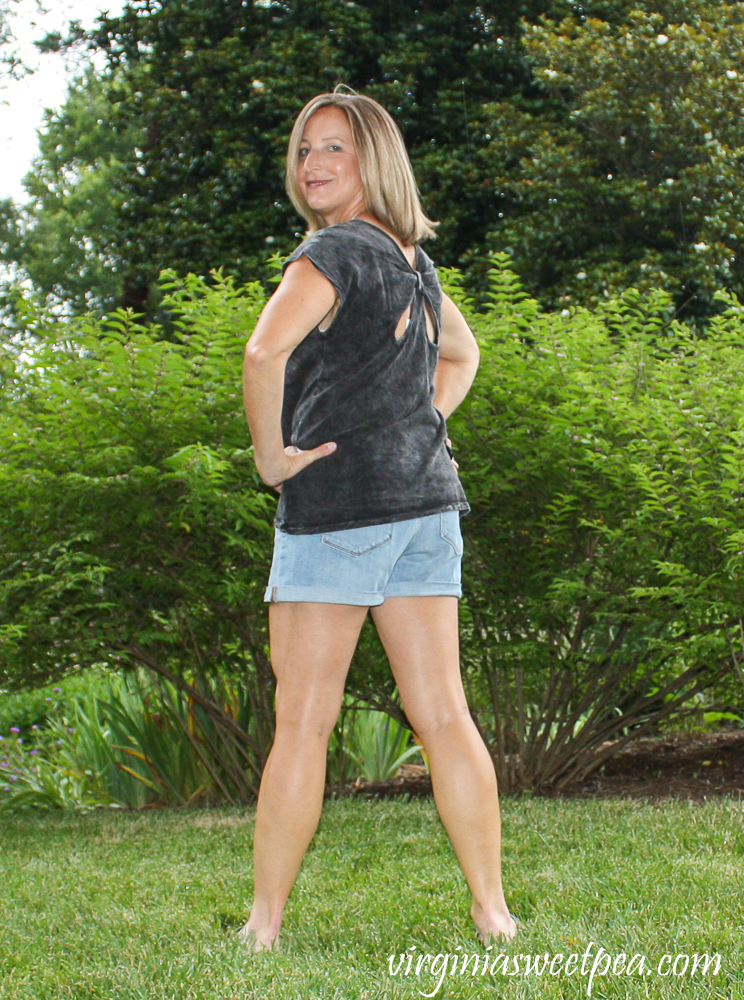 It was fun to receive another Fashom box and to pair the items with my recent Old Navy purchases.
Fashom Details
Check out either this post or this post for complete Fashom details.
Here is the short version:
The styling fee for Fashom is $15 and you get it back when you purchase an item. Your first Fashom box styling fee is FREE.
Shipping is free both ways.
Like Stitch Fix, 5 items are sent for you to try but they are more budget-friendly than Stitch Fix.
If you sign up for a Fashom box using my referral link, you get $10 credit and so do I.
Fashion boxes are so much fun to receive. With getting a $10 credit and no styling fee for your first box, why not give it a try?
I haven't blogged about all of my Fashom boxes but I have purchased bunches of clothing from Fashom that I love. In fact, I'm wearing a Fashom top from a box that I received early last fall as I write this post.