My Second Fashom Box – Budget Friendly Fashion!
I recently received my second Fashom box. If you aren't familiar with Fashom, it is a service similar to Stitch Fix, but it is budget friendly. If you missed my first Fashom box, you can see it here.
While I adore Stitch Fix, evidenced by the 71 boxes that I've received, it can be expensive. Fashom is definitely less expensive and with quality items.
My Second Fashom Box – Budget Friendly Fashion!
This post contains affiliate links and/or referral links.
Fashom Details
Getting a box from Fashom starts with filling out a style profile with sizes and style preferences. After filling out the information, you submit a request to be styled with the promise of a response within 2-3 business days.
Next you receive a preview of what is to be shipped. You pick five items to be shipped to you from the preview (mine had eight). If you don't like anything in your preview, you can cancel your order and send an email request to be restyled.
Fashom's styling fee is $15 which is deducted when you purchase an item from the box. Everyone gets a $0 styling fee for their first box.
Fashom offers free shipping and returns.
Fashom offers a 25% discount for keeping 3 or 4 of the items in your box and a 30% discount if you keep all 5 items.
Fashom is not a subscription service. You can request a box to be styled whenever you'd like one.
Fashom offers petite, plus-size, and maternity fashions.
Get $20 off your first Fashom box by using my referral link.
See my first Fashom post for more details on what to expect when you sign up for your first box.
Fashion from this Fashom Box
Andre By Unit Maxi Multi Floral Dress
If you've read my many Stitch Fix reviews, you know that I am not a fan of maxi dresses on me. I like how they look on other people but not on me. Since I'm new to Fashom, my stylist there didn't know that a maxi dress is not my favorite and one was sent to me.
When I first put on this Andre By Unit Maxi Floral Dress, I was immediately impressed with how soft and comfortable it was. I looked at myself in the mirror and I didn't mind how this dress looked on me.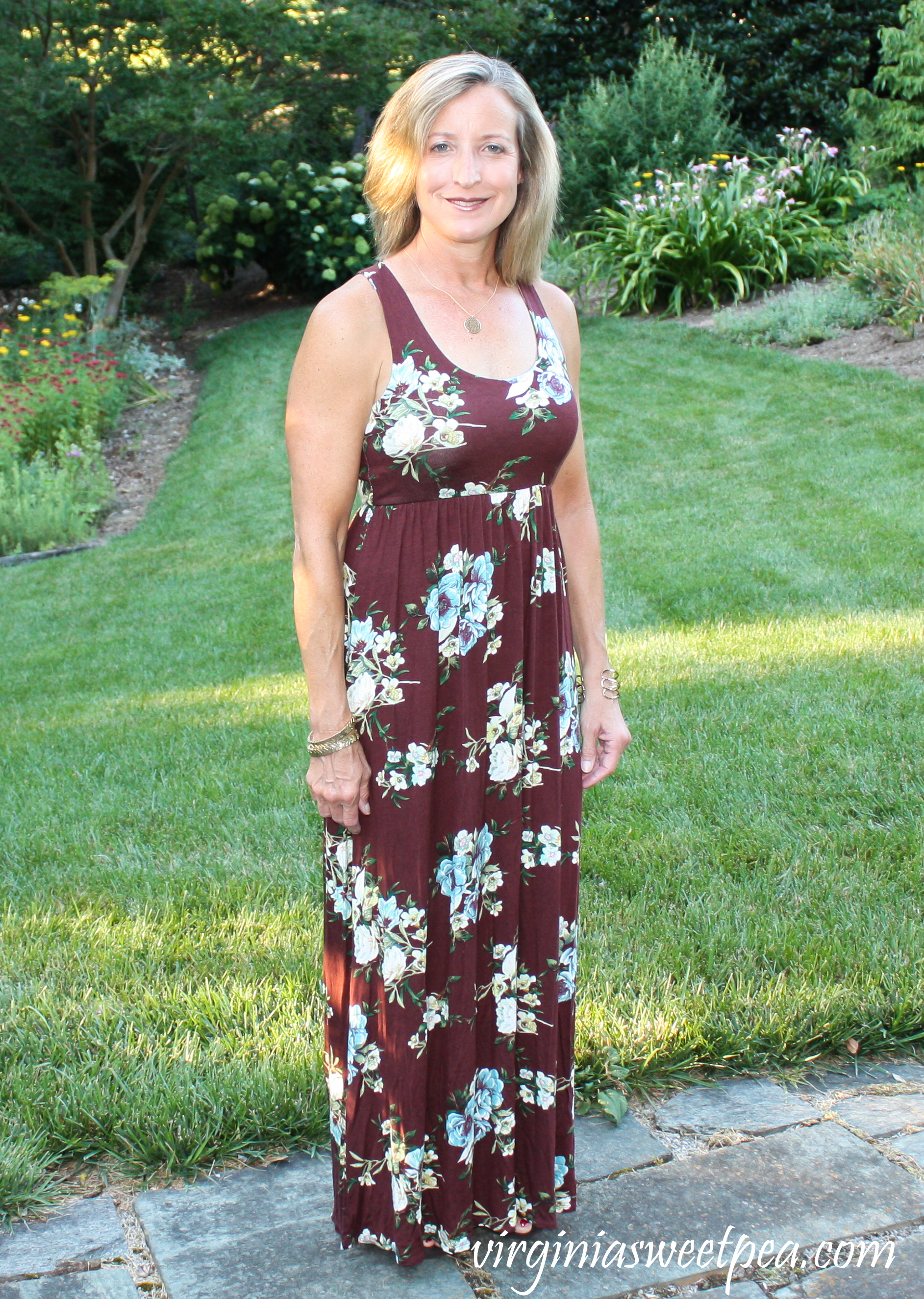 I also liked the burgundy color of this dress and its floral pattern. Sherman wouldn't pose with me because he was too busy sniffing the air.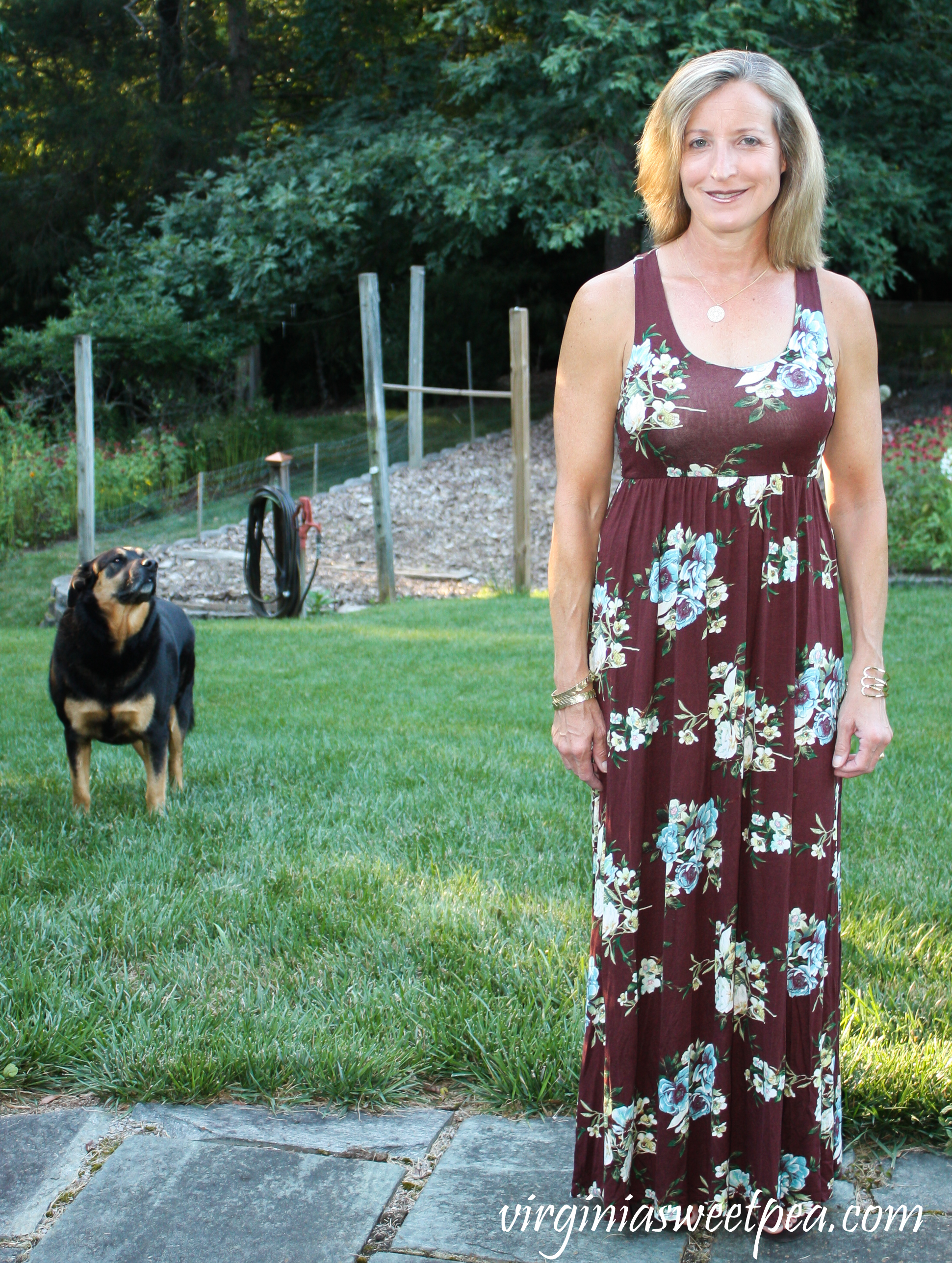 Even though I am not a fan of a maxi dress, since this one was so comfortable and only $38, I decided to keep it.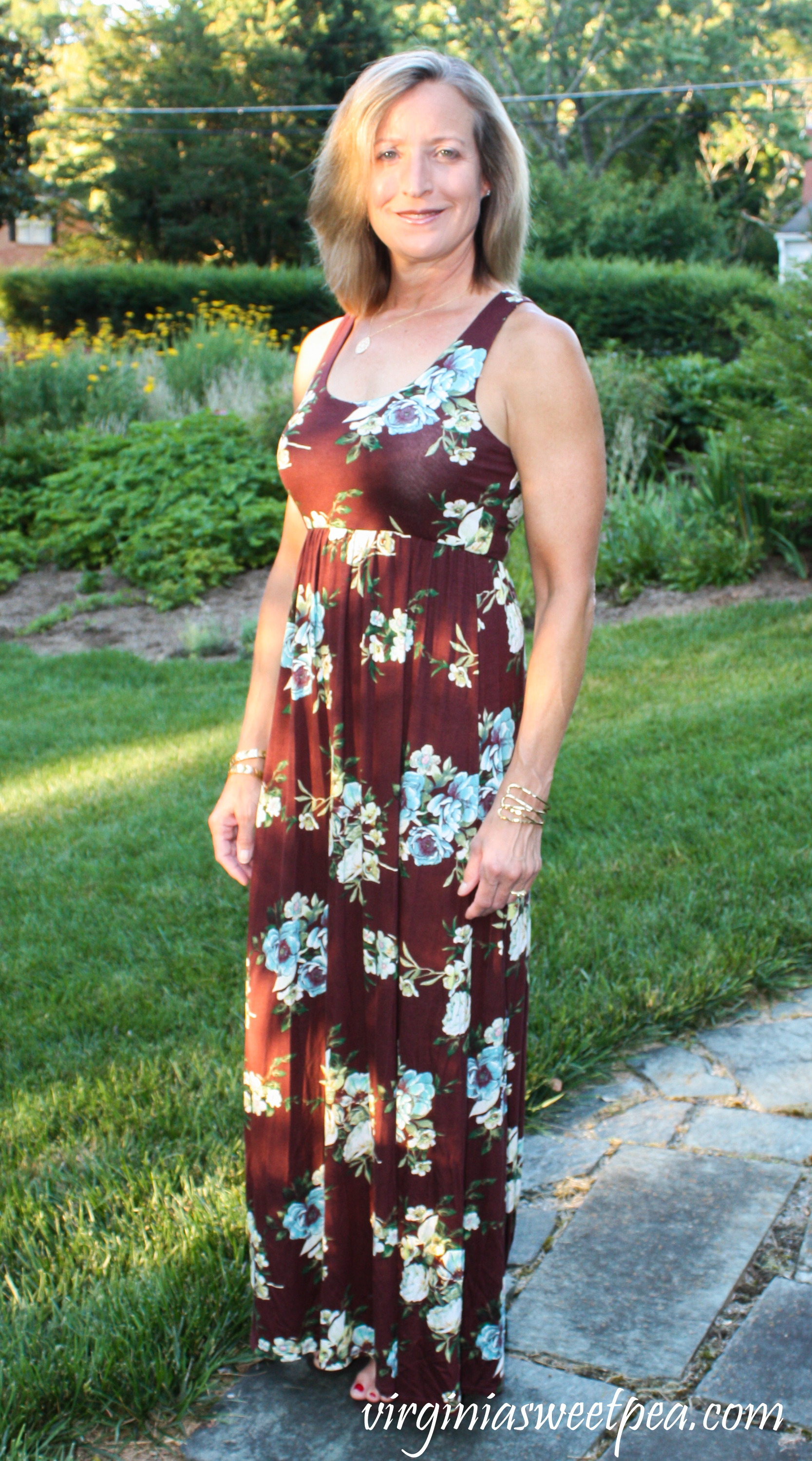 Christ & Carol Floral Sleeveless Dress with Pockets
I was immediately intrigued by the Crist & Carol Floral Sleeveless Dress because it has pockets. I love pockets on a dress and most dresses don't have them.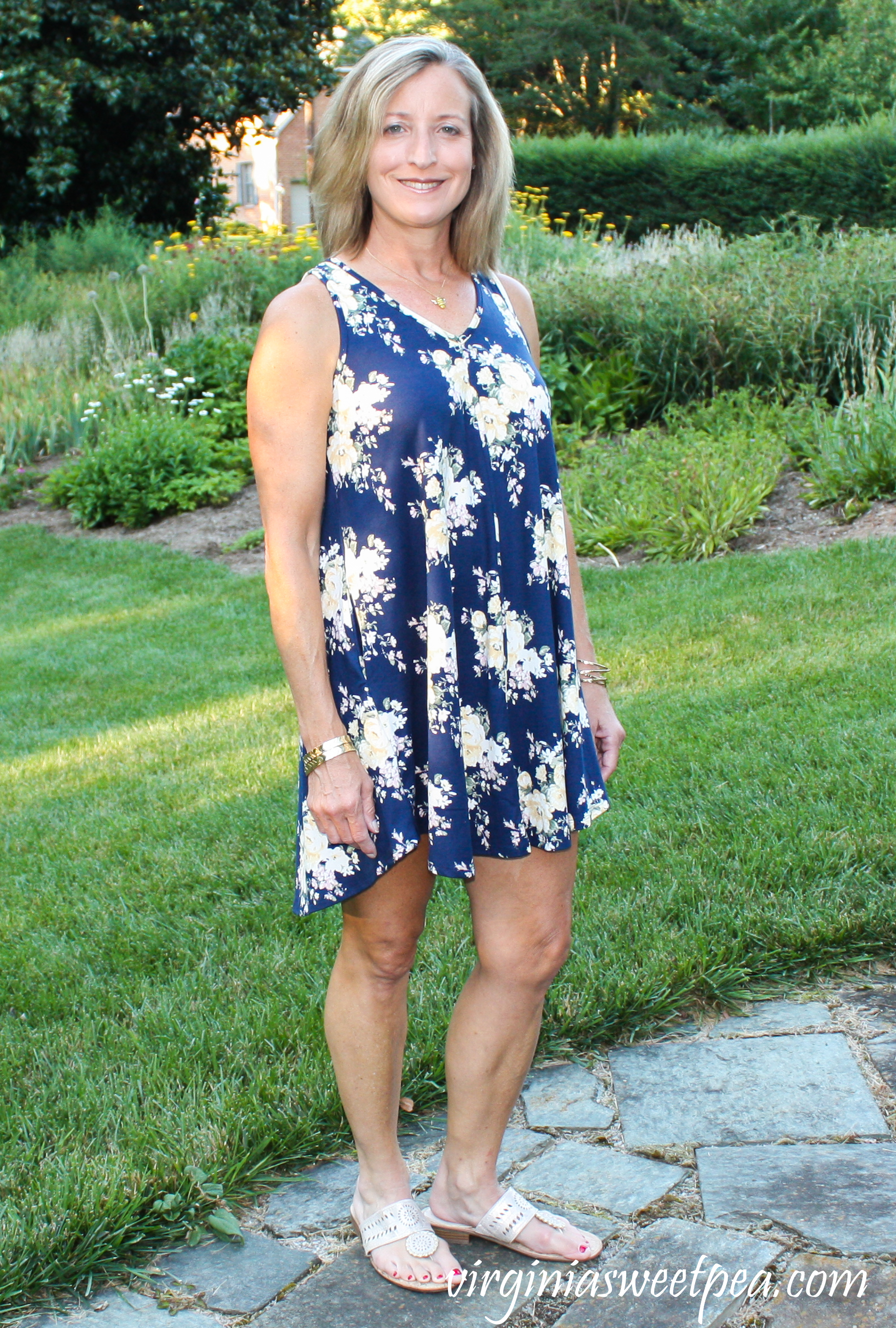 Super soft fabric, a pretty floral, and pockets are a great combination for this dress.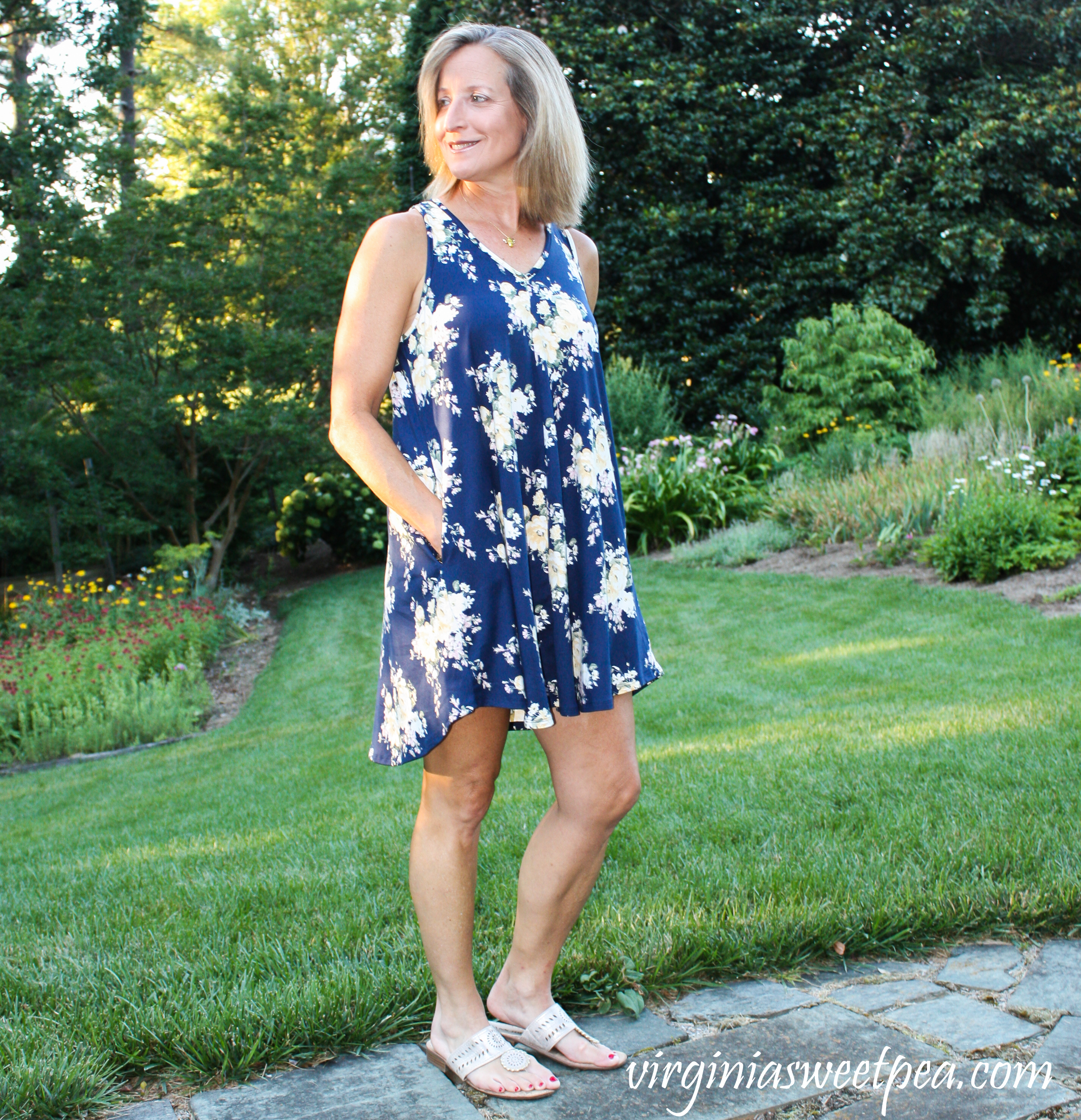 I also liked that this dress has a hi-lo cut but I felt like it was a tad bit short for a 50 year old. On a younger woman, this would be adorable!
I was in Charlottesville this week and I happened to see a young woman wearing either this dress or one very similar to it, and the dress looked great on her.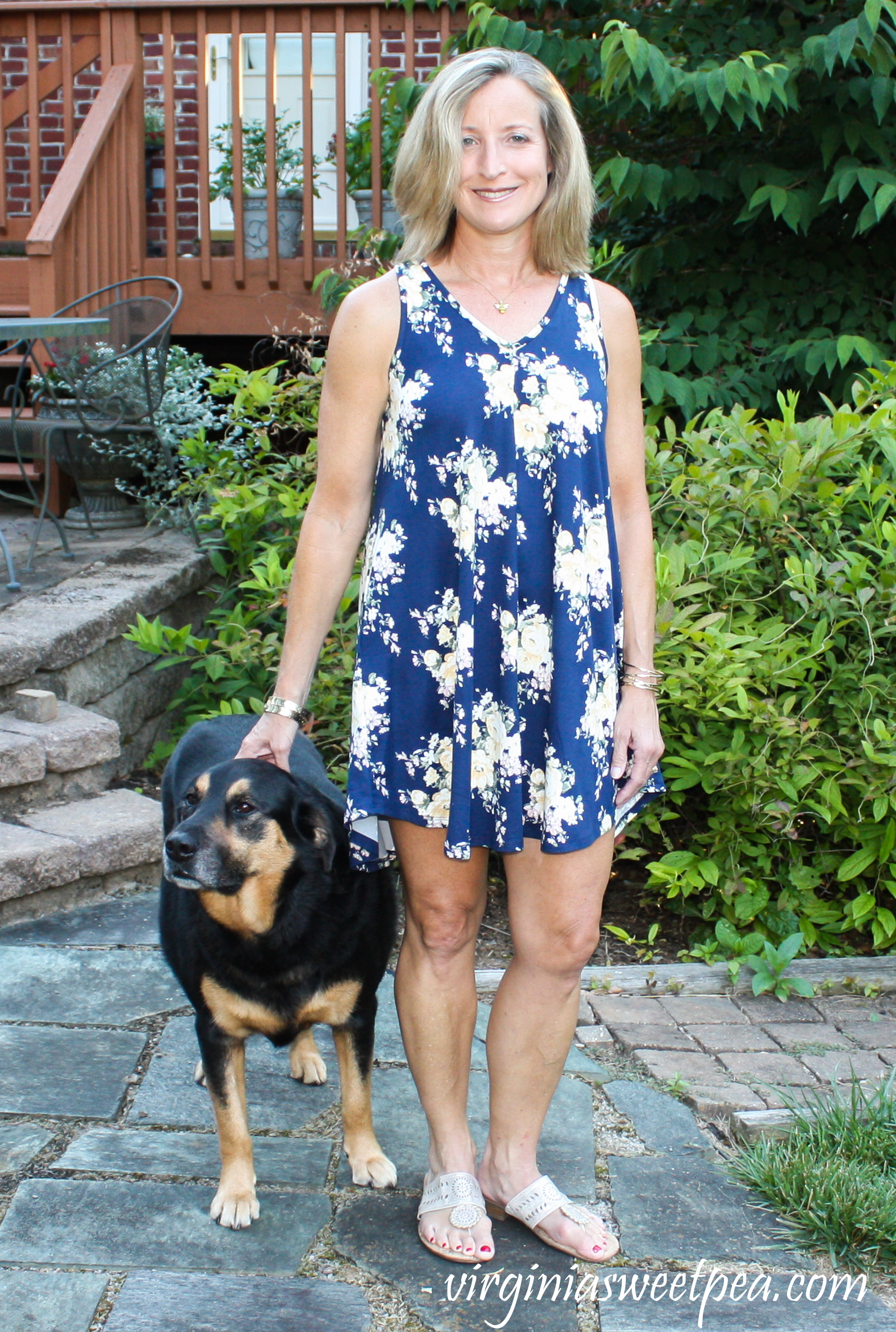 All of the jewelry that I'm wearing in this post is from Rocksbox. My Kate Spade bumblebee necklace is a favorite for summer! Rocksbox is a jewelry subscription service that sends three pieces of jewelry that you can wear for as long as you like each month. When you send your three pieces back, or buy what you like, a new box is sent. If you'd like a free month of Rocksbox, sign up with this code: PAULABFF54.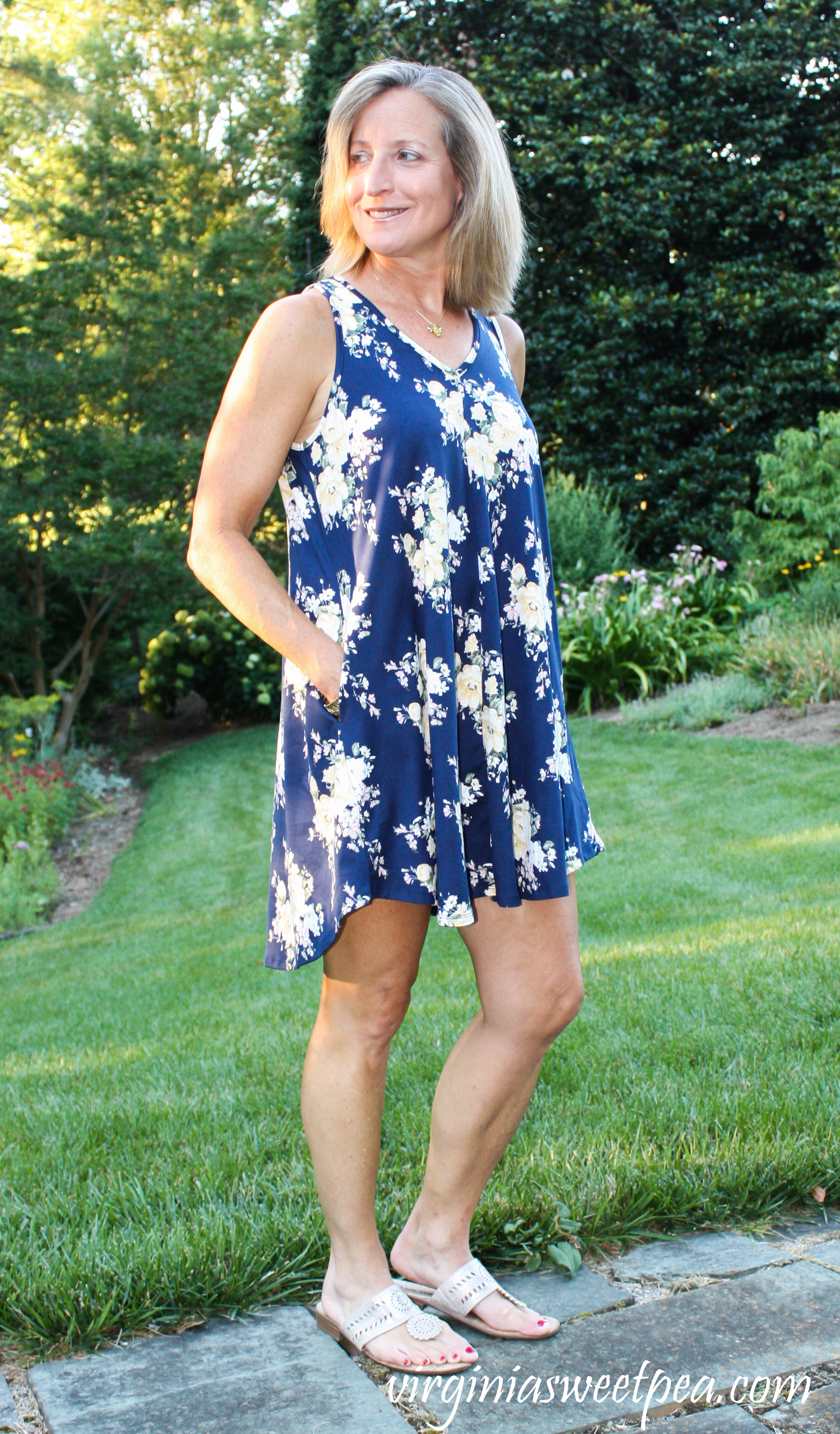 I decided not to keep this dress because of its length but I did like it. It also is very budget friendly at $42.
SM Wardrobe: Aztec Print Shift Dress
When I saw the preview picture of this dress in my email, I wasn't excited about receiving it but when it arrived, I immediately liked it.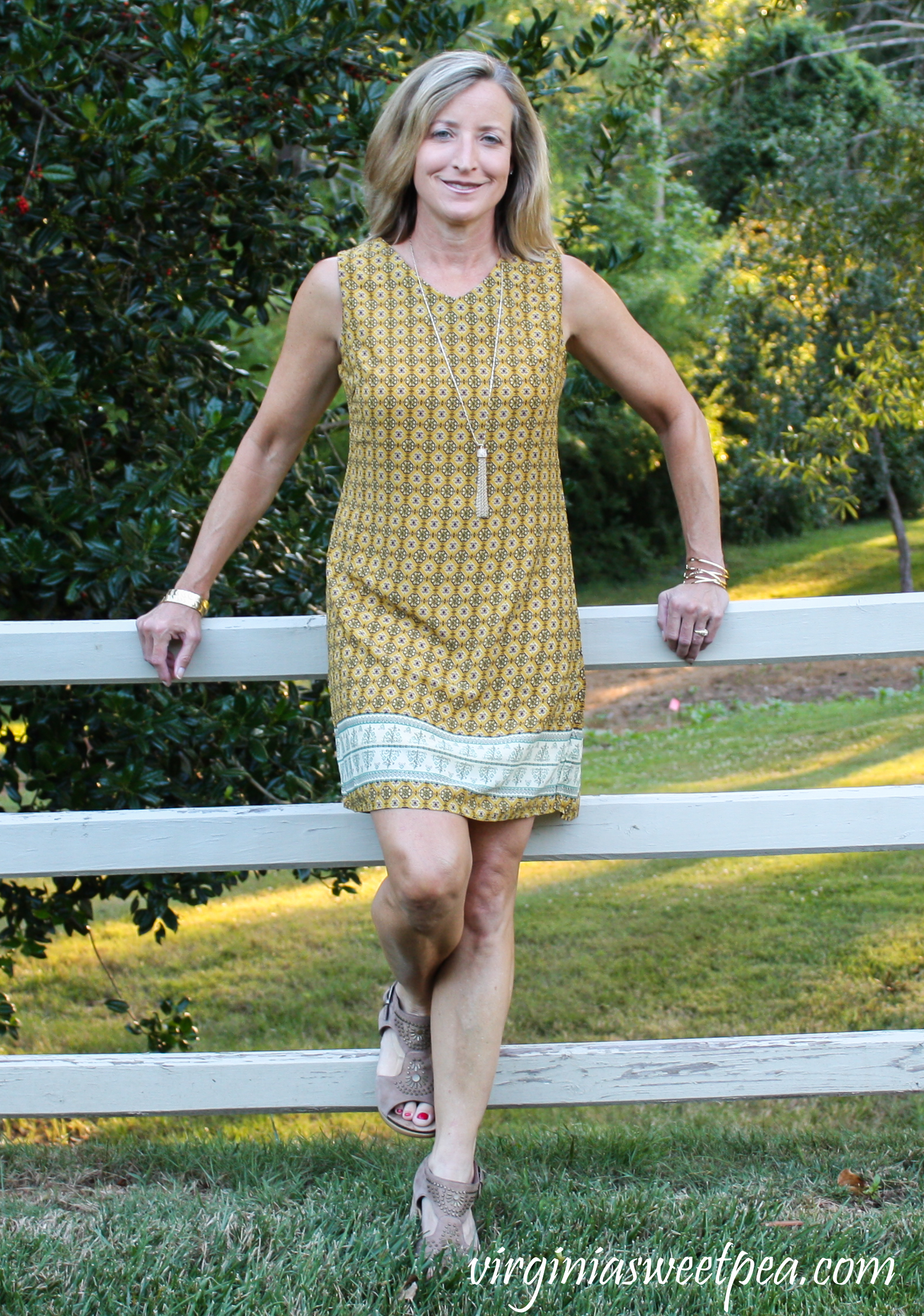 I liked the cut of this SM Wardrobe Aztec Print Shift Dress and also its pattern and color. I can wear this dress now and then into fall with a jacket and boots.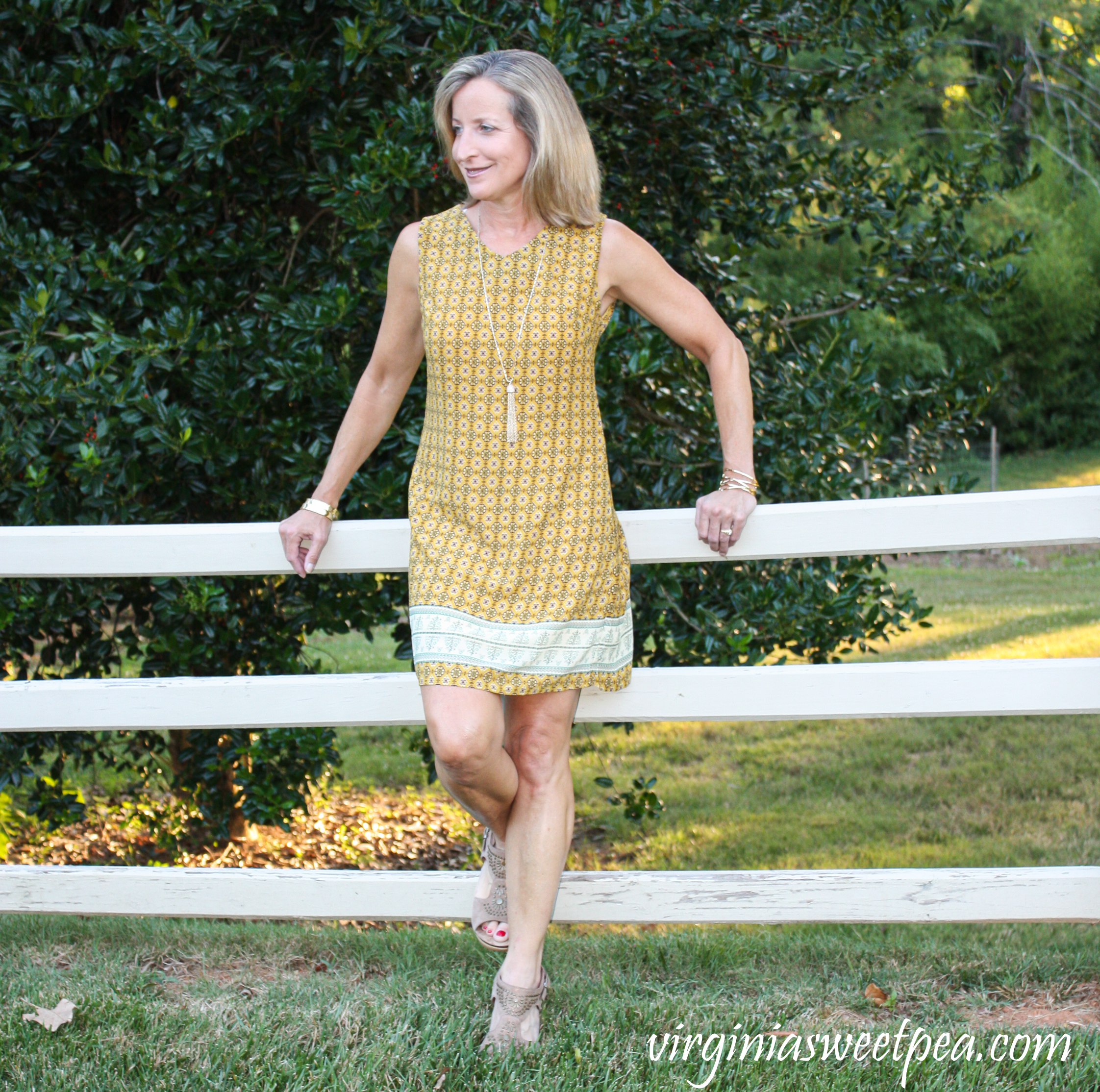 I'm wearing this dress with a favorite pair of Danskos. I recently ordered these shoes from Target and I'm eager to try them with this dress. I tried the shoes on at Target in another color and thought that they were really cute and comfortable, so they should work well. I also plan to wear my new shoes with my Lilly Tinsbury Shift Dress. I'm attending Haven Conference later this week and noodling over what clothes to bring. My Lilly dress is definitely coming for an opening cocktail party and this one might be good for either wearing to the conference sessions or out to dinner.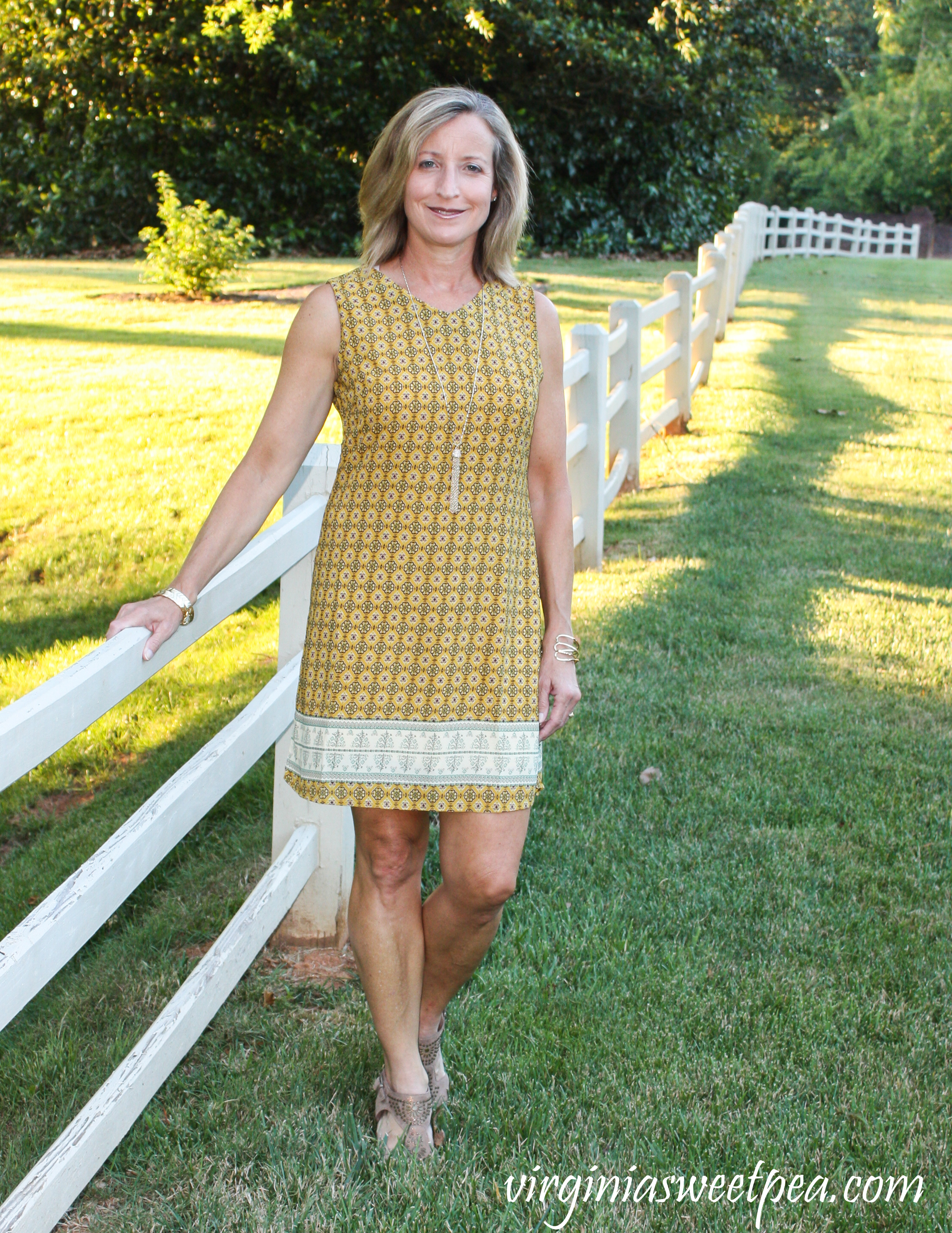 At $46, this dress was the most expensive item in my box. Since I can wear it all summer and into fall, and I found it figure flattering, I kept it.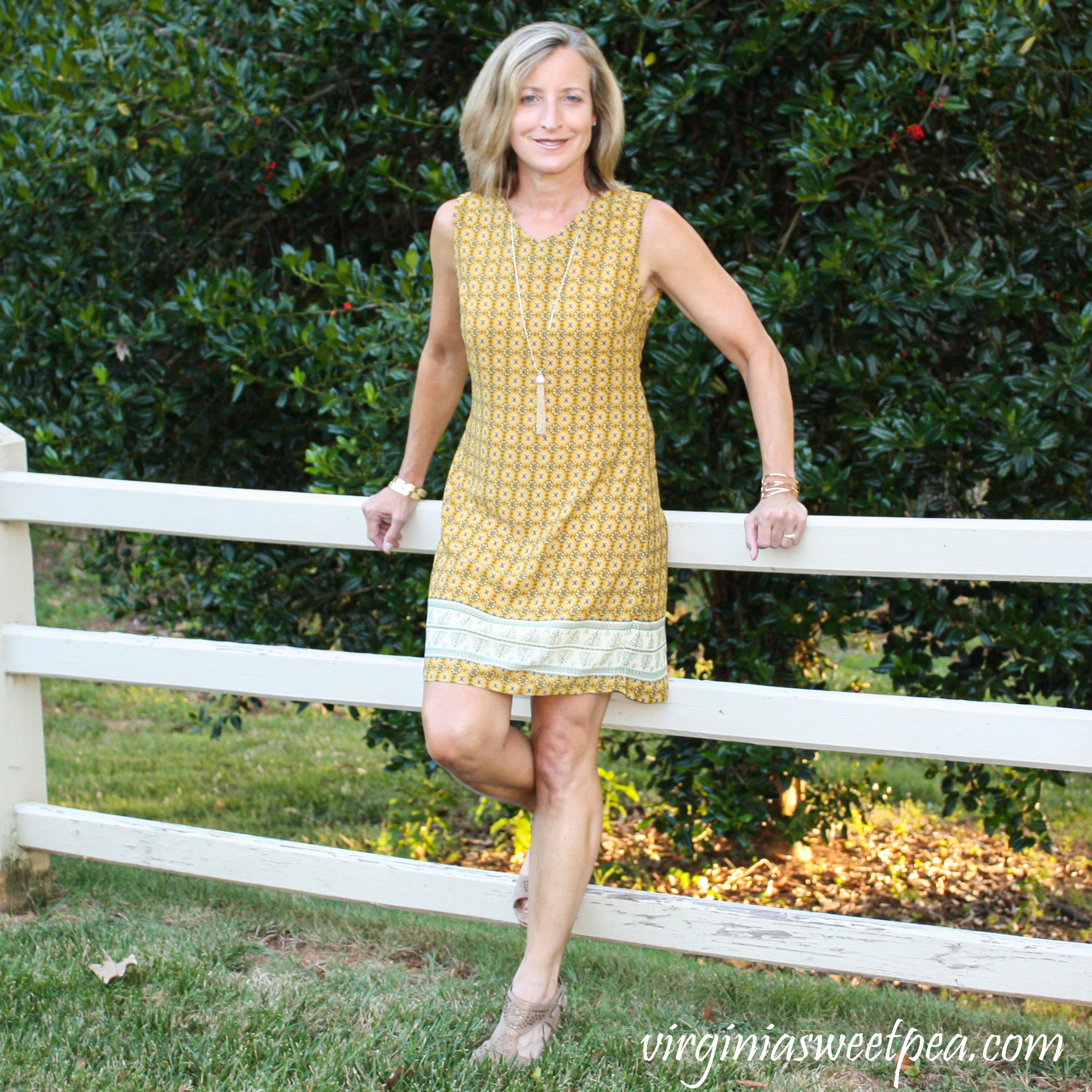 Exquiss Paris Printed Top
Isn't this Exquiss Paris Printed Top unique? When I saw the preview picture for it in my email, I wasn't sure that I would like it but I did. The material is silky soft and the kind that would resist wrinkling in a suitcase. I also loved the ruffles on the sleeves and the neckline with the cut-out.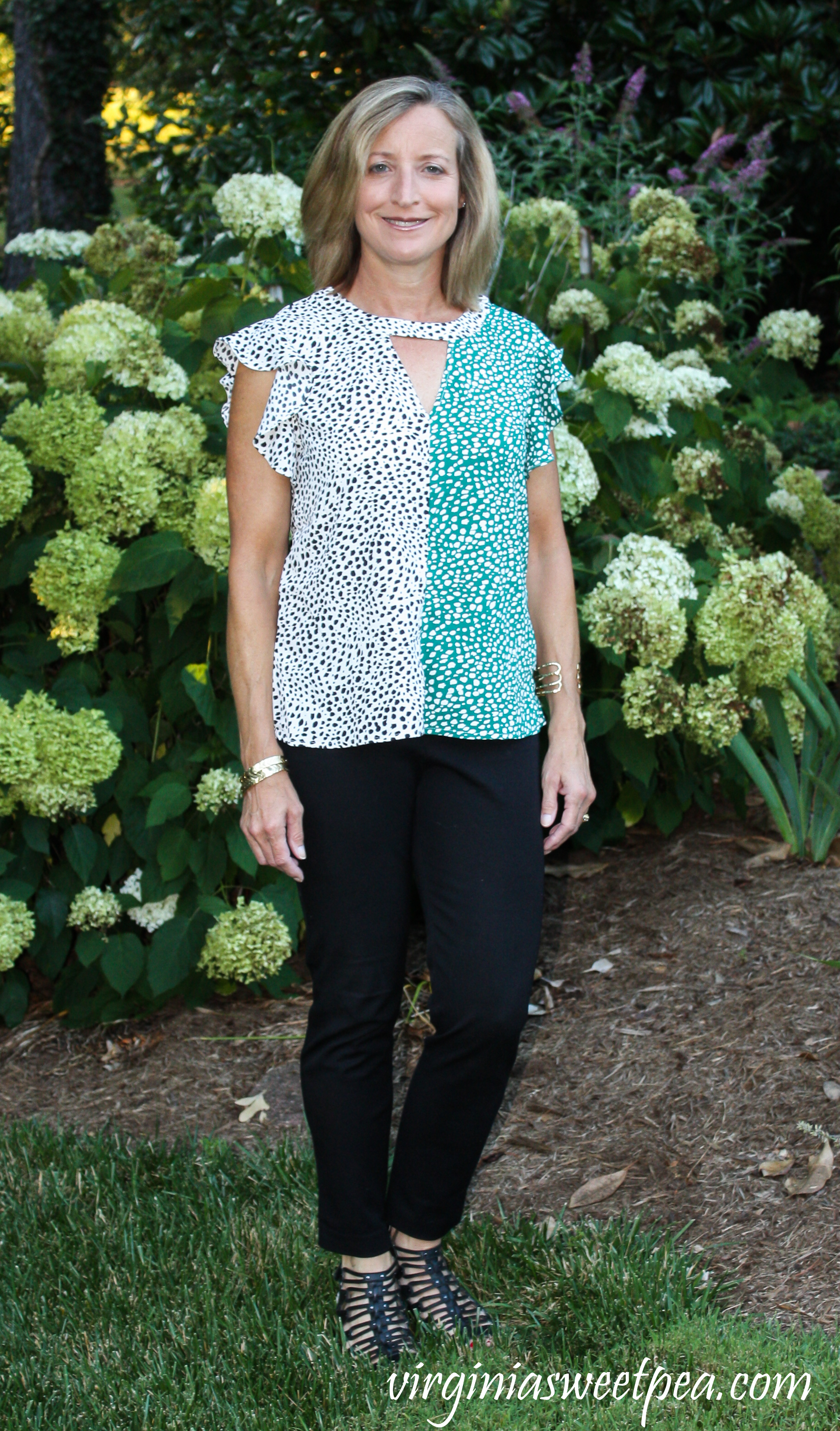 I paired this top with Old Navy pants (similar) and Jambu shoes (similar). I had the hardest time deciding whether to keep this top or to send it back. I couldn't decide it I liked the two color split side combination or if I didn't. Since I wasn't 100% sure that I liked it and also since my husband didn't give any opinion of this top (that means it is only ok), I sent it back. It's $38 price tag was very reasonable.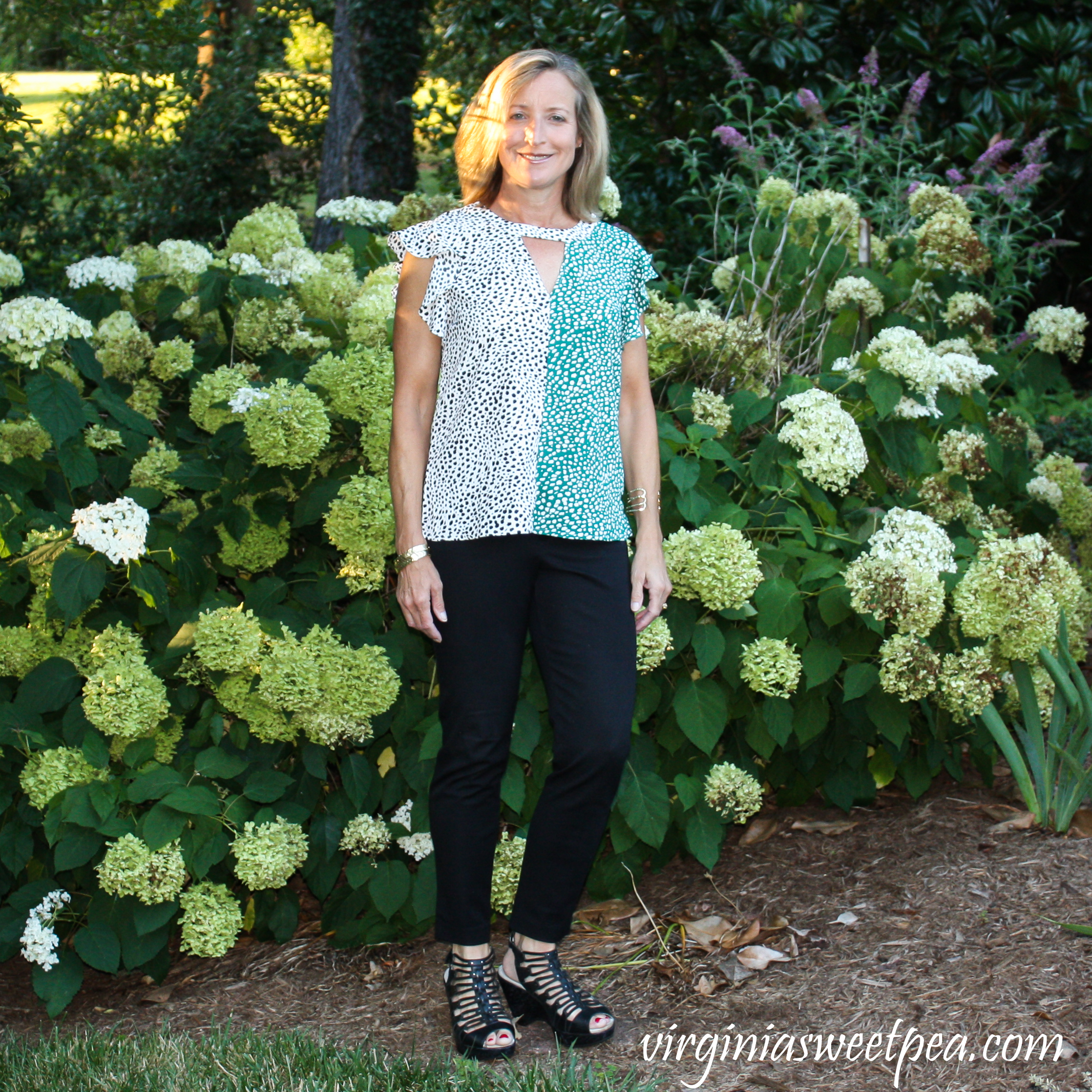 Lime N Chili Crisscross V-Neck Short Sleeve Top
When I saw the preview picture for the Lime N Chili Crisscross V-Neck Short Sleeve Top, I had high hopes that it would be a soft and comfortable top to wear this summer with shorts. It was soft and comfortable but it also was too small in my arms and across my chest.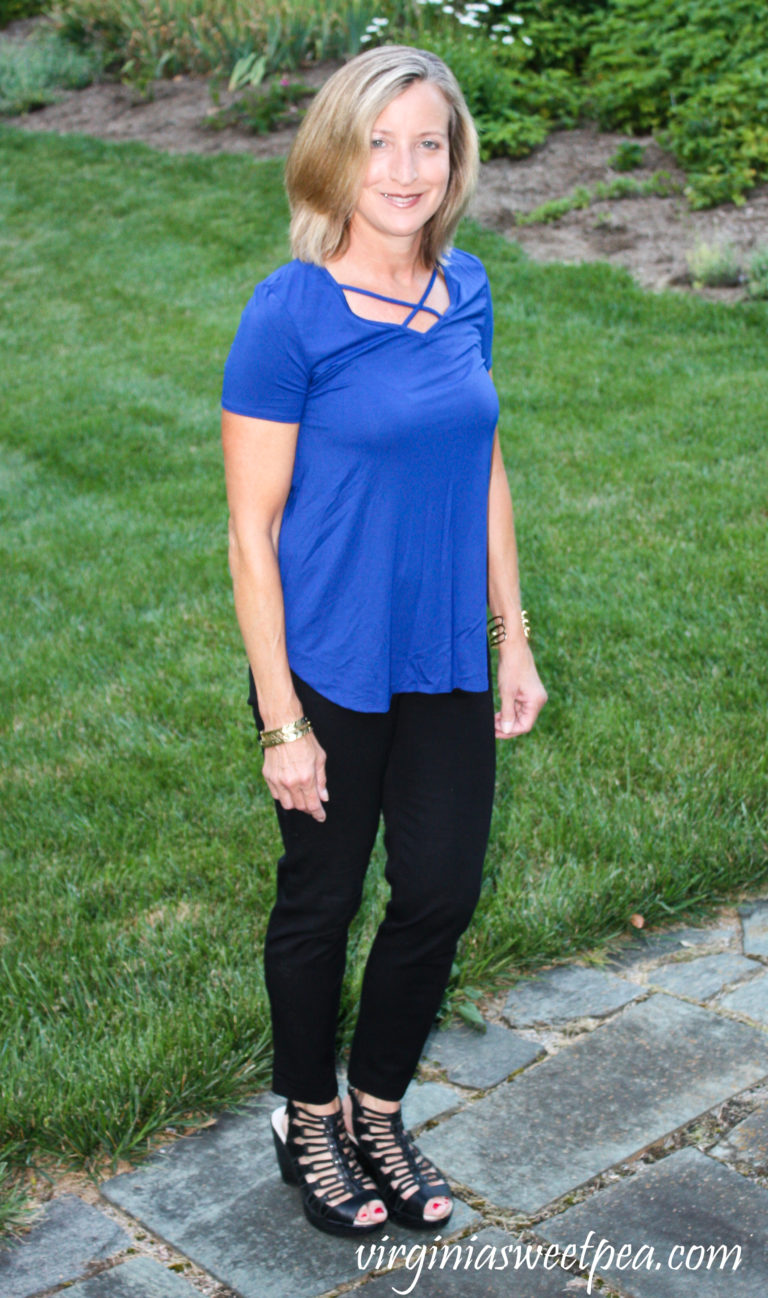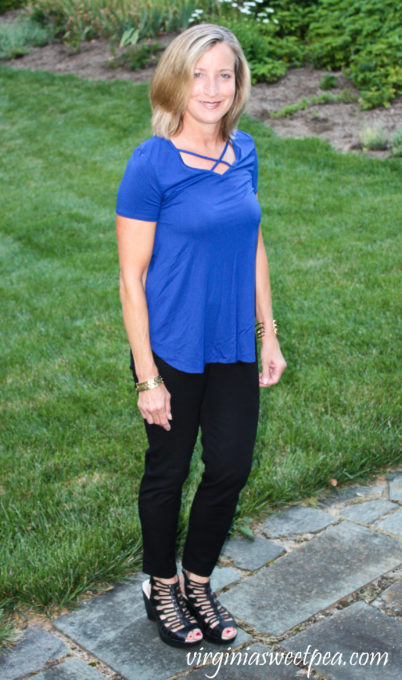 You can see that the top rode up in an unflattering way. If I really was in love with this top, I could have requested a larger size. At $35, it was reasonable priced, but it wasn't the top for me, so it was sent back.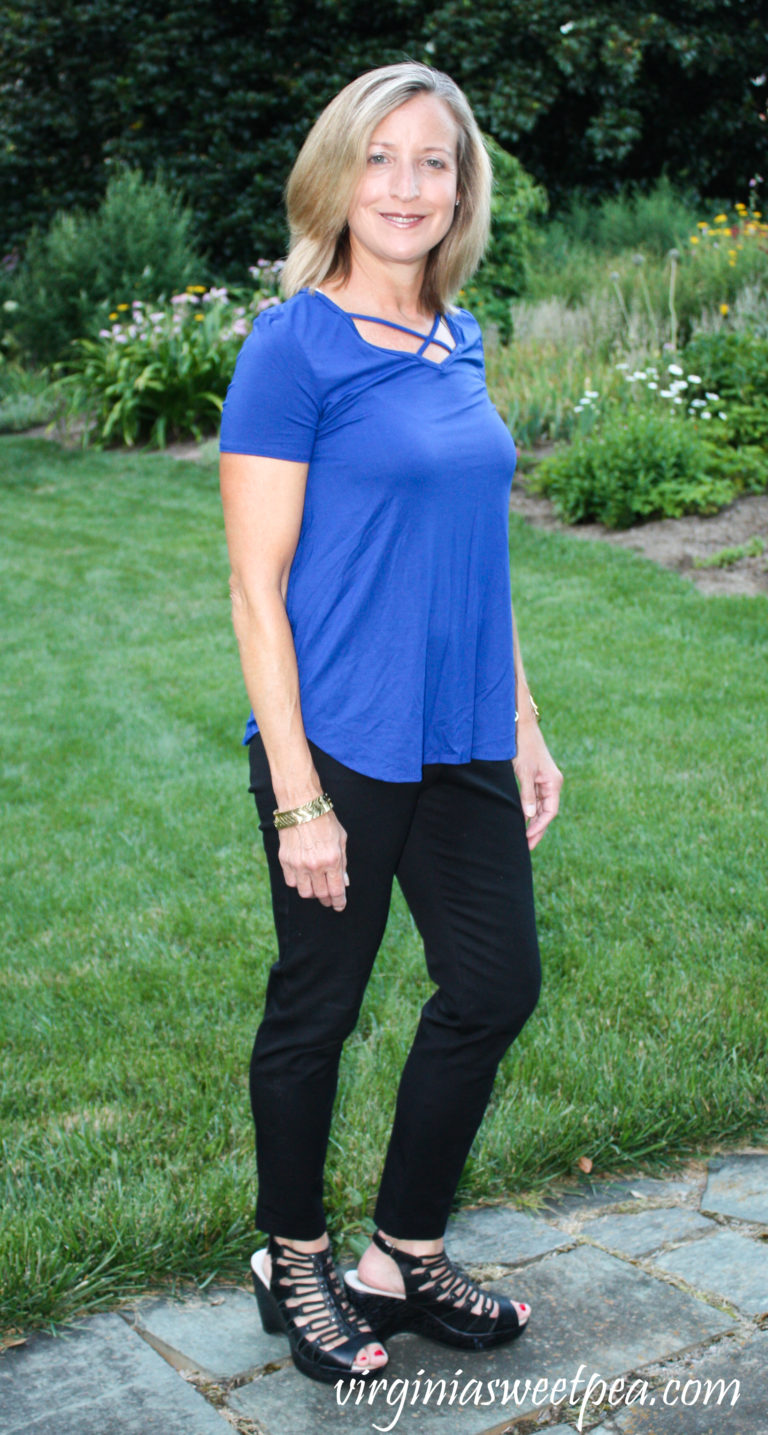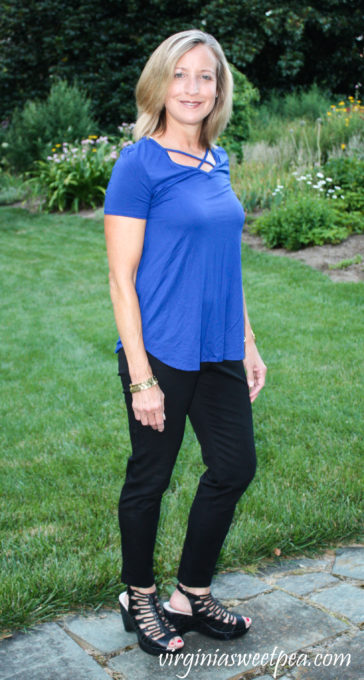 What I Kept and Returned from my Fashom Box
Andre By Unit Maxi Multi Floral Dress ($38) – Keep
Christ & Carol Floral Sleeveless Dress with Pockets ($42) – Return
SM Wardrobe Aztec Print Shift Dress ($46) – Keep
Exquiss Paris Printed Top ($38) – Return
Lime N Chili Crisscross V-Neck Short Sleeve Top ($35) – Return
Try Fashom for Free!
Since the $15 styling fee is waived for your first Fashom box, why not try it for free? If you sign up for Fashom using my referral link, you'll get $20 credit and so will I!
Final Thoughts
I really enjoyed trying my second Fashom box and I plan to request another box either in August or September. I find the quality of the clothing and the prices to be great. If other subscription boxes are too expensive for your budget, consider giving Fashom a try.