Smith Mountain Lake Pirate Days
A few weekends ago we participated in a fun event, Smith Mountain Lake Pirate Days.
What is Smith Mountain Lake Pirate Days?
SML Pirate Days was held July 20-22 at the lake and it's purpose is to promote tourism at the lake. People dress up like pirates and also dress their boats, docks and houses for the occasion. Restaurants and shops host special events, there's a pirate's ball and party, and the main attraction is several water battles that take place on the lake.
Last year we watched pirate ships pass by our dock and this year we decided to join in the fun.
Our Costumes
A few weeks before Pirate Days, I ordered costumes and accessories on Amazon. When they arrived, we tried them on at home.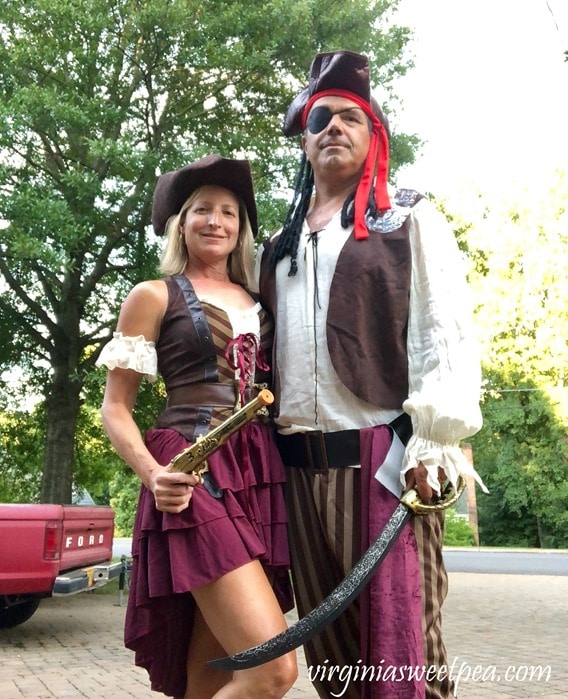 Sherman helped by photobombing a few pictures.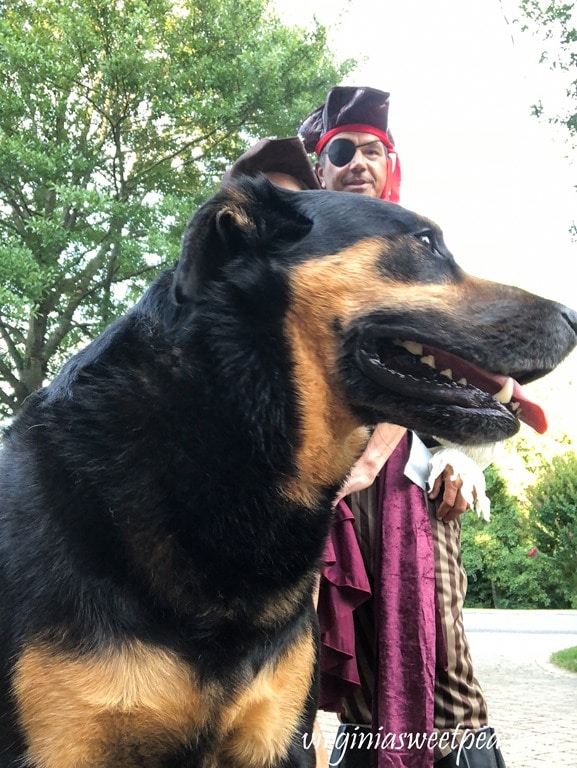 I tried to find a costume for Sherman, but couldn't find a pirate costume to fit a 95 pound dog, so he sported a pirate collar for Pirate Days
Costume Sources
We were 100% pleased with the costumes, accessories, dog collar and pirate flag that I ordered from Amazon.
This post contains affiliate links. For full disclosure go here.
Making Our Pirate Boat
On our way to the lake for SML Pirate Days, we stopped at Lowe's to buy PVC pipe to make a mast for our boat to fly our pirate flag. We also picked up a box of bungee cords that we used to hold the mast and the flag in place.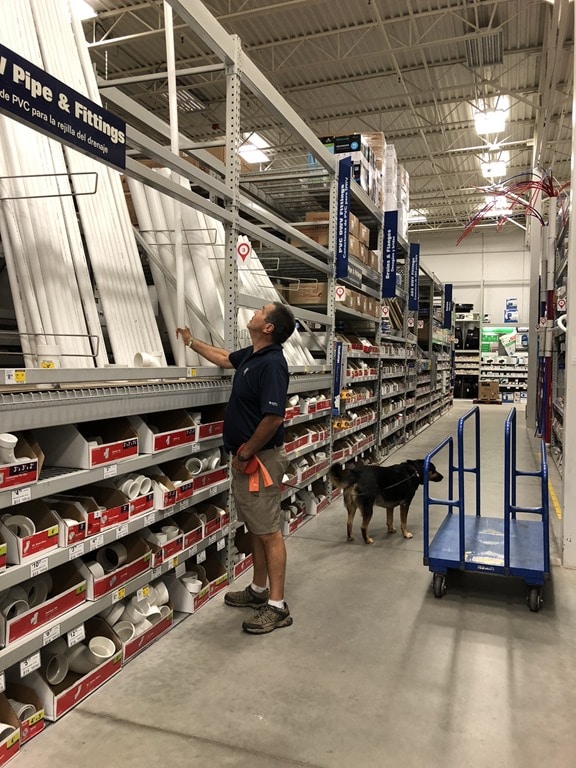 In Costume
Mr. SP got the boat ready, we got dressed, and soon we were ready to troll the lake as pirates.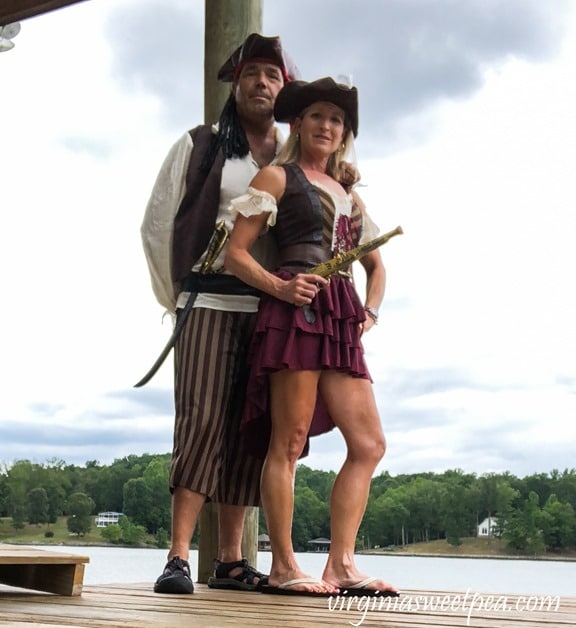 Sherman was our pirate dog for the day.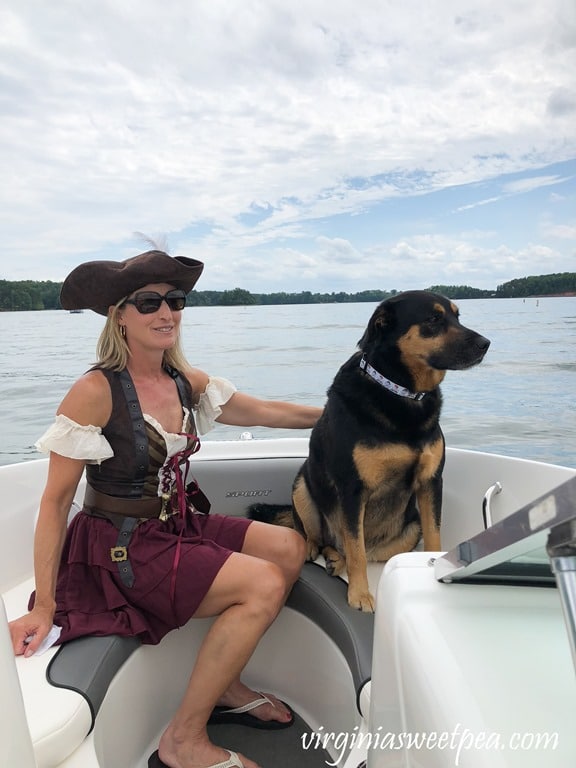 When you are around Sherman, you have to watch him because he's a kisser.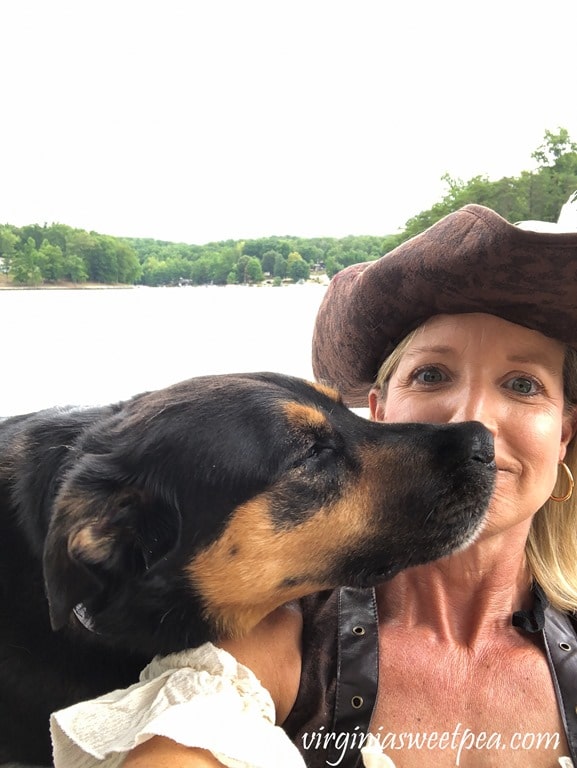 Trolling the Lake as Pirates
Our neighbor took this picture of us on our pirate boat.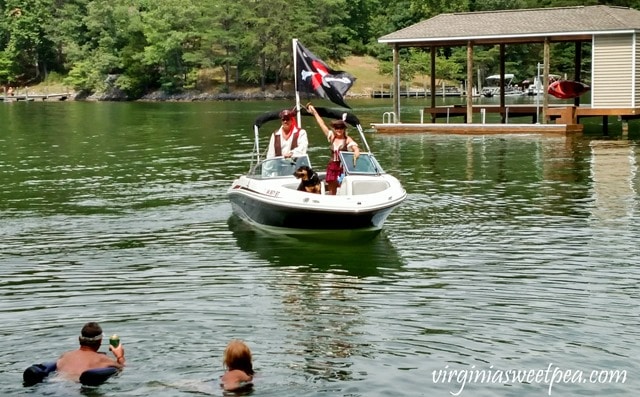 This one is out of focus but I'll share it anyway.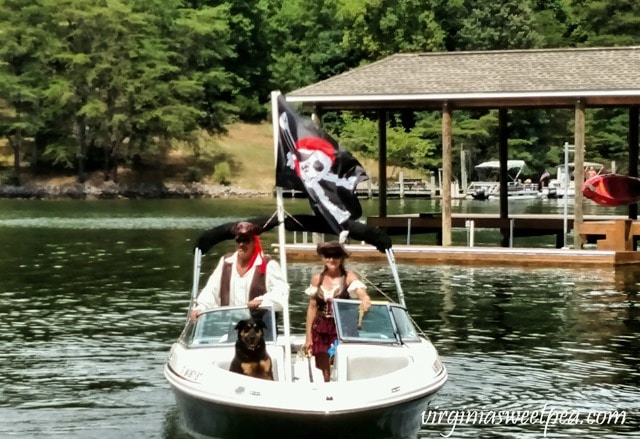 We boated over to where a water battle had just taken place and the area was filled with pirate boats. One boat launched water balloons at us and after one hit me in the face, I got really mad, so we decided to stay away from the water battles. The guy who hit me continued to bomb us and he was aiming for Sherman. We did not like that!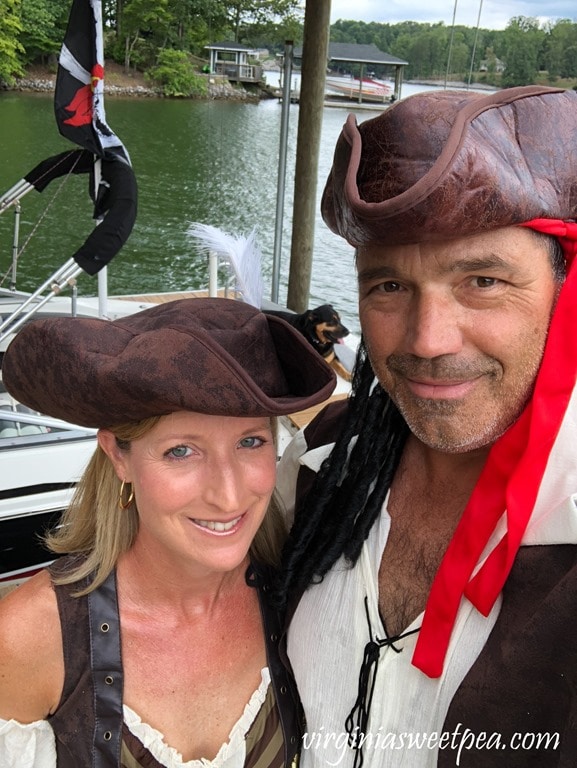 We boated past a family decked out for pirate days. I taught two of the three children in this family and now they are all grown up. It was fun to see them and their costumes were great.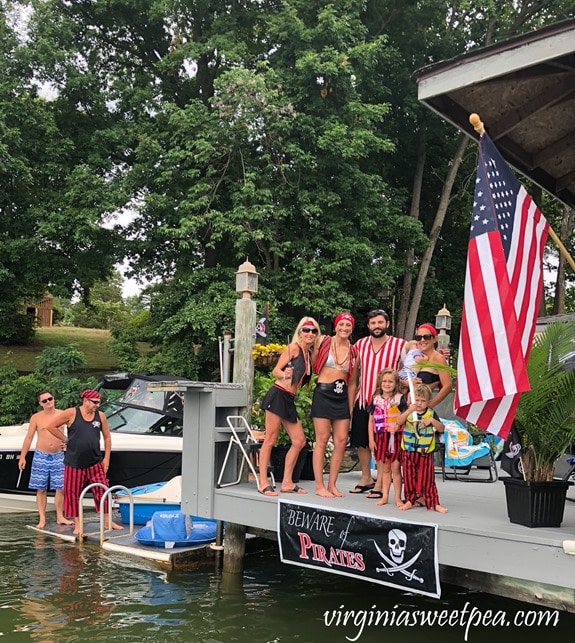 We also found our beloved ice cream boat and got Sherman an ice cream sandwich. The ice cream boat plays music and Sherman gets so excited when he hears it. If he's in the house and hears, it he goes crazy to get down to the dock. If he's in the yard and hears it, he runs like a maniac to get to the end of the dock.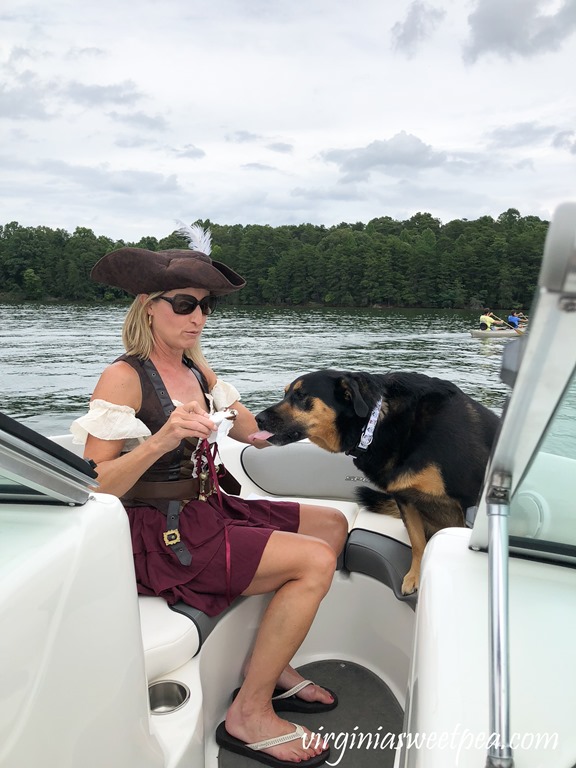 Pirates by Land
After we finished boating, we went to Food Lion in our pirate costumes. The manager asked to take a picture of one of the cashiers with us. Pirates were everywhere that weekend!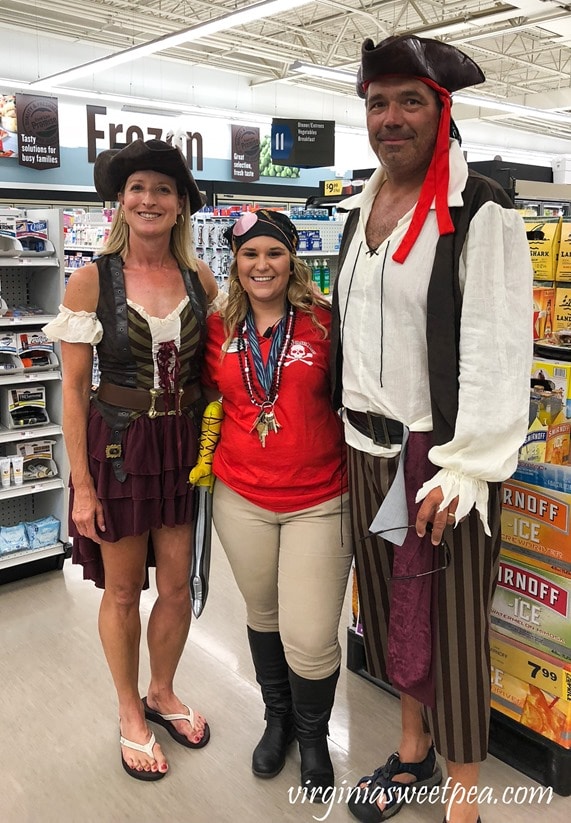 We then drove over Hales Ford Bridge to get a glimpse of the afternoon water battle.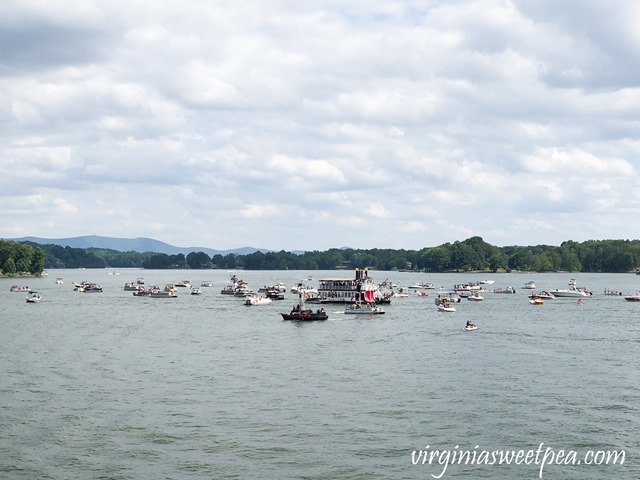 Pirate Day T-Shirt
The organizers of Pirate Days had t-shirts made but we didn't go shopping to buy one. I asked a person that I saw wearing one if I could take a picture of it.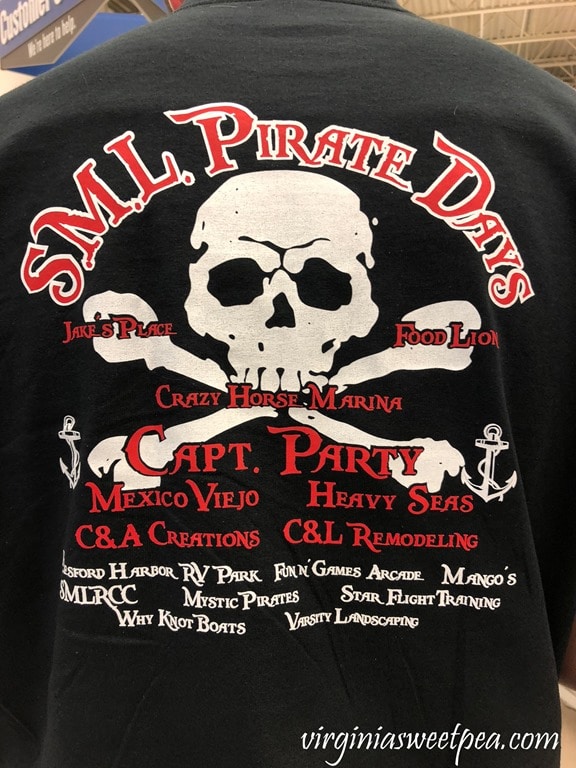 The logo on the shirt front was really cute.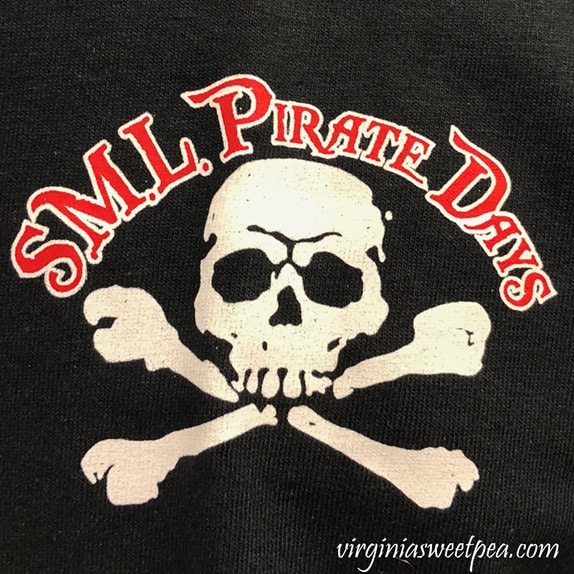 It was a Fun Time
The pirate costumes are now packed away along with the flag and PVC boat mast. We are sure to use it all again next year. I probably will buy more flags so that I can fly one from both our house and dock.
When Halloween rolls around, if we are in need of costume for a party, we're ready!