Lake House Basement Project – Update Four – Paint!
Painting the walls in our lake house basement made the rooms go from looking unfinished to finished. We have a long way to go before we can call this project done but painting the walls was a huge step towards our end goal.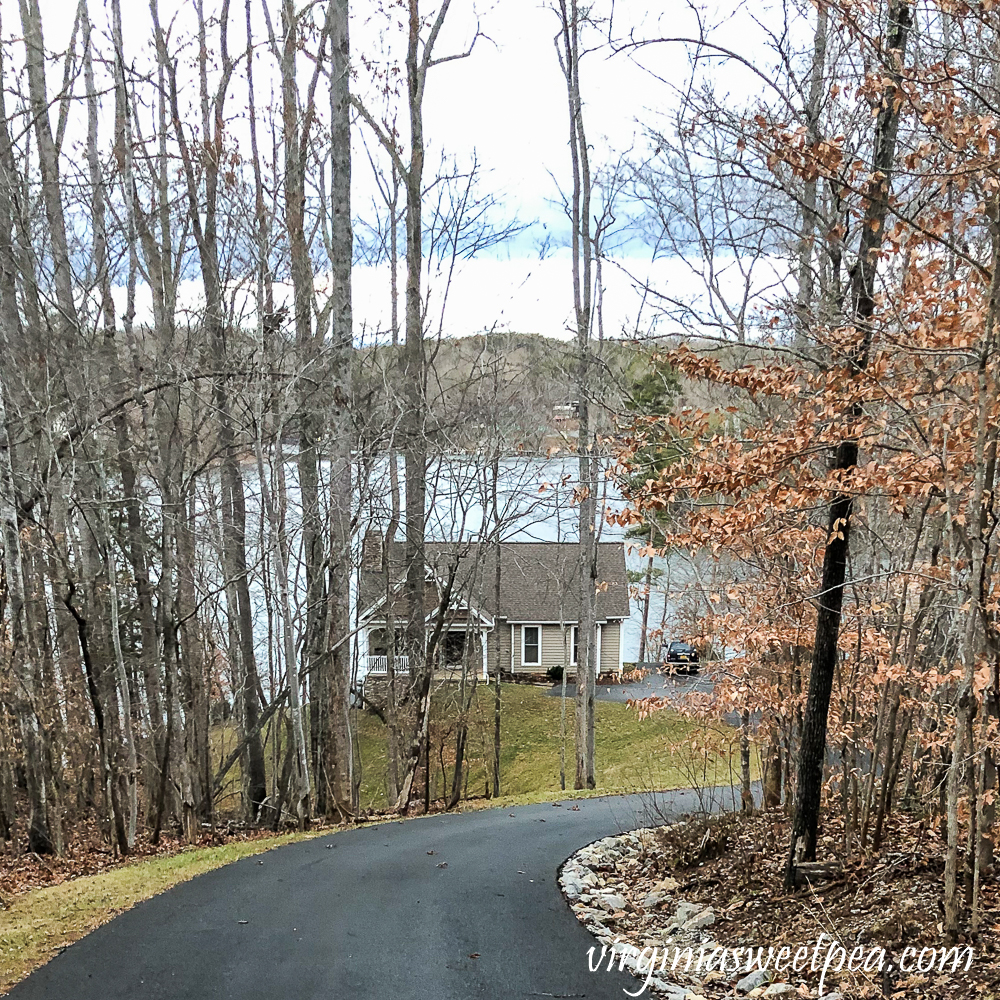 If you need to catch up on what we are doing in our basement, check out these posts:
Painting the Walls in Our Lake House Basement
(Thank you so much to Sherwin Williams for providing the paint for this project. I was not otherwise compensated. )
After the ceiling was painted, we both were super excited to get started on painting the walls.
Take the time to tape!
The first thing that we did was tape off the ceiling with Frog Tape. We have used blue painter's tape and we've used Frog Tape, and we both agree that Frog Tape is best for paint jobs.
Mr. SP taped off the family room and I did the hall closet, bathroom, and extra room.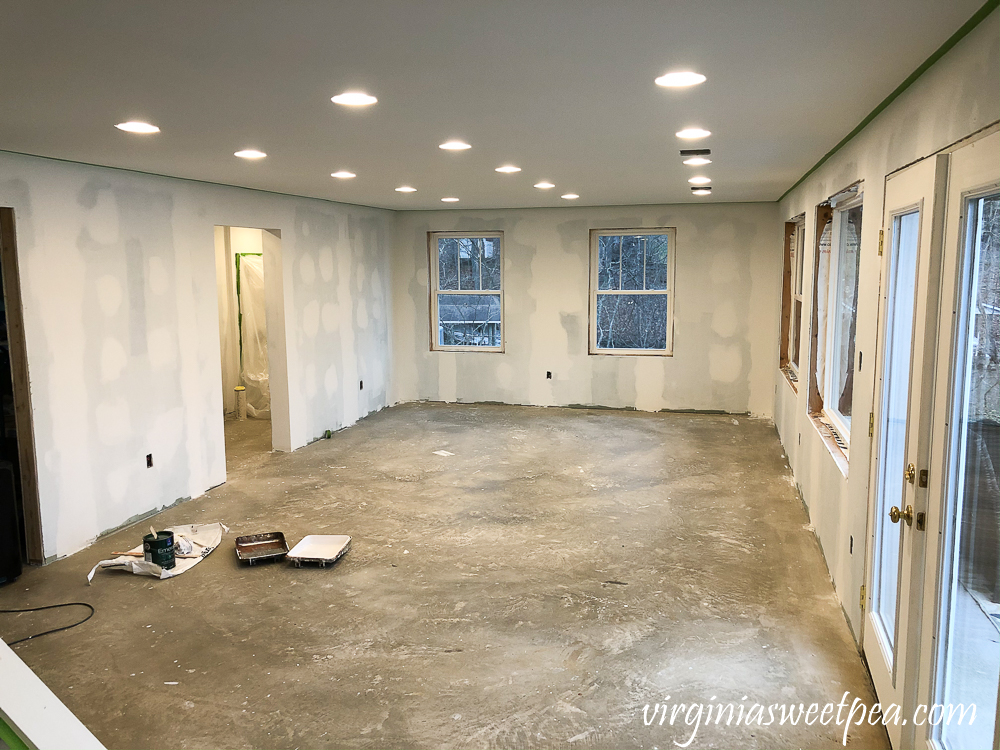 It was time-consuming to tape, but because we did so, when I removed the tape after the walls were painted, we had beautiful and crisp paint lines with very few spots that need to be touched up with ceiling paint.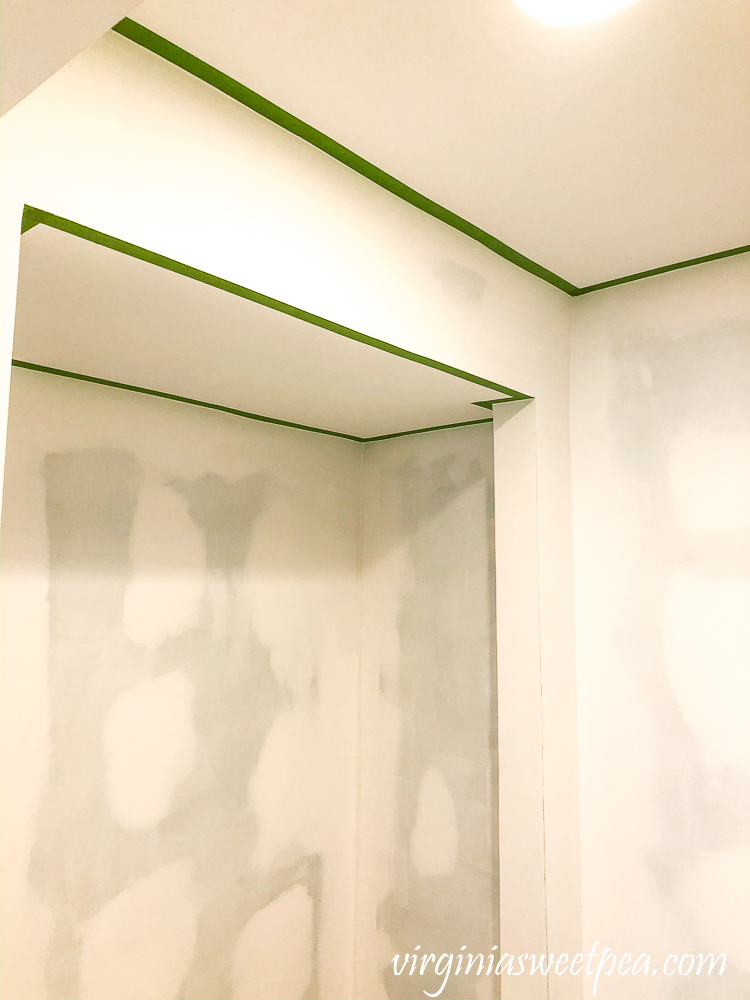 Selecting Our Paint
Jeff, our friend who helped us to design our basement, is a general contractor and he both helped and guided us through framing the basement, plumbing, and drywall. Jeff is an electrician, so we left the electrical work to him. Jeff uses Sherwin Williams paint for all of his jobs and recommended that we use it for our basement. The contractor who built our home used Sherwin Williams paint in our upstairs and we've been 100% pleased with it, so it was a no-brainer to use it in our basement.
We chose Emerald Interior Latex which is a paint and primer in one. We found it to be easy to use and both love its smooth finish. Since we are painting a basement, this paint gets bonus points for containing anti-microbial agents that inhibit the growth of mold and mildew on the paint surface. Another great thing is it has very little if any paint odor.
Painting the Family Room
We both were most excited to paint the family room because it is such a large area. Our plan for this space is to create a room with a cabin feel.
The family room color is Sherwin Williams Rock Garden (SW6195 ).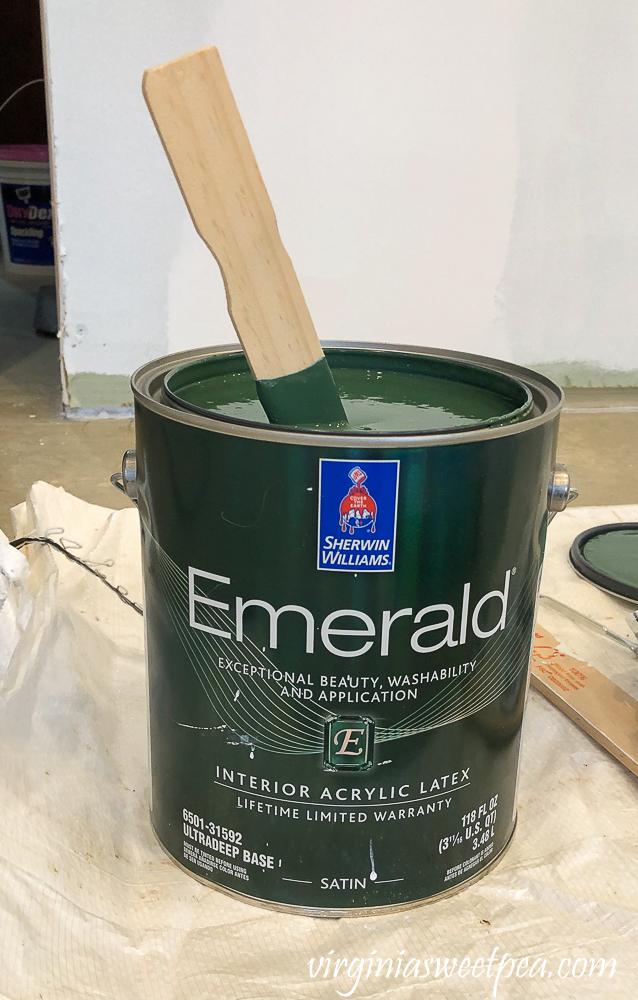 We did our cut in work and then got busy painting.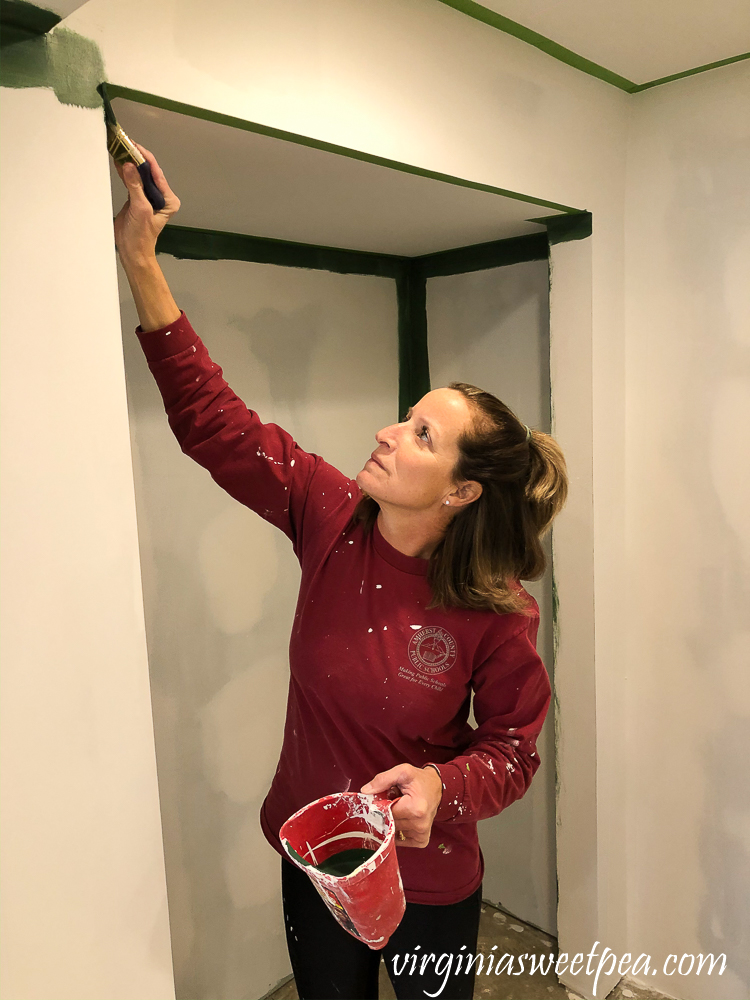 Sherman was never far away as we worked.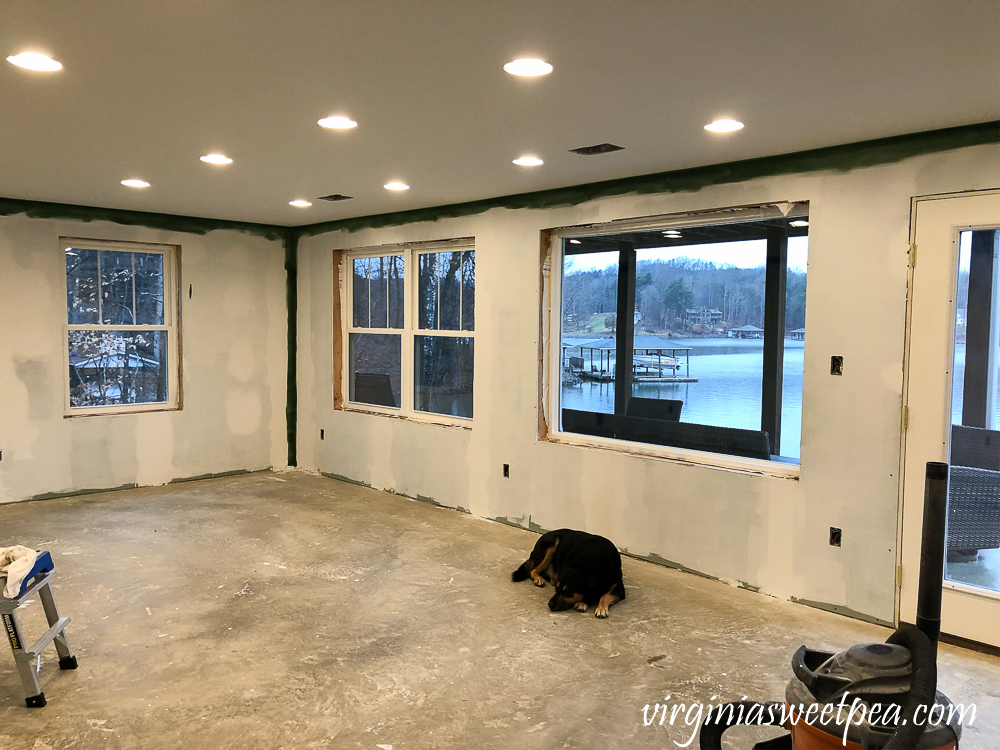 Mr. SP painted this room while I cut in and then painted the extra room.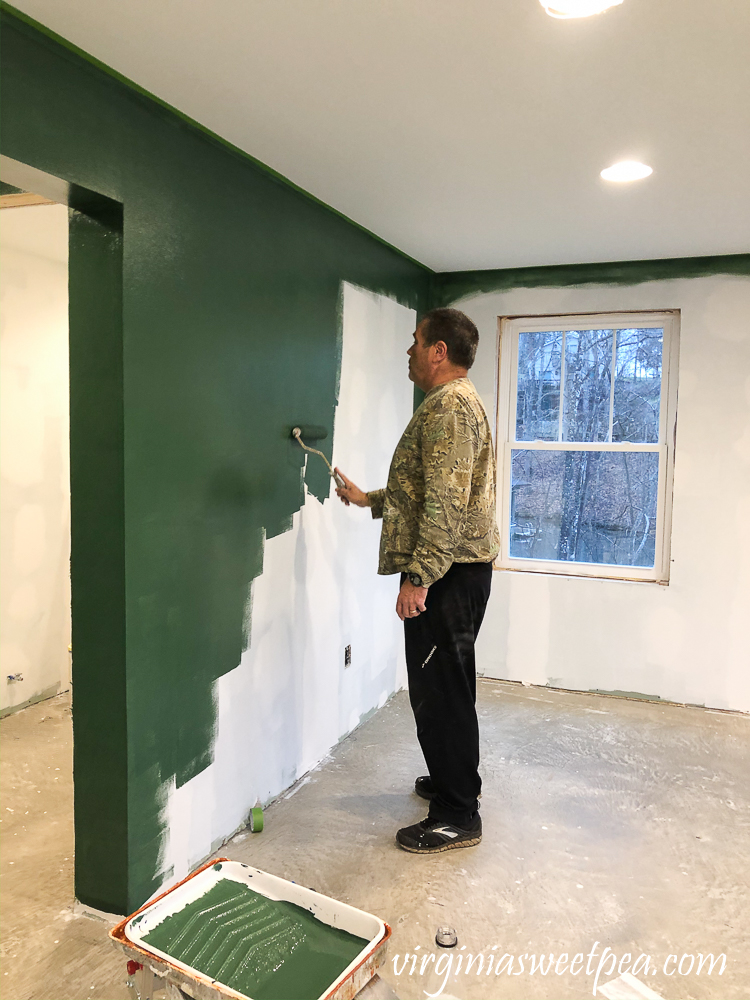 After one coat, it was looking good!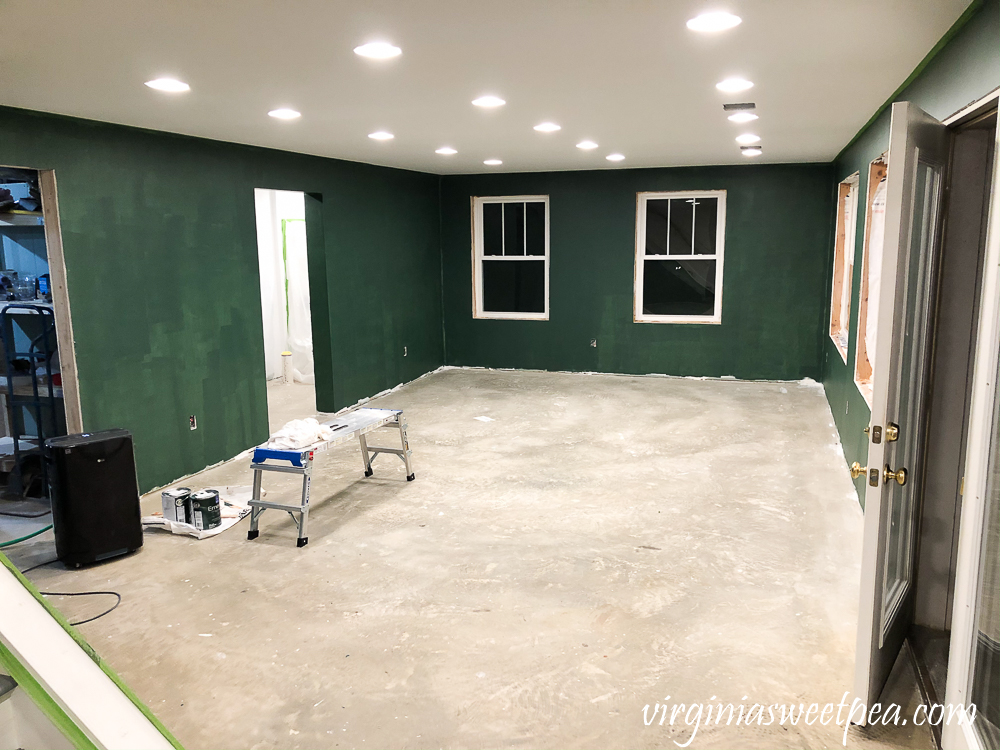 The next day, this space got a second coat.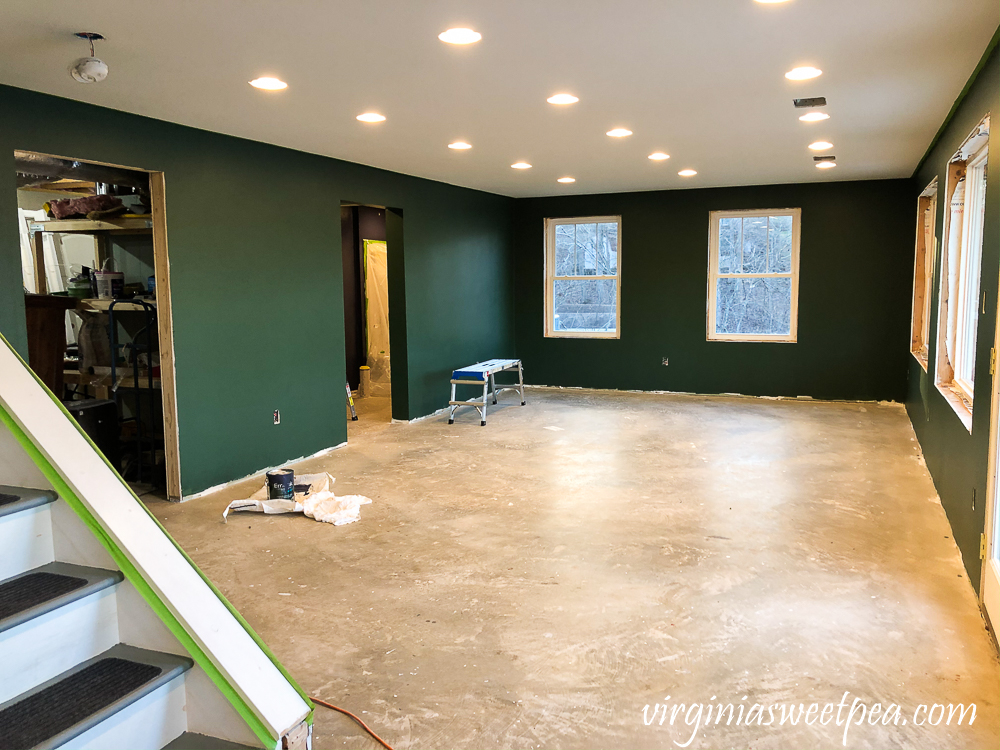 We both can't wait to relax in this space while enjoying the lake view.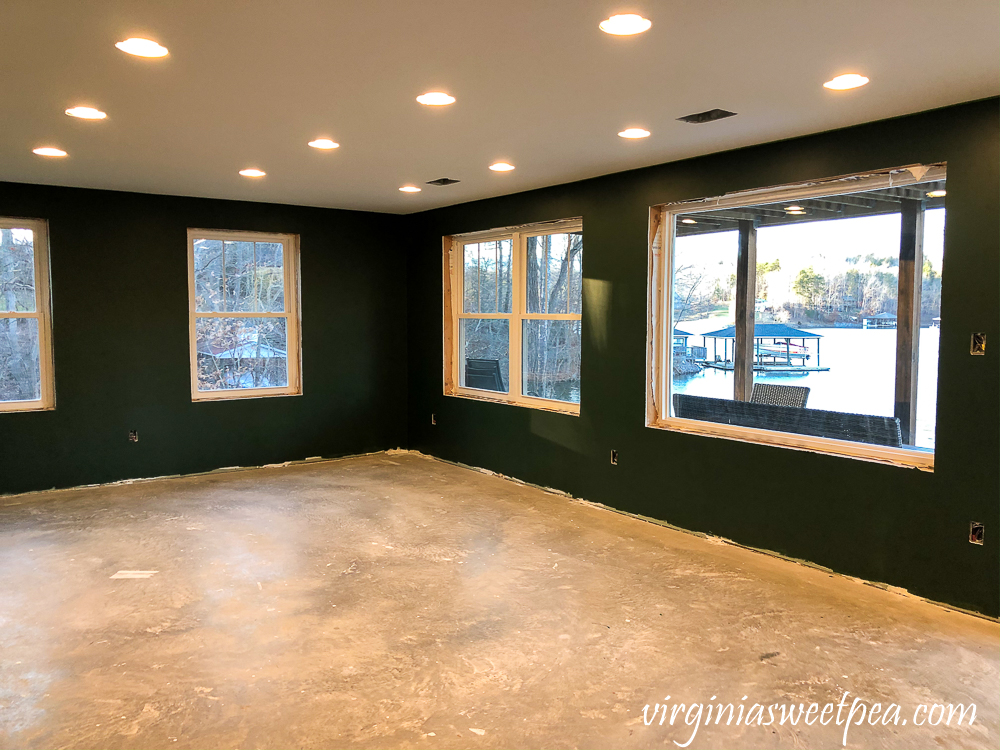 I plan to wallpaper the stairway to add to the cabin feel. I like this paper but am a little leary about buying it since it is peel and stick. I plan to go to a local wallpaper shop to see if they can order something similar. It's always best to support a local business when you can!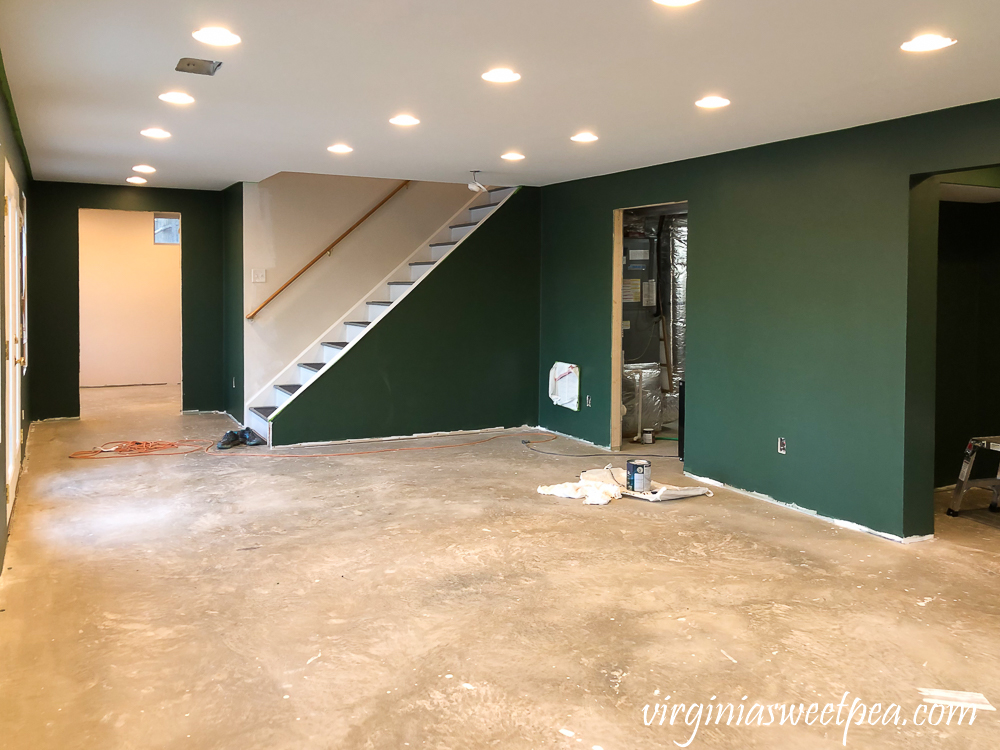 I'm also thinking that I should paint the HVAC vent green to match the walls.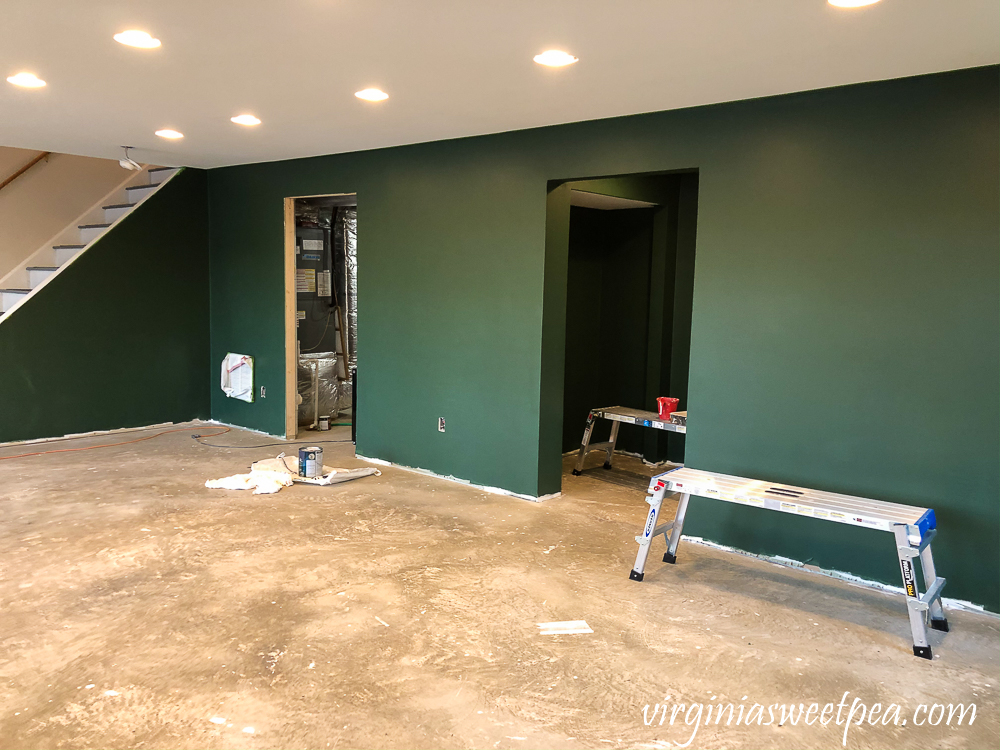 The above pictures are what the room looked like when we left on Sunday night, January 19. The next weekend we noticed a few spots that we hadn't painted thoroughly, so I gave the room another coat while Mr. SP worked on installing sockets and switches.
Here you can see how great the paint looks after its final coat.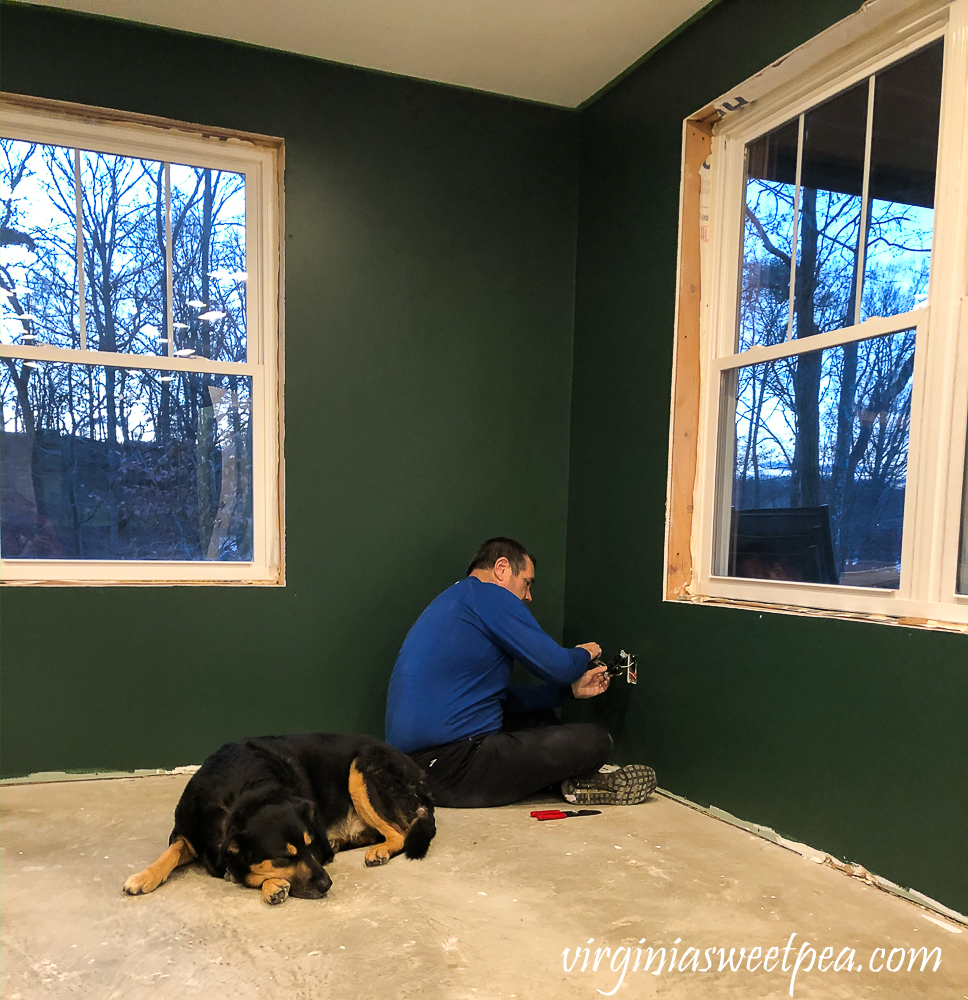 Painting the Extra Room
I want this room to have a romantic and girly feel, so I chose a color with just a touch of pink, Sherwin Williams Cultured Pearl (SW6028).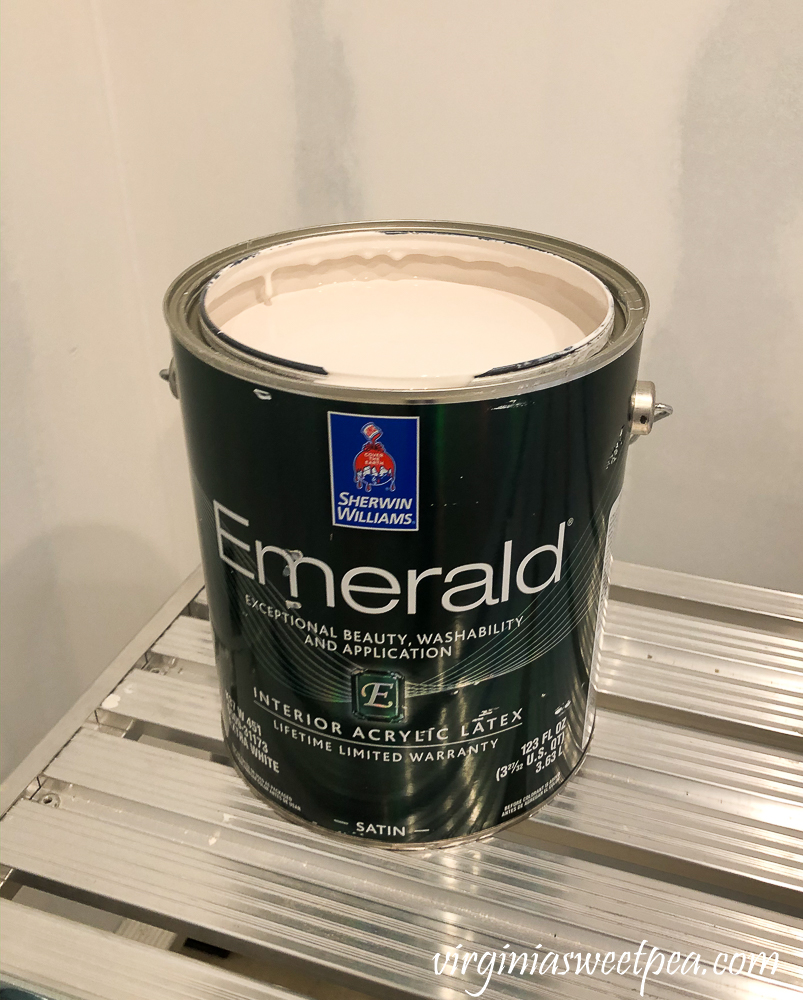 This paint is so easy to work with and I found it to go on smoothly and to cover very well.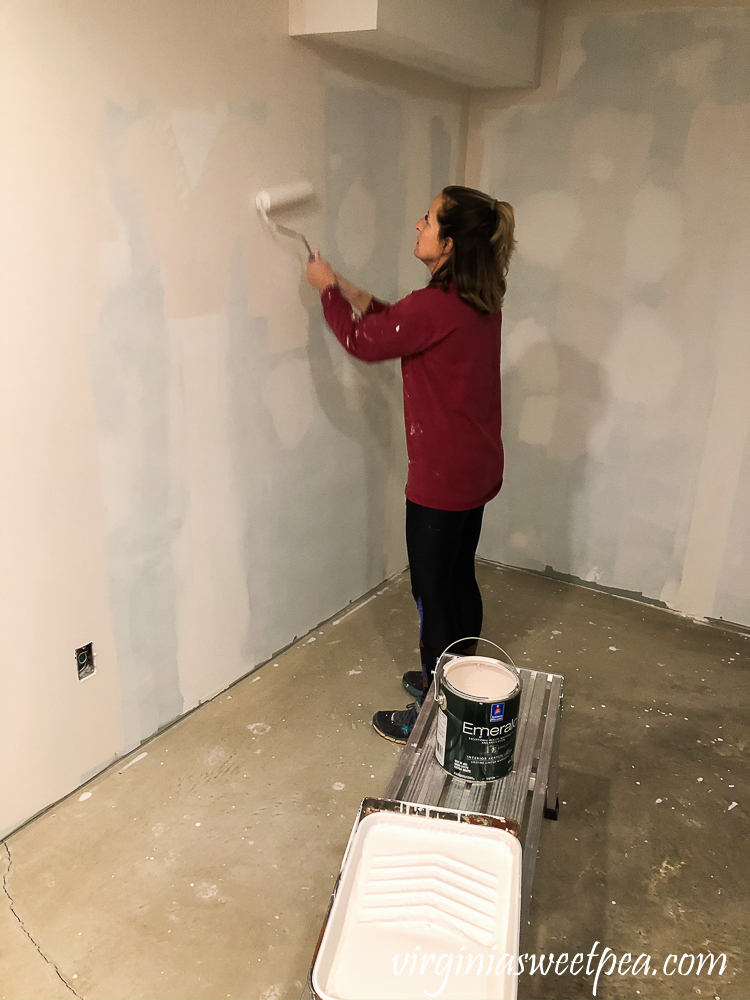 We had to drywall over a metal header here which isn't the most beautiful thing but it couldn't be avoided.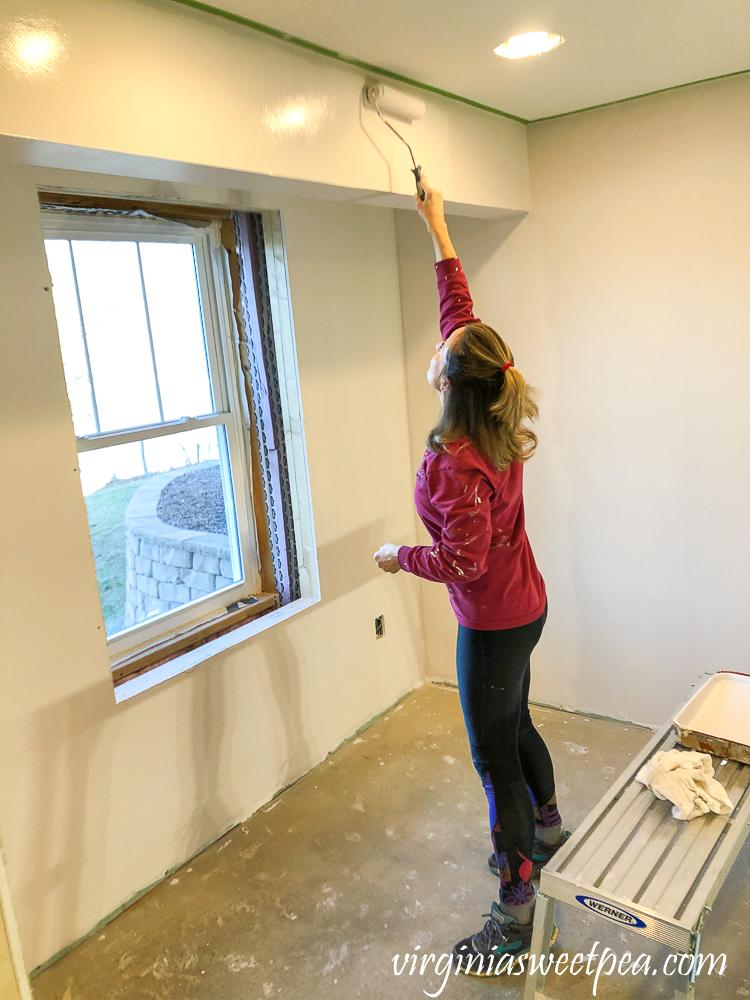 Right now it is hard to get good pictures of this paint color as the room is unevenly lit. I am still deciding on a light for this side of the room. We originally planned on a ceiling fan but I don't think that this room needs it and I plan to go with a pretty light instead.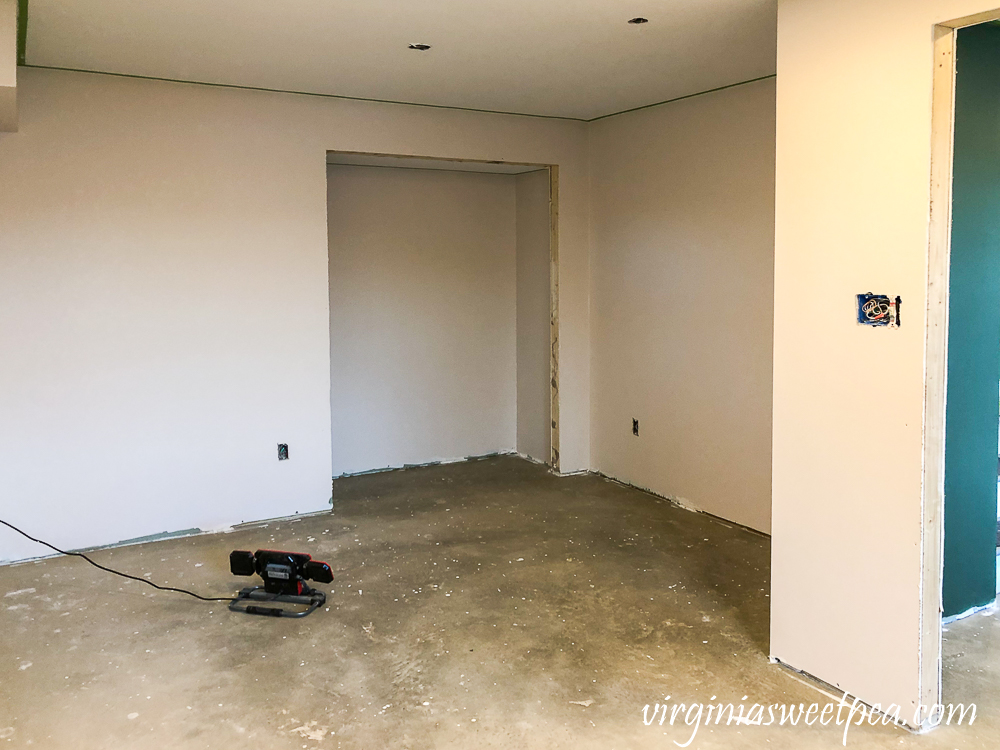 This side of the room has four canned lights. The wall with the small window will probably be the home of our early 90s futon. (See it here.) Someone (cough-cough) refuses to part with it. I did order a new cover for it and if we need an extra bed, it will come in handy.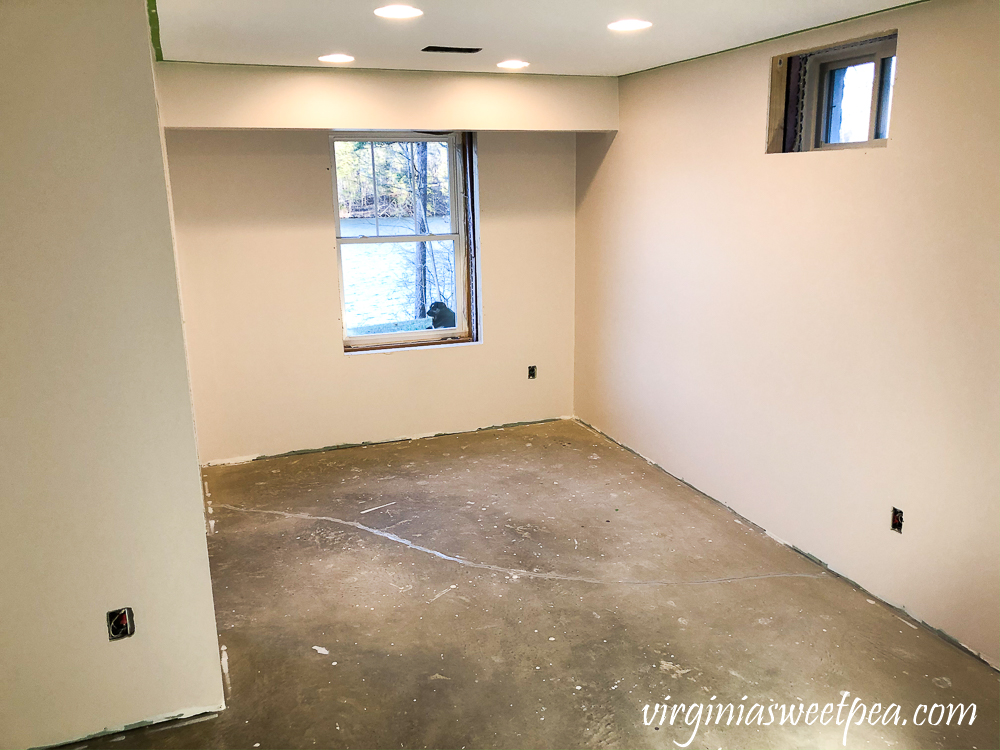 This room also has a lake view.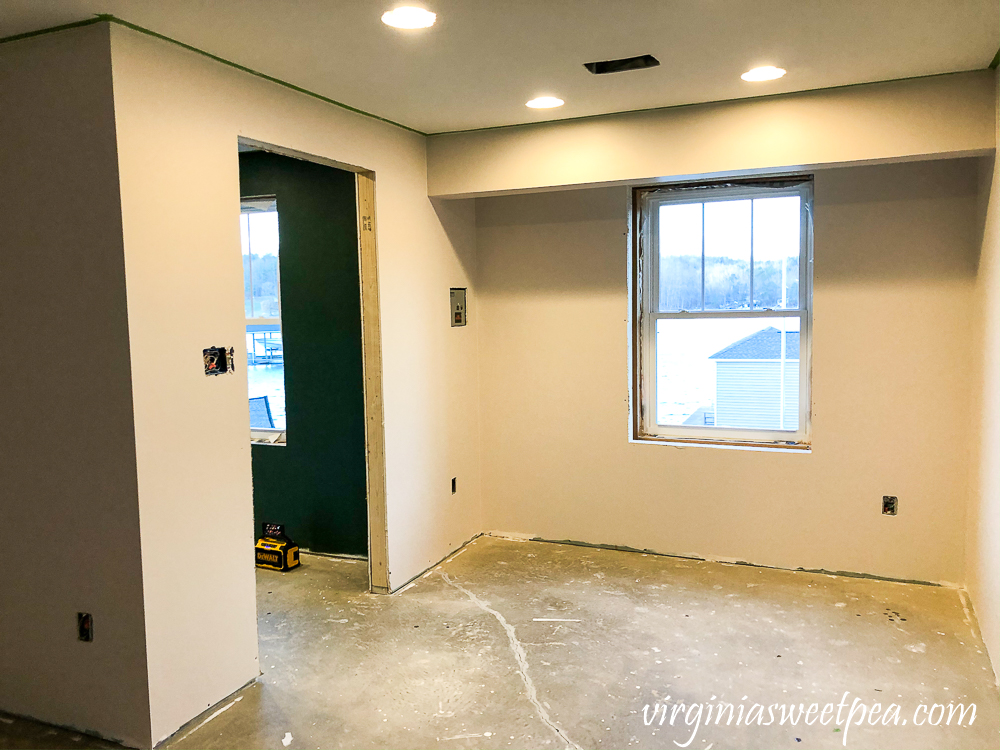 Cultured Pearl looks different in different lights and I'm eager to see how it looks after the floors are installed.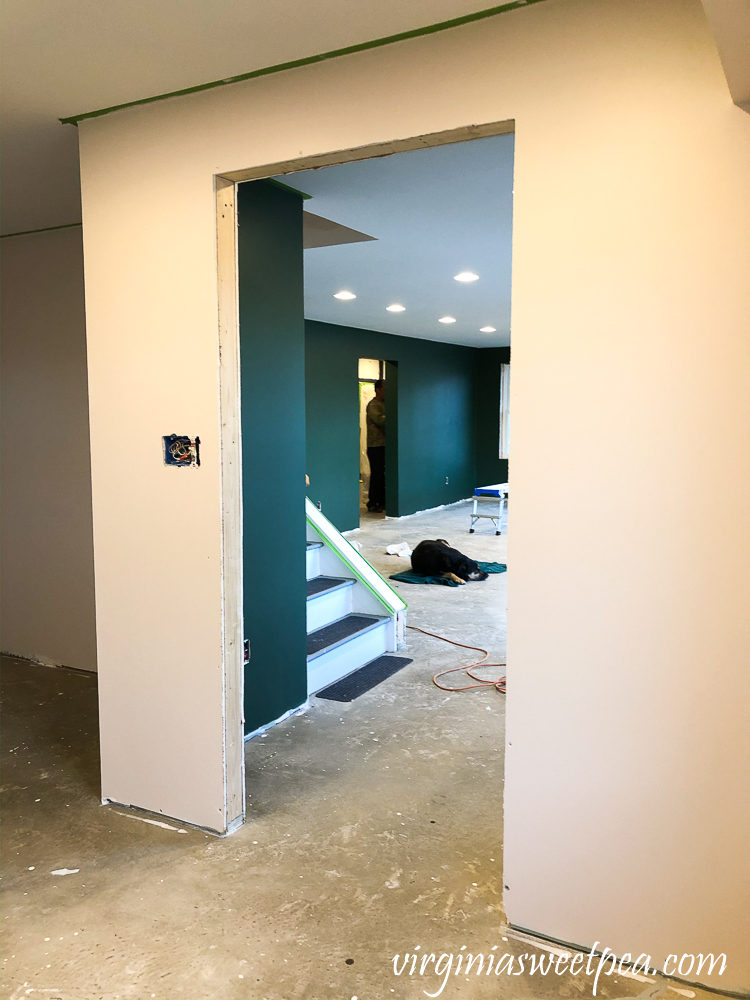 The picture below gives you a good idea of Cultured Pearl's pretty color.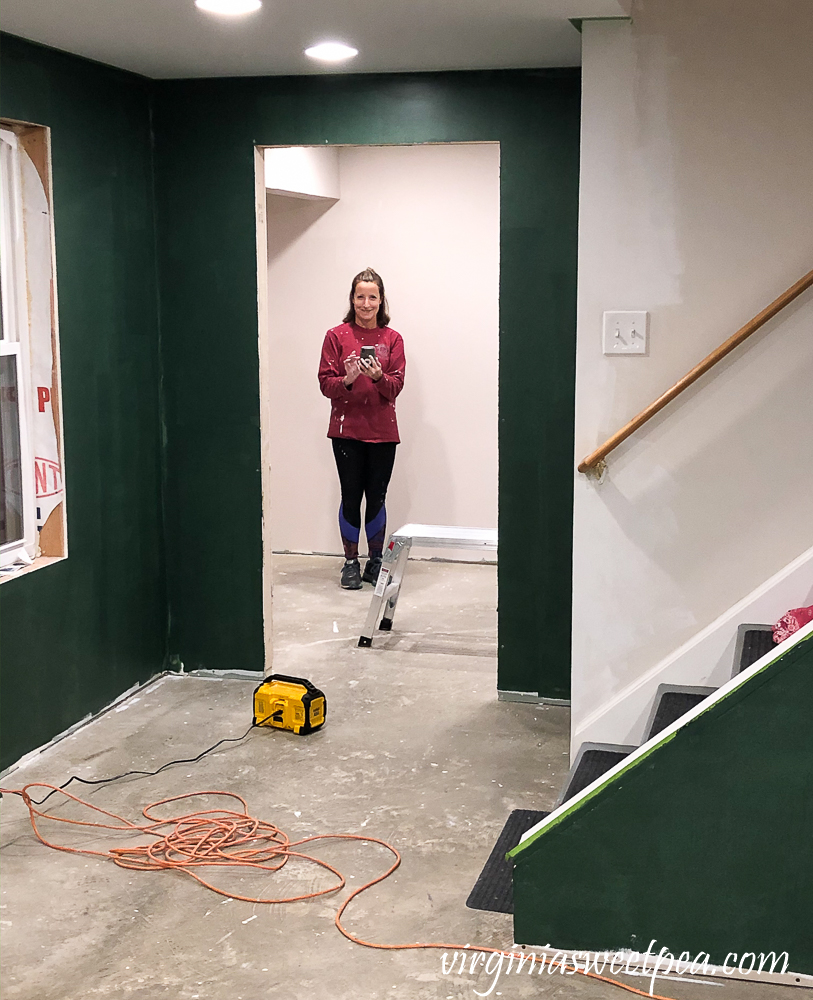 Painting the Bathroom
For the basement bathroom, we chose Sherwin Williams Charcoal Blue (SW2739). It is a gorgeous navy color and I can't wait to see how it looks once our vanity, mirror, light, and toilet are in place.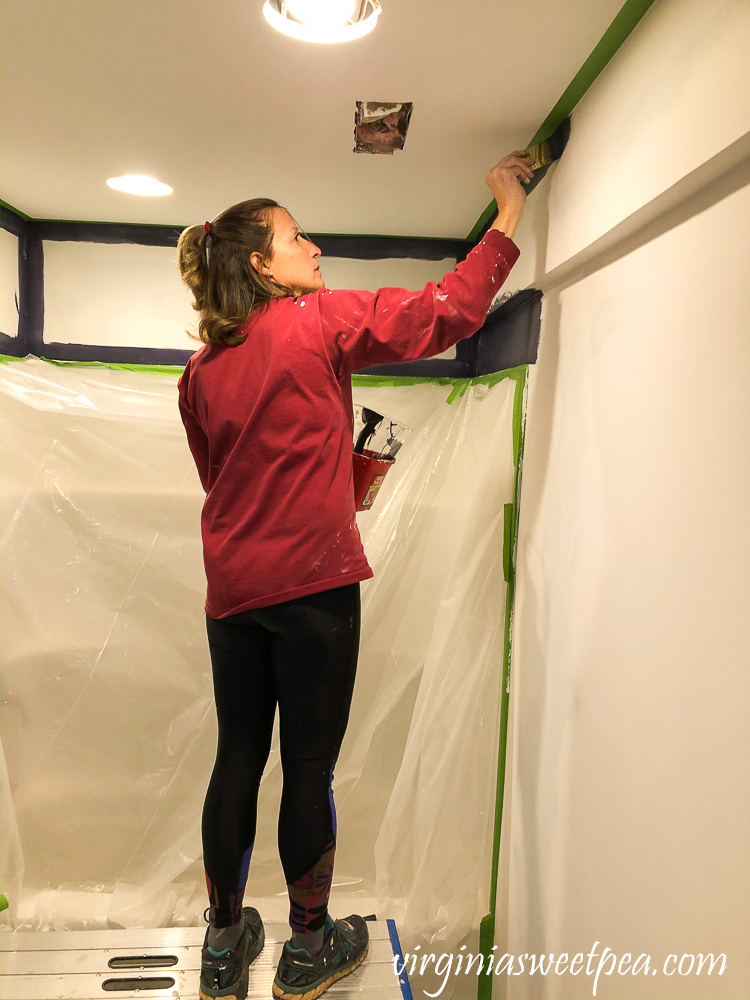 We purchased a vanity over the summer at Ikea and I recently purchased a light. Hopefully, we can soon get both installed so that I can share them with you.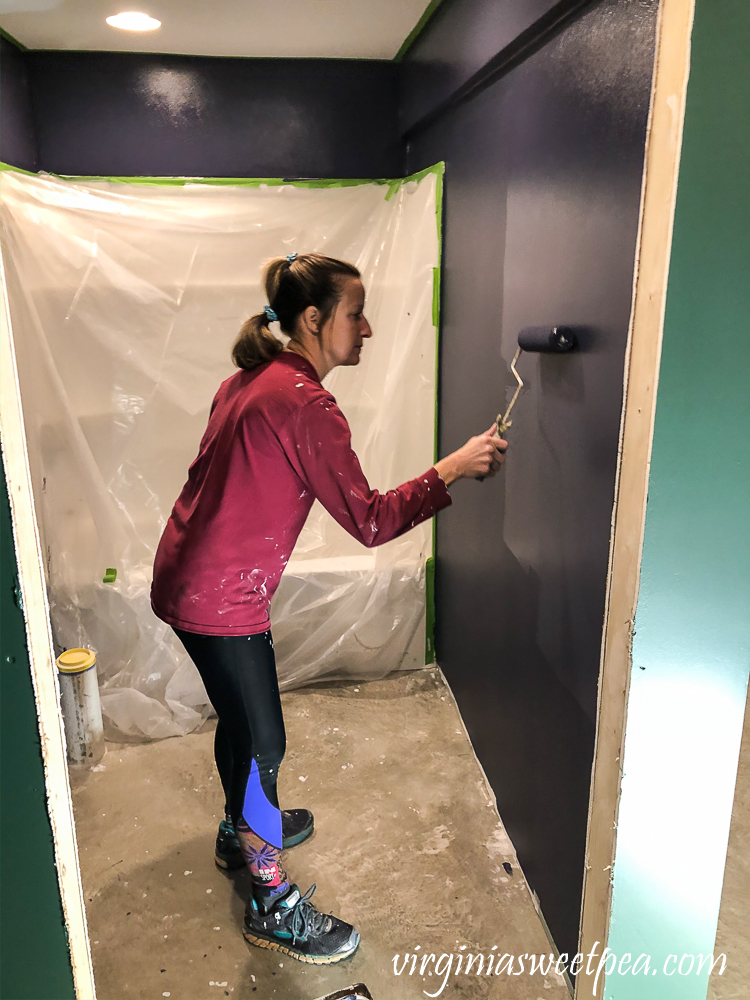 I haven't bought a mirror for over the vanity because I thought it would be best to wait until the light and vanity are installed so that I will know the exact size that I need.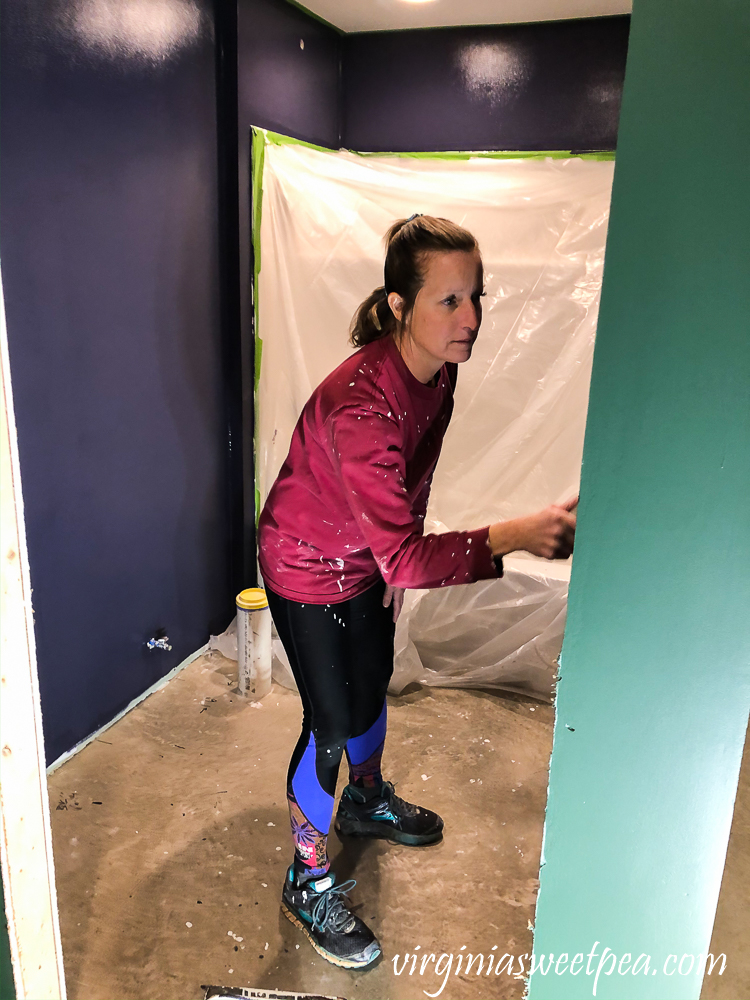 Boy, do I love this beautiful blue color!
Our Next Step – Flooring
After the painting was complete, we started installing the floor in the family room. We are using Mohawk Crest Loft in Praire House Oak ordered through Piedmont Floors in Lynchburg, VA.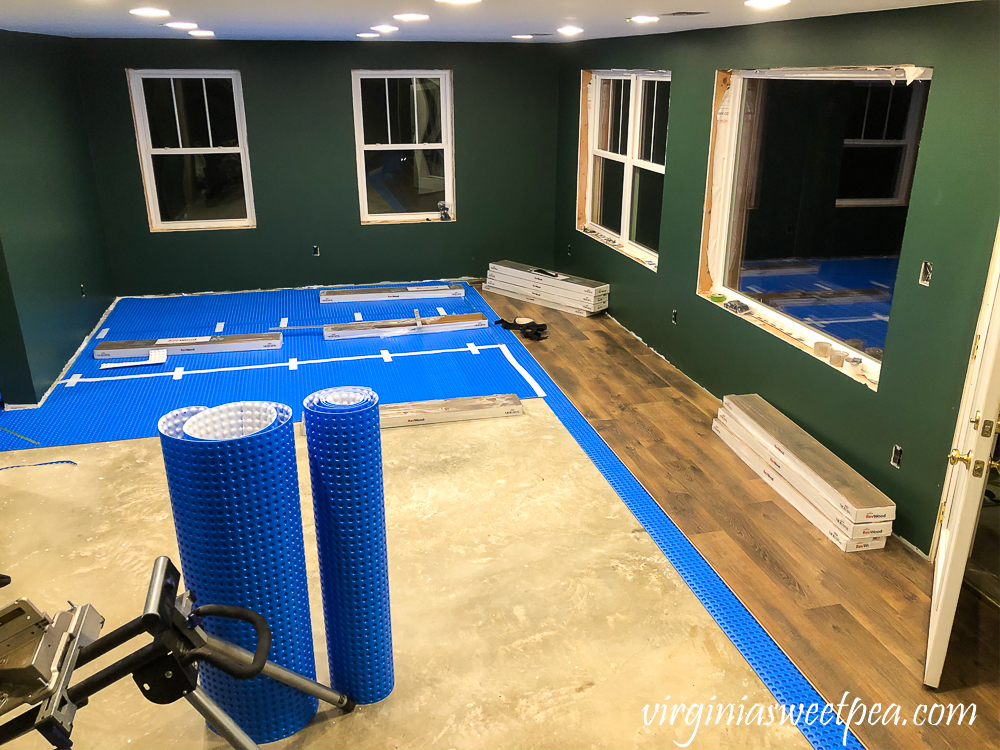 My next update should show a completed floor. After that is done, we'll move on to adding baseboard, quarter round, and then trimming out the windows.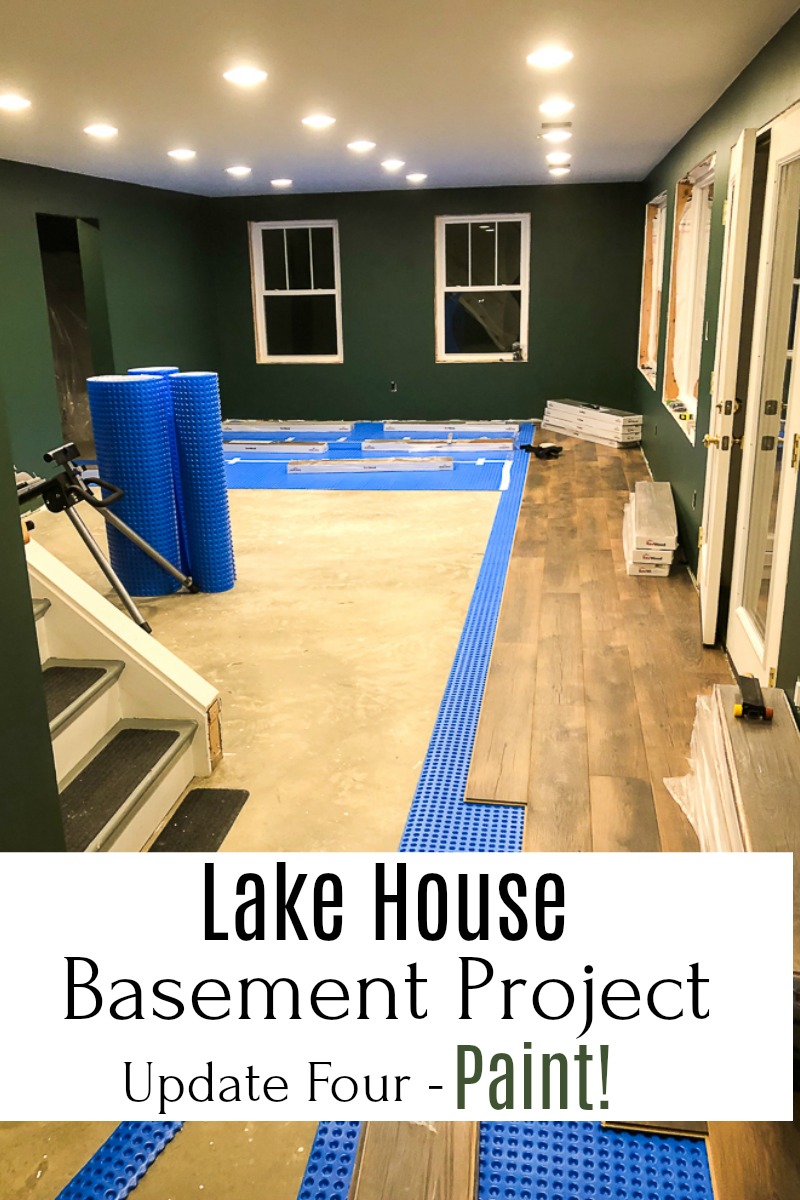 Lake House Basement Project