Lake House Basement Project – Update Twelve
The weekend of March 20-22 was our twelfth weekend of 2020 working on our lake house basement project.
It was another weekend filled with work and also pleasant hikes at Smith Mountain Lake State Park.
Below you can see a favorite spot in the park, Turtle Island. Crossing the bridge takes you to the island where there's a path along the island's circumference.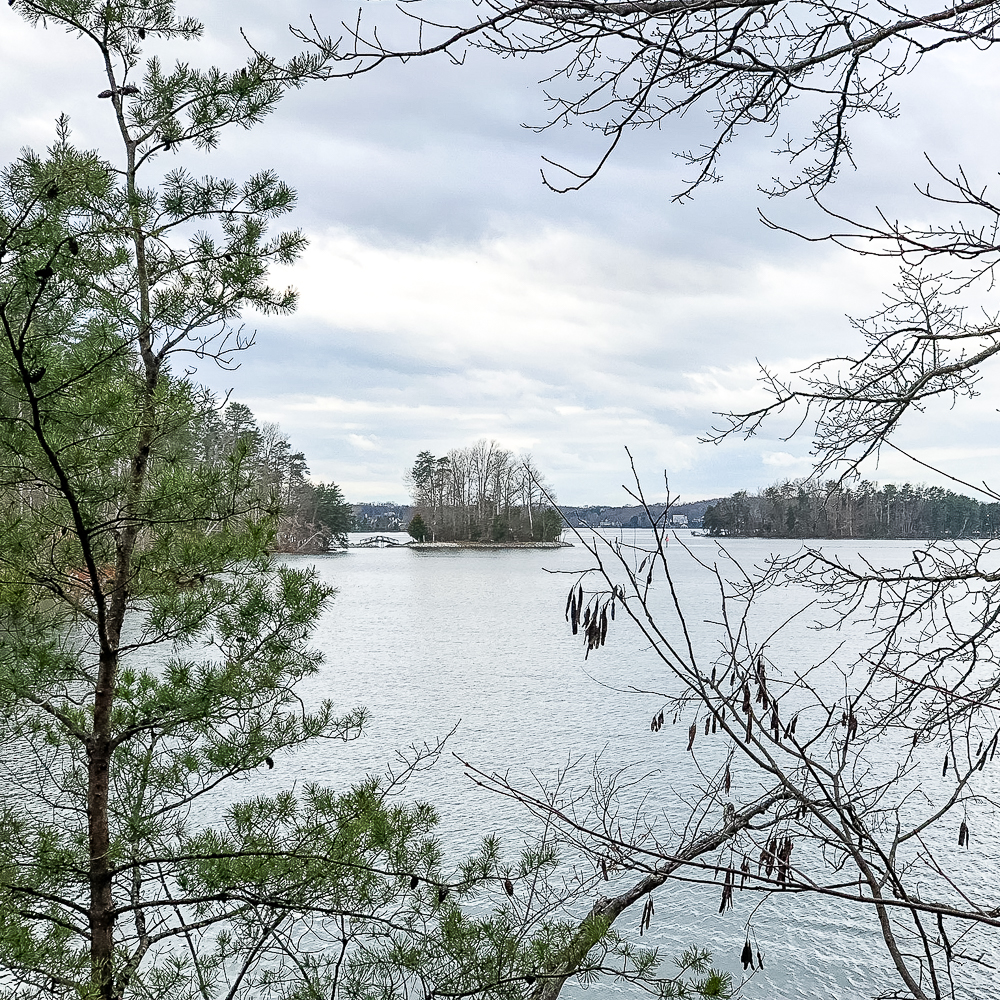 This is a catch-up post as I have faithfully written each week about what we accomplished the previous weekend but got behind in my writing. I am in the process of writing a post sharing what we did March 27-29.
If you are new here, we are transforming our basement into a family room, bathroom, and bedroom. These posts chronicle the work that we've accomplished so far:
What We Accomplished March 20-22
Mr. SP has been working from home for a few weeks now, so as soon as he was finished with work on Friday, we headed to the lake for another round of work on our basement project. We didn't arrive at the lake until dinner time, and both of us didn't feel like working after we ate, so our work began on Saturday after walking Sherman.
Working on the Doors
The doors were stained a previous weekend and I worked on adding three coats of General Finishes Topcoat to each side of the three doors.
This is a slow process as it supposed to take 12-18 hours for one coat to dry but I have found that two days is what each coat needs. The longer drying time could be because of humidity in our basement or the cool temperature that we keep it.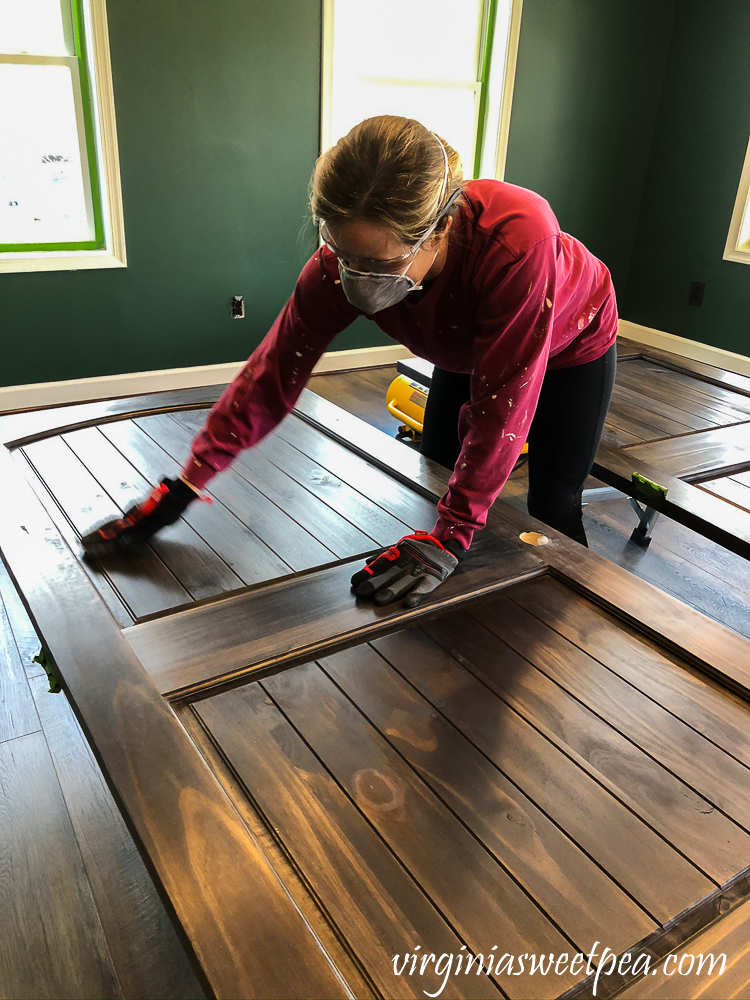 My process is to rub the doors down with very fine steel wool, vacuum, rub the doors with a tack cloth, then apply a coat of topcoat.
I also did the same process on the newel post and banister.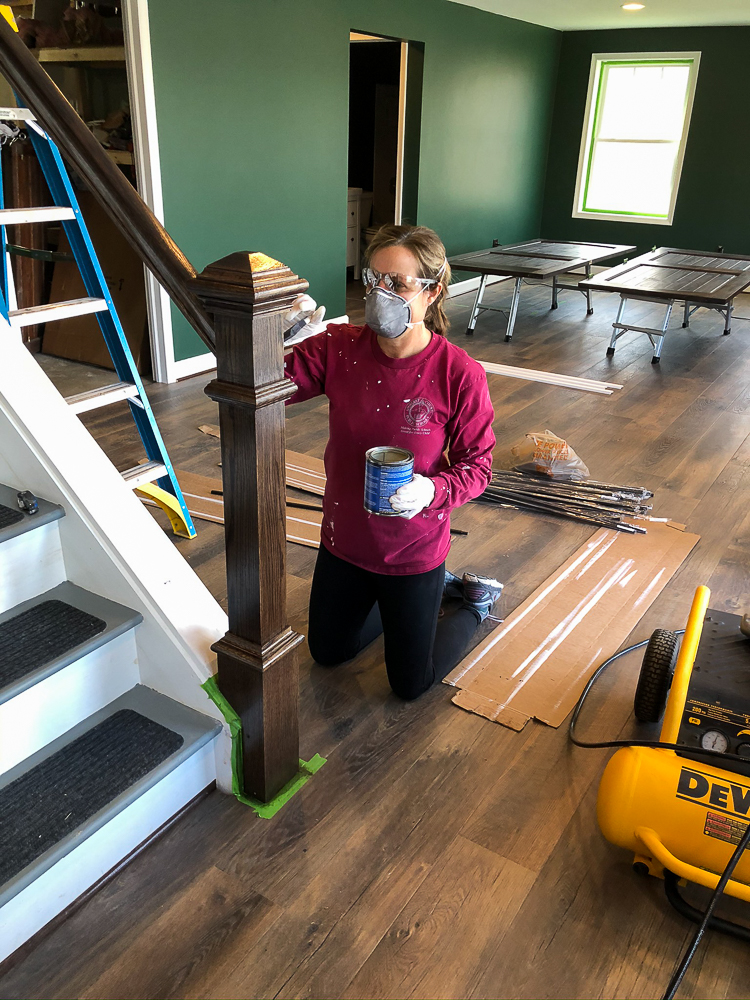 Framing Windows and Adding Trim
While I worked on the doors, Mr. SP finished framing and adding trim to the windows that he didn't finish the previous weekend.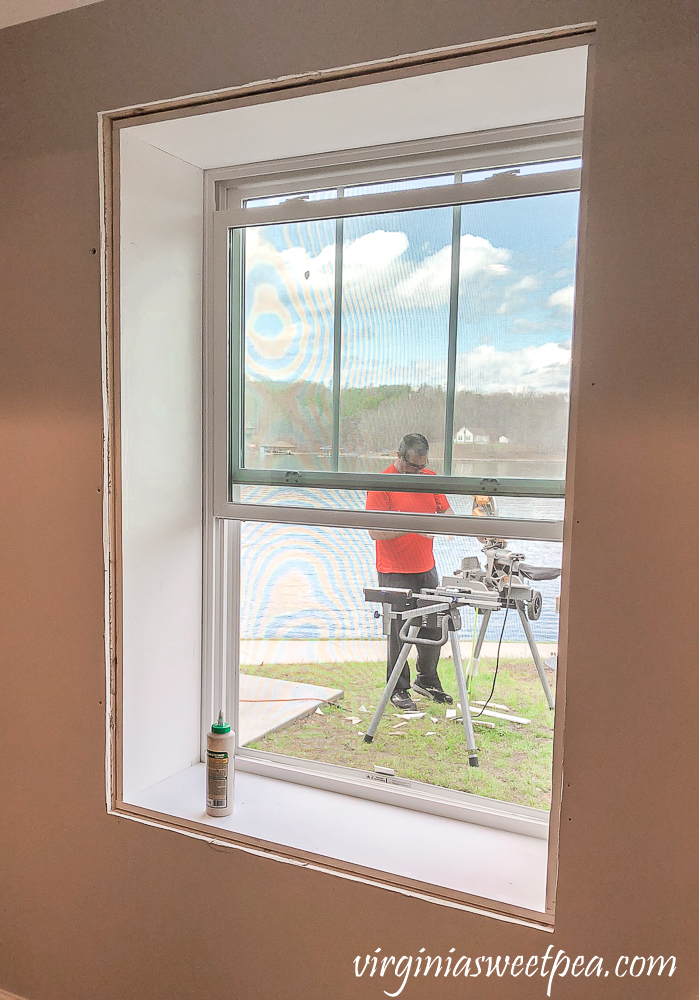 He marked this one with my website before he framed it.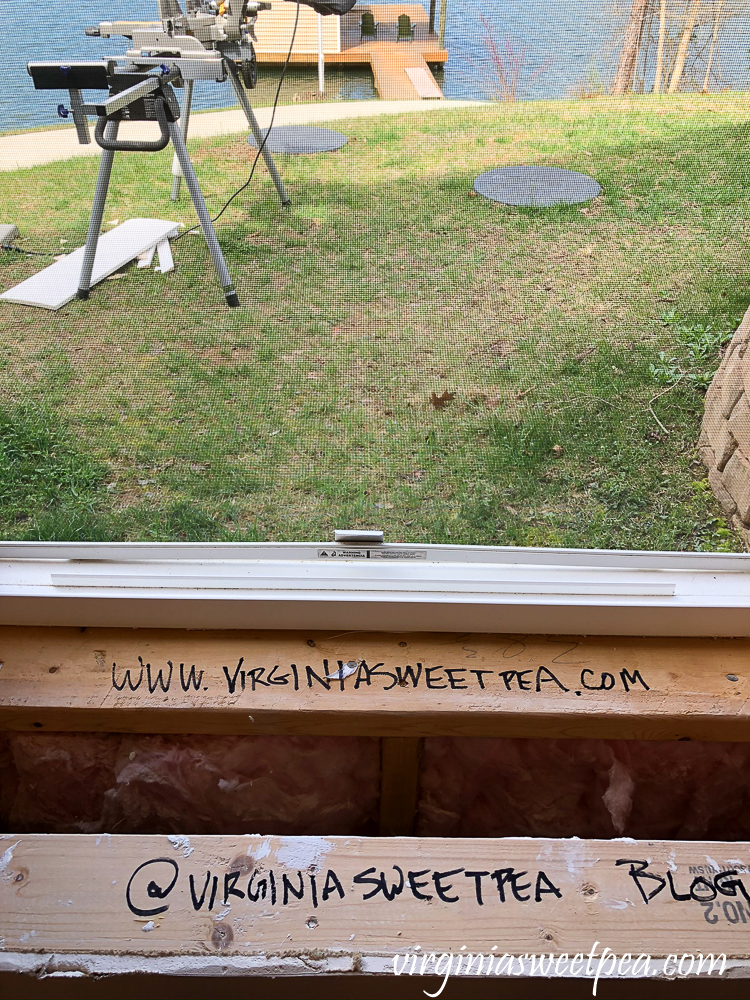 For some reason, I didn't take many pictures the weekend of March 20-22 but he did indeed finish the trim on this window.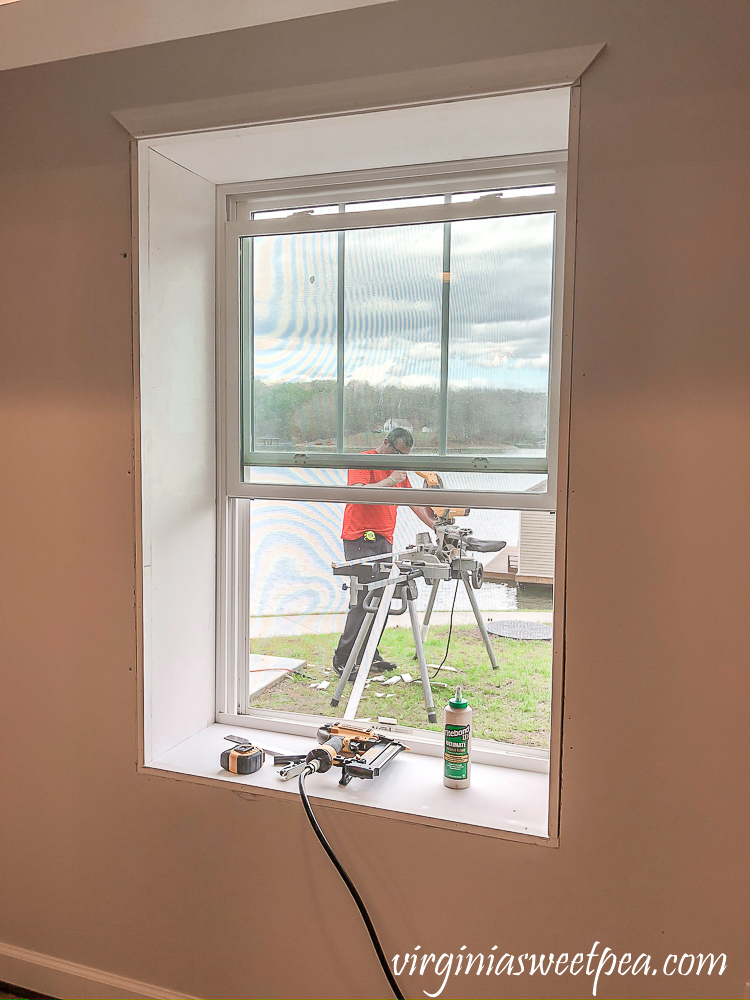 After my door work was complete, I painted windows in the family room.
Bathroom Work
After the windows were framed and trimmed, Mr. SP moved on to the bathroom. He started his work by installing shower fixtures.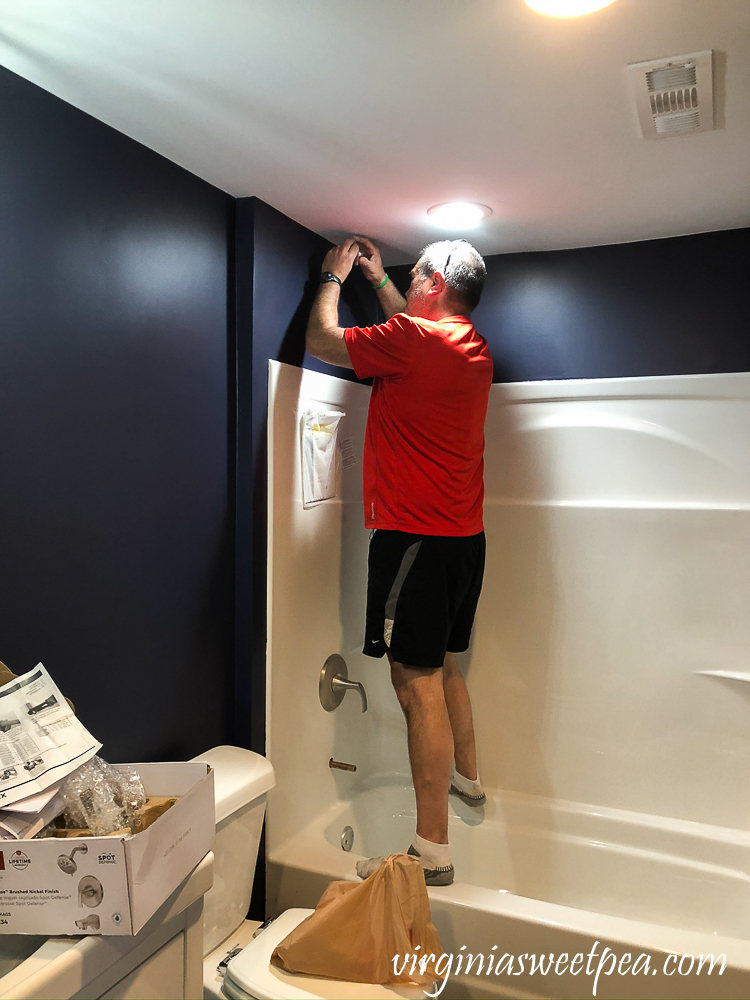 After the shower fixtures were installed, he installed the shower curtain bar and also towel racks and a toilet paper holder.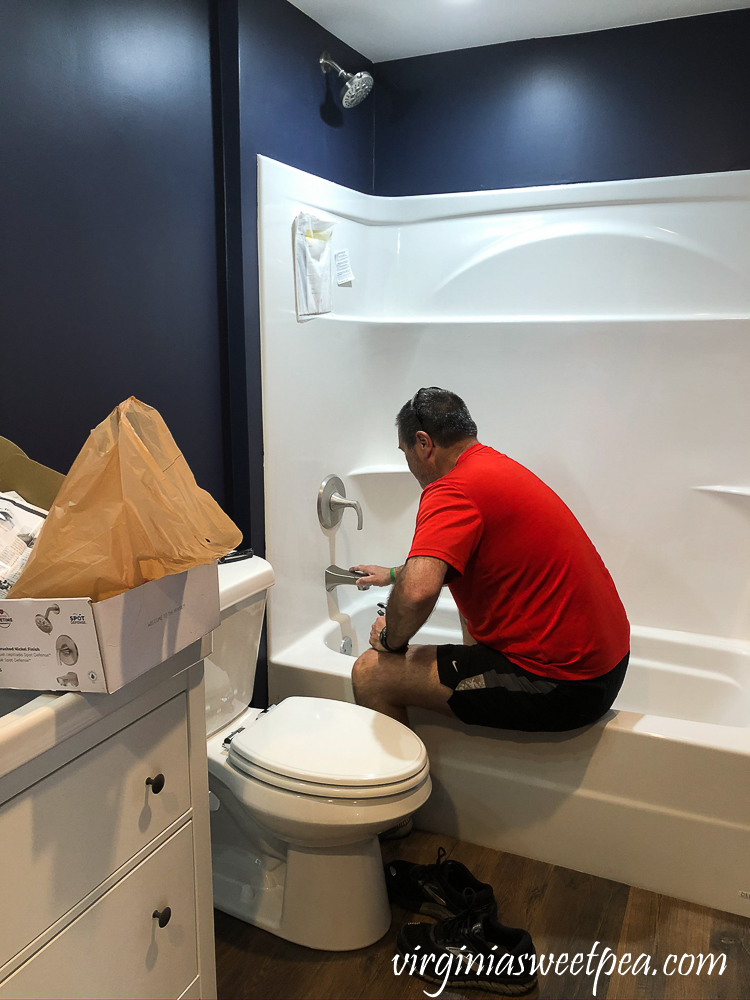 A laser level is a new tool in our growing arsenal and it came in handy for installing the mirror as well as the towel bars.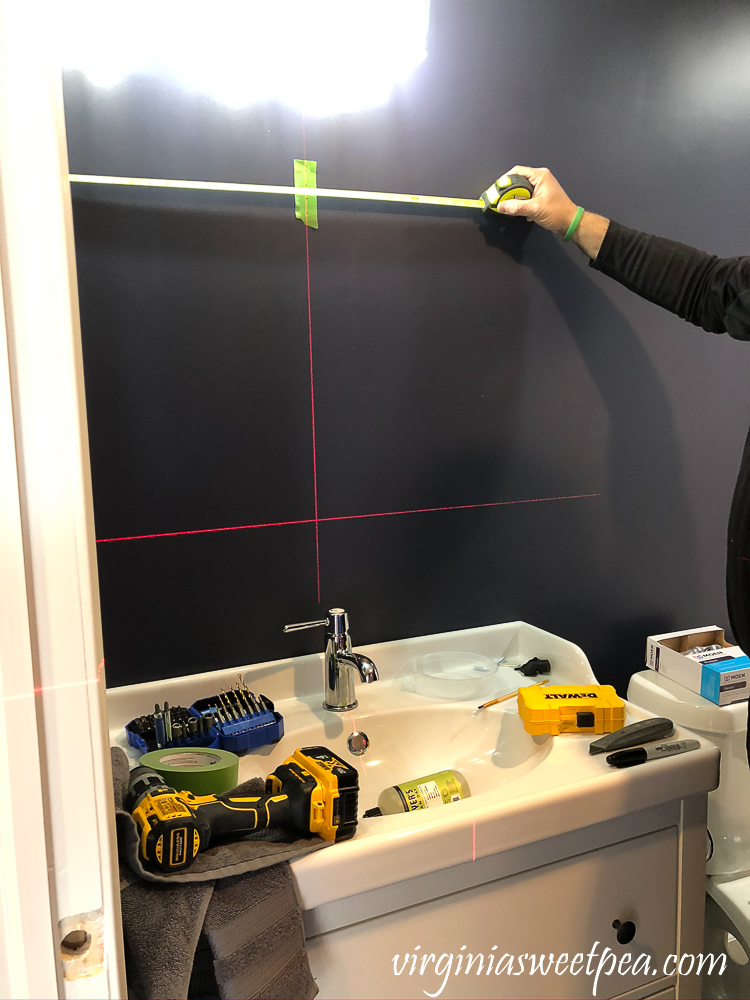 To figure out the screw placement in the wall for hanging the mirror, he placed the laser level on a roll of underlayment.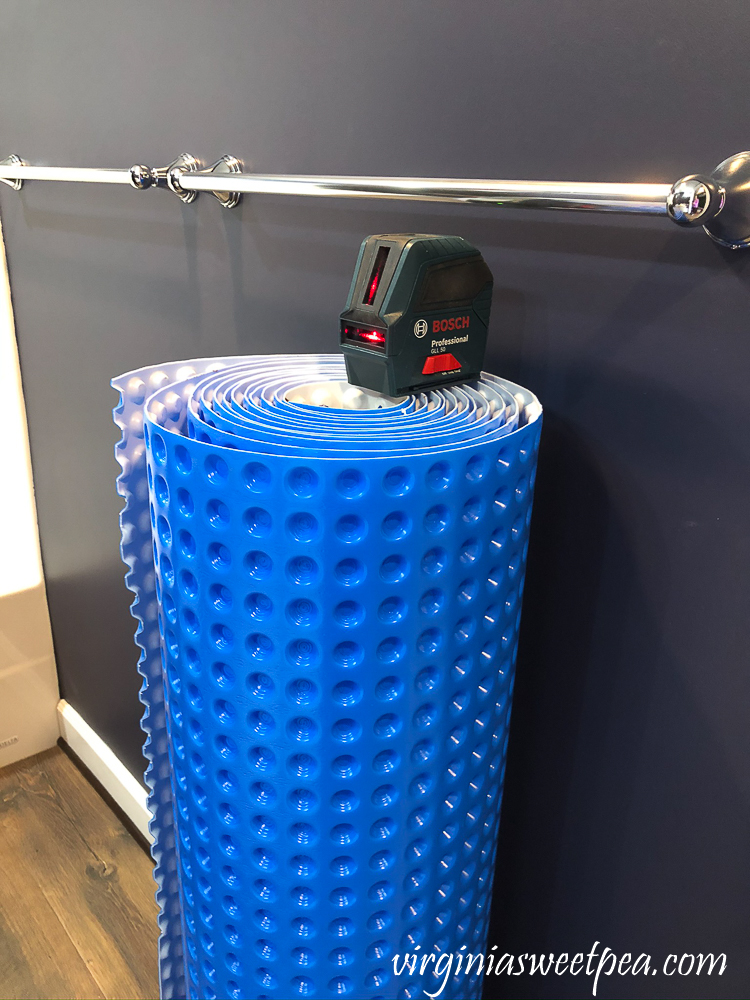 The mirror is heavy, so we decided to glue a wood stud behind the wall so that we could screw into it to hang the mirror, rather than utilize drywall anchors alone to hang the mirror.
The glue had to dry, so the mirror got hung the following weekend.
Weekend Fun with Sherman
Sherman supervised our work and guarded his dock and shoreline against pesky geese.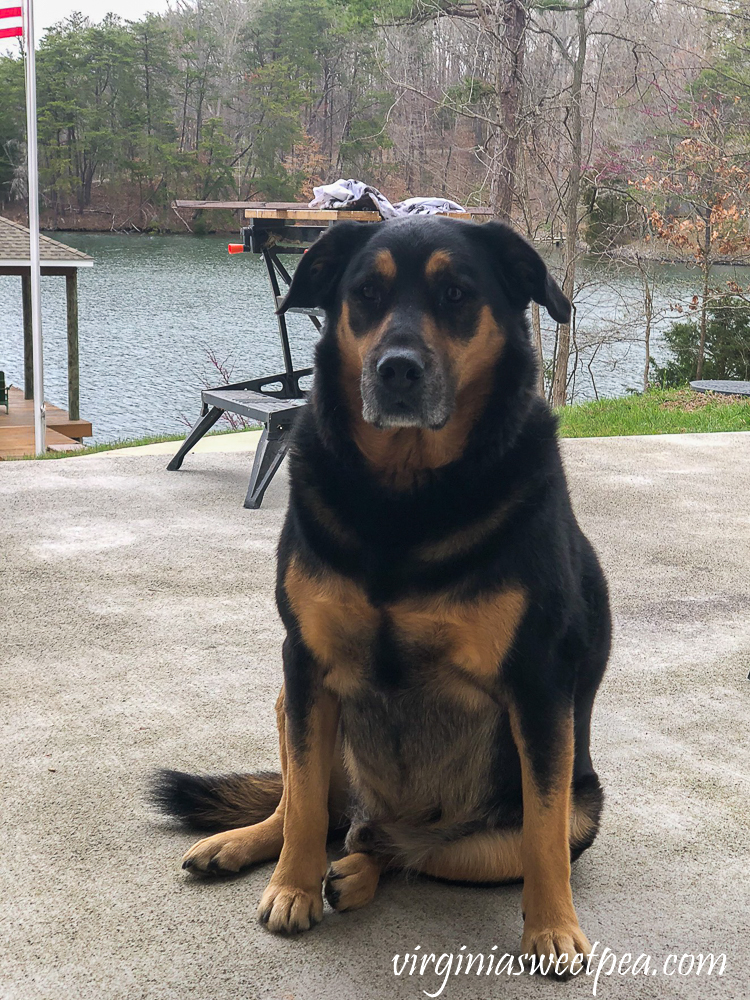 We had two very nice hikes at Smith Mountain Lake State Park. We are very grateful that the park is still open during this scary time. It's a great place to get some exercise without the worry of encountering many people.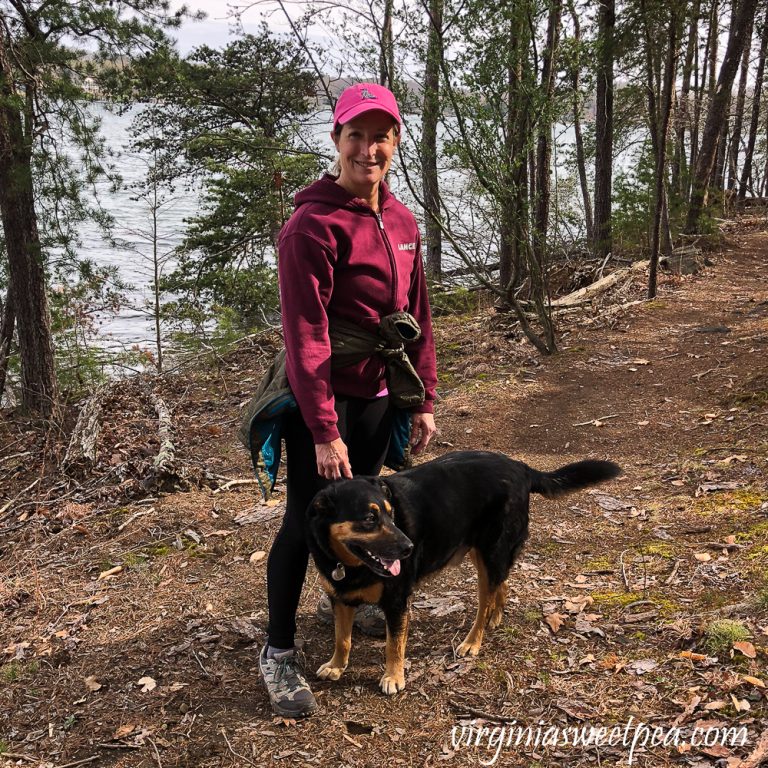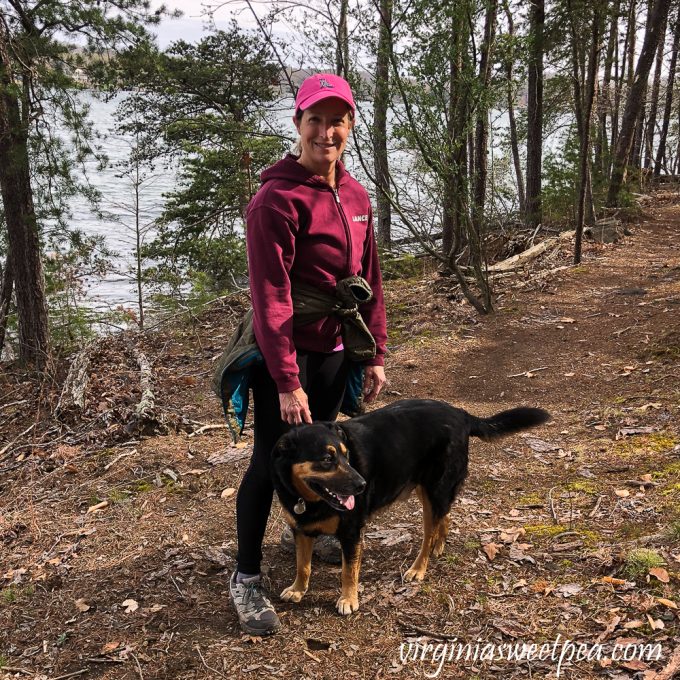 We are now under a shelter in place order but the weekend of March 20-22 we were not. We needed a few supplies at Moneta Farm Store, so of course Sherman came with us. I sat in the car with Sherman so that only one of us would be in contact with possible store germs and people germs. Someone had a baby goat on the back of their truck and it kept baaing. Sherman was very intrigued!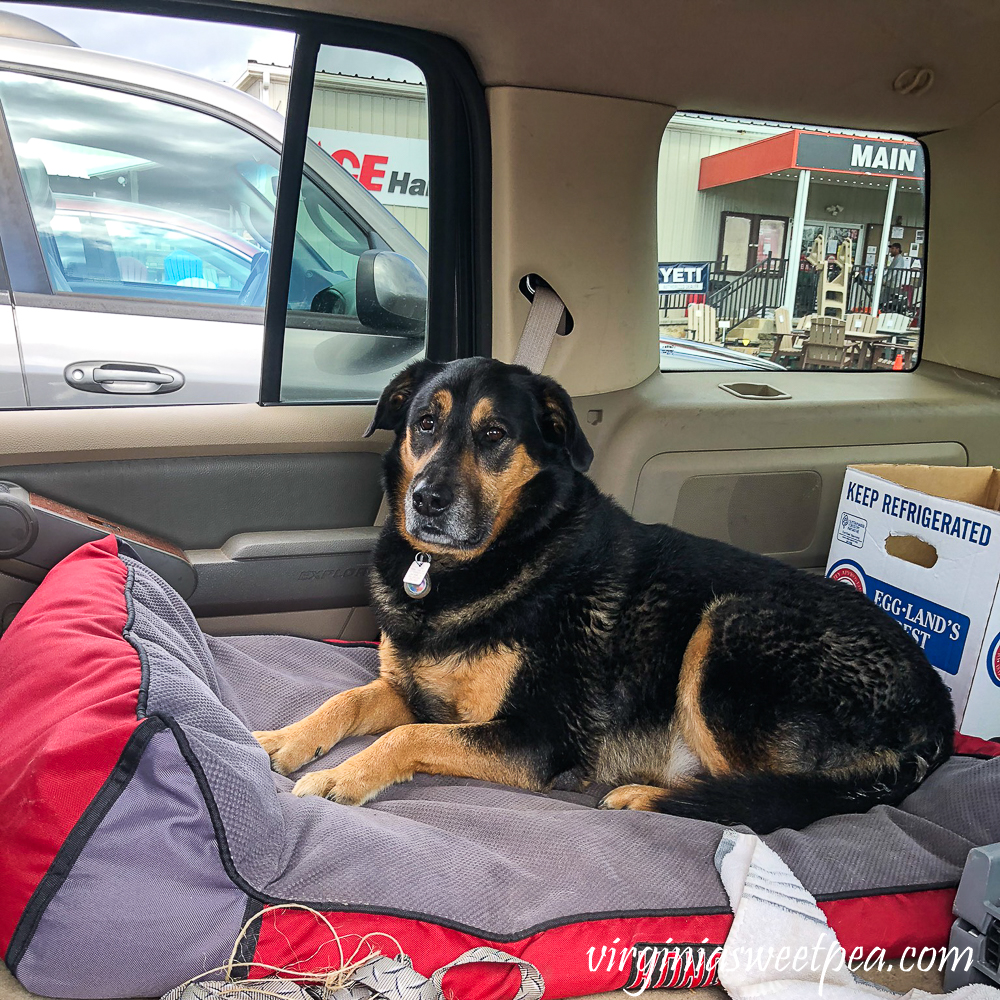 What's Next?
The weekend of March 27-29, Mr. SP installed the banisters on the stairs and I continued to work on the doors and window painting. I'll share that update with you very soon!
Pin It!
I would love for you to pin this post on Pinterest for others to discover!