Updating Our Main Floor Bathroom :: Before Pictures
At the end of 2012 I made a list of home, yard, and fitness goals. The yard goals have been checked off of the list, the fitness goals are an ongoing process, and not one home goal has been met. I'd better get busy because 2013 is half way over!
One home goal is to update our main floor bathroom. We live in a 1950's Cape Cod with small bathrooms. Mr. SP installed new wall and floor tile in this bathroom several years ago along with a pedestal sink. The toilet was replaced with an American Standard Cadet 3 that we are 100% pleased with. We like this toilet so much that we actually installed one in our guest bathroom, too.
I am not sure when this bathroom was last painted but I do remember it was when the TV show, "Trading Space", was popular. Did you watch that? I loved it and the show inspired me to use a bold color.
Last night I stripped this bathroom of wall art and the shower curtain and removed the wallpaper border. After I fill a few holes on the walls, I'll be ready to paint. It's my hope to complete this in the next few days.
Since the look of this room will change, let's take a look at what it looks like now.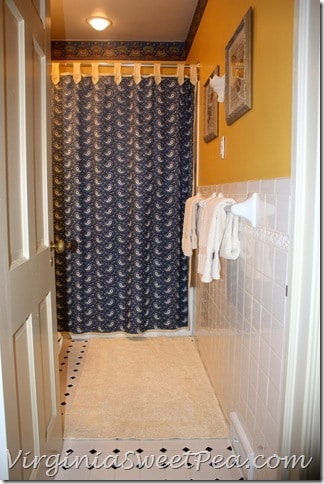 The walls are a mustard color and appear especially bright in the pictures. We hope to find a small vanity to replace the pedestal sink. We both like the sink but could use counter space and storage. I would also like to replace the medicine cabinet but the size is small and in the past I haven't had much luck with locating a new one that would fit our opening. The light fixture could also stand updating but that's low on my priority list.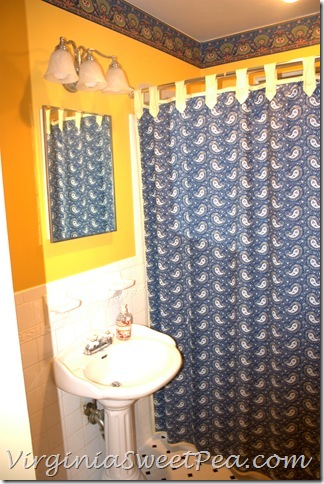 Two cabinets are built into the wall. It's tough to have enough room for cosmetics and towels in this small space.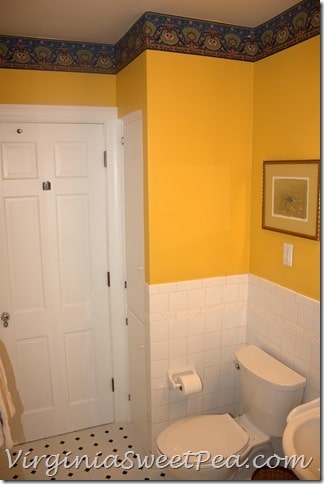 Originally this was just a tub and not a shower, so the room had a window and not a fan for ventilation. The window and wall rotted from moisture seeping in over the years, so Mr. SP replaced the wall and installed a glass block window. Light came through the window until we but an addition on our house. Now there's a wall on the other side of the window.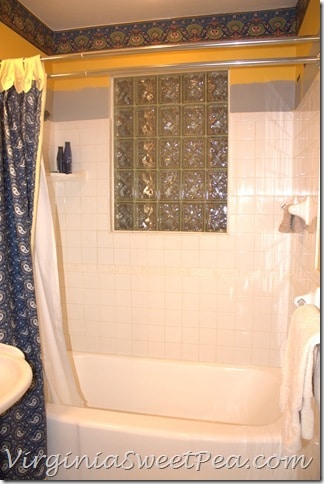 I would like to have a big mirror cut for this wall. It would be nice to finally be able to see the back of my head as I'm drying my hair.
The walls will be grey and the shower curtain is a cream, grey, yellow, and emerald green floral. I made it over the winter and am excited to finally get to use it.
The door needs repainting and I'm hoping to get it into the workshop today to get started.
Wish me luck! Are you working on any home improvement projects? I'd love to hear or read about them.