Lake House Basement Bathroom Reveal
After months of hard work, our lake house basement bathroom is finished and ready to be used and enjoyed.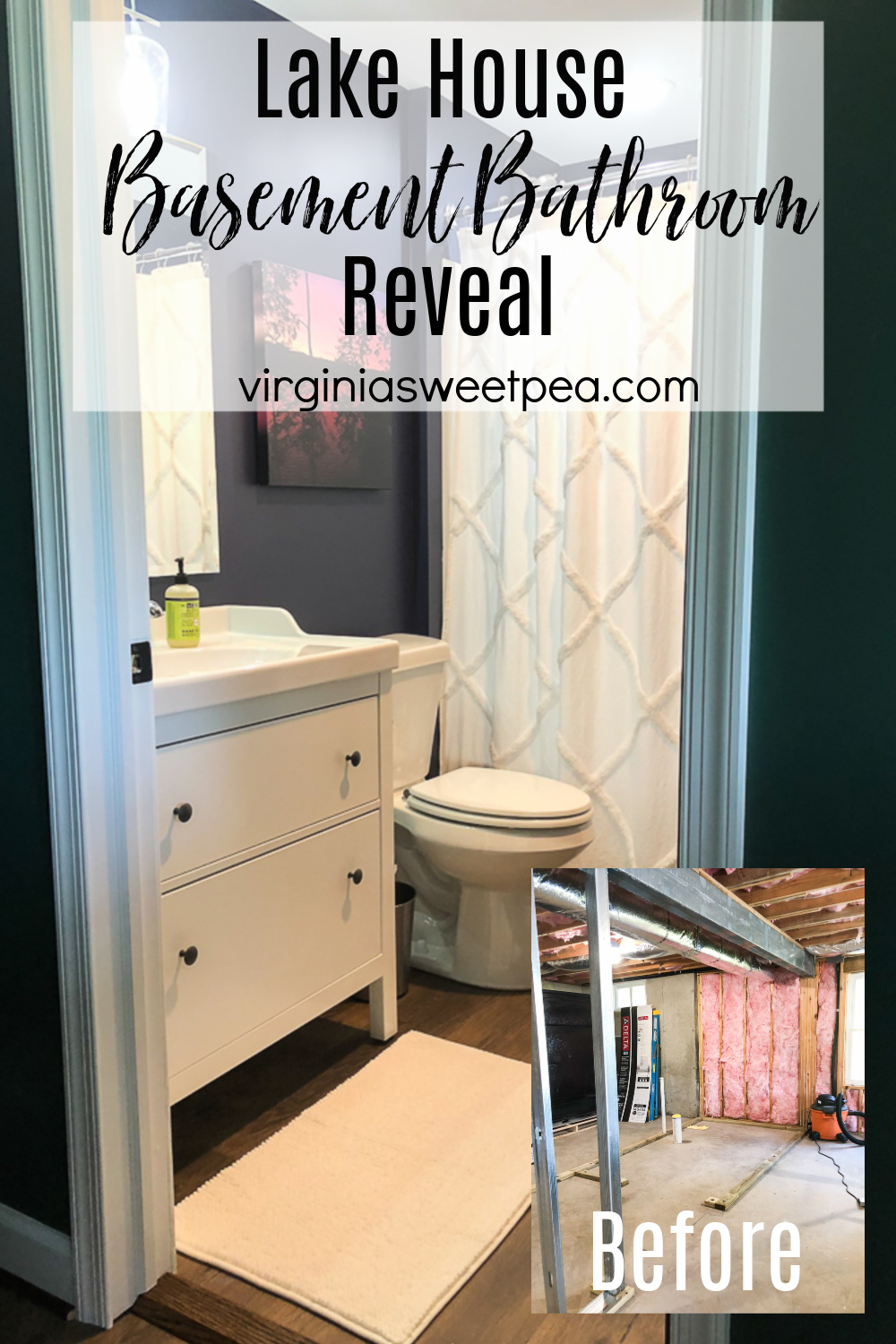 Lake House Basement Bathroom Reveal
I've shared the evolution of this bathroom as we worked on it over many months.
I'm now sharing the end result with before and after pictures.
The Final Product
Come on in and see our basement bathroom!
The last time that I shared this space, the room didn't have a door or a threshold.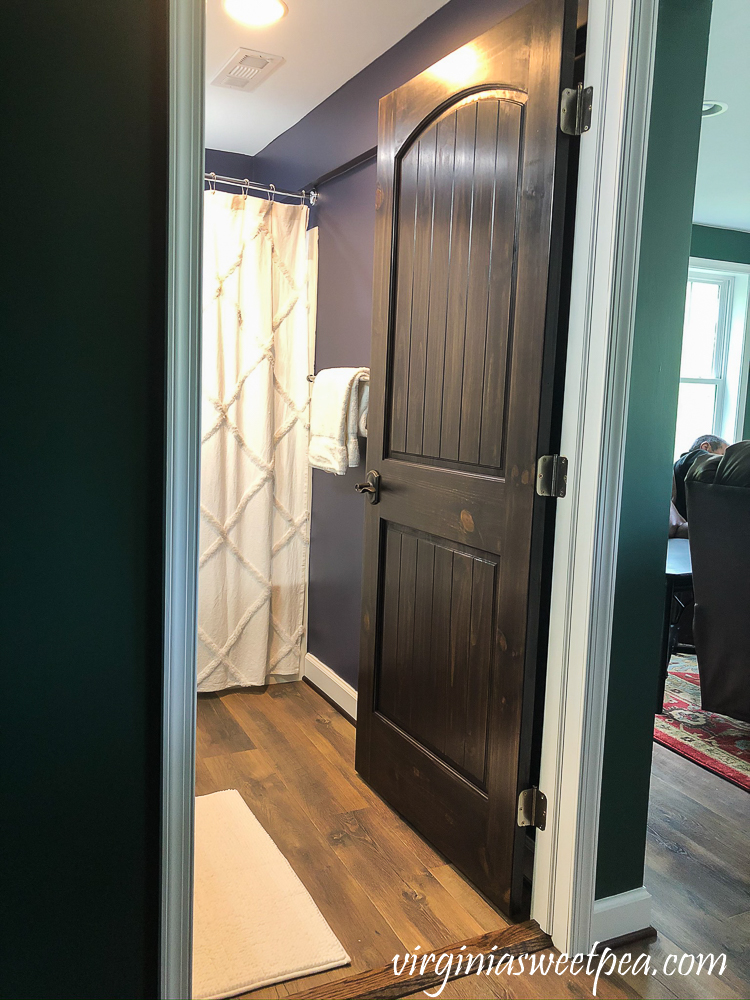 We originally purchased a fiberglass hollow core door for this room and are both so glad that we used a solid wood door instead.
The three wood doors that we used in our basement were all stained with Zar Wood Stain in Charcoal and sealed with three coats of General Finishes Topcoat.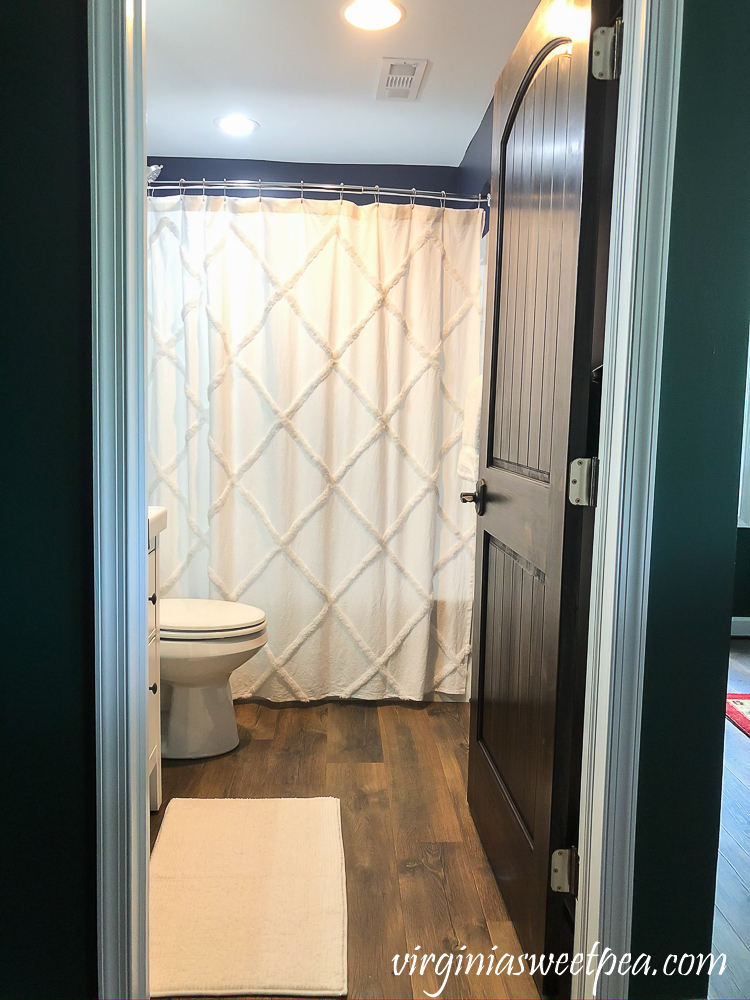 This picture shows the shower taken before the bathroom door was installed .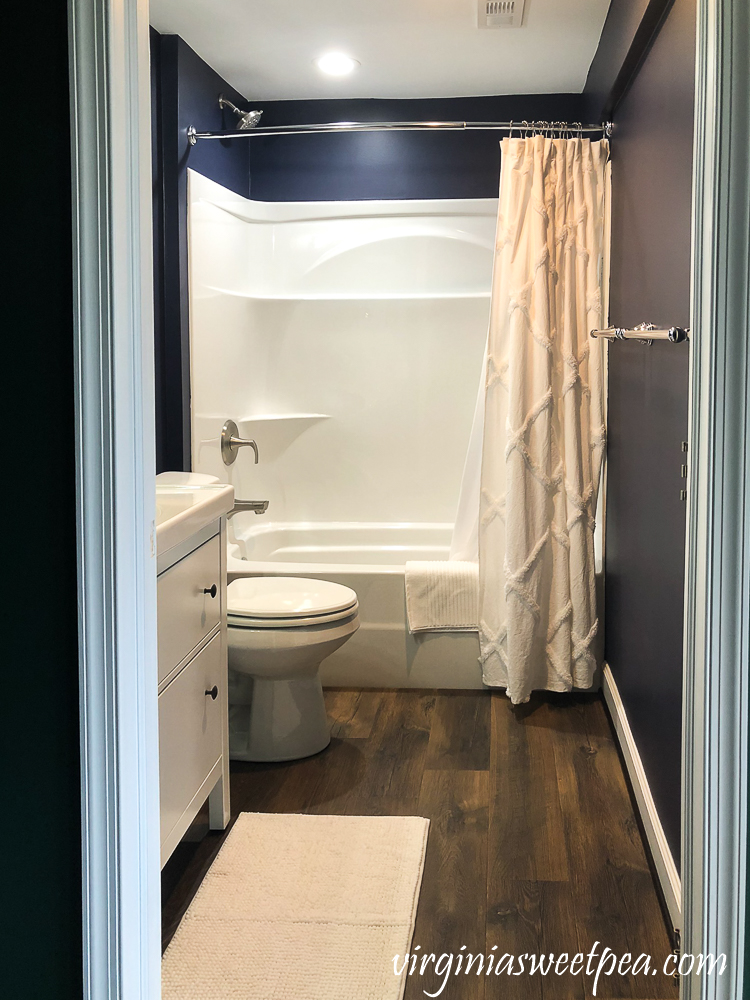 We have yet to use the shower but have already learned that it is super handy to have a bathroom in our newly finished basement.
This summer when we are on the dock, it will be especially useful to have a basement bathroom rather than having to go upstairs to use the facilites.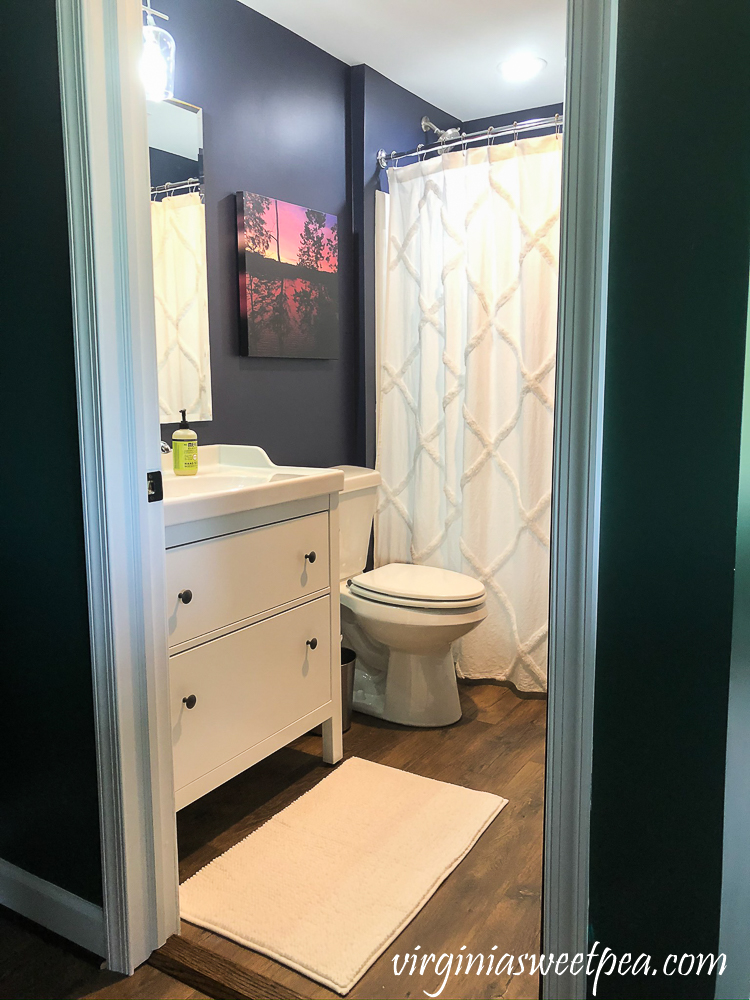 We have both agreed that for art in our basement, we want to use things that are meaningful to us.
Mr. SP took this picture a few years ago when he arrived for Labor Day weekend. Since then the trees on the shoreline have been removed.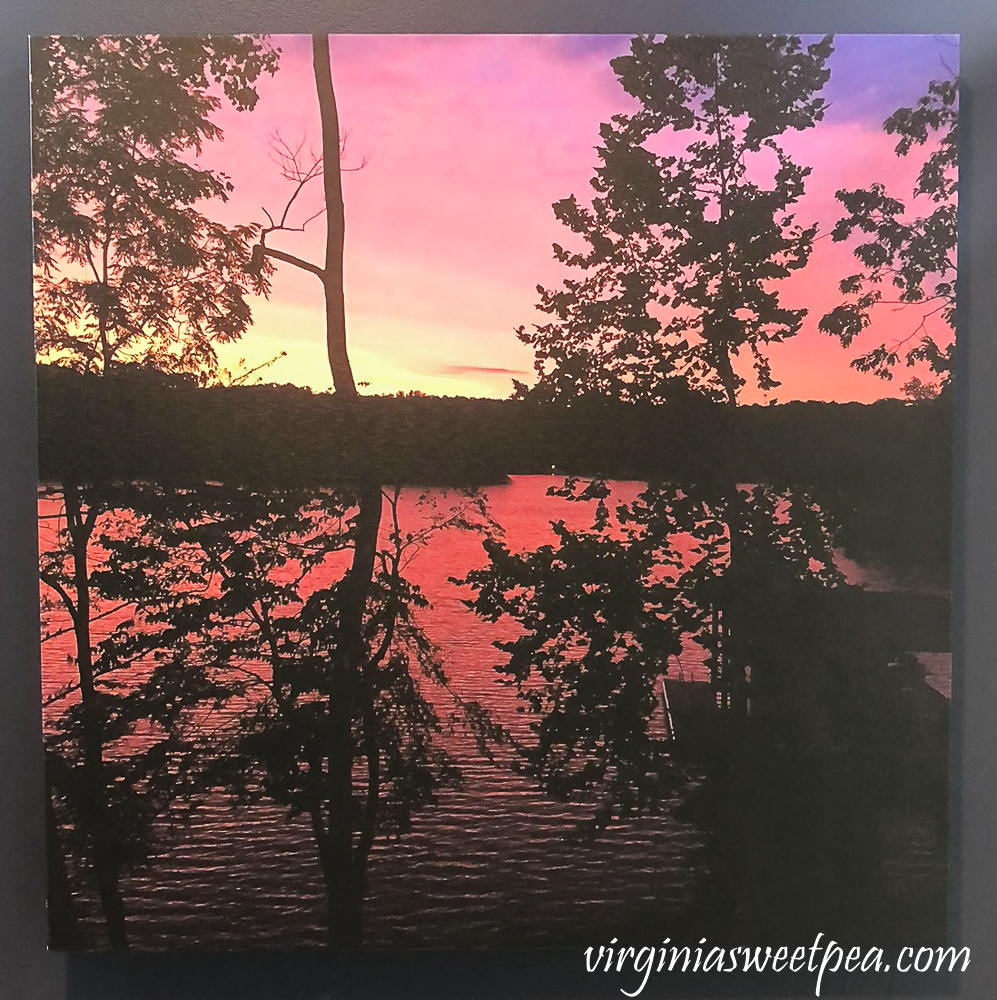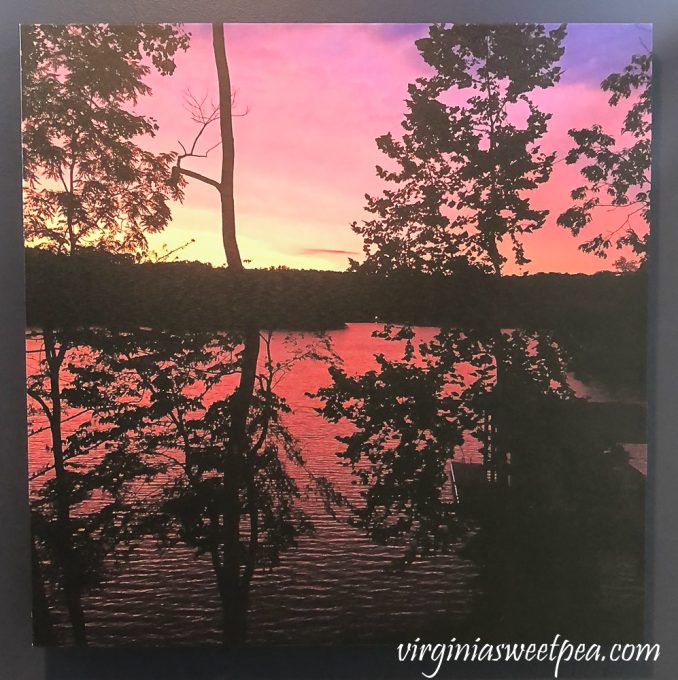 Our bathroom is very well lit and the large mirror that we used is going to be great for when guests use this space for hair drying, makeup applying, or shaving.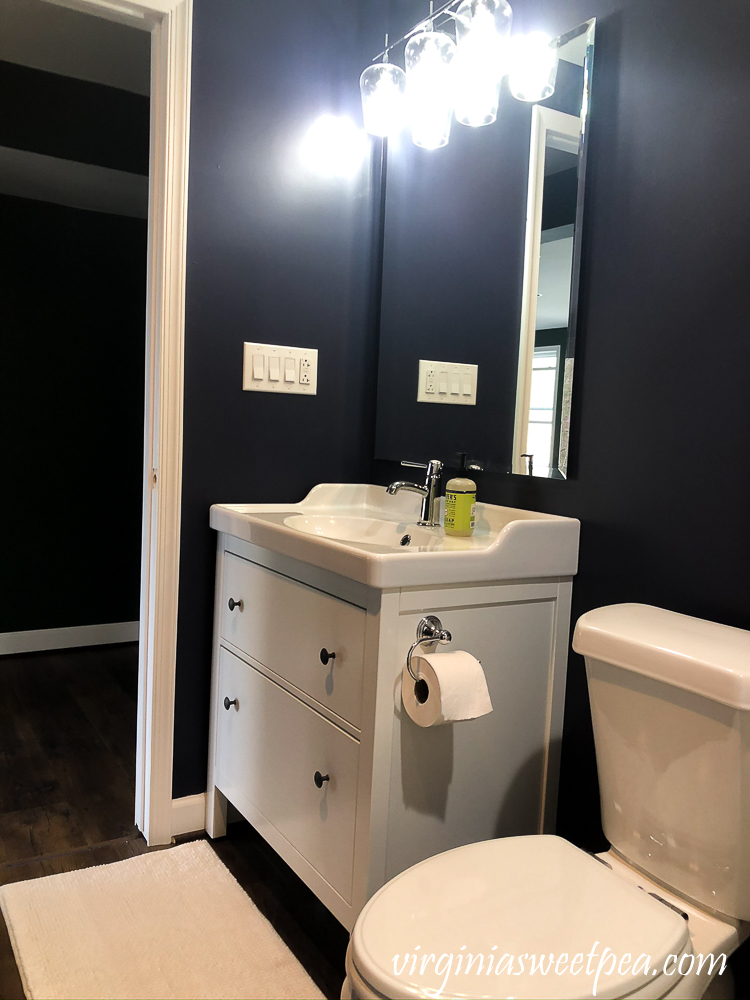 The Before
This is what the bathroom looked like when the project started in August 2019.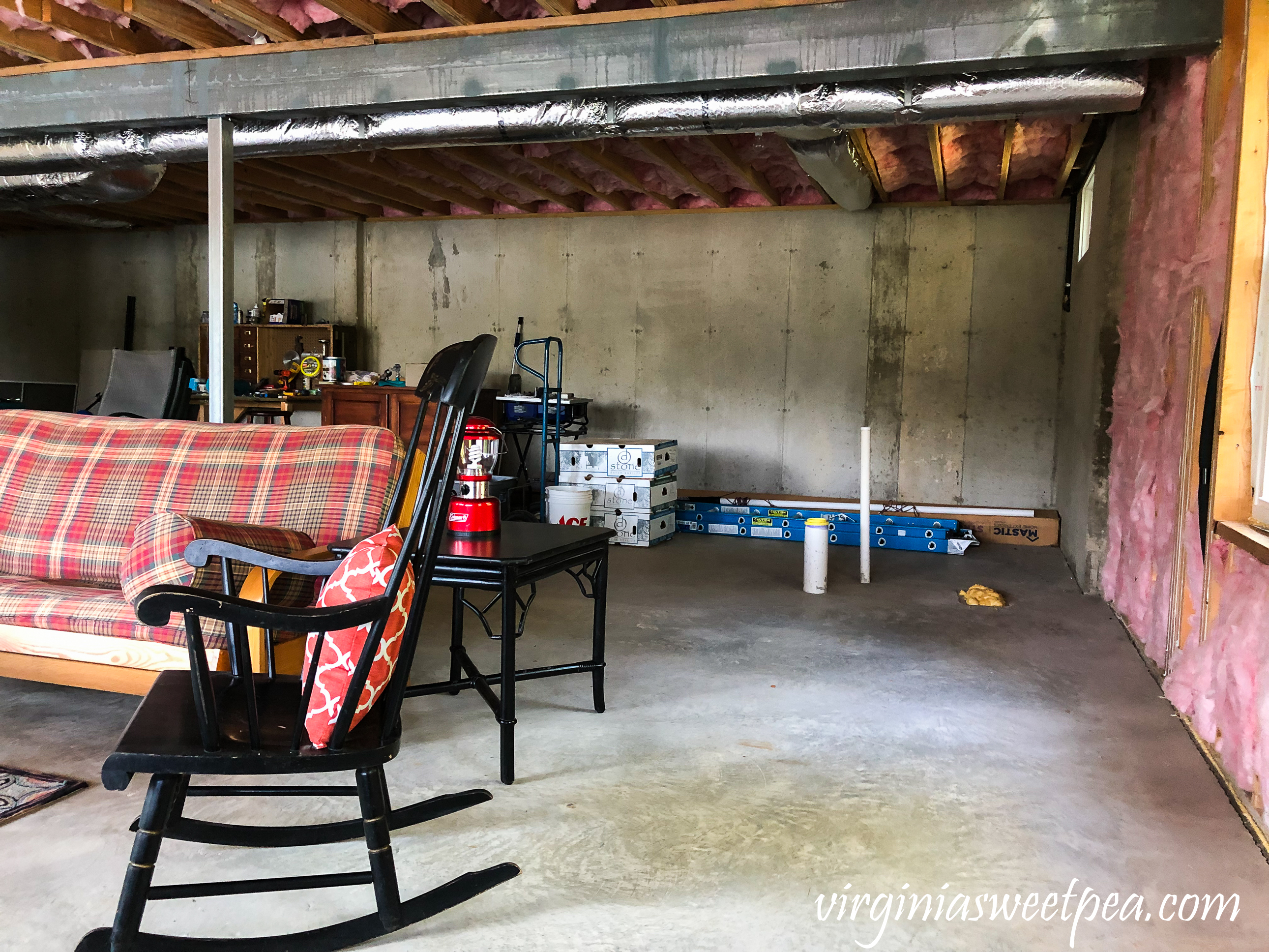 This shot of the bathroom is at beginning stages of framing the space.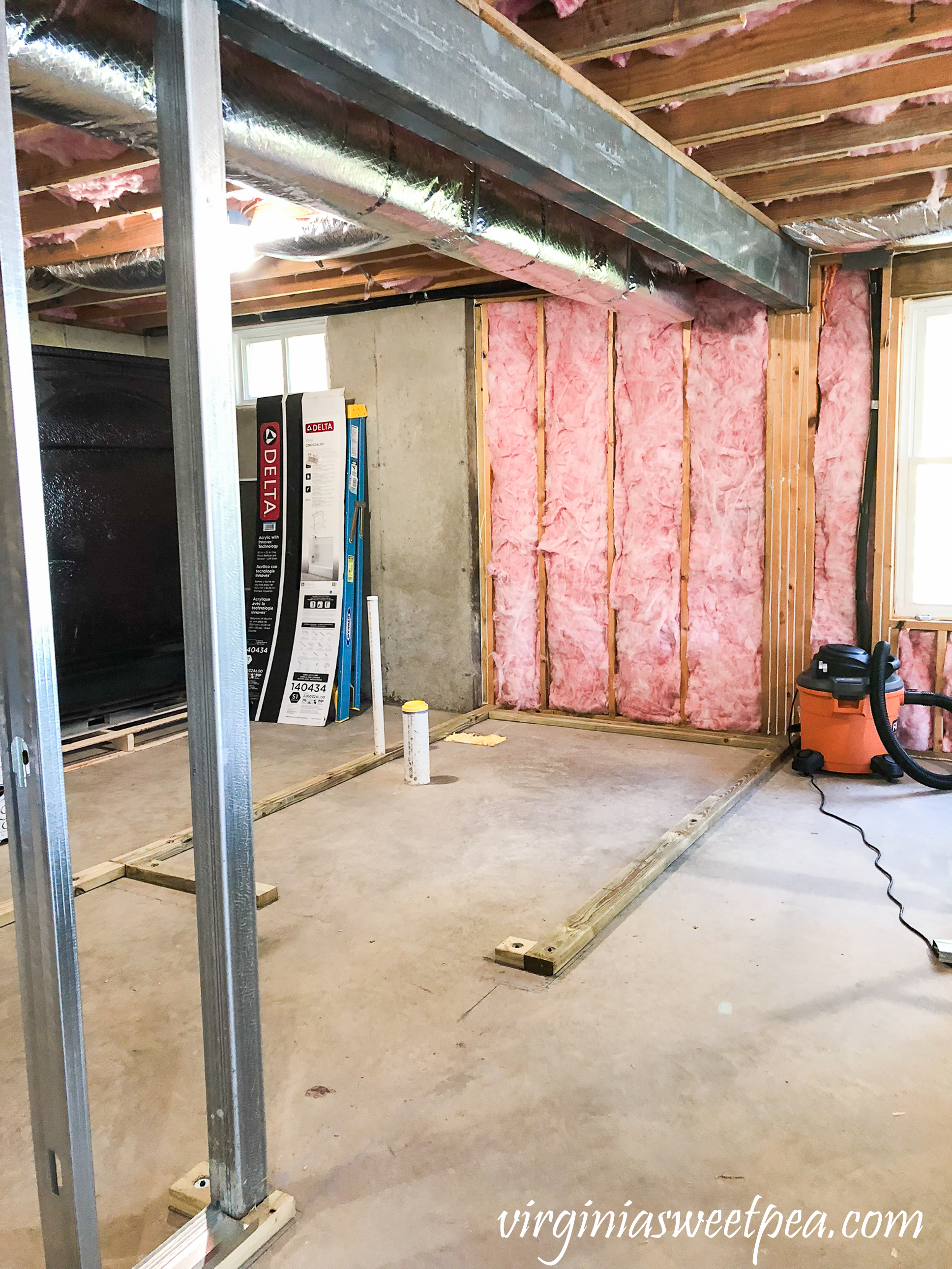 This picture was taken as we worked on framing the basement.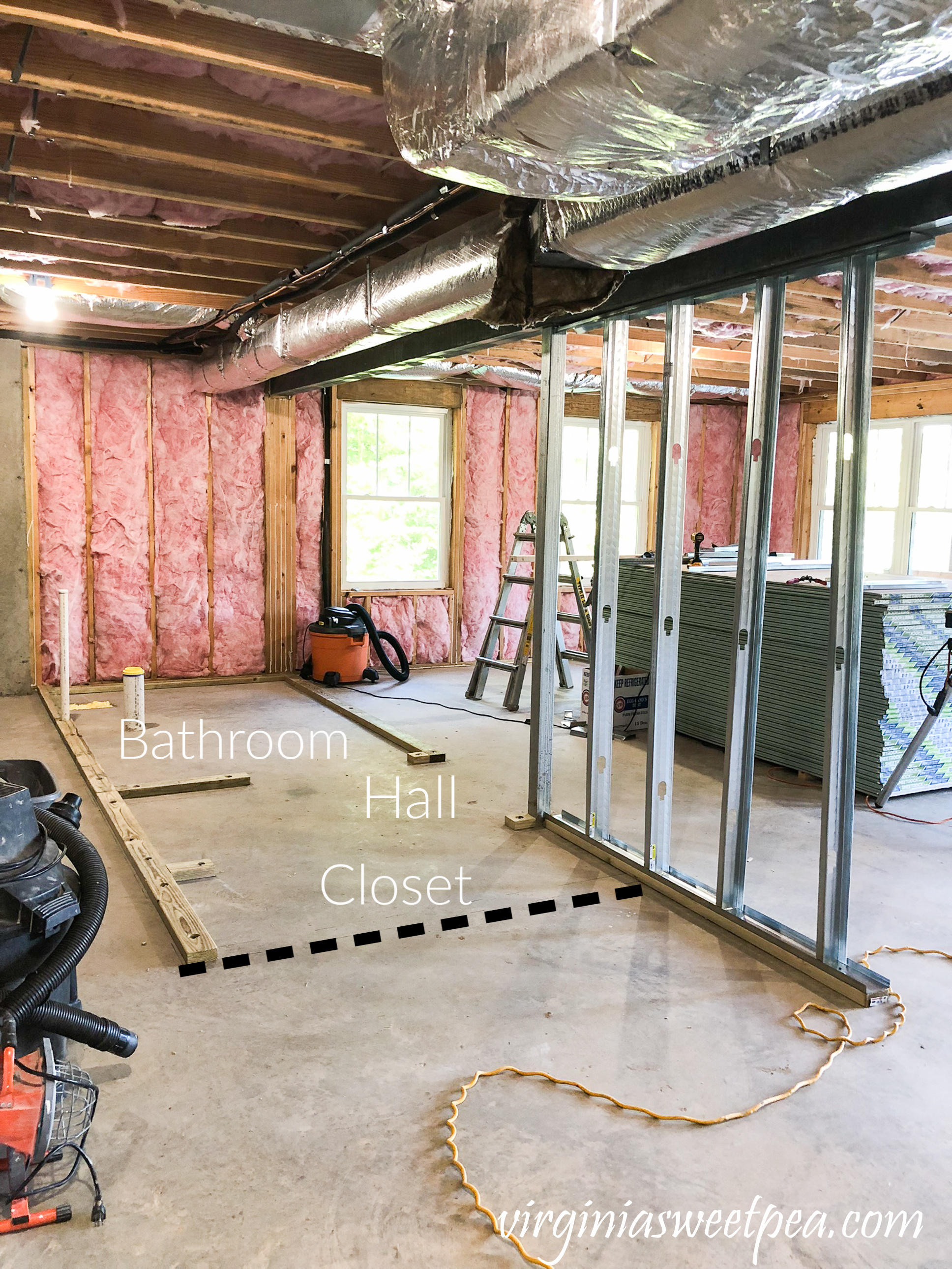 The bathroom was framed with a mixture of metal and 2×4 because we ran out of the metal.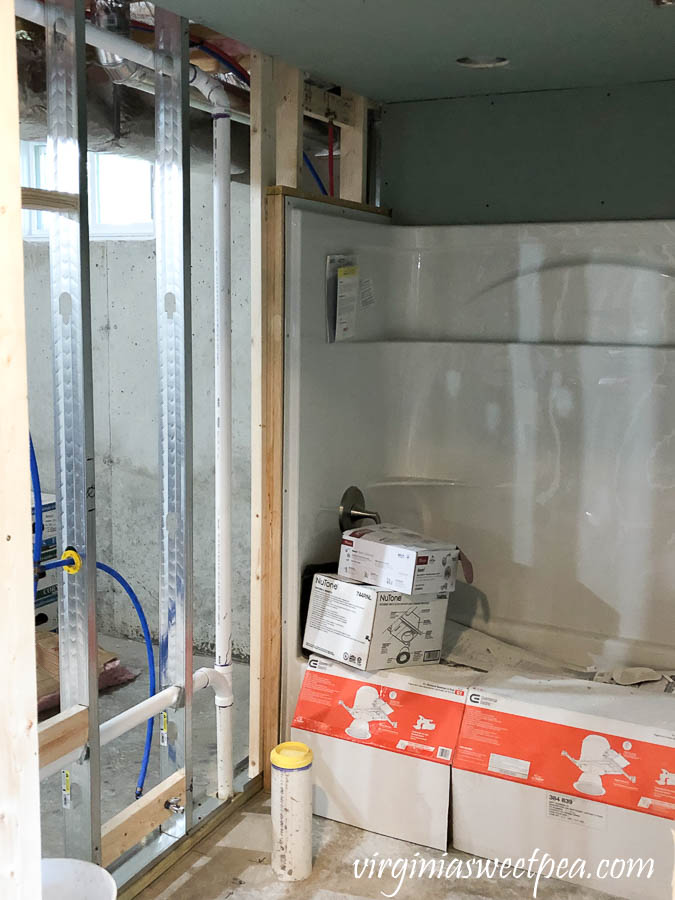 Here is the bathroom with drywall in place. We later modified the drywall above the tub to remove the ledge.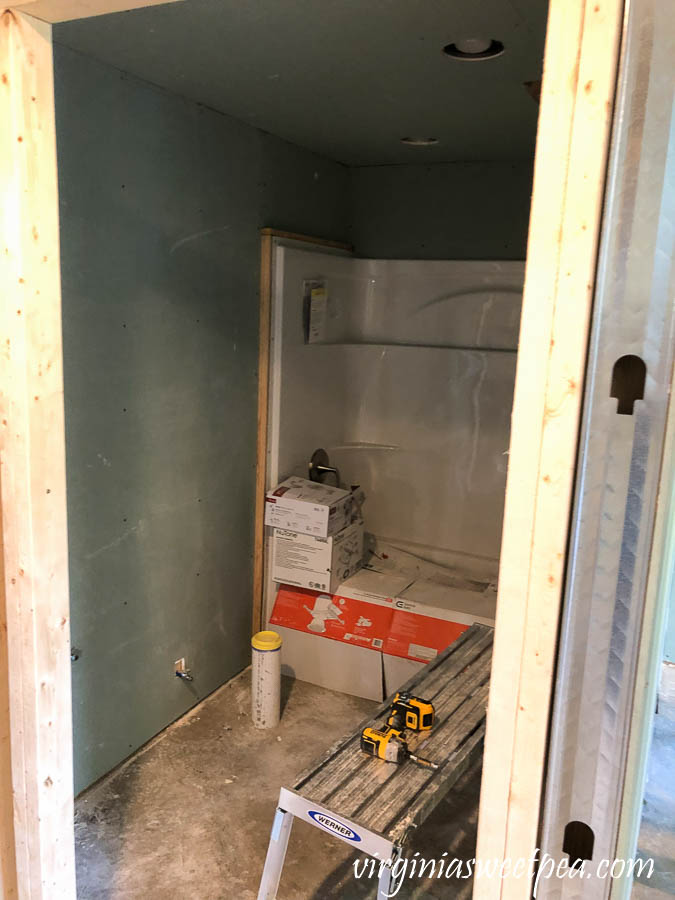 We had a break in our project from September to late December 2019.
We hired someone to tape, mud, and sand the drywall. He was doing the work on the side and it took him three months to get the project done.
When he was finished, we both were recharged after a three-month break and were ready to get going once again on the project.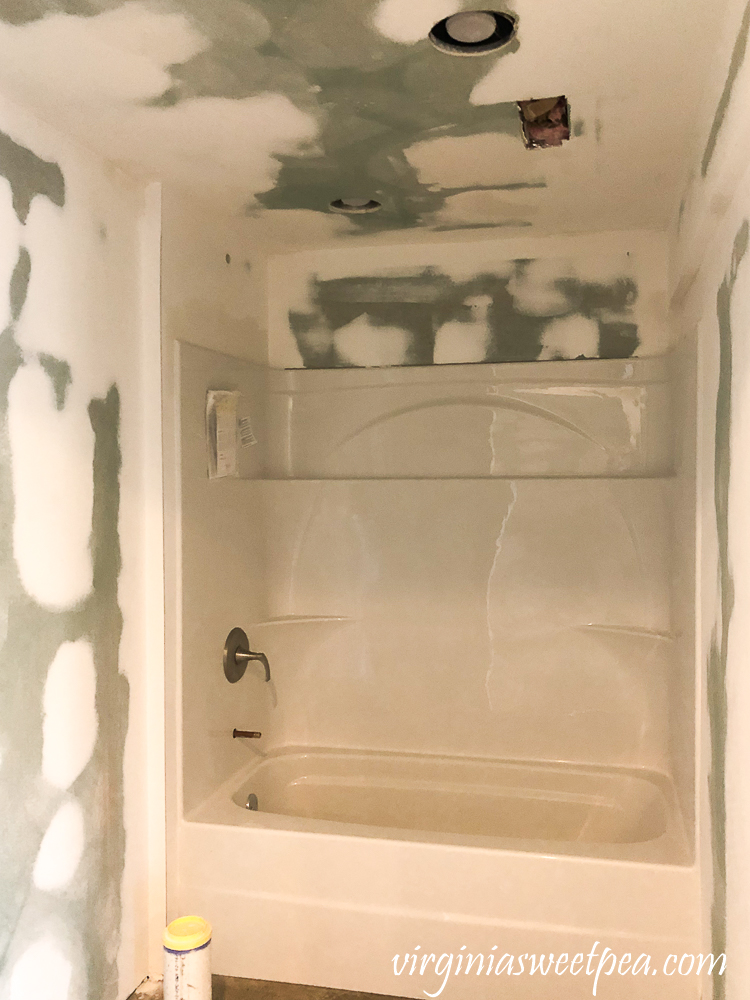 This project was a labor of love and a lot of work, but also very rewarding.
Bathroom Resources
These are the products that we used in our bathroom.
Lake House Basement Project
These post chronicle converting our unfinished basement into a family room, bedroom, and bathroom.