Wicker Porch Furniture Makeover
A few weeks ago my good friend texted asking if I would like to have her wicker porch furniture. I have trouble passing up "free" and I love a good makeover, so of course I accepted her offer of this furniture.
My friend thought that I would use this furniture at the lake, but instead it will soon reside at my mom's 1913 home which has a large front porch and also three large porches across the back.
My mom just so happened to mention to me that she was in the market for new porch furniture, so my friend's timing was perfect. With some paint and elbow grease, I gave this wicker furniture a makeover and it will soon be at home on one of my mom's porches.
Wicker Porch Furniture Makeover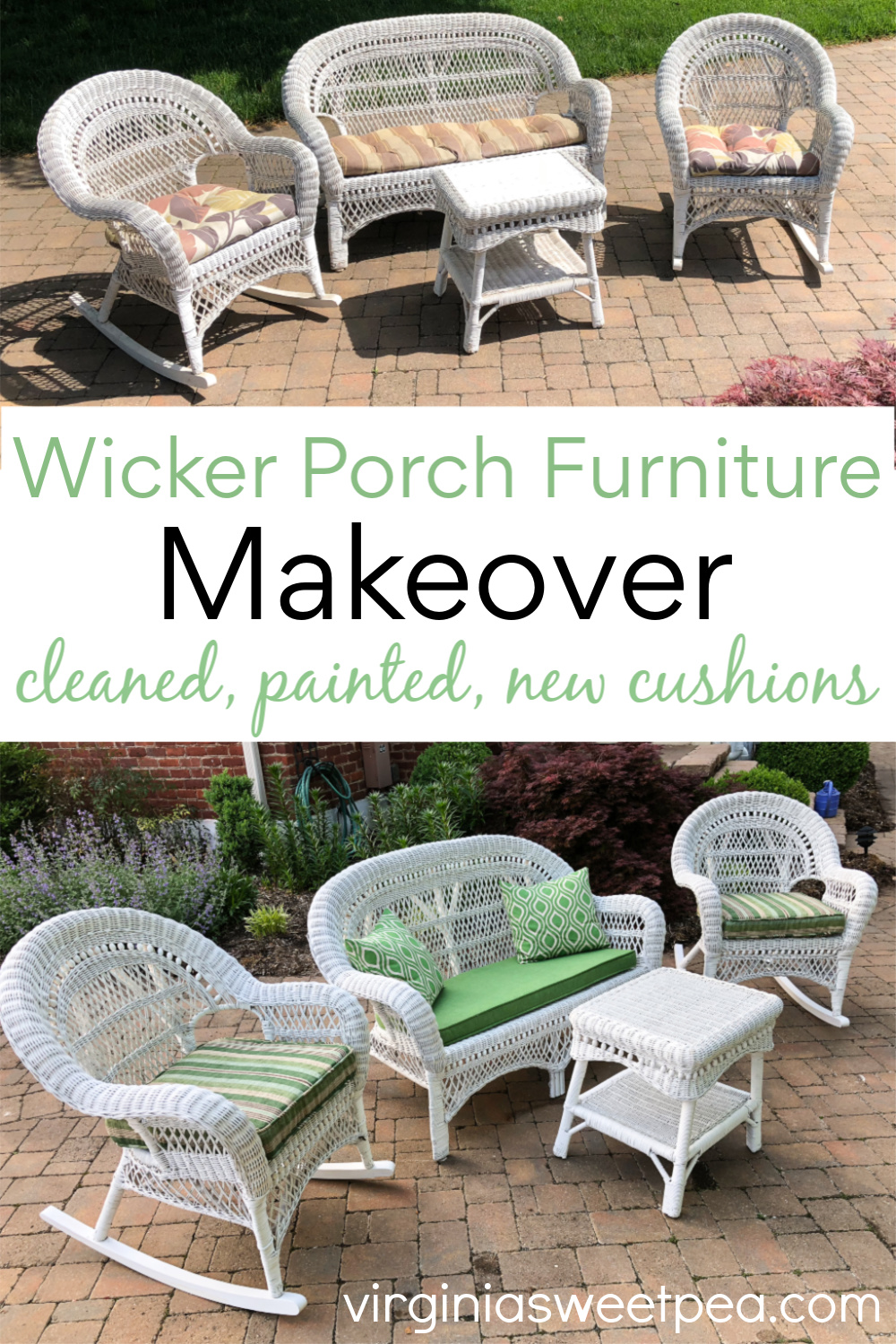 Before the Makeover
My friend has a very nice screened porch with an adjoining deck and this wicker furniture has served her well. She was ready for a change and purchased a new and more contemporary porch set that she is already enjoying.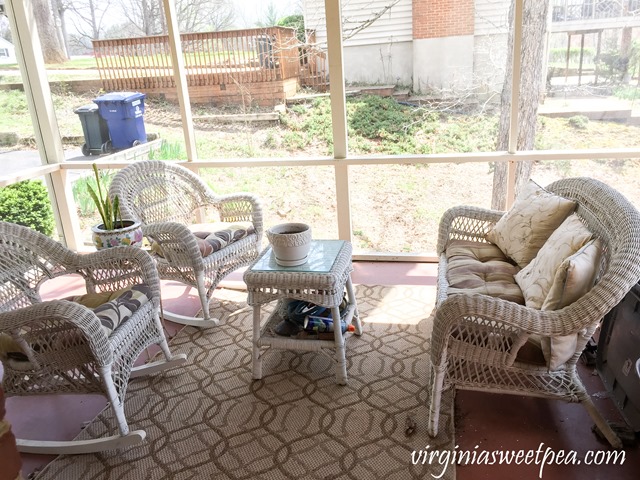 The furniture was in good shape, it just had weathered a bit due to being exposed to the elements. Some of the paint was peeling and a good cleaning was in order.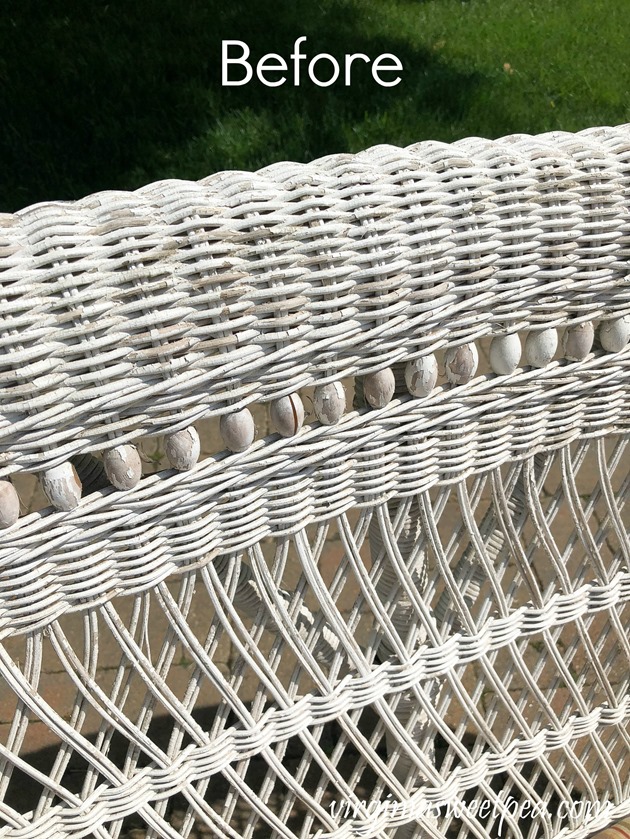 Steps to Makeover the Furniture
Giving wicker porch furniture a makeover is an easy process. All that's needed is a hose, cleaner, and scrub brush followed by new paint and cushions.
Clean
I started the makeover by removing the cushions from the furniture and then hosing off as much of the dirt as I could.
I then scrubbed every inch of the furniture with a scrub brush and Simple Green.
I didn't take any cleaning pictures but I will say that my driveway was littered with small white paint chips.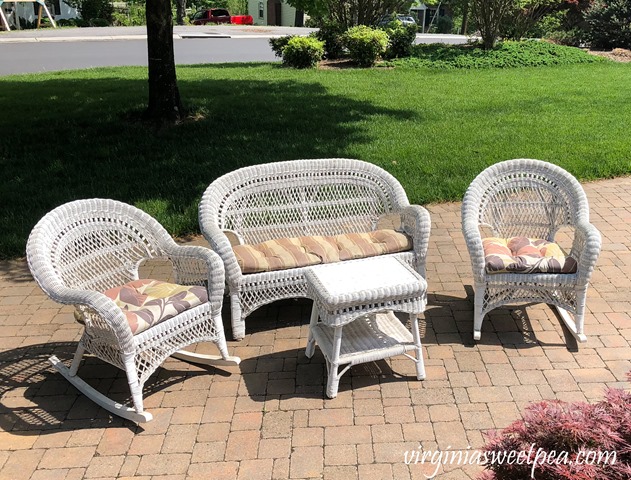 I left the wicker in the sun for a few hours to dry before taking it back into the house for the night.
Paint
The next day I placed the furniture on tarps and used my HomeRght Finish Max Paint Sprayer to paint it.
If the day had been at all windy, I would have also used my HomeRight Portable Spray Shelter.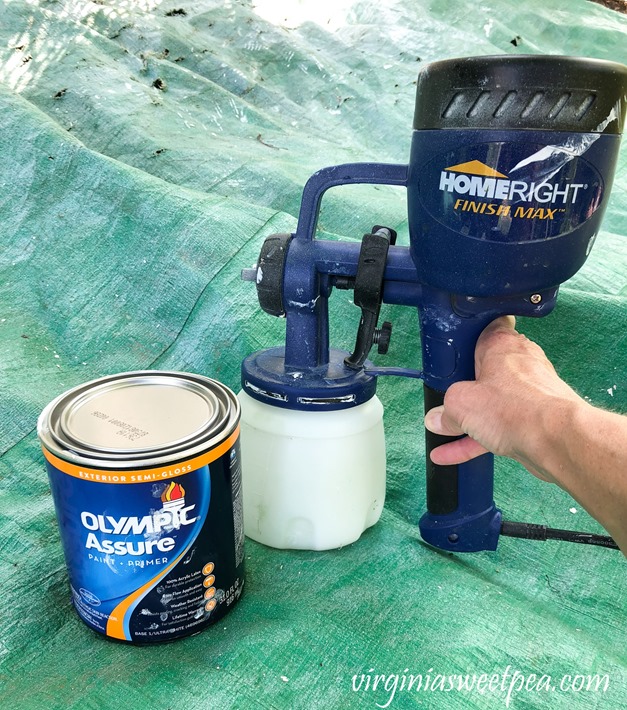 I wasn't sure what paint to use, so I asked for help at the paint desk at Lowe's and the worker selected a quart of Olympic Assure Semi-Gloss Acrylic Exterior Paint for the project.
It took the entire quart to paint two chairs, a love seat, and a small table on all sides.
New Cushions
While at Lowe's to purchase the paint, I also purchased new cushions for the love seat and chairs.
After picking these Chair Cushions, I picked this Loveseat Cushion to match.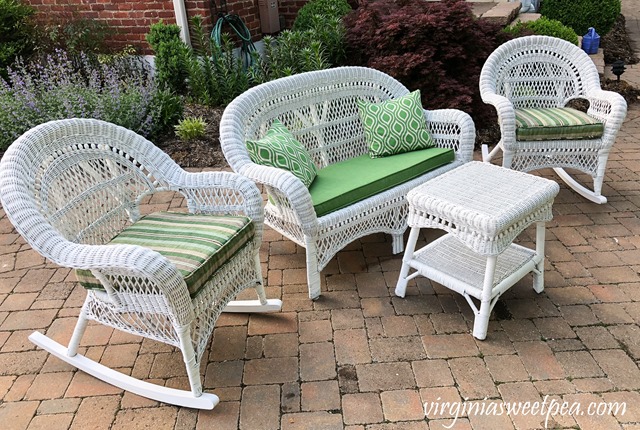 The pillows on the love seat are ones that I made for our porch this spring.
The colors are perfect for Mama's new furniture, so I'll pass them along to her and make something else for my porch.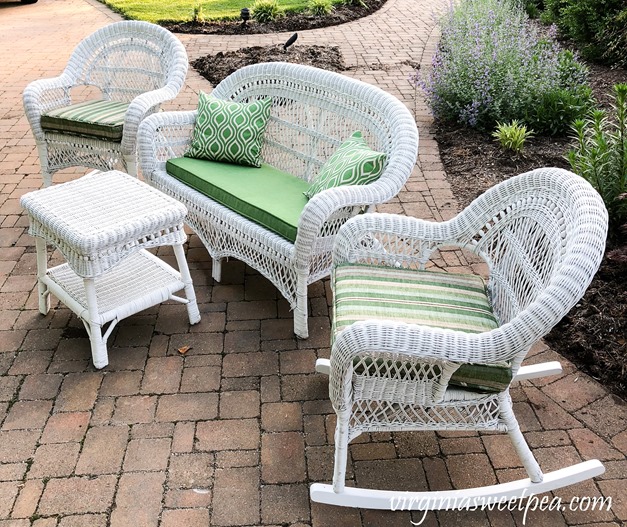 The coffee table also has a glass top that my friend had made especially for it.
I didn't put it in place for these pictures, but I know my mom will enjoy placing her coffee on it in the morning and wine glass in the evening.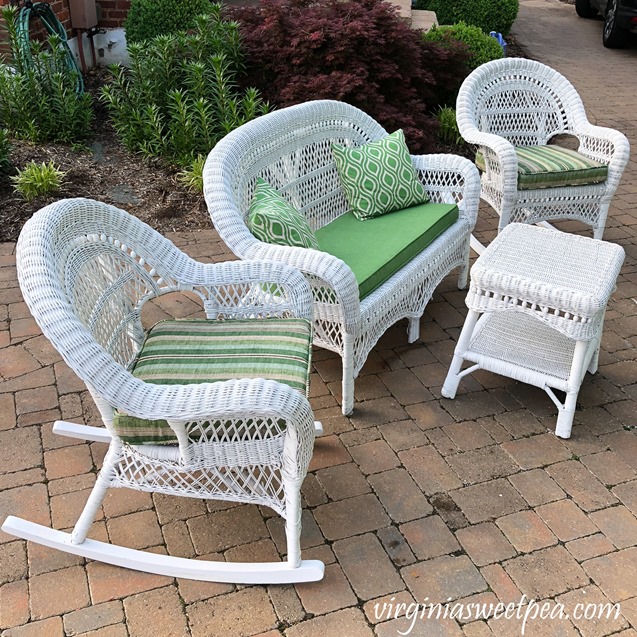 This furniture is as pretty going as it is coming.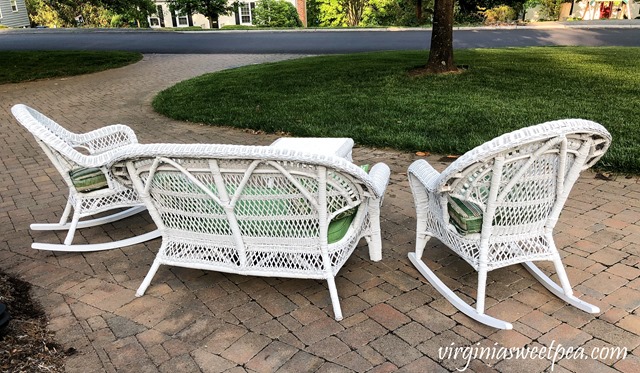 Makeover Costs
Chair Cushions – 2 at $19.98
Loveseat Cushion – $29.98
Olympic Assure Semi-Gloss Acrylic Exterior Paint – $12.28
For $70 this furniture looks almost new and is ready to be enjoyed for years to come.
Many thanks for my friend for passing it along to me so that I could pass it along to my mom.