Amazing Furniture Makeovers – Awesome New Book Plus a Giveaway!
My long time blog friend, Jen, from Girl in the Garage has written a book. I am so proud of her for accomplishing this and I can't imagine the hours of work that went into writing this book. Jen was kind enough to give me a sneak peek of the book and I poured over it page by page, getting inspired by each of the projects Jen shared in it.
Let me share with you more about this book that I enjoyed reading so much.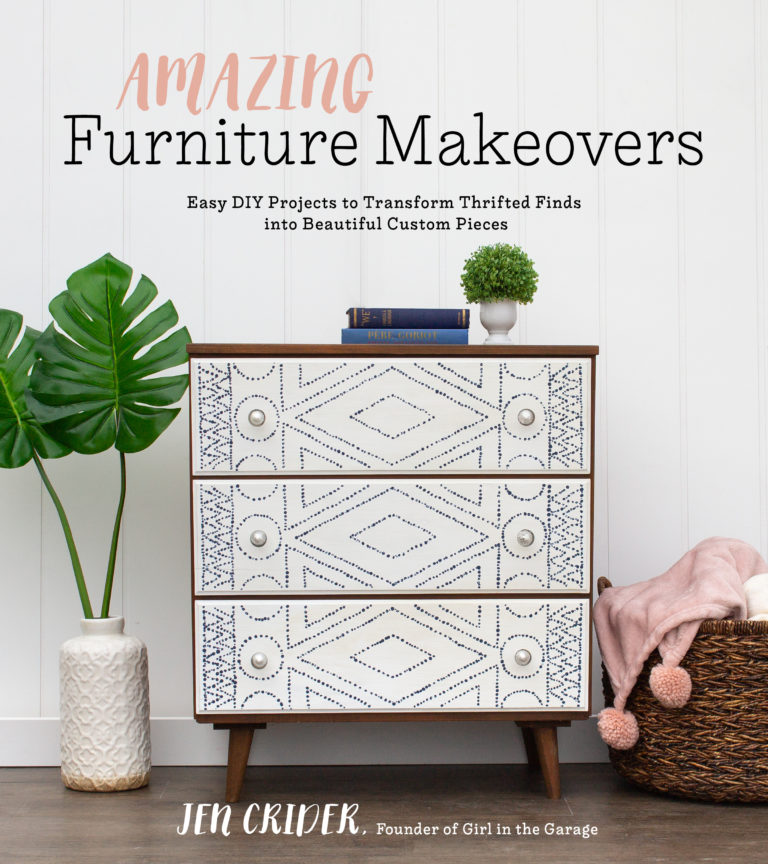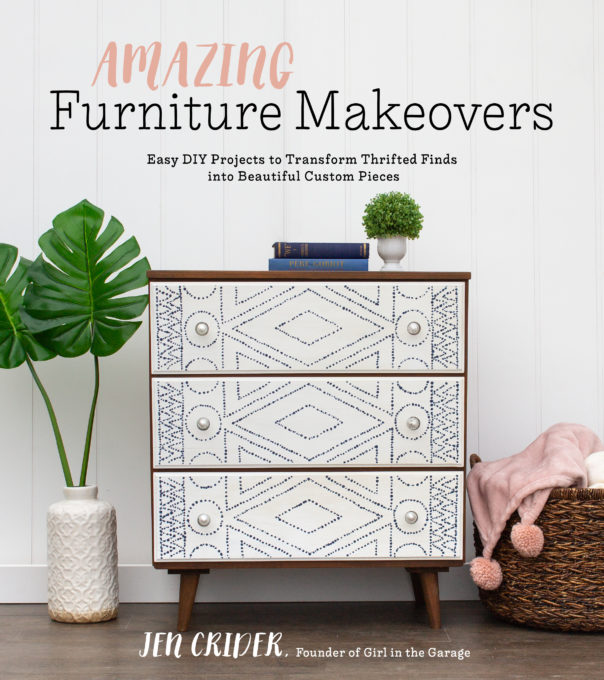 This post may contain affiliate links. For full disclosure go here.
Do you enjoy transforming yard sale or thrift shop finds into beautiful furniture to use in your home?
Are you looking for new ideas for transforming your finds with paint, decoupage, upholstery and more?
If you answered yes to the above questions, then you are going to love Amazing Furniture Makeovers.
Don't miss the GIVEAWAY at the end of this post!
How I Know Jen
I used to do quite a few furniture makeovers and was part of a group that Jen organized that shared a themed furniture makeover each month. I loved being a part of this group because it motivated me to complete projects and it spurred my creativity to come up with a project for the selected theme of each month. You can see all of the furniture makeovers that I shared when I was a part of that group here.
At the time that I was completing a lot of furniture makeovers, I also had a booth at a local shop. About the time that I closed my booth in the shop, Jen ended the themed furniture makeover group and I lost my furniture makeover steam since I no longer had a shop to keep filled.
Each month I looked forward to what Jen would share for our group post and I was never disappointed. To this day Girl in the Garage is a blog that I always read. I love seeing Jen's furniture makeovers and I really admire her creativity.
Amazing Furniture Makeovers
Amazing Furniture Makeovers features 25 step-by-step makeovers with detailed photos and instructions. Learn furniture makeover techniques that include painting, decoupaging, stenciling, upholstering, and more.
Today I have the pleasure of sharing a few projects from Jen's book.
French Armchair Makeover
Before
I've seen chairs like this for sale many times but shied away from buying them because I didn't think that I had the skills to tackle upholstery. After reading Jen's tutorial for how she made over this chair, I realize that this is indeed a project that I am perfectly capable of completing.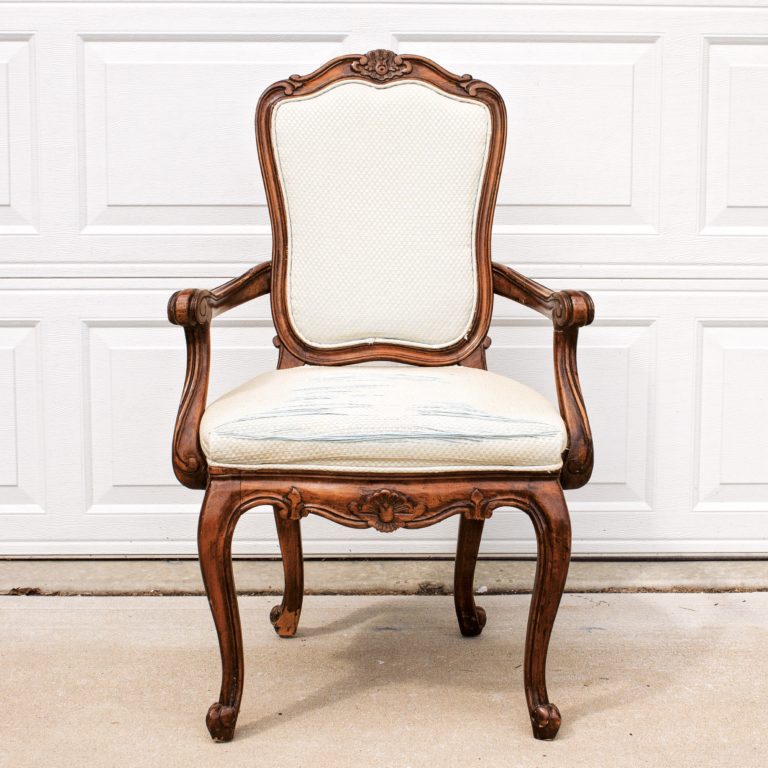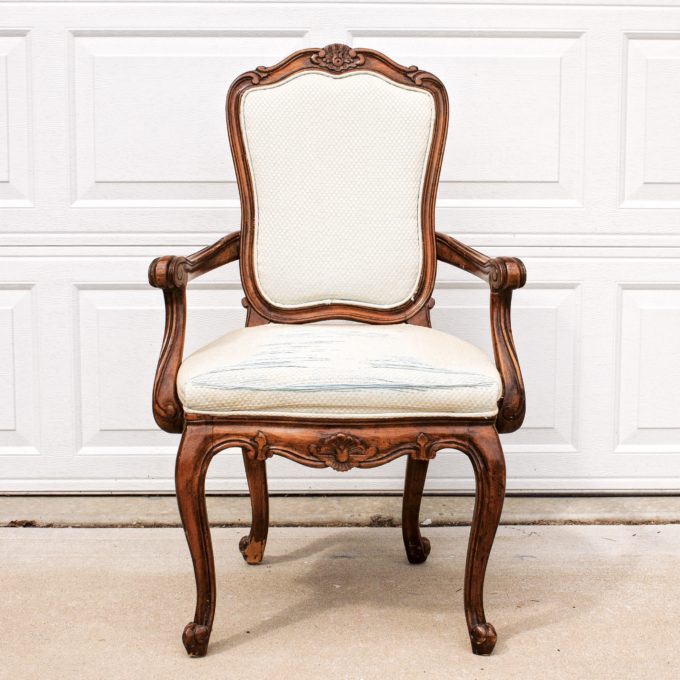 After
Look at this chair now! Isn't it a beauty? There are more upholstery projects like this one in Jen's book and I am eager to study her step-by-step directions with pictures to learn more upholstery techniques.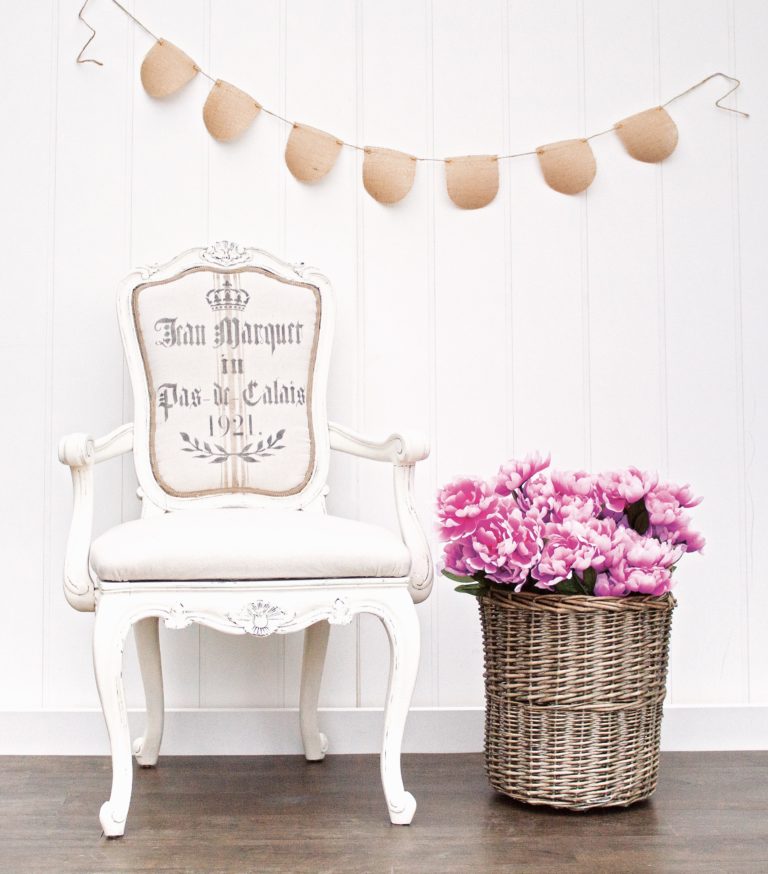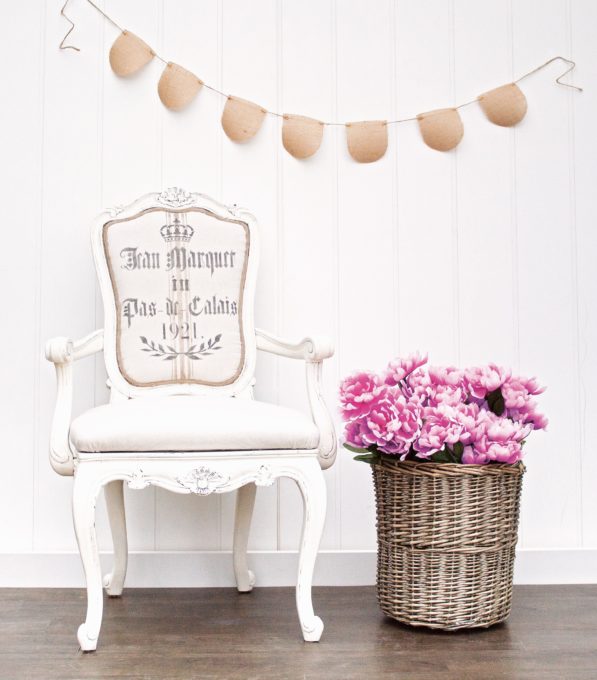 Suitcase Dresser Makeover
Before
There's nothing wrong with this dresser that some stain couldn't fix but Jen used her amazing creativity to turn it into a one of a kind piece.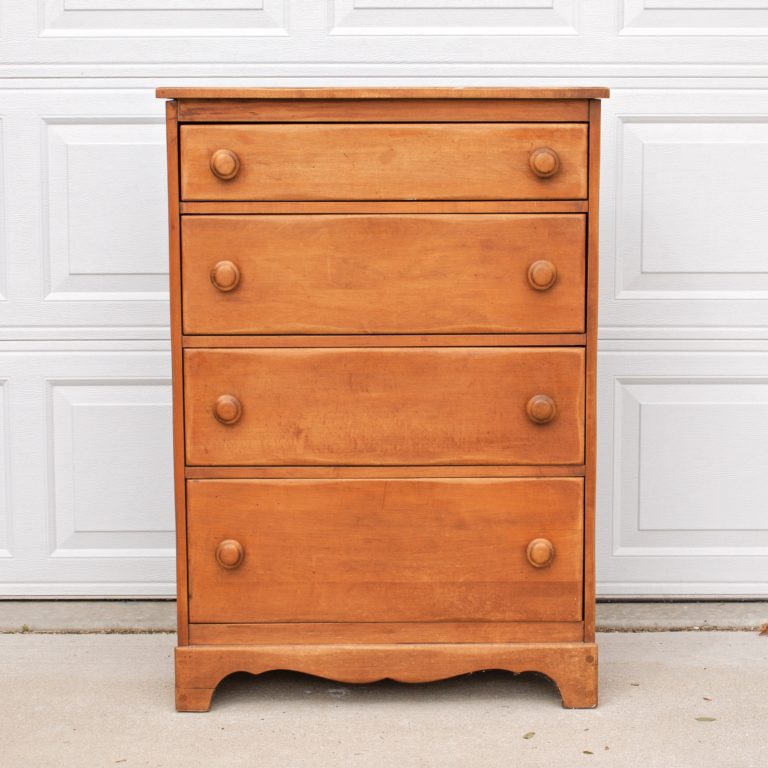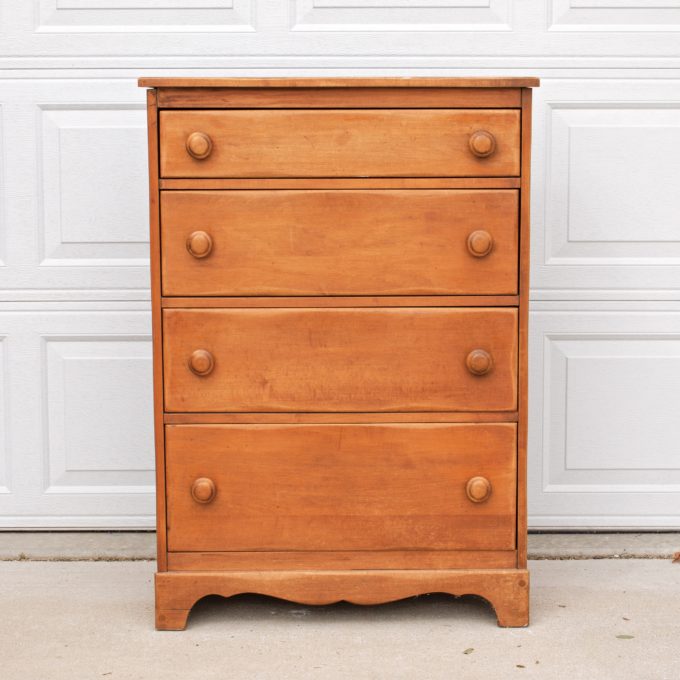 After
Can you believe that this is the same dresser? Jen transformed it into a suitcase dresser and you can get the same look by following her tutorial.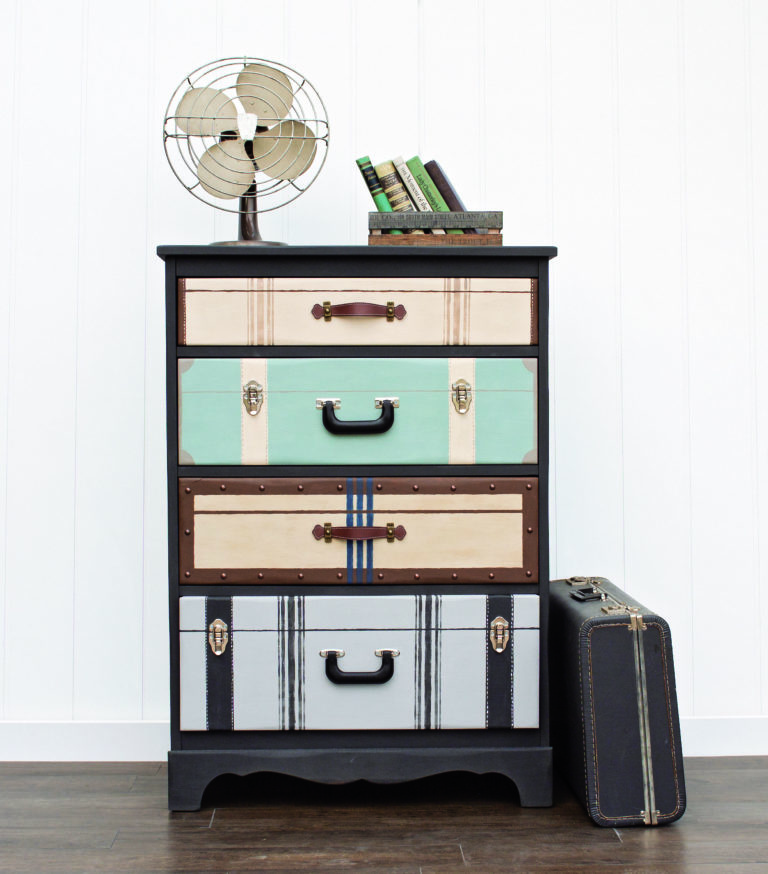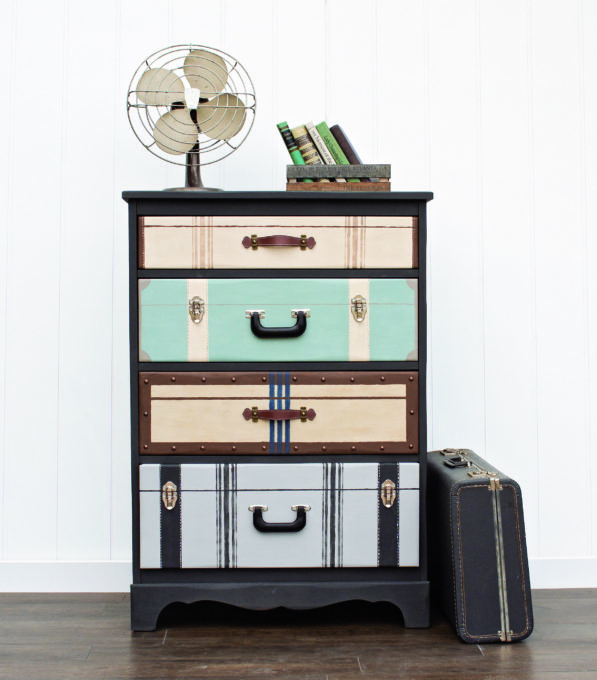 These are just two of the 25 ideas found in this book. The book is sure to inspire you to complete a few furniture makeovers of your own.
Get Your Copy
You can view and purchase this book now and save 34% off the cover price here.
The Giveaway
A lucky winner will win everything in the prize package below. The giveaway is for US residents only and runs through June 4.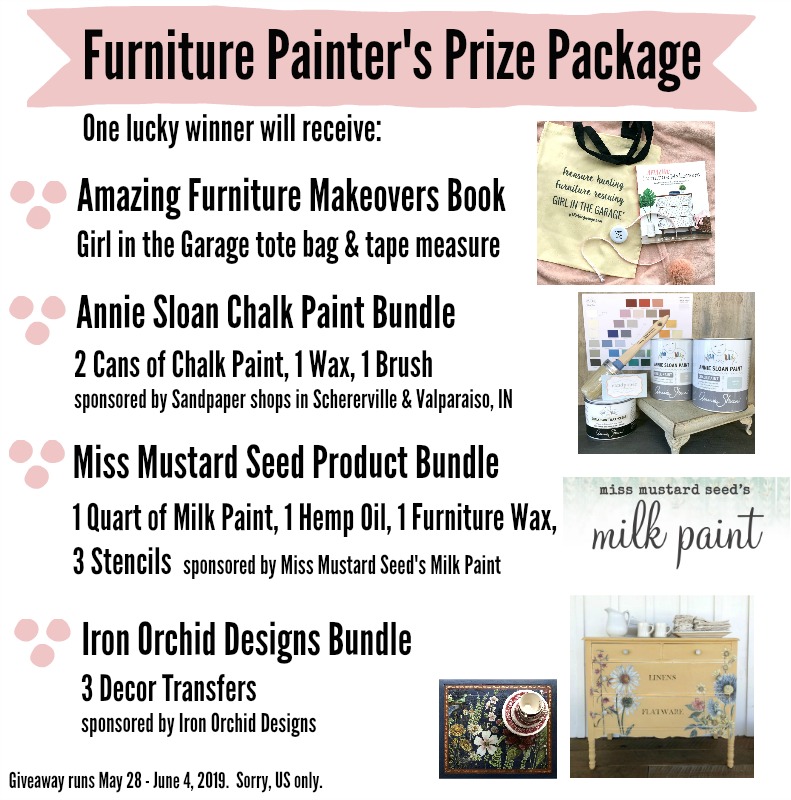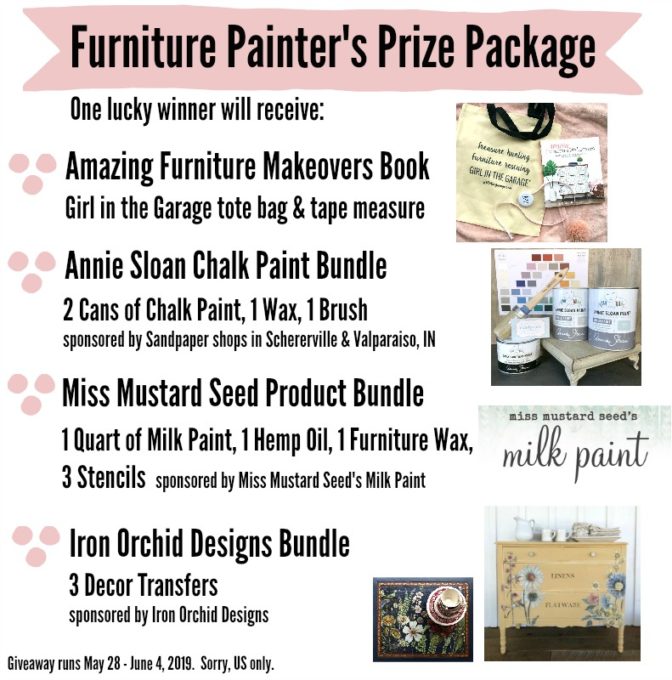 Thank you to Sandpaper shops, Miss Mustard Seed's Milk Paint, Iron Orchid Designs, and Girl in the Garage for sponsoring this giveaway.
Enter the giveaway here for this wonderful furniture painter's prize package.
a Rafflecopter giveaway
You can find more information on Jen Crider's new book Amazing Furniture Makeovers: Easy DIY Projects to Transform Thrifted Finds into Beautiful Custom Pieces and the exclusive preorder bonus gifts by June 4, 2019 here.
My niece is moving into her first apartment this summer and I'm hoping to use some ideas from Jen's book to makeover furniture for her new space.
Do you have a piece of furniture in need of a makeover? If you do, I know you will be inspired by Amazing Furniture Makeovers to turn your piece into something awesome for your home.