1980s Handmade Wood Sled Makeover
Today I'm sharing a fun makeover with you. I gave a 1980s handmade wood sled and update for 2020 and I love the end result. This sled has been unused in my basement for 25+ years and now it's back on display.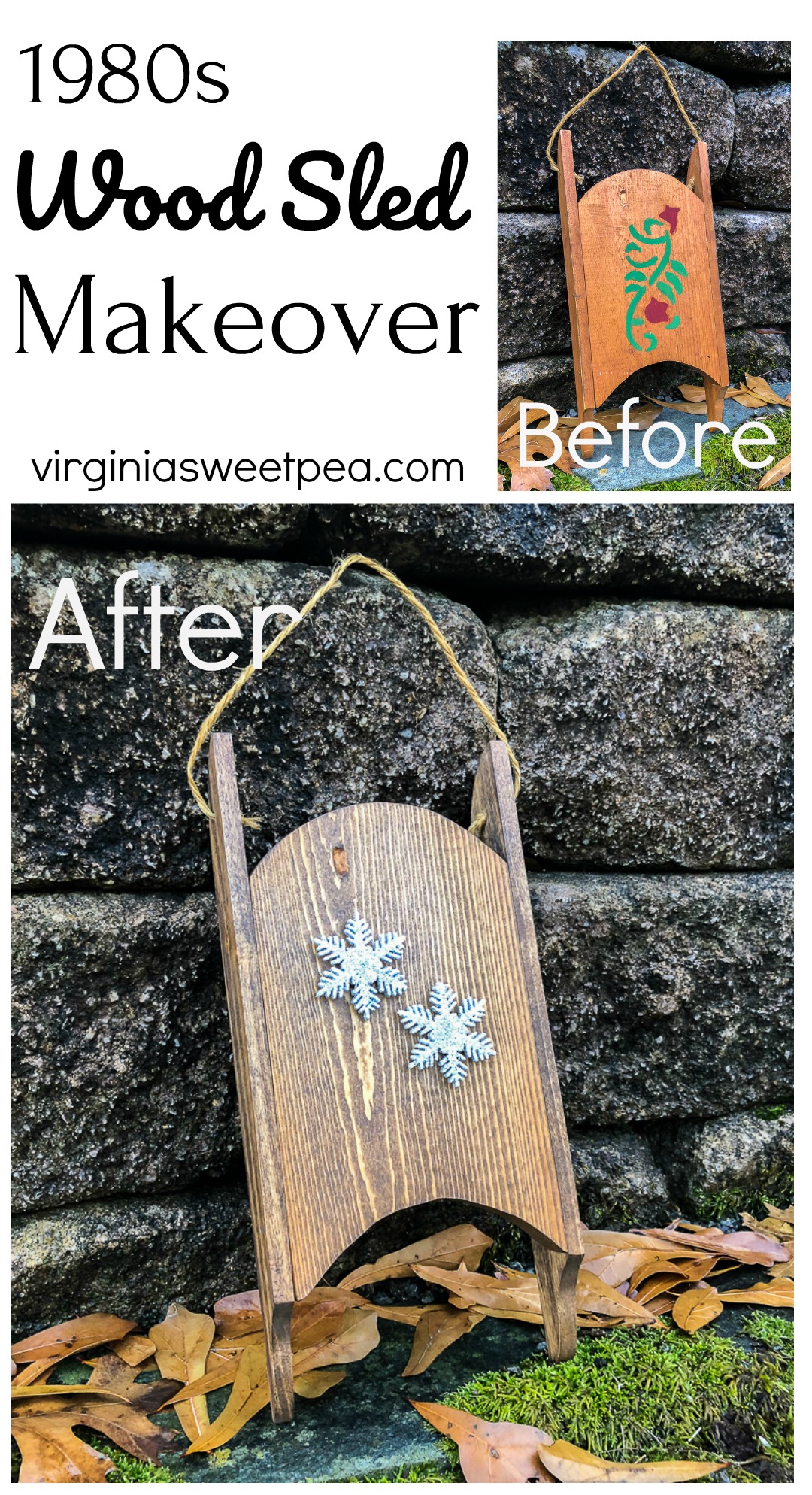 1980s Wood Sled Makeover
Small decorative wood items like this are easy to find in thrift shops and to makeover. Mine didn't come from a thrift shop, but perhaps seeing how I made over this wood sled will inspire you to makeover a decorative wood item that you find or already own.
The Story Behind the Sled
Back in the 1980s, my grandfather was retired and spent his time gardening and doing projects including woodworking and furniture repair and refinishing. My grandmother was an avid decorator and crafter and would often see something at a craft show that she wanted for her home. Rather than buy it, she would describe what she saw to my grandfather and he would make it.
One thing that he made in the 1980s was small decorative sleds. When he made a craft for my grandmother, he made multiples and gave them to my mom and my aunt and likely to friends. I don't remember my mother giving her sled to me, but she must have, but I do clearly remember giving it an update with a stencil, probably in the early 1990s.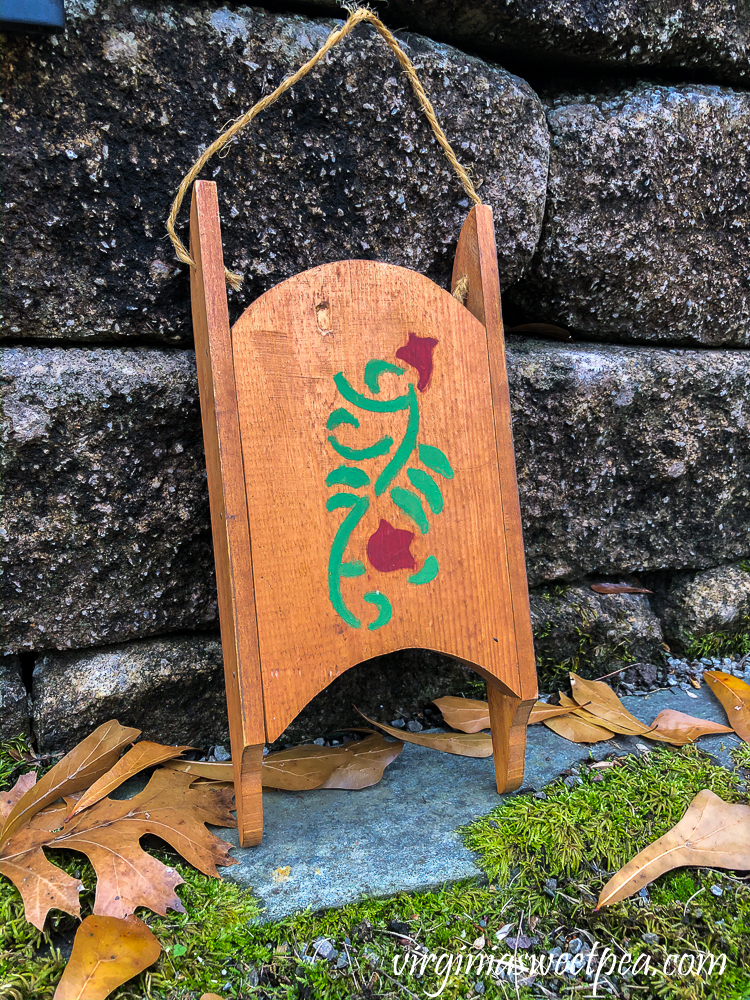 Yes, I thought that I was giving this cute sled a makeover with this stencil.
If you are of my vintage, you know that in the late 80s or early 90s, we stenciled anything that we could get our hands on. Does anyone remember stenciling a border around their ceiling? Maybe the stencil involved a goose? Ha-ha!
Giving the Sled a Makeover
When my husband was off over Christmas, I asked him if he would sand this sled for me. I was busy taking down Christmas and he was already in the workshop working on another project, so he kindly did the dirty work for me.
I removed the twine from the sled and he got to work.
The sled was sanded with a rotary sander using 220 grit sandpaper and sanded until the old stain was completely removed.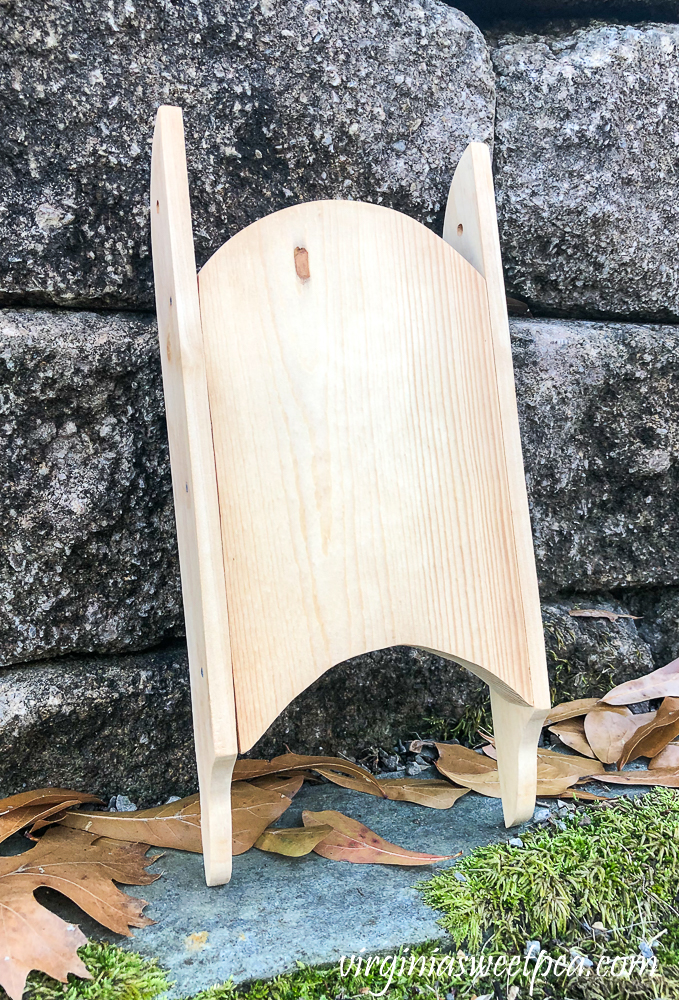 I then took over the makeover and used a rag to apply one coat of Minwax Special Walnut stain.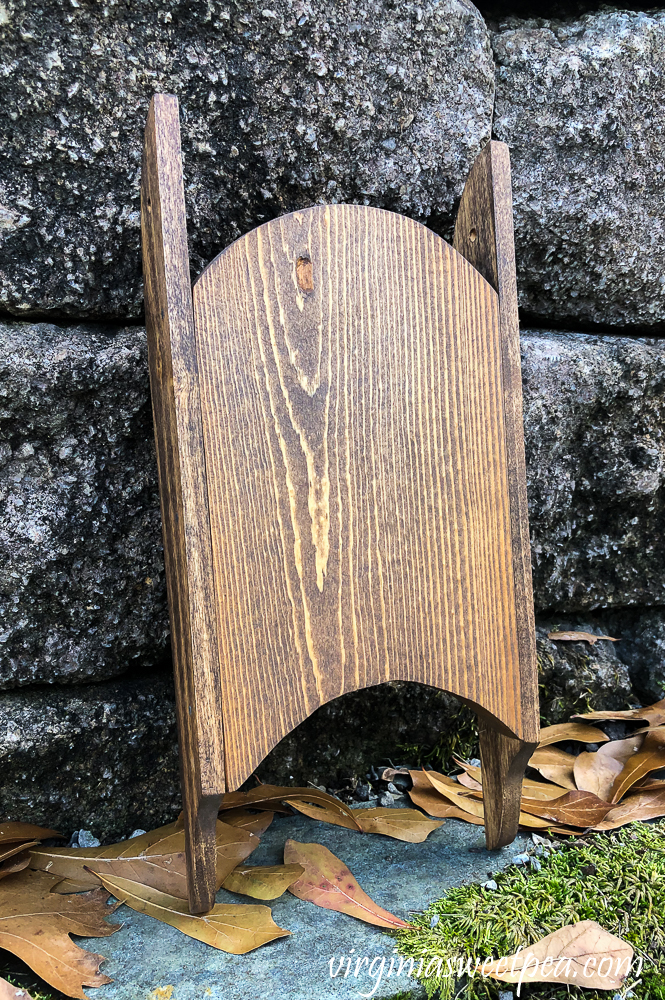 After the stain was dry, I rubbed the sled with fine steel wool which resulted in a silky smooth finish and tied the twine back to the sled.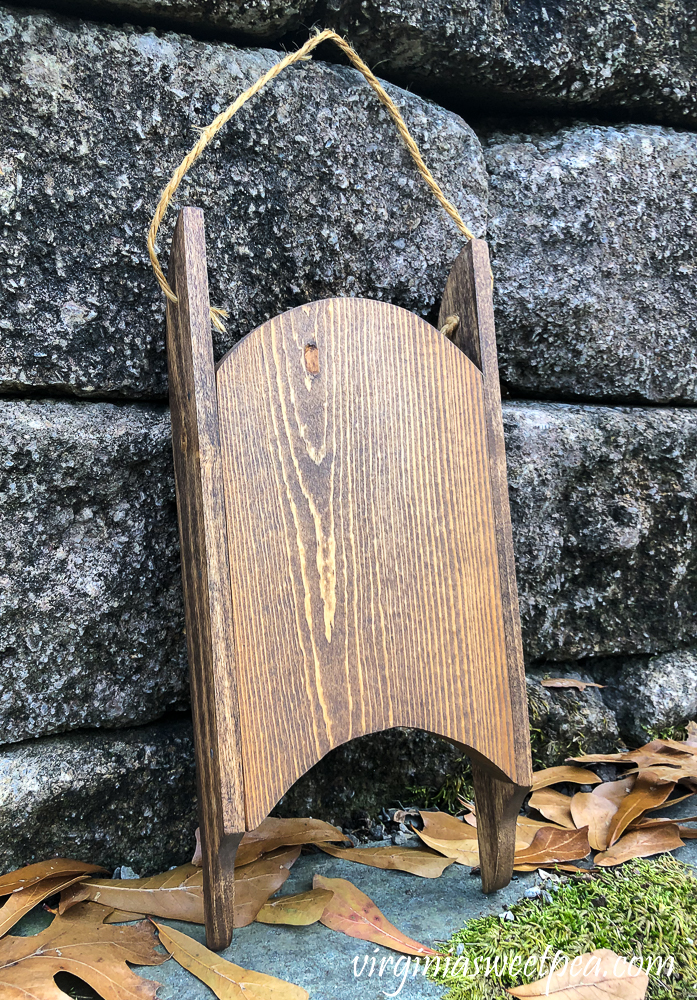 The sled looked perfectly cute with just stain, but to add a little winter interest to it, I added two snowflakes to it using mounting squares.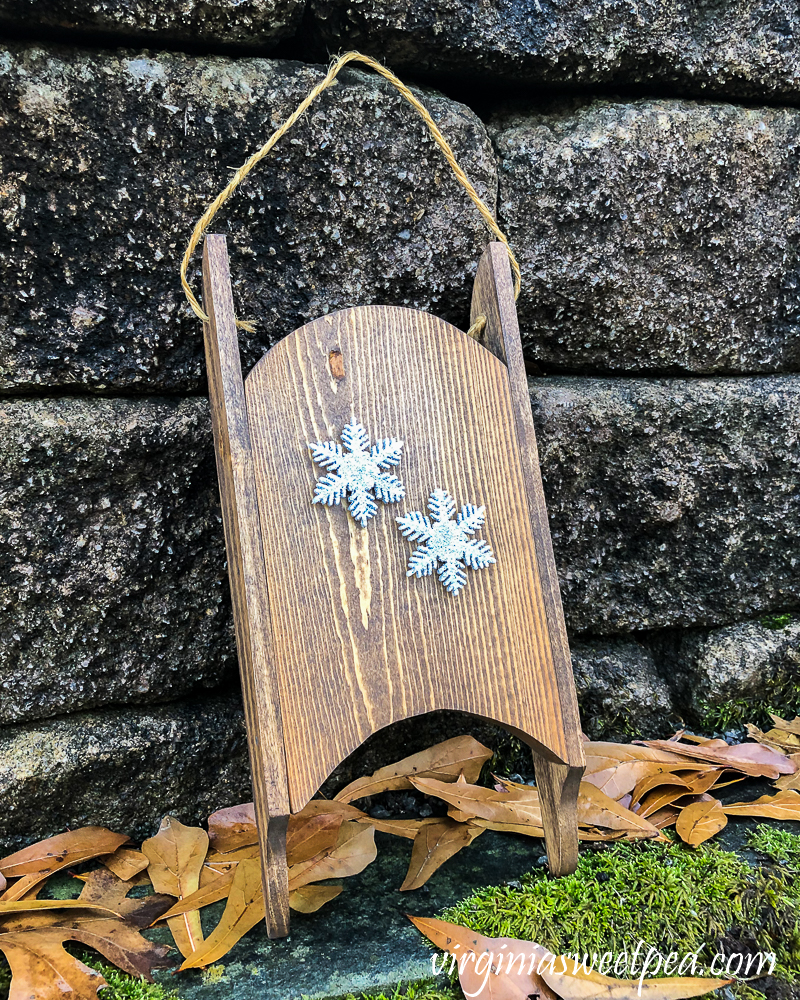 Displaying the Sled for Winter
The sled is now hanging in our sunroom for winter decor and I love how it looks.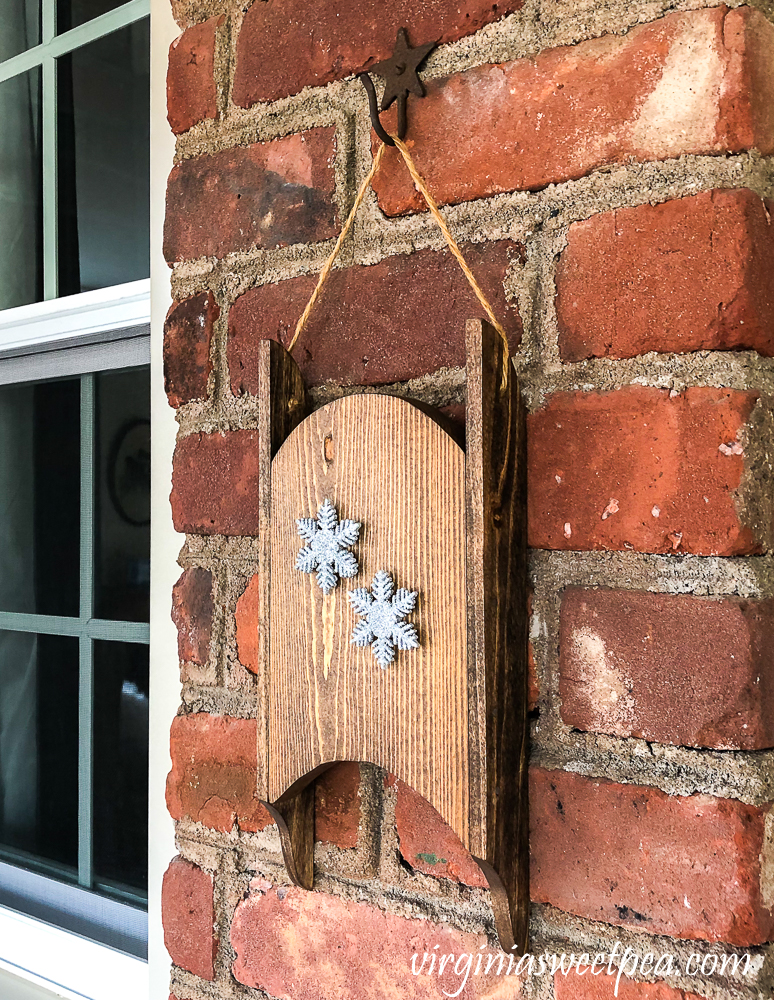 I know that my grandfather would be very pleased that I'm once again using and enjoying one of his woodworking projects.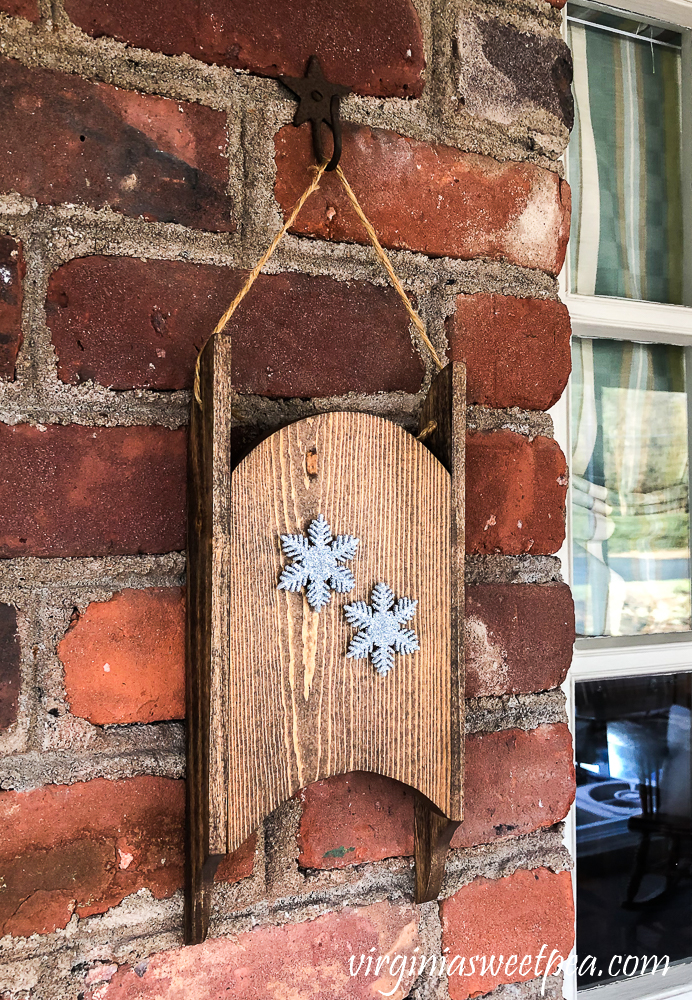 1980s Handmade Wood Sled Makeover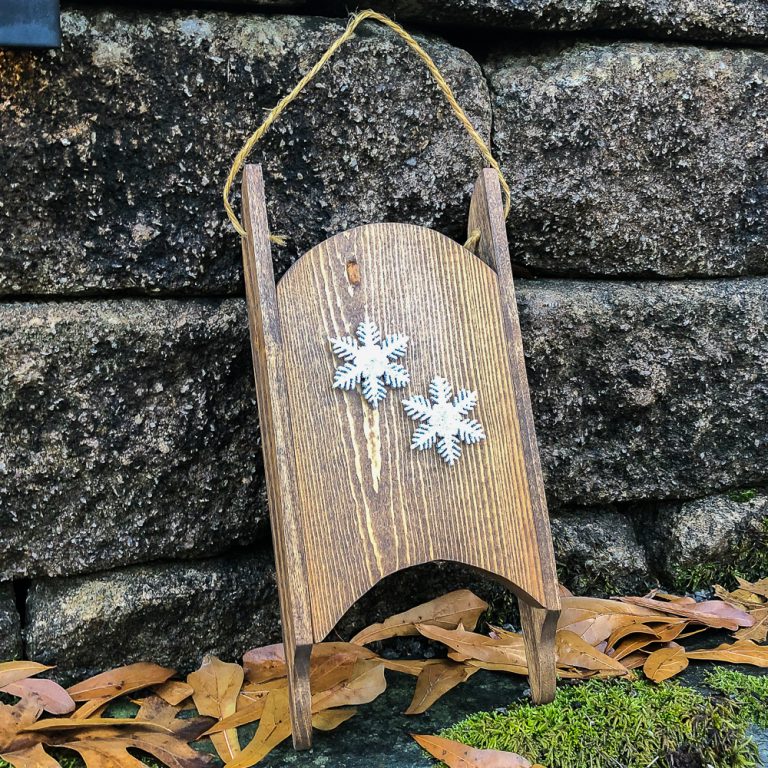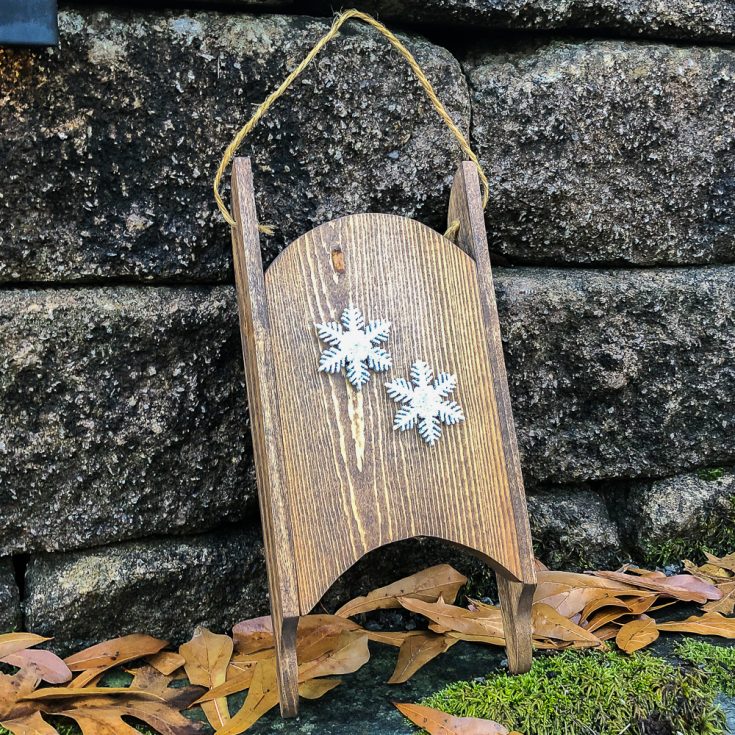 A wood sled from the 1980s gets a makeover for 2020.

Active Time 1 day

Total Time 1 day

Difficulty Easy
Materials
Wood Sled
Rotary Sander and Sandpaper
Fine Steel Wool
Wood Stain
Snowflake Ornaments
Instructions
Sand wood sled to bare wood with a rotary sander using 220 grit sandpaper.
Apply wood stain and let the stain dry thoroughly. Rub the sled with fine steel wool to get a silky smooth finish.
Use mounting squares to add snowflake ornaments.
Hang and enjoy.
Recommended Products
As an Amazon Associate and member of other affiliate programs, I earn from qualifying purchases.

In my newsletter that went out to my blog subscribers, I gave an update on my cancer. Since many of the comments below mention my CT/MRI test, I thought that I would give an update here in case anyone who doesn't subscribe to my newsletter was confused.
I had scans/MRI on January 9 and the results showed that my cancer is stable. This is wonderful news as my medication could stop working at any point. Scan days are very stressful as I am terrified that I will get bad news. Yesterday's news was good and now I can relax until my next tests in April.