Cozy Winter Decorating Ideas
To me, winter decorating is all about making a room feel cozy. With winter's cold temperatures and dark mornings and nights, I want to feel cozy in my home. Today I'm sharing how I decorated our living room to feel cozy for winter.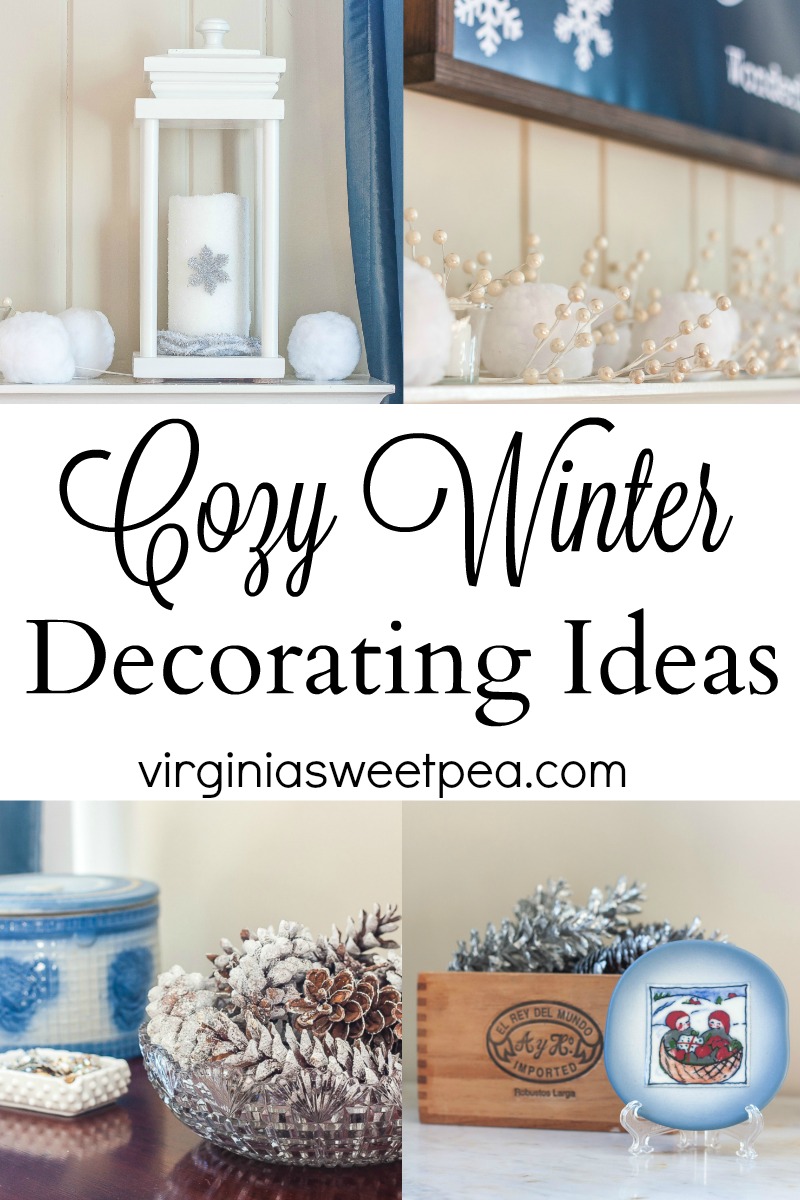 I'm sharing my ideas along with a talented group of bloggers for a Cozy Winter Home Tour organized by my friend Amber from Follow the Yellow Brick Home. I love Amber's gorgeous old home and how she decorates it so beautifully with vintage style. I look forward to seeing Amber's decor in any season and if you've never visited Amber's blog, I encourage you to do so.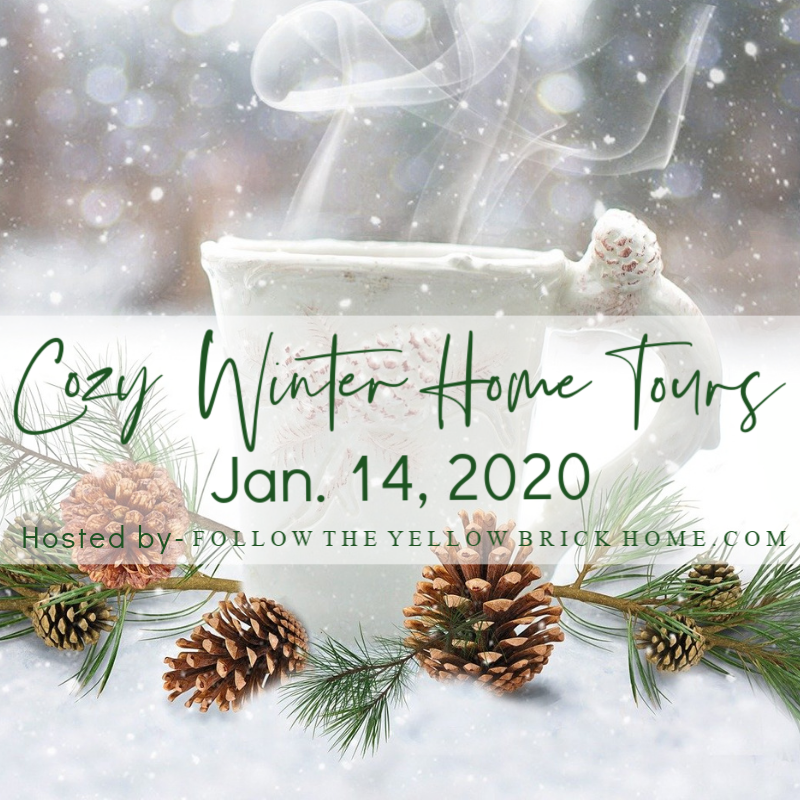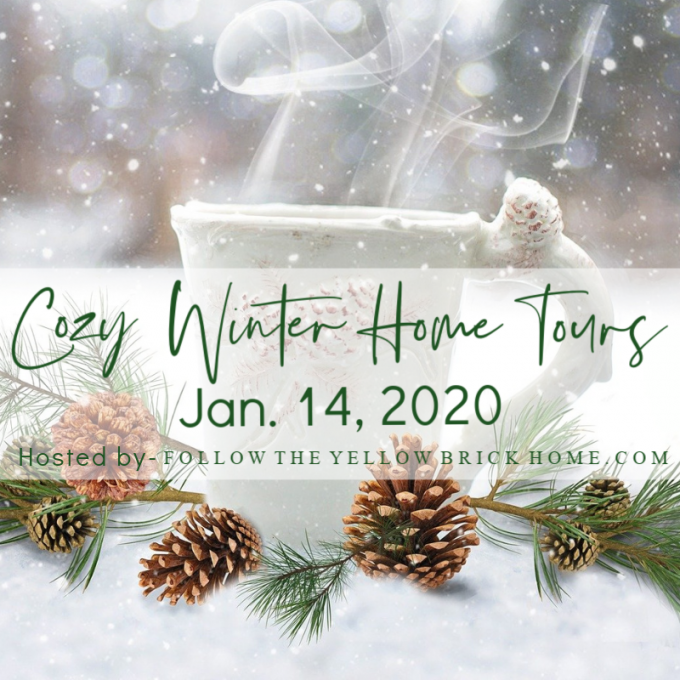 If you are visiting from Celebrate and Decorate, welcome! Chloe is a talented decorator and I am looking forward to seeing how she decorated her home for winter.
Cozy Winter Decorating Ideas
I hope that my cozy winter decorations will give you some ideas for making your home feel cozy for winter. I'm looking forward to seeing the cozy ideas that my friends are sharing. You will find links to all of the ideas shared today at the end of this post.
Create a Cozy Mantel
Last week I shared my Walking in a Winter Wonderland mantel. On the mantel, I used lanterns, frosted candles, votive candles, snowballs, and white berries; all things that give the mantel a cozy vibe for winter.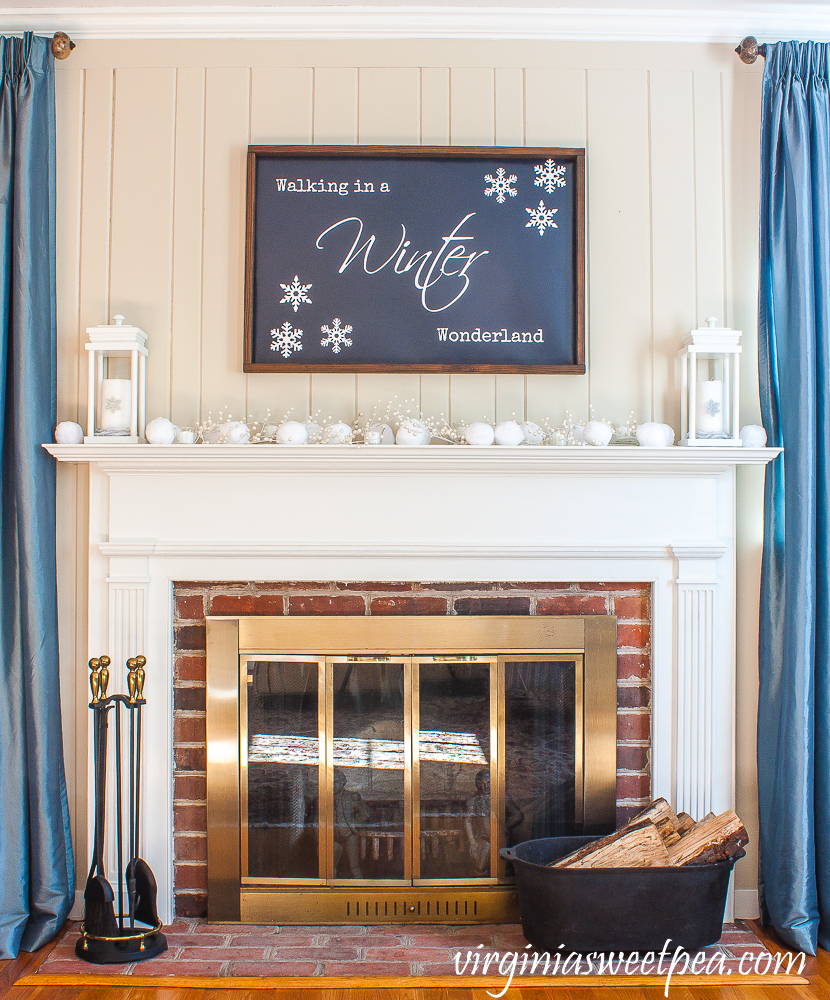 I display our Swarovski snowflakes each Christmas and leave them out until March. The snowflake ornaments coordinate perfectly with the mantel's winter vibe.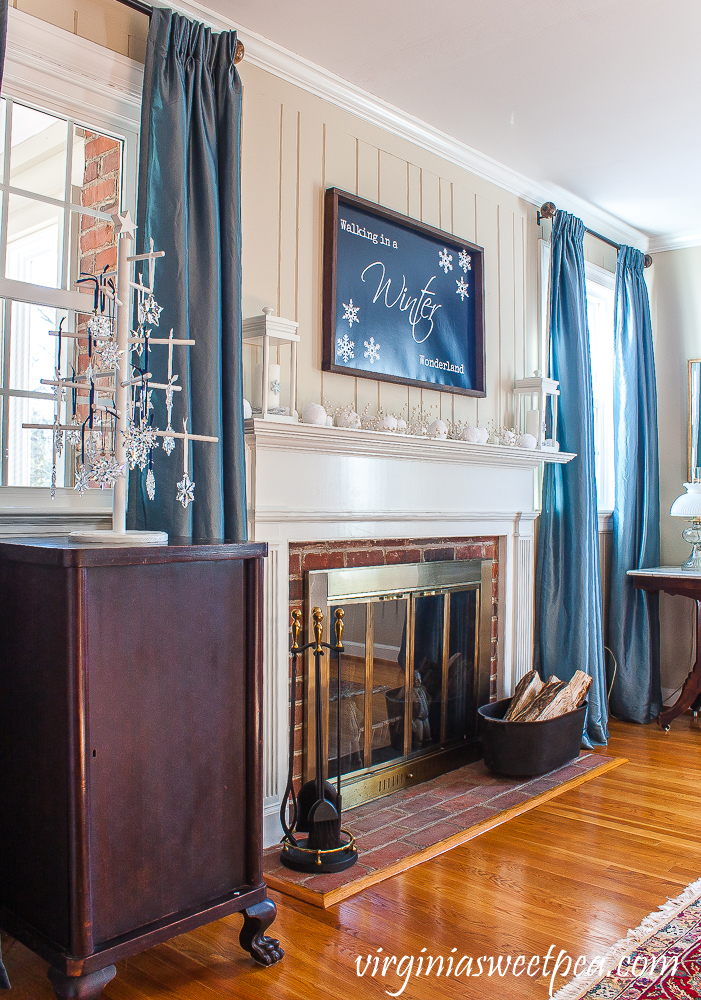 The art over the mantel is a free printable for my newsletter subscribers. If you are a subscriber, the password to access the printables is in my newsletter. Subscribing is easy and free, simply click here and you will get instant access to my printables.
Wood is ready for a fire on a cold day. What's cozier than a fire in winter?
Use Pine Cones for Winter Decor
On the table to the right of the fireplace, I created a cozy winter vignette.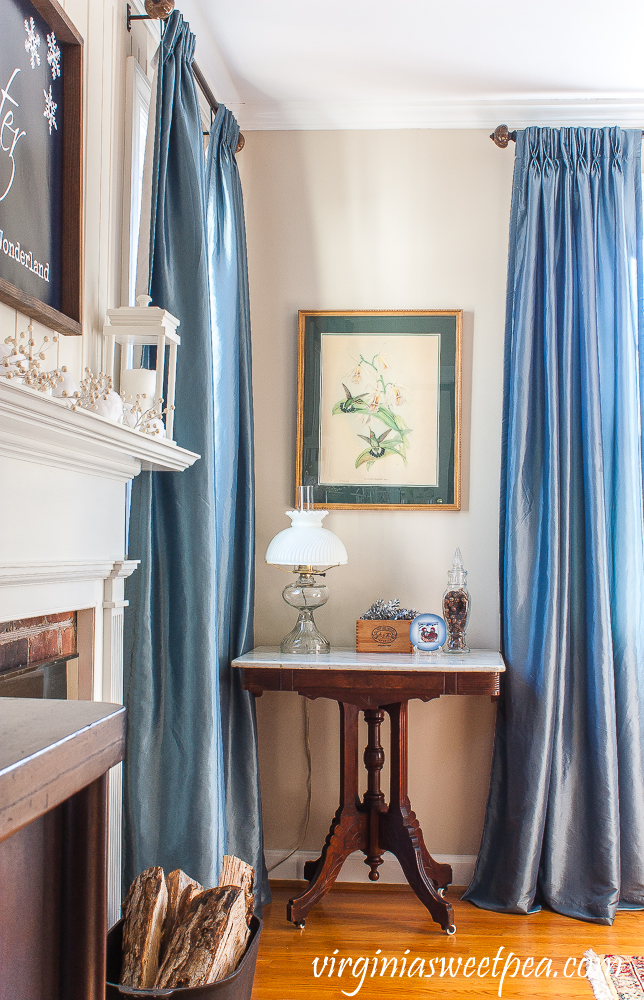 The vintage glass candy jar is filled with small Hemlock cones that I picked up near our house and the cigar box is filled with pine cones that I spray painted silver.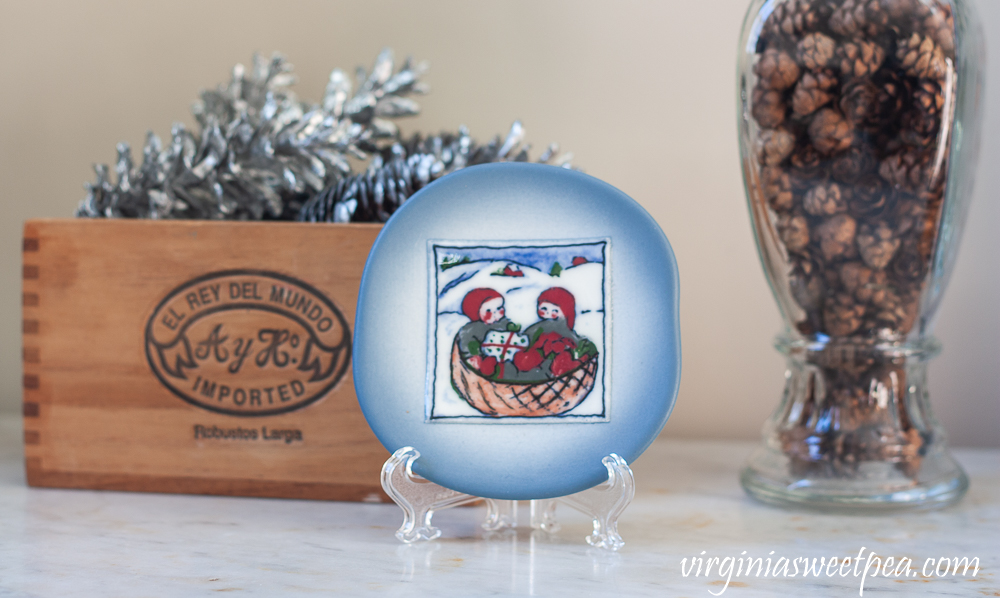 I found the cigar box in a trash pile on a winter run long ago. The little plate is from Finland and was a gift from a friend who traveled there for work.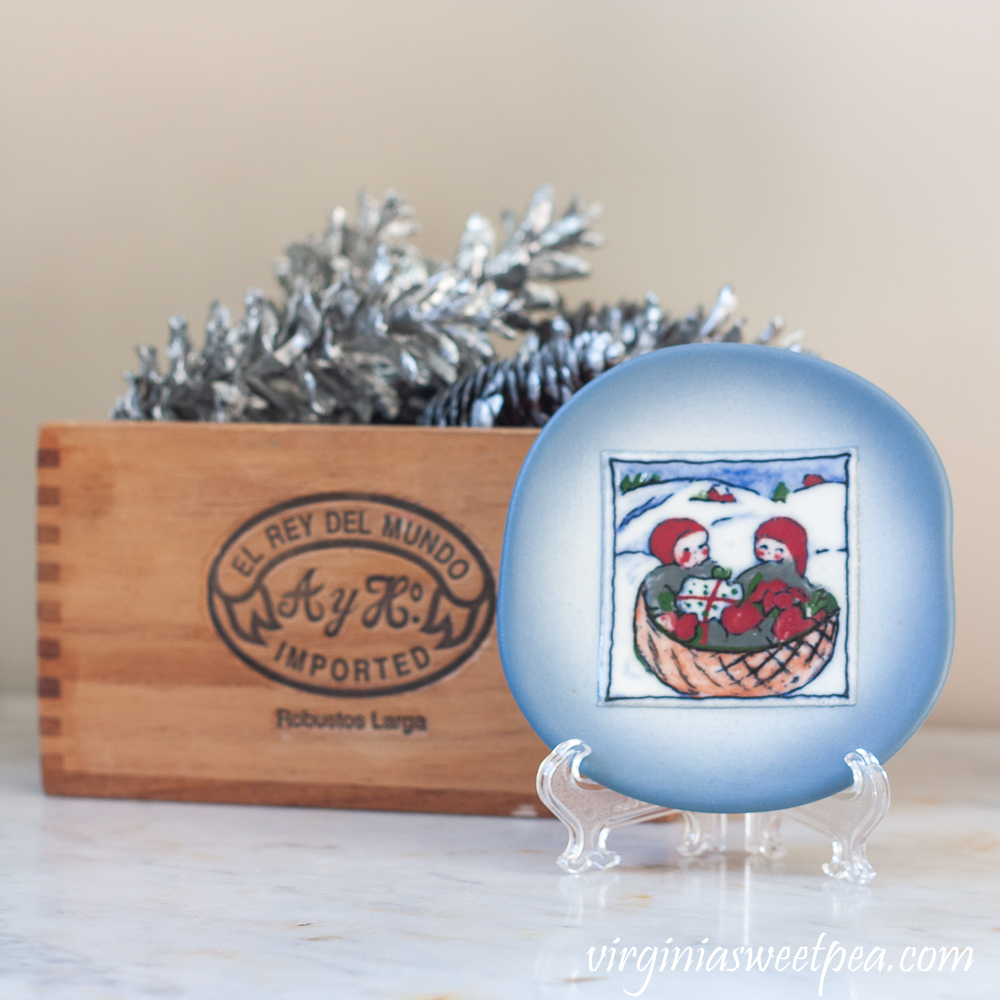 On the table between the chairs in front of the mantel is another bowl of pine cones.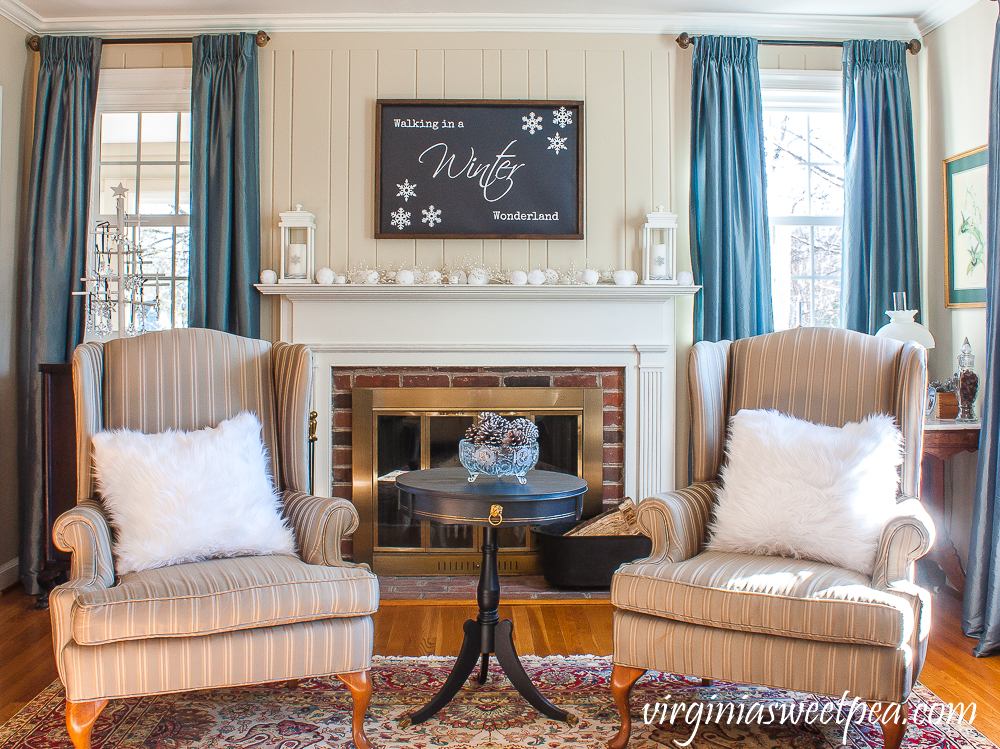 This bowl was my grandmother's. I don't know its pattern, if you do, please let me know.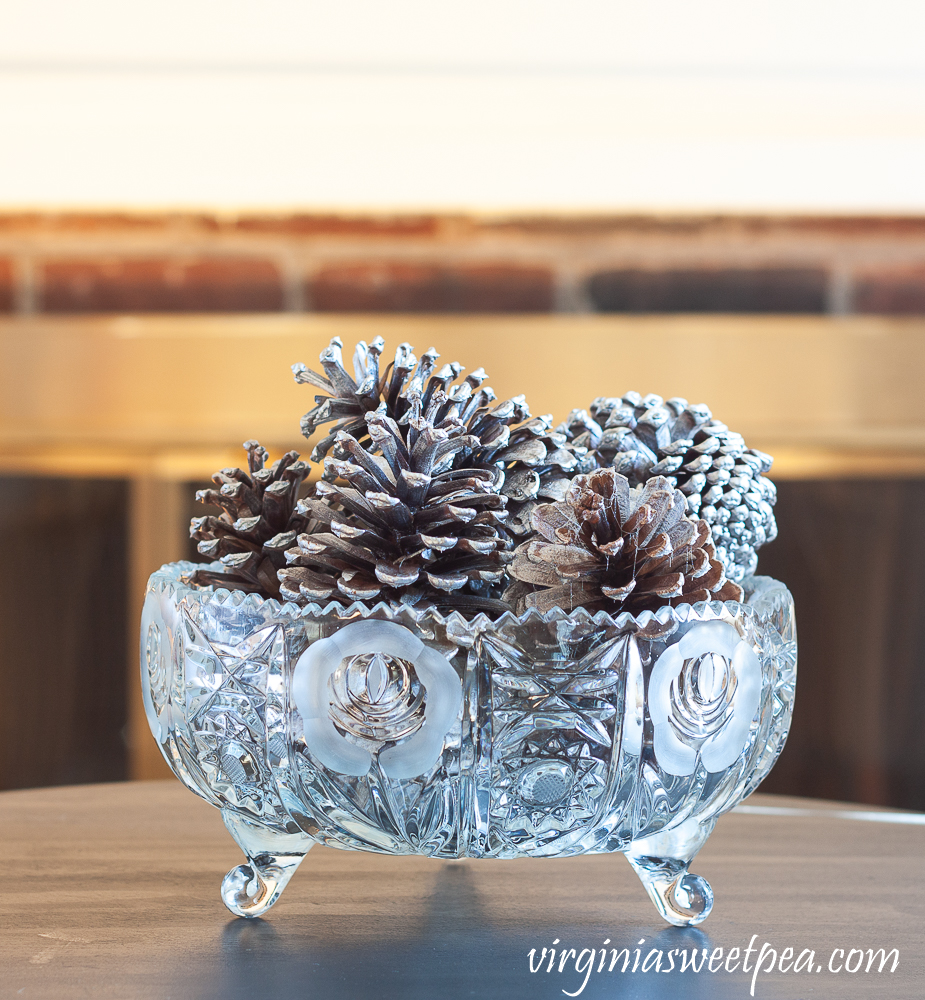 We don't have pines in my area that produce cones this large. I picked these up in North Carolina on a business trip with my husband. I gave them a quick coat of silver spray paint for winter. I used the same sized pine cones for a winter door decoration.
When I was photographing this room, at one point the morning light streamed through this bowl making it look so pretty.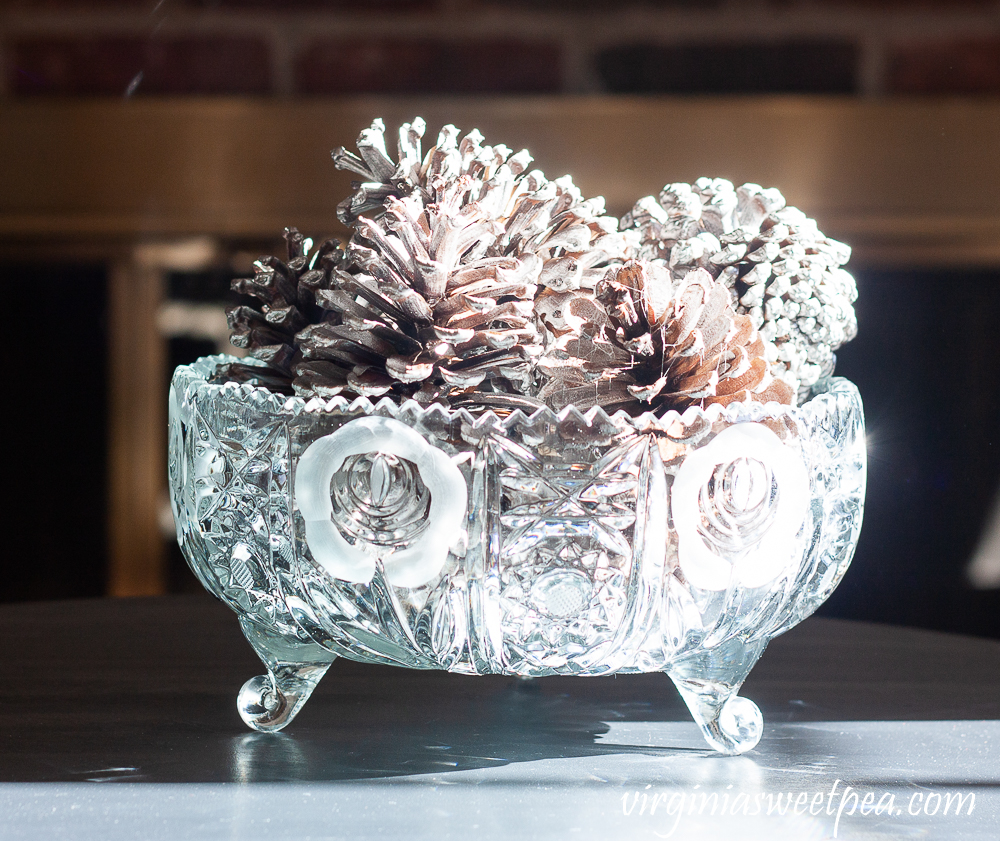 Use Candles to Create a Cozy Feel
Candles give a room a cozy feel in any season. On the mantel, I used DIY frosted candles and small votive candles.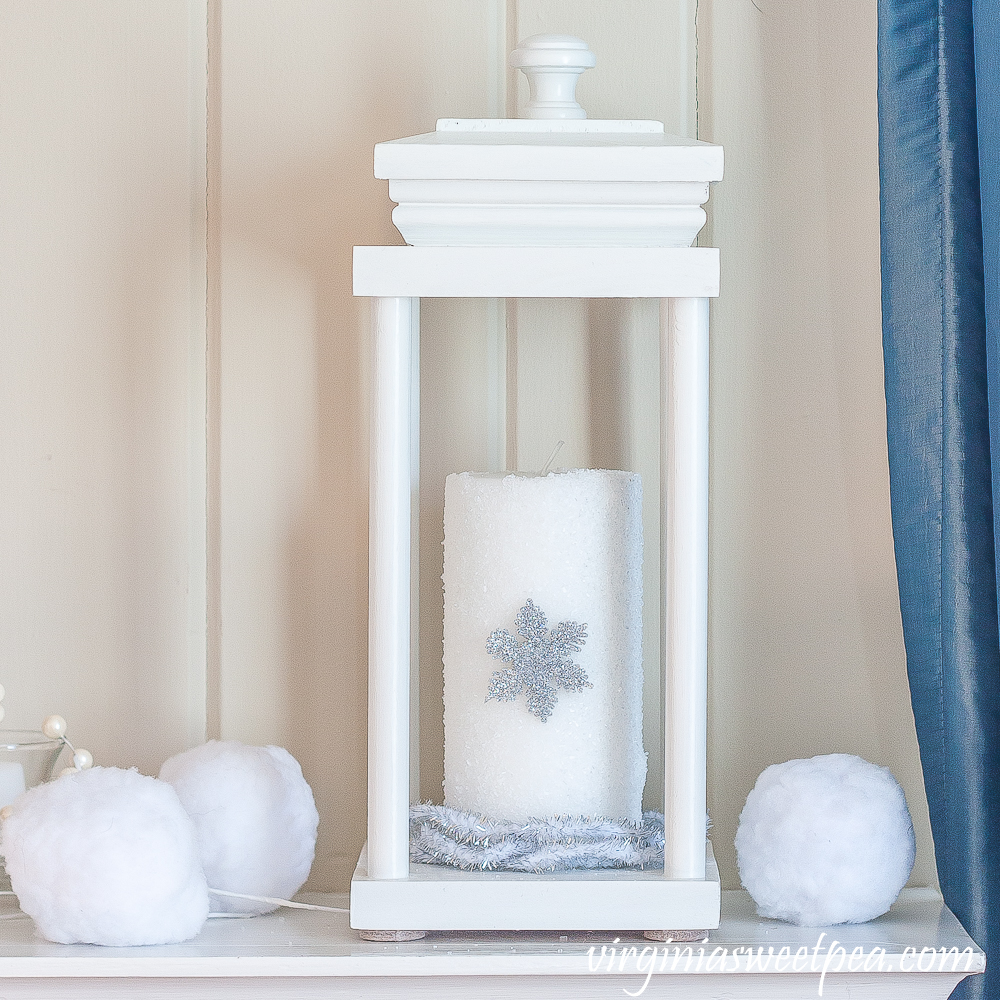 The chest holds another cozy winter vignette that also uses pine cones and candles.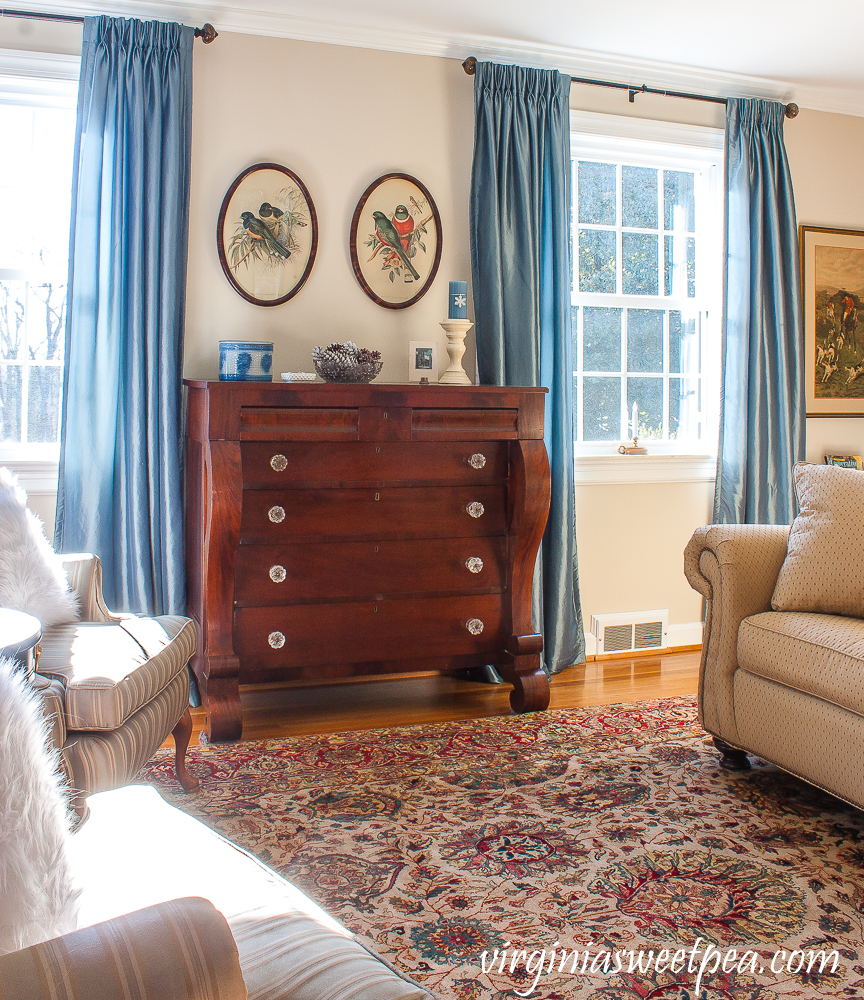 I glued a silver snowflake to each mantel candle and tied the same silver snowflake to this pretty blue candle with silver cording.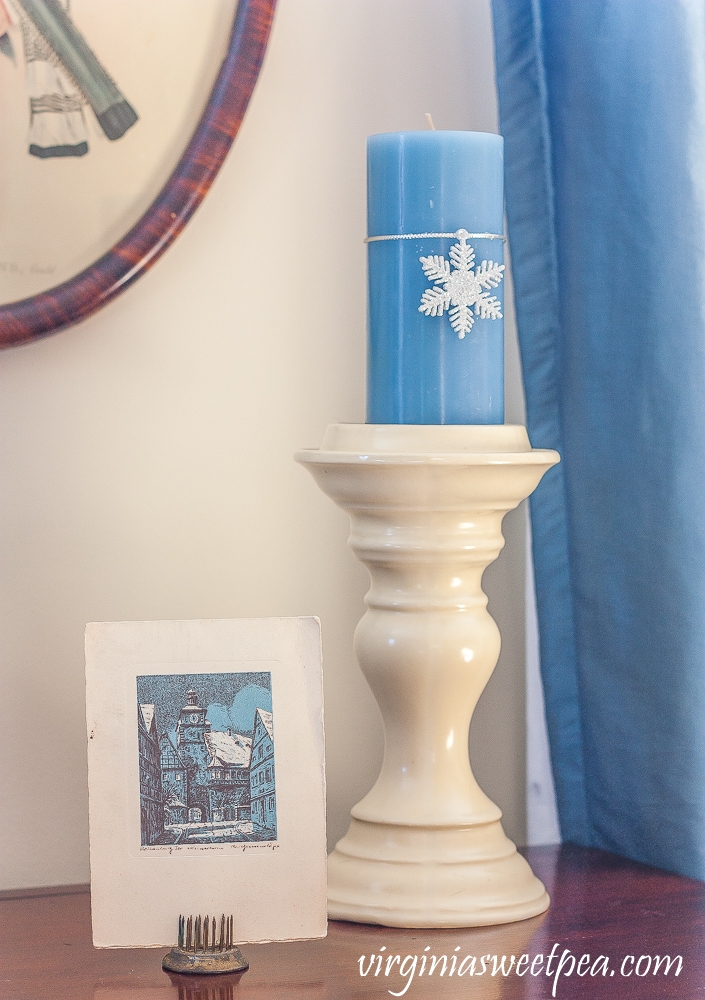 I searched through my grandmother's postcard collection for a postcard to display beside the candle. I didn't find a postcard to use but I did find this beautiful German Christmas card.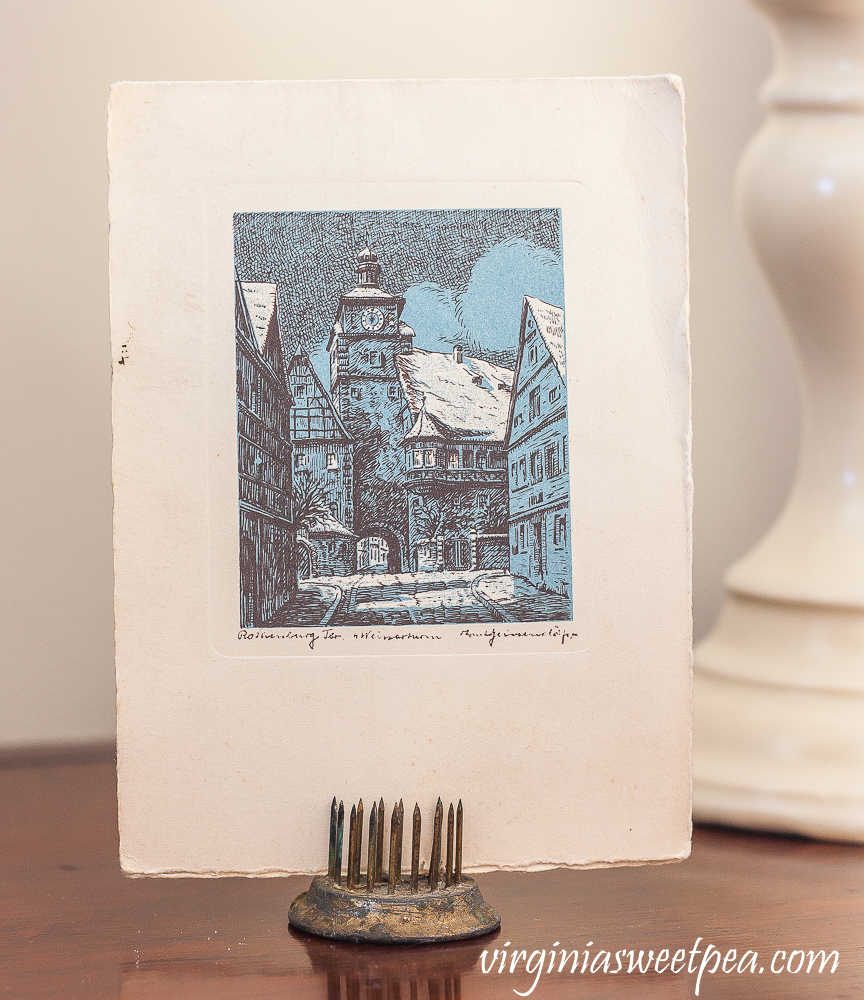 These pine cones that I picked up near my home were given a spray of snow before being arranged in another of my grandmother's cut glass bowls.
This one she marked as "Block & Fan by Richards and Hartley". On her note, she also wrote that the bowl came from Mr. Kasey, a Vinton merchant.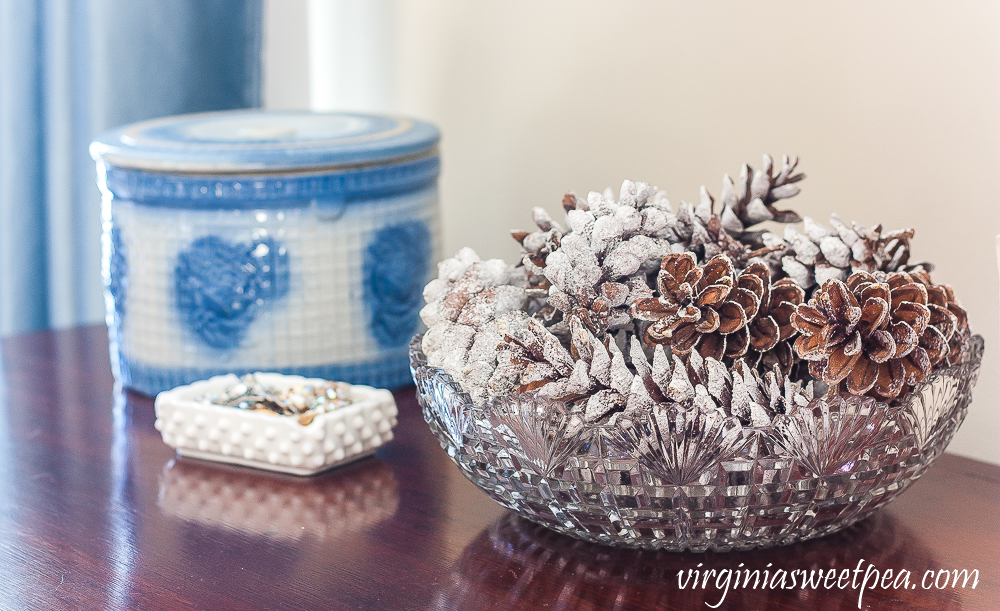 Next to the pine cones is a crock that was my grandmother's and a milk glass ashtray filled with vintage clip-on earrings.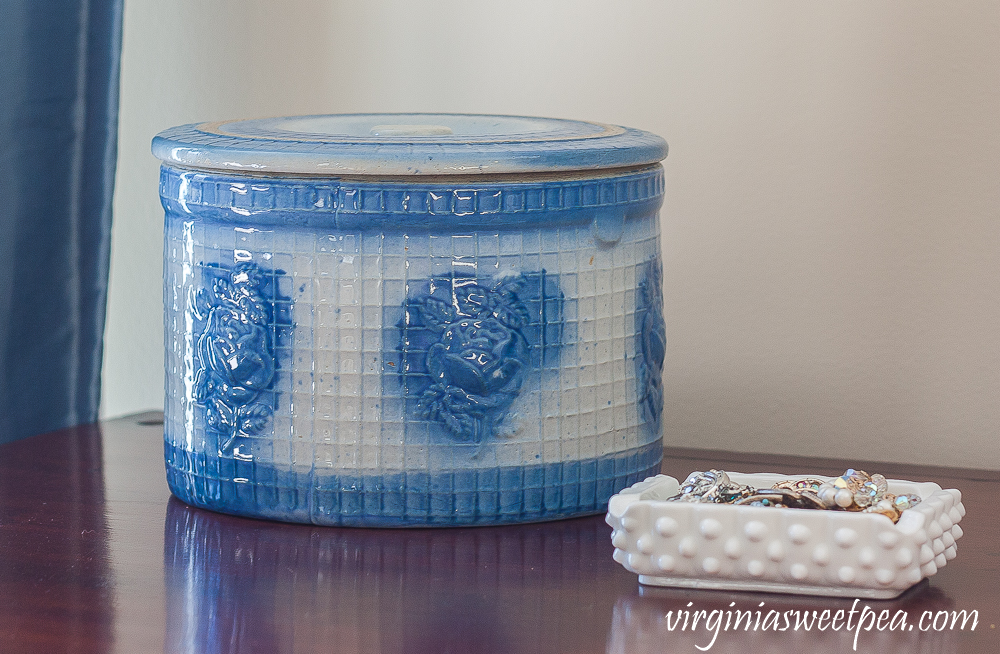 Last Look
I have been enjoying this year's winter decor in our living room so much. I spend a good bit of time in this room during the day petting Sherman. It's his favorite room and he enjoys a comfortable sofa while guarding his home both day and night. I don't need a doorbell if I have Sherman!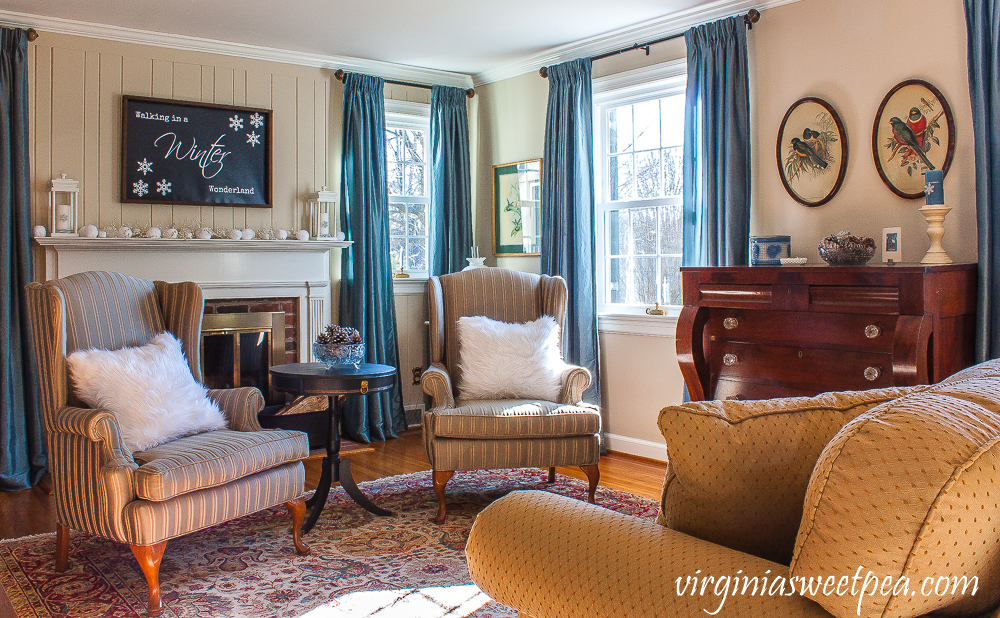 I hope that you got a few cozy decorating ideas to use in your home this winter.
Next on the tour is Cecilia from My Thrift Store Addiction. Cecilia is sharing Calm and Cozy Winter Decor Ideas and I'm looking forward to reading her post.
More Cozy Winter Decorating Ideas to Enjoy
Click on the links below to get cozy winter decorating ideas from my blogging friends.
You are invited to the Inlinkz link party!