A Very Vintage Christmas on the Porch
Every year I enjoy decorating our porch for the Christmas season. We use our porch as our main entrance and I like it to look festive for the holidays. Today in A Very Vintage Christmas on the Porch I'm sharing this year's porch decor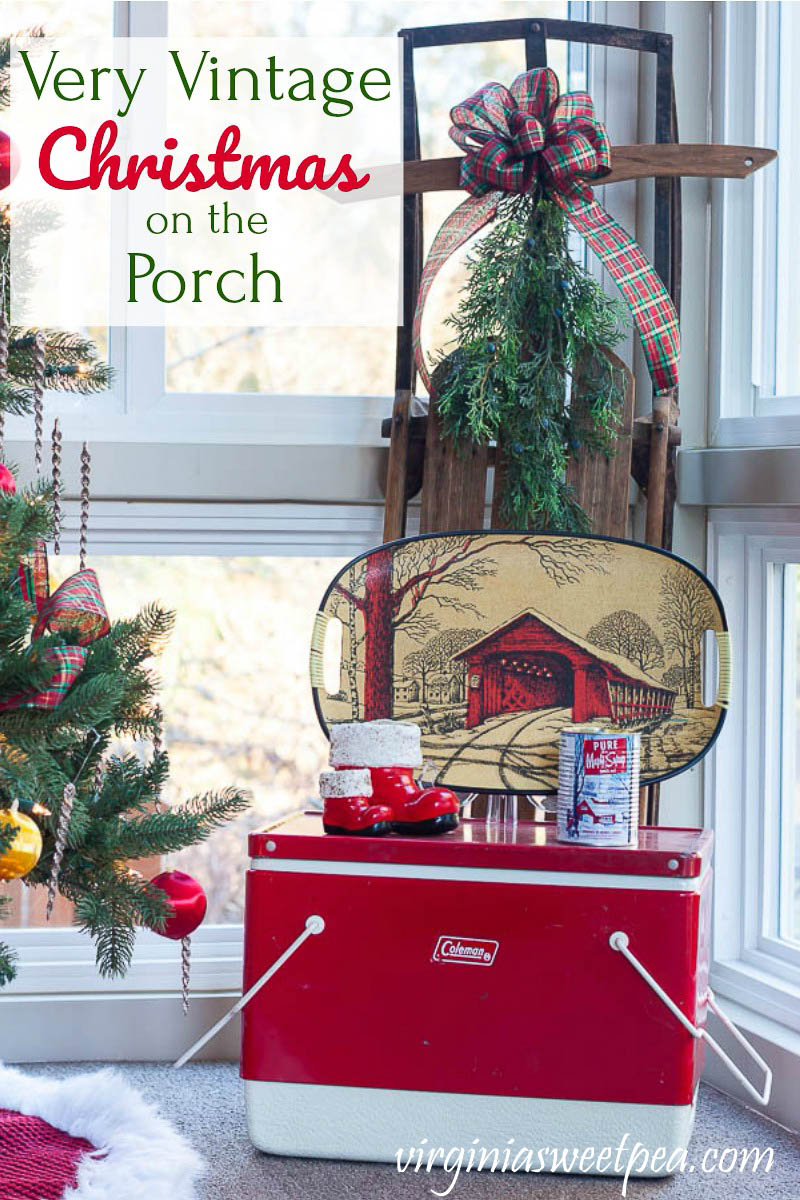 I'm sharing my Christmas porch along with 12 other bloggers for a Christmas Porch Tour is hosted my friend, Amy, from Atta Girl Says. If you aren't familiar with Amy's blog, I encourage you to check it out. She's a fabulous decorator, crafter, and cook whose blog I have enjoyed reading for many years.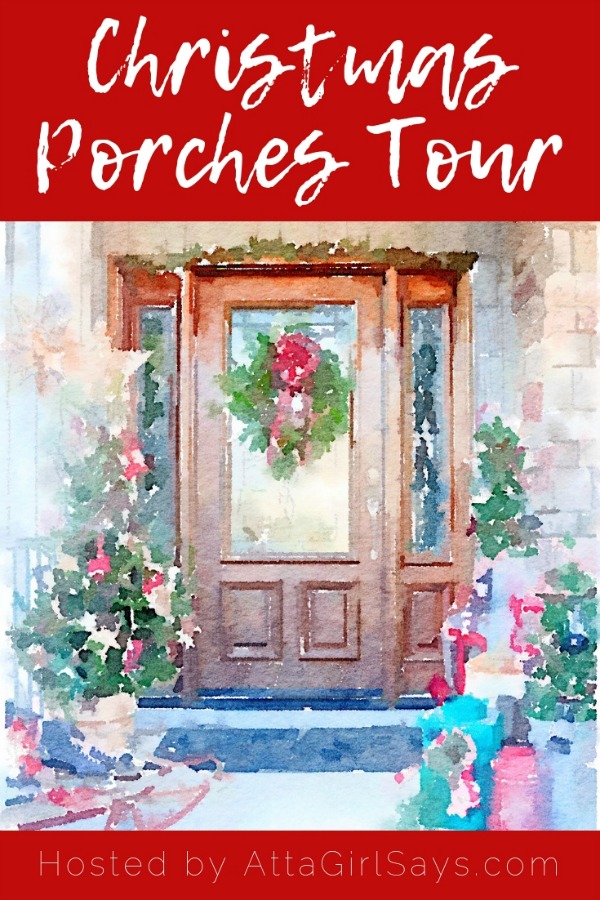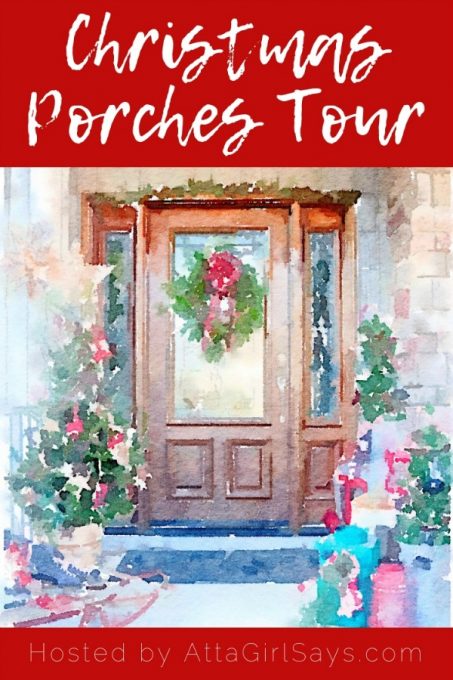 You'll find links to all of the porches shared today at the end of this post.
A Very Vintage Christmas on the Porch
Welcome to our decorated with vintage Christmas porch! For this year's holiday decor I used some things that I always use on our porch for Christmas but I have some new-to-me things to share as well as a few vintage items that I've never before shared on the blog.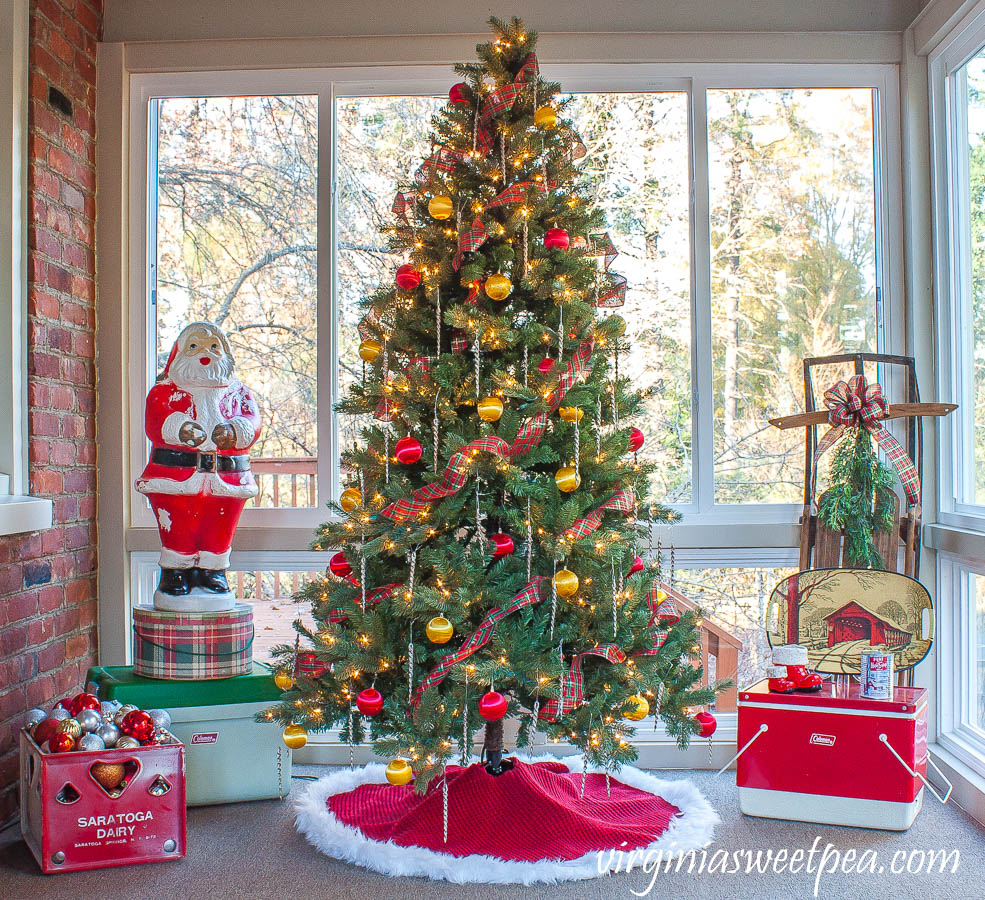 Over the summer we converted our screened porch to a sunroom. This room is so wonderful now with windows that open and close and a new fan for the warmer months. I had so much fun decorating this space for Christmas with vintage!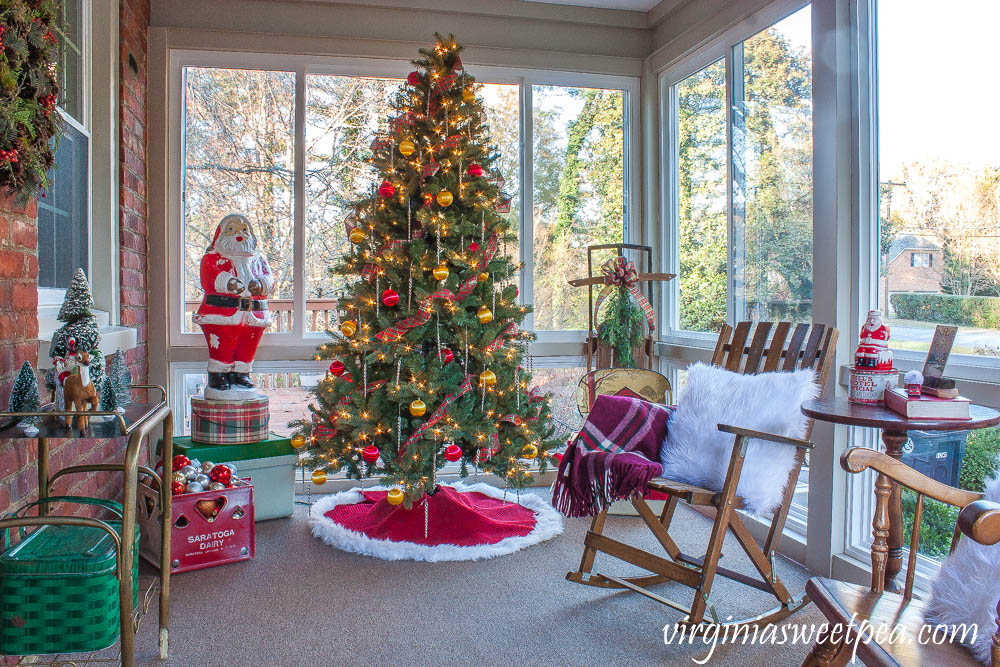 Our Porch Tree
I love having a tree on our porch and so do our neighbors. We live on a corner lot and our tree can be seen as people drive or walk in front or beside our home. Many neighbors have told me how much they enjoy our porch tree.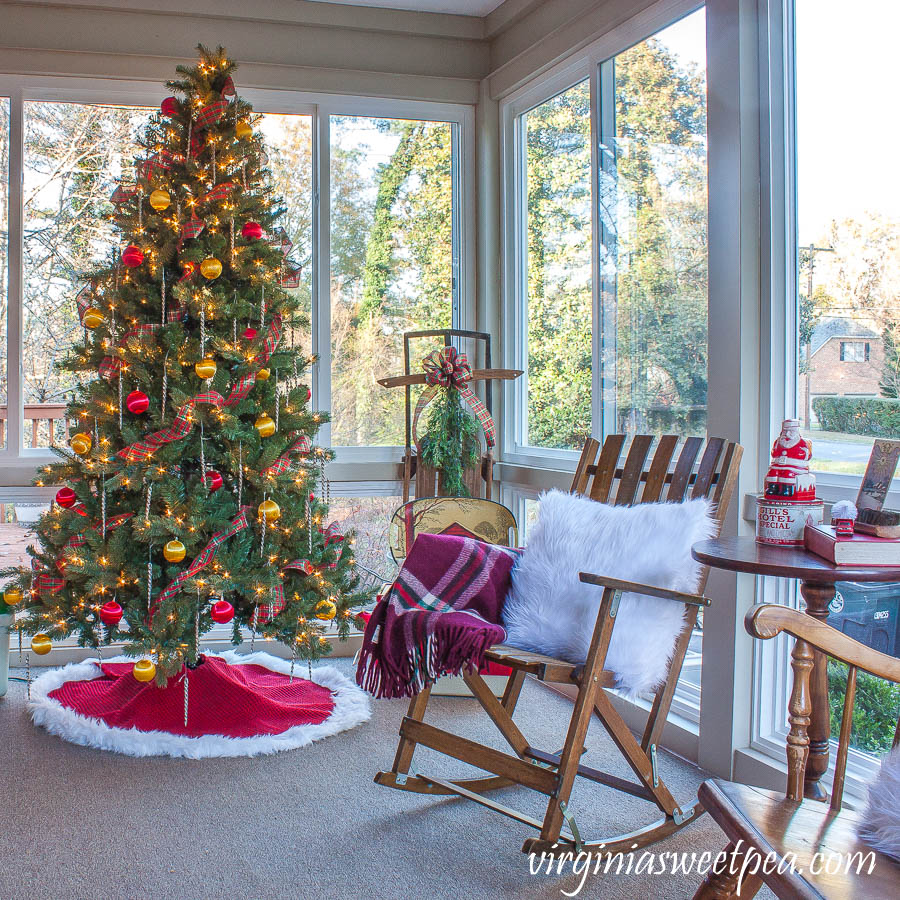 This year for Christmas I used the same plaid ribbon on our porch tree, on our family room tree, and also on our Christmas mantel.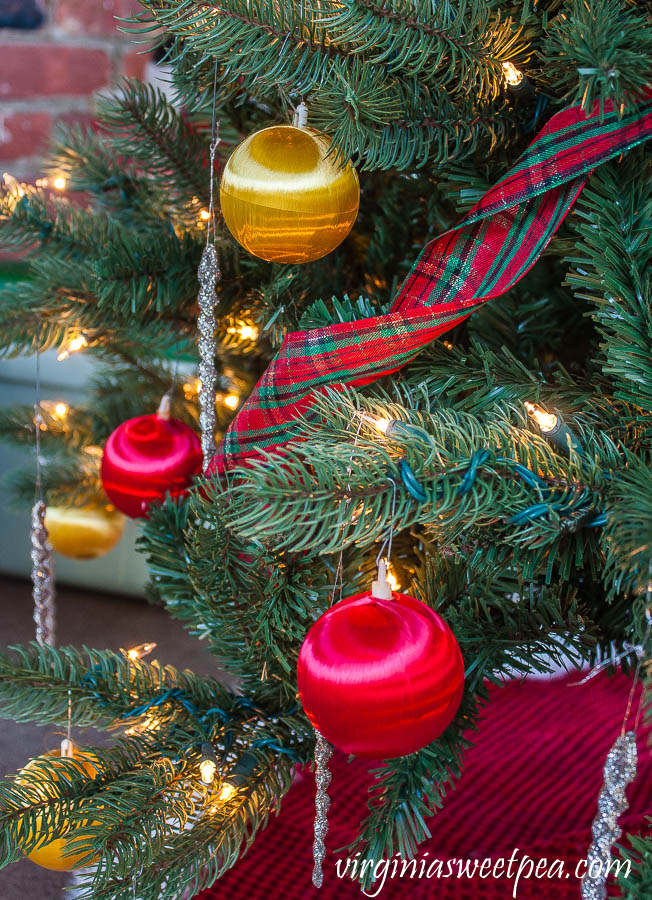 My former teacher assistant graciously offered me a box filled with 1970's Christmas balls that she no longer wanted. My mom used red and gold satin covered balls just like these when I was a child and I was tickled pink to use them on this year's porch tree.
I also added glittered icicles in several color tones.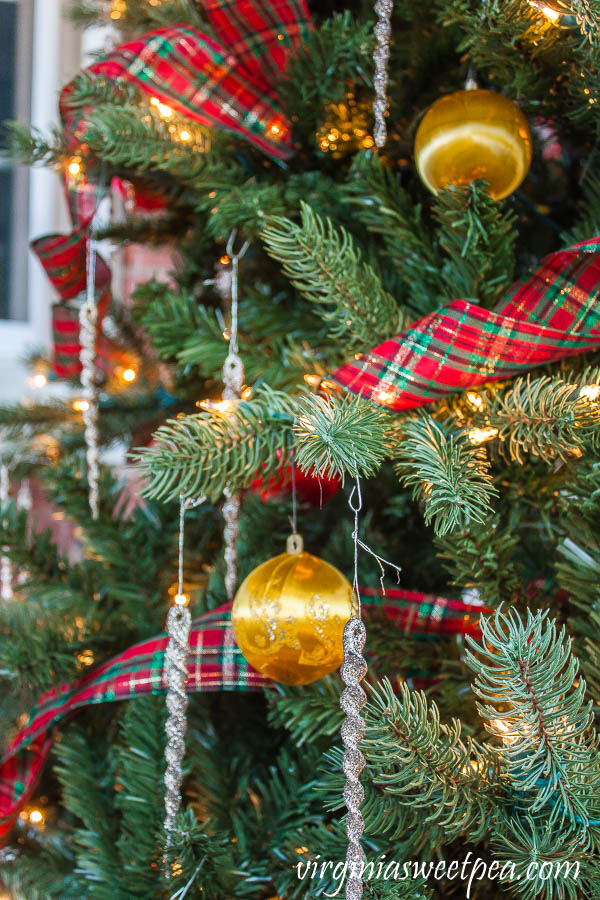 Blow Mold Santa Display
The area to the left of the tree is filled with vintage items never seen on the blog. The star is a blow mold Santa.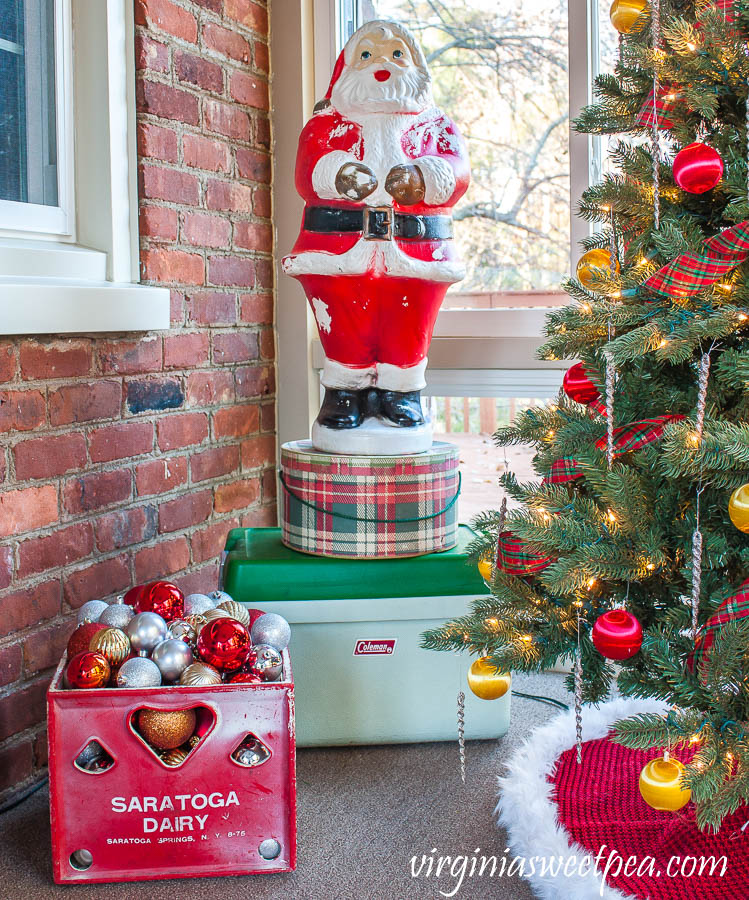 In August I visited my college roommate who I last saw at our wedding in July of 1994. We had such a good time together and reconnected instantly. We visited an antique mall where I found this blow mold Santa that had to come home with me.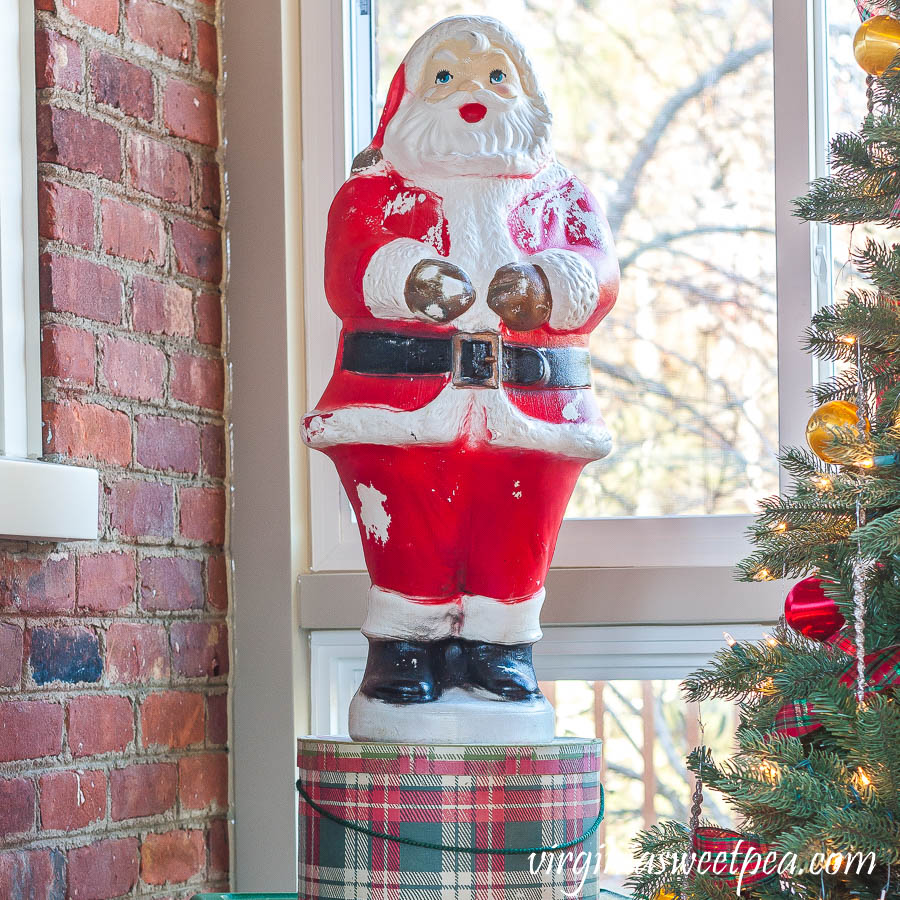 Santa is standing on a plaid hat box that I found in Mount Airy, NC. The cooler under it was my dad's and I still use it from time to time. My aunt passed along the Saratoga Dairy crate to me last Christmas.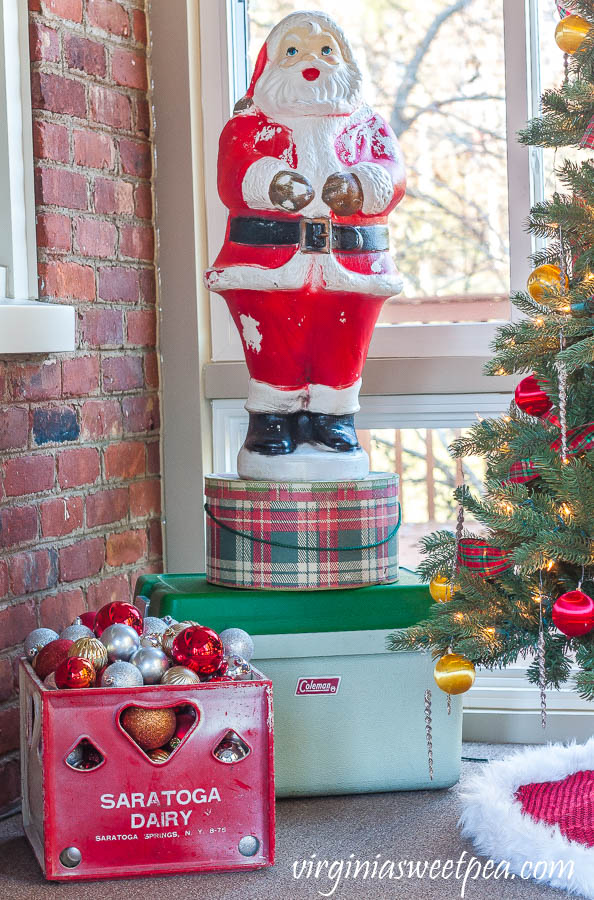 Sled and Covered Bridge Tray Display
Every year on our Christmas porch I display my brother's sled. I grew up on a farm and this sled got a lot of use. Sometimes my dad would pack the snow with his tractor to make an extra fast track for us to enjoy. He also would hook our sleds to the back of his tractor so that we could enjoy riding both down and up the hill. Our sleigh riding area even had a jump formed by an old farm road.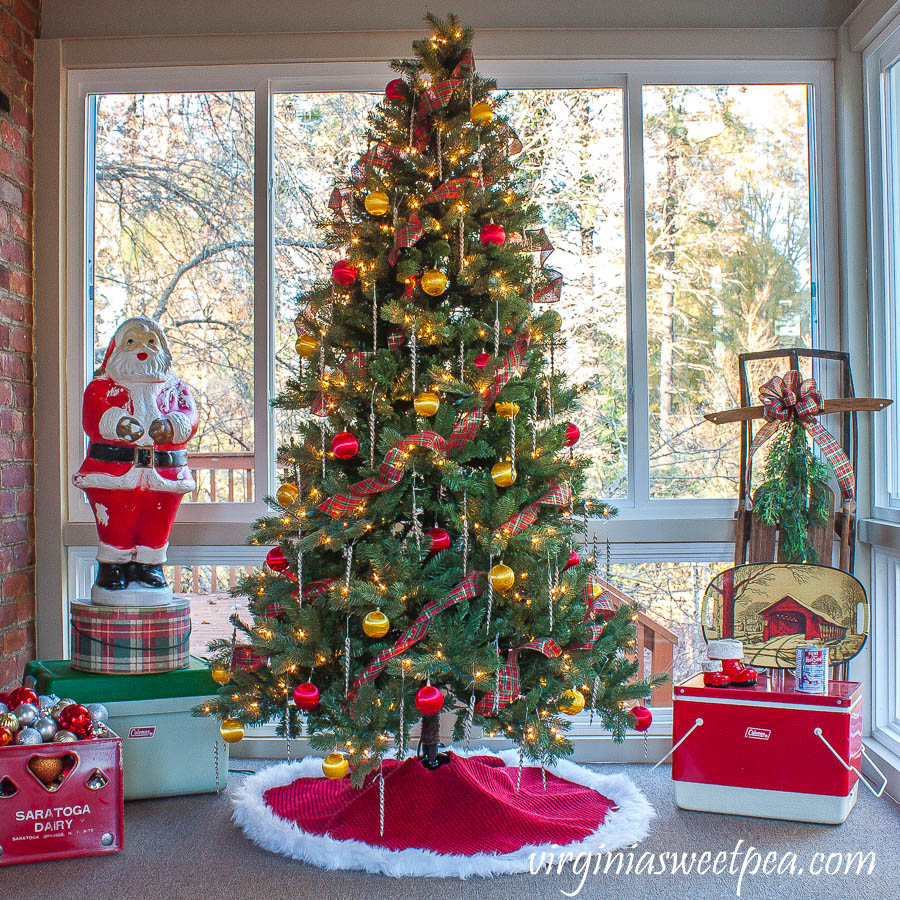 I decorated my brother's sled with the same plaid ribbon and some faux juniper.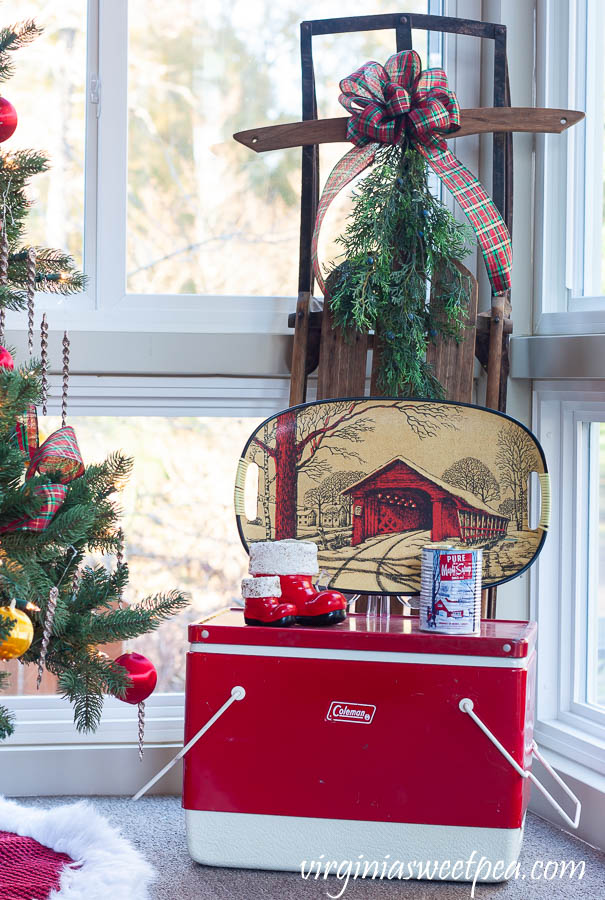 I found this covered bridge tray in an antique shop in Bedford, VA over the summer and had to have it since it reminds me of my favorite state after Virginia, Vermont.
I bought the maple syrup candle while vacationing in Vermont this fall. It smells wonderful!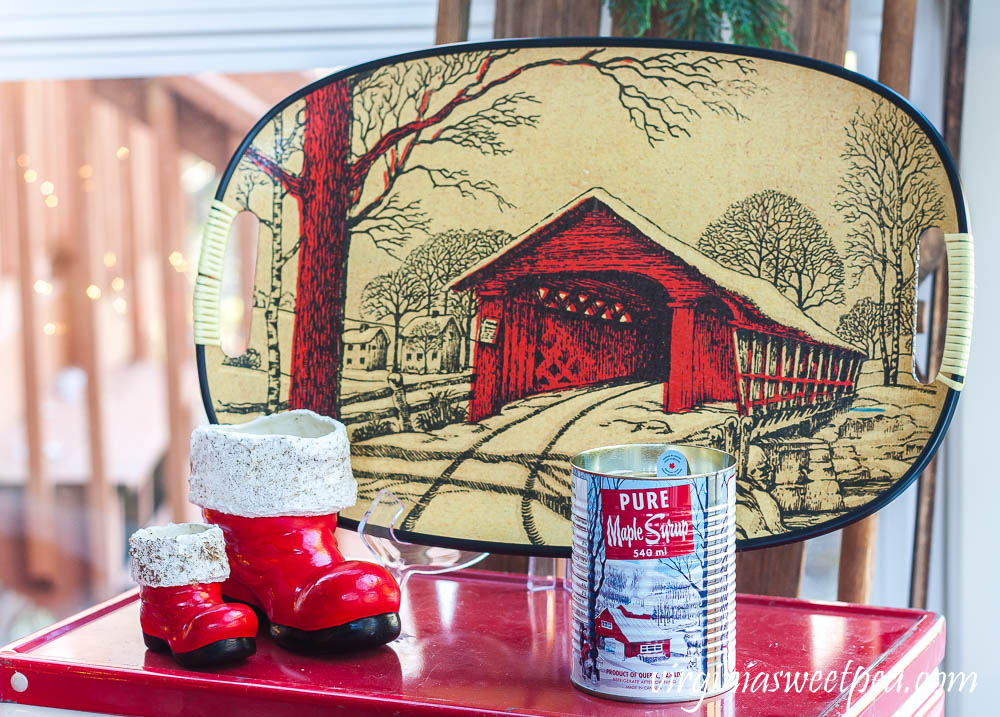 The red cooler belonged to my friend's mom and she passed it along to me when her mom had to leave her home to go to a retirement facility.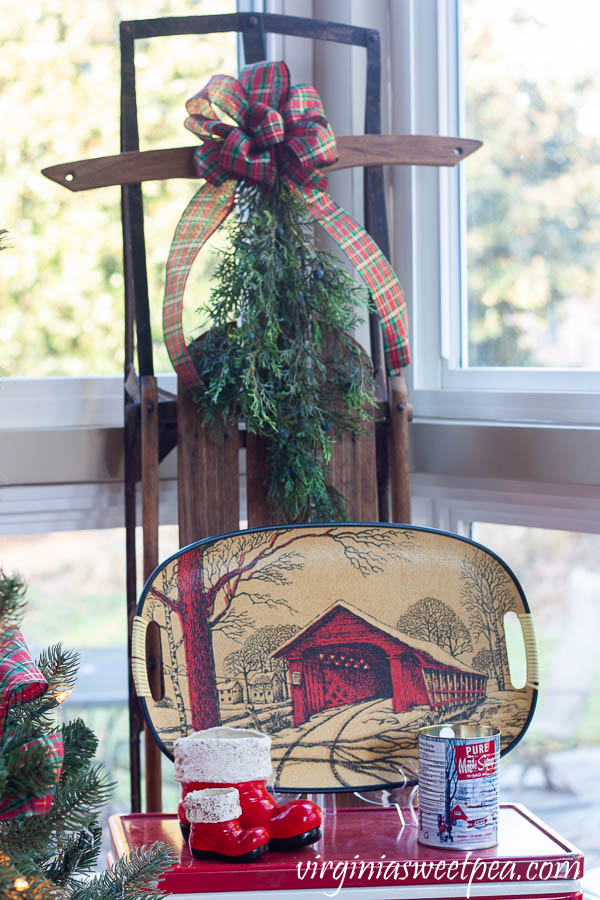 A pair of red Santa boots purchased in an antique shop in Staunton, VA complete the display.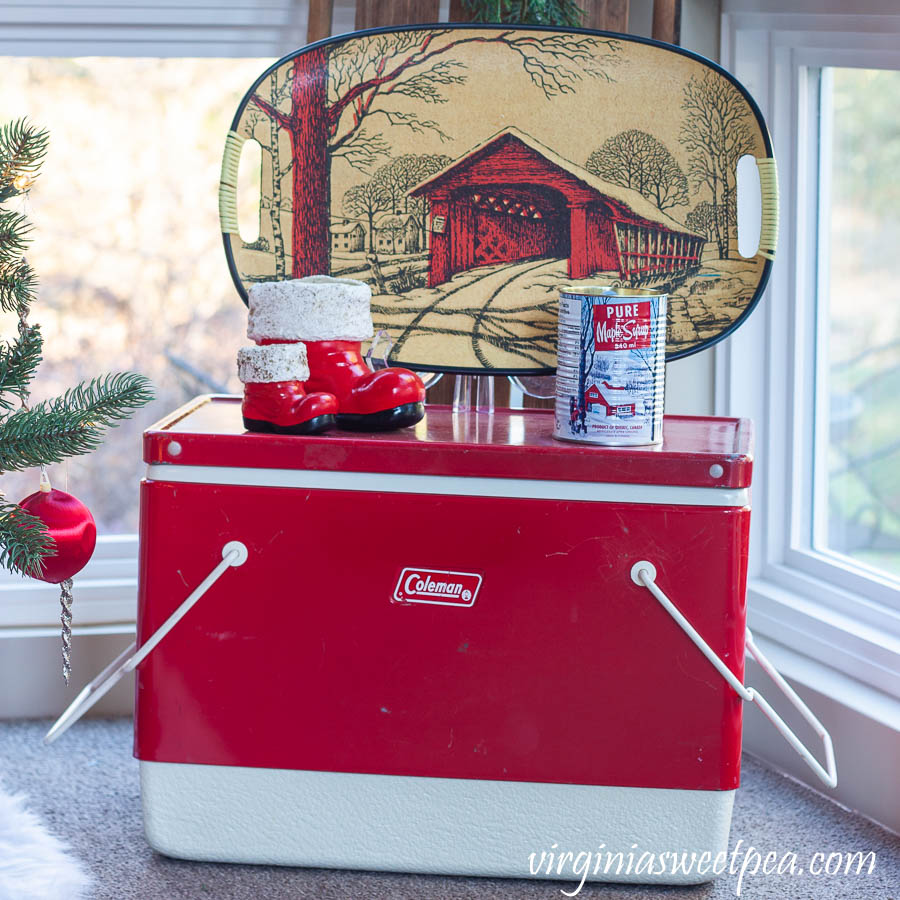 Decorating Beside the Door
The tv table beside our door also belonged to my friend's mom. I love to decorate this table seasonally.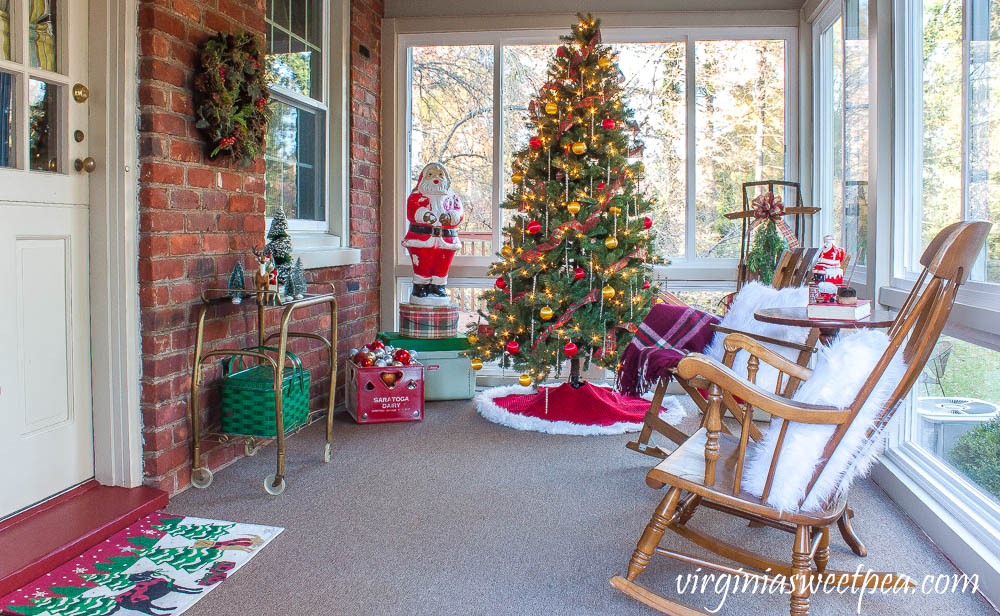 My former teacher assistant has given me many wonderful vintage items over the years. My green picnic basket on the bottom shelf of the tv stand belonged to her aunt.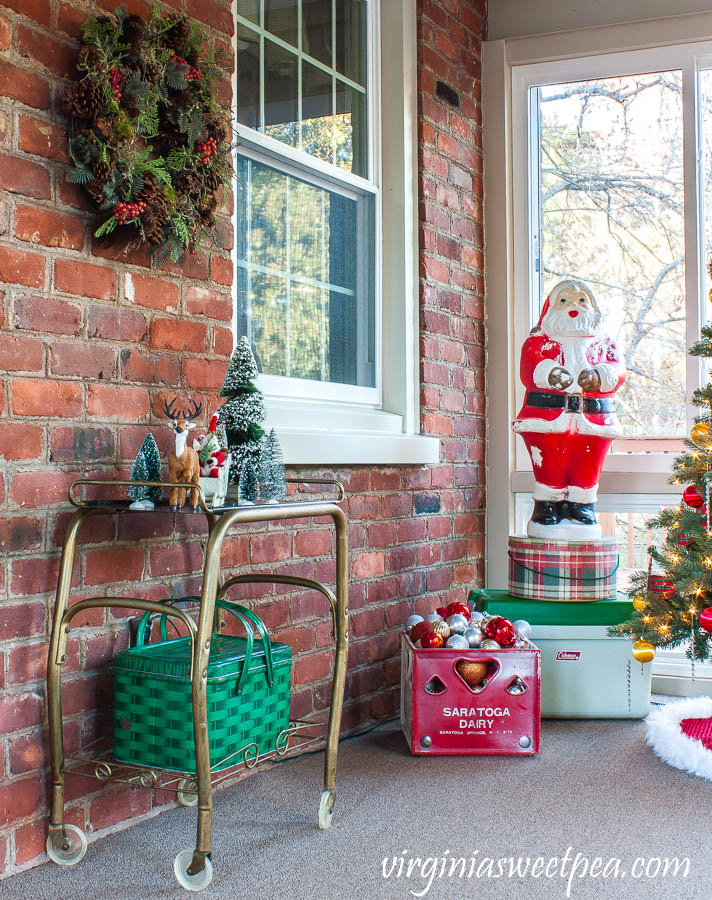 A Byer's Choice reindeer along with a Santa in his sled from The Vermont Country Store are traveling through a forest of trees on the tv tabletop.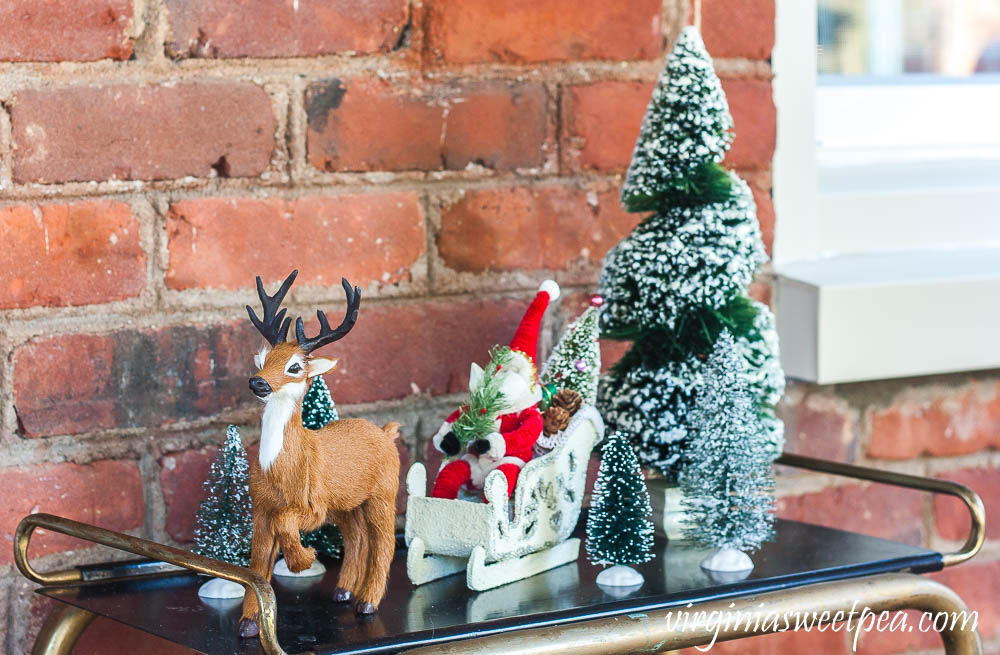 Rocking Chair Area
Two rocking chairs on the porch make a comfortable place to relax and also a great spot to put on or take off shoes. The stadium blanket belonged to my granddad and I made the faux fur pillows last Christmas.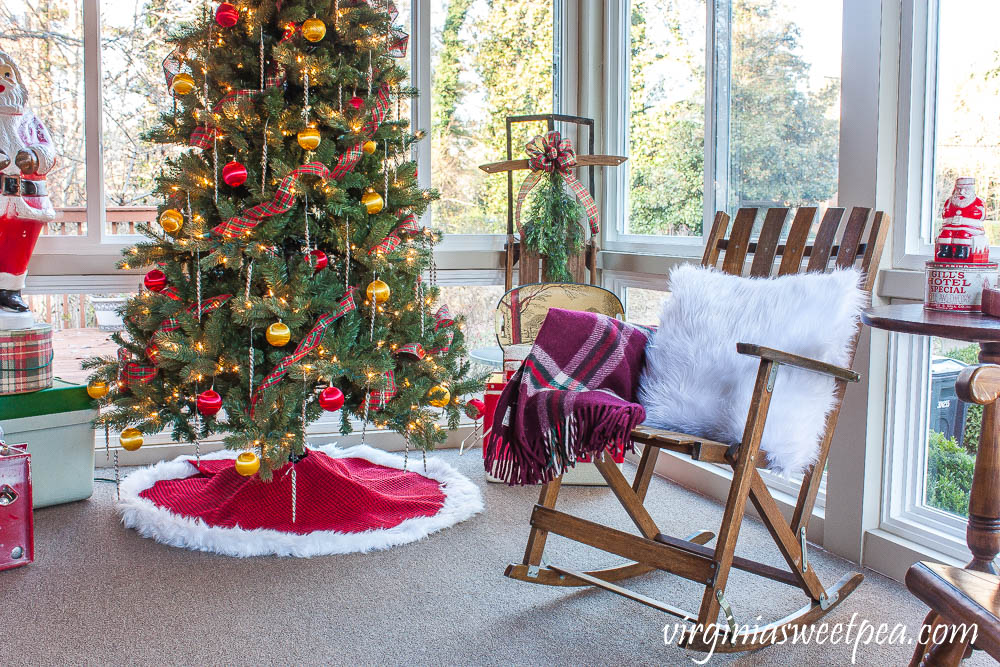 The Santa is a new-to-me vintage Christmas item that I bought from a gentleman selling items from his father's estate on Facebook. His parents had a collection of over 300 Santas that they displayed.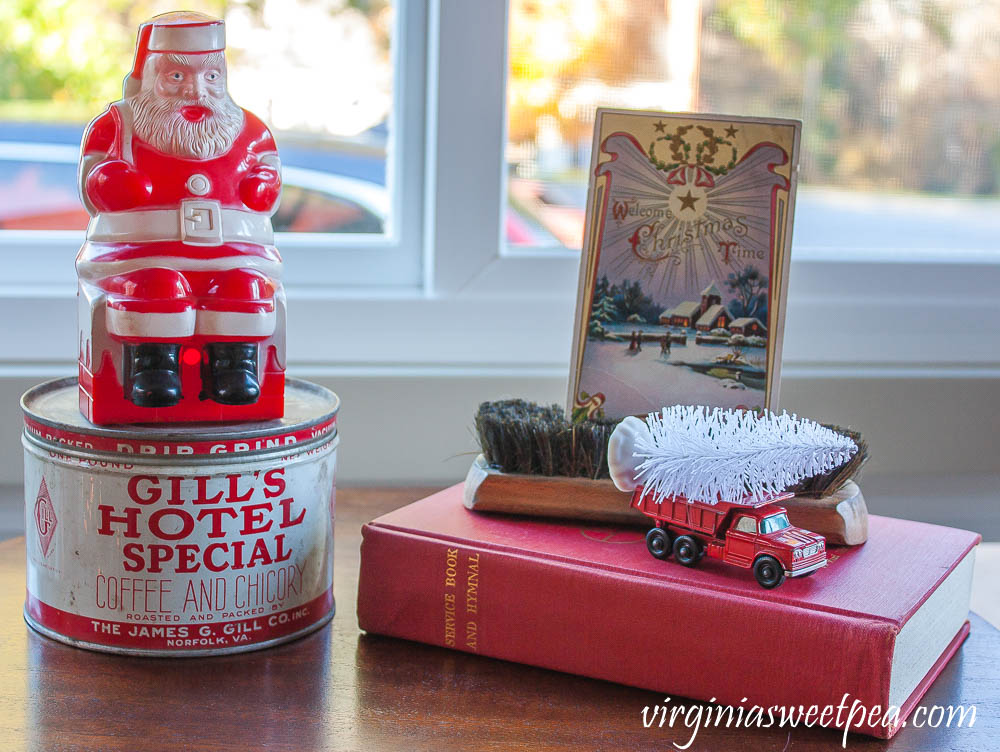 Santa is sitting on a coffee tin that came out of one of my granddad's many sheds. He stored nails, etc. in tins like this.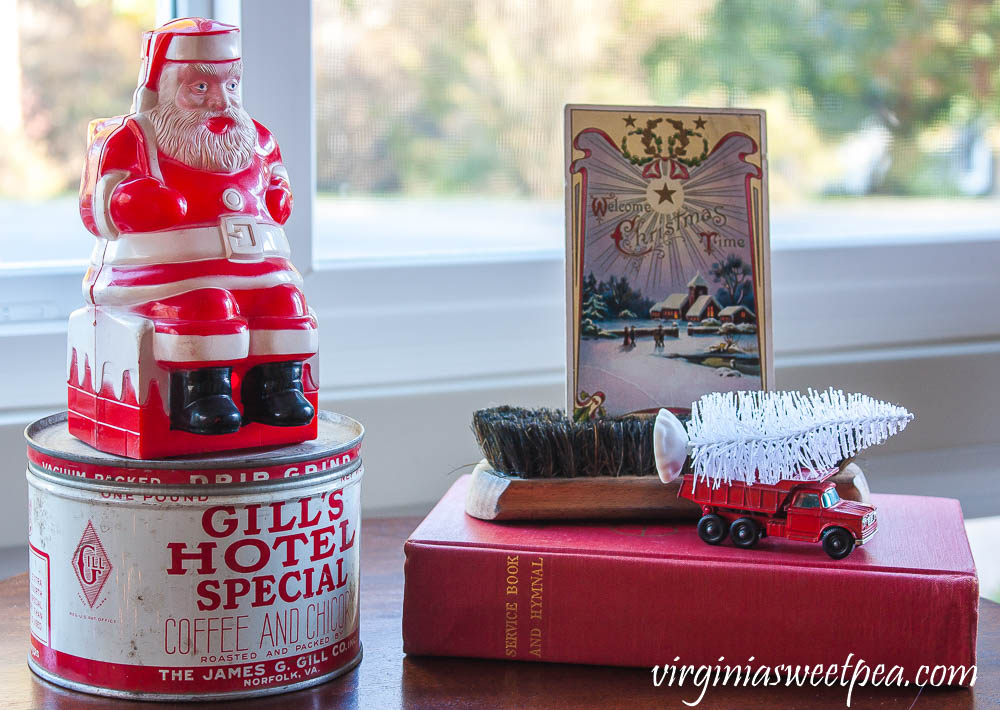 The postcard was sent December 21, 1910 from my great-great aunt Bessie to her sister Willie. The postcard is held up by my dad's shoe polishing brush that I used frequently growing up to polish my riding boots. The hymnal is from 1958 and is inscribed with my dad's name.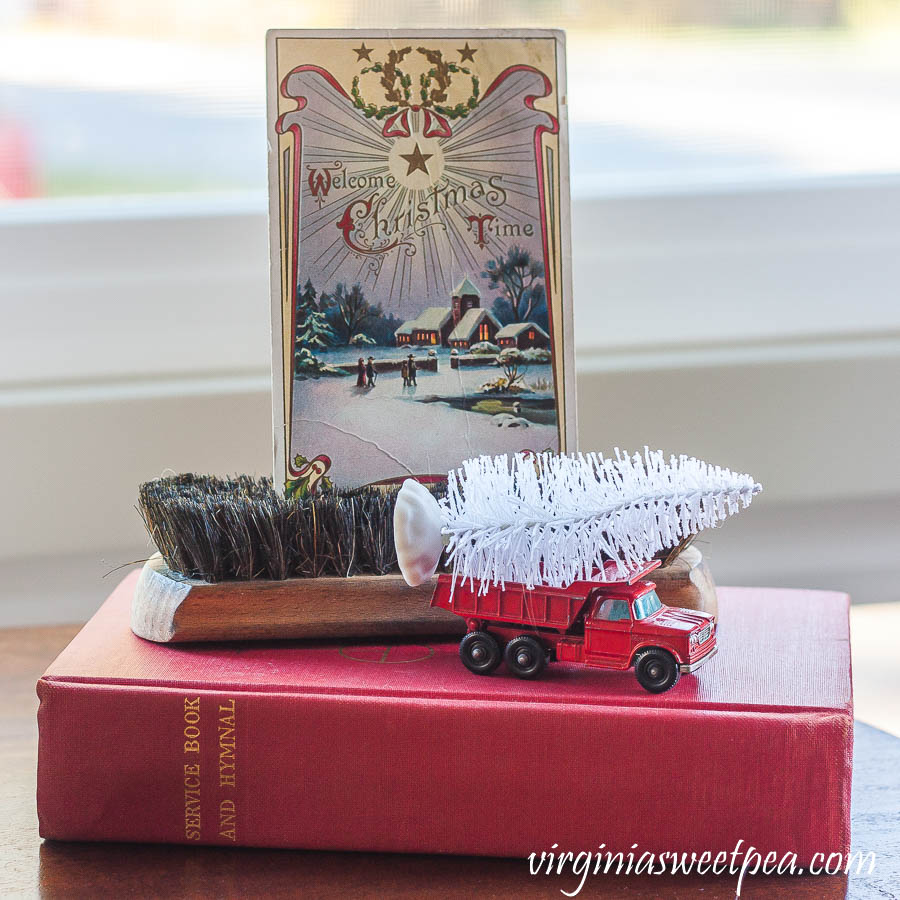 The Matchbox truck dates to the early 1970's and was one of Mr. SP's childhood toys.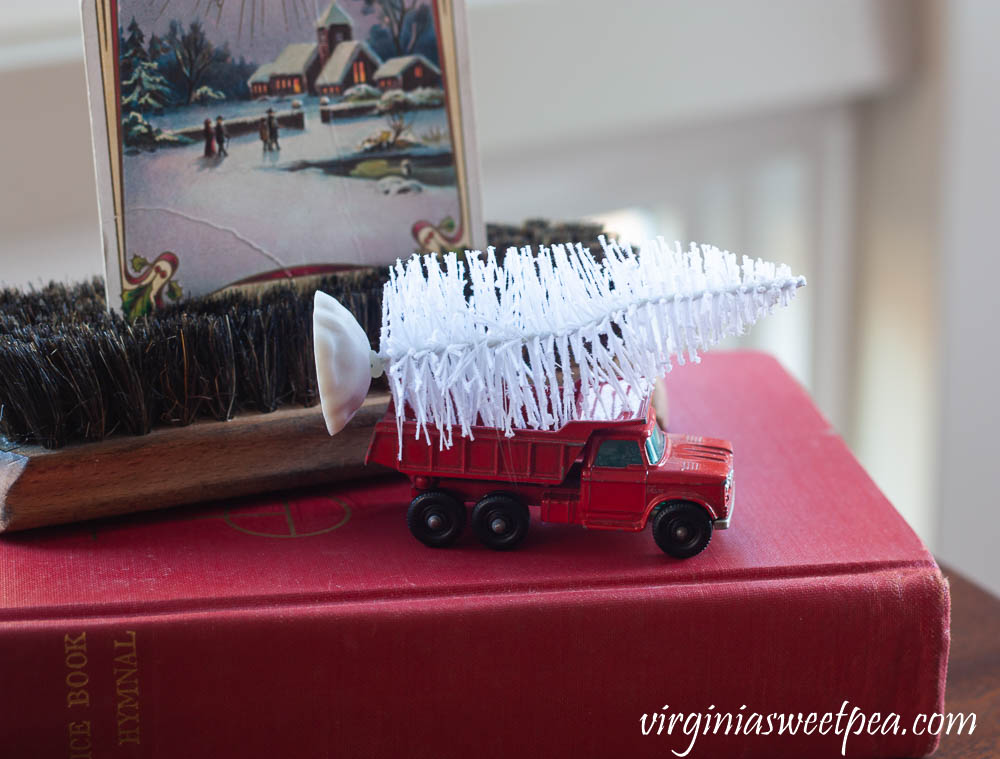 Last Look
I love this year's vintage porch decor! I have so much fun decorating this space and making it look festive for the season.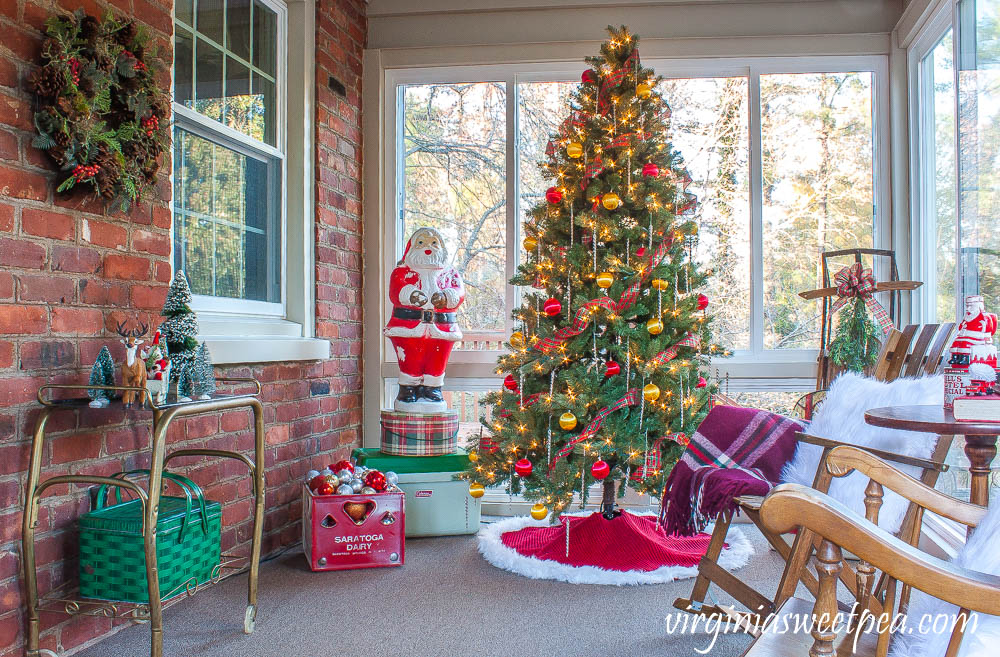 I know you are going to enjoy seeing the Christmas porches that my friends are sharing. I am looking forward to visiting each porch and getting decorating ideas from blogging friends.
More Christmas Porch Inspiration
Be sure to visit all the participating bloggers for festive decorating inspiration for your front porch, patio, sunroom and screened-in porch.
Atta Girl Says // The Frugal Homemaker // House of Hawthornes // Southern State of Mind
2 Bees In a Pod // The Chelsea Project // Virginia Sweet Pea // T. Moore Home
Top Row: Our Crafty Mom // Postcards from the Ridge
Bottom Row: Cottage at the Crossroads // Worthing Court // Major Hoff Takes a Wife
Christmas Porches from Years Past to Enjoy