I'm back with another Vintage Monday, this time sharing my newly acquired Ahalt whiskey bottle. My maiden name is Ahalt, not so common in Virginia, but quite common in Maryland.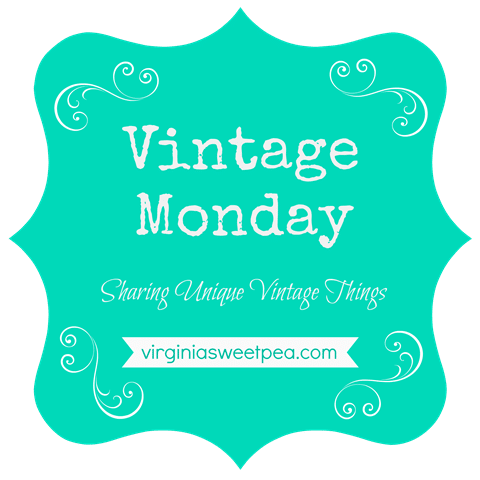 My paternal grandfather, Paul Edwin Ahalt, left the family farm in Middletown, MD, to attend Roanoke College and stayed in Virginia. My father, Paul Frederick Ahalt, was sent to the family farm for summer break when he was a young boy because my grandparents felt that he'd have less of a chance of contracting polio there than in Vinton, VA, where he was sure to spend the summer in close contact with other children. Little did they know that my dad would insist on spending every possible free moment in Maryland on the farm until after he was married and lived too far away to travel there on a whim. I grew up going to the farm several times a year and thought, and still do, that it was heaven on Earth.
I first remember hearing about Ahalt whiskey from my dad about 30 years ago. I thought it was fascinating that distant family made whiskey, especially since my grandfather never touched a drop of any liquor that I know about. When eBay came about, I started searching for an Ahalt whiskey bottle and only once came across one. The price of the bottle soon was out of my threshold of monetary pain and I had to stop bidding. Mr. SP and I have regretted that decision ever since and have never stopped looking for another bottle.
Ahalt whiskey was made in Burkittsville, MD, not far from the family farm in Middletown, Md. The map below makes the distance from Middletown to Burkittsville look far but it's only about 6 miles (I think).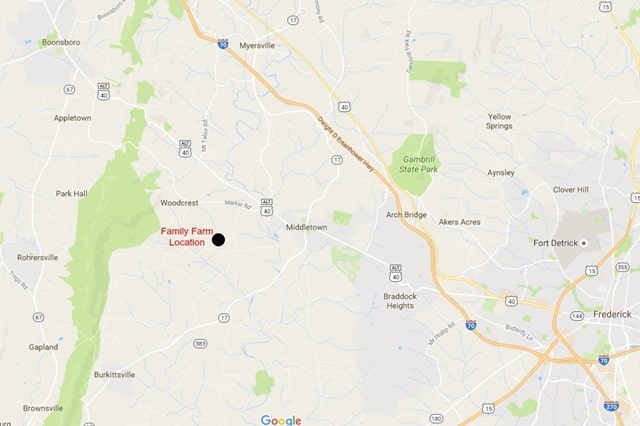 A few years ago, on eBay, I stumbled upon a March 20, 1897 check written to Jeanette H. Ahalt from John D. Ahalt and bid until it was mine. The side of the check says, "John D. Ahalt Distiller of Pure Mountain Spring Rye Whiskey."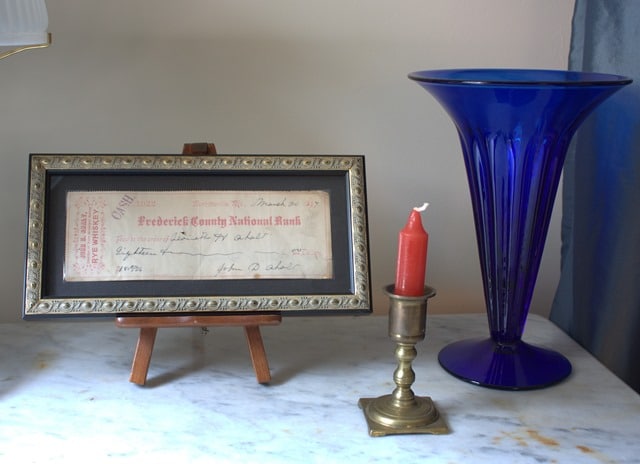 A reader saw the check on my blog post and asked me to contact her about an Ahalt whiskey bottle. She sent a photo of her bottle since I'd never seen one. I was delighted! Fast forward one year and the same reader contacted me asking me if I'd like to buy her bottle. I was so happy to finally get this bottle and wish that my dad were still around to see it.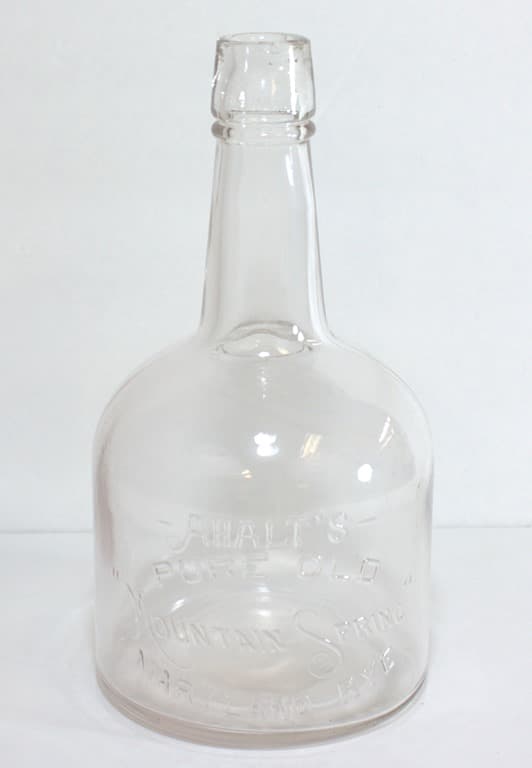 I now have a Ahalt's Pure Old Mountain Spring Maryland Rye whiskey bottle to display with the check.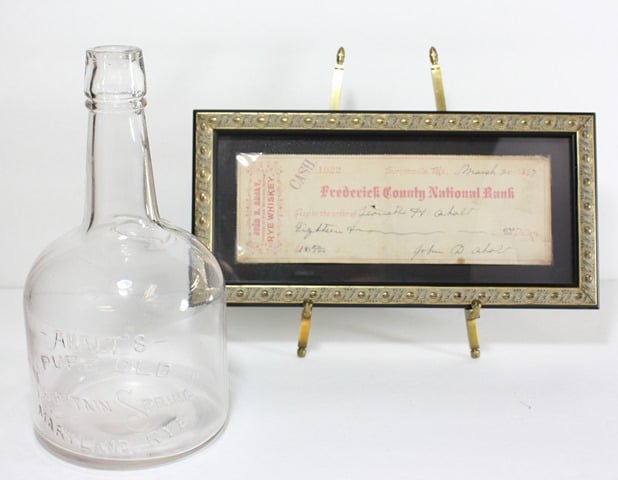 These items are on display in our office but because the whiskey bottle was so hard to photograph, I had to give them an white background for pictures.
I haven't had a lot of luck in finding information about John D. Ahalt Rye Whiskey. I found the information in the next two paragraphs in this article.
John D. Ahalt purchased a stone flour mill in 1879 in Burkittsville, MD, on the former Needwood Estate and transformed it into a distillery. If Burkittsville is ringing a bell in your head, it may be because the movie, "The Blair Witch Project", was filmed there.
The distillery was named "Mountain Spring Distillery" and the whiskey was called, "The Antietam". The business grew and in the 1890's expanded to include a five story warehouse. The business was later sold, it's name changed to "Pure Rye Distilling Company", and eventually closed due to prohibition.
My friend and author of the history blog, Appetite4History, found most of the information below and shared it with me. If you need to do research of any kind, Suzanne is awesome at it!
On this snapshot of the 1880 census, John D. Ahalt is listed as a farmer. Note that Hughes Francis, listed as a boarder, is a distiller.

In the 1900 census, John D. Ahalt's occupation is still listed as "farmer."

In the 1910 census, John's occupation is "farmer and distiller" and his son, John H. Ahalt, now 27 years old, has the occupation of "sells whiskey". Note that Jeanette has died and John H. is now married with children.

By the 1920 census, John D. Ahalt had died. John H. Ahalt is not listed on this census but his wife, now 34, is listed as a widow and the head of the house. She takes in boarders as her occupation. John H. Ahalt is not actually dead in 1920, he is off fighting WWI. Perhaps she thought he was dead??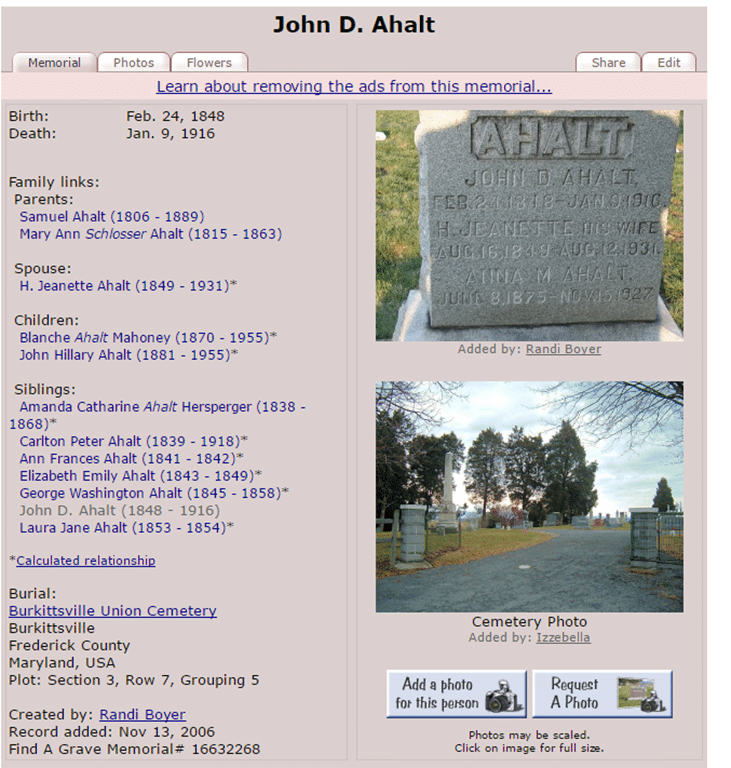 This is John H. Ahalt's WWI registration card.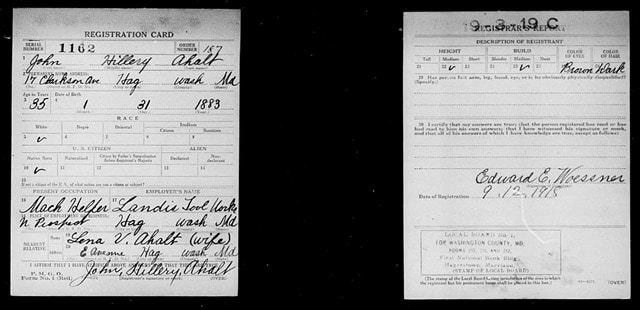 John H. Ahalt dies in 1955.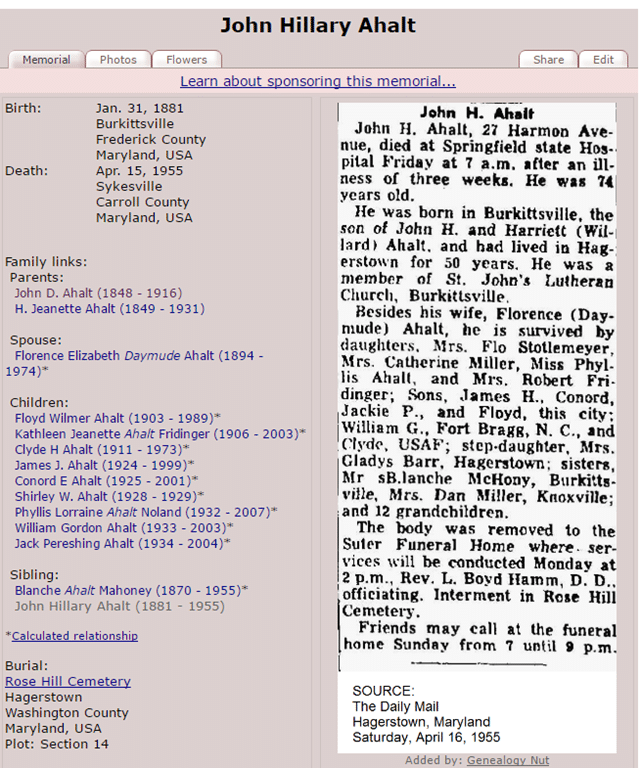 I also found mention of Ahalt Whiskey in this 1990 Maryland Historical Magazine.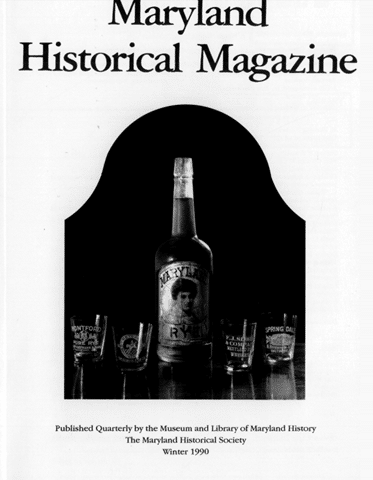 The reader from whom I purchased the Ahalt bottle also included a Very Fine Old Horsey Rye Whiskey Bottle. This whiskey was produced in Burkittville from the 1840's until 1919. (Learn more here and here.)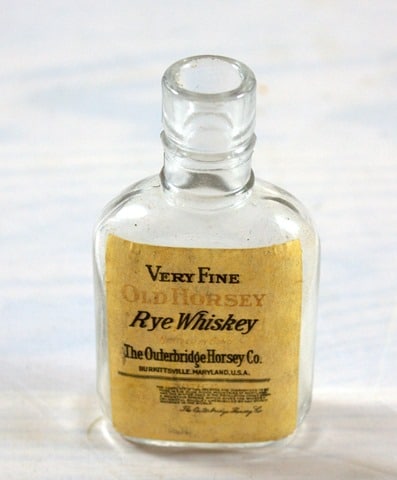 And finally, here the three items are together.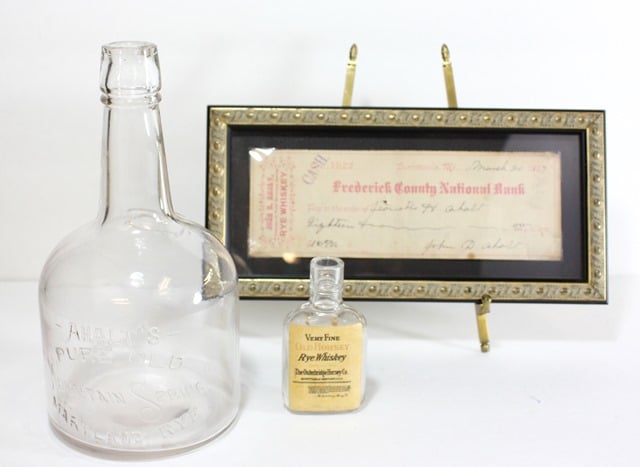 I was very curious to figure out if and/or how I am related to John D. Ahalt the whiskey maker. Thanks to Suzanne, who helped me with ancestry.com, I figured out the connection.
John D. Ahalt's father was Samuel Ahalt (1806 – 1889).
Samuel Ahalt was brother to my great-great-great grandfather, Matthias Ahalt (1803 – 1881). I was in MD Friday for a funeral and found Matthias Ahalt's grave.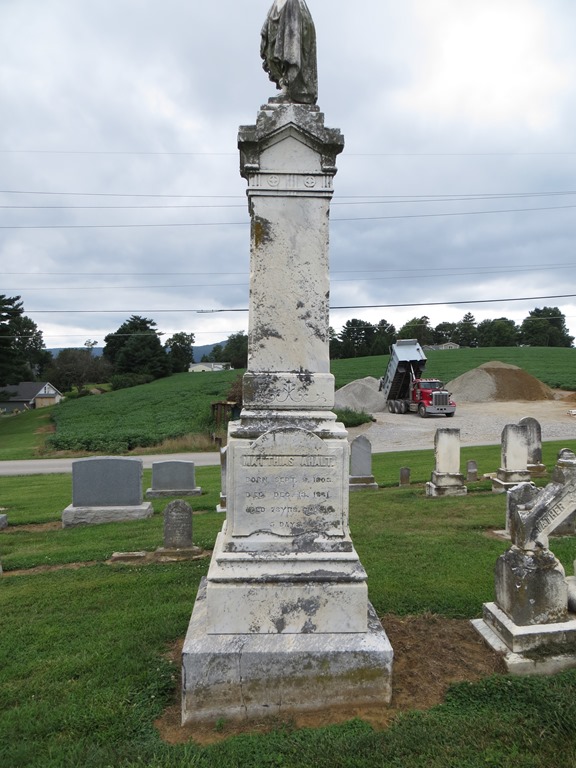 His wife's information is on the back side of the marker.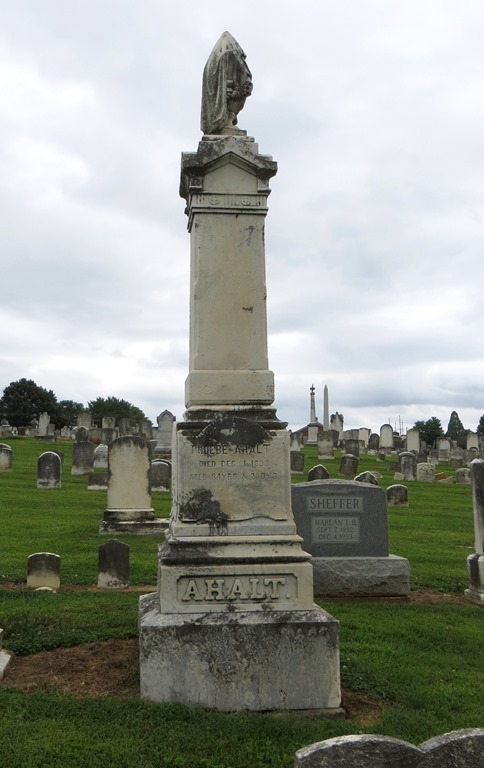 Samuel and Matthias had five siblings: Jacob, Catharine, Elizabeth, Eva, and Joshua. Their father was John Jacob Ahalt (1792 – 1846).
And if I ever go to Antiques Roadshow, you now know what I'll take!
Other Vintage Monday posts: