Early Fall Coffee Table Vignette
We are just a few short weeks from fall and it's time to start thinking about changing summer decor over to fall. The first change that I'm making in my decor is an Early Fall Coffee Table Vignette. This month's Pinterest challenge gave me the motivation to start my decorating transition into fall. Our inspiration pin this month is a coffee table vignette which inspired my early fall coffee table decor.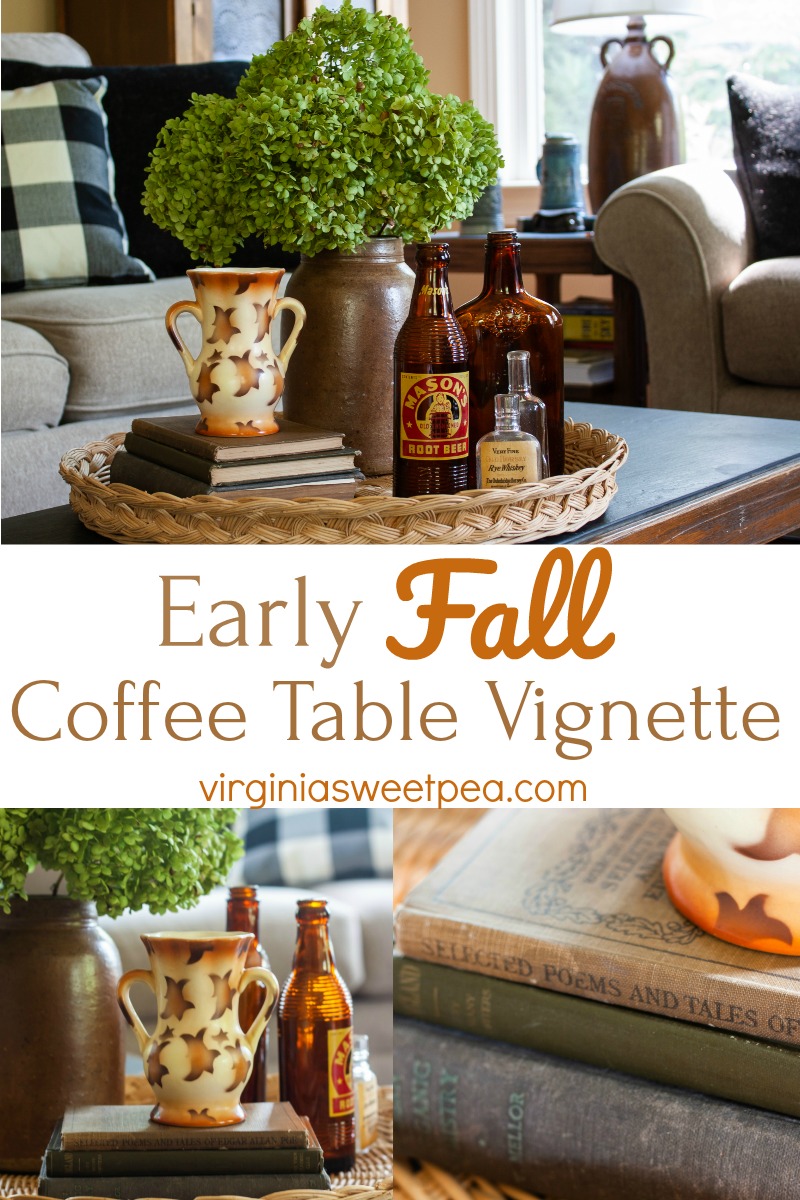 Today's Early Fall Coffee Table Vignette is a Pinterest challenge that I'm sharing along with a group of blogging friends. This is a monthly challenge hosted by Cindy from County Road 407. Each month Cindy picks a picture from Pinterest and challenges our group to recreate the look.
You may remember last month's challenge where our group created summer mantels, June's Lanterns for Summer Decor, May's Patriotic Porch Decor, April's Spring Floral Wreaths and also the challenge from March where we each created an Easter Centerpiece and Table.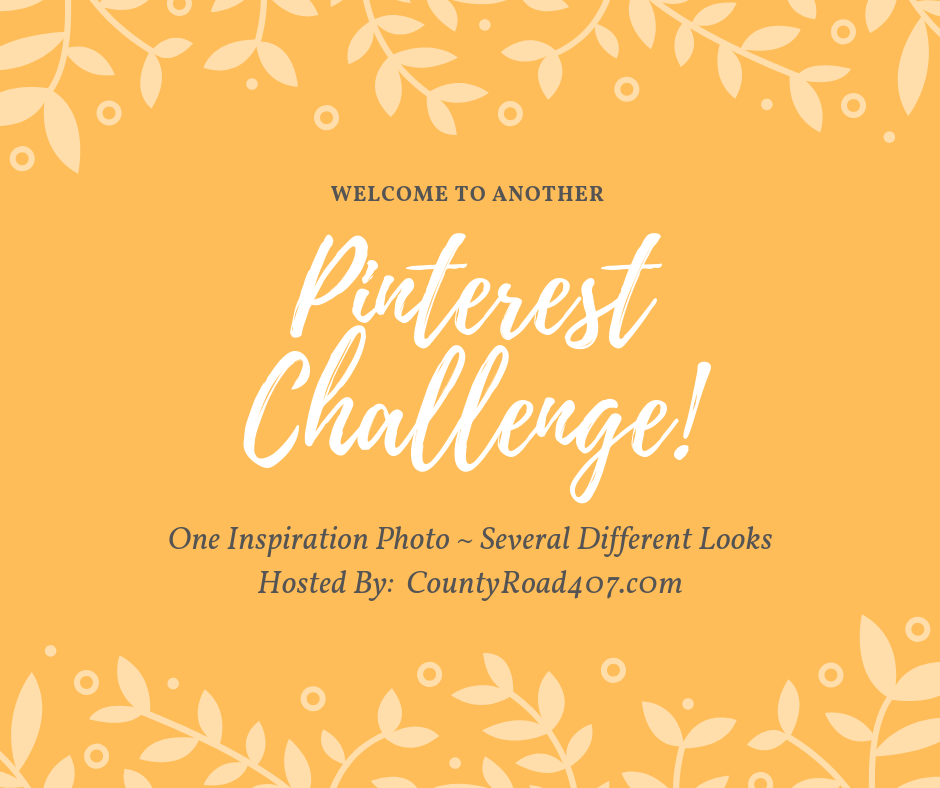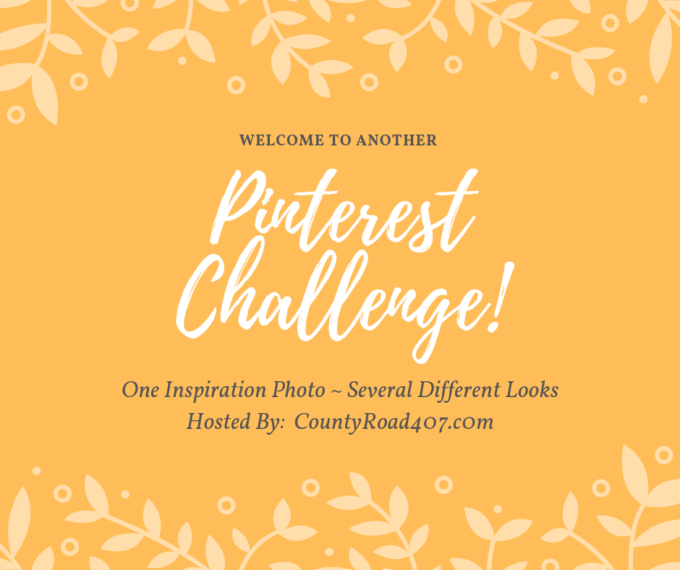 Many thanks to Cindy for hosting this challenge!
If you arrived here from French Ethereal, welcome! I'm sure that you enjoyed seeing Barbara's version of this month's coffee table vignette inspiration picture. You'll find a list of all of the participating bloggers at the end of this post. I'm looking forward to seeing how everyone recreated this look.
Our Inspiration for this Challenge
This month we were challenged to create a coffee table vignette inspired by this beautiful one designed by Yvonne of Stone Gable. Yvonne and I have been blogging friends for years and I adore her style. If you have never visited her blog, I encourage you to do so. I am not exaggerating when I say that I love everything that she shares.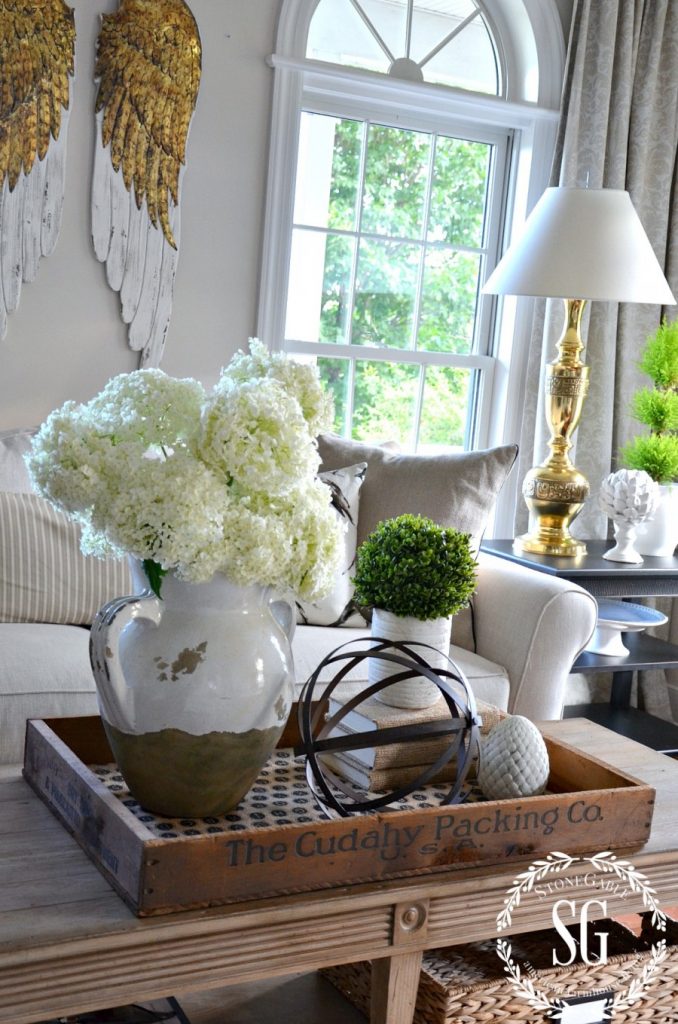 Isn't this a pretty coffee table vignette? When Cindy sent this picture to me, I couldn't wait to get started on this challenge. I examined Yvonne's vignette, thinking about how I would create this look for my own home.
Yvonne used a tray to contain her vignette. In the tray she used a large vase filled with hydrangea, a stack of books with a plant on top, an orb, and a piece of statuary.
I was able to shop my basement to come up with an early fall coffee table vignette for my home inspired by Yvonne's.
Early Fall Coffee Table Vignette
This is my version of Yvonne's vignette. I copied a few elements of her design but gave it my own personality with vintage treasures from my basement.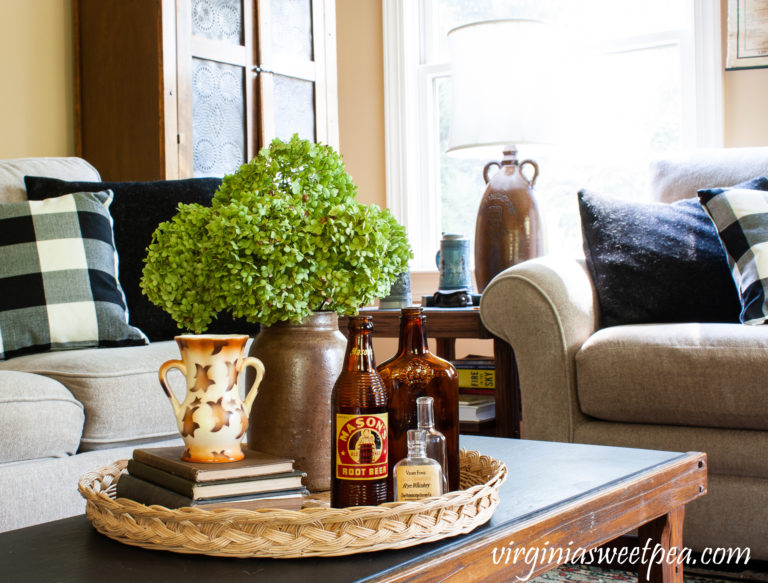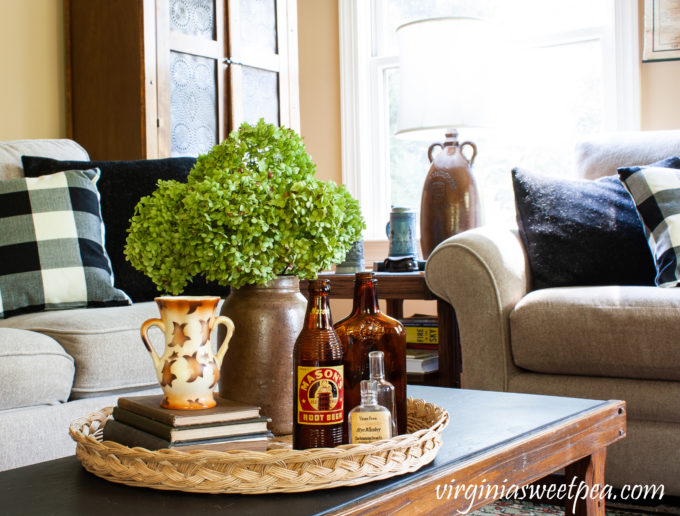 The coffee table, end table, and the lamp on the end table were purchased by my mom and dad when they were newlyweds in 1968. These furniture pieces were in our basement family room when I was growing up and then in my mom's basement office in the 1913 home that she restored. She let me have these pieces a few years ago and I love using them in my home.
The Tray
I started my vignette design with the tray. I loved the vintage crate that Yvonne used but I did not have one with sides that low that would work on a coffee table. I thought about using my vintage Coke crate but didn't want red in my fall vignette.
I do have a farmhouse style tray that I made but it is too wide for this coffee table and it's in use at the lake.
I spotted this round wicker tray that I scored at a yard sale in my basement stash and it ended up being the perfect size for this vignette. The wicker tray's color and texture are great for creating a vignette with a warm fall feeling.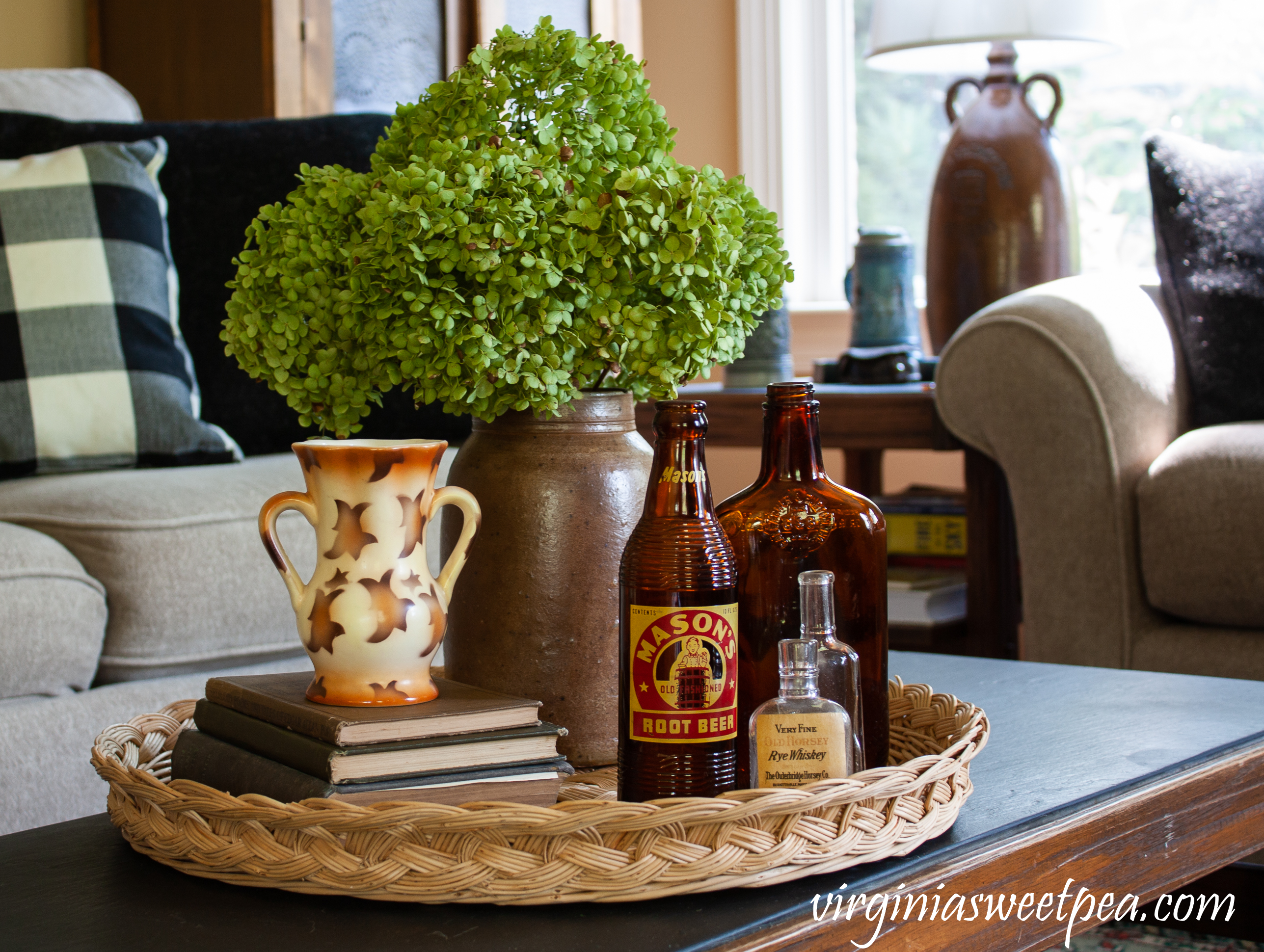 Hydrangeas in a Vase
Yvonne used a vase of fresh Hydrangeas in her vignette which anchors the vignette with its size and height. I clipped dried Hydrangeas from my yard and arranged them in an antique crock that I inherited from my grandmother.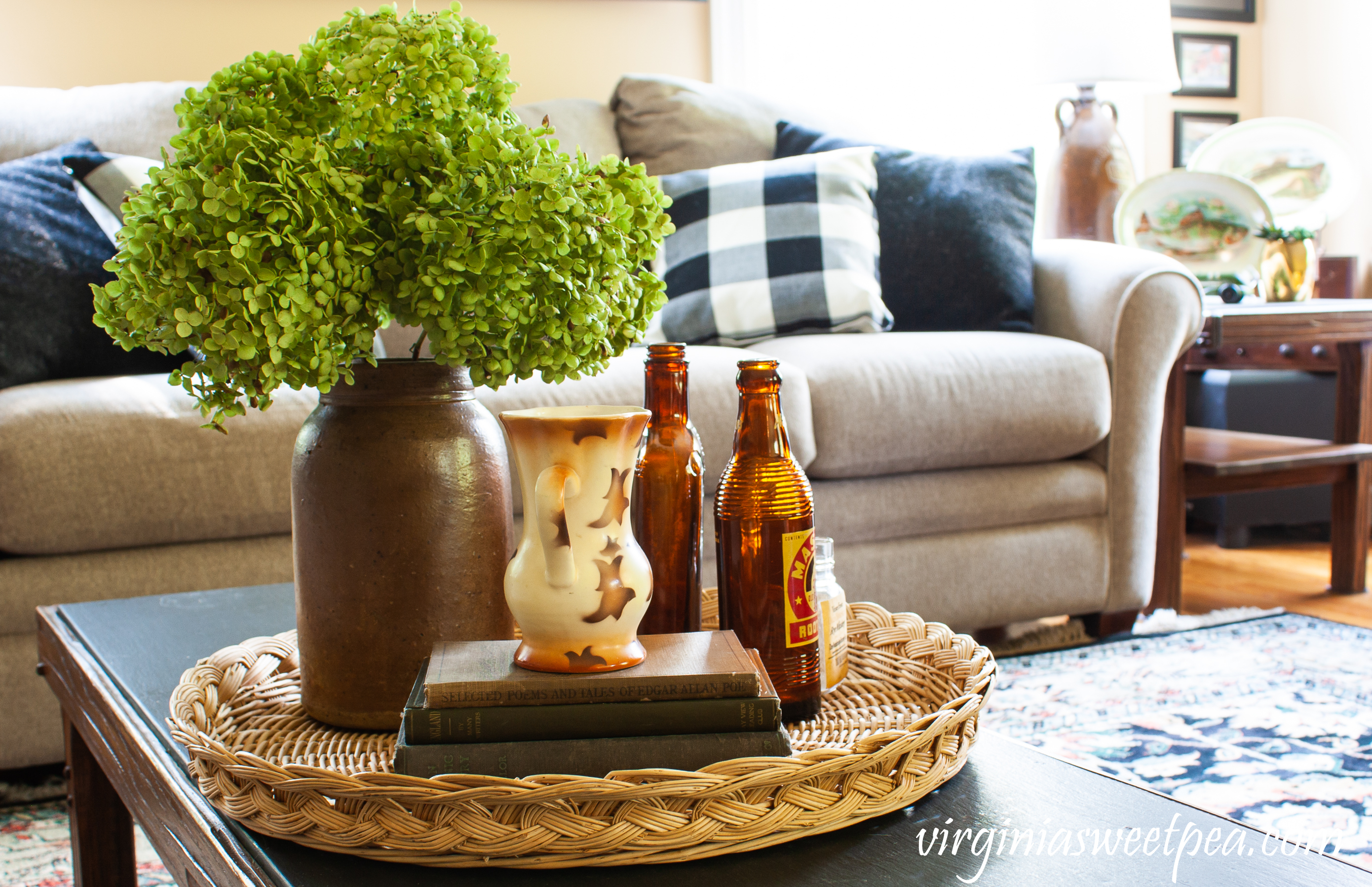 Stack of Books
Yvonne added a stack of books topped with a Boxwood in a pot to her vignette. Since I know Yvonne's style quite well, I am pretty sure that her books are ones that she covered in burlap. I grabbed a few vintage books from a shelf to add to my vignette.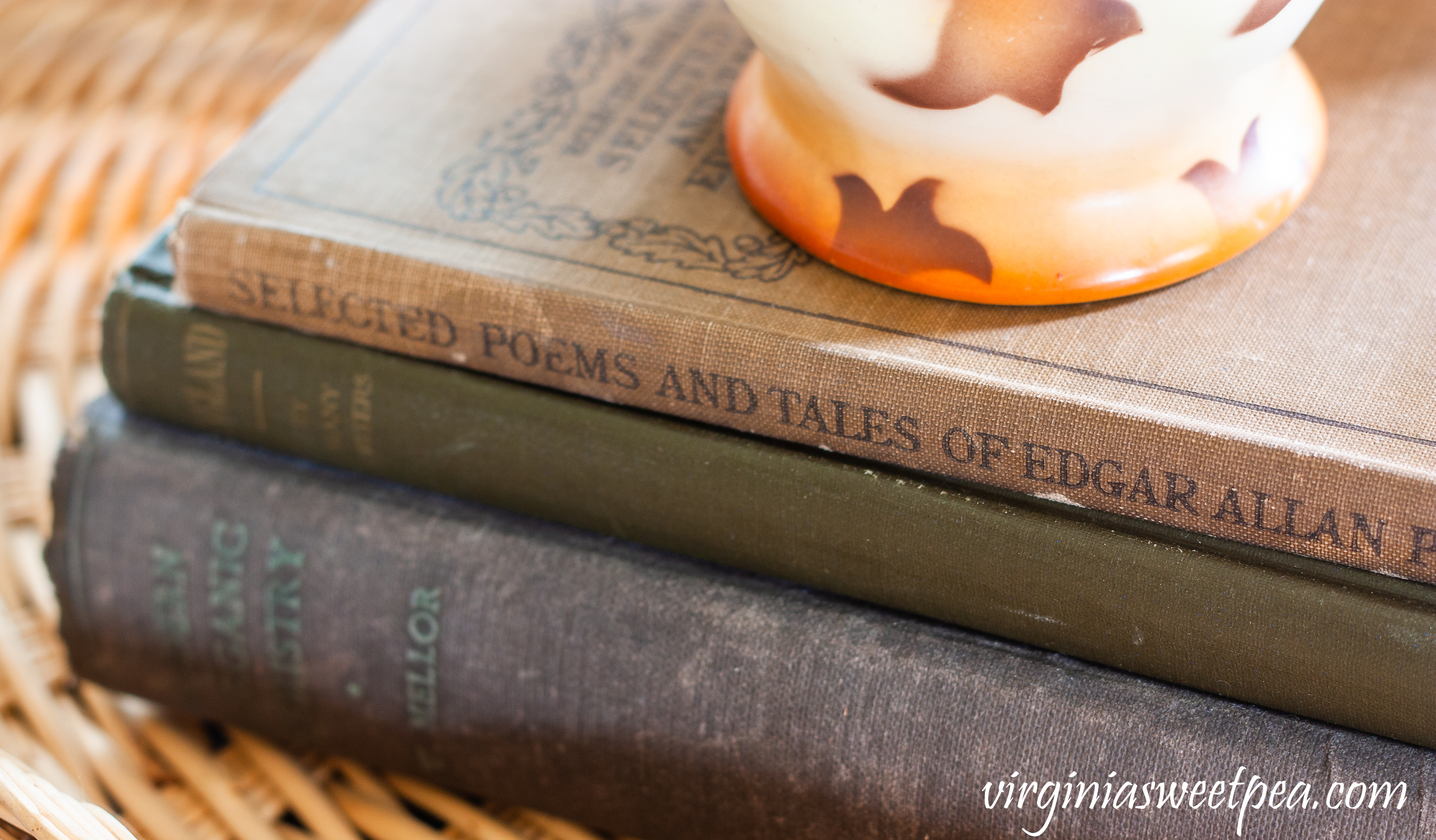 The 1914 Edgar Allen Poe book was my grandfather's, the England book is a 1906 edition, and the Modern Inorganic Chemistry is from 1918.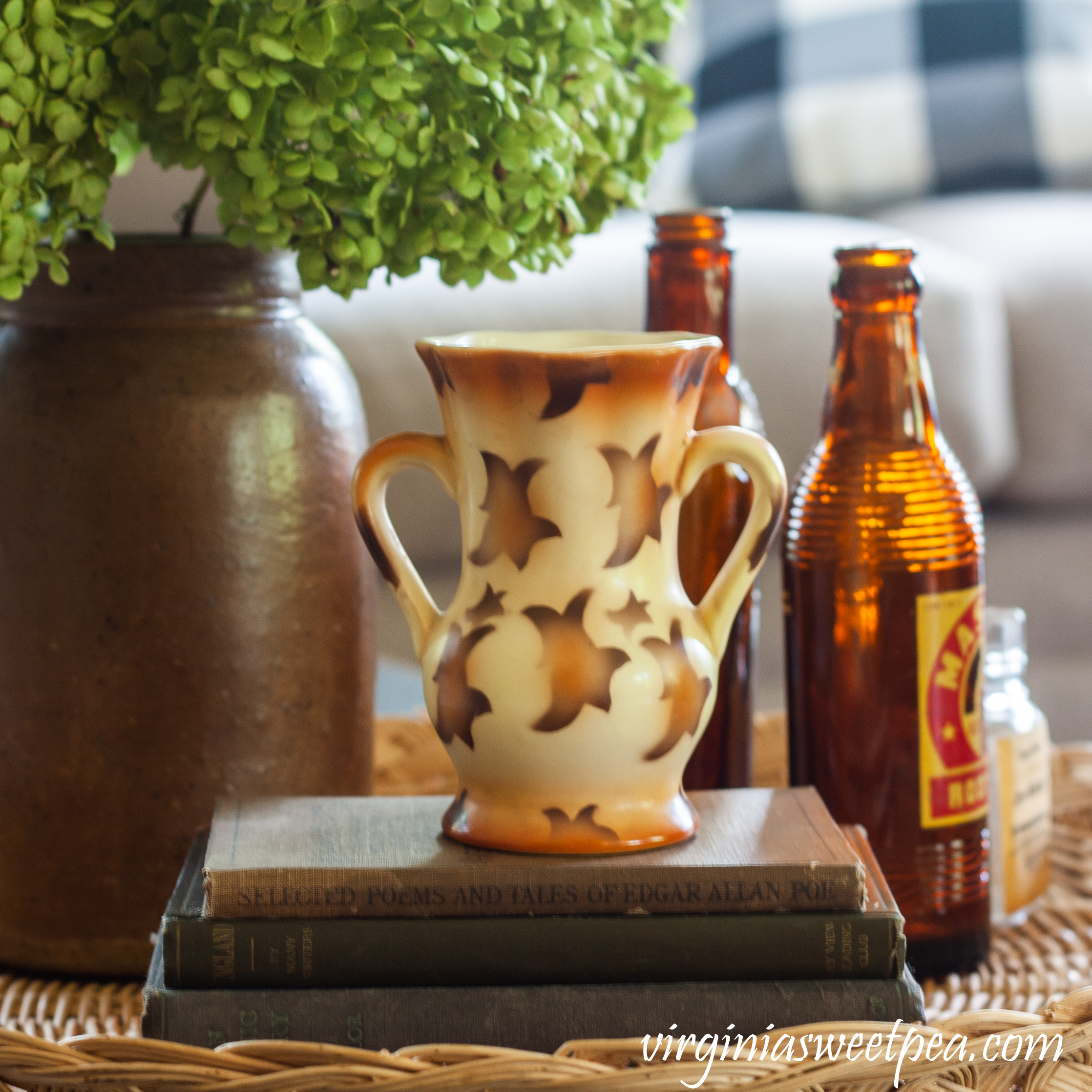 The Czechoslovakian vase on top of the books belonged to my grandmother.
Vintage Bottles
I didn't have an orb to use like Yvonne's, nor did I have any statuary, so to fill in the remaining space on my vignette, I used a vintage bottles.
Mama gave me the Mason's Root Beer bottle long ago. The brown liquor bottle was in a box filled with old liquor bottles that my neighbor was giving away. The small clear glass bottle was dug on my grandmother's farm. They used to bury their trash and if you know where to dig, you can find some neat bottles that were thrown away long ago.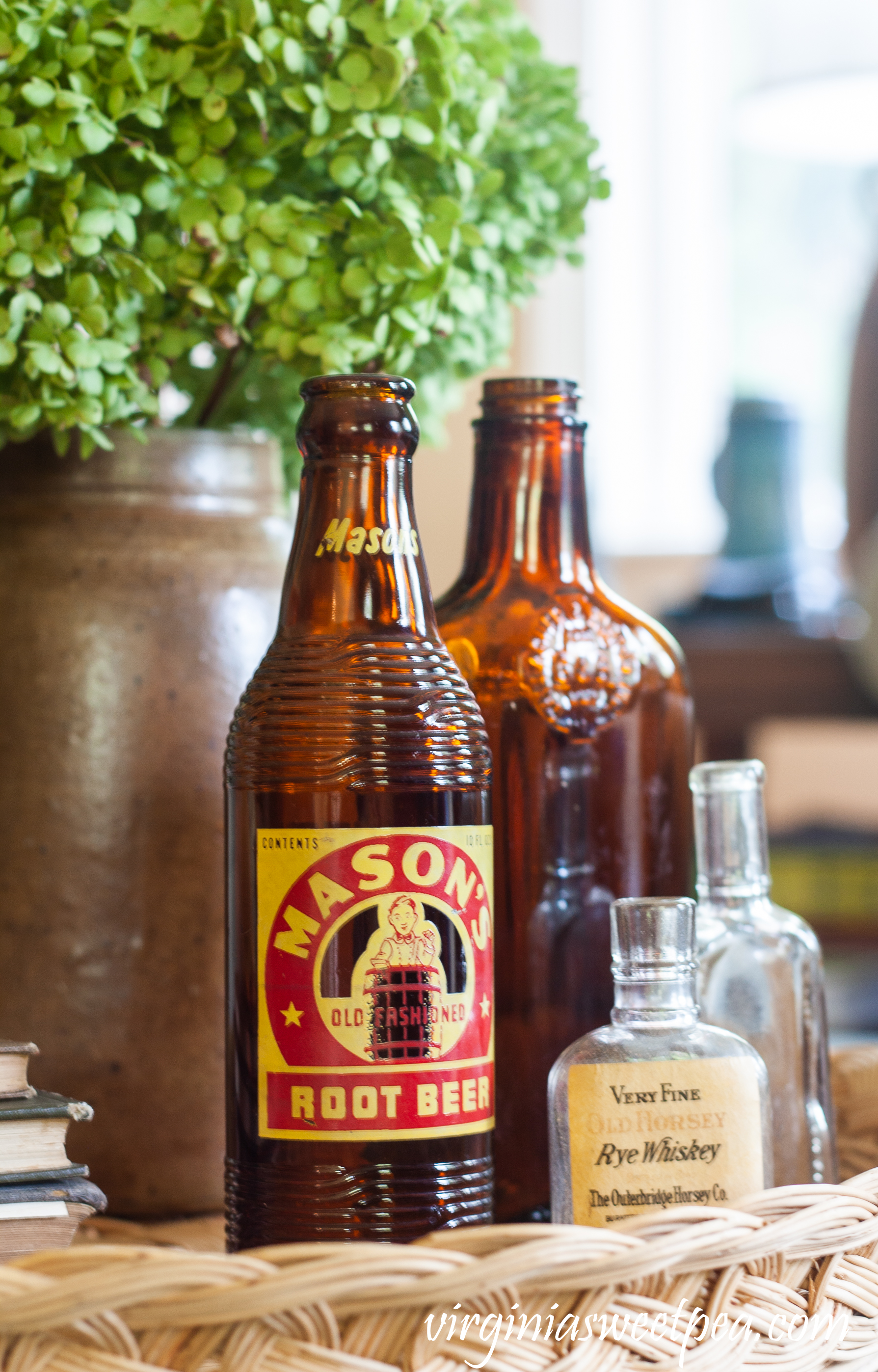 I had the Very Fine Old Horsey Rye Whiskey bottle appraised when I went to the Antique Roadshow in Delaware in June and it's worth about $100. I took it along with my Ahalt whiskey bottle. You won't see me on tv but it was fun to go to where the show was being filmed.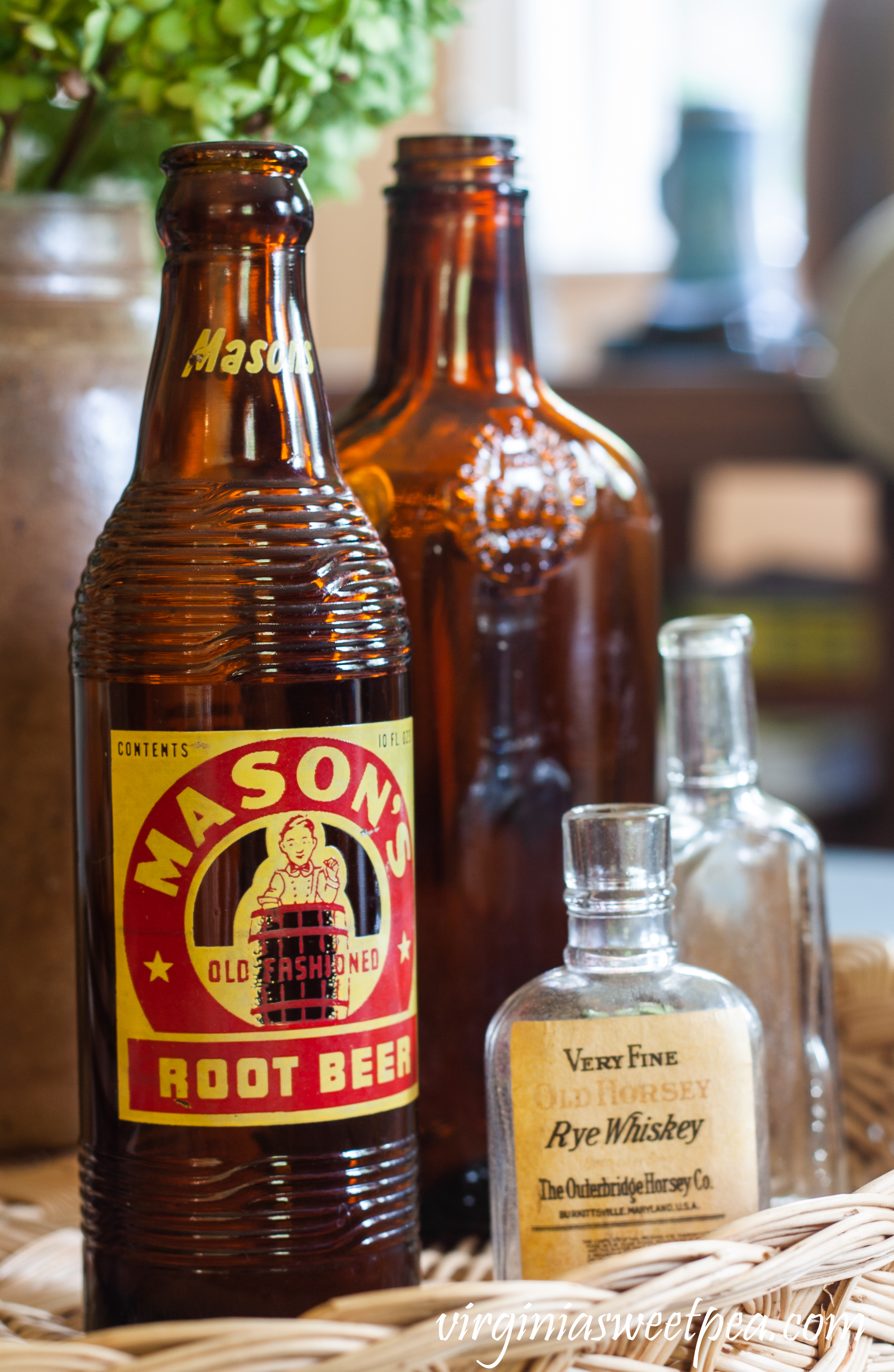 Another View of the Vignette
When I photographed my vignette from this angle, I removed one of the bottles. I like the look better with two brown bottles, so I quickly replaced it.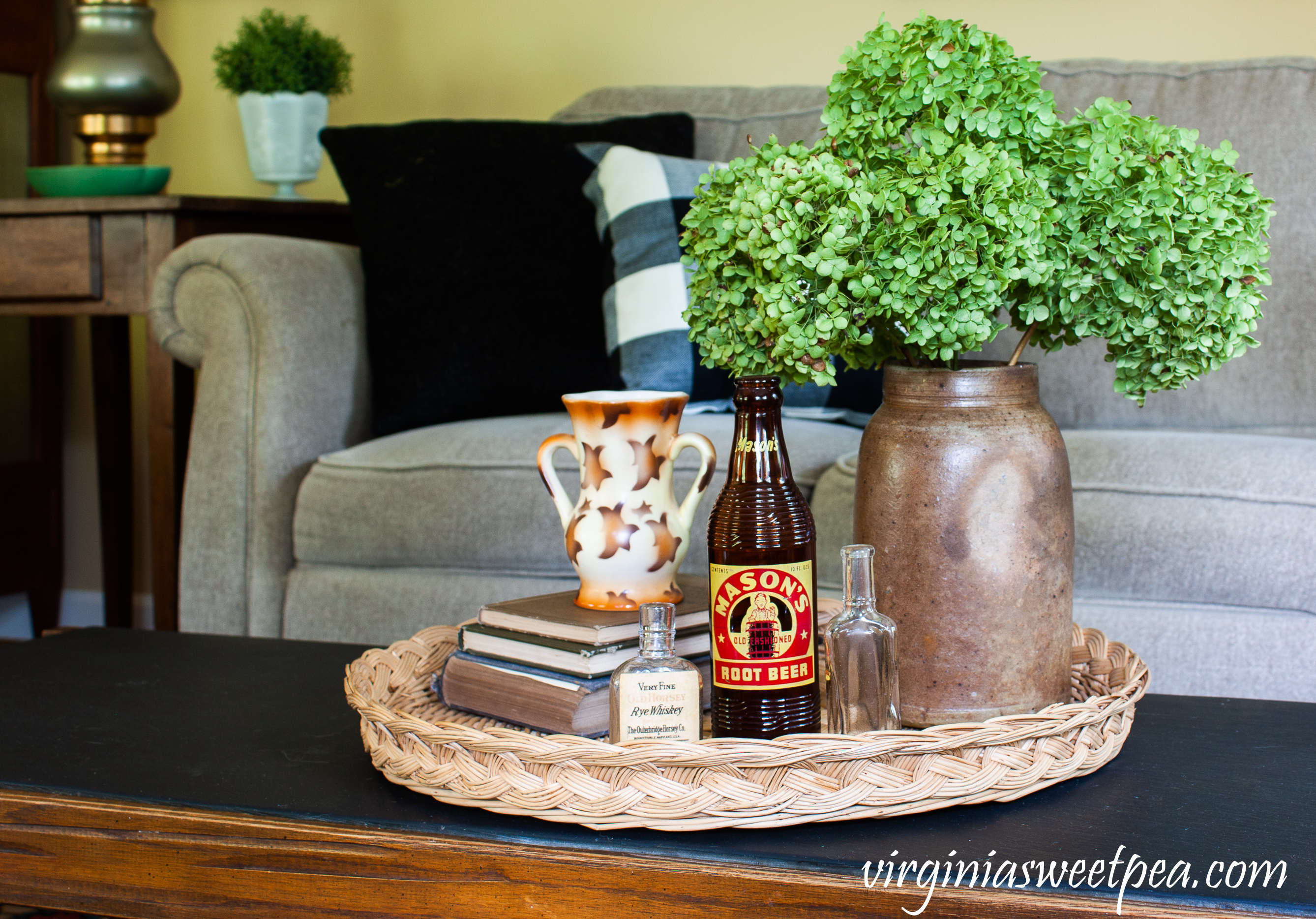 The green dish on the table beside the sofa is filled with treats for Sherman. He could very easily get on the sofa and gobble them all up when we aren't looking, but he is a good boy and only eats the treats when they are given to him.
Many thanks to Yvonne from Stone Gable for this month's Pinterest challenge inspiration. I enjoyed this challenge and like how I interpreted it for my home with my style of decor.
Next on the tour is my dear friend Julie from My Wee Abode. I'm looking forward to seeing Julie's version of the coffee table vignette inspiration picture.
More Early Fall Coffee Table Ideas to Enjoy
Click on the links below to visit each blogger who is sharing their version of the inspiration picture. I'm looking forward to seeing them all!
You are invited to the Inlinkz link party!
More Fall Decorating Ideas