Decorating Ideas Using Vintage Bottles and Mason Jars
Vintage bottles and Mason jars are great items to use for home decor. Today I'm sharing Decorating Ideas Using Vintage Bottles and Mason Jars that are sure to inspire you to use these items in your home decor.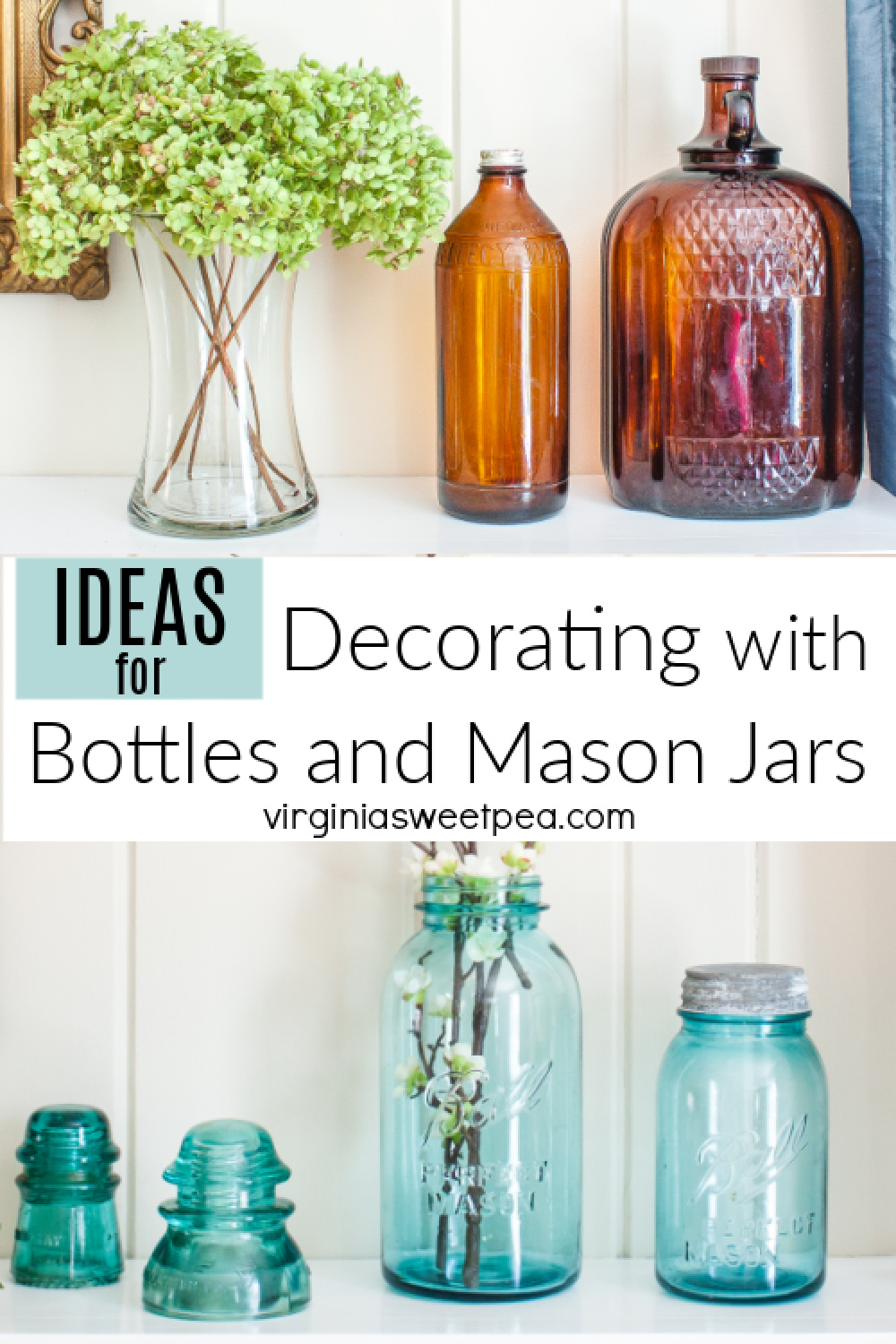 I am happy to be joining a group of blogging friends who share my love of vintage and antiques for a themed series where we share ideas for decorating with vintage.
This is an every other month series hosted by my blogging friend, Cindy of County Road 407.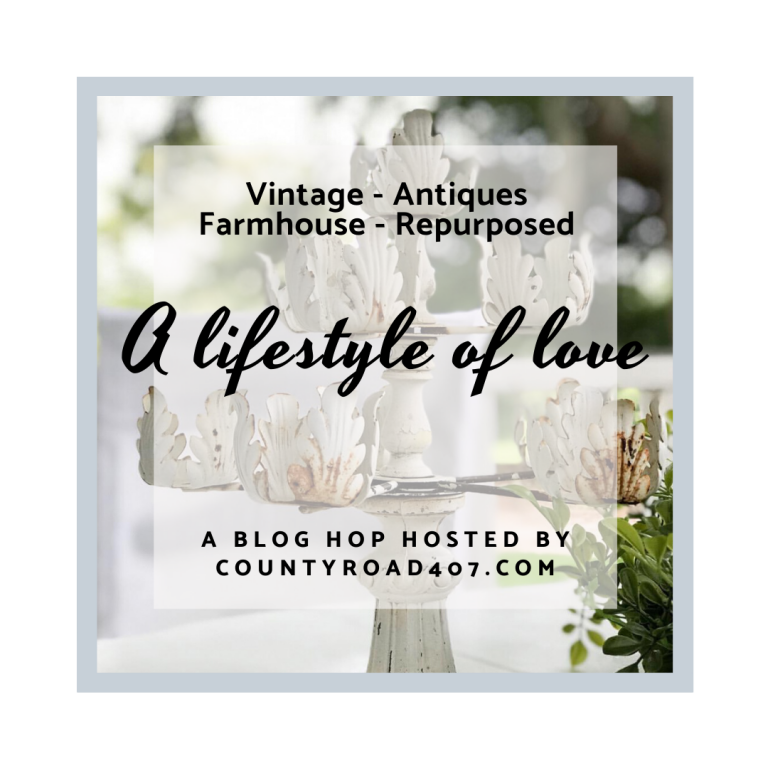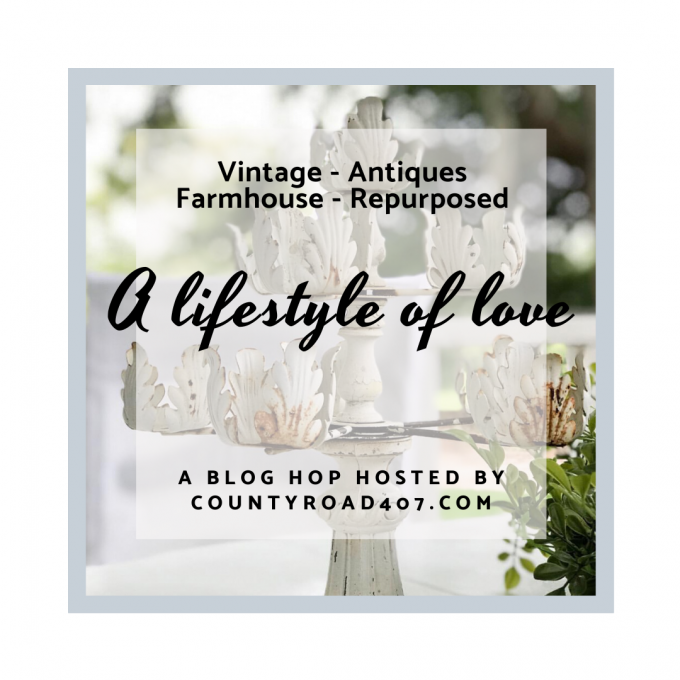 These are the other ideas for decorating with vintage items that I've shared in this series:
Today's ideas are all about using vintage bottles and Mason jars for home decor.
If you arrived here from Decor to Adore, welcome!
Decorating Ideas Using Vintage Bottles and Mason Jars
We'll start with vintage bottle ideas and then move on to ideas using vintage jars.
Use Bottles on a Mantel
For a late summer mantel, I used vintage brown bottles on my mantel along with clear vases holding dried Hydrangea from my yard.
My mom gave me three of the four jars that I used for this summer to fall transitional themed mantel.
The brown jug above originally held vinegar and the smaller one beside it is a Fleecy White bleach bottle.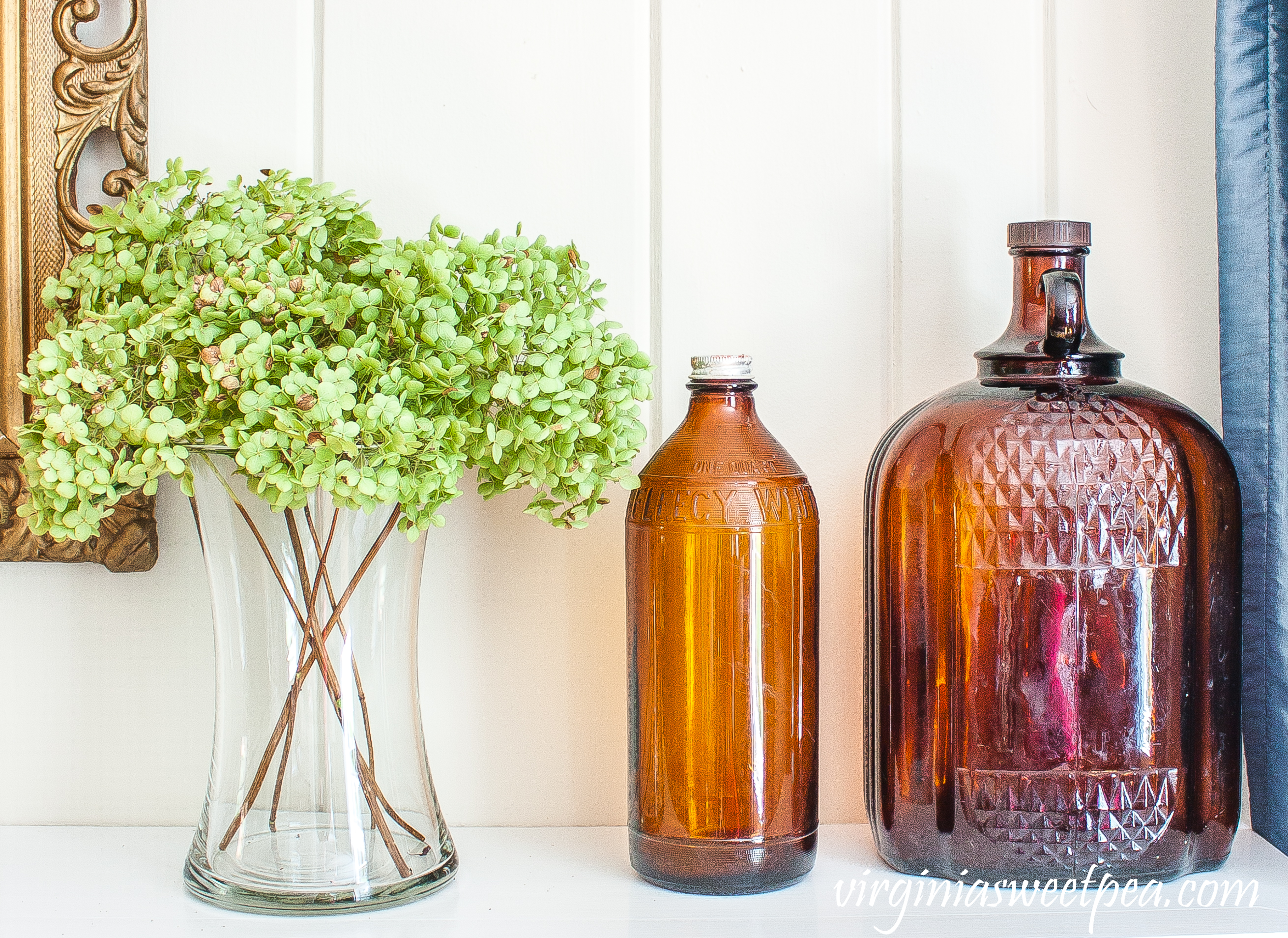 The other side of the mantel has a vintage brown jug with an interesting pattern and another Fleecy White bottle.
The same brown jug made an appearance in this year's fall decor on a music stand to the left of our mantel.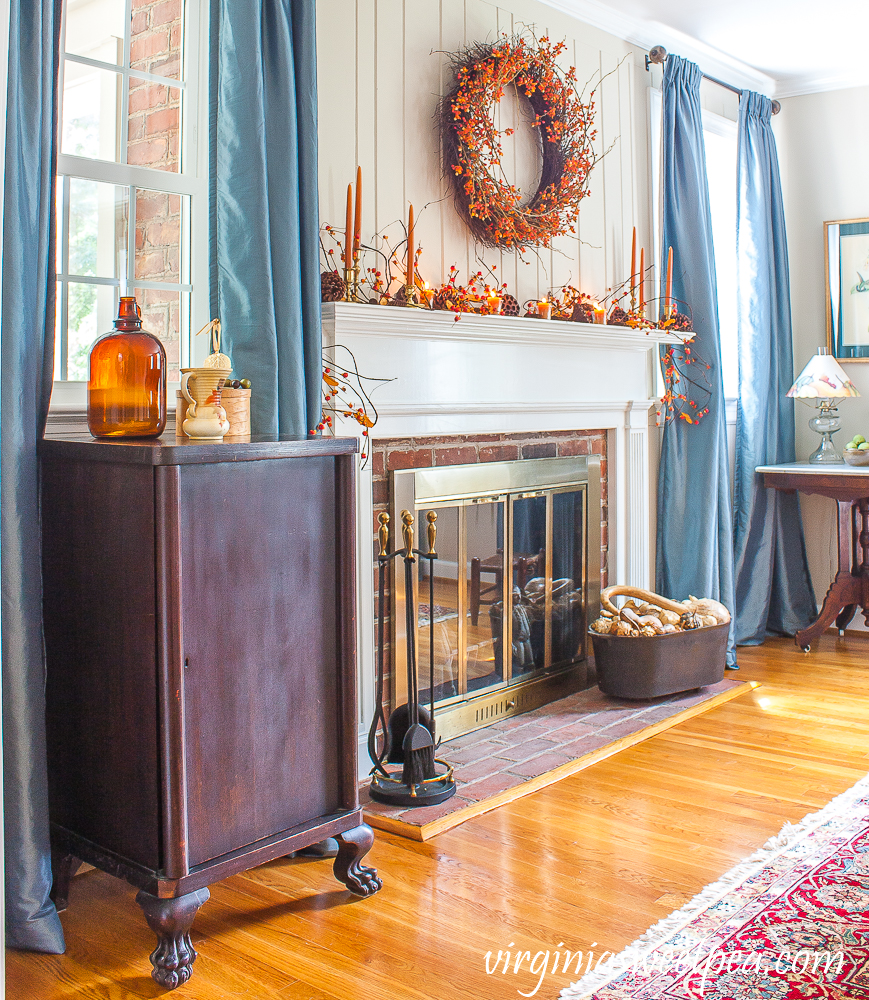 Use Bottles in a Vignette
This vignette using vintage bottles was on my coffee table last fall.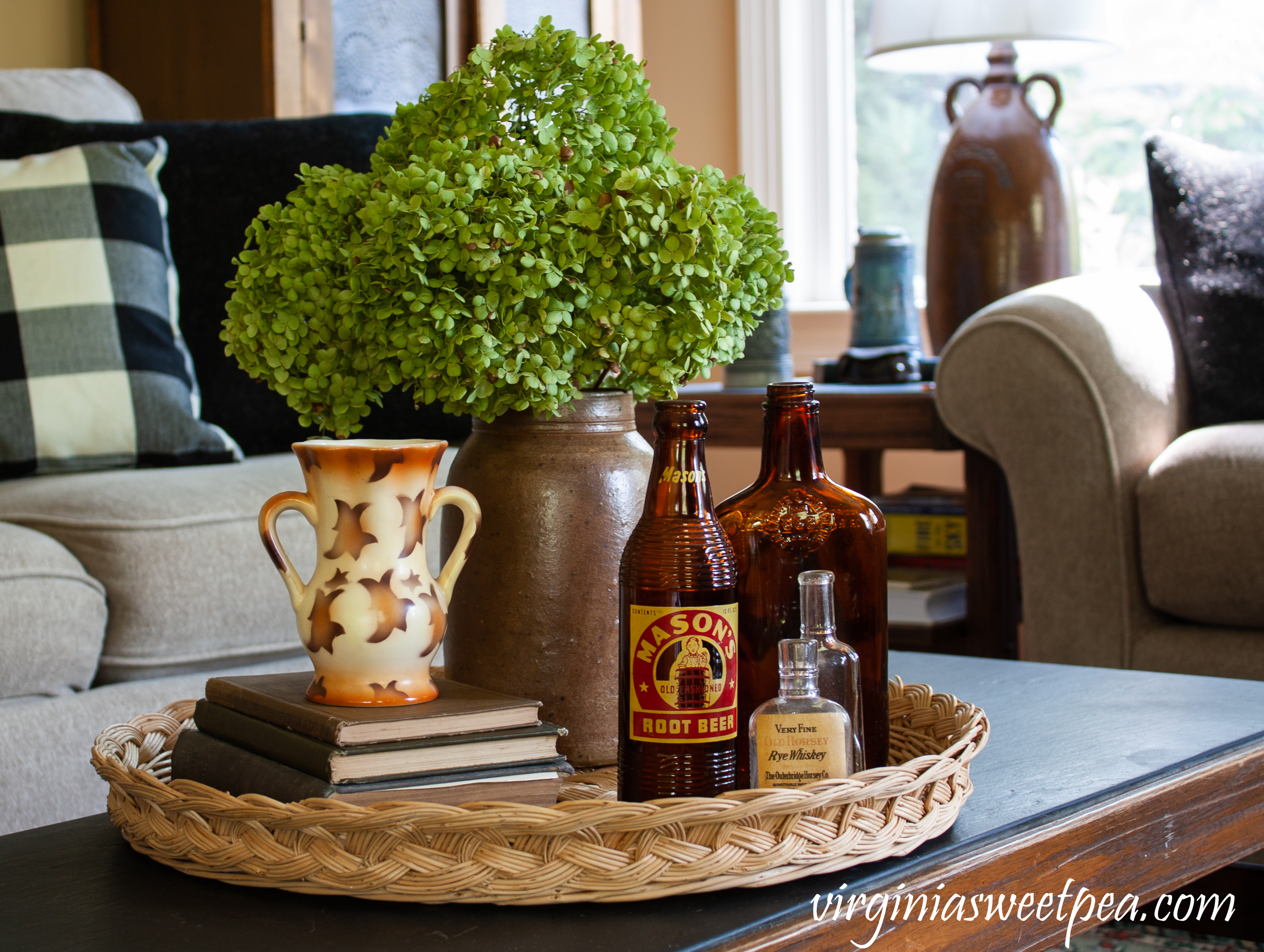 Mama gave me the 1950s Mason's Root Beer bottle long ago.
The brown liquor bottle was in a box filled with old liquor bottles that my neighbor was giving away.
The small clear glass bottle was dug on my grandmother's farm. They used to bury their trash and if you know where to dig, you can find some neat bottles that were thrown away long ago.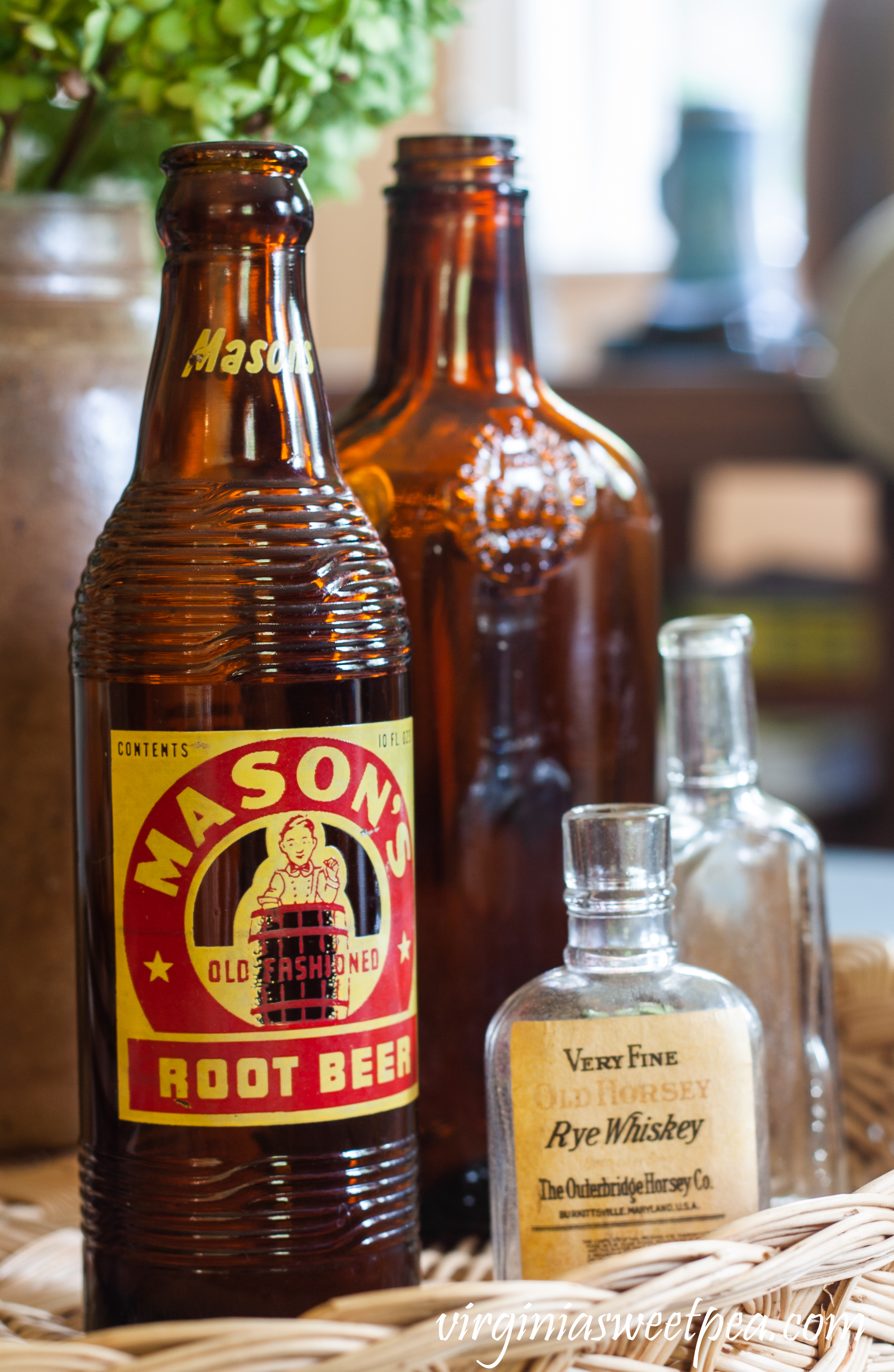 When I purchased my Ahalt whiskey bottle, the seller included this Old Horsey bottle along with it.
My maiden name is Ahalt and growing up my dad used to tell me about a relative who distilled Ahalt whiskey. Read all about the history of my Ahalt whiskey bottle and the framed bank receipt displayed with it in this post.
Old Horsey was a distillery just down the road from the Ahalt distillery in Burkittsville, Maryland.
Last fall I decorated my husband's office desk with vintage and created this display on top of his filing cabinet to the left of his desk displaying my Ahalt bottle along with 1897 check associated with the distillery.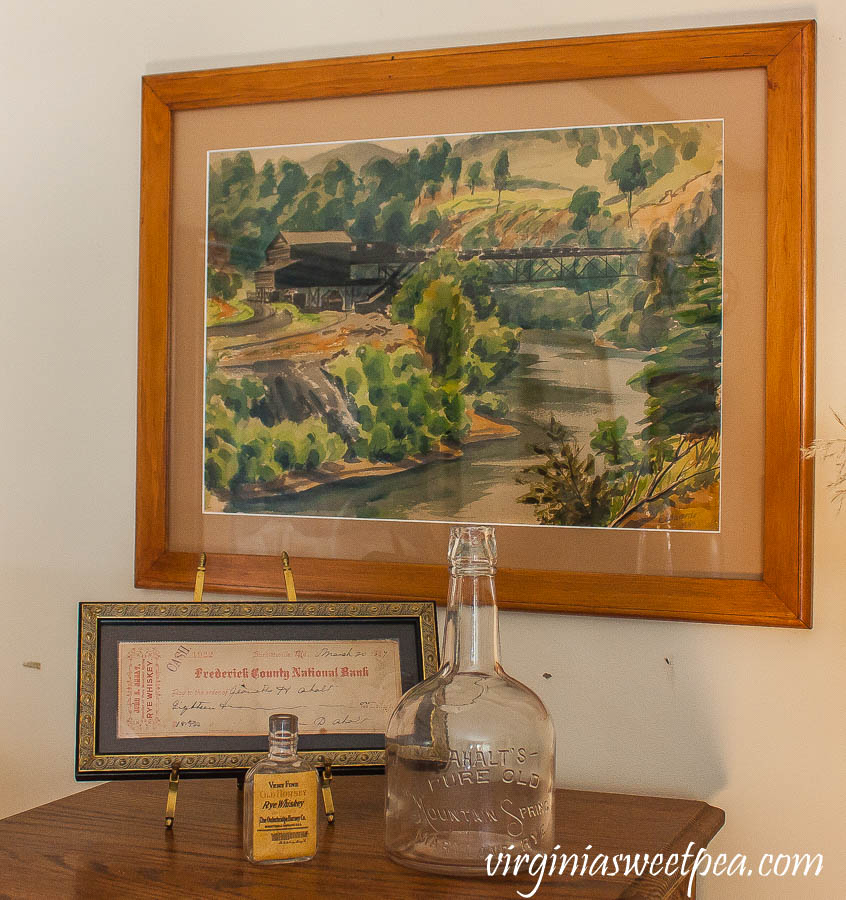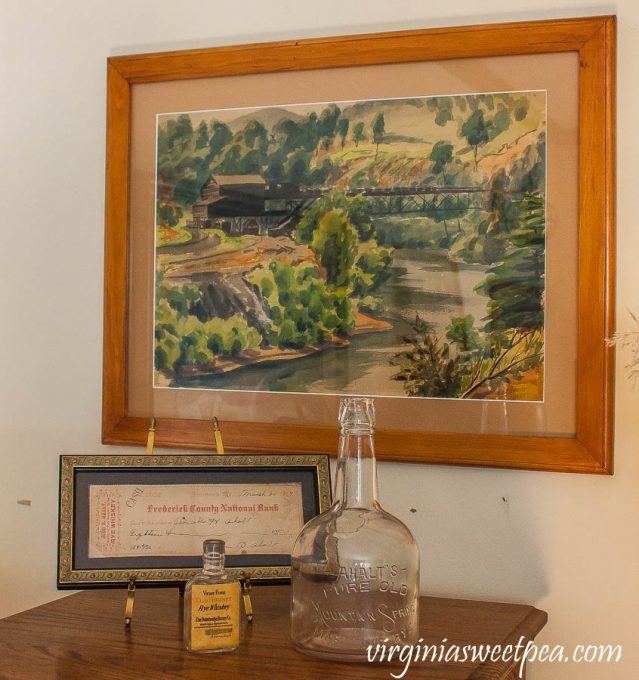 Brown bottles were used to decorate the top of a vintage radio in my family room a few years ago.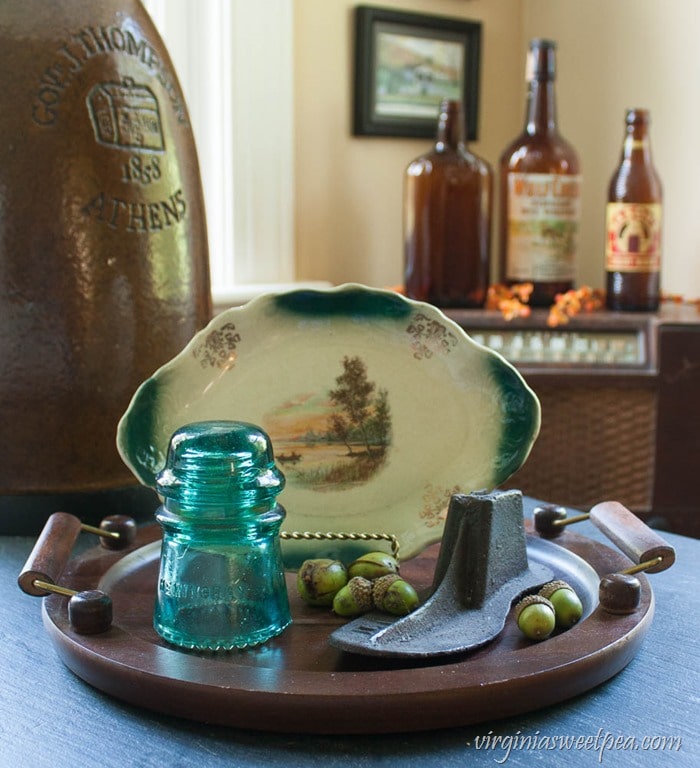 Bottles make a frequent appearance in my decor. These two bottles were used for a spring vignette.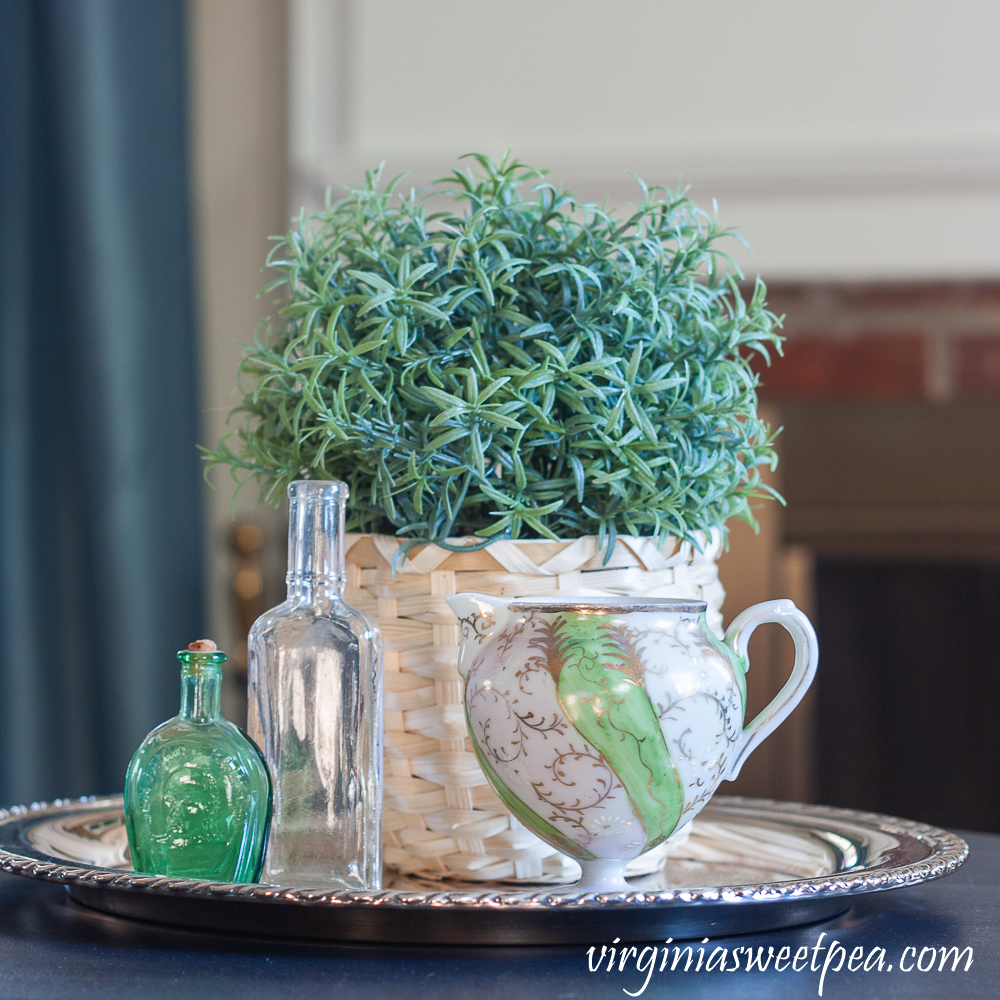 You may remember from this post where ideas for decorating with vintage books were shared that I shared not only my ideas but also my mom's ideas.
Mama created this pretty fall vignette for her porch using an identical jug that I used on my mantel. Now I know where I got my jug, Mama gave it to me!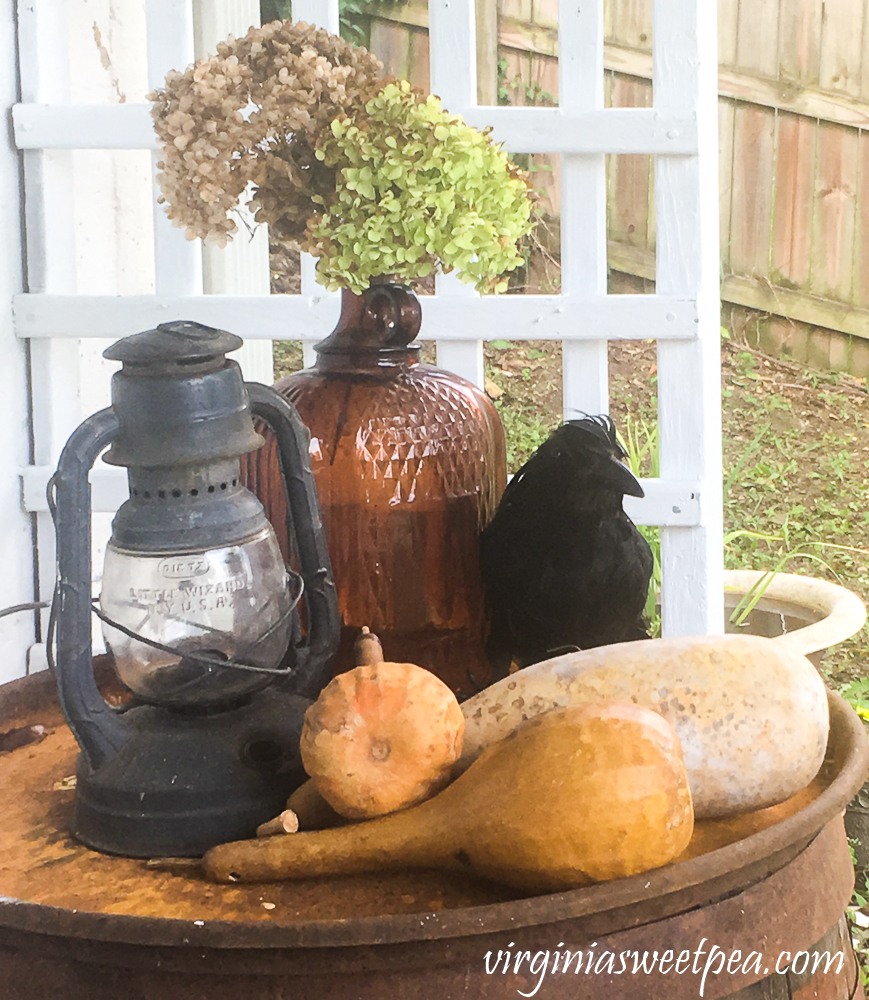 Ideas for Using Vintage Mason Jars
Now let's move on to ideas for using vintage Mason jars for decorating.
Use Jars on a Mantel
For this summer mantel, I used vintage Ball jars inherited from my family.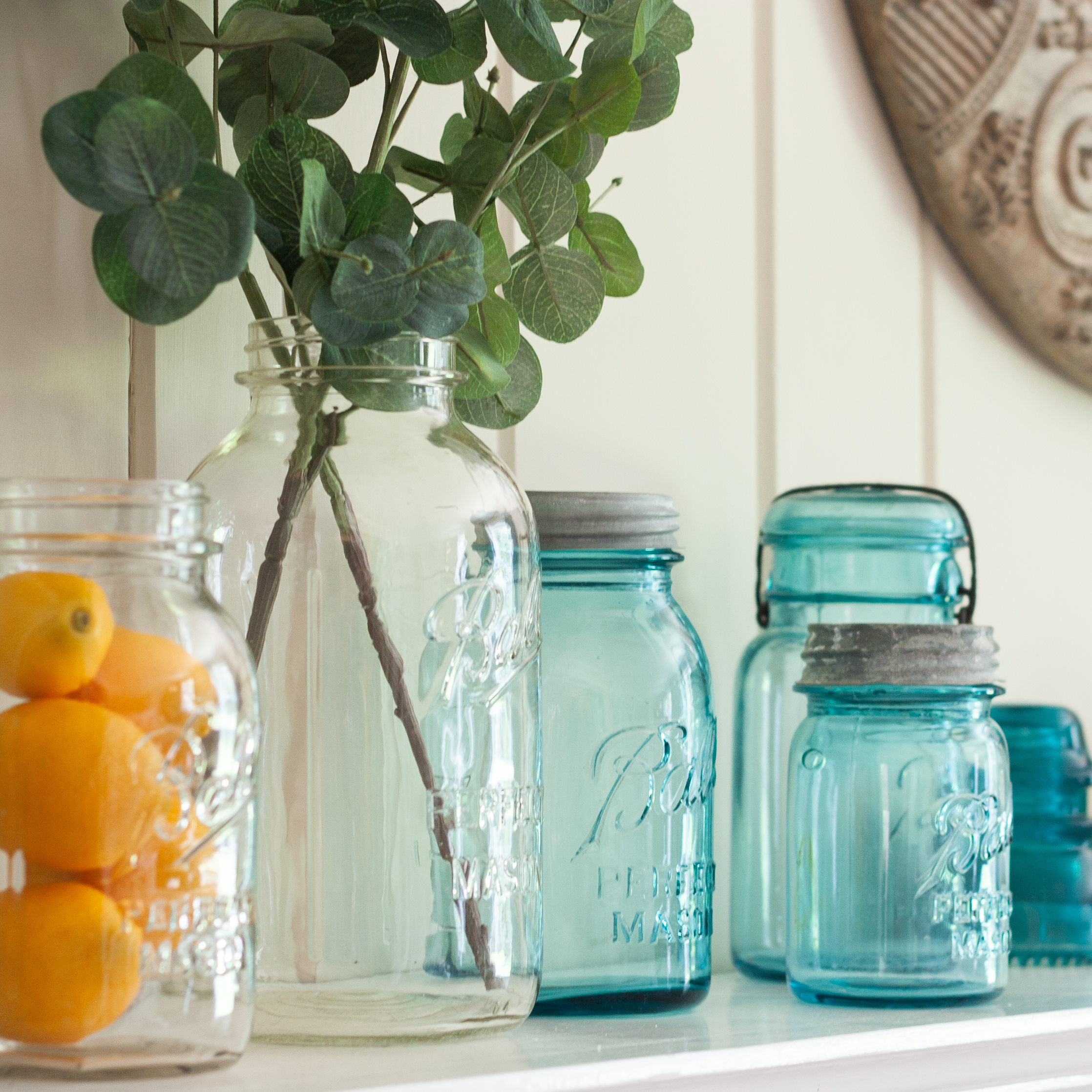 Vintage canning jars made another appearance on this spring mantel.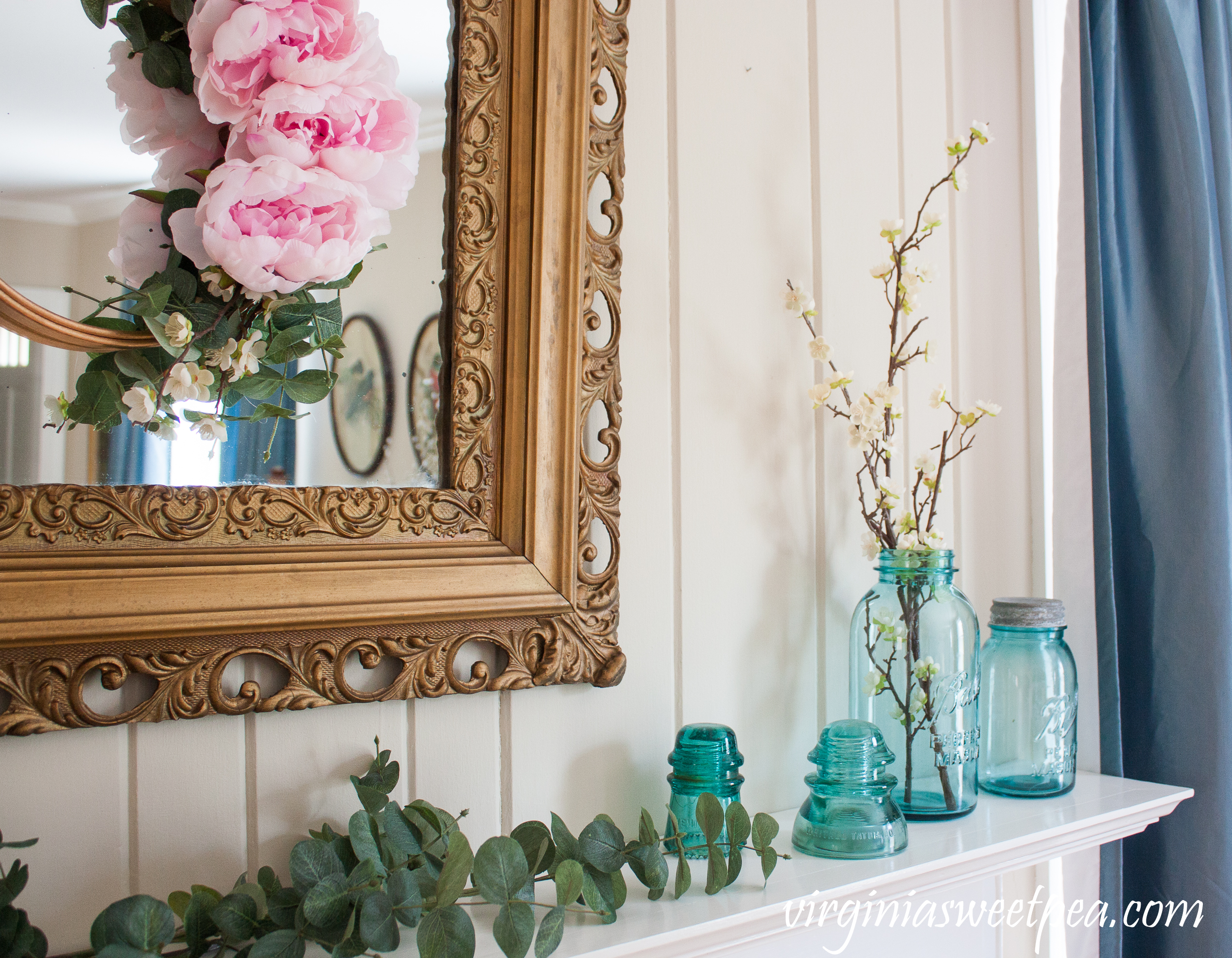 Use Vintage Canning Jars in a Vignette
This vignette was on my coffee table for patriotic decor this past summer.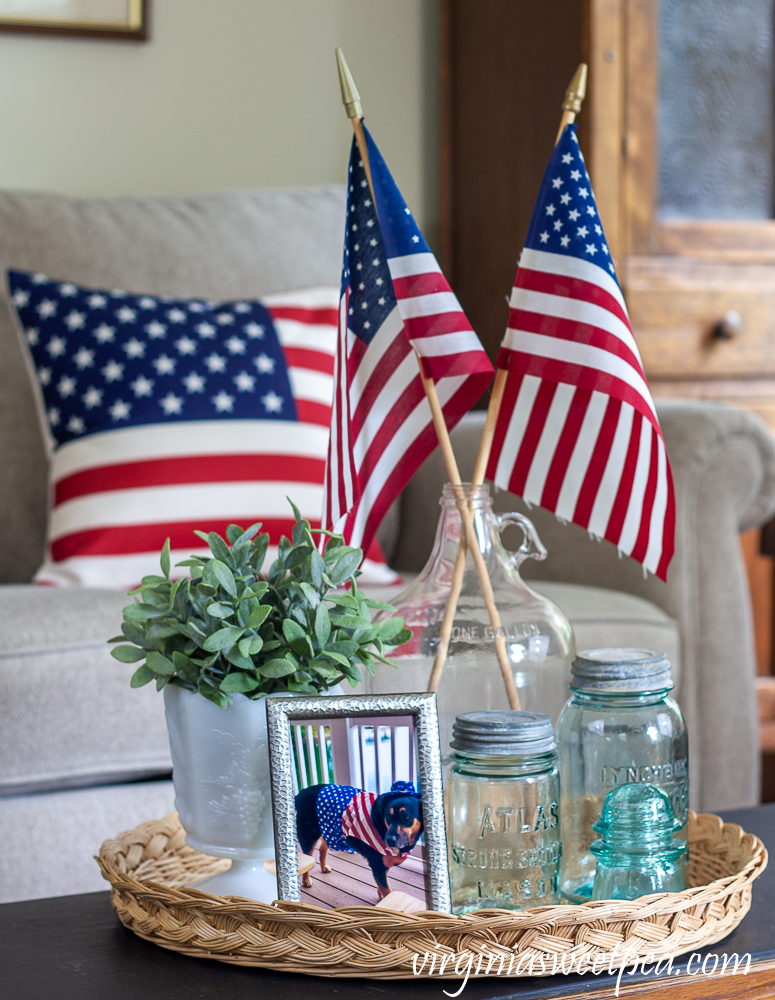 The two canning jars are from my family and according to the research I did on them, they are both from the 1920s.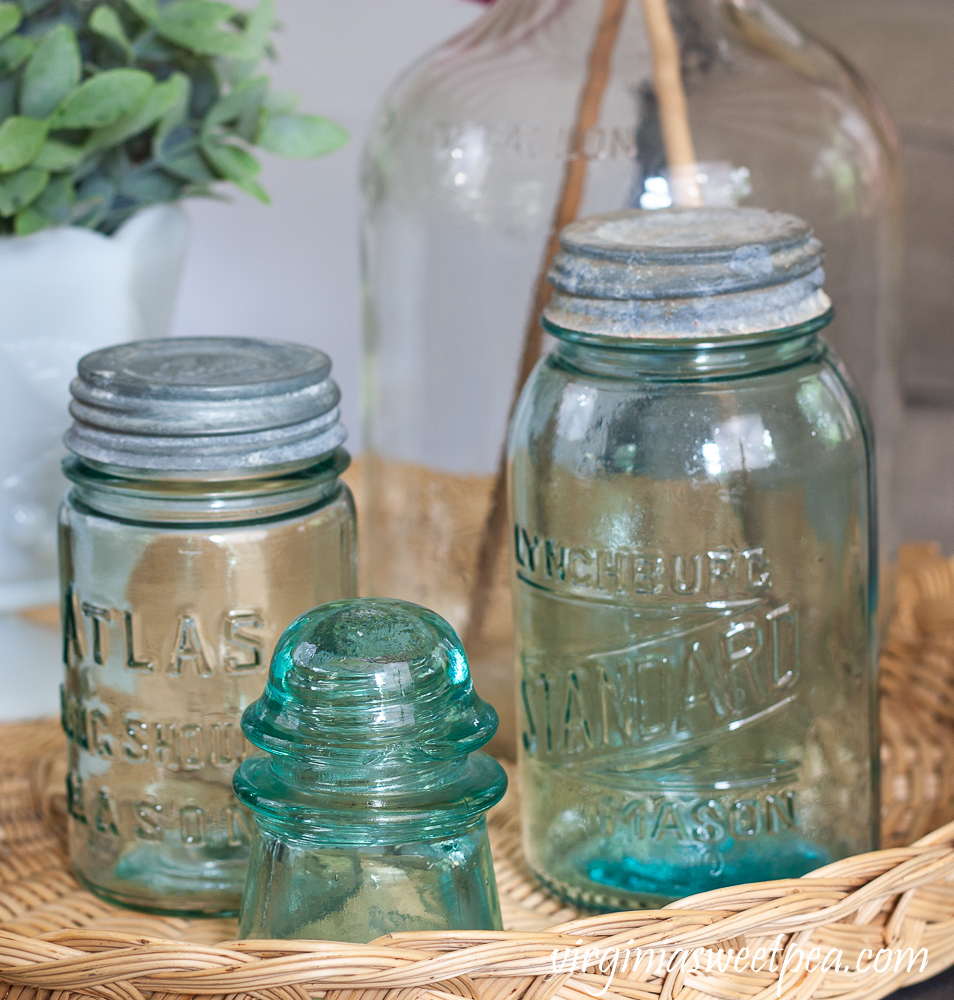 The Atlas Strong Shoulder Mason jar along with the Lynchburg Standard Mason jar were used by my family.
Use Jars for a Centerpiece
A group of vintage canning jars along with vintage insulators makes a great table centerpiece.
The vintage dough board holding my Ball jars and insulators belonged to a distant relative. It makes a great base for my centerpiece.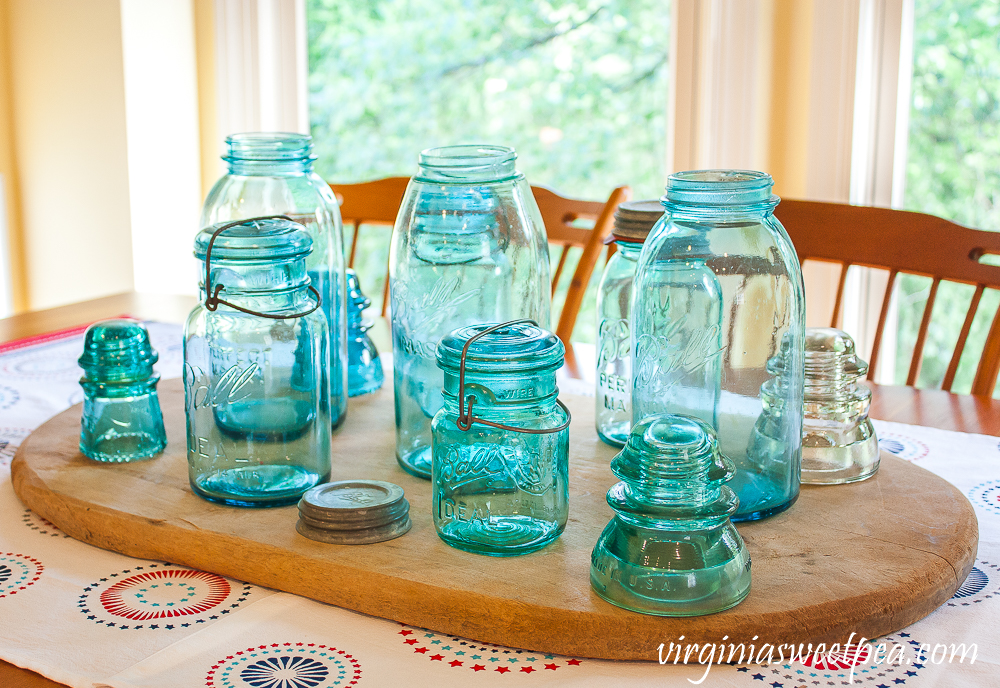 Make a Candle Using a Vintage Jar
Mama melted old candles to make these Mason jar candles. She uses them outside on the porch of her 1912 home.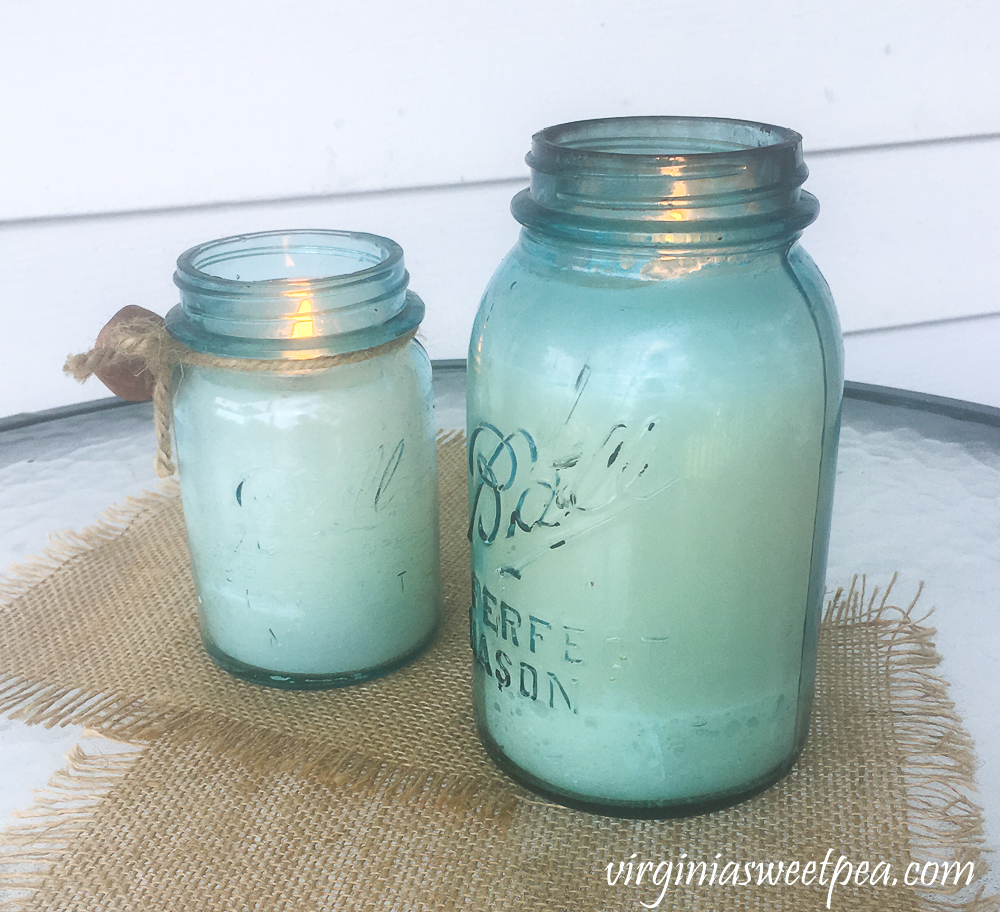 Decorate with Vintage Mason Jars
When our group shared Decorating Ideas for Vintage Baskets and Crates, I included ideas from my cousin, Stacey.
Stacey is back sharing her Mason jar ideas!
In her kitchen, Stacey decorated the side of her kitchen cabinet with a vintage Ball jar filled with wheat.
Stacey is a talented seamstress and I'll bet my bottom dollar that she made the curtains in her kitchen.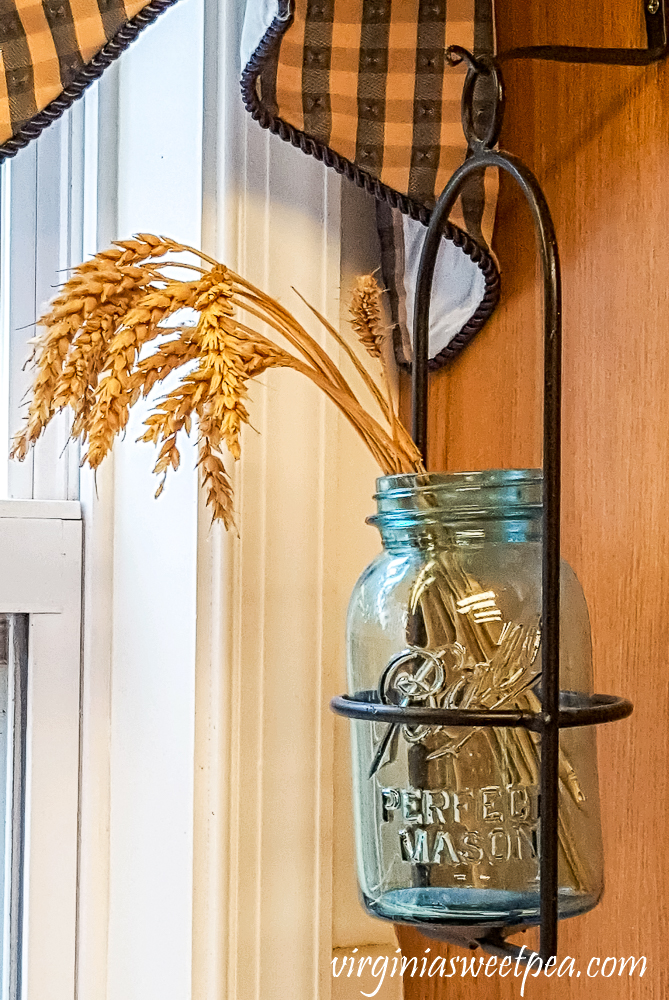 Another candle holder in Stacey's kitchen holds a vintage Atlas E-Z Seal jar with dried beans.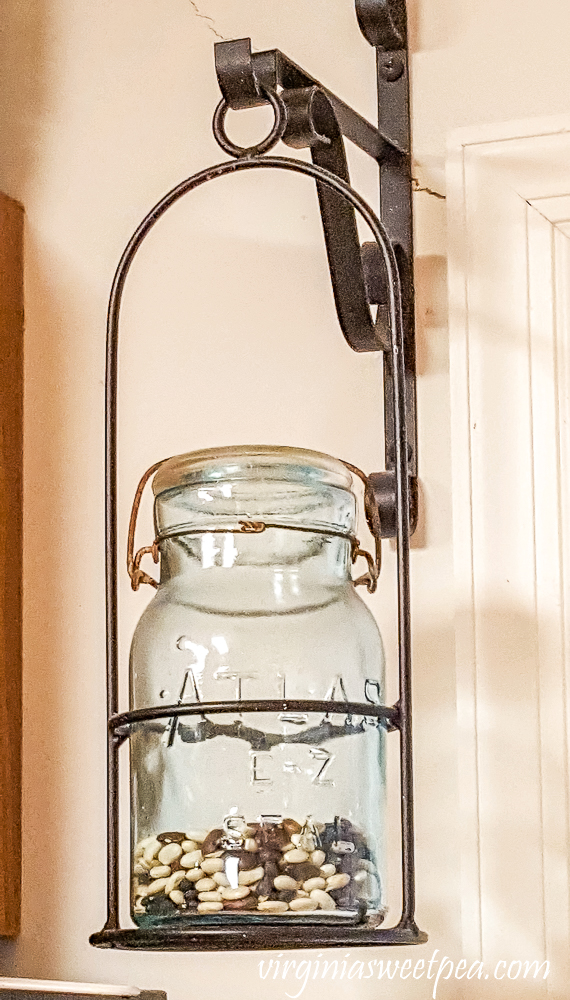 Stacey's sewing room is decorated with this jar filled with vintage spools of thread.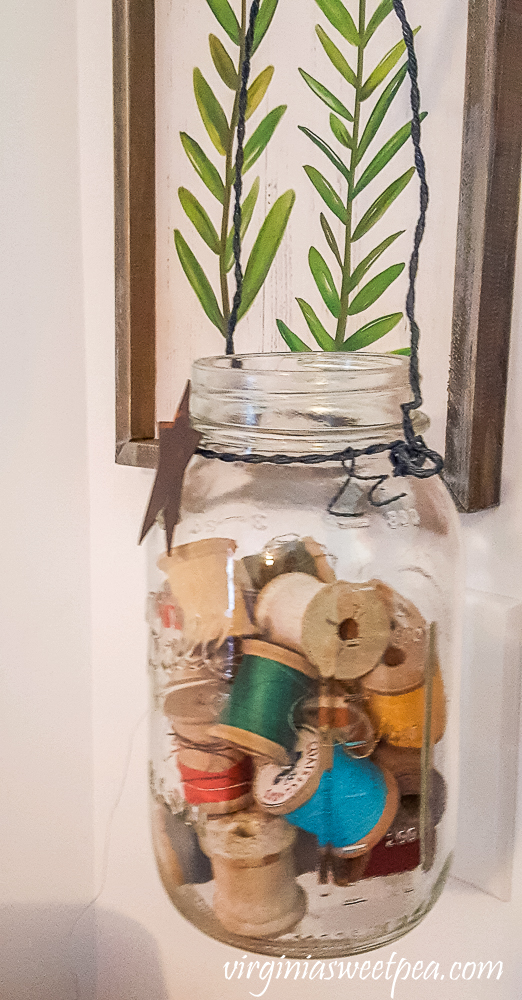 My family is a family who loves antiques and vintage, especially inherited family items.
Stacey decorated the top of one of her kitchen cabinets with vintage jars, many of which were used by our grandmother.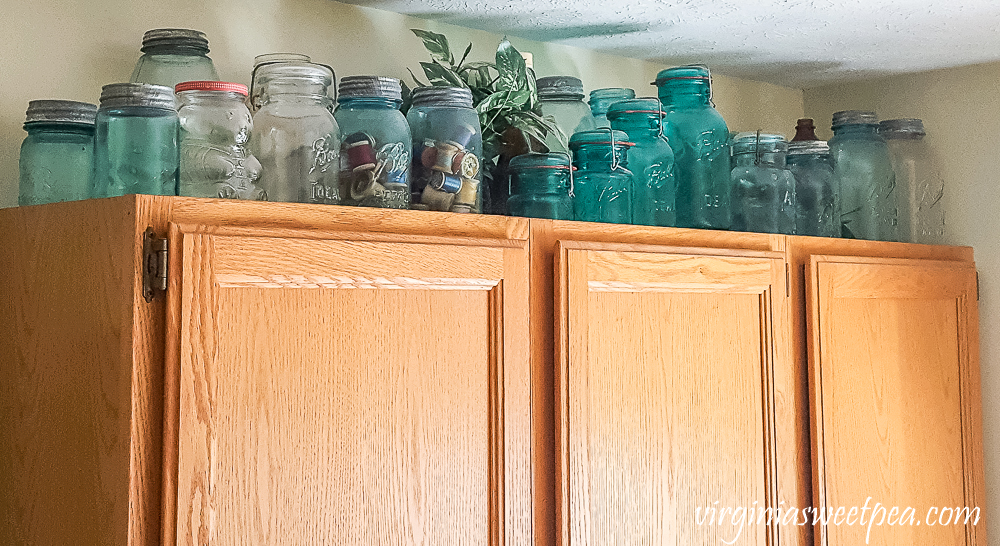 Use a Vintage Mason Jar to Make a Lamp
Mason jars make a great lamp. Here Stacey used one to create an oil lamp.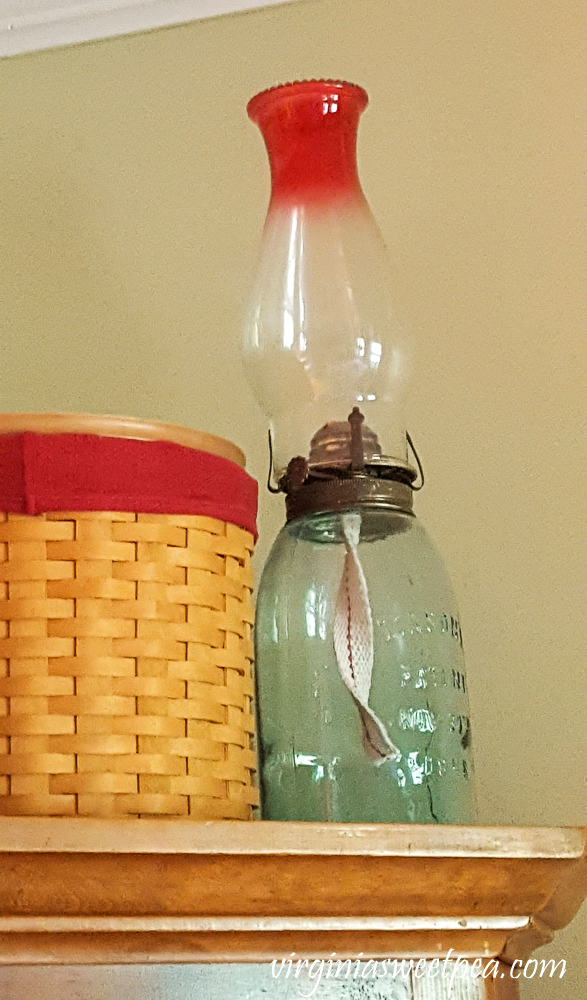 Stacey made another lamp with a vintage Mason jar that she uses on her antique sewing cabinet.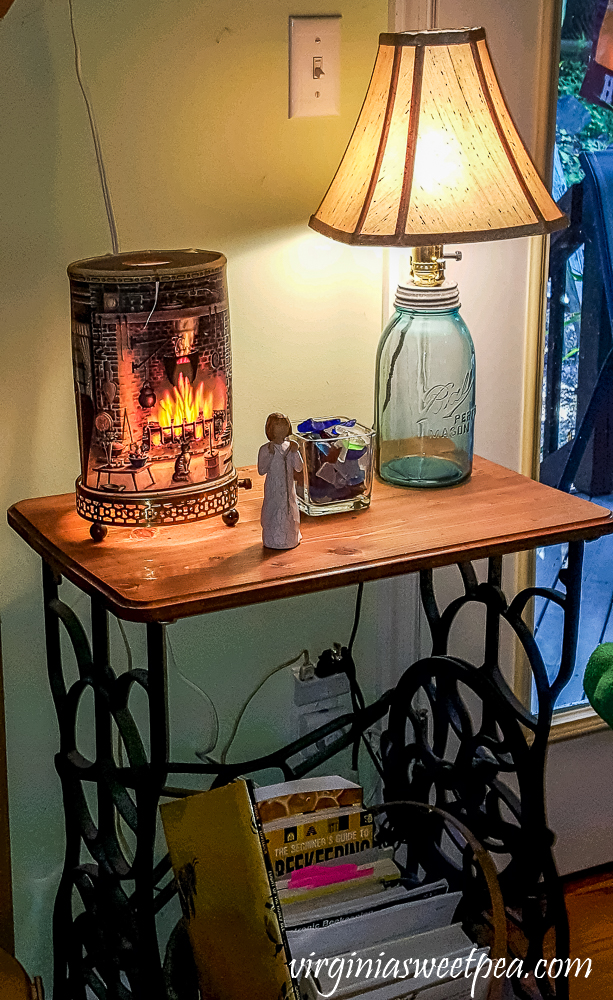 To make a lamp like Stacey's, all you need is a lamp kit like this one.
If you are wondering about Stacey's lamp, it's a vintage Econolite motion lamp. Mama has an Econolite lamp and so do I. Mama purchased mine on a trip and carefully transported it home in her airplane carry on.
Use Mason Jars for Organization
Stacey keeps her knitting needles handy by storing them in Mason jars.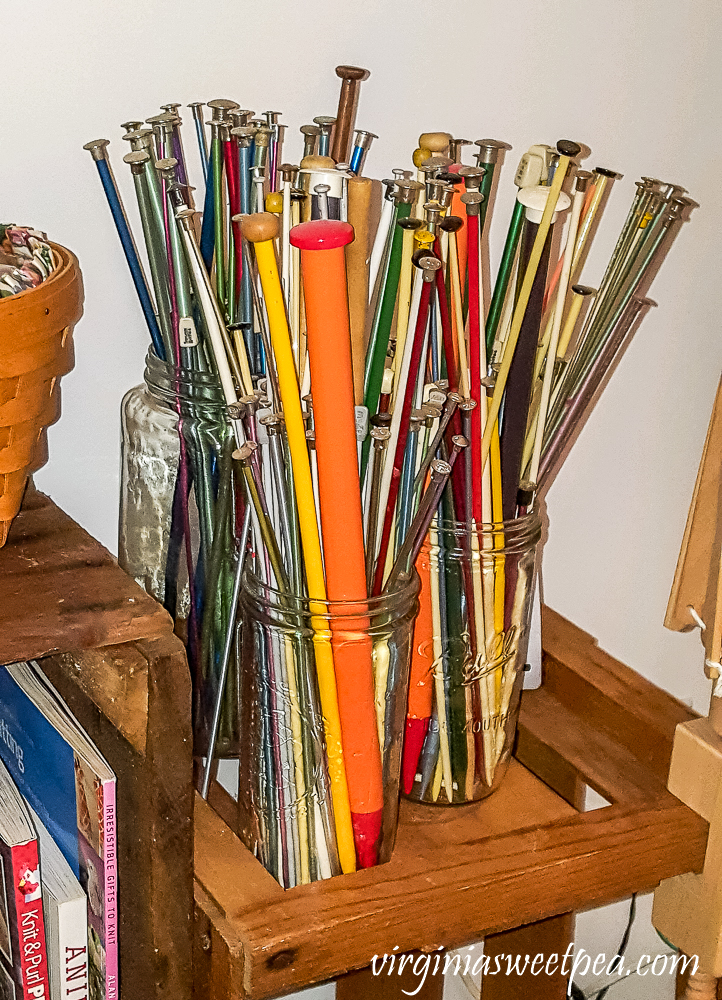 A sewing organizer made from a Mason jars keeps sewing necessities handy beside Stacey's sewing machine.
I love sharing antiques and vintage with you. I hope you found some inspiring ideas from me, my mom, and my cousin.
If you are hopping in order, next on the tour is Angie from Postcards from the Ridge. I always enjoy Angie's decor and know that you will as well.
More Ideas for Using Vintage Bottles and Mason Jars
Click on the links below to see the ideas that my friends are sharing.