Vintage Inspired Patriotic Mantel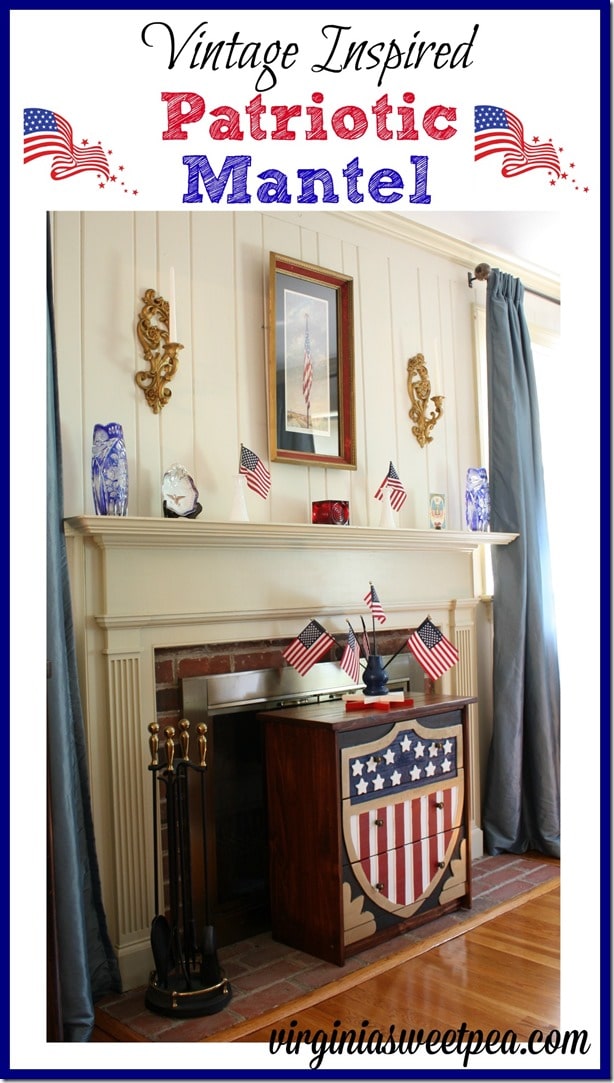 Being out of school has meant that I've had time to enjoy doing things around the house including decorating for July 4. My mantel is decked out for the 4th using mostly vintage or vintage inspired items.
I started my patriotic mantel decorating by hanging a vintage "Old Glory" print over the fireplace. Believe it or not, I found this print in a dumpster and the frame was found in someone's trash on an early morning run. I had a mat cut to fit the frame and print and think that they go together beautifully.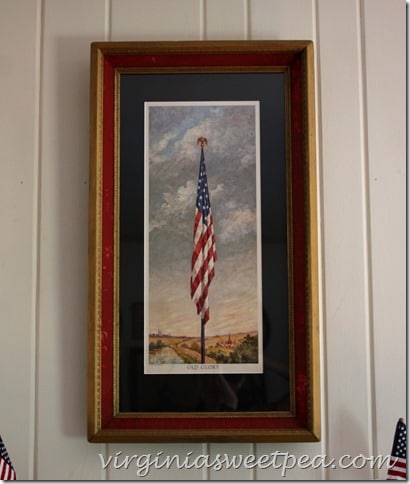 The Ikea Rast Patriotic Dresser that I shared with you in March was placed on the hearth in front of the fireplace. Recall that the flag design on the front of the dresser was modeled after an antique gate that we saw in a museum in Vermont. The flag holder on top of the dresser is one that Mr. SP and I made after seeing something similar in a Plow and Hearth catalog.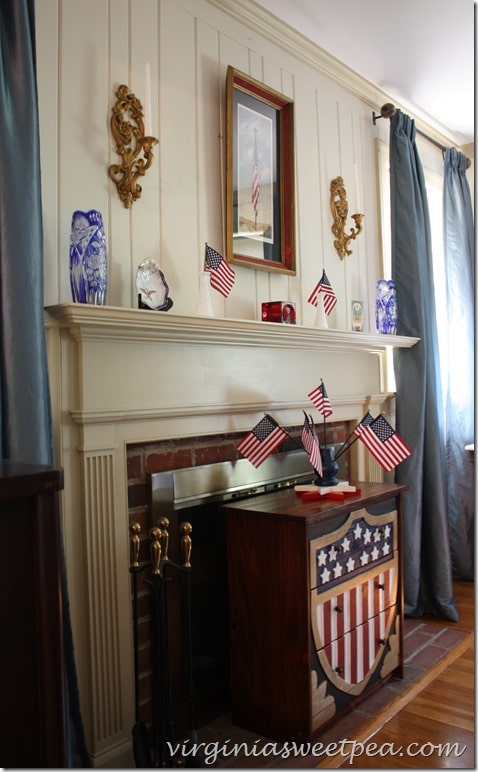 The sconces on either side of the flag print are a Goodwill find. They are marked "Made in USA 1971 Homco." I think I paid $1 for each of them. The blue vases belonged to Mr. SP's grandmother and are Czechoslovakian. The red candle holder and milk glass vases belonged to my grandmother.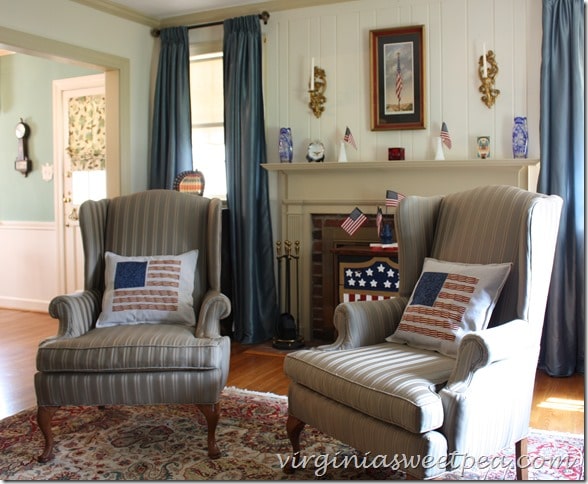 Let's take a closer look at a few things on the mantel.
Isn't this piece pretty? My friend Suzanne found it at Estates Revisited and knew that I would enjoy using it for 4th of July decorating.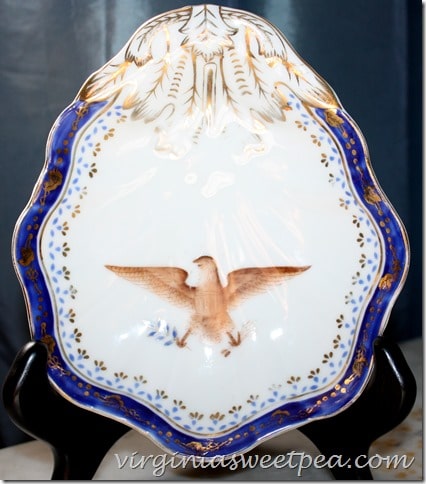 The post card was sent to my Great-Great Aunt Willye in 1907. I wonder who in Lynchburg sent it to her in Roanoke?
A vintage 4th of July hat is displayed on the music stand to the left of the mantel. It belonged to the son of the great-great uncle who built my mom's 1912 house.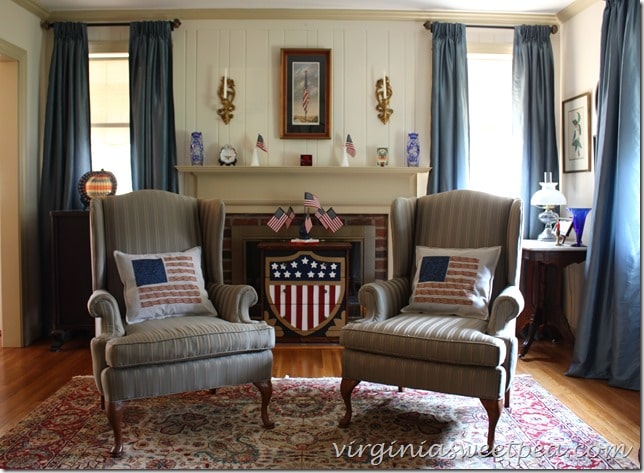 You can better see in in this picture from last year's patriotic decor.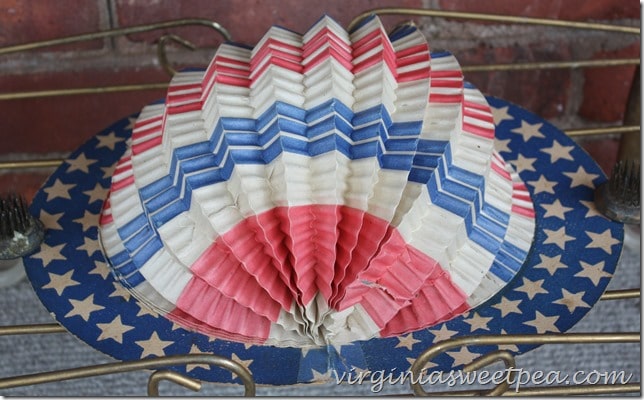 The table to the right of the mantel holds a few more things that aren't directly patriotic but are the correct colors and are vintage. The vase is Blenko and was my grandmother's. The frame holds a check from "John D. Ahalt – Distiller of Pure Mountain Spring Rye Whiskey" to Jeanette Ahalt. Ahalt is my maiden name and this would be a distant relative. For years I have haunted Ebay trying to find an Ahalt whiskey bottle. I almost had one a long time ago but had to let it go when the bids went over $300. Maybe I'll get lucky and find one in a thrift shop one of these days! (Edited to Note: I got my Ahalt Whiskey bottle. Read all about it here.)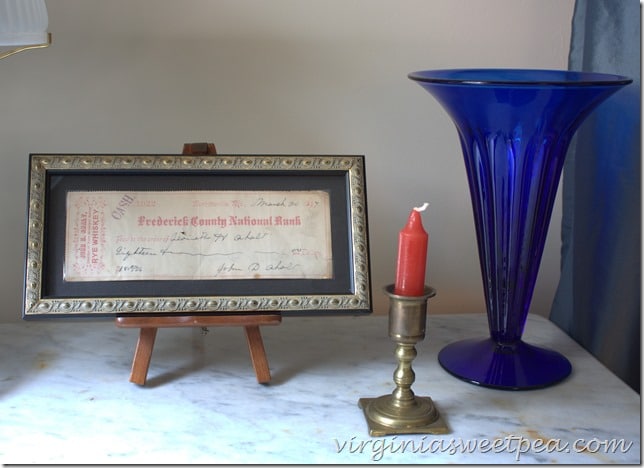 I so much enjoy using my vintage treasures for seasonal decorating.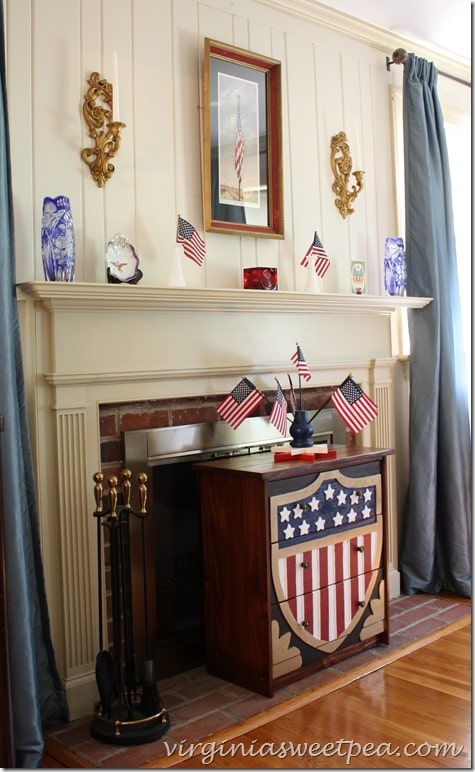 Here are a few more patriotic projects that I've shared recently: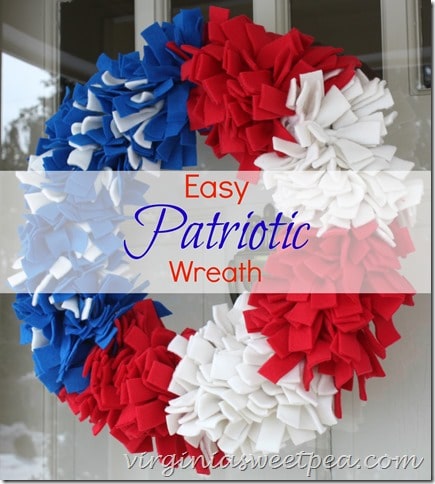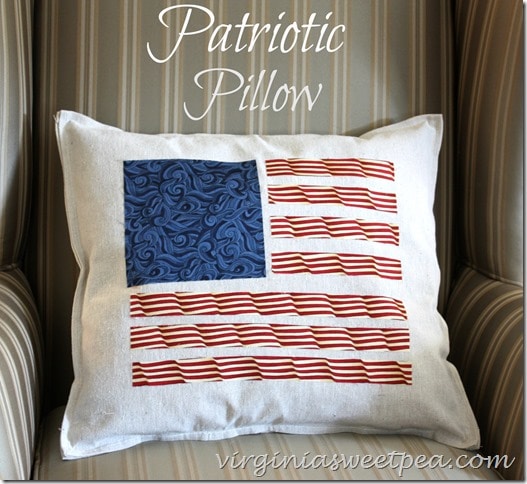 Easy Patriotic Table Runner and Vintage Mason Jar Centerpiece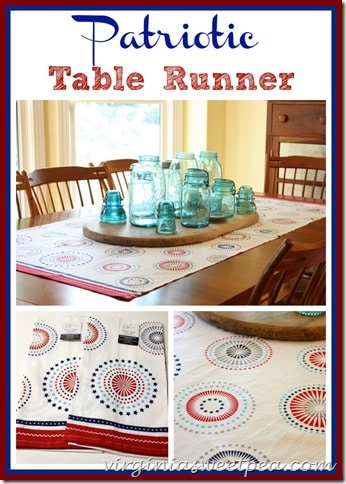 Now that I've decorated for 4th of July, I need to decide how we'll celebrate. I'm hoping for a day spent at the lake. How about you? What are your 4th of July plans?
Sharing With:
The Interior Frugalista, Dwellings-The Heart of Your Home, Between Naps on the Porch, Concord Cottage, Stone Gable, Sand and Sisal, Yesterday on Tuesday, A Stroll Thru Life, Savvy Southern Style, Just a Girl and Her Blog, Common Ground, Imparting Grace