American Odyssey Relay :: 12 Bloggers Run 200 Miles!
This past weekend I joined eleven other bloggers for the American Odyssey Relay, a race that starts in Gettysburg, PA and ends 200 miles later in Washington, DC. Our team of twelve was divided divided into two groups of six to complete the race. Van one completed the first six legs and then van two (my van) took over for the next six legs. We alternated for three rotations to complete 200 miles.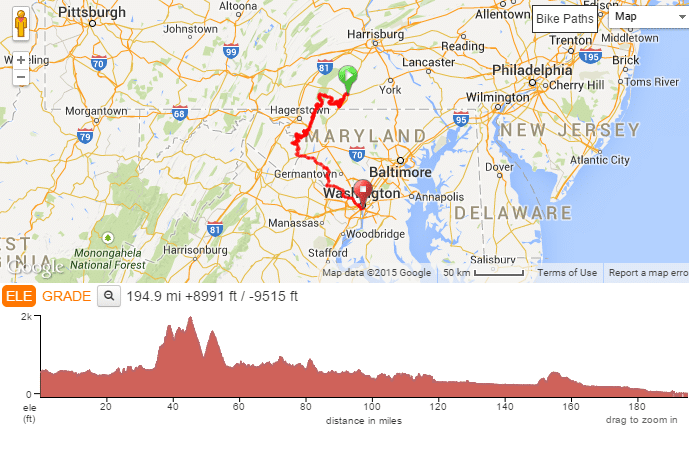 Since our team consisted of bloggers, we were appropriately named "Bloggin' and Joggin'". Cassie of Primitive and Proper was our team captain and chief organizer. Not only did she make sure that every detail was taken care of for the race, she also let us sleep for a few hours in her beautiful home between race legs.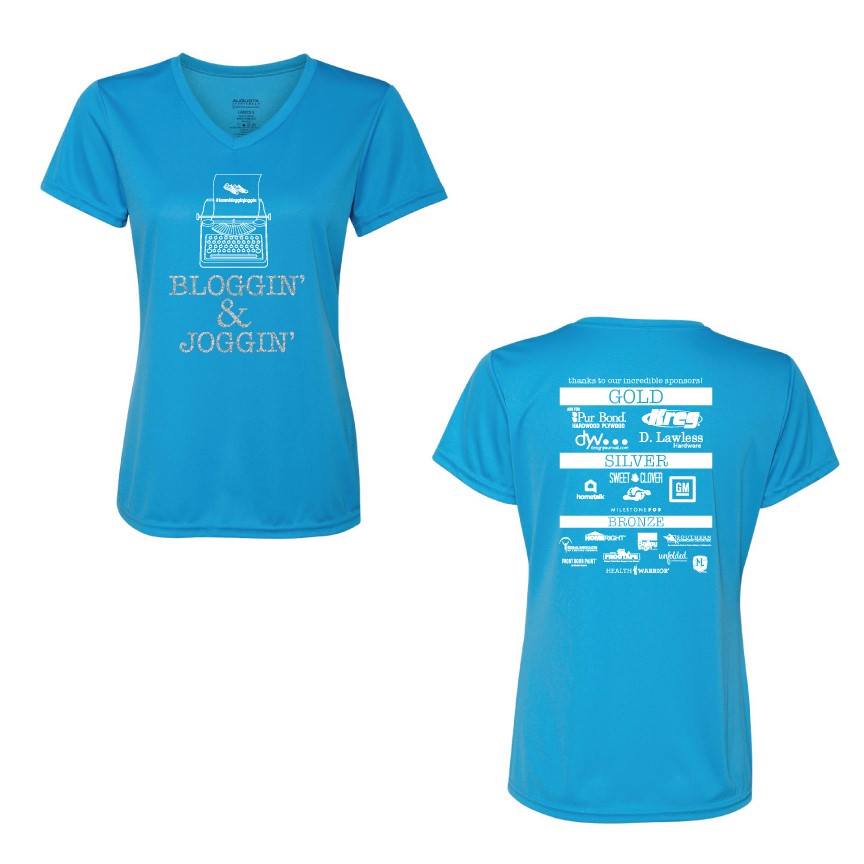 Van one started the race early Friday morning. My group in van two didn't start our runs until afternoon, so we spent the morning chatting and getting to know each other. Van One included Cassie from Primitive and Proper, Karah from The Space Between, Heather from The Heathered Nest, Jessica from Pace of Me, Jessica from Dear Emmeline, and Becky from Infarrently Creative.
(I lost all of the pictures that I took during this event (sob!) and am making due with Instagram pictures or pictures taken by others.)
I was joined in van two with Megan from Rhappsody in Rooms, Cheney from May Richer Fuller Be, Sarah from The Thriftress, Vidya from What's UR Home Story, and Alexis from Flecks of Lex. Thanks to GMC, our team rode around in both style and comfort. Megan unfortunately had an injury and couldn't run, so she kindly was our driver for two days.
My van's runner order was Sarah, me, Megan, Chaney, Alexis, Vidya. Before we left our hotel to drop Sarah off at her leg's start, we took a group photo at the race's official starting point.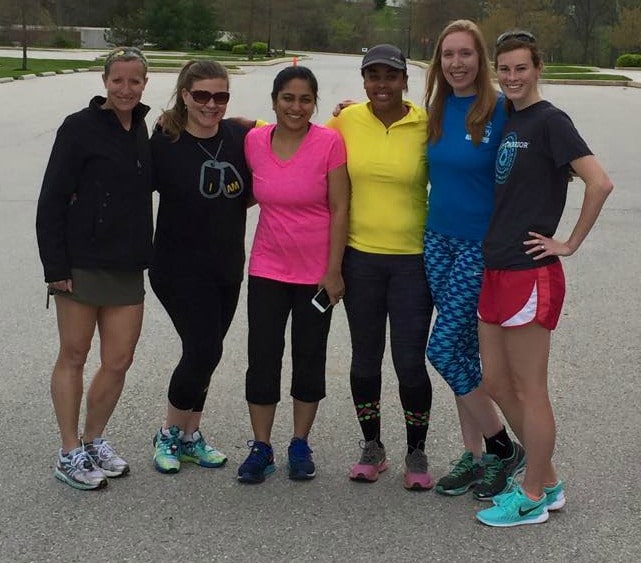 Sarah's leg started at the top of a mountain and poor Cassie who was the 6th runner in the first van had to run up that mountain. It was a long ride up that mountain, even in the car. Just when I thought we'd reached the top, we would round a turn and there would be another steep grade to climb. Cassie knew what she was getting into when she volunteered to do this leg. She trained hard on the hills in her area and was prepared for the challenge. The eleven other team members were waiting for her at the top to cheer her up the last grade.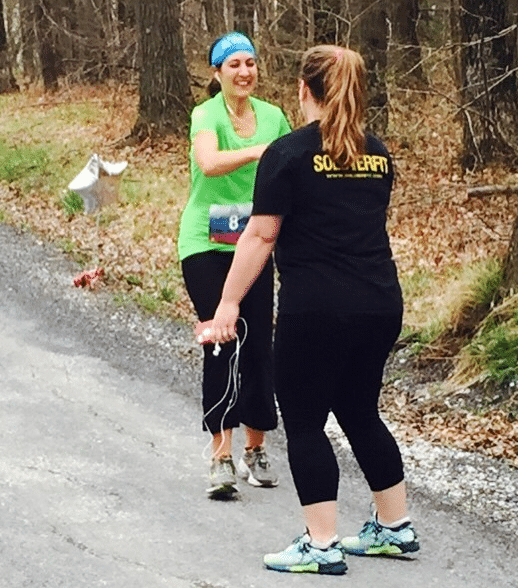 After Sarah finished running, it was my turn. My first leg took me into Michaux State Forest where I ran on a nice gravel road up a mountain and then back down. The ascent was 400 ft and left me huffing and puffing but the long descent made up for it. I ran down, down, down and felt quite fast until I was passed by a few men.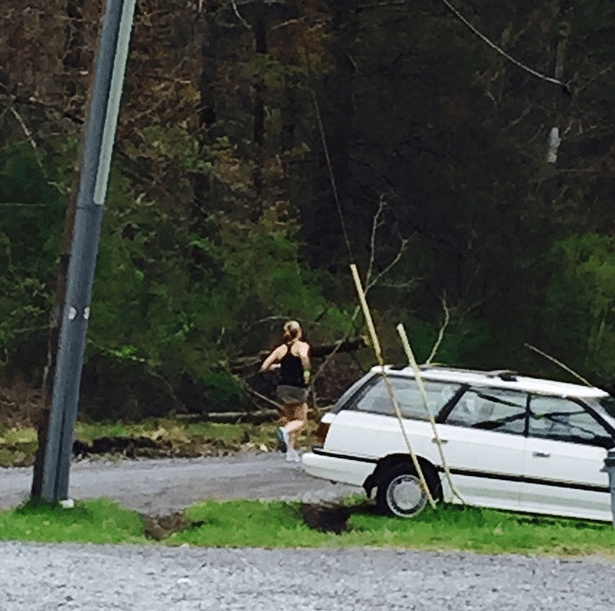 Each time we finished a leg, we checked it off on our Denali's window. Here cute Cheney checks off her first leg.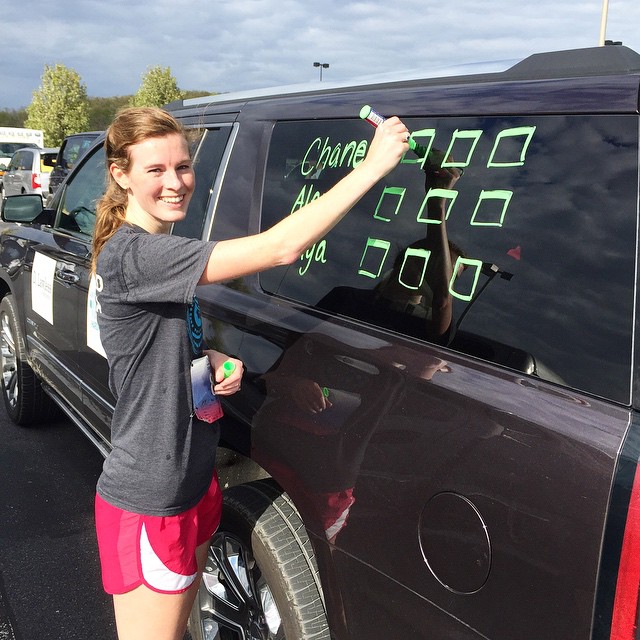 After Alexis and Vidya finished their legs it was dusk and time to get a late dinner and some rest while van one completed the next six legs. It was nice to relax at a local bar and grill and then head to Boonsboro High School to change clothes to get ready for the next six legs. My middle of the night second leg started in the small town of Keedysburg and ended on a farm just off of Rt. 65, north of Antietam Battlefield. The night was cloudy making it very dark. My knuckle lights and headlamp made it easy for me to see the road in front of me and my safety vest and blinking lights made me visible to cars. I started running around 1:30 am, my first ever late night run. I enjoyed this leg and would like to drive it in the future as it was through farmland and I'll bet that it was pretty.
It was a long night for all of us and we were happy to arrive at Cassie's house around 4:15 am for some much needed sleep and a shower. All too soon the alarm clocks went off and it was time to get back into the van for our third legs.
Saturday was sunny and warm, a beautiful day to be outside. Sarah completed her third leg and then it was my turn.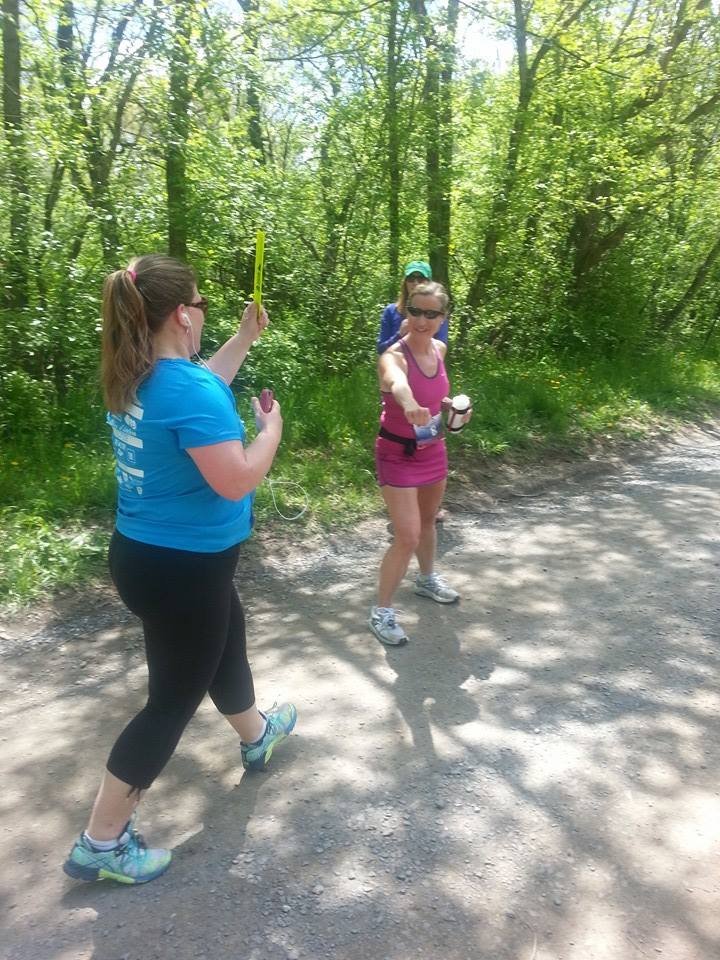 My third leg was along the C&O canal towpath and was my least favorite, probably because it was flat. My body is used to hilly Lynchburg where different muscles are used as the body runs up and down hills and I found using the same muscles for 4.7 flat miles hard. It also was hot and I have yet to get used to running in the heat. The towpath was lined with wild flowers and had a beautiful view of the Potomac. I tried to focus on how pretty it was while I ran and not on how hot and tired I felt.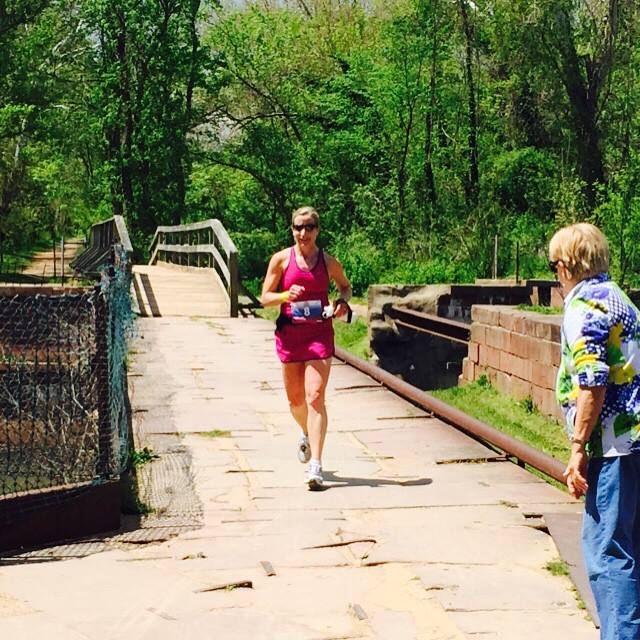 Look at that pretty view! This gal was happy to be finished with her three legs of the race.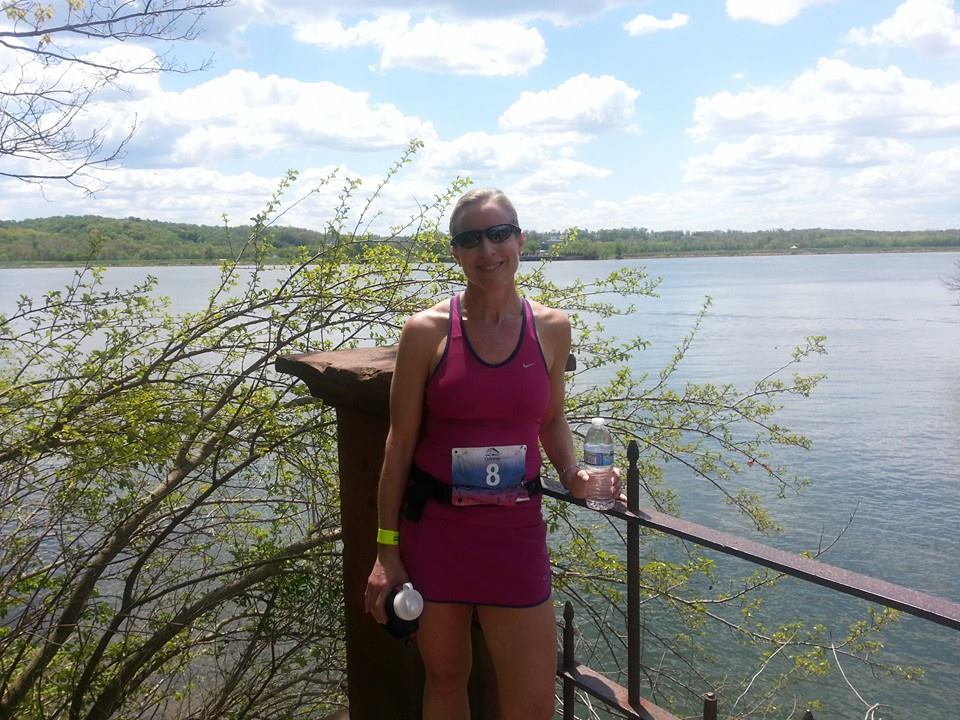 Cheney, Alexis, and Vidya also ran along the C&O towpath. Vidya had a hot and long third leg that went from the towpath into DC. Vidya is a new runner and I was so proud of her for completing this hot leg.
Our team gathered at the end to wait for Vidya and to join her in running across the finish line.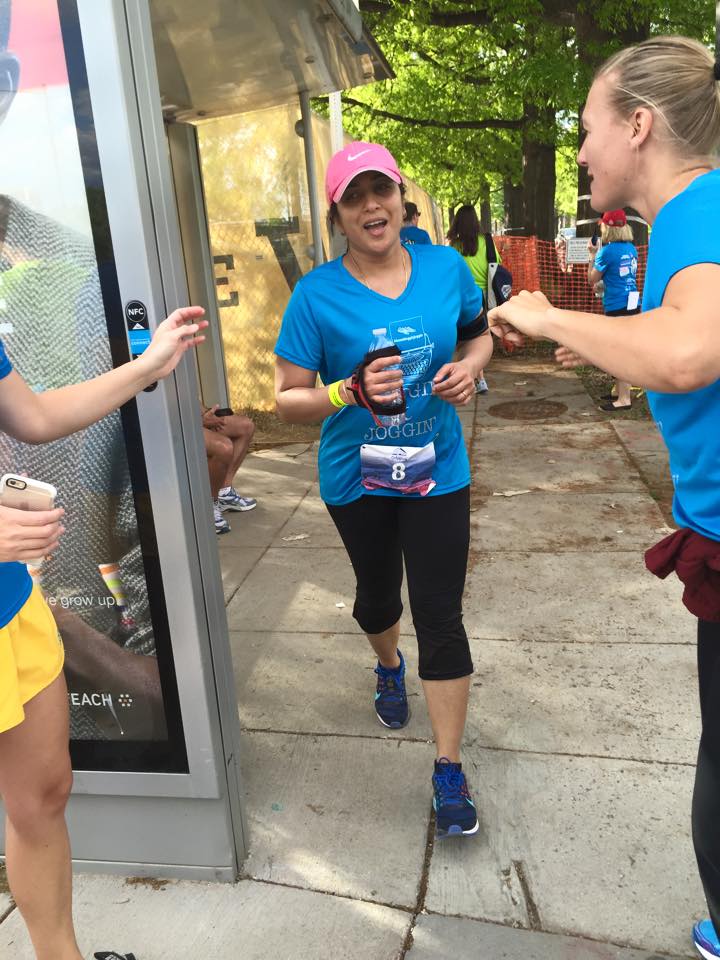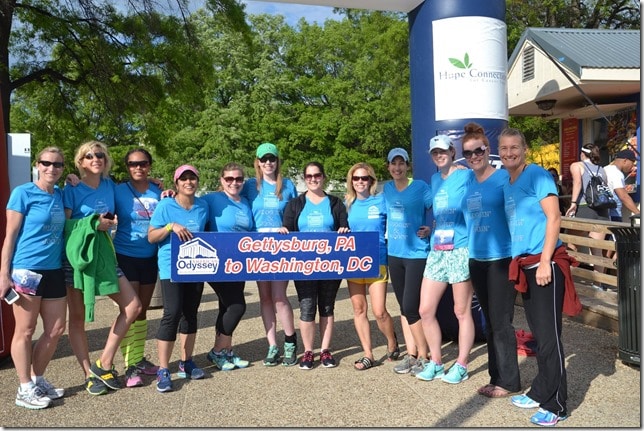 What a fun few days. I enjoyed every second of this event and especially enjoying bonding with the ladies in my van. I loved meeting everyone in person after communicating with them via Facebook for months and months as we prepared and trained for the race. If our team wants to do this race again next year, I'm in!
Thanks so much to these brands for sponsoring our team:
Purebond
Kreg Tool
DLawless Hardware
Design Your Wall
Hometalk
GMC
Sweet Clover
Milestone Pod
Southern Landscape Group
Modern Masters
Rehab Associates of Central Virgina
Annie Sloan Unfolded
HomeRight
Muscles and Lungs Crossfit Aruba
Bailey Sign
Health Warrior
SIX:02
Frog Tape
In particular, I'd like to thank the two sponsors local to me, Southern Landscape Group and Rehab Associates of Central Virginia. Southern Landscape Group has helped us with several projects over the years including our driveway and patio, yard renovation, yard renovation after derecho damage destroyed the first yard renovation, and our side yard project. I would recommend this company to anyone! Since I'm injury prone, I've been a patient at Rehab Associates many times over the years. I've always been 100% pleased with the care that they've given me.
I have to give a huge shout out to Mr. SP who drove Megan and I to the event and listened to our nonstop chatter in the car. It was extremely nice of him to fight DC traffic to meet us at the end after picking up our things at Cassie's house. I think I married the most patient man in the world!
Now that the race is over, it's time to focus on tennis for a while. Spring USTA is in full swing and there are matches to be played.