Building Our Lake House – Part 3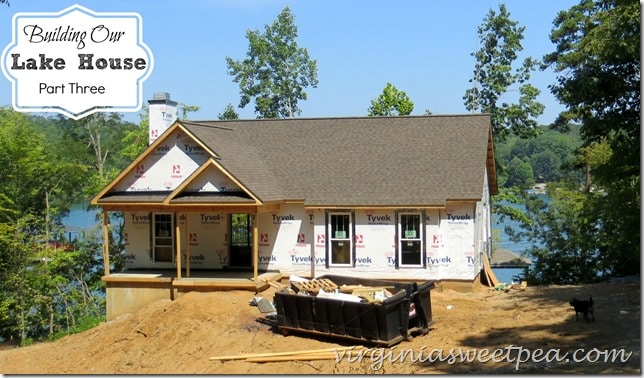 Can you believe that until yesterday we hadn't been to the lake since the end of July? Poor Mr. SP has been down for the count with a tick disease and is just now starting to feel better. A Sunday trip to the lake was his first time out of the house other than going to work a few times and going to the doctor. I am so thankful that he is now feeling better and felt up to a short lake day.
We both were so excited to see what progress had been made since our last visit.
The house now has a roof and windows and some work has been done on the chimney. The front porch now has a concrete floor.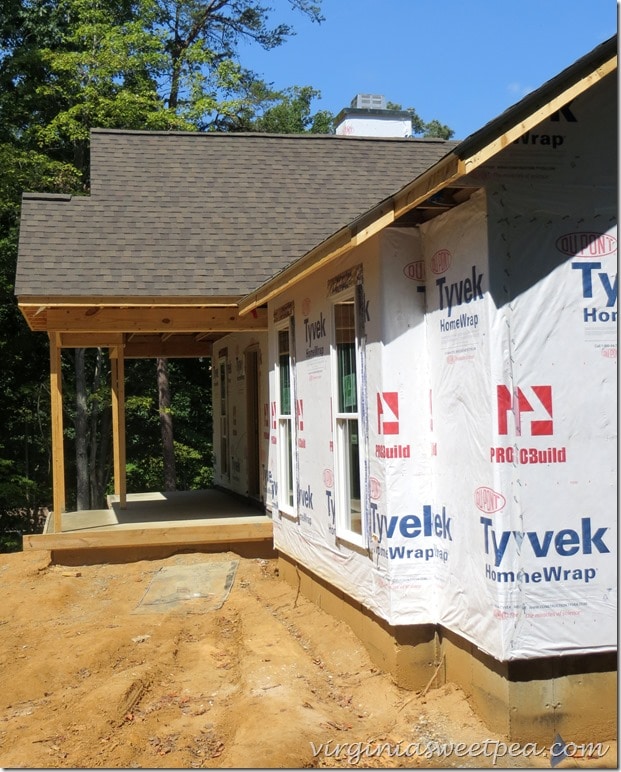 My favorite bit of progress is the rails and flooring on the covered porch. I'm planning to spend a lot of time out there!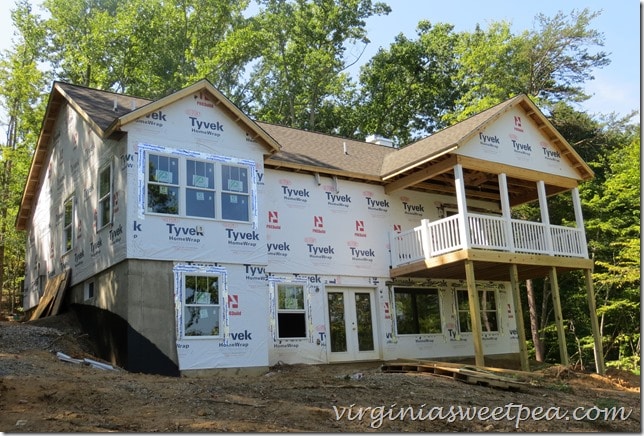 The porch floor is a composite material. I wish that our dock and deck at home were made out of the same. Staining decks seems to be a never ending task. Sherman loves to be outside and I know that he is going to be out here a lot.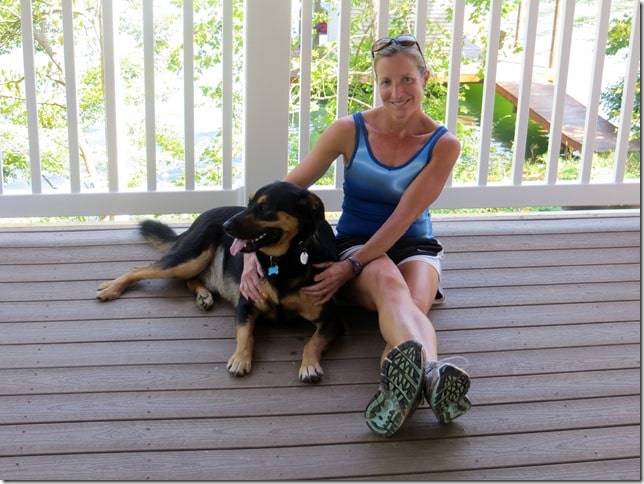 The water views from the deck keep going. Sherman is also happy that Mr. SP is out and about.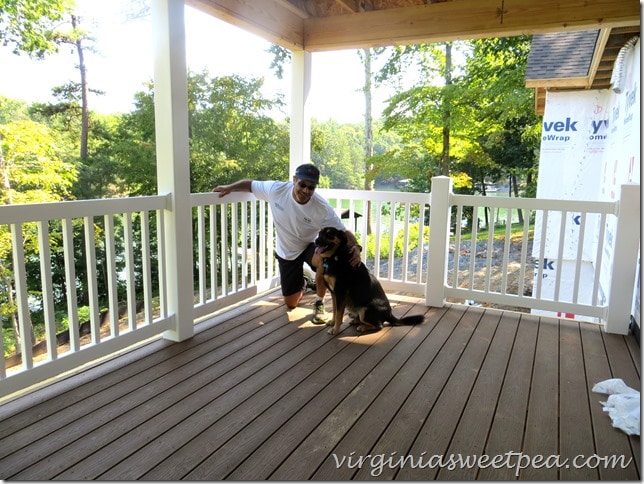 Electrical work has been completed. You can see where lighting will go in the ceiling. We also had the electrician put a few outlets in the floor for lamps. I hope that they are in the correct spots.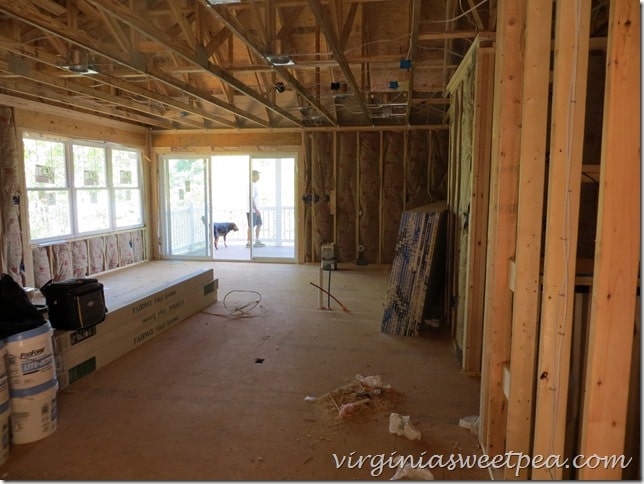 Here you can see our compact kitchen. The white lines map out where the cabinets and appliances will be located.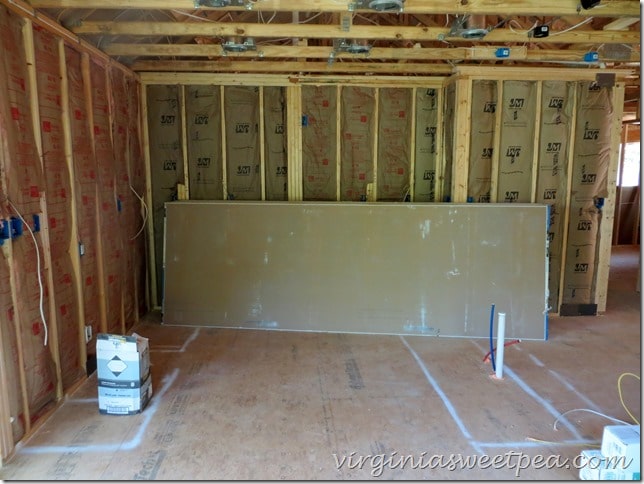 Basement stairs are in place and so is the HVAC duct work.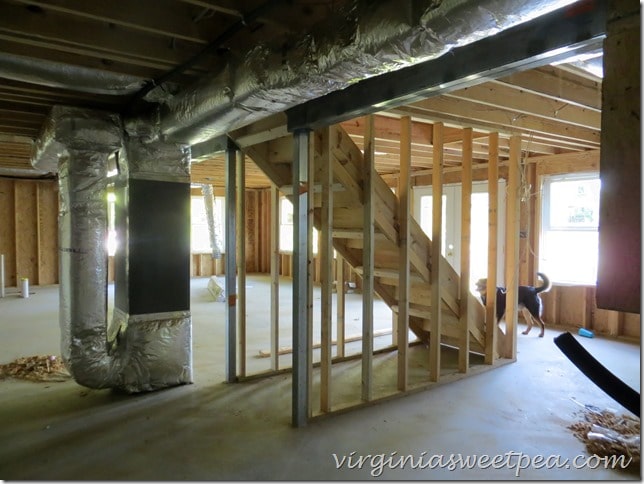 We both enjoyed some dock sitting.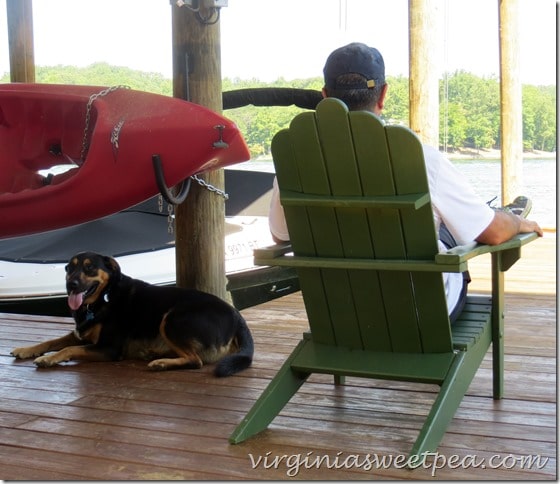 After relaxing on the dock, we went for a boat ride and enjoyed the perfect weather. Sherman does not like to ride in a car, but he loves to ride on the boat!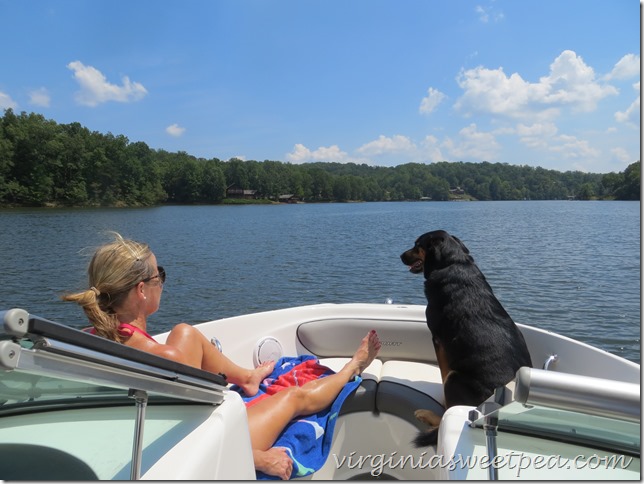 Drywall is the next project at the house. I've got my fingers crossed that it will happen this week.
On a side note, today is the first day of school for my students. This is year 25 in the classroom for me and many of my students are the children of students from the past. I had a wonderful year last year and hope that this school year is even better.
Thursday is "Themed Furniture Makeover Day" with an animal theme and I am so excited to share my project with you. You can probably guess what animal my project features. 🙂
Sharing With:
Dwellings-The Heart of Your Home, Refresh Restyle, Between Naps on the Porch, Concord Cottage,Stone Gable, Sand and Sisal, Yesterday on Tuesday, A Stroll Thru Life, Savvy Southern Style, Bless'er House, Common Ground, Houseology, Imparting Grace, Little Miss Celebration