Lake House Basement Family Room Reveal
After months of hard work, our lake house basement family room is ready to be enjoyed.
It would be nice to say that it is finished, but there are still a few things left to do like finishing a few thresholds, selecting blinds, and decorating.
Lake House Family Room Reveal
Our new family room is now the best spot in our house to relax while enjoying lake views.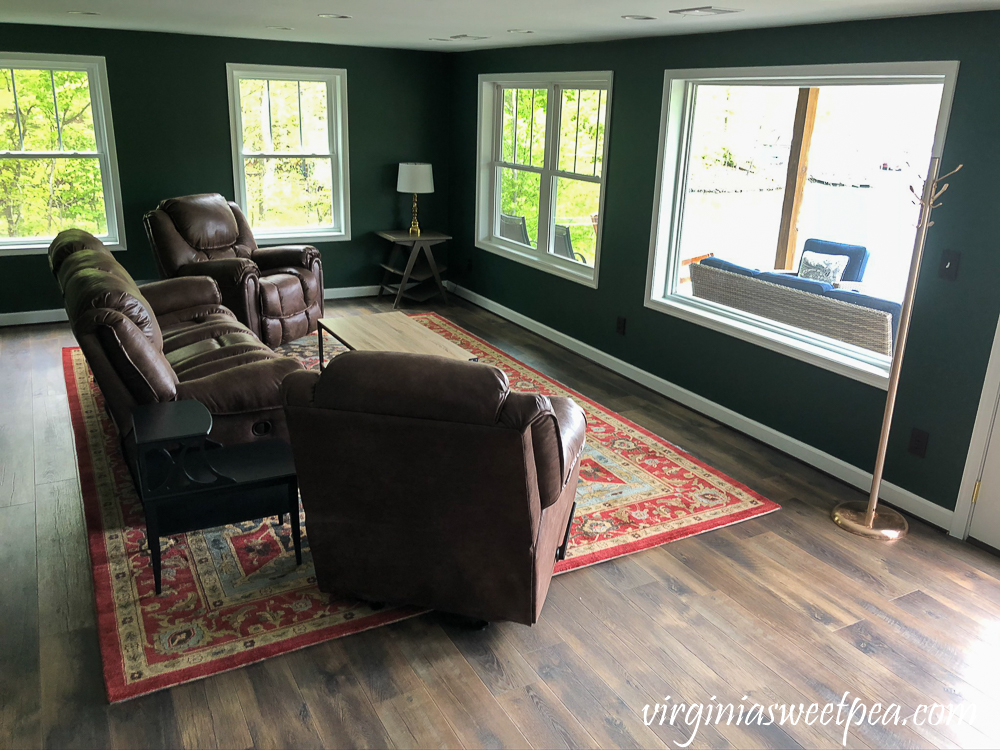 Here is what the room looked like when we started the process of turning this space into a family room.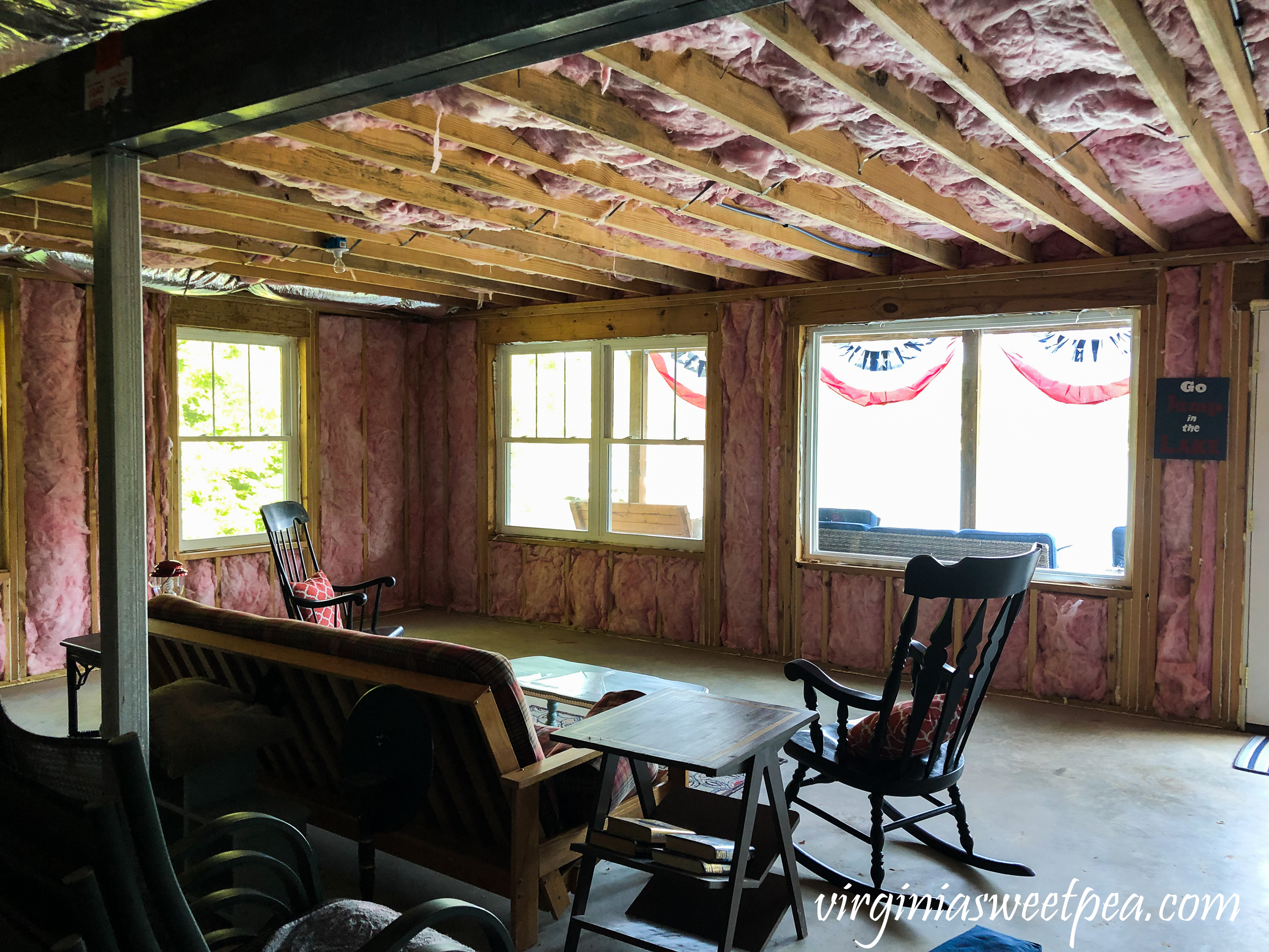 Paint Color
The family room paint color is Sherwin Williams Rock Garden (SW6195 ).
Furnishings
The family room was furnished with some new pieces along with a few things that we already owned.
Sofa and Recliner
For the ultimate in relaxation, we chose to furnish the room with two recliners and a reclining sofa.
This style of furniture isn't my first choice, but it was selected for comfort, not for looks.
The brand is Homestretch, a made in the USA product. These pieces were purchased from Grand Home Furnishings, using one of my mom's friends, so that he would get the commission on the sale.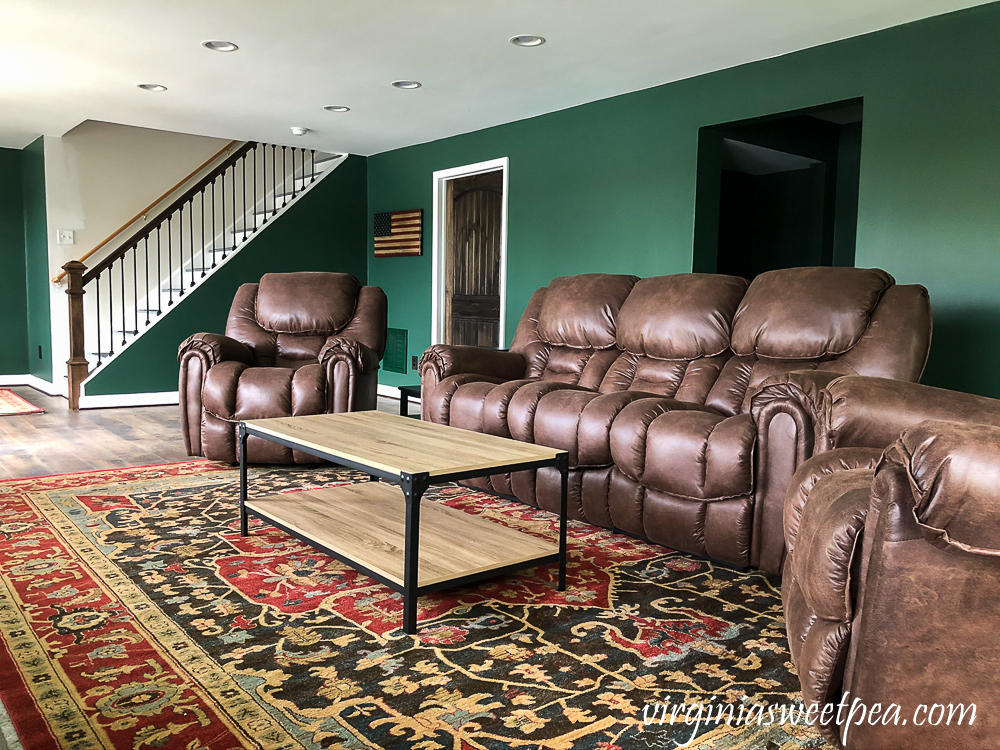 Here's the same view of the family room in its unfinished state.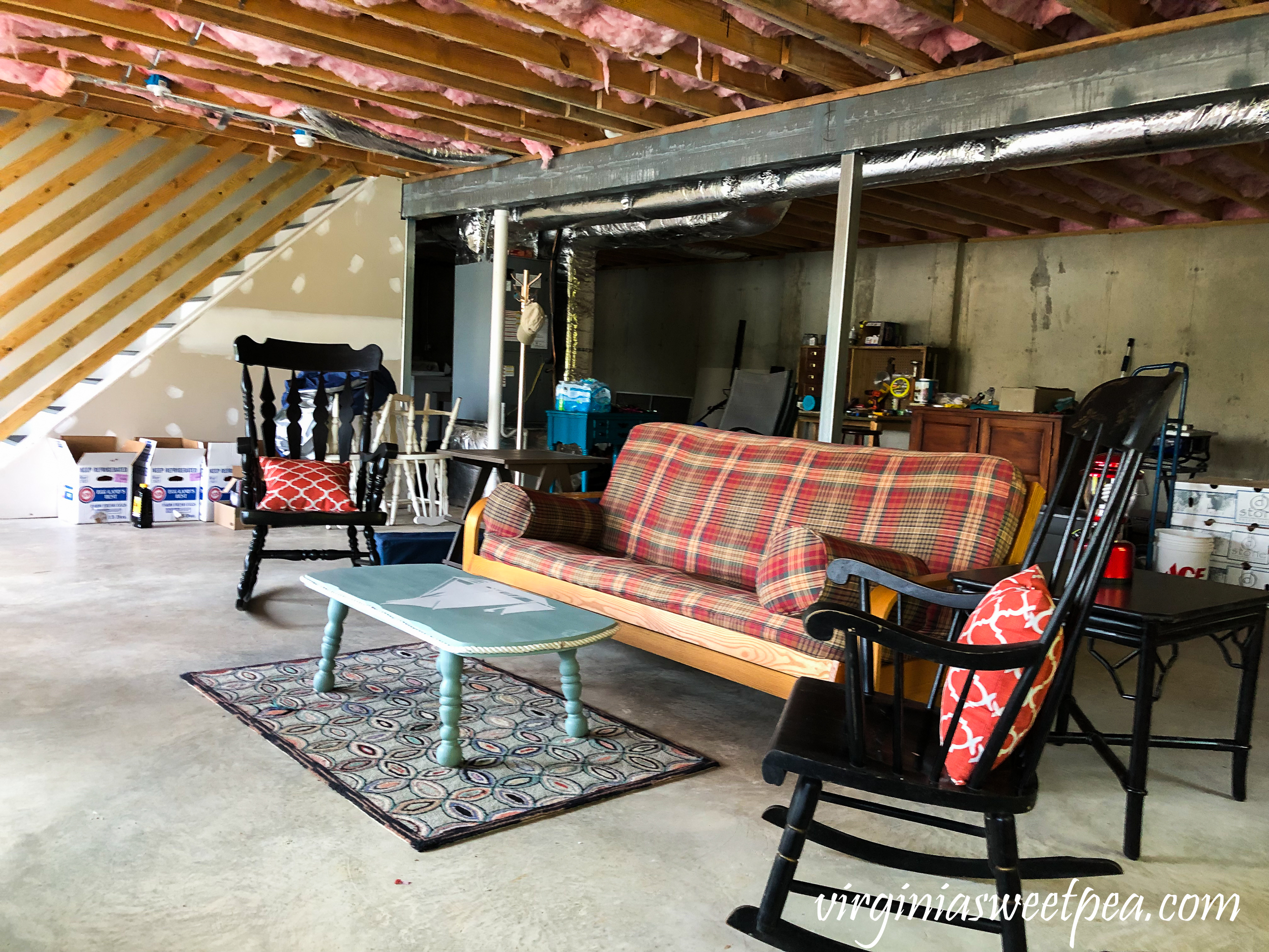 Mr. SP has been enjoying both relaxing in a recliner and also working from home with a lake view.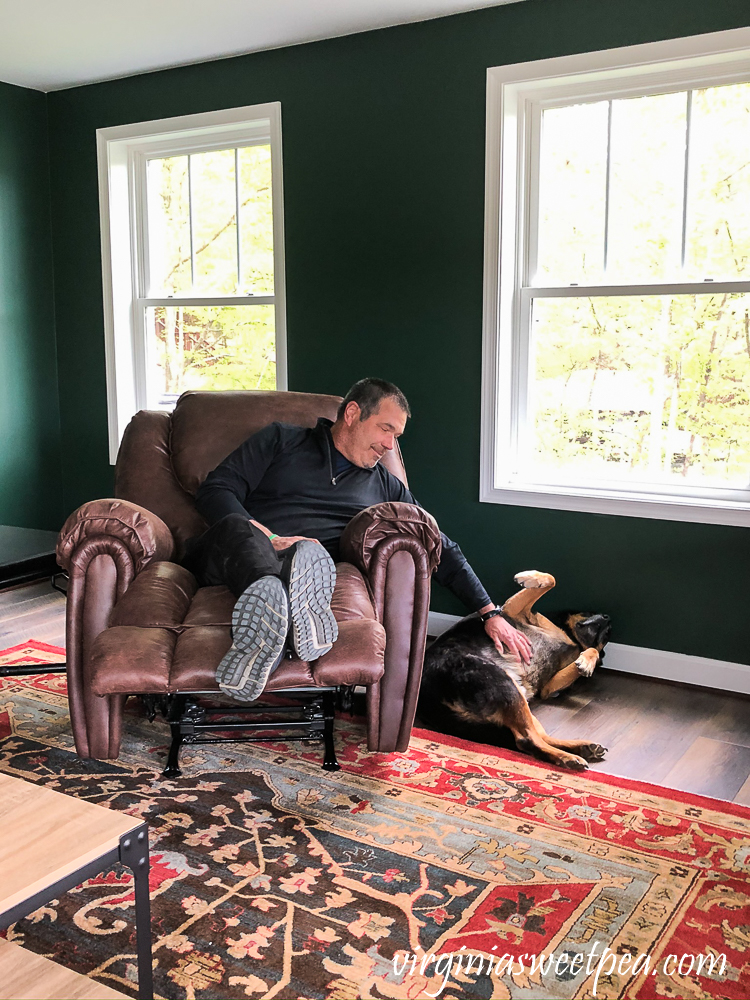 Coffee Table
Our new coffee table is the Stubblefield Coffee Table with Storage ordered from Wayfair.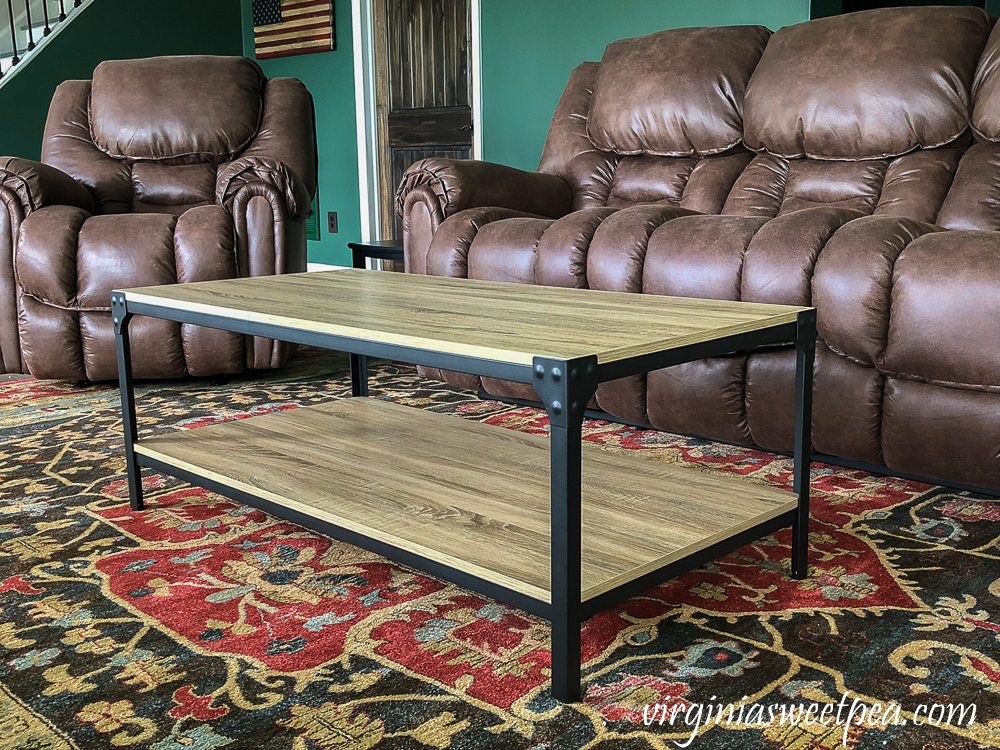 I haven't decorated the coffee table but plan to use the farmhouse tray that we made a few years ago on the coffee table top to corral books and magazines.
The bottom of the coffee table will give us more storage for books, magazines, or puzzles.
Rugs
The family room furnishings are anchored by a 10′ x 14′ rug from Wayfair chosen for its colors, pattern, and its ability to camouflage dog hair.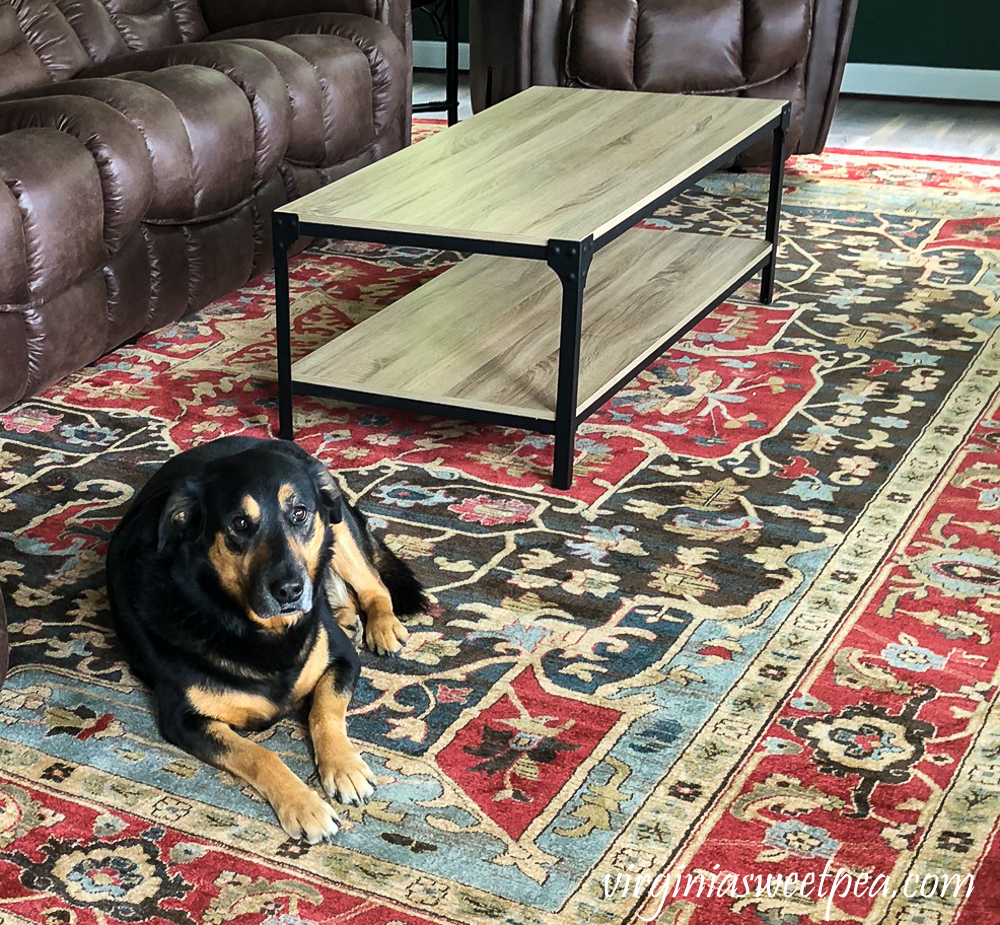 A matching rug is at the foot of the steps and a matching runner will be added at a later date.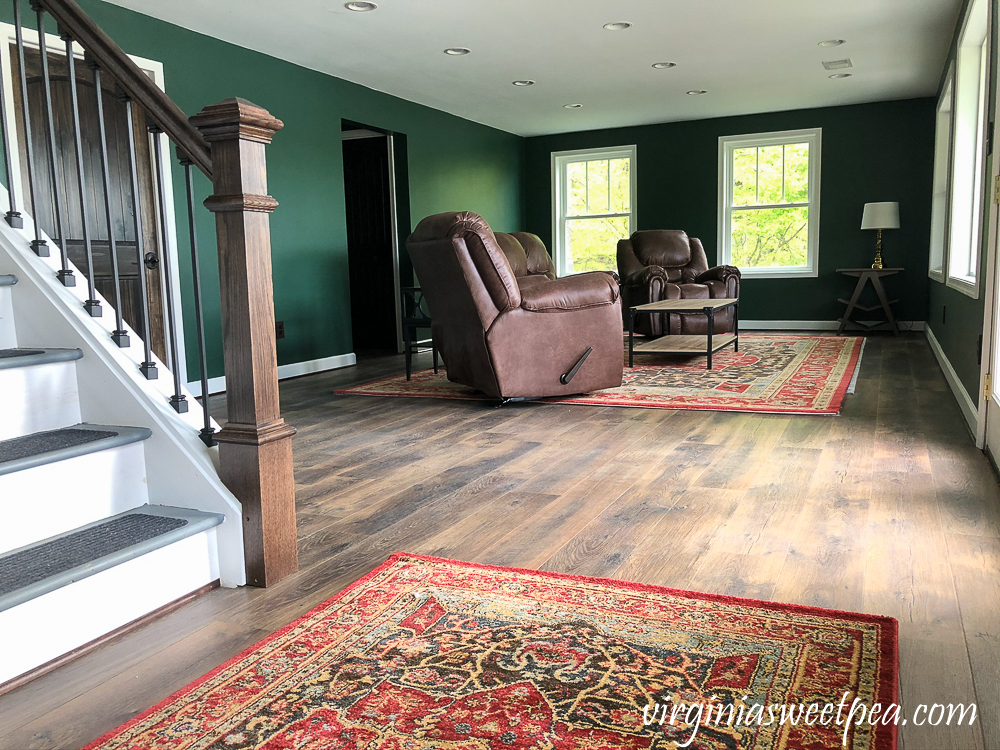 End Tables
For now we are using two end tables that we had on hand.
In this "before" shot you can see a black rattan table that my mom's friend gave me. I painted it and had it in my former shop, but it never sold.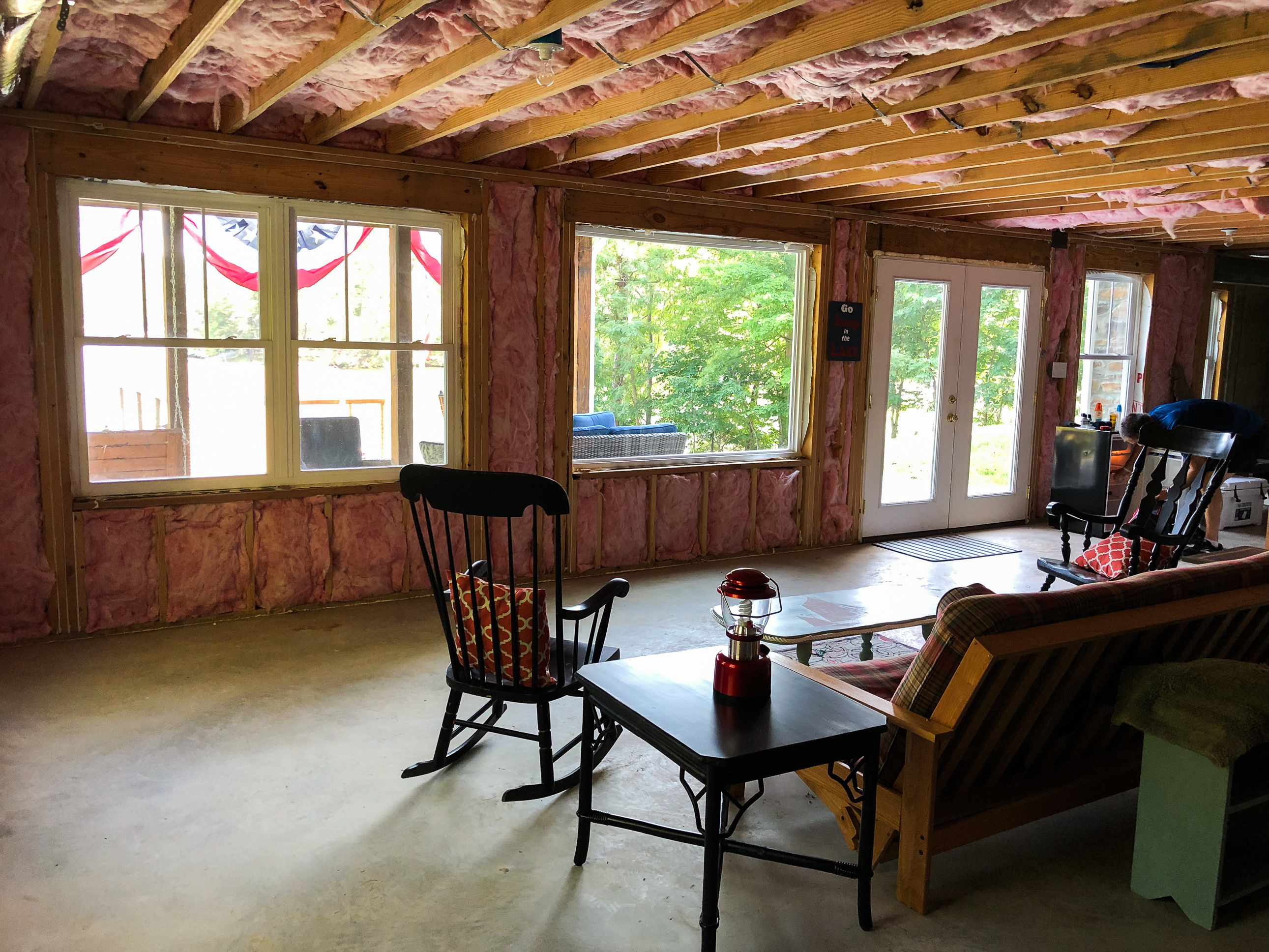 The rattan table is now back in use in the basement. It spent the winter outdoors on our front porch and as a result, it needs some touch-up paint.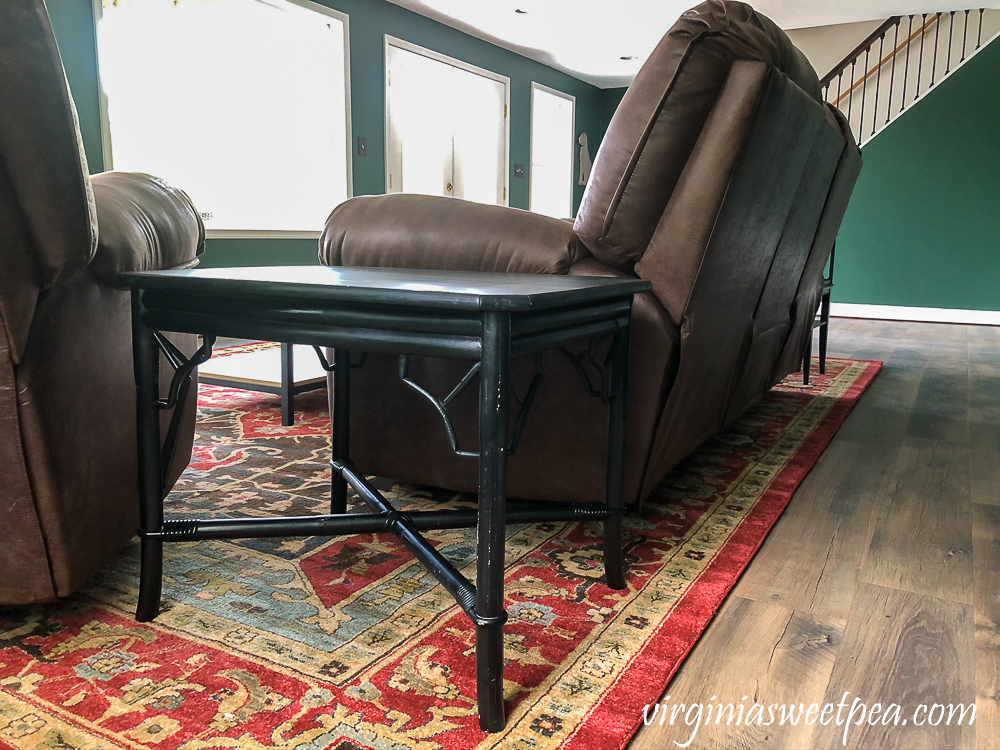 A frustrating thing about making a family room in the basement was that we weren't able to add plug outlets to the floor.
The end tables are without lamps for now because I am not crazy about cords going from the tables to the outlets.
The second table is a mid-century table that my former teaching assistant passed along to me. The table belonged to her aunt and you can see its makeover process here.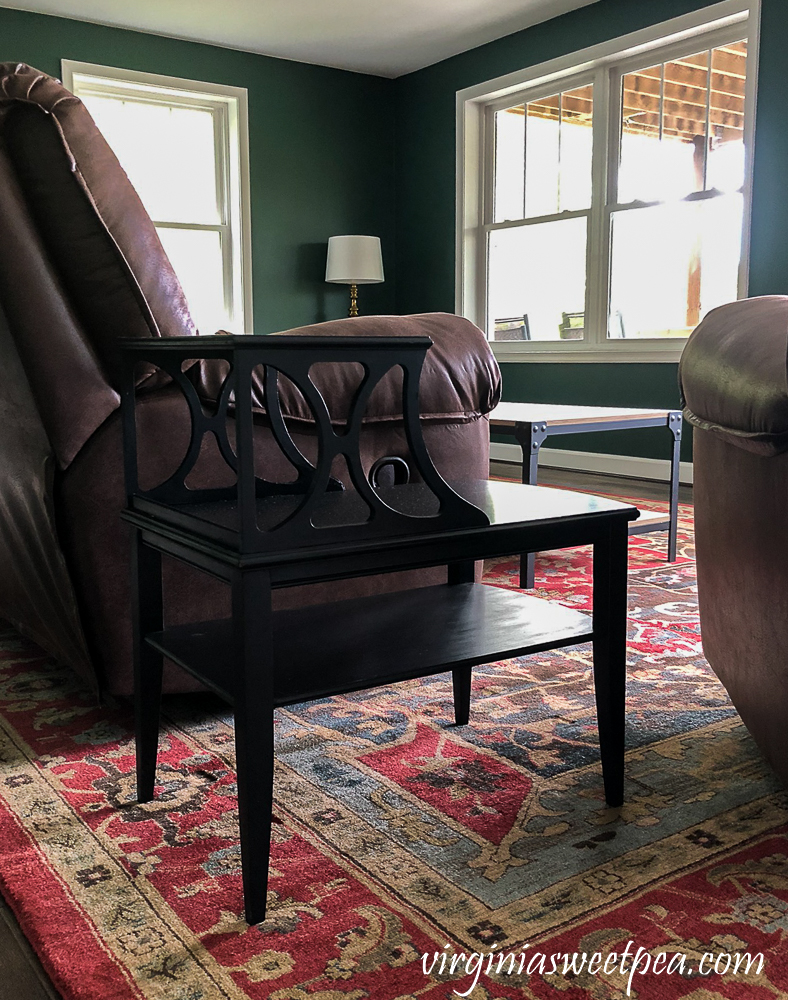 The table in the corner is a Plow and Hearth knock-off that Mr. SP and I made. The math involved in making this makes my head spin just thinking about it.
Scroll up and you can get a better view of this table in a previous picture.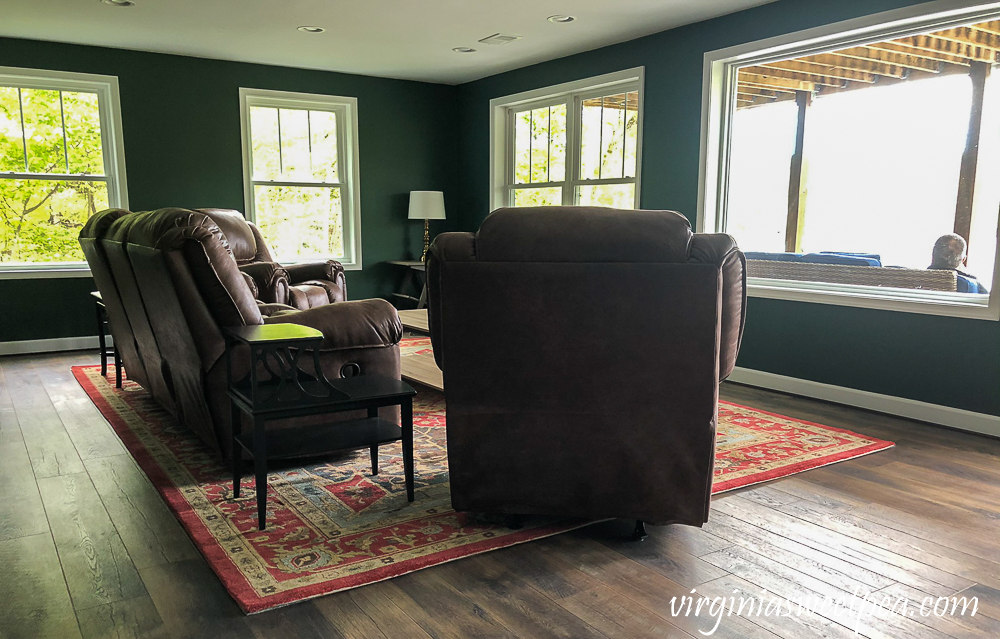 The brass lamp on the table was purchased with my first teacher paycheck in September of 1991.
Doors
The doors are in place and we are both happy with the choice of using wood doors and staining them a dark color.
This door leads to the bedroom which has yet to be furnished.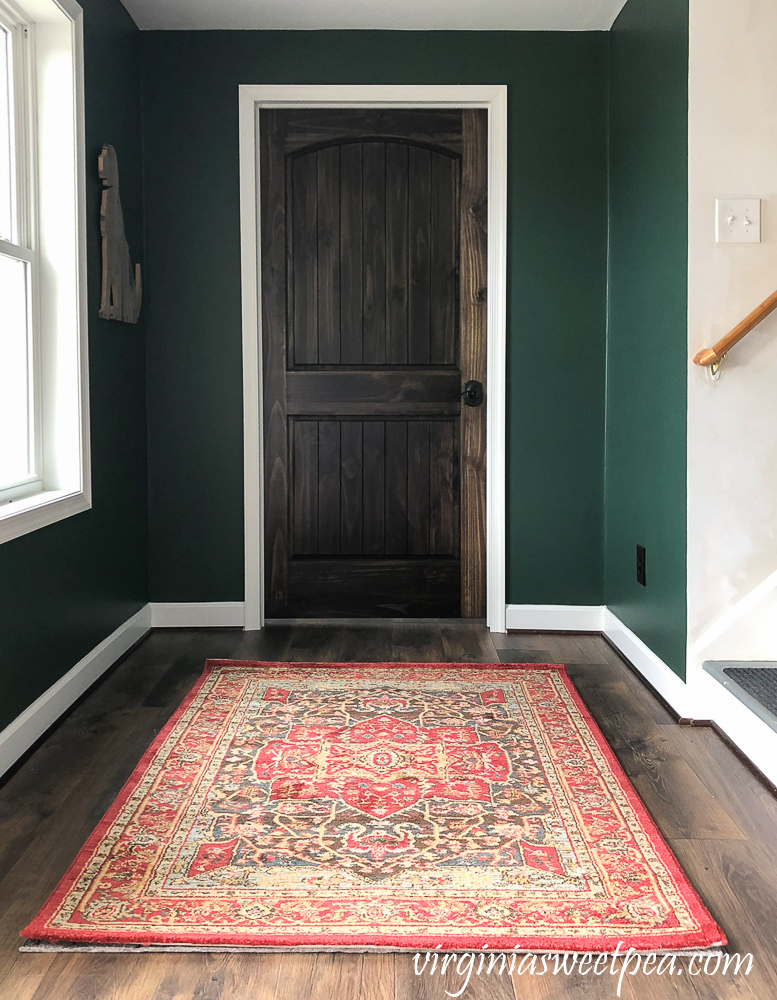 We chose lever handles from Home Depot in an oil rubbed bronze.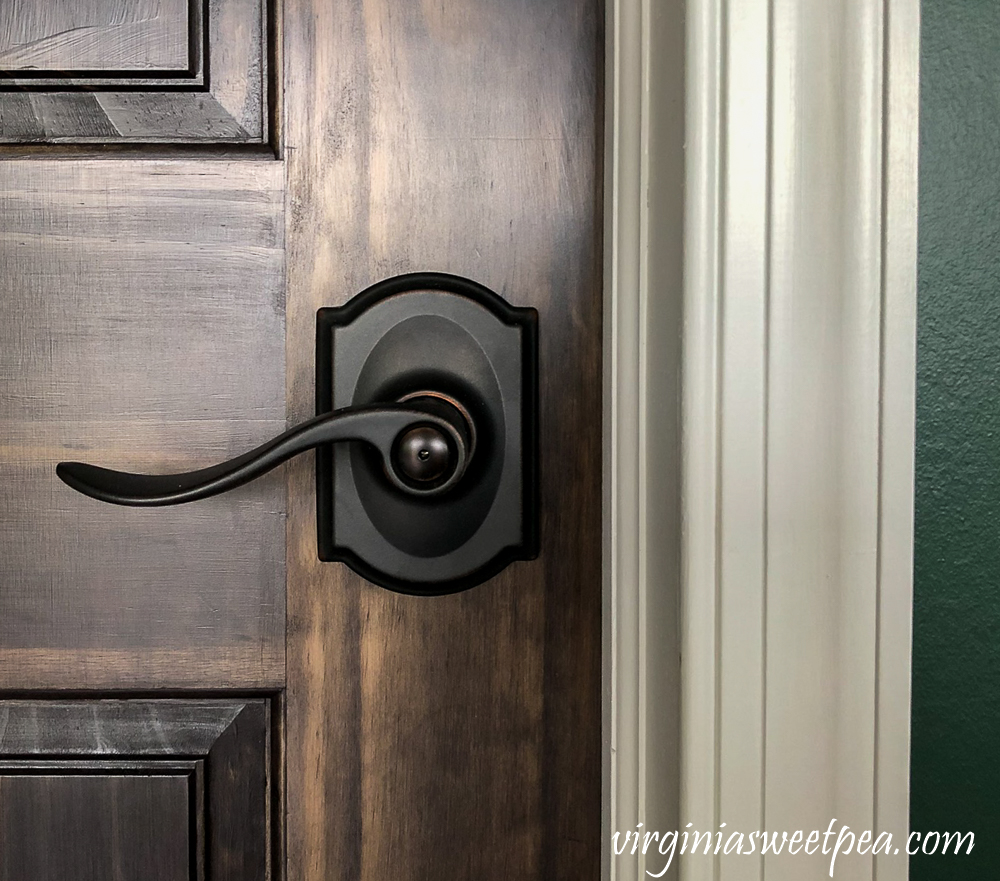 On the Walls
We are still deciding what to hang on our walls.
One thing that we've hung is a pallet wood dog that Mr. SP made.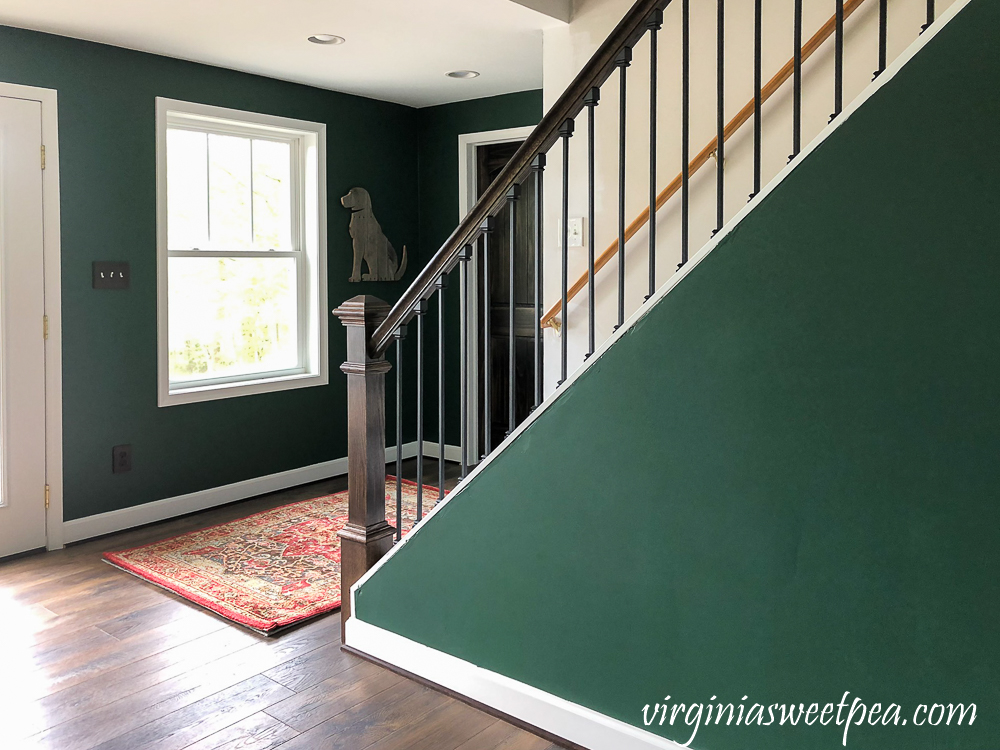 We also have hung our handmade wood flag purchased from Flags of Valor. This company is veteran-run and each flag is handcrafted by a veteran, many of which are combat disabled.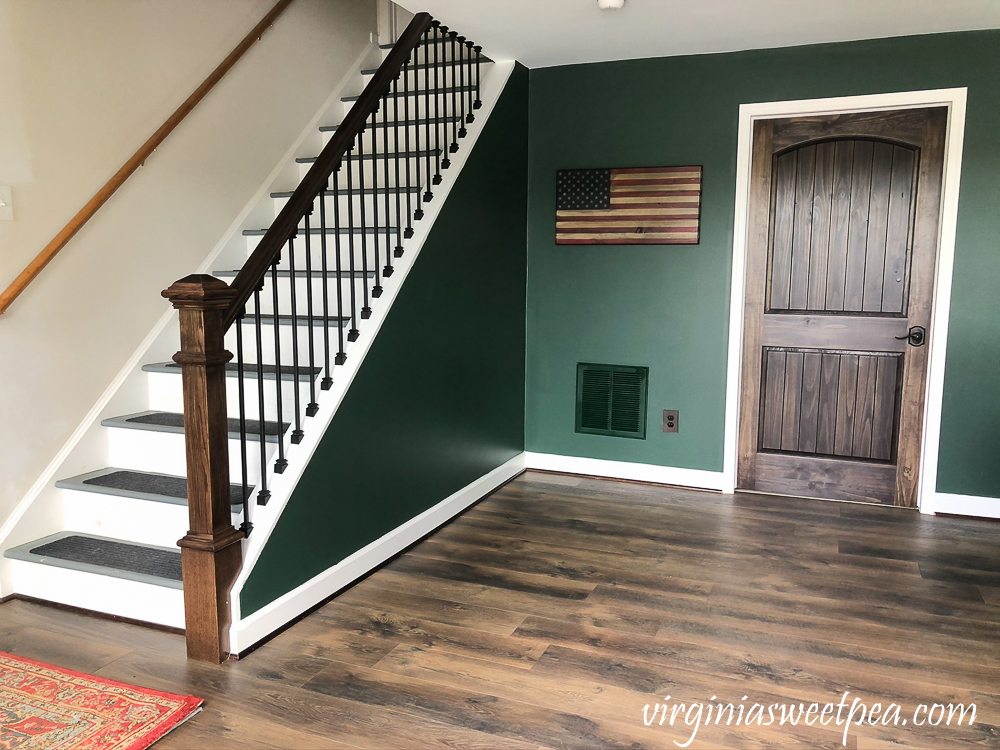 We are in the process of refinishing a vintage office desk that will be placed against the stair wall. Previously we thought it would be placed on the opposite side of the room, but we've changed our minds.
The desk will soon be finished and Mr. SP and I both will use it when we are working from the lake.
Room Sources
Finishing Our Basement Progress Posts
You can see how we turned our unfinished basement into a family room, bedroom, and bathroom in these posts.
Pin it!
Please pin this post to remember for later and also so that others can discover it on Pinterest.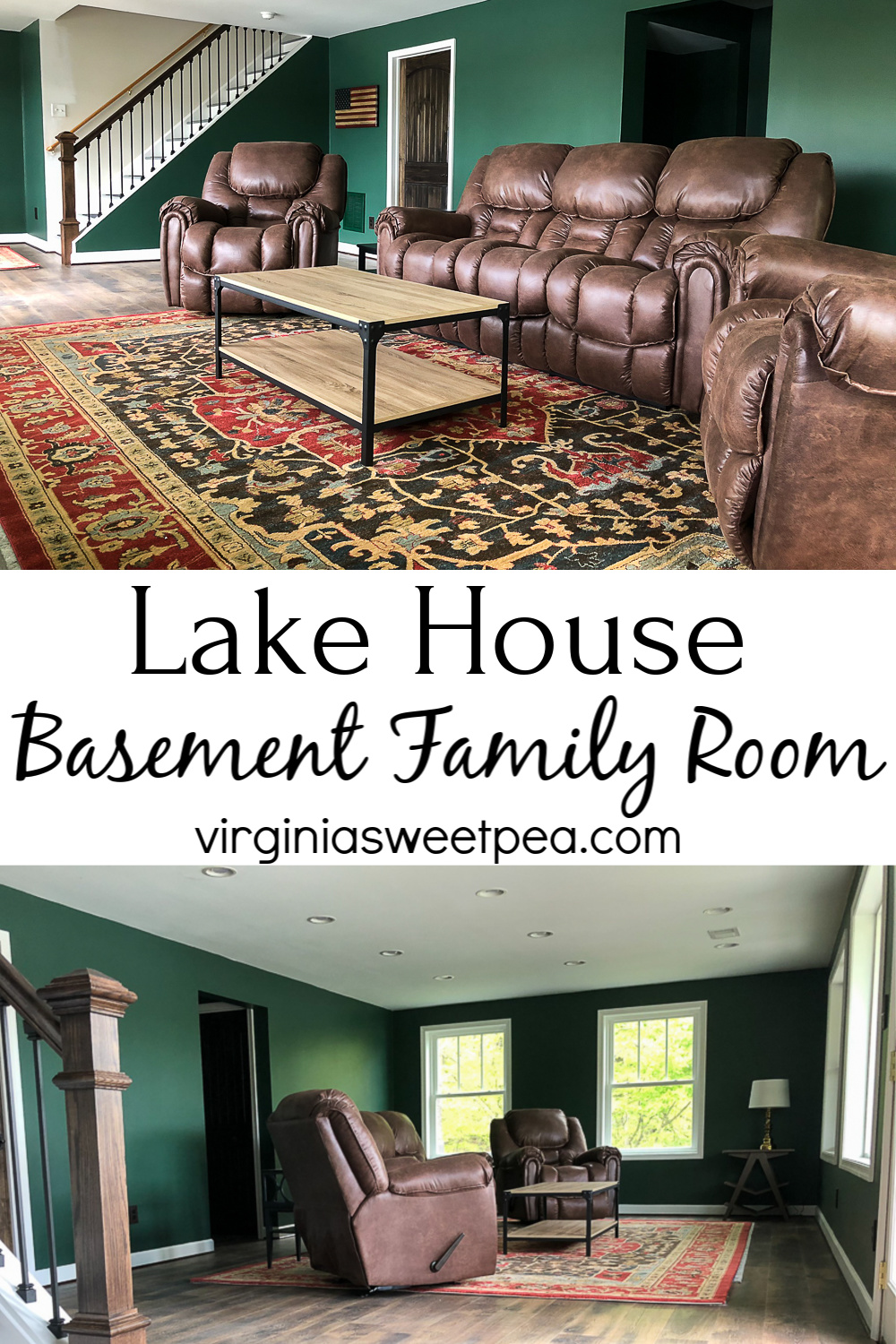 When you read the comments, you will notice a few that mention my recent cancer scans and MRI news. In my newsletter, I shared that my scans last week showed that my cancer is still stable. Wonderful news which gives me three months of peace before I have to be tested again.
If you aren't a subscriber, you can subscribe using the link below.