Extraordinary Christmas Trees
I'm delighted to join Diane of An Extraordinary Day and Mary Beth of Cupcakes and Crinoline for an Extraordinary Christmas Tree Blog Hop. We are sharing our Christmas trees and also some of the handmade ornaments that we've used to decorate them. All of the ladies participating shared a handmade ornament that they made for October's 31 Days of Handmade Christmas Ornaments Blog Hop. Today we are sharing our trees and also some of the handmade ornaments that we've used to decorate them.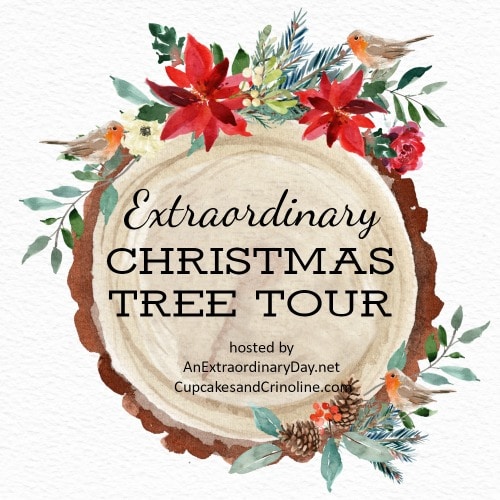 This year I have three trees: a handmade wooden tree that displays my Swarovski snowflake ornaments; a tree on my porch filled with ornaments that I made for it this year; and our traditional tree in our family room.
Swarovski Crystal Snowflake Tree
My husband started a tradition of giving me a Swarovski crystal snowflake ornament in 1994, the year we were married, and he's gifted me with one every year since. I display them on a wooden tree that we made together when I first started to get interested in woodworking.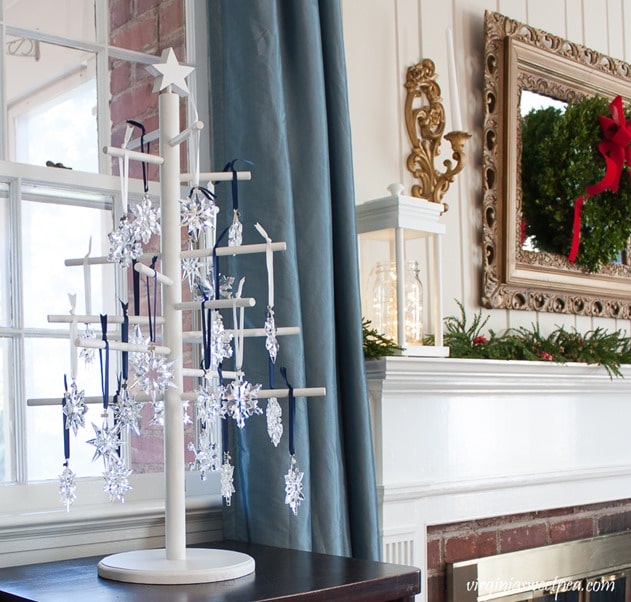 This tree stays out until March so that I can enjoy the snowflakes all winter.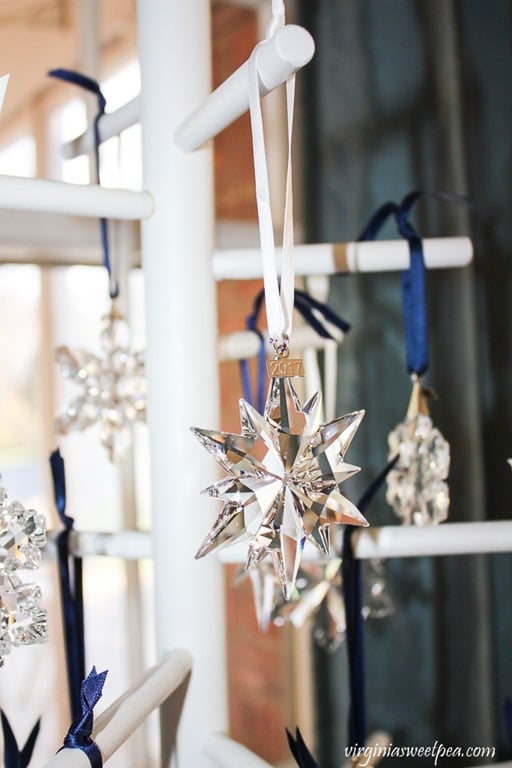 You can see more of my formal living room's Christmas decor here.
Porch Tree
Our porch tree usually just has lights and no decorations, but this year since I'm no longer teaching, I had time to make ornaments to use for its decoration. I looks much more festive decorated and our neighbors love seeing it when they walk past our home.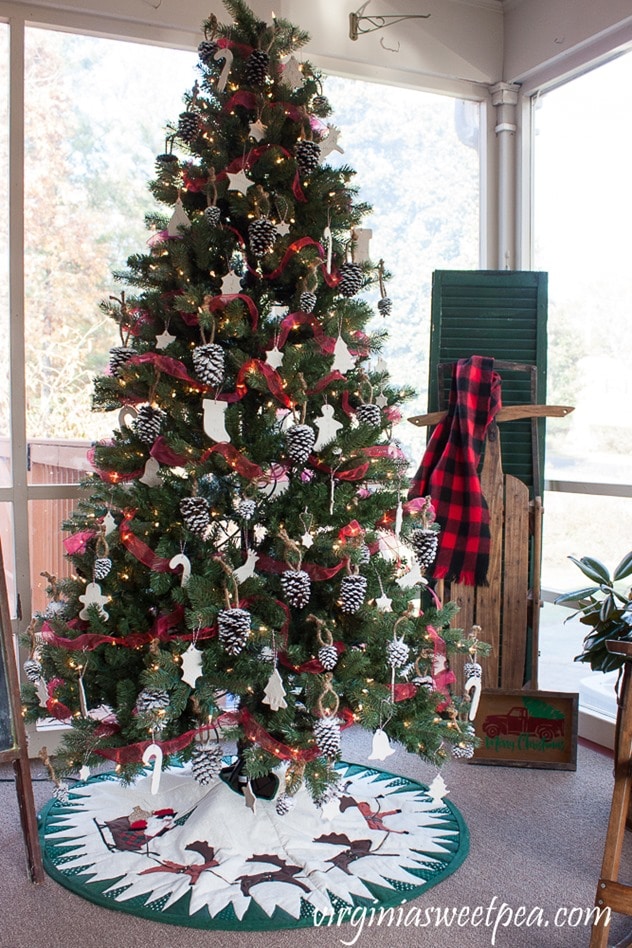 Our porch is a great place to sit and relax and I especially enjoy rocking in a rocker while looking at the tree. This space is decorated for the season with a vintage vibe. You can see more details here.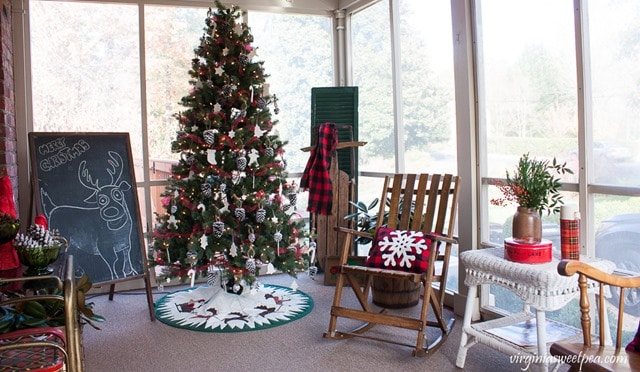 This tree looks so pretty at night.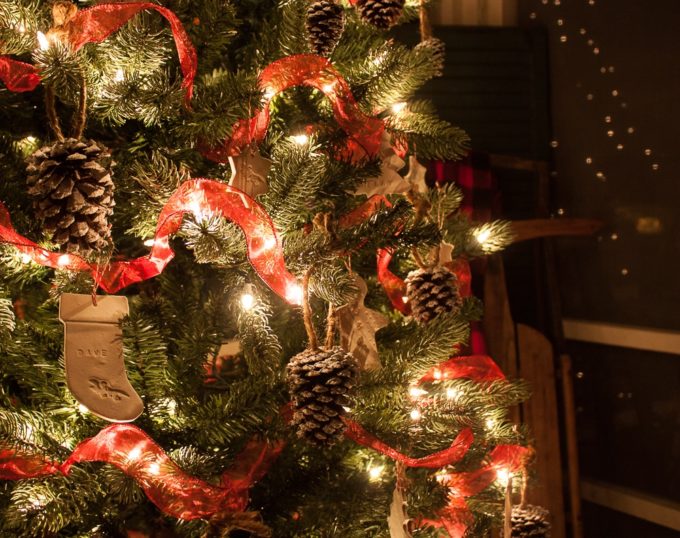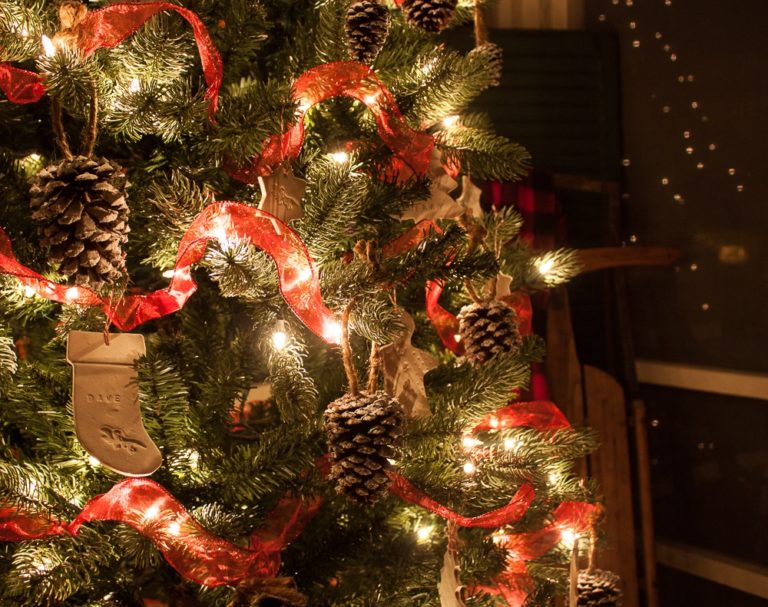 I had a great time crafting the ornaments for this tree. I gathered pine cones on a nearby cross country trail and used them to make the pine cone ornaments.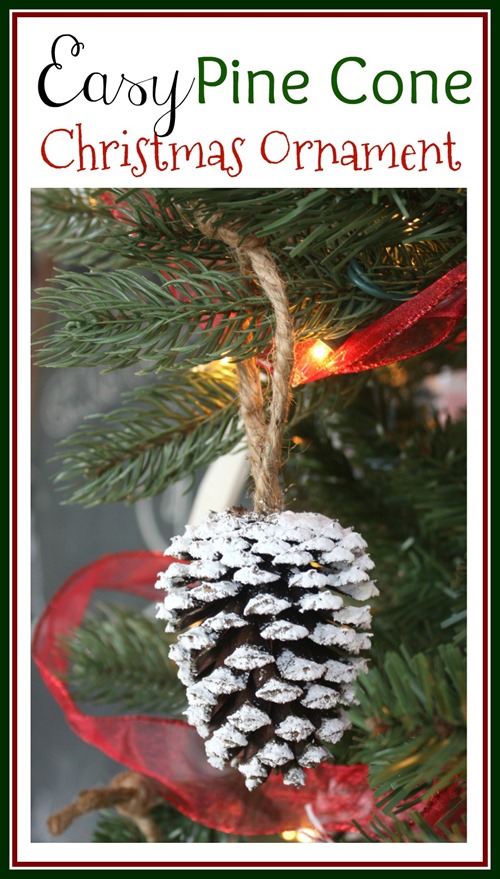 Easy Pine Cone Christmas Ornaments
The other ornaments were made with clay and Christmas cookie cutters.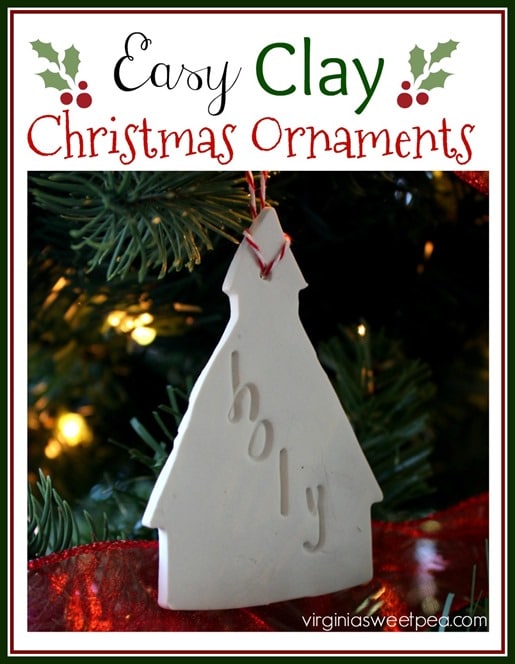 Easy Clay Ornaments
Family Room Tree
Our main tree is in our family room and is filled with ornaments that we've collected over our 23 year marriage. We buy ornaments when we travel, give each other ornaments as gifts, and I like to make ornaments. We are to the point where not every ornament in our collection goes on the tree each year, as we have too many, Having too many ornaments doesn't stop us from buying more nor stop me from crafting more!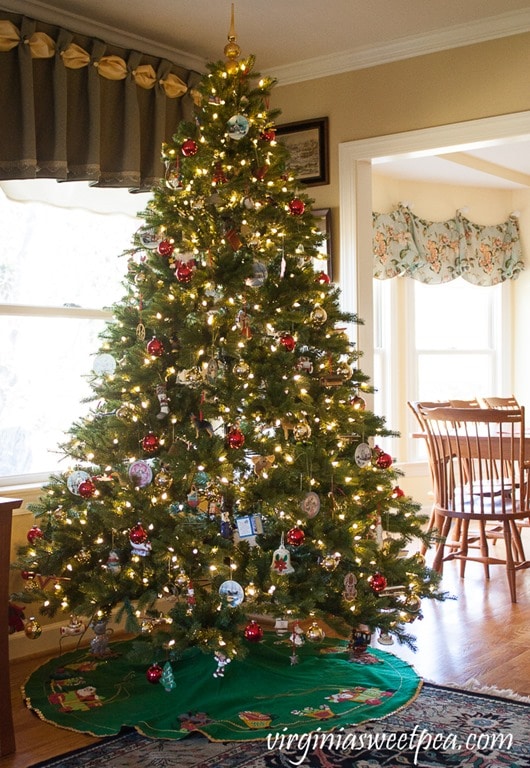 A very special part of our Christmas tree is using the Christmas tree skirt that my grandmother made in the 1970's. I loved it as a child and am happy that I am able to continue the tradition and use it under my tree.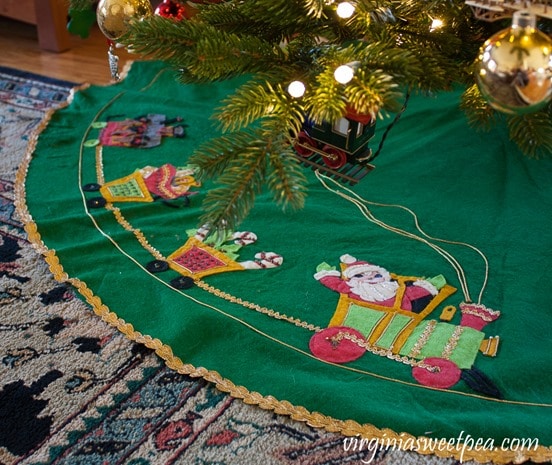 Our tree is decorated with my husband's collection of Hallmark ornaments, my collection of P. Buckley Moss Ornaments, ornaments that we've purchased, and ornaments that we've made.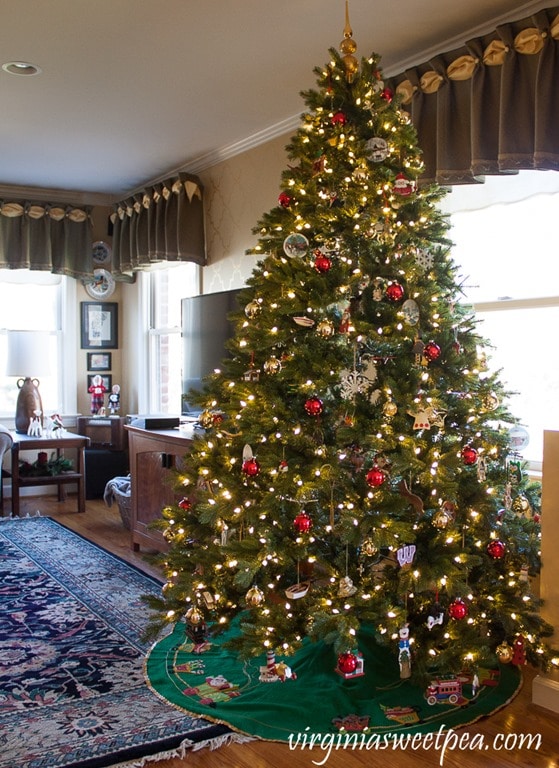 Handmade Ornaments
The Sparkling Snowflake Ornament that I made for this year's 31 Days of Handmade Ornaments is on the tree. Look in the middle of the tree and you'll see it.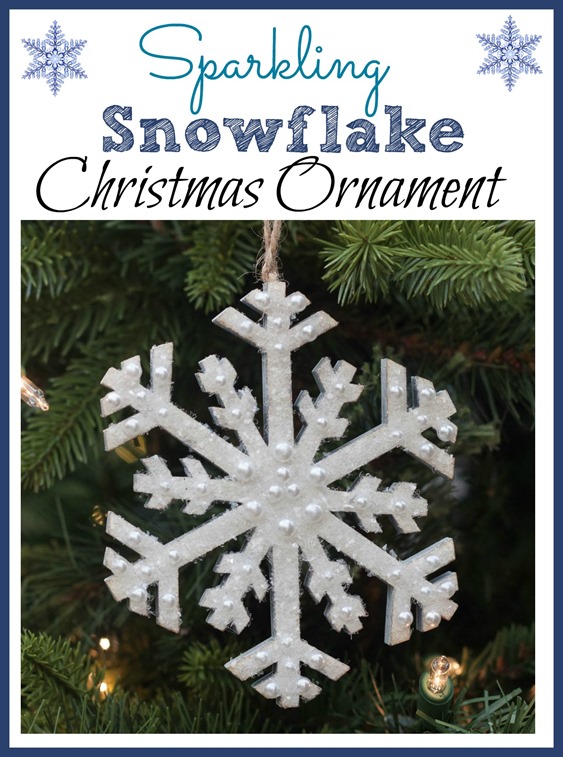 As is the Woodland Elf Ornament that I shared in 2016. Look just under the sparkling snowflake in the middle of the tree and you'll see this woodland elf peeking out.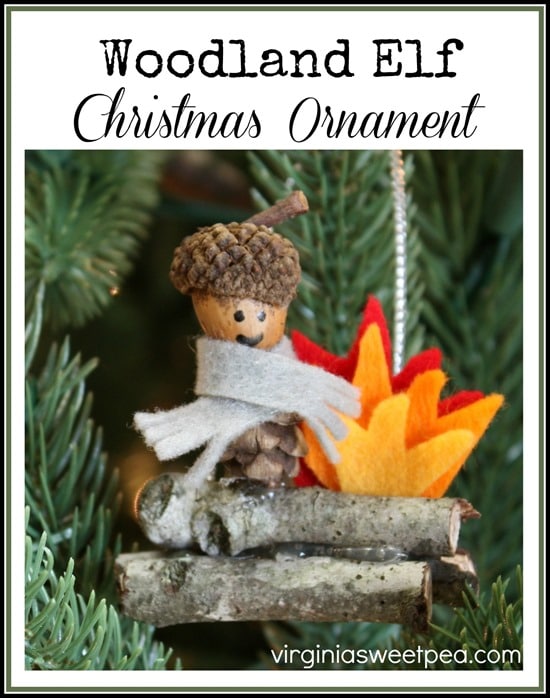 For the 2015 Ornament Hop I shared a Button and Felt Snowman Ornament. I think I may have given this guy away as a gift because I can't find him on my tree. I used to let my students have some of my craft projects to give to their moms as gifts and that is probably what happened to this guy.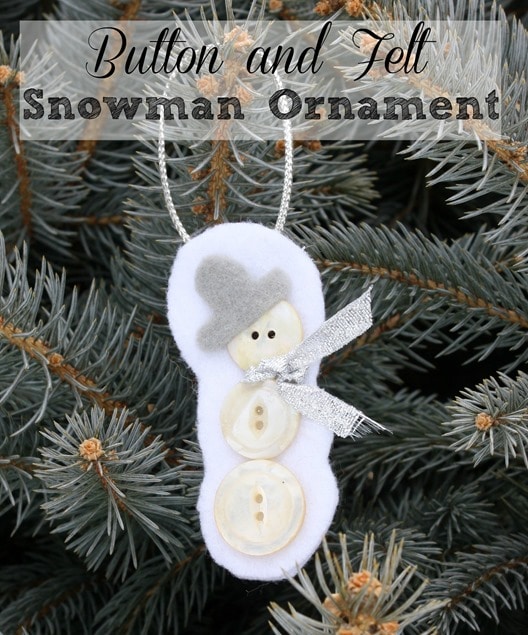 I used to love to cross stitch and one year made several beaded cross stitch ornaments for our tree. This angel is a favorite. I doubt if I could see well enough now-a-days to craft this!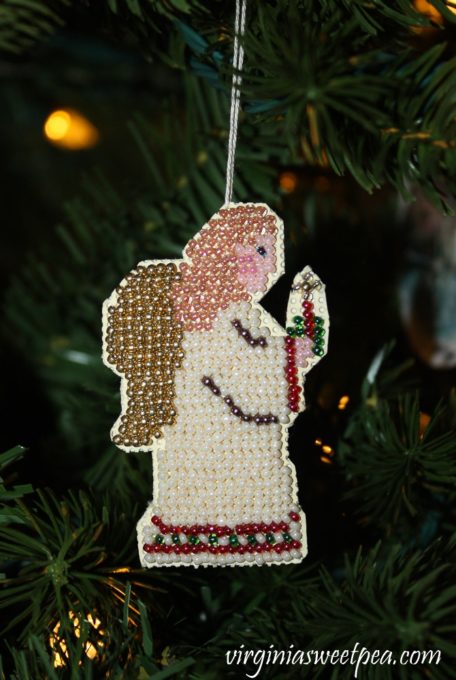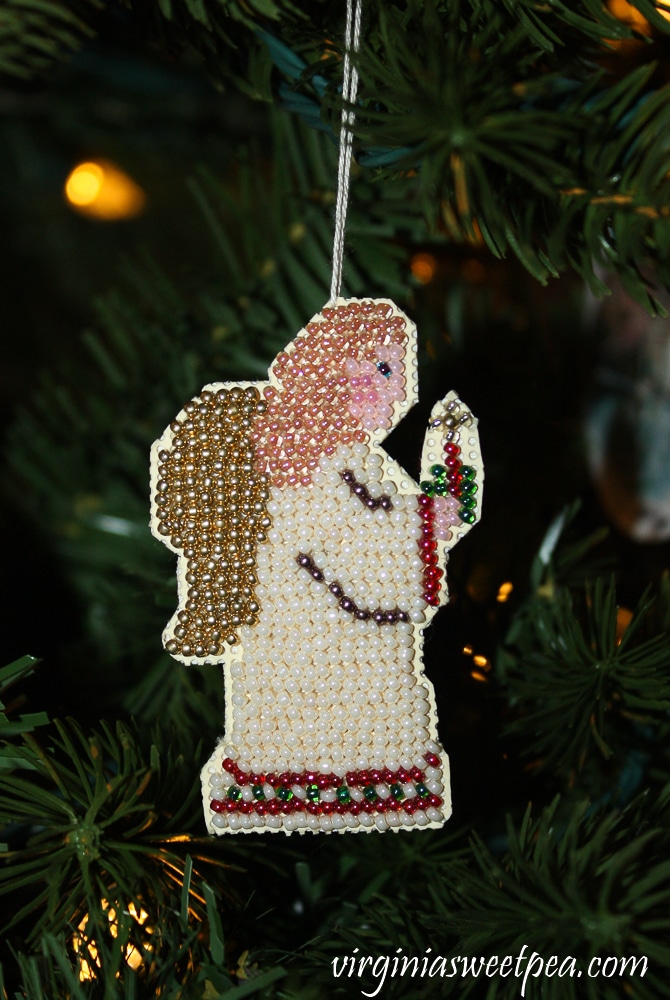 The same year I made this adorable beaded Santa ornament.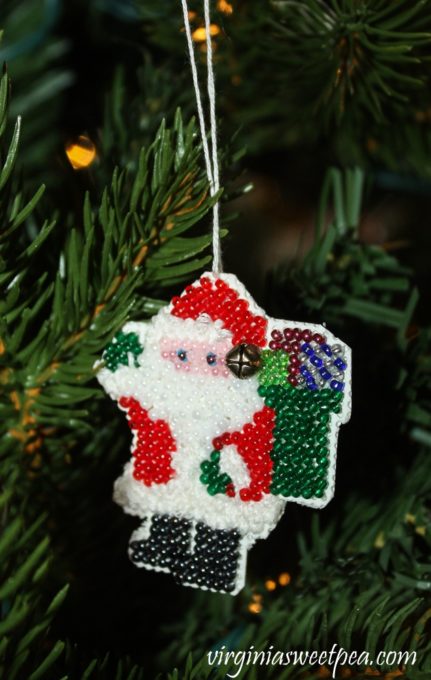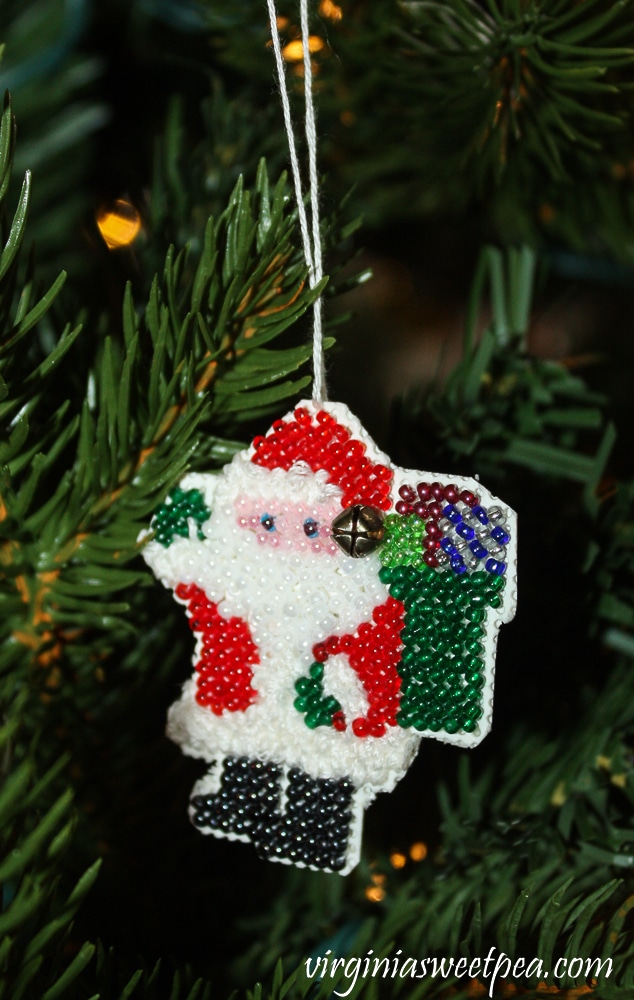 My mother gives me a P. Buckley Moss ornament each year for Christmas. Patt Moss is a talented artist and has been popular in Virginia for many years. She is a Shenandoah Valley artist and her work depicts scenery found in the valley and often includes Mennonites.
This is just one of the many P. Buckley Moss ornaments that my mom has given me over the years. These ornaments are miniature works of art.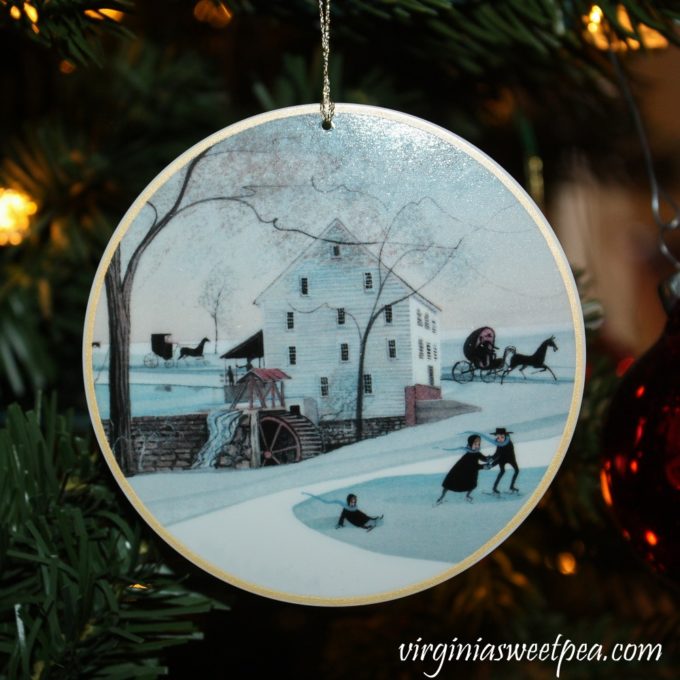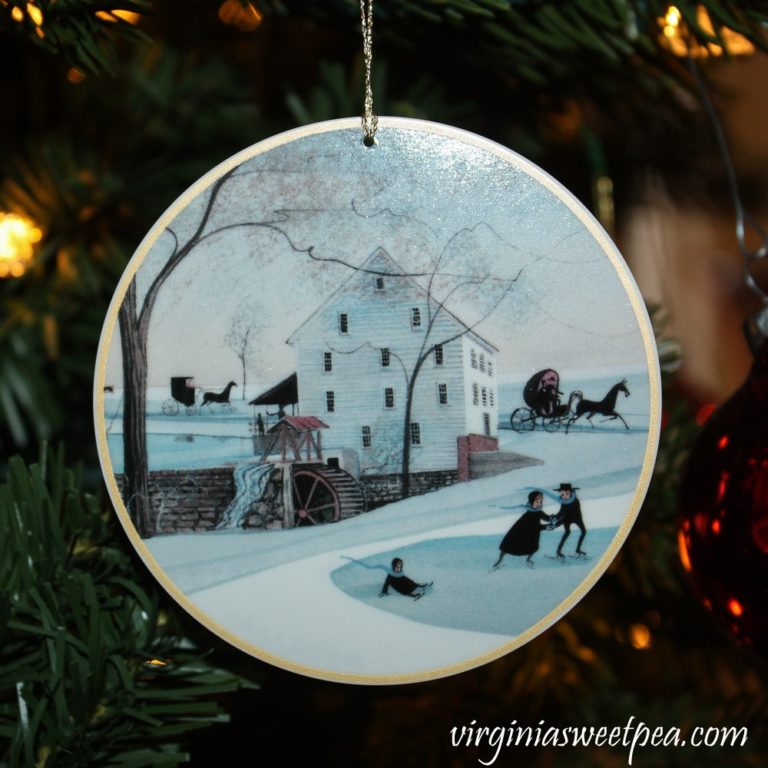 I'm not the only person in my family who makes ornaments. One Christmas my husband disappeared into the workshop one evening and crafted a Virginia Tech ornament for me as a gift.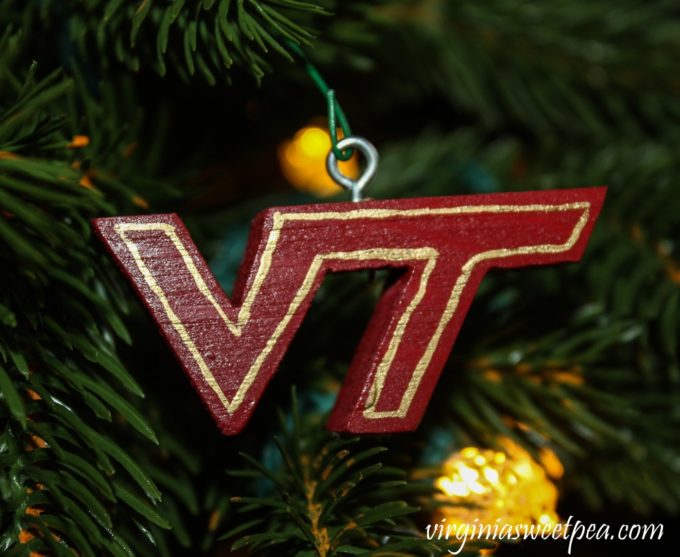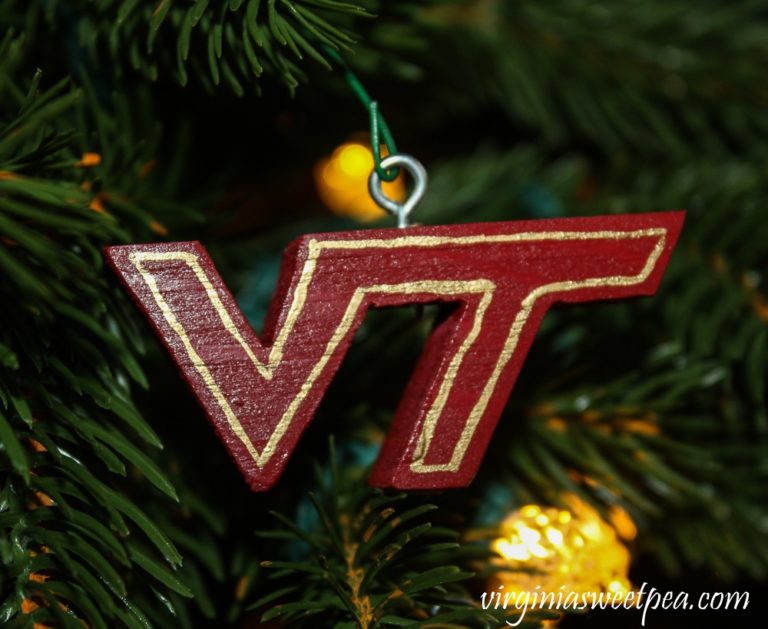 He couldn't leave out his own alma mater and also made a Wisconsin ornament.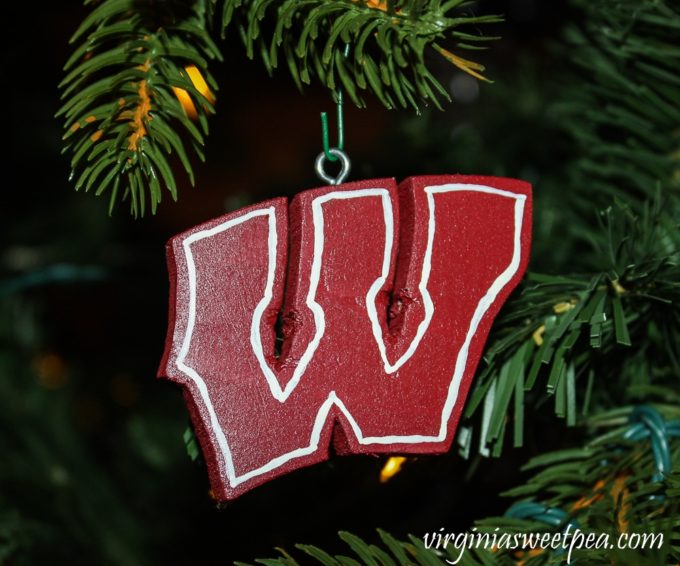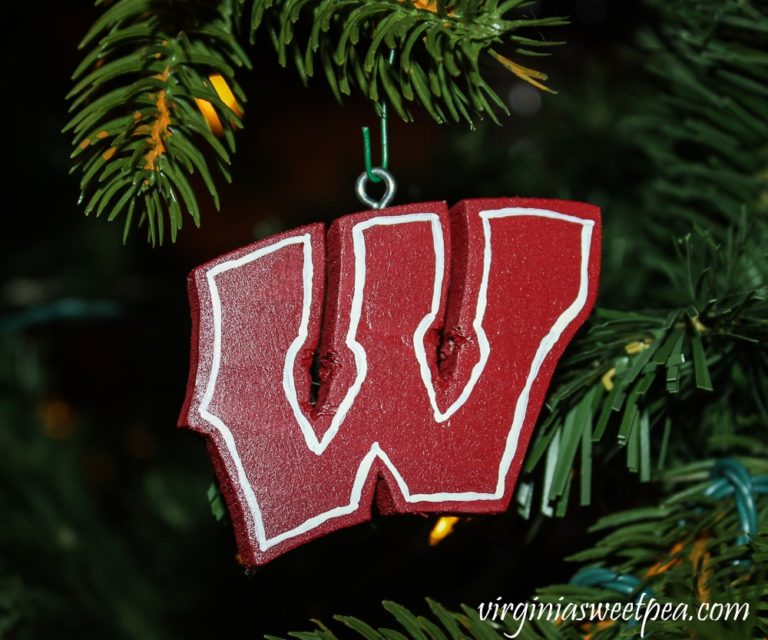 My former teacher assistant was a talented artist and drew this nativity scene on a whim one day when I handed him an ornament and a gold Sharpie.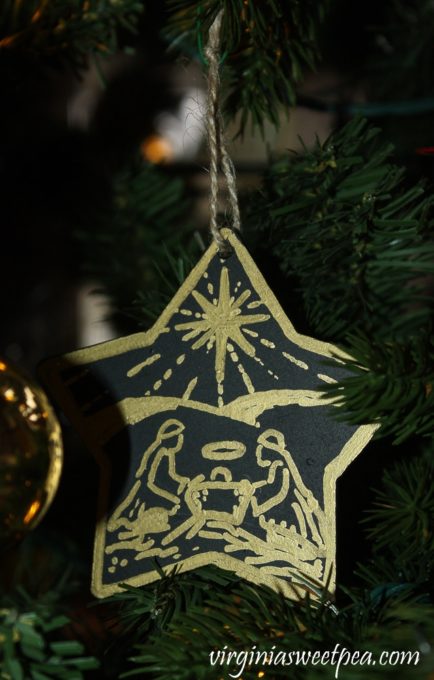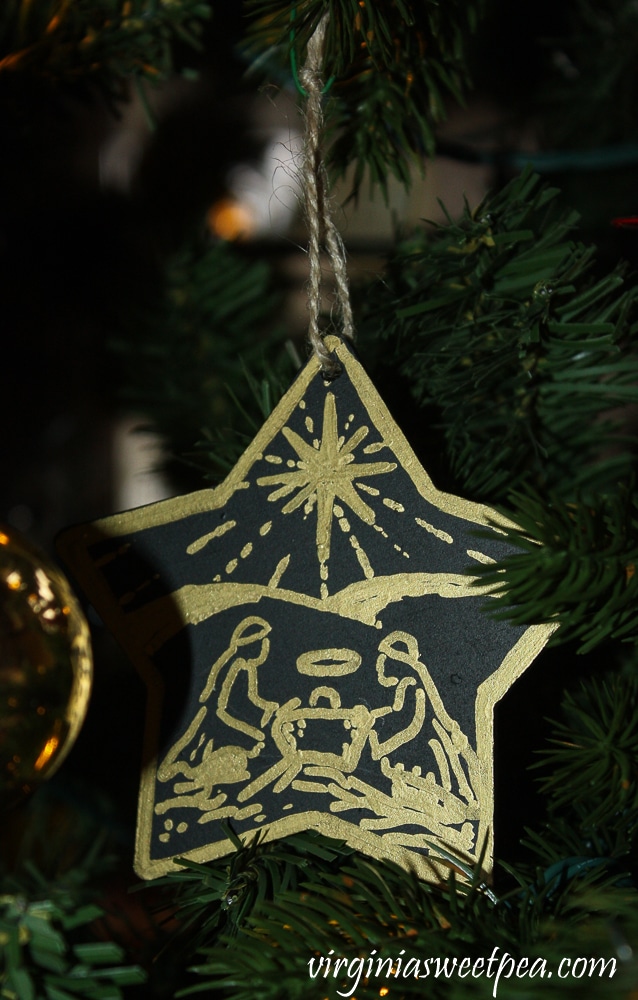 I could go on sharing handmade ornaments for a long time. You can find more ornaments that I've made over the years in the crafts section of my blog. I'll close with this handmade ornament that I bought for next to nothing at a local antique shop. Someone made it with love and now I love it on my tree.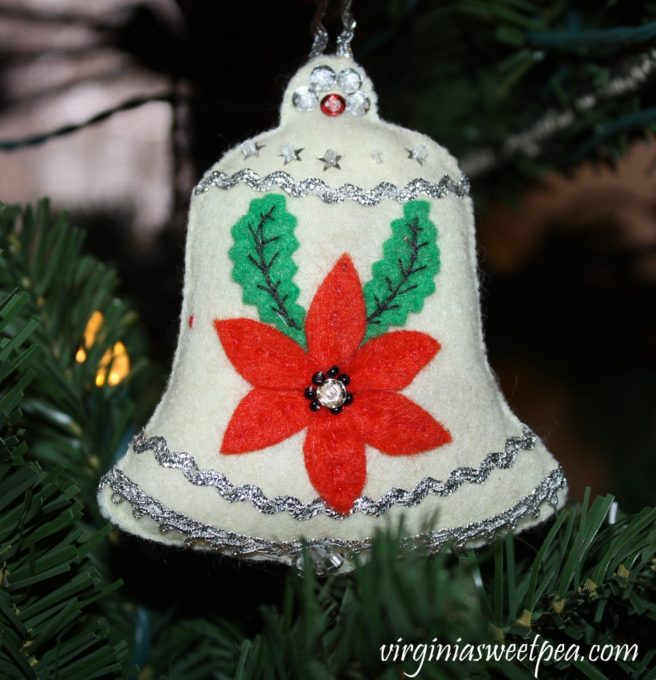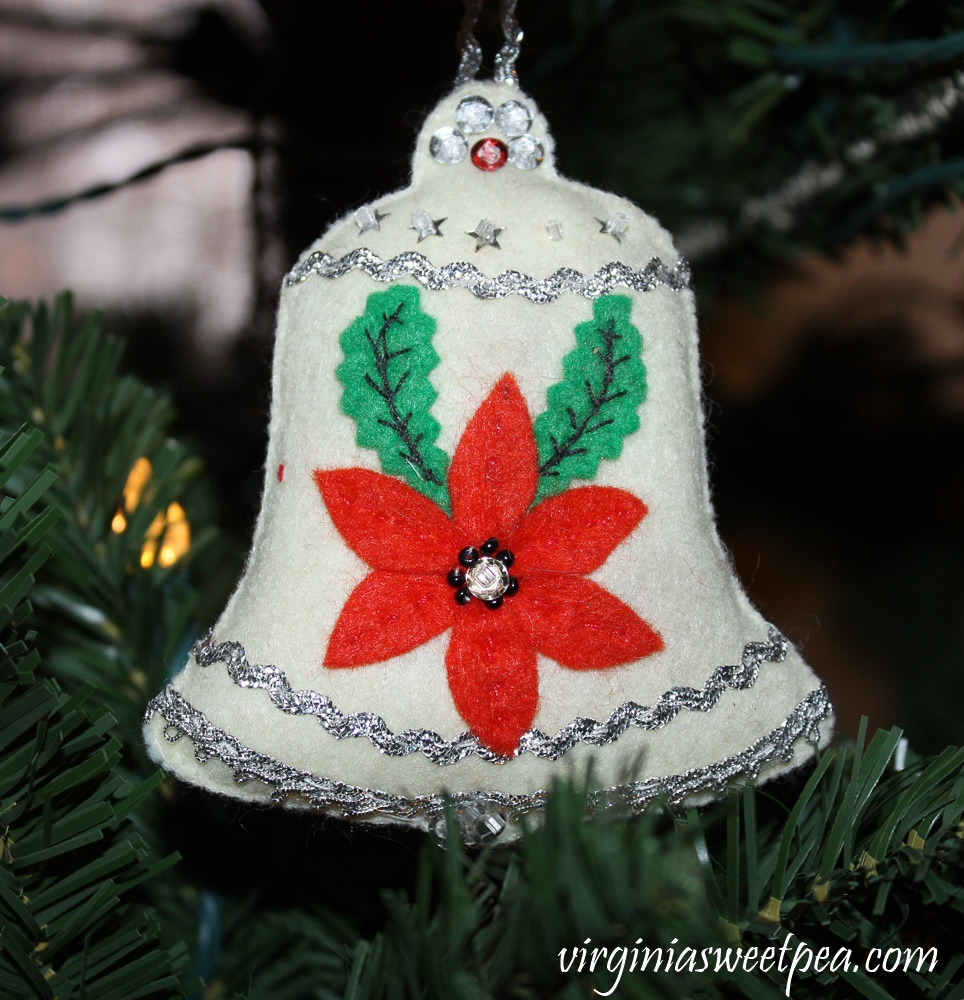 For more extraordinary Christmas tree inspiration, please visit these lovely blogs…
Day 1
An Extraordinary Day | My Uncommon Slice of Suburbia | Petticoat Junktion | The Crafting Nook
Day 2
Lovely Etc. | Celebrating Everyday Life | Stone Gable | Sweet Pea | Atta Girl Says
Day 3

I Should be Mopping the Floor | What Meegan Makes | Remodelando la Casa | Cupcakes & Crinoline