Christmas Home Tour – Living Room and Dining Room
Christmas is coming and today I'm sharing my Christmas living room decor along with a tour of my Christmas dining room.
For the first time in many, many years, our living room has a tree. I love how it looks and it makes our house feel extra cozy to have a tree in this room along with a lighted garland on the mantel.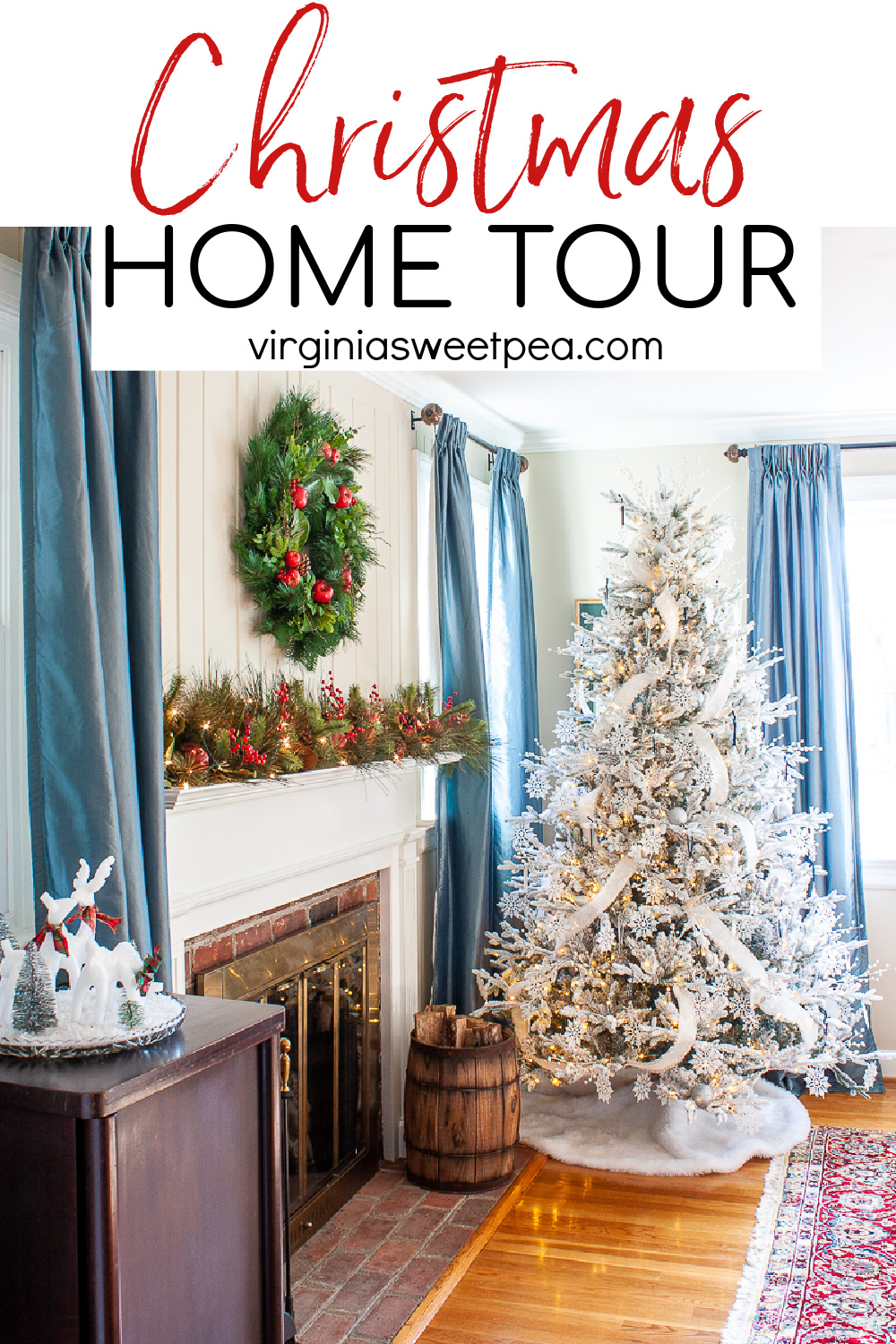 I'm sharing my Christmas home tour along with a group of blogging friends for this year's A Very Merry Christmas Home Tour hosted by Carrie of Lovely, Etc.
If you arrived here from Chatfield Court, welcome! You'll find links for all of the Christmas home tours shared today at the end of this post.
Christmas in the Living Room
I love decorating our living room for Christmas. This room is on the front side of our house and is a room that I'm often in during the day.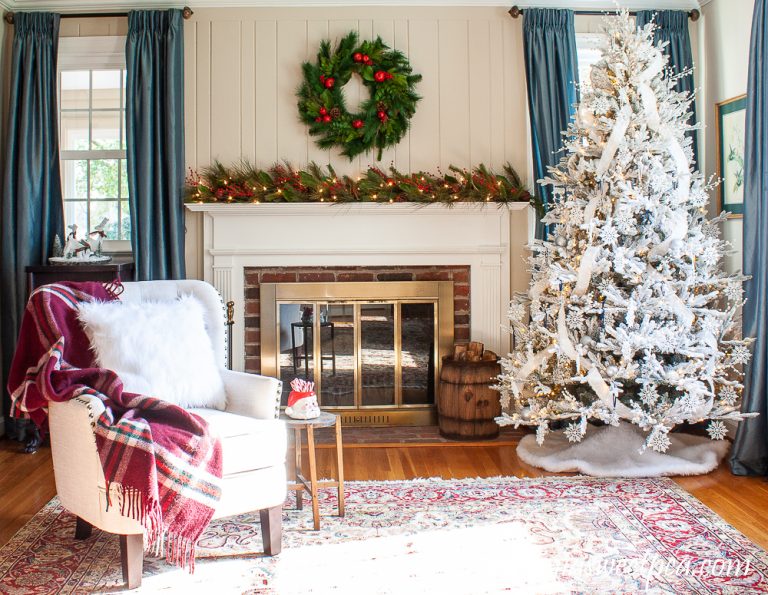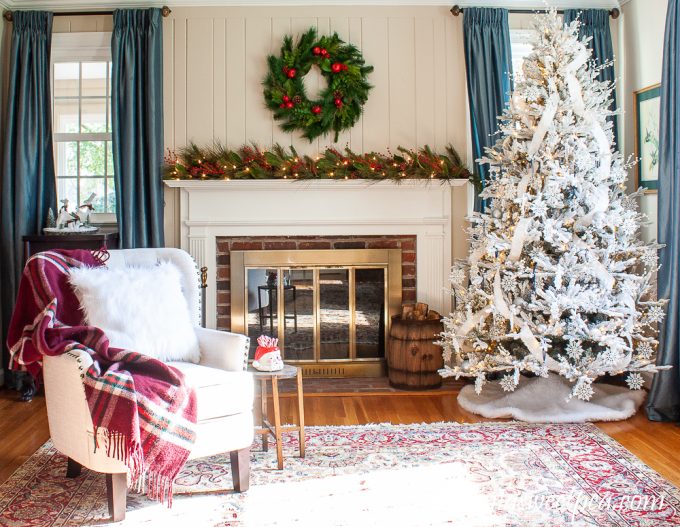 It's also where our dog, Sherman, spends his day lounging on his sofa or napping on the rug.
The Christmas decorating in this room started with the purchase of a flocked tree, bought especially to display my 26 Swarovski crystal snowflake ornaments.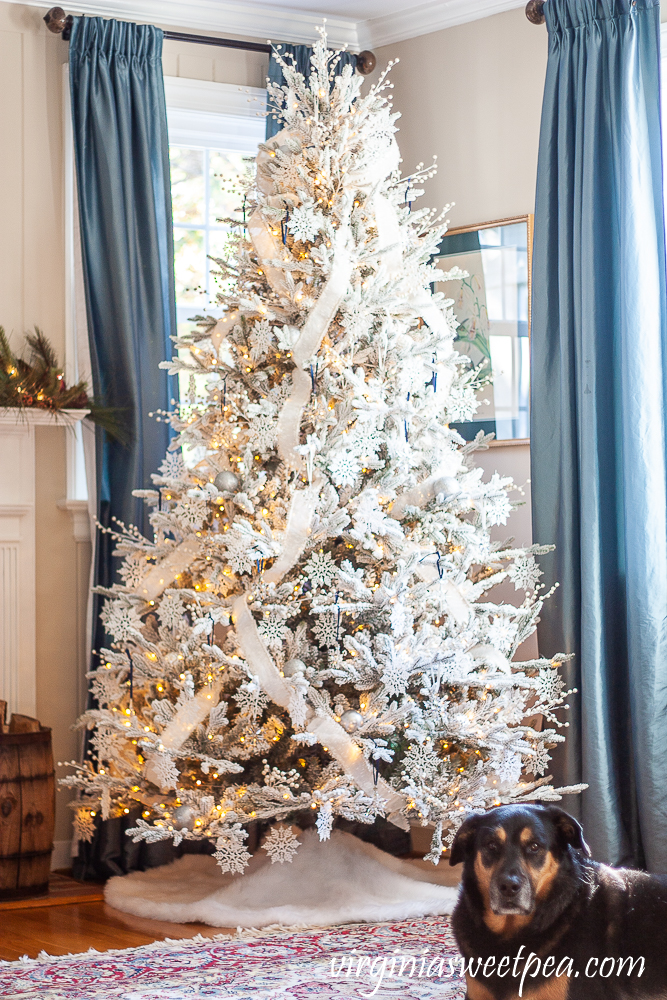 You can read more about this tree and see the lovely Swarovski snowflakes that I used to decorate it in this post.
Christmas Mantel
After the tree was decorated, the mantel was next.
A flocked wreath and garland would have looked great on my mantel to coordinate with my new flocked tree, but I wanted to use a Christmas wreath that I purchased this fall in Williamsburg.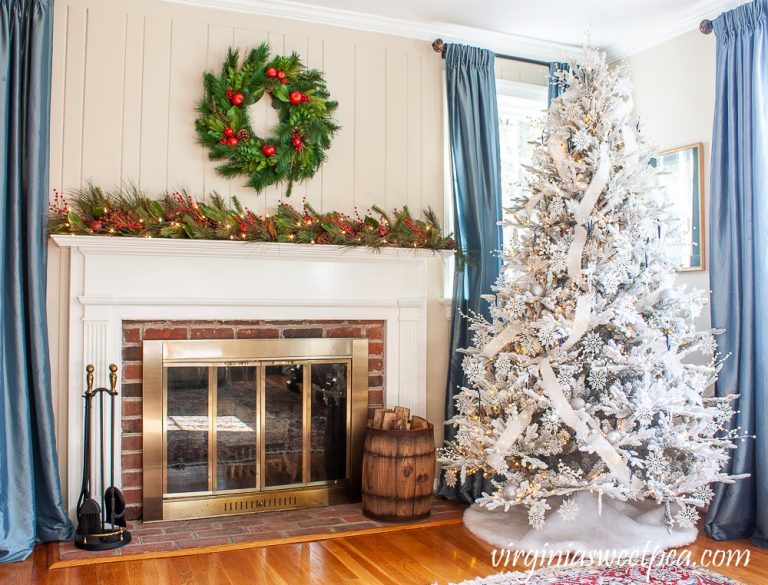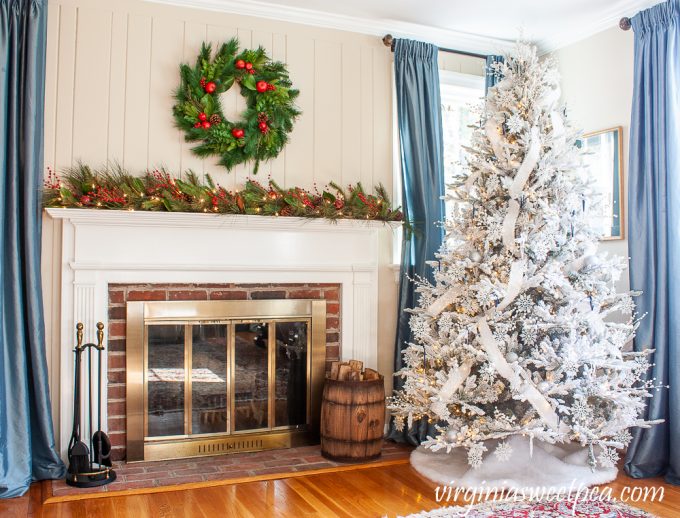 My original plan for my living room Christmas decor was a Williamsburg theme but I got kind of sidetracked with my flocked tree choice.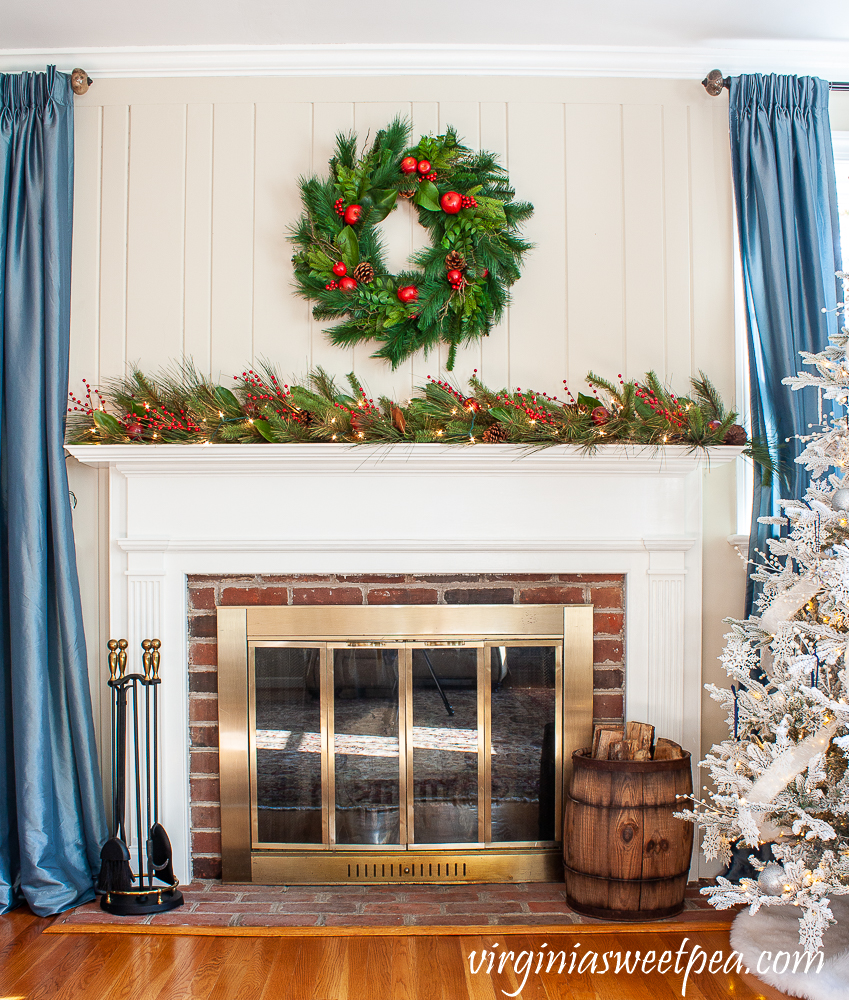 I have always loved Williamburg style Christmas decor and when I saw this wreath in a shop in Williamburg this fall, I couldn't resist buying it.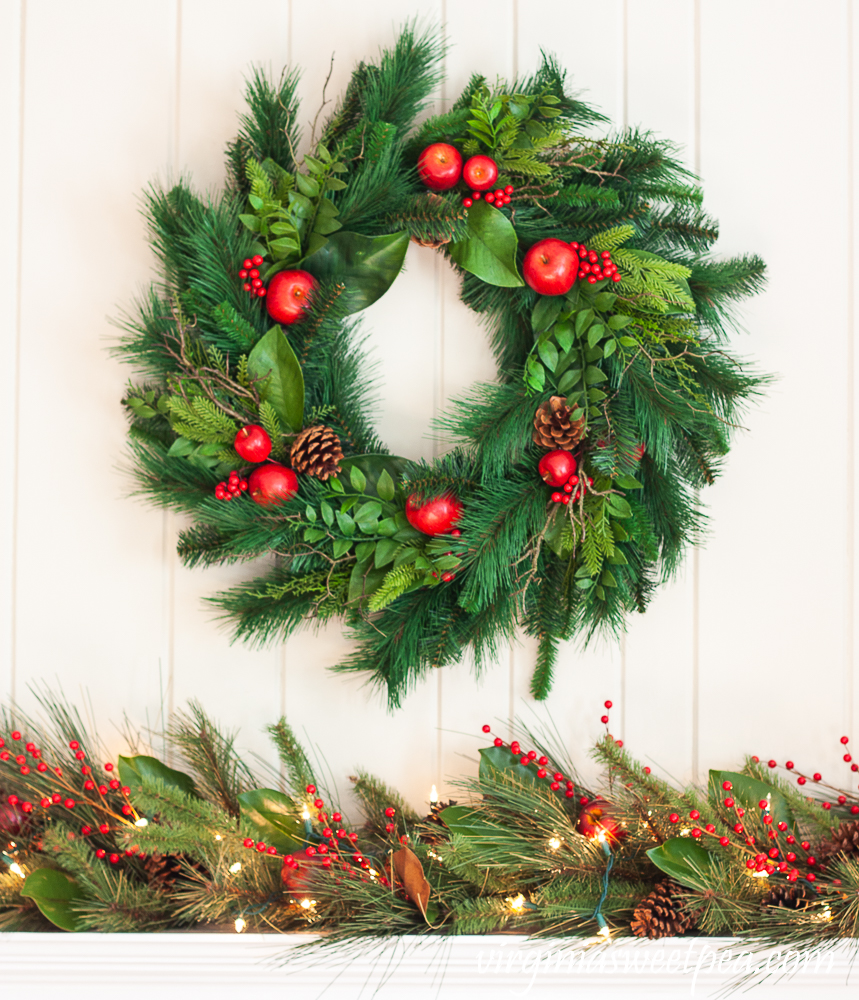 The mantel garland is faux, purchased for last year's Christmas mantel. I added fresh Magnolia leaves to it along with pinecones.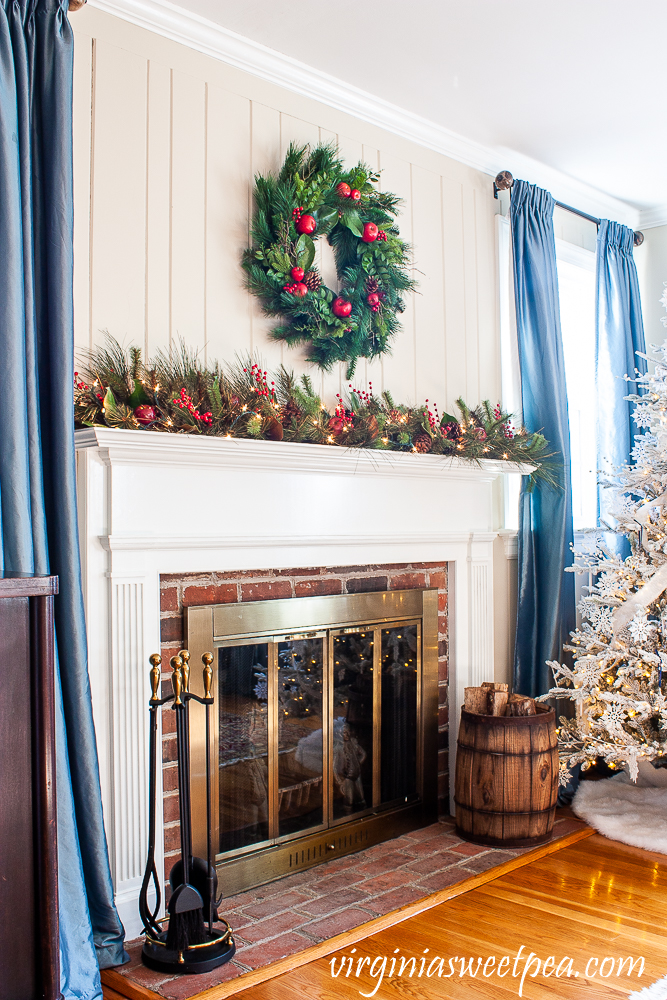 Berries were added for a pop of red as well as apples to coordinate with the wreath.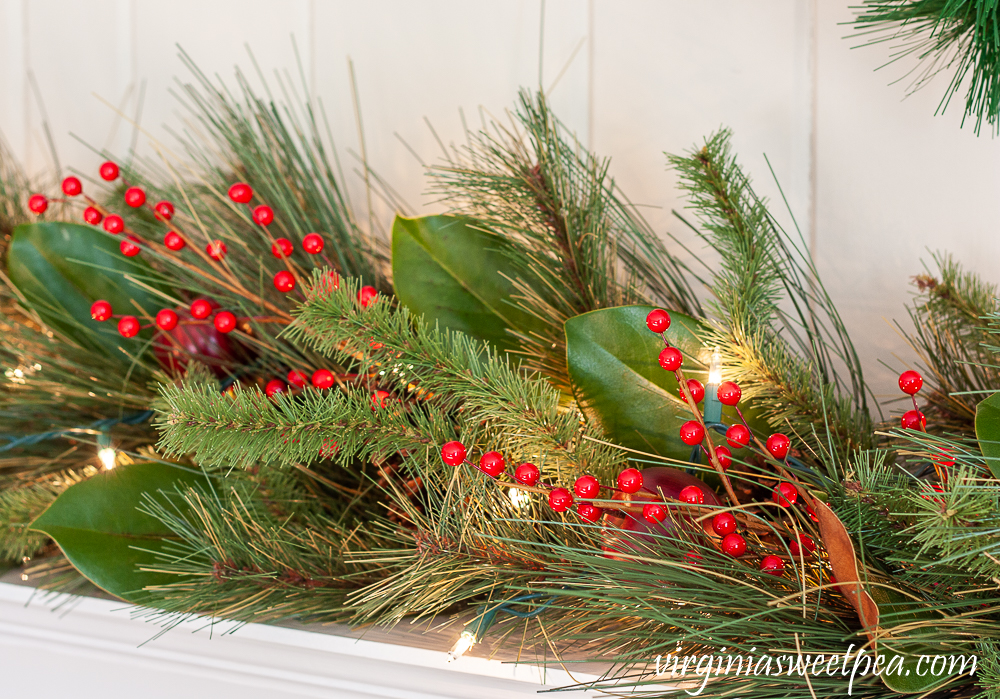 My great-great aunt's music stand to the left of the fireplace is a favorite spot to decorate seasonally.
This is where every year until 2020 I have displayed my Swarovski snowflakes on a wood tree that my husband and I made. You can see how they look on the wood tree in this post.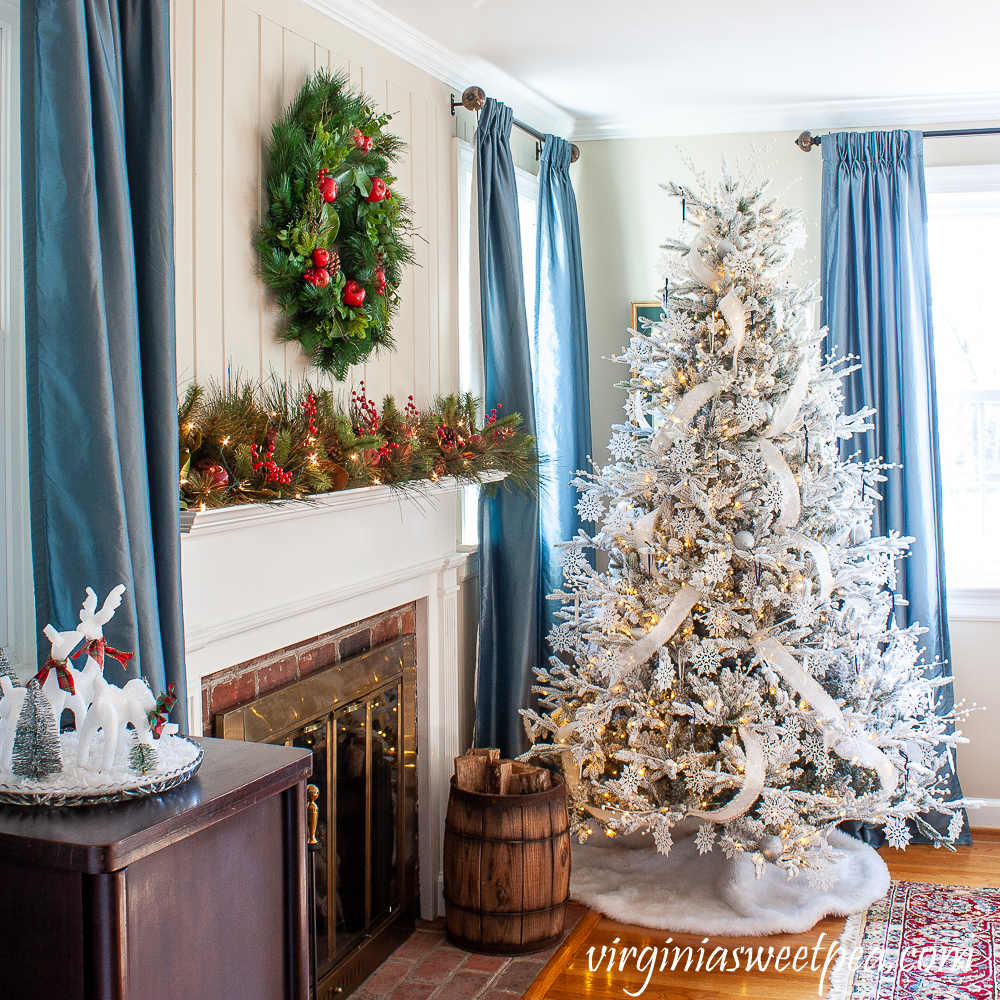 A herd of reindeer that I crafted are displayed on the music stand.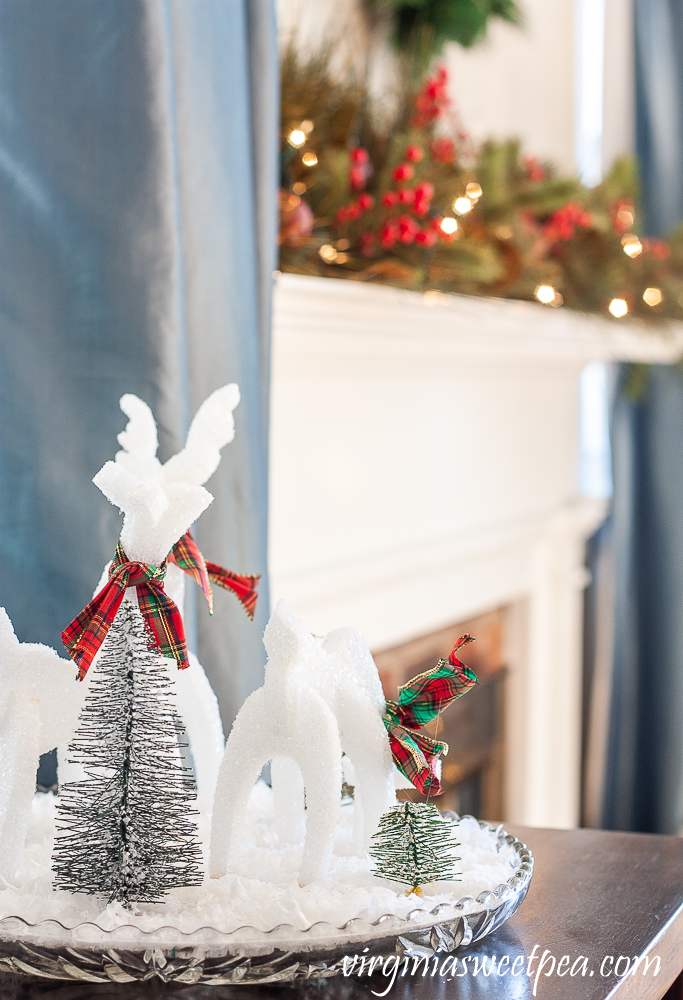 The reindeer are enjoying frolicking in freshly fallen snow. I hope some freshly fallen snow will soon fall in my neck of the woods!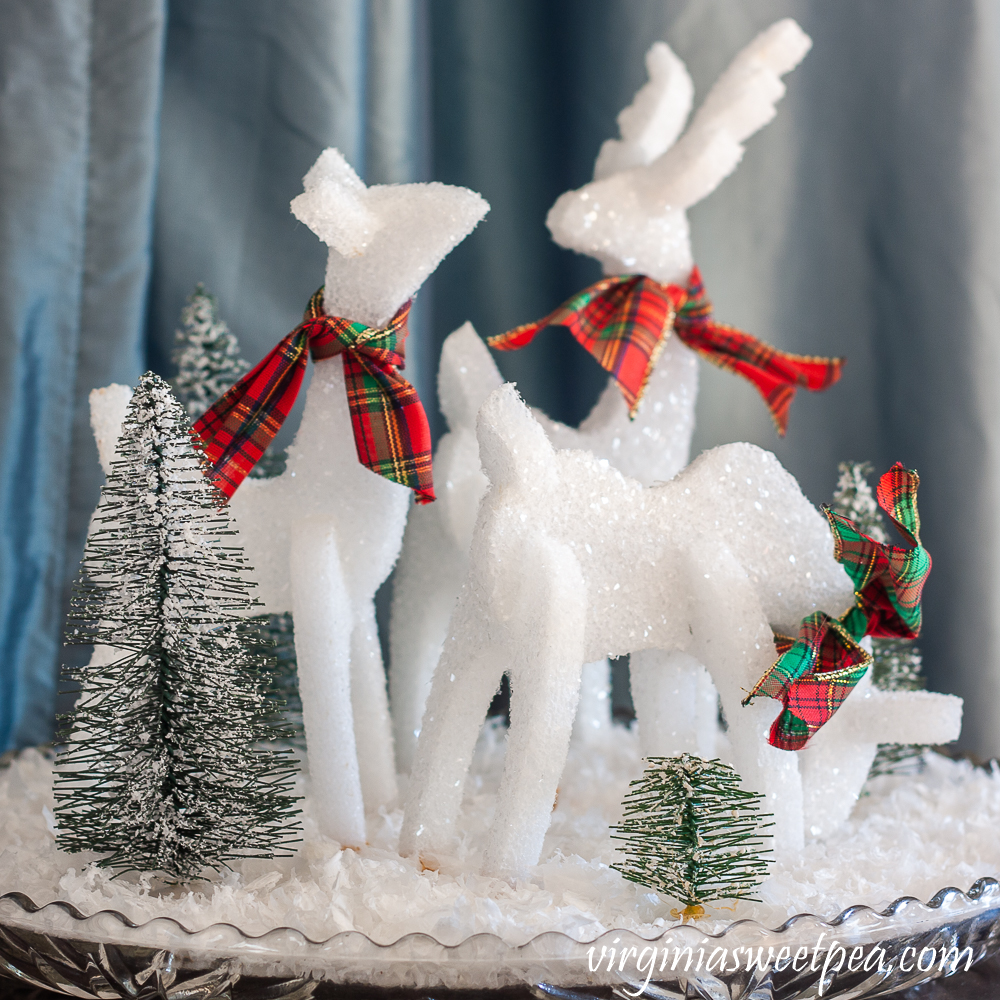 On the other side of the room, my grandmother's chest displays more Christmas decorations.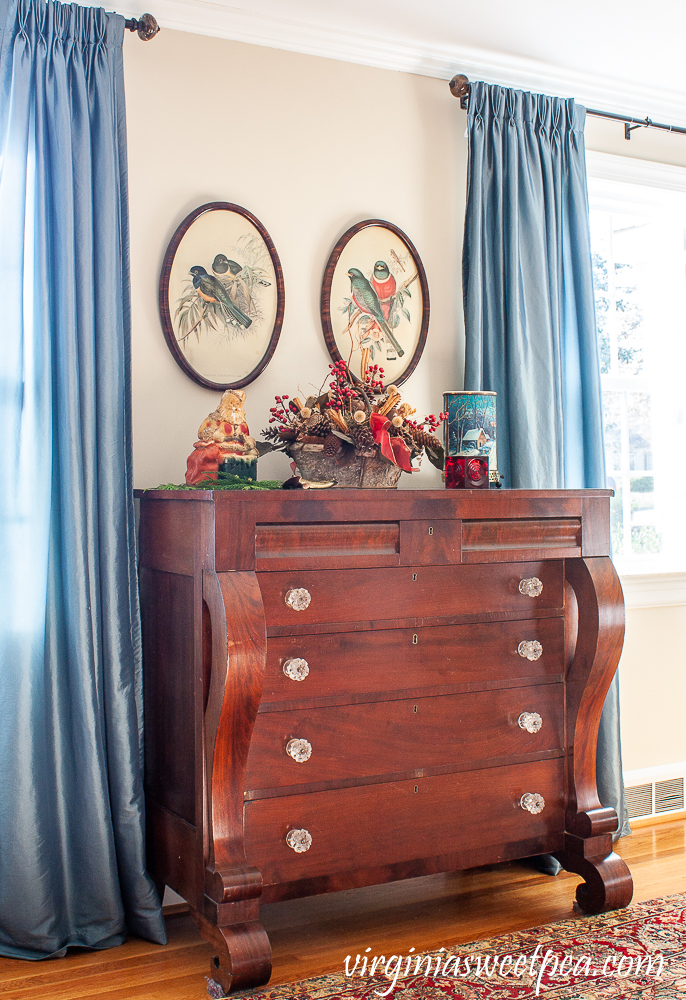 The birch basket is a Christmas decoration that I've had for a long time but still love. It is from Buffalo Springs Herb Farm which sadly is no longer in business.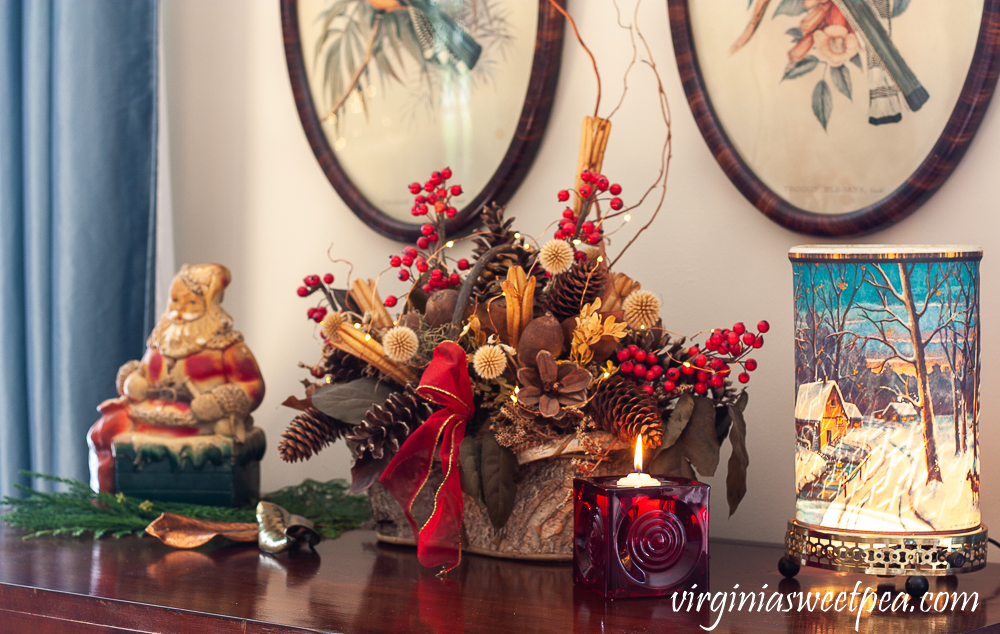 My mom, aunt, cousin, and I used to go to Buffalo Springs Herb Farm the day after Thanksgiving.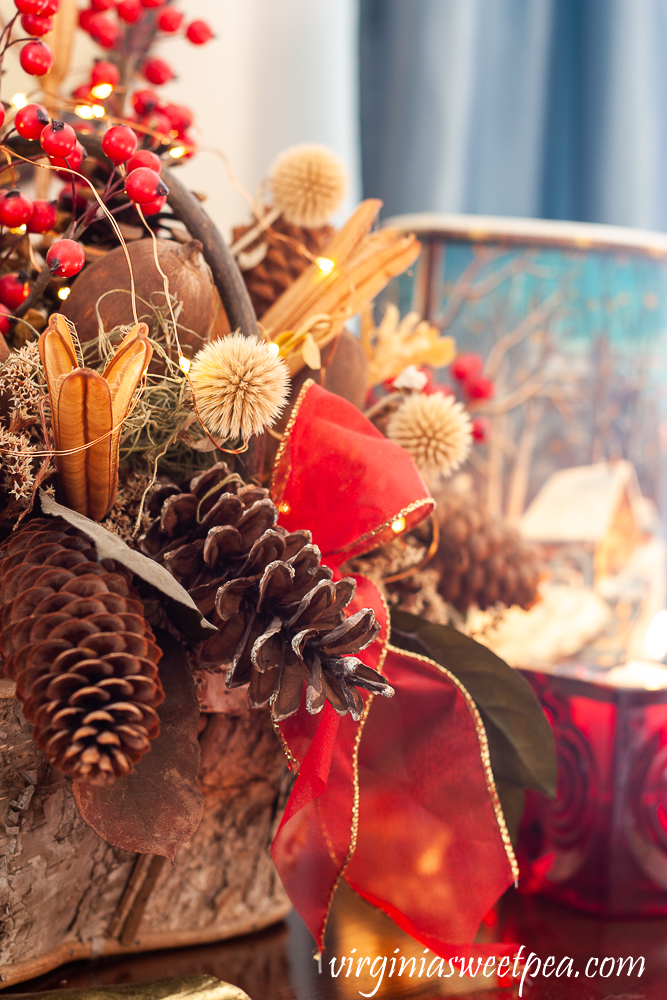 Over the years we all purchased handmade decor there that we still enjoy displaying.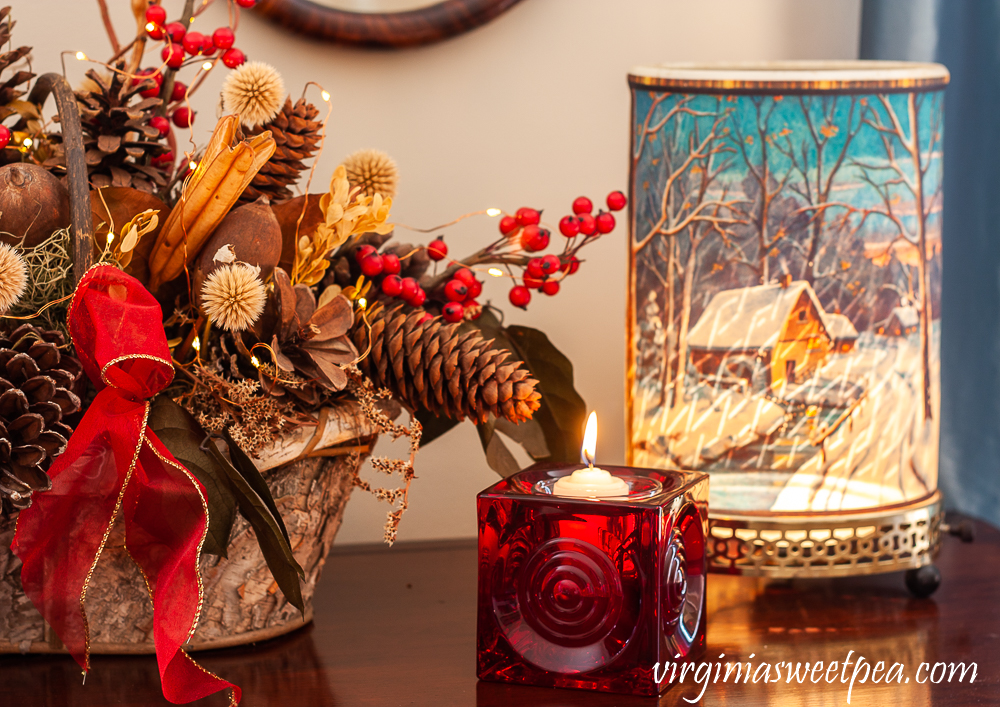 To the right of the basket is a vintage Econolite motion lamp that my mom bought for me.
When the light is on, the heat of the bulb makes the inside of the lamp turn which makes it look like its snowing.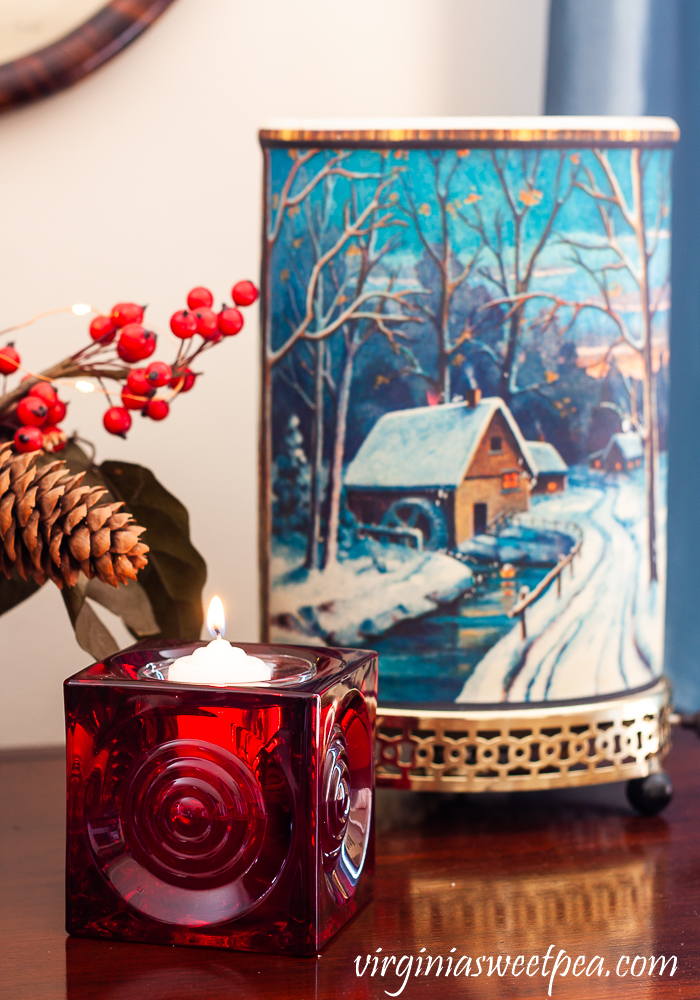 In the past, I've been able to find this Econolite on Etsy or Ebay, but this year I did not. I did find this winter cabin Econolite that I would love to have to use for winter decor.
To the left of the basket is a vintage Santa bank.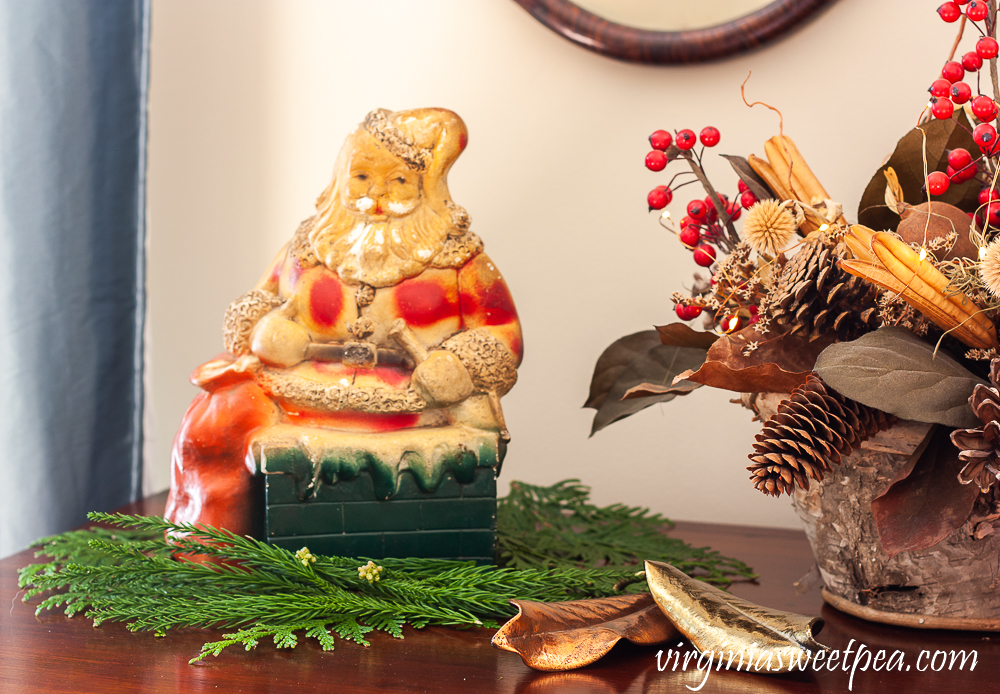 When the Christmas tree is not in this room, there are a pair of these chairs in front of the fireplace.
The wool blanket on the chair belonged to my grandparents.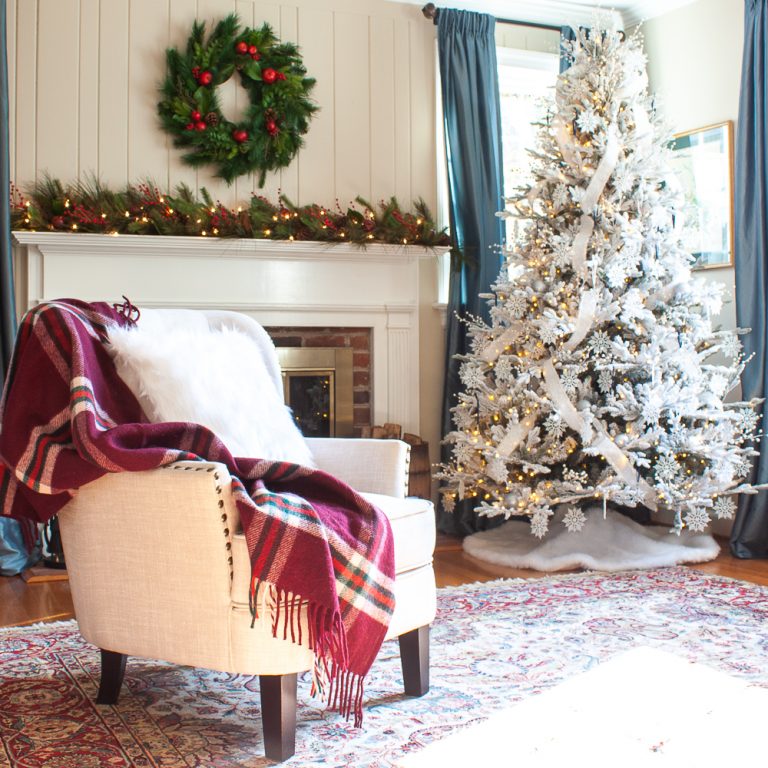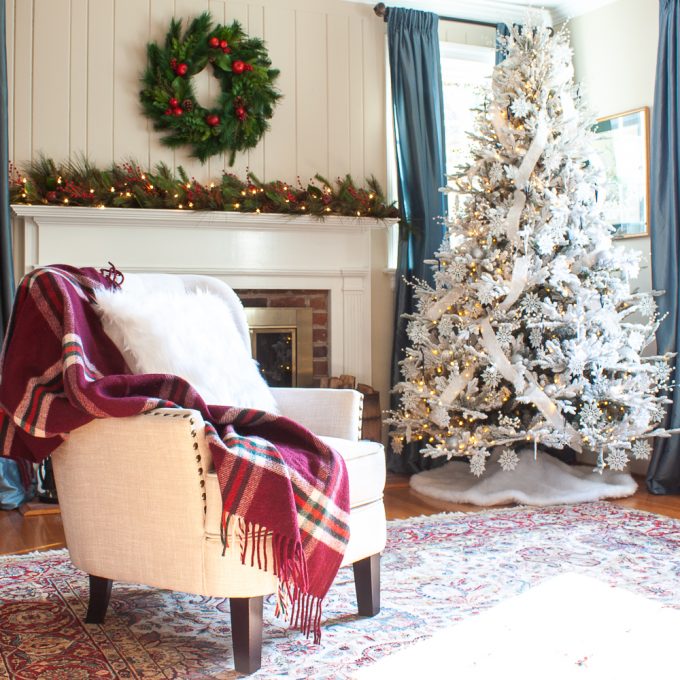 Beside the chair is a small table, big enough to hold a cup of coffee or a glass of wine.
On the table is a Santa mug that belonged to my great-great-aunt filled with peppermint sticks.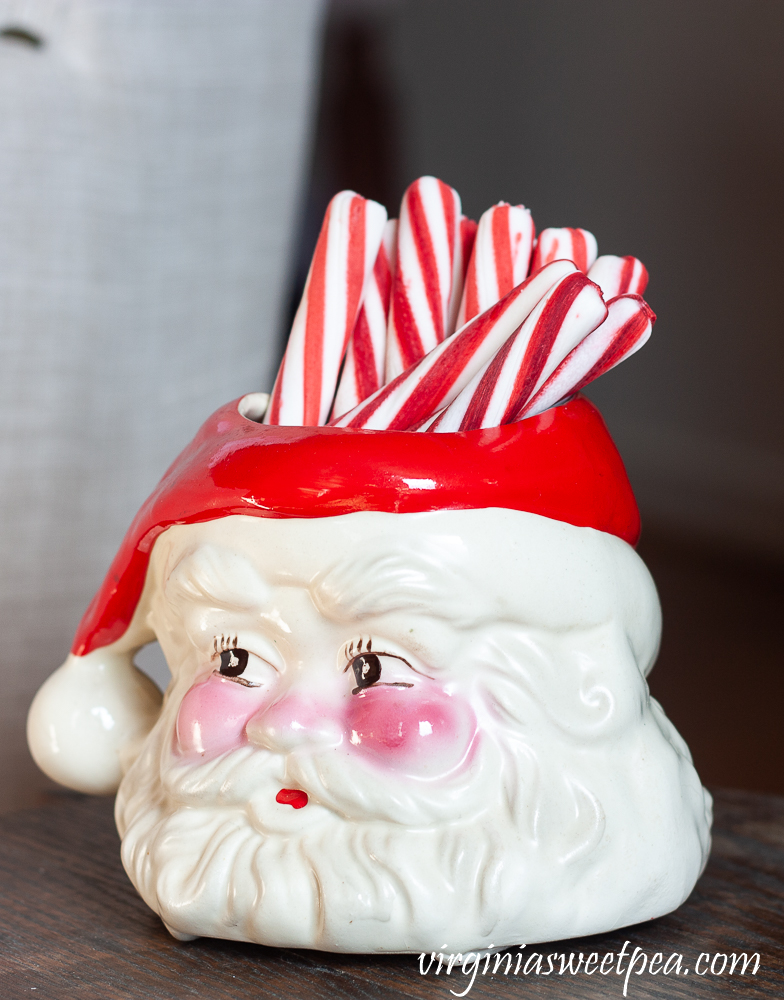 My grandmother passed this on to my mom who gave it to me. As a child, I always loved seeing this in my mom's cabinet filled with candy canes at Christmas time.
Now that we've seen my Christmas living room decor, we'll move on to the adjacent dining room.
Christmas in the Dining Room
We never use our dining room as a dining room because if we have guests, we always eat in our breakfast room off of our kitchen.
My husband also doesn't like to eat in this room because it means sitting on my great-grandmother's chairs which are not very comfortable.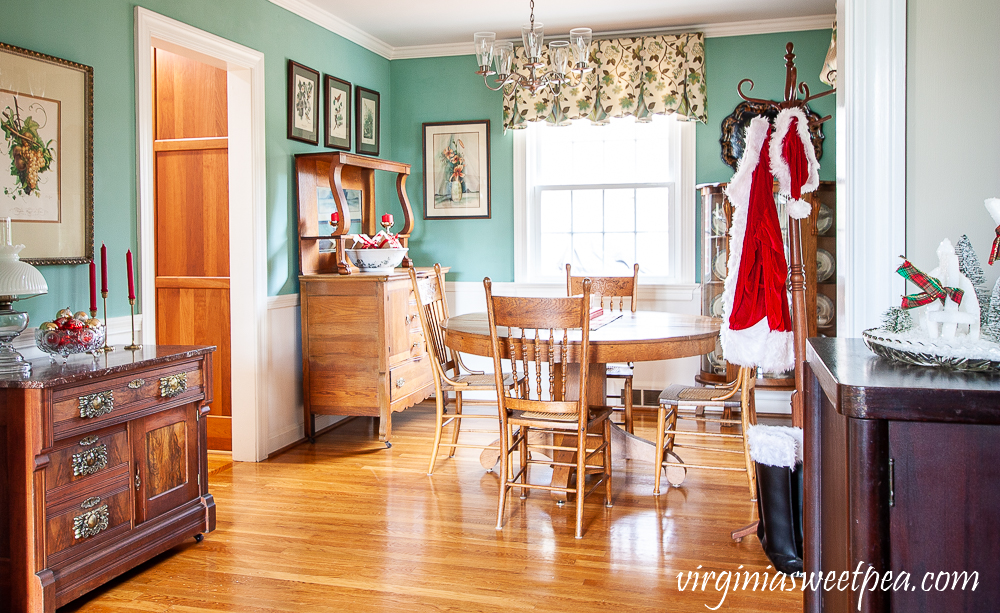 The chest and the art above it were in my grandmother's dining room and now they are in mine. I love decorating this spot for the season.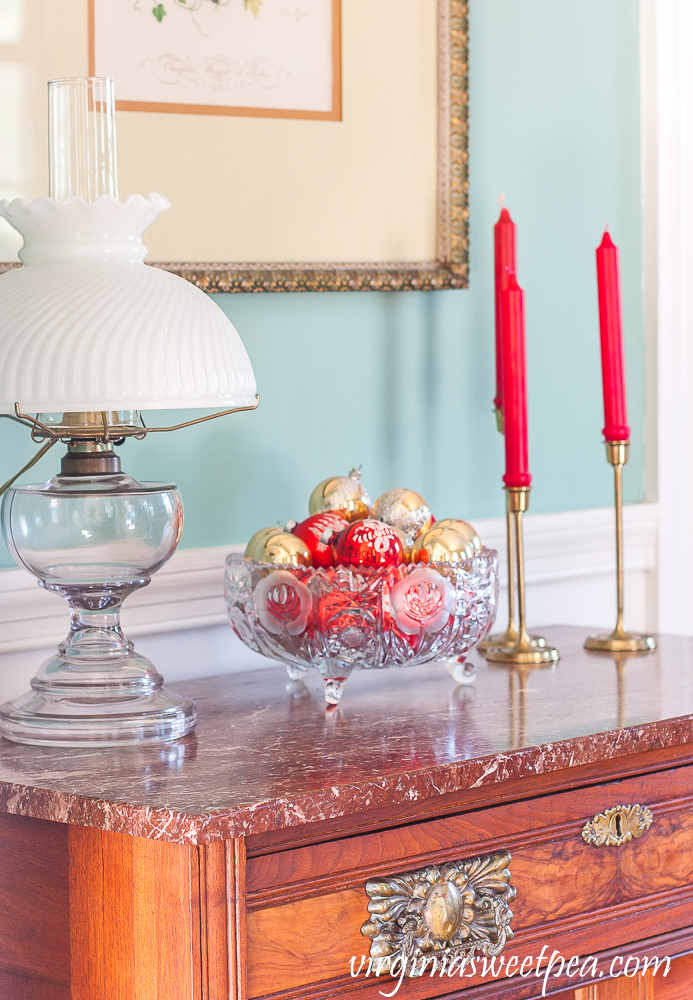 Displayed on the chest is one of my grandmother's glass bowls filled with vintage red and gold Christmas balls.
I purchased these ball in an antique store years ago and every Christmas display them somewhere in my home.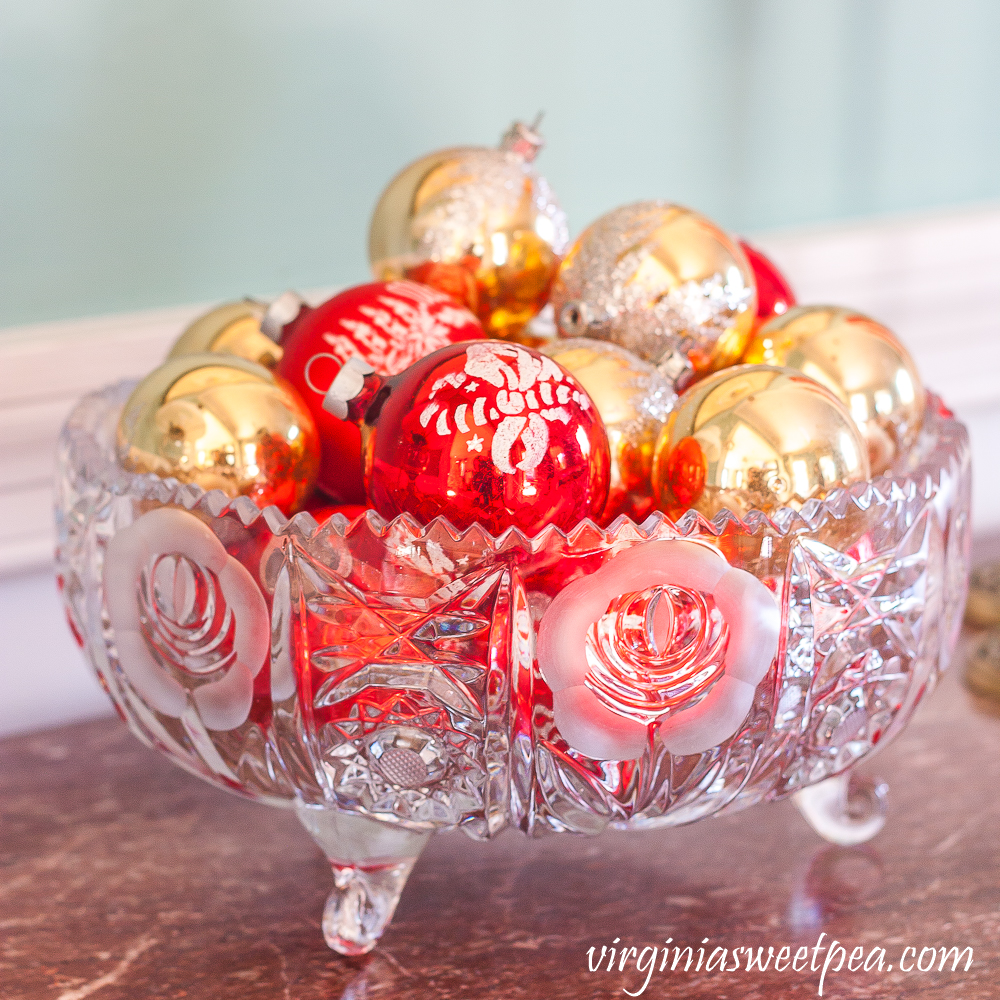 My friend gave me the three brass candle holders when she moved a few years ago.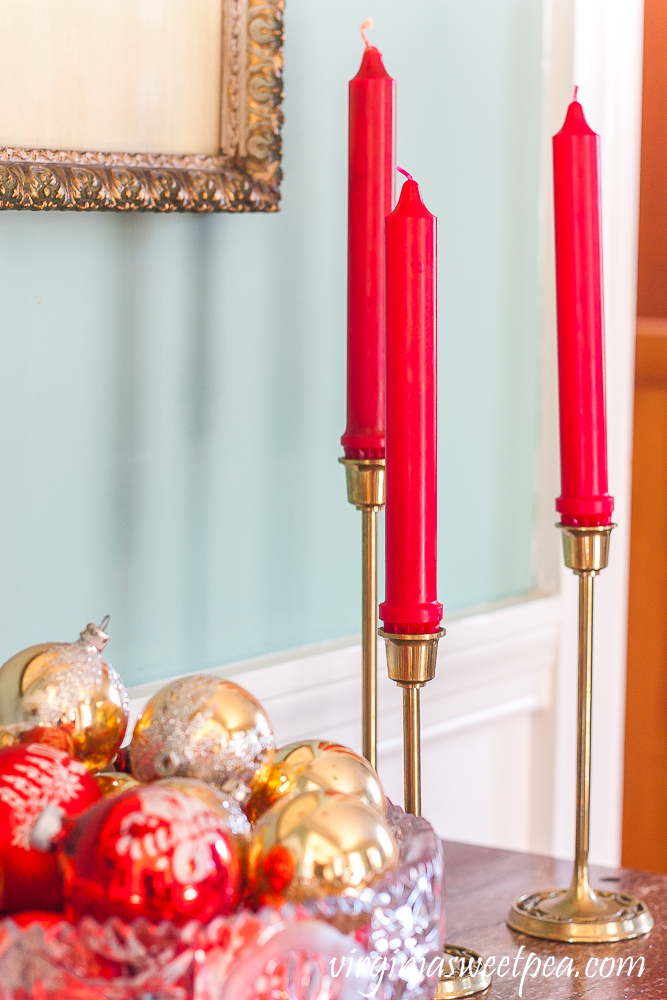 I love their graduated sizes and my favorite red candles look great in them for Christmas.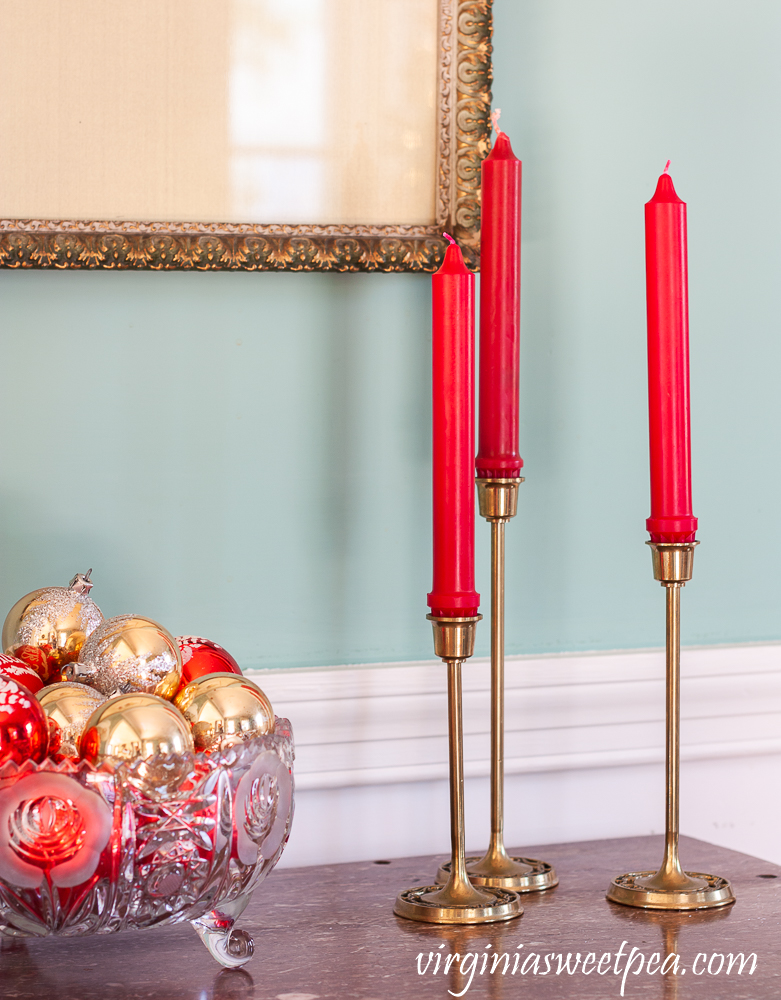 On the table is my very first woodworking project, a recessed glass candle holder. I love how the candles look burning in the glass votives. Epsom salt anchors each candle.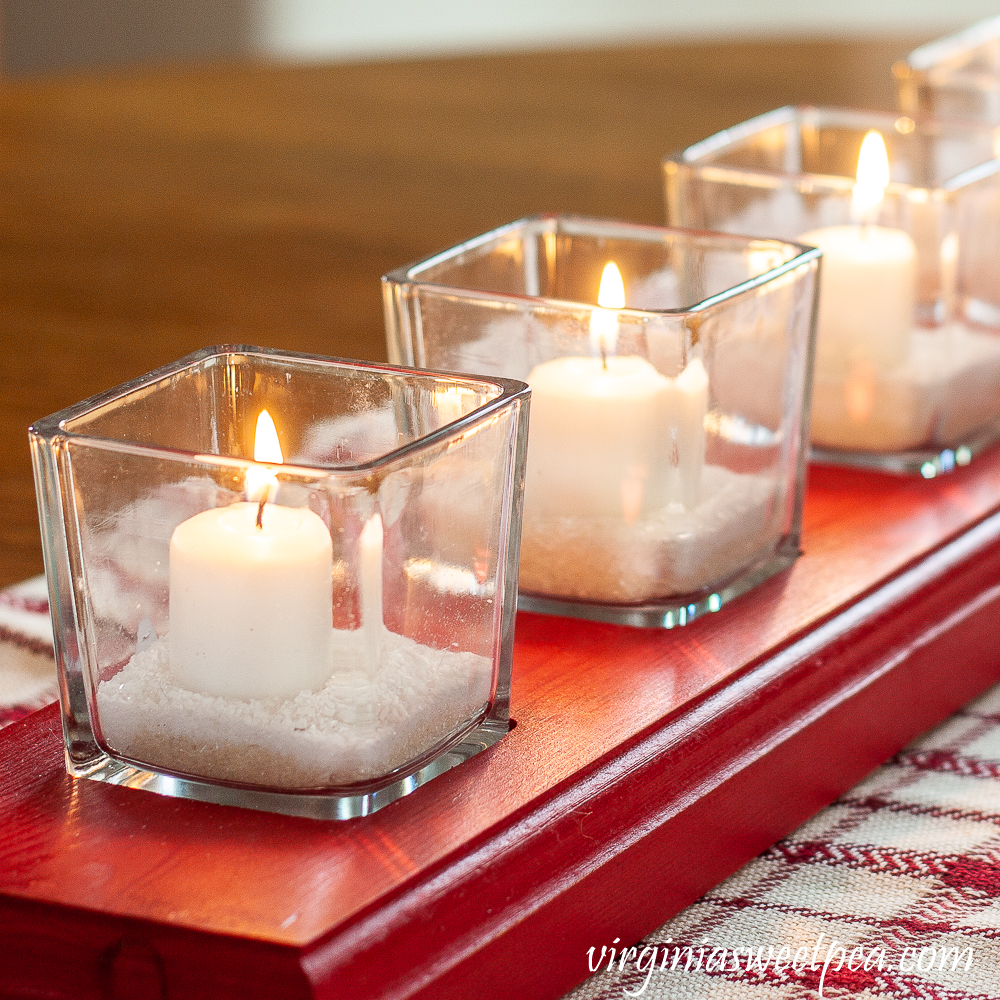 My oak buffet holds more candles and a bowl full of presents.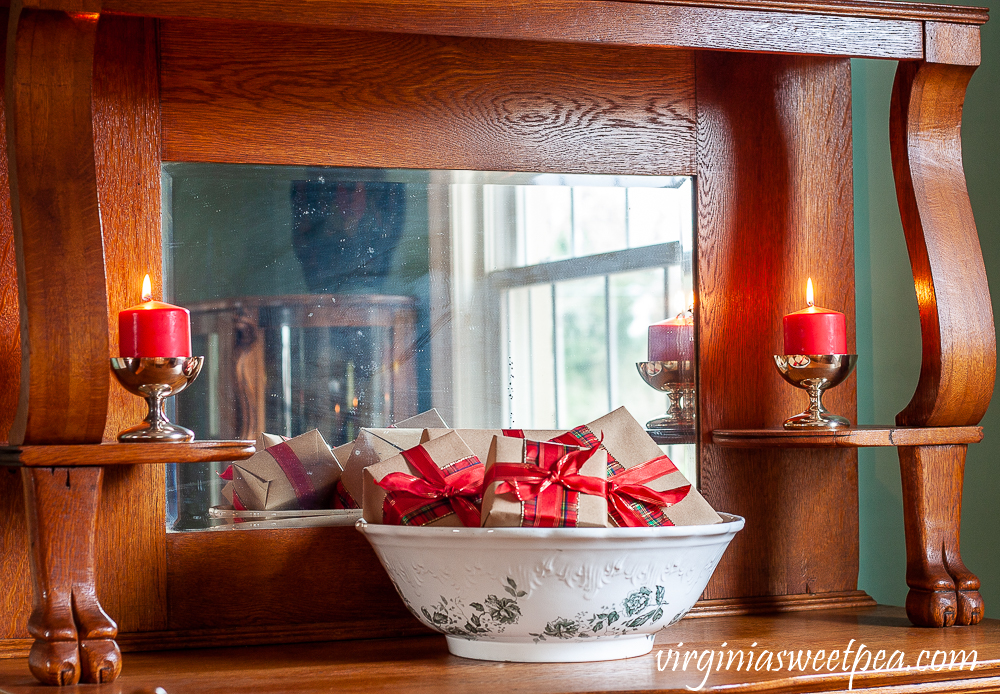 Did you notice that Santa is staying at my house?
His hat, coat, and boots are all ready for Christmas Eve when he will take off in his sled to deliver gifts to boys and girls across the land.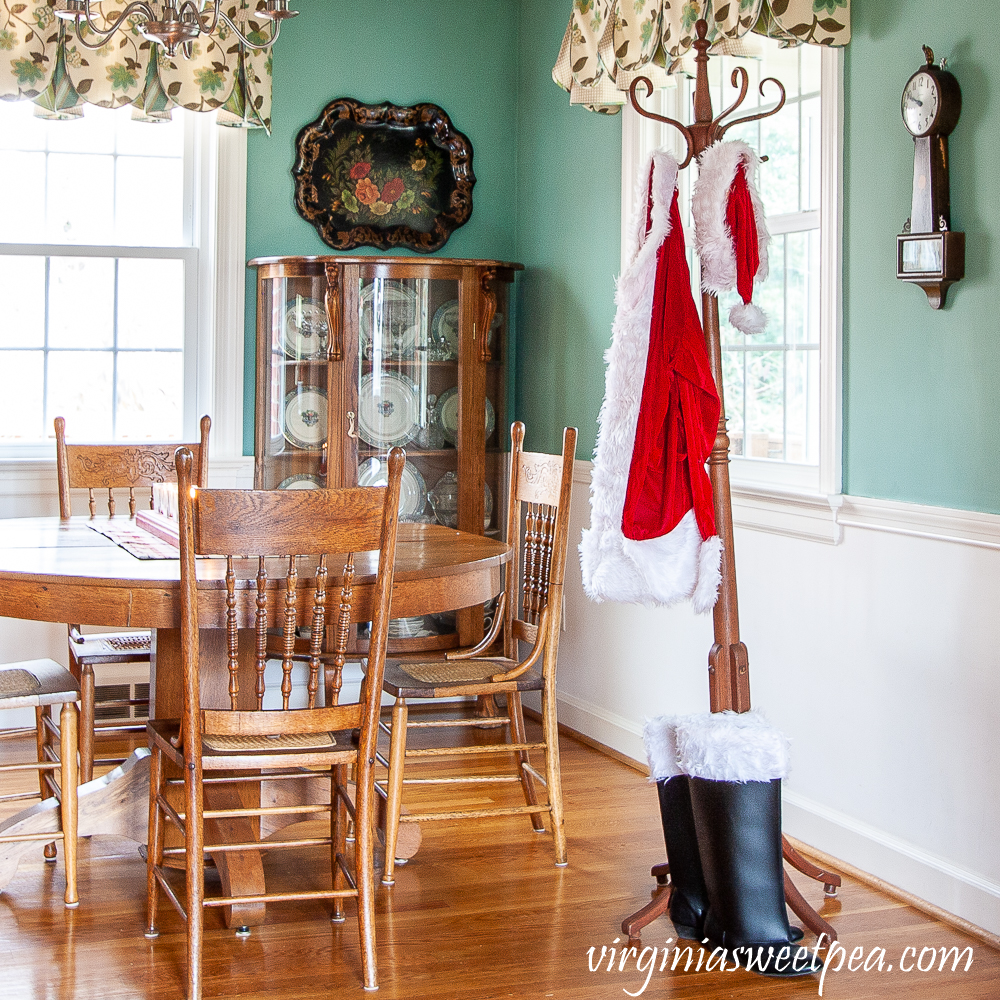 I so much enjoyed sharing my Christmas decorations with you. I'll be back tomorrow to share my Christmas porch and on Thursday I'll share the Christmas decor in the rest of my home.
Next on the tour is Repurpose and Upcycle. Click on the links below to visit all of the bloggers who are sharing their Christmas decor today.
A Very Merry Christmas Home Tours




More Christmas Decor to Enjoy