Winter Wonderland Christmas Tree with Swarovski Snowflake Ornaments
For the first time, my collection of Swarovski snowflake ornaments are being displayed on a Christmas tree rather than on the wood tree that I usually use to display them.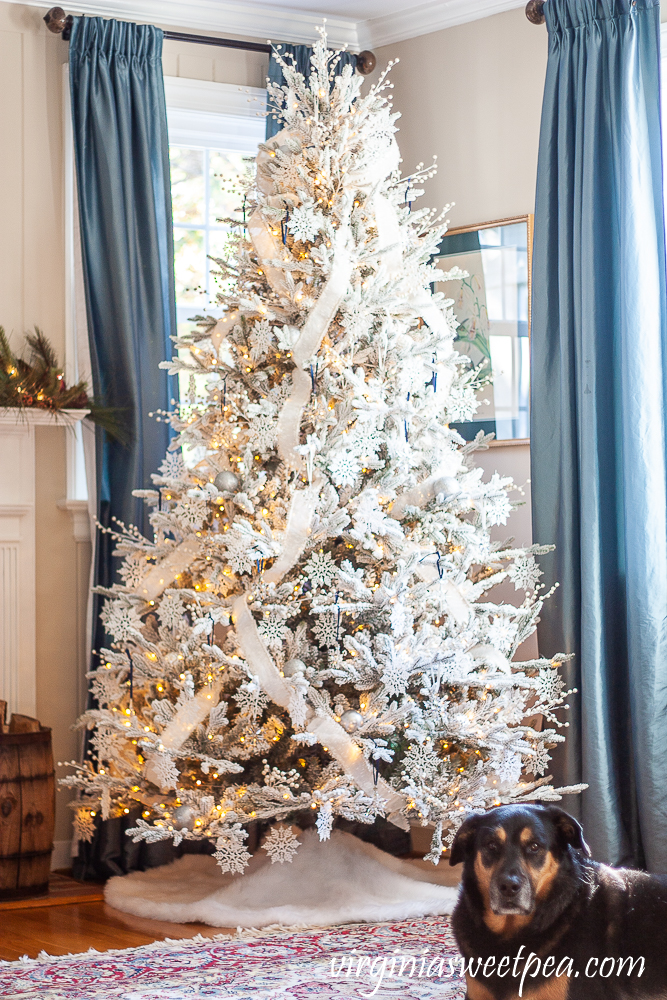 I'm sharing my snowflake themed tree with a talented group of blogging friends who are also sharing their Christmas trees for the 4th Annual Christmas Tree Decor Blog hop hosted by Michelle of Our Crafty Mom.
You'll find links to all of the Christmas trees shared today at the end of this post.
Winter Wonderland Christmas Tree with Swarovski Snowflake Ornaments
My husband has given me a Swarovski snowflake ornament every year since 1994.
I usually display these snowflakes on the music cabinet to the left of our fireplace but this year decided that these special ornaments deserved their own tree.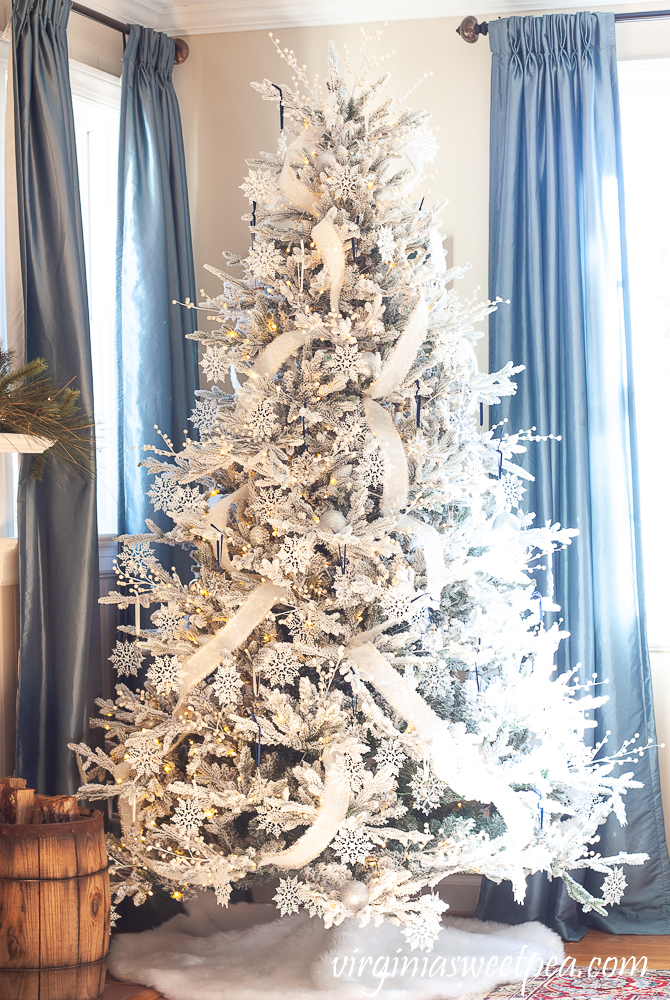 Check out this post to see how I've displayed these ornaments every year until 2020.
This year I treated myself to a new Christmas tree, purchased especially for my Swarovski crystal snowflake ornaments. I went with a flocked tree because I thought that the snowflakes would look great hanging on it.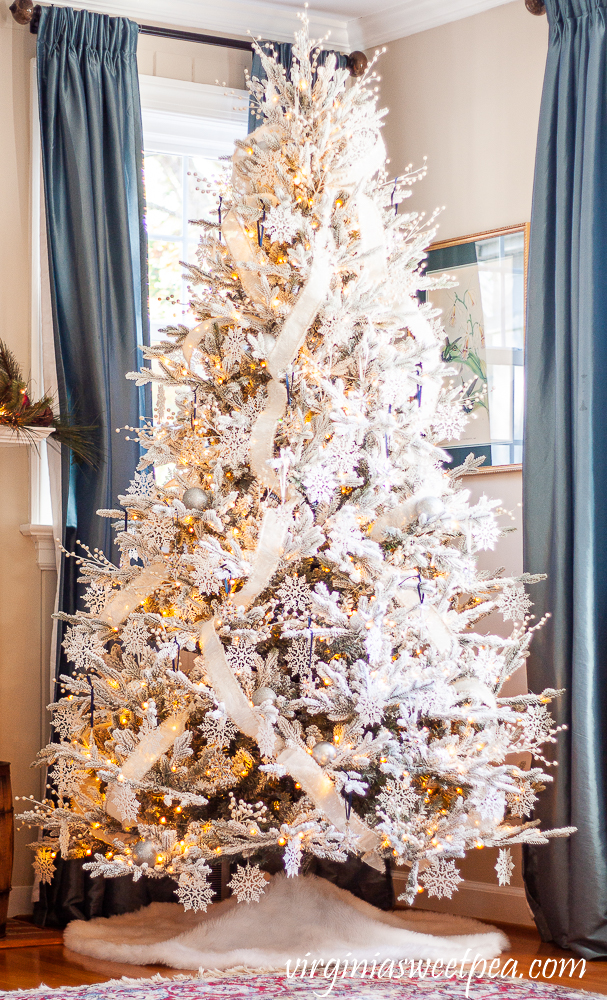 To coordinate with my Swarovki snowflake ornaments, on my tree I also used off-white ribbon edged with gold; dozens of white plastic snowflakes; silver balls; and white berry branches.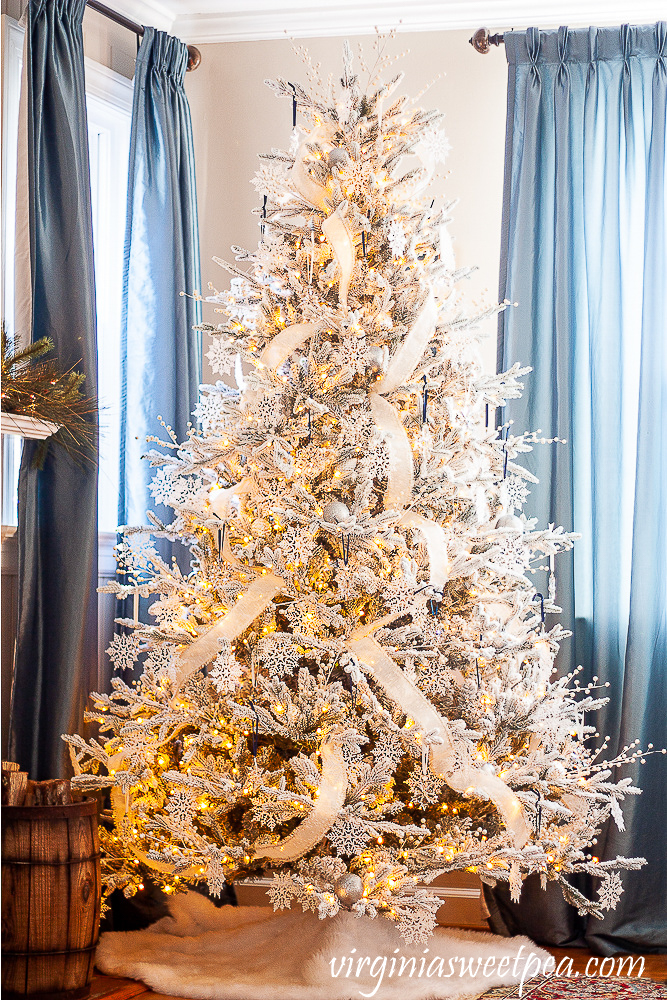 The white snowflakes are from Hobby Lobby as is the ribbon, and the white berry branches.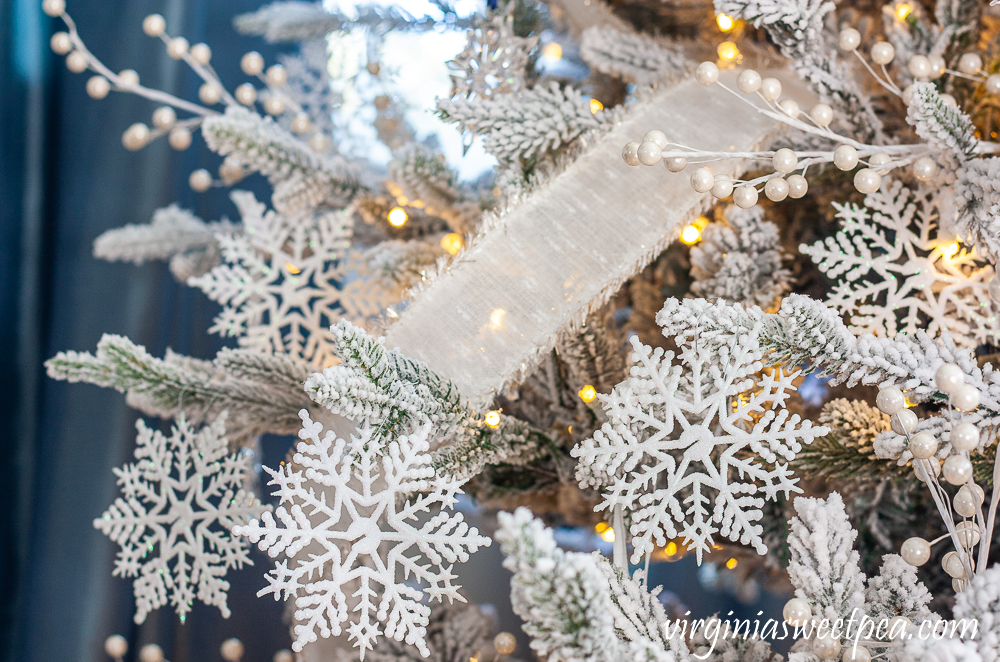 I'm not sure that the white snowflakes are supposed to be ornaments but they worked perfectly to decorate my tree.
I used floral wire to attach them to the tree.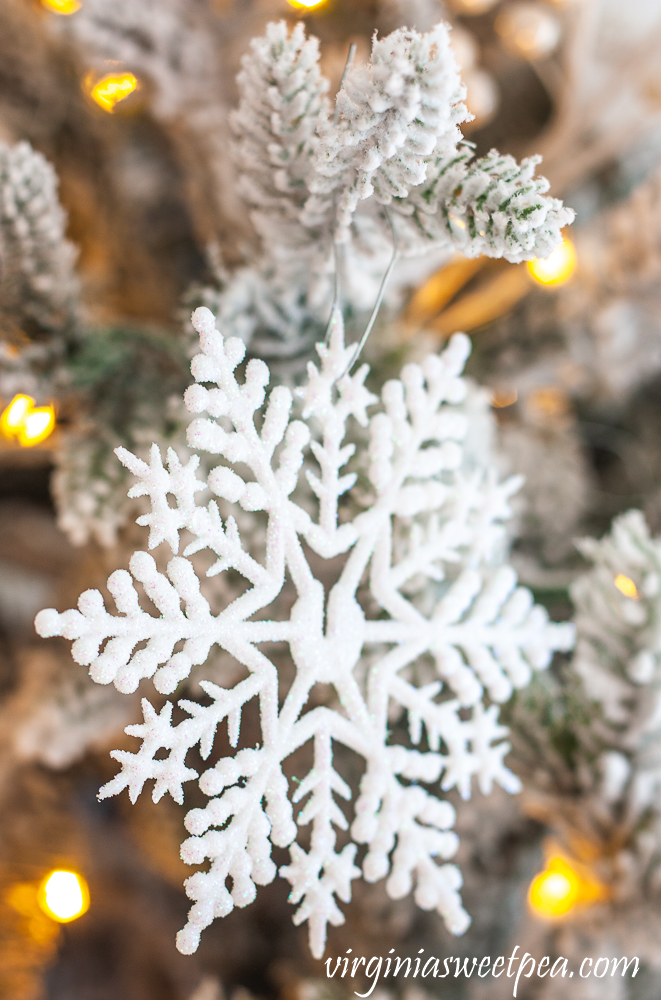 Swarovski Snowflake Ornaments
I placed my newest snowflake for 2020 at the top of the tree.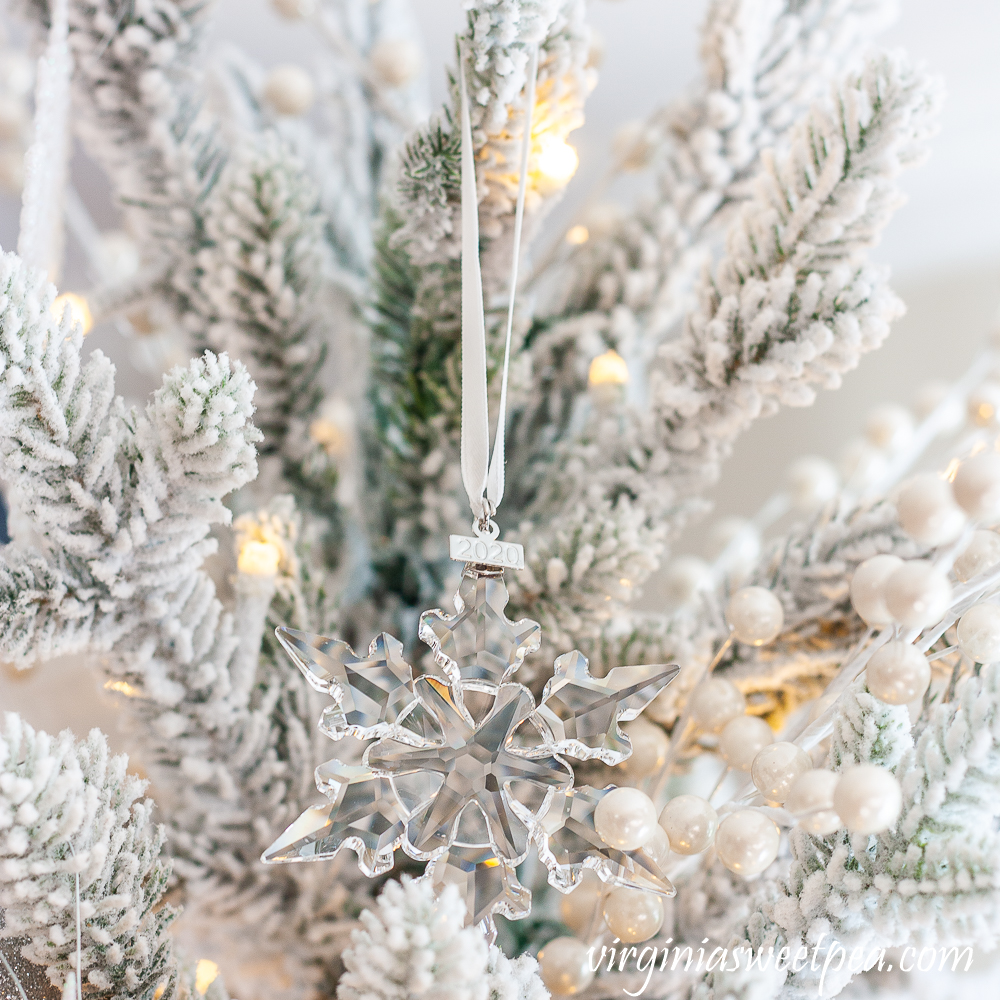 Mr. SP gave me my first Swarovski ornament the year we were married, 1994.
For years the ornament ribbon was blue and in recent years it changed to white.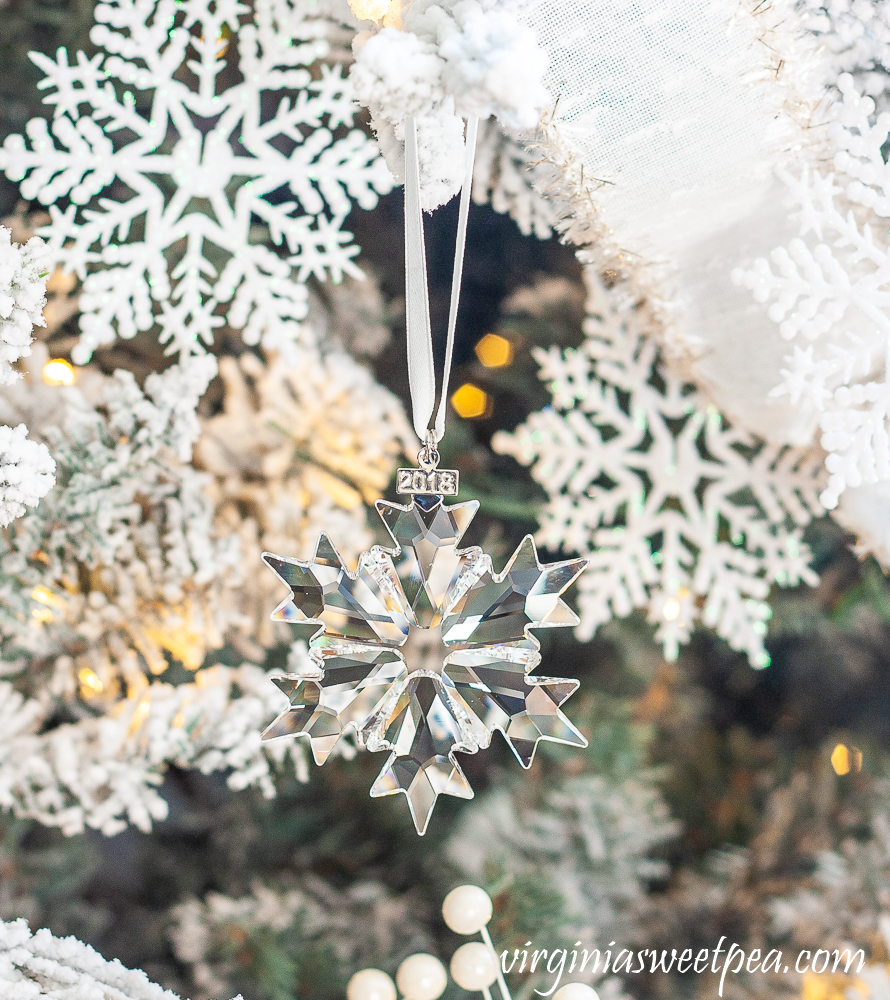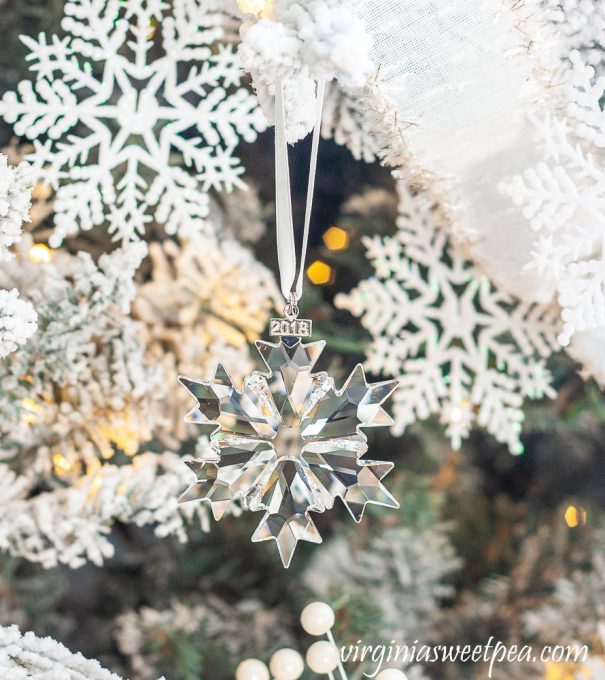 I prefer the blue ribbon over the white.
Each year the snowflake has a different design.
The crystal snowflakes refract light and make rainbows all over my living room. It is magical!
This is my first time adding berry branches to my Christmas tree and I love the look.
I already had many of the branches that I used because I used them for last year's Walking in a Winter Wonderland mantel.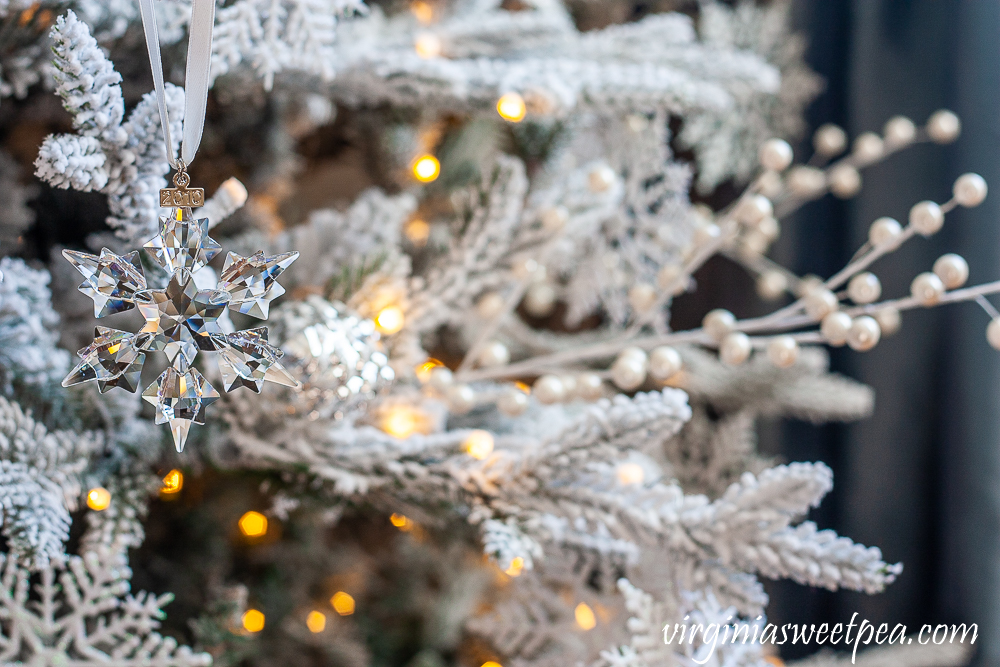 Each year when I unbox these ornaments, I think of the year and what made it special or challenging.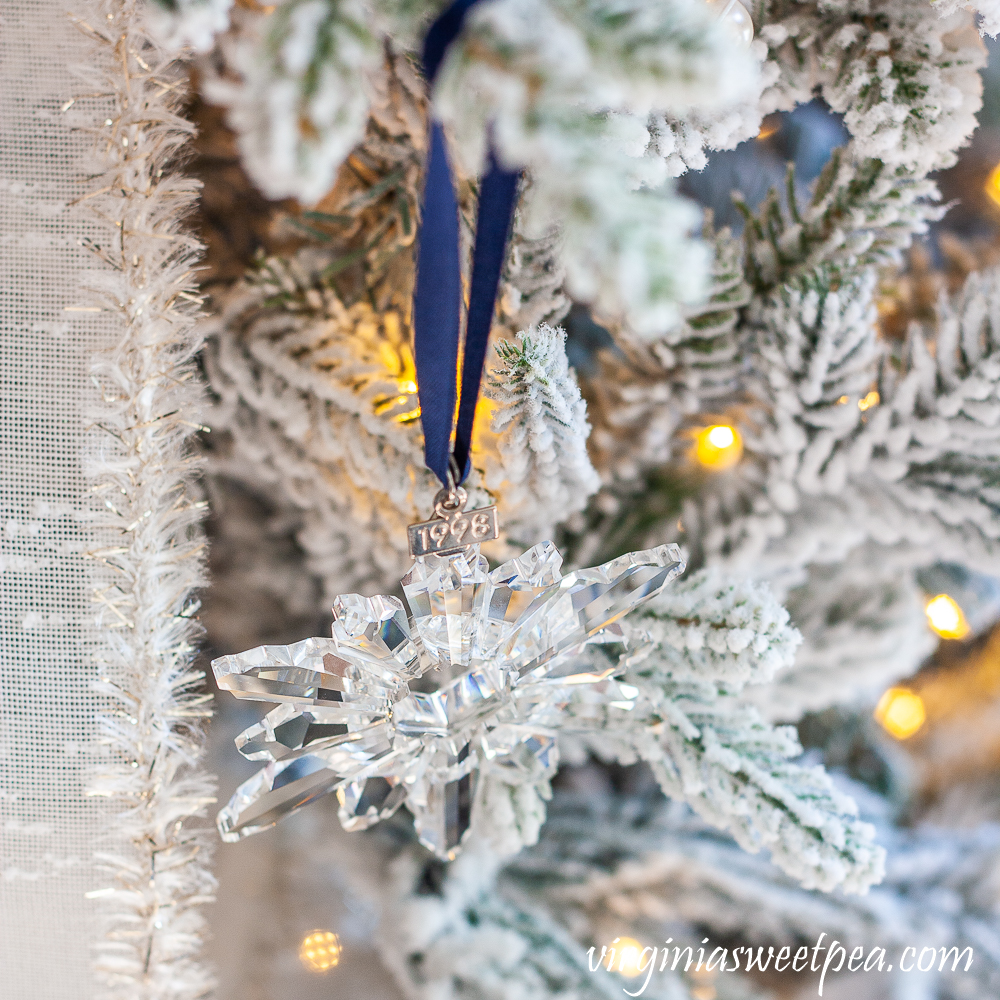 My tradition is to leave my Swarovski snowflake ornaments out until March. When Christmas is over, I'll transfer them to the wood tree that I usually use so that I can enjoy these beautiful ornaments all winter.
Snowflake Themed Tree at Night
I love how this tree looks at night and because it is in our formal living room on the front side of our house, our neighbors can see it as they drive or walk past our home.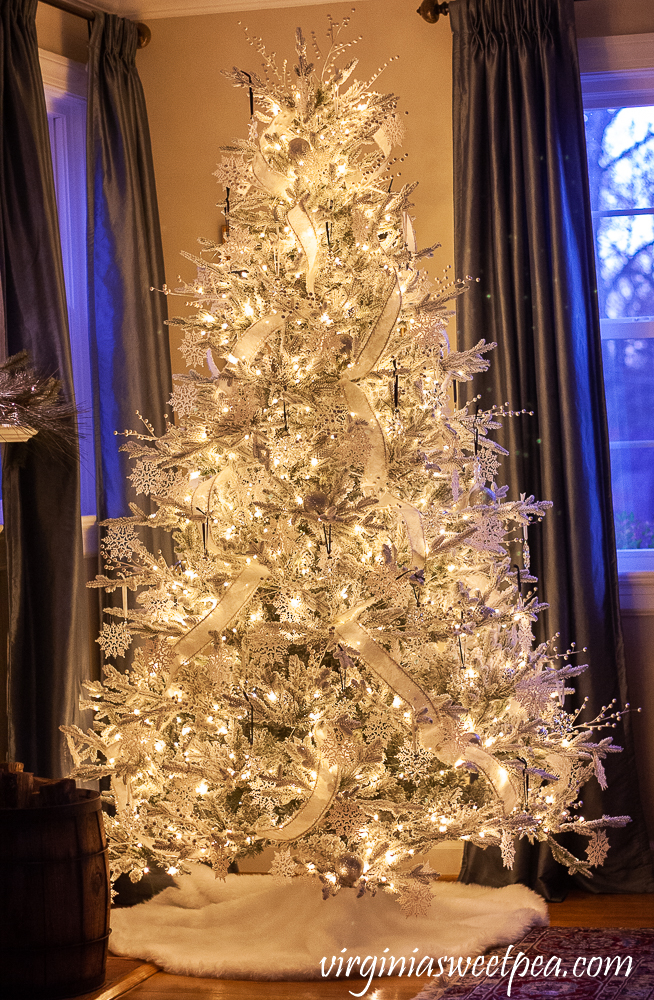 Along with buying a new tree this year, I also bought a new tree skirt. I love this white fur tree skirt and it was very reasonably priced.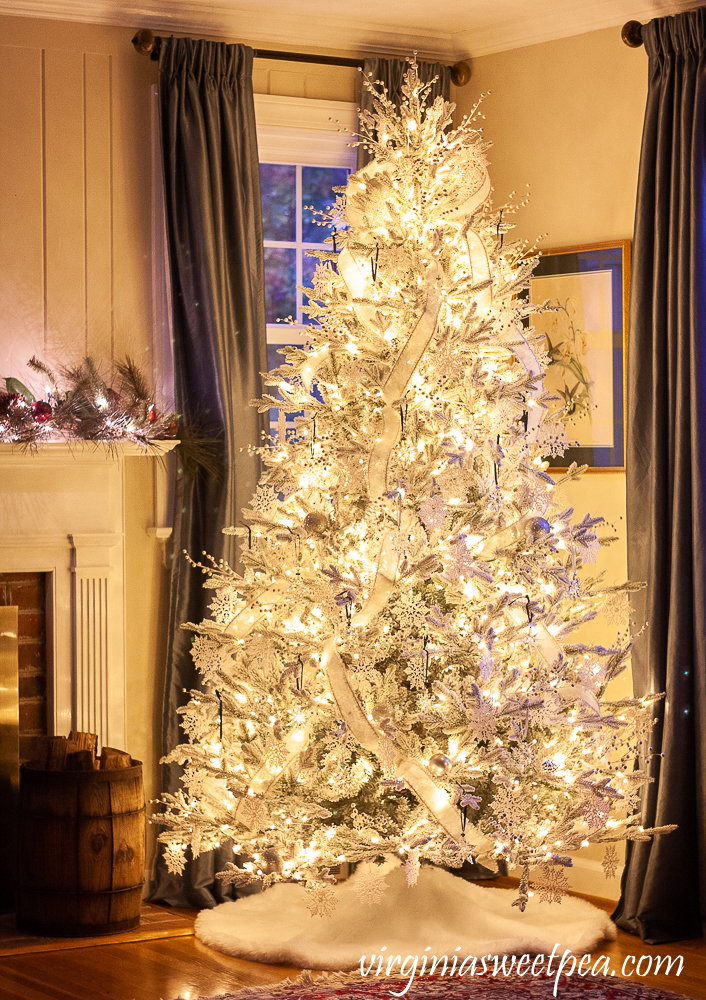 It was an investment to buy a new Christmas tree but I have zero regrets. We now have three trees in our home and I love it!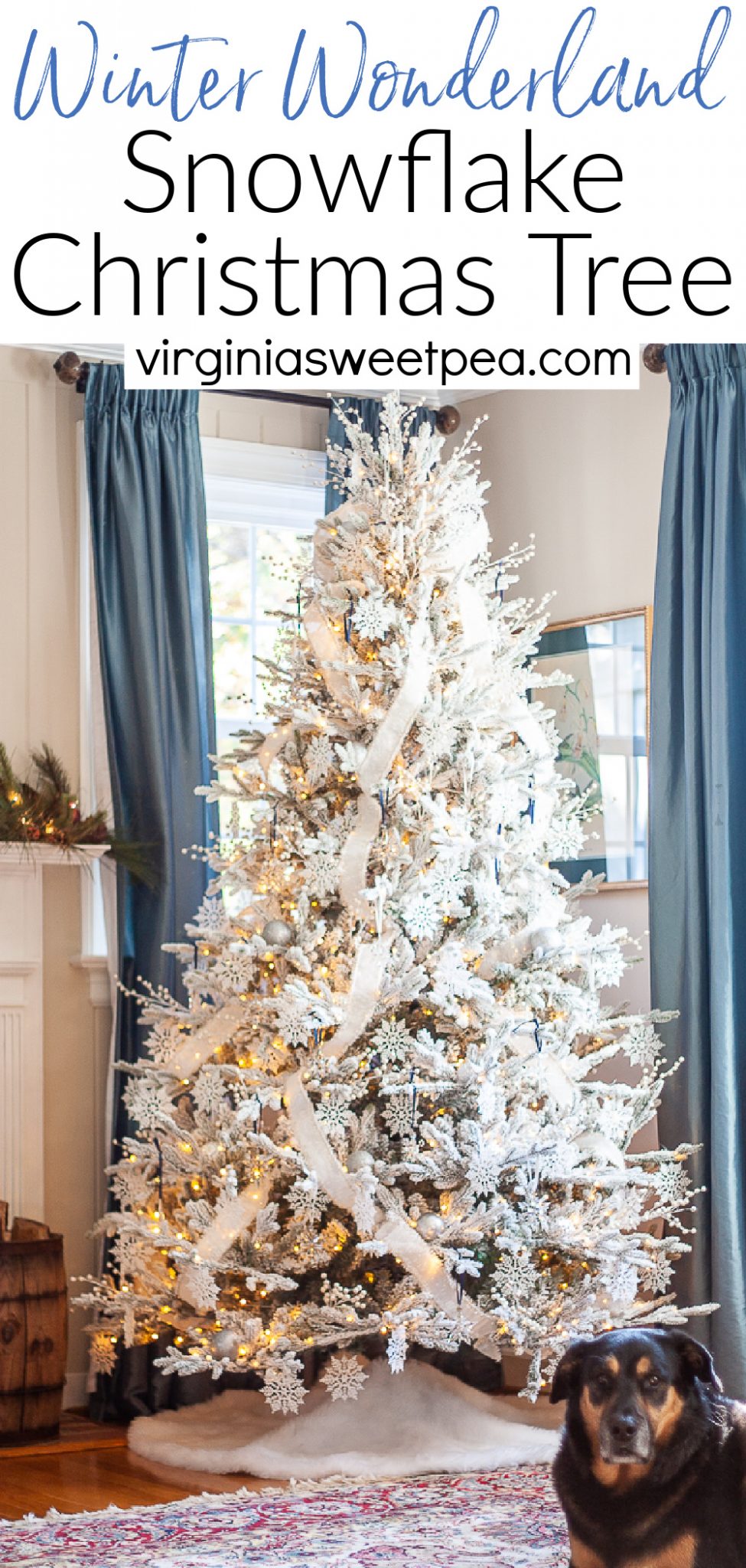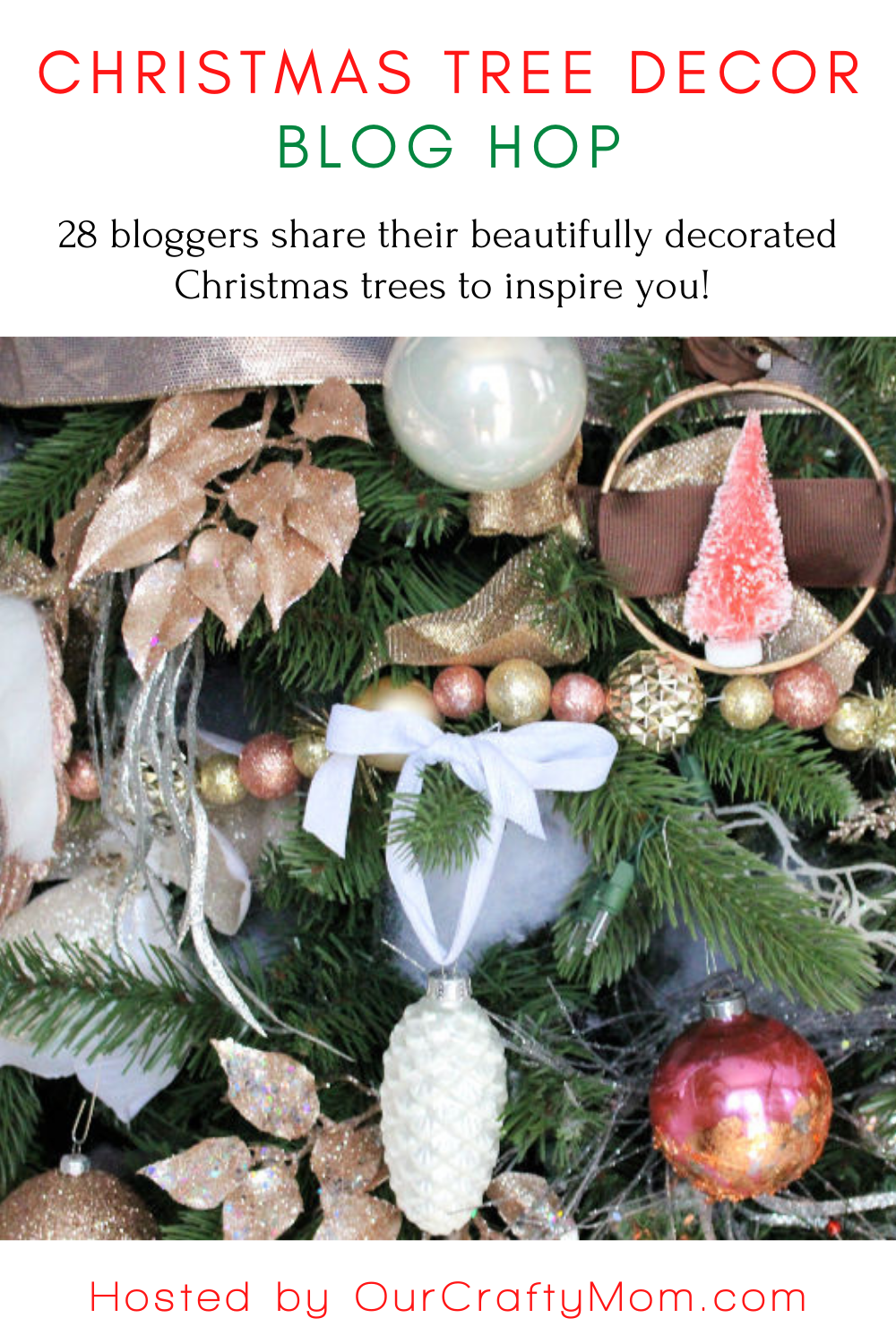 Welcome To The Fourth Annual Christmas Tree Decor Blog Hop
Be sure to visit all the participating bloggers below for gorgeous holiday decorating ideas for your Christmas tree.
Our Crafty Mom // Sustain My Craft Habit // Red Cottage Chronicles // Celebrate and Decorate
Jenron Designs // 2 Bees In A Pod // Virginia Sweet Pea // From House To Home
Tribe of Burton // Across the Boulevard // Intelligent Domestications // Simply Beautiful By Angela
Modern on Monticello // Redneck Rhapsody // Purple Hues and Me // My Pinterventures
Zucchini Sisters // One Thousand Oaks // Raggedy Bits // Southern Yankee DIY // Oh Fiddle Dee Dee
My Sweet Home Living // Pretty DIY Home // Michelle James Designs // Daily DIY Life
Happily Ever After, etc. // Kippi at Home // Simple Nature Decor // Design Morsels
More Christmas Decor to Enjoy