Christmas Home Tour – Family Room and Breakfast Room
The Christmas home tour continues!
Earlier this week I shared a tour of our Christmas living room and dining room followed by a tour of our vintage Santa themed Christmas porch.
Today's post shares our family room and breakfast rooms' Christmas decor.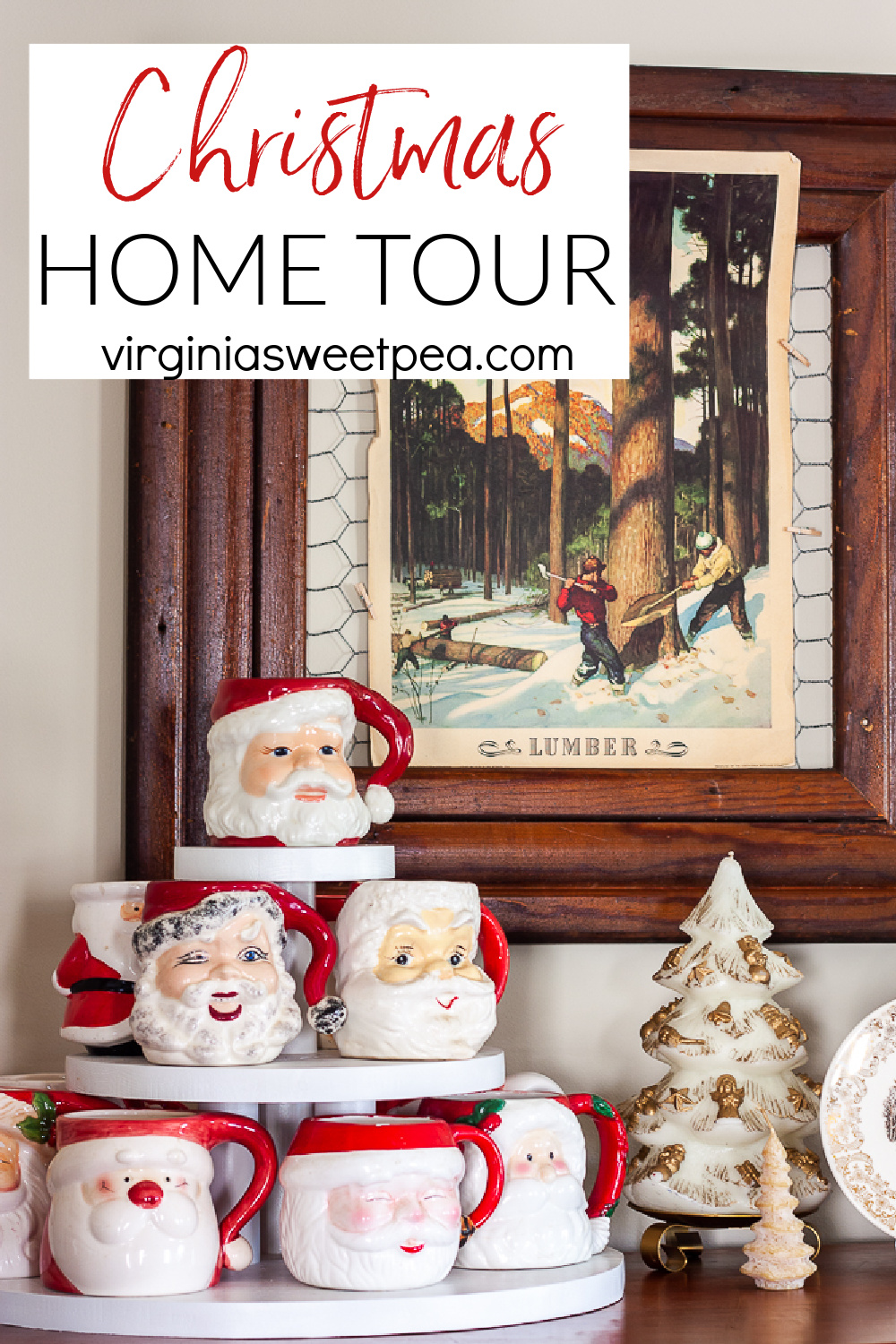 I'm sharing my Christmas decorations along with 28 blogging friends for a Holiday Home Tour blog tour hosted by Kelly of The Tattered Pew and Mansa of This is Simplicite.
If you arrived here from Caitlyn Marie Design, welcome! You'll find links to all of the Christmas home tours at the end of this post.
Christmas Home Tour – Family Room
Welcome to our family room! This is where we spend every evening relaxing after dinner with our dog and a Hallmark movie.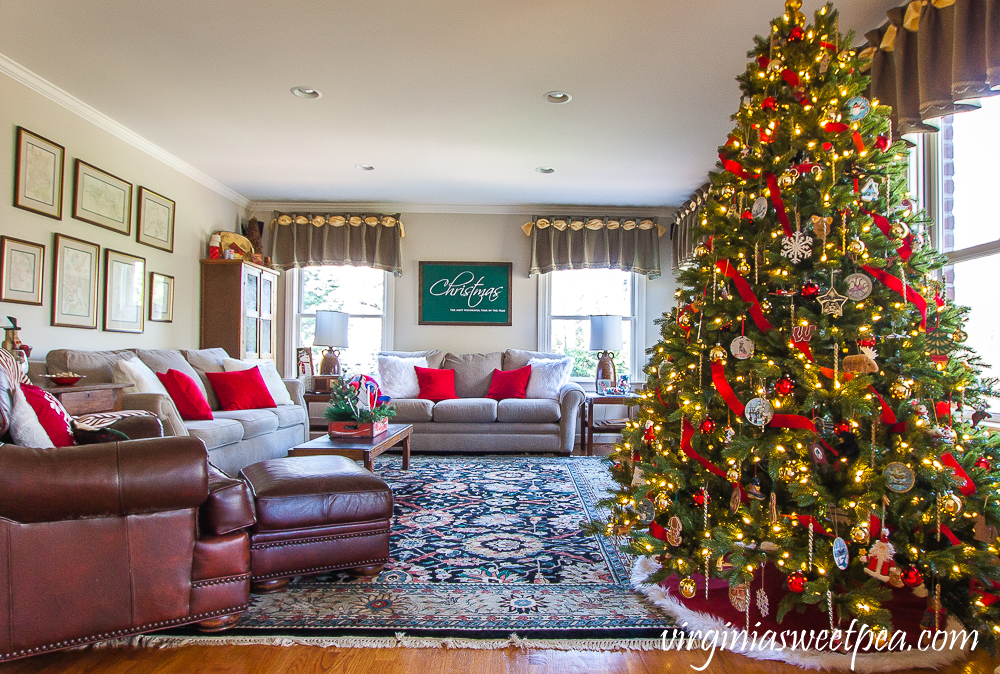 Decorated with ornaments that we've collected over our 26-year marriage, our Christmas tree is the first thing that you see when you enter this room.
Every ornament is something that we've either collected, made, or has been given to us as a gift. Many ornaments are momentos from places that we've traveled.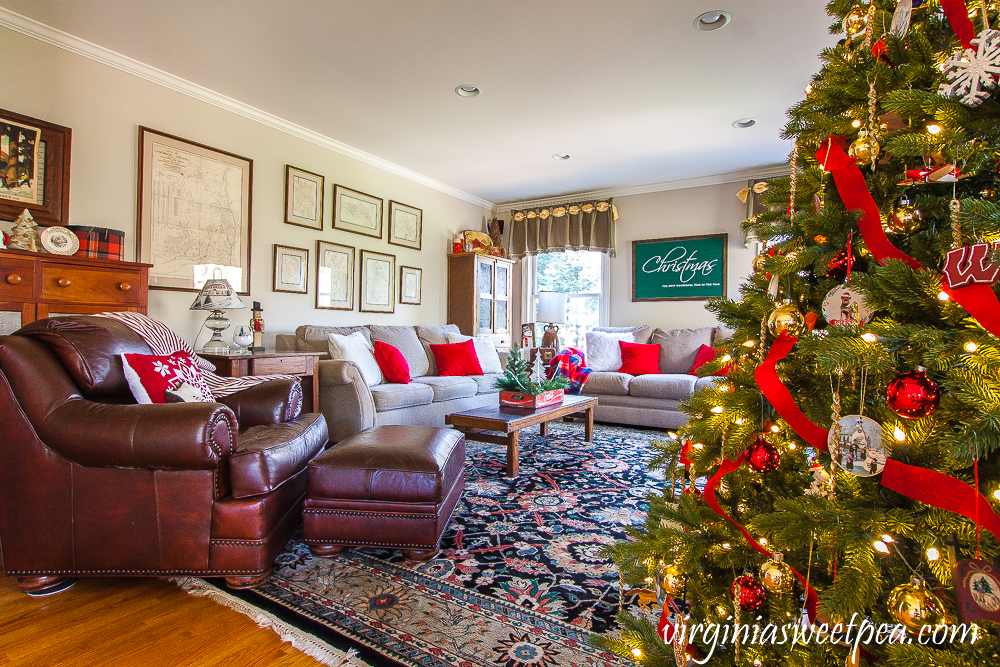 Christmas Coffee Table Decor
For this year's Christmas coffee table, I created a centerpiece using a vintage Coca-Cola crate.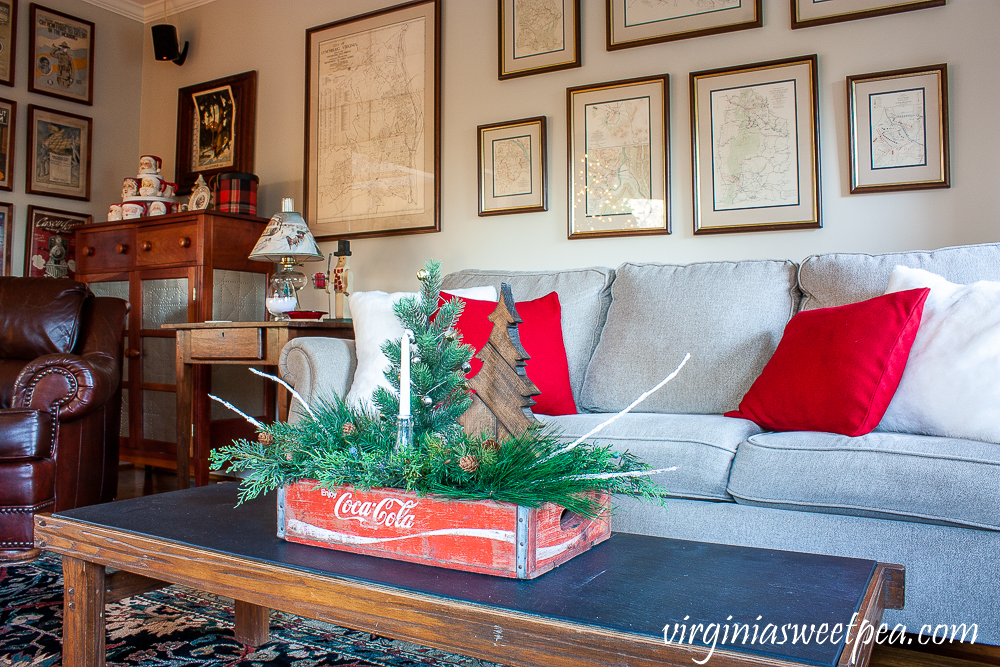 I love the contrast of the red crate on top of the black slate of our 1960s coffee table.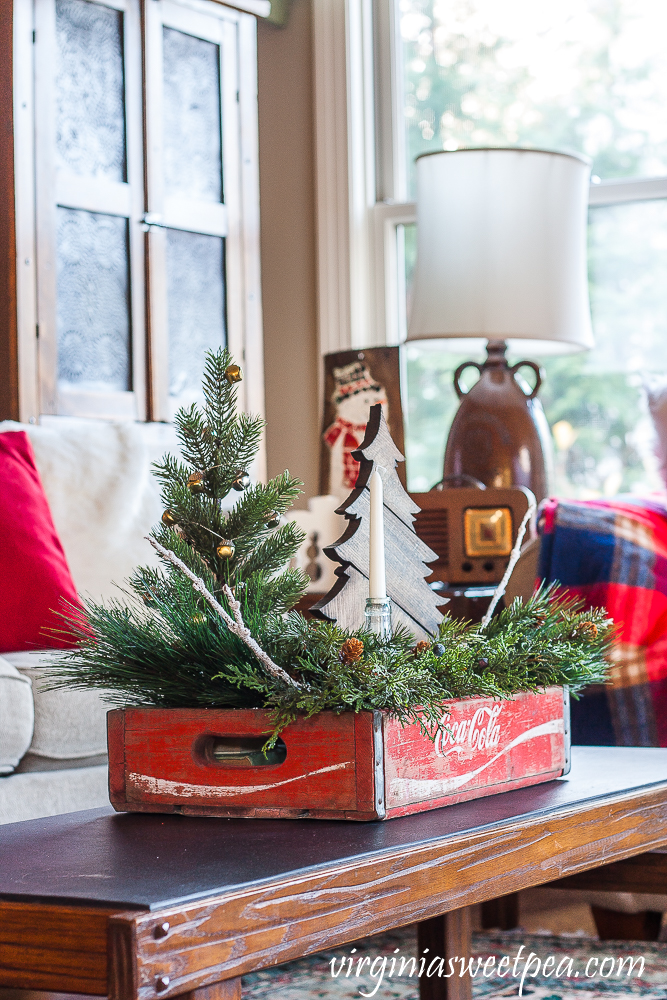 Pie Safe Christmas Decor
In the mid-90s, the pie safe in the corner of our family room was a gift to me from my mom and dad. They hid it on their screened porch and had a big red bow on it when they led me to it on Christmas day.
I usually don't decorate the top of the pie safe for Christmas but this year I did. Everything here reminds me of Christmas in Vermont.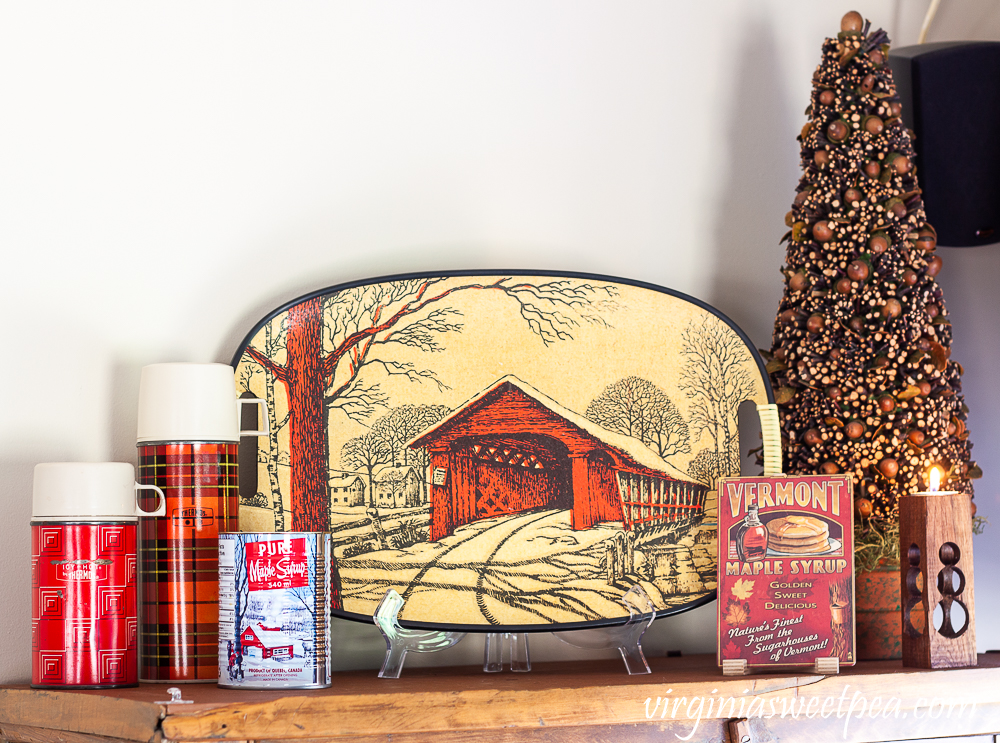 We love vacationing in Vermont and are headed back in just a few weeks. I can't wait to experience the charm of Vermont at Christmas time.
End Table Christmas Decorations
Our two end tables, along with the lamps on the end tables match our coffee table and are part of a set of furniture that my mom and dad purchased when they got married in 1968.
My mom still has the sofa, recliner, and chair that match this set in her basement family room.
Decorating the end table for Christmas is a snowman mosaic made by a Bedford County crafter, a snowman candle holder that we DIYed, and a vintage Philco radio that still works that my father-in-law gave me.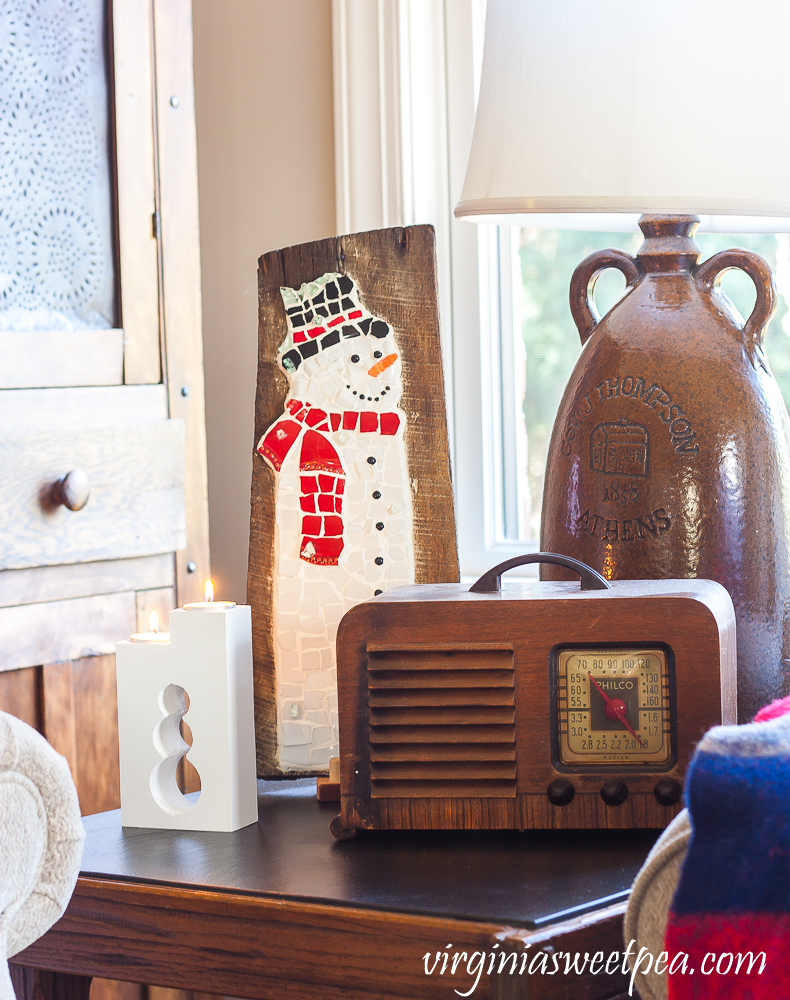 The end table on the opposite end of the sofa is decorated with more vintage.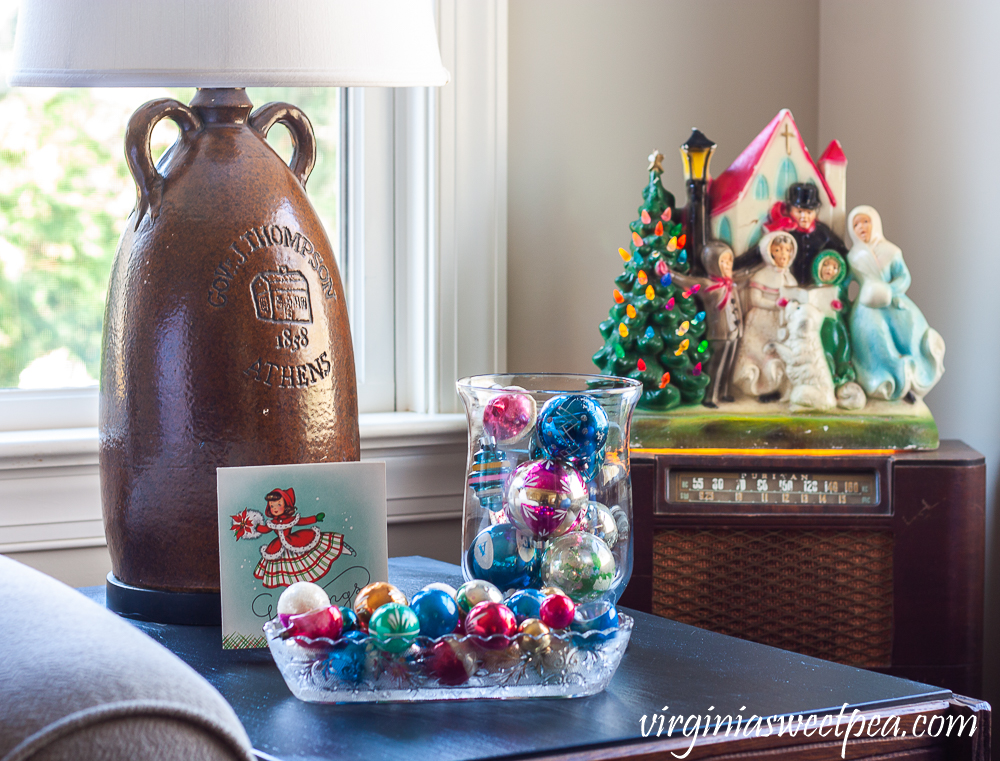 Vintage Christmas balls, some from my cousin's grandmother and some given to me by my former teaching assistant, are displayed in a glass vase and a glass celery dish.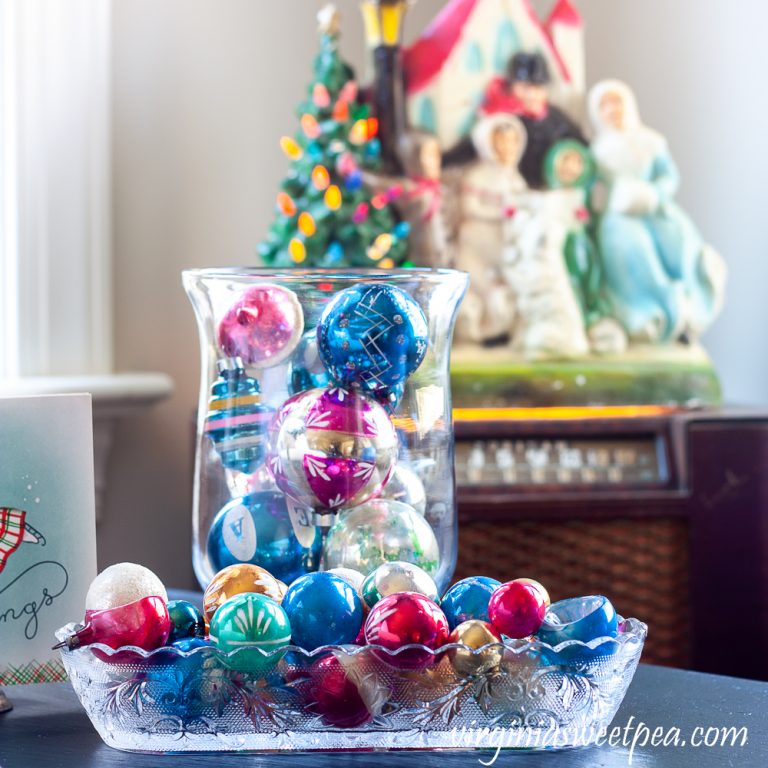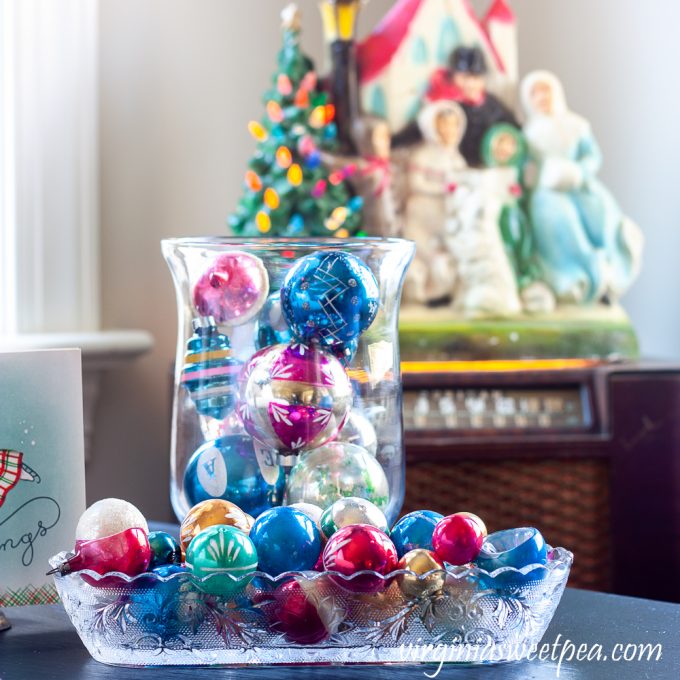 The celery dish also belonged to my cousin's grandmother and my cousin gave it to me after her grandmother passed away.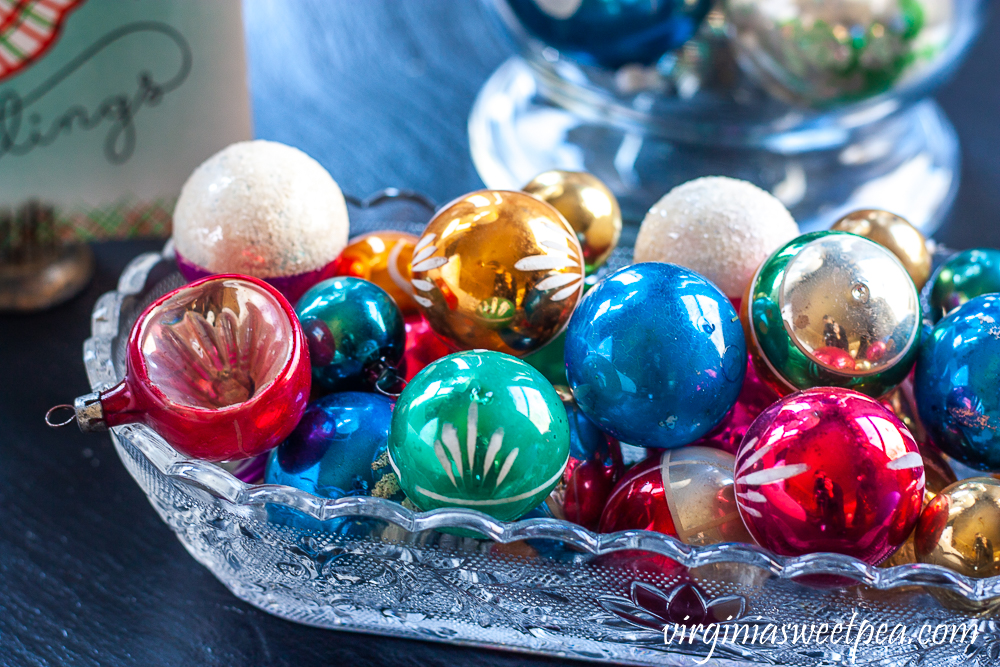 This is the first year in many, many years of decorating for Christmas that I haven't used my early 1900s postcard collection as part of my decor.
Instead of a postcard, this year I'm using a vintage Christmas card that dates to either the 1940s or 50s. I found this and many more in a dumpster long ago.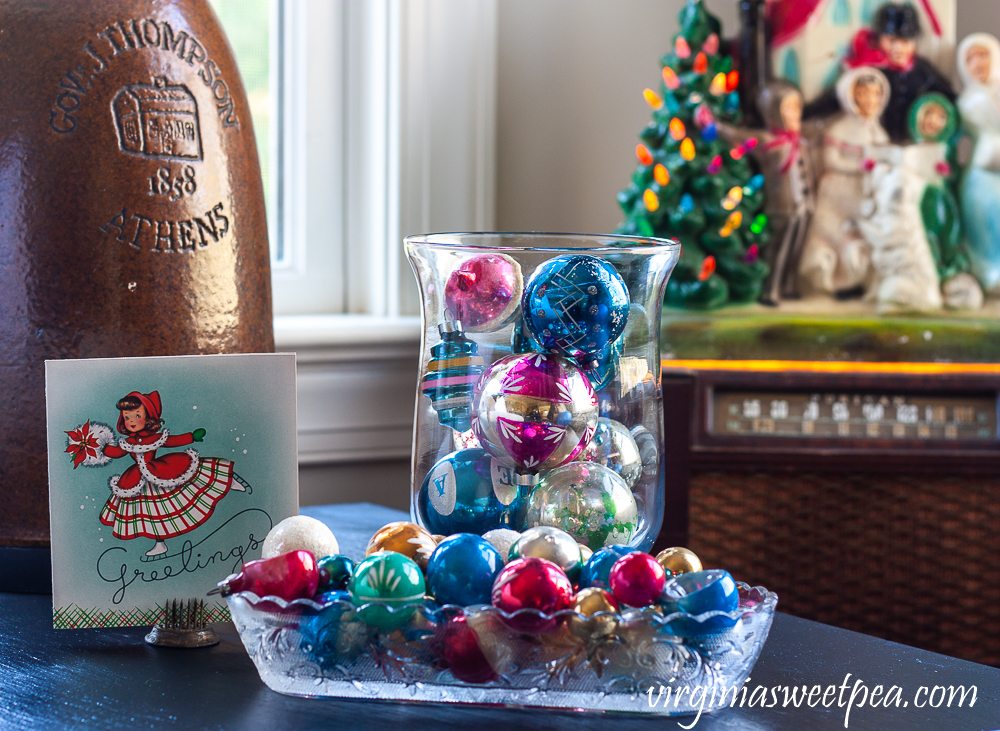 In the corner behind the end table is my mom's Christmas carolers with a tree that lights up. Mama scored this at a yard sale long ago and loaned it to me to use for decorating this Christmas.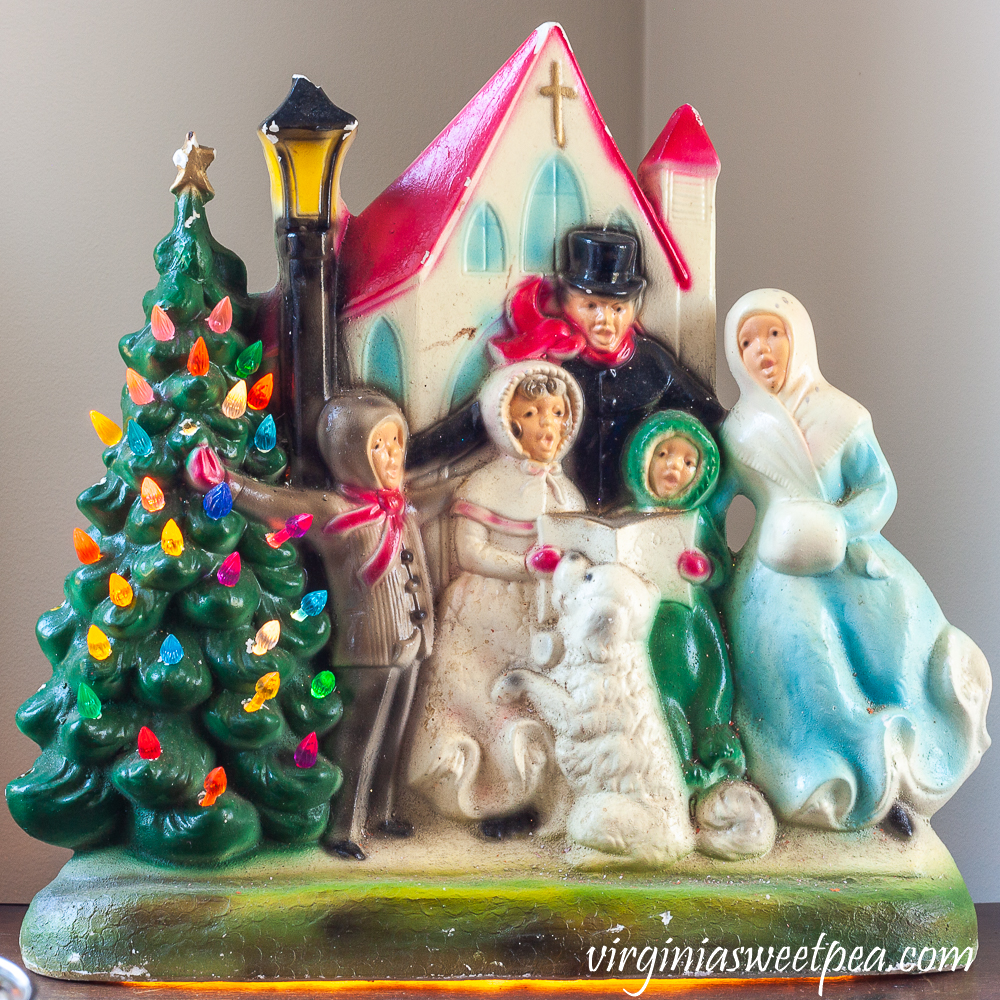 Cozy Christmas Corner
To the left of the second sofa is a cozy reading corner. Mr. SP used to sit in this chair every night, but our dog, Sherman, has now claimed it.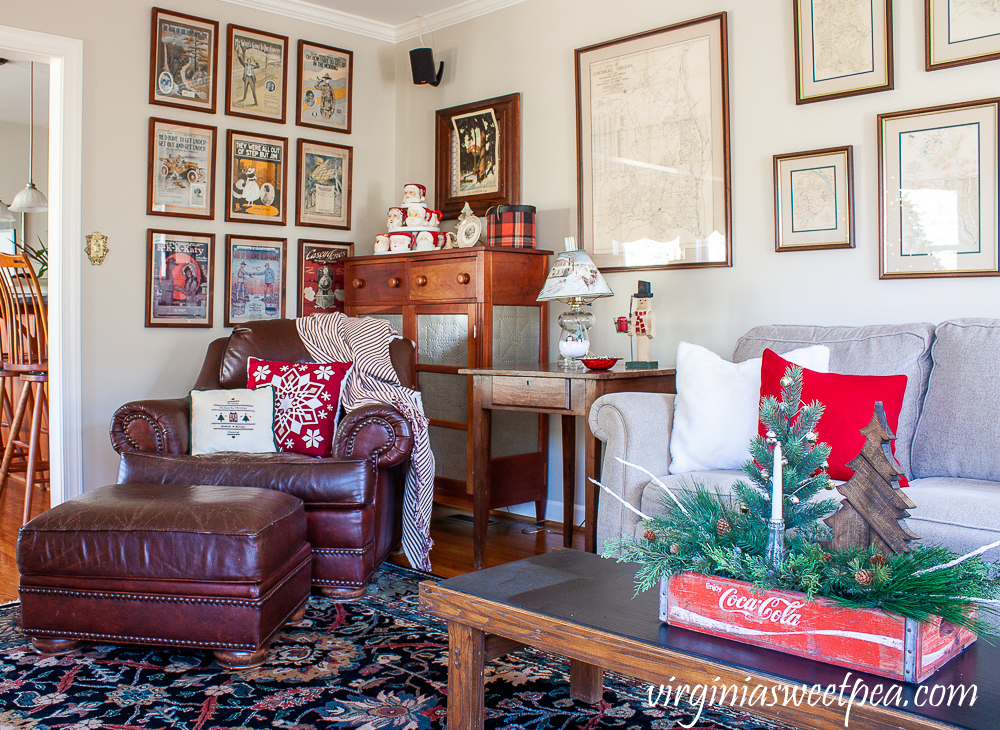 Mr. SP now relaxes on the sofa with a bowl of treats handy for giving to Sherman.
The lampshade has tiny pinholes and the house windows and lamppost light up when it is turned on.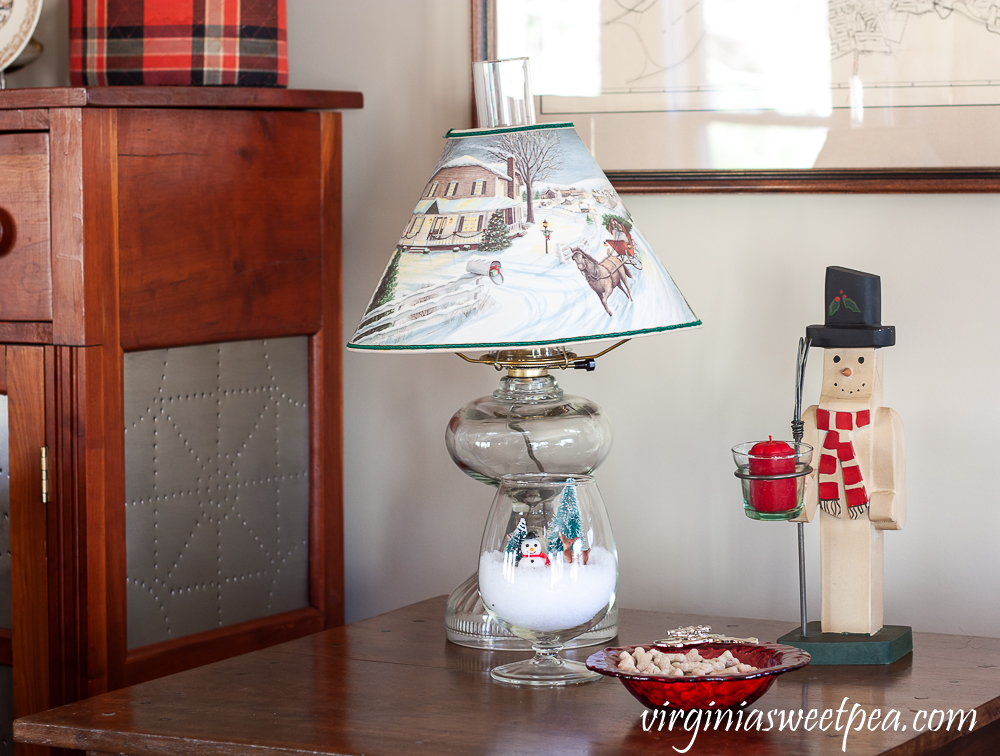 The winter scene was fun to create using my grandmother's vintage Brandy glass. She used it for flower arrangements, not Brandy!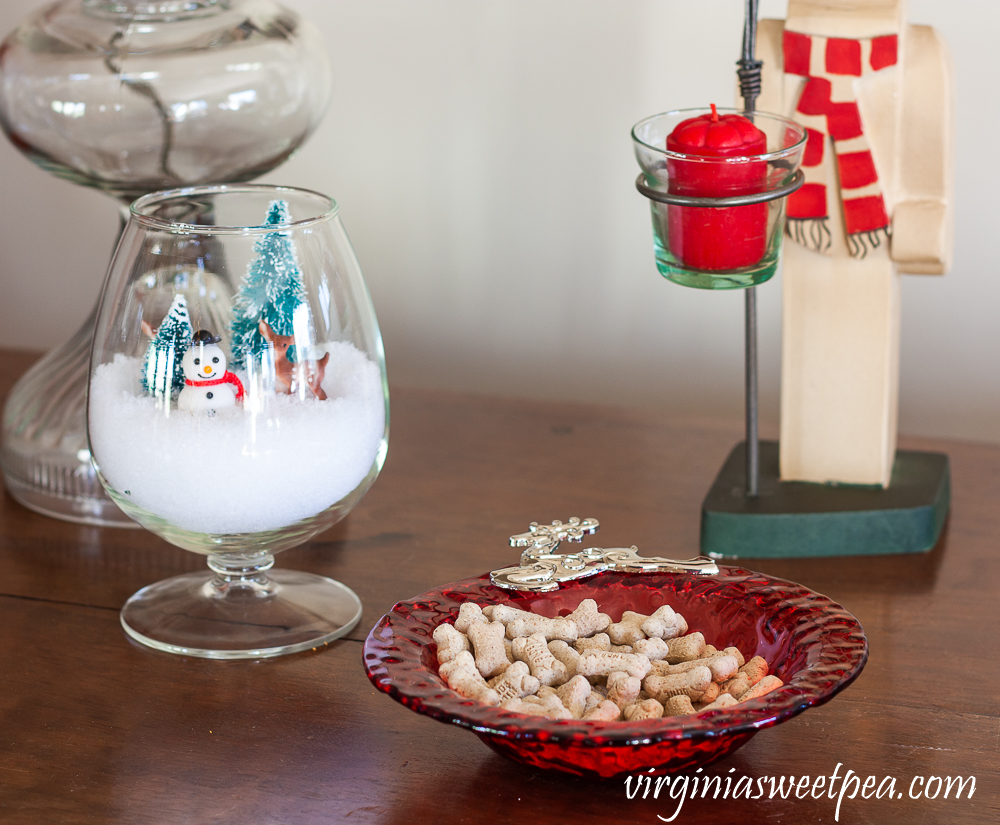 Cherry Pie Safe Christmas Decor
Behind the leather chair is a pie safe that my paternal grandfather had made using wood from the farm in Maryland where he grew up. I keep my cookbooks and Christmas china in this cabinet.
I love decorating the top of this pie safe seasonally.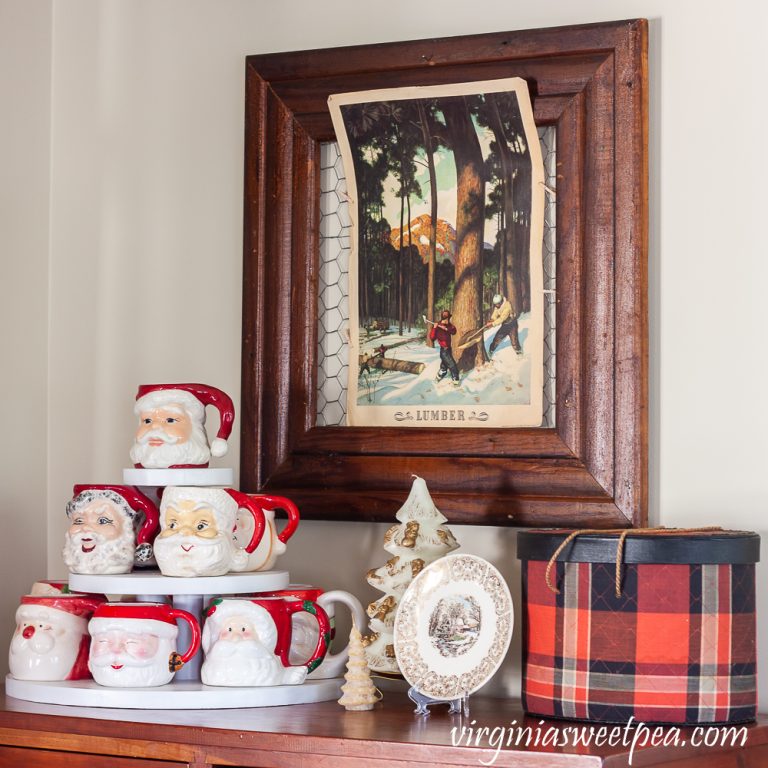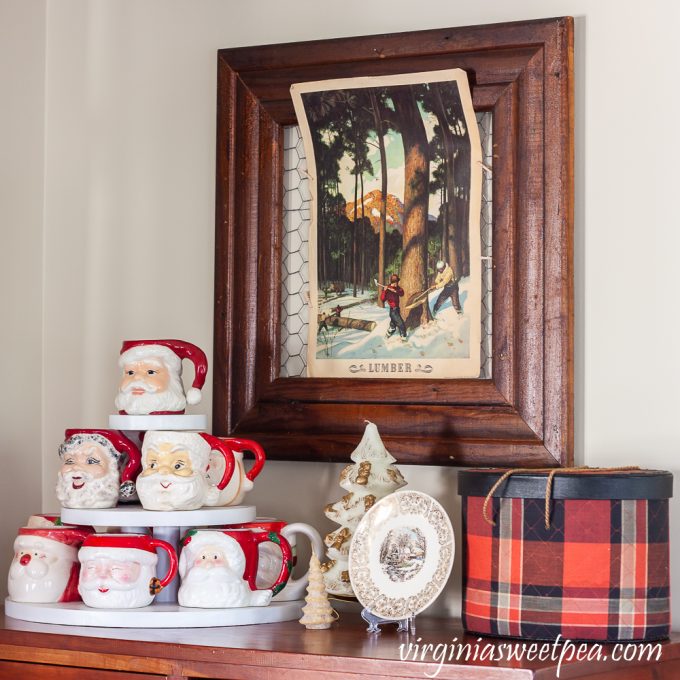 The lumber art is a Coca-Cola poster from the 1940s. It was another treasure found in a dumpster. It's hanging on a frame made from wood trim sourced from the schoolhouse where my maternal grandad went to school.
The red tartan plaid sewing kit belonged to my great-great-aunt who raised my paternal grandmother and it still holds her sewing tools.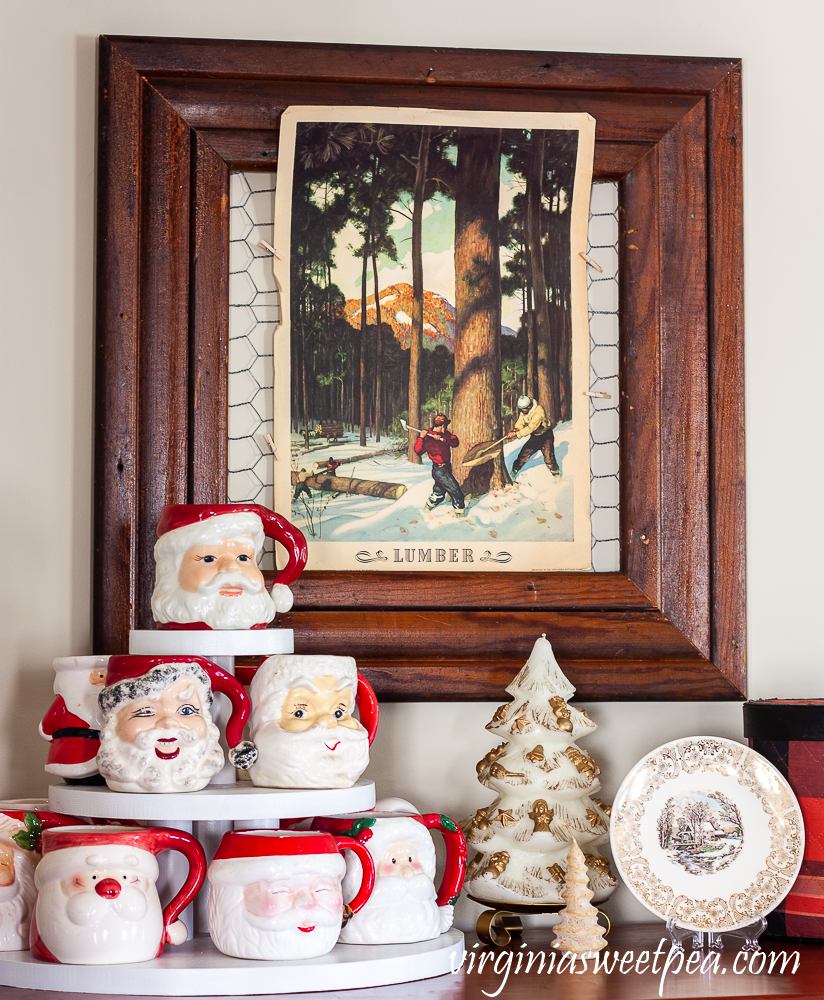 My mom's friend collected these Santa mugs and passed her collection on to me. I love displaying them on a cupcake stand that was a DIY project.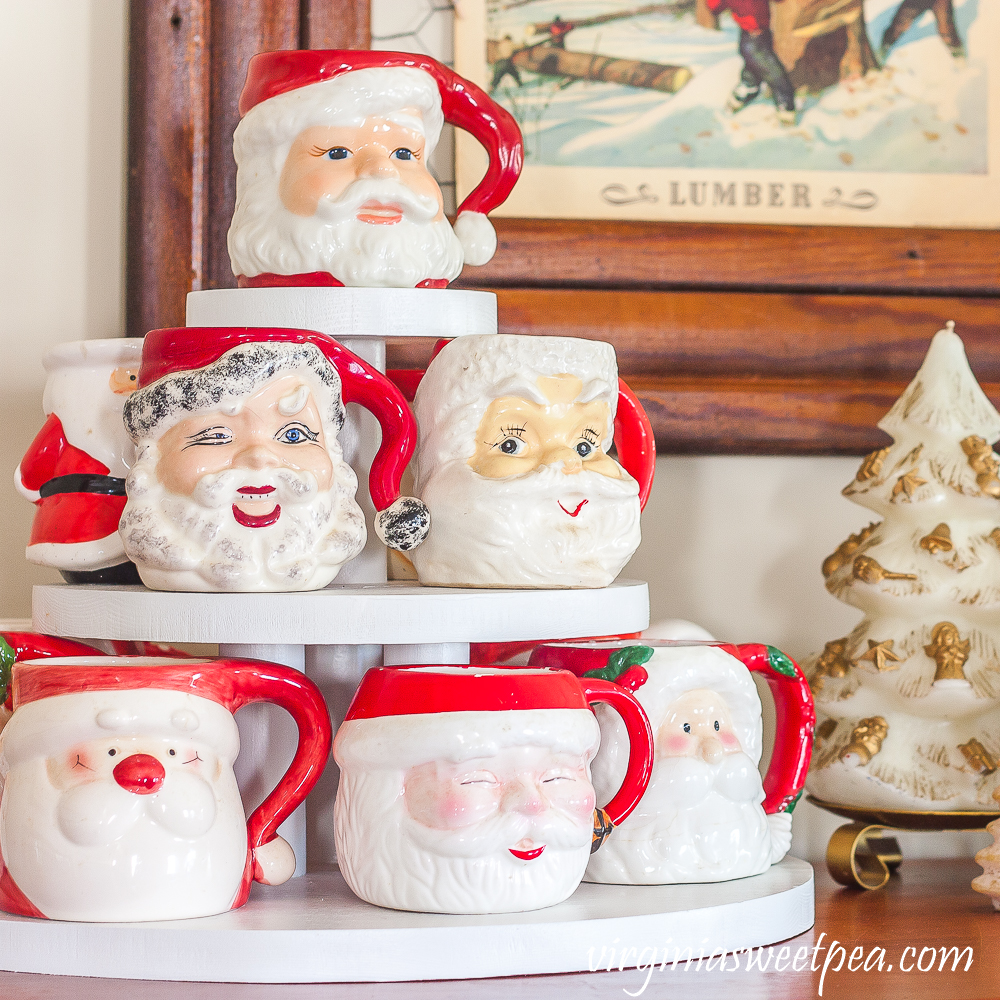 The Knowles plate was an antique shop find from long ago. I display it all winter.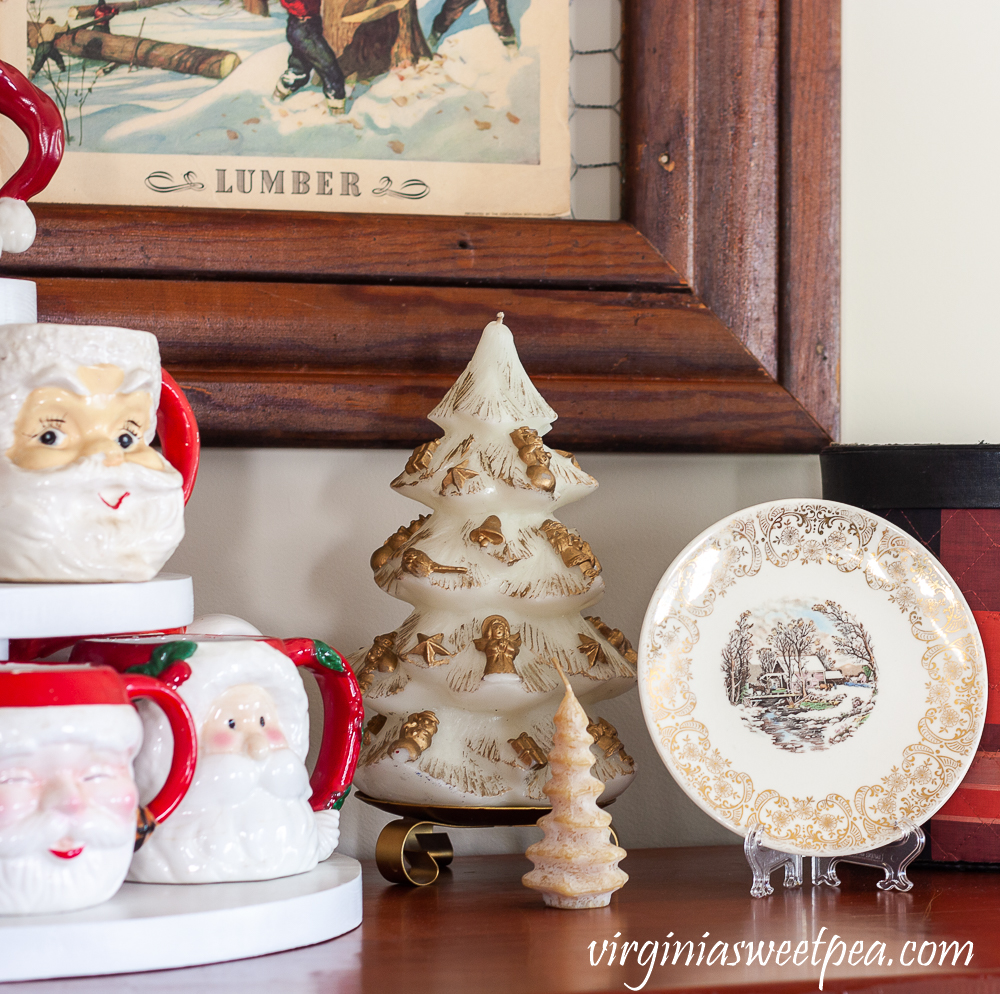 The two tree candles belonged to my mother-in-law and my father-in-law passed them on to me.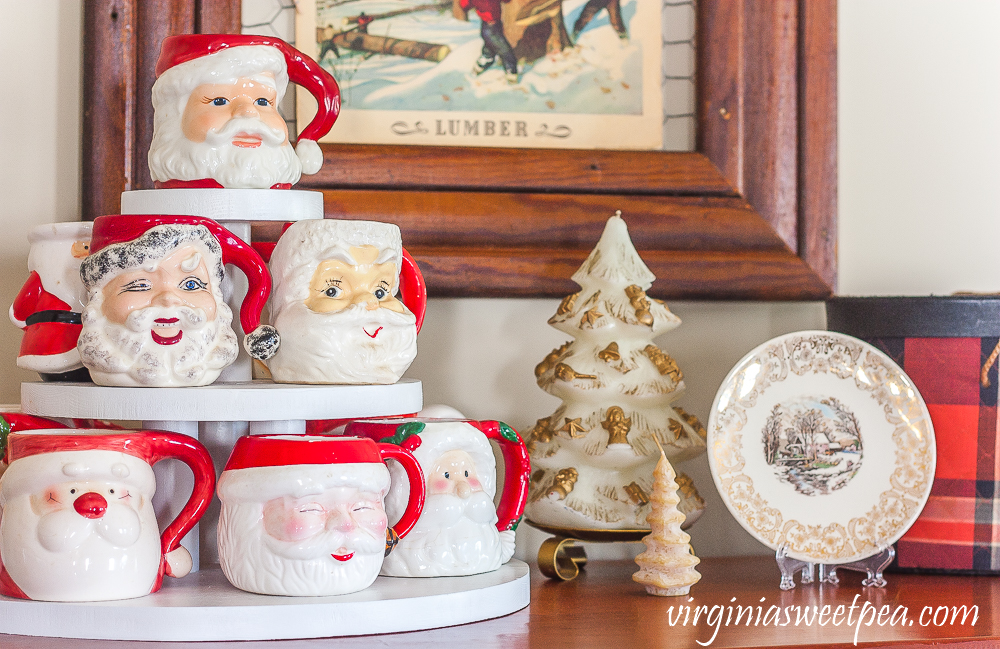 Our Tree
This is the first year in a long, long time that I haven't used the Christmas tree skirt that my grandmother made for my family in the early 1970s.
See more of my tree skirt and special Christmas ornaments in this post.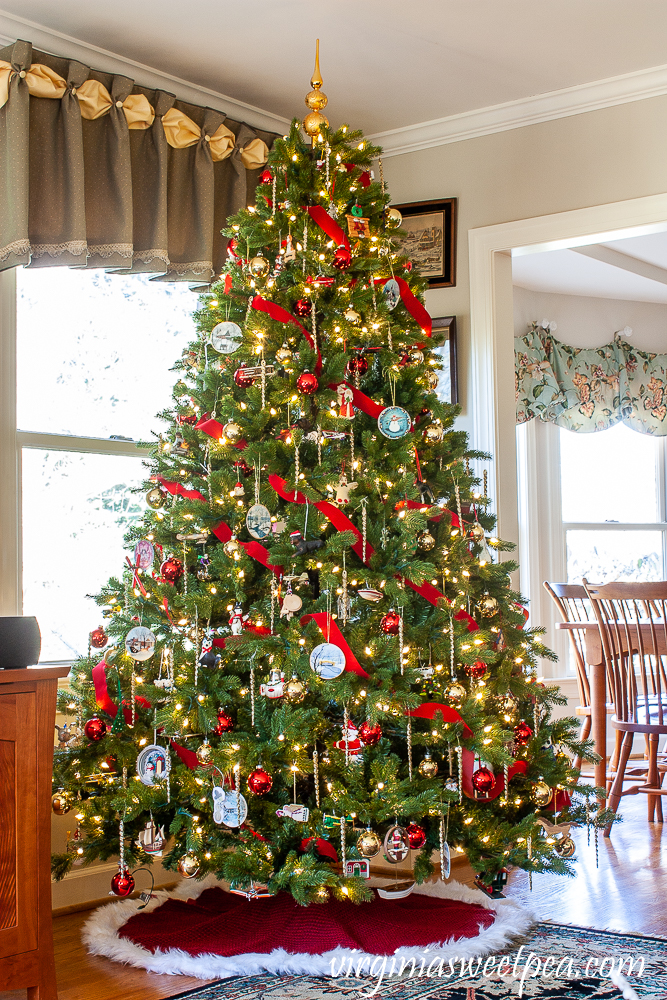 Christmas in the Breakfast Room
Our breakfast room connects our family room to our kitchen. Since it's just the two of us, we eat in front of the TV, but when we have guests, we enjoy eating in this room.
When the world shut down in March, my husband parked himself at this table and used it as his office for many months. Some days it is still his office!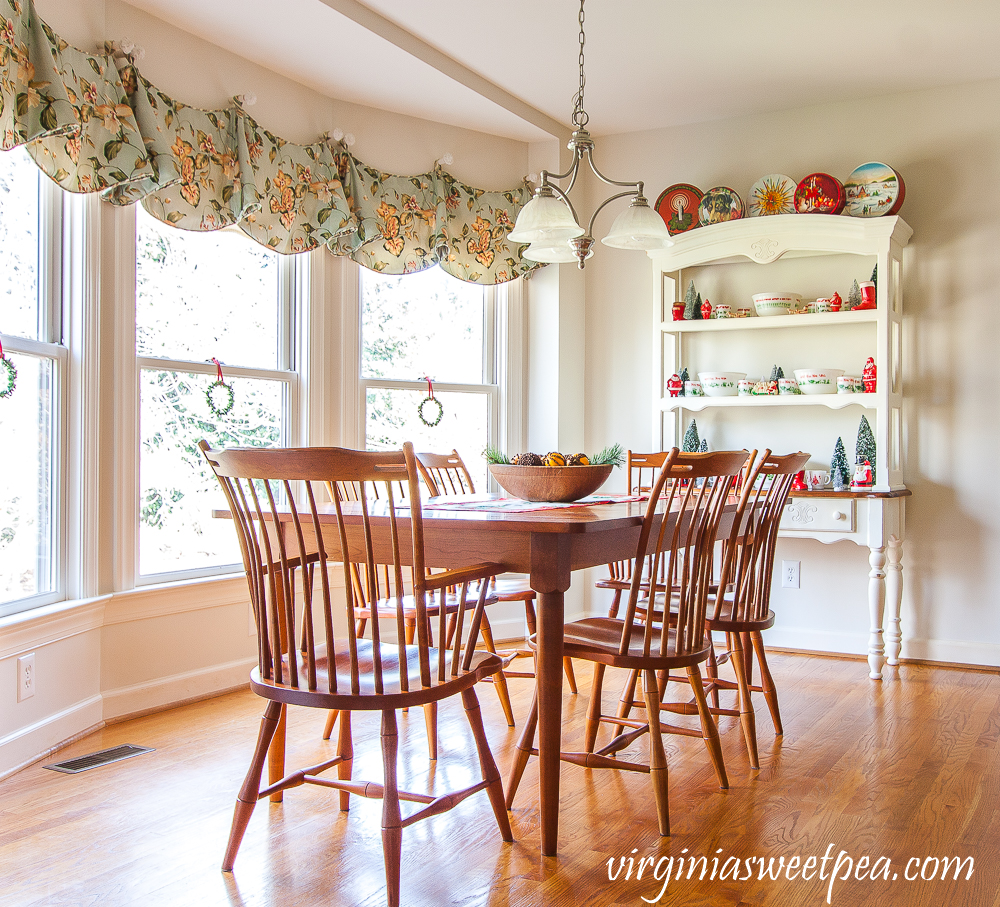 On the table is a vintage runner and my grandmother's wooden bowl filled with orange pomanders that I made.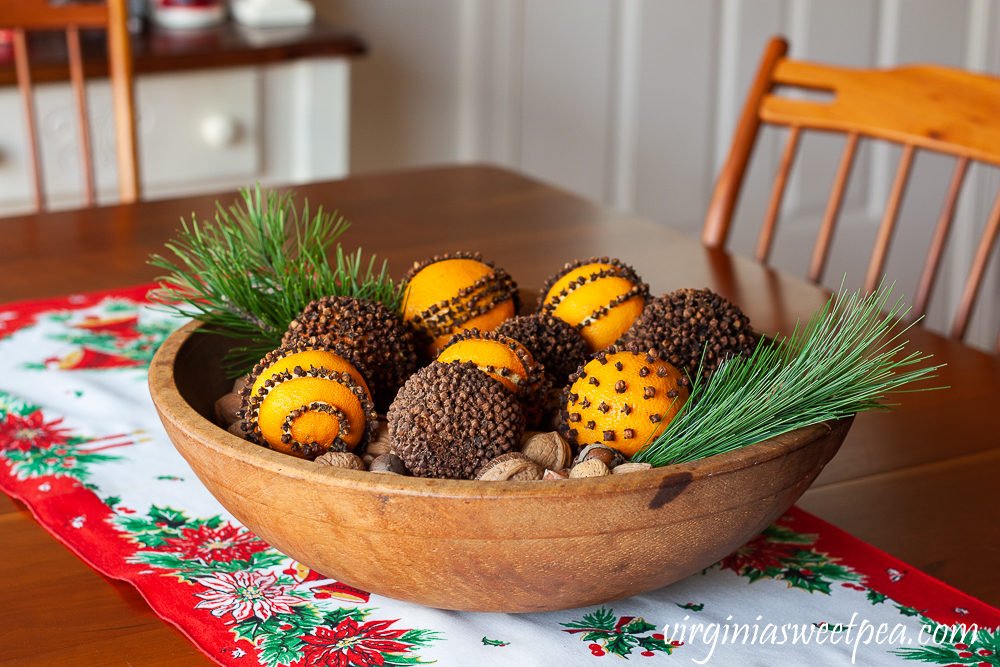 A few of the ones completely covered in cloves are ones that I made in the late 90s and they still smell good!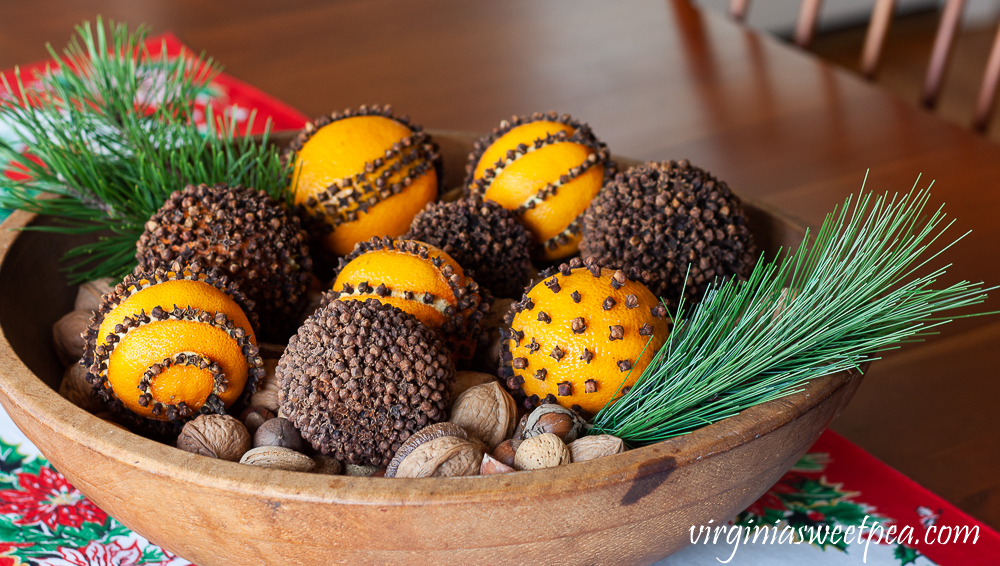 This hutch usually either holds my collection of green vintage pottery or sometimes my yellow collection.
For Christmas, thhe hutch decor includes a few of my vintage Christmas cookie tins, my vintage punch bowl collection, and some of my vintage Santas and Santa boots.
If you like vintage Santas and Santa boots, don't miss this year's Christmas porch decor!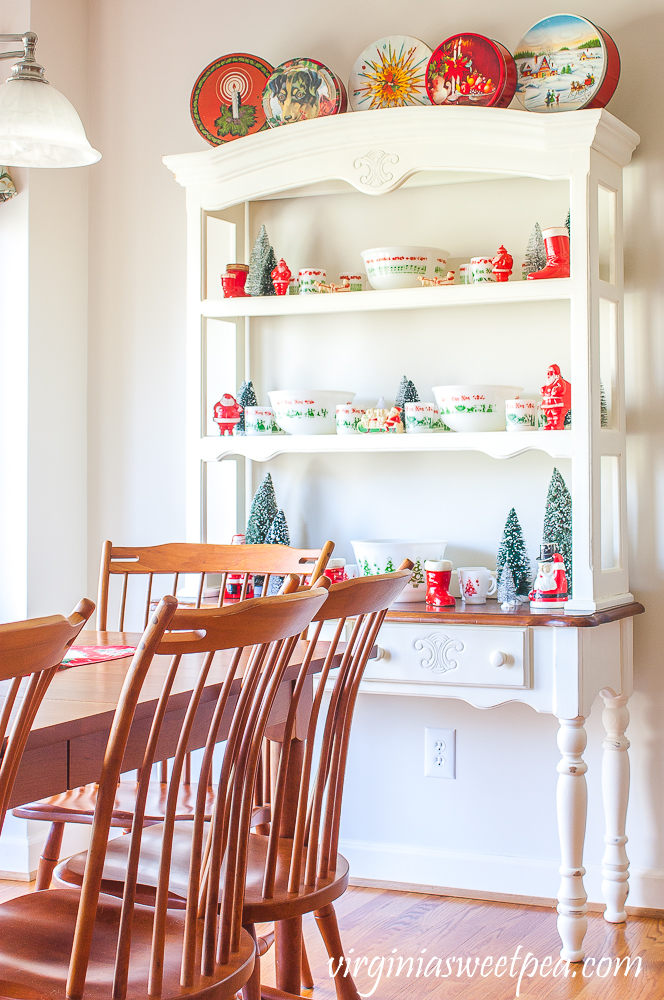 I didn't photograph everything on my hutch, just my vintage Santas. This one has a hole in the back for a light.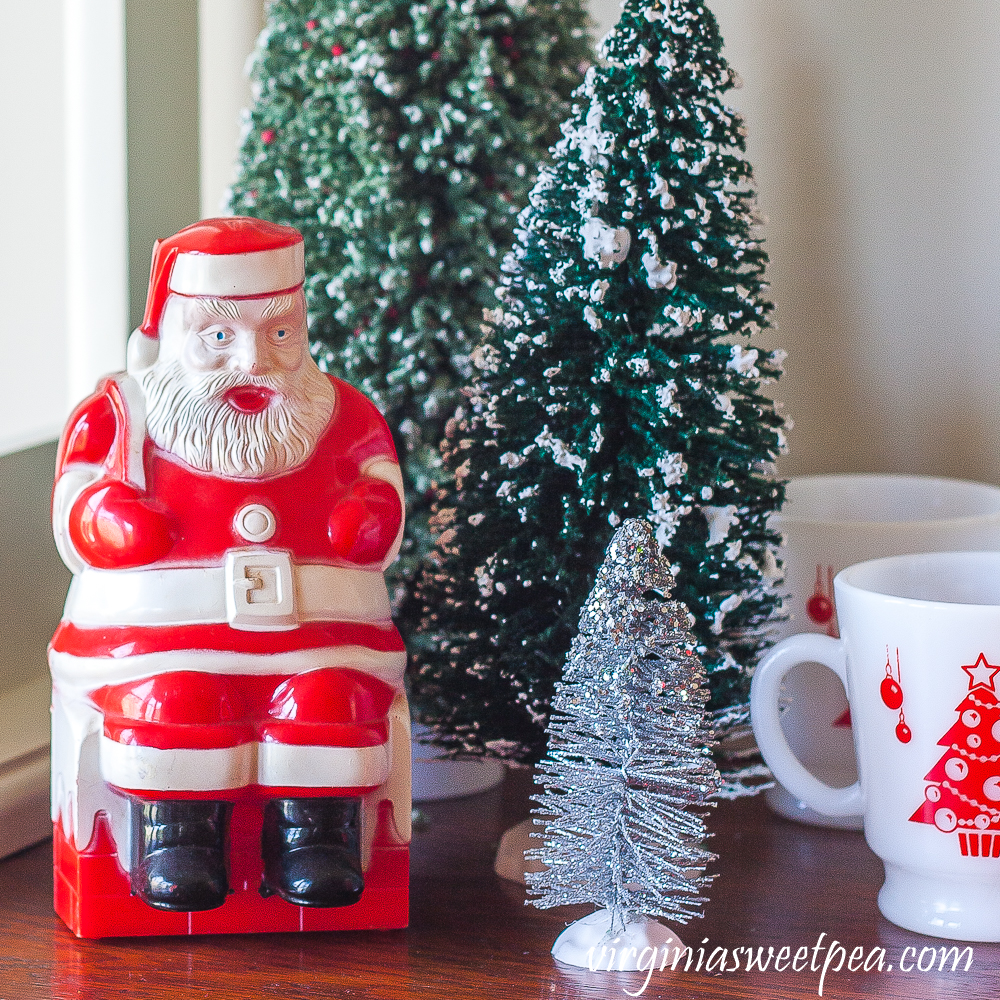 This guy is a Santa bank.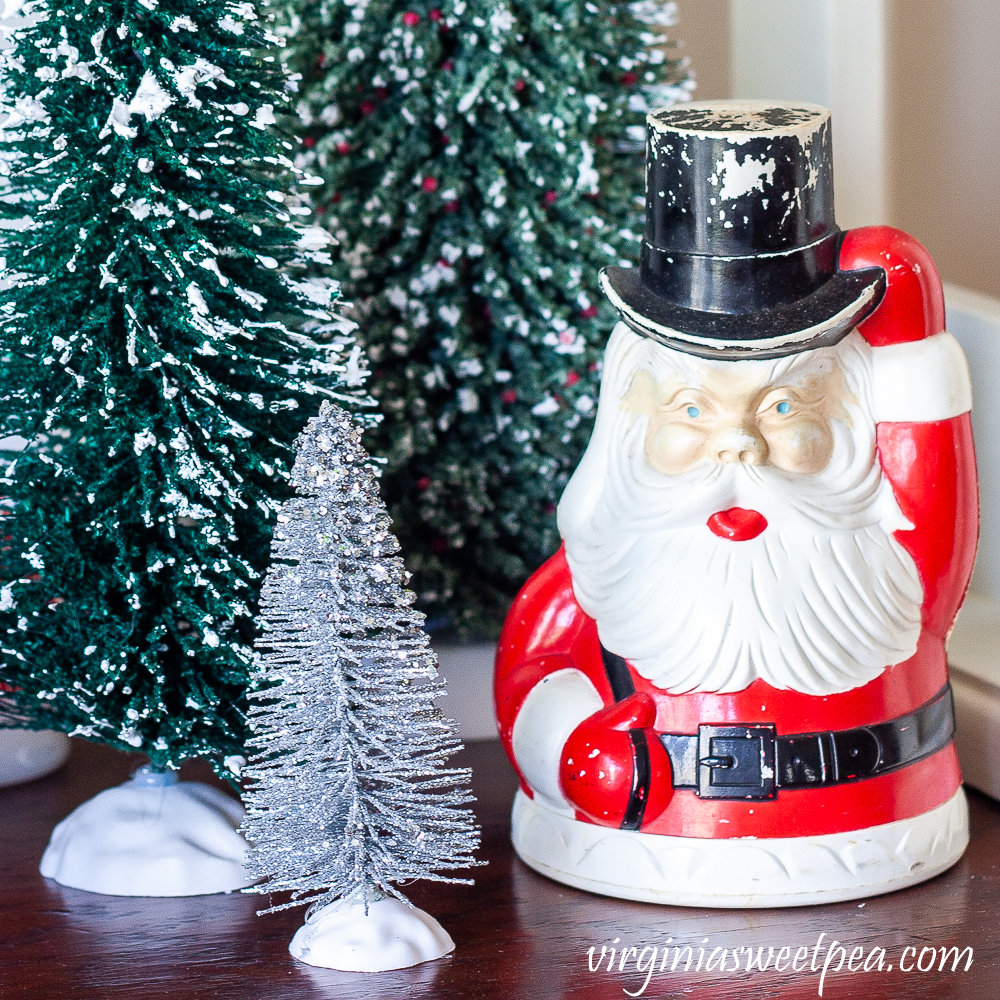 This Santa candy holder came from my grandmother's house. His skis are broken, but I still love him.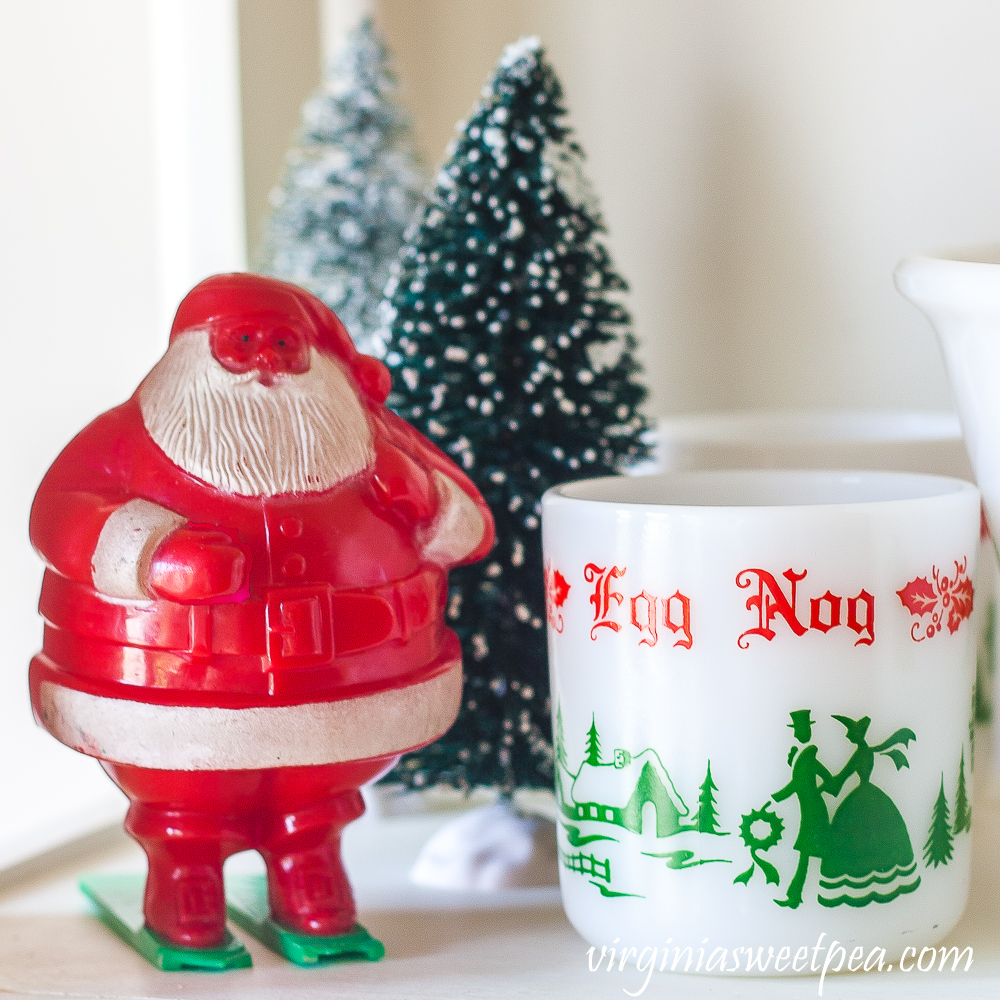 This Santa was also originally a candy holder. I can imagine a child's delight when he was in their stocking long ago.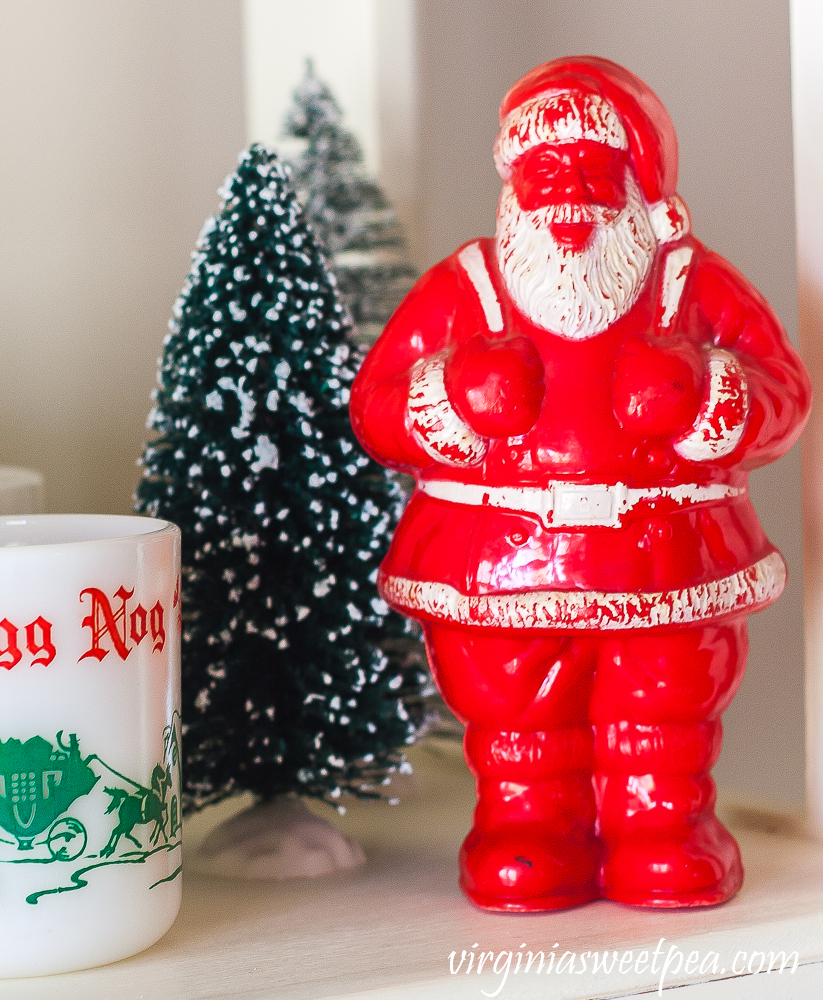 This celluloid Santa is one of my more recent finds.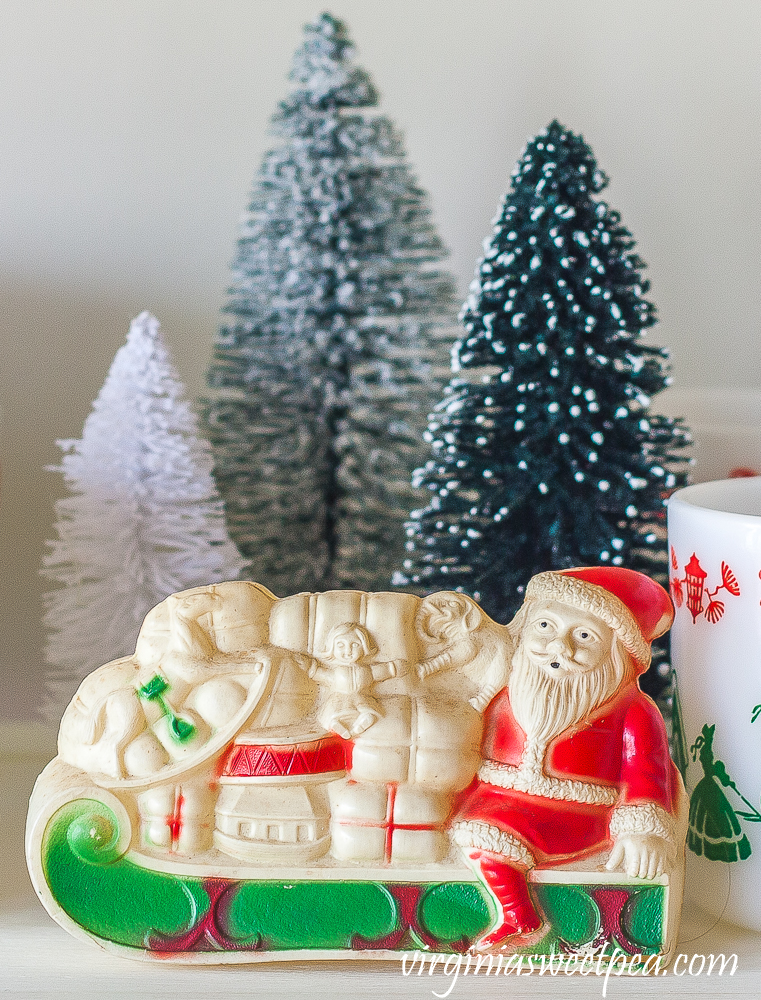 I so much enjoyed sharing our family room and breakfast room Christmas decor with you! Next on the tour is Ana from Fiddle Leaf Interiors.

Monday's Tours

The Tattered Pew // My Thrift Store Addiction // Simply 2 Moms
Worthing Court // Bricks N' Blooms // Open Doors Open Hearts
Tuesday's Tours

Lora B Create and Ponder // This Is Simplicite
Shiplap and Shells // The Ponds Farmhouse //
Wednesday Tour's

Stone Gable // Midwest Life And Style // Follow The Yellow Brick Home
Noting Grace // My Wee Abode // The Farmhouse Life
Thursday's Tours

Aratari At Home // Caitlin Marie Design // Sweet Pea
Fiddle Leaf Blog // First Day Of Home // White Arrows Home
Friday's Tours

Cottage On Bunker Hill // The Aspiring Home // Lantern Lane Designs
DIY Beautify // Cassie Bustamante // The Flowering Farmhouse