This winter has been cold and I'm loving it! When it's cold outside, there's nothing better than relaxing in a cozy home. This winter I've upped the cozy factor in our home with warm throws, soft pillows, and candles everywhere. For a new table centerpiece in our breakfast room, I used DIY Frosted Candles that I recently crafted.
Aren't these pretty? And not only are they pretty, they are easy to make.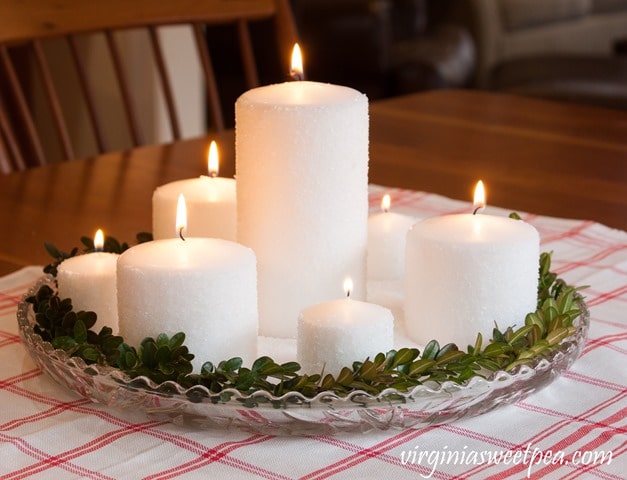 All you need to make these candles are Mod Podge and Epsom Salt.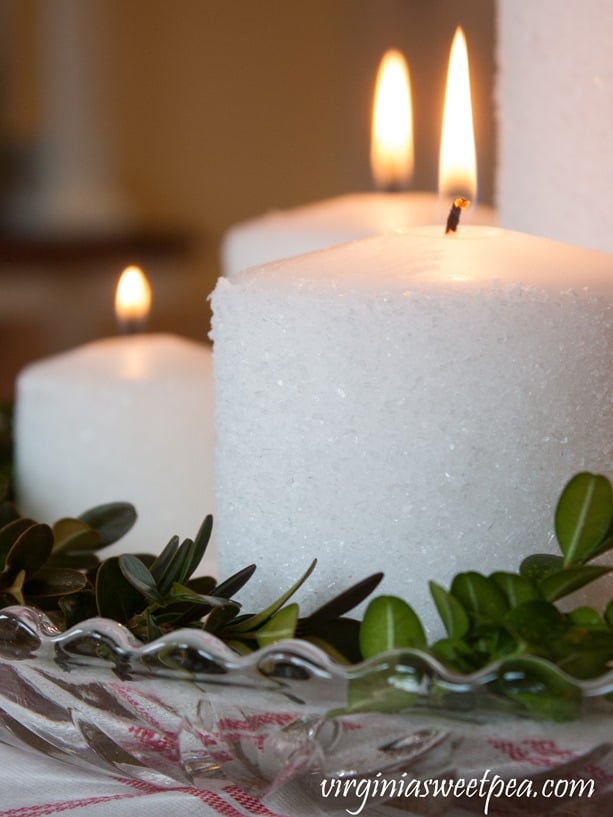 After I made my candles, I arranged them on a glass platter and then sprinkled Epsom Salt around the candles. I added some Boxwood sprigs from my yard for some color.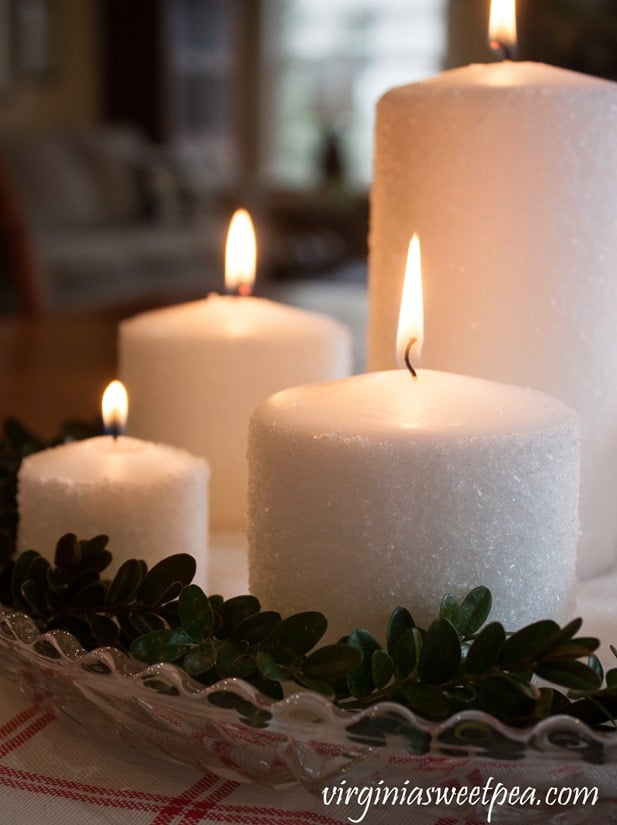 My candles look so pretty lit at night. If you are planning a dinner party, this centerpiece would be perfect.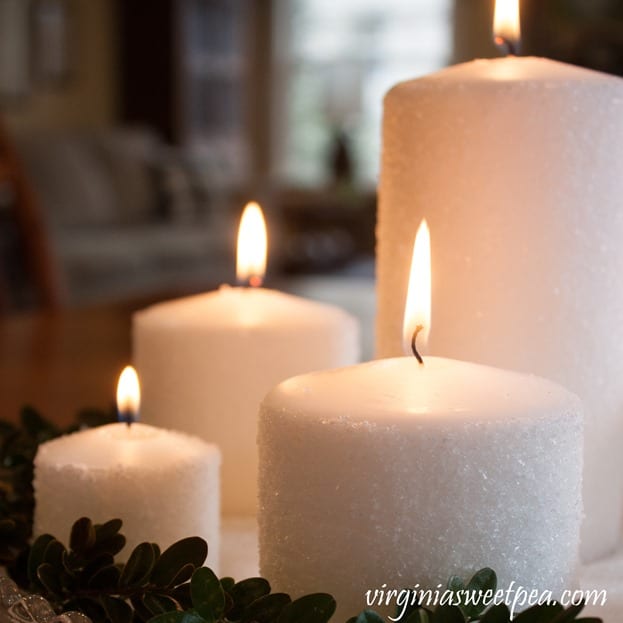 Let me show you how to make DIY Frosted Candles.
How to Make Frosted Candles
This post contains affiliate links for your convenience. For full disclosure go here.
Supplies
Epsom Salt (Available at any pharmacy)
Candles (I purchased three sizes at Michaels.)
Paper to cover work surface – I used parchment paper.
Small Cups
Spoon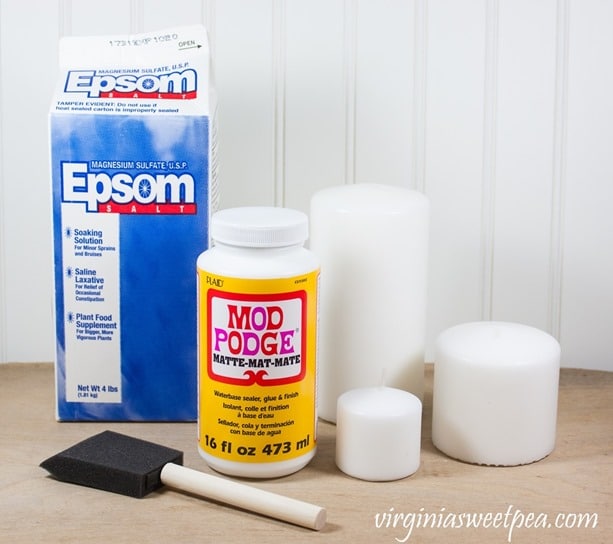 Procedure
1. Pour Epsom Salt into a small cup to make it easy to apply to the candle. Also cover your work surface with paper (parchment, waxed, or craft) to protect it and to also catch the extra Epsom Salt so that you can easily put it back in the carton to be used again.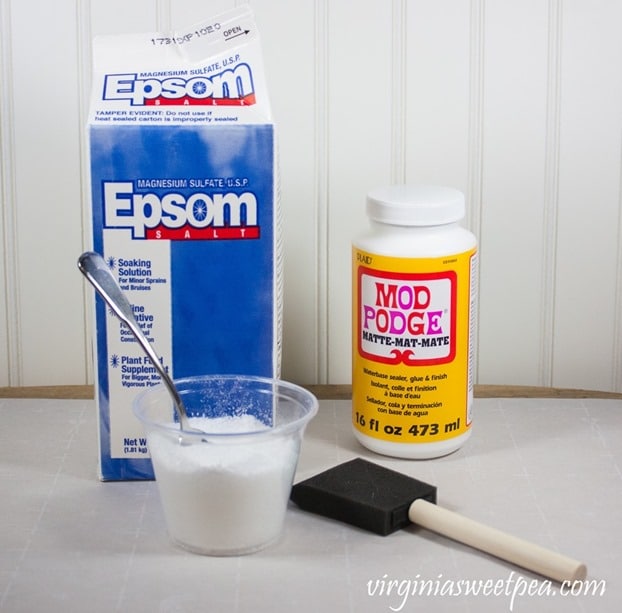 My brush was larger than the Mod Podge bottle opening, so I also poured some Mod Podge into a second cup.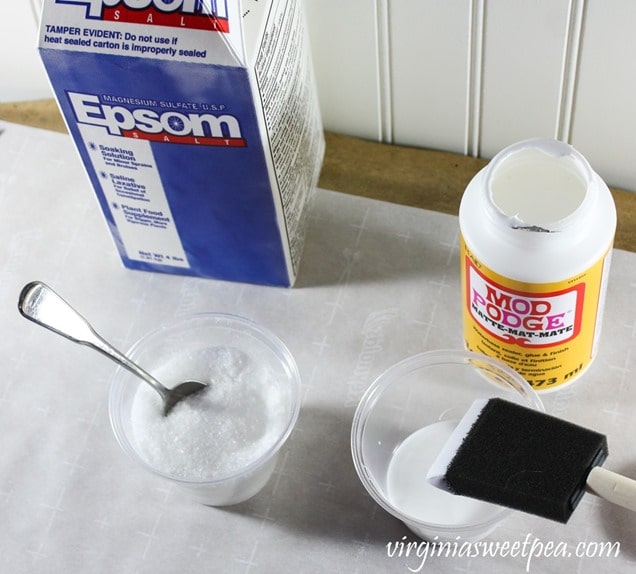 2. Brush Mod Podge on the candle.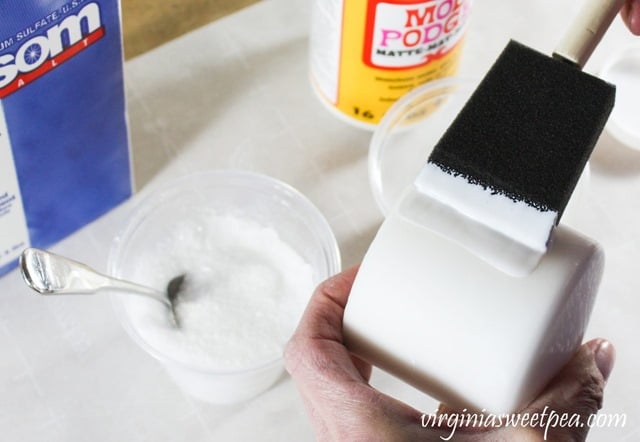 3. Sprinkle Epsom Salt over the candle.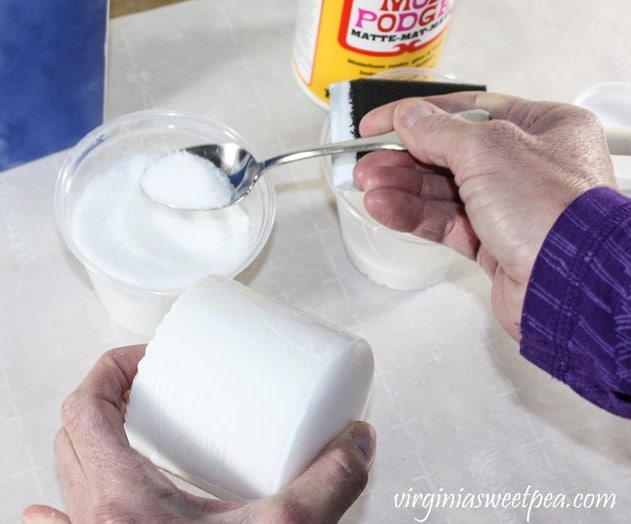 Rotate the candle with your fingers as you sprinkle the Epsom Salt over it.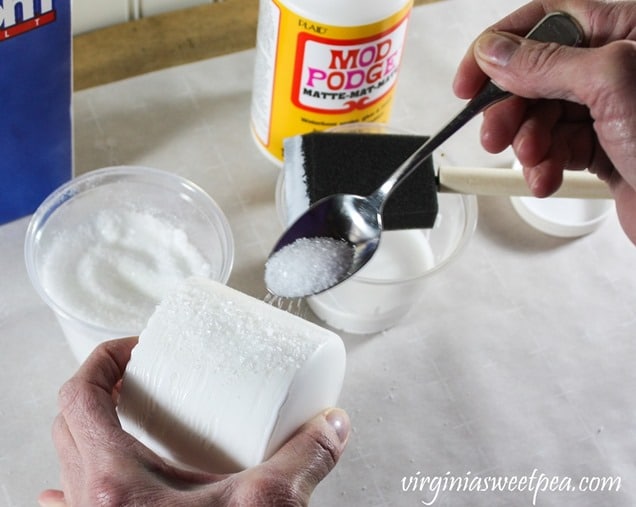 Looks pretty, doesn't it?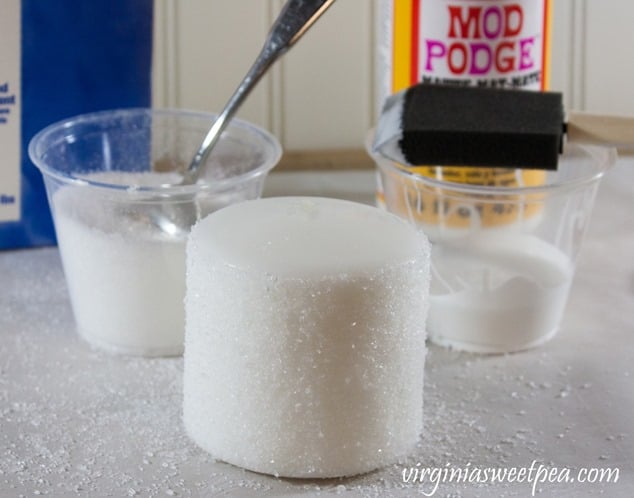 Second Method
Instead of sprinkling Epsom Salts over the candle with a spoon, you can roll the candle in Epsom Salt. For this method, pour some Epsom Salt on your work surface and spread it out with your hand.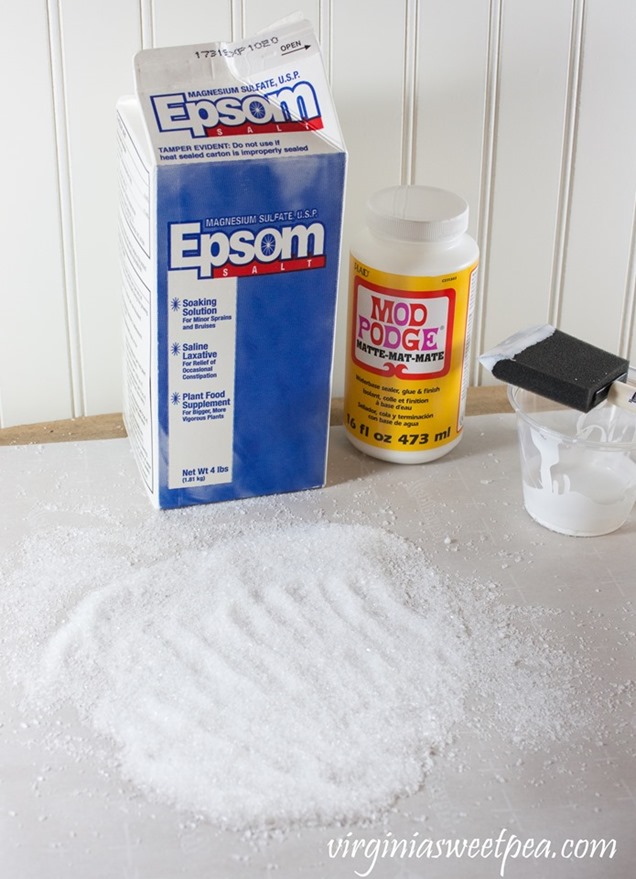 Apply Mod Podge to a section of the candle, roll that section in Epsom Salt, and then repeat until the candle is covered in Epsom Salt.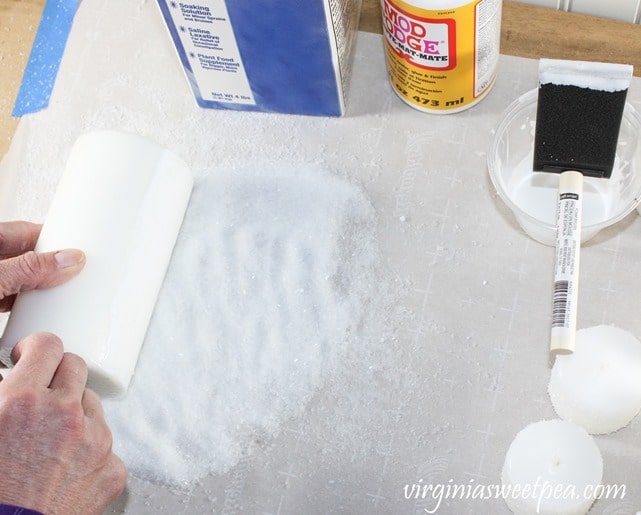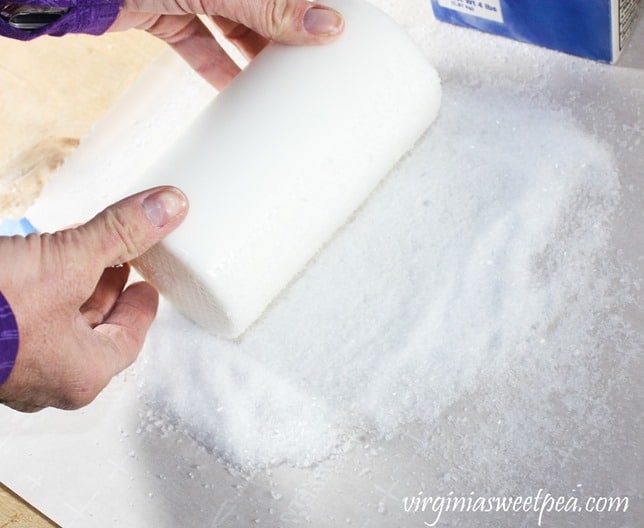 I like the sprinkle method best, but both work.
Here are my candles ready to be used.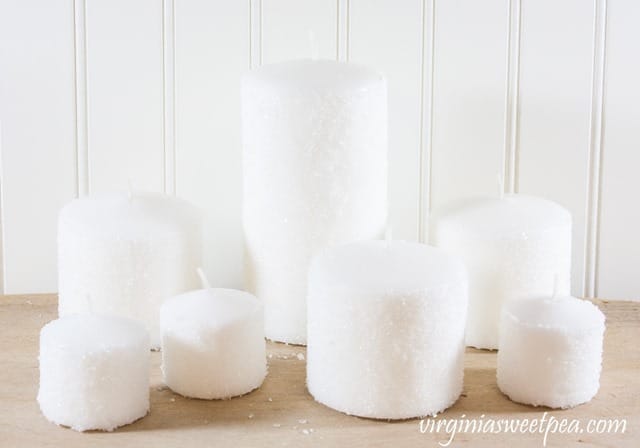 Enjoy
I love the look of white frosted candles, but I've found the effect to be equally pleasing with red or blue candles.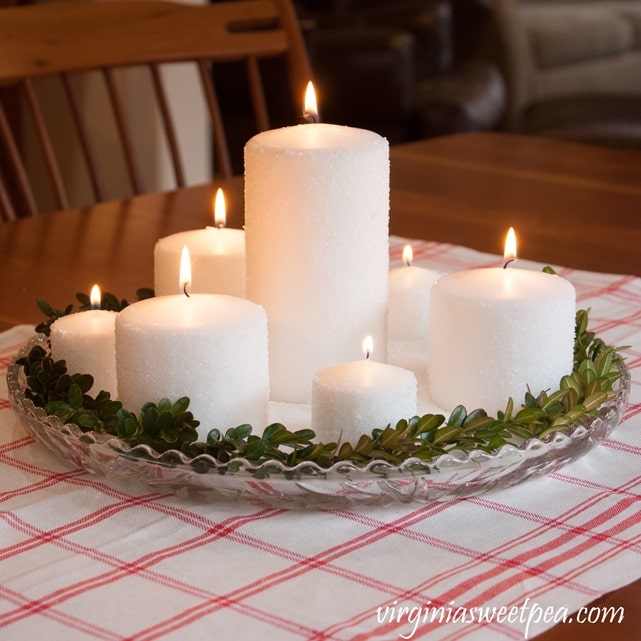 I made a video to go with this craft.
I'll be doing a Facebook Live in the Make It New Facebook group on January 30. If you haven't joined the Make It New group, I would love for you to do so. If you like DIY, upcycled, and repurposed projects, you'll enjoy this group.