Let's make DIY frosted branches to use for winter decor. This is an easy and inexpensive project and it's one that can be saved to use from year to year.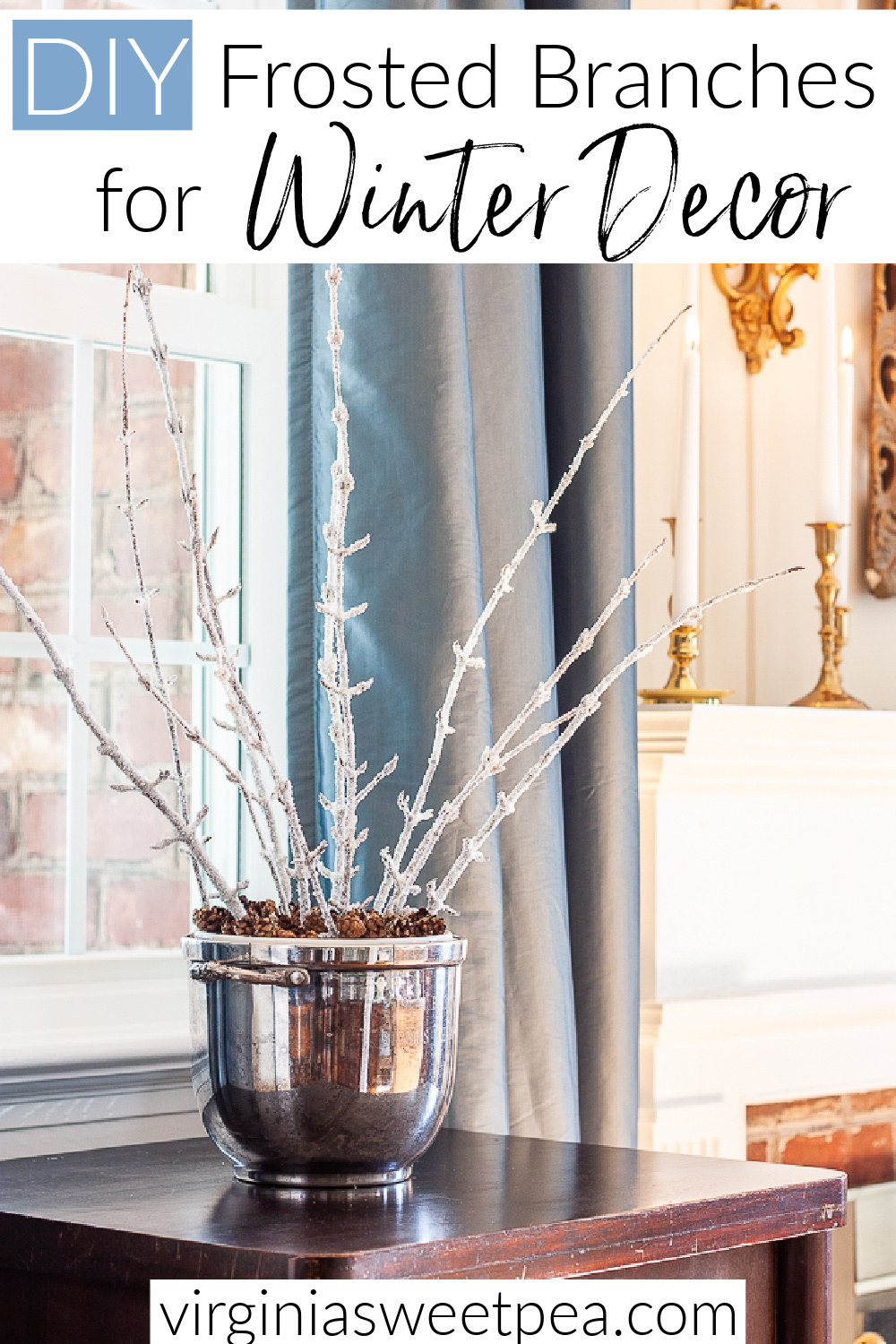 I'm sharing my DIY Frosted Branches for this month's Thrifty Style Team project hosted by Julie of Redhead Can Decorate.
You'll find links to all of the projects shared this month at the end of this post.
DIY Frosted Branches
I have been busy taking down Christmas and changing my decor over to winter. It has been a slow process and I'm still not finished decorating.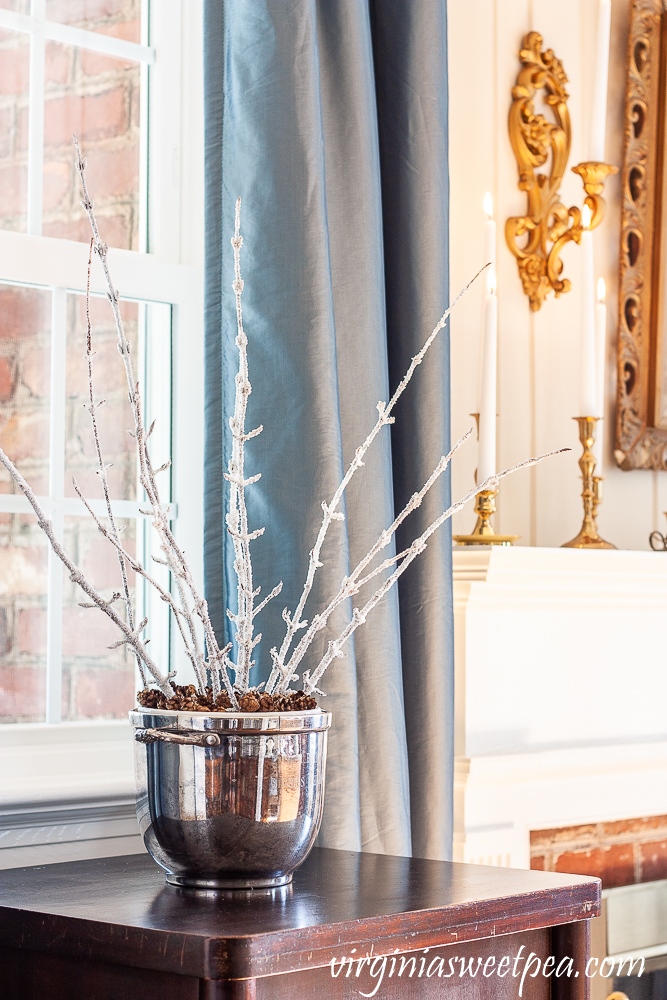 Last year when I decorated for winter, I made some frosted branches but didn't share how I made them. I saved those branches and used a few of them in my vintage Coke crate coffee table arrangement that I shared in November.
Making frosted branches is easy and I love how the ones I made look on my great-great-aunt's music cabinet in our formal living room.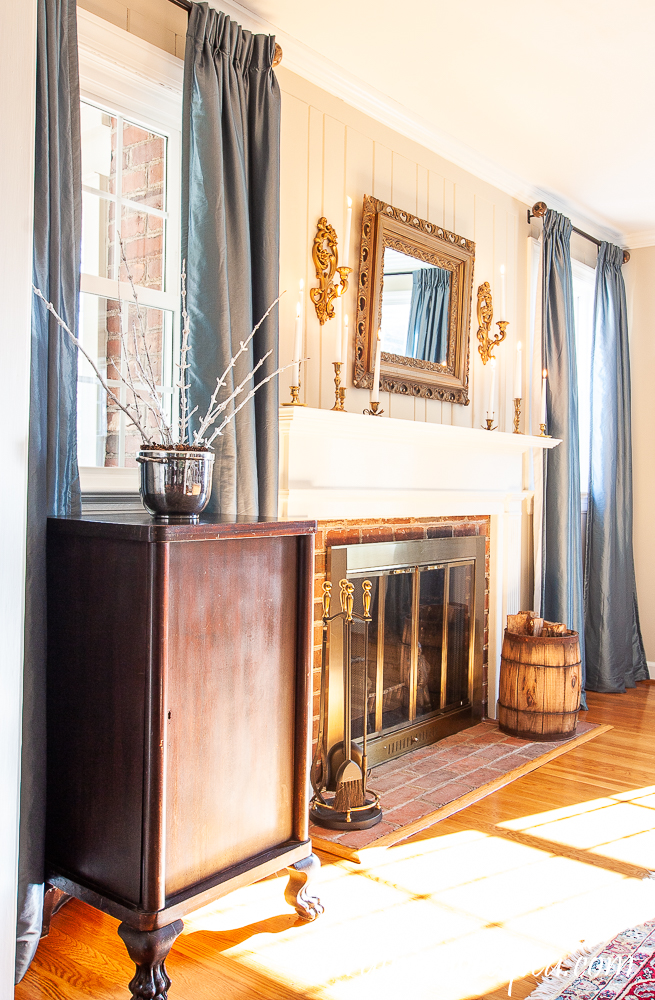 I'll explain the easy process to make the frosted branches in a bit, but first will share how I used them to make this winter arrangement.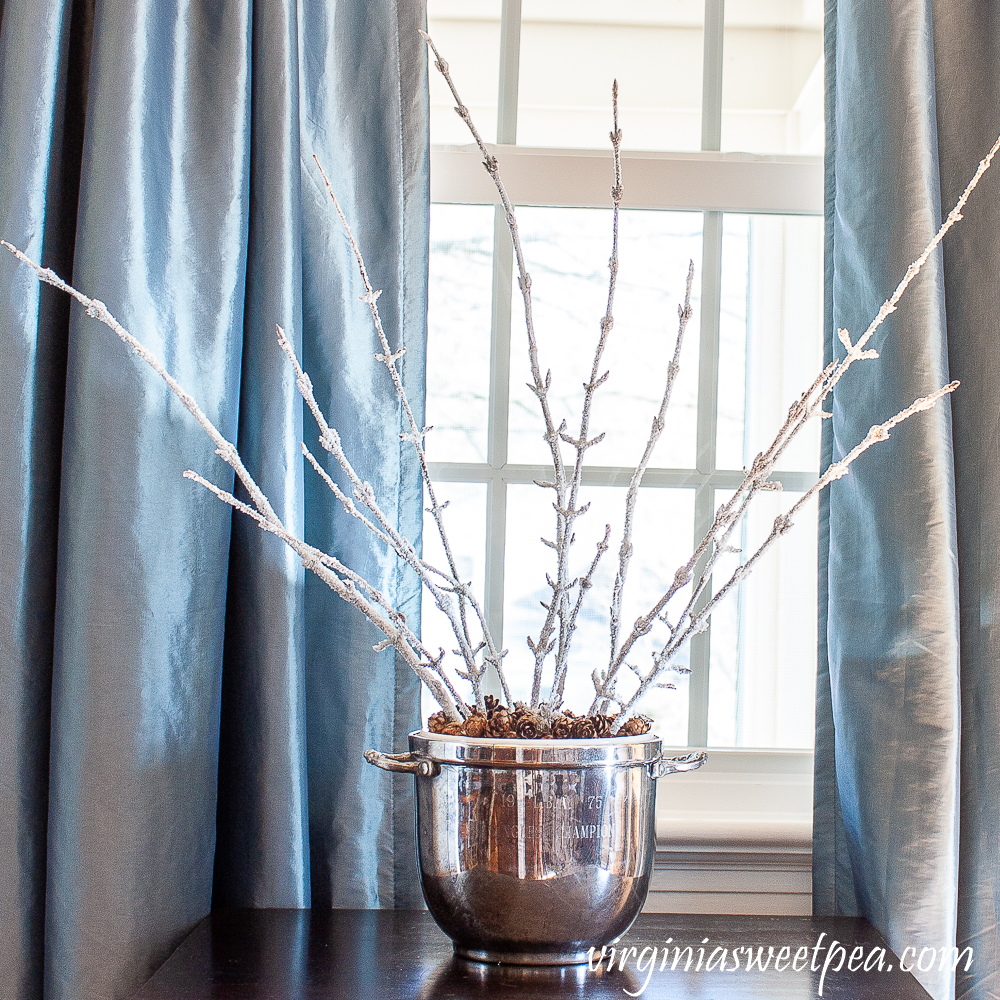 The container is a vintage ice bucket that served as a trophy for the singles division of a 1975 tennis tournament. I bought this at an estate sale, so I don't know any details on what LBA stands for or where the tournament was held.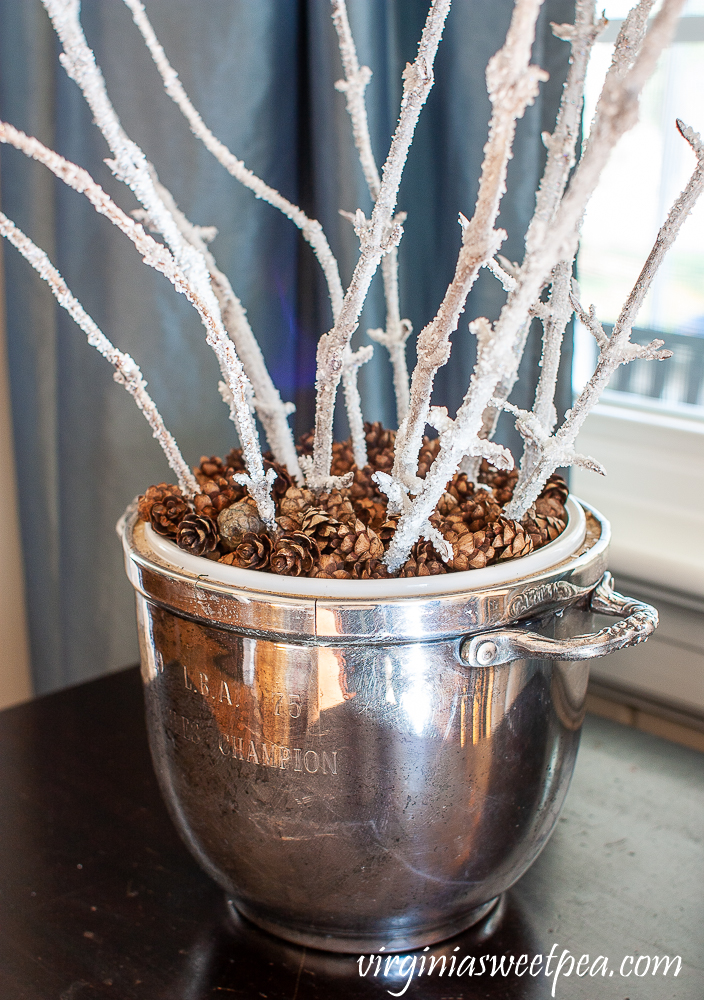 To make it easy to arrange the branches, I filled the container with dried split peas. I've used the same split peas for years as an anchor for stems in various arrangments.
After I arranged the frosted branches, I covered the split peas with Hemlock cones picked up on walks with our dog.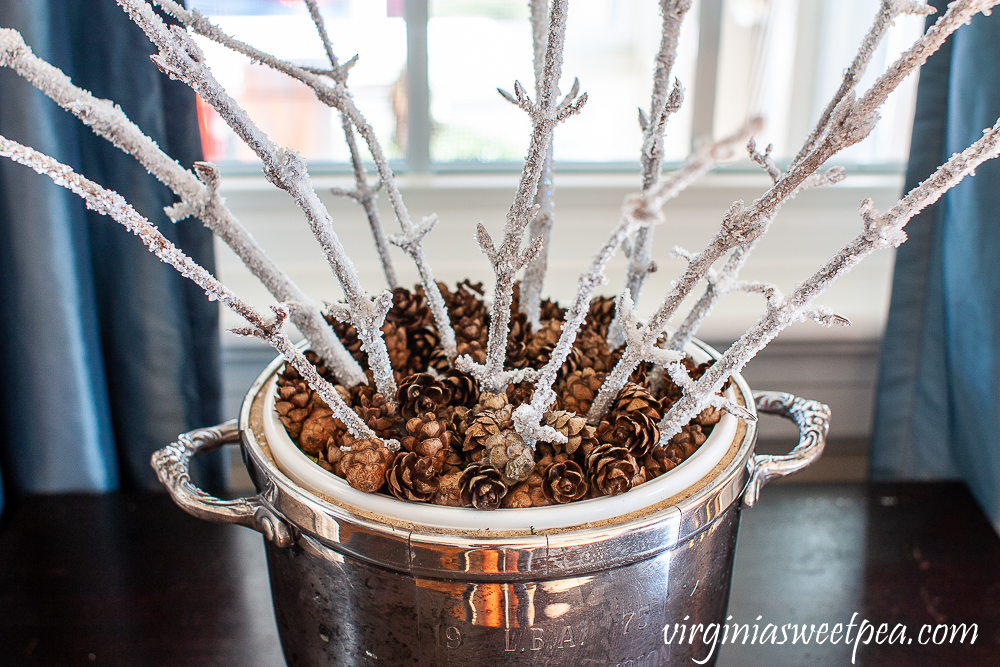 Vintage Ice Buckets You Can Buy

Frosted Branch Detail
When I made frosted branches last winter, I didn't paint the branches white before adding Epsom salt which gives the branches the icy, frosted look.
This year I painted the branches white before I added the Epsom salt, and I like this year's look much better.
It is hard to see that there is white paint under the Epsom salt.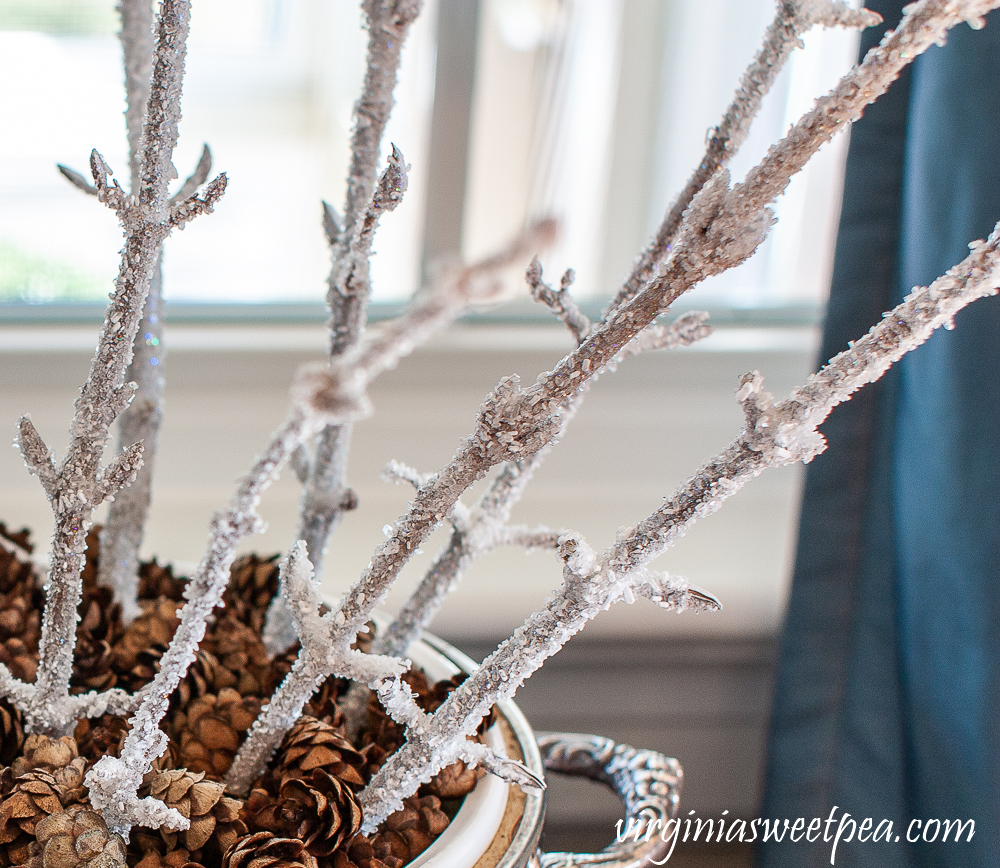 Any branch will work for this project. I used Shasta Viburnum because I liked how straight the branches are and I liked the buds along each branch.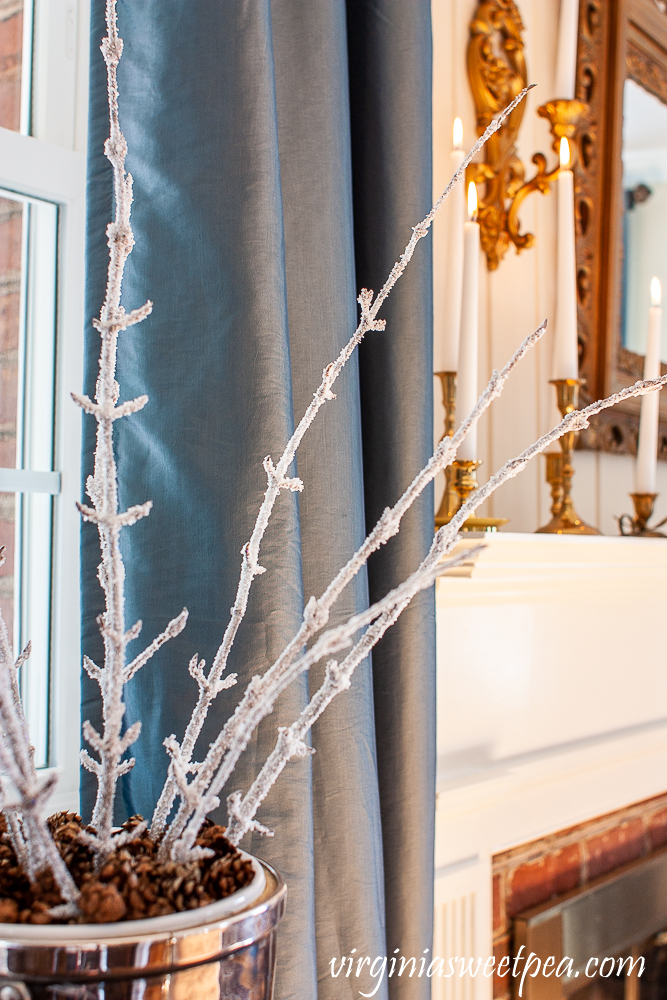 How to Make Frosted Branches
To make frosted branches you will need:
Start by cutting branches. If you don't have branches in your yard, look around your neighborhood or in public parks for branches to use.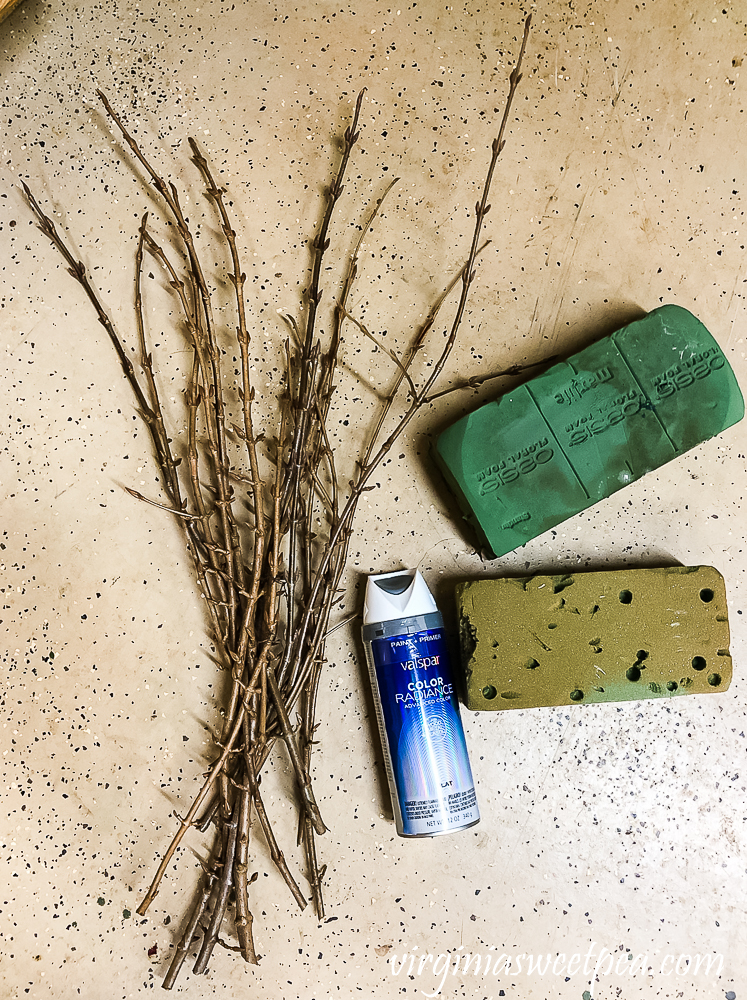 Paint the Branches
The next step is to paint the branches white. I used materials that I had on-hand, so my white spray paint was flat. I believe that any finish would work just fine for this project.
To make painting the branches easy, I stuck them in leftover floral foam and oasis. Styrofoam packing from a package would also work.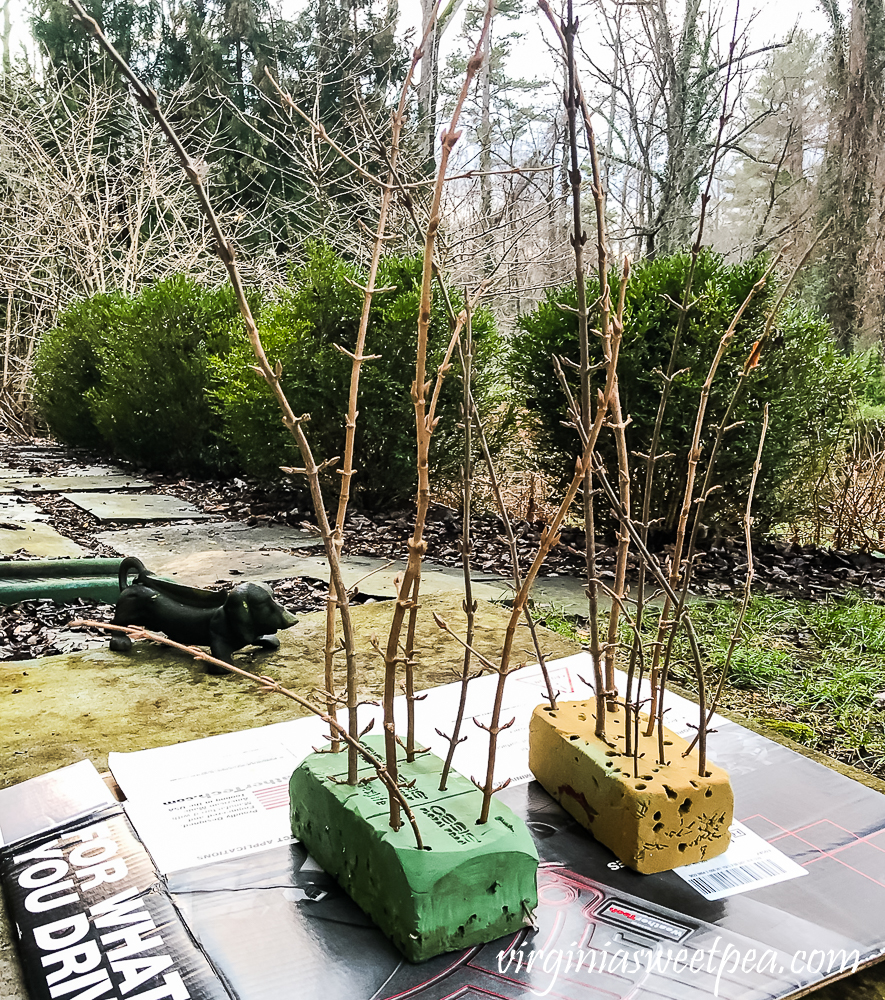 I should have moved my cardboard off of our concrete stoop before painting but it was really wet when I painted, so I didn't. That was a mistake because our concrete stoop now has white spray paint on it. Oops.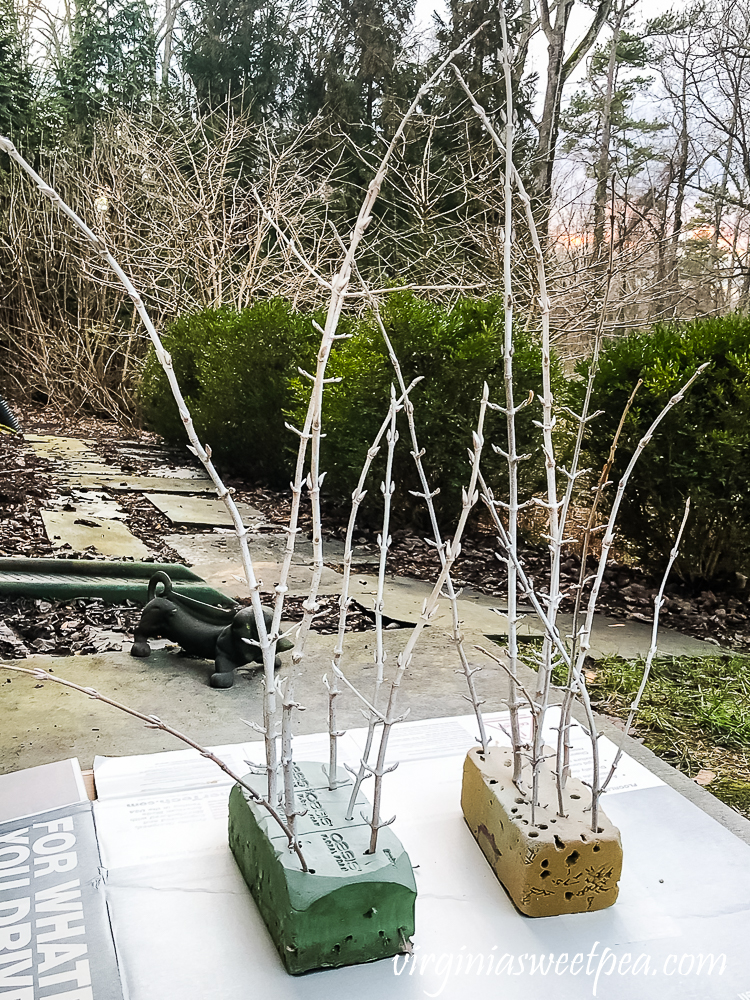 Make the Branches Look Frosted with Epsom Salt
After the spray paint dried, it was time to add the Epsom salt. I have had this Epsom salt for a long, long time. I think it now only comes in plastic bags.
I used glitter Mod Podge as my glue. It adds a subtle touch of glitter to the Epsom salt. I keep this old cookie sheet in my craft cabinet for projects like this.
Lining the cookie sheet with waxed paper makes clean-up easy. If I'm glittering something, the waxed paper lets me pour the unused glitter back into the container so that none is wasted.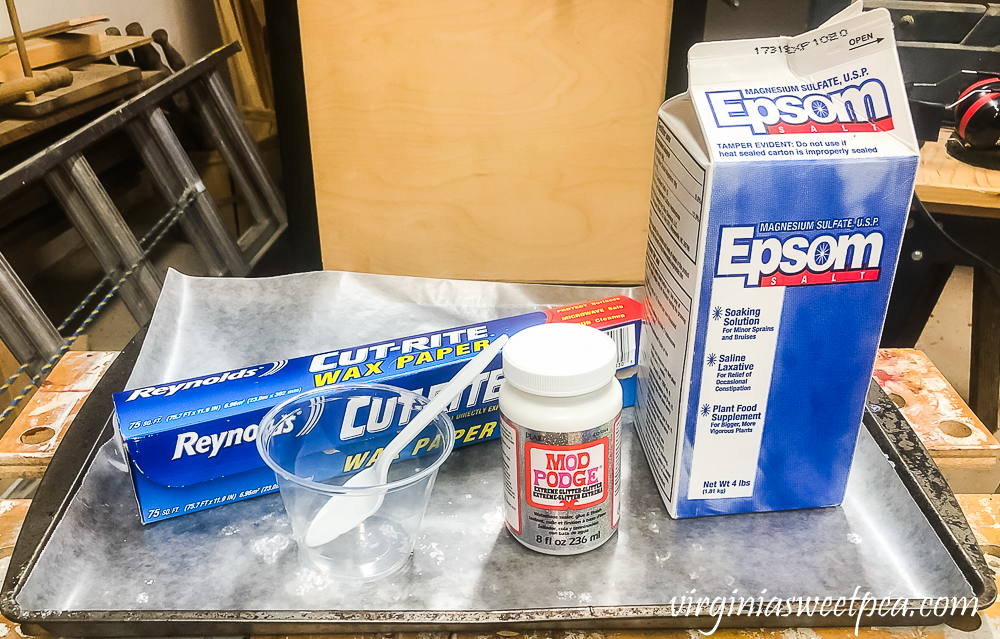 I poured Epsom salt into the cup so that it was ready to be used and then working one branch at a time, painted Mod Podge over all of the surfaces that I wanted to add Epsom salt to.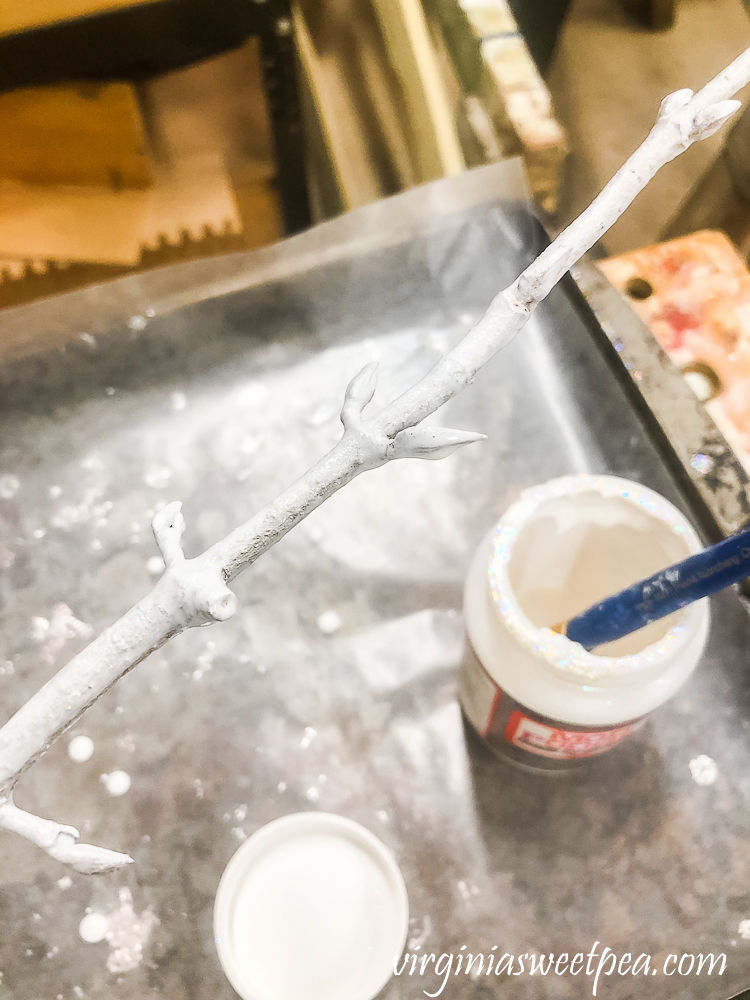 Then I held the branch over the cup of Epsom salt and used the spoon to sprinkle the Epsom salt onto the Mod Podge.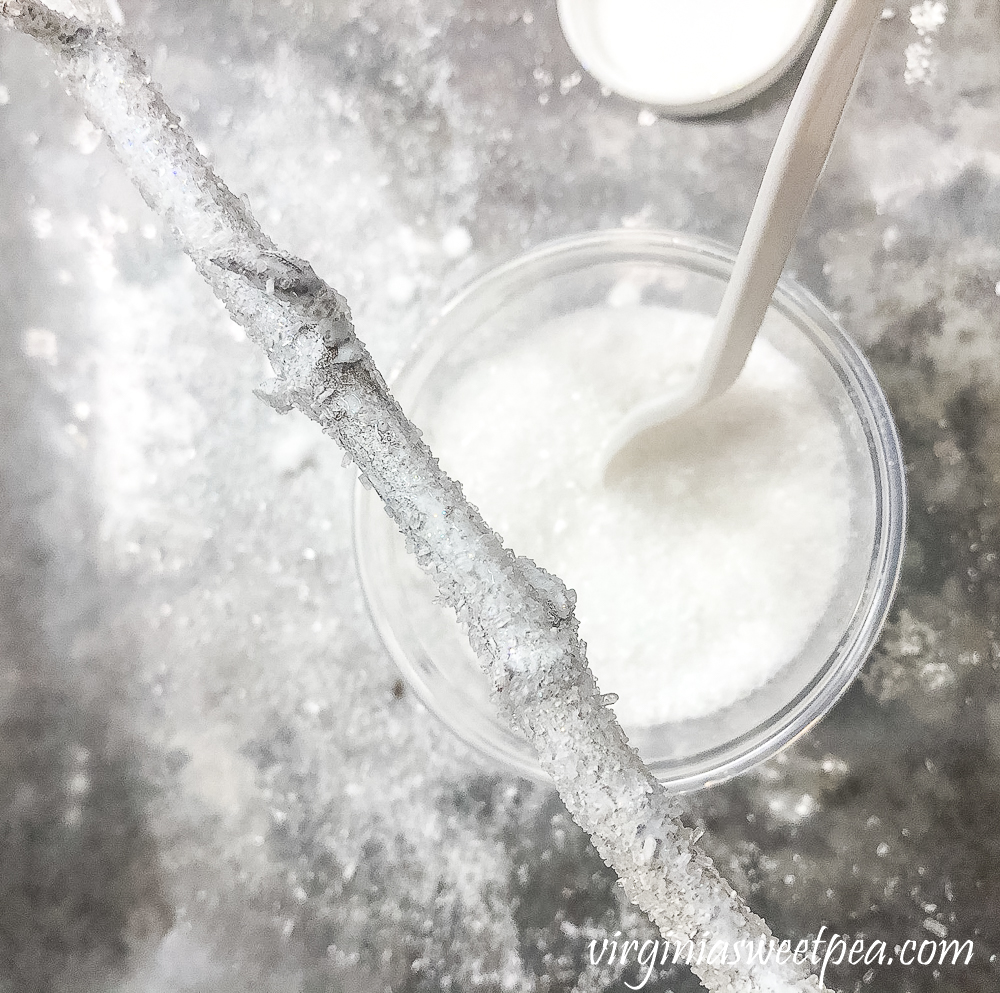 After I finished adding Epsom salt to each branch, I put it back into the floral foam to dry.
Once the branches are dry, they are ready to be used for decorating.
Last year when I decorated with the frosted branches that I made, I poured Epsom salt into a clear vase and used it to anchor my branches. This was a really pretty look.
Storing the Branches
To store the branches, wrap them in tissue paper. When I unwrapped the branches that I made last January, I was surprised at their appearance.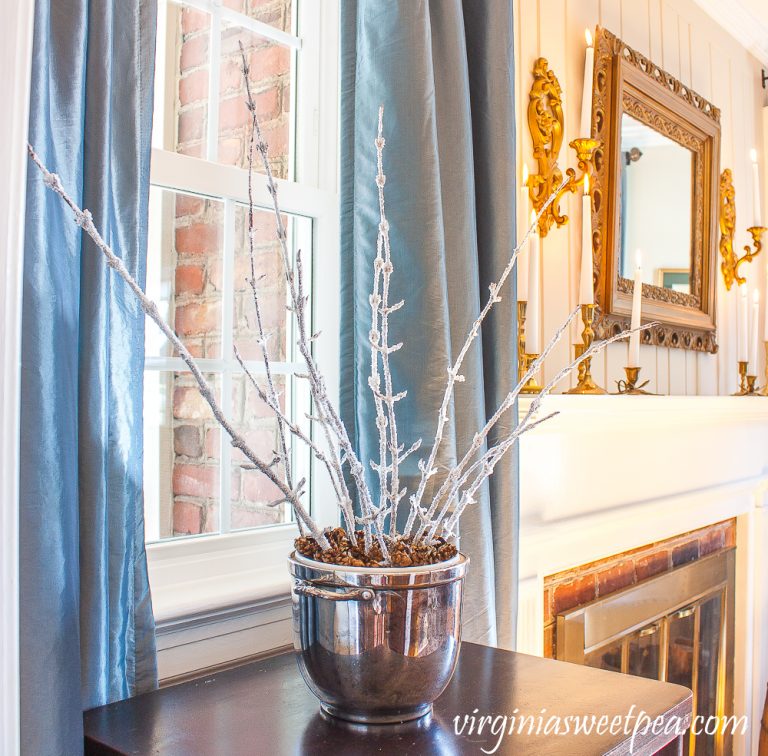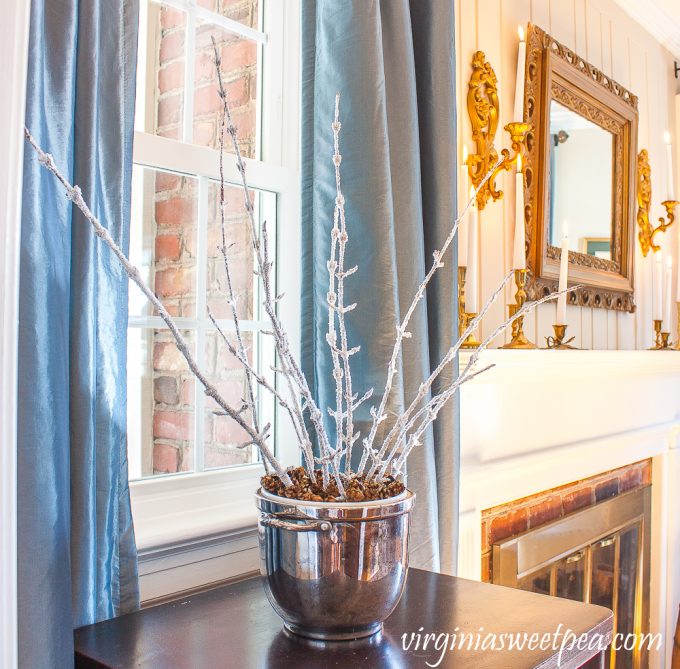 The crystals of fresh Epsom salt (Magnesium Sulfate) are easily seen.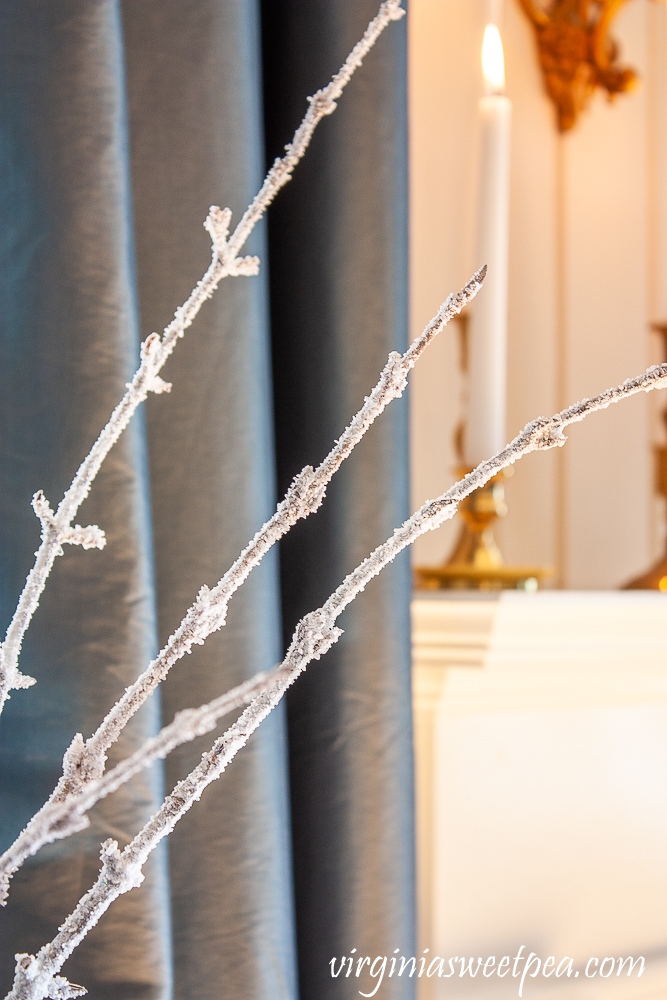 When I unwrapped the branches that I made in January in November, I discovered that over time the MgSO4 crystals become much smaller and resemble snow.
Here is a branch made in January 2020 used in November 2020. See how much smaller the crystals are?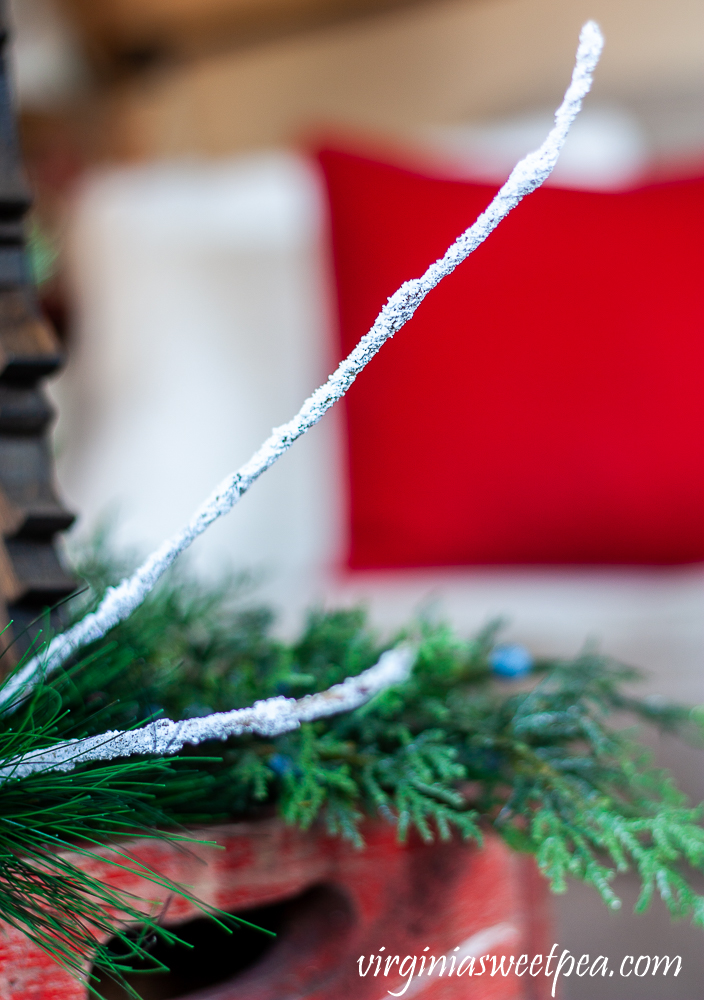 I really enjoyed making this craft and I love that I can use it for winter decorating now and Christmas decorating in the future.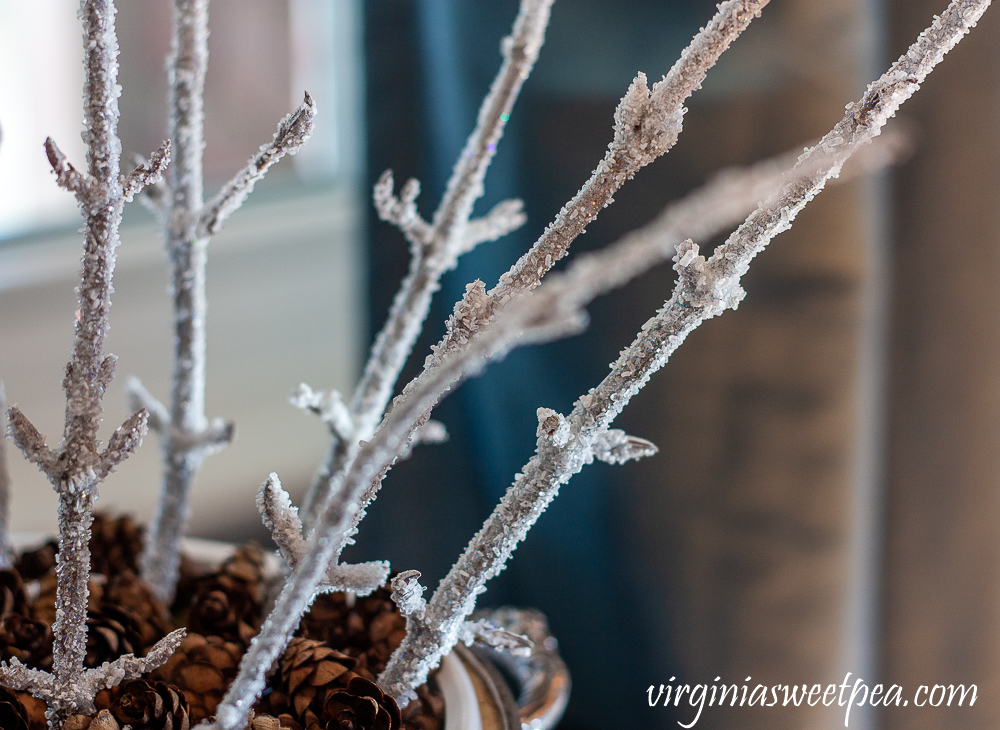 Here are branches available to purchase

More Projects to Enjoy!
Now it's time to enjoy the projects that the rest of the Thrifty Style Team is sharing today. Click on the links below to see each project.