Winter Decorating Ideas – Living Room and Dining Room
Do you struggle with how to decorate for winter after Christmas is packed away? I'm sharing some winter decorating ideas that may inspire you!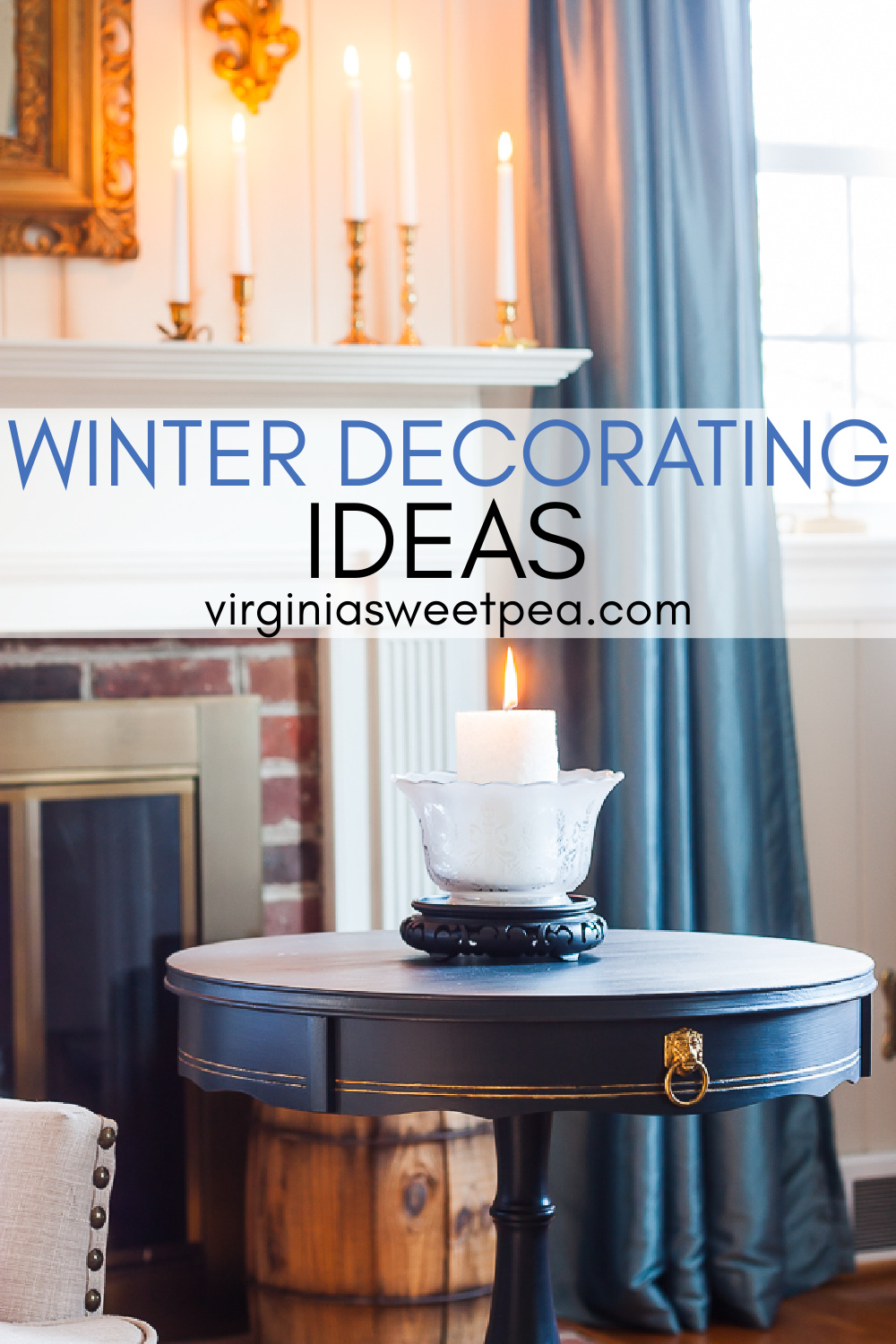 Winter Decorating Ideas
After enjoying my Christmas decor for most of November and December, once the calendar turned to January, it was time for Christmas to be packed away and to decorate for winter.
I wanted a warm and cozy feel for winter and I'm pretty happy with how this year's winter decorations turned out.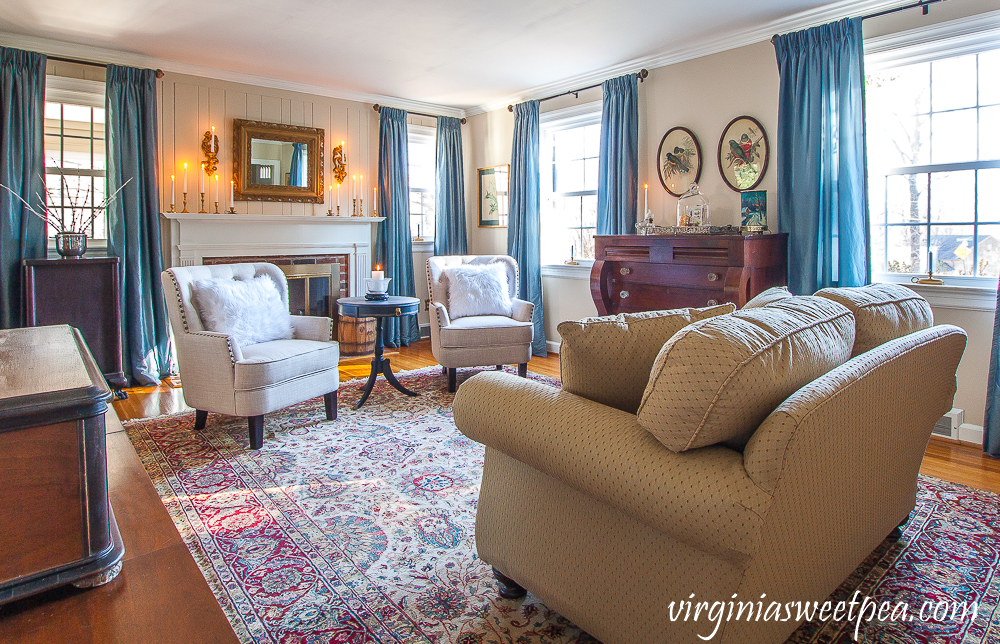 Use Candles
When I'm decorating our formal living room for a season, I always start with the mantel.
For winter decor, I used an antique mirror, gold sconces, and brass candle holders with white candles.
On the hearth is an antique wood barrel filled with firewood. We haven't built a fire in this room in a number of years and I'm hoping to soon change that.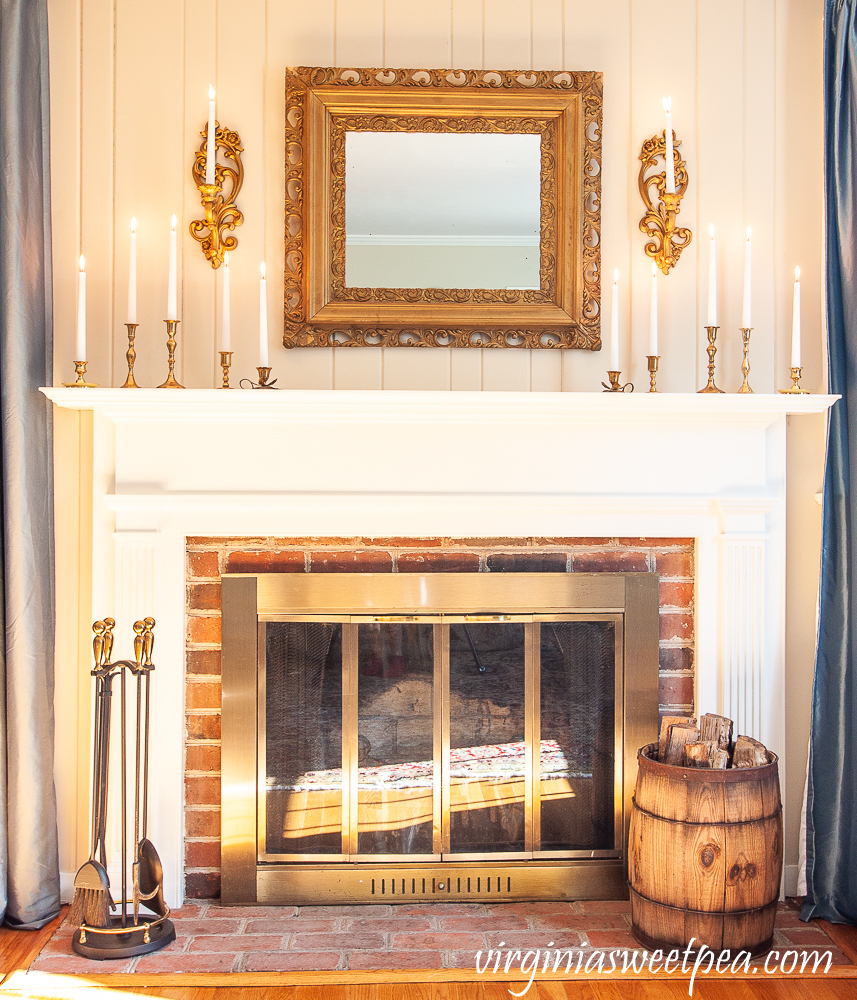 I love how the candles look lit but only do so when I'm in the room to supervise them. Since I love this look so much, I'm thinking about investing in some flameless taper candles.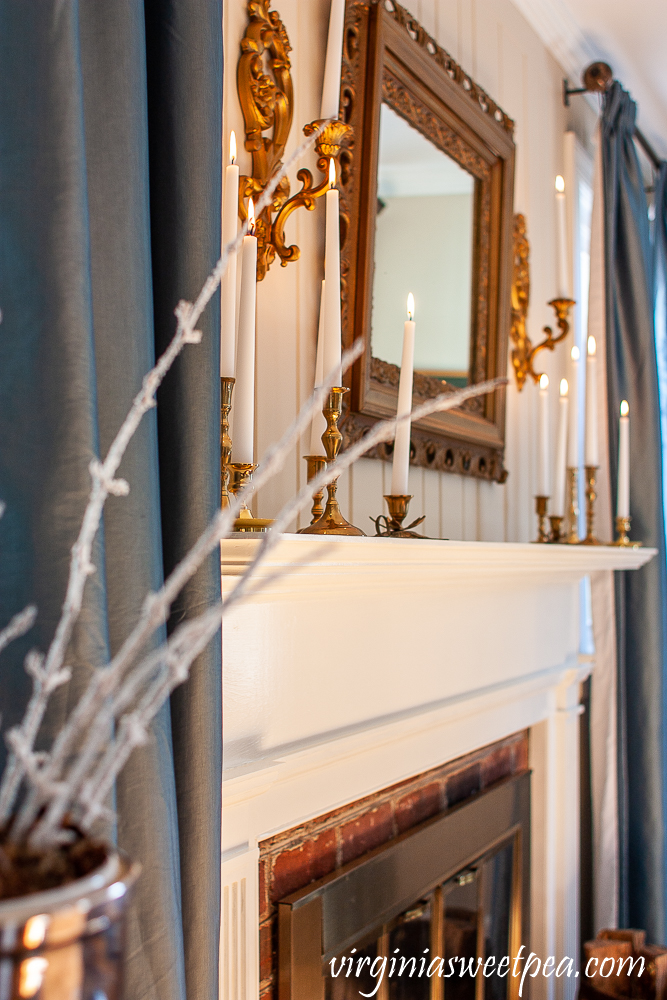 Many of my brass candle holders came from Kirkland's in the 1990s. I wish I had purchased more back then when they were so inexpensive.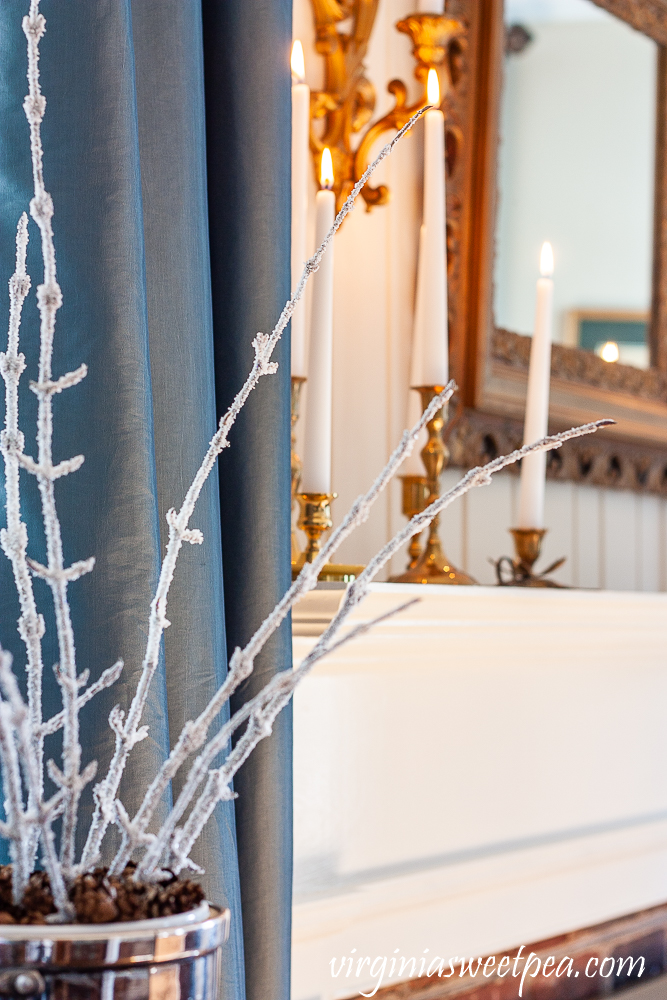 In the 90s in my area of Virginia, a wedding wouldn't be a wedding without receiving gifts from Virginia Metalcrafters. One pair of candleholders is from Virginia Metalcrafters as is our fireplace set.
I also used a candle on the table in front of our fireplace. The glass surrounding the candle was originally a sconce in the farmhouse where my grandfather grew up. (See the farmhouse in this post as well as this one.) The candle base was my grandmother's.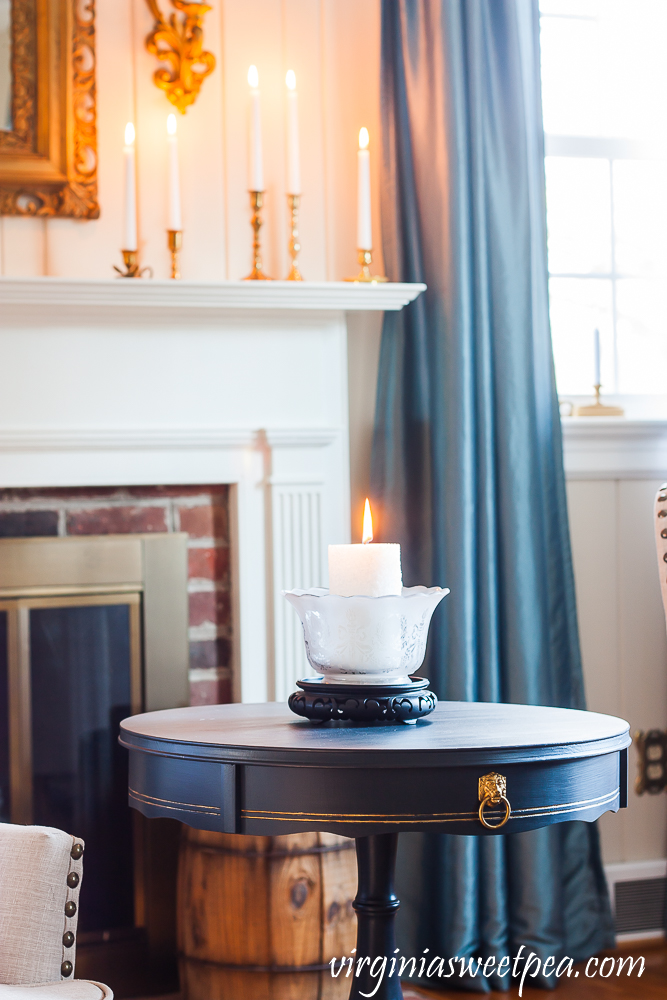 I also used candles on my grandmother's chest of drawers. The oil lamp came from my grandmother's house and has been patiently waiting in my basement for many years to be used.
It works perfectly as a candleholder and looks pretty beside a tiny oil lamp that was my dad's when he was a child.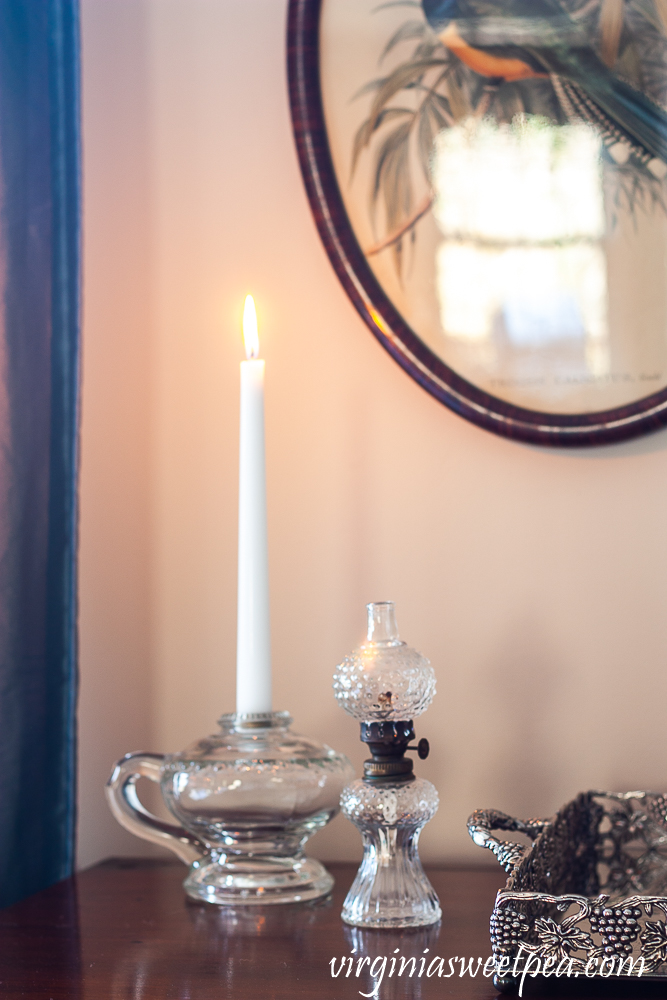 Decorate with a Cloche
I love to use a cloche for decorating in any season. For winter, I used an antique postcard that was never mailed, a gold pitcher that Mama gave me, and cones from a Deodar Cedar.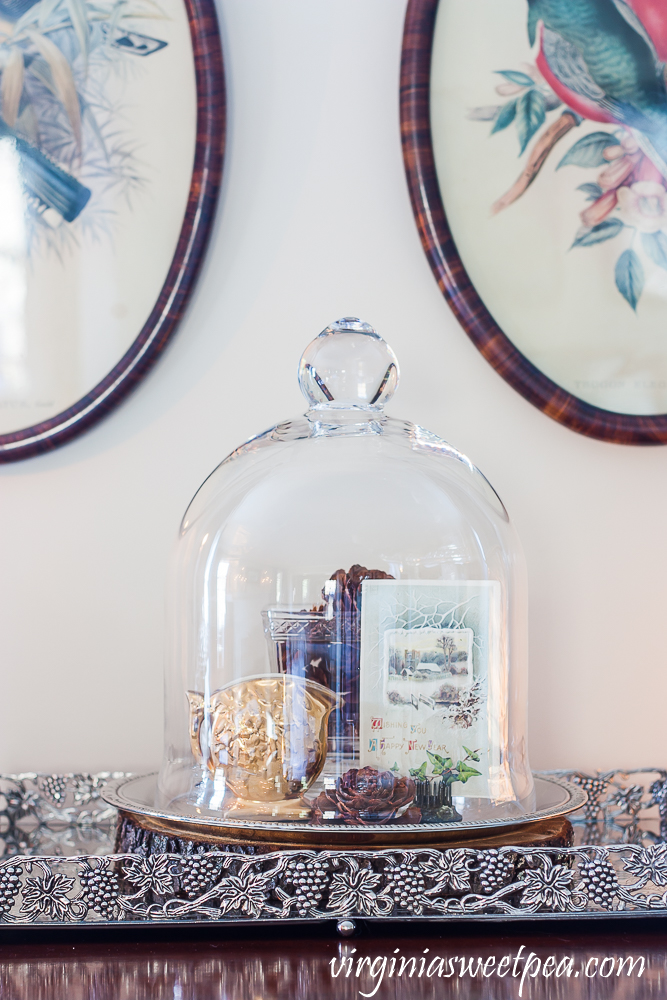 Isn't it interesting that the Deodar Cedar cones look like roses?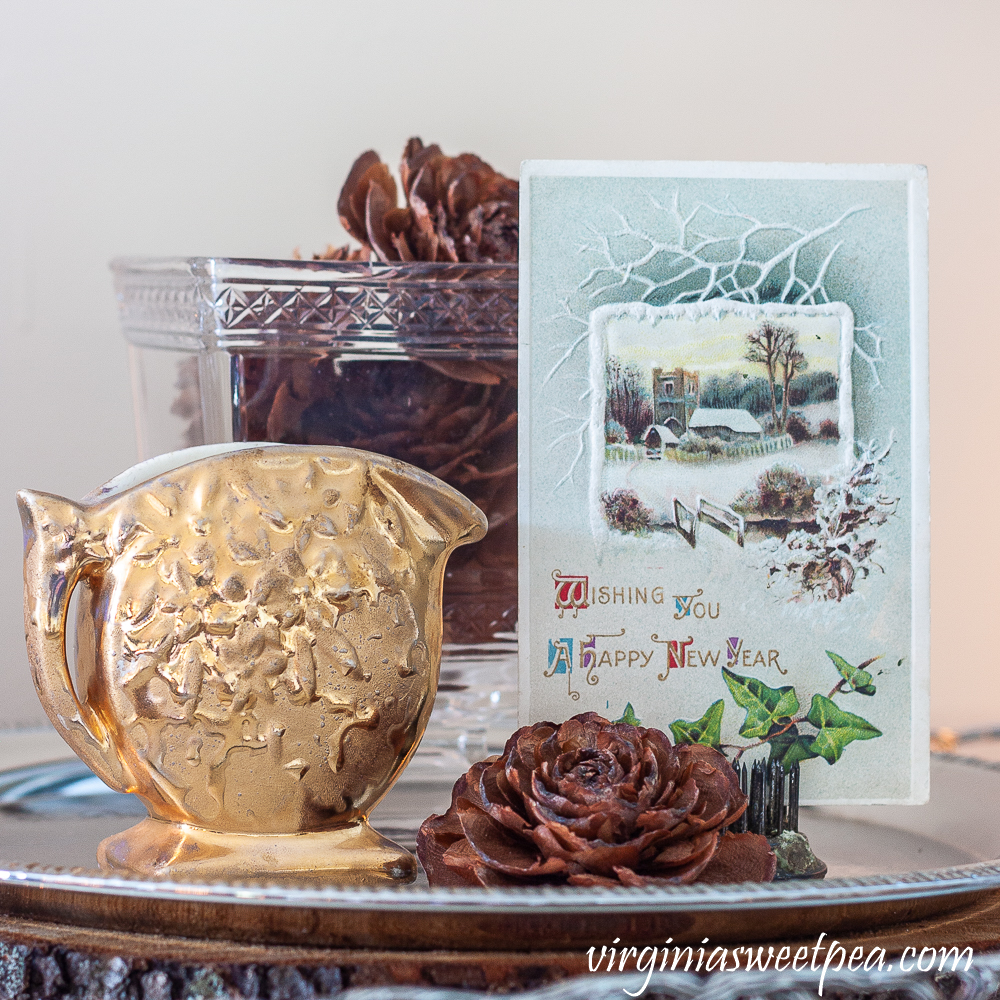 If you are local, I picked these up on the Randolph College campus at The Maier Museum of Art. The tree grows to the right of the building.
If you love the look of these cones, order some to use for your winter decor.
I used my Econolite in my Christmas decor and left it in place to enjoy this winter.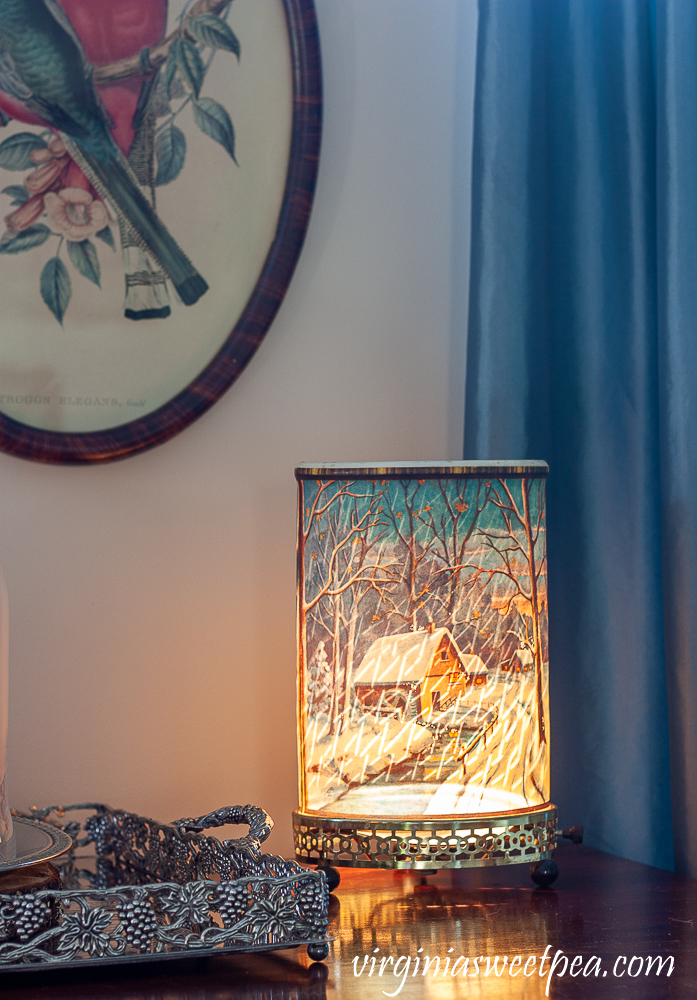 At night the Econolite looks so pretty when it is lit and turning creating the look of snow falling on the winter scene.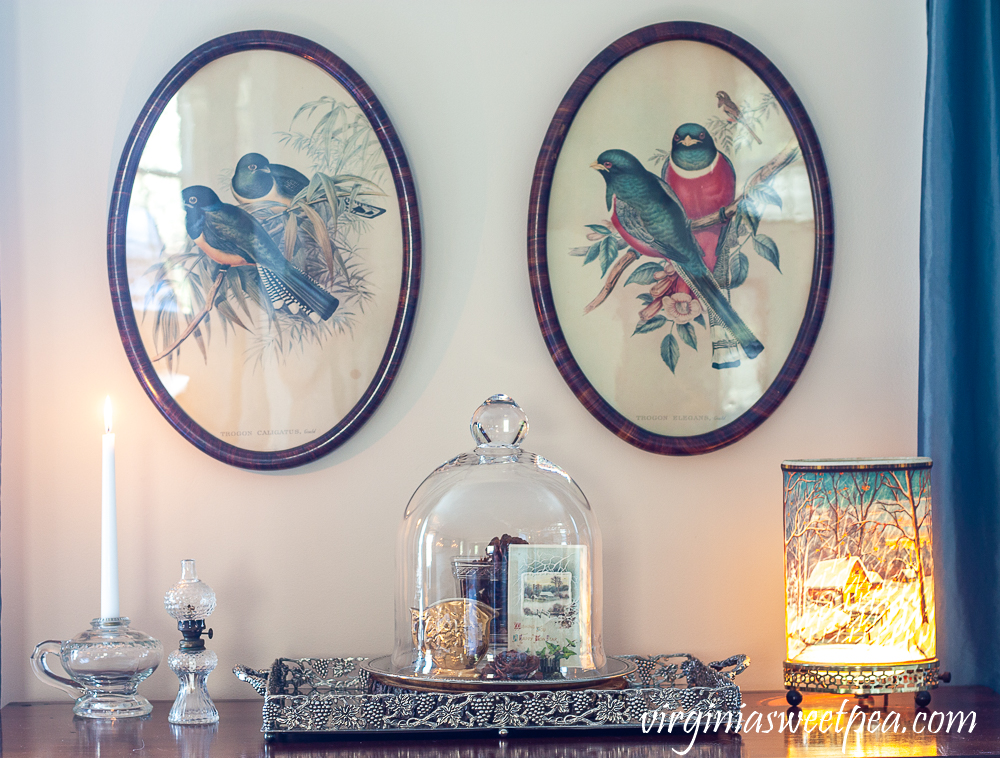 Fur Pillows
Another idea that I love for winter is using faux fur pillow covers. These are from Amazon and I used them for Christmas decor and left them in place for winter.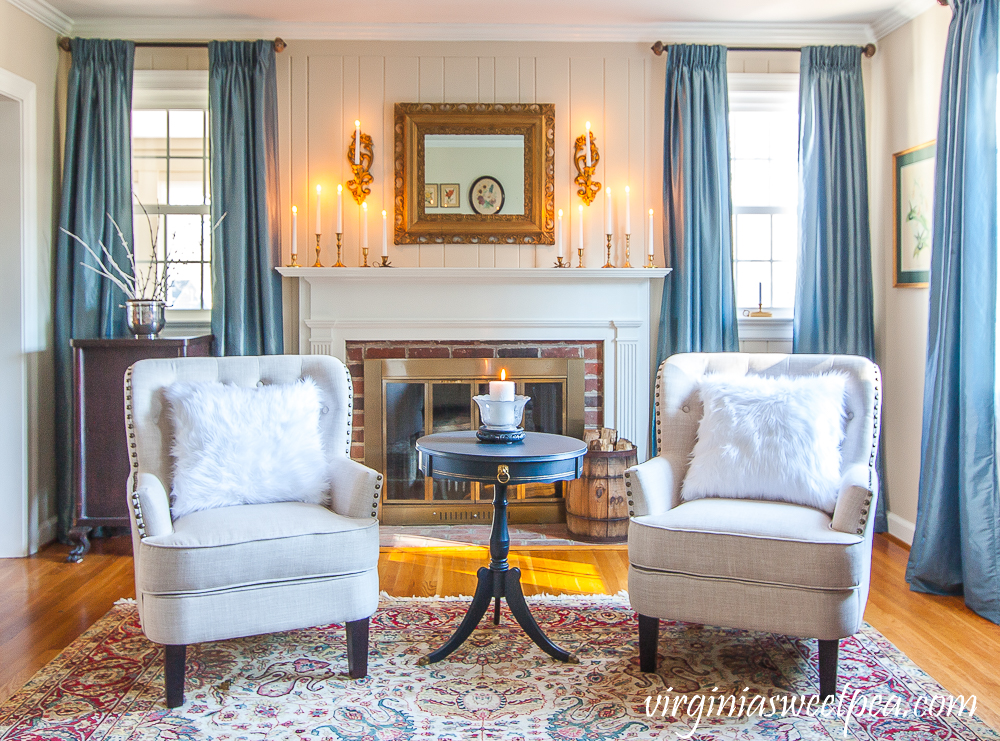 Frosted Branches
Frosted branches are great for winter decor. This tutorial shares how easy they are to make.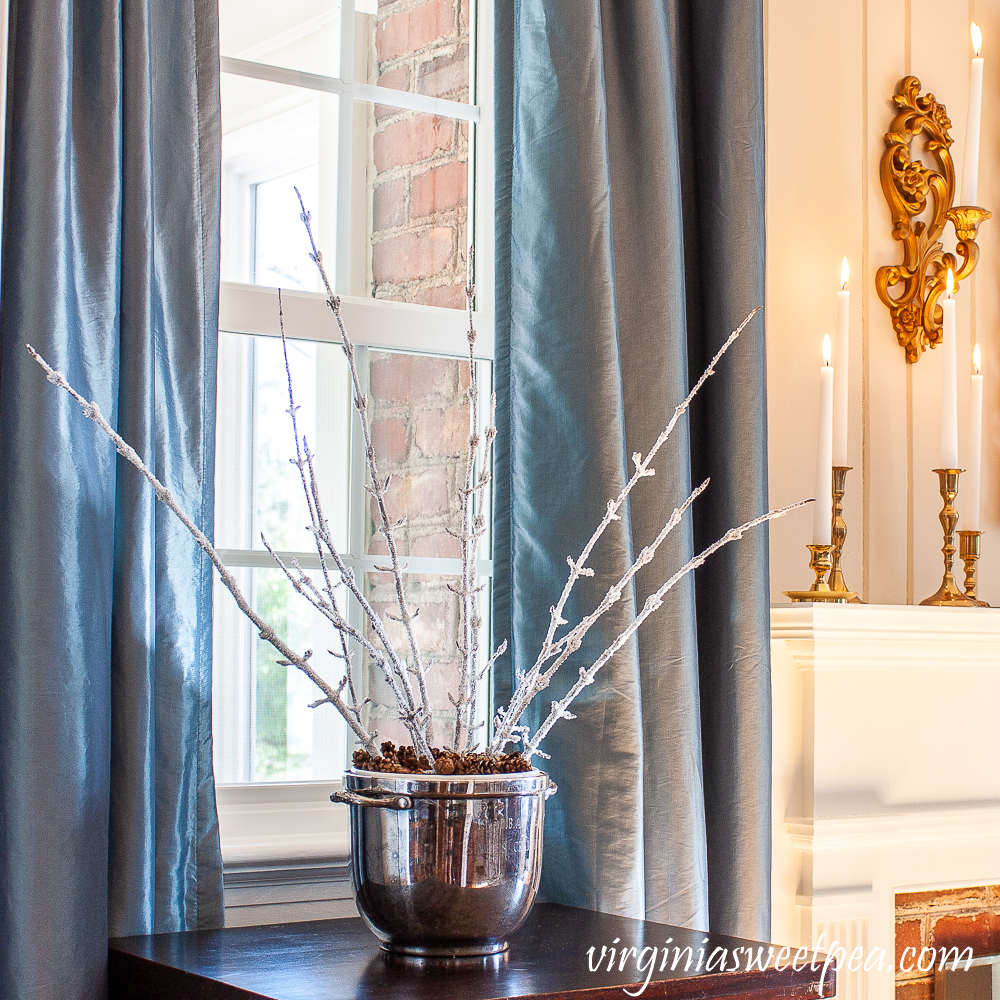 Frosted branches can be saved to use from year to year. I'll be using these for Christmas decor when the time comes to decorate for Christmas once again.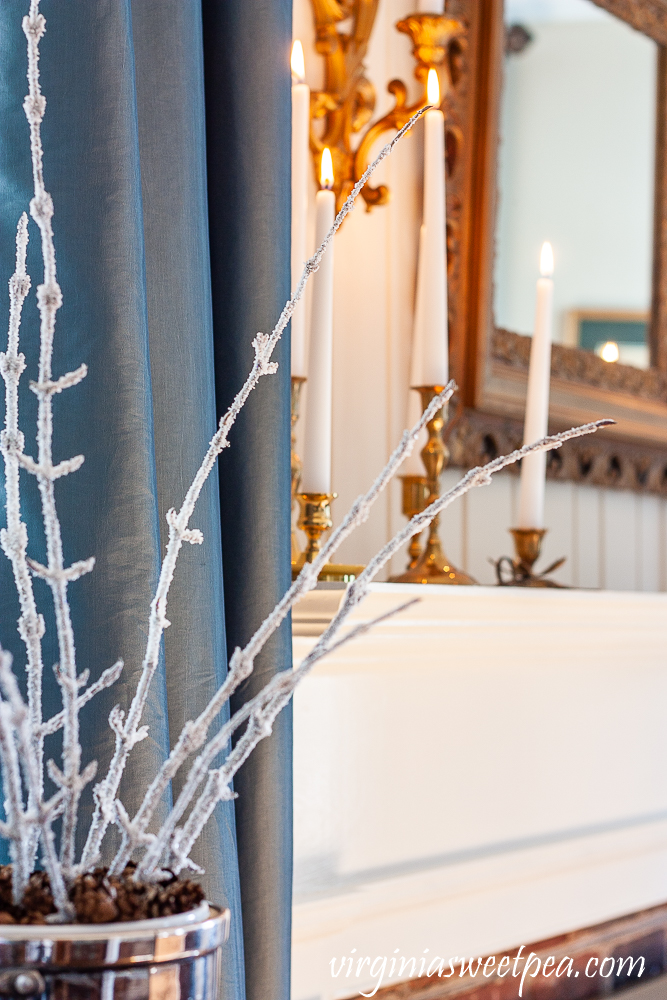 Dining Room Winter Decorations
Our dining room is adjacent to our formal living room. I like for this room to look pretty since it is one of the first things that people see when they visit our home.
I'm hoping to give this room an update this year.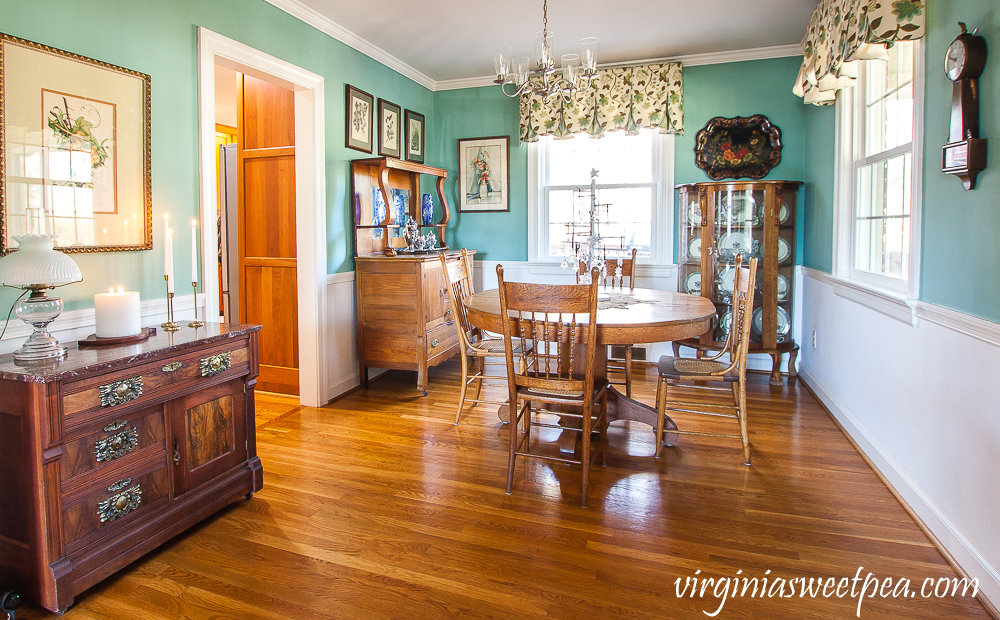 Snowflakes
January makes me think of snow although there is none in sight for my area of Virginia. Instead of packing away my Swarovski snowflake ornaments, I leave them out to enjoy through March.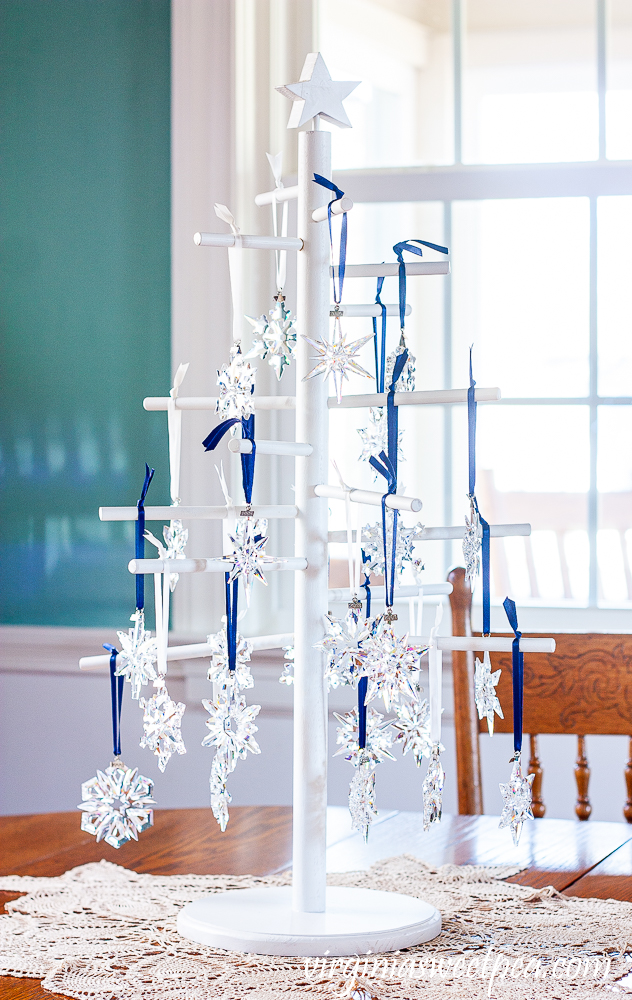 Mr. SP's grandmother made the crocheted piece on our table. His mom gave it to me very early in our marriage and it is on this table almost all of the time.
Use Blue
When I think of winter colors, blue comes to mind. I'll share our family room winter decorations soon and you'll see a lot of blue used in that room for winter.
On the buffet, to add a pop of blue, I used Czechoslovakian glass vases that Mr. SP's grandparents bought on a trip back to their homeland.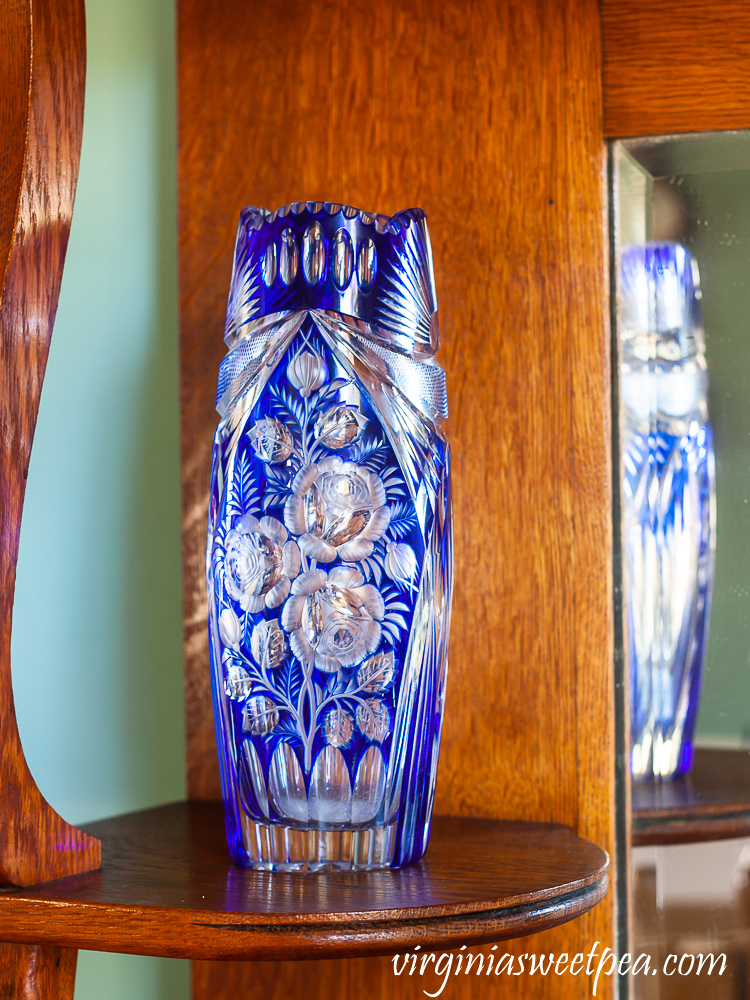 Mr. SP's mom gave these to me very early in our marriage and I've always treasured them.
The tiny bit of research that I did on this glass let me know that it is called Bohemian glass or Bohemian crystal.
I haven't been able to find the name of this pattern, but I did find this bowl that looks very similar.
More Brass and Candles
I continued the mantel's white candles in brass candleholders theme into the dining room.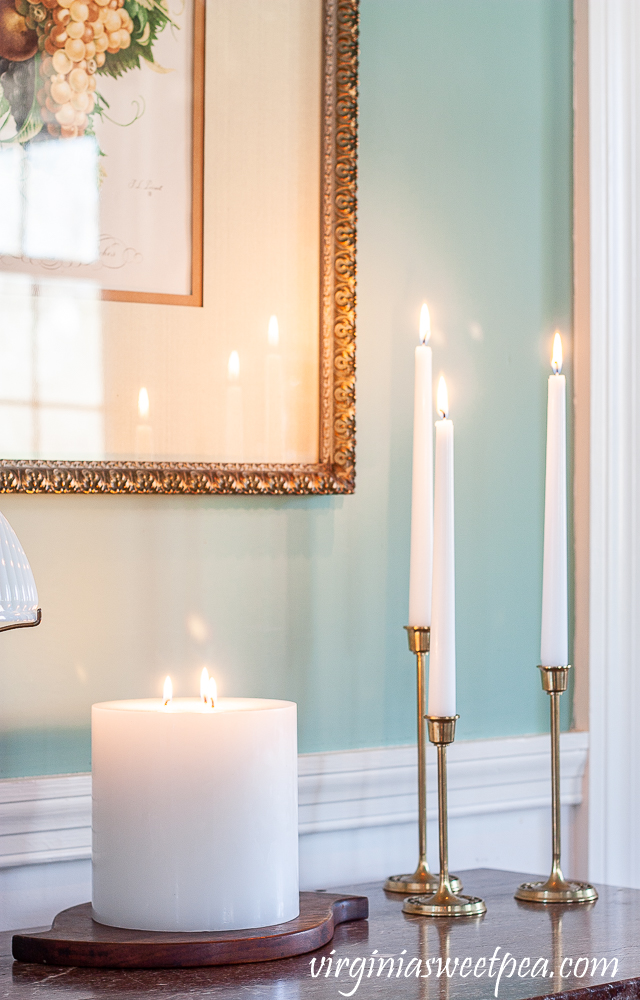 The brass candle holders were used here for Christmas with red candles.
The white pillar candle is on a piece of wood that my grandfather cut and stained for one of my grandmother's flower arrangements. It could have been made for a garden club competition or for an arrangement for chruch.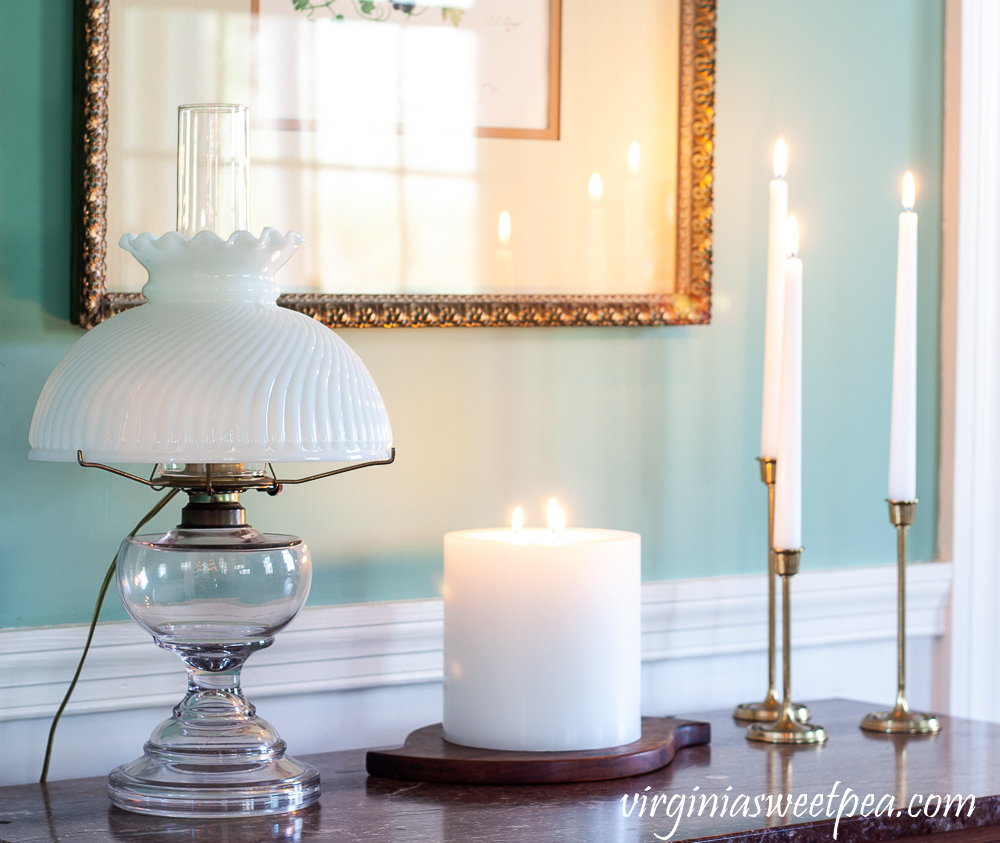 The lamp here usually has a glass shade with a floral pattern but I changed it to a white shade for Christmas.
I love how the white shade looks with the white candles, so I kept the shade white for winter decor.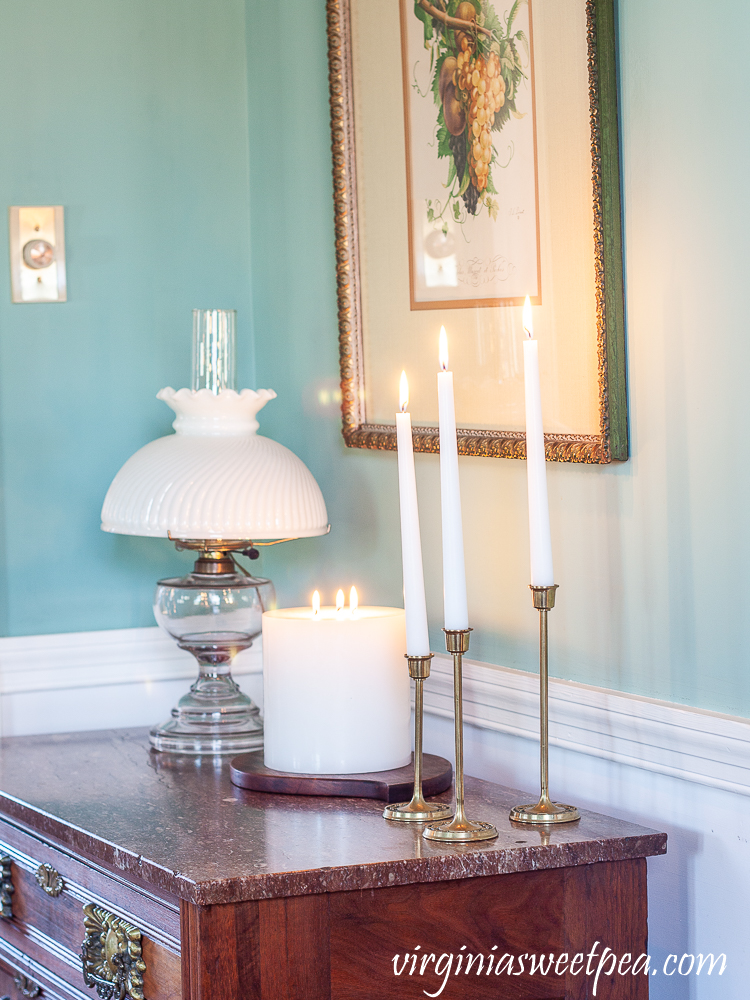 I thought that my candles were straight, but from this angle, I see that they weren't!
I'll be back on Saturday to share the winter decorations in our family room.
For more winter decorating ideas, check out these posts: