How to Make Citronella Candles
Have you ever wondered how to make citronella candles? We use citronella candles every time we sit outdoors on our patio at the lake. Without them, the biting insects make for an unpleasant time.
Instead of buying new citronella candles this year, I made my own. This project ended up being fun and easy.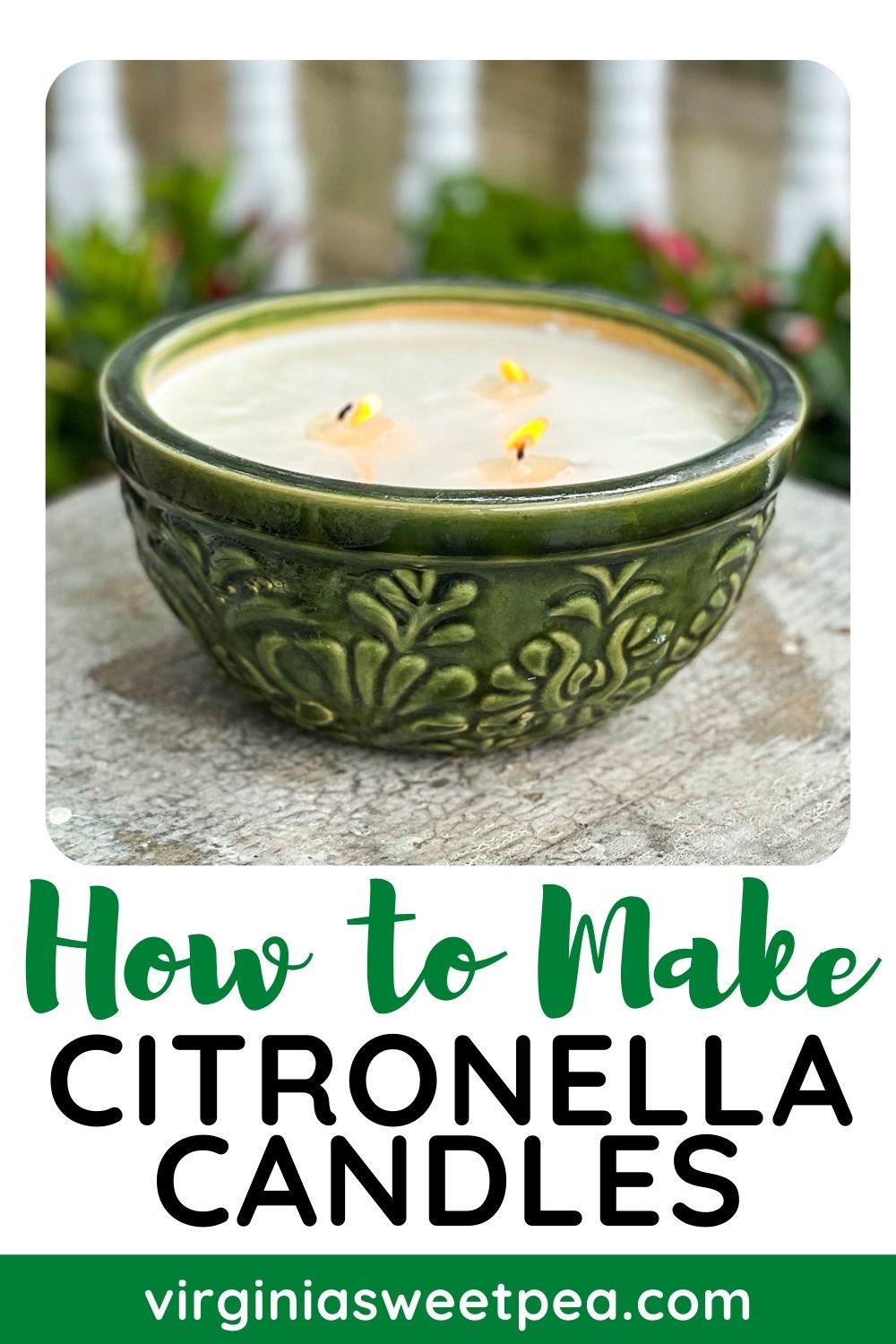 I'm sharing DIY citronella candles for this month's Thrifty Style Team project hosted by Julie of Redhead Can Decorate.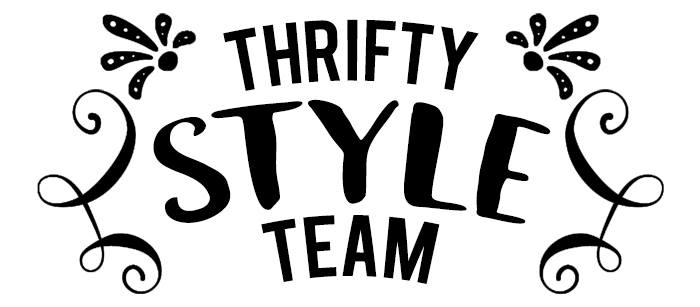 Don't miss all of the spring projects shared this month! You'll find links to visit each project at the end of this post.
How to Make Citronella Candles
I made four citronella candles, a trio of three to use on our patio at the lake, and a single candle for my mom to use on her 1912 home's porch.
This is Mama's candle. I gave it to her on Mother's Day and we immediately put it on a stool beside her chaise lounge on one of her porches to light and enjoy when she's on the porch in the evening time.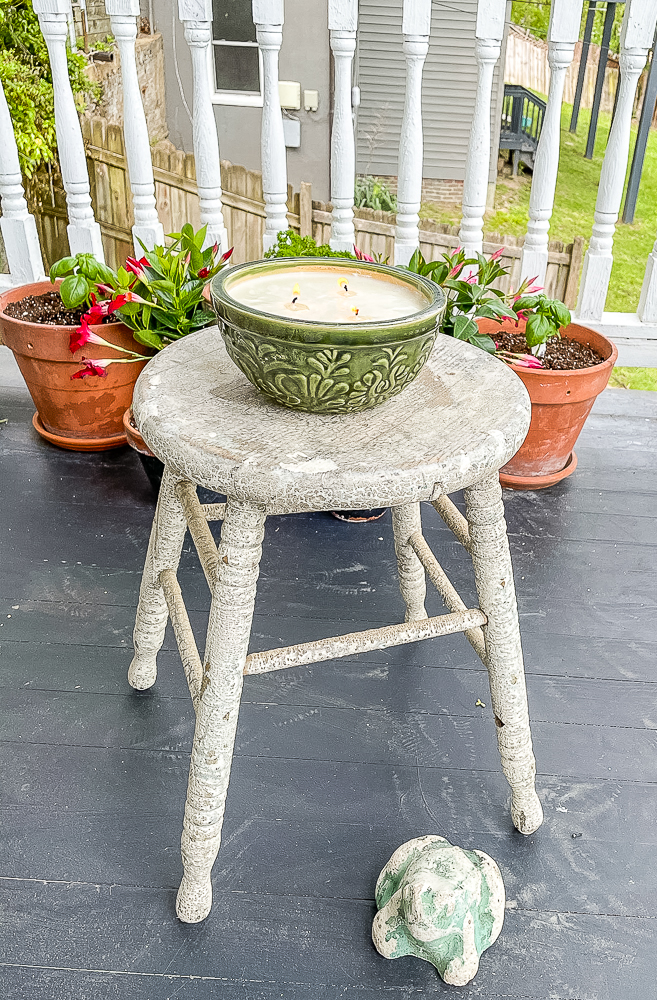 Mama's candle holder is a florist dish that originally held a dish garden that I received for my birthday last year. The plants in the dish garden outgrew the container and this spring I transplanted each plant to its own pot.
The leftover florist dish made a great candle holder.
The frog below the stool is an antique and belonged to my grandmother.
I photographed the trio of candles that will be used at the lake on Mama's porch on Mother's Day.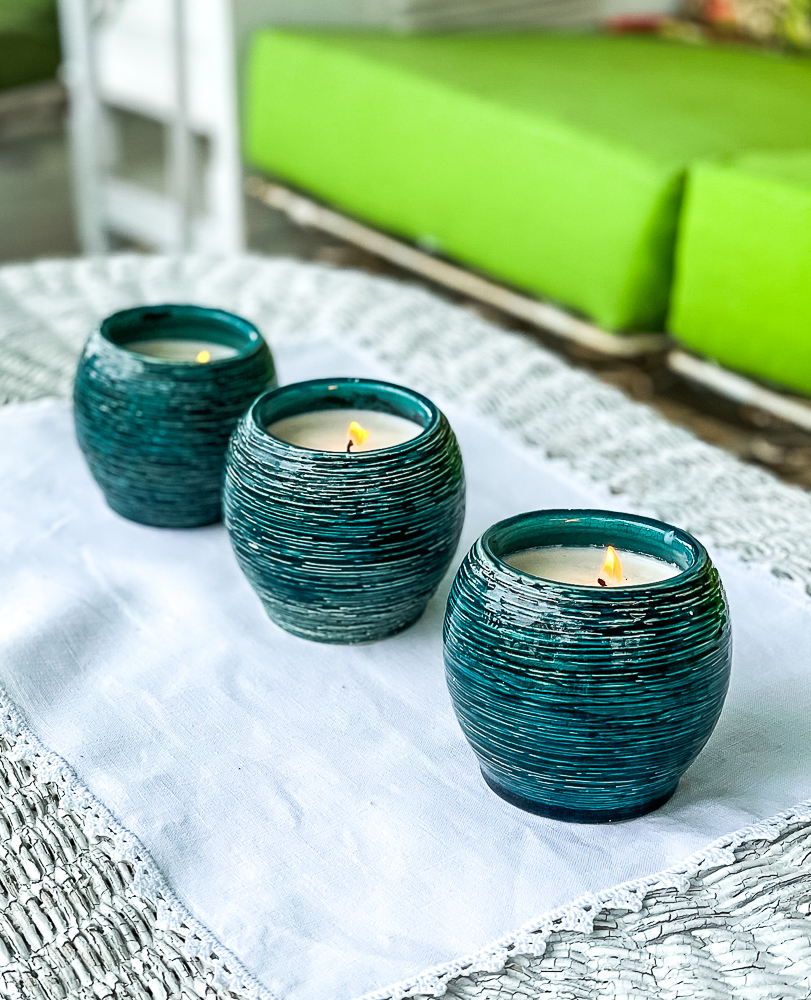 The trio is purchased citronella candles from a few years ago. I put them in the freezer to remove the wax remnants, cleaned the containers, and used the containers to make new candles to enjoy.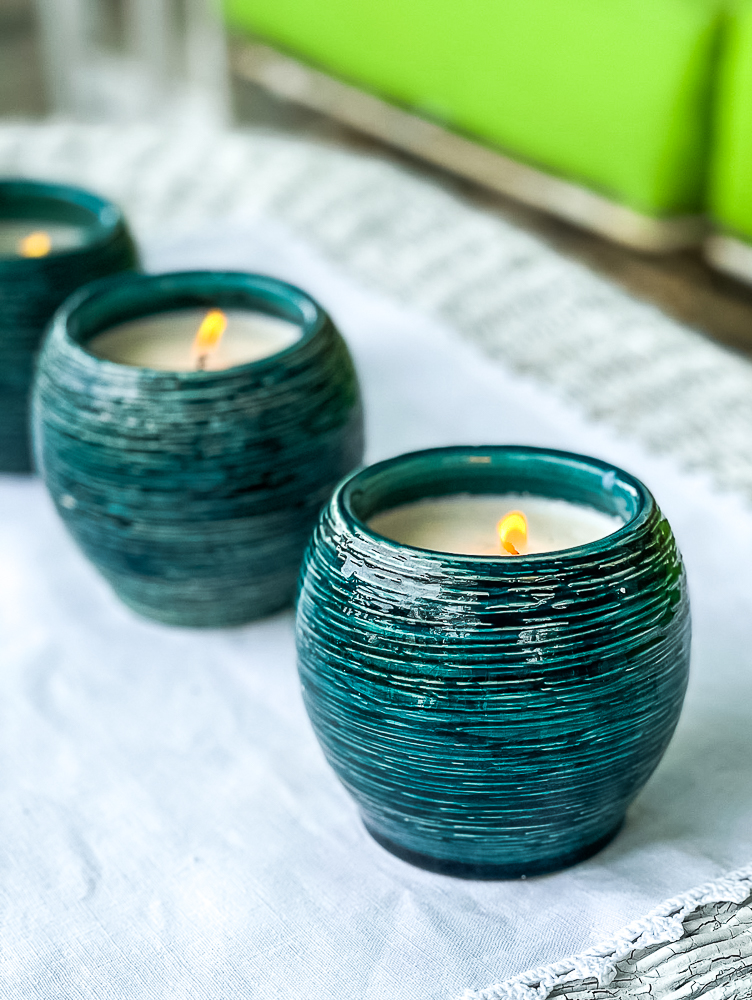 Supplies Needed
Containers
Double boiler
Wax – I used soy wax but paraffin wax or old candles can also be used.
Glue gun
Wooden skewers
Clothespins or binder clips
Cardboard to protect work area
Safety glasses
Scissors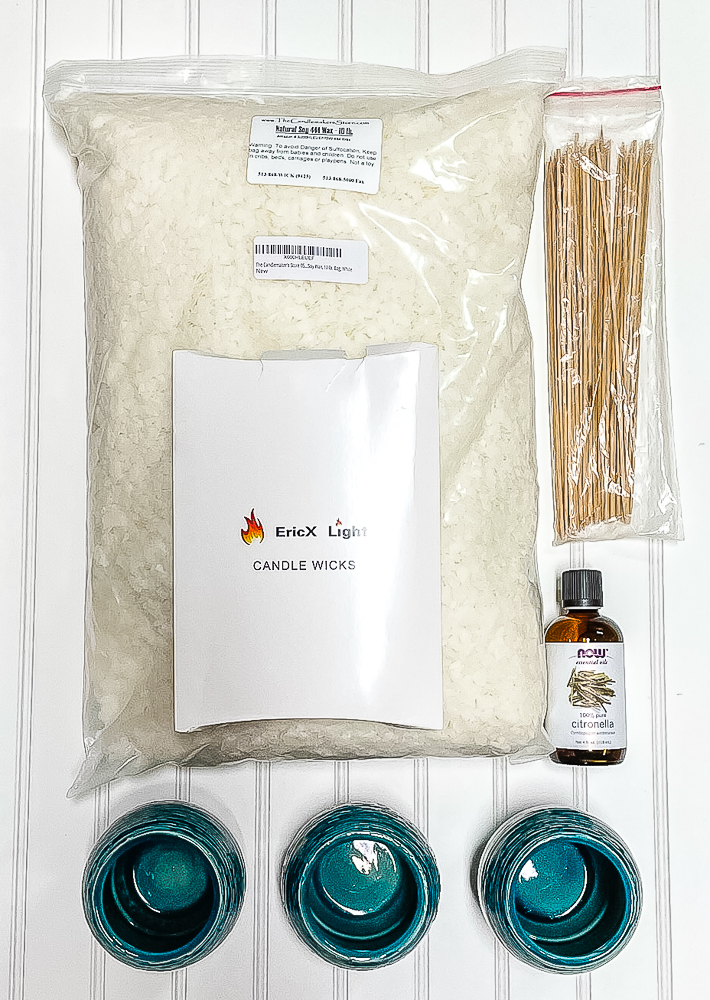 I bought way more wax than I needed which is nice because when Mama and my candles no longer burn, I can easily refill them for us.
Instructions
I made my candles in my kitchen and the first thing that I did was put a large sheet of cardboard on my kitchen counter to protect it from wax spills.
Add Wicks to the Candle Holders
I then heated up my glue gun to add candle wicks to my containers. My handy glue gun holder is a DIY from a few years ago.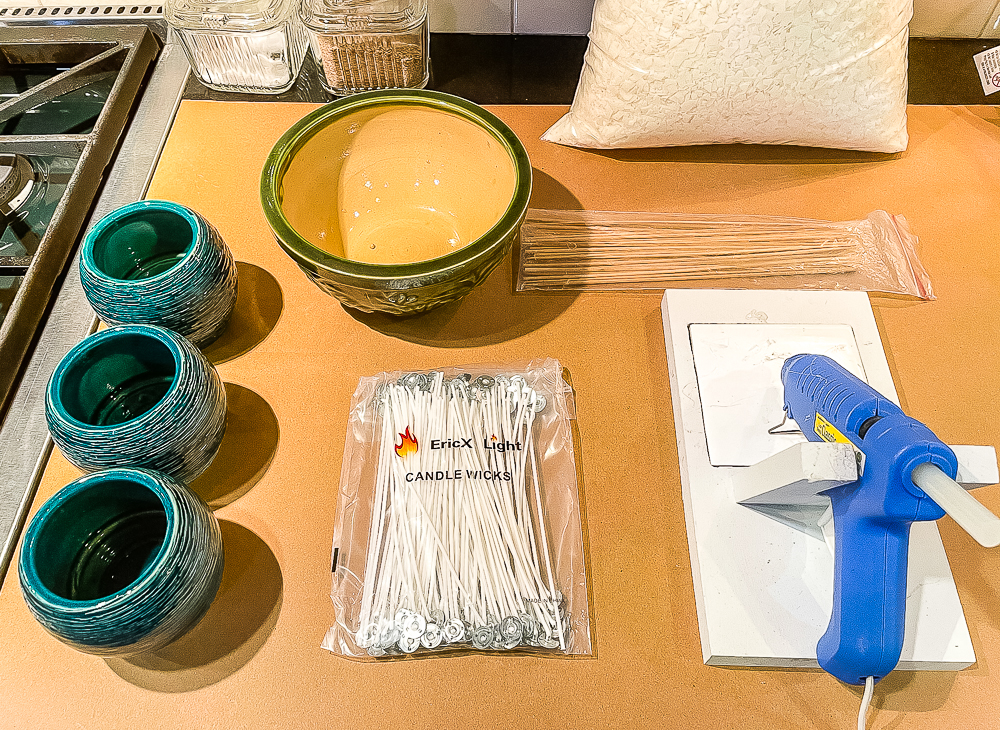 I glued one candle wick into each of the small containers and three into the larger container.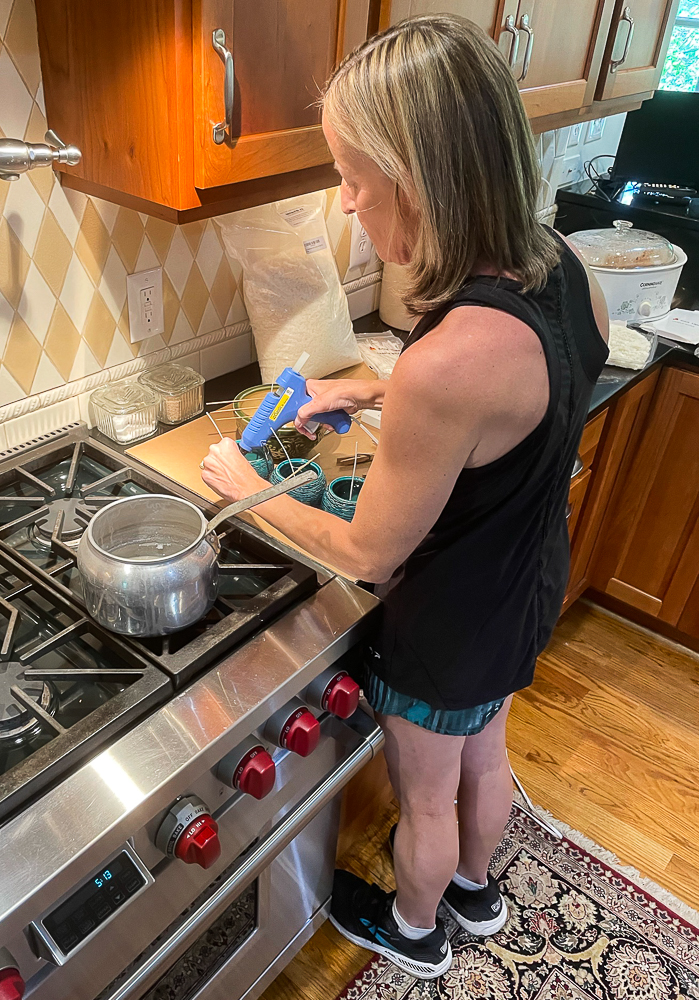 Some of the wicks didn't stand straight on their own, so I hot glued them to skewers.
This was an experiment that didn't work as well as I had hoped. I found that when I poured the wax into the containers, the heat of the wax melted the glue causing the wick and skewer to separate. I recommend using a clothespin or binder clip over hot glue.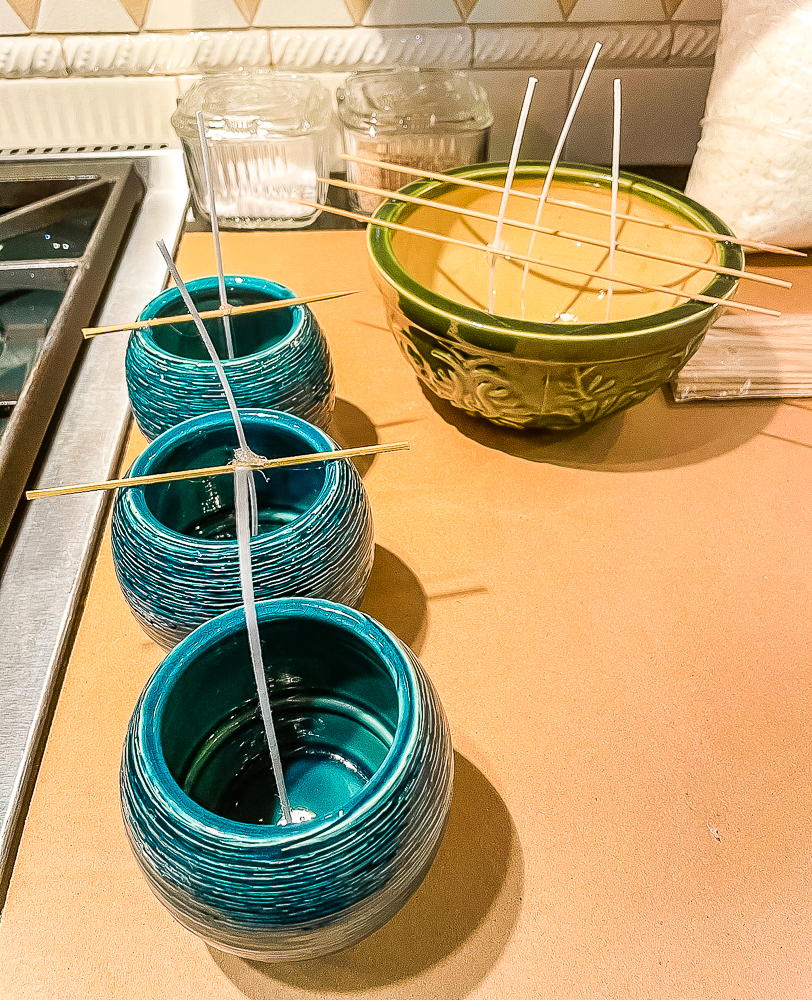 Measure Wax
To make the candles, I melted the wax in one pound increments. I chose one pound because each pound of wax requires 2 T of citronella oil to make a citronella candle.
I don't have a modern scale but this ancient one that I inherited from my grandmother worked like a charm.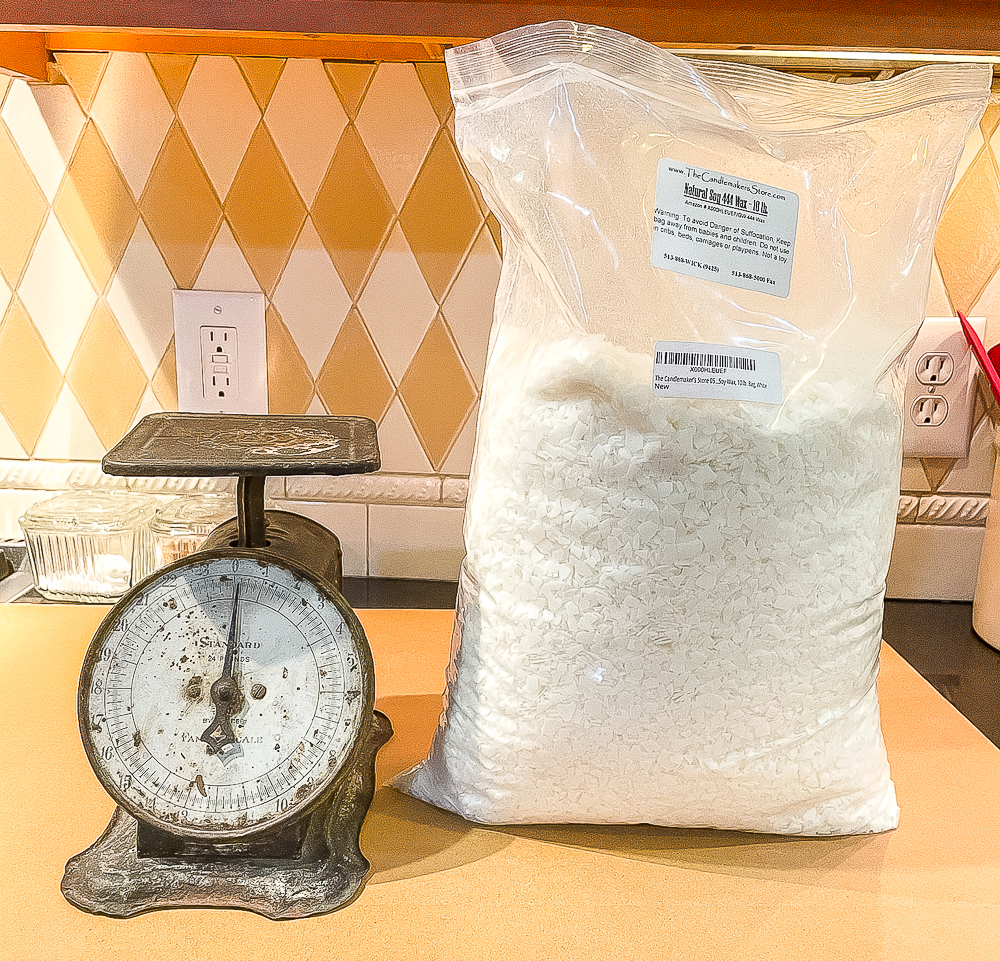 I used a piece of plastic from my recycle bin to hold the wax as I measured one pound.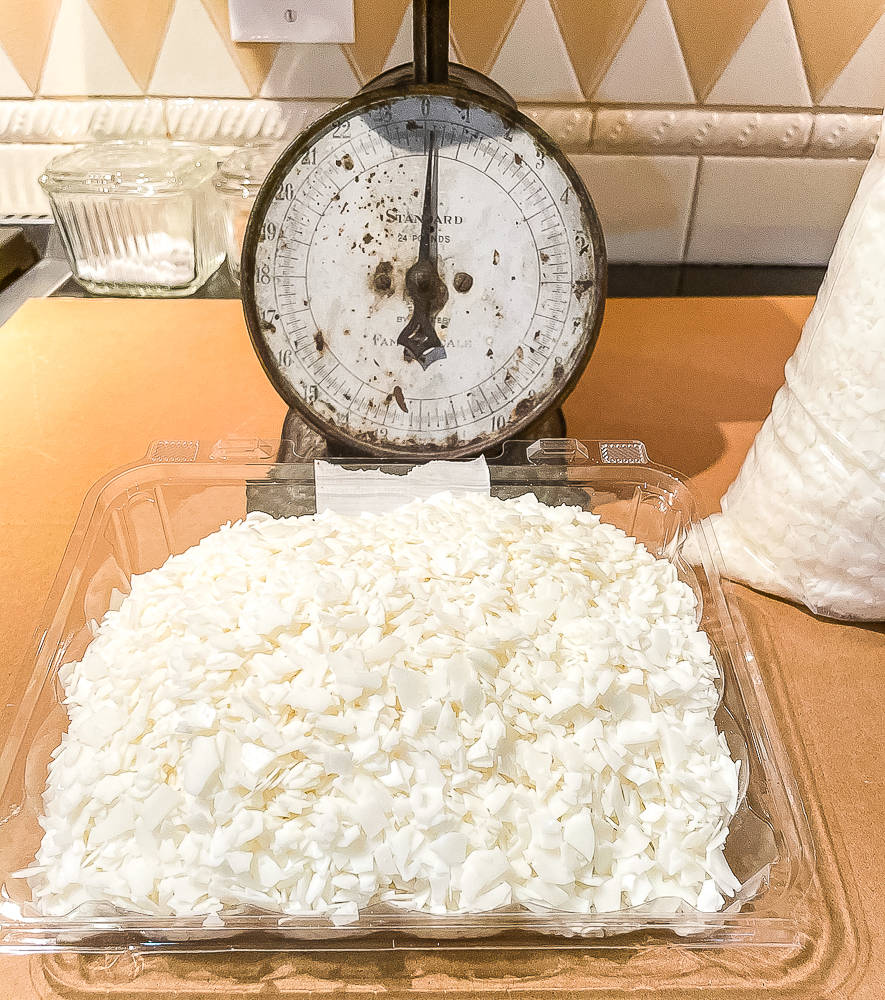 Melt the Wax
I use this double boiler that I inherited from my grandmother for crafts.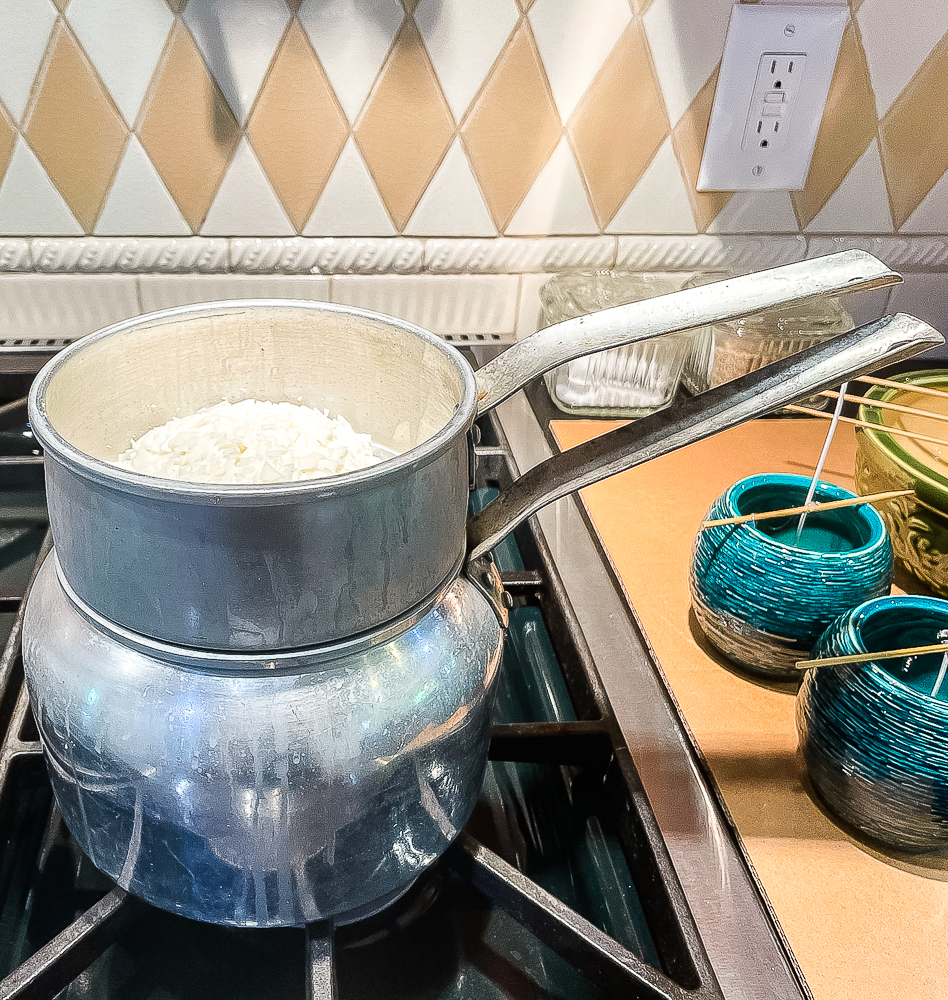 Melt the wax over medium heat, stirring occasionally. I recommend wearing safety glasses when working with hot wax.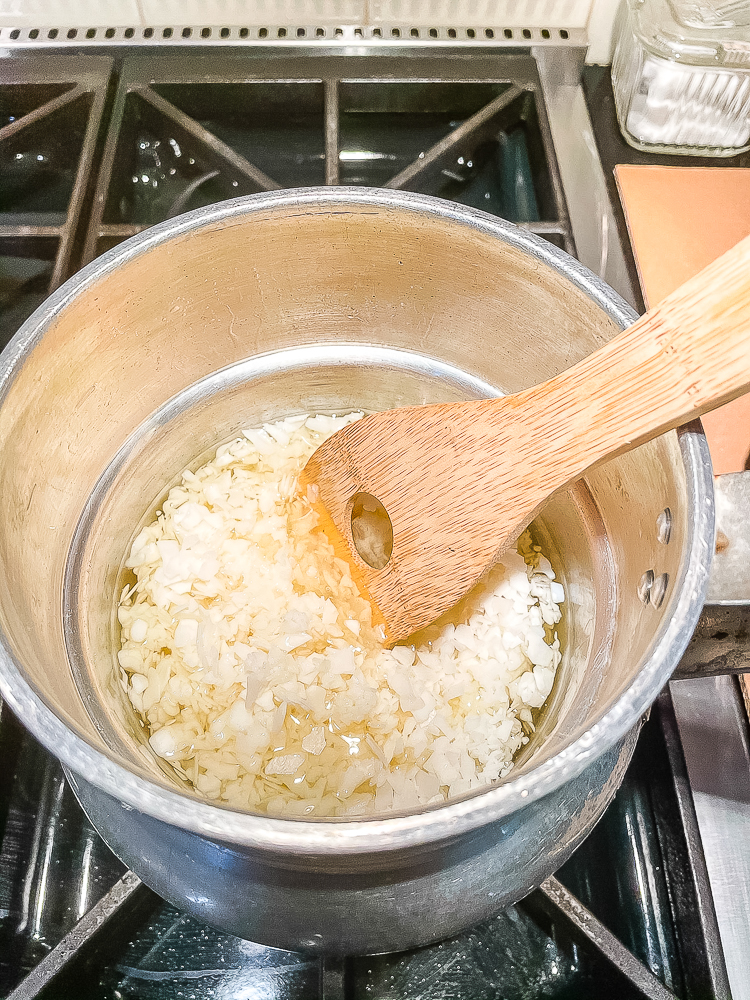 Add Citronella Oil to the Wax
Once the wax is melted, add two tablespoons of citronella oil.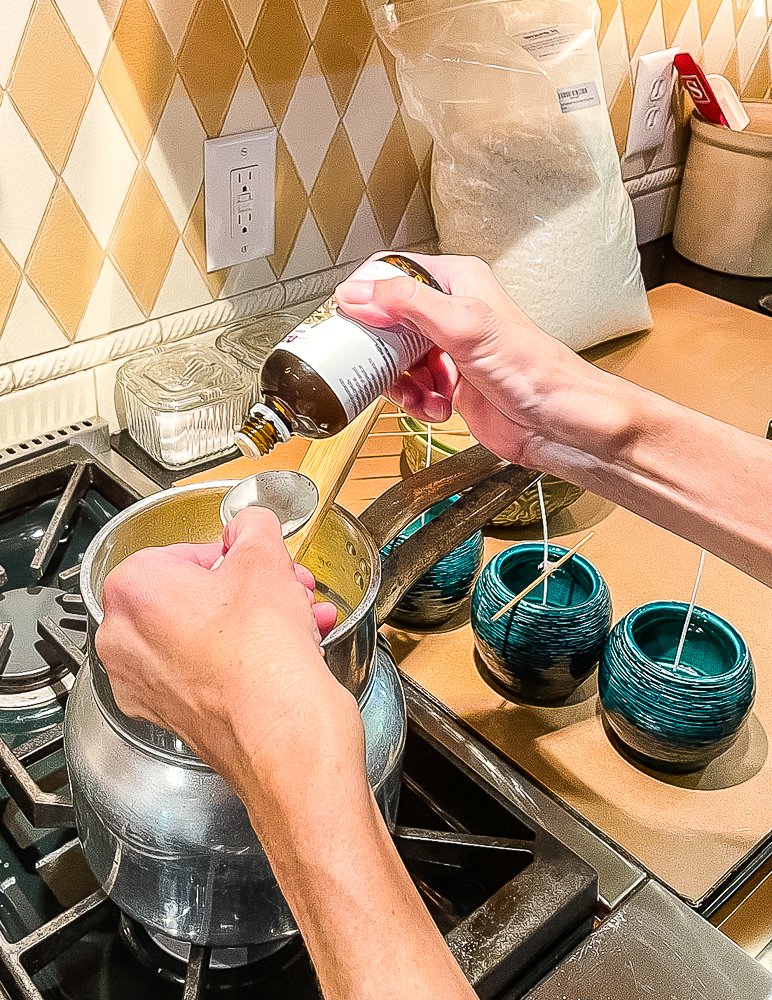 Feel free to add other essential oil scents to the melted wax. I added several drops of Doterra Harvest Spice Gathering Blend to each pound of wax that I melted.
When Mama unwrapped her candle on Mother's Day, she immediately commented on how good the candle smelled.
Pour Wax Into Containers
Carefully pour wax into the containers.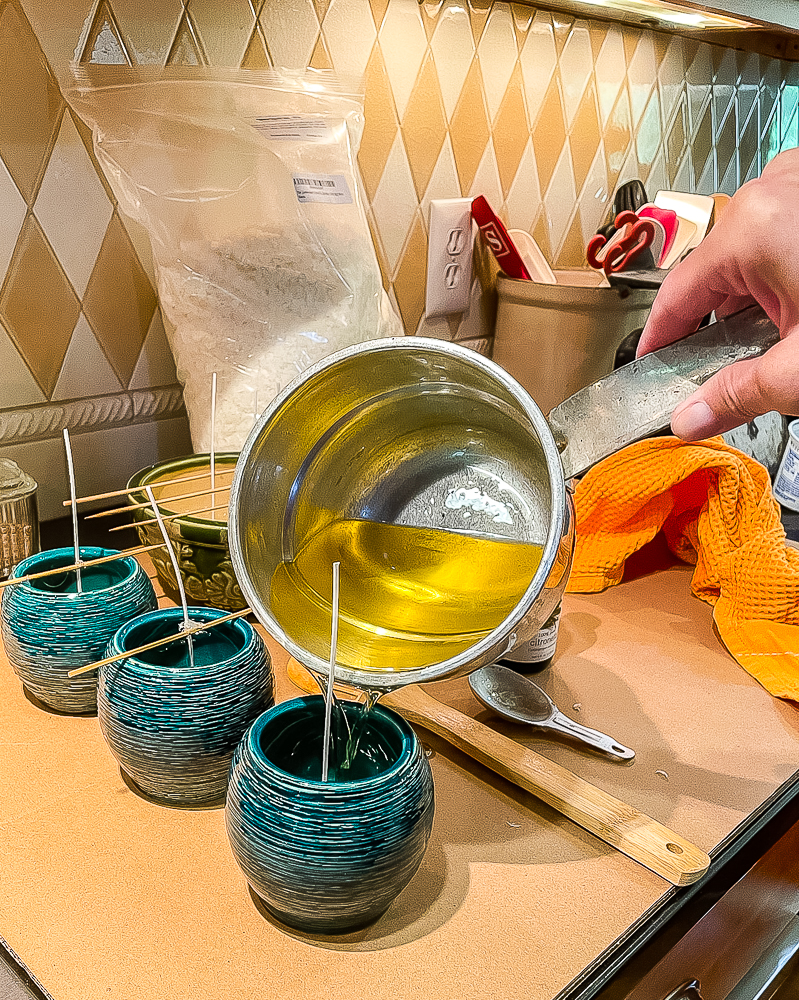 It took four pounds of wax to fill my four containers. You can see that candle making was messy for me. I was very glad that I protected my countertop with a sheet of cardboard.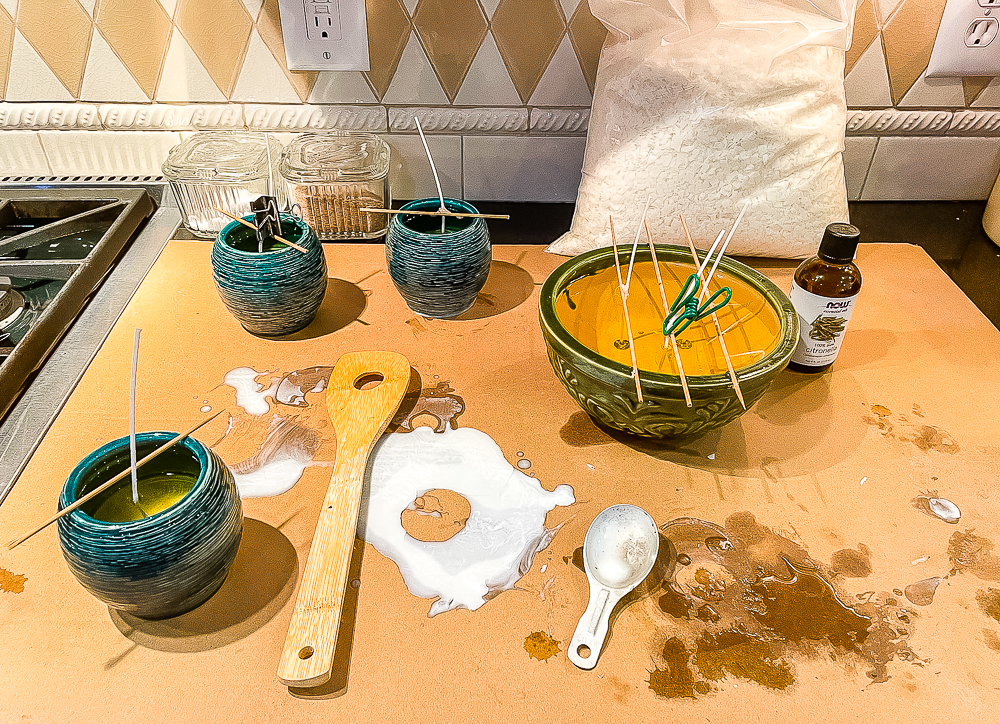 Let the candles cool.
Trim the Wicks
The last step was to trim each wick to 1/4″.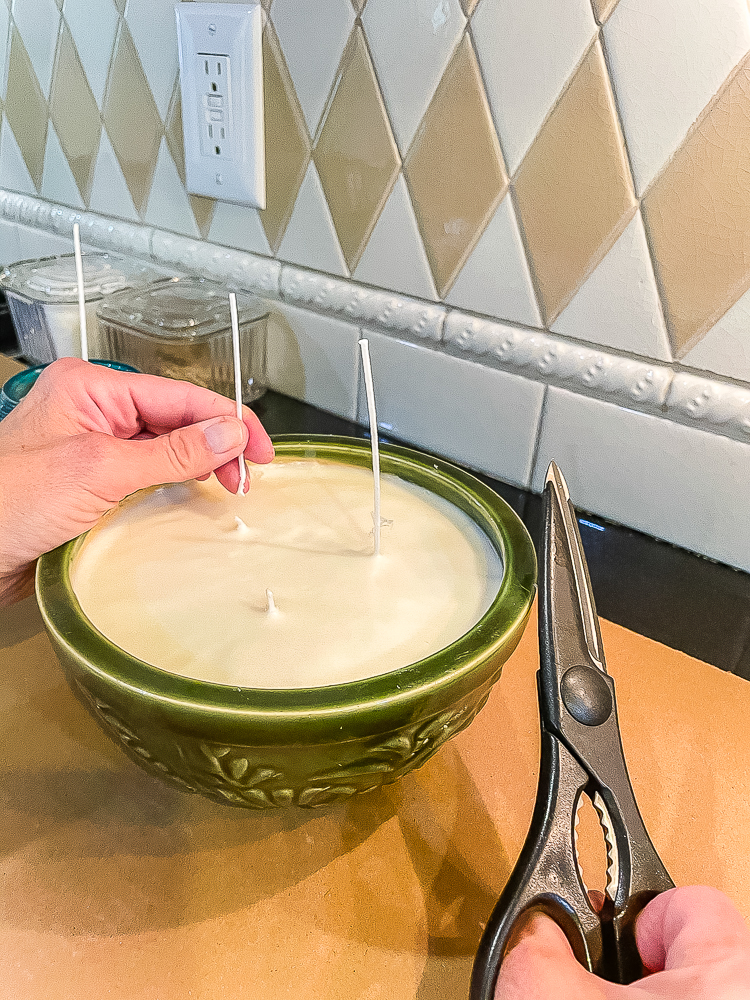 I had so much fun making these citronella candles and I can't wait to light them for the first time on our lakeside patio.
Now it's time to enjoy the projects that my Thrifty Style Team friends are sharing this month. Click on the links below to enjoy all of the ideas shared.