Do you like mercury glass? I do! I recently experimented with a technique to make my own mercury glass using a vase that I found in a trash pile.
I love the look of the DIY Mercury Glass Vase that I created so much!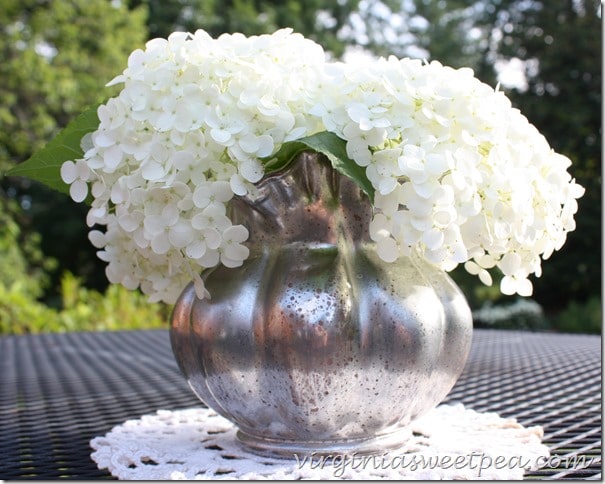 Just before school was out, my friend Suzanne and I were on an early morning run when I spotted a vase in a cardboard box set out for the trash man.
I liked both the shape of the vase and its heavy weight, so home with me it came.
It was dirty and had crusty deposits on the rim of the vase in the folds. The dirt was easy to remove, but the deposits, not so much.
After scrubbing and scrubbing, I was able to remove most of the deposits with a wet sanding block.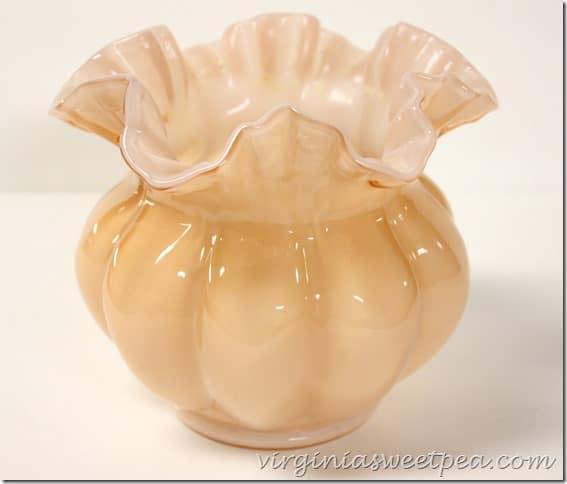 Since I failed to remove all of the encrusted deposits on the rim, I started this vase makeover by spraying the interior of the vase with white spray paint.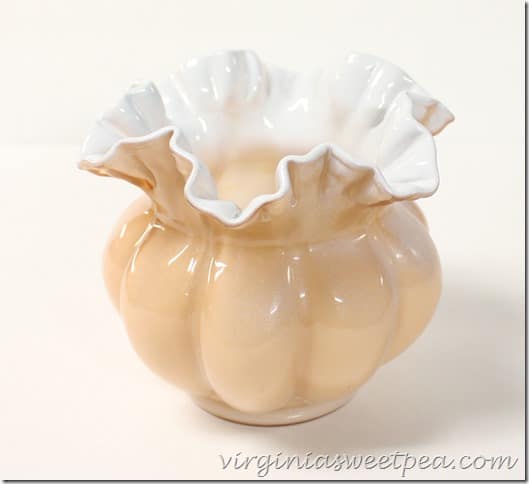 I then used painter's tape to cover the top of the vase to protect the white interior.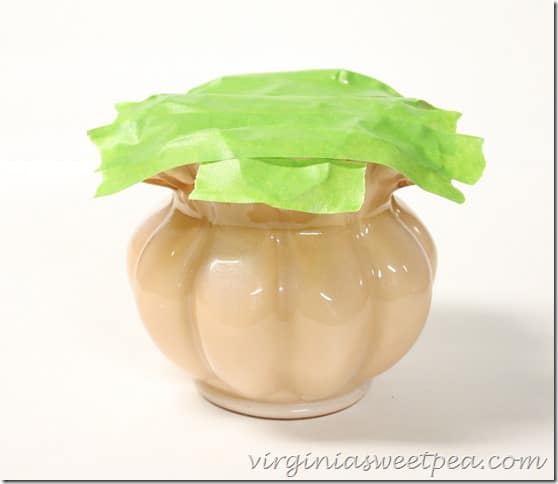 To create the faux mercury glass effect, you'll need:
Vinegar and water mixed 1:1
Paper Towels or a clean rag
Spray Bottle
Are you wondering why I am using a horse sprayer?
It creates a super fine mist that is perfect for this project. I also happened to have it in my basement left over from my equestrian years.
To create the faux mercury glass effect, lightly spray the vase with the vinegar and water mixture.
Immediately cover the vinegar and water with a light coat of Mirror Effect paint.
Wait 2 to 3 minutes and then dab the vase with a balled-up paper towel or rag.
Repeat until you get the coverage that is pleasing to you. I did three coats but in retrospect could have stopped at two.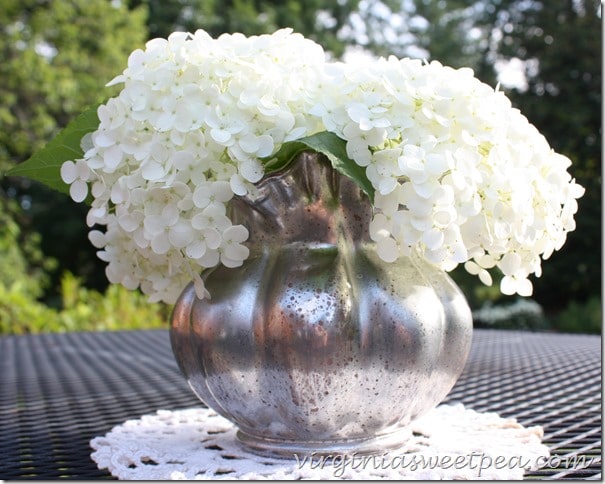 I love how the original peachy-pink color of the vase shows through the Mirror Effect paint.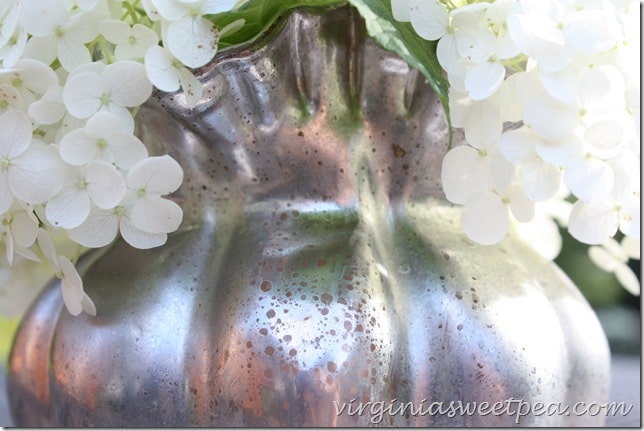 One of my Hydrangeas is blooming and looks so pretty in this vase.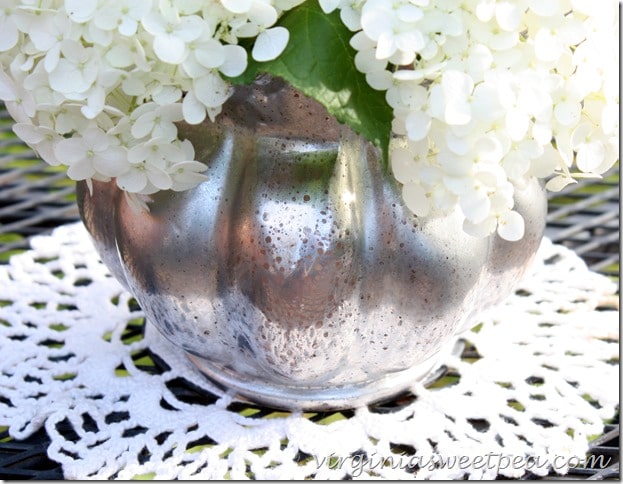 I'm so glad that I saved this vase from the trash and gave it a new look.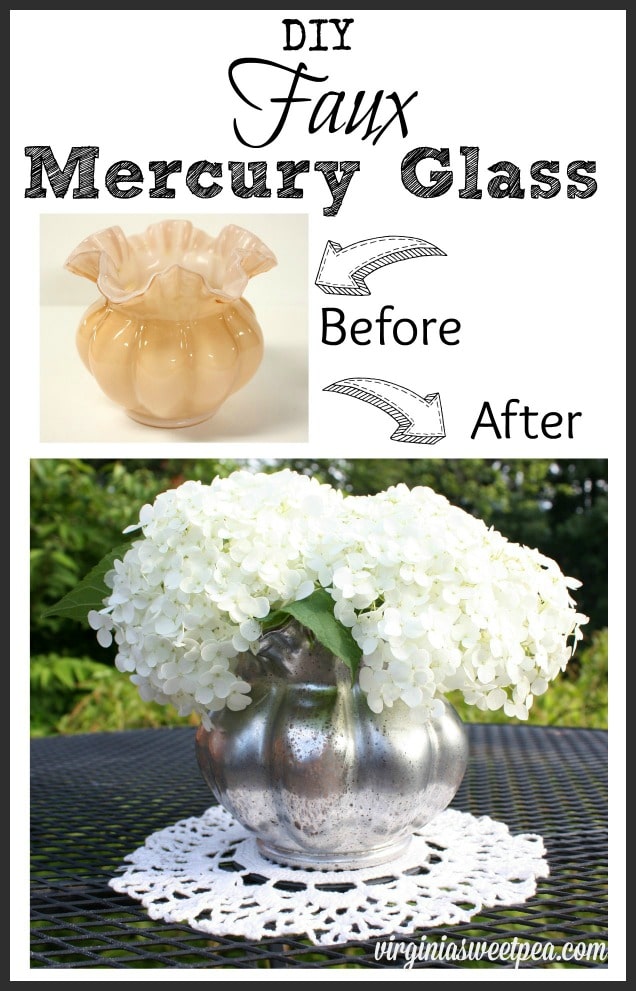 Have you tried this technique? If you haven't, it is easy and the results really are pretty.