This post and photos may contain Amazon or other affiliate links. As an Amazon Associate I earn from qualifying purchases. If you purchase something through any link, I may receive a small commission at no extra charge to you. All opinions are my own.
I come from an American loving patriotic family. Ever summer I enjoy decorating our home patriotically to celebrate the USA. Today I'm sharing the Patriotic Mantel with Vintage that I decorated in our formal living room.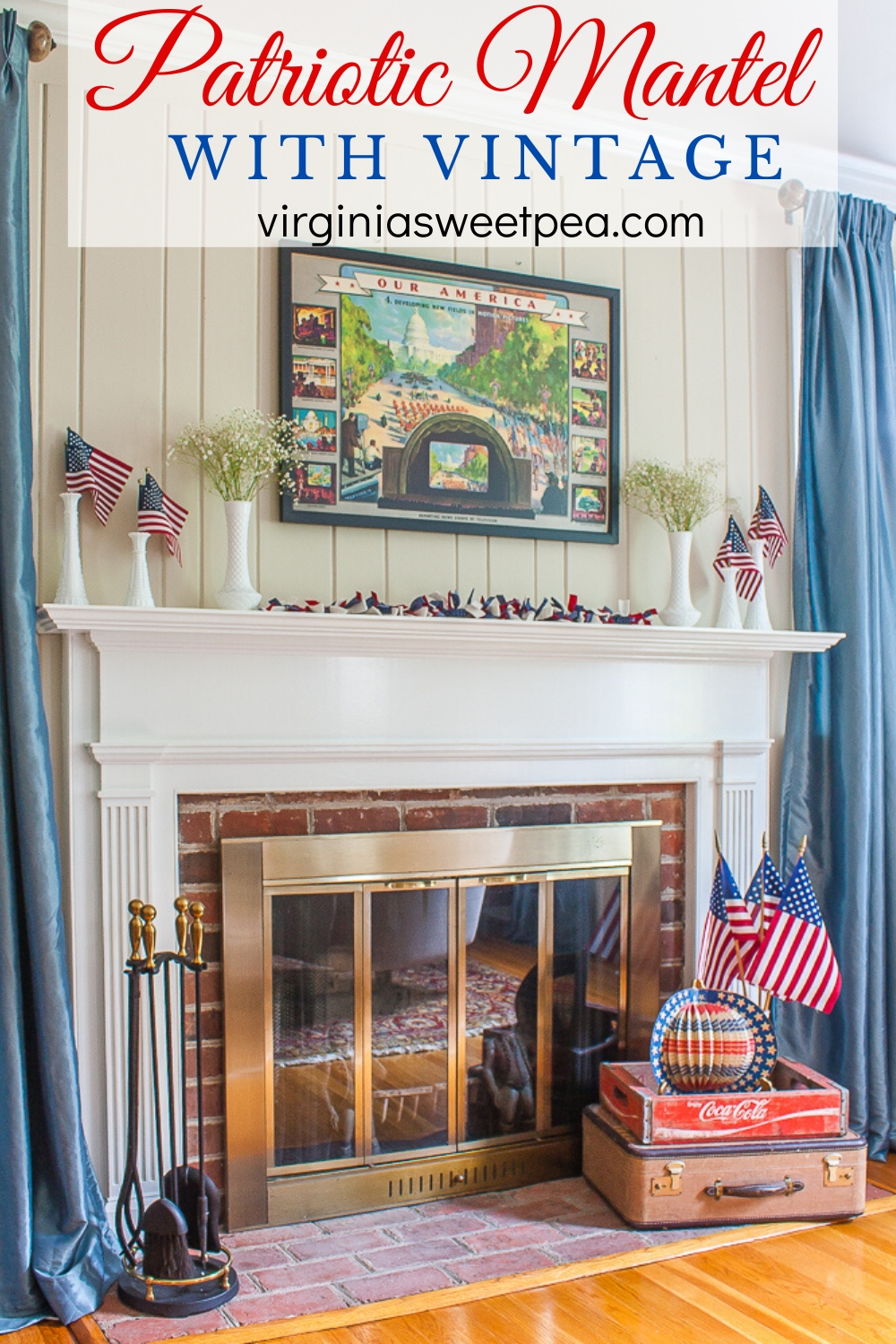 Patriotic Mantel with Vintage
Our living room is decorated patriotically and seeing the red, white, and blue everyday makes both me and my husband very happy.
1943 Coca-Cola Framed Poster
My patriotic mantel started with a framed "Our America" 1943 Coca-Cola poster.
I have five more posters from the set hanging in our lake house living room.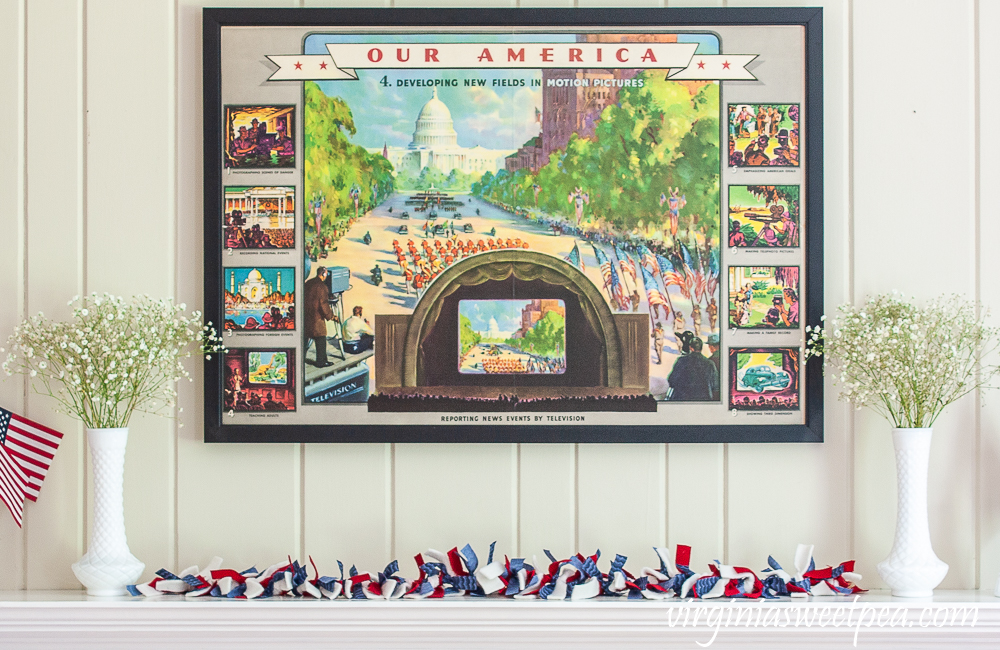 These posters and a slew of other treasures were all found in a dumpster.
Milk Glass Vases & Rag Garland
After hanging the poster, I flanked either side of the poster with milk glass vases filled with flags and Baby's Breath.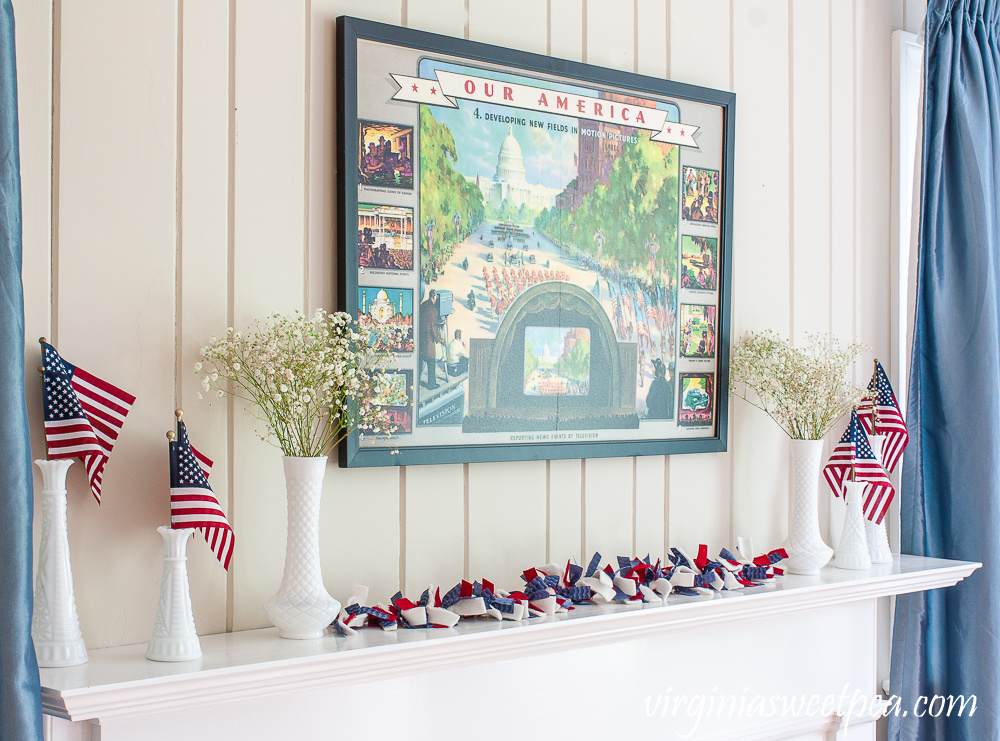 I made a red, white, and blue garland for the center of the mantel. This was an easy DIY and I love the pop of color that it gives.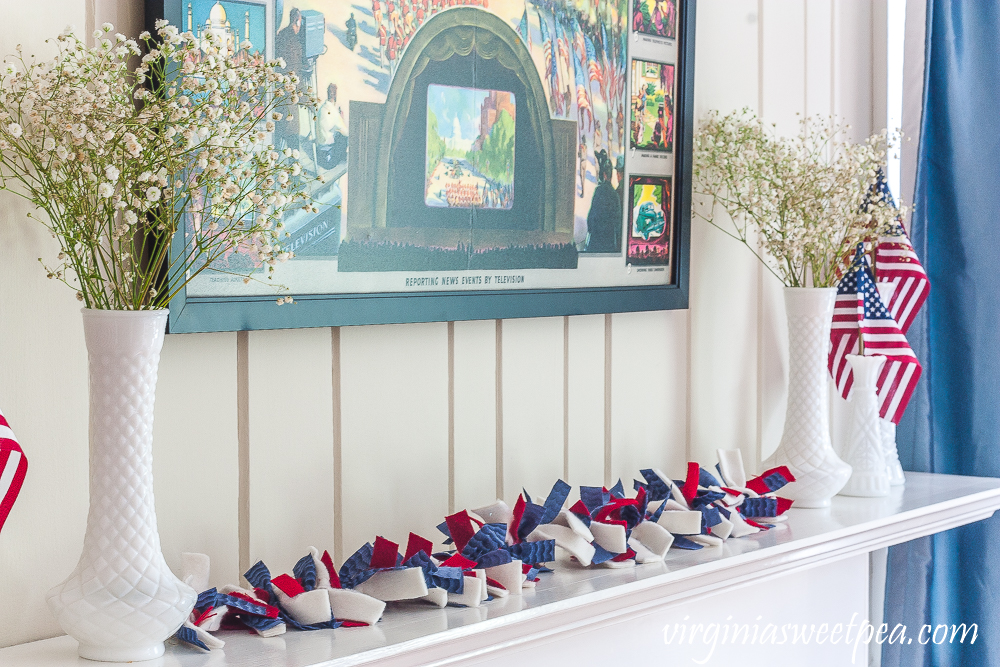 To get the flags in the exact position that I wanted them, I glued them to the inside lip of the vase. Hopefully, they will come out easily when the time comes to undecorate.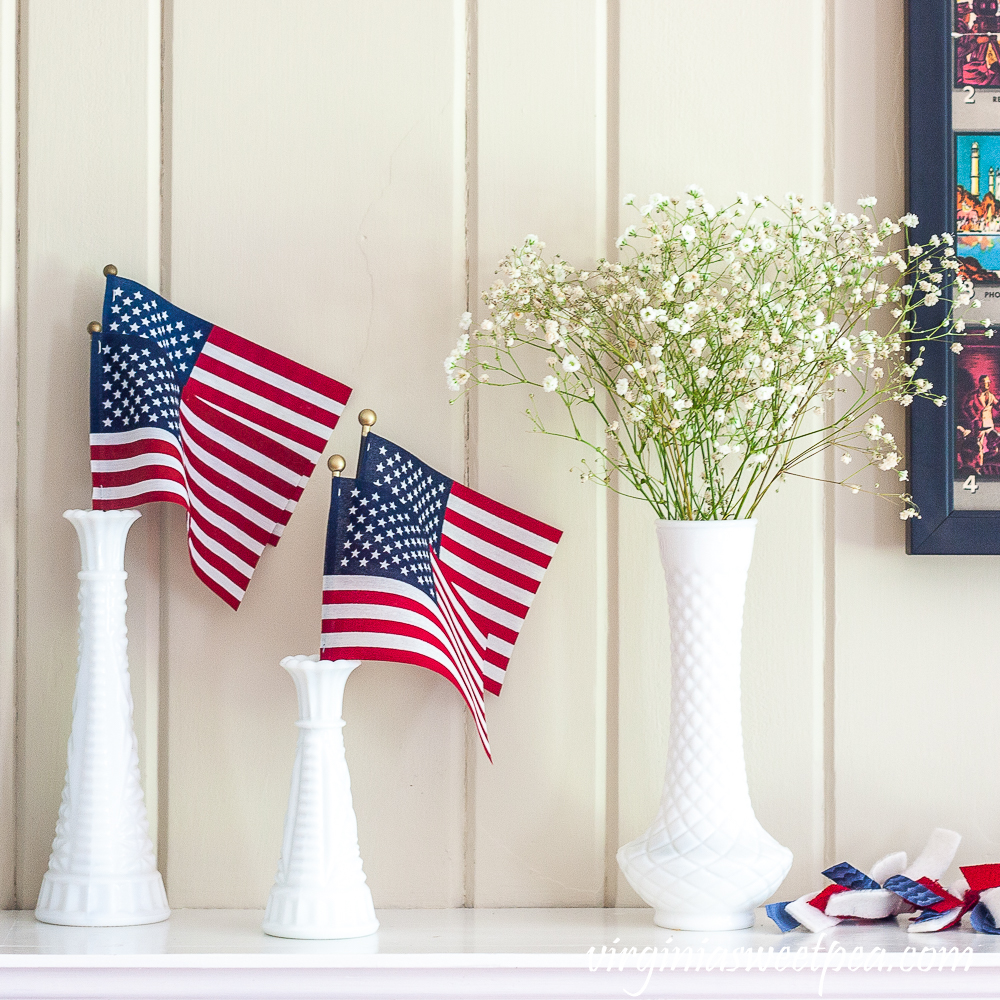 I love using Baby's Breath because the blooms look as good dried as they do fresh.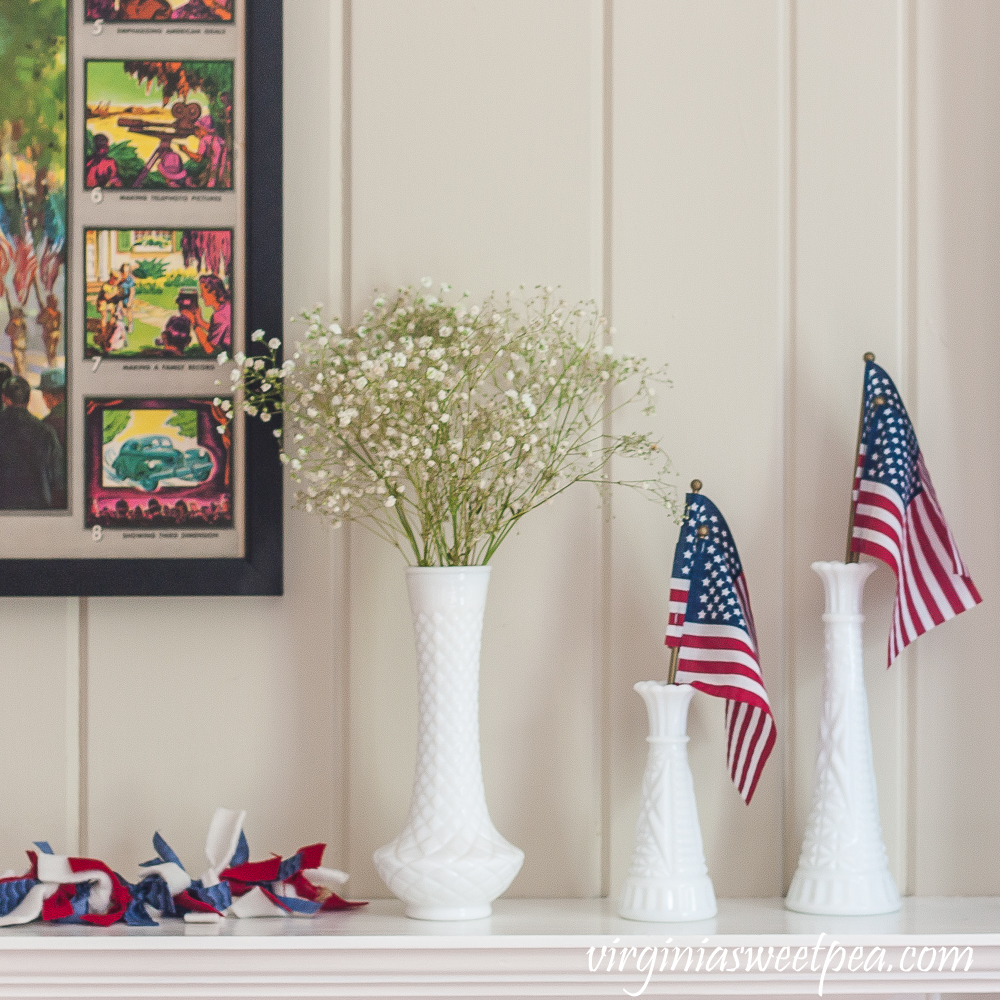 The majority of my Milk Glass vases belonged to my grandmother.
Patriotic Display on the Hearth
The fireplace hearth is also decorated patriotically.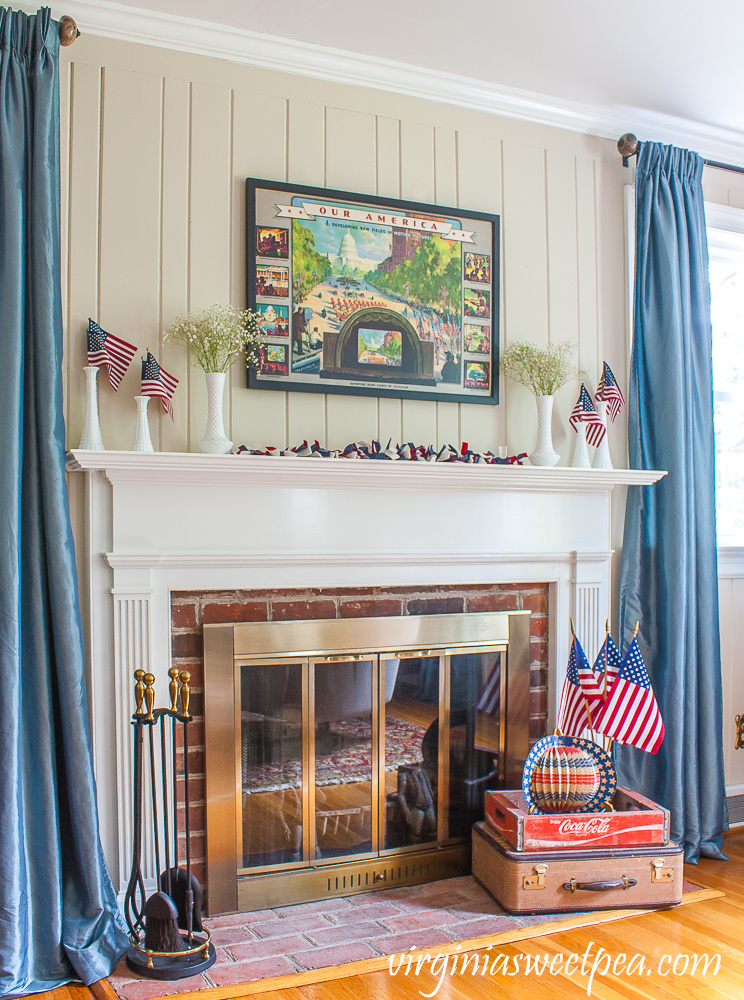 The folding paper hat belonged to my grandmother's cousin and was passed along to me by my mom.
The hat along with American flags displayed in a florist vase are displayed in a Coke crate that I scored in an Amherst antique shop.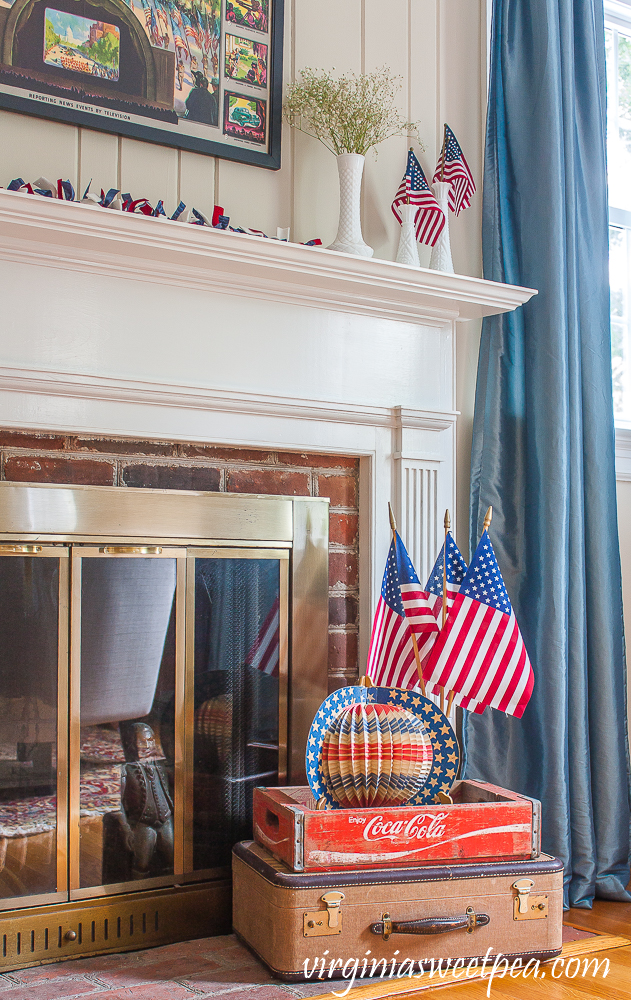 Under the Coca-Cola crate is my grandmother's suitcase. My mother passed this along to me and the deal was that I also had to take the suitcase contents.
It's filled with Christmas bows but every Christmas I forget that I have them.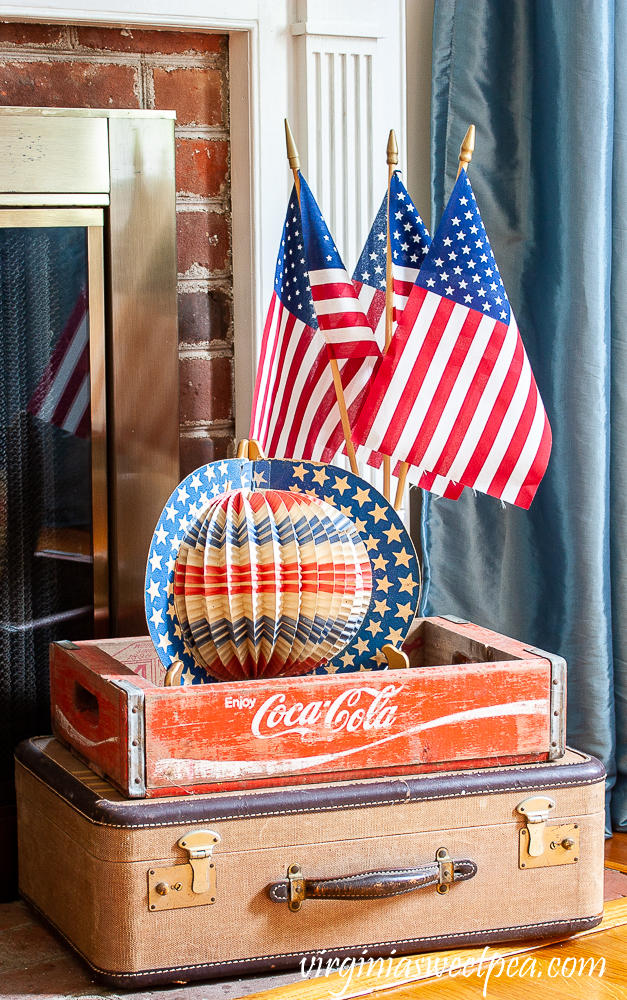 In Front of the Mantel
I'm still loving the new chairs that I purchased this spring.
The table between the chairs holds a 4th of July centerpiece that I made a long time ago. In fact, this was the first woodworking project that I completed with Mrs. SP's help.
I usually display this all summer on my kitchen table at the lake but this year I'm using it here.
You can see the patriotic vignette with vintage that I recently shared on the music stand in the background.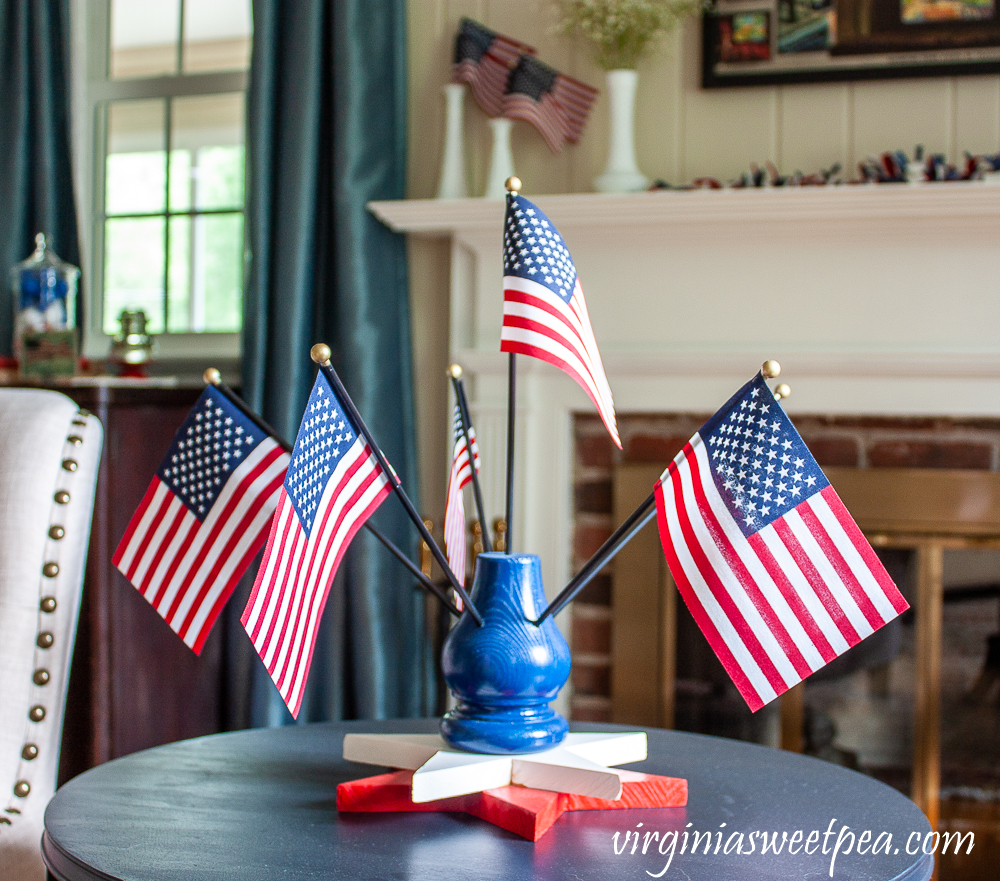 The rest of the living room is decorated patriotically and I'll soon share all of the details.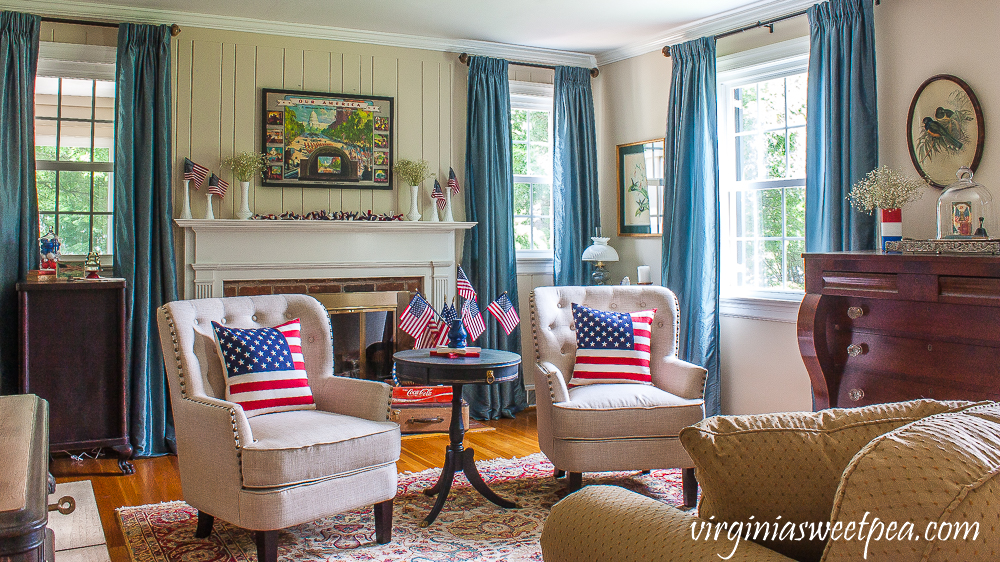 Now that our living room is decorated patriotically, I have a few plans for decorating the dining room with the same theme since the two rooms are adjoining.
Hurray for America and God Bless the USA
Patriotic Ideas
Every year I love decorating my home with red, white, and blue for patriotic holidays. These are some of my favorite patriotic posts.