Patriotic Centerpiece with Vintage
As June fades into July, I have another patriotic post to share with you, a patriotic centerpiece that I put together to decorate our family room coffee table.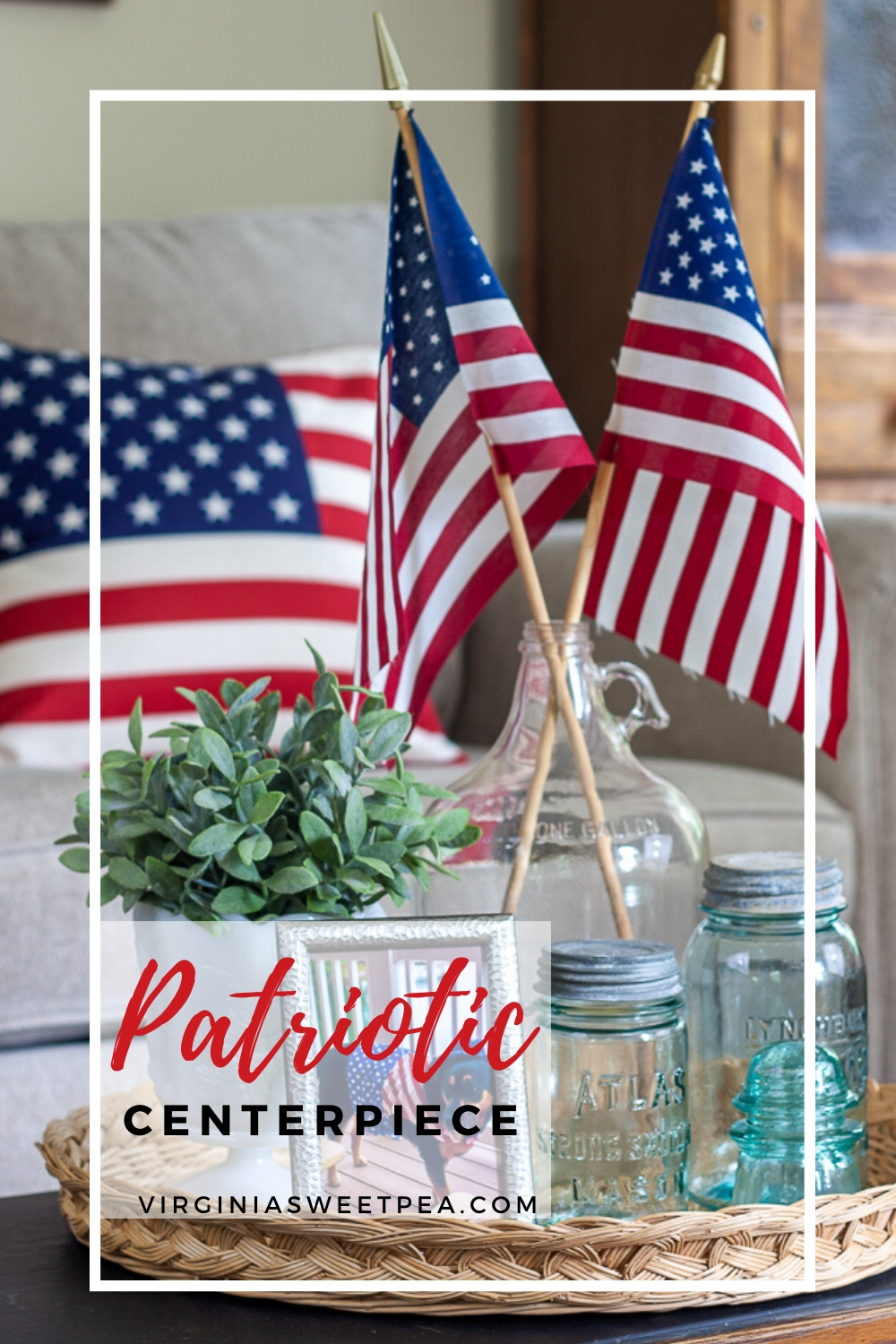 Today's patriotic centerpiece is part of a monthly Pinterest Challenge hosted by Cindy of County Road 407. Each month Cindy selects a picture from Pinterest and challenges our group to create our own version of the look.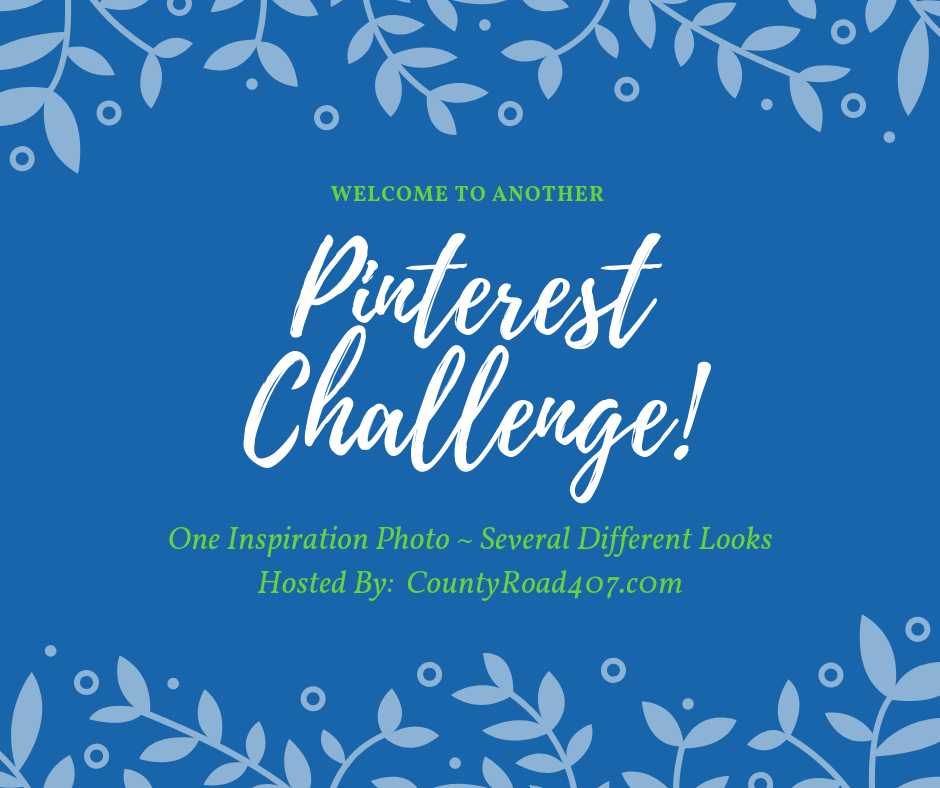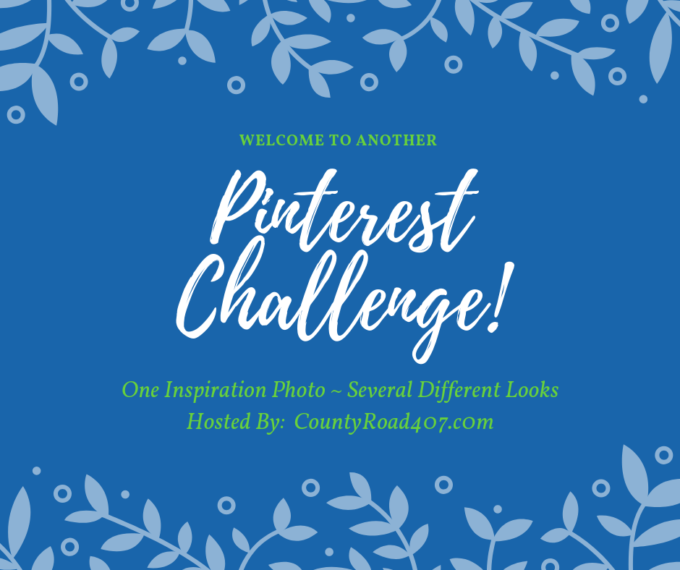 Many thanks to Cindy for hosting this challenge!
If you arrived here from Decor to Adore, welcome!
Our Inspiration for this Challenge
This month we were challenged to create a patriotic centerpiece inspired by this one by Liz Marie Galvan of Liz Marie Blog.
You may have heard of Liz Marie through social media or from her book, Cozy White Cottage.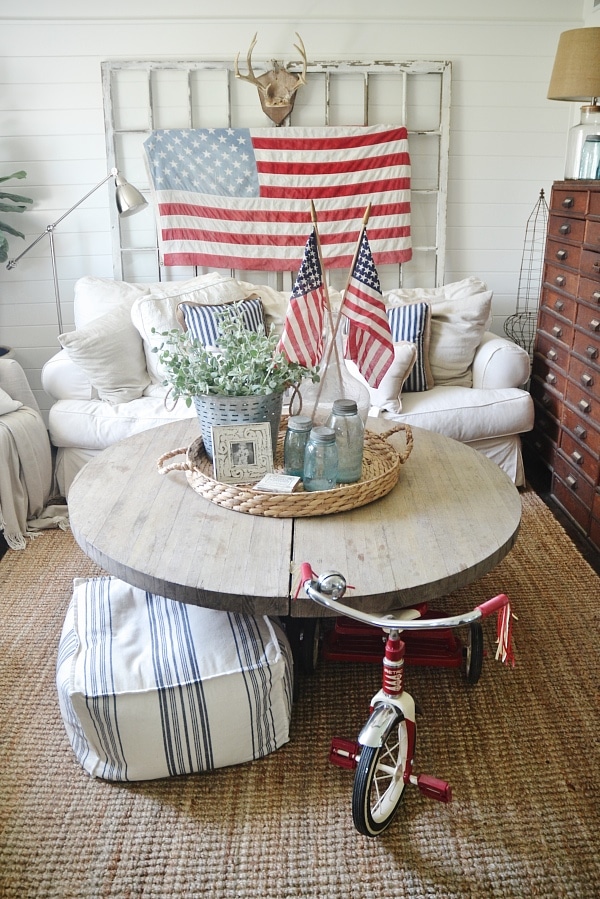 This patriotic scene is right up my vintage-loving alley. Isn't this a beautiful display?
Even though I loved the entire display, I focused on creating a centerpiece for our family room coffee table using Liz Marie's table centerpiece as my inspiration.
I really loved the tricycle that Liz Marie used and I'll bet my bottom dollar that my mom has mine stored away somewhere. I'm afraid to ask her because she may bring it to me. Ha-Ha!
My Version of our Inspiration
My coffee table had been empty of decor since Easter and I was so glad that this Pinterest Challenge motivated me to create a patriotic centerpiece for it.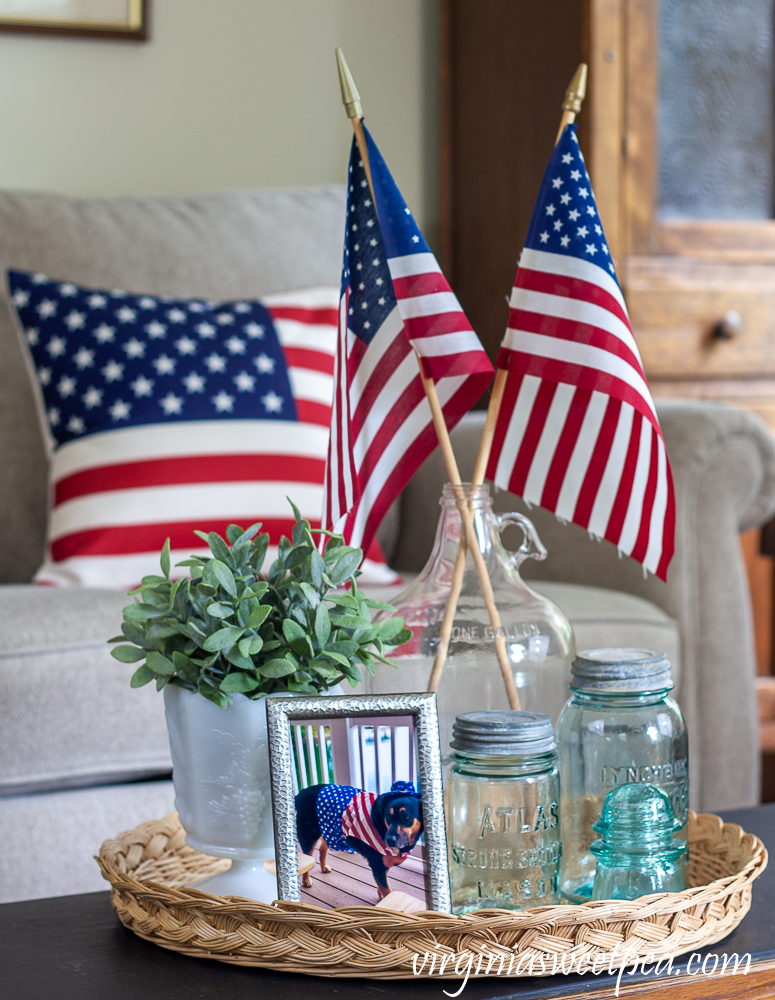 No shopping was needed to create my centerpiece.
After a few trips to my basement for decor items and then printing out and framing a picture of Sherman, my centerpiece was ready to be enjoyed.
I love this centerpiece and am so glad that Cindy chose this picture from Liz Marie to use for this month's challenge.
The Tray
Liz Marie used a beautiful round woven basket style tray with handles for the base of her centerpiece.
My woven tray was a lucky yard sale find.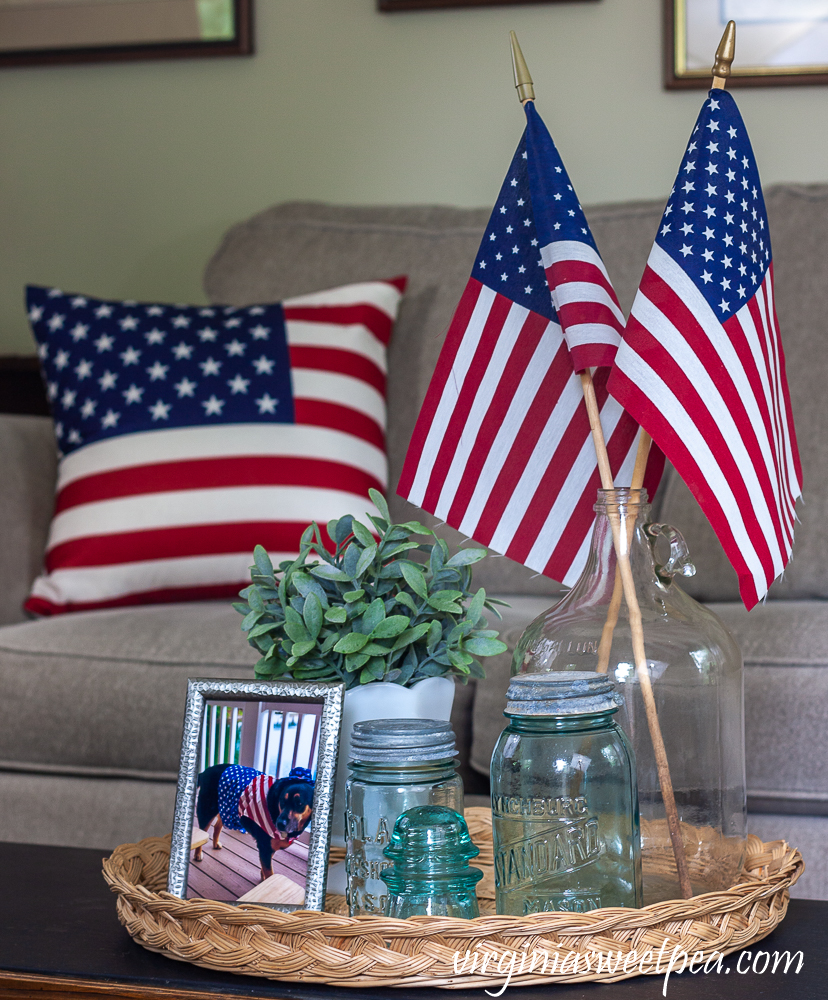 Vintage Vinegar Jug with Flags
After the tray was in place, I turned my attention to the next element, the glass bottle holding two flags.
My jug is an old vinegar jug that my mom gave me.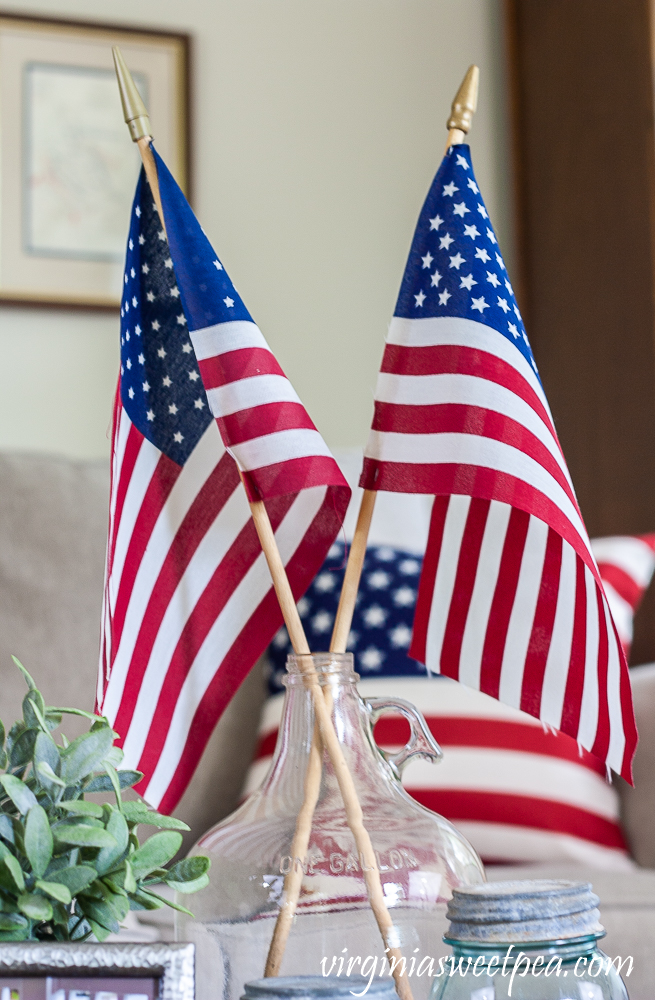 I have a bunch of these jugs in my basement, all given to me by my mom. They make a great lamp base and I think that Mama gave them to me a long time ago for that purpose.
Mama says that these jugs either came from my uncle who used them to hold the tasty wine that he used to make or they may have come from another relative who used them for the Dandelion wine that he made.
Since homebrewing is now a popular hobby, you can buy similar jugs Amazon.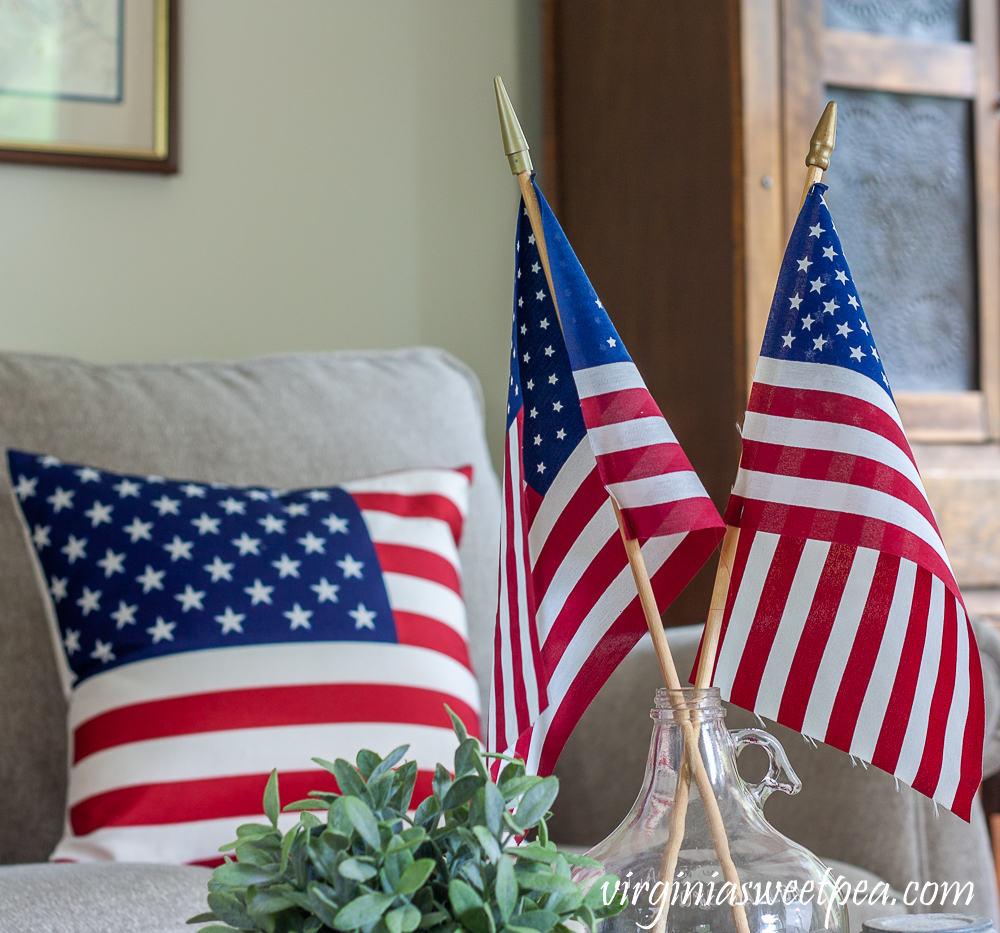 I love how the flags look in the bottle, especially with the American flag pillows in the background.
Liz Marie used a large flag in the background and I love that look. A hanging flag didn't work for my coffee table vignette but I do have the perfect flag that I could have used, a vintage 44 star flag that belonged to a relative. It's framed and in a guest room at the lake.
Plant in Pot and Photograph
Liz Marie used a plant in a galvanized metal pot in her centerpiece along with a framed picture of a child.
Instead of a metal pot, I used a milk glass footed vase.
I don't have any children that are human, so I used a picture of my fur baby, Sherman, from last year's 4th of July celebration.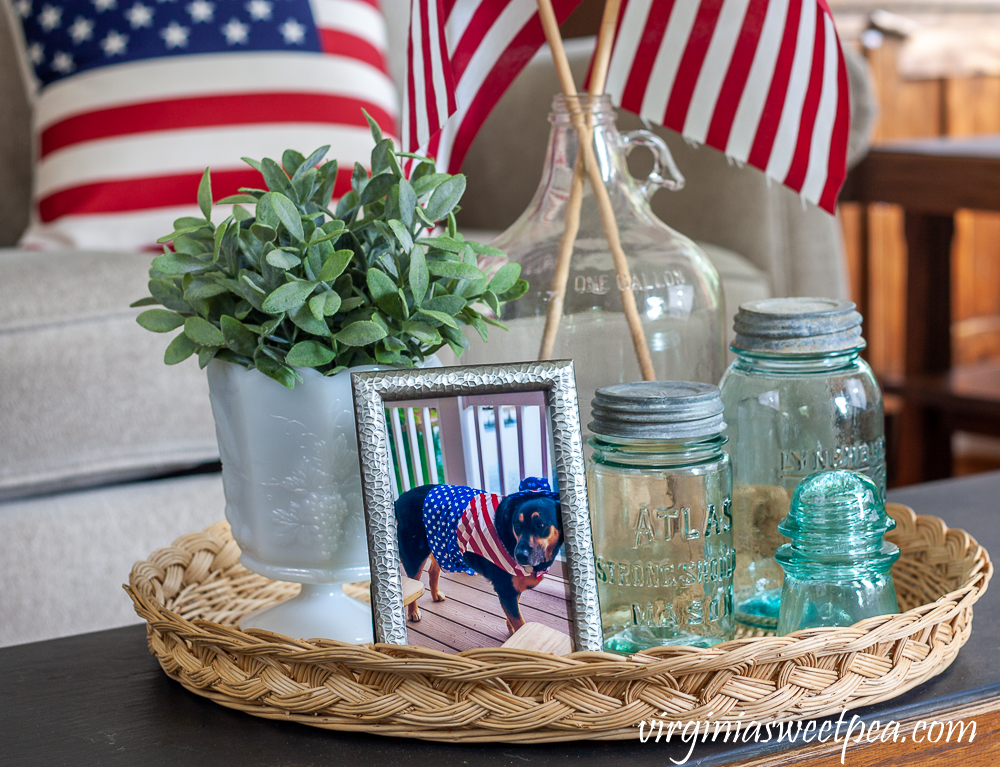 My plant is faux from Ikea. I scored the milk glass vase holding it at Goodwill long ago.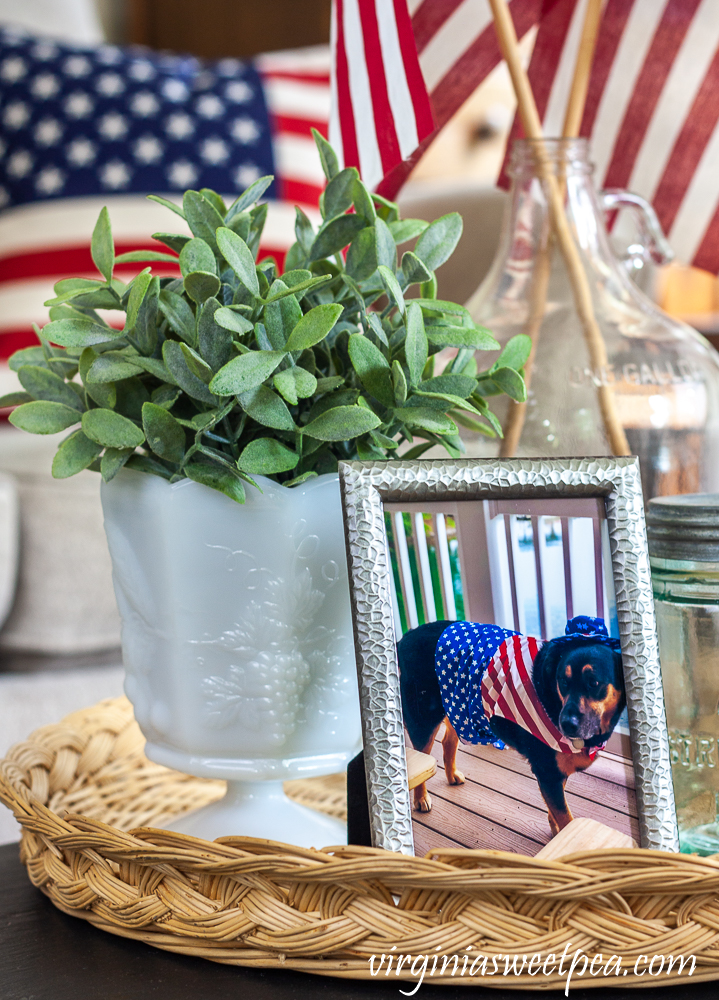 Sherman was not a happy camper when his Mama put this costume on him. I only made him wear it for a few pictures and then I freed him of the humiliation.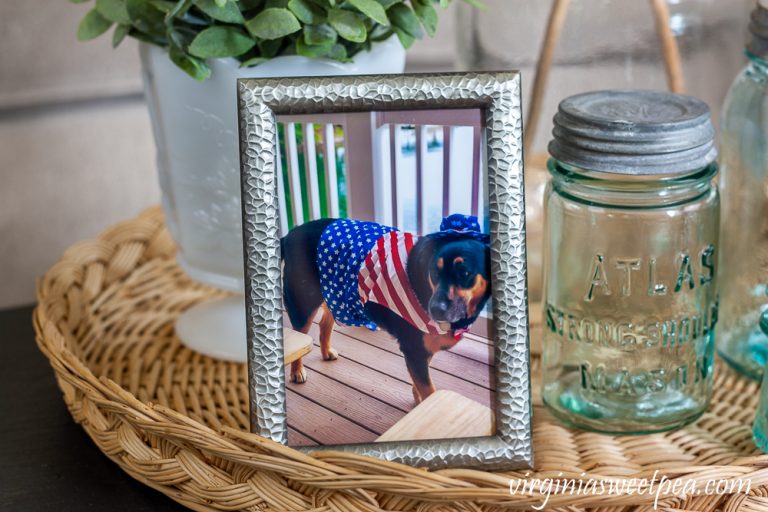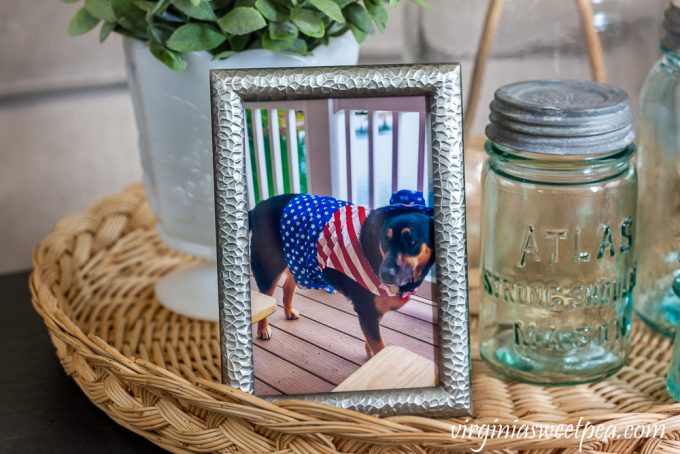 Liz Marie had room on her tray for coasters but I did not.
Jars and Insulators
I have a shelf filled with vintage Mason jars but couldn't get three to look good on my tray, so in place of one of them, I used a glass insulator.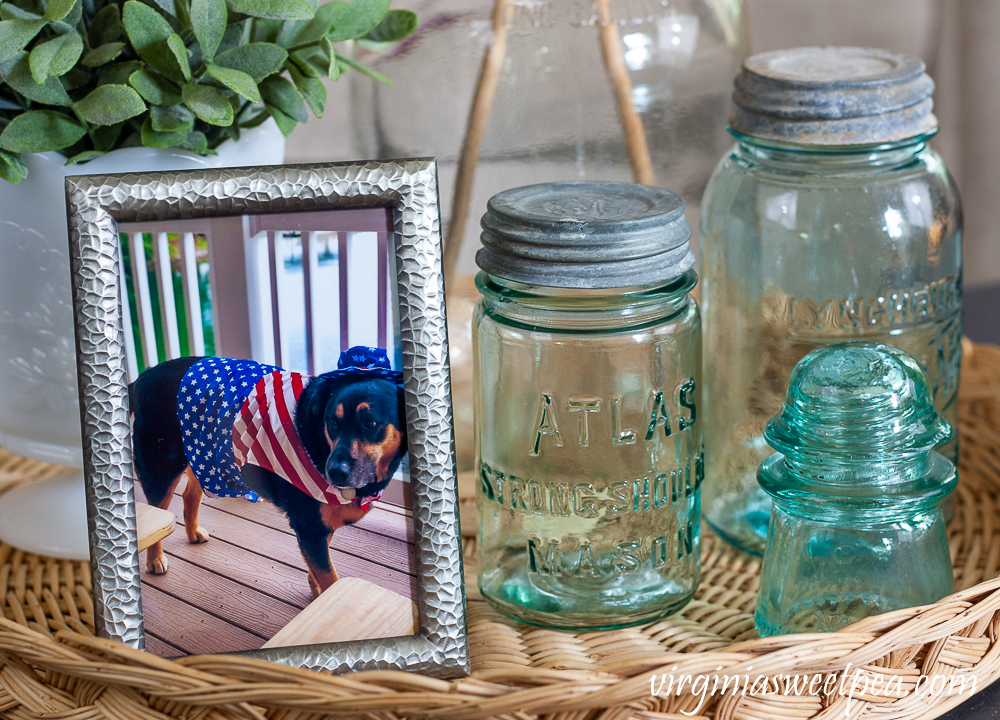 The two canning jars are from my family and according to the research I did on them, they are both from the 1920s.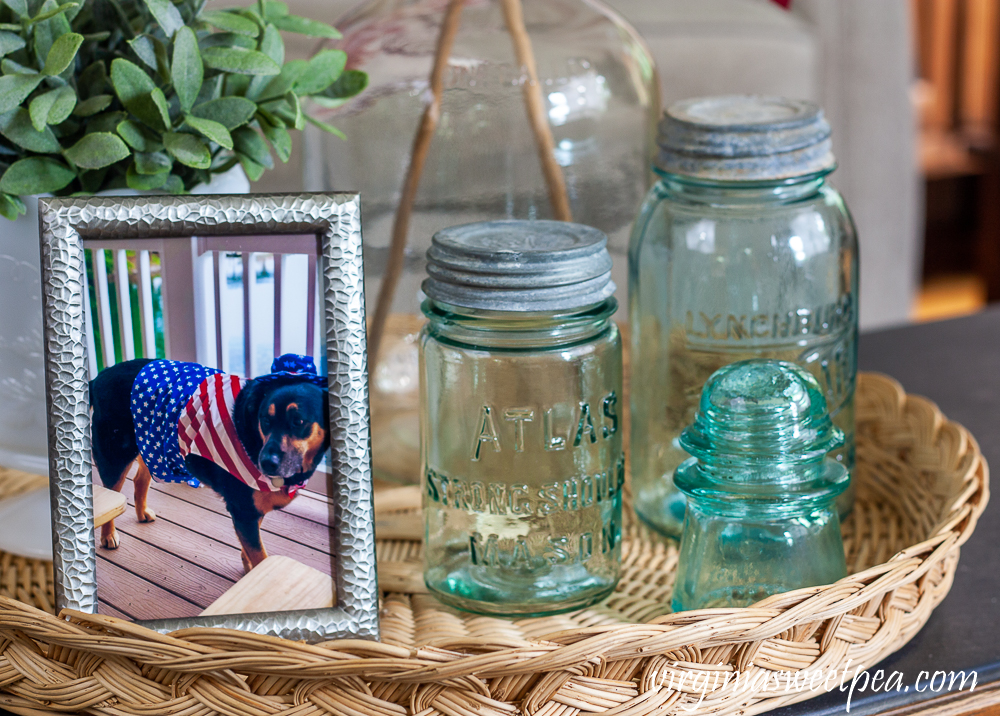 I love old Mason jars and for summer decor have used them on my mantel and also grouped on my table as a centerpiece.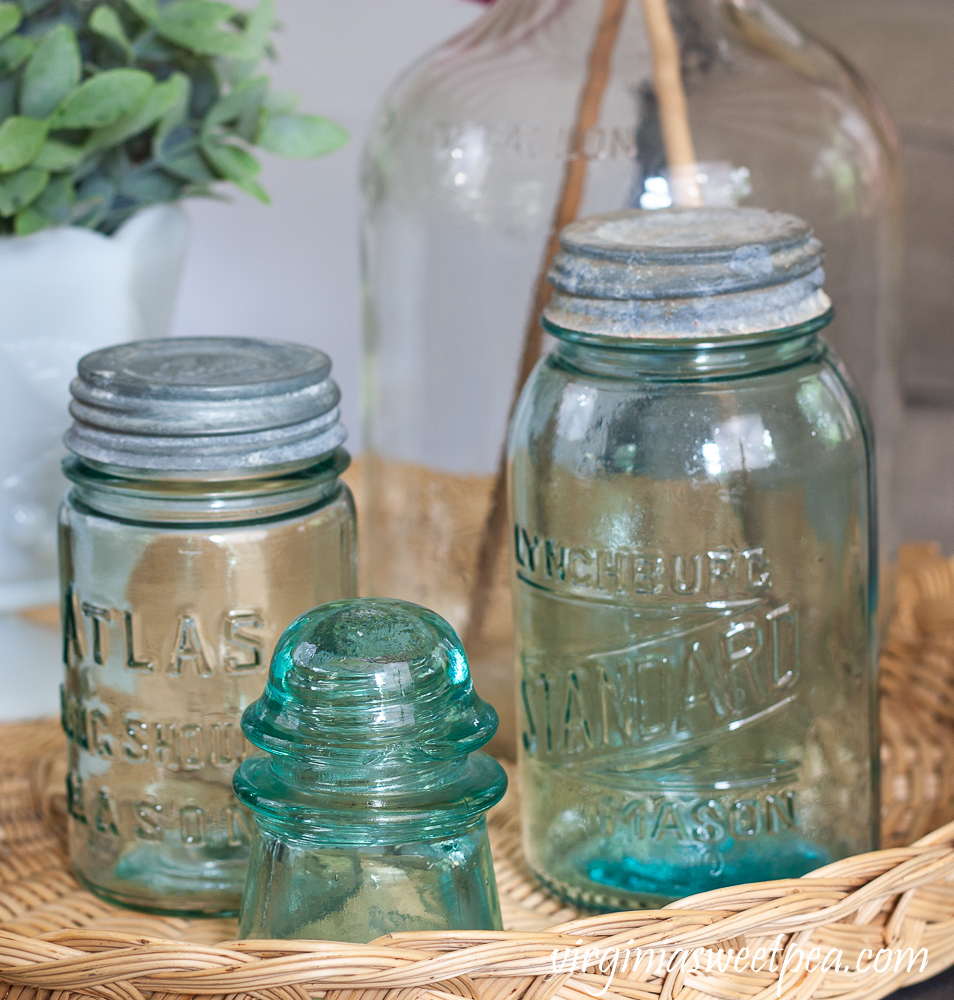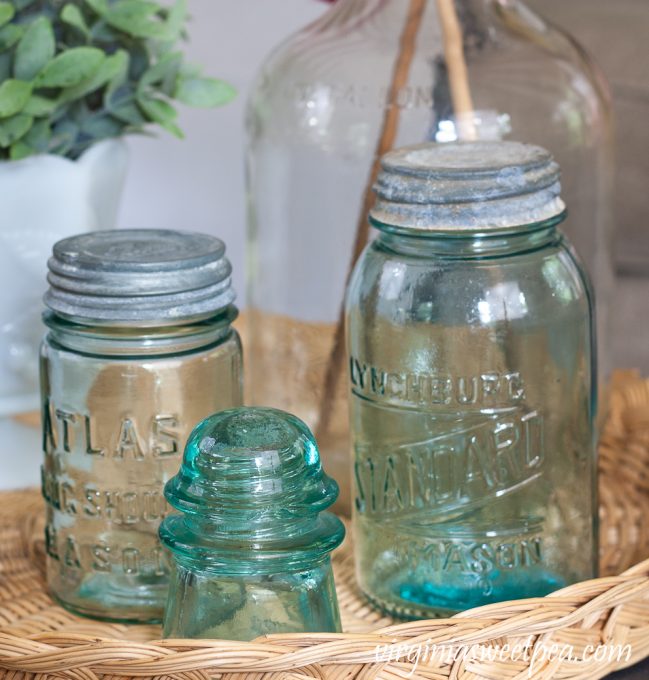 The Atlas Strong Shoulder Mason jar has beautiful very light green glass.
My favorite is the Lynchburg Standard Mason jar made in Lynchburg, VA around 1925. Mama gave this jar to me since I live in Lynchburg. It came from the relative who made Dandelion wine.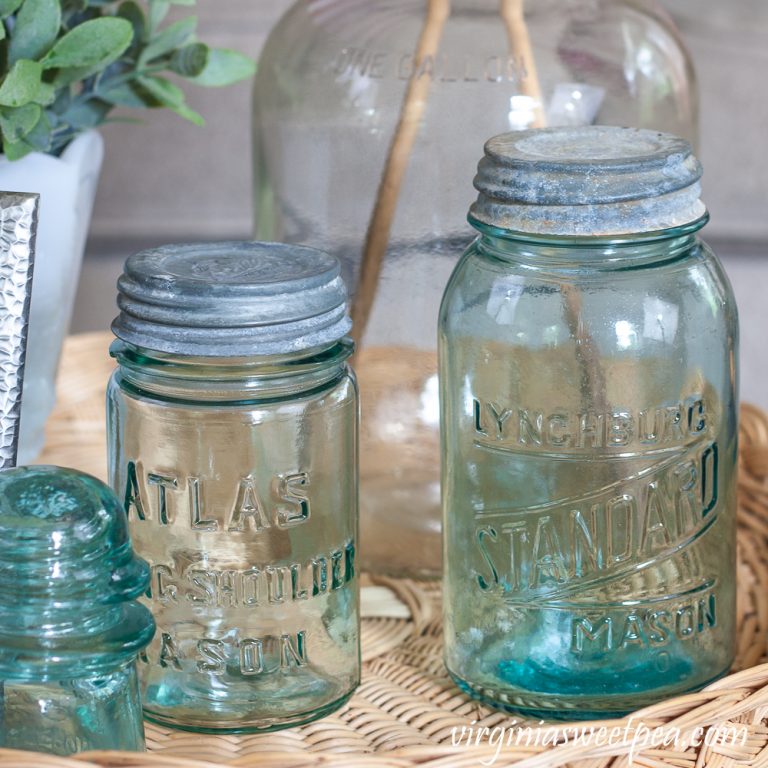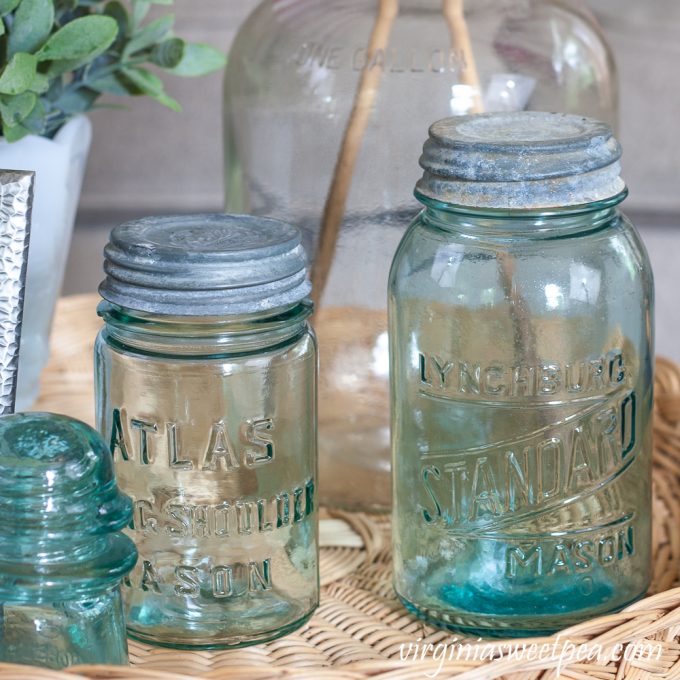 More Patriotic Centerpieces to Enjoy
Many thanks to Cindy for organizing this fun monthly challenge!
Next is Kristin from White Arrow Home. Kristin and I share a love of vintage and if you've never visited her blog, be sure to do so!
Click on the links below to visit each blogger who is sharing their version of our patriotic centerpiece inspiration photo.
Patriotic Ideas
Every year I love decorating my home with red, white, and blue for patriotic holidays. These are some of my favorite patriotic posts.