Now that it is May, I'm looking forward to decorating my home patriotically for both Memorial Day and July 4th.
I used a clear florist vase to make a DIY Patriotic Vase that will perfect to use when I'm decking my home out in red, white, and blue for the upcoming holidays.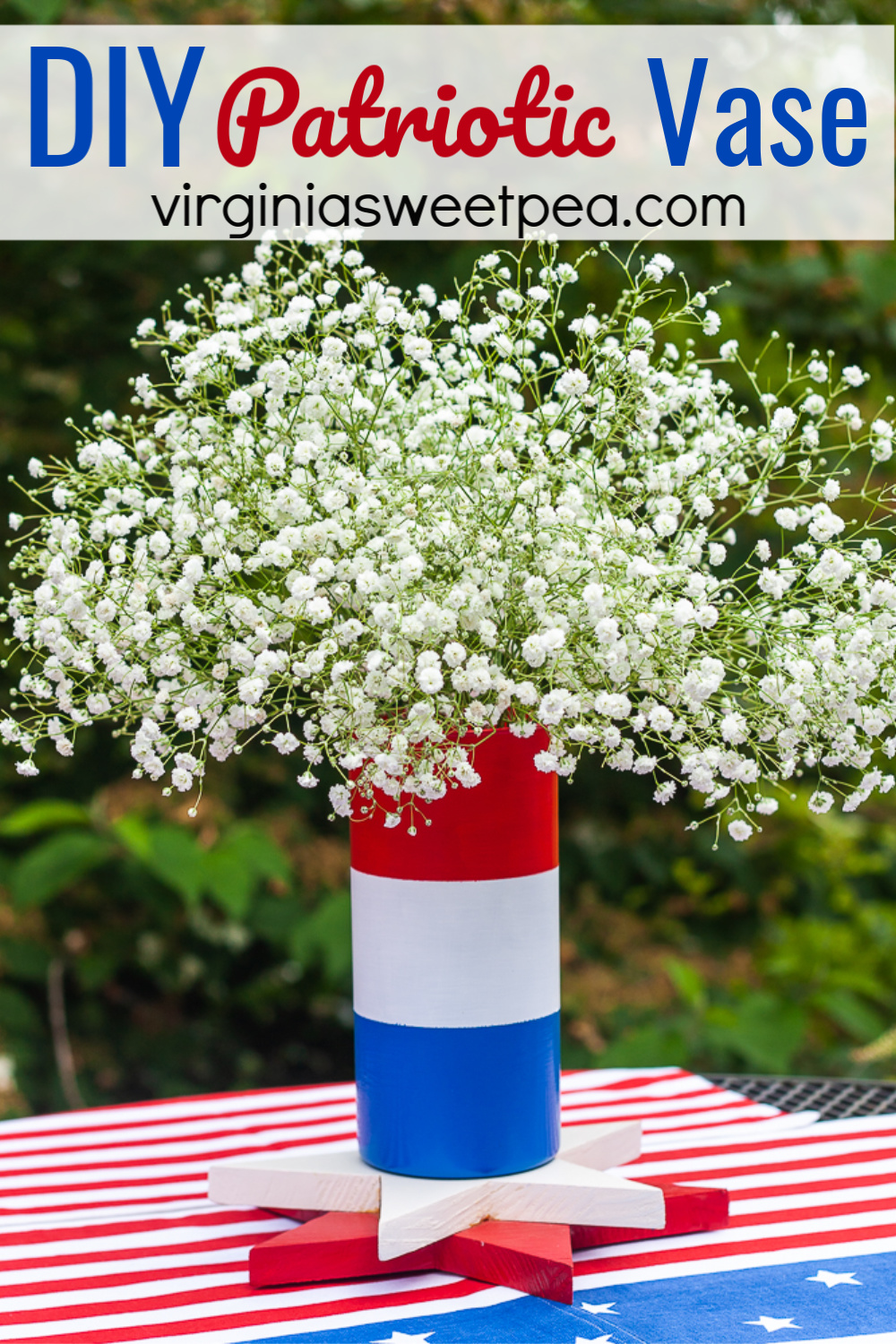 I'm sharing my DIY Patriotic Vase for this month's Thrifty Style Team project hosted by Julie of Redhead Can Decorate.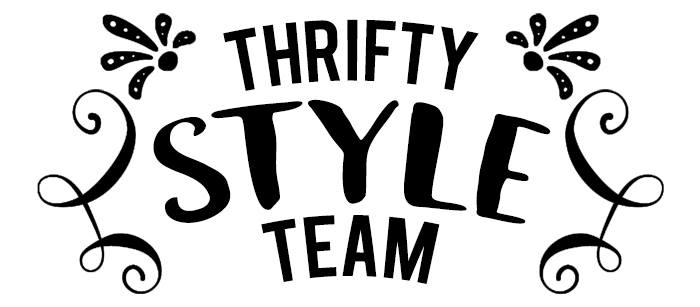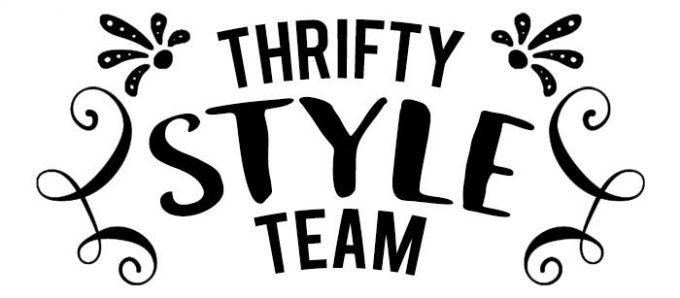 The Thrifty Style Team shares thrifty projects on the second Friday of each month. You'll find links to all of the projects shared at the end of this post.
DIY Patriotic Vase
If you are like me, when you receive flowers from the florist, you hang on to the vase.
I used one of the many florists vases stored in my basement to make this patriotic vase.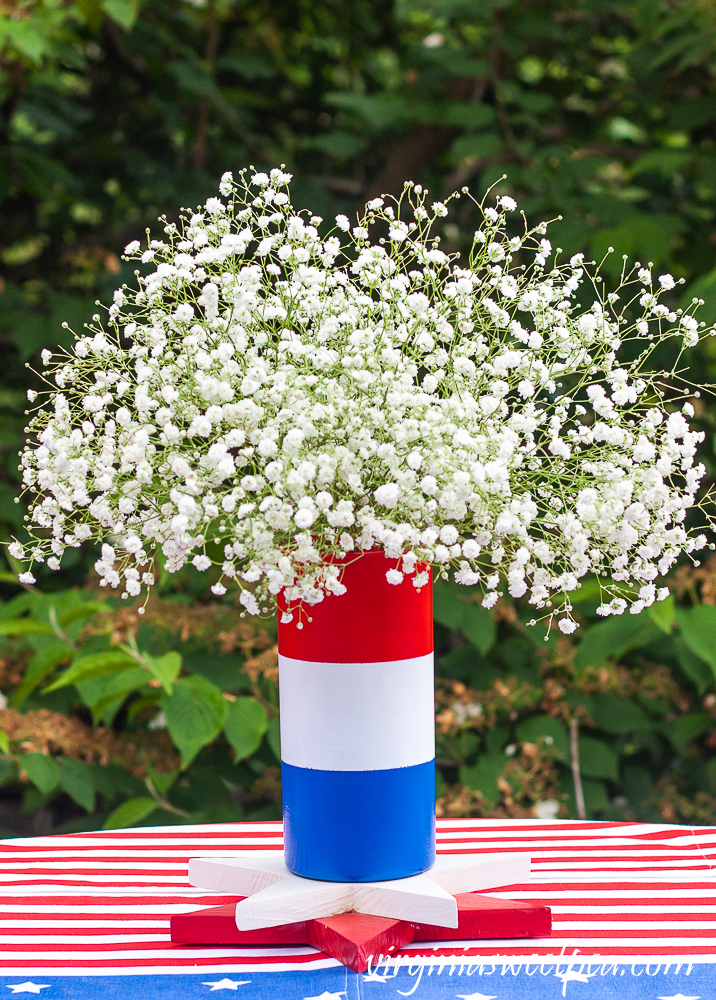 If you don't have a florist vase handy, check your local Goodwill or thrift shop. If you can't shop, ask a neighbor or friend if they have a vase that you could use.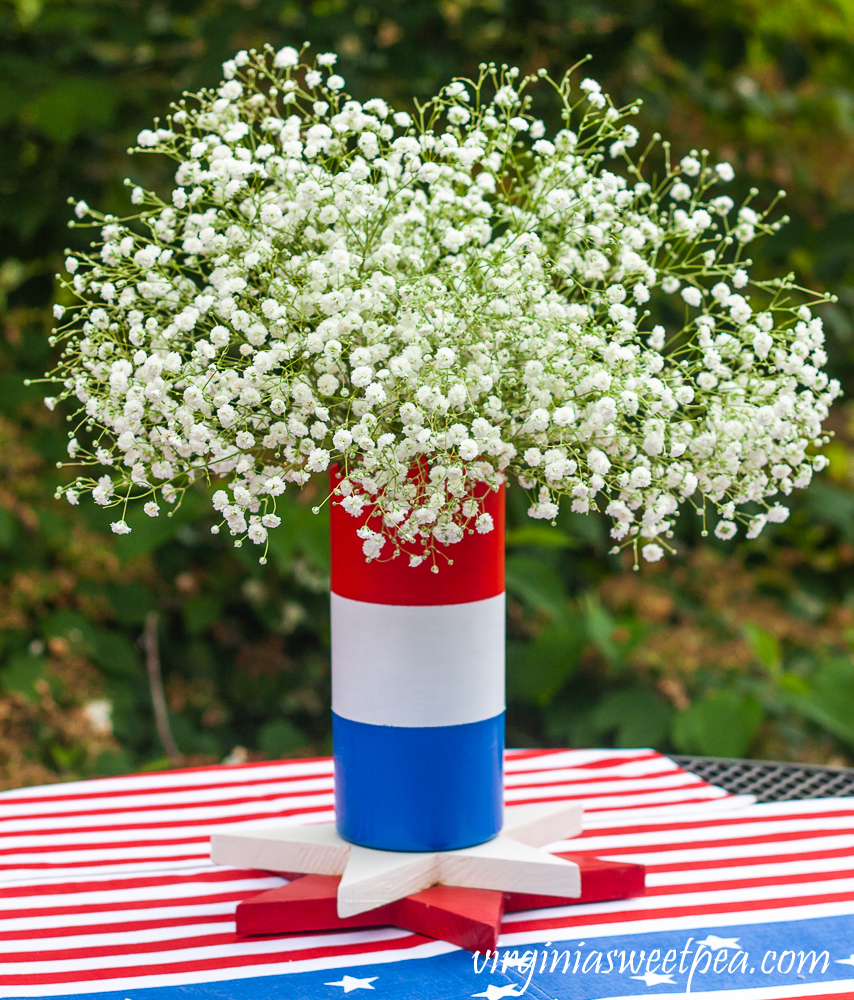 I took pictures of this project outside but I'll soon be using this vase filled with Baby's Breath when I decorate my living room patriotically.
Baby's Breath is a great flower choice for this project for a number of reasons.
The blooms are white which coordinate nicely with the red, white, and blue vase.
Baby's Breath is beautiful when fresh and equally beautiful dried.
Baby's Breath dries naturally in the vase. Add some water, enjoy the blooms, and as the water evaporates, the Baby's Breath dries.
Baby's Breath is inexpensive. This bunch was just $4 at the grocery store.
Another thing that I noticed about Baby's Breath is that the blooms make me think of fireworks.
Note as the sun shifted that the shadows formed on the vase look like the pattern of a firework.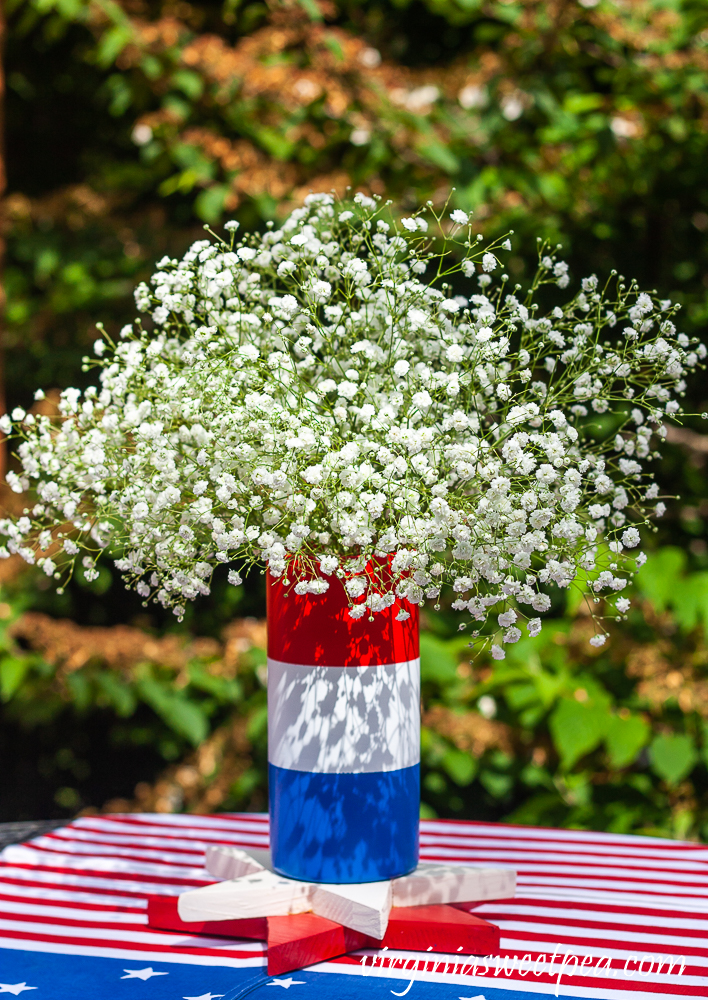 I made the red and white wooden stars used to elevate the patriotic vase long ago. In fact, this was the first woodworking project that Mr. SP helped me to complete.
Yield: One Vase
DIY Patriotic Vase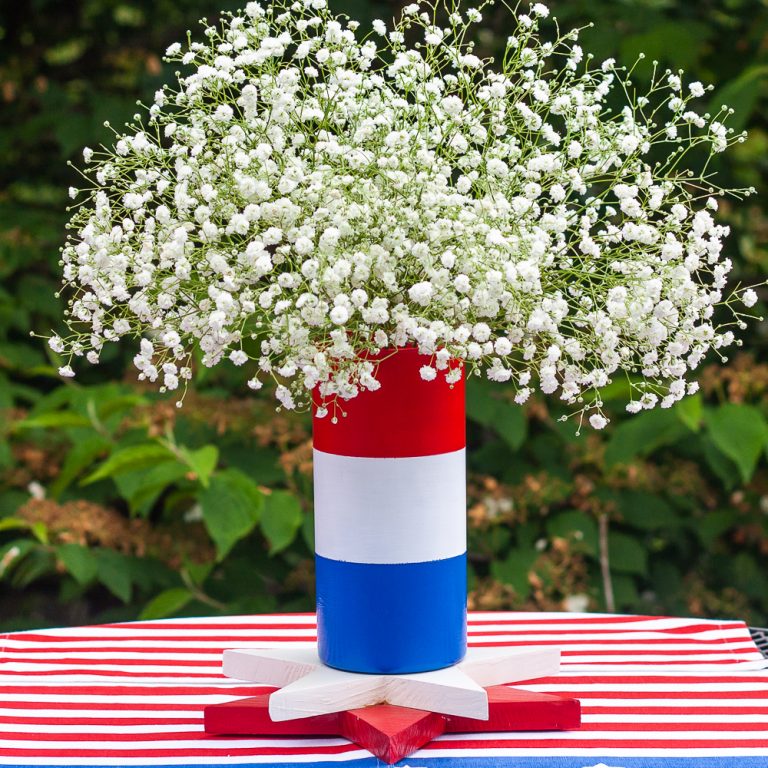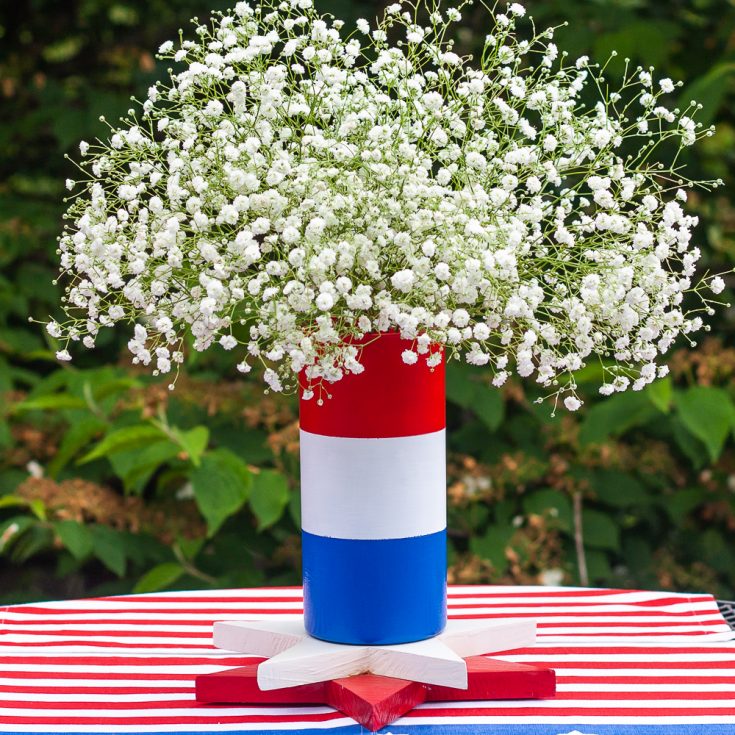 Use a clear florist vase to make a red, white, and blue vase perfect to use for decorating for Memorial Day, 4th of July, and other patriotic holidays.
Materials
DecoArt Glass Paint in Red, White, and Blue
Craft Paint Brush
Painter's Tape
Clear Glass Vase
Instructions
Assemble materials.
Measure vase and divide by three to determine the width of each stripe. (My vase was 7.5" tall. 7.5 divided by 3 equals 2.5" for each stripe.)
Use painter's tape to tape off the middle section for taping. Measure from the top of the vase down 2.5" and apply a strip of tape. Measure from the bottom of the vase up 2.5" and apply another strip of tape.
Paint the middle section white. I used DecoArt Glass Paint and it took four coats to get an opaque look.
Remove tape and retape on the edge of the white paint.
Paint the top of the vase red and the bottom of the vase blue.
Remove the painter's tape and touch up paint, if necessary.
Add flowers and enjoy!
Notes
Frog tape may produce a more crisp paint line.
Recommended Products
As an Amazon Associate and member of other affiliate programs, I earn from qualifying purchases.
I'm thrilled with my patriotic vase and will use is all summer for decorating my home.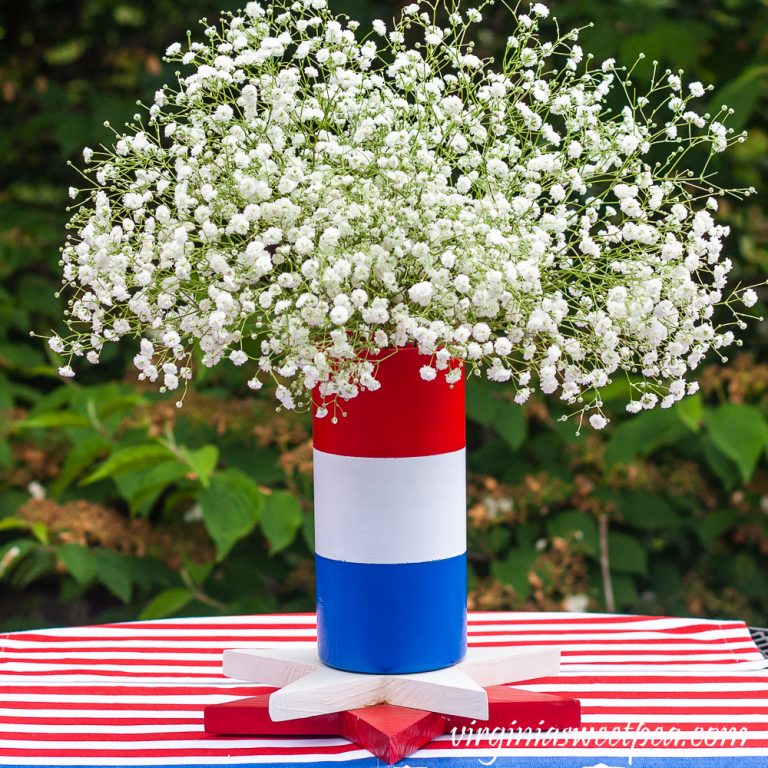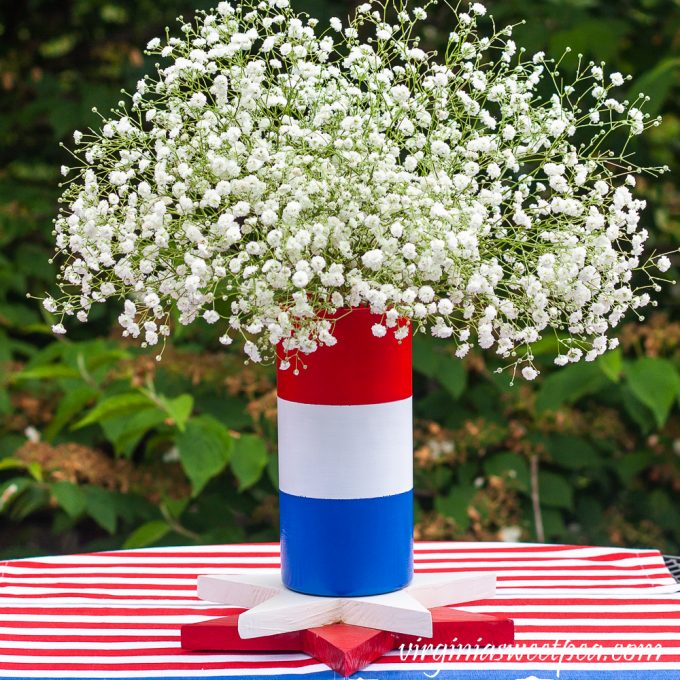 More Thrifty Projects to Enjoy
Now it's time to enjoy the projects that the rest of the Thrifty Style Team is sharing today. Click on the links below to see each thrifty project.