How to Easily Remove Rust From Tools
Have you ever accidentally left a tool out in the elements to rust? I have and because of my carelessness, I discovered how to remove rust from tools.
I knew I had a pair of red-handled clippers but had not seen them for a long while. A few weeks ago, while digging out compost to apply to my vegetable garden, my clippers appeared in the compost.
Hurray for finding my clippers! Boo to the rust that covered them.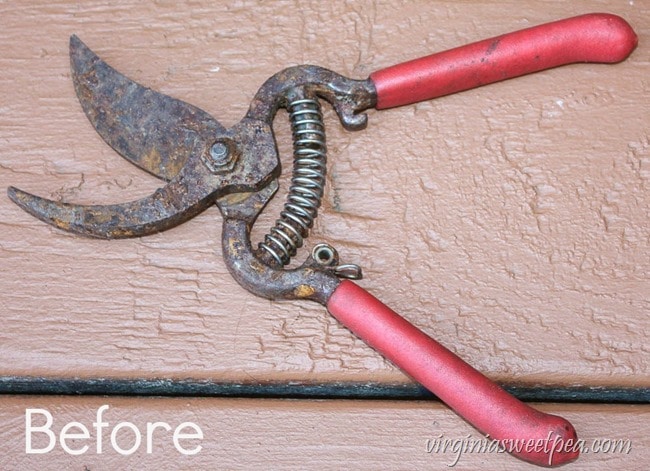 I learned that there's an easy way to remove rust from tools with vinegar. Yes, vinegar, the kind that you probably already have in your pantry.
How to Easily Remove Rust From Tools
Supplies
Vinegar
Water
Measuring Cup
Bucket
Wire Brush
Drill with Wire Brush Attachment
Steel Wool
Toothbrush
Rags
Gloves
Protective Eyewear
**I found that Vinegar, rags, gloves, and a wire brush attachment for a drill are the essential items needed to clean a rusty tool. I used all supplies shown but the drill attachment beat the wire brush and toothbrush for cleaning the metal hands down.**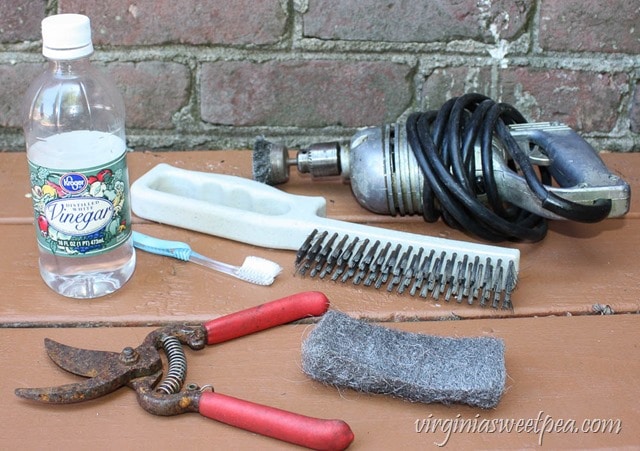 Procedure
1. Soak the Tool in Vinegar
Dilute vinegar with water to get a 3:1 ratio of vinegar to water. Pour mixture into a bucket, add your rusty tool, and let it sit overnight.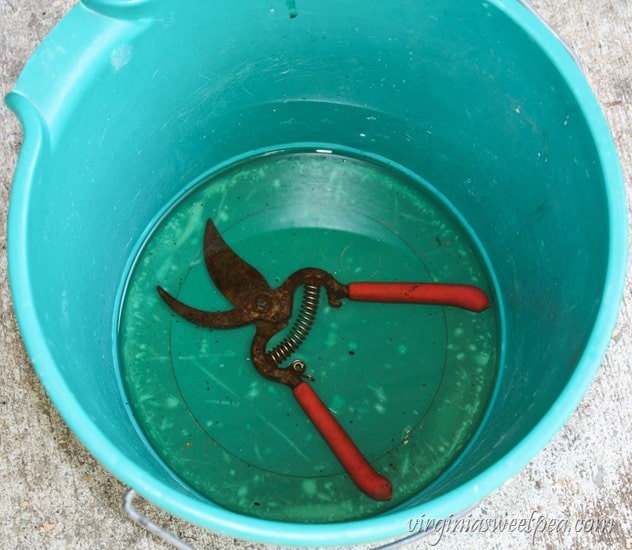 This is what I saw after two hours of soaking.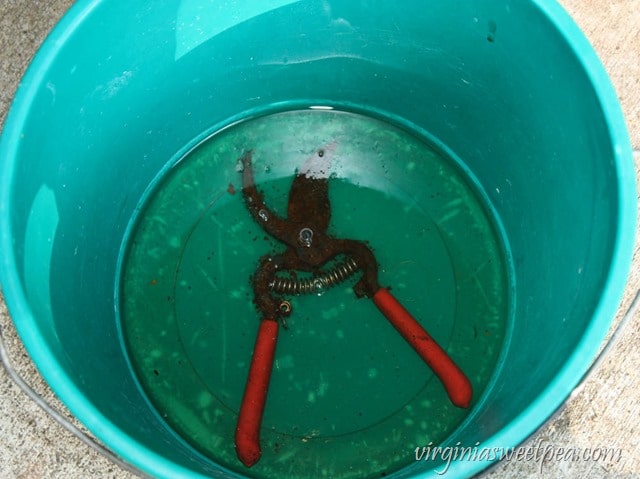 This it what I found the next morning. Lots of rust is in the vinegar/water mixture.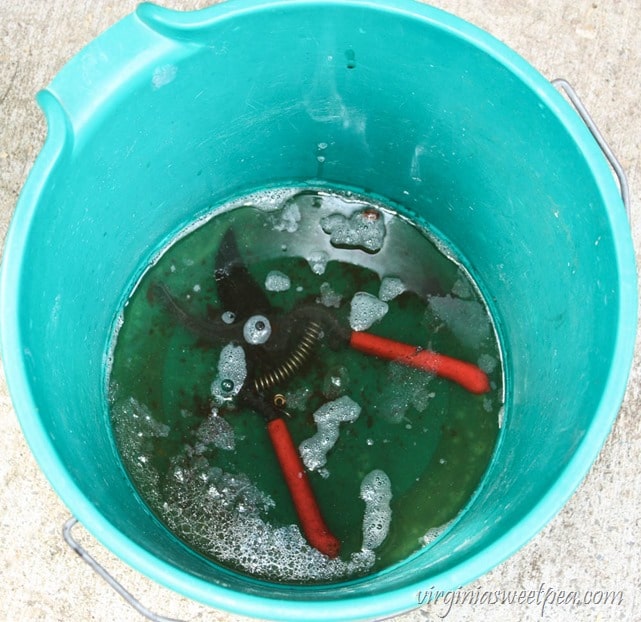 2. Rinse the Tool in Water
Remove the tool from the vinegar water mixture and rinse with water. I forgot to wear gloves for this step which was a mistake because I ended up with black hands and fingernails.
What a difference and I hadn't yet scrubbed my clippers!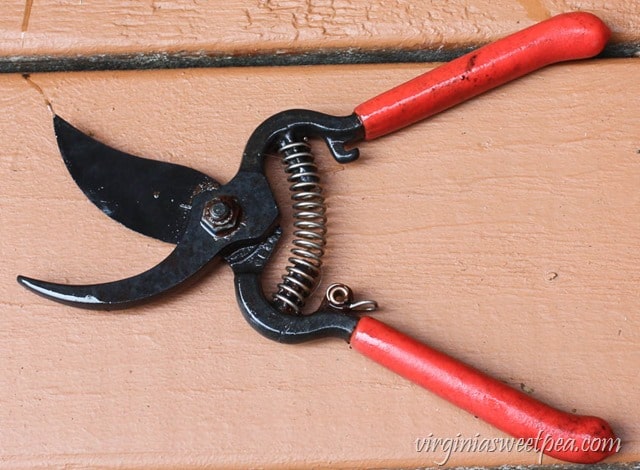 3. Clean the Metal
Dry the tool off with a rag and then clean all the metal parts using a wire brush, tooth brush, and steel wool. I found that the wire brush attachment on my drill was the easiest way to do this.
Be sure to wear protective eye wear when you clean metal, especially when using the wire brush attachment for a drill.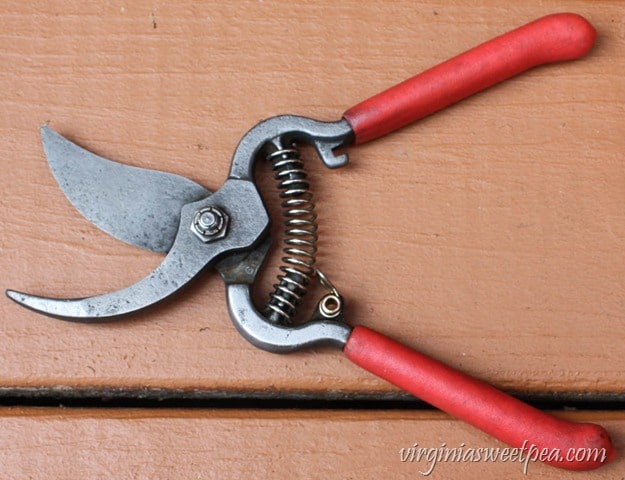 Did you notice that my drill is vintage?
This drill belonged to my grandfather and we must have inherited it with the wire brush in place.
I was looking through cabinets in the workshop for a wire brush to use for this project and just happened to stumble across it. I'm glad I did because it worked like a charm.
If you don't have a wire brush attachment for your drill, I would get one if you have rusty tools to clean. An $8 wire brush will save you a lot of elbow grease.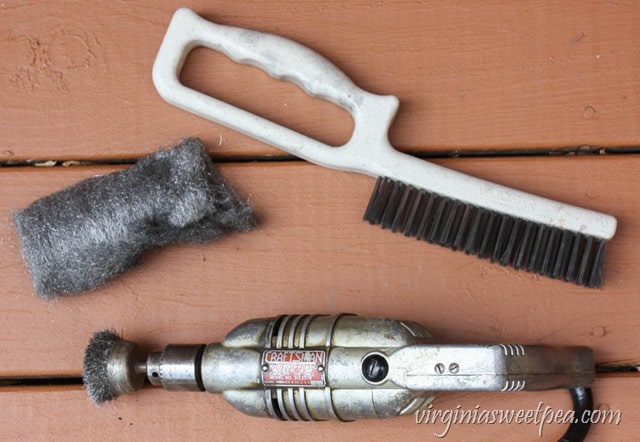 4. Oil the Tool
Apply a small amount of oil to the metal parts of the tool to prevent rust from forming in the future. I used mineral oil but my father-in-law told me that any oil should work.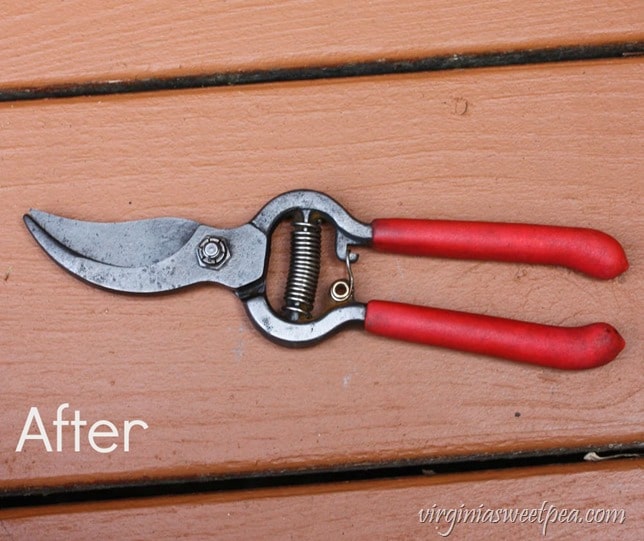 Back when I watched Martha Stewart's TV shows, I remember that she kept a flower pot full of sand mixed with motor oil in her gardening shed. She stored her trowels and clippers in the pot to prevent rust.
I thought that I might need to sharpen my garden clippers after I cleaned the rust off of them but it wasn't necessary. If your tools need sharpening, a sharpening stone will do the job.
I feel like I have a new set of clippers now that I've found these and given them a good cleaning. If you have rusty tools, try this method of cleaning them. I was surprised at what a great job vinegar did at removing rust.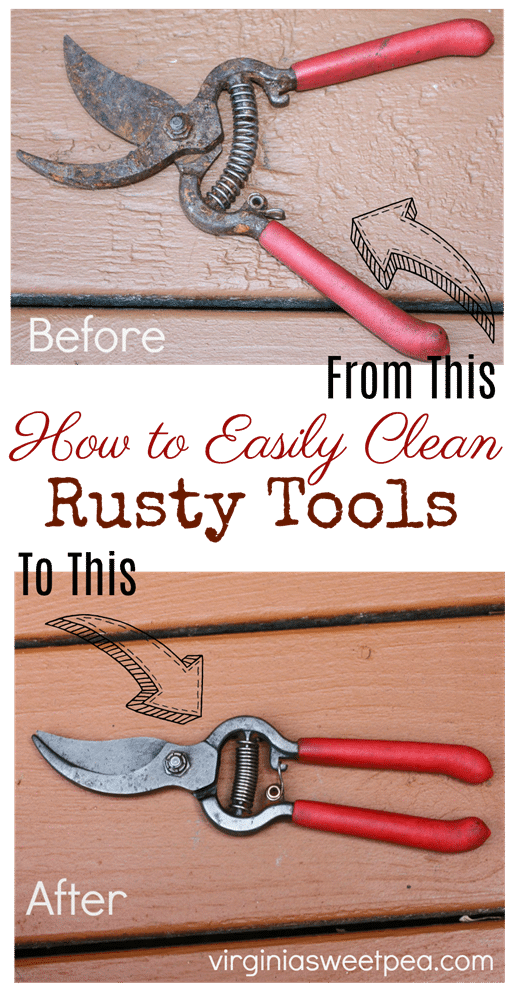 Favorite Projects
If you liked this post, check out more popular projects.