Stitch Fix #27 – August 2015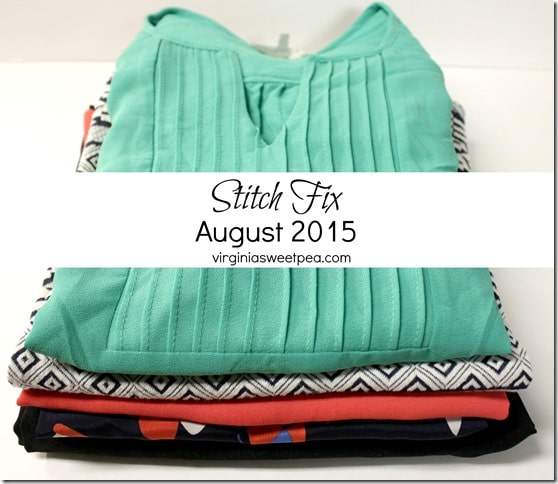 My monthly Stitch Fix box arrived last Thursday and like always, I couldn't wait to open it to see what was inside.
If you are new to the Stitch Fix concept, you fill out an online style profile and then based on your preferences, a stylist picks five items to send which can be clothing, jewelry, or handbags. I request clothing because I hate to shop and I like the convenience of having clothing delivered to me to try on at home. Stitch Fix provides a postage paid bag to make returns easy. A $20 styling fee is charged but is deducted from anything you purchase, so I always purchase at least one thing so that I don't lose the fee that I paid.
I usually let my stylist pick what she wants to send but this month I had two requests. I asked for the Margaret M Emer pants that my friend Megan from Rhapsody in Rooms received last month and I asked for a skirt similar to the Gilli Kelsey skirt in my July box.
Let's take a look at this month's fix!
Margaret M Emer Printed High Waisted Cropped Pant
I am very hard to fit in pants and have actually asked Stitch Fix not to send them to me because they almost always don't fit. Even though I requested them, I didn't have high hopes for these pants but the second I put them on, I was in love. They pull on and have stretch which makes them comfortable but also makes them fitted in all of the right places. I wore them to school yesterday with the pink blouse shown in this review and was comfortable all day and I got a lot of compliments which made me feel great!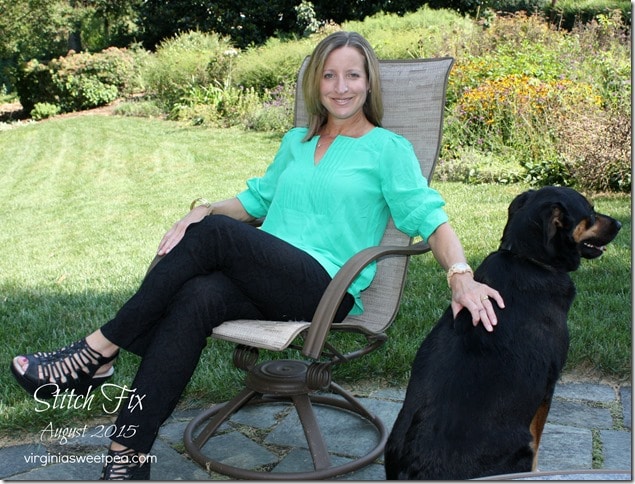 The pants have a brocade pattern that you don't notice until you look closely.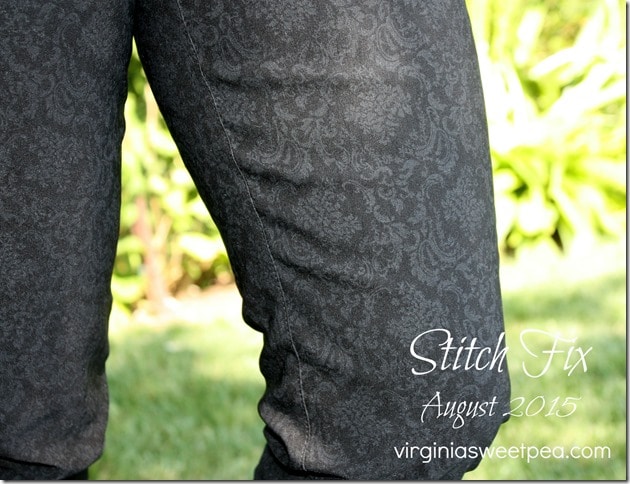 I just might ask for these pants in another color. Love them!
41 Hawthorn Angela Quilted Detail Blouse
I liked the color of this blouse and also how it fit. The quilted pattern on the yoke and shoulder was a unique detail that I appreciated. I have purchased several silky blouses over the two years that I've used Stitch Fix and really didn't need another, so it was returned.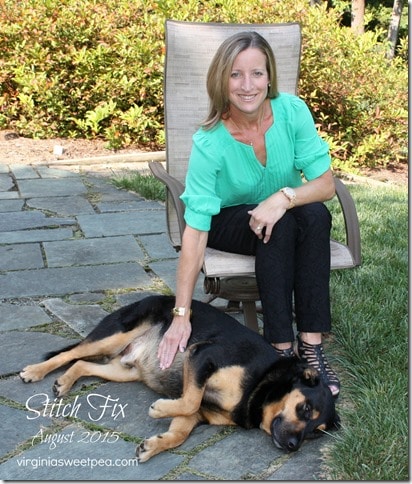 This blouse was very comfortable and also was cute and after looking at these pictures, I have a bit of regret that I didn't keep it.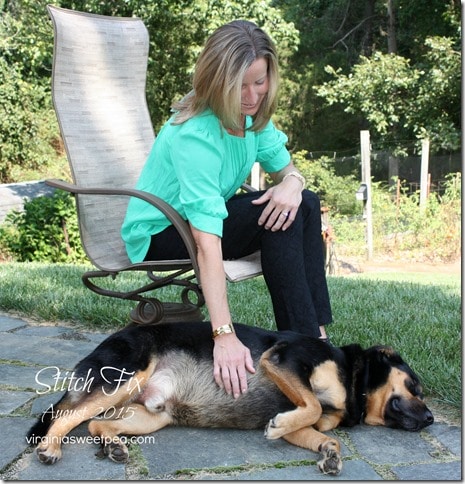 41 Hawthorn Rosa Tab Sleeve V-Neck Blouse
This blouse was perfectly nice and I liked the color but it was a tad bit loose for my taste. I did like the tucking detail on the shoulders and under the v-neck but it wasn't special enough for me to want to keep.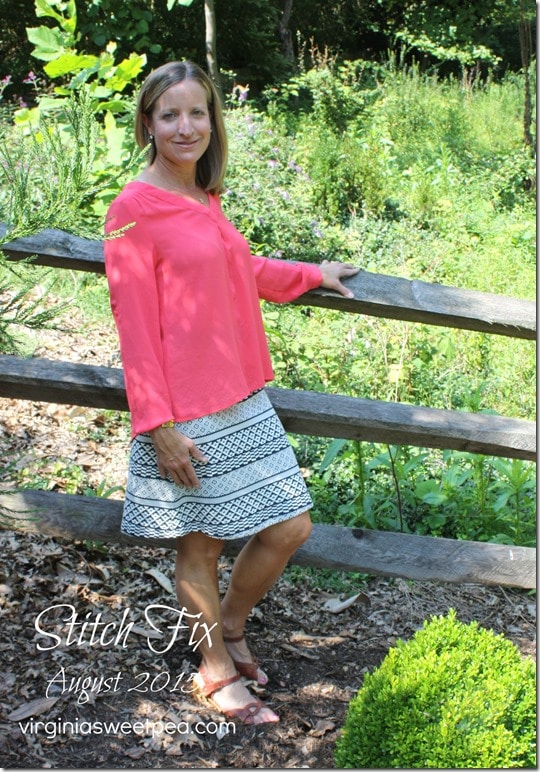 Gilli Kelsey Geo Print Skirt
I liked the Gili Kelsey skirt that I received in my July box so much that I asked for something similar this month. I really liked this skirt but the pattern was too similar to the one I purchased in July to make it worth buying this one.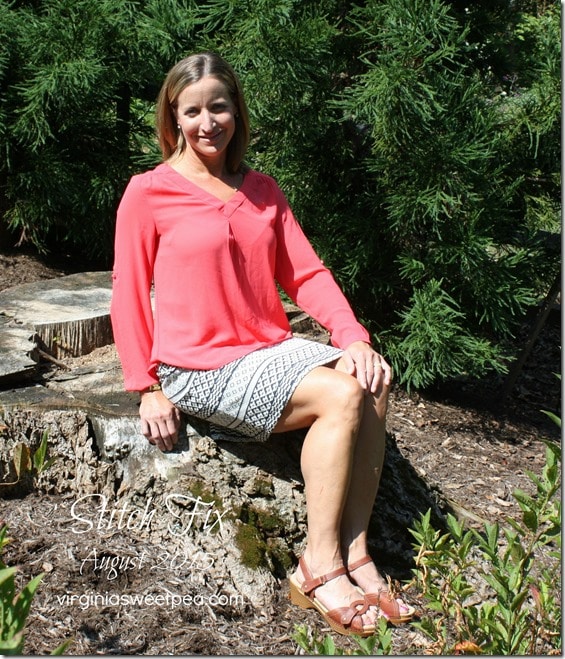 Pixley Ivy Petal Print Blouse
I loved this blouse's print the second that I took it out of my box. I also loved its design and the texture of the material. The neckline was a tad bit low and I soon realized that if I wore it to school that I'd have to pin it so that it wouldn't be revealing when I leaned over.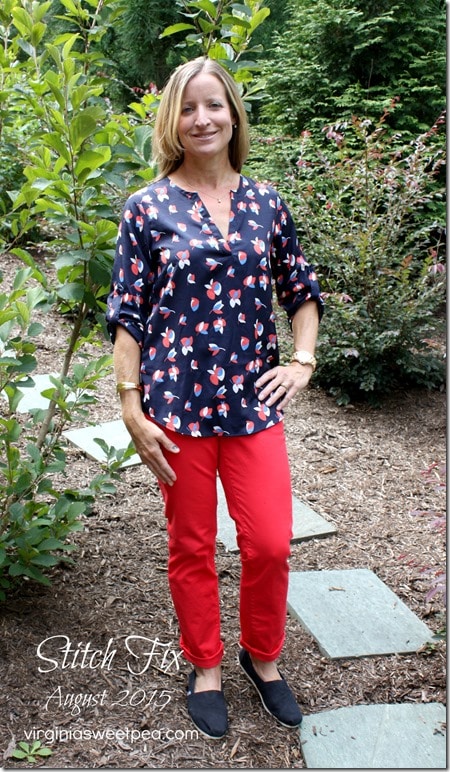 I paired this blouse with red pants and if I'd kept it, I would have paired it with white pants or jeans as well. Even though I really liked this blouse, I sent it back because I really didn't need it.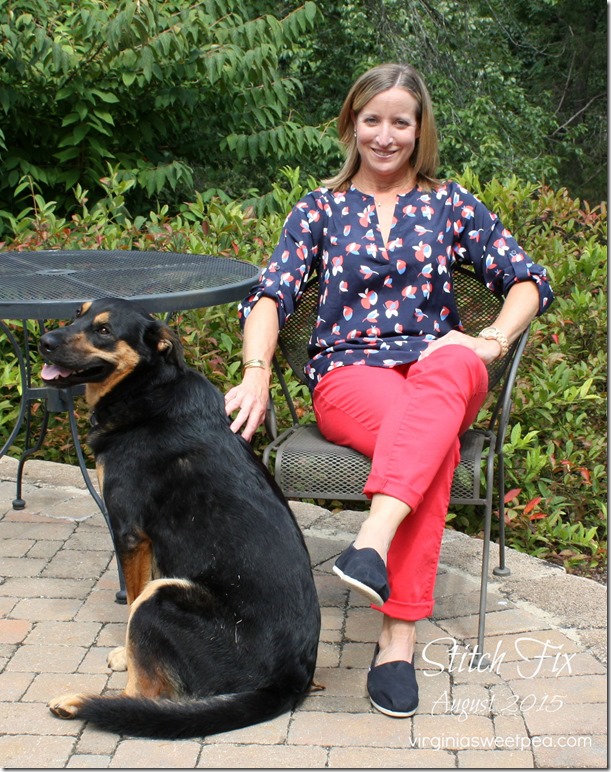 If you haven't tried Stitch Fix, you should! It's great if you don't like to shop or if you live in an area where the shopping isn't great like my town. It's also fun! It's exciting to try on clothes that someone else picks out for you and many times I like something that I would never in a million years try on if I saw it in a store. My wardrobe, especially for dresses and tops, is slowly becoming almost all Stitch Fix!