Elsie's Kitchen Renovation
I have a special treat today! Elsie, my dear friend and tennis partner, is here to share the story of her kitchen renovation. Elsie has a beautifully decorated home full of antiques and family treasures. She's a fabulous cook and I know she's eager to get into her new kitchen and make a delicious meal. Long time readers will certainly recognize Elsie.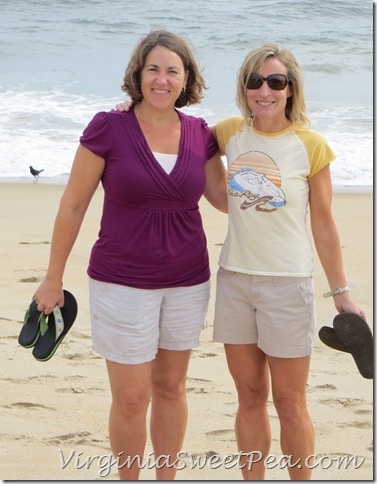 ****************************************************************************************
Hello to all you Sweet Pea readers! Paula has been hearing about my kitchen renovation for months! Now that it's complete, she has invited me to share my experiences with you, her blog audience.
I am a planner, and I am frugal (most of the time!). So needless to say, my kitchen renovation took a long time to come about. My home is a traditional two-story colonial built in the mid-1960s. There are many things that I love about the house, but the kitchen has never been one of them. When I moved in about ten years ago, the kitchen was the first room I changed. Although I only added an eating counter and cheered up the space with paint and fabric, the change was enough to buy me some time. This is the kitchen have I lived in for the past ten years: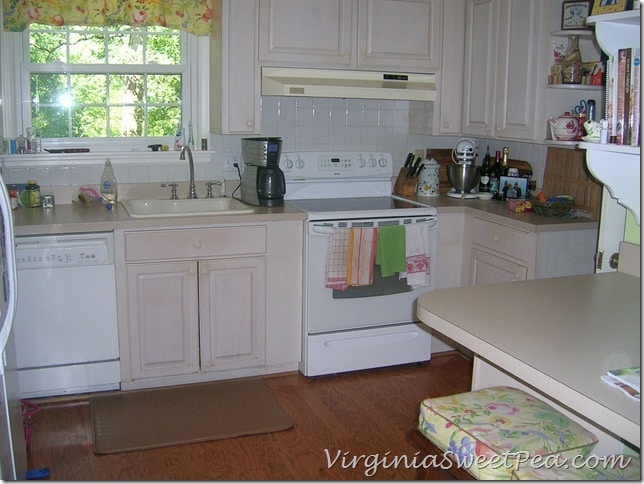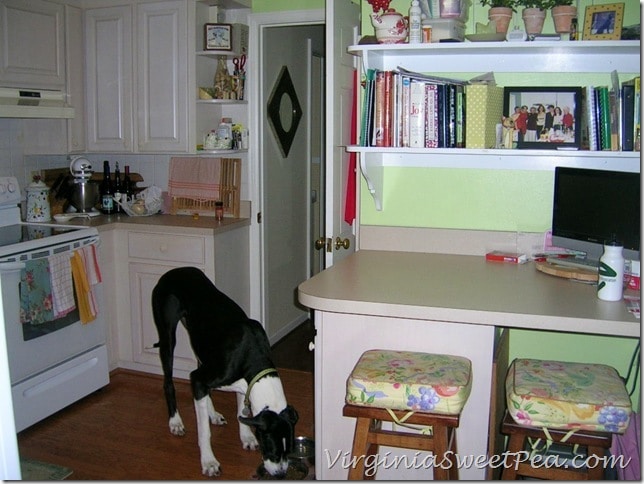 That's Lucy my great dane and constant companion. She takes up a lot of real estate.
So I started to plan (and save) for this renovation about three years ago. Thanks to Pinterest, I collected ideas for my new kitchen, which included paint colors, tile, window treatments, and lighting fixtures. Then early this summer, I finally pulled the trigger and called a designer. I had my Pinterest inspiration pages printed out for her and even had a few paint chips to share. The consultation went really smoothly. My goals for the kitchen were to make the small space feel a little bigger and to upgrade the countertops and sink. The designer seemed to agree with my ideas and added a few tweaks of her own. We talked budget, and she priced two different options for me—one included re-facing the existing cabinets and the other included replacing the old wall cabinets with custom built cabinets. Since one of the issues in my old kitchen was the low hanging cabinets, I opted to spend a little more and get the new ones. Deal.
When the time came, I emptied out my kitchen of all contents except for what was in the refrigerator. Here's my unusually clean and barren old kitchen on its last day.
The first step in the tear-down phase was to remove the wall cabinets.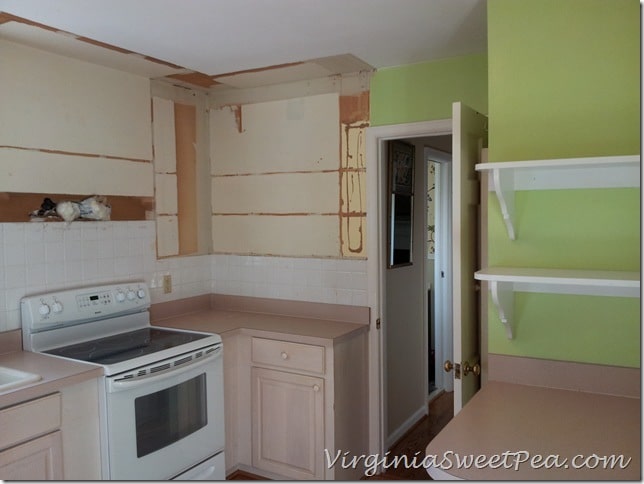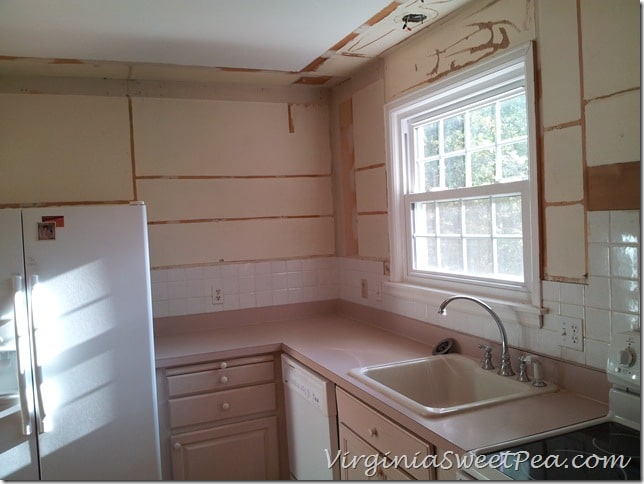 The tile and drywall came off next. I am not ashamed to say that I was glad to see the end of that very dated 4" gold-flecked ceramic tile!
Next, Bob (the builder) installed the wiring for under cabinet lighting. The plan for the base cabinets was to paint them and replace the doors, drawers, and hardware. Bob hit a snag when he realized that the old base cabinets were painted with an oil-based paint. It took him a couple days to strip all the old paint from the cabinets.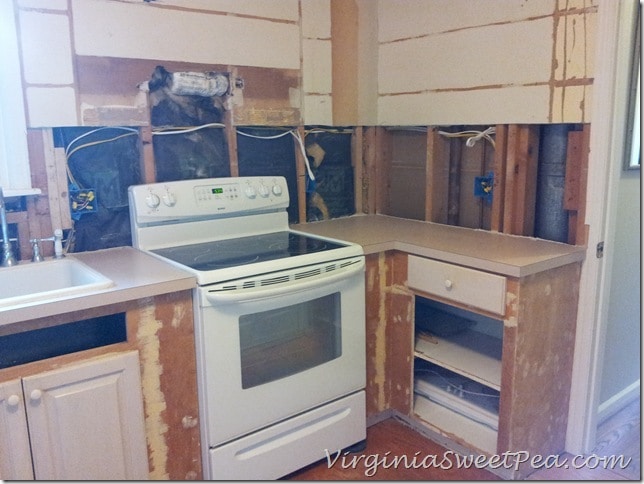 It was an exciting day when the renovation shifted from tearing down to adding new! The concept for the kitchen was light and soothing. The wall color changed from apple green to a pretty gray. The upper cabinets would be a soft white and the lower cabinets a light gray—one shade lighter than the wall color.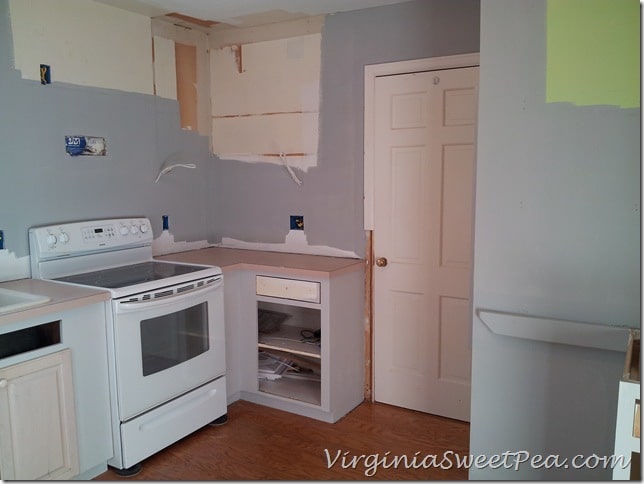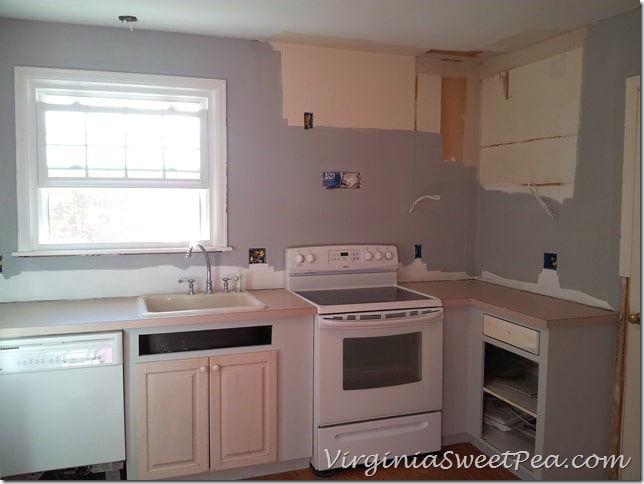 The wall cabinets went up, followed soon after by an over the range microwave.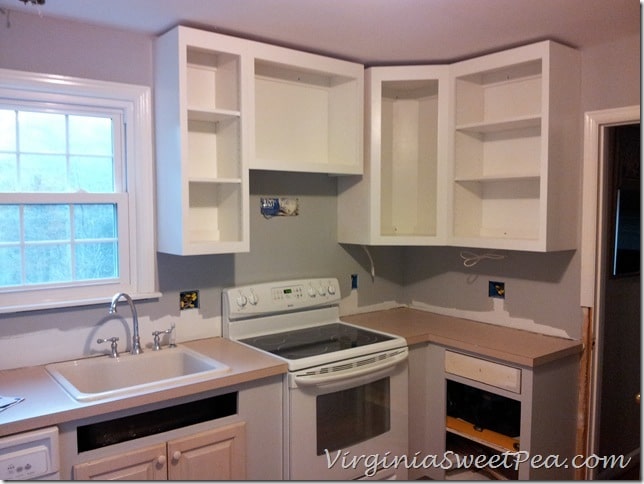 The rest of the renovation happened pretty quickly. The granite countertops were installed, along with an under mount sink (Yeay!! No more stubborn and nasty mildew to collect in the grout around the sink—impossible to keep clean!!) My favorite day from the renovation was the day the marble backsplash went up. I love how it ties the space together!
All in all, the project took about a month. I admit it was a challenge to have my kitchen in pieces all over the house. Microwave in the dining room, coffee maker in the living room, toaster oven in the basement, most contents boxed up and stored either under the piano or in the basement. I washed dishes in a tiny, sad little sink in the basement. Because I work full time, the process of moving back in to my kitchen has been slow. The upper cabinets are new, so I am figuring out what will go where. Meanwhile, it's been a great excuse to thin out all the stuff I haven't used in a while, like my grandmother's aluminum asparagus pot. My last task will be to find a pretty fabric for a window treatment and some cushions. I bet Paula will help me if I ask!
I hope you've enjoyed this walk through my kitchen renovation. After a month of largely salads and microwaved meals, it's time for me to get in that kitchen and cook something!
Details:
Wall color—Argos (Sherwin Williams)
Base cabinets—Passive (Sherwin Williams)
Granite—Imperial White
Backsplash—Carrara subway tile (2" x 4")
****************************************************************************************
Isn't Elsie's new kitchen gorgeous?? I'm not sure which feature I like best. I love both the wall and cabinet paint color and think that her granite and back splash are to die for. Did you notice her pretty new faucet? Elsie is a great entertainer and I look forward to sitting in her kitchen petting Lucy while watching her put the finishing touches on one of her great meals.
Don't forget that I'm giving away a $100 gift card to Food Lion. Think of what this could buy for one of your holiday meals!