Last fall I saved a picture of an $89 pillow from Wisteria with the hope of making a version of my own.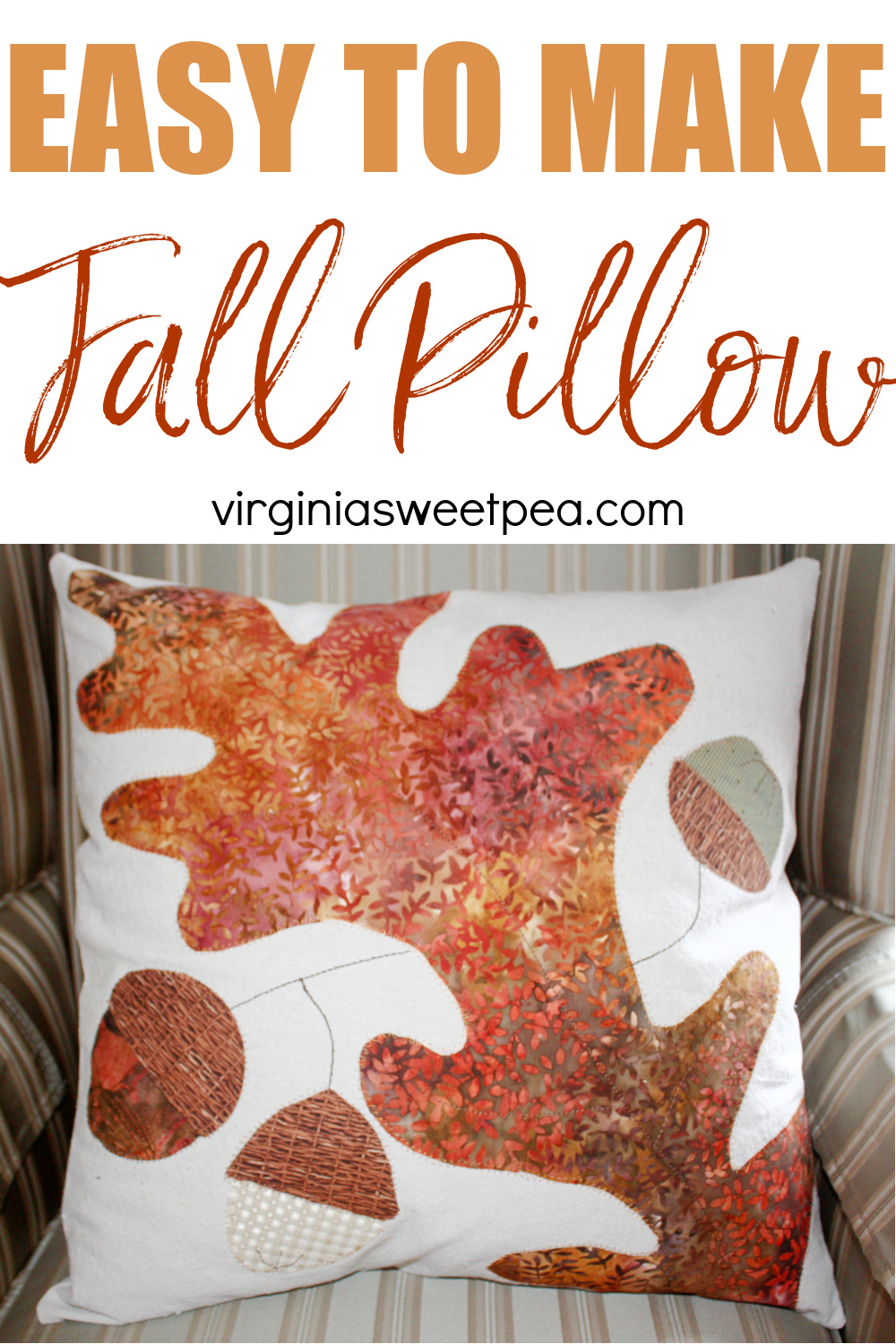 I also admired a copycat version from 517 Creations. Didn't she do a marvelous job?

My challenge was to make a version of these pillows using supplies I had on hand. I made covers for two pillows that I already had on my porch using drop cloth pieces and quilting fabrics from my stash.
I'm pretty happy with my version. Mine aren't quite as bright as Wisteria's or the one from 517 Creations, but I love the fabrics that I used from my stash.
These pillows were a bit time consuming to make, but I honestly enjoyed every minute of the creative process.
Here's How:
Materials Needed
Drop Cloth
Fall colored fabrics for leaf and acorn pieces
Coordinating Thread
Heat 'n Bond or Fusible Webbing
Paper to make pattern pieces
Procedure
1. To make the pillow, start by measuring your pillow form. Add one inch to the measurement for the front side dimensions. My form measured 19" x 19'" so I cut my front piece 20" x 20".
2. I wanted an envelope style pillow, so for the back two pieces, I cut one at 10" x 20" and the other 15" x 20. I then ironed the edges under 1/2" and another 1/2" and then stitched the edges into place.

3. I then cut a 20" x 20" piece of craft paper to make a pattern for the leaves and acorn. I sketched the leaf and acorn shapes doing my best to copy my Wisteria inspiration photo. You can see that it took a couple of tries before I got the leaf shape like I wanted it. I then cut the pieces out.

4. Pin the paper pieces to fabrics and cut out. (I made two pillows so I have two big leaves and six acorns.

5. Iron Heat 'n Bond to pieces, arrange on pillow, and iron into place. I varied the acorn placement on my two pillows.

6. Using a zig-zag stitch and coordinating thread, stitch around each piece. Use a decorative stitch to add veins to the leaves and detail to the acorn.

7. Line up the edges of the two back pieces so that they overlap in the middle, right sides together. Pin into place.

8. Sew around the edges using a 1/2" seam allowance. Clip the corners and cut extra fabric from the edges of the pillow.

9. Turn pillow cover right side out and press. Stuff pillow cover with pillow forms.
I just love these! Right now they are in my living room but as soon as it gets cooler, I'll move them to our porch.

If I decide to keep them in the living room, they'll look great with a fall themed mantel.

I'm happy to have something new for fall.