Fall Decorating with Vintage
Last week I shared the fall decor with vintage in our living room, dining room, and porch and today I'm sharing our family room's decor. When I was decorating this space, I not only was thinking about fall, I was thinking about decorating with vintage items that reminded me of fall. You'll see a few brand new things in this space including the paint on the wall and you'll see some vintage items that I've never shared. Keep on reading to see all of my Fall Decorating with Vintage.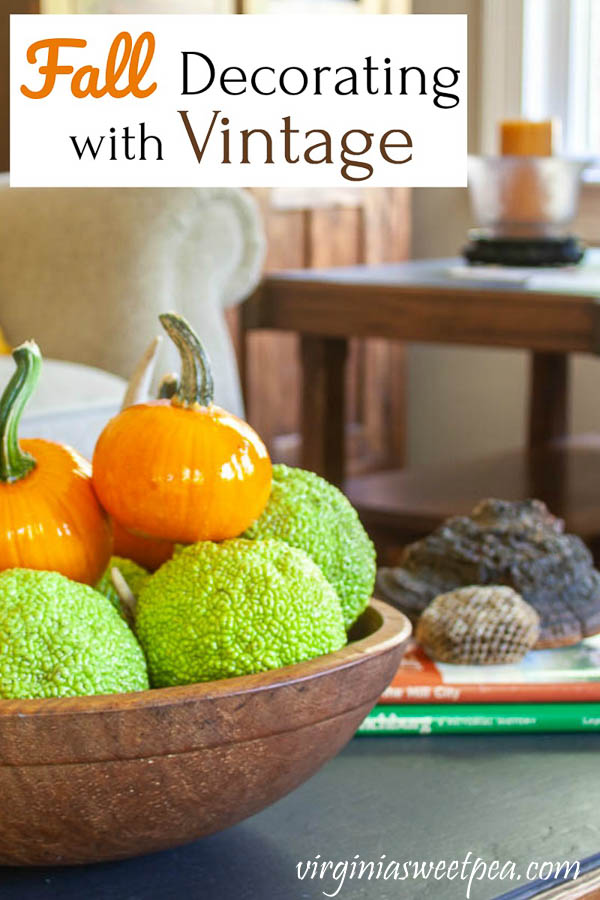 I'm sharing my ideas along with a talented group of bloggers for a Embracing Fall Blog Hop. This tour is organized by my friend Amber from Follow the Yellow Brick Home. I love Amber's gorgeous old home and how she decorates it so beautifully with vintage style. I look forward to seeing Amber's decor in any season and if you've never visited Amber's blog, I encourage you to do so.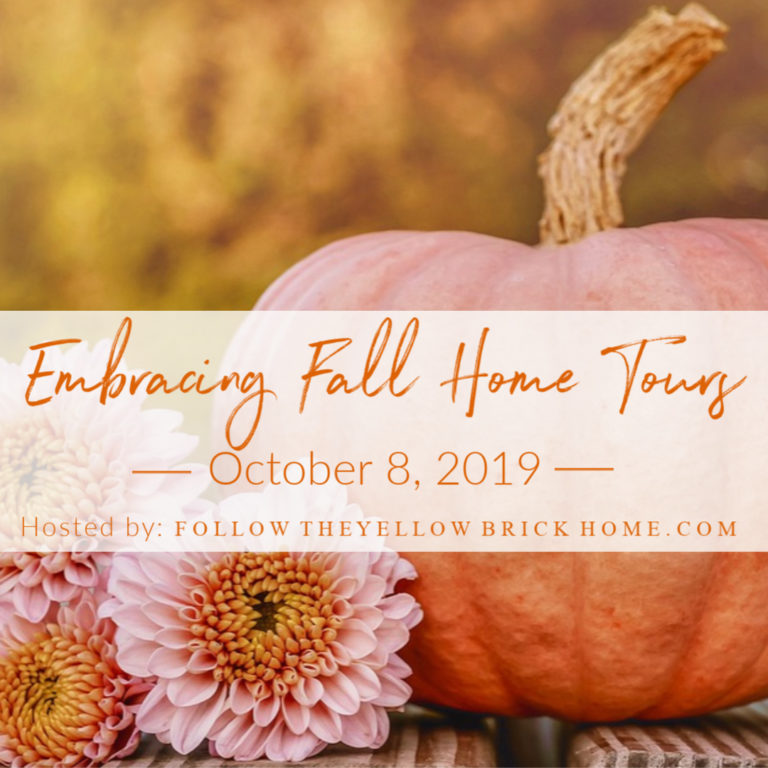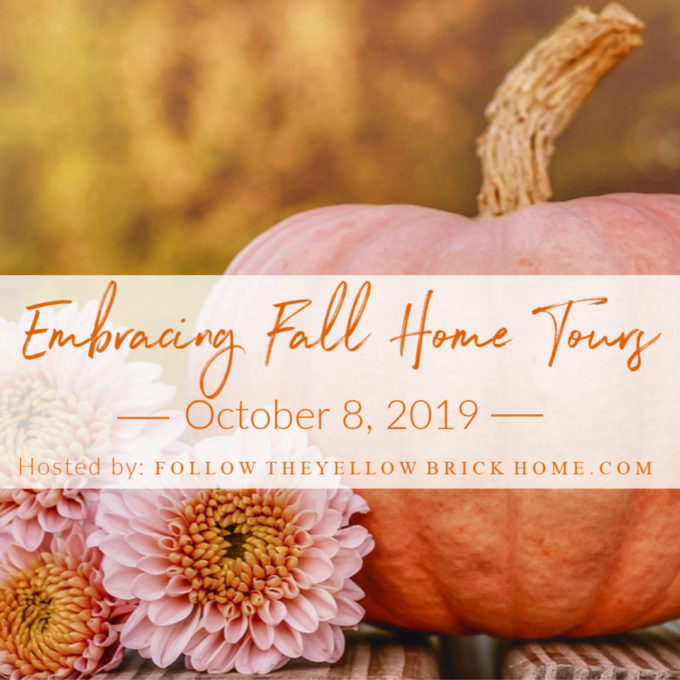 If you are visiting from My Thrift Store Addiction, welcome!
Fall Decorating with Vintage
Welcome to our fall family room. A few weeks ago I painted this room a lighter color (Benjamin Moore Clay Beige) with the hopes of brightening it up a bit. Our family room is located on the north side of our house and it stays dark in this space no matter the time of day. The lack of light makes it cozy for relaxing in this space but tricky when trying to photograph it. Our formal living room is painted the same color and the paint appears much lighter in that room.
I always forget how much work it is to paint a room and was very happy when the job was finished so that I could get on to fun part, decorating for fall.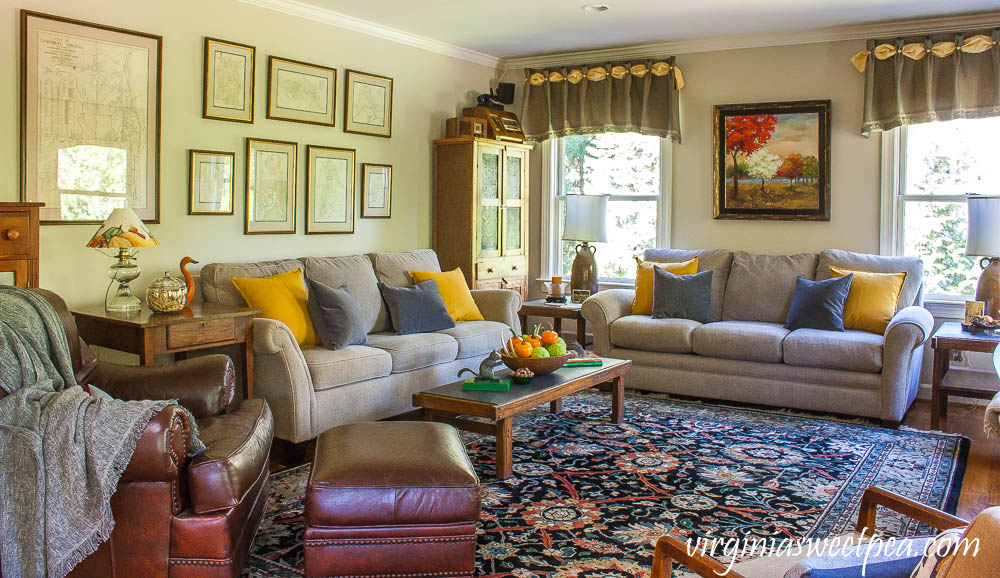 Coffee Table Decor
For fall I switched out the throw pillows on our sofas to mustard yellow pillow covers from IKEA and gray velvet covers that I made. I started my fall decorating in this room with the coffee table.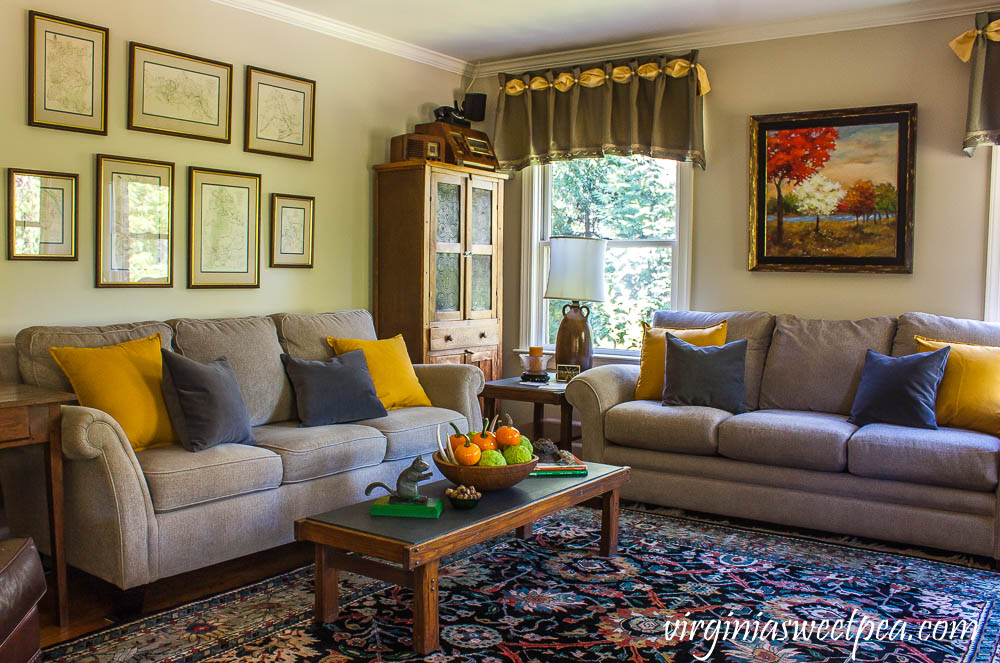 Every fall I collect seed pods from an Osage Orange tree on city property. This summer the city cut down the tree that I've visited each fall for over 20 years to make way for a traffic circle. I liked collecting from this particular tree because the seed pods, called by many Horse Apples, were a small size.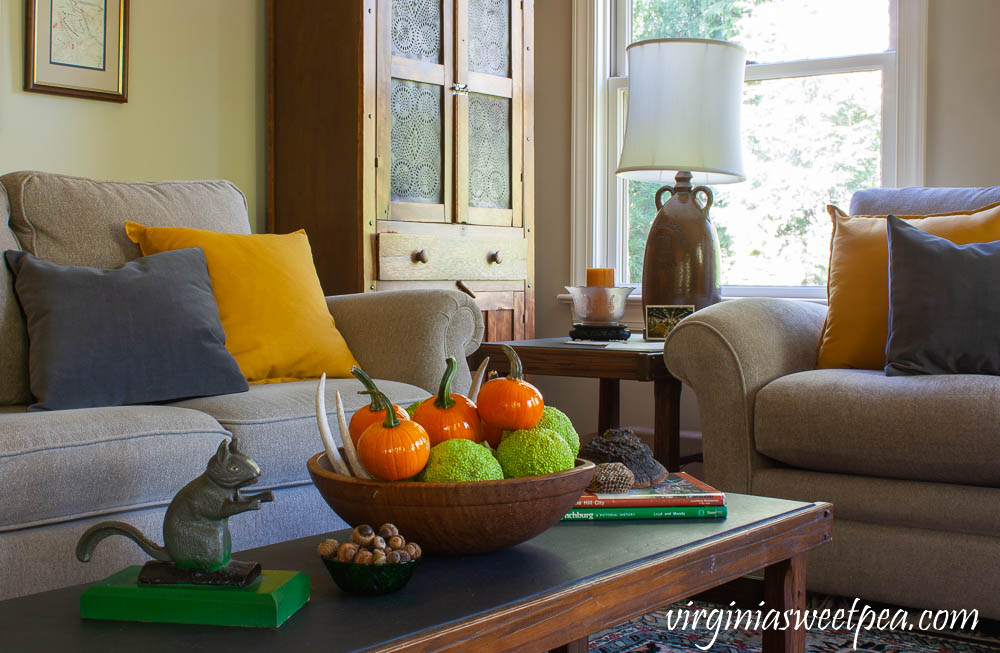 Luckily I knew of another Osage Orange tree and was able to harvest a few seed pods, but not enough to completely fill the bowl. There were plenty of seed pods on the ground around the tree but all of them had brown spots on them where they were starting to decompose.
I could just barely reach two branches on the tree and I was able to pull them down so that I could pick a few seed pods to use.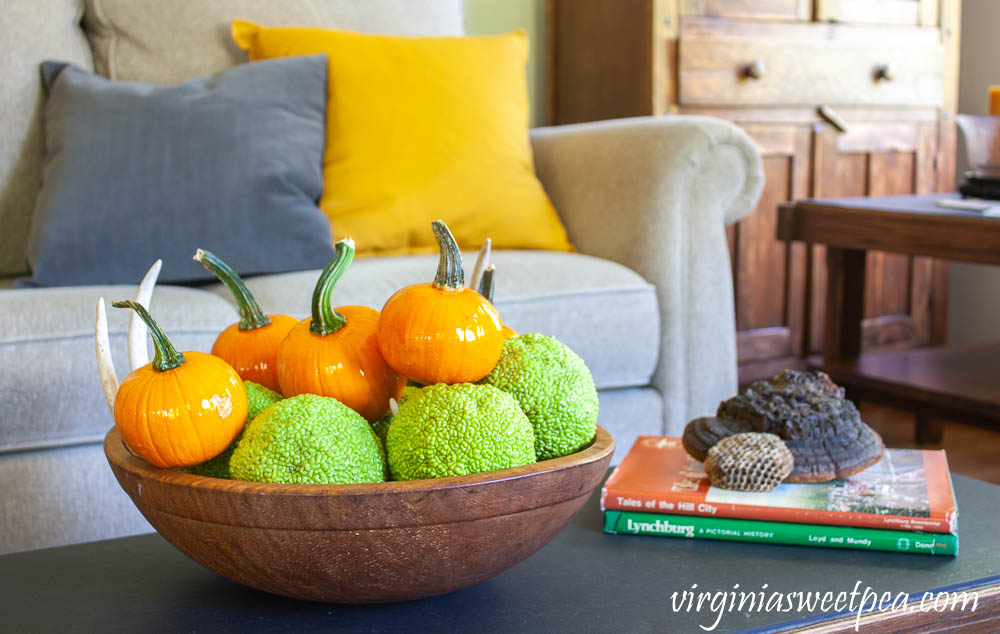 To fill the bowl, I added some small pumpkins and two deer sheds that Sherman found. Osage Orange seed pods will eventually turn brown and decompose. This year I used my "How to Make Pumpkins and Gourds Shine for Display" hack on both the pumpkins and the Osage Orange balls and I'm hoping that the green color will be prolonged.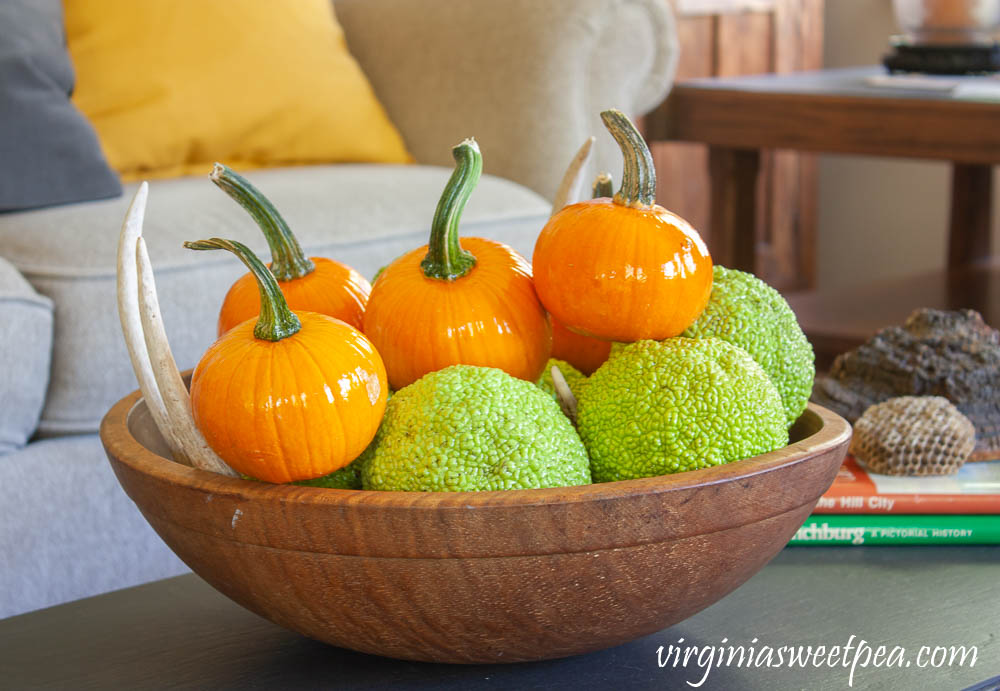 For this year's fall decorations in this room, I wanted a fall feel but wanted to achieve it with decor that isn't specifically fall related.
To the right of the wood bowl, I stacked two vintage Lynchburg books that I found at the YMCA's books sale. The cover colors are colors of fall and the content is special since it's where we live.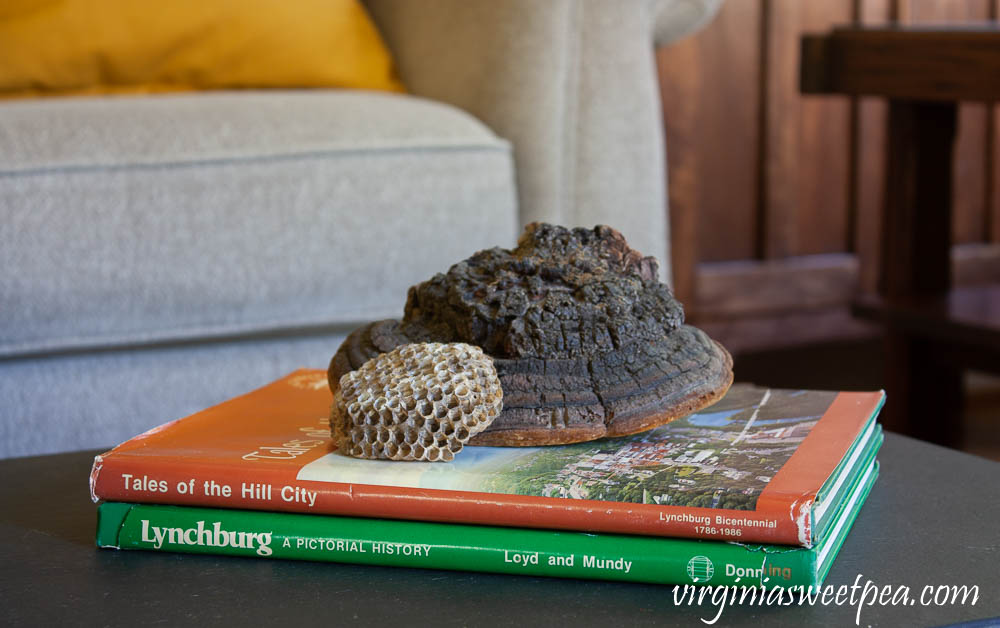 I could have used a pumpkin or some gourds on top but I wanted to do something different so I used a dried shelf fungus and a wasp nest.
Long ago one of my students brought the shelf fungus in when we were studying them in science class. I used it for science lessons for years and now I'm decorating with it. Mr. SP found the wasp nest in the attic space of our boat house when he was lubricating the boat lift and saved it for me knowing that I would like to use it for decor.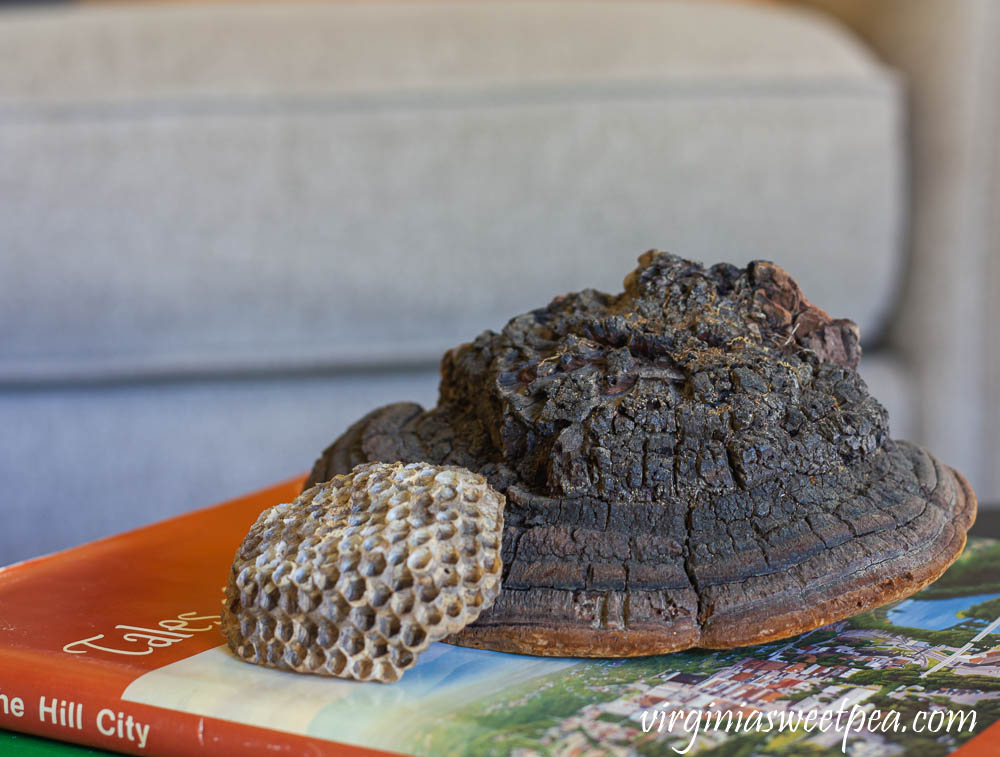 Fall wouldn't be fall if my dad's squirrel nutcracker wasn't on display. Someone in Vinton, VA gave this to him when he was a boy. I used to love to play with it when I visited my grandmother and was tickled pink when she gave it to me. The green bowl holds some acorns for Mr. Squirrel to eat. My grandmother left a note in this bowl explaining that she wove a basket around it in bible school when she was a child.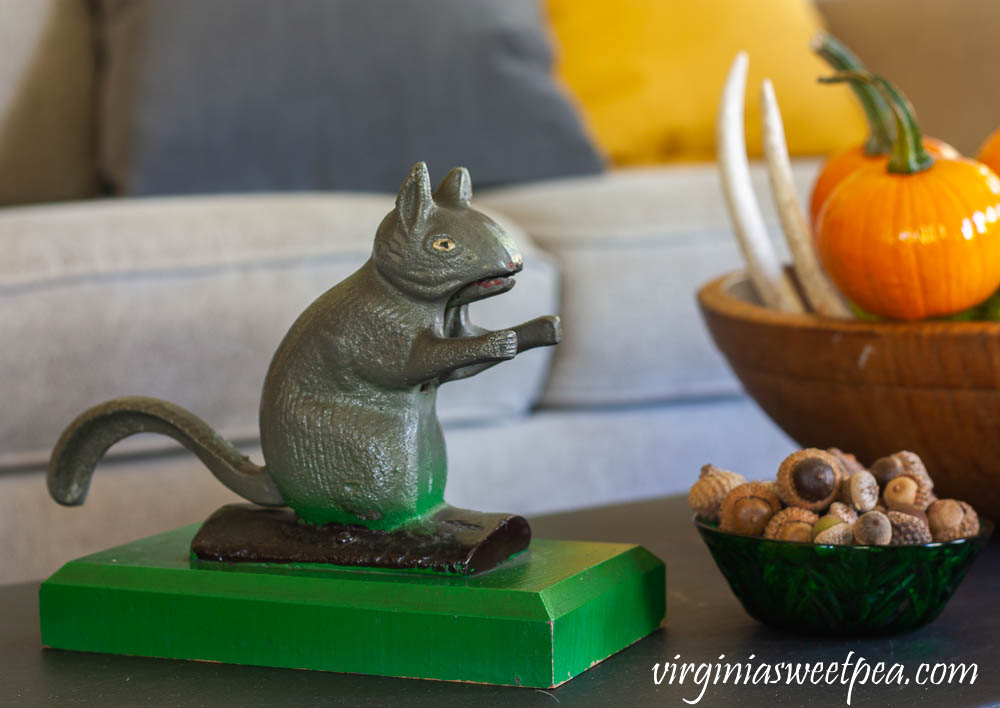 End Table Decor
We love our family room and this is where we relax every evening. Mr. SP on the sofa to the left, me on the sofa to the right, and Sherman in the leather chair.
The coffee table and end tables are part of a set of furniture that my parents purchased when they were married in 1968. My mom still has the matching sofa and two side chairs.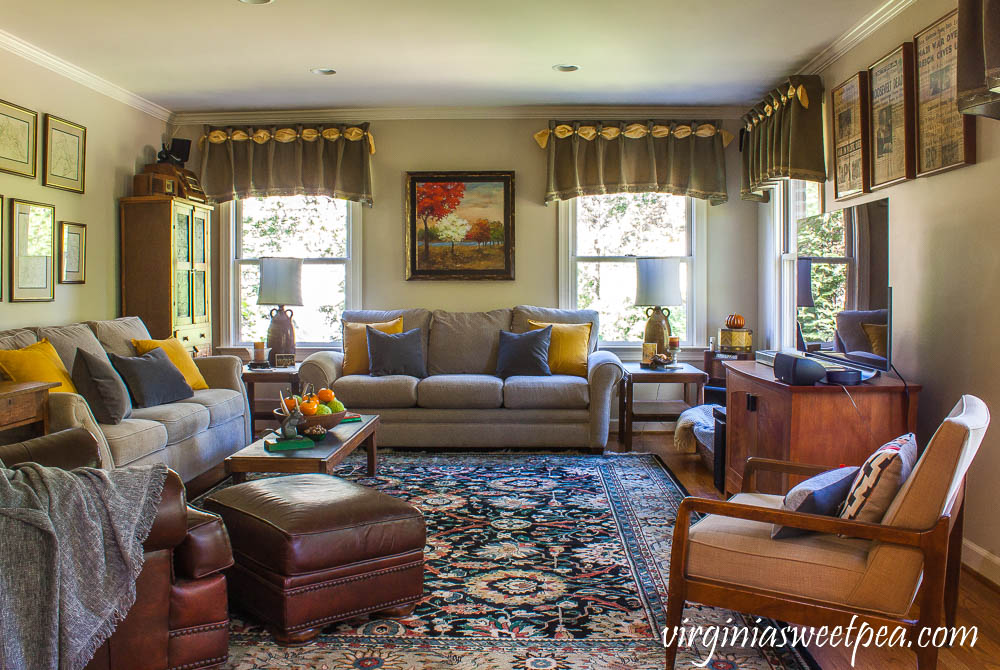 After I decorated the coffee table, I decided to look through a gigantic box of postcards that my grandmother collected to see if I could find postcards that reminded me of fall. One that I found was tobacco themed and I decided to display it since tobacco is harvested in fall.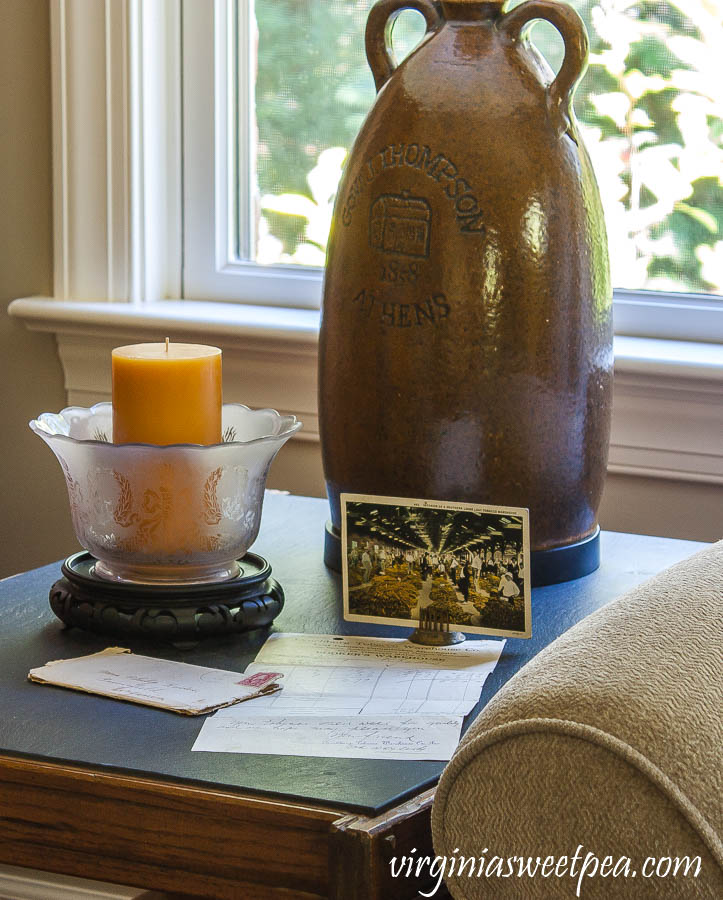 The postcard was sent to my grandmother in 1931. It reads:
Dear Marg,

I am having a fine time here in NC but I can't keep Vinton off my mind. Tell all of the girls that I know hello for me.

A friend that needs a friend,

"Laughing Lee"
My grandmother wrote in pencil beside "Laughing Lee" Lester Oliver to identify the sender.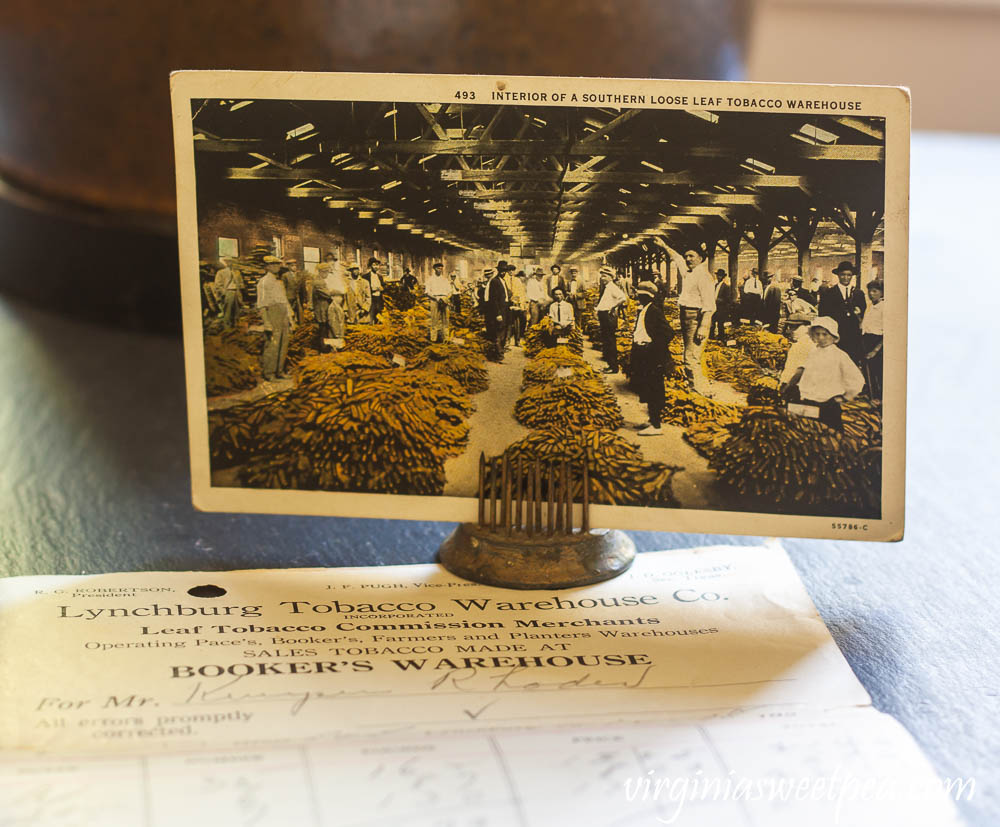 To display along with the tobacco postcard, I pulled out a 1922 receipt from Lynchburg Tobacco Warehouse that my mom gave to me and I've been meaning to frame.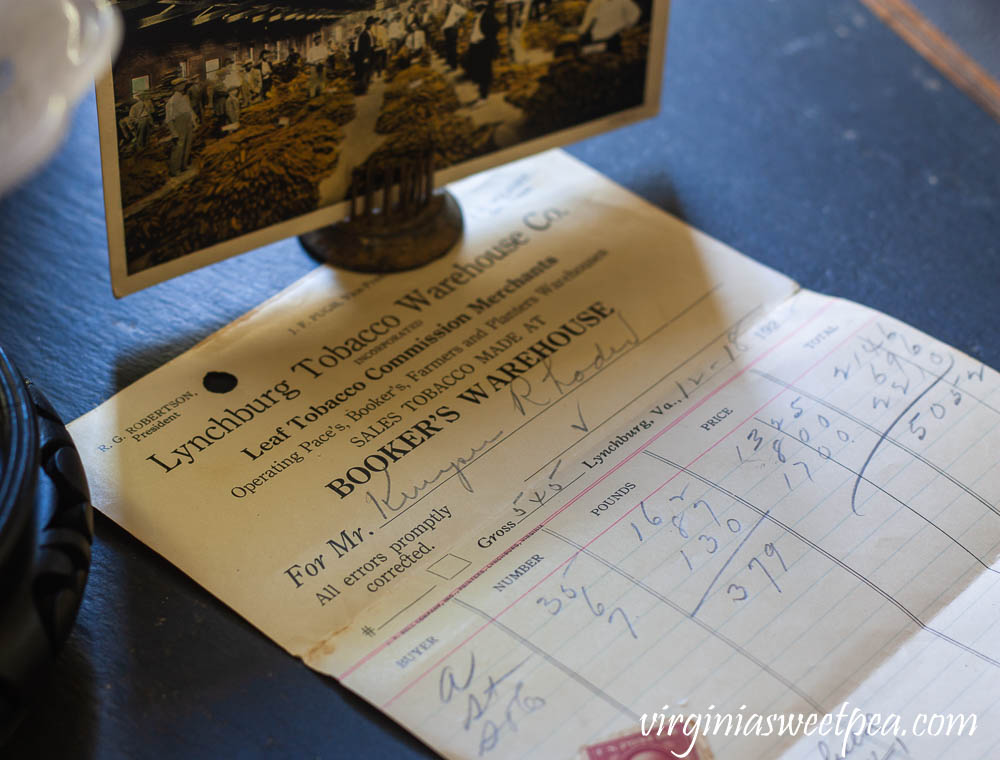 Kemper Rodes was my grandmother's first cousin. My grandmother's mother died of Typhoid Fever along with her brother and she and her sisters were sent to live with aunts. Granny was raised by Phillip and Lillian Rodes. Kemper was their son. Along with Kemper's tobacco receipt, I displayed a letter sent to Lillian in 1917.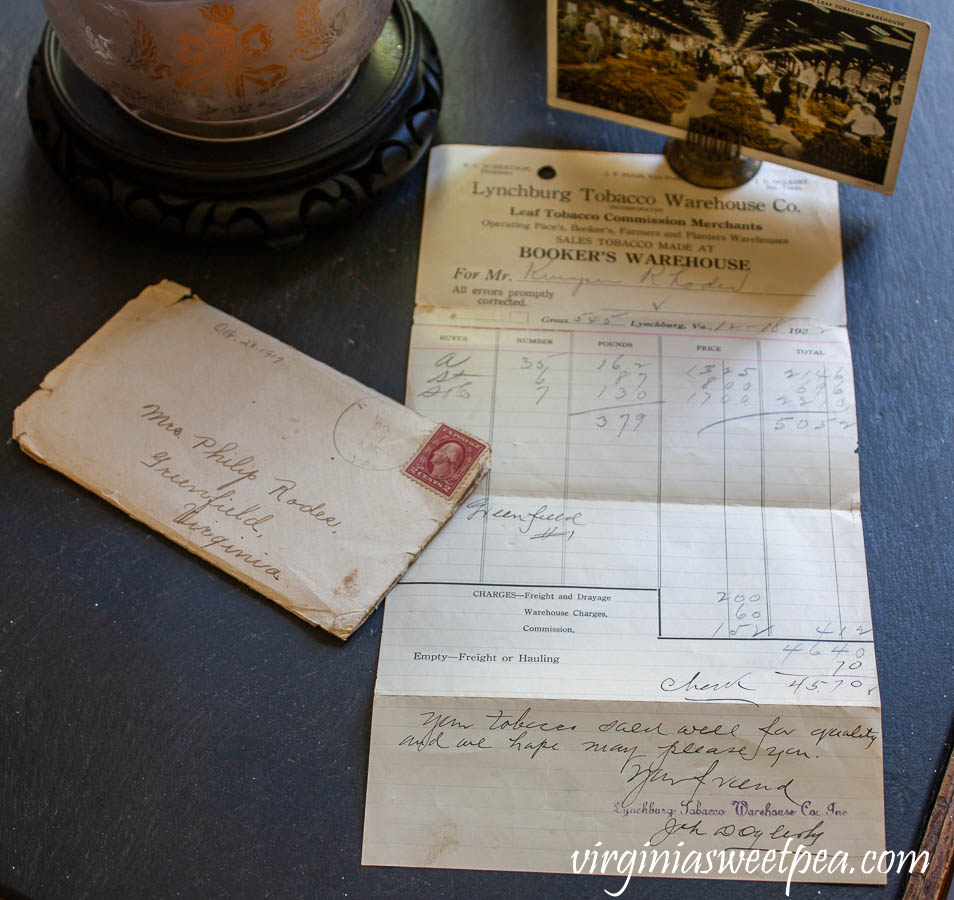 The glass globe is from the farmhouse where my paternal grandfather was raised in Maryland.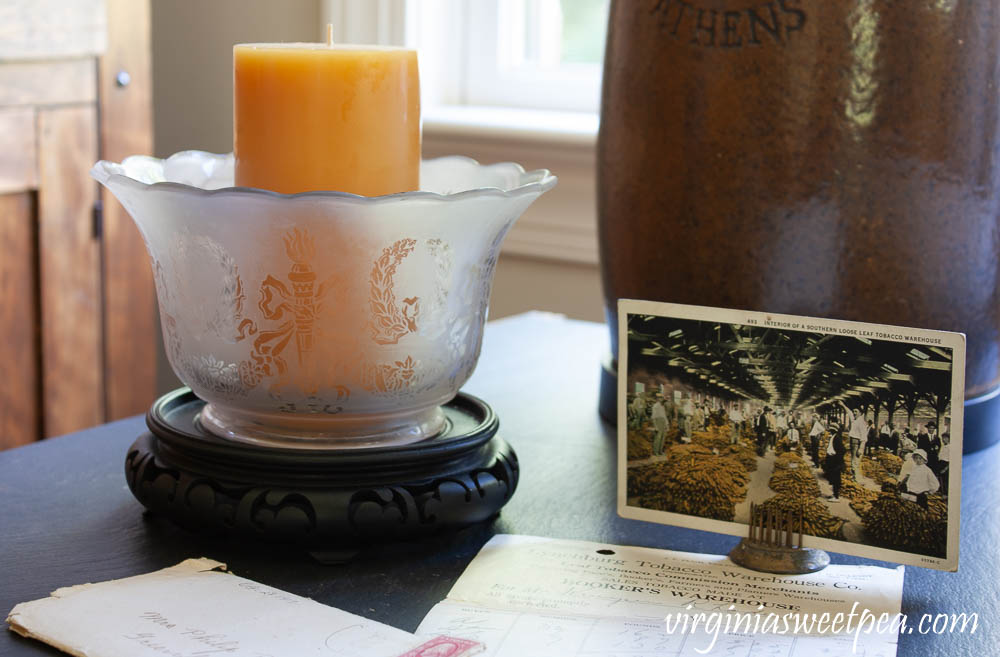 The coffee table to the right of the sofa tells the story of our love of visiting Vermont in fall. I'm actually in Vermont this week for our now annual fall trip. The Byer's wheelbarrow was a Vermont purchase that I enjoy using every year.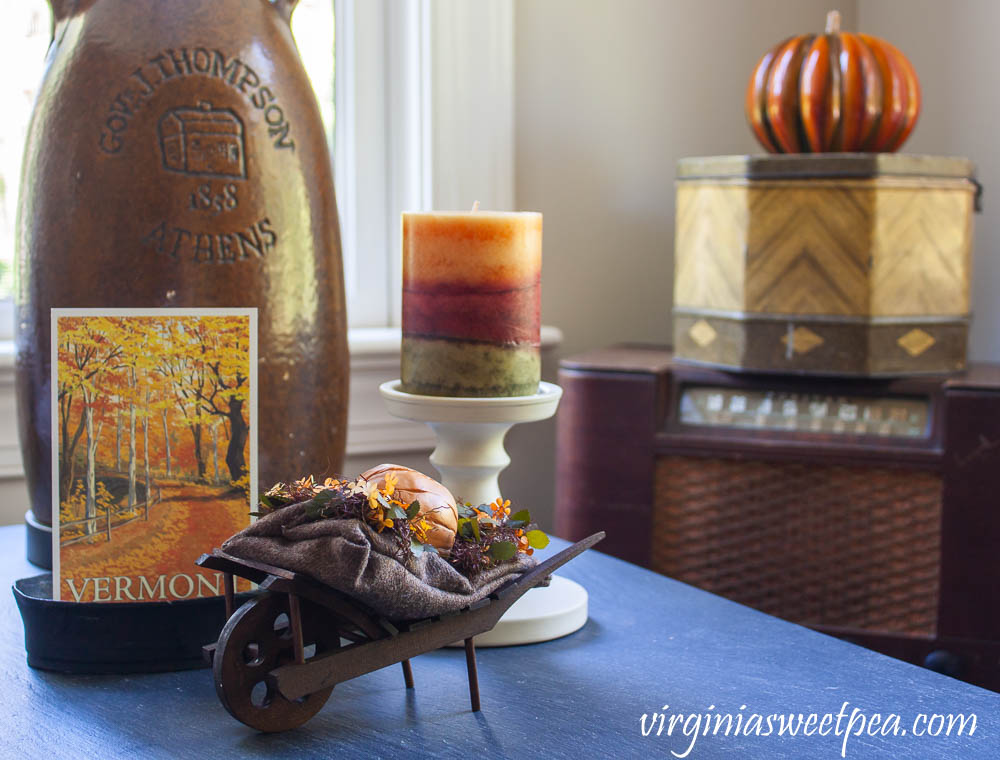 We are hoping to see some brilliant fall color this year on our trip. Even if we don't, there's no better place to enjoy fall than in Vermont. You can read details of last year's Vermont trip here and here.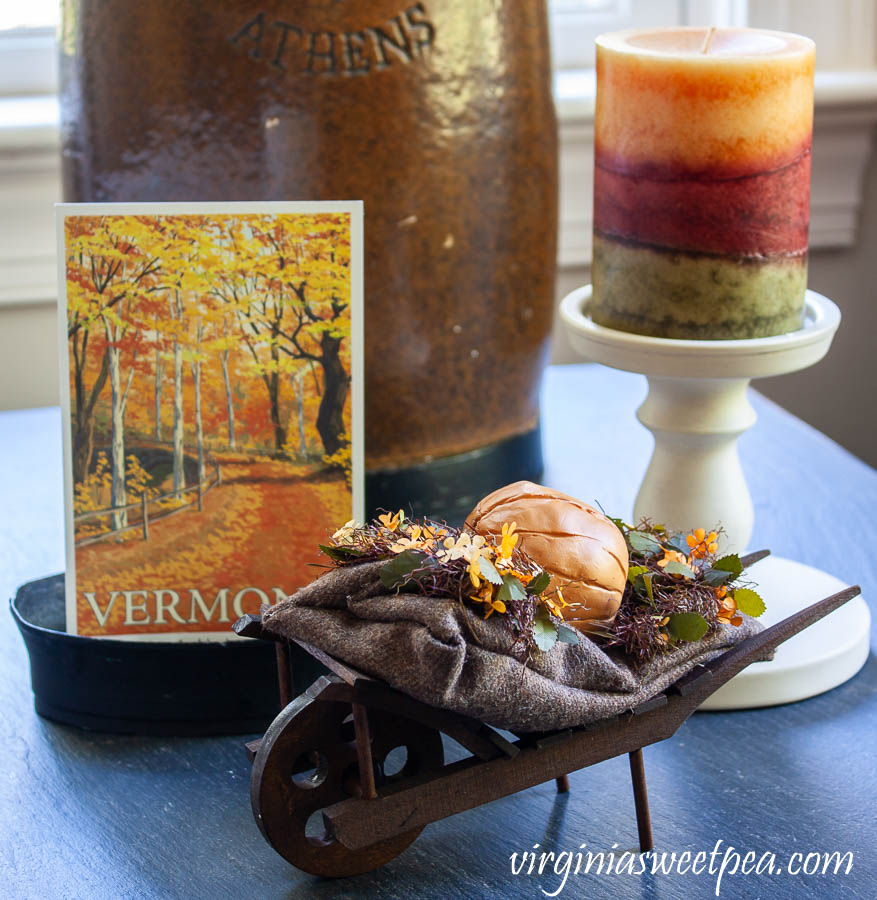 This corner of the room used to be where Mr. SP relaxed in the evening but Sherman has claimed it as his spot.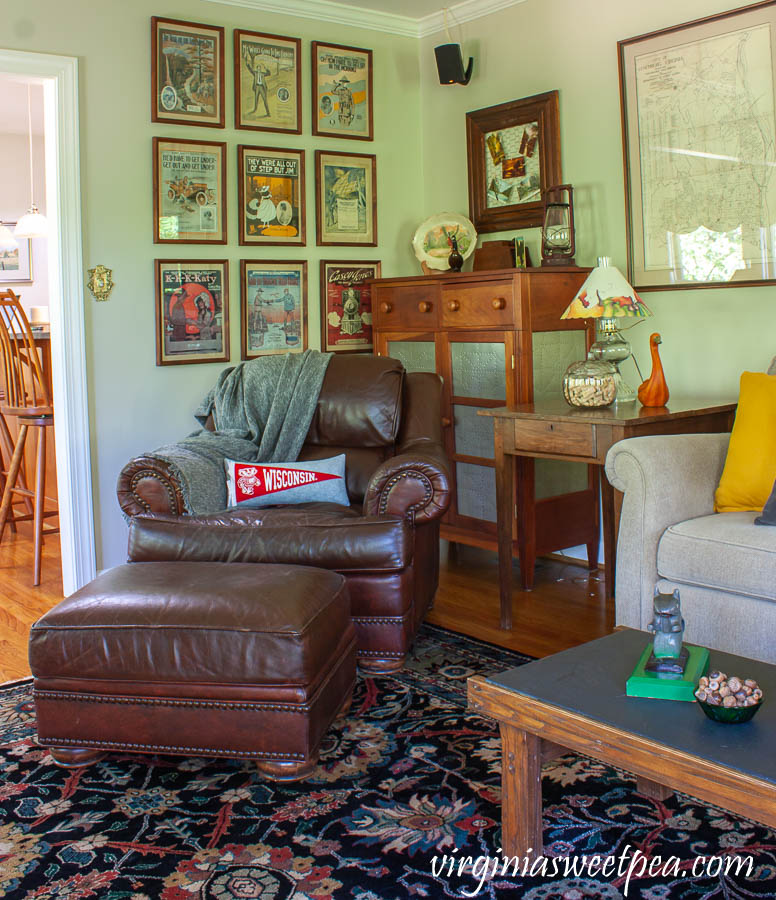 Mr. SP is a Badger and to celebrate his school pride, I had a Wisconsin pennant pillow made for him. This is an Etsy seller and if your school isn't shown for sale, contact her as she can probably still make a pillow for you. That's what I had to do to get this pillow.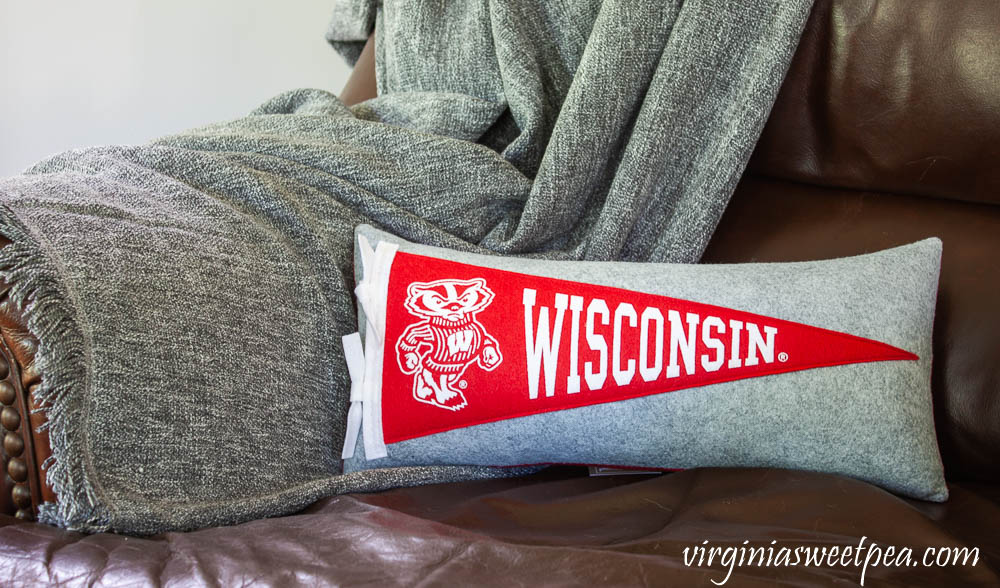 Sherman shamelessly begs for treats, so a treat jar is always on this table to oblige when he whines and cries. For fall I used an antique lamp along with a shade that I've had for 20+ years. The goose gourd was a gift from my mom when she went on a fall New England trip with my aunt and uncle.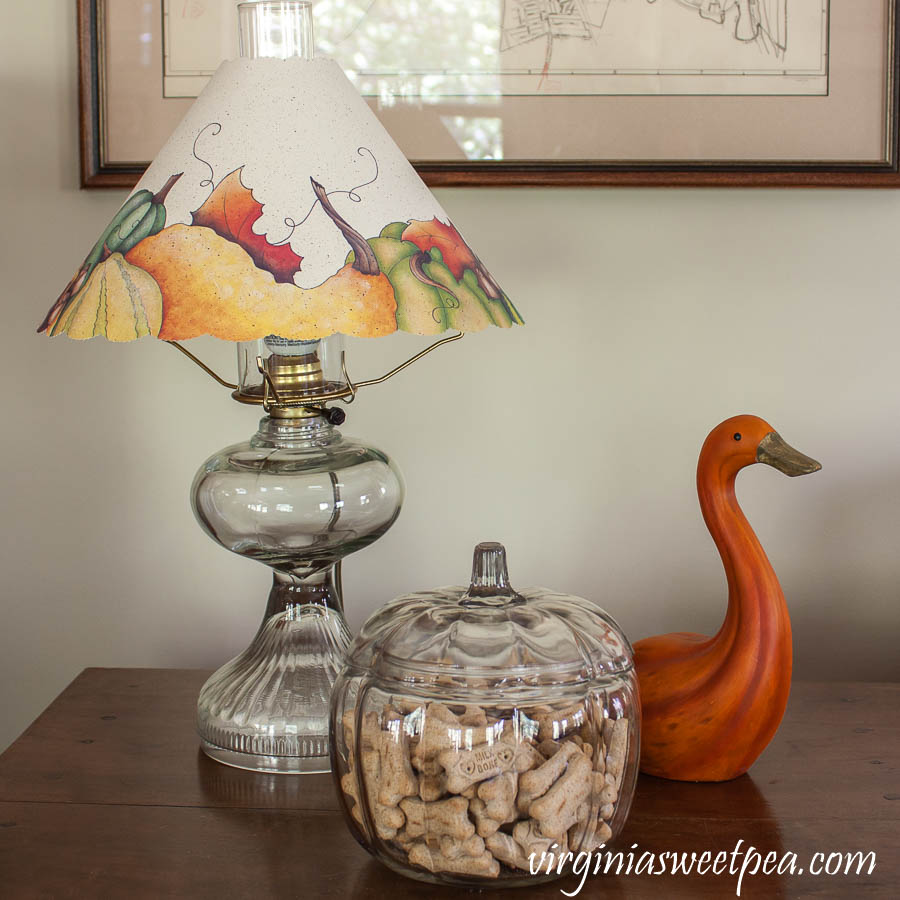 Back to my grandmother's postcard collection. My search in that box was for postcards with a fall feel to use on this frame made with wood from the schoolhouse that my paternal grandfather attended as a boy. The schoolhouse is still standing and you can see a picture of it in this post.
I found five postcards to use to set this mood for this display and for the pie safe top, went with a loose vintage hunting theme.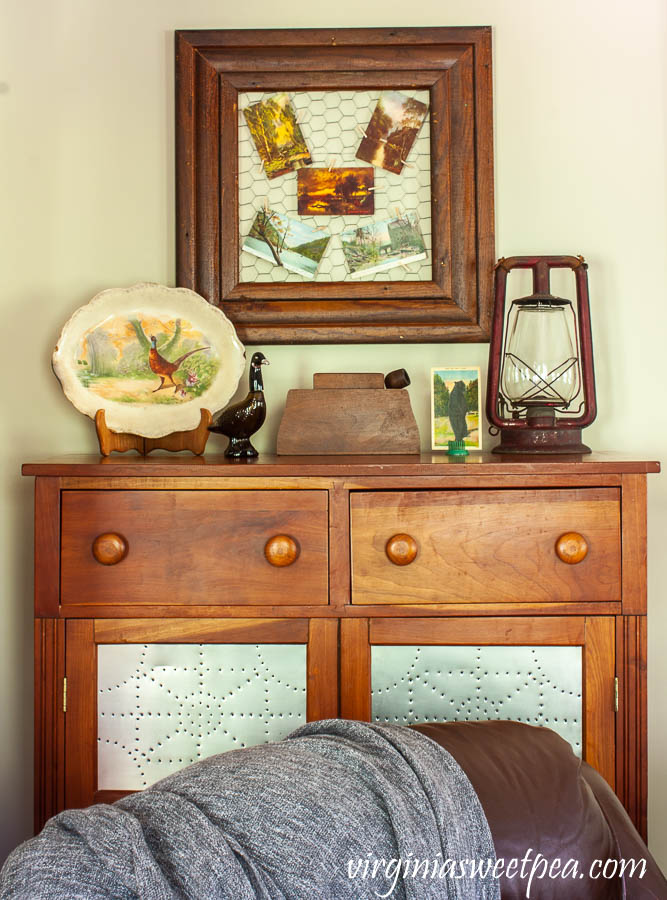 My grandfather did hunt but he spent more time foxhunting. Not the foxhunting done on horseback while wearing hunting attire, he did pickup truck foxhunting where his buddies would all meet, release their hounds, and the guys would socialize and imbibe while listening to the dogs bark. Granddaddy smoked a pipe and the pipe and tobacco holder were his. The lantern was also his and I'm sure it lit the way many a night when he did farmwork after dark.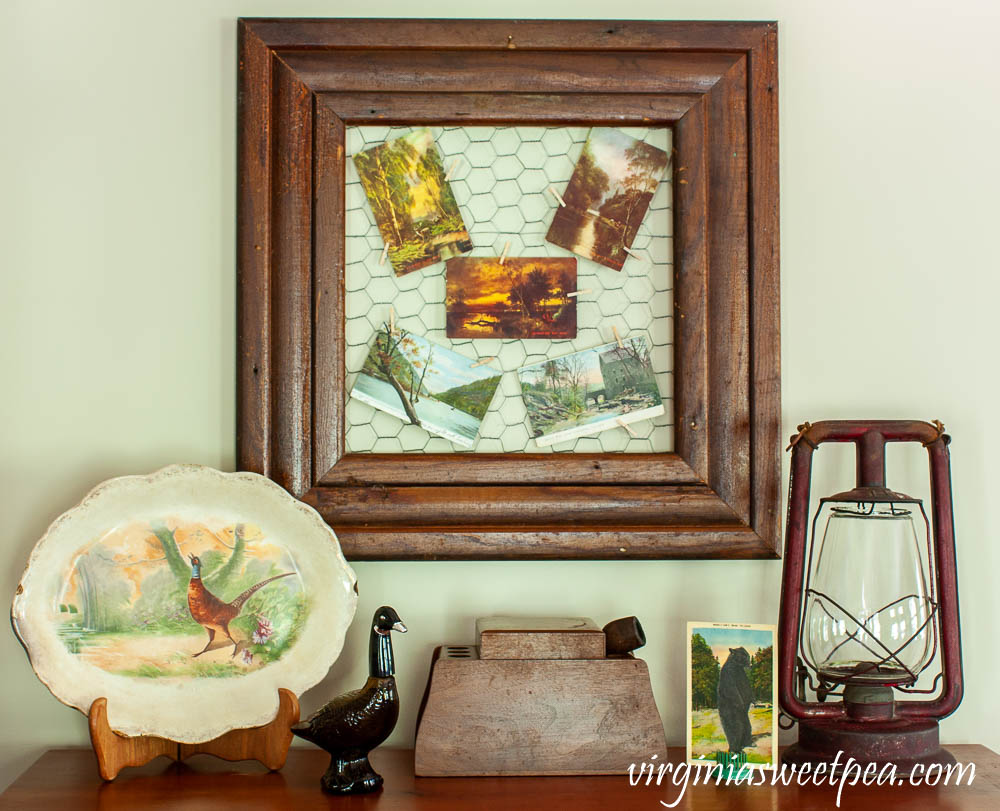 To go with my hunting theme, I added a pheasant platter along with an Avon bottle goose.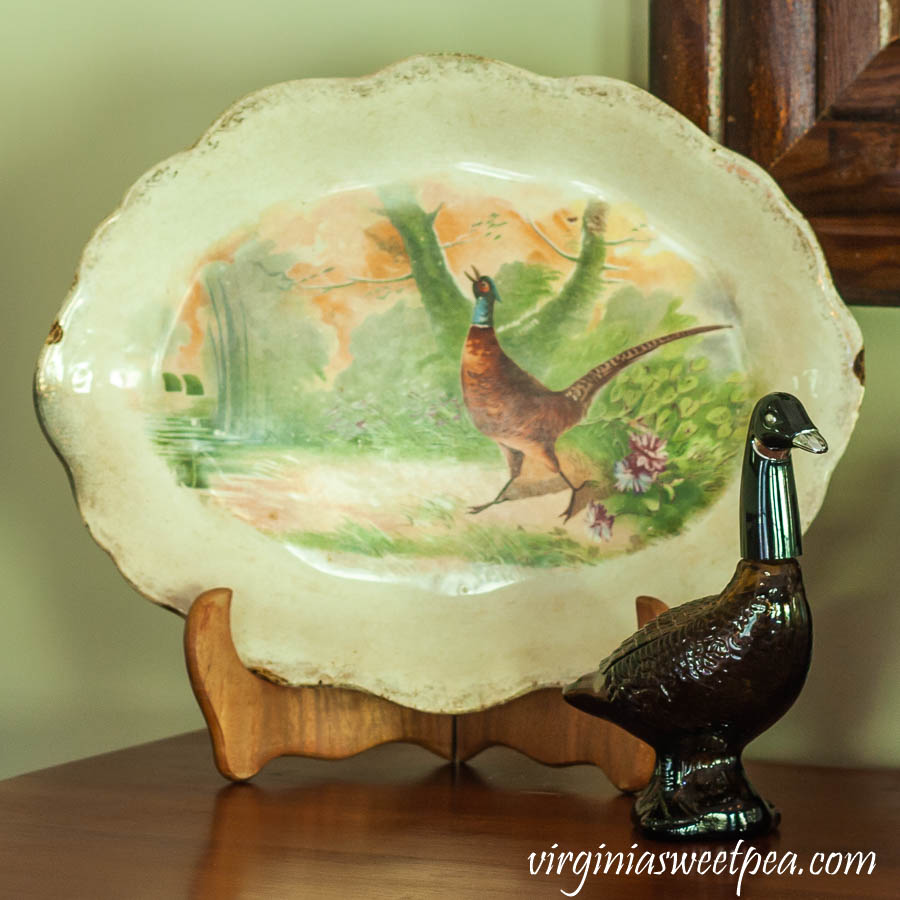 There was an empty spot between the pipe holder and lantern, so I went back to the postcard box to see if I could find one with an animal on it and I found this one with a black bear.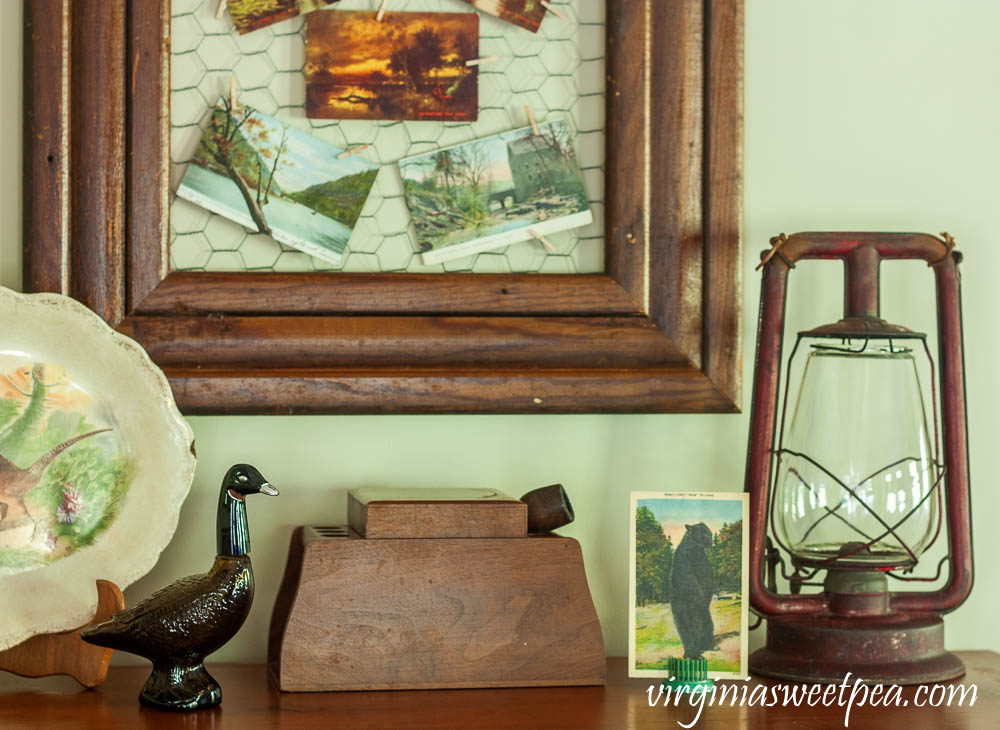 This "I can't 'bear' to leave" postcard was never used. The back says that is it from Ashville, NC.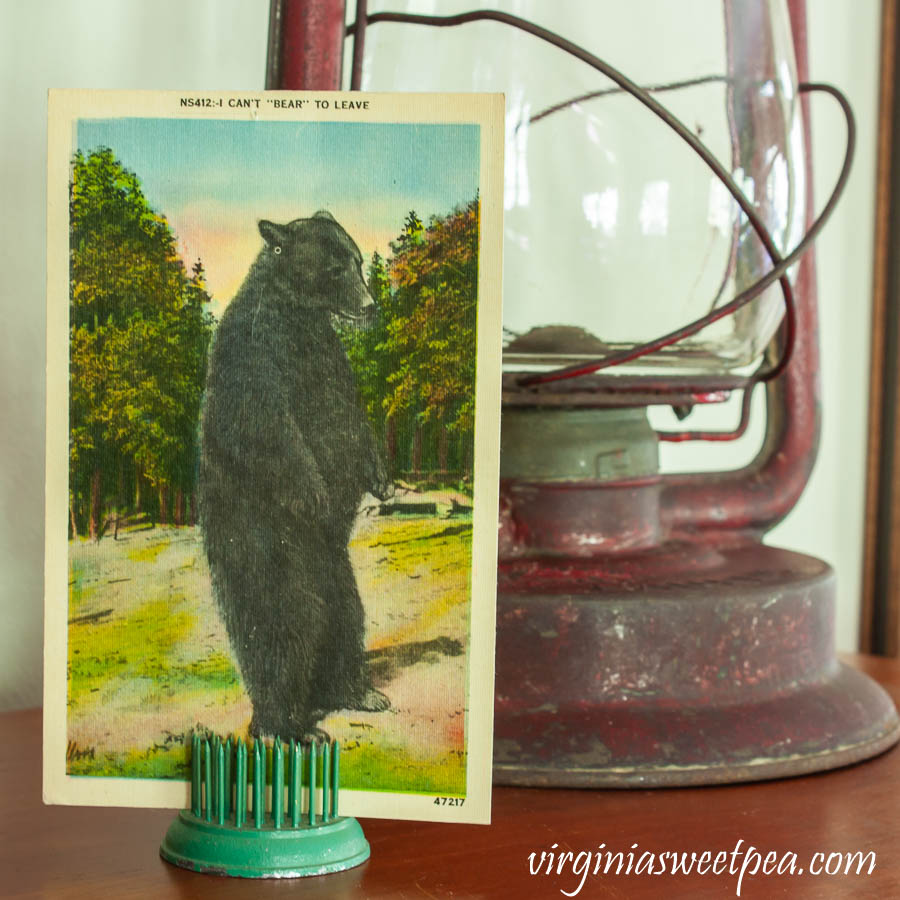 Every fall I create a Vintage Virginia Tech corner in our family room. You can see more details of the items on display in this post.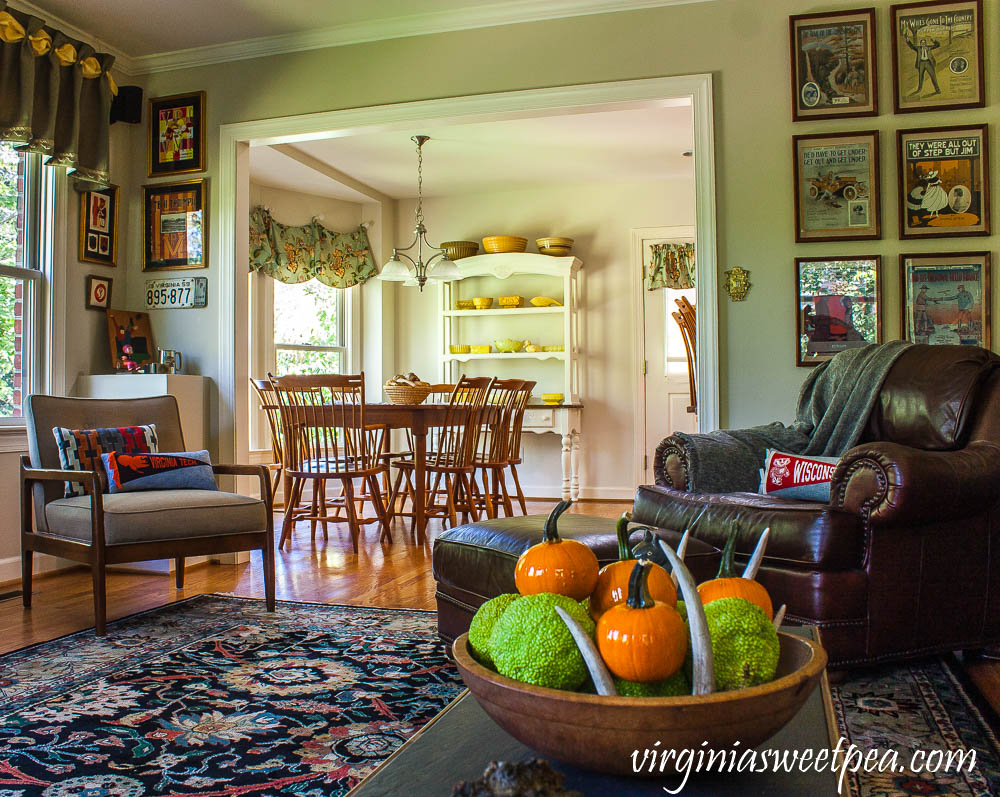 My dad, aunt, and I all went to Virginia Tech. The Virginia Tech pennant pillow that I ordered from the same Etsy shop goes right along with my Vintage Virginia Tech corner.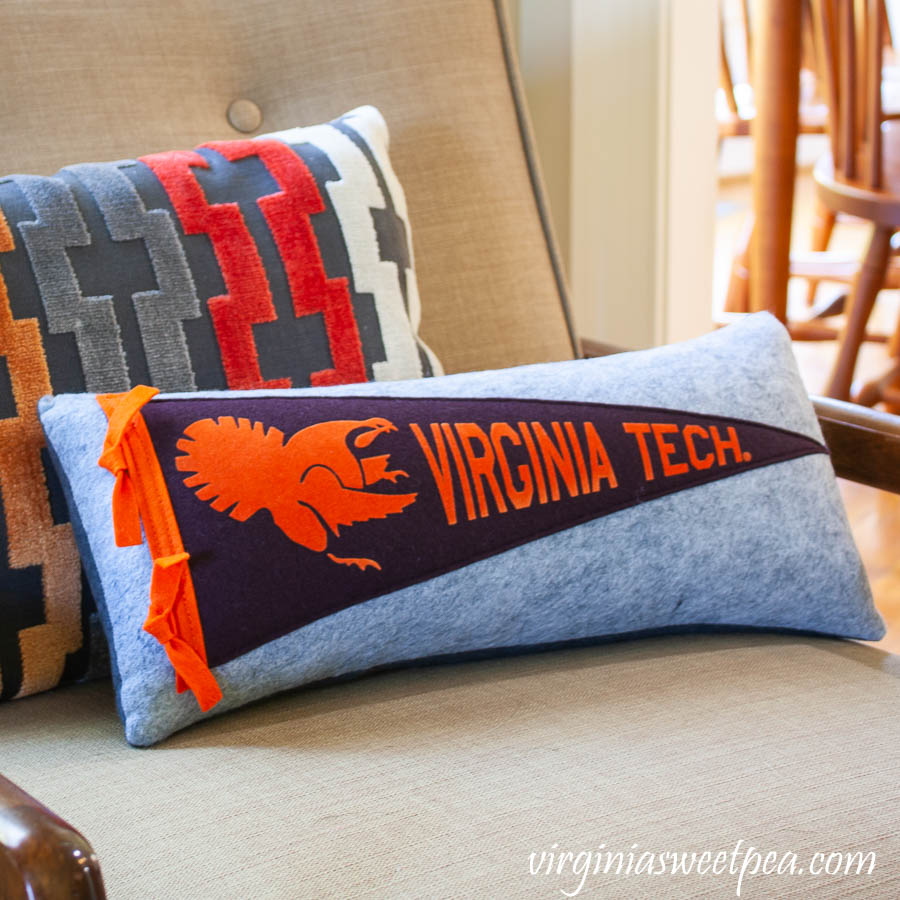 Breakfast Room
A fall tradition in our breakfast room is to hang three stained glass leaves on the windows. I purchased these long before this room existed and used to hang them in our former kitchen's window.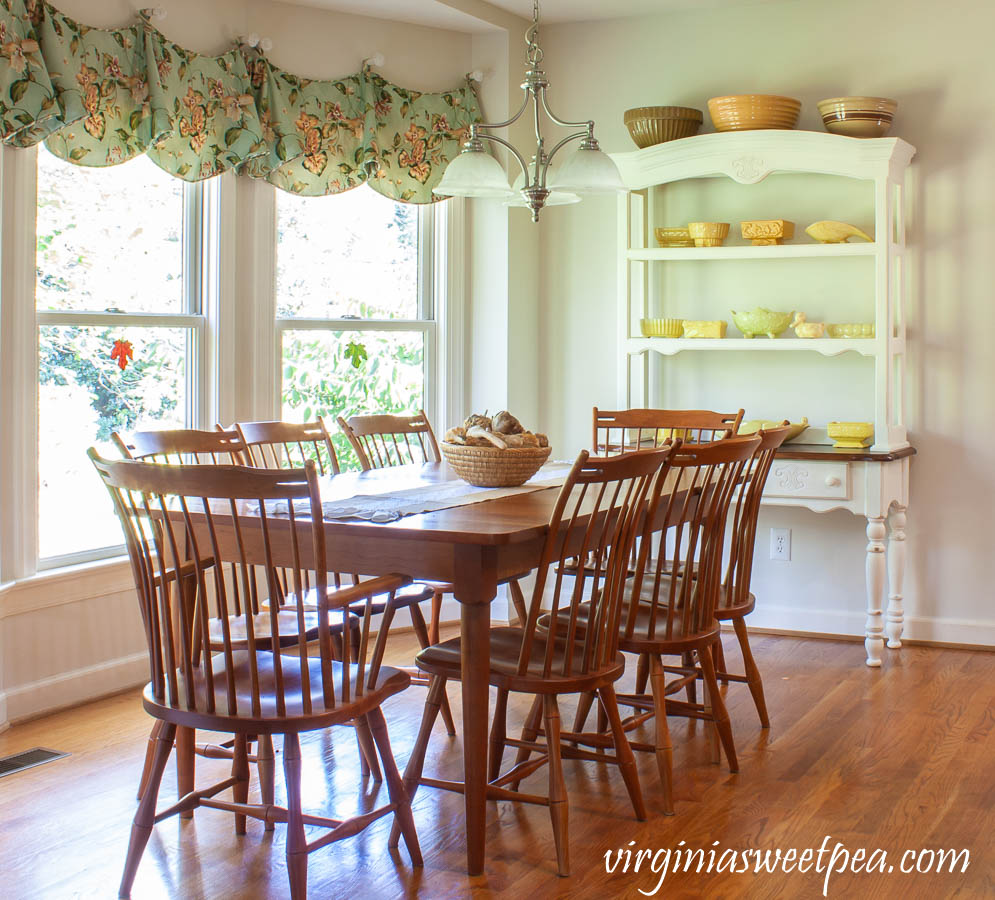 This 1970's basket is my mom's and if I had to guess, I'd say that she bought it at Lightfoot in Williamsburg, VA. I think of it as "the potato chip basket" because she often lined it with a napkin and served chips in it at a picnic. I filled it with dried gourds. I never throw my gourds out, I dry them and then stain them to use over and over again. I have a giant tote filled with dried gourds that I use every fall.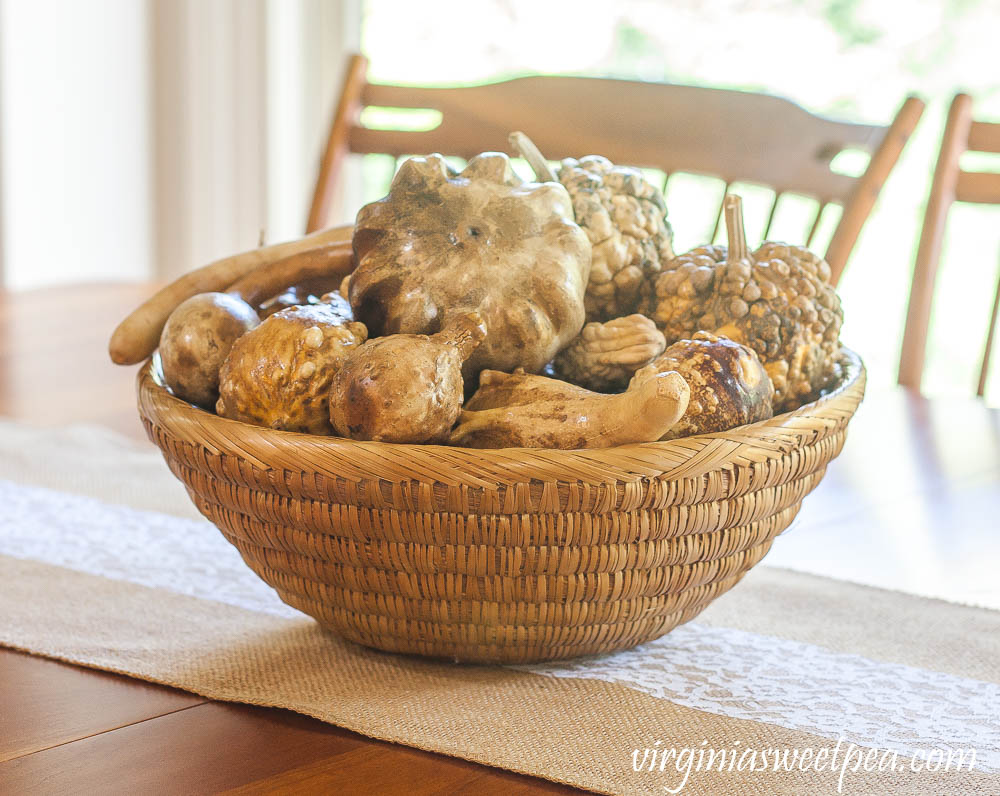 Please pin this post to remember for later.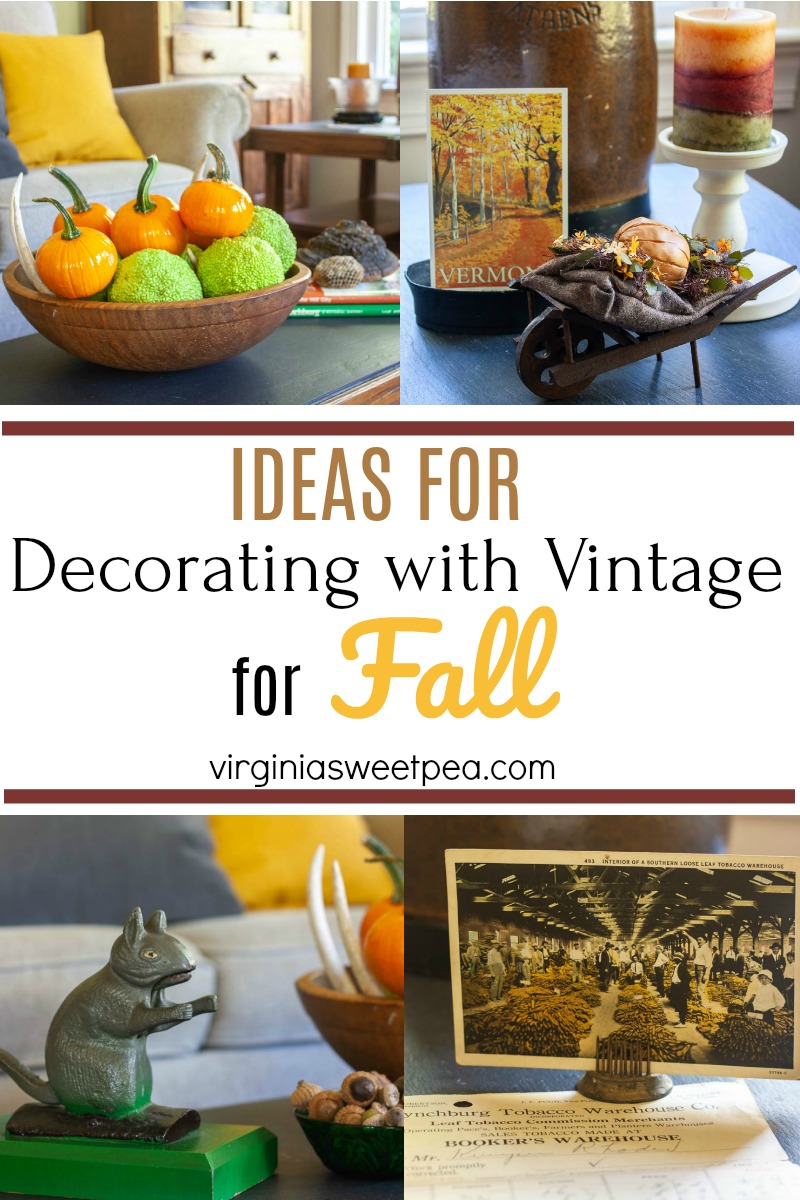 Next on the tour is Angelina from Petite House. Angelina is sharing French Country Fall Home Tour and I can't wait to read her post.
I hope you enjoy all of the fall ideas shared today on this Embracing Fall Blog Hop. Click on the links below to visit each blogger participating in today's tour.
You are invited to the Inlinkz link party!