Today I am sharing some amazing DIY Fall Wreath Ideas that are sure to spark your creativity for making your own fall wreath.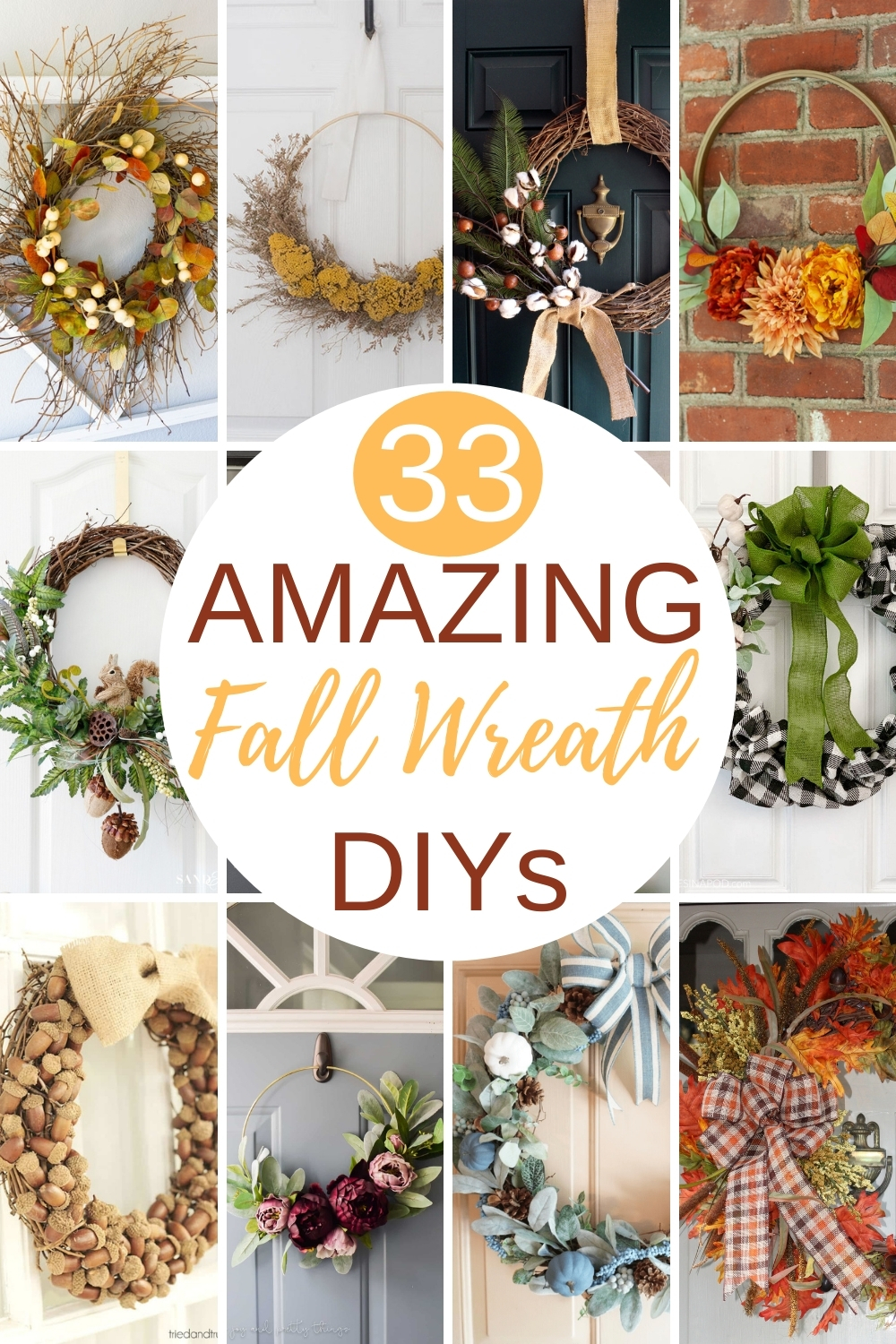 A fall wreath is a wonderful way to make your door look welcoming to guests and to those who drive or walk past your home.
33 Amazing Fall Wreath DIYs
If you are looking for ideas for how to make a fall wreath, I've got 33 fabulous wreaths to share with you today.
Traditional Style Fall Wreath Ideas
In my mind, a traditional fall wreath is one with fall florals and perhaps a beautiful bow.
I made this fall wreath a few years ago and it's been on my door every fall since I made it.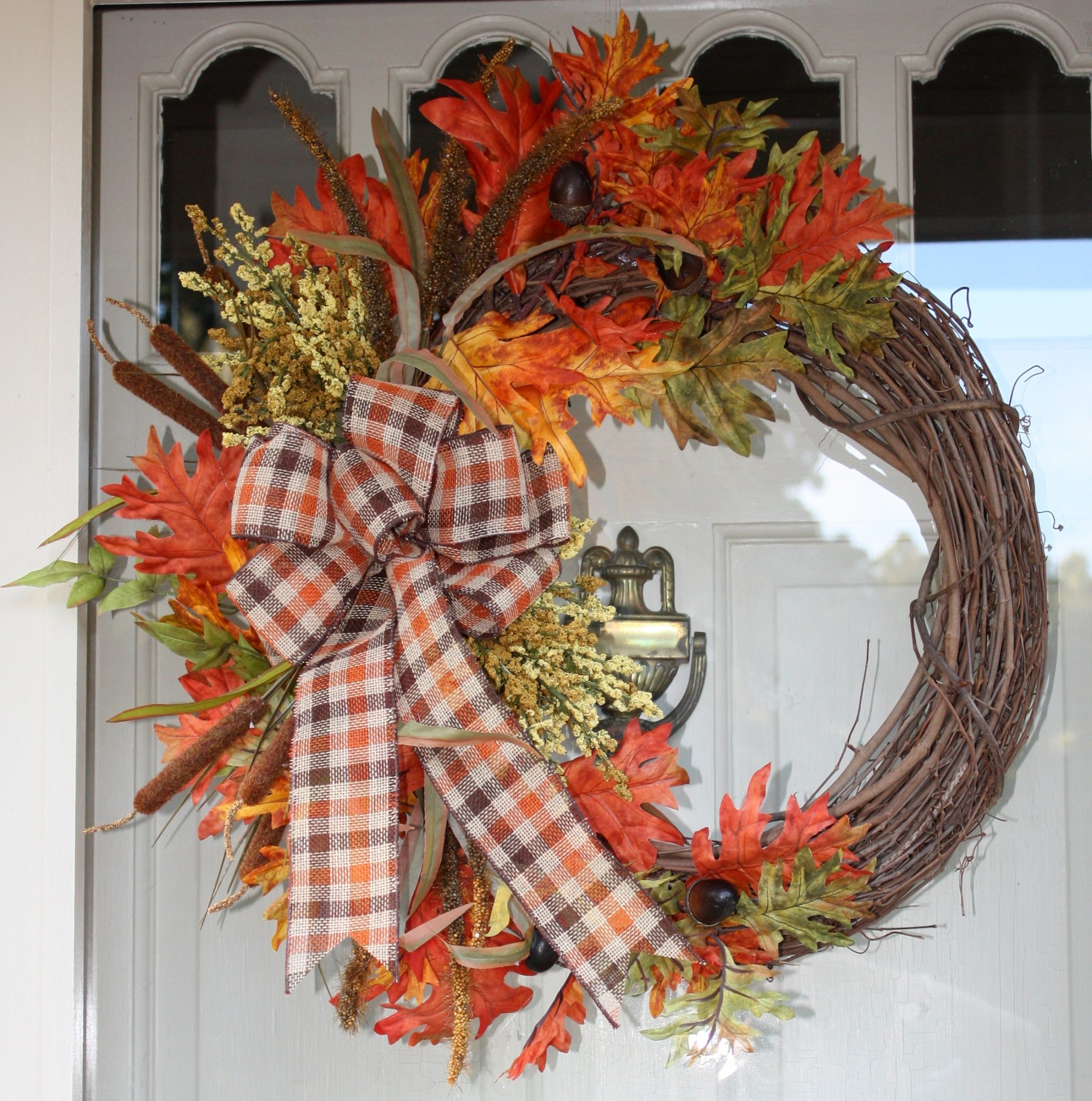 My California blogging pal, Julie, of My Wee Abode made this gorgeous wreath in just 15 minutes. Isn't it pretty?
Julie is coming to visit me in a few weeks and I can't wait to show her my home state of Virginia!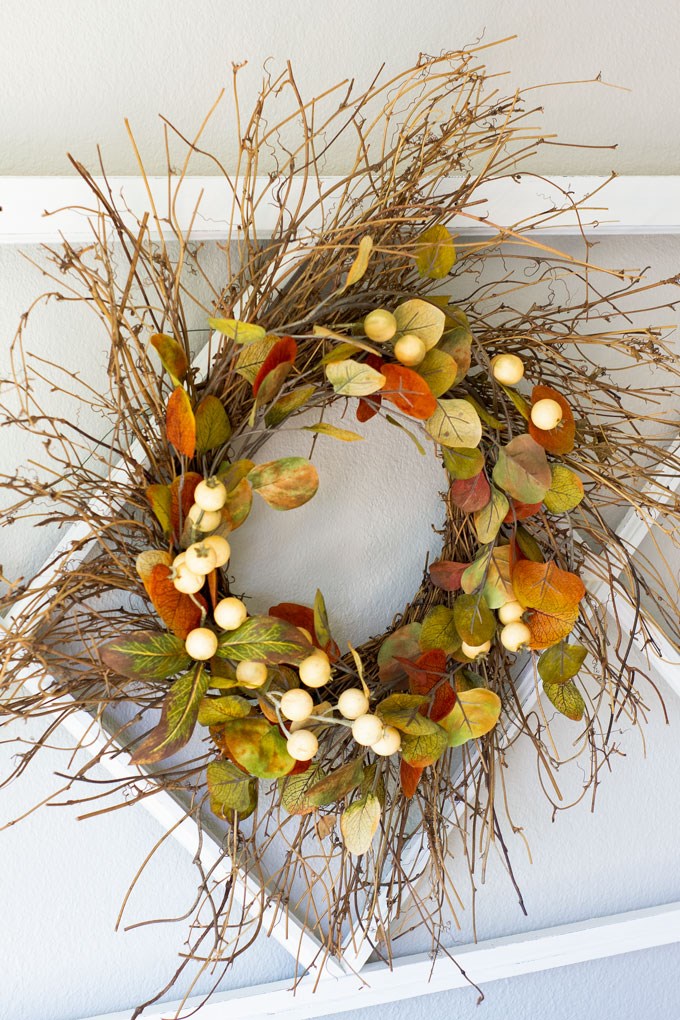 Cindy from DIY Beautify shares How to Make a Dollar Store Fall Wreath in 5 Easy Steps. The Dollar Store has some great florals as you can tell by how pretty Cindy's wreath turned out.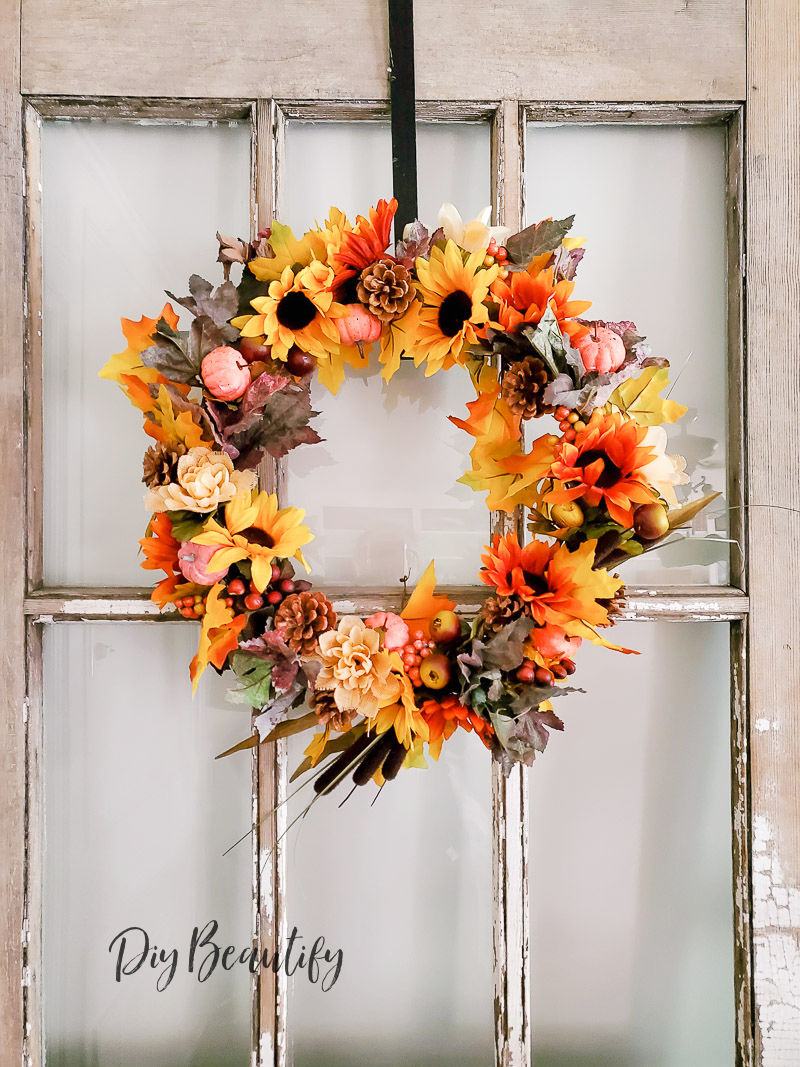 Julia from Tag and Tibby shares How to Make a Cotton and Berry Autumn Wreath.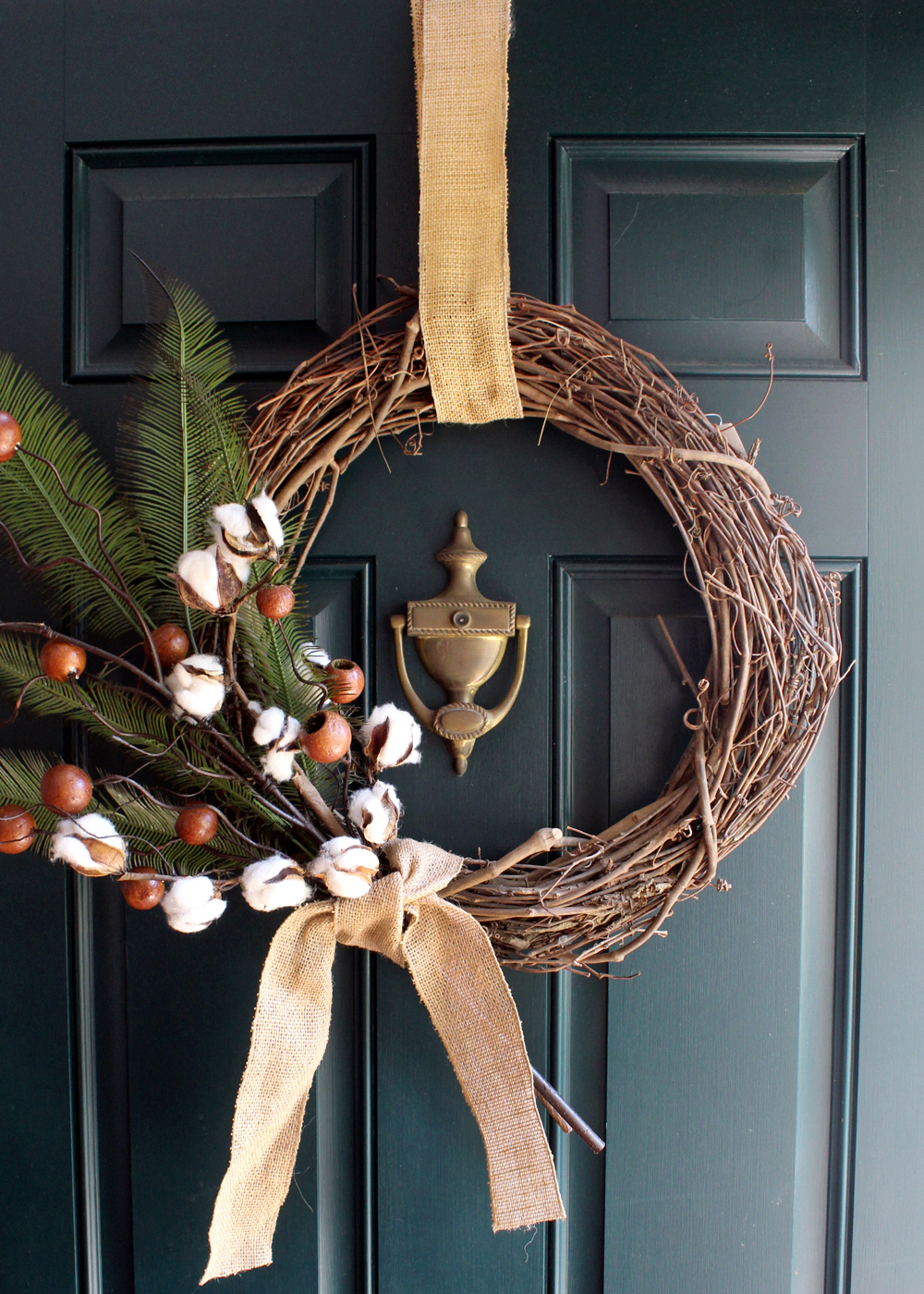 Kippi from Kippi at Home shares her pumpkin wreath. Called a pumpkin wreath because it is decorated with traditional pumpkin colors.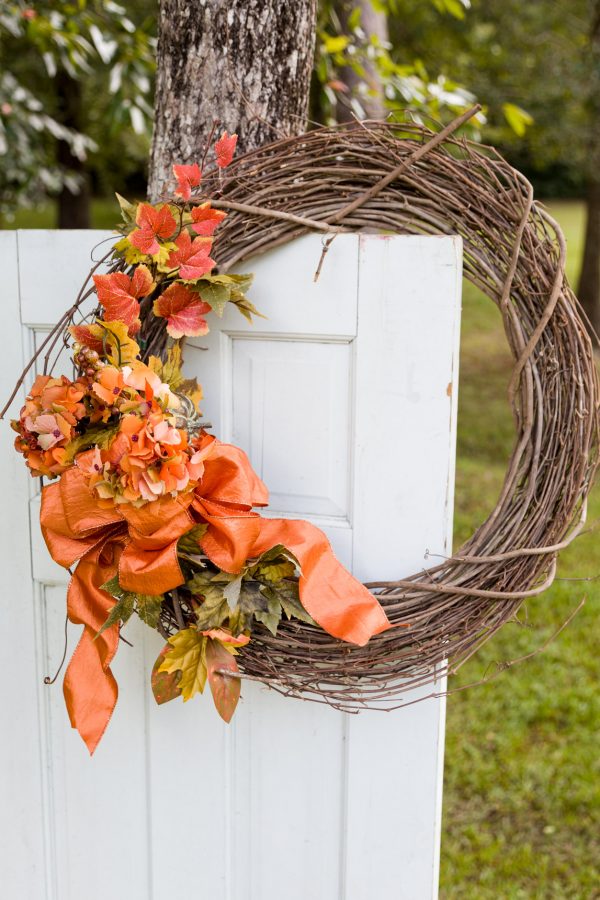 When you have a double door front door, you have double the wreaths to make. April from Love Our Real Life shares her DIY Fall Wreaths for the Front Doors.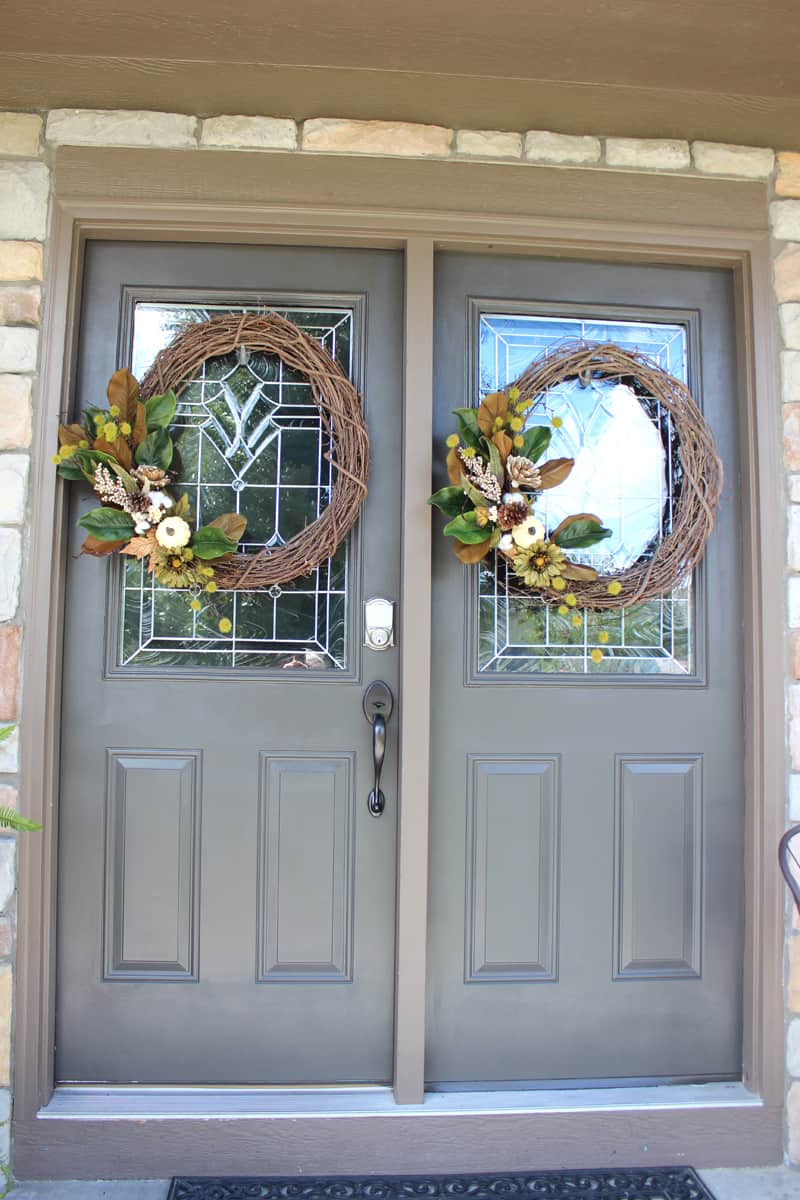 Patti from Hearth and Home also has double doors. She made two Floral Pumpkin Wreaths for her Door.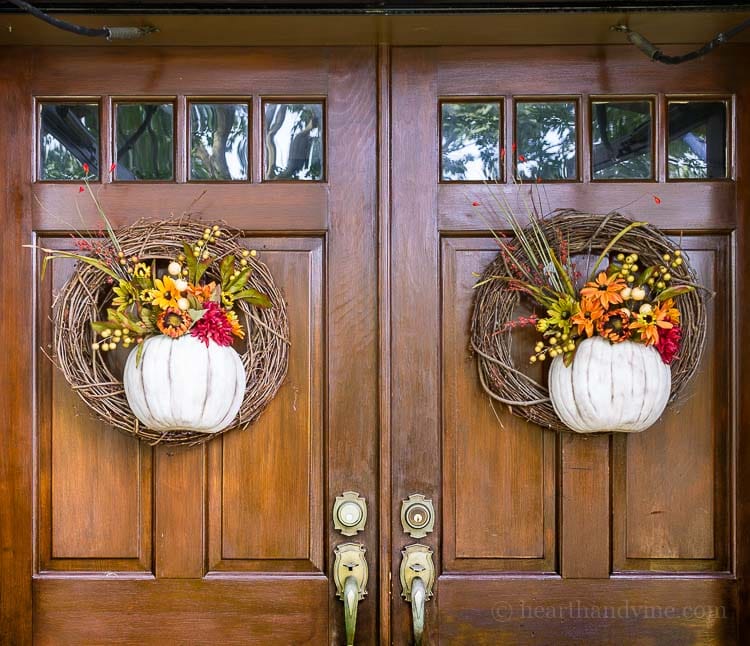 Ashley from Cherished Bliss made a Modern Leather Fall Wreath. I love her idea for wrapping strands of leather around the wreath form.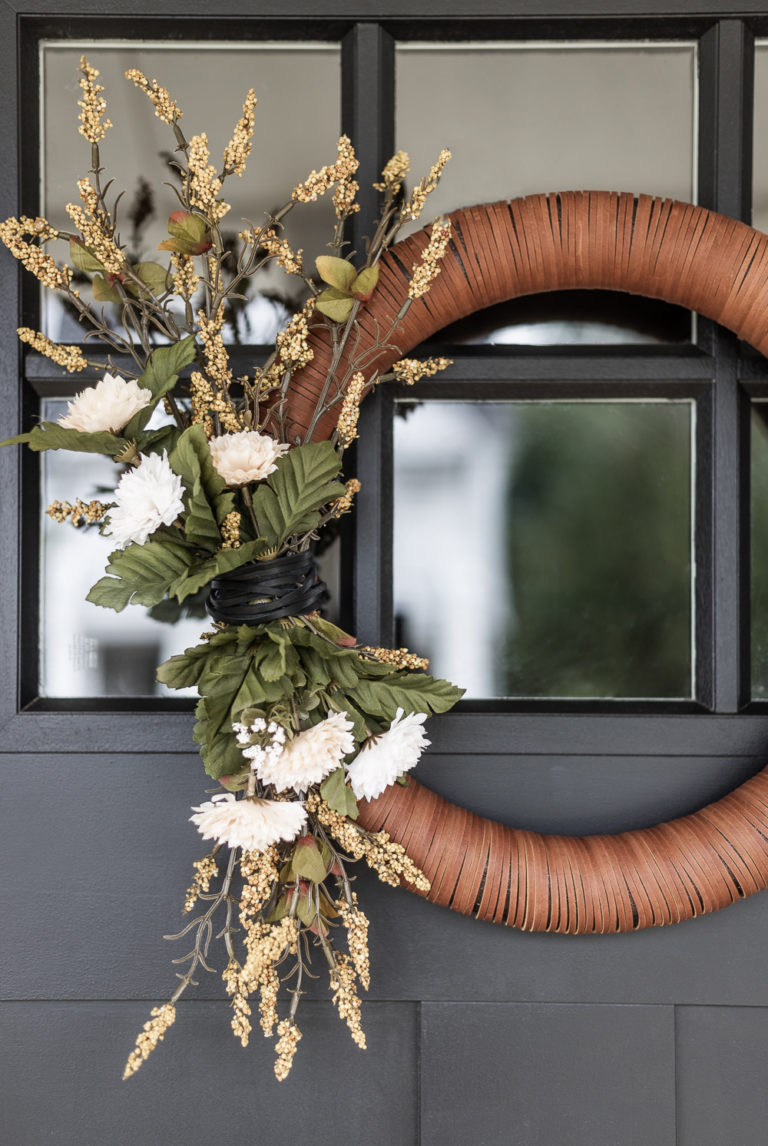 Kristen from Ella Claire Inspired crafted a Preserved Leaf Fall Wreath.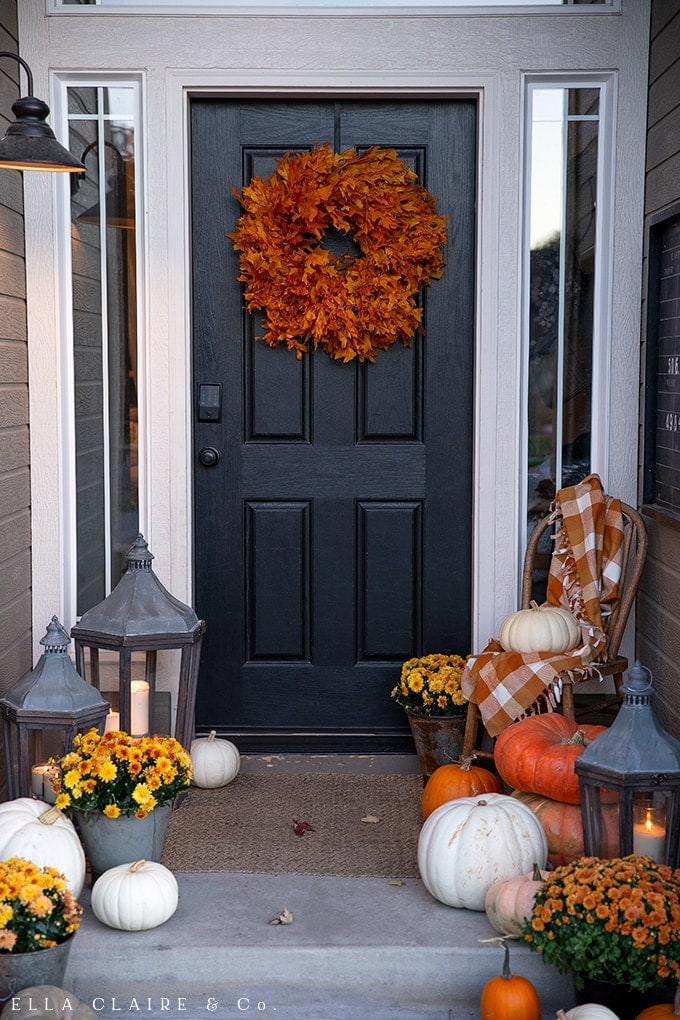 Amy from The Savvy Sparrow used a tobacco basket for a wreath form. Her Tobacco Basket Wreath for Fall looks great on her door!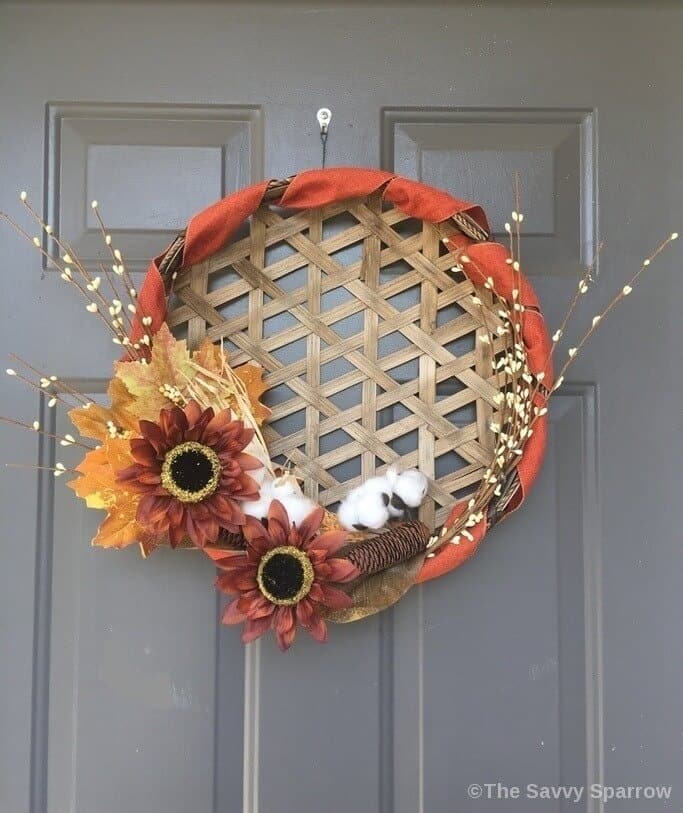 Carol and Randi from FrugElegance made this beautiful Fall Grapevine Wreath.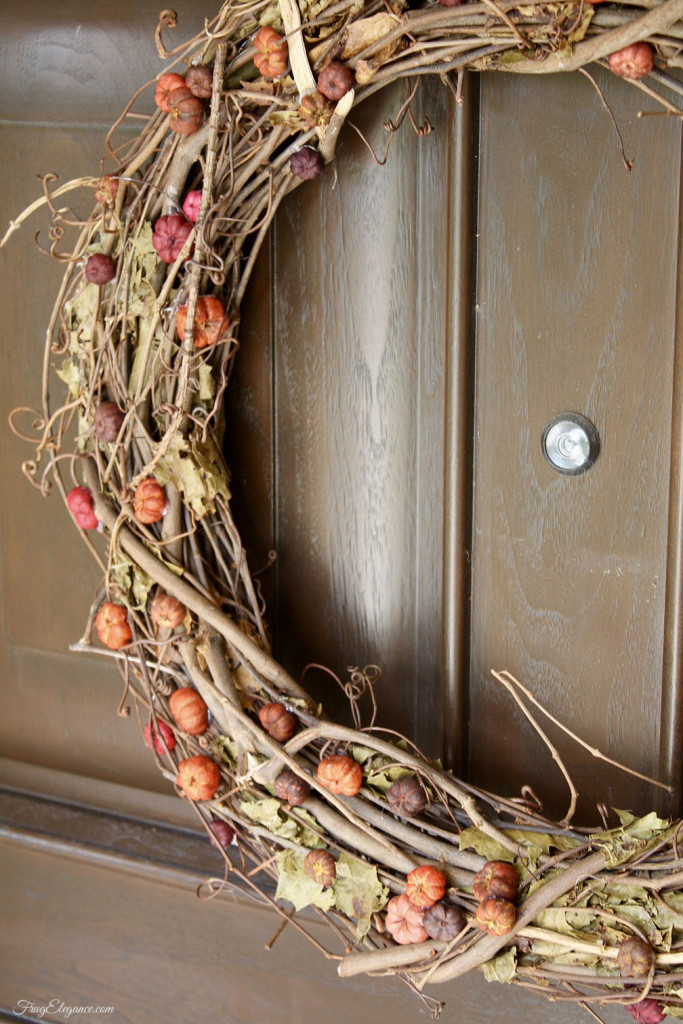 Amy from Atta Girl Says made this Grapevines and Pumpkins Fall Wreath.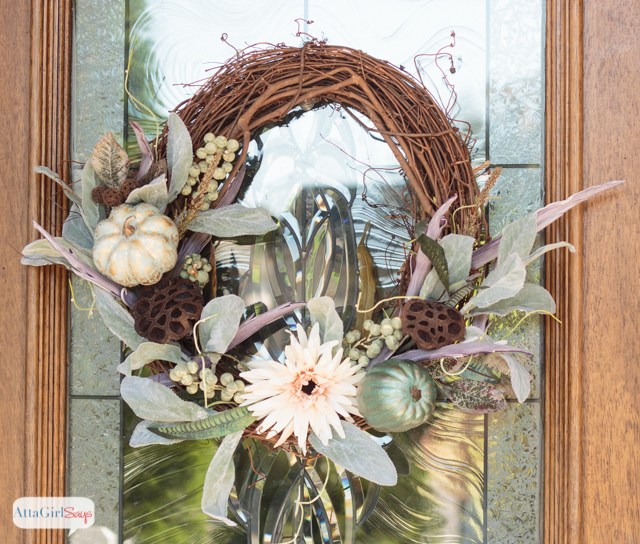 I love making wreaths and I believe I've made more fall wreaths than wreaths for any other season with the exception of perhaps Christmas. This is another fall wreath that I made.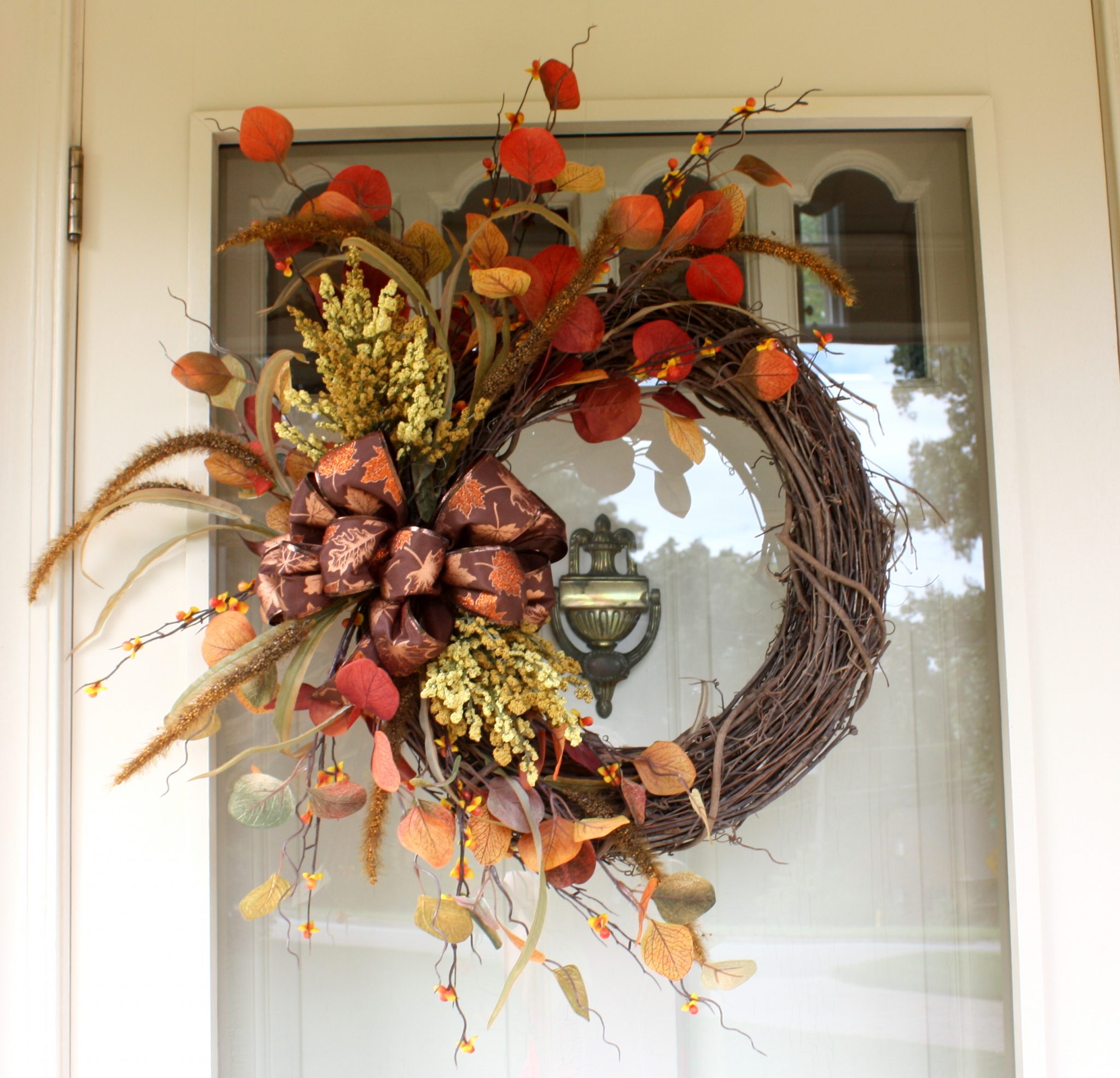 Hoop Style Fall Wreaths
Hoop style wreaths have been quite popular in the last few years.
Sarah from Making Joy and Pretty Things made a DIY Modern Gold Ring Wreath. Aren't these colors beautiful?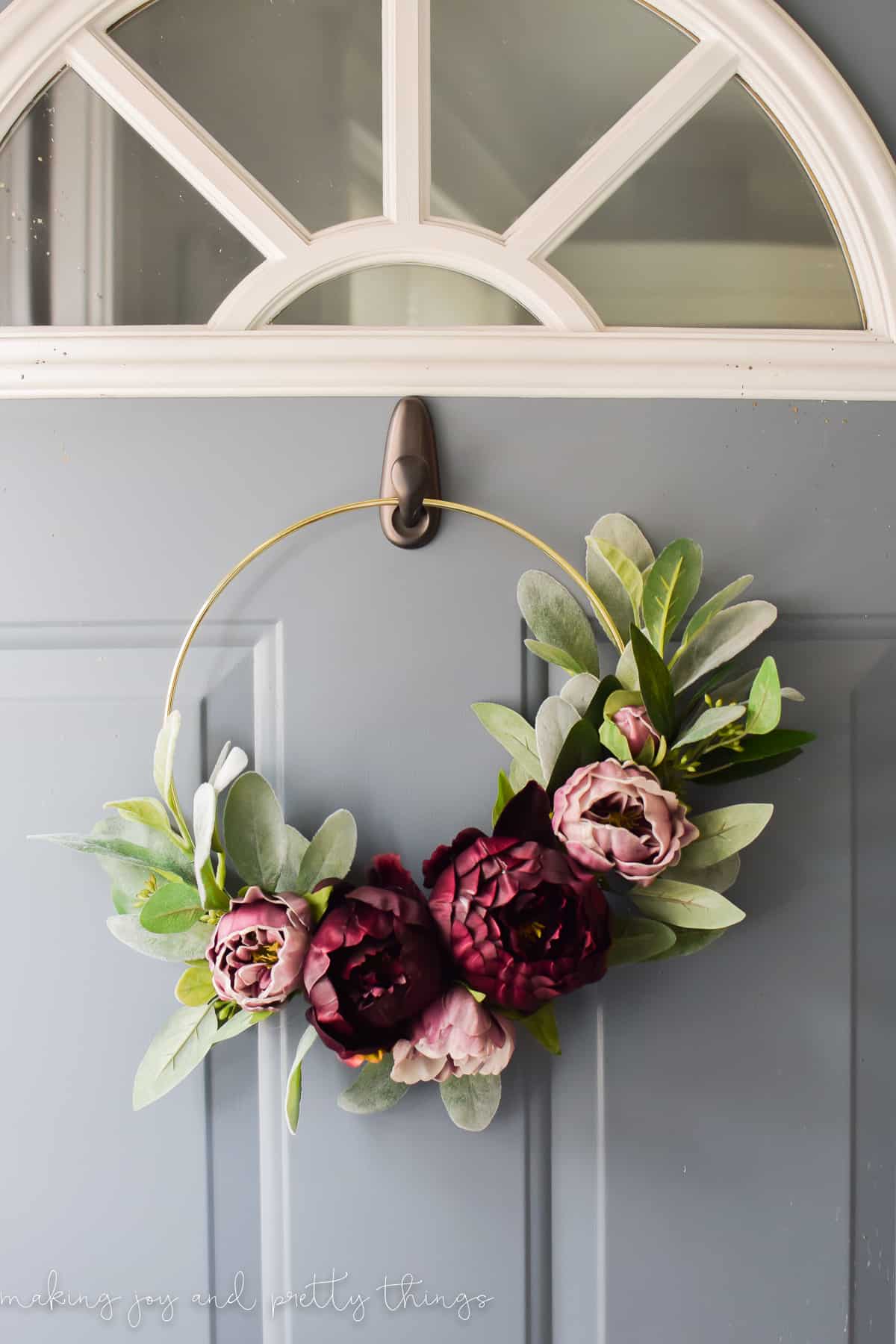 Kristi from Chatfield Court made this Simple Fall Hoop Wreath that looks great on her glass door.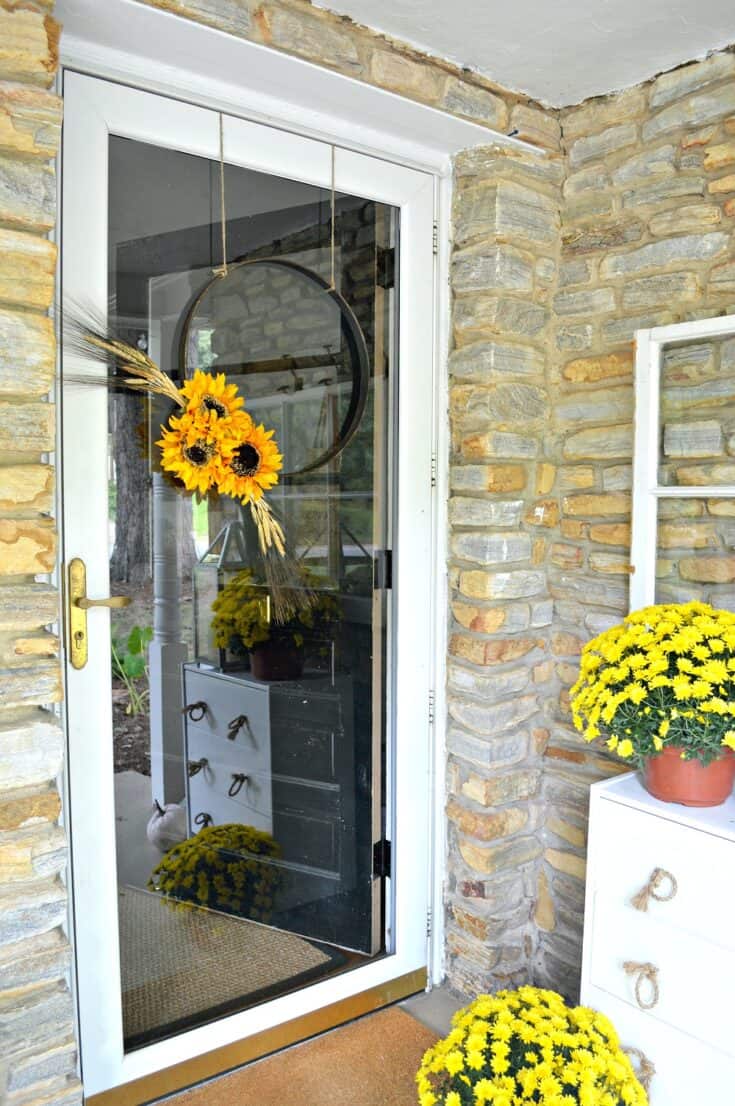 Roxanne from The Honeycomb Home made this Easy Fall Wreath with Dried Flowers.
This summer I meant to dry some yarrow to use for fall decor but unfortunately forgot about it and when I remembered, my yarrow had turned brown.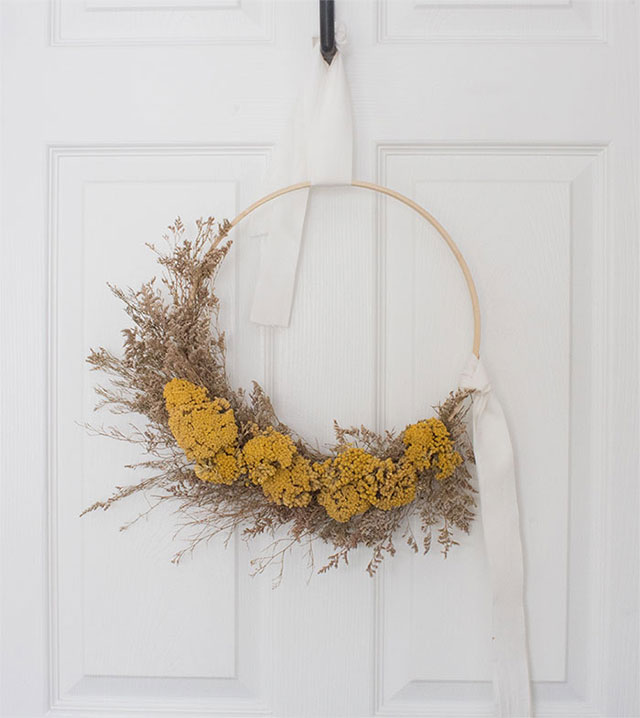 I made this Fall Hoop Wreath last month and love how it looks hanging on our sunroom wall.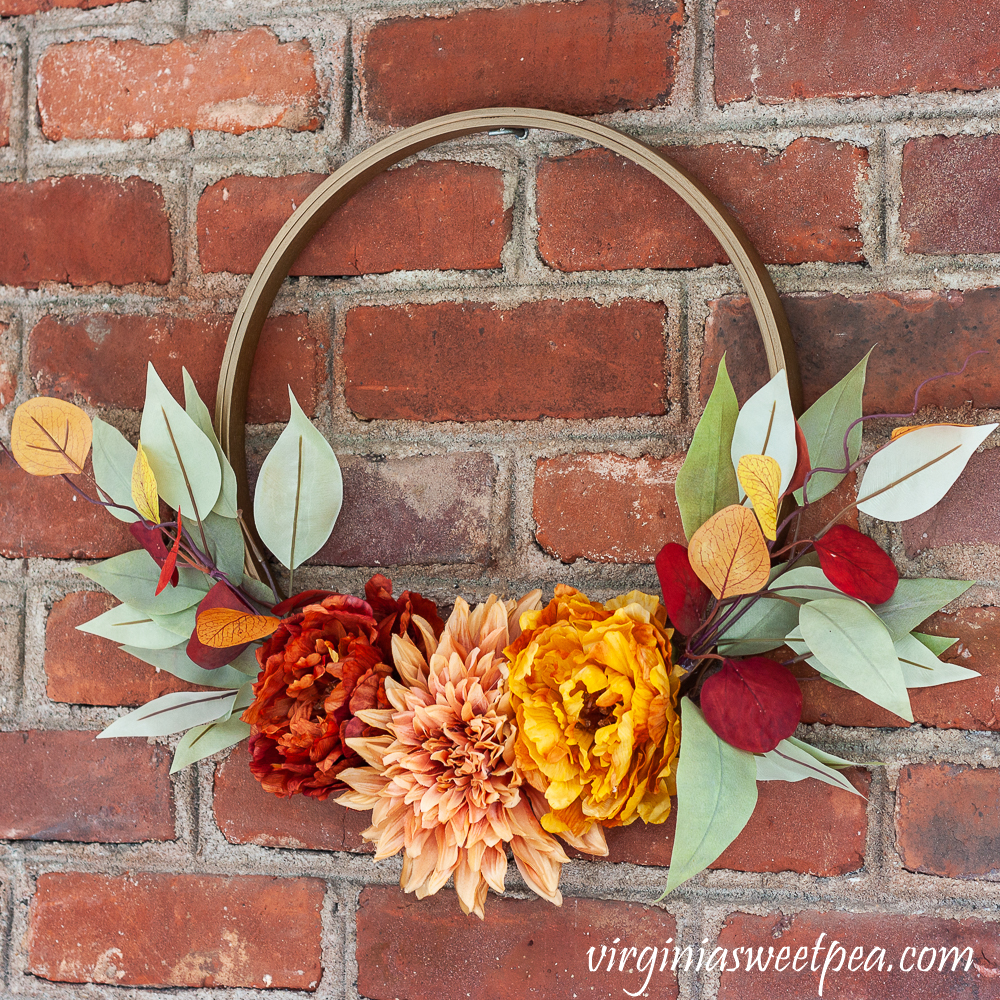 Fall Wreaths Made Using Natural Materials
It's wonderful when I wreath can be crafted using items found in nature.
Vanessa from Tried and True made this beautiful Fall Wreath with Acorns. She actually used faux acorns but there is no reason why real ones couldn't be used.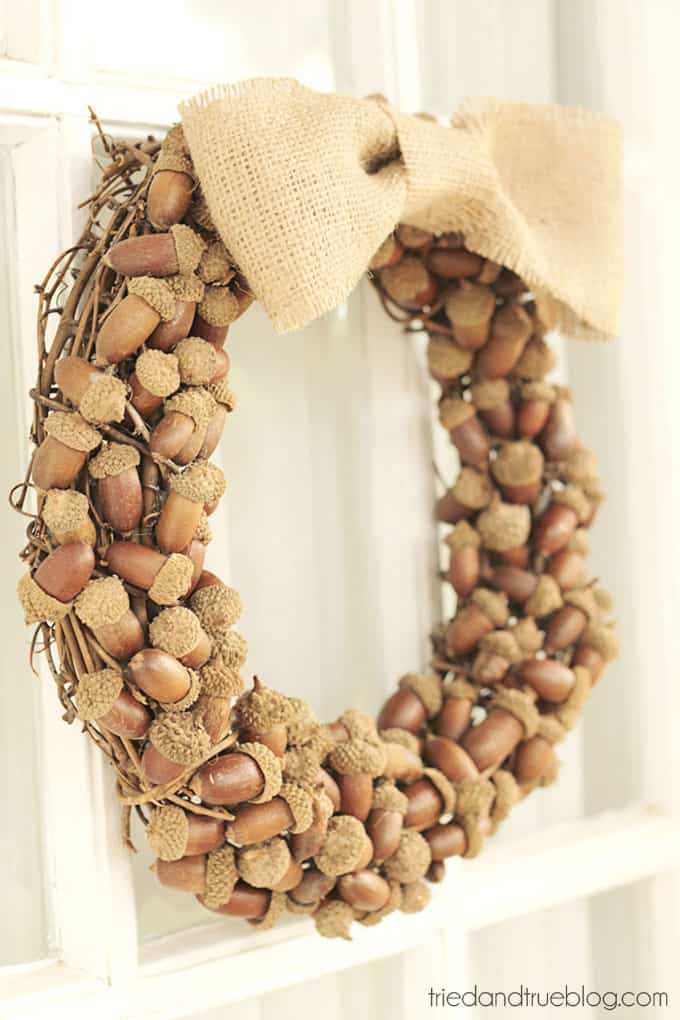 Michelle from Thistle Key Lane made this gorgeous fall wreath using pine cones and nuts. This reminds me of wreaths that both of my grandmothers made in the 1970s.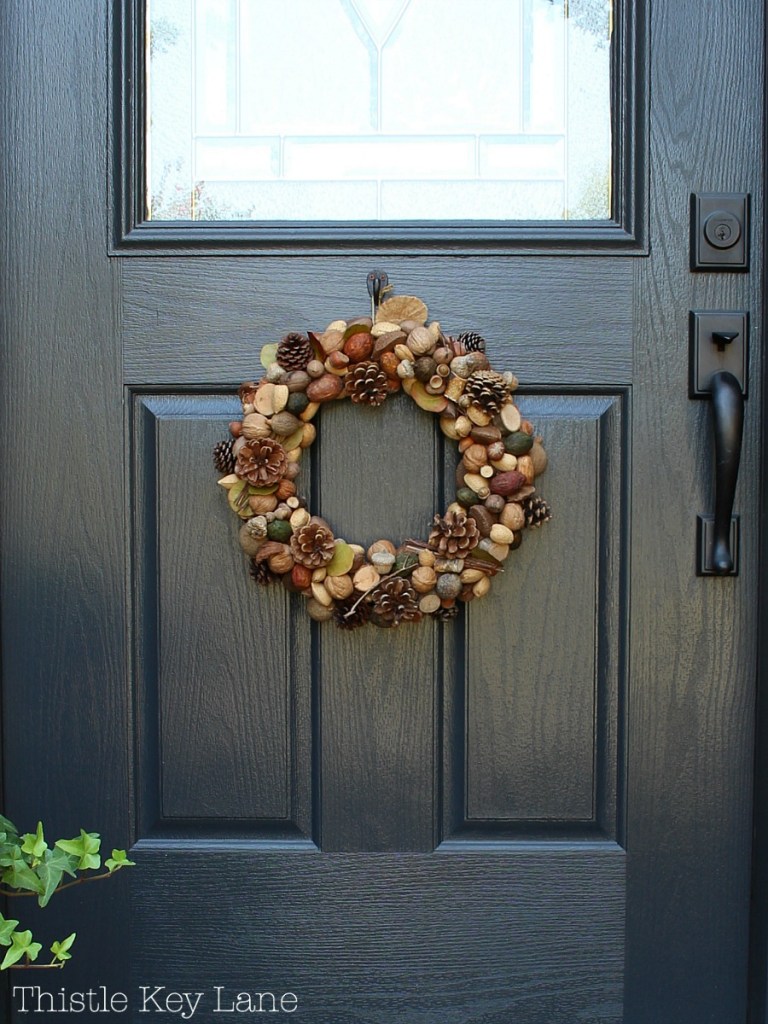 Lisa from A Country Girl's Life made this beautiful Sunflower Wreath using sunflowers that she dried. She explains how to dry them in her post!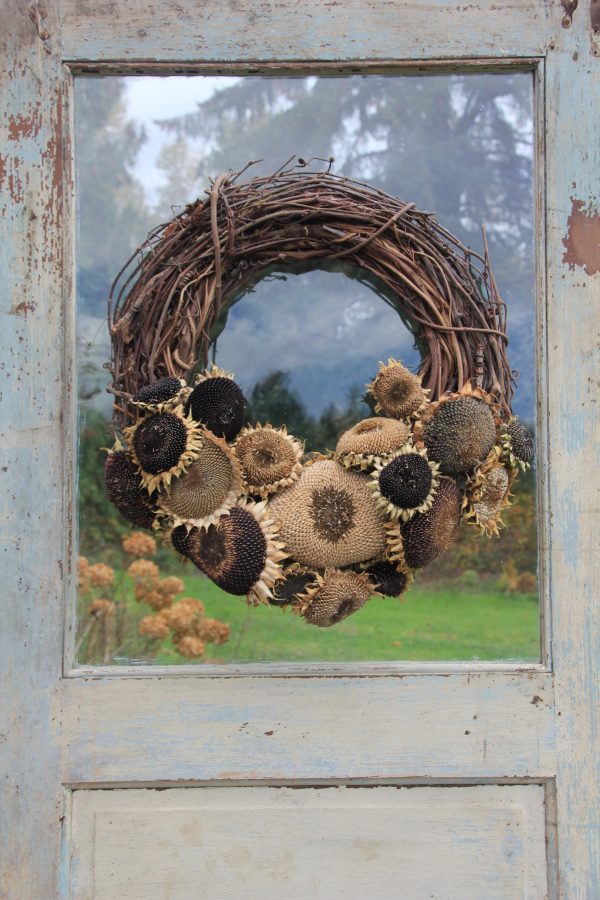 I made this DIY Wheat Wreath to hang over our mantel a few years ago.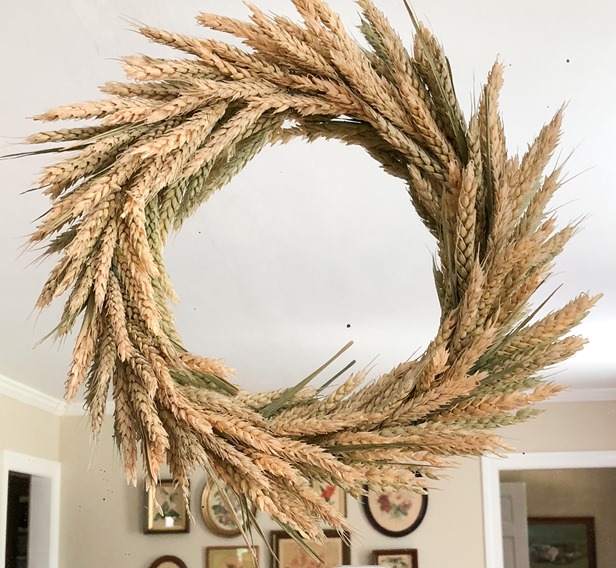 Upcycled Fall Wreath Ideas
It's always fun when something can be upcycled to use to make something new to enjoy.
Pillar Box Blue shares How to Make an Upcycled Map Leaf Wreath.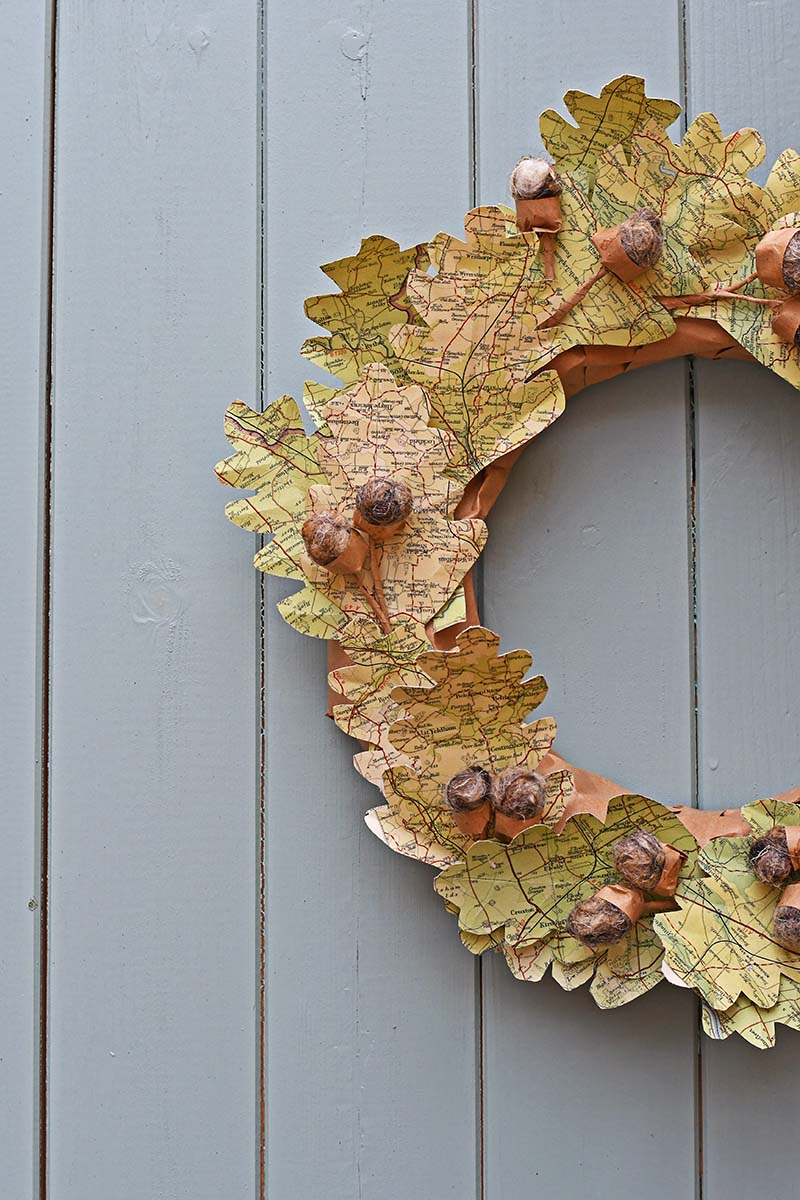 Kati from Houseful of Handmade crafted an Upcycled Paper Bag Wreath for fall.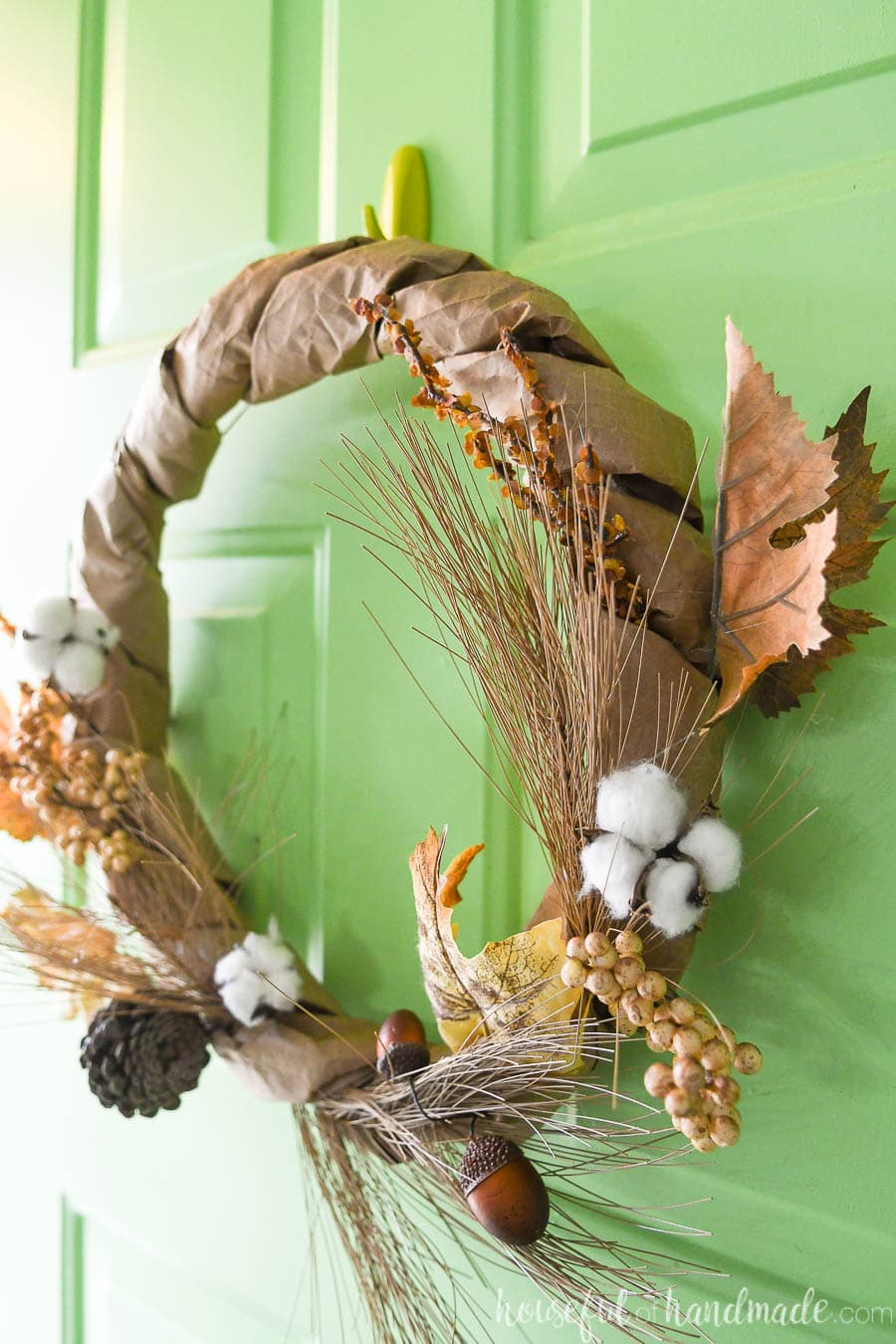 Meegan from What Meegan Makes made a Fall Book Page Wreath.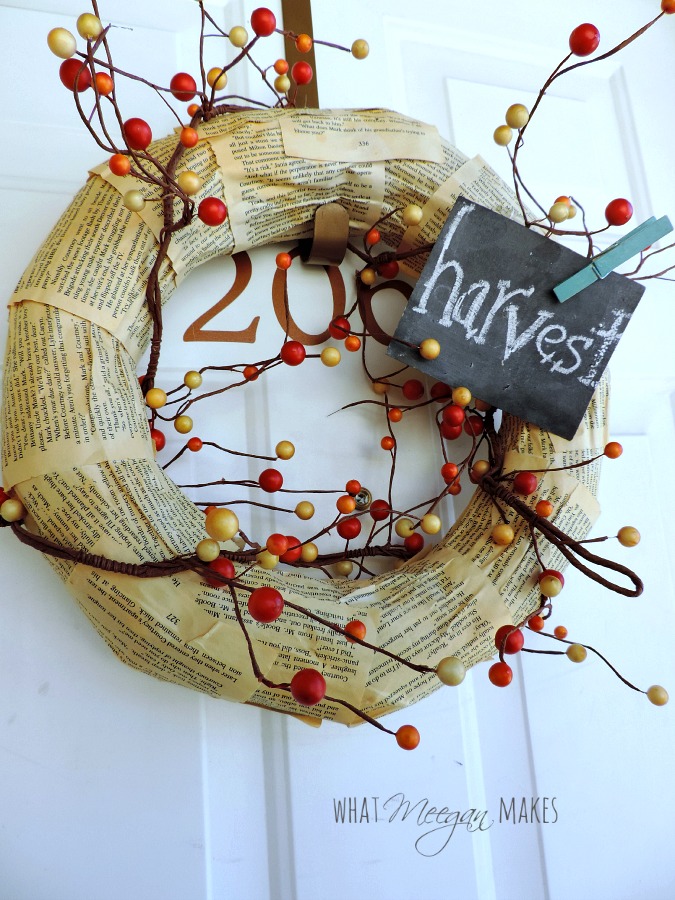 Crafty Fall Wreaths
It's fun to get crafty and make a wreath for any season.
Kim from Salvaged Living made a Pom Pom Wreath for Fall.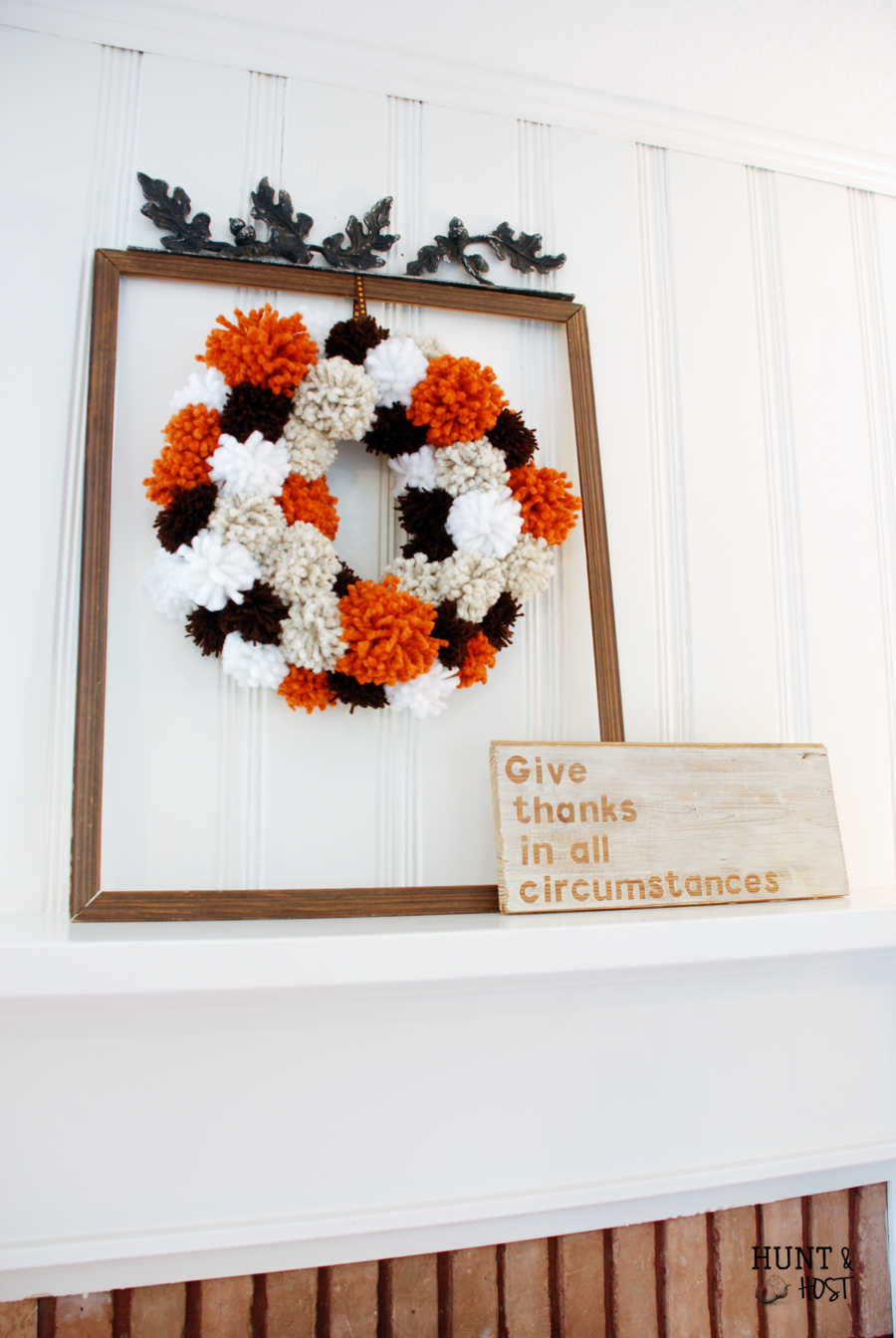 Down Redbud Drive made this adorable Pumpkin Wreath.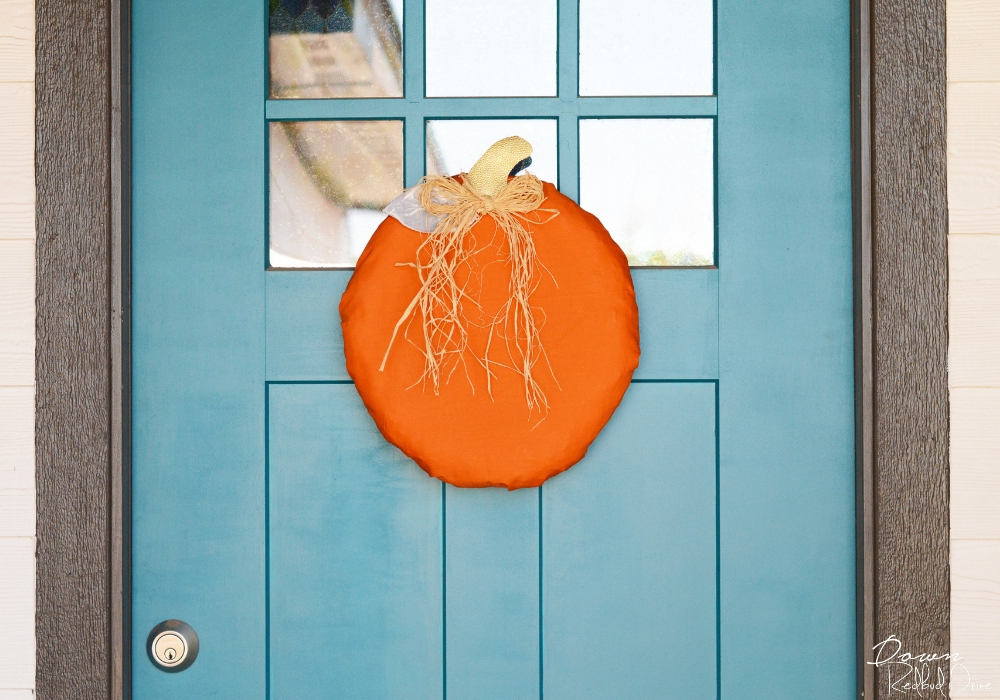 Maria from Simple Nature Decor shares How to Make an Easy Coffee Sack Fall Wreath.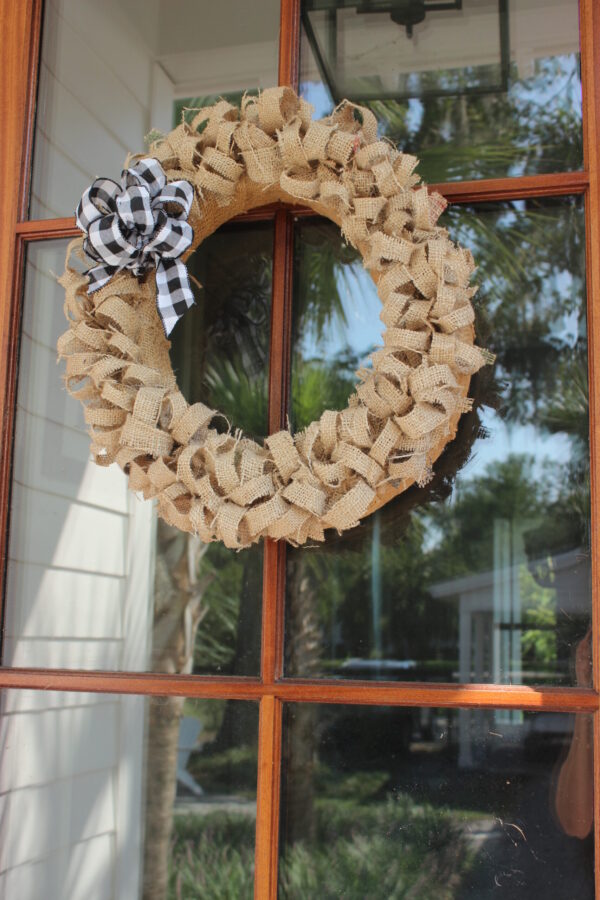 Vicki and Jen from 2 Bees in a Pod share their DIY Buffalo Check Fall Bubble Wreath.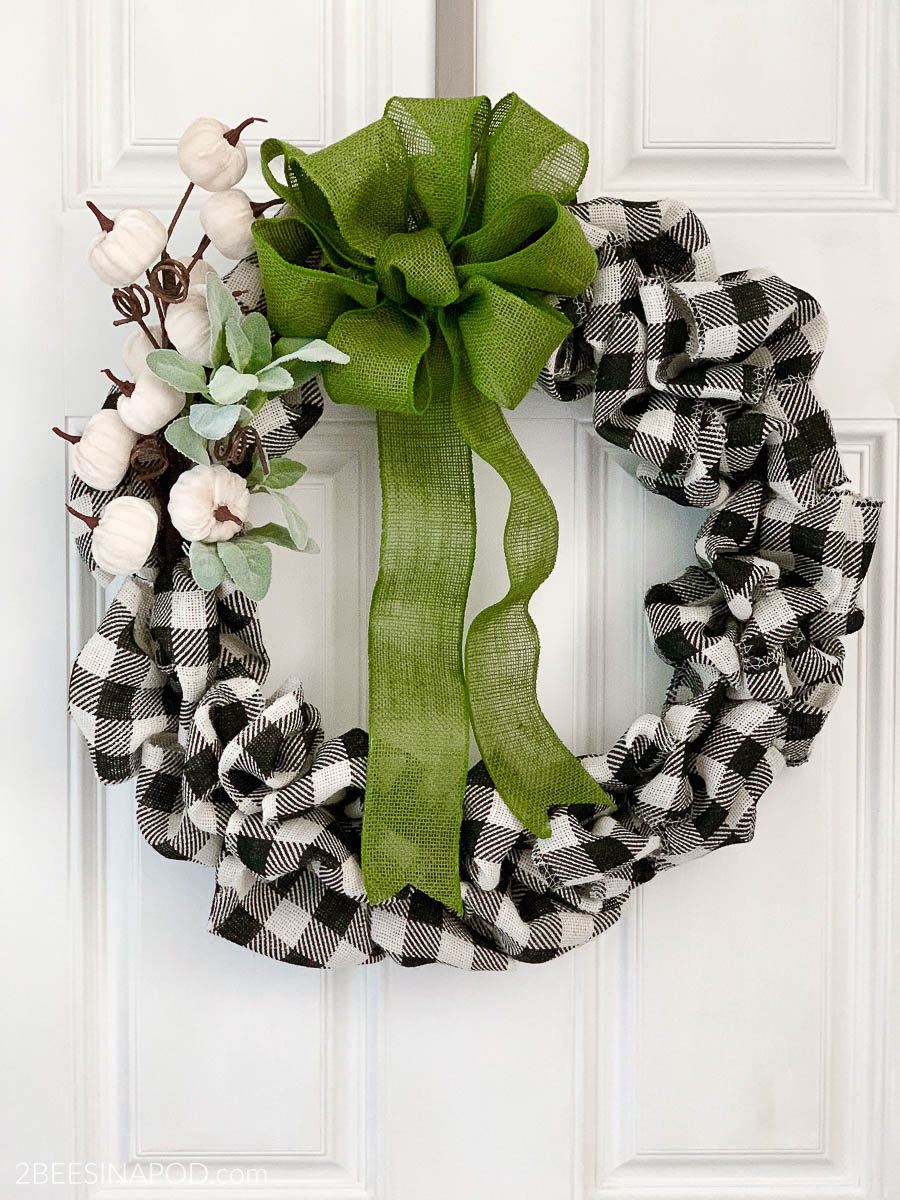 Coastal Style Fall Wreaths
Nancy of Artsy Chicks Rule made this pretty Quick & Simple Coastal Fall Wreath.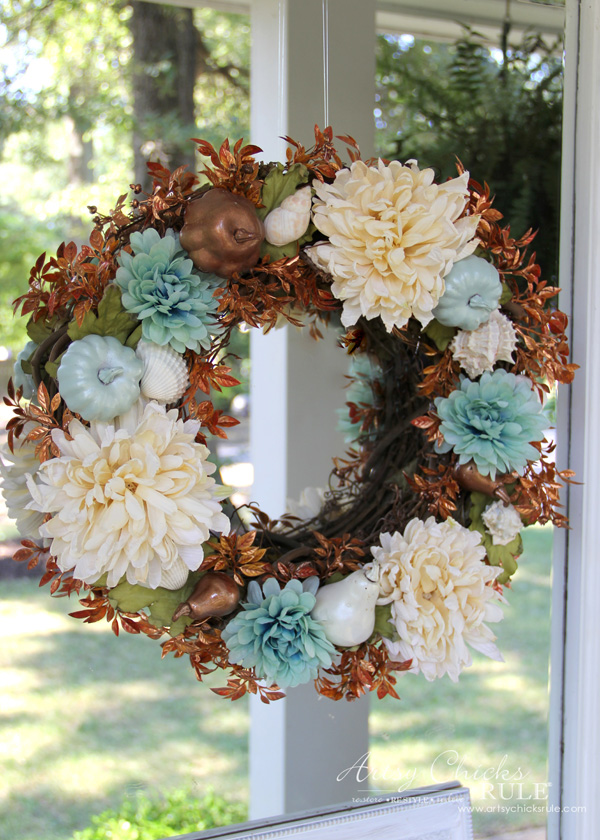 Yami from The Latina Next Door made this Blue and White Fall Wreath.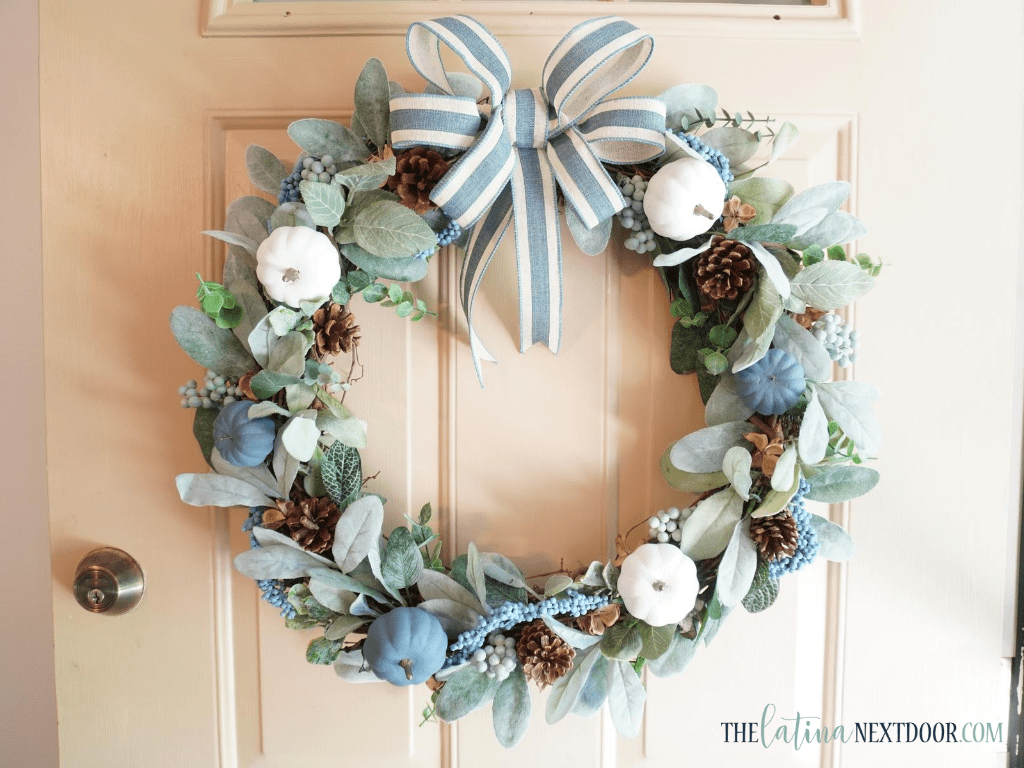 Autumn Wreaths with Green
A fall wreath doesn't have to have traditional fall colors. These wreaths feature a lot of green.
When Kim of Sand and Sisal first shared this DIY Fall Woodland Wreath a few years ago, I instantly fell in love with it. I hope Kim is still enjoying this wreath or has passed it along to one of her daughters to enjoy.
Lora from Craftivity Designs shares How to Make a Basket Wreath for the Front Door. I love the combination of greenery with white and purple pumpkins and a white sunflower.
Carrie of A Princess and Her Pirates made a DIY Fall Moss Wreath.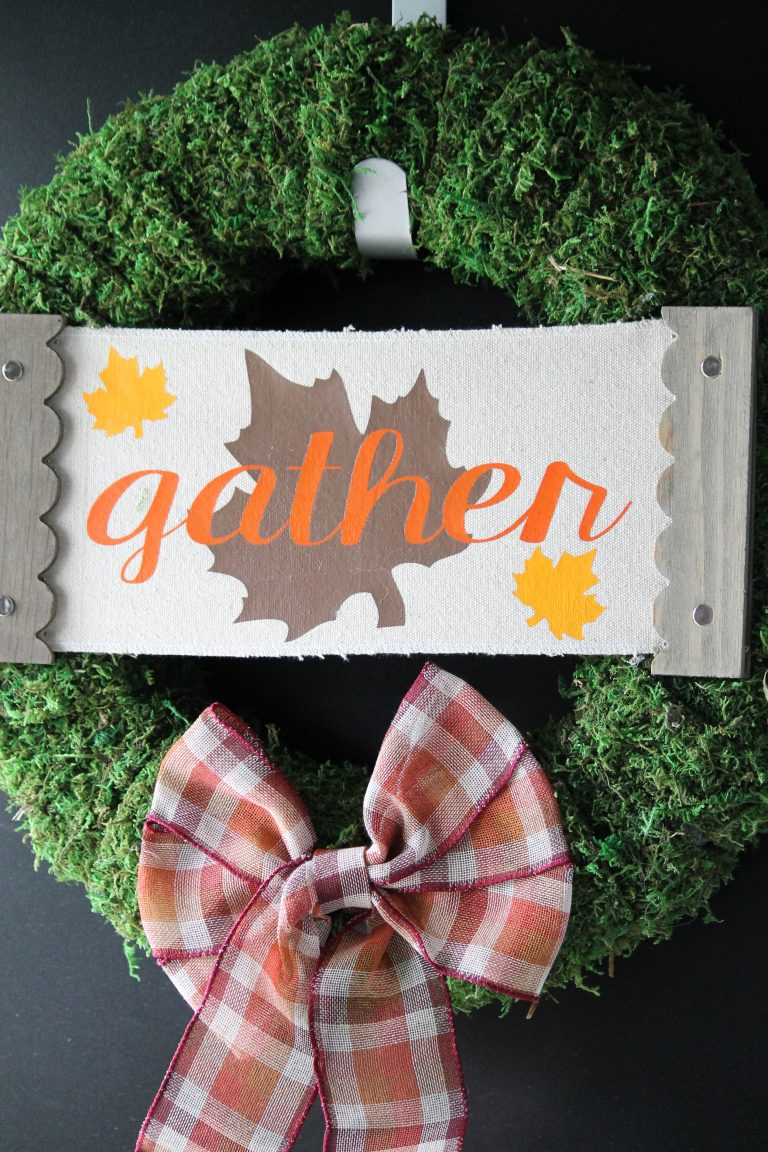 The last wreath to share is my Magnolia Wreath Styled for Fall.
This wreath started off green like shown here and then aged to a beautiful shade of green/brown.
You can see what the wreath looked like after it aged in this post where I shared how I changed my fall decor over to vintage Halloween.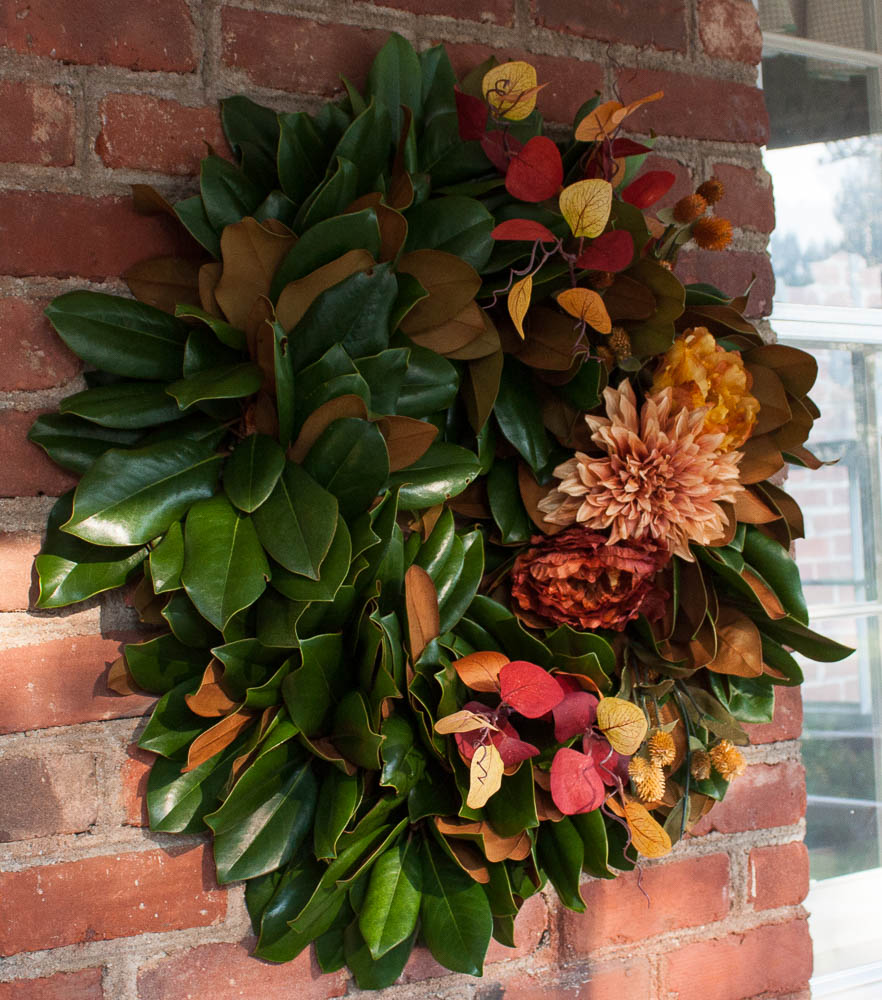 It was so much fun to gather these DIY fall wreath ideas. I hope that you are now inspired to make a wreath for your home.