Farmhouse Hutch with Vintage Green Pottery
The Christmas décor has been put away and it's time to decorate for winter.
I loved displaying my vintage punch bowl collection along with my vintage Santa boots on my farmhouse hutch for Christmas. After putting these things away, I wanted to use this hutch to display another collection, this time some of my vintage green pottery.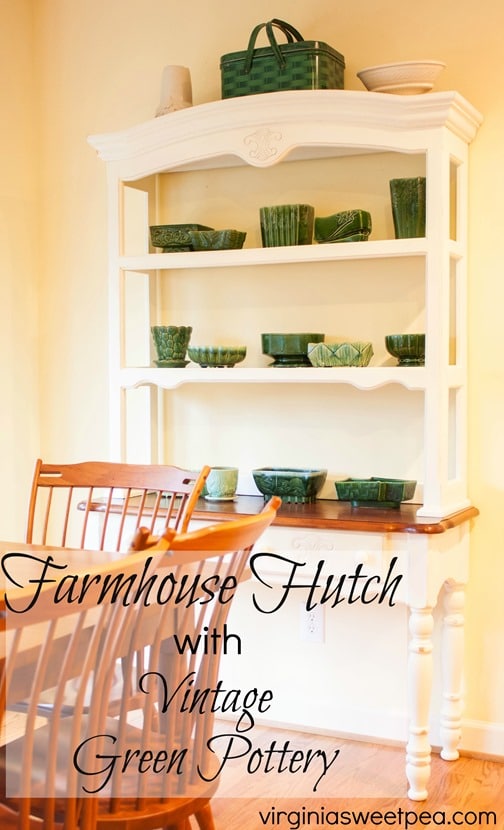 I've been collecting flower pots like these for many years and have a collection mainly of three colors: green, white, and yellow. I have a few pieces of pink and orange but those aren't colors that I see as often when I'm searching for these pieces at thrift or antique shops.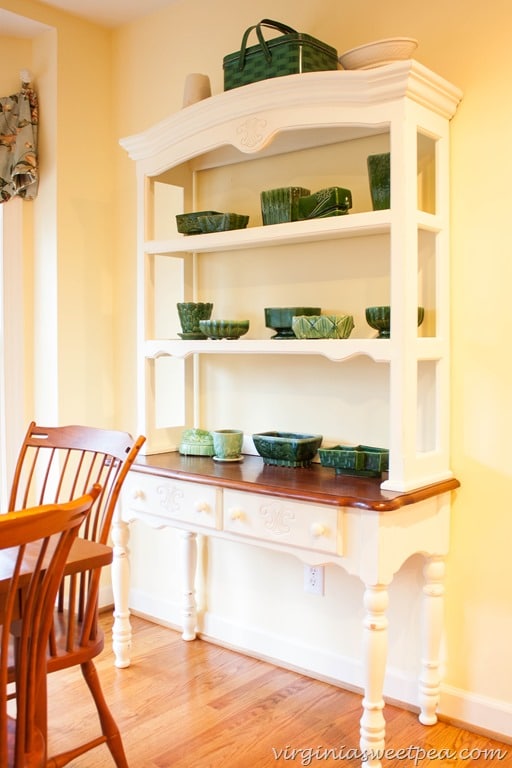 These flower pots typically stay stored in the basement and I'm so glad to have my green collection out where I can enjoy it. I also like the look of my green picnic basket on top of my farmhouse hutch flanked by two pieces of white pottery.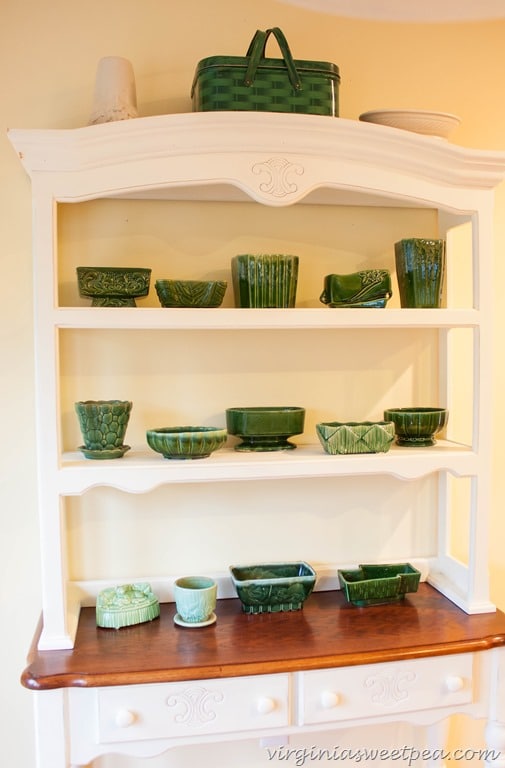 I doubt that any one piece of my collection is valuable and I believe the most that I've ever paid for a piece is $8.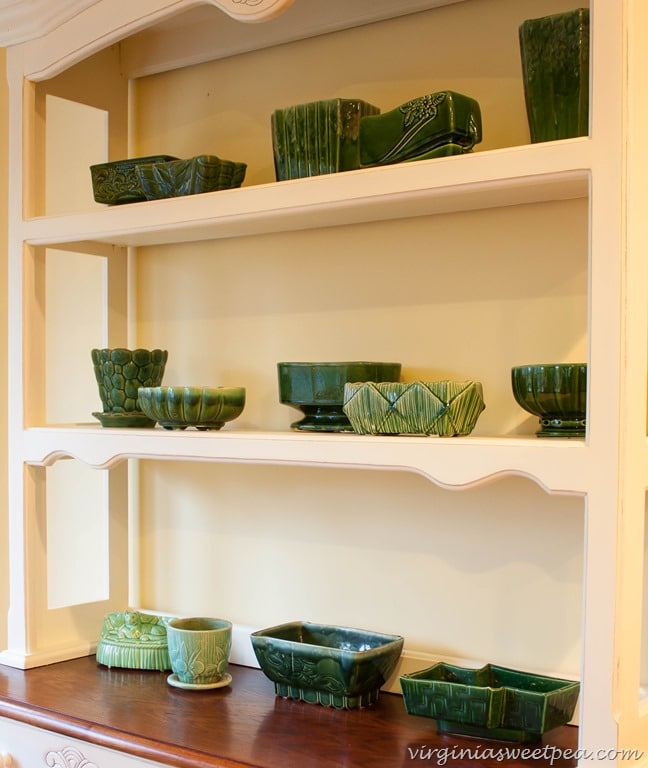 These three pots are from the top row. The one on the left has no mark, the one in the middle is marked "USA" and the one on the right is marked with "UPCO". The UPCO pot was in a box of trash at the end of a driveway on Lynchburg's prettiest street, Peakland Place. I love it when I find a treasure in someone's trash when I'm running. I usually keep this pot on the kitchen counter filled with napkins.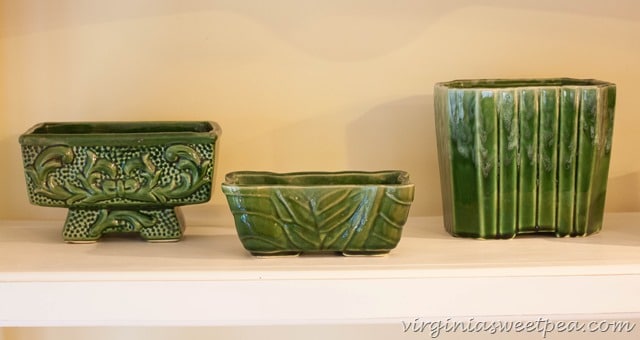 Neither of these pots have a mark. The one on the right side belonged to my cousin's grandmother and was kept beside her stove and was used to hold her cooking utensils. I loved my cousin's grandmother like she was my own grandmother and am so glad to have something that was hers.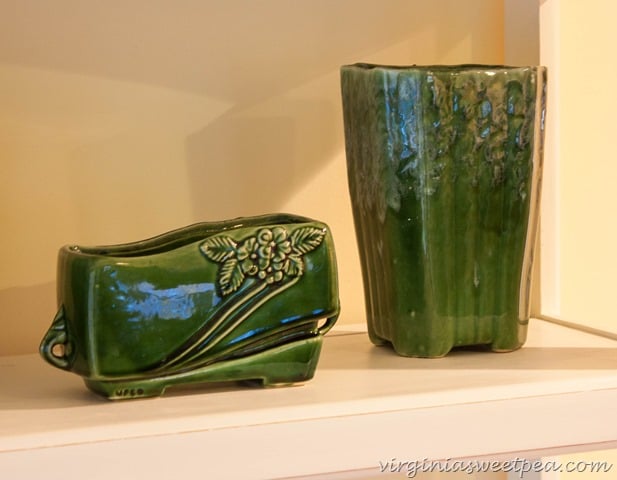 Of these three pots, only the middle has a marking, another USA.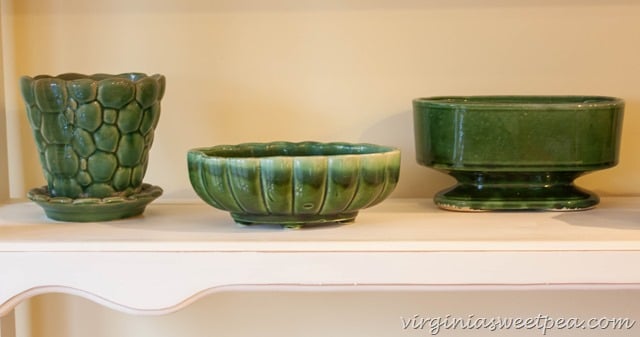 The pot on the left is McCoy and the one on the right is marked, "Floraline USA".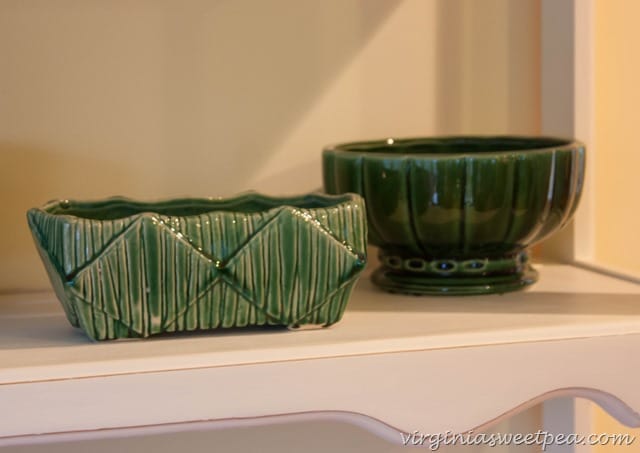 One of Mama's friends spotted this cat planter at a yard sale and knew I would love it. The pot on the right was on the curb with a "free" sign when a neighbor cleaned out his shed. Neither of these pieces are marked.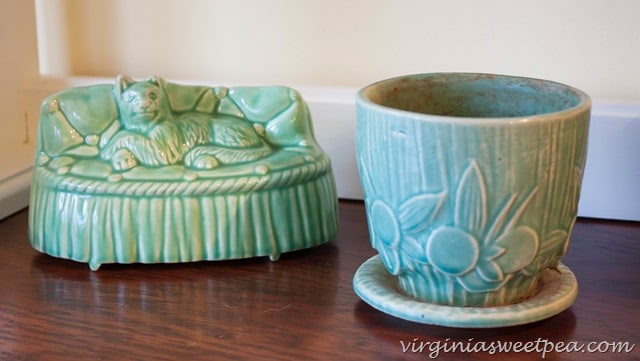 Both of these pieces are USA. The one on the right has a great shape and was found at a thrift shop at the beach.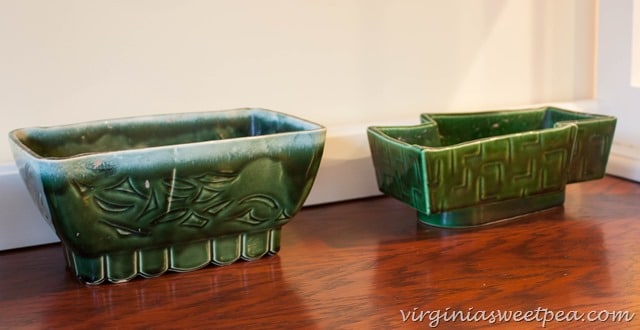 I have a few more pieces of green pottery that I added to the display shelves on the ends of our kitchen cabinets. One of these days I'll rotate my collection and enjoy either the yellow or white pieces on this farmhouse hutch.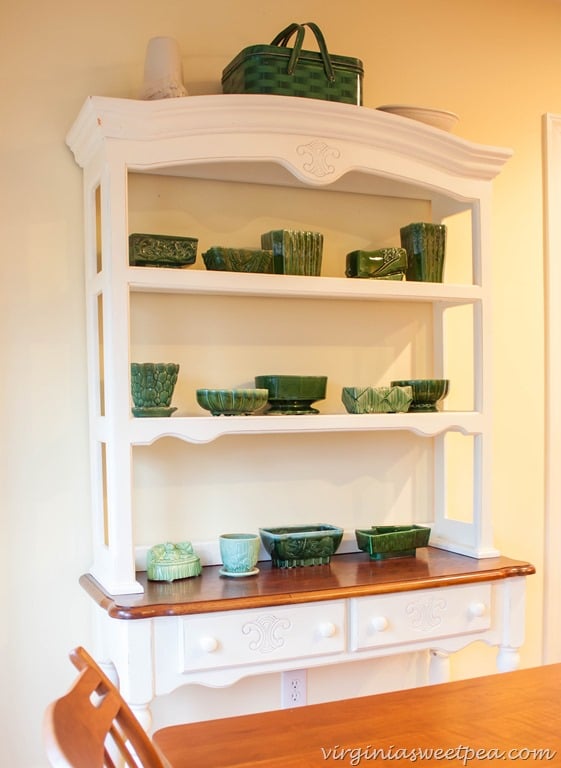 I like this look for winter and I really like the opportunity to enjoy one of my collections.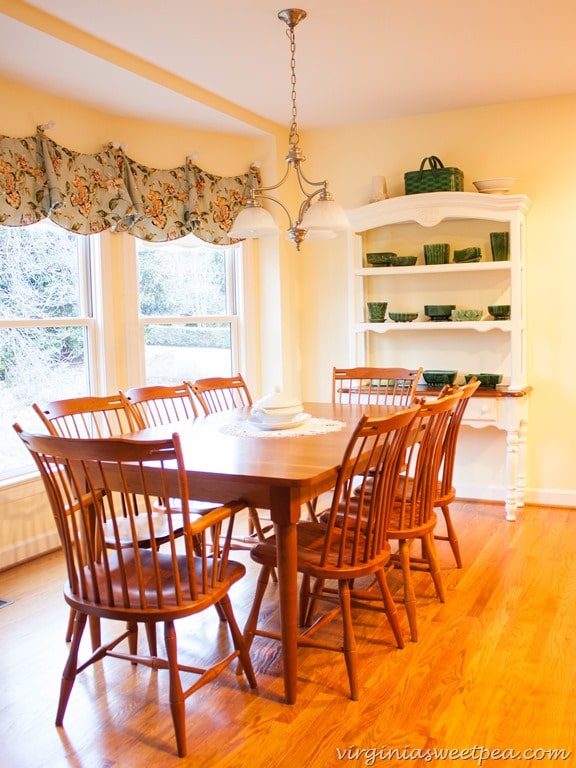 On the kitchen table is an Ironstone covered dish and platter that belonged to my grandmother. The dish is marked, "Stone China John Meir and Son Tunstak." The platter is marked, "Ironstone China Meakin Bros & Co."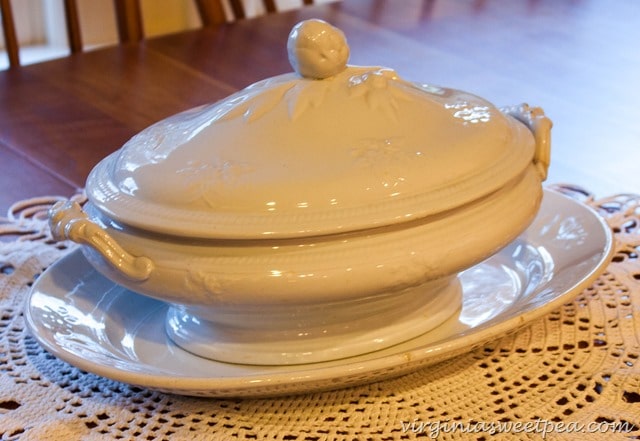 The doily under the Ironstone is handmade and is 80 – 100 years old. It was made by a friend of my great-great aunt who raised my grandmother.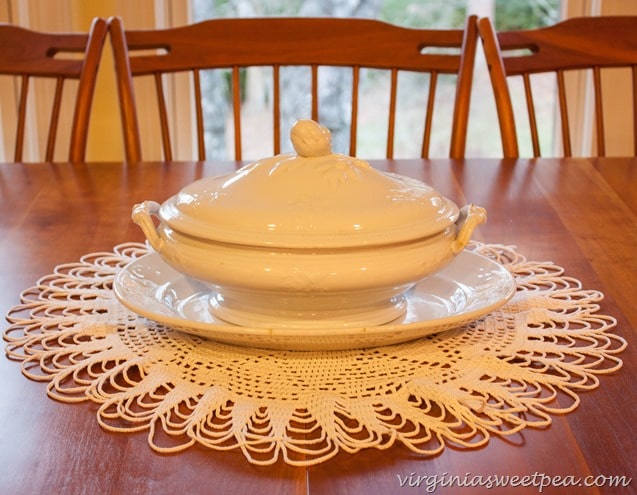 Thanks for enjoying my collection along with me! If you collect pottery like this, I'd love to know your favorite color and shapes.