Farmhouse Style Hutch Makeover
It's Themed Furniture Makeover Day! How did a month go by so quickly? It seems like just yesterday we were sharing our "Inspired by Chocolate" makeovers and now it's time to share this month's theme, "Farmhouse."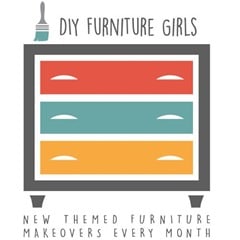 When I think of farmhouse, my mind immediately goes to my grandmother's farmhouse in the country where I spent countless happy hours. If you ask me, a farmhouse wouldn't be a farmhouse without a hutch to display dishes. Back in the fall I purchased this hutch from a friend at school who was selling it for her mom. When I found out that this month's theme would be farmhouse, I knew that this piece would be the perfect one to makeover.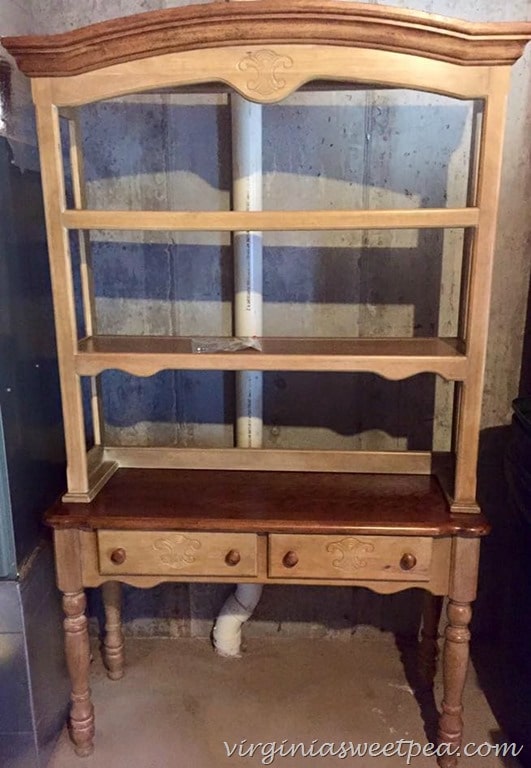 Look at it now! It got a much needed update with paint, stain, and a coat of wax for protection.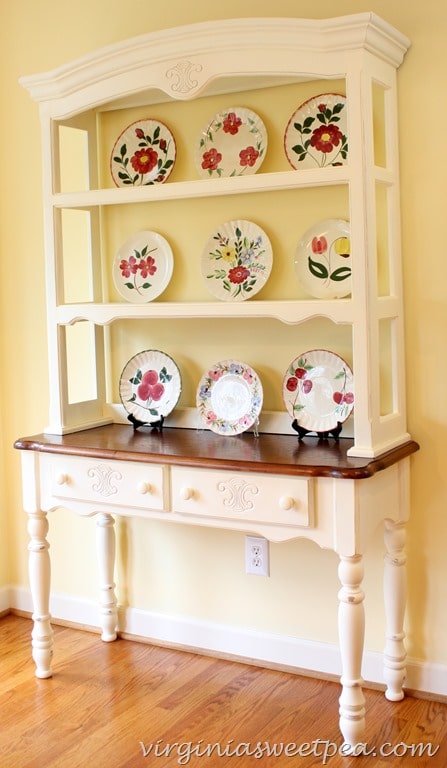 I was in a quandary when it came time to photograph this piece. I usually take pictures outdoors because quite frankly, my house has no extra room to stage furniture. Since the top of this piece has no back, taking pictures outside wasn't an option. I improvised by moving all of the furniture in my kitchen area out and moving this piece in.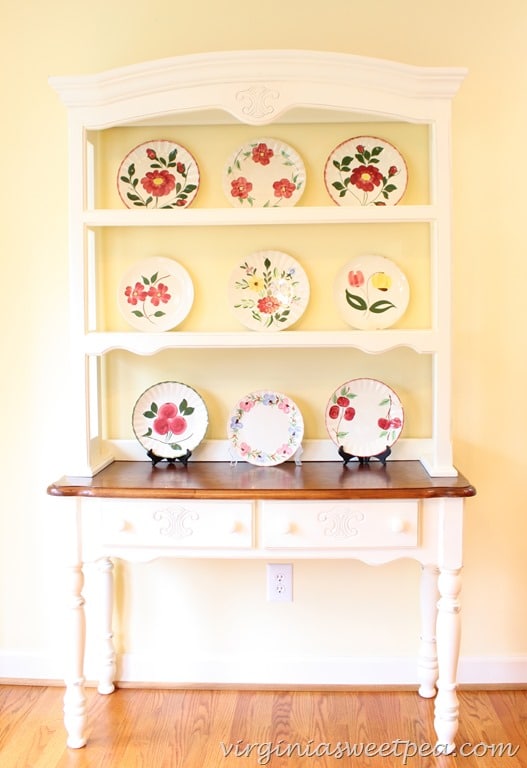 A cherry pie safe made using wood harvested from the farm where my grandfather grew up usually resides where I staged the hutch. I liked the look of the hutch so much in this location that moved my table and chairs back into the room and am going to enjoy this piece until I decide to move it to my shop. (If I can part with it.)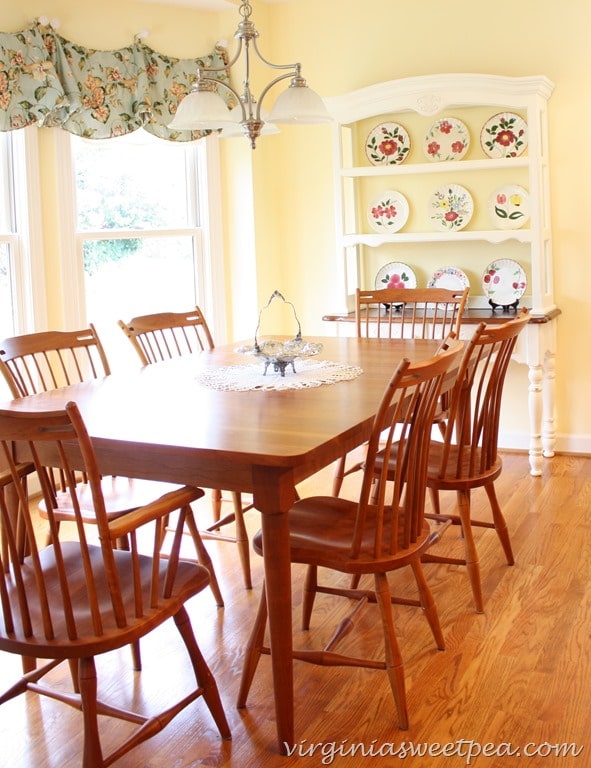 Are you wondering about those plates? They are Blue Ridge Pottery which was manufactured by Southern Potteries Incorporated from the 1930s until 1957. My mom collected this pottery for many years and has a huge collection. I borrowed these plates from her for my pictures. 🙂 This is just the tip of the iceburg of her collection.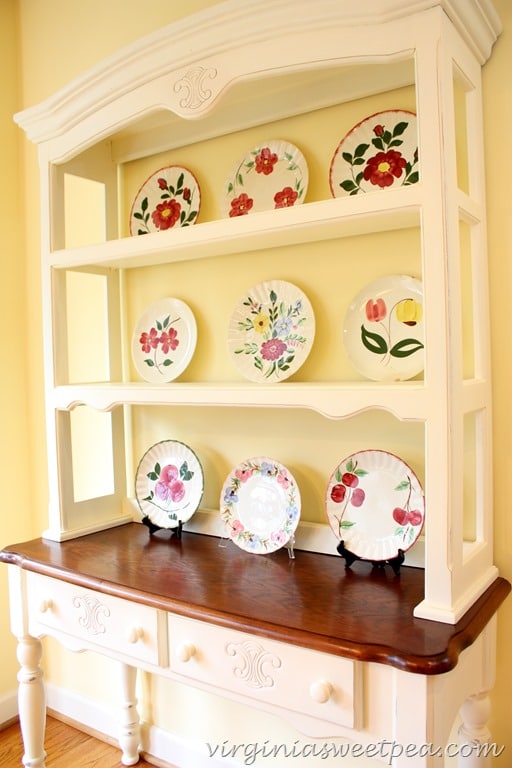 I painted the hutch with Americana Decor Chalky Finish paint
in Lace. It took four coats to get the coverage that I wanted. The tabletop was repaired, sanded, and then stained with General Finishes water based wood stain in Mahogany. After staining, the wood was protected with two coats of satin topcoat
, also from General Finishes. The paint was waxed, and then buffed to add a subtle sheen. To bring out the detail on the drawer fronts and also the top of the hutch, I applied dark wax
to the detail, rubbing to get the dark wax into the grooves. I then wiped away the excess dark wax.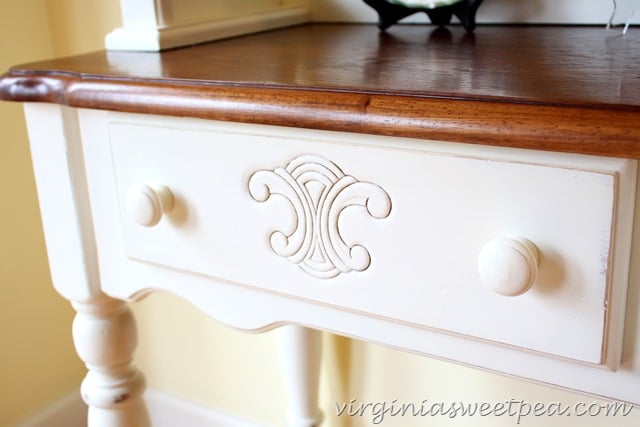 I thought about buying new hardware for this piece but in the end used its original knobs which I quite like.
What a difference! I'm so happy with the end result of this makeover.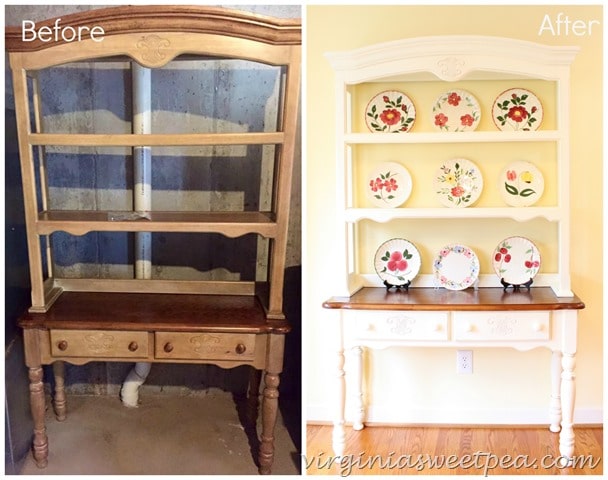 I hope my friend will share this makeover with her mom so that she can see this piece's new look. Wouldn't it be funny if she decided to buy it back?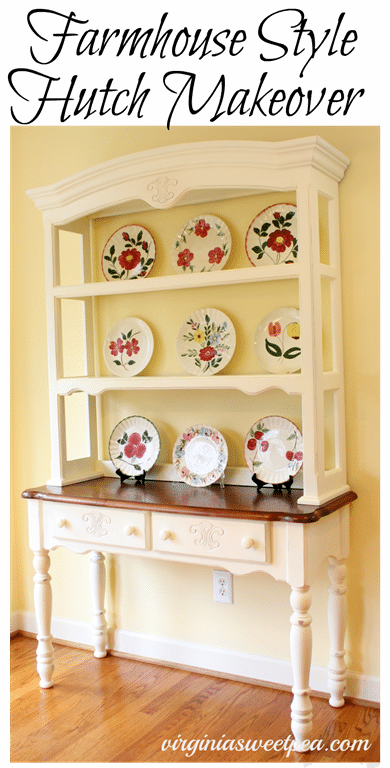 You can check out all of the projects that I've shared for Themed Furniture Makeover Day here. When I look back at all of my projects, it's hard to pick a favorite but I'll have to say that this month's hutch is in the running for first place.
Now for the fun part! Enjoy the farmhouse makeovers that my friends are sharing this month.